15 Best Places to Live in Pennsylvania
Pennsylvania is downright beautiful. The State of Independence is home to some of the country's richest history, incredible culture and, yes, a picturesque scenery.
The Appalachian Mountains sit here, and the state has more than 120 state parks, with over 100 miles of coastline, and a varied selection of great towns and cities, each with its own character.
Mountain climbers will love this state, so will surfers, skydivers and skiers even, depending on where you are in the state. But Pennsylvania would not be the place it is without its people, an incredibly darn friendly bunch.
Little wonder the Keystone State is widely considered one of the best states to retire.
The natural allure aside, this is a notion mostly driven by other key factors for anyone interested in the hard data: economic vibrancy (this is the sixth largest state economy), good health care, school districts that are a cut above the other states, affordability, low rate of homelessness and a high quality of life.
For a sprawling state like PA, though, it can be overwhelming to any potential resident looking for a place to live. But you can always count on us to bail you out.
Here then, are the best places to live in Pennsylvania to help inform your decision better.
1. Penn Wynne
Source: realtor.com Penn Wynne, Pennsylvania
Penn Wynne is a suburb in Montgomery County with roughly 6,000 residents and often shows up on many livability polls.
That is because everything seems to be going swimmingly in Penn Wynne.
It has an excellent school system ranked A+ by Niche.com, a website that crunches public data to provide ratings and rankings for schools and neighbourhoods.
Indeed, this system is responsible for a 13% higher high school graduation rate that the rest of the state.
Crime rate in this suburb, which mostly comprises residential streets, is virtually non-existent. The residents, with a large Orthodox Jewish population amongst them, is keen on promoting a green lifestyle, working together as a community to conserve the natural assets in the area.
The going rate for a three- to four-bedroomed property is $351,100, and rent averages $1,639. That can be termed reasonable considering Penn Wynne often shows up on the best places to live in America.
2. Hershey
Source: Lissandra Melo / shutterstock Hershey
Hershey is a 15,000-person community in Dauphin County often dubbed the sweetest place on earth. And that's because it is here that one of America's most loved chocolate brands, Hershey's, is based.
Chocolate Town is a tourist haven where visitors flock to the attraction that is Hershey's Chocolate World. For anyone looking to settle down here, though, the community is more than just a tourist attraction.
It has a stellar school system that was once recognised by the U.S. Department of Education for its excellence, and it is a culture still pervasive in its public schools to date, what with a 10% higher high school graduation rate compared to the state average.
Crime rate is virtually non-existent in this peaceful community, although the employment rate could do with a little boost.
Surprisingly, cost of living is low, with houses renting at an average $886 and homes valued at $238,100.
3. Mount Lebanon
Source: jmd41280 / Flickr Mount Lebanon
If a higher than average high school graduation rate, higher than average income, low crime rate and multiple local amenities sound like a nice combination for you when choosing a place to live in the Coal State, consider Mount Lebanon.
The cost of living in this town of 33,000 residents is slightly higher than what you would contend with in other places in Pennsylvania. Median home value is $225,100 and rent is a little over $100 more than national average ($835).
But with all the aforementioned positives promised by this Pittsburgh suburb, you can absolutely justify making a move here.
4. Jefferson Hills
Source: jmd41280 / Flickr Jefferson Hills
Just 15 miles south of Pittsburgh sits Jefferson Hills, a suburb with a population of 11,000 residents. These are mostly middle-class folk who earn $77,854 on average.
A dollar in Jefferson Hills goes a long way as the cost of living is fairly low, with houses fetching at an average $189,700. The crime rate is not as low as you would expect, but other than that, the suburb fares pretty well.
Families have access to five municipal parks, not to mention a 150-mile system of biking and hiking trails known as the Great Allegheny Passage. As well, there are many youth sports opportunities available, including roller hockey, swimming, diving and more.
The high schools may not be the best in the state, but they perform fairly well, boasting a 96% graduation rate.
5. South Park
Source: dontfeedthetiki / Flickr South Park, Pittsburgh
You will often find a neighbourhood named South Park in many places you go in America –Seattle, Denver, Houston, Los Angeles and others. Pittsburgh has one too, and so happens it is one of the best places to live in Pennsylvania.
The suburb of 13,500 residents has some of the best schools in the state, and what is incredible about it is that the cost of living is even lower than the national average.
Houses are selling for $148,800 on average (against a national average of $178,600), which is lower than most other places on this list.
With an extremely low crime rate and a county park that comprises a concert pavilion, dog park, wave pool, ice rink, trail system, golf course and tennis courts, you will hardly find a better community to settle than South Park, PA.
6. Bethel Park
Source: Generic1139 / Wikimedia Bethel Presbyterian Church
This Pittsburgh suburb of 32,300 residents gives you plenty of reasons to call it home.
The education system is one of the best in Pennsylvania, and there is little crime happening here. The cost of living is some way below the national average, and the area is steeped in so much natural beauty it is hard to believe an average three-bedroom home goes for $162,300.
You won't venture a mile in Bethel Park without coming across green space that is not meticulously maintained.
This means there is plenty of space for your children to play and run around, and all these together make for compelling reasons to raise a family here.
7. Radnor Township
Source: Montgomery County Planning Commission / Flickr Rosemont College
Radnor Township is located in Delaware County and is home to 31,500 people.
We admit this is not the most pocket-friendly of towns in the state, but if education is one of the influencing factors when choosing an ideal place to live, you can't do better than Radnor Township.
The population here is well-educated, with good public schools ranked A+ on Niche.com, and great universities that include the likes of Eastern College and Villanova University.
It thus comes as no surprise to know the median income of $106,538 is double that the national average and one of the highest in the state. That is more than enough to cushion the residents from the high cost of living in a place where homes average $622,500.
8. Emmaus
Source: Smallbones / Wikimedia Emmaus
The quaint suburb of Emmaus is nestled in the picturesque Lehigh County near Allentown.
It is a historic community with a population of 11,300 residents who love the area for more than just the peace and quiet. The education system is excellent and the cost of living is low, with homes going for $171,800 on average.
Emmaus is a close community noted for its friendly atmosphere, and its livability didn't escape the attention of Money Magazine which has featured the suburb more than once in its 100 best places to live in the U.S. list.
Anyone who has watched the comedy drama Marley & Me (Owen Wilson/Jennifer Aniston) might be surprised to know Emmaus is the real-life home of the family that inspired the film.
9. McCandless
Source: joseph a / Flickr North Park, McCandless
The Oil State has seen its fair share of towns and suburbs featured in dozens of best places to live lists, and this suburb of about 29,000 residents is just another of these highly regarded locations in the state.
McCandless has some of the best school districts in Pennsylvania, and its desirability for families is heightened by the myriad recreation opportunities available in the area.
The Strip District, Wood Street Galleries and The Benedum Theater will keep culture lovers immersed, while Schenley Park, The Riverwalk and Point State Park provide ambient space for every outdoor lover.
The North Park Lake promises good fishing, paddle boarding, canoeing and kayaking, while the multiple sports teams in the area (Steelers, Pirates and Penguins) provide a much welcome distraction from the weekly schedule.
A two- to three-bedroom house in McCandless costs $214,600.
10. Lower Salford
Source: Montgomery County Planning Commission / Flickr Vernfield, Lower Salford
Lower Salford is a township in Montgomery County which 15,300 residents call home.
The schools in Pennsylvania make the state a magnet for families from all across the country, and Lower Salford serves as more testament to this.
The area has some of the most highly rated schools, and the residents appreciate its friendly community feeling.
Crime would not be a concern of yours living here, and in the slim chance you find yourself on the wrong receiving end, the local police are famed for being highly responsive.
The only downside to living in Lower Salford is that as much as Pennsylvania is acknowledged as a destination for foodies, that is an area the town is not particularly known for.
But with parents earning a combined $92,574 a year, there is always plenty much left to spare for weekend getaways.
11. Willow Grove
Source: Roadgeek Adam / Flickr Willow Grove
Willow Grove is another town in Montgomery with just about the same population as its neighbour, Lower Salford.
15,600 people live here, attracted by the excellent schools and plenty of amenities. If you fancy a serene, uncrowded neighbourhood, chances are Willow Grove will work for you.
Despite its small size, the area has some great restaurants and most of the stores you would need, you will find here. Bloomingdale's. Macy's. Michael Kors. Apple. JC Penny. Pandora, just to cite but a few.
Willow Grove also has an intriguing history as the "Music Capitol of America".
With an average three-bedroom home going for $244,500, it only serves to show why the Keystone State is often praised for its low cost of living. Because this happens to be an affluent neighbourhood with some of the state's highest home values.
For that money, yes.
12. East Whiteland
Source: Smallbones / Wikimedia White Horse Tavern, East Whiteland
East Whiteland is a suburb in the historic city that is Philadelphia. It is located in Chester County and is home to close to 11,000 residents.
East Whiteland makes it to our list of best places to live in Pennsylvania because, for starters, it has an excellent school system where some of the sharpest tools in the shed are honed.
This community was founded as far back as 1704 by Welsh settlers and has a relatively low crime rate. Your chances of being a victim of property crime is lower than your current neighbourhood (it sits at .06 per cent).
There is great diversity for a community its size, but that is probably due to its proximity to the big city.
All these perks have to be accounted for, and this is why you find the cost of living in East Whiteland is quite high.
Rental single-family properties are priced at $1,390 on average, with median home value standing at $372,200.
13. West Chester
Source: Zoewscott / Wikimedia West Chester
Speaking of Chester County, if you prefer living in the vicinity of Philly, one of the best places to stay is West Chester.
The suburb of 19,000 people is a feast for the history lover looking to immerse themselves in the deep past of Pennsylvania.
It is littered with historic homes and buildings so precious they are protected, and setting foot here is akin to stepping into a time capsule.
Understandably, the cost of living is high, with median home value sitting at $313,700.
The education system, however, can hold its own with the very best in the state, boasting the highest graduation rate in the state.
14. State College
Source: Wikimedia State College
State College is a town in Centre County that is regarded as one of the best towns in Pennsylvania. In fact, it topped the list of "best towns" in 2015, according to Niche, emerging 14th overall in the nation.
State College is the main campus of Penn State University and has a population of 42,000 whose median income per household is $29,450.
That is on the lower side compared to the other places on this list, but life is generally affordable, bar one index: housing. Rent averages $967 and homes are valued at an average $277,100.
Other than that, living in State College guarantees a host of benefits.
Low crime rate. Low commute time with most residents spending 16.29 minutes on average to get to their stations. Vibrant nightlife. Plenty of outdoor activities. And, of course, being in the Quaker State, the education is first-rate.
15. Cecil
Source: www.realtor.com Cecil
Lastly, we have Cecil, a township of 11,700 people located in Washington County.
This is a great place to raise a family thanks to its perfect balance of excellent schools, low crime rate and availability of high paying jobs.
The business park in Cecil homes several large companies that include the likes of Consul Energy and Ansys.
These companies are most likely responsible for the high income rates enjoyed by the residents of this area, with a single household bringing home $75,957 on average.
Houses in Cecil are priced at $206,300, although rent prices are a tad lower compared to the national average ($919 vs. $928).
10 Best Places to Visit in Pennsylvania
Nicknamed the Quaker State and the Keystone State, Pennsylvania is a state bordered by New Jersey, New York, Ohio, West Virginia, Maryland and Delaware. Pennsylvania is large and diverse, and within its borders you'll find big cities, rolling agricultural land, traditional Amish settlements and even beaches on one of the Great Lakes.
All too often, trips to Pennsylvania revolve around Pittsburgh and Philadelphia. While these great cities are definitely great places to visit in Pennsylvania, don't forget to add in a few more of the many noteworthy destinations.
10. Hickory Run State Park [SEE MAP]
In the Pocono Mountains of Eastern Pennsylvania is Hickory Run State Park. This enormous park in Carbon County has a lot to offer, including more than 40 miles of scenic hiking trails. In the winter, some of the trails even do double duty for cross-country skiing.
In the summer, Sand Spring Lake boasts a sandy beach suitable for swimming. One of the must-see parts of the state park is its boulder field. This field is more than 20,000 years old, and was formed due to the thawing of glaciers. Hop from boulder to boulder on the fascinating and picturesque Boulder Field Trail.
9. Ohiopyle State Park [SEE MAP]
Nicolas Raymond / Flickr
On the banks of the Youghiogheny River, you'll come across the small but scenic Ohiopyle State Park. The river itself is a big part of the state park's appeal. From the park, you'll have access to the river and recreation activities like whitewater rafting.
The seven-mile stretch of the Youghiogheny River called the Lower Yough is home to impressive rapids, and you can join a guided tour to experience it yourself. Ohiopyle State Park also boasts great hiking and beautiful waterfalls, the most popular of which is Cucumber Falls. Bring along your camera to snap pictures of the 30-foot (10-meter) bridal waterfall located along the Great Gorge Trail.
8. Delaware Water Gap [SEE MAP]
Nicholas_T / Flickr
Crossing over the state line between Pennsylvania and New Jersey is the Delaware Water Gap National Recreation Area. As the name suggests, the Delaware Water Gap is found on both sides of the Delaware River. If you enjoy the great outdoors, there are countless choices available to you there.
Bring history to life in the 19th century Milbrook Village, or take a bike ride along the Old Mill Road. Hikers can pick from more than 100 miles of trails, trekking along scenic streams and lush green hemlock forests. The river also offers three beaches for swimming: Milford Beach, Smithfield Beach and Turtle Beach.
7. Erie [SEE MAP]
Mike Procario / Flickr
As you might have guessed, the city of Erie is named after the lake it borders: Lake Erie. Erie is the only lake port in the state, and it is the northernmost part of Pennsylvania. To take a closer look at the heritage of Erie, and how the port impacted development, check out the Erie Maritime Museum. The museum also owns the U.S.S. Niagara, an incredible historic warship that you can tour right in the port.
Arguably the most popular thing to do in Erie is visit Presque Isle State Park, which is just off the coast, for hiking, fishing, cycling or just enjoying the beaches.
6. Ricketts Glen State Park [SEE MAP]
Nicholas A. Tonelli / Flickr
In the heart of Pennsylvania, there is a National Natural Landmark called Ricketts Glen State Park. This park is enormous, spreading out into three different counties, and it is a nature lover's dream destination. The park is home to 24 major waterfalls and many more smaller falls, and hiking the Falls Trail System is the best way to see as many of them as possible.
If you'd rather kick back, head to the beach on Lake Jean and set up a picnic with a view of the water. You can also head onto the lake with a boat rental or try some fishing from the shore.
5. Pennsylvania Dutch Country [SEE MAP]
likeaduck / Flickr
In Lancaster County, you can find a large portion of the state's Amish population in what is known as Pennsylvania Dutch Country. Although the capital of Harrisburg is technically within this region, much of the area is rural.
Whitewashed fences, perfectly maintained barns and horse-drawn buggies abound in this part of the state. One of the best ways to explore Amish country is to visit the local markets. One of the most popular is the Bird in Hand Farmers Market, where you can find fresh produce as well as baked goods like apple butter and the delicious shoofly pie.
4. Bushkill Falls [SEE MAP]
The "Niagara of Pennsylvania," Bushkill Falls is among the best places to visit in Pennsylvania. These waterfalls are phenomenal, and they are located in the beautiful Pocono Mountains. There are eight waterfalls in total, and they are accessible via a collection of hiking trails and stunning bridges.
For a quick trip, the Green Trail takes just 15 minutes and head straight to the main falls. For the more ambitious hikers, the Red Trail takes about two hours and include all eight waterfalls. Kids and adults alike may want to check out the Bushkill Falls Mining Company Maze, which is timed and can add a fun bit of competition to your visit.
3. Gettysburg [SEE MAP]
One of the most significant battles ever fought in the Civil War was the Battle of Gettysburg. In July of 1863, three days of fighting resulted in heavy casualties and the retreat of the Confederate Army. Today, the Gettysburg National Military Park marks the historic site.
At the Gettysburg Heritage Center, you can get an introduction to the entire Civil War and how Gettysburg factored into it way. Make time to tour the Jennie Wade House, where the only Gettysburg citizen who died during the battle once lived.
2. Pittsburgh [SEE MAP]
Pittsburgh, or the Steel City, is a huge metropolis created where three rivers converge. Several steel bridges span the Ohio River, the Allegheny River and the Monongahela River. It has a distinct topography, a mass of green hills rising straight up from the rivers below.
While Pittsburgh's heritage is industrial, there are plenty of tourism attractions worth visiting in the city. The skyline in Downtown Pittsburgh is not to be missed, with the U.S. Steel Tower nabbing the honor of tallest in the city. In the heart of Downtown is Point State Park, a green park where you can also tour the 19th century Fort Pitt Block House. For sports fans, head to the North Side of the city to catch the Steelers at Heinz Field or the Pirates at PNC Park.
1. Philadelphia [SEE MAP]
It is nicknamed the City of Brotherly Love, but Philadelphia is probably best known for three things: American history, Rocky and cheesesteaks! Check out the Philadelphia Museum of Art for its excellent collection of works, and then admire the steps where Rocky famously trained.
History lovers can't miss the Independence National Historic Park, where several iconic landmarks are located. Within the park, you'll be able to see Independence Hall, the cracked Liberty Bell and the original U.S. Constitution, which is located in Constitution Hall. Round out the day of sightseeing with a Philly cheesesteak from Pat's or Geno's, two rival purveyors located across the street from one another in South Philadelphia.
Map of Pennsylvania
© OpenStreetMap © MapTiler © Touropia
25 Best Places to Visit in Pennsylvania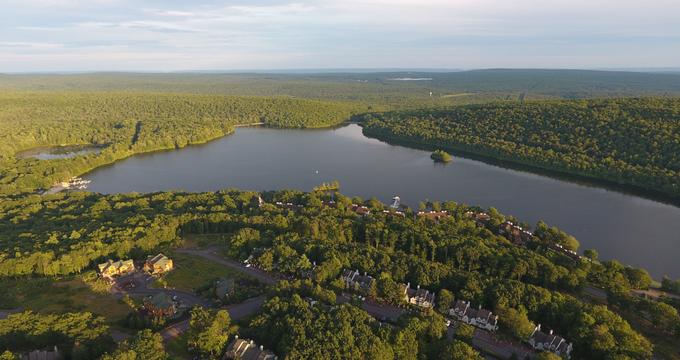 Pennsylvania's sophisticated cities and great outdoor attractions beckon you to explore a huge variety of activities. You can see the famous Liberty Bell in Philadelphia, walk in the footsteps of fallen Civil War heroes in Gettysburg, ride on a train, or soak up some culture at the Carnegie Museums in Pittsburgh. If you love the great outdoors, you can explore the wonderful scenery near Jim Thorpe, hike in the Delaware Water Gap, have fun at the water parks in PA, or enjoy the beaches on the shores of Lake Erie. Here are the best Pennsylvania destinations.
We recommend that you call the attractions and restaurants ahead of your visit to confirm current opening times.
1. Philadelphia
You can plan on spending every moment on the move when you visit Philadelphia, where an almost endless list of attractions and activities vie for your attention. Buying a Philadelphia Pass just down the road from the famous Liberty Bell will give you access to more than 30 city attractions.
Art lovers should not miss the Barnes Foundation and the Philadelphia Museum of Art. To learn about science and medicine, you can head to the amazing Franklin Institute and the Mutter Museum, while history buffs should not miss the Independence Seaport Museum and the National Constitution Center. Families can tour the Please Touch Children's Museum, the Adventure Aquarium, and Philadelphia Zoo, among many other exciting attractions. Next read: Best Tours for Getting to Know Philadelphia, Things to Do in Philadelphia
Fun day trip ideas: Getaways in California, East Coast beaches, NC quick trip, Romantic weekend getaways — You are reading "25 Best Places to Visit in Pennsylvania" Back to Top
2. Pittsburgh
Pittsburgh is literally bursting at the seams with attractions to please all ages. You can spend days exploring the many wonderful museums in the city, starting with the Carnegie Museum of Natural History, the Soldiers and Sailors Memorial Hall (a military museum which doubles as a concert hall), and the Carnegie Science Center.
Art lovers will find themselves drawn to the Andy Warhol Museum, the Carnegie Museum of Art, and the very unusual Mattress Factory, which showcases contemporary art. Nature enthusiasts can stroll through the Phipps Conservatory and Botanical Gardens, and hike the Three Rivers Heritage Trail or the Allegheny State Park. Children can have hours of fun at the Children's Museum of Pittsburgh, the Pittsburgh Zoo and PPG Aquarium, or the Sandcastle Water Park. Things to Do in Pittsburgh
Things to do near me today: Getaways from Seattle, NC day trips, FL, Near Atlanta, AL — You are reading "25 Best Places to Visit in Pennsylvania" Back to Top
3. Gettysburg
A decisive and bloody Civil War battle took place in Gettysburg in 1863 – consequently the town is home to a treasure trove of military history. The Gettysburg National Military Park covers an enormous area that you can explore along 40 miles of scenic roads dotted with over 1,000 monuments and cannon; a fun way to see it all is to jump aboard a Gettysburg Battlefield Bus Tour.
Once you've had your fill of Civil War history, you can visit the Lincoln Train Museum and the Gettysburg Railroad Station Museum. Families can take the children to see the Land of Little Horses, while foodies can taste regional food at several venues on a Savor Gettysburg Food Tour. Things to Do in Gettysburg
Our experts' top picks for a long weekend getaway: CO, From San Diego, VA, OH, WI, MI, IL, IL Places, VA, San Diego, TX — You are reading "25 Best Places to Visit in Pennsylvania" Back to Top
4. Places to visit in PA: Lancaster
In Lancaster you will find historic buildings and monuments comfortably co-existing with a thriving modern arts scene, good museums, and great shopping and dining. You can learn about the Amish culture and lifestyle on a tour of the Amish Farm and House, or have fun joining a First Friday Art Tour to explore unique galleries, studios, boutiques, and restaurants.
The whole family will enjoy the interactive displays at the North Museum of Nature and Science and have fun at the nearby Dutch Wonderland Amusement Park, while foodies can get their fill at the Lancaster Central Market and taste all the offerings available from the food trucks at Prince Street Park. The surrounding greater Lancaster County offers a wide variety of outdoor activities. Things to Do in Lancaster
More places we like: NC beaches, Ft Lauderdale, Day trips from NYC, From Chicago, PA, CT, CA, Hilton Head, Castles in Texas, GA beaches — You are reading "25 Best Places to Visit in Pennsylvania this Weekend with Friends" Back to Top
5. Hershey
Hershey is proudly home to America's favorite chocolate, and thanks to the innovative ideas of chocolate magnate Milton S. Hershey, the town boasts a long string of attractions for visitors. Jump right in by visiting Hershey's Chocolate World, where the historic Chocolate Trolley will take you on a tour to see how their world-famous chocolate is made – you can make your own chocolate bar and taste as much as you like.
If you would like to know more, you can visit the Hershey Story interactive museum and Hersheypark (amusement park). Other interesting museums include the Antique Automobile Club of America Museum and the Pennsylvania State Police Museum. Outdoor attractions include Hershey Gardens and Zoo America North American Wildlife Park. Hershey is one of the best places to visit in PA. Things to Do in Hershey
Expert opinion: Where should I go this weekend for fun? FL, CA, Myrtle Beach, OR, New England weekend, Charlotte, Williamsburg, LA, PA — You are reading "25 Best Places to Visit in Pennsylvania this Weekend" Back to Top
6. Jim Thorpe
Jim Thorpe is a quaint historical mining town located in the heart of the Pocono Mountains. Here you can step back in time as you walk down the main road and visit some of the town's beautifully preserved buildings and homesteads such as the Asa Packer Mansion Museum (1861).
You can polish up on your history at the Old Jail Museum and Mauch Chunk Museum or have some fun on a ghost tour with Walk this Way Tours. For a change of pace you can go white water rafting, canoeing, or kayaking with Jim Thorpe River Adventures or take a scenic train ride through the Lehigh Gorge State Park. Hikers should try the strenuous but rewarding Glen Onoko Falls Trail. Things to Do in Jim Thorpe PA
Top Rated: Last minute places for couples: Southwest, New England, TN, KS, NY, From Houston, From Palm Springs, From Chattanooga, From Detroit, NJ — You are reading "25 Best Places to Visit in Pennsylvania" Back to Top
7. Harrisburg
You can start your visit to Harrisburg on a high note as you tour the impressive Pennsylvania State Capitol, an imposing building which dates back to 1902. Other gracious and historic buildings you can add to your itinerary include the John Harris-Simon Cameron Mansion and the Fort Hunter Mansion and Park.
The whole family can spend hours at the Whitaker Center for Science and Arts and have fun touring the Pennsylvania National Fire Museum and the planetarium at the State Museum of Pennsylvania, while culture vultures will not want to miss the Susquehanna Art Museum and the Harrisburg Symphony Orchestra. If you need some fresh air and exercise, you can head to Wildwood Park. Things to Do in Harrisburg PA
Affordable things to see near me, must-visit beaches: OK, Small Town, AL, MI, FL, From Nashville, ND — You are reading "25 Best Places to Visit in Pennsylvania" Back to Top
8. Places to visit in PA: Allentown
Dating back to 1762, Allentown is one of the oldest cities in Pennsylvania and boasts a treasure trove of interesting museums and historic building that document its past. You can spend an interesting afternoon strolling through Old Allentown Historic Area before increasing your knowledge about everything old and interesting at one of several unique museums that include America on Wheels (transport museum), the Allied Air Force Museum, the Haines Mill Museum, the Lehigh Valley Heritage Museum, the Mack Truck Museum, and the Liberty Bell Museum.
For art lovers there is the Allentown Art Museum, while science enthusiasts can visit the Da Vinci Science Center for hands-on fun and learning. You can visit seven historical covered bridges on the Lehigh Valley Covered Bridge Tour or stay in town and visit some local breweries.
9. Bethlehem
Bethlehem started off as a tiny Moravian mission village in 1741 and has many well-preserved historical attractions where visitors can learn about its industrial past. The visitors center at Steel Stacks is a good place to start your tour of the Hoover Mason Trestle, one of the highlights of any visit to Bethlehem.
You can take a self-guided stroll (or go on a walking tour) through the Colonial Industrial Quarter, visit the Burnside Plantation, and walk/hike the river-side Heritage Trail. Art lovers should visit the Banana Factory (gallery and studios) for the First Friday monthly art event and attend a show at Steel Stacks. You can walk, jog, picnic, or fish at the Illick's Mill Park, visit the Sands Casino, or tour some of the fascinating museums in neighboring Allentown.
10. Erie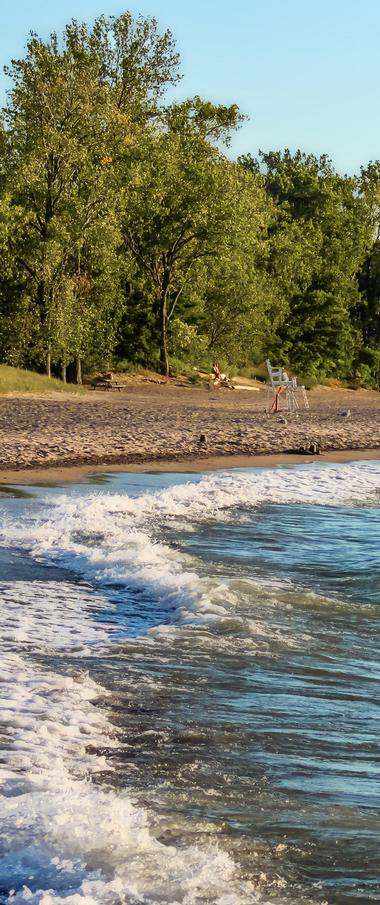 Nestled on the southern shore of Lake Erie, the town of Erie is an ideal getaway destination for all ages. You can get a great overview of the city from the observation deck of the Port Erie Bicentennial Tower before you set off to explore the Erie Maritime Museum and the Firefighters Historical Museum or go on a tour of local historic buildings.
If the arts are more to your taste, you can visit the Erie Art Museum and the Erie Philharmonic Orchestra or catch a show at the Erie Playhouse. Outdoor enthusiasts can visit Presque Isle State Park for hiking, biking, and water sports in summer and a variety of snow sports in winter. Families will love the Erie Zoo and Botanical Gardens and the ExpERIEnce Children's Museum. Things to Do in Erie
11. Places to visit in PA: Scranton
Way back in 1849, Scranton PA became a major railroad junction, which put this little town on the map. Later expansion into the industrial sector followed and today visitors can explore the town's historic legacy on a tour of the 40-acre Steamway National Historic Site, the Pennsylvania Anthracite Heritage Museum and Iron Furnaces, and the Lackawanna Coal Mine.
Other interesting museums you can visit include the Everhart Museum of Natural History Science and Art and the Electric City Trolley Station and Museum. Hikers can enjoy scenic trails around Lake Scranton or take on the 23-mile Pinchot Trail on the Pocono Plateau. Bikers can head to the Lackawanna State Forest or try the 70-mile Lackawanna River Heritage Trail, while wine lovers can tour a few of the local wineries. Things to Do in Scranton PA
12. State College
State College is the home of Pennsylvania State College and makes a good base for visitors wanting to enjoy the college town vibe and explore all the attractions of Central Pennsylvania. The area has many interesting historical sites you can visit, including the Centre Furnace Mansion Historic Site, the Boalsburg Heritage Museum, and the Fort Roberdeau Historic Site.
If you would like to get outdoors, you can visit the Millbrook Marsh Nature Center, Rothrock State Forest, and Mount Nittany Conservancy for hiking and nature observation. State College hosts several annual events and festivals, including the Central PA Festival of Arts, BookFestPa, and the Downtown State College Italian Street Painting Festival.
13. Wilkes-Barre
The coal mining town of Wilkes-Barre was founded in 1770 and is chock-full of interesting historical buildings and sites, side-by-side with excellent outdoor attractions for active adventurers. You can soak up the atmosphere in the River Street Historic District, which includes over 200 buildings in a variety of architectural styles, some of which date back to 1860.
Art lovers can join the Third Friday Artwalk and visit the Marquis George MacDonald Art Gallery, the Sordoni Art Gallery, and the F.M. Kirby Center for the Performing Arts. You can get all the info you need for outdoor adventuring at the Luzerne County Convention and Visitors Bureau. You can go hiking along the scenic Black Mountain Trail or head to the Francis Slocum State Park for biking, boating, canoeing, fishing, and more.
14. Places to visit in PA: King of Prussia
King of Prussia is situated next to Valley Forge Park, close to Philadelphia, offering visitors excellent shopping at one of the largest shopping malls in the country and a great mix of outdoor activities right alongside all the city attractions of Philly. History buffs can learn about the famous Continental Army at the Valley Forge National Historical Park, where there are also extensive recreational areas for hikers (over 30 miles of trails) and crystal-clear waterways beckoning fishermen.
In nearby Phoenixville you can go paddling and tubing with Port Providence Paddle. You can try a gravity-defying indoor skydive at iFly Indoor Skydiving, or shop until you drop at the King of Prussia Mall, which boasts eight major department stores and scores of smaller shops catering to all tastes and desires.
15. Nockamixon State Park
The Nockamixon State Park is an ideal back-to-nature getaway in the rolling hills of Buck's County. The park is home to Nockamixon Lake, where you can enjoy a variety of watersports, including boating, sailing, fishing, and wind surfing. You can bring your own boat and launch it at one of six public launch sites or hire a canoe, kayak, paddleboard, or paddleboat on site.
Hiking is very popular along the six hiking trails and for bikers there is a 2-mile paved bicycle trail as well as a more rugged 10-mile trail for mountain bikes. In winter you can enjoy cross-country skiing, sledding, and ice fishing. You can rent a modern fully equipped cabin on site and spend evenings star-gazing around the outdoor barbecue.
Near me on a budget: Plattsburgh, Washington islands, La Jolla, Connecticut resorts, Wisconsin, Beaches near Boston — You are reading "25 Best Places to Visit in Pennsylvania" Back to Top or Amazing things to do around me
Source https://www.thecrazytourist.com/15-best-places-live-pennsylvania/
Source https://www.touropia.com/best-places-to-visit-in-pennsylvania/
Source https://vacationidea.com/destinations/best-places-to-visit-in-pennsylvania.html