10 Best Places to Visit in Oklahoma
Located in the endless and expansive Great Plains of the South Central United States, Oklahoma is a fantastic state to visit that is all too often overlooked by tourists. Home to picturesque prairies, lush forests, roaring rivers, and low-lying mountain ranges, it is a delight to explore, with famous Historic Route 66 passing right through its heartland.
While it is sparsely populated, large and lively cities such as Tulsa and Oklahoma City can be found dotted among its fertile fields and farmland. As well as boasting a rich Native American past, the former frontier state has a captivating cowboy culture for tourists to delve into, with riveting Wild West attractions on offer. Among the best places to visit in Oklahoma are beautiful nature parks and wilderness areas where plenty of magnificent outdoor activities can be enjoyed.
10. Great Salt Plains State Park [SEE MAP]
© Lamarsellers / Dreamstime
Set on the shores of the scenic, shallow, and salty lake of the same name, Great Salt Plains State Park lies in the north of Oklahoma. Home to delightfully desolate landscapes that seemingly stretch forever, it is named after the pretty plains of sparkling salt – all that remains of a once vast prehistoric ocean.
While the ceaseless salt scenery is spectacular, the state park also has a wealth of great outdoor activities for visitors to enjoy. Besides mountain biking and hiking, there is fabulous swimming and boating to be had out on the lake, as well as some excellent fishing and bird watching.
Remarkably, Great Salt Plains State Park is the only place on Earth where you can dig up your own selenite crystals. From April to October, thousands of people descend on the state park to search for the hourglass-shaped crystals, bask in the beautiful views, and enjoy the recreational activities on offer.
9. Natural Falls State Park [SEE MAP]
© Ridetheremuda / Dreamstime
Nestled away amid the stunning scenery of the Ozark Highlands, Natural Falls State Park can be found in the northeast of the state, not far from the border with Arkansas. While it encompasses lovely forest, fauna, and flora, it is most known for the wonderful waterfall lying at its heart.
Towering to 75 feet (23 meters), the delightful Dripping Springs Falls tumbles down a rugged cliff face before merging with a serene pool below. Hidden away in a narrow valley in the forest, it is best viewed from one of two observation platforms, where fantastic photos can be had of the phenomenal falls.
While the waterfall is certainly the state park's standout sight, it is also a great place to have a picnic or barbecue, with some visitors glamping overnight in one of the five cosy yurts. In addition, there is a basketball and volleyball court on offer, as well as a scenic hiking trail through the woods.
8. Chickasaw National Recreation Area [SEE MAP]
© Ridetheremuda / Dreamstime
Set on the outskirts of the small city of Sulphur in south-central Oklahoma, Chickasaw National Recreation Area has a wealth of outstanding outdoor activities for visitors to enjoy. Cradled in the foothills of the Arbuckle Mountains, it boasts everything from springs and streams to forests, lakes and waterfalls.
As over a quarter of the park is made up of beautiful waterways, its babbling brooks and rushing rivers lend themselves perfectly to fishing, swimming, and boating. The largest body of water is the lovely Lake of the Arbuckles, which has picturesque picnic sites and campgrounds for visitors to make use of.
While the recreation area is dominated and defined by water, its lush woods are just as delightful to hike around, with a diverse range of fauna and flora to discover. At the Travertine Nature Center, visitors can learn all about Chickasaw National Recreation Area's nature and ecosystems through exhibits and live classes.
7. Lawton [SEE MAP]
© W.scott Mcgill / Dreamstime
The fifth-largest city in the state, Lawton lies amid the endless plains and prairies of the southwest of Oklahoma, with only the Wichita Mountains to the north breaking the monotony. Home to a handful of fascinating museums, it is the perfect place to visit if you want to learn more about the history and culture of the Great Plains.
At the Museum of the Great Plains, there are informative and interactive exhibitions on the settlement of the area, as well as archaeological findings, artifacts, and a replica of a trading post. In addition, the Comanche National Museum and Cultural Center highlights the tribe's rich heritage and history, while the Fort Sill Museum has lots of period buildings for visitors to peruse.
Besides its fabulous public museums, visitors to Lawton can enjoy its plethora of parks and outdoor recreation areas. While swimming and boating are popular pastimes, no visit can be complete without spending time amid the exquisite nature of the wild Wichita Mountains.
6. Bartlesville [SEE MAP]
David Marshall / Wikipedia
Straddling the banks of the Caney River, Bartlesville lies some 45 miles (70 kilometers) to the north of Tulsa, not far from the border with Kansas. Since oil was discovered in 1905, much of life in the city has been dominated by the Phillips Petroleum Company, which still has large offices in town and employs many people.
Over the years, the wealthy corporation has funded the building of a number of excellent museums and attractive edifices around town. Of these, the museum and wildlife preserve of Woolaroc is undoubtedly the most impressive: it hosts an extensive collection of artworks and animals, including bison, elk, and zebra.
In addition, Bartlesville is noted for being the home of the only skyscraper designed by Frank Lloyd Wright. Reaching 220 feet (67 meters), Price Tower stands out from its surroundings and regularly hosts exhibitions. Besides art, architecture and animals, the city also holds some significant cultural events and festivals over the year, with its classic car show proving very popular.
5. Beavers Bend State Park [SEE MAP]
© Qiwoman01 / Dreamstime
One of the most popular and picturesque parks in the whole of Oklahoma, Beavers Bend State Park can be found in the scenic southeast of the state. Named after a sharp bend in the idyllic Mountain Fork River, it was established in 1937 and contains the beautiful Broken Bow Lake.
Tucked away amid rolling hills and low-lying mountains, the park boasts stunning scenery and landscapes, with verdant forests hugging its lakeshores and riverbanks. The rugged and rustic terrain is a treat to explore, with loads of hiking trails and mountain bike paths winding through the woods.
Its rushing river and lovely lake also lend themselves perfectly to all kinds of fun outdoor activities, with fishing, swimming, and canoeing being particularly popular. Many people choose to camp overnight in the park or stay at one of its cosy cabins, where archery, minigolf, and tennis can be enjoyed at its nature center.
4. Wichita Mountains Wildlife Refuge [SEE MAP]
© David Mcgowen / Dreamstime
Covering a vast swathe of southwest Oklahoma, the wonderfully wild Wichita Mountains Wildlife Refuge lies just to the north of Lawton. Founded in 1901, it preserves diverse landscapes and countless species of fauna and flora.
Very mountainous, it is home to everything from steep ravines and sweeping valleys to flower-filled meadows and forests. Dotted about its confines are 13 artificial lakes, as well as plenty of scenic hiking trails and rock climbing routes. Due to the outstanding beauty on show, it is a splendid place to go camping and fishing, with some excellent bird and wildlife watching on offer.
While much of the park is open to the public, more than half of it is an untouched wildlife refuge. On guided tours, visitors can spot elks, armadillos, otters, and the breathtaking bison, which now number more than 650 in total.
3. Route 66 [SEE MAP]
© Peek / Dreamstime
One of the most renowned and revered roads in the US, Route 66 meanders from Chicago, Illinois all the way to Santa Monica in California. Passing through eight states, the 'Mother Road' covers 3,940 kilometers, with Oklahoma boasting one of its longest stretches.
Road tripping along the Historic Route 66 has long been popular with visitors to the state, with large and lively cities such as Tulsa and Oklahoma City to stop off at along the way. Besides, it passes through some quintessential American landscapes, with rolling cornfields and farms lying alongside rural and remote countryside towns and villages.
Oklahoma also has several magnificent museums and monuments dedicated to the famous route for you to visit. In Elk City, for instance, there is the National Route 66 Museum, which looks at the people who lived, worked, and traveled along the road. In contrast, Clinton's Oklahoma Route 66 Museum focuses on iconic images and ideas related to the almost mythical Mother Road.
2. Tulsa [SEE MAP]
© Ffooter / Dreamstime
The self-billed 'Oil Capital of the World', Tulsa is the second-largest city in the state and lies in the northeast of Oklahoma, in between the Great Plains and the foothills of the Ozarks. While it is home to the headquarters of many large energy companies and big businesses, it also boasts some superb architecture and interesting attractions.
Set on the banks of the Arkansas River, its sparkling skyscraper-dotted city center is not only home to glistening corporate offices, but also an astounding array of elegant art deco buildings. It also has a thriving arts and culture scene for visitors to delve into, with marvelous ballet, opera, and theater venues found alongside its two world-class art museums.
Thanks in part to all of the wealthy corporations in town, Tulsa also has lots of fine dining and shopping on offer, as well as vibrant nightlife and live music scenes. In addition, it has numerous sights related to the Historic Route 66 and lots of lovely parks and green spaces for visitors to enjoy.
1. Oklahoma City [SEE MAP]
© Justin Brotton / Dreamstime
Set almost right in the center of the state, Oklahoma City is not only its capital and most populous settlement, but its economic and cultural heart, too. Straddling the banks of the Oklahoma River, OKC (as it is often referred to) is one of the Great Plain's major metropolitan areas, and as such, has lots for visitors to see and do.
While many sights – such as the splendid Museum of Art and the touching Oklahoma City National Memorial – lie in downtown, it is well worth exploring further afield. The Paseo, a former artists' colony, is home to lots of exquisite art galleries, Art Deco buildings and boutiques, and 'Little Saigon' is awash with excellent Asian restaurants and shops.
In addition to its innumerable historical, cultural and architectural sights, OKC also sports the family-friendly Frontier City where exhilarating rides and attractions take you back to the old Wild West. Riverside parks and walks also abound in the city with the stunning seven-story Myriad Botanical Gardens being just one of the center's many standout attractions.
Map of Oklahoma
© OpenStreetMap © MapTiler © Touropia
17 Top-Rated Tourist Attractions in Oklahoma State
Oklahoma is an authentic gateway to the west – a land of red dirt, where buffalo roam the plains, and oil rigs pump riches. But the largest cities, Oklahoma City and Tulsa, also have a distinctly refined air, having been built on the proceeds of an early-1900s oil boom.
Modern museums, galleries of international art, and lavish gardens, among other cultural attractions, all give the state a more cosmopolitan edge, but many tourists choose to experience Oklahoma with the simple pleasures of a road trip, and no highway is more iconic than the state's stretch of Route 66.
For more ideas on the best places to visit, read our list of the top tourist attractions in Oklahoma State.
1. Route 66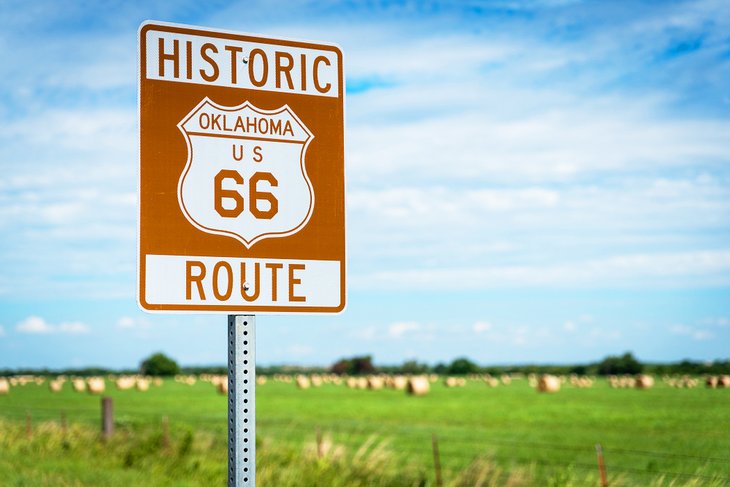 US Route 66 in Oklahoma
The full stretch of Route 66 runs from Chicago to Los Angeles, but the longest run of miles cuts diagonally through the state of Oklahoma. This OK length begins in the northeastern corner of the state and travels through Tulsa and Oklahoma City before crossing the border into Texas.
Roadside attractions range from the historical, such as Oklahoma Route 66 Museum in Clinton and National Route 66 and Transportation Museum in Elk City, to the odd, like the Blue Whale of Catoosa or Golden Driller in Tulsa.
The Oklahoma Route 66 Museum in Clinton is a great way to learn about the road's history, with immersive experiences like a 1950s diner and changing exhibits that celebrate the Route 66 experience.
Generally, sightseeing draws on Route 66 have a motor-head bent, such as drive-ins, motorcycle museums, and old-timey filling stations, meaning that it's avid road-trippers who most enjoy the journey.
2. Oklahoma City Zoo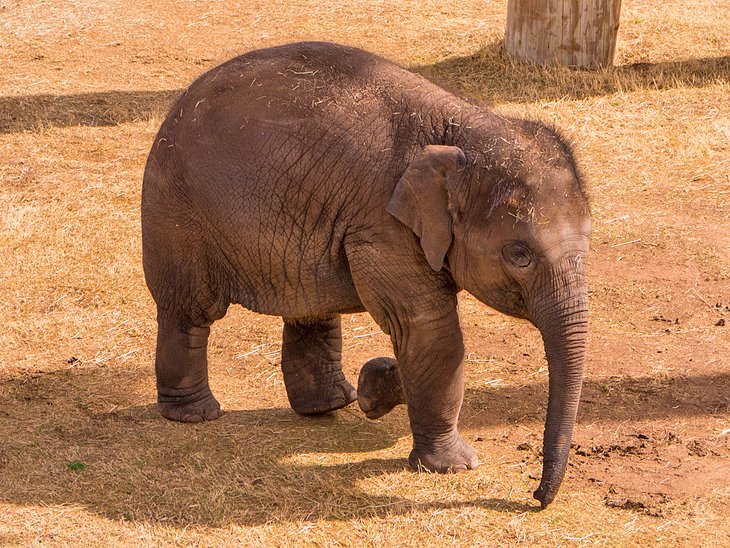 Elephant at Oklahoma City Zoo
Ambling pathways take visitors through many ecosystems at the Oklahoma City Zoo, from African plains to tropical jungles. One of the top things to do in Oklahoma City, the zoo and botanical gardens were established more than a century ago and have since nurtured 500 species of animals, including some endangered, as well as a grand garden landscape.
Demonstrations and educational sessions are a highlight for families, whether it's a giraffe feeding or elephant show. Other fun things to do include exploring the stingray touch tank, hopping on a train ride, or boating on the zoo's lake.
Address: 2101 NE 50th Street, Oklahoma City, Oklahoma
3. Philbrook Museum of Art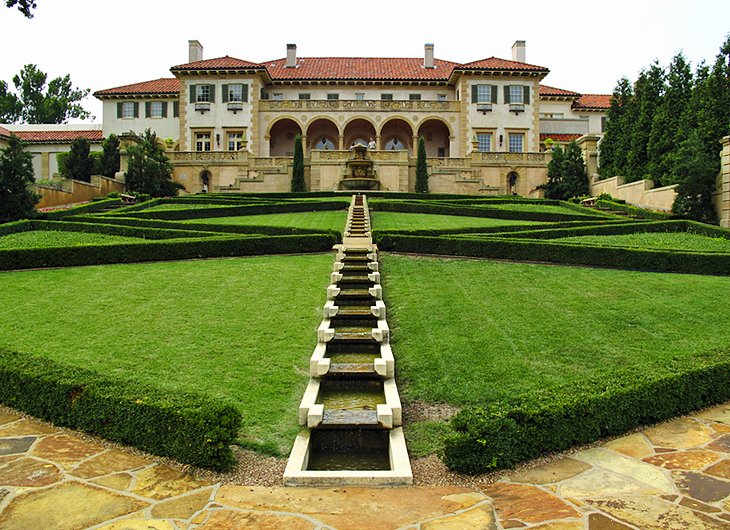 Philbrook Museum of Art
Collections at the Philbrook Museum of Art include works from Africa, Asia, and Europe in a variety of media, as well as the work of American artists and craftspeople.
One of the highlights of Tulsa, this Italian Renaissance-style villa turned art museum sits on 23 acres of picturesque formal and informal gardens along Crow Creek. It has the elegance and wealth of oil-rich Tulsa in the 1920s, while the art collection has a decidedly international scope.
When visiting the gardens, keep an eye out for the cats on rodent patrol and the bees who both pollinate and produce local honey, which is sold in the gift shop seasonally. There is a second branch of the art museum located in downtown Tulsa.
Address: 2727 South Rockford Road, Tulsa, Oklahoma
4. Science Museum Oklahoma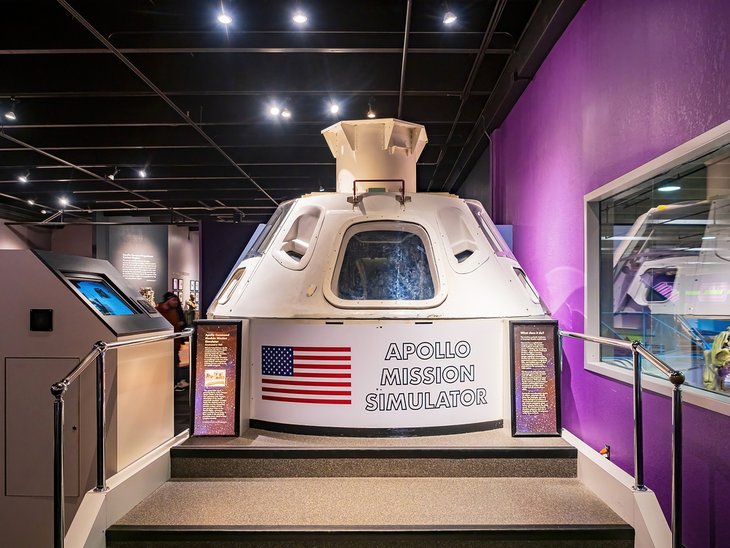 Mercury Capsule Simulator at the Science Museum Oklahoma | Kit Leong / Shutterstock.com
The Science Museum of Oklahoma is home to an astounding number of exhibits that engage curious visitors of all ages. The main exhibit hall of the museum is filled with hands-on activities and interactive exhibits that teach about all aspects of scientific study, from biology to physics.
Visitors can also enjoy a range of live shows, including the planetarium shows and movies shown on the dome, a Tesla coil show, and a lights and shadows show.
Younger kids can get in on the fun in "CurioCity," an activity-packed indoor city with a variety of challenges and endless opportunities for learning, or design and create their own inventions using a variety of materials from paper and string to Lego bricks and then test their new inventions against wind, gravity, and each other.
Visual and artistic minds can explore the technology studio that includes coding, animation, and sound mixing, or combine art and science in the Tinkering Garage.
The museum is also home to an extensive exhibit on Oklahoma's long-standing connection to the country's space program, including not only artifacts and actual space craft but also an actual Mercury Capsule Simulator, which is used by astronauts to train.
The museum is also home to beautiful gardens, where visitors can learn about botany and nature.
Address: 2100 NE 52nd Street, Oklahoma City, Oklahoma
5. Woolaroc Museum & Wildlife Preserve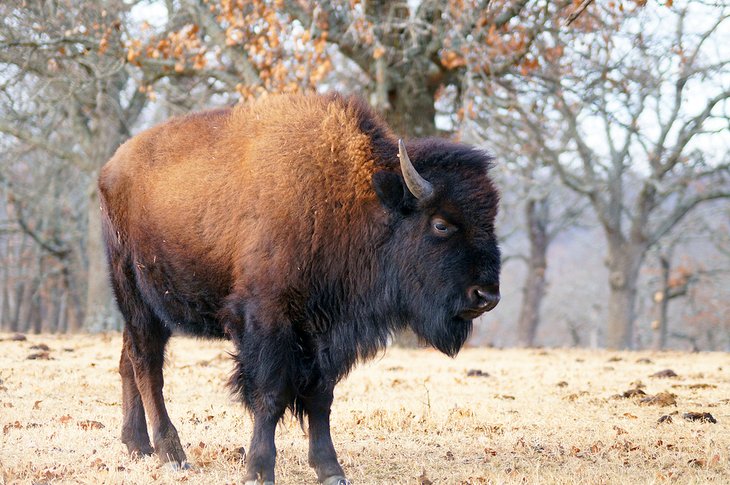 American bison at the Woolaroc Museum & Wildlife Preserve
Woolaroc Ranch covers 3,700 acres where American bison, longhorn cattle, and elk roam free on the wide-reaching landscape. Visitors can safely see and photograph these magnificent beasts from their vehicles.
Also on the ranch grounds are a western-focused museum (exhibiting art and artifacts) and a rustic lodge. The preserve is a 20-minute drive southwest of Bartlesville, which is also worth a visit to see Price Tower Arts Center – the only skyscraper constructed from renowned architect Frank Lloyd Wright's designs.
Address: 1925 Woolaroc Ranch Road, Bartlesville, Oklahoma
6. Myriad Botanical Gardens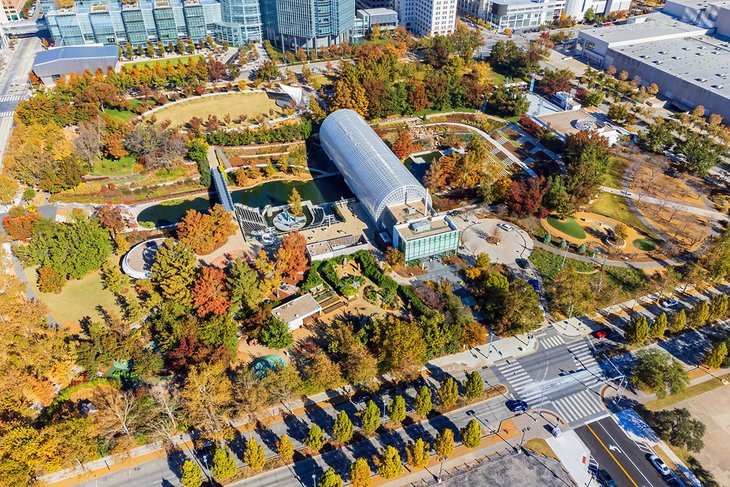 Aerial view of the Myriad Botanical Gardens
Myriad Botanical Gardens provides an oasis in Oklahoma City's downtown for residents, families, and tourists. The space and facilities are free to use, covering 15 acres with walking paths, a large lawn, and small lake. There is also a playground, an off-leash dog park, and a visitor center.
The gardens include a children's garden, ornamental gardens, and the impressive Crystal Bridge Conservatory, which is undergoing major renovations in the summer of 2022. Here, visitors can explore the plants of two climates, the Tropical Wet Zone and the Tropical Dry Zone, and the desert plant area.
Together, more than 750 species of plants are represented in lovely surroundings that include a waterfall and a bridge over the tropical forest from which visitors can get a bird's-eye view.
Address: 301 W. Reno, Oklahoma City, Oklahoma
7. University of Oklahoma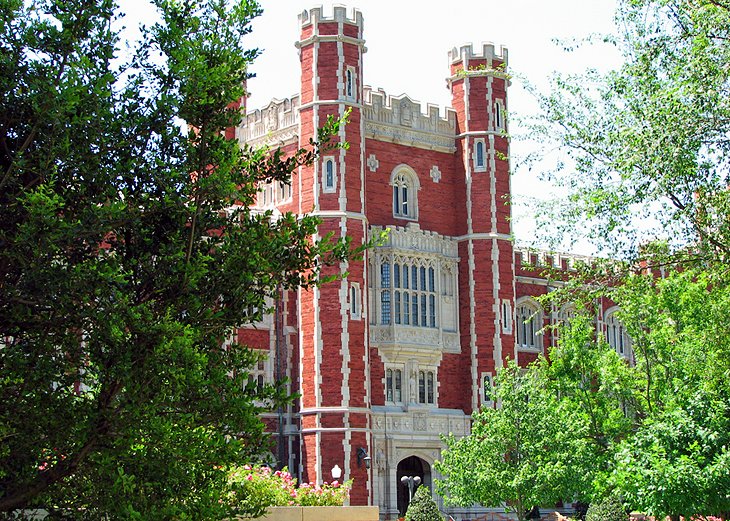 University of Oklahoma
In Norman, on the southern fringes of Oklahoma City, the University of Oklahoma is home to many tourist attractions as well as strong sports programs. The school was established in 1890 and has since grown into a 3,000-acre campus.
There are many things to see and do on campus, including contemporary exhibits at the Fred Jones Jr Museum of Art and artifacts from worldwide civilizations (plus dinosaur bones) at the Sam Noble Oklahoma Museum of Natural History. For bibliophiles, the Bizzell Memorial Library is a lovely landmark structure dating to 1929.
Address: 660 Parrington Oval, Norman, Oklahoma
8. Woody Guthrie Center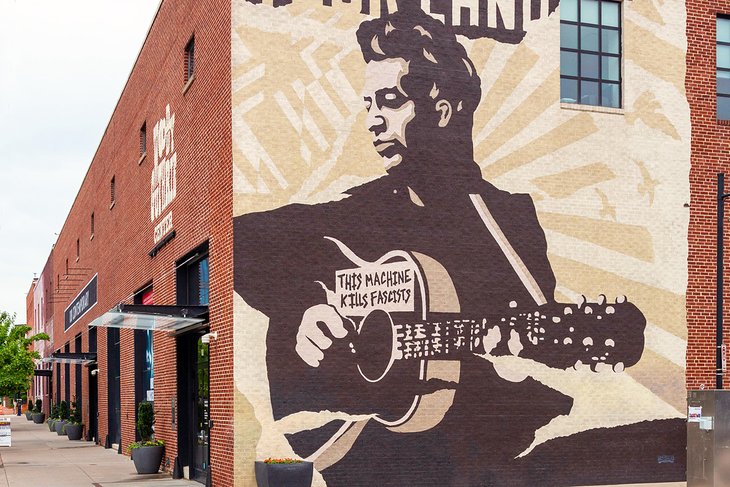 Woody Guthrie Center | David Brossard / photo modified
The Woody Guthrie Center contains a comprehensive collection of exhibits, which celebrate the life and work of this artist, including not only his music but also his contributions to social and political discourse.
Visitors are walked through his life by way of film presentations, audio experiences, timelines, and of course an extensive collection of his musical instruments and personal items.
This museum partners with the Bob Dylan Center, also located on Tulsa's East Reconciliation Way, with options to purchase dual tickets to save on admission fees. The Bob Dylan Center is home to artifacts, educational exhibits, photographs, and a screening room.
Address: 102 East Reconciliation Way, Tulsa, Oklahoma
9. Museum of the Great Plains, Lawton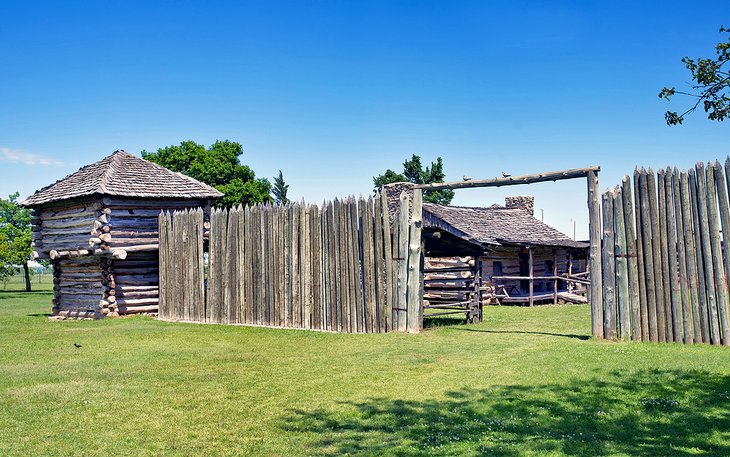 Museum of the Great Plains in Lawton, Oklahoma
The Museum of the Great Plains in Lawton features hands-on and interactive natural history exhibits that unveil life in the west for Native Americans and pioneers. Venture outdoors to see a number of historic buildings, including a train depot, trading post, and schoolhouse.
Also in Lawton, tourists can discover local culture at the Comanche National Museum and Cultural Center, or tour The Holy City – an unusual collection of buildings constructed to look like Israel during the Biblical period.
Address: 601 NW Ferris Ave, Lawton, Oklahoma
10. Oklahoma City Museum of Art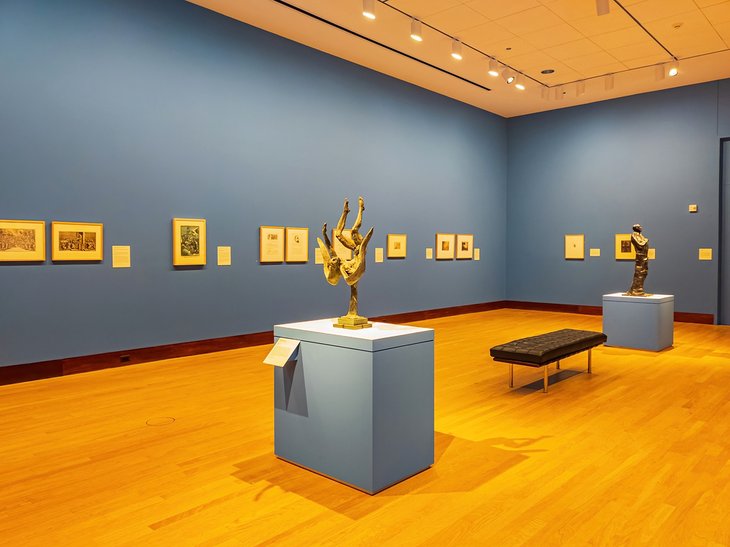 Oklahoma City Museum of Art | Kit Leong / Shutterstock.com
The museum's collection is diverse, featuring all mediums of visual art including photography, drawing, painting, sculpture, textiles, film, glass, and mixed media. Genres are equally inclusive, with examples of pop art, abstract art, American & European art, post-war and contemporary works, and others.
Among the museum's most popular exhibits are those focused on the work of renowned glass artist Dale Chihuly. Installations rotate the museum's large collection of Chihuly's work, as well as the rest of its expansive collection, and the museum hosts traveling exhibits as well.
Among the well-known artists represented here are American artists Georgia O'Keefe and Charles Wilson Peale, European artists Pierre-Auguste Renoir and Gustave Courbet, and photographers Elliott Erwitt and Garry Winogrand.
Address: 415 Couch Drive, Oklahoma City, Oklahoma
11. JM Davis Arms & Historical Museum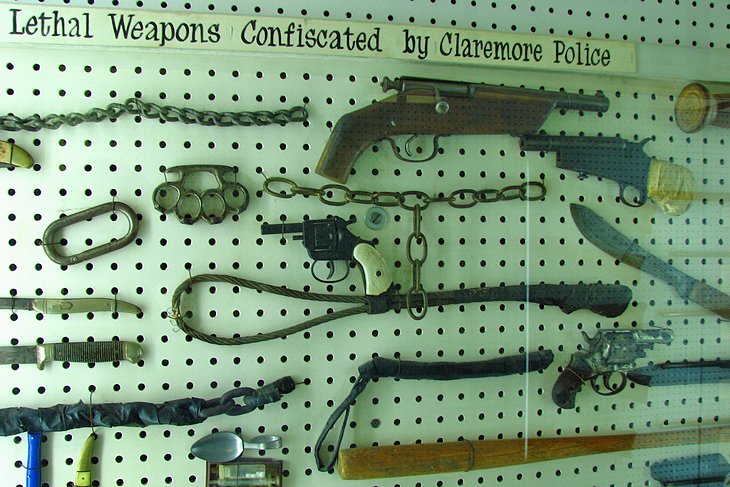 JM Davis Arms & Historical Museum | CGP Grey / photo modified
The collections at the Jim Davis Arms & Historical Museum in Oklahoma City include 50,000 items. The main exhibit is Davis' massive private collection of more than 12,000 firearms that date as far back as the 14th century.
Additional displays include Native American artifacts, authentic riding saddles, and spurs from the "Wild West" historic items. The museum also features a re-creation of the lobby from JM Davis' Mason Hotel, as well as World War II memorabilia and information on local history. Outside, visitors can admire the collection's largest piece, a U.S. Army M41 Walker Bulldog tank, circa 1950.
Address: 330 North JM Davis Blvd, Claremore, Oklahoma
12. Gilcrease Museum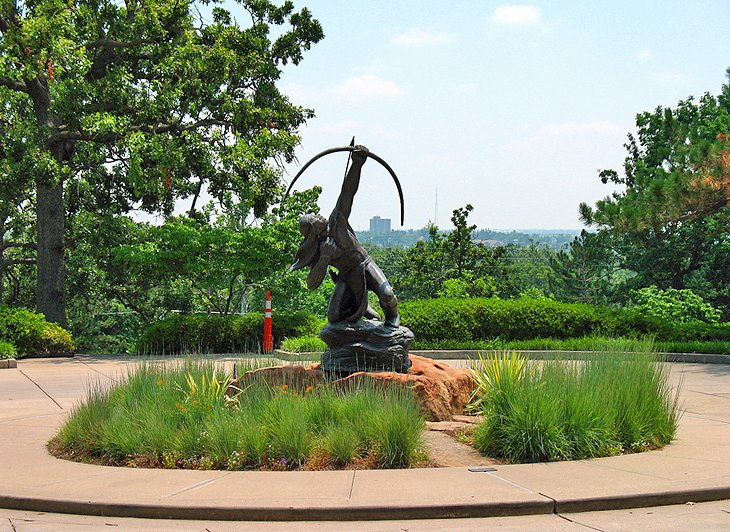 Gilcrease Museum | Marc Carlson / photo modified
The Gilcrease Museum in Tulsa presents an extensive art and history collection from the American West, exploring both frontier settlement and Native American cultures. Collections include art, historical manuscripts, and anthropological artifacts.
The museum is set on 460 acres in the Osage Hills. Stunningly lush gardens cultivate 23 of those acres with thematic gardening styles, including pretty Victorian, colonial, pre-Columbian, and pioneer landscapes.
Address: 1400 North Gilcrease Museum Road, Tulsa, Oklahoma
13. Oklahoma Aquarium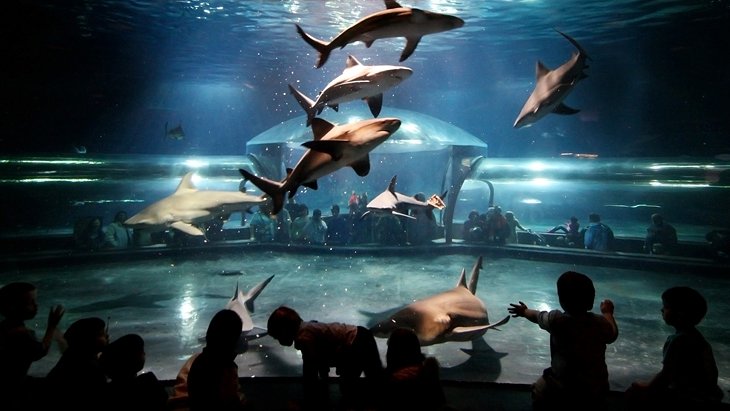 Bullhead sharks, Oklahoma Aquarium | Photo Copyright: Oklahoma Aquarium
Located in Jenks, just south of Tulsa, the Oklahoma Aquarium is renown for having the world's largest collection of bullhead sharks. You can see them in the Shark Adventure exhibit, where you can watch these beautiful creatures glide gracefully from the walk-through glass tunnel.
Other interesting exhibits include Extreme Fishes, Sea Turtle Island, Eco Zone, and Polynesian Reef, all of which showcase colorful and fascinating sea creatures from around the world. In addition to exotic species, the aquarium presents local marine life in the engaging Aquatic Oklahoma exhibit, where you can see a 120-year-old alligator snapping turtle.
Address: 300 Aquarium Drive, Jenks, Oklahoma
14. National Cowboy & Western Heritage Museum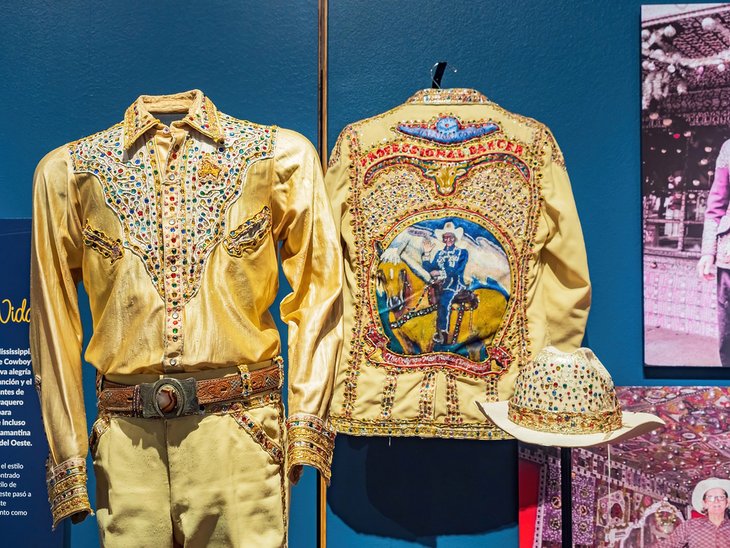 Exhibit at the National Cowboy & Western Heritage Museum | Kit Leong / Shutterstock.com
The National Cowboy & Western Heritage Museum in Oklahoma City began in 1955 as a "Hall of Fame" dedicated to American cowboys, and has grown to be the country's foremost archives of Western art, artifacts, and cultural history.
Galleries display a variety of Western art that includes painting and sculpture, as well as interactive exhibits about the people and culture of the Old West. Areas of focus include military and firearms, the tradition of rodeos and Western performers, and Native American culture.
The museum also includes a replica of a western town, and hosts regular educational events. Parents can relax in the garden while the kids play and learn outdoors in a kid-sized Wild West that includes the Children's Cowboy Corral.
Address: 1700 Northeast 63rd St. Oklahoma City, Oklahoma
15. National Weather Center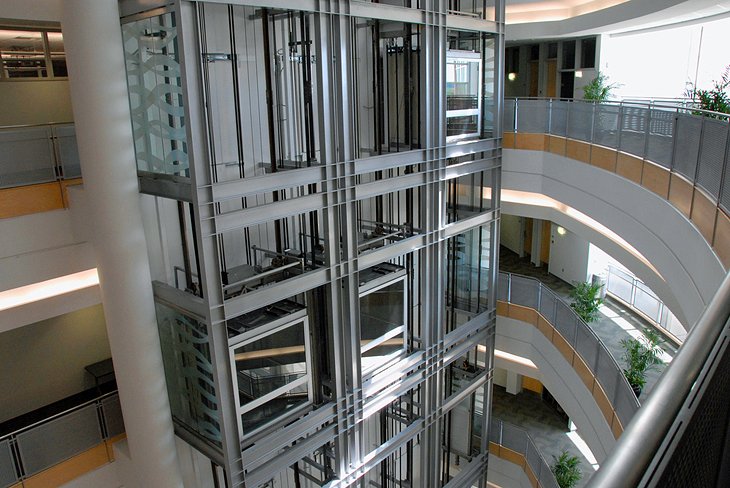 National Weather Center
Oklahoma State has some of the most severe weather occurrences of anywhere in the world, with powerful tornadoes, sky-splitting lightning, and searing heat. These extreme conditions are what makes a tour of the National Weather Center in Norman (south of the capital) so interesting.
The guided session visits Oklahoma University's School of Meteorology, as well as the Storm Prediction Center. Advance reservations are required. There is also an on-site café open to the public, and there is no admission charge to visit the weather center.
Address: 120 David L Boren Blvd, Norman, Oklahoma
16. Oklahoma City National Memorial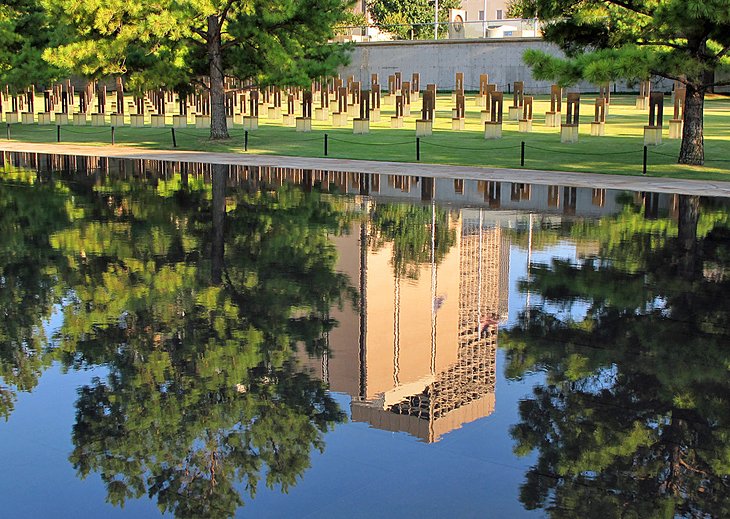 Oklahoma City National Memorial
The 1995 bombing of the Alfred P. Murrah Federal Building is poignantly remembered at this outdoor memorial and museum in Oklahoma City. Victims, survivors, and rescuers are honored within the grounds, which include a reflection pool, gardens, and symbolic sculptures. It's become a landmark of the state capital.
The nearby Oklahoma City National Memorial Museum recounts the tragic events felt across the nation.
Address: 620 North Harvey Ave, Oklahoma City, Oklahoma
17. Marland Estate Mansion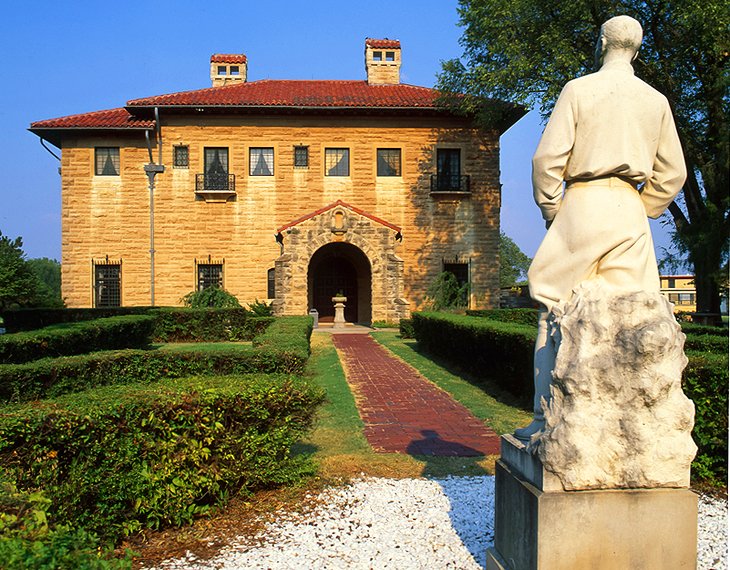 Marland Estate Mansion
Near the Kansas border to the north, Ponca City is another Oklahoma oil-boom town. The grand Marland Estate Mansion dates to 1928, ordered as a second home for millionaire oilman and 10th governor of Oklahoma, E. W. Marland. The palatial home has 55 rooms, including three kitchens, plus expansive grounds with a swimming pool, artist studio, and boathouse.
Other historic museums within the estate include the Bryant Baker Gallery dedicated to the namesake sculptor and the Marland Oil Museum. For a look at the Marland's earlier home, visit his smaller city residence (also in Ponca City) known as Marland's Grand Home.
25 Best Places to Visit in Oklahoma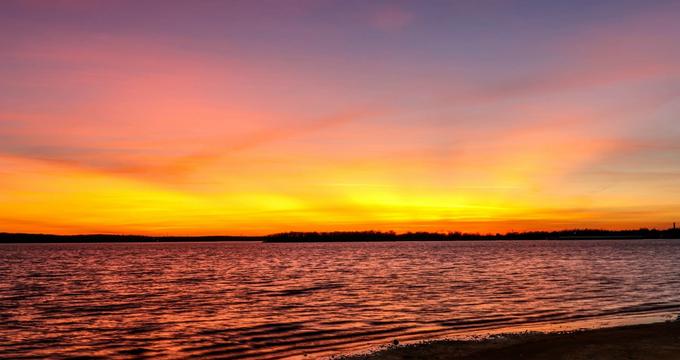 Oklahoma is a wonderful getaway destination offering an excellent combination of historic, cultural, outdoor, and family attractions. You can go on an epic road trip along part of the legendary Route 66, admire the lakes and other amazing scenery at the state's parks, or visit top-notch city museums and galleries in Oklahoma City, Norman and Tulsa. Here are the best places to visit in Oklahoma.
We recommend that you call the attractions and restaurants ahead of your visit to confirm current opening times.
1. Oklahoma City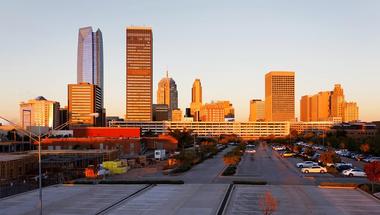 Bustling and vibrant, Oklahoma City is chock-full of interesting attractions for the whole family, including some great museums. Families can have fun touring the Cowboy and Western Heritage Museum and the American Banjo Museum, while history and architecture enthusiasts can head to the Oklahoma Hall of Fame at the Gaylord-Pickens Museum and the Oklahoma History Center.
Art lovers will enjoy indulging their senses at the Civic Center Music Hall (for ballet, opera, symphony, and philharmonic) or admire the collections at the Oklahoma City Museum of Art and the Red Earth Art Center. The whole family will enjoy Riversport Adventure Park for white-water rafting, kayaking, tubing, and much more. Things to Do in Oklahoma City
2. Tulsa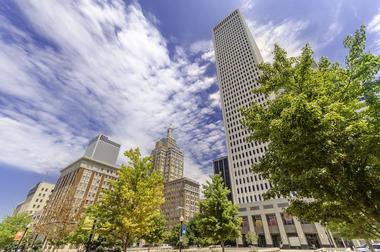 Tulsa, Oklahoma is home to some of the best family attractions in the state, including the Tulsa Zoo (which boasts a dedicated Children's Zoo and petting area), the Tulsa Aquarium, and the fascinating Tulsa Air and Space Museum and Planetarium.
Art lovers will have a tough time deciding between the illustrious Philbrook Museum of Art, the Gilcrease Museum (which has an excellent collection of western American art), 108 Contemporary, and the vibrant galleries of the Brady Arts District. For outdoor fun you can go hiking or biking along 26 miles of trails in the Tulsa River Parks or the Turkey Mountain Urban Wilderness Area. Garden and nature lovers will enjoy a relaxing stroll through the beautiful gardens of Woodward Park. Things to Do in Tulsa
Things to do near me today: Getaways from Seattle, NC day trips, FL, Near Atlanta, AL — You are reading "25 Best Places to Visit in Oklahoma" Back to Top
3. Lawton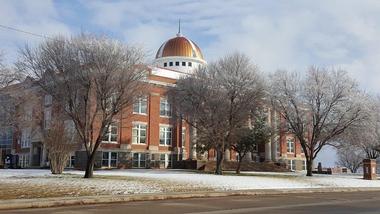 Lawton is an interesting getaway destination featuring historic sites, scenic landscapes, and wide-open spaces where wildlife are free to roam in their natural environment. You can brush up your knowledge of Oklahoma history at the Museum of the Great Plains and then head to Fort Still, which is an active army fort dating back to 1869.
The Wichita Mountains Wildlife Refuge beckons all nature lovers – here you can see free-range buffalo, longhorn cattle, elk, and deer and enjoy various recreational activities including hiking, mountain biking, rock climbing, and rapelling. You can enjoy a variety of live theatrical productions at the McMahon Memorial Auditorium or learn about local culture at the Comanche National Museum and Cultural Center.
Our experts' top picks for a long weekend getaway: CO, From San Diego, VA, OH, WI, MI, IL, IL Places, VA, San Diego, TX — You are reading "25 Best Places to Visit in Oklahoma" Back to Top
4. Norman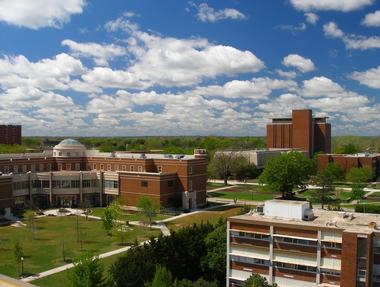 History and architecture enthusiasts have a treat in store in Norman, Oklahoma, which is home to the renowned Miller and Chautauqua Historic Districts, where over 150 historic homes dating back to the 1920s are showcased. Highlights include the Boyd House, the Alpha Chi Omega Sorority House, and the Beta Pi Fraternity House, all of which represent three distinct and different styles of architecture.
Attractions for art lovers include the historic Sooner Theatre and the Fred Jones Jr. Museum of Art, while families will appreciate the Discovery Cove Nature Center, the National Weather Center, and the Sam Noble Oklahoma Museum of Natural History. To enjoy some outdoor fun you can head to Lake Thunderbird State Park, which offers hiking, biking, camping, and an extensive selection of water sports. Things to Do in Norman
More places we like: NC beaches, Ft Lauderdale, Day trips from NYC, From Chicago, PA, CT, CA, Hilton Head, Castles in Texas, GA beaches — You are reading "25 Best Places to Visit in Oklahoma this Weekend with Friends" Back to Top
5. Places to visit in Oklahoma: Edmond
Edmond is located just north of Oklahoma City on Legendary Route 66, offering visitors a convenient base for exploring this interesting region. You can learn all about the Wild West at the National Cowboy and Western Heritage Museum, which boasts the largest collection of western artifacts in the country, and then watch a real live Rodeo at the Lazy E Arena.
History buffs can go on a walking tour with the Edmond Historic Society and visit the Oklahoma Frontier Drugstore Museum in near-by Guthrie. You can pay your respects to the victims of the 1995 Oklahoma City bombing at the Oklahoma City National Memorial and Museum before lightening the mood and taking the family to have some fun at the Barnett Field Splash Pad.
Expert opinion: Where should I go this weekend for fun? FL, CA, Myrtle Beach, OR, New England weekend, Charlotte, Williamsburg, LA, PA — You are reading "25 Best Places to Visit in Oklahoma this Weekend" Back to Top
6. Oklahoma Destinations: Ardmore
Ardmore is located in south-central Oklahoma and offers visitors a good variety of cultural, historic, and outdoor activities in and around the city. Equestrians will be drawn to the historic Hardy Murphy Coliseum, which hosts a variety of equine and other fun events, while history buffs can tour the Greater Southwest Historical Museum, the Military Memorial Museum, and the unique Eliza Cruce Hall Doll Museum.
Outdoor enthusiasts will enjoy a visit the Lake Murray State Park for a day or two of hiking, camping, cycling, and water sports, or they can travel a little farther afield to Arbuckle Wilderness and Turner Falls Park for more outdoor activities. Cultural venues include the Charles B. Goddard Center for theater, music, and visual arts.
Top Rated: Last minute places for couples: Southwest, New England, TN, KS, NY, From Houston, From Palm Springs, From Chattanooga, From Detroit, NJ — You are reading "25 Best Places to Visit in Oklahoma" Back to Top
Source https://www.touropia.com/best-places-to-visit-in-oklahoma/
Source https://www.planetware.com/tourist-attractions/oklahoma-usok.htm
Source https://vacationidea.com/destinations/best-places-to-visit-in-oklahoma.html