New York City Bucket List: 50 Epic Things to Do in New York City
New York City is one of the largest, most influential cities in the world. With its rich history, famous landmarks, museums and theaters, and its ever changing skyline, the to-do list for visitors is enormous. 50 things to do in New York City sounds like a lot, and it is, but there are many more places we could have added to this list.
Below is a list of the best things to do in New York City. Don't expect to see them all on your first visit, or even your second or third. We have been visiting New York City on an annual basis for thirty years and still haven't been to some of these places yet.
But that's one of the reasons we love New York City so much. It is constantly changing and every time we are here, we find something new to do.
Before jumping right into the best things to do in New York City, we give a quick overview of the city. At the end of this guide, I list our recommendations of our favorite spots and must-see sights, to help you narrow down this massive list. Or, skip ahead to this list now.
I do my best to keep the hours of operation and pricing up to date for each attraction, however, these can change at any time. I recommend getting updated hours and pricing for your dates of travel. The link to the official website is provided for each site.
Table of Contents
Interesting Facts about New York City
New York City was founded by Dutch colonists in 1624. It was originally named New Amsterdam. The name was changed to New York in 1664 when the land was granted to the Duke of York, King Charles II of England's brother.
During the late 19th and early 20th centuries, New York City welcomed millions of immigrants. They entered through Ellis Island and then took up residence in New York City, or other parts of the United States. One of the best things to do in New York City is to visit Ellis Island and tour the tenement buildings, which are now historic landmarks.
New York City is made of up of five boroughs: Manhattan, Brooklyn, Queens, the Bronx, and Staten Island. With a population of almost 9 million people, this is the most densely populated city in the USA.
New York City is one of the most culturally diverse cities in the world. NYC is home to more than 3 million residents who were born outside of the United States, which is the largest foreign born population of any city in the world.
This city is also home to the UN Headquarters, as well as the world's two largest stock exchanges (New York Stock Exchange and NASDAQ), making it a leading city for international diplomacy and finance.
Finally, New York City is home to some of the most recognizable landmarks in the world, such as the Empire State Building, Central Park, Times Square, and the Statue of Liberty.
New York City Bucket List
50 Best Things to Do in New York City
In no particular order, here is our list of the best things to do in New York City. At the end of this article, you can see all of them on a map.
1. Statue of Liberty & Ellis Island
Location: Liberty Island and Ellis Island
If it is your first time to New York City, the Statue of Liberty is a must-see. This copper statue, which was a gift from France to the United States in 1886, greeted millions of immigrants in the late 19th century and early 20th century.
The Statue of Liberty was designed by Frédéric Auguste Bartholdi and the metal framework was built by Gustave Eiffel. The statue is the figure of Libertas, a Roman goddess of liberty. In her left hand, she holds the tabula ansata, dated July 4, 1776, the date of the US Declaration of Independence.
You can visit just the Statue of Liberty or you can combine the Statue of Liberty and Ellis Island together as a round trip excursion from Manhattan.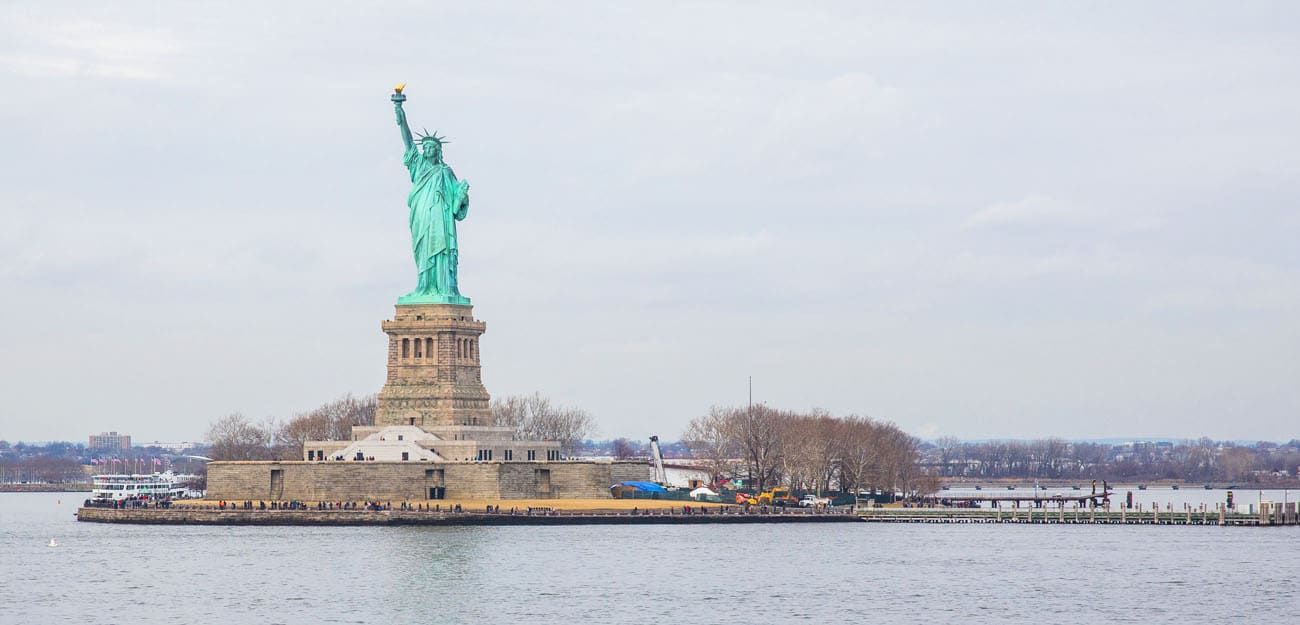 Statue of Liberty | Best Things to Do in New York City
On Liberty Island, you can climb the base of the Statue of Liberty or go all of the way to the crown. Both of these options require advance tickets, and they do sell out, so make sure you book your tickets well in advance.
Ellis Island was an immigrant inspection station and approximately 12 million immigrants were processed here between 1905 and 1954.
Liberty Island (the location of the Statue of Liberty) and Ellis Island are connected by ferry with Battery Park (on Manhattan). The entire visit, from Battery Park to Liberty Island and Ellis Island, and then back to Battery Park, takes about 4 hours. You will take a ferry from Battery Park to Liberty Island. After seeing the Statue of Liberty, catch the next ferry to Ellis Island and tour this island. Then take a ferry back to Battery Park.
Cost: $24 Adults, $12 children 4 – 12 years for the Crown Reserve Ticket
Hours: Ferries depart from Battery Park from 9:30 am to 3:30 pm
Website: Book your tickets in advance on www.statuecruises.com
Guided Tours: This tour includes Battery Park, Liberty Island (the location of the Statue of Liberty), Ellis Island, and your ferry tickets.
2. Visit Central Park
Location: Manhattan
Taking a stroll through Central Park is one of the best things to do in New York City. It's free to visit and a beautiful place to unwind, after walking the busy city streets.
Central Park is one of the most visited tourist attractions in the world. It's also one of the most filmed locations in the world.
You can simply wander through it on your own two feet, rent bikes and cycle a lap or two through the entire park, or do something very touristy and go for a horse and carriage ride.
There are numerous places to rent bikes just outside of the park. We have the best luck one block south of the park around 5th and 6th avenue. You can also rent bikes in advance here.
While in Central Park, stroll along the Central Park Mall to Bethesda Terrace, soak up the sun on the Great Lawn, and visit the Strawberry Fields memorial, a memorial commemorating John Lennon. Kids will love to go for a ride on the Central Park Carousel, visiting one of the 21 playgrounds in the park, or a visit the Central Park Zoo. You can also get a bite to eat at Tavern on the Green and the Loeb Boathouse (advance reservations are recommended).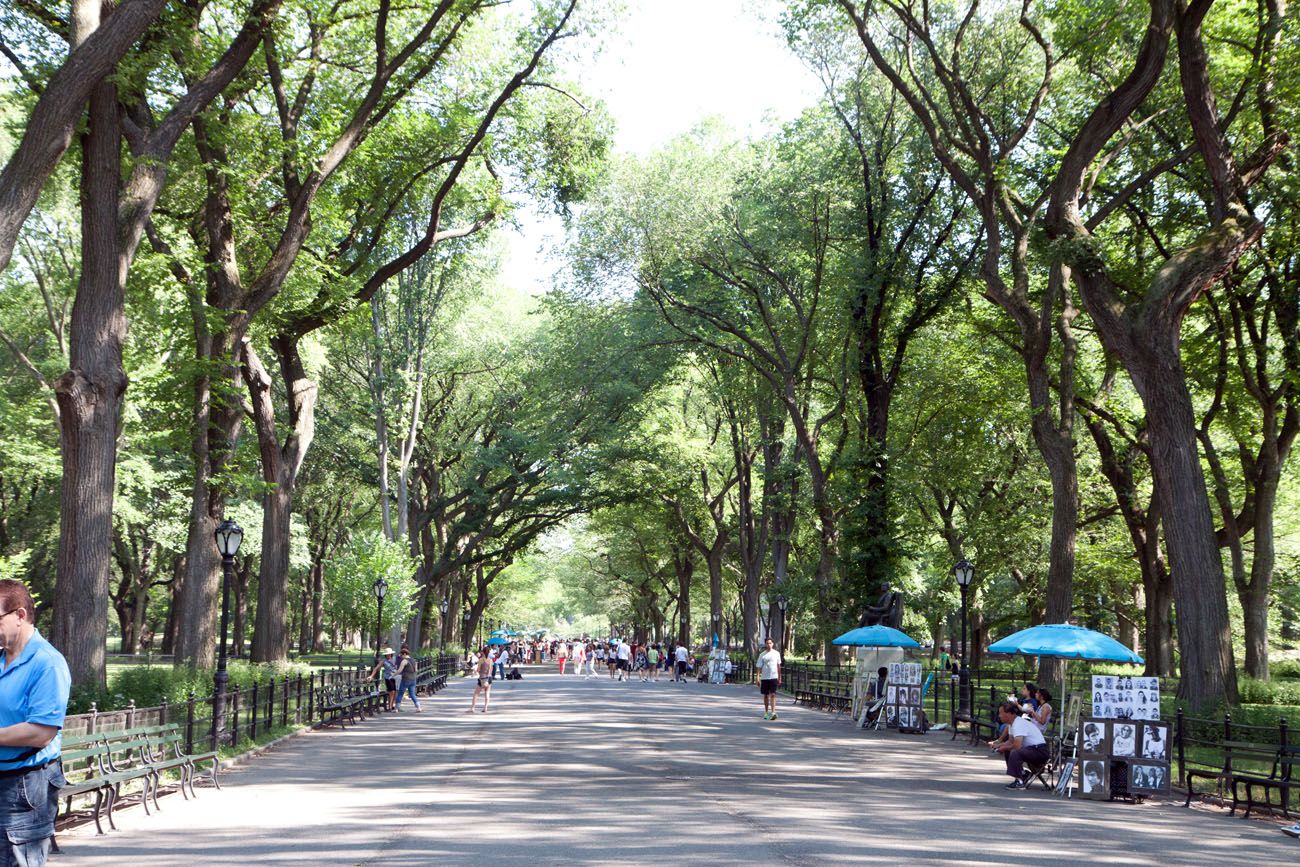 The Mall | Best Things to Do in New York City
3. The Empire State Building
Location: Midtown Manhattan
Until 1970, when the World Trade Center was built, the Empire State Building was the tallest building in the world. It was constructed in 1931 and it is listed as one of the Seven Wonders of the Modern World.
In addition to attracting visitors, the Empire State Building has been featured in numerous movies. The list is long but the most popular films include Sleepless in Seattle, King Kong, An Affair to Remember, Elf, Independence Day, and Superman II.
A visit to the Empire State Building is more than just having a great view of the city. You will also be visiting a historical landmark and one of the most famous buildings in the world.
View looking north from the Empire State Building of Midtown Manhattan; photo taken in 2021
The Empire State Building has two observation decks: the outdoor observation deck on the 86th floor and the indoor observation deck on the 102nd floor. All tickets include the 86th floor observation deck; you just have to decide if you want to shell out the extra money for the 102nd floor.
You can also purchase special tickets to visit the Empire State Building at sunrise, at nighttime, or both.
For full details on how to plan your visit, and many more photos, read our Guide to the New York City Observation Decks.
4. Rockefeller Center & Top of the Rock
Location: Midtown Manhattan
Rockefeller Center is a complex of 19 buildings (14 of which are Art Deco buildings) that were commissioned by the Rockefeller family. This complex is located in Midtown Manhattan, between Fifth Avenue and Sixth Avenue.
Radio City Music Hall, the statues of Atlas and Prometheus, Rockefeller Plaza, the Rockefeller Christmas Tree, and the Today Show studios, are all located here.
Atlas | Best Things to Do in New York City
Top of the Rock is an observation deck in Rockefeller Center. It offers spectacular views of Central Park and Midtown Manhattan.
Top of the Rock | Best Things to Do in New York City
For more information about how to visit Top of the Rock, read our Guide to the NYC Observation Decks.
5. Fifth Avenue
Location: Manhattan
Fifth Avenue is one of the most expensive shopping streets in the world. It runs from Washington Square Park in Greenwich Village to Harlem.
Fifth Avenue | Best Things to Do in New York City
The section between 59th and 96th streets is nicknamed "Millionaire's Row," because of the number of mansions located here in the early 20th century.
The section between 82nd and 110th streets is nicknamed "Museum Mile," for the large number of museums here.
Famous buildings and landmarks located on Fifth Avenue include Saks Fifth Avenue, Bergdorf Goodman, the New York Public Library, the Guggenheim Museum, the Metropolitan Museum of Art, the Frick Collection, the Plaza Hotel, Rockefeller Center, the St. Regis New York, and St. Patrick's Cathedral. Fifth Avenue also runs along the east side of Central Park.
6. St. Patrick's Cathedral
Location: Midtown Manhattan
St. Patrick's Cathedral is a Catholic cathedral that is located on Fifth Avenue in Midtown Manhattan. It is located across from Rockefeller Center.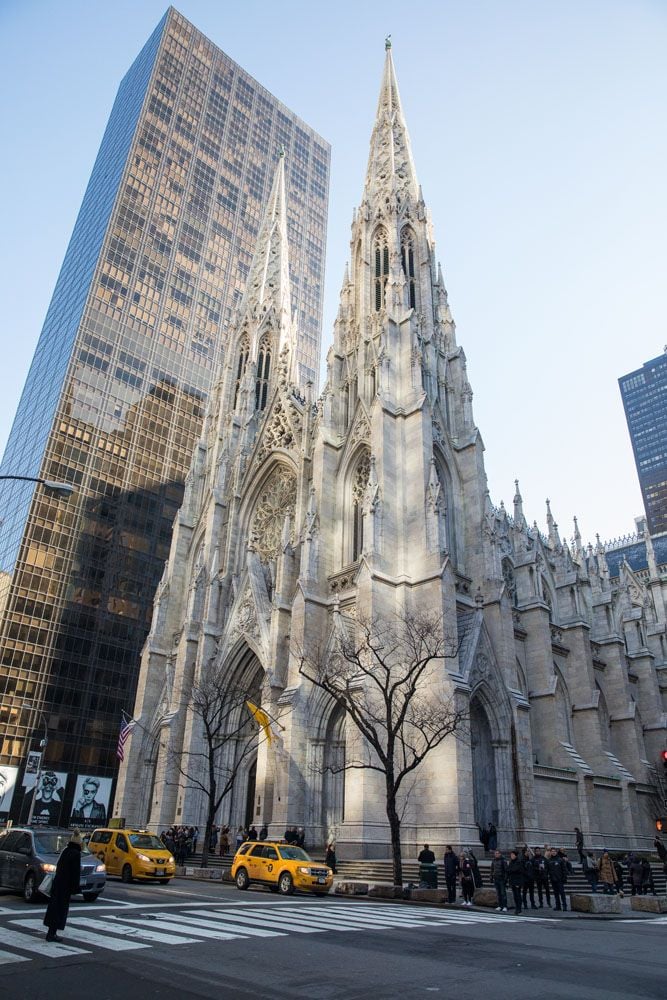 St. Patrick's Cathedral | Best Things to Do in New York City
Construction began in 1858 and was completed in 1878 (there was a pause in construction during the Civil War). It is now listed on the National Register of Historic Places.
You can view the cathedral from the outside, take a tour, or attend mass. You can also tour the underground catacombs by candlelight.
7. Metropolitan Museum of Art
Location: Upper East Side of Manhattan
For art lovers, a visit to the Metropolitan Museum of Art tops the list of best things to do in New York City.
The Met is the largest art museum in the United States (it is so large it is measured in acres…13 acres of world-class art exhibits). Over 2 million works of art are in the permanent collection, with art from ancient Egypt, Europe, Africa, the Middle East, and Oceania. There are also numerous art exhibitions that change throughout the year.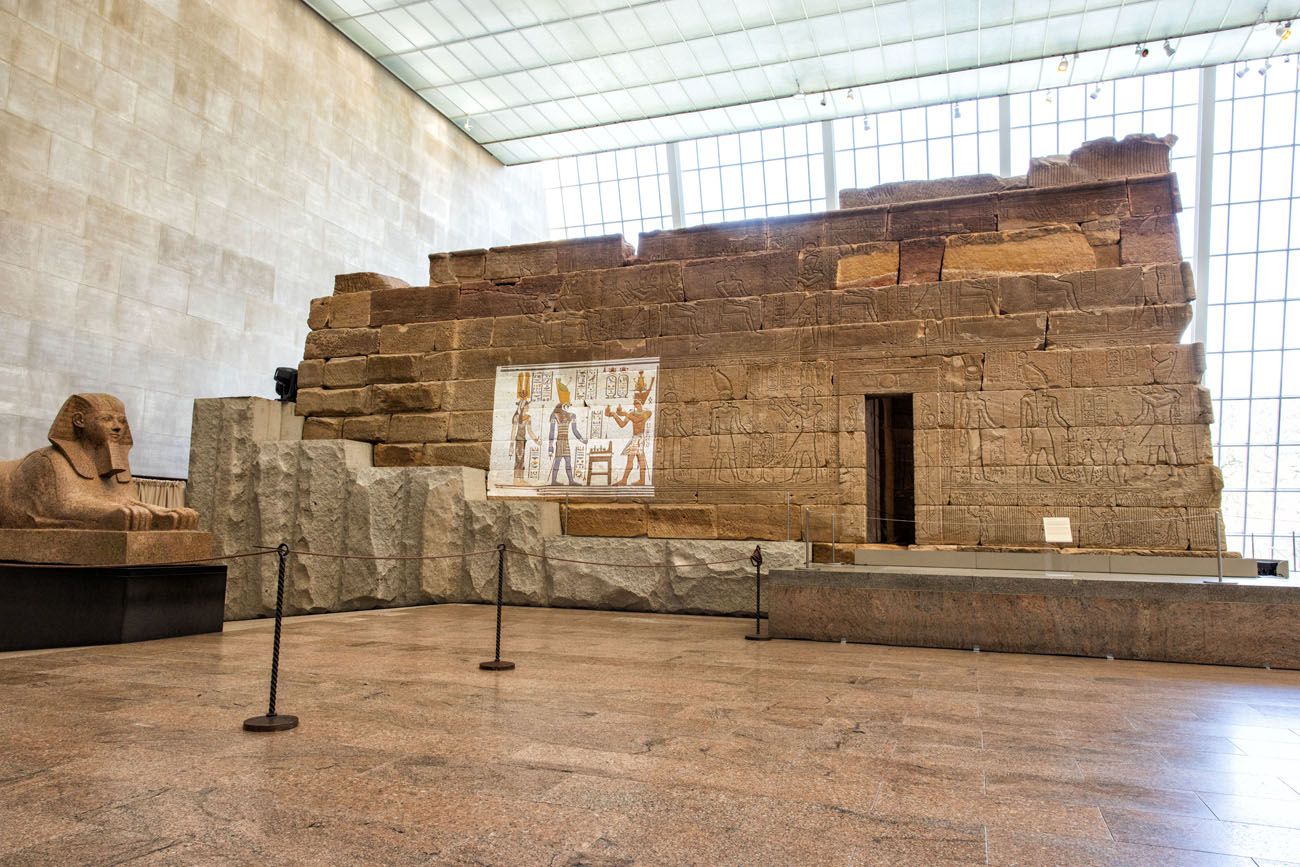 Metropolitan Museum of Art | Best Things to Do in New York City
Hours: 10 am to 5 pm Sunday through Tuesday and Thursday; open until 9 pm Friday and Saturday; closed Wednesday
Cost: Adults $25, children under 12 are free; tickets are valid for 3 days
Website: www.metmuseum.org
The Met Cloisters is separate museum that is dedicated to medieval art. John D. Rockefeller was a major benefactor. The Met Cloisters are located in Fort Tryon Park in northern Manhattan. For hours of operation and ticket prices, click here.
8. The Museum of Modern Art
Location: Midtown Manhattan
The Modern Museum of Art (MoMA) has one of the world's best collections of art from the 18th century to today. See The Starry Night by Van Gogh, The Persistence of Memory by Dali, and works of art by Matisse, Monet, and Picasso.
Hours: Sunday through Friday 10:30 am to 5:30 pm; Saturday 10:30 am to 7:30 pm
Cost: Adults $25, under 16 years old are free
Friday afternoon special: from 5:30 pm to 9 pm admission is free on Friday
Website: www.moma.org
Like the Met, MoMA also has a branch in a different location in the city. MoMA PS1 is located in Queens and is devoted to contemporary art.
9. The Solomon R. Guggenheim Museum
Location: Upper East Side of Manhattan
This art museum, also called The Guggenheim, displays Impressionist, Post-Impressionist, early Modern and contemporary art.
The building, which was designed by Frank Lloyd Wright, is also a work of modern art. Guiseppe Momo's staircase at the Vatican Museums is what inspired Wright's design for the ramp and atrium. The building is now a New York City Landmark, a National Historic Landmark, and is listed on the UNESCO World Heritage List.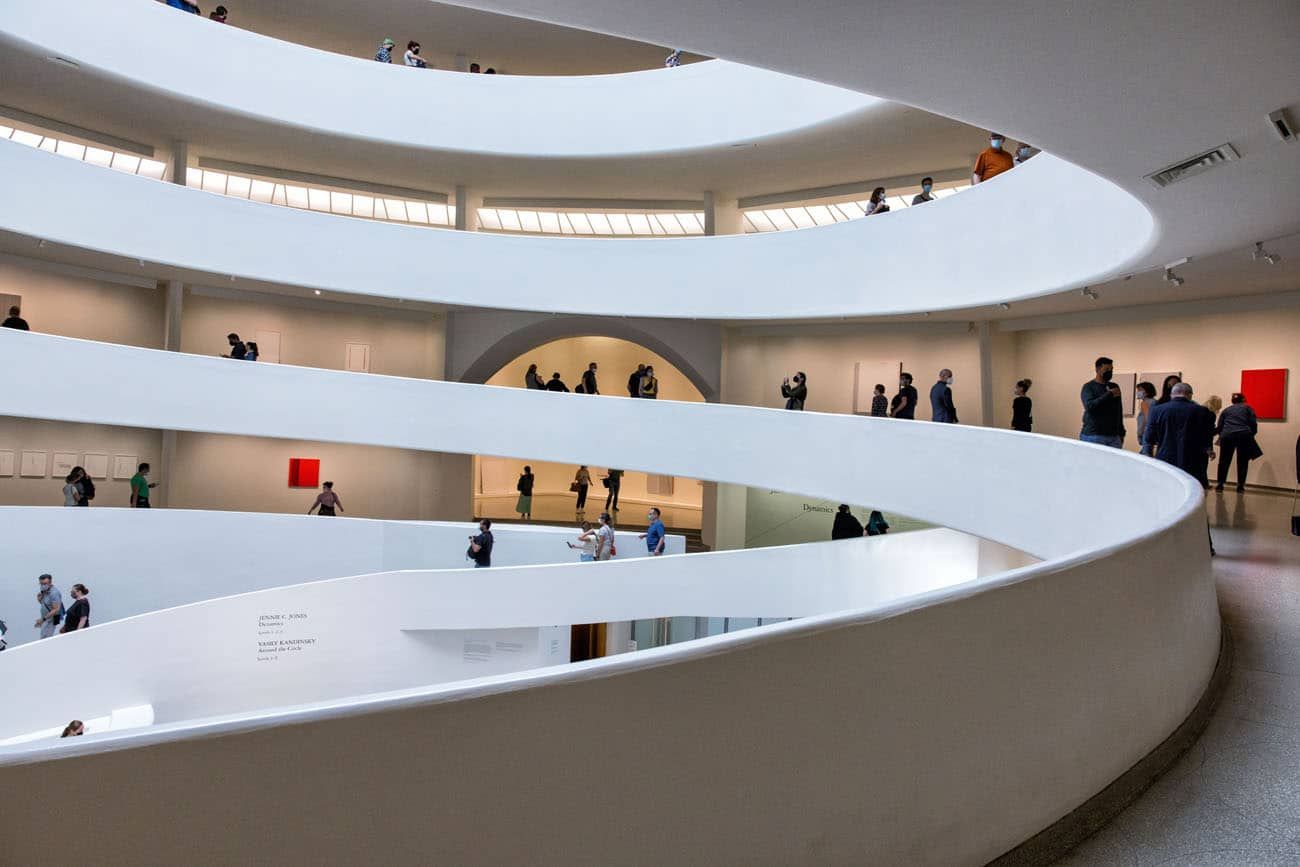 Inside the Guggenheim | Best Things to Do in New York City
Cost: Adults $25, children under 12 are free
Hours: Get updated hours on the official website.
Website: www.guggenheim.org
Pay What You Wish: from 4:00 pm – 6:00 pm on select Saturdays you can "pay what you wish" to enter the museum, cash only. The suggested admission is $10.
Tickets: Tickets can be purchased on the official website. I also recommend checking GetYourGuide because you might get a cheaper price.
10. The Frick Collection
Location: Upper East Side of Manhattan
See world-class art by Vermeer, Renoir, and Rembrandt in a beautifully designed residence. The museum was founded by Henry Clay Frick, opening in 1935. Its permanent collection features European art from the Renaissance to the early twentieth century.
IMPORTANT: The Frick Collection is currently closed for a renovation project. The works of art were relocated to a temporary location, called the Frick Madison, which is in the Marcel Breuer-designed modernist building at 945 Madison Avenue. Learn more here.
Cost: Adults $22, children under 10 are not permitted
Hours: Get updated hours on the official website.
Pay What You Wish: pay what you wish on Thursdays 4 pm to 6 pm
Website: www.frick.org
11. Times Square
Location: Midtown Manhattan
Times Square is one of the most famous intersections in the world. This street junction, where Broadway meets Seventh Avenue, attracts 50 million people a year, making it one of world's most popular tourist attractions.
Every New Year's Eve, thousands people gather to watch the ball drop, making this the most famous place in the world to welcome in the New Year. During the other 364 days of the year, Times Square is almost as crowded, as street performers put on shows and visitors from around the world gawk at the millions of lights that adorn the neon billboards.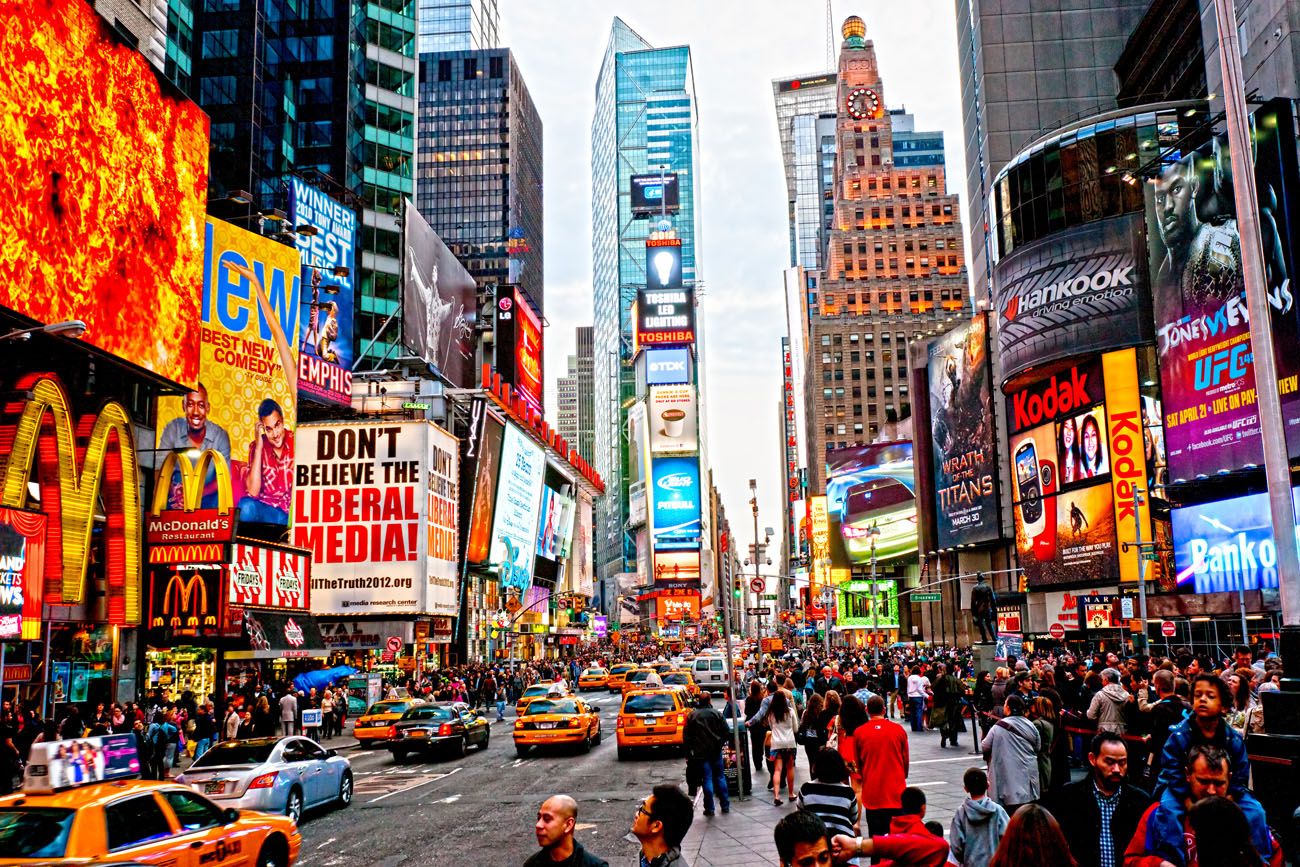 shutterstock.com/Luciano Mortula – LGM
It seems like Times Square is always changing. Every year, there are bigger and better billboards, new stores designed to draw visitors in, and crazier street performers on the streets. It is a crowded, overwhelming place and not everyone enjoys this experience.
PRO TRAVEL TIP: If you are new to New York City, it is worth seeing it in the daytime and at nighttime, since the lighting really makes it a different experience.
12. Visit Greenwich Village
Location: Manhattan
Greenwich Village was the location of the 60's counterculture movements and the modern LGBT movement. Now, the "bohemian days" are long gone, due to rising housing costs and gentrification of the neighborhood, but this is still a wonderful spot to visit.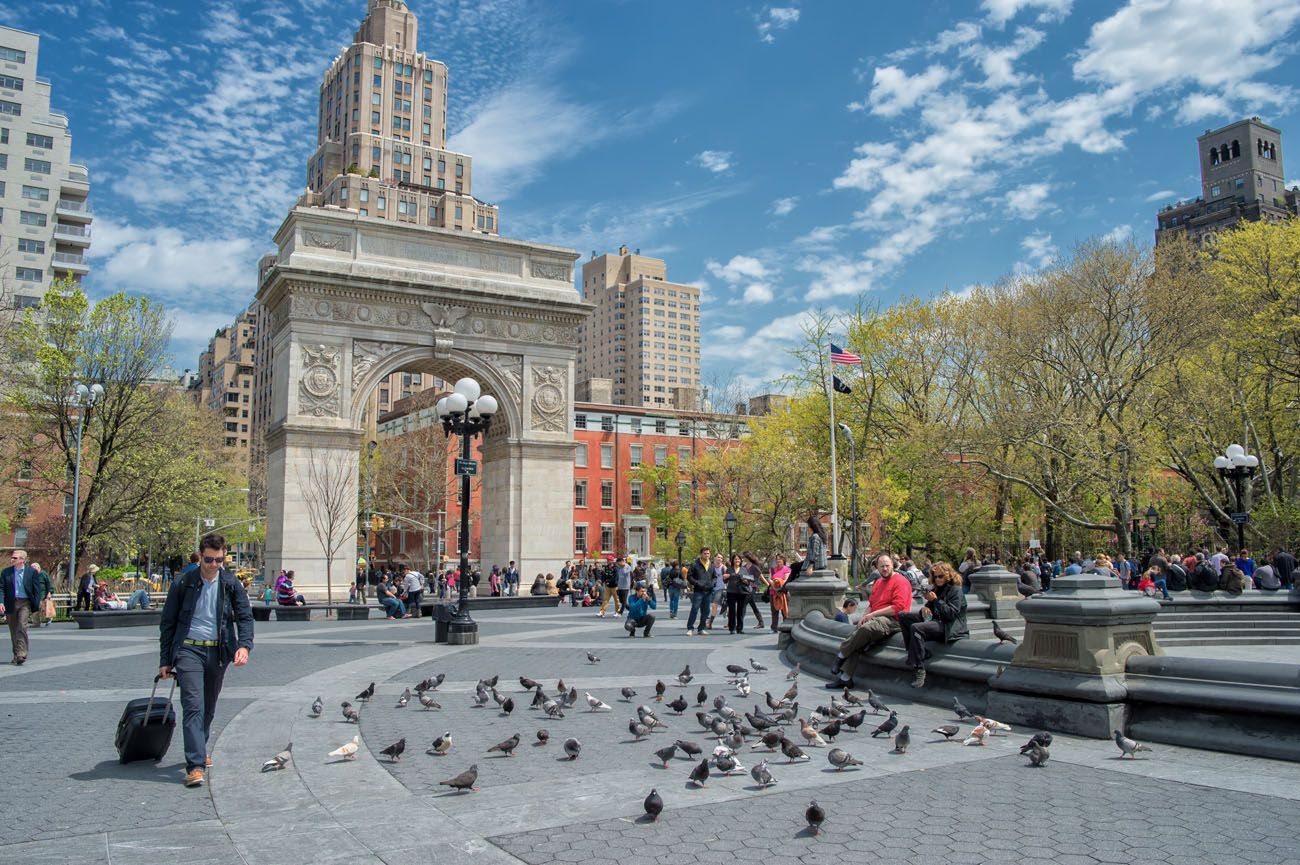 Washington Square | Best Things to Do in New York City | shutterstock.com/Rolf_52
Things to do in Greenwich Village include visiting Washington Square Park, strolling along Bleeker Street, shopping for vintage clothing, grabbing a bite to eat at Bleeker Street Pizza, and seeing if you can find both the Friends apartment and Carrie Bradshaw's apartment from Sex and the City.
To get the most out of your visit, this walking tour of Greenwich Village sounds amazing. Learn where Jimi Hendrix and Edgar Allen Poe hung out, where one of Bob Dylan's album covers was photographed, and the rise of gay rights in New York City.
13. Take a Stroll along the High Line
The High Line is public park and elevated walking path that was built on a historic freight line.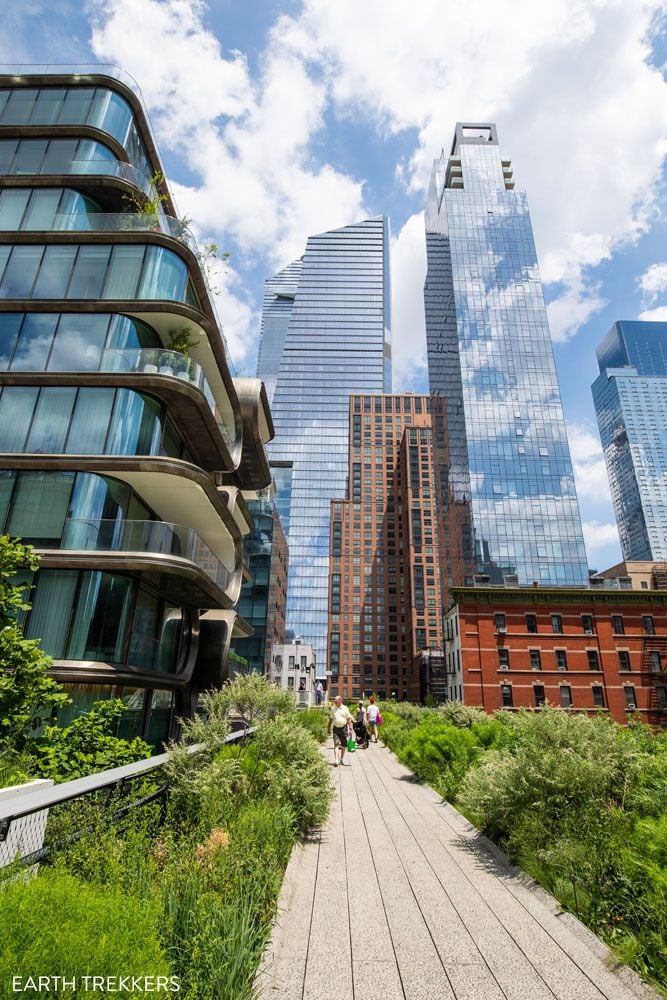 The High Line | Best Things to Do in New York City
It's free to visit and one of Manhattan's prettiest walks. The High Line starts near the Whitney Museum, but you can also get onto the High Line from Chelsea Market.
It takes about 30 minutes to walk from Chelsea Market to Hudson Yards.
For more things to do in Chelsea, check out our article Best Things to Do in Chelsea & Hudson Yards.
14. Visit Hudson Yards
Location: Hudson Yards, Manhattan
What was once a storage yard and jumble of train tracks has evolved into Manhattan's newest ultra-modern neighborhood.
This small city has been built on a state-of-the-art platform that is elevated above the railroad tracks. Glass-plated skyscrapers, a shopping mall, a performing arts theater, numerous restaurants, the Vessel, and the Edge, can all be found here.
The Vessel | Best Things to Do in New York City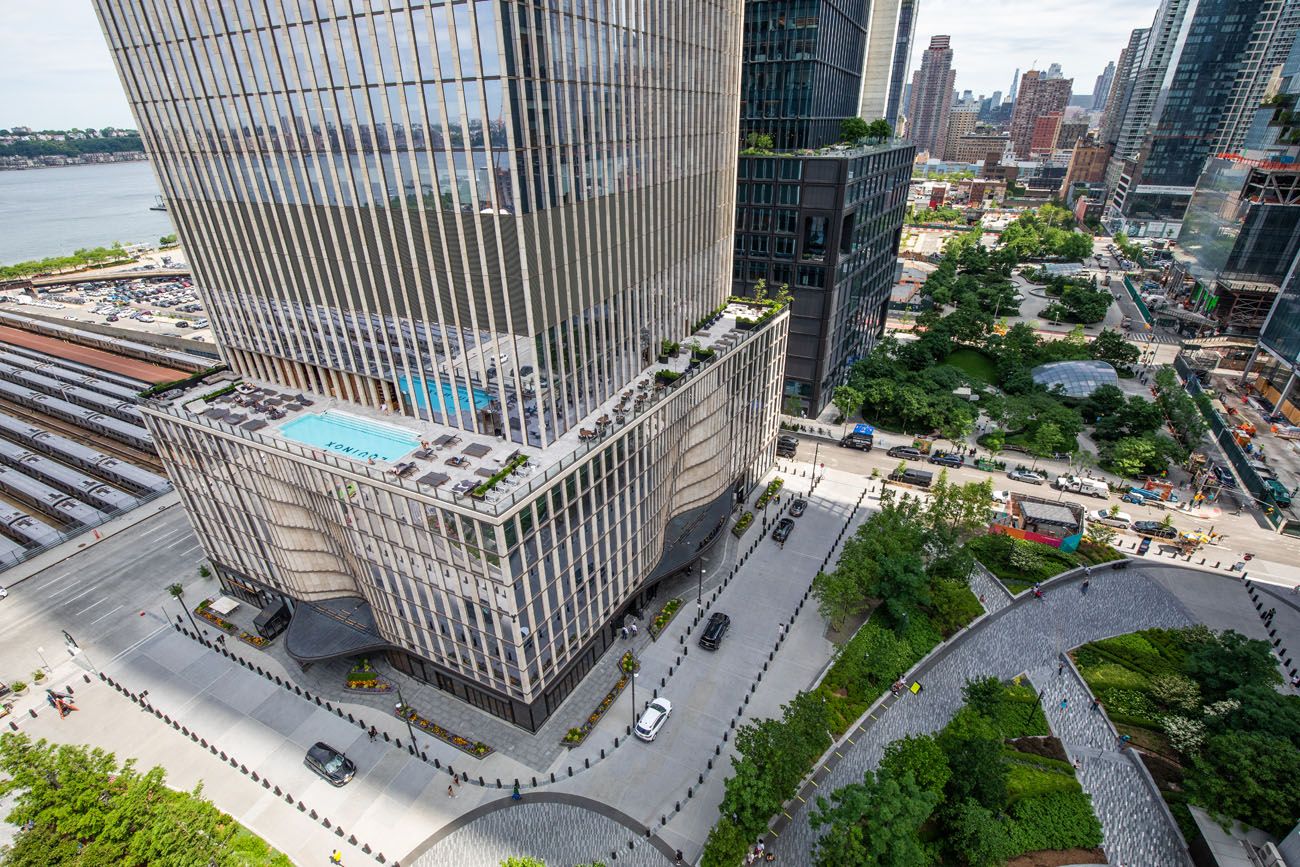 View of Hudson Yards from the Vessel | Best Things to Do in New York City
We stayed in the Equinox Hotel in Hudson Yards on our most recent visits. Mercado Little Spain is a wonderful restaurant, with several eateries, a wine bar, and a cocktail bar. It's a great spot munch on tapas and have a glass of wine. Bluestone Lane is a nice breakfast spot and Milos Wine Bar gets great reviews. If you want dinner with view, make a reservation at Peak Restaurant & Bar, which is located at the Edge.
15. Take in the View from the Edge
Location: Hudson Yards, Manhattan
The Edge is one of the newest additions to the Manhattan observation decks. Hovering 100 floors above the city streets, this sky deck offers jaw-dropping views over Manhattan. Adding to the thrill is the glass floor, where you can peer down to the city streets far below.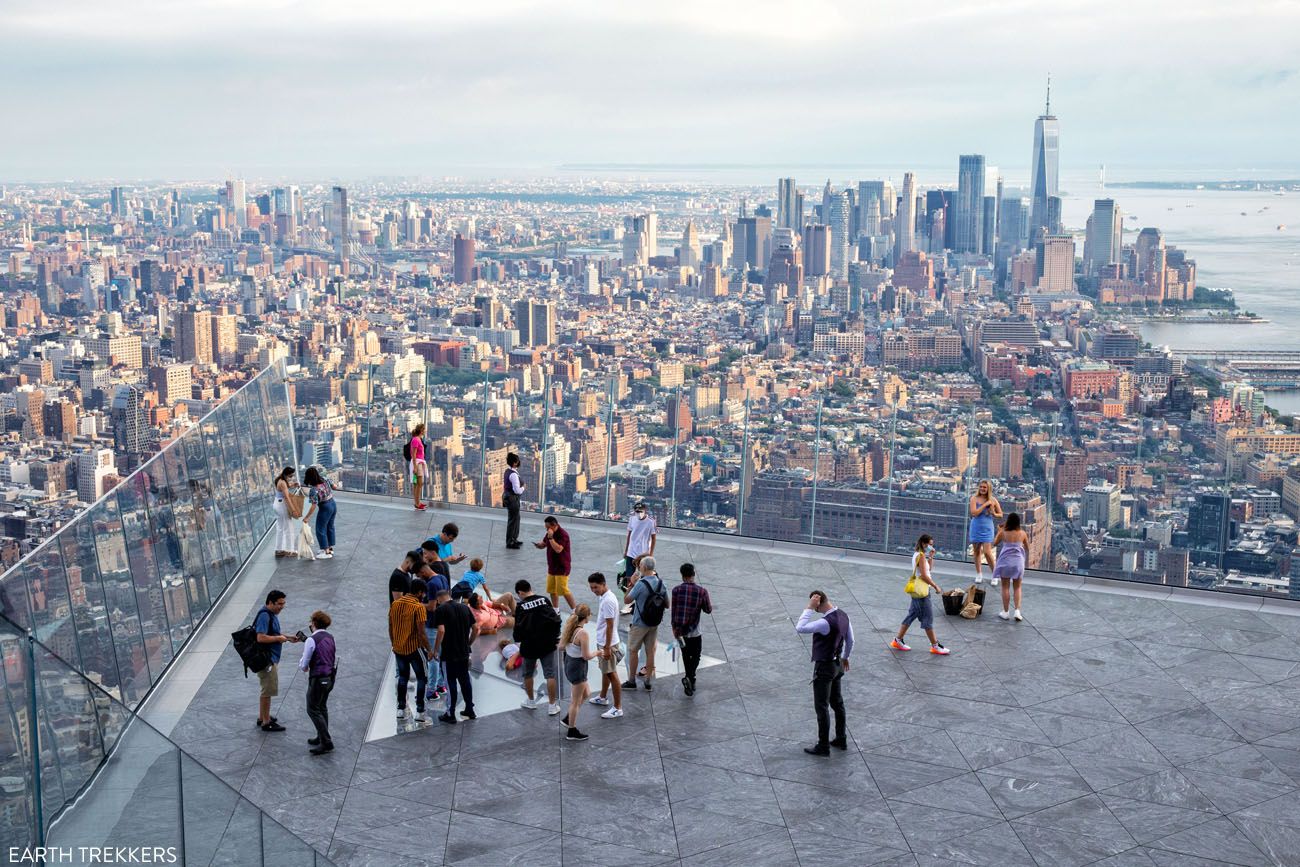 The Edge | Best Things to Do in New York City
At the Edge, there is both an indoor and outdoor observation deck. In comparison with the other NYC observation decks, the Edge has the cheapest admission fee, so if you want big view of Manhattan without a big price tag, you get the best deal at the Edge.
16. City Climb, NYC's Most Thrilling View?
Location: Hudson Yards, Manhattan
If you are a thrill seeker, or simply just want the best view of New York City without taking to the sky, put City Climb on your NYC to do list.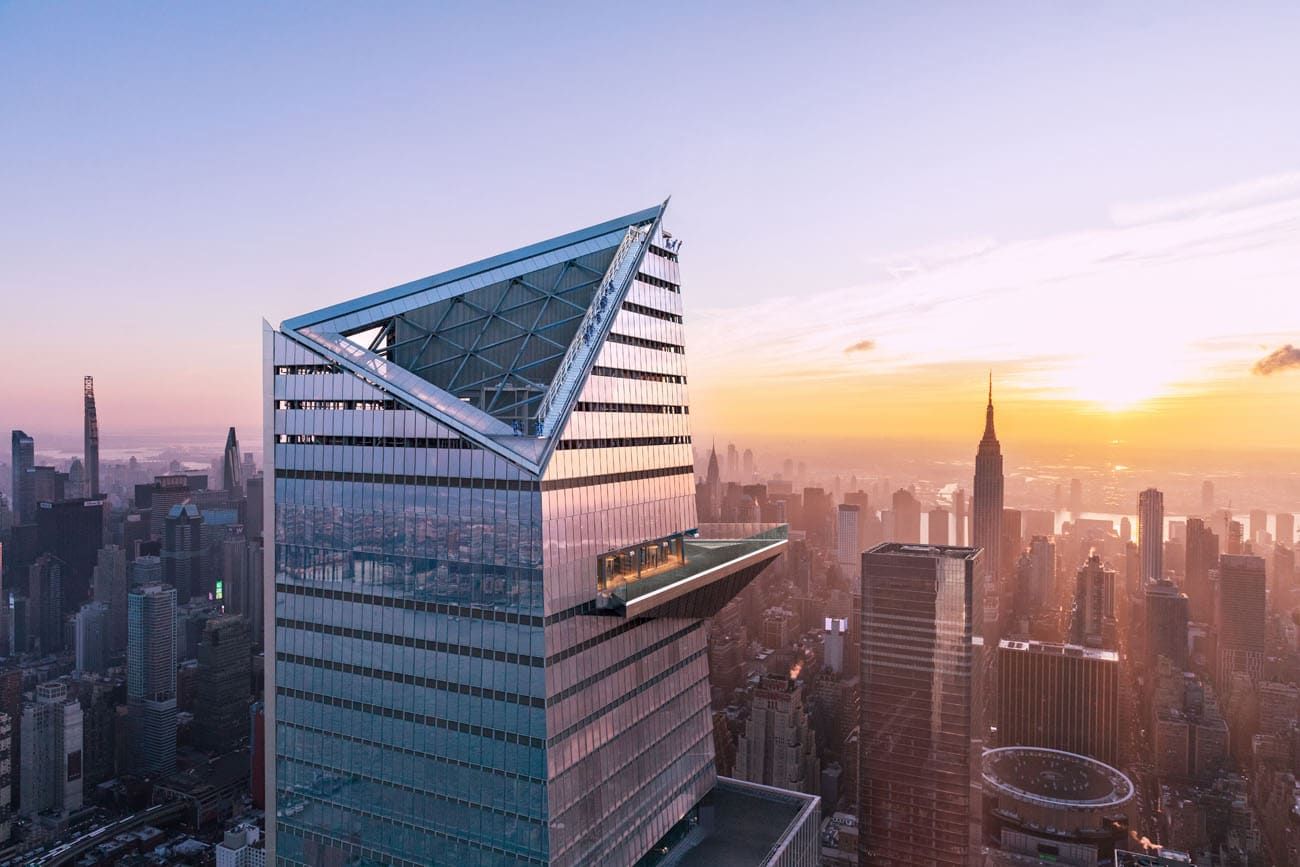 City Climb/photo credit: Edge | Best Things to Do in New York City
City Climb is one of New York City's newest experiences. While wearing a harness, scale the outside of the skyscraper to The Apex, the highest outdoor observation deck in the city. The Apex is the highest outdoor observation deck not only in New York City, but the entire Western Hemisphere.
We did this just after it opened and its tons of fun! In my opinion, it is the best viewpoint in the city, beating the also very new SUMMIT One Vanderbilt experience.
17. Grab a Bite to Eat at Chelsea Market
Location: Chelsea, Manhattan
Chelsea Market is one of the best places in Manhattan to grab a bite to eat.
Inside of the market are numerous small restaurants selling food from around the world. Our favorite restaurants are Los Tacos No 1., the Lobster Place, and Takumi Taco. There are also a number of boutique shops if you like to go shopping.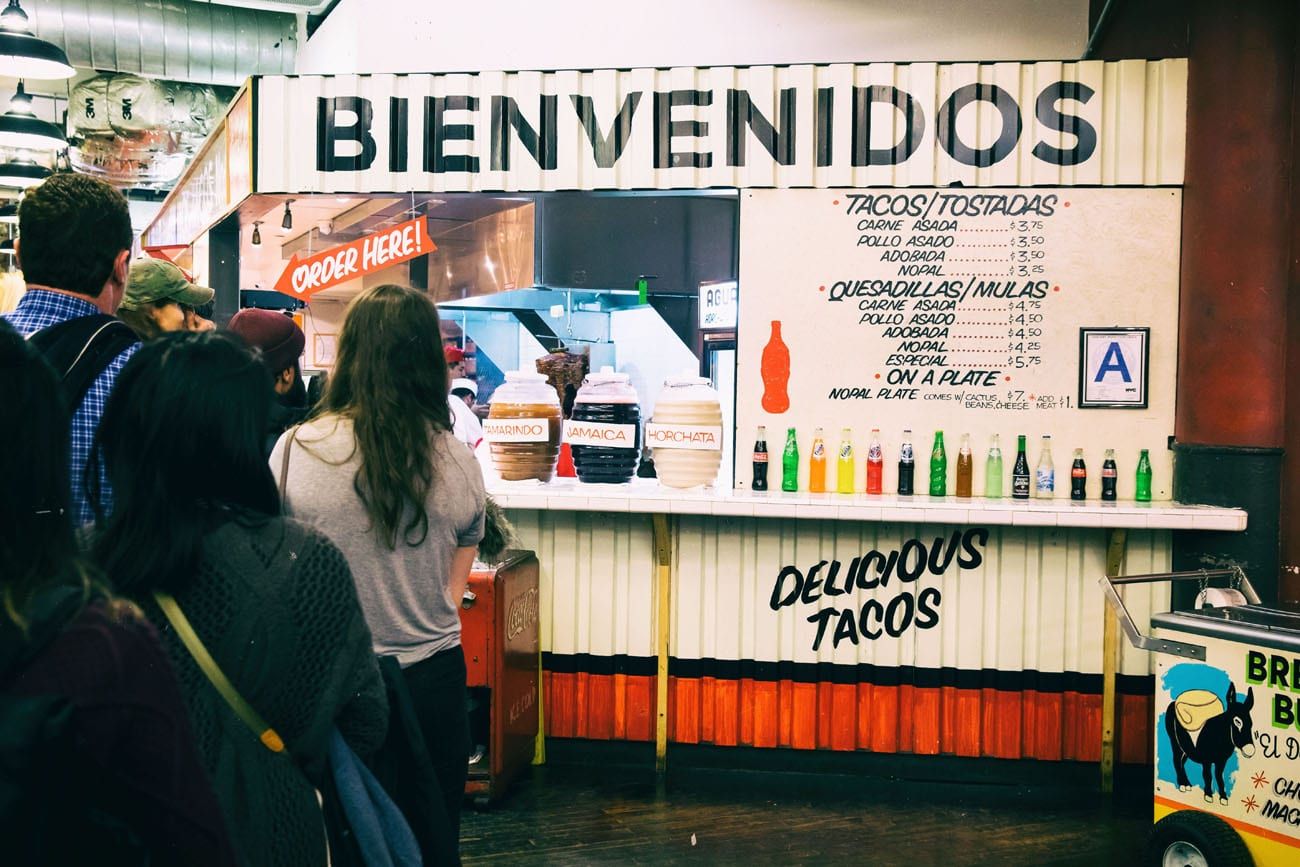 Los Tacos No. 1 | Best Things to Do in New York City
Chelsea Market is easily combined with the High Line, Hudson Yards, and the Edge. It's also just a short walk from Greenwich Village.
Plan on spending several days in New York City? Learn how to put many of these sights into an itinerary in our 5 Day New York City Itinerary.
18. ARTECHOUSE NYC
Location: Chelsea, Manhattan
This fully immersive digital art experience is one of the most unique things to do in New York City.
Located in an old boiler room under Chelsea Market is an audiovisual display that is innovative and almost psychedelic. As colorful images dance on the floor, walls, and ceiling, the visual effects are perfectly paired with audio effects, creating one of the most technologically advanced art experiences in New York City.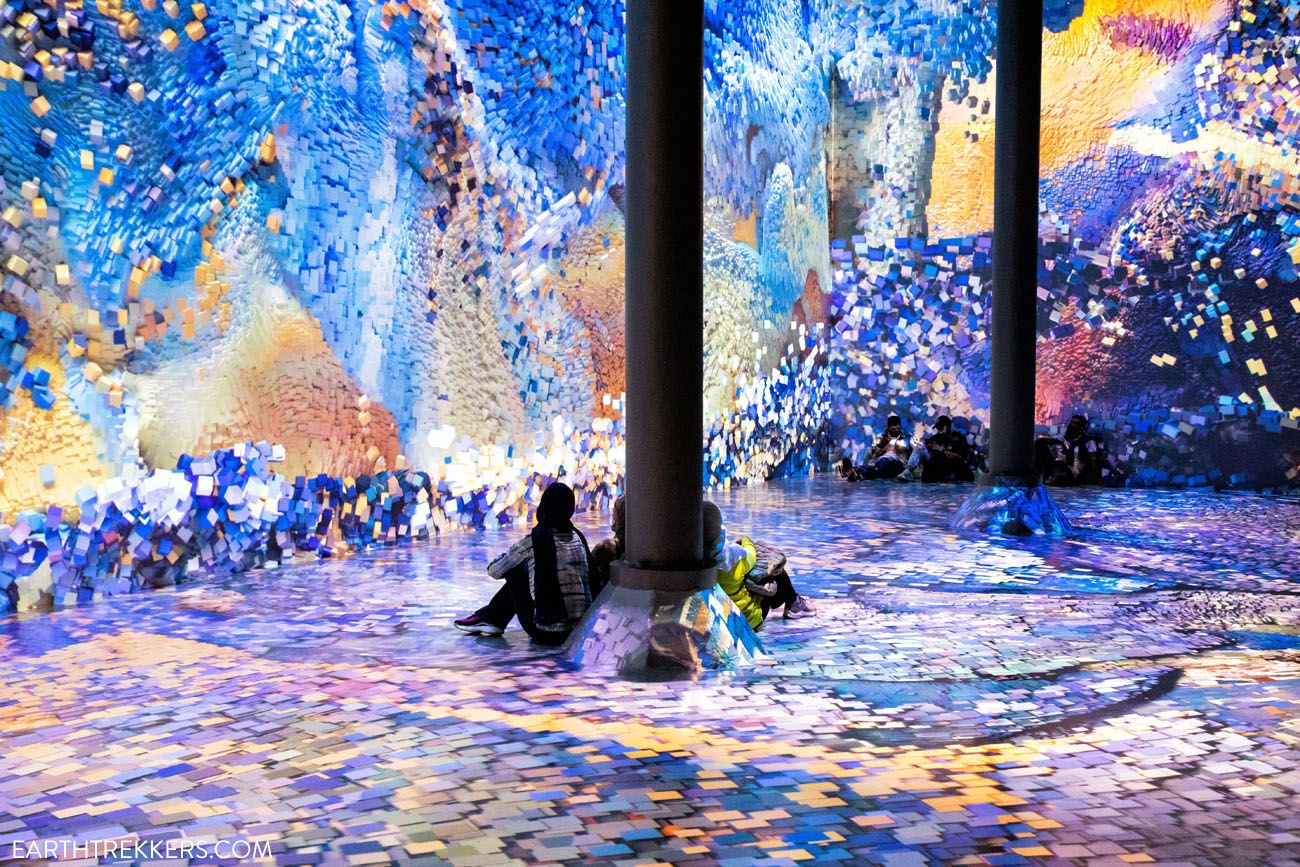 ARTECHOUSE NYC | Best Things to Do in New York City
The experience lasts 30 to 60 minutes and costs $25. The XR Bar, and extended reality cocktail bar, augments the experience.
Visit the official website to purchase your tickets in advance and learn about upcoming art installations.
19. Take a Stroll across the Brooklyn Bridge
Location: East River
Walking across the Brooklyn Bridge is one of the best things to do in New York City.
At the time it was built (in 1883), it was the longest suspension bridge in the world. The Brooklyn Bridge spans the East River, connecting Brooklyn with Lower Manhattan.
From this iconic bridge, you have great views of the Manhattan skyline. A portion of the bridge is pedestrian-only, making it one of the most scenic places to go for a stroll in New York City.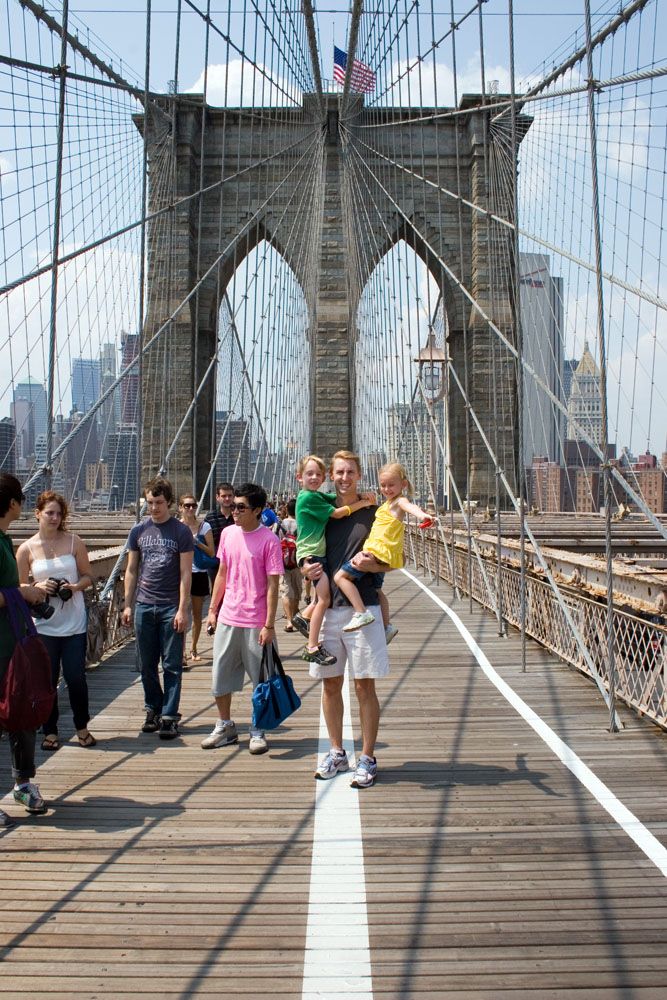 Brooklyn Bridge (2009) | Best Things to Do in New York City
20. Brooklyn Bridge Park
Location: Brooklyn
For one of the best views you can get of the Manhattan skyline and the Brooklyn Bridge, visit Brooklyn Bridge Park and the nearby Pebble Beach.
This waterfront area, which runs along the East River in Brooklyn, was once home to warehouse and ferry ports that were used for shipping. Once the Brooklyn Bridge was constructed, the need for these ferry ports no longer existed, so this area was neglected for decades.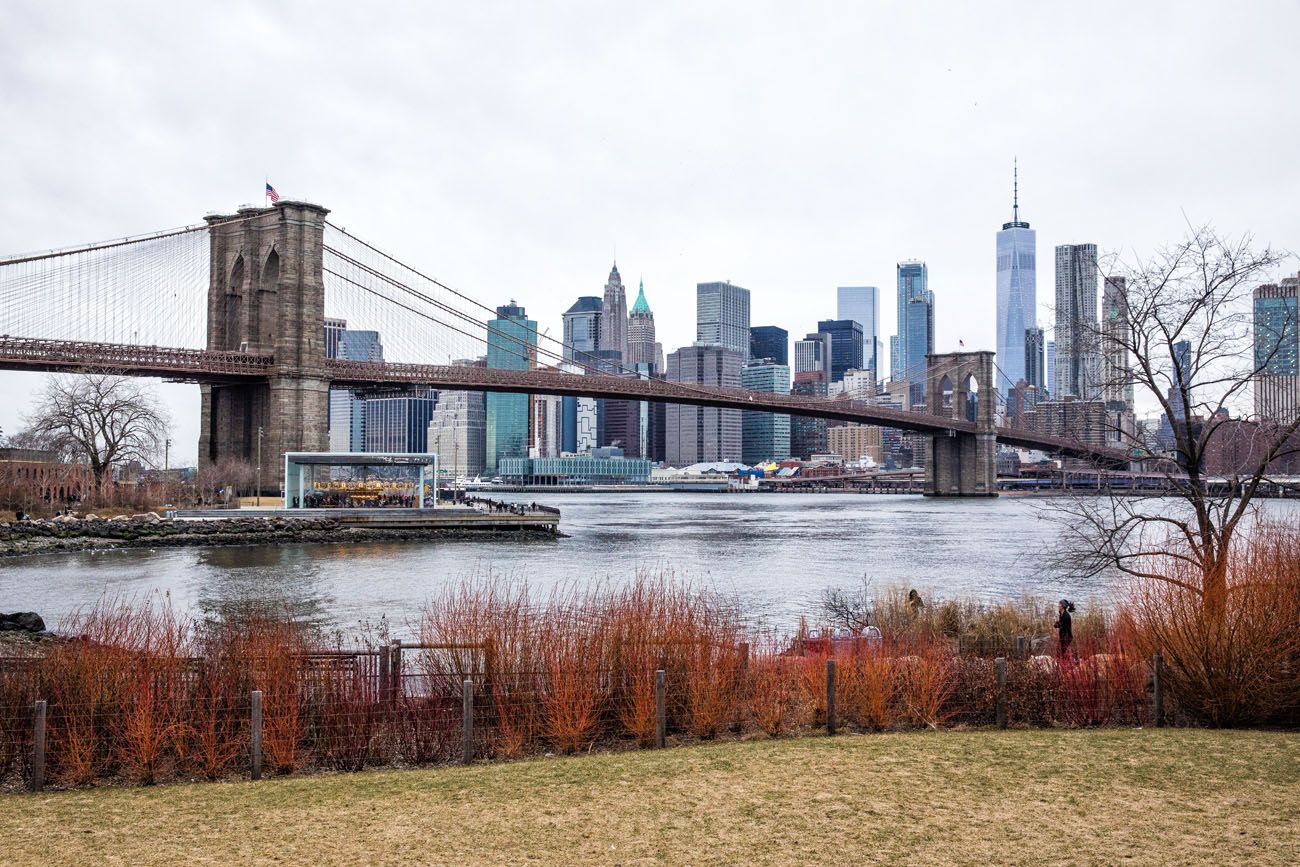 The view from Pebble Beach | Best Things to Do in New York City
In the 1980's, plans began to turn this area into an 80+ acre park. Now, not only do you have an awesome view of the Manhattan skyline, but you can also go biking and running along the paths, play basketball, bocce ball or soccer, and even go kayaking or bouldering.
Near Brooklyn Bridge Park is Dumbo, which stands for "down under the Manhattan Bridge overpass." At this spot, you get an iconic view of the Manhattan Bridge.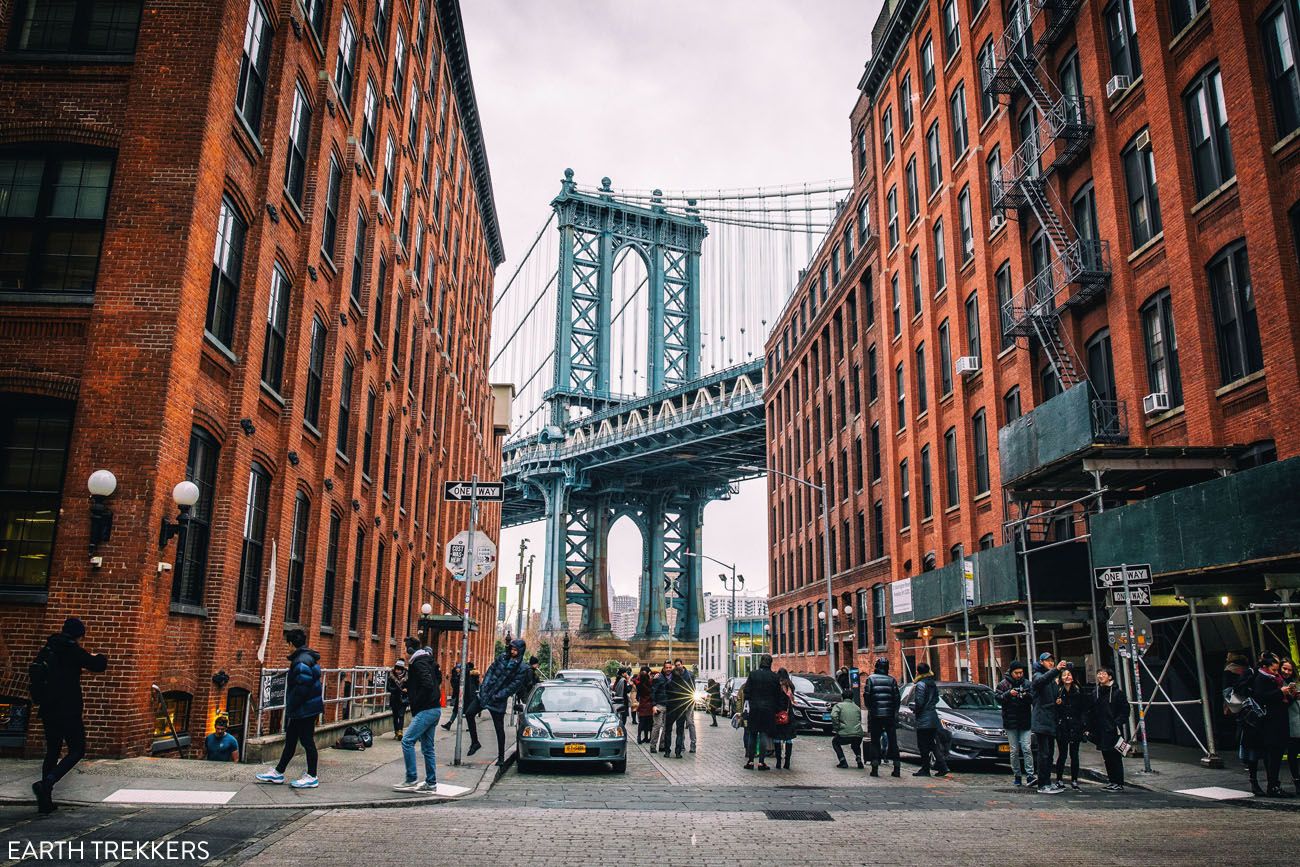 Dumbo | Best Things to Do in New York City
21. Visit Williamsburg, Brooklyn
Location: Brooklyn
Williamsburg is a wonderful neighborhood in Brooklyn to visit.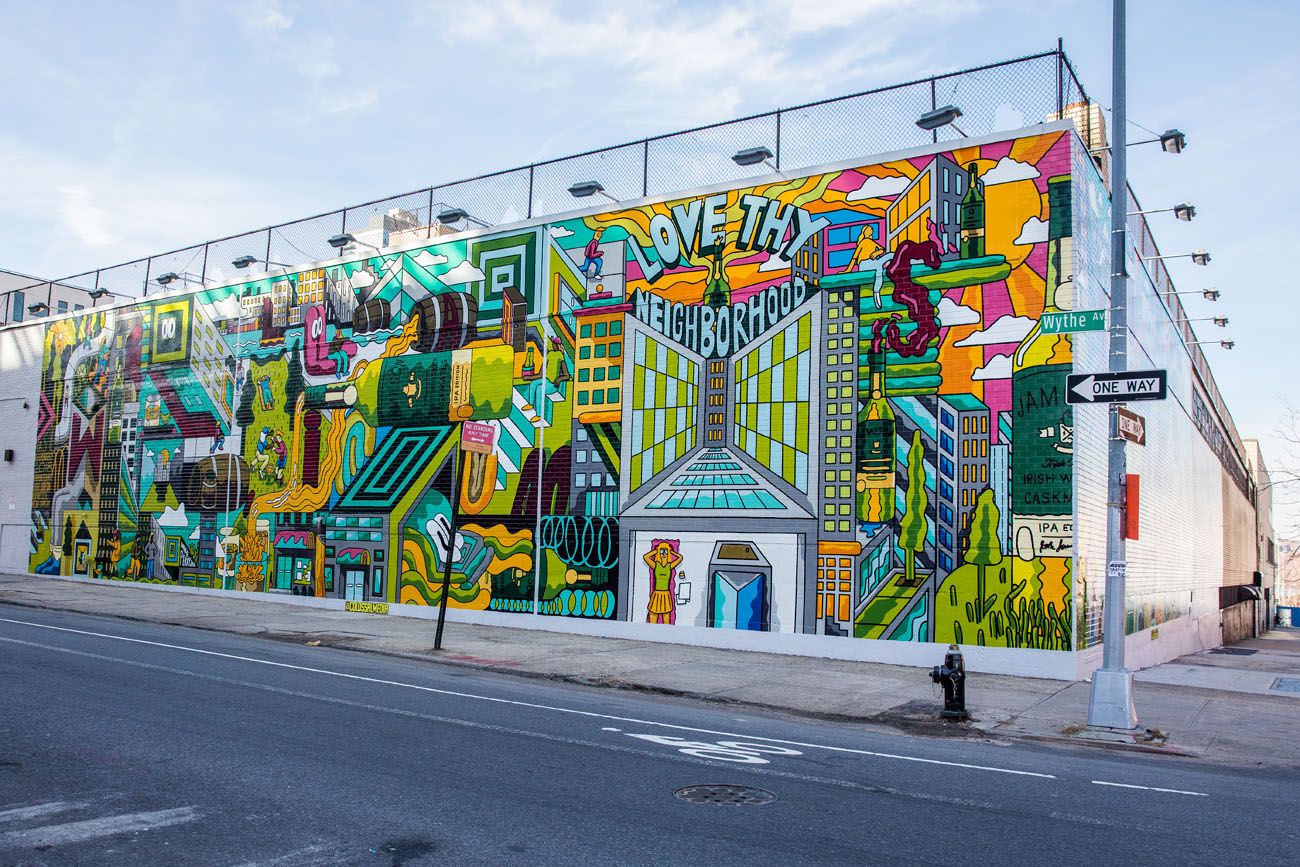 Street art in Williamsburg | Best Things to Do in New York City
Since the late 1990's, Williamsburg has undergone a staggering amount of renovation. Buildings have been restored and brand new, stylish high-rises have been erected along the East River. Along with these changes came an influx of artists, musicians, and a vibrant nightlife.
Now, these city streets are dotted with nightclubs, restaurants, and boutique shops, making this a great place to visit on a trip to New York City.
22. Visit the Bronx Zoo
Location: The Bronx
Opening in 1899, the Bronx Zoo is one of the largest zoos in the United States.
Since its opening, it has played an important role in animal conservation, breeding bison and Sumatran rhinos to increase their population size and protecting other animals on the brink of extinction.
The Bronx Zoo is home to over 8,000 animals. You can stroll through the animal exhibits, watch an animal feeding (check the daily schedule before you go), or take part in an animal encounter, where you can get up close to penguins or cheetahs.
Hours: April 2 to November 5: 10:00 am to 5:00 daily; open until 5:30 pm on weekends and holidays; November 7 to April 1, 10:00 am to 4:30 pm; closed on Thanksgiving, Christmas, New Year's Day, and Martin Luther King Jr. Day
Cost: $41.95 for adults, $31.95 for children 3 – 12, $36.95 for seniors (65 & over)
Website: Click here for updated hours, pricing, to make your reservation in advance, and the daily schedule
23. Visit One World Observatory
Location: Lower Manhattan
One World Trade Center is the tallest building in the Western Hemisphere. One World Observatory is the observation deck that is located at the top of this building.
The entire visit is state of the art, from the high-tech elevator ride to the time-lapse video at the Forever Theater to the digital guides that teach you more about NYC. From the observation deck, you will look out over Manhattan, Queens, Staten Island, the Statue of Liberty, and New Jersey.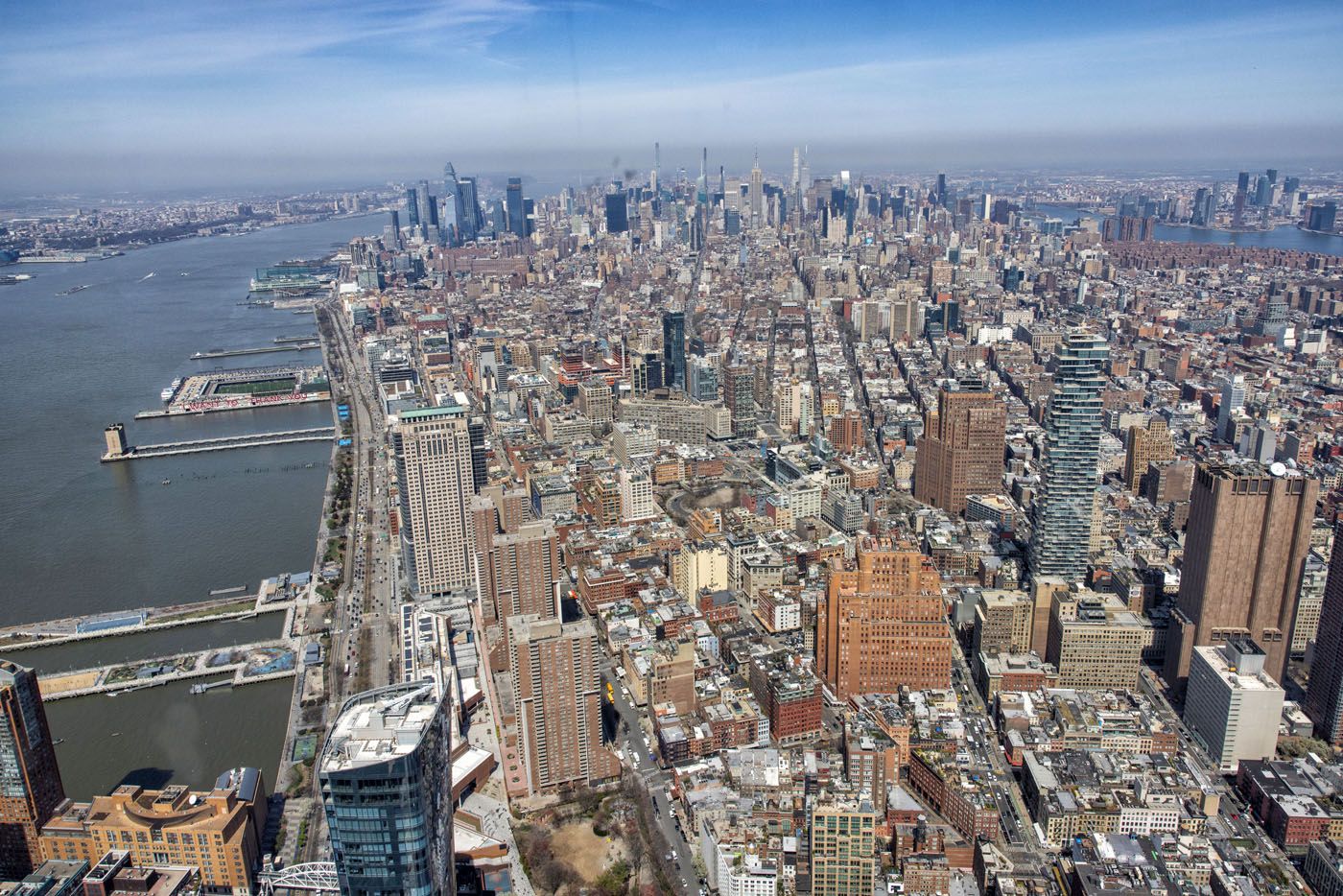 View from One World Observatory | Best Things to Do in New York City
I recommend buying your tickets online in advance. If you purchase tickets online in advance, you will skip the ticket line but could still wait in line for the elevator to the Observatory. You have the option to pay more money to also skip the elevator to the Observation deck and the elevator back down to the lobby. You can also purchase skip-the-line-tickets through GetYourGuide (a great idea if they are sold out on the official website).
24. 9/11 Memorial Plaza and the 9/11 Museum
Location: Lower Manhattan
The 9/11 Memorial Plaza is an 8-acre park where the World Trade Center Twin Towers once stood. The foundations of the Twin Towers have been converted into reflecting pools and the surrounding area is now a grove of trees.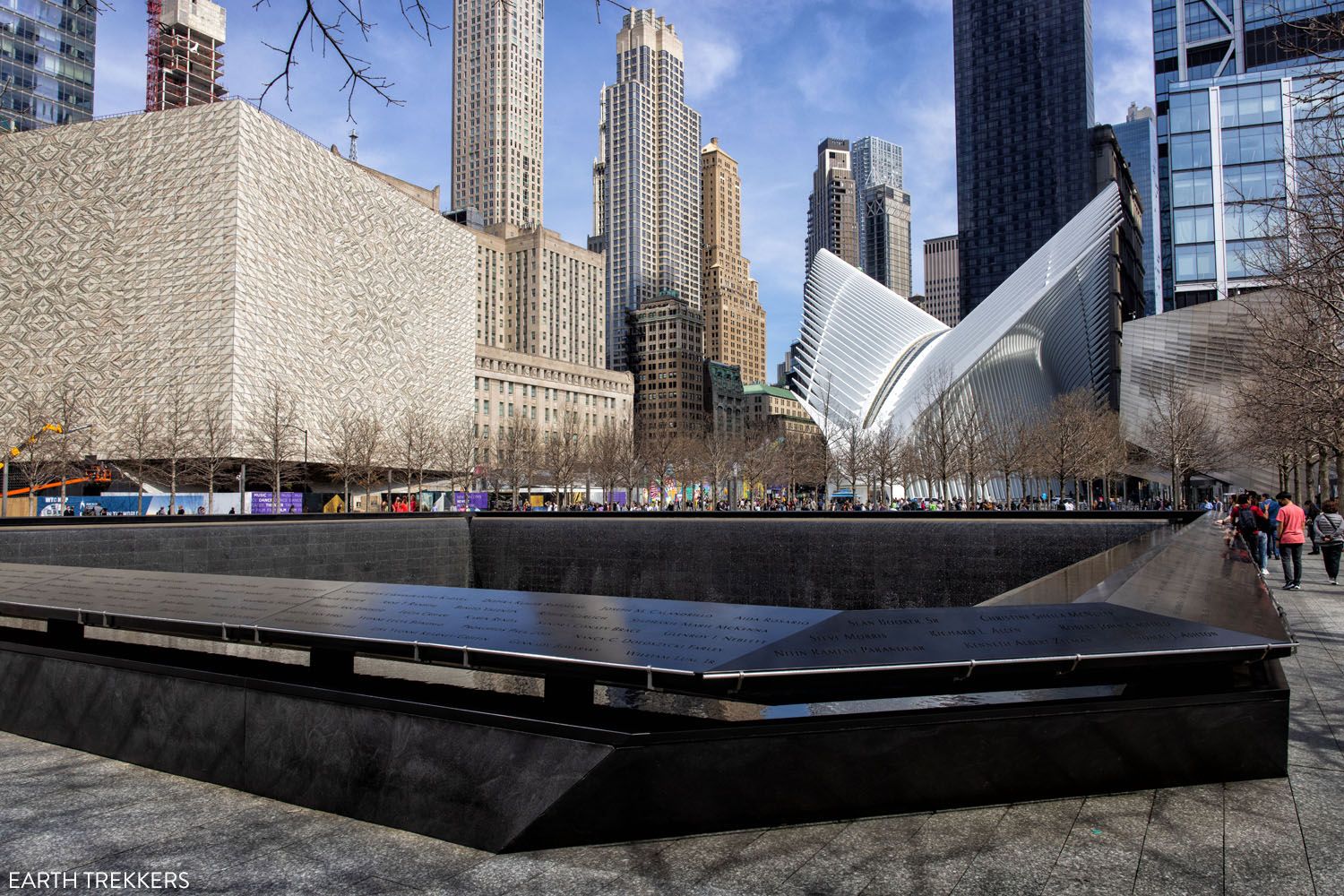 9/11 Memorial Plaza & the Oculus | Best Things to Do in New York City
At the 9/11 Memorial Museum, learn about the story of 9/11 through a series of exhibits, artifacts, and interactive technology.
Both of these sites are located next to One World Trade Center.
25. 9/11 Museum Workshop
Location: Chelsea, Manhattan
This small museum documents what life was like for the workers and firefighters at Ground Zero during the recovery effort. Filled with artifacts and photographs, this is a great museum to visit if you want to learn more about what it was like to be at the World Trade Center site after the terrorist attack.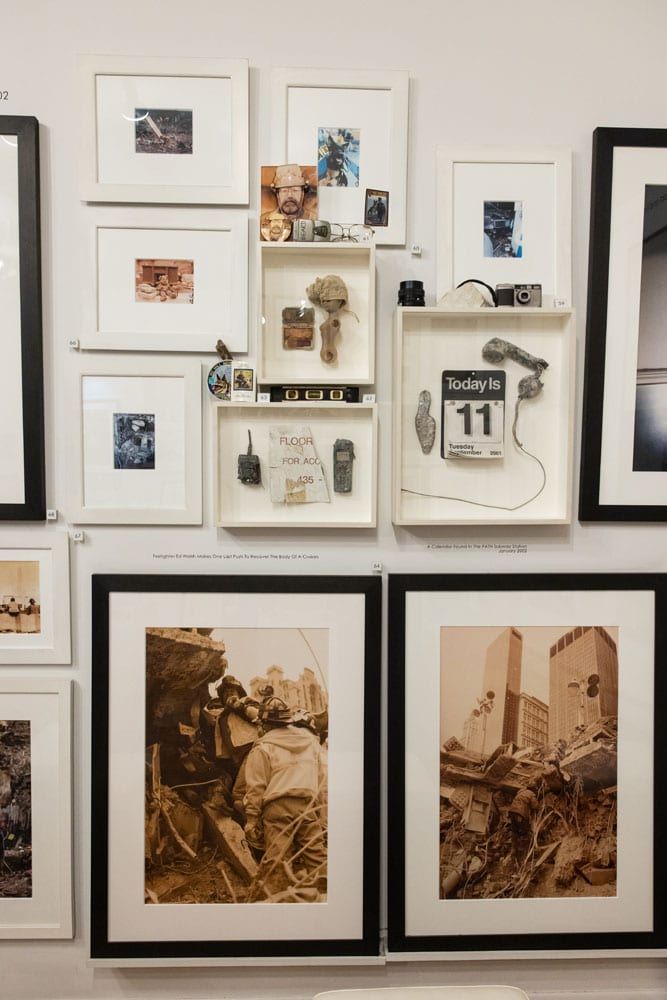 9/11 Museum Workshop | Best Things to Do in New York City
Gary Marlon Suson was the official photographer at Ground Zero. He spent seven months photographing Ground Zero and collecting artifacts from the site. These are now on display in this one room museum in Chelsea.
During your visit, you will use the provided audio guide. Each artifact and photo have a number. Key the number into your guide and the description is narrated by Gary Marlon Suson. It is a very somber, moving experience and I fought back tears a few times while listening to a few of the entries.
While in the museum, you also have the opportunity to talk to Gary and ask questions, as he runs the museum.
Cost: Adults $25, children 4 – 12 years old $19
Hours: Wednesday through Saturday hours vary but are generally open from 12:30 pm to 2:00 pm; closed Sunday, Monday, Tuesday; reservations must be made in advance
Website: Click here to learn more about the museum, get updated hours, and make your reservation
26. Visit Battery Park
Location: Lower Manhattan
Battery Park, also called The Battery, is a 25-acre park that is located on the southern tip of Manhattan. Its waterfront location, gardens, and paths make a great place to go for a walk. For kids, there is a carousel and a scavenger hunt through the park. If you have plans to ride the Staten Island Ferry or visit the Statue of Liberty, the ferries leave from The Battery.
27. Take a Ride on the Staten Island Ferry
Location: Upper New York Bay (aka New York Harbor)
Taking a ride on the Staten Island Ferry is one of the best free things to do in New York City. On this ride, the views of the Statue of Liberty and the Manhattan skyline are amazing.
The ferry leaves from the Staten Island Ferry terminal, next to Battery Park. Simply get in line and board the next ferry. The ferry is enormous, with multiple decks and inside and outside seating.
For the best view, I recommend getting a seat outside on the back of the ferry. From this point you can watch Manhattan slowly recede as you approach Staten Island. To your left will be the Statue of Liberty.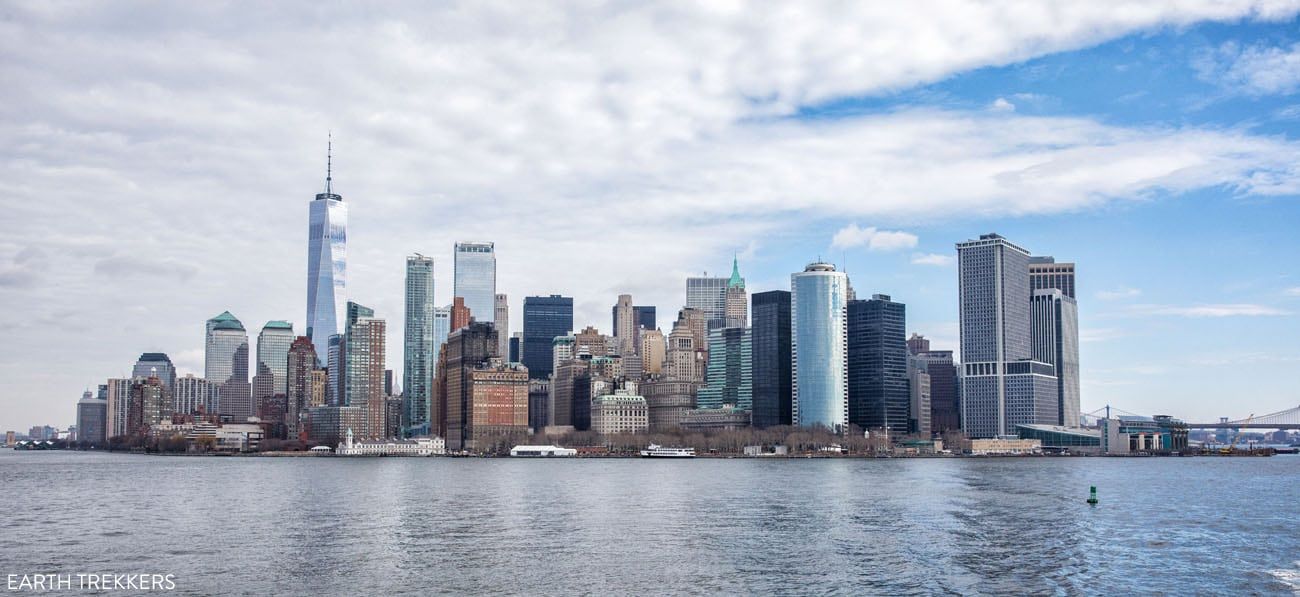 View from the Staten Island Ferry | Best Things to Do in New York City
Ferries leave every 30 minutes and are more frequent during rush hour. A one-way trip takes about 25 minutes and a round trip ride takes about one hour.
You are not permitted to stay on the ferry and ride it round trip. Once you are in Staten Island, exit the ferry, get back in line, and re-board the ferry. We were able to get right back onto the same ferry without having to wait for the next one (on a Monday morning in February).
Get the full details about the Staten Island ferry on the official website.
28. Get a History Lesson at the Tenement Museum
Location: Lower East Side of Manhattan
At the Tenement Museum, learn about what it was like to live as an immigrant between the 19th and 20th centuries. Guided tours are offered of two tenement buildings that are the recreated homes of former residents between the 1860's and 1980's. You can also take a walking tour of the neighborhood.
Learn more about the tours that are offered on the official website.
29. Visit the South Street Seaport
Location: Lower Manhattan
This historic neighborhood east of the Financial District has been transformed into a wonderful mix of museums, restaurants, rooftop bars, boutique shops, and community events. You can also get some seriously good views of the Brooklyn Bridge.
The Rooftop at Pier 17 hosts concerts during the summer months and during the winter, dine in a glass, rooftop "cabin" with views of the Lower Manhattan skyline. Grab a bite to eat at Momofuku Ssäm Bar, Capo Capo Café, or Big Gay Ice Cream. Get a history lesson at the South Street Seaport Museum. Or get dinner and watch a movie at IPIC.
30. Visit the UN Headquarters
Location: East of Midtown Manhattan
The United Nations Headquarters has been the official headquarters of the UN since 1951. Although it is located in New York City, the buildings and the grounds are under the administration of the United Nations, not the US government.
The United Nations Headquarters is open to the public on a guided tour. These must be booked in advance. Get the full details here.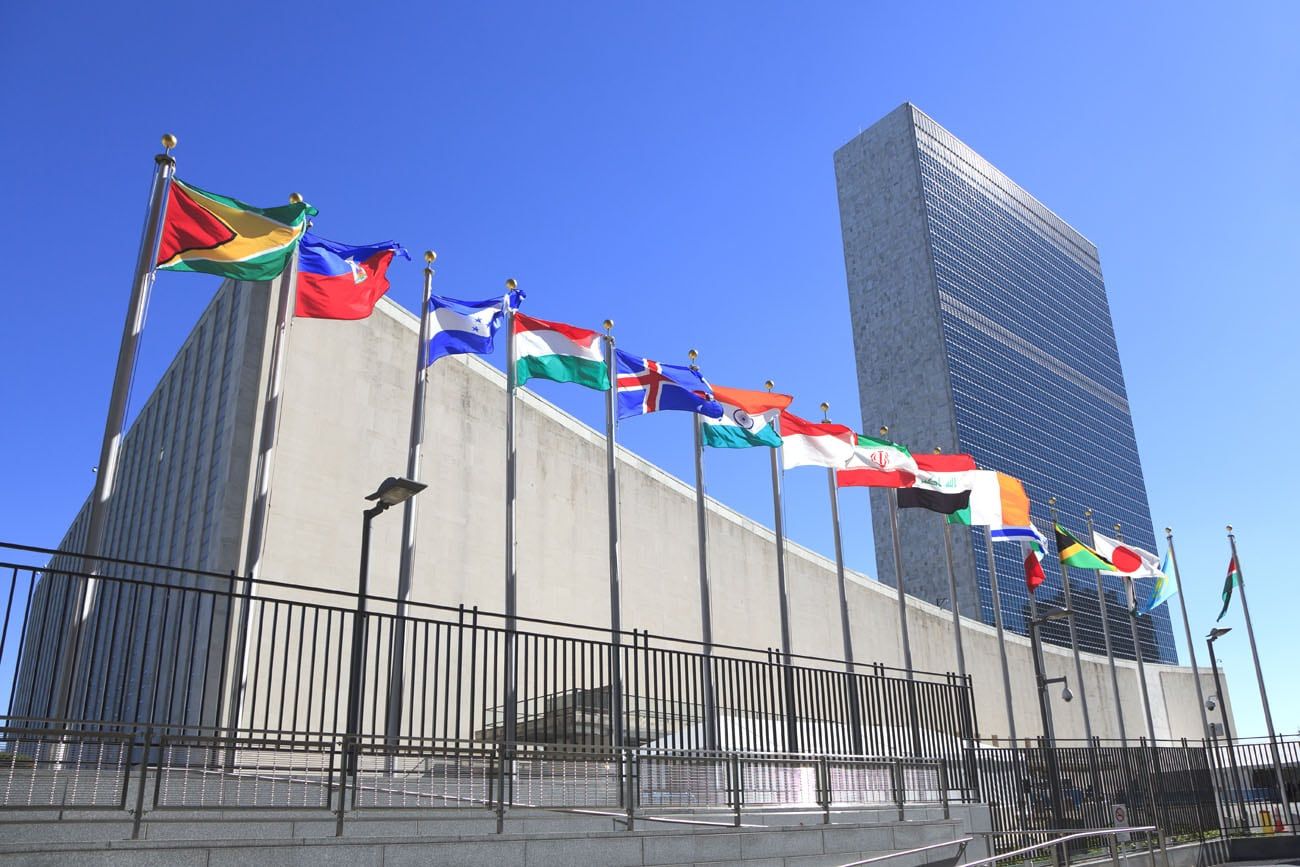 UN Headquarters | Best Things to Do in New York City | shutterstock.com/Osugi
31. Visit Grand Central Terminal
Location: Midtown Manhattan
Grand Central Terminal is the largest train station in the world, with 44 train platforms. It is the second busiest train station in North America (New York's Penn Station is #1).
In 2018, it was one of the top 10 most visited tourist attractions in the world. It has been featured in a long list of movies, including Hello Dolly!, The Avengers, I Am Legend, The Girl on the Train, Armageddon, and Revolutionary Road, just to name a few.
The Main Concourse is a beautiful place to visit. Grand Central Terminal was built in 1913 and with its Beaux-Arts design, it is also a work of art.
Take a stroll through the Main Concourse. You get a great view overlooking the concourse from the Apple store.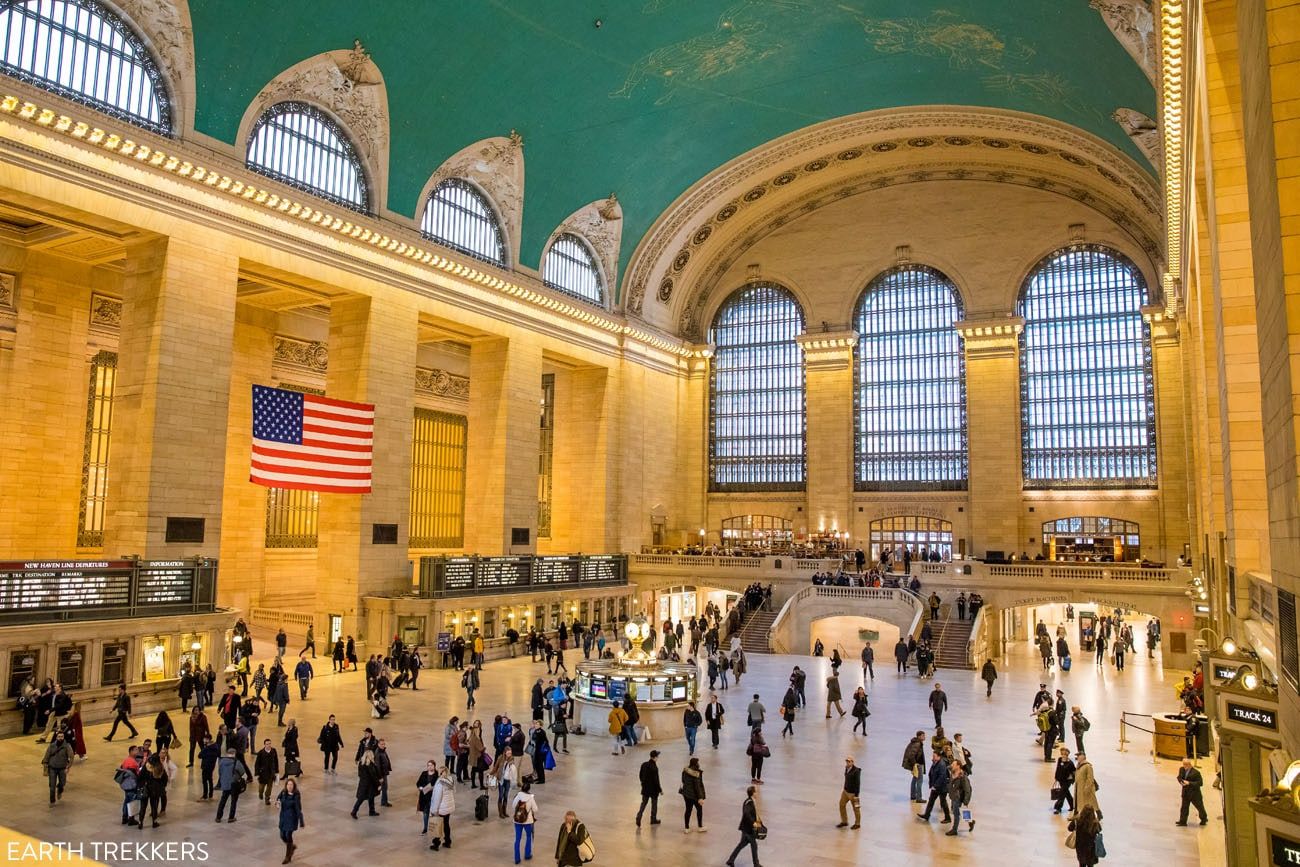 Grand Central Terminal | Best Things to Do in New York City
32. Spend Some Time in Bryant Park
Location: Midtown Manhattan
This 10-acre park is located right in Midtown Manhattan. During the warmer months, the open lawn creates an oasis for office workers, who come here for lunch. During the winter months, this is the site for the Bank of America Winter Village, with holiday shops and an ice rink.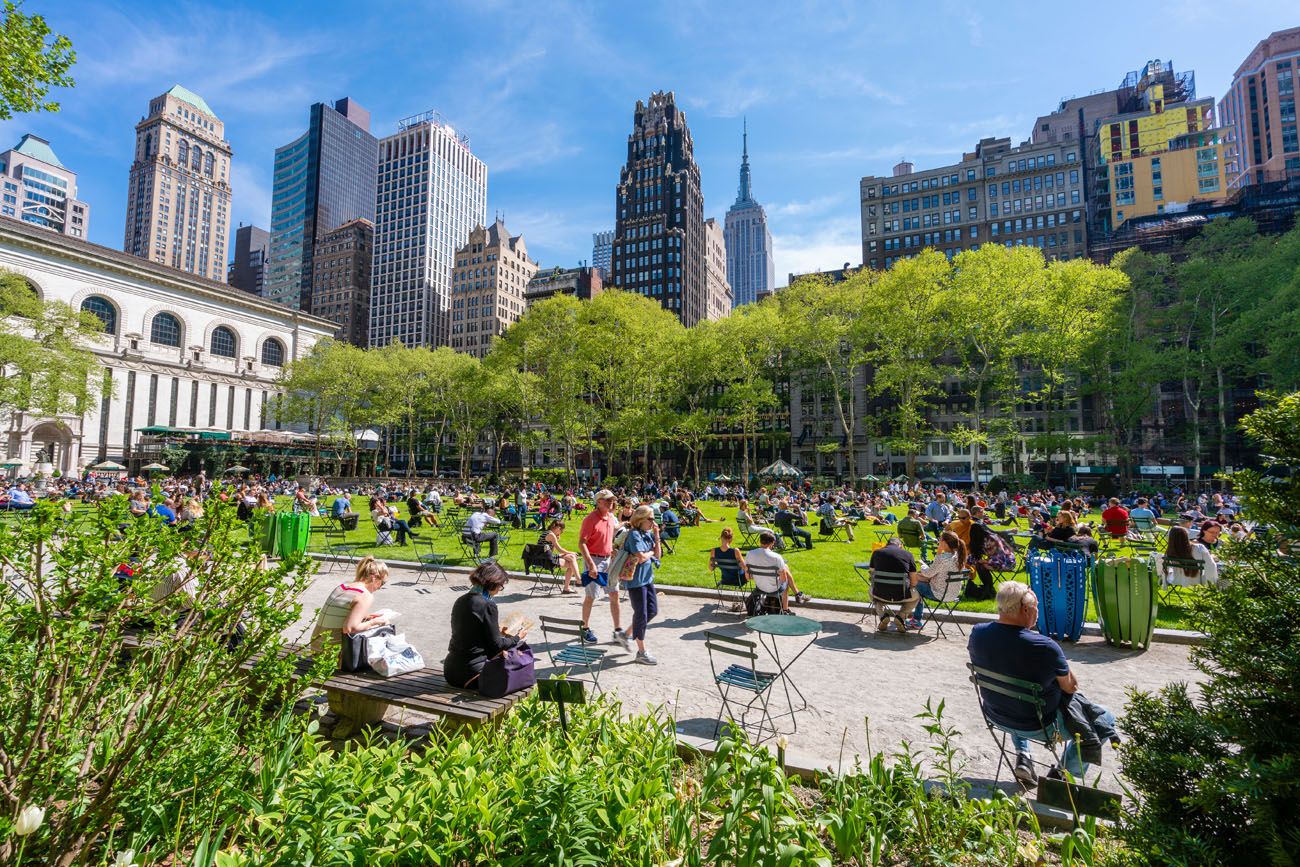 Bryant Park | Best Things to Do in New York City | shutterstock.com/ymgerman
33. Visit the New York Public Library
Location: Midtown Manhattan
The New York Public Library is located on the eastern side of Bryant Park.
It's a beautiful building on the inside and has been featured in popular movies and TV shows such as Ghostbusters, The Day after Tomorrow, and Sex and the City.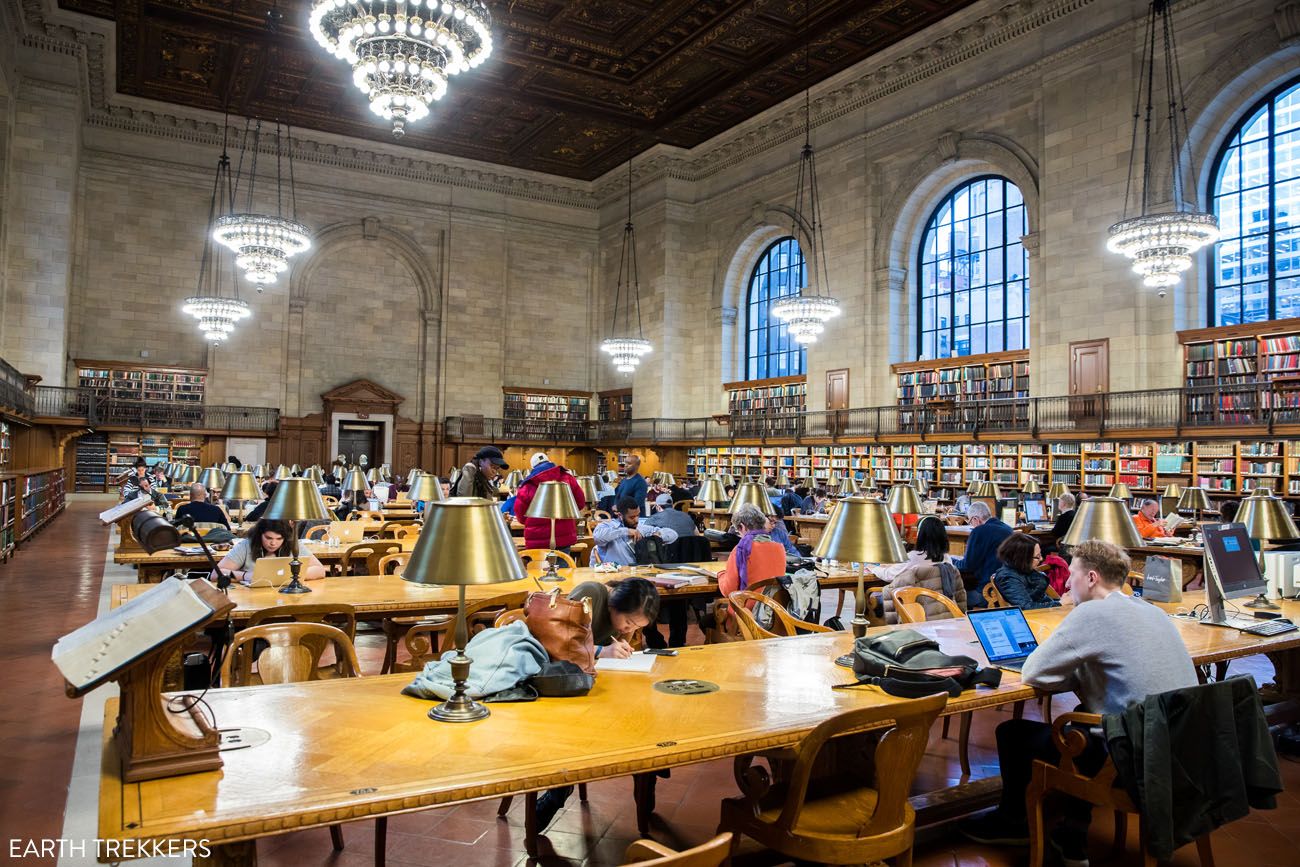 New York Public Library | Best Things to Do in New York City
34. SUMMIT One Vanderbilt, NYC's Newest Observation Deck
Location: Midtown Manhattan
Opening in October 2021, SUMMIT One Vanderbilt is the newest addition to New York City's observation decks.
Located on the top three floors of one of the tallest skyscrapers in Manhattan is an immersive, multi-sensory experience with art installations, floor to ceiling mirrors, and of course, BIG views. A visit to SUMMIT One Vanderbilt is one of the best things to do in New York City.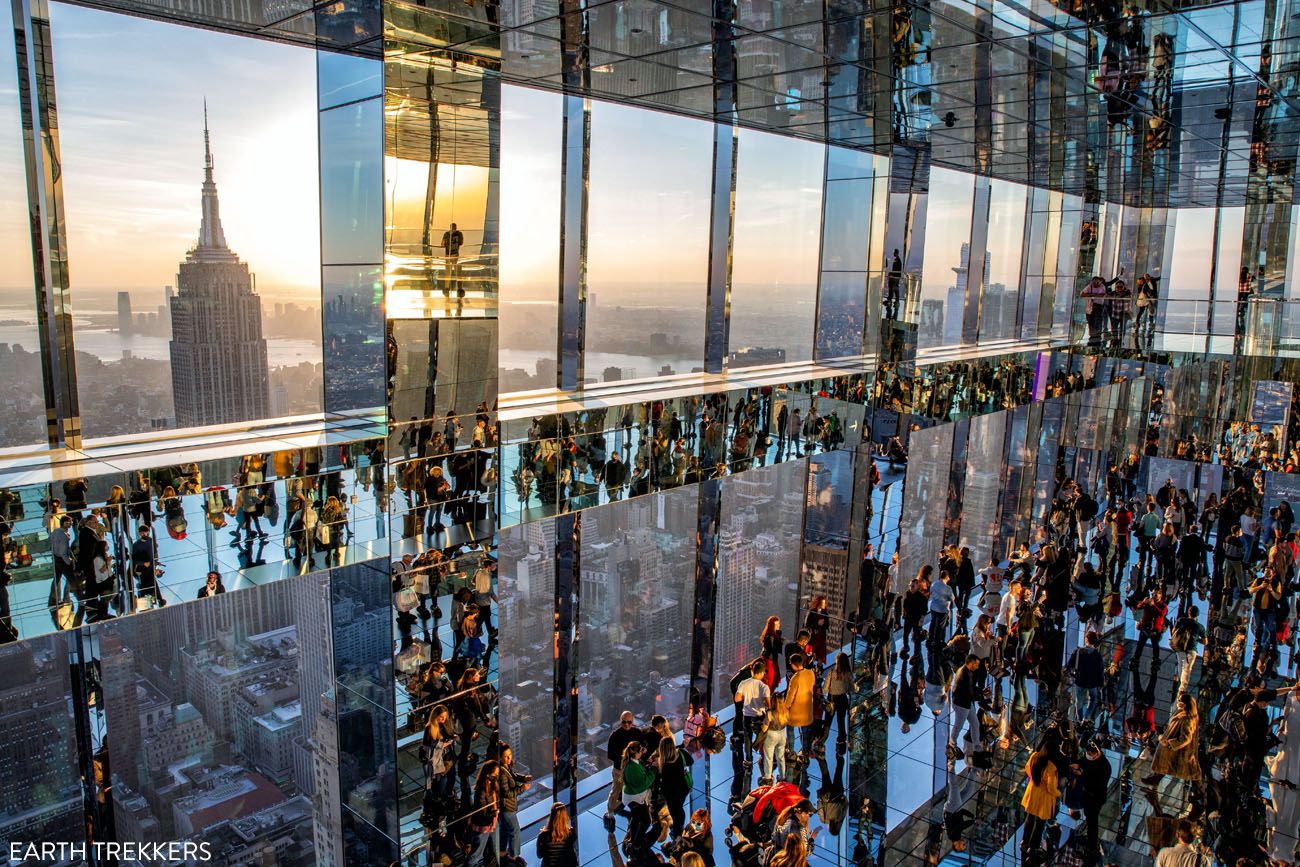 SUMMIT One Vanderbilt | Best Things to Do in New York City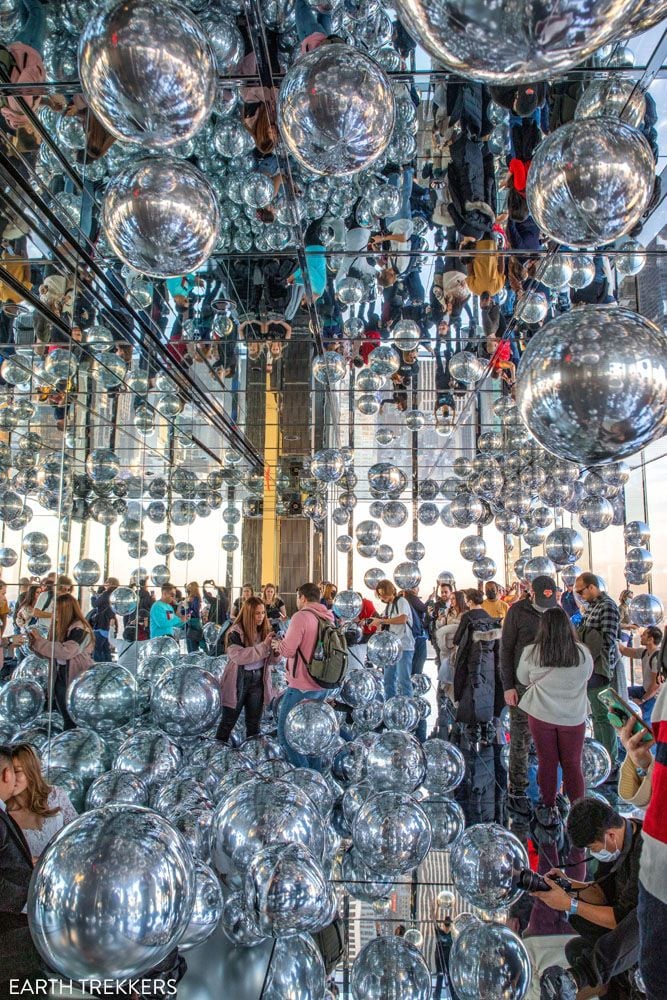 From SUMMIT, you get an unbeatable view of the Empire State Building and Midtown Manhattan. With three levels to explore, world-class art installations, and a price that is cheaper than most of the of the other observation decks in New York City, this is one of the best experiences for the money.
35. Take a Walking Tour of NYC
Location: New York City
One of the best ways to learn more about the vibrant history and culture of New York City is to take a walking tour.
On this 2.5 hour walking tour, stroll through the Dumbo neighborhood of Brooklyn, walk across the Brooklyn Bridge, and learn about the history in this part of New York City.
This Sunday morning walking tour of Harlem includes a gospel service and brunch.
On this jazz tour of Harlem, learn about the jazz scene in Harlem and visit two to three music venues, with the option to add on drinks or dinner at one of the clubs.
You can also customize a private walking tour of Manhattan or Brooklyn.
36. Go Shopping in SoHo
Location: Manhattan
SoHo is a neighborhood in Manhattan that is home to art galleries, trendy shops, and restaurants. It gets its name from its location "South of Houston Street."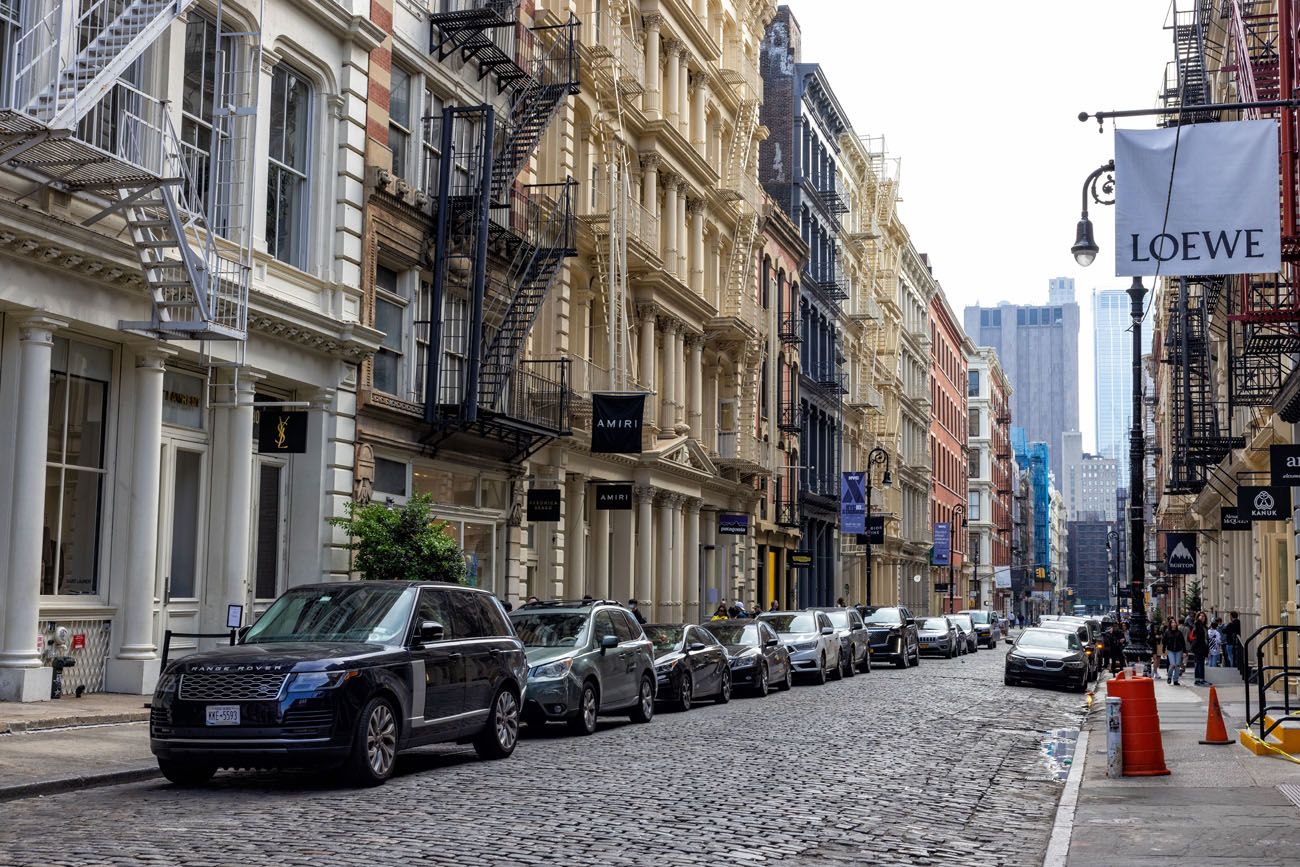 SoHo | Best Things to Do in New York City
SoHo is home to cast-iron architecture. Decorative cast-iron was added to the fronts of the buildings, which was cheaper to use than brick or stone. Most of this construction was done in the mid-1800's, to revitalize the older buildings in the area.
The area went through a decline in the 1900's. In the 1970's, artists began to move in. The high floors of the buildings, with large windows and lots of natural light, made great art studios. Plus, the rent was cheap. Since that time, SoHo has undergone gentrification and now it is home to some of the most expensive real estate in the nation.
With its mix of art galleries and boutique shops, SoHo makes a great place to explore during an afternoon in New York City.
37. Take a Stroll through Little Italy
Location: Lower Manhattan
Little Italy is worth a quick visit, but it has changed quite a bit in recent years.
In 1910, almost 10,000 Italians lived in Little Italy. During the 20th century, many Italians left the neighborhood. Now, Little Italy is much smaller in size, located along three blocks of Mulberry Street, and it is primarily a tourist destination.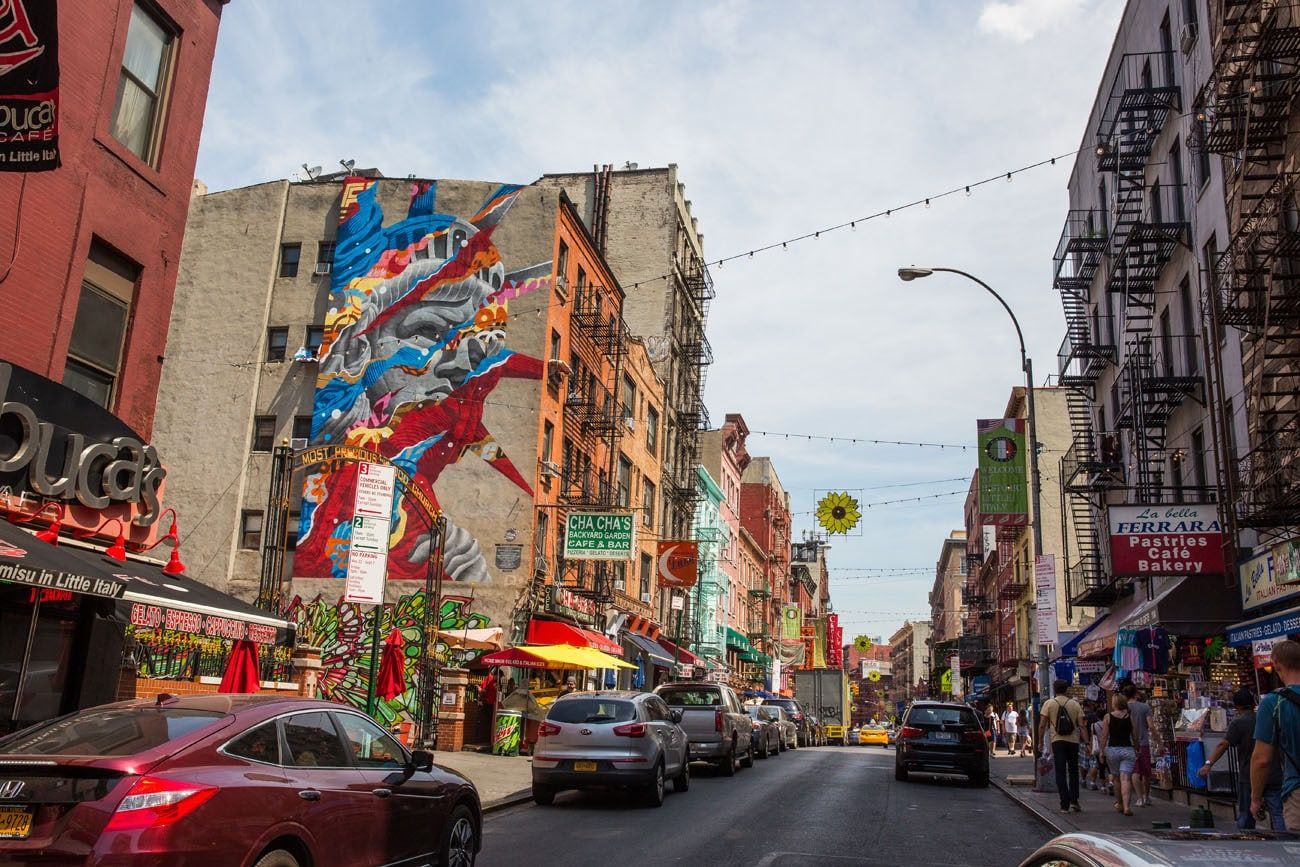 Little Italy | Best Things to Do in New York City
However, because of its history (it is listed on the National Register of Historic Places), Little Italy is worth a quick visit. For those who like to visit movie filming sites, several famous movies were filmed or based on Little Italy, such as The Godfather, Mean Streets, Leon: The Professional, and the finale of The Sopranos.
38. Visit Chinatown
Location: Lower Manhattan
Chinatown is located to the south of Little Italy. With a population of almost 100,000 people, Chinatown is home to the largest Chinese population outside of China.
This is a great place to sample dim sum, dumplings, and Chinese cuisine, go shopping, and stroll through the busy streets.
On this 2-hour walking tour, visit Chinatown, Little Italy and SoHo, sampling food along the way.
39. Take a Food Tour
Location: New York City
A food tour is a great way to spend an afternoon in New York City.
This 2-hour walking food tour of Hell's Kitchen gets rave reviews. If you like the idea of combining a walking tour with a food tour of Greenwich Village, I recommend taking a look at this tour. Finally, on this 3-hour food tour on the Lower East Side you will sample German, Dutch, Italian, Chinese, and Jewish dishes and hear stories about the immigrants who settled here.
40. Spend a Day at Coney Island
Location: Brooklyn
If you will be visiting the city with kids, a visit to Coney Island is one of the best things to do in New York City.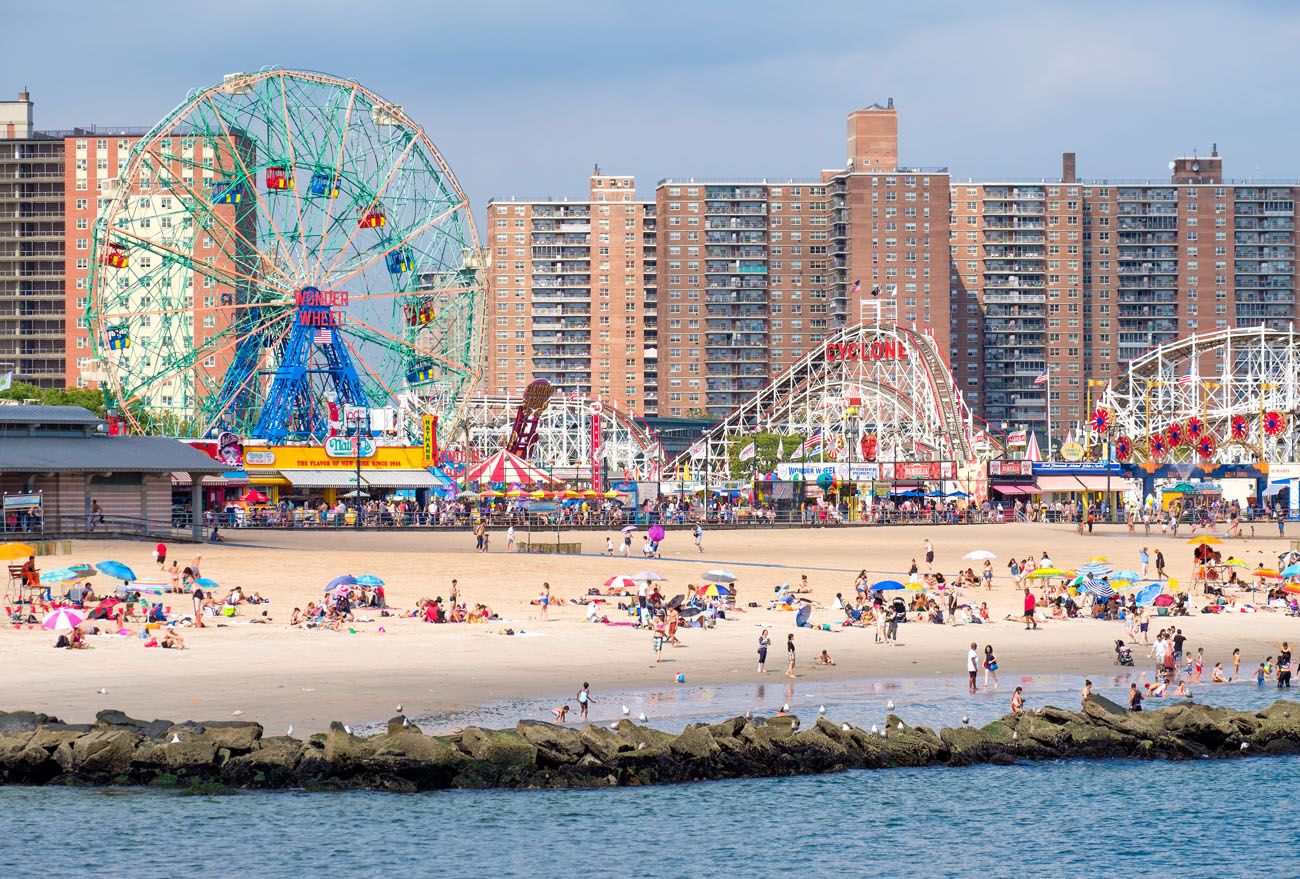 Coney Island | shutterstock.com/Kamira
Coney Island is located in Brooklyn. It is here that you will find the amusement park Luna Park, as well as Coney Island Beach. Ride the Cyclone, a wooden roller coaster that is almost 100 years old (it was built in 1927 but refurbished several times) and is on the National Register of Historic Places.
Learn how to get here and how to plan your visit on the official website for Luna Park.
41. Take a Helicopter Flight over New York City
One of the most thrilling ways to experience New York City is from the sky. There are numerous helicopter flights over the city. You can take a doors off helicopter ride (we did a doors off helicopter ride in Hawaii and it is awesome!), take a private flight, or even learn how to pilot a helicopter.
42. See a Show on Broadway
Location: Midtown Manhattan
Watching a Broadway Show is a quintessential New York experience. The list of shows is long and always changing. Take your pick from the long running classics like The Lion King, Phantom of the Opera, and Chicago, or newer but very popular shows like Hamilton and Wicked, or smaller Off-Broadway performances. We recently saw Wicked and loved it!
For the full list of what is showing, click here.
43. Radio City Music Hall
Location: Midtown Manhattan
Radio City Music Hall is located in Rockefeller Center. It is a historic theater, famous for being home to the Rockettes as well as hosting the Grammy Awards, the MTV Video Music Awards, and the NFL Draft.
Concerts are routinely held here, as is the Christmas Spectacular starring the Radio City Rockettes. Get the schedule of events here.
44. Visit the American Museum of Natural History
Location: Upper West Side of Manhattan
The American Museum of Natural History is enormous. In fact, it is the largest natural history museum in the world. 26 interconnected buildings house 44 permanent exhibition halls. On display are specimens of plants, animals, meteorites, fossils, human remains, and human cultural artifacts.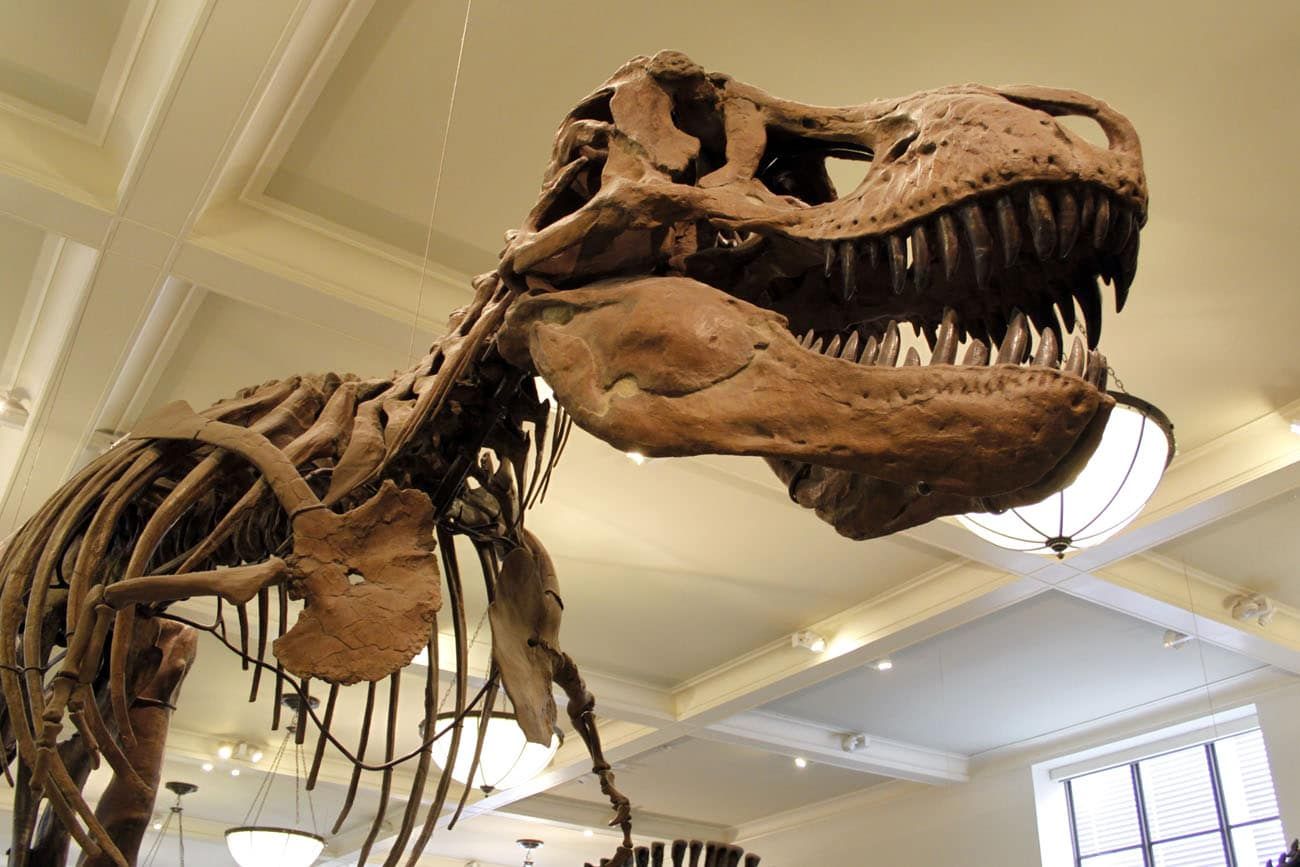 American Museum of Natural History | Best Things to Do in New York City
This museum has been featured both in print (J.D. Salinger's Catcher in The Rye) and film (Night at the Museum and Wonderstruck).
For kids, this is one of the best museums in New York City. Before and/or after your visit, let them run or bike around neighboring Central Park, to burn off any extra energy.
Cost: $23 adult, $22.50 student, $16.50 children 3 to 12, $22.50 senior 60+; Residents of New York, New Jersey and Connecticut pay what you wish
Hours: Wednesday through Sunday 10 am to 5:30 pm
Website: Visit the official website for updated hours and pricing and to reserve your tickets in advance. All tickets must be reserved online in advance.
45. Watch a Major League Baseball Game
Two Major League baseball teams call New York City home: the New York Mets, which play at Citi Field in Queens, and the New York Yankees, which play at Yankee Stadium in the Bronx.
If you plan to visit New York City during the summer months, you can purchase tickets for the Mets here and tickets for the Yankees here.
46. Brooklyn Botanic Garden
Location: Brooklyn
Several botanical gardens are located in New York City. Brooklyn Botanical Garden is often touted as the best and the easiest to visit. This 52-acre park has many specialty gardens and seasonal events and activities. It is located next to Prospect Park in Brooklyn.
For hours, pricing, and information about seasonal events, visit the official website.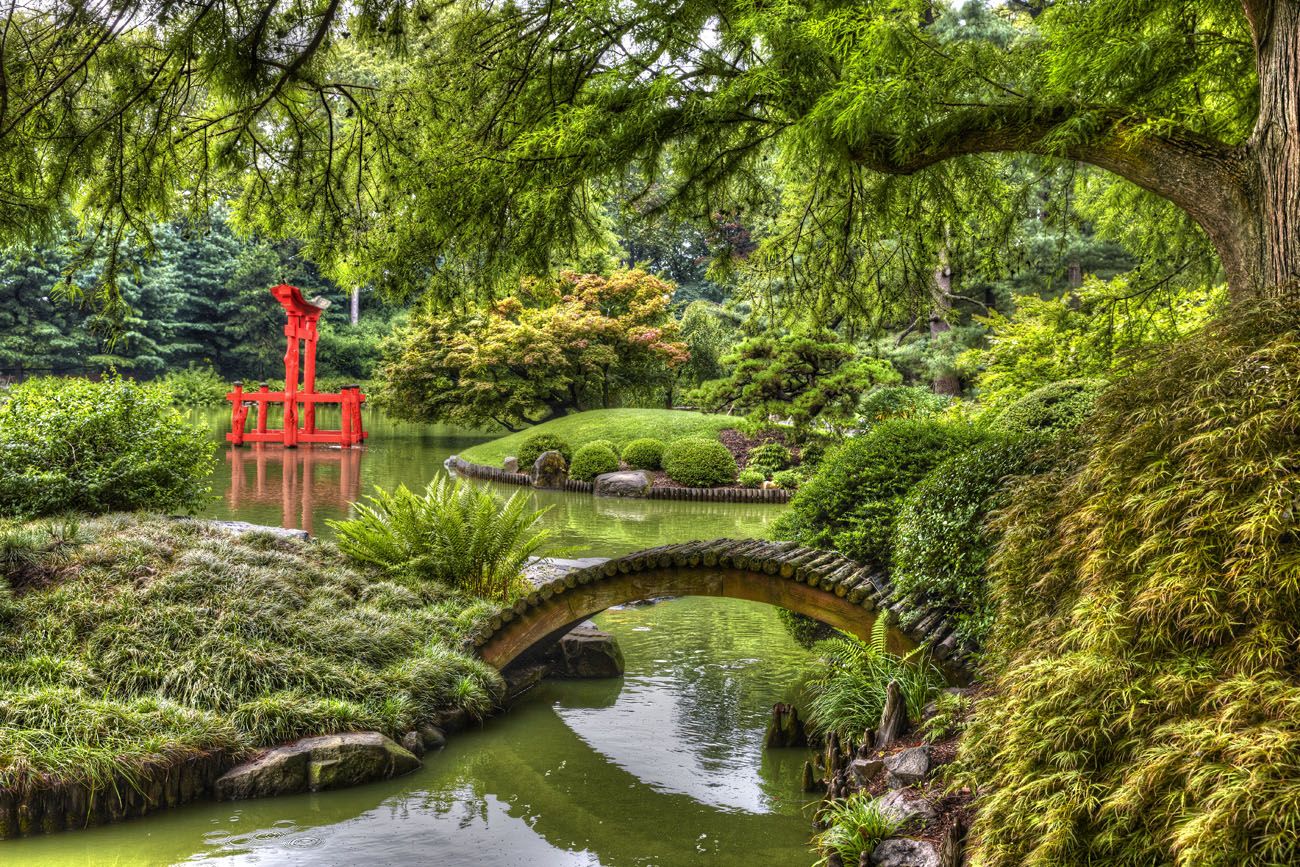 shutterstock.com/R. de Bruijn_Photography
47. Visit New York City on a Holiday
New York City is a very festive place to visit during the holidays.
The Macy's Thanksgiving Day Parade is the most famous parade in the city. Parades are also held for St. Patrick's Day, for Halloween (in Greenwich Village), and for other holidays.
The Christmas season typically attracts a lot of visitors. Holiday decorations adorn the city streets and buildings and the lighting of the Rockefeller Tree is a major event that occurs after Thanksgiving. The Rockettes put on a Christmas performance at Radio City Music Hall, ice rinks open throughout the city, and you can take a bus tour of the Christmas lights in Dyker Heights, Brooklyn.
Thousands of people flock to Times Square on New Year's Eve to welcome in the New Year. We did this over 20 years ago…it's definitely something to experience if you get your timing right.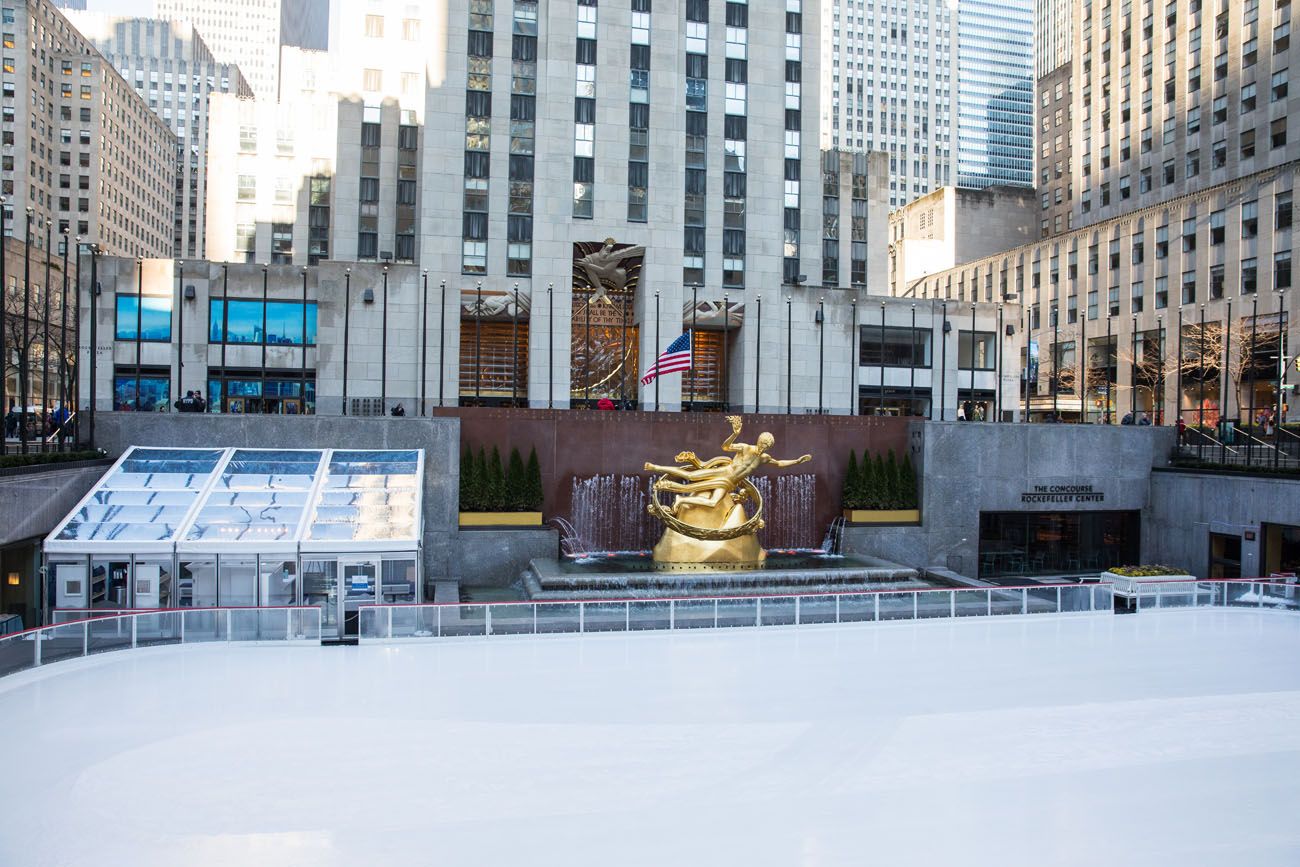 Rockefeller Center Ice Rink | Best Things to Do in New York City
48. Have a Drink at a Rooftop Bar
Location: Manhattan
How about a drink with a view? There are many rooftop bars located through New York City that offer spectacular views.
Spyglass Rooftop Bar offers a great view of the Empire State Building. Electric Lemon at the Equinox Hotel overlooks Hudson Yards and the Vessel. The Crown Rooftop Bar in Chinatown offers great views of both Midtown Manhattan and Brooklyn. Après at SUMMIT One Vanderbilt has stunning views of the city. Gallow Green is a rooftop bar/garden with views of the Empire State Building and Hudson Yards. And The Greens at Pier 17 at South Street Seaport looks really cool.
49. Run, Ride, or Race through New York City
Location: All five boroughs
For all of you runners, cyclists, and triathletes out there, New York City is home to some awesome races.
The most famous is the New York City Marathon. It has now been running for 50 years. Over its 26.2 miles, you run through all five of New York's boroughs, as well as the Verrazano Narrows Bridge, the Queensboro Bridge, and Central Park. Tim and I ran the NYC Marathon in 1997 and it was awesome! To cross the Queensboro Bridge into Manhattan and run up First Avenue was one of my favorite memories from this race.
There are also numerous shorter running races throughout the year, from 5K's to half marathons. The New York Road Runners website has information on upcoming races and the New York City Marathon.
If you prefer see New York City on a bike, you can participate in the 5 Boro Bike Tour. This 40-mile bike tour is open to 32,000 cyclists. The roads are closed to vehicles and open only to cyclists, on a route that travels through all five boroughs.
Finally, if you are a triathlete, the New York City triathlon is an Olympic distance triathlon that takes place in July. Swim in the Hudson River, bike in Manhattan and the Bronx, and run through Central Park. I have done this race twice and it's one of my favorite triathlon courses. Swimming in the Hudson might sound gross (it's really not) but you will post the fast swim time ever!
Tim even competed in the one and only Inaugural IRONMAN 140.6 New York City triathlon in 2012. It was only held once because it was so logistically challenging, both for participants and spectators.
50. Cruise the Hudson River
Location: Hudson River, East River, New York Harbor
Another great way to see the city is on a cruise on the Hudson River or New York Harbor.
On this cruise of New York Harbor, enjoy the views of the Statue of Liberty, One World Trade Center, and the Brooklyn Bridge as you have brunch, lunch, or dinner.
On this highly rated holiday cruise, see the New York skyline as you listen to live entertainment and warm up with hot cocoa and cookies.
Best of New York City: On a Map
How to Use This Map: Click the icons on the map to get more information about each point of interest. Click the star next to the title of the map to add this map to your Google Maps account. To view it on your phone or computer, open Google Maps, click the menu button, go to "Your Places," click Maps, and you will see this map on your list.
Best Things to Do in New York City: Our Recommendations
Top 10 Experiences
Here are the top 10 experiences if it is your first time in New York City:
Empire State Building
Central Park
Statue of Liberty
Times Square
Brooklyn Bridge
Visit an Art Museum (MoMa, the Met, or the Guggenheim)
9/11 Museum and Memorial
Stroll along 5th Avenue and see the sites in Midtown Manhattan
Visit at least one of Manhattan's neighborhoods: Greenwich Village, SoHo, Chinatown, Chelsea, etc.
Visit another observation deck (SUMMIT One Vanderbilt or the Edge)
Learn how to put many of these sights together in our 5 Day New York City itinerary.
10 Best Free Things to Do in New York City
Staten Island Ferry
Central Park
Times Square
Brooklyn Bridge
9/11 Memorial
Visit SoHo, Chinatown, Greenwich Village, Chelsea, the Lower East Side, and Midtown Manhattan
The High Line
Brooklyn Bridge Park
Grand Central Terminal
Rockefeller Center
10 Best Things to Do with Kids in New York City
Central Park (rent bikes or bring your kid's scooter)
American Museum of Natural History
Empire State Building
Statue of Liberty
Brooklyn Bridge
Times Square
The Bronx Zoo
Luna Park at Coney Island
Watch a baseball game at Yankee Stadium
Brooklyn Bridge Park
If you have any questions about the best things to do in New York City, or if you want to share your favorite experiences, let us know in the comment section below.
More Information about New York City:
NYC ITINERARY: In our article 5 Days in New York City, we included detailed daily itineraries for exploring New York City. You can do all five days or follow just a day or two, if you have less time in the city.
NYC HOTELS: Need a place to stay? Check out our guide to the Best Hotels in New York City, organized by neighborhood.
NYC OBSERVATION DECKS: In our article Best Observation Decks in New York City, we rank all of the observation decks by price, height, and best view. We also have detailed guides on The Edge, SUMMIT One Vanderbilt, and One World Observatory.
CHELSEA & HUDSON YARDS: In our article Best Things to Do in Chelsea and Hudson Yards, learn about the best things to do in the area, with suggestions on where to eat and where to stay.
BROOKLYN: If you have plans to visit Brooklyn, read our article How to Spend One Day in Brooklyn.
Read all of our articles about the United States in our United States Travel Guide.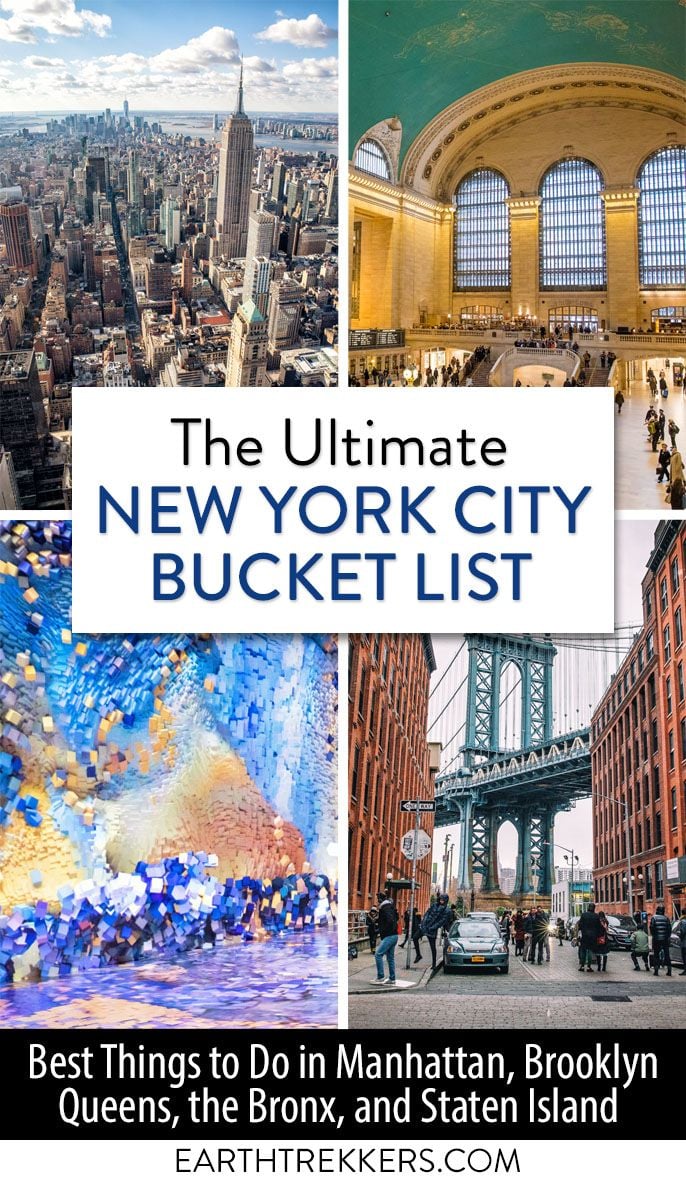 Note: This post contains affiliate links. When you make a purchase using one of these affiliate links, we get paid a small commission at no extra cost to you.
All rights reserved © Earth Trekkers. Republishing this article and/or any of its contents (text, photography, etc.), in whole or in part, is strictly prohibited.
10 Best Places to Visit in New York State
New York is a large and diverse state, but many visitors only visit the Big Apple. While New York City is undoubtedly exciting, there is far more than the state has to offer. Gorgeous lakes, charming college towns upstate and even world-famous waterfalls beckon outside of NYC's five boroughs. Check out the best places to visit in New York state.
10. Buffalo [SEE MAP]
In Upstate New York, the hub of culture and education is undoubtedly Buffalo. You might know of Buffalo's sports teams, snowy winters and association with chicken wings, but there is a lot more to this Niagara Frontier city. Buffalo is steeped in history, and a great place to start is at the Buffalo & Erie County Historical Society Museum.
Dig a little deeper by exploring the Nash House House, a home associated with early civil rights movements and even the founding of the NAACP. Then, take a walking architectural tour of the Allentown Historic District or head to the Buffalo Zoo, one of the oldest zoos in the entire country.
9. Lake Placid [SEE MAP]
Harvey Barrison / Flickr
In Essex County, in the heart of the Adirondack Mountains, is the village of Lake Placid. Despite its small population, Lake Placid is well known thanks to serving as the host of the 1980 Winter Olympics. More specifically, Lake Placid was the site of the now famous Miracle on Ice, the hockey game held between the USA and the USSR.
Sports are still a major draw to Lake Placid, and your visit could include mountain biking in the summer, hiking some of the 46 peaks of the Adirondacks, or Nordic skiing in the winter. Whatever the season, check out the Adirondack Equine Center for horseback or sleigh rides.
8. Ithaca [SEE MAP]
WalkingGeek / Flickr
The college town of Ithaca is located in New York's Finger Lakes Region, where it sits at the southern tip of Cayuga Lake. Ithaca is best known for two things: Its higher education campuses and its surrounding landscape of gorges and waterfalls.
If you are lucky enough to visit Ithaca, you'll definitely want to make time to tour Ithaca College and Cornell University. On Cornell's campus, spot the iconic clock tower and tour the collection at the Johnson Art Museum. Then, head downtown to Ithaca Commons, a pedestrian mall lined with restaurants and local shops. Spot some of the gorges and waterfalls in the area with a hike like the stone staircase that leads to Cascadilla Creek Gorge.
7. Catskills [SEE MAP]
Just an hour's drive north of New York City are the Catskills Mountains. This destination is an incredible juxtaposition to city life, which is why the region is so popular among city dwellers in search of nature. In the Catskills, you'll find the Catskill Forest Preserve. This preserve is home to an abundance of wildlife, hiking trails and winter sports opportunities.
If you're searching for culture, check out the Hudson River School Art Trail, where stops include famous landmarks and landscapes painted by local artists. Woodstock might be the most famous town in the Catskills, cue to the iconic music festival of the same name.
6. Watkins Glen State Park [SEE MAP]
Also in the Finger Lakes Region, located at the southern end of Seneca Lake, is Watkins Glen State Park. If you want to get outdoors and experience some phenomenal views, then this is the perfect destination. A narrow gorge cuts through the park, creating amazing vistas from the trails on the rim.
In one two mile stretch, you'll pass 19 different waterfalls! In the summer, there are outdoor swimming opportunities, and tour fishing is also a popular pastime. Backcountry camping is available, but many visitors prefer to relax at a local inn after a day of hiking and sightseeing outdoors.
5. Hudson River Valley [SEE MAP]
Kyle Garrity / Flickr
As the name suggests, the Hudson River Valley extends along the Hudson River all the way from Troy and Albany in the north down to Westchester, just north of New York City. Much of this area is agricultural, boasting rural views and a bucolic landscape. Lots of farms mean that the Hudson River Valley can be a foodie's dream destination.
Organic farms, local wineries and artisan cheesemakers abound, and farmer's markets are a staple throughout the region. Lots of NYC chefs are opting to head to the Hudson River Valley to open farm-to-table eateries, so you won't have to go far to find a great restaurant in stunning rural surroundings.
4. Fire Island [SEE MAP]
Erik Anestad / Flickr
Just off the coast of Long Island is a thin, long barrier island called Fire Island. Much of the island is made up of the Fire Island National Seashore, a former whaling base that is now a popular seaside getaway destination.
A combination of the beaches and the outdoor recreation makes this an amazing place to visit in New York State, but keep in mind that much of Fire Island is seasonal, and attractions often close down in the winter. On Fire Island, you'll definitely want to see the Fire Island Lighthouse, and you can also stroll along the boardwalk through the incredible Sunken Forest.
3. Thousand Islands [SEE MAP]
Close to the Canadian border is Thousand Islands, a scenic spot created where the St. Lawrence River meets Lake Ontario. This collection of islands is known as a place where the rich and famous vacation, but it is an accessible spot for all types of travelers.
You can see how the one percent live with a tour of Boldt Castle, a stunning castle located in Alexandria Bay. Make time for a boat tour that winds along the river and allows you to see some of the amazing mansions overlooking the water, many of which are only visible to the public by boat.
2. Niagara Falls [SEE MAP]
Known as the Honeymoon Capital of the World, Niagara Falls is absolutely a romantic destination. However, travelers of all types will want to check out this magnificent natural attraction. Niagara Falls is located on the border with Canada. In fact, views of the falls can be enjoyed on either side of the international line.
While views from Canada are considered the most impressive, American visitors will be able to get closest to the roaring waters, and there is an option to take a boat ride at the base of the falls. If time permits, head to the Cave of the Winds, where an elevator ride takes you down to the base of the Bridal Veils Falls and puts you close to the action!
1. New York City [SEE MAP]
Known as the Big Apple, New York City is arguably one of the most important cities on the planet. Diverse and always buzzing, there is an unlimited number of attractions to explore in the city. Most of the biggest landmarks are found in Manhattan.
If you're on a whirlwind tour, then the highlights might include a visit to the Museum of Modern Art, a trip to the top of the Rockefeller Center, a view of the Empire State Building and the New York Public Library. Throbbing with flashing neon lights and glittering billboards, Times Square is the city's dazzling entertainment district where tourists can catch a Broadway performance and shop for souvenirs.
Map of New York State
© OpenStreetMap © MapTiler © Touropia
63 Fun Things to Do in NYC – Cool and Unusual Activities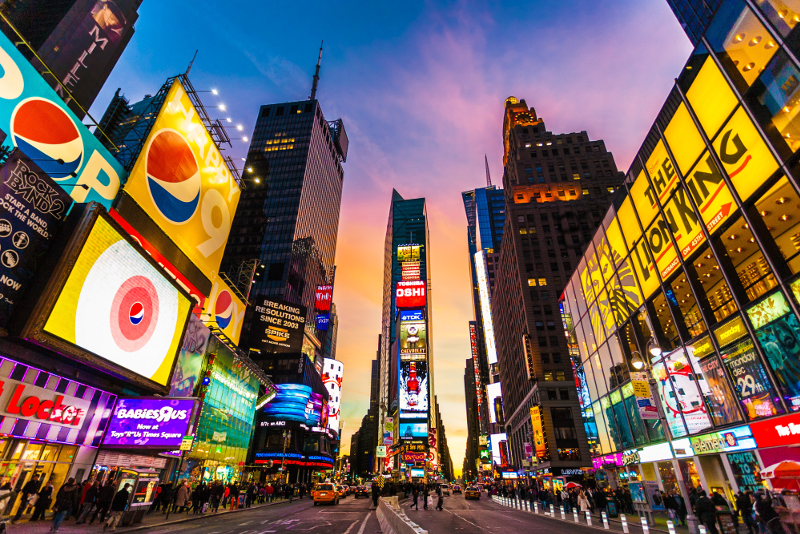 No city in the world has more or better fun things to do in NYC. In addition to world-class museums – the city is home to amazing events all year long. Here is a curated list of unusual things to do to help you uncover what's happening best in the city.
1 – Try indoor skydiving at iFLY Westchester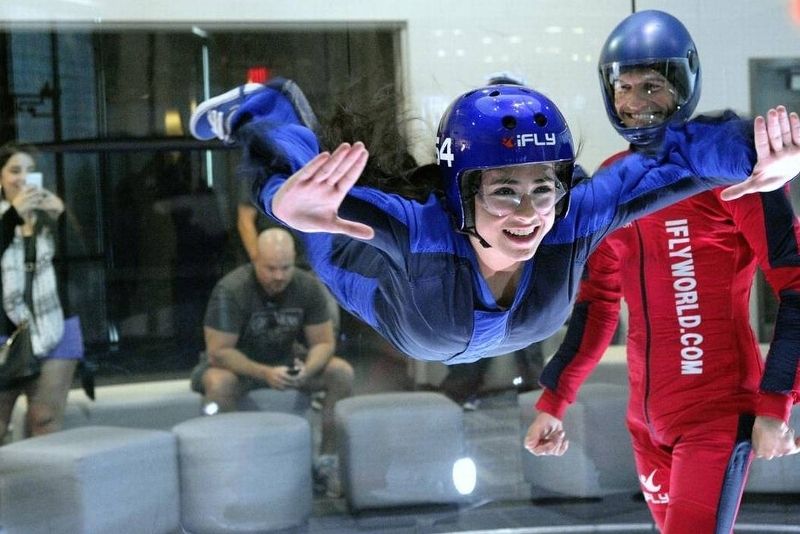 Experience the thrill of skydiving without any of the danger. iFly Westchester is a themed wind tunnel for indoor skydiving. So there is no jumping, no bad weather, no danger, just a jolly good time to spend with your friends or family!
2 – Fly on a helicopter and be stunned by the view of NYC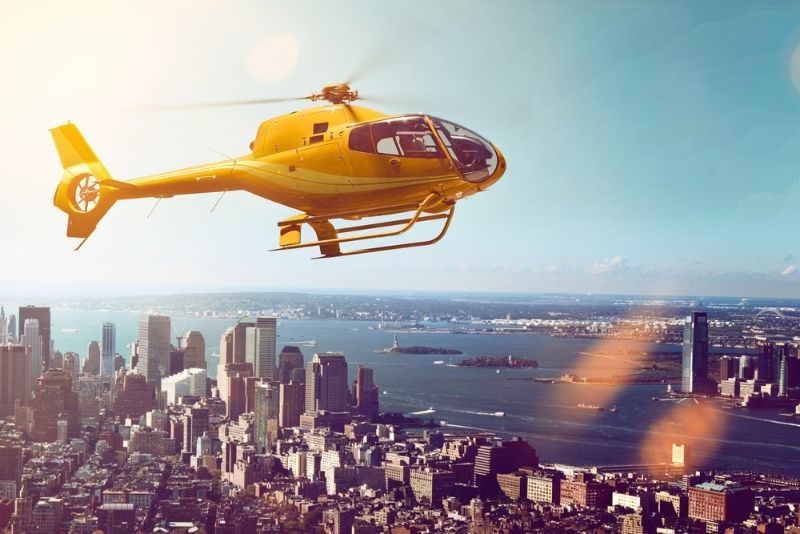 Tours by helicopters are one of the most famous and fun things to do in NYC, especially for first-time visitors. It is the most thrilling way to see NYC's top landmarks, the Hudson River and its bay. Soar high above the New York City skyline and enjoy the panorama.
3 – Explore the catacombs of the Basilica of St. Patrick's Old Cathedral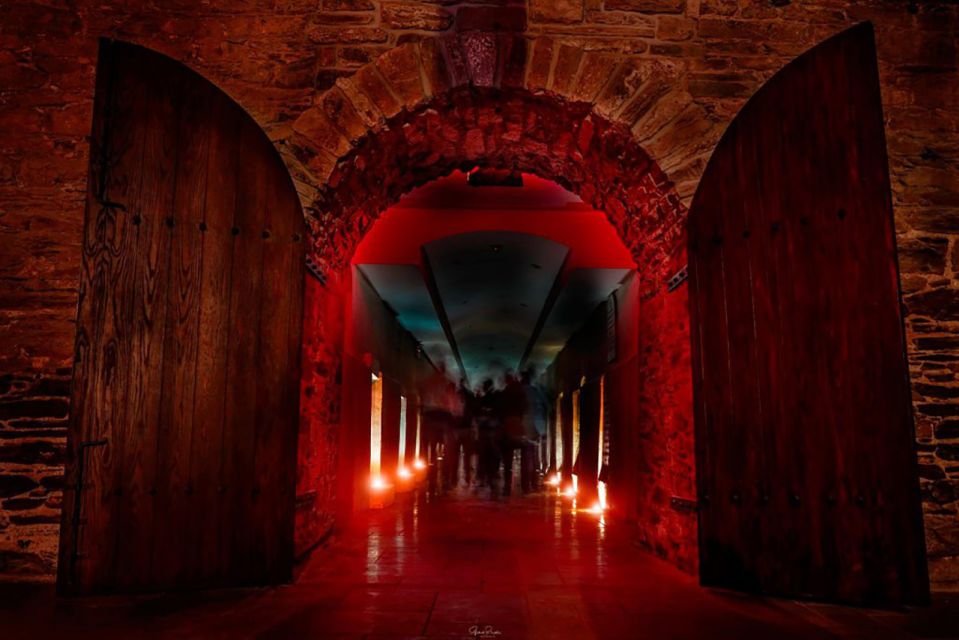 Credit to GetYourGuide
Ready for a spooky night? Go behind the scenes at the Basilica of St. Patrick's Old Cathedral. Get access to the off-limits and hidden areas of the Basilica grounds, and step into the only active catacombs in New York City.
4 – Take a spin on The Beast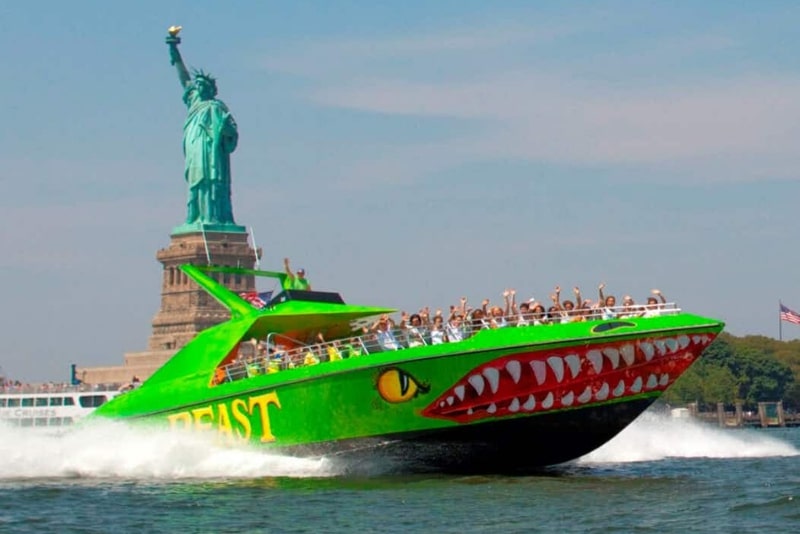 Hold on to your hats as you blast across New York Bay on the ride of your life. The Beast is a luxury jet boat and one of the fun things to do in NYC for adrenaline junkies.
Take in the panoramic sights of midtown and lower Manhattan and bounce along to live music on this watery roller coaster journey. Keep your cameras handy for the Statue of Liberty!
5 – Recover a priceless painting in 60 minutes or less!
Challenge your friends to solve an art heist in this escape room!
One of five available adventures at The Escape Game, The Heist will immerse you and your friends in a one-of-a-kind adventure, where you must steal back a priceless Monet painting before the art curator returns.
You'll have to work with your team to solve clues and overcome challenges in order to complete your mission.
You have 60 minutes max, so be quick! Can you escape in time?
6 – Discover the Christmas Miracle next to Times Square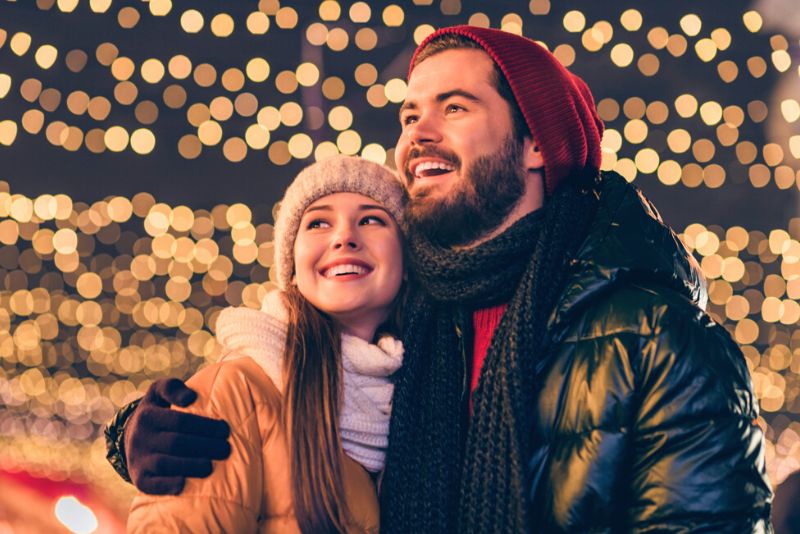 The North Pole might be a bit out of way for a family visit to Santa, so thankfully Miracle NYC has created a winter wonderland in the heart of New York.
Conveniently located next to Times Square, Miracle NYC promises to bedazzle you with its impressive lights show and get you in the holiday spirit.
During your visit, you will bake cookies with Mrs. Claus and Chip the Elf and even get the opportunity to hang out with Santa Claus himself.
7 – Admire the spectacular view of Manhattan over the Hudson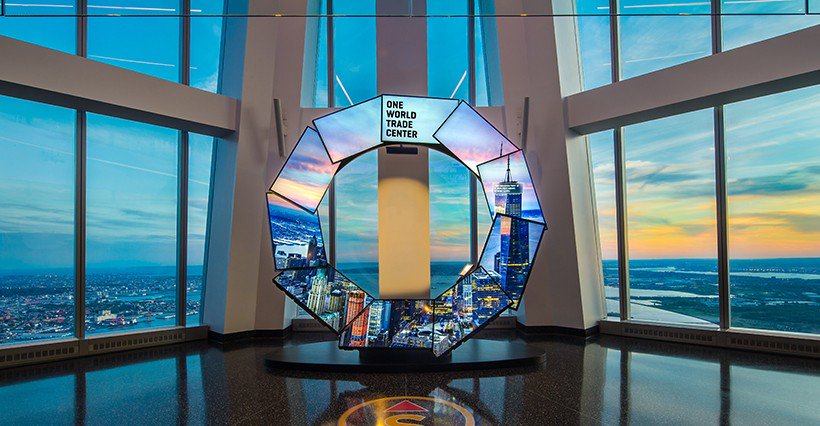 The observation deck of the One World Observatory offers dramatic city views that turn magical at sundown. The visit to this observation deck offers a unique 360-degree view of the city. One World Observatory is also the tallest among the most famous observation decks, which includes the Top of the Rock, the Empire State Building and the Edge Observation Deck.
If you plan to visit multiple attractions in the city, compare New York City passes to find the most convenient solution.
The One World Observatory offers the most impressive technological features for its visitors, with a mix of virtual reality, video guides, and theater shows. Thanks to its location in Lower Manhattan near the 9/11 Memorial, the One World Observatory also offers fantastic views of the Statue of Liberty, Ellis Island, and the harbor.
Because the One World Observatory is the newest, crowds can get a bit larger at this location, but the timed tickets ensure that you will probably never experience an unreasonable crowd size
8 – Get the holiday party going at Santa's secret speakeasy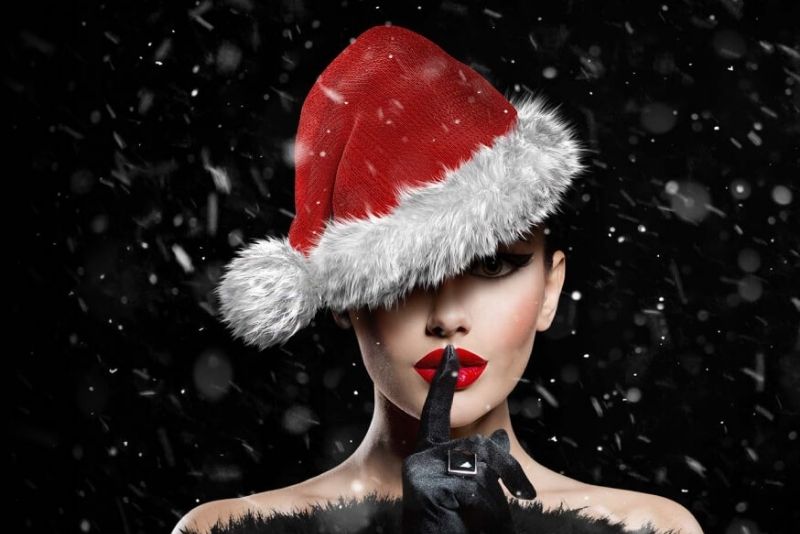 There is no time like Christmas for a get together with friends and loved ones and New York has just the thing in time for the holidays. Santa's Secret Immersive Holiday Experience puts a yuletide spin on the speakeasy with two bars and a magical show.
So get into the holiday spirit with Christmas-themed drinks, music from a live band and an absolutely festive burlesque and ballet performance. The show lasts about two hours and is open to adults over 18 only.
9 – Cast your favorite spells at the Forbidden Forest Experience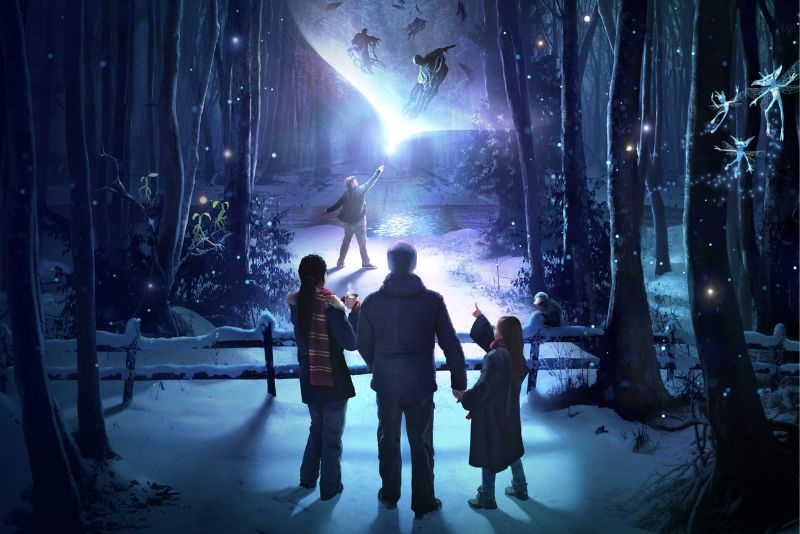 credit to Fever
As nightfalls, follow a woodland trail to explore a magic forest inhabited by enchanting creatures such as Centaurs and Hippogriffs, where exciting surprises await.
This family-friendly attraction is suitable for wizards and witches of all ages. Also, everyone is encouraged to grab their wands to cast their favorite spells, including conjuring their own Patronus.
After the 45-75 minutes night trail, a delicious selection of Wizarding World's inspired meals awaits.
10 – Balance your mind and body at Aire Ancient Baths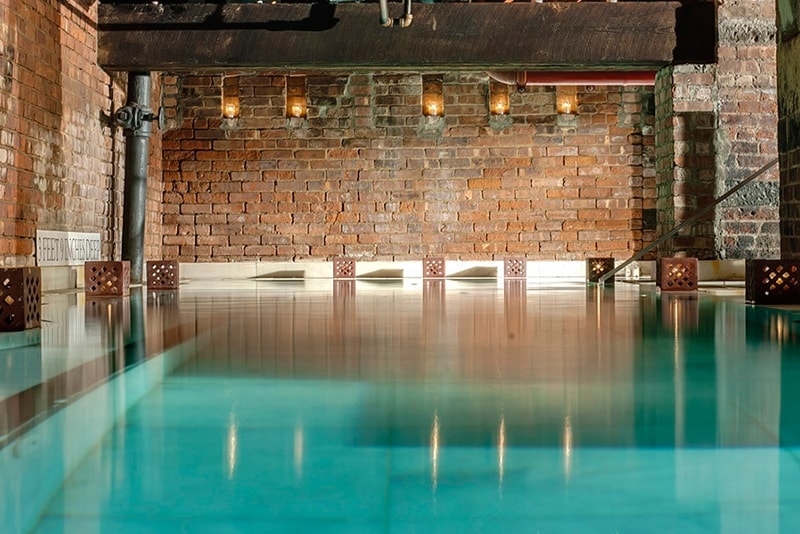 In an industrial building from 1808, the AIRE is an experience of sensations that runs through different thermal baths, massages as well as other experiences which you will find absolutely delightful!
11 – Listen to unique concerts at candlelight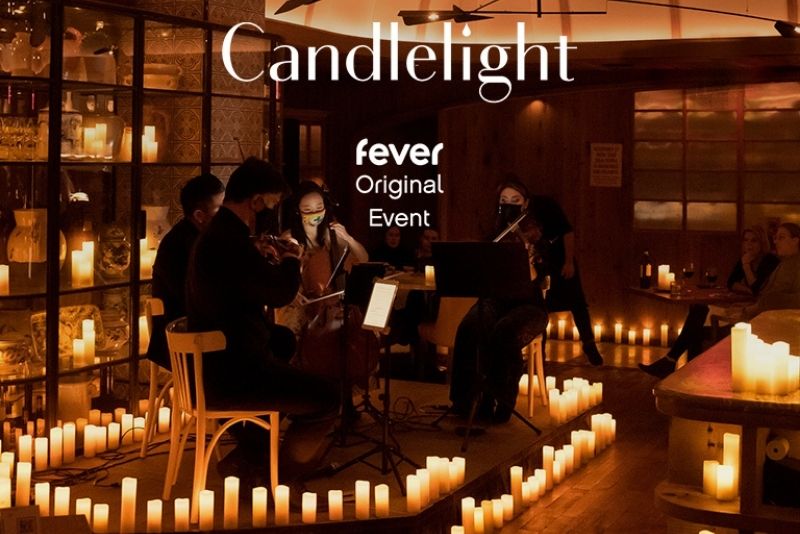 Enjoy music concerts in a unique candlelight atmosphere. Live the Vivaldi, the Queen or Jazz music notes while sipping a glass of wine or having dinner. Candlelight creates a magical atmosphere that will let you appreciate even more the fantastic concerts.
12 – Have fun in Central Park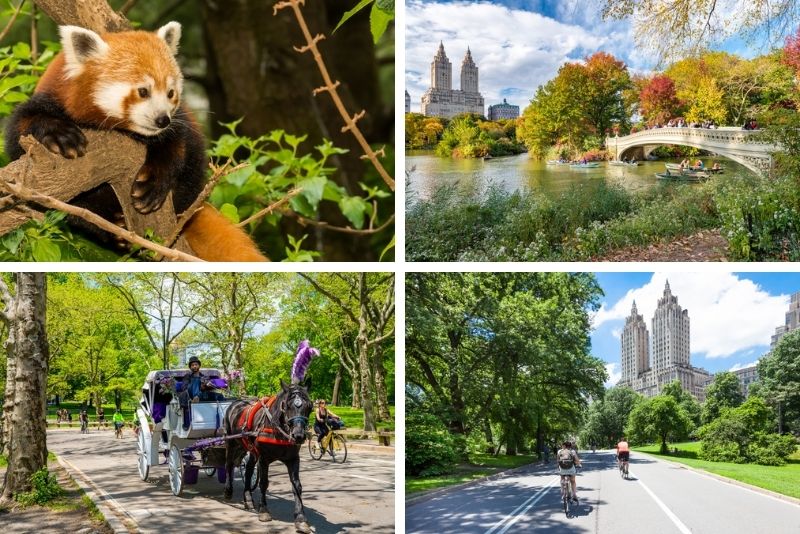 No visit to New York is complete without popping over to Central Park, the iconic green hub sitting pretty in the middle of Manhattan. The grounds are a great place for a picnic or horse-drawn carriage ride, and the wild inhabitants of Central Park Zoo are a favorite with families.
Feeling energetic? Then jump in the saddle for a guided bike tour around the park and nearby sights.
13 – Step inside the hilarious world of 'FRIENDS'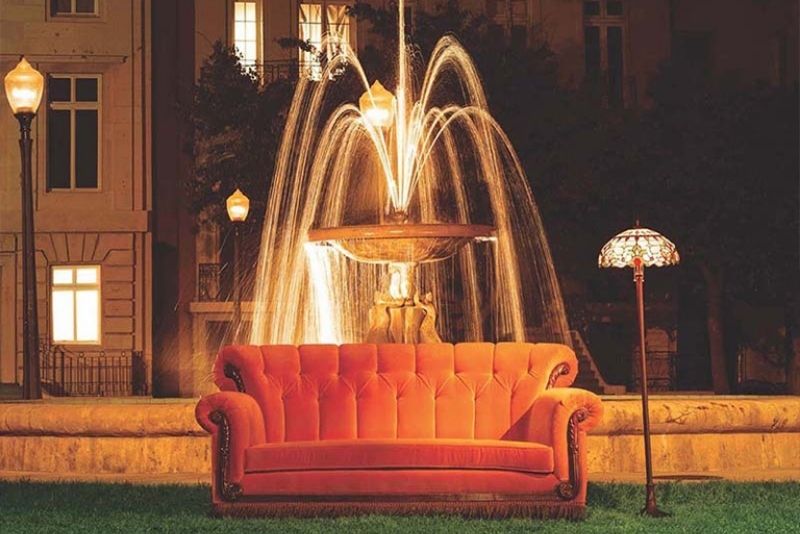 Discover the ultimate exhibition about the world of FRIENDS!
Experience being a part of the gang in this popular American television series, as you explore interactive displays in this two-floor venue in NYC.
Take a selfie on the iconic orange couch, sit at Monica and Rachel's kitchen table, and see dozens more props and costumes from this comedy show in the '90s.
Want to bring your crew and have the place all to yourself for a few minutes? Choose Private Access Tickets to come early in the morning before the schedule for general admissions.
If you are a passionate fan of FRIENDS, this is the exhibition for you!
14 – Explore the largest Star Wars exhibition in the Galaxy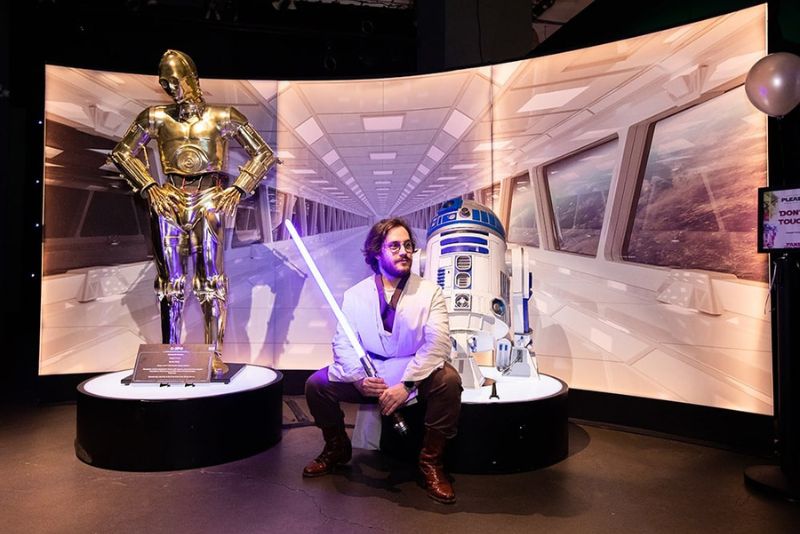 credit to Fever
Meet both sides of the Force in the largest Star Wars exhibition in the Galaxy, showcasing more than 600 official items, all collected by fans, over 40 years of dedication.
From armor and lightsabers to unique collectables and life-size figures, this is a dream come true for anyone who is into Star Wars.
During the exhibition, you'll also find a green chroma and plenty of exciting photo-ops, that will teleport you into the Star Wars universe.
15 – Watch a famous Broadway show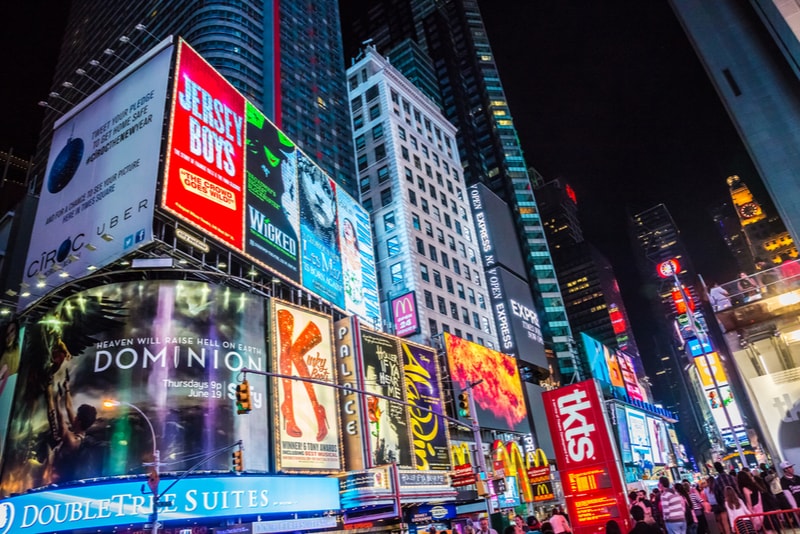 Broadway is the bright beating heart of NYC's performing arts scene. Watching a Broadway show is an experience like no other, fun guaranteed.
There is no better place in the world to watch worldwide famous musicals, such as Aladdin, The Phantom of the Opera, The Lion King, Wicked, The Book of Mormon, Jersey Boys, and many more!
16 – Embrace the outdoors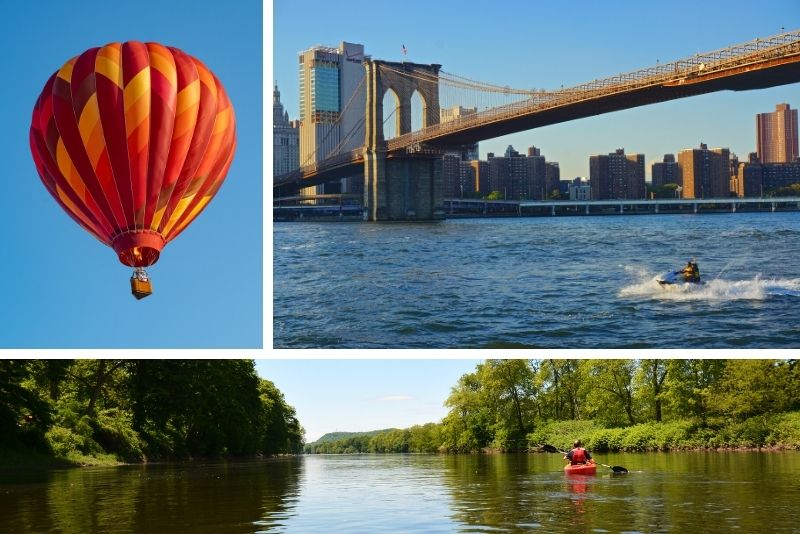 New York is a surprising hub for several outdoor experiences. For ultimate thrills, ride a jet ski along the Hudson River and see the city skyline from the water.
Outside town, you can take to the skies by hot air balloon for scenic New Jersey and Pennsylvania views. Or join a Sunday kayaking tour down the Delaware River – wine tasting and downtown transfers included!
17 – Experience the city from a unique vantage point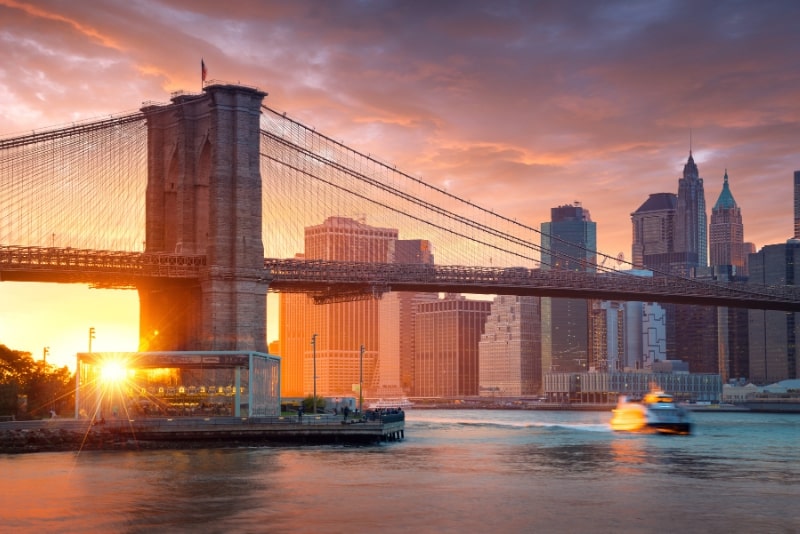 The waters of the Hudson River are not just perfect counterpoints to Manhattan's bustling streets but also offer stunning views of NYC's most famous landmarks. Boat tours take you sightseeing at remarkable points in American history, engineering, and architecture.
The Circle Line around Manhattan or the Harbor Lights Cruise are the most popular experiences on the water in New York City.
Read more info on our latest article about the best NYC boat tours.
18 – Watch New York's famous nightclub acts at Rose Room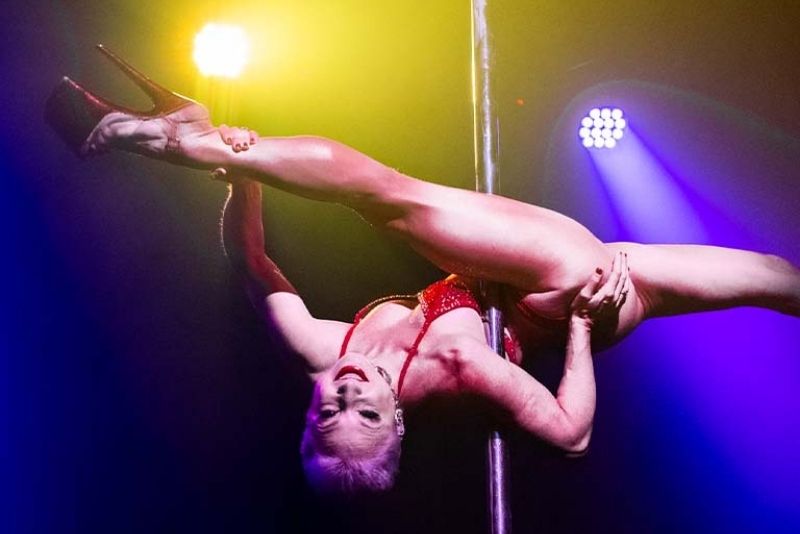 Featuring the city's underground circus scene and some of its best nightclubs acts such as Cirque Du Soleil and Broadway, the Rose Room at Triad Triangle is the right place to absorb New York's nightlife.
This circus and variety nightclub also serves award-winning cuisines from across the globe and premium cocktails, as you enjoy magic acts, burlesque and more.
19 – Meet a Tyrannosaurus Rex at the Museum of Natural History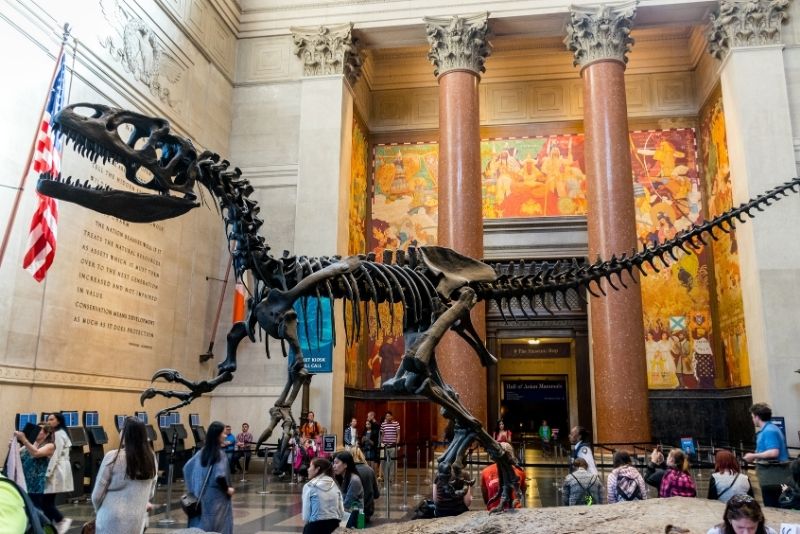 Come face to face with dinosaurs at the American Natural History Museum – one of the most fun things to do in NYC. See real Night at the Museum exhibits and size up to an enormous blue whale.
It is not often you can travel to the depths of the Pacific Ocean and visit far-off galaxies all in the same building!
20 – Have an unforgettable baseball experience at the NYC Yankee Stadium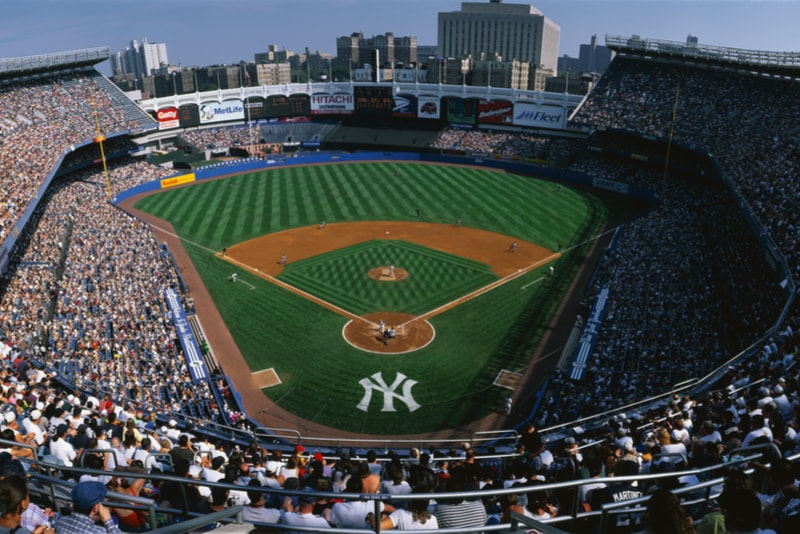 An emblematic baseball team, the NYC Yankees will show you the soul of the American sports culture as well as the enjoyment it creates all around it!
21 – Take a hop-on hop-off bus tour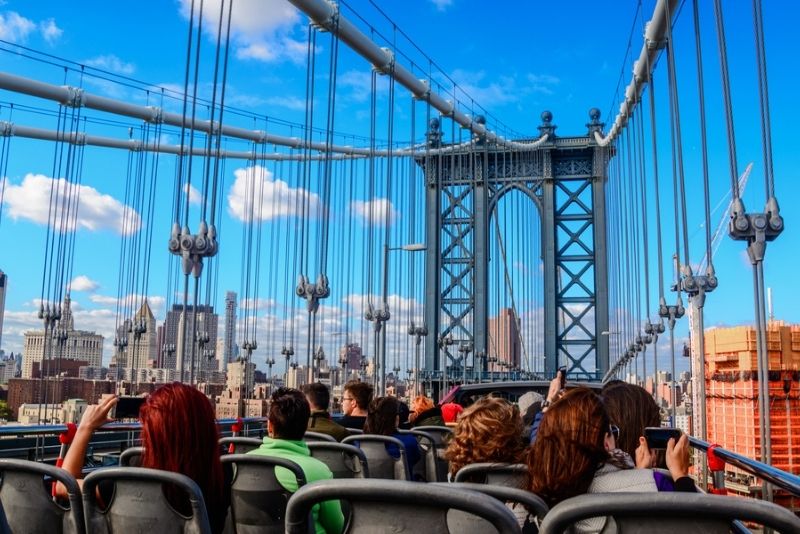 See the city on your own terms on a fun hop-on hop-off bus tour around New York. You can choose when and where to get off, giving you the time you need at your favorite sights.
Visiting iconic locations like Central Park, Brooklyn Bridge and the Empire State Building has never been so easy. For the best views choose seats on the top deck.
22 – Experience an immersive circus-based theater performance — Moonrise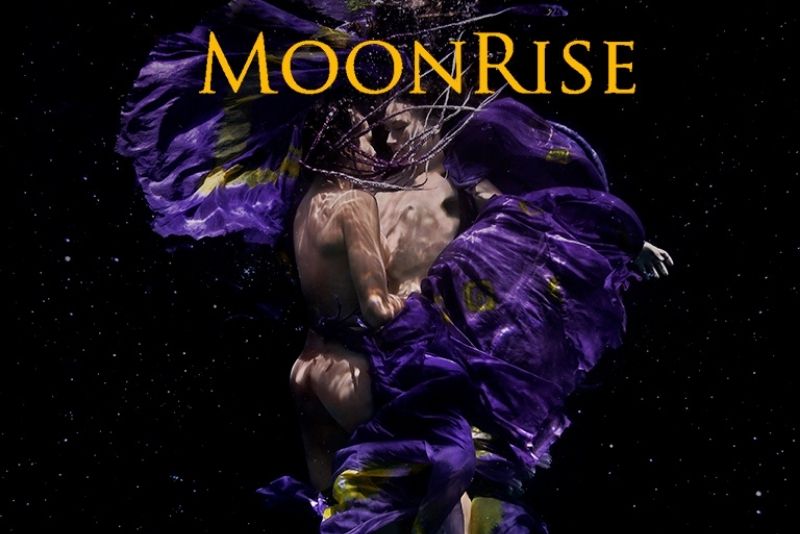 This immersive theatrical experience features circus-themed acts and involves all your five senses as it takes you on an astrological journey. Moonrise depicts the story of Goddess Salome through acrobatics, music, dance, scents, art installations and more.
You can also learn about your moon goddess and try different goddess-based cocktails.
23 – Explore outstanding photographs in immersive exhibitions at Fotografiska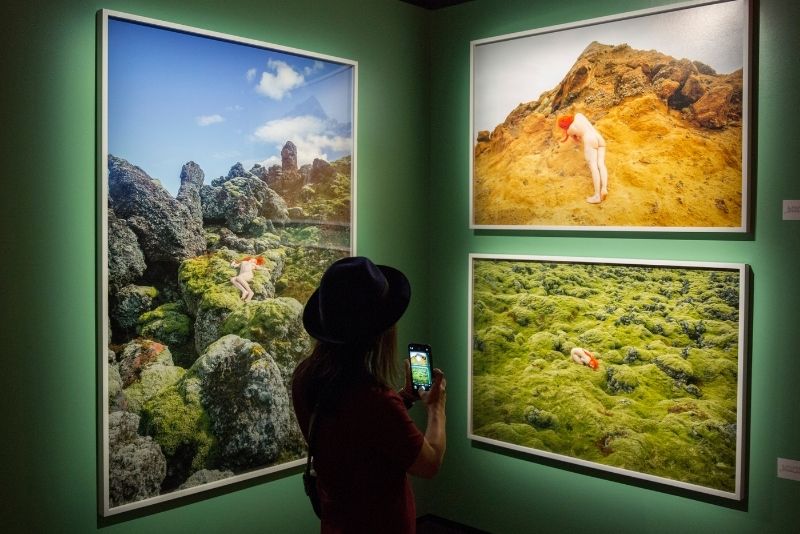 Credits to Tiqets
Discover photography from a new perspective in this unique museum and gallery space.
New York's groundbreaking photography museum, Fotografiska showcases eclectic captivating exhibits, featuring some of the most interesting contemporary artists and photographers.
It houses three floors of galleries, displaying everything from landscapes and intimate portraits to documentary exhibits and abstract works.
After the immersive gallery experience with expertly curated collections, check out the museum's cafe and bar for delightful meals and drinks.
24 – Visit the Intrepid Sea, Air and Space Museum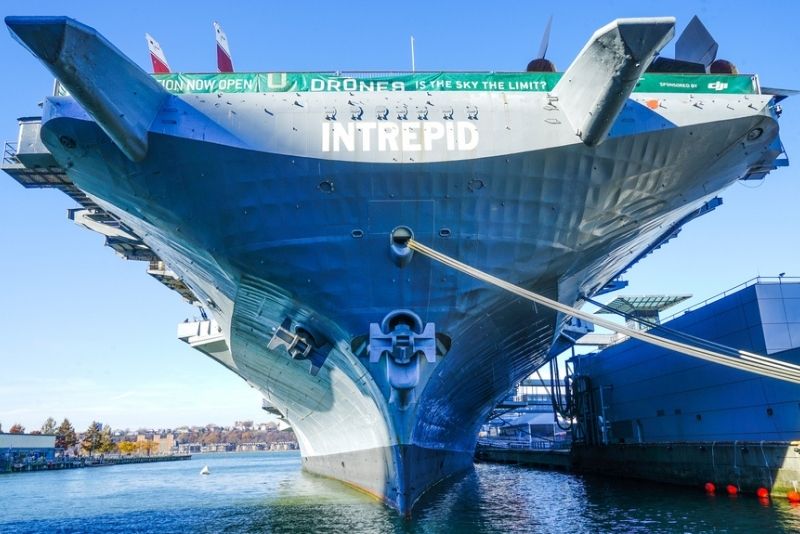 Have you ever been on a submarine? You can do just that at this museum, which proudly charts America's military and maritime history from Word War II to the space race.
Explore the Space Shuttle Pavilion and be amazed at original artifacts from the Marine Corps and NASA. There is an aircraft carrier and a supersonic reconnaissance plane to check out too.
25 – Hone your secret agent skills at Spyscape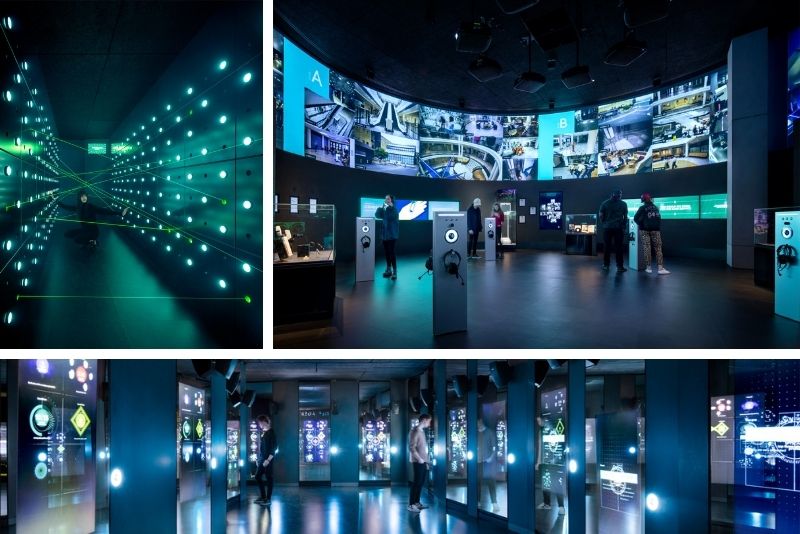 Channel your inner supersleuth and dive into the mysterious world of spies at this interactive museum. 007 fans love the James Bond exhibition which includes one of the original cars.
Uncover the truth about codebreaking and discover real-life gadgets used out in the field. You will be tasked with several Skyscape challenges, so get ready to crack clues and tackle laser rooms.
26 – Spend an afternoon at Modern Pinball NYC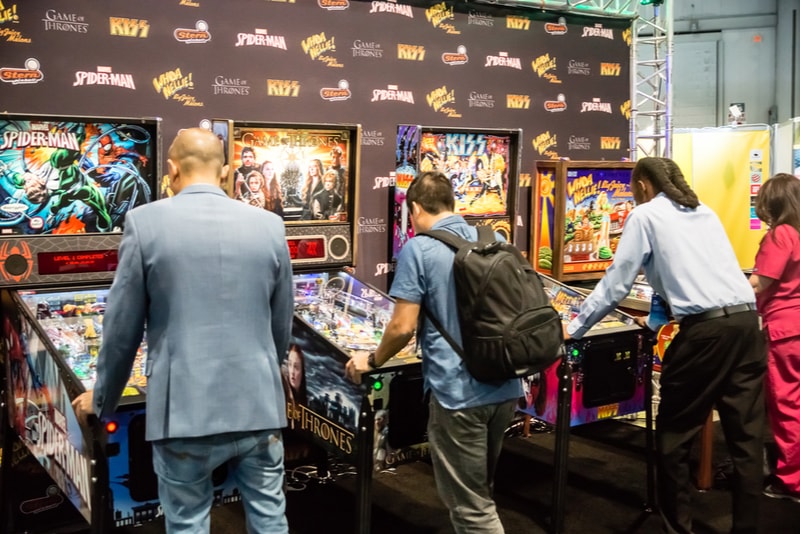 Pinball games are old school, but challenging and always fun to play. Experience the fun and excitement of dozens of vintage and modern pinball machines at Modern Pinball NYC and learn about the science of pinball.
27 – Discover the Upside Down in 'Stranger Things' Experience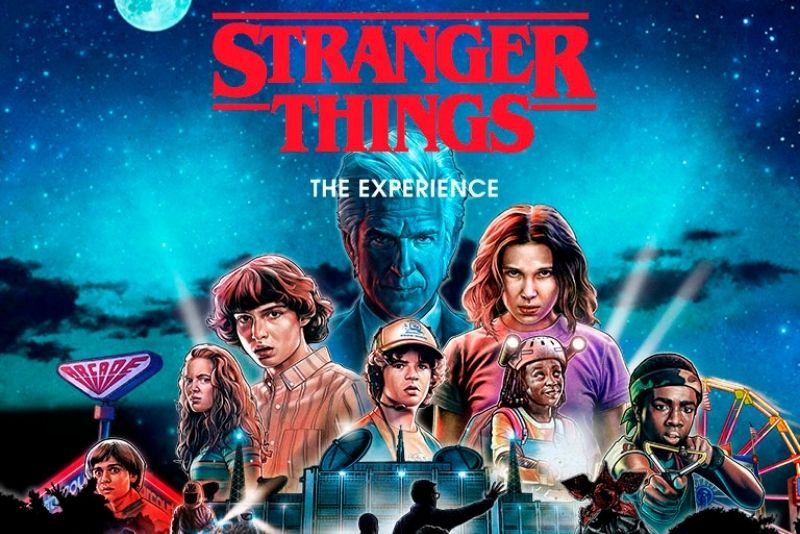 Enter another dimension parallel to the human world and brave a powerful predator, Demogorgon, spreading toxic substances in a way to eventually dominate the real world.
Based on the famous Netflix TV show, "Stranger Things," this thrilling immersive experience in Brooklyn opens up the "Gate" to the Upside Down.
Encounter your favorite characters and uncover the secrets at the Hawkins National Laboratory where it all started in 1983. You might discover your own power as well.
As you experience memorable scenes in the series, why not dress up like in the '80s?
28 – See genuine works of the mysterious street artist Banksy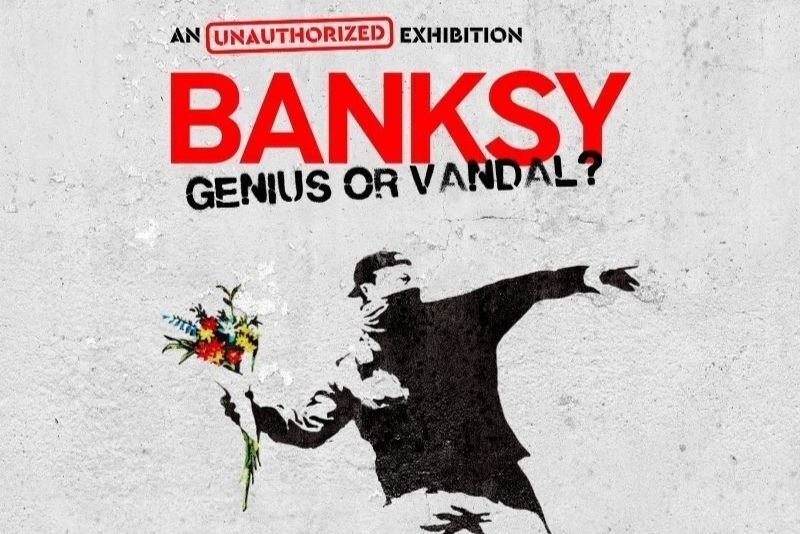 Delve into Banksy's masterpieces with the brand new exhibition, Building Castles in the Sky, showcasing a private collection of verified pieces of this brilliant and enigmatic artist.
Considered one of the most valuable artists these days, the opportunity to view over 100 of his original works is one of the greatest things to do in New York City for art lovers.
But what truly makes this exhibition different from any other in the world, is the deep examination of Banksy's masterpieces from a semantic framework. Covering themes from war and capitalism to freedom, discover the artist's references and the inspiration behind each artwork.
29 – Cheer for the Knicks at the Madison Square Garden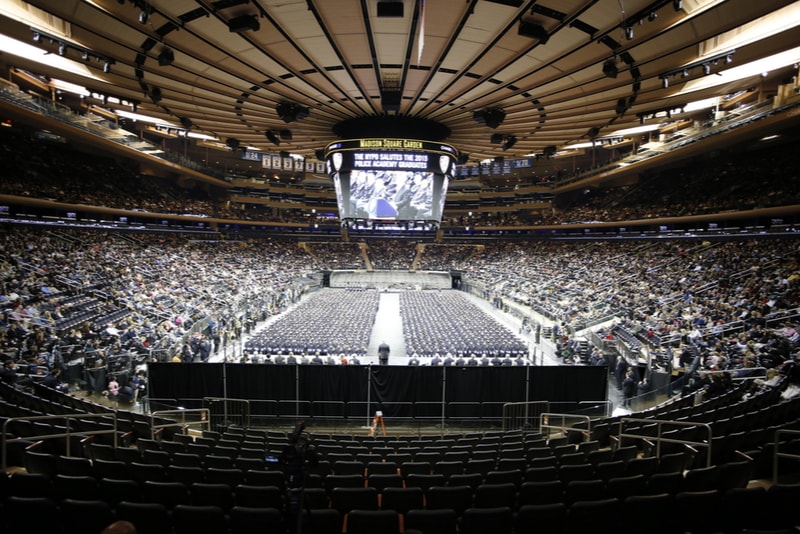 The Knicks are one of the NBA's original teams and have played in New York City since 1946. Watching a basketball game featuring the New York Knicks at Madison Square Garden is one of the best & fun things to do in NYC. Check out the matches at Madison Square Garden.
30 – Be entertained on The Ride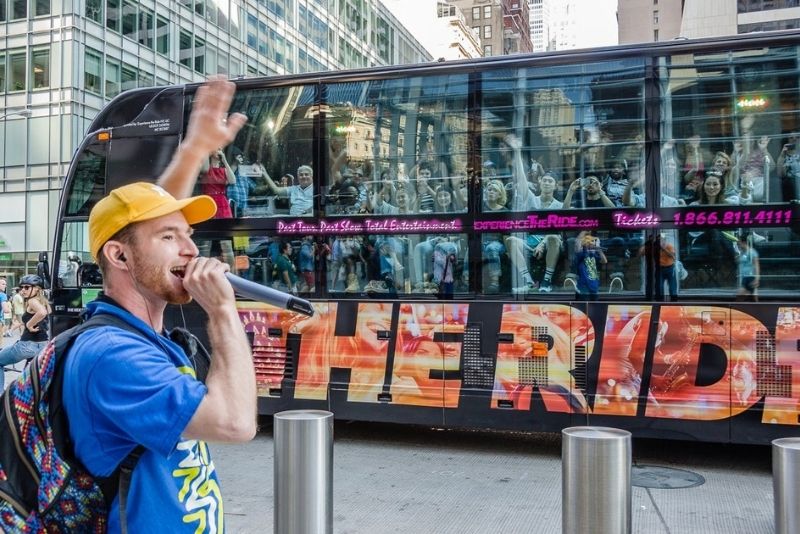 Climb on board this interactive bus for a show-stopping evening of revelry and entertainment. Combine sightseeing with live shows as you tour the streets, and enjoy front row seats thanks to the panoramic windows.
Sit back and relax as comedians, dancers, and singers all vie for your attention. Want to show off your own talents? Then join in the onboard karaoke for a light-hearted sing-off.
31 – Meet your heroes at Madame Tussauds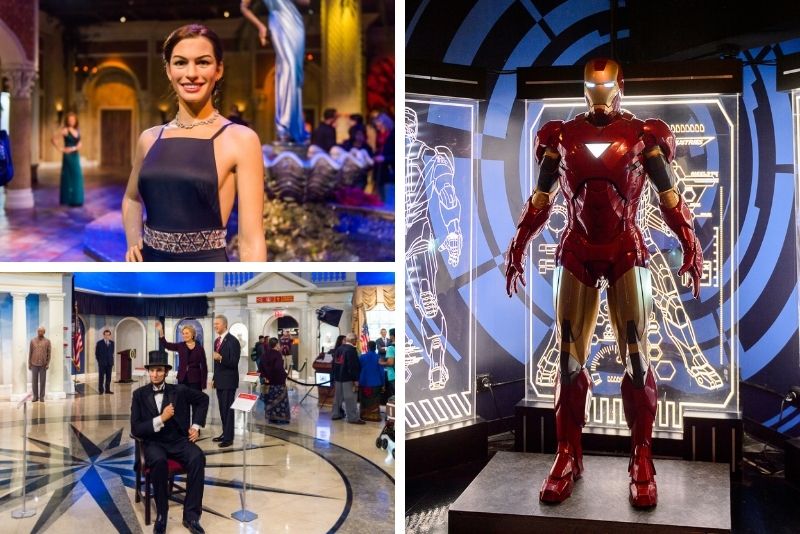 Rub shoulders with the Hulk and snap photos with George Washington as you explore this mind-boggling waxwork world. Nowhere else would politicians and popstars stand side by side with Spiderman and the Kardashians.
Stroll down the runway at fashion week and take center stage in a Broadway show – just all in a day's work at Madame Tussauds.
32 – Take the first virtual reality journey through Earth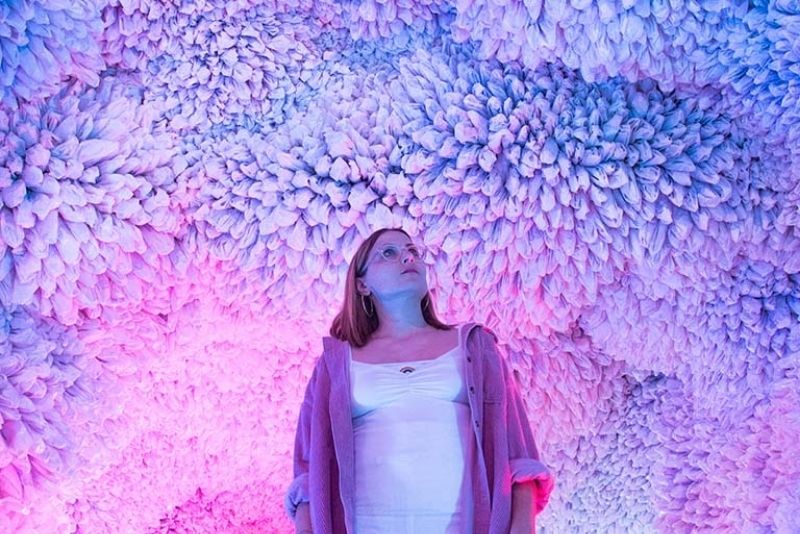 Learn more about this globe we call home and how our small actions can affect its future in the first multi-sensory and augmented reality journey through Earth.
With AR, VR, project mapping and interactive art installations, Arcadia Earth will take you on a journey to see the world from your own perspective.
33 – Encounter residents of the marine kingdom
For one of the most fun things to do in NYC, head to the famous New York Aquarium on Coney Island and come face to face with sea lions, sharks, and even a giant octopus.
Let your imagination run wild at the Lost City of Atlantis-themed Long Island Aquarium, or enjoy an immersive ocean odyssey in virtual reality at the National Geographic Encounter in Times Square.
34 – Admire international art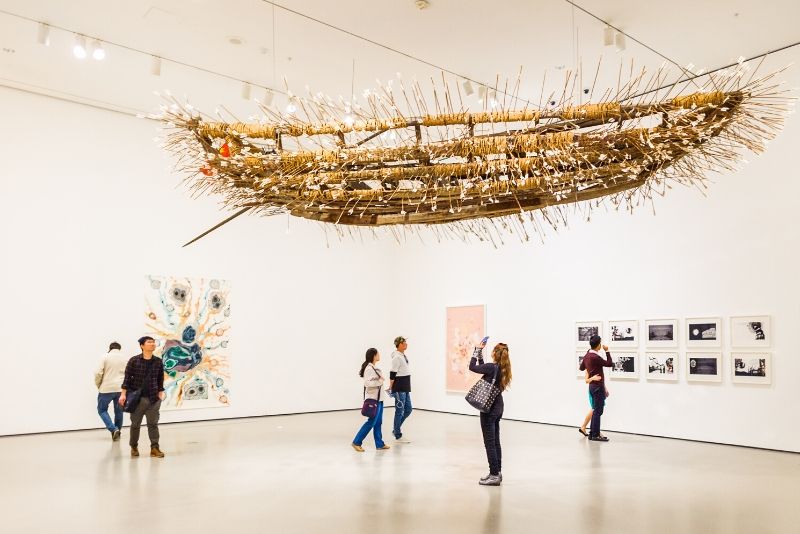 Enjoy a journey around the world at some of the top art museums in New York. The Metropolitan Museum of Art is the biggest in the country, with everything from Rembrandt paintings to an ancient Roman bedroom excavated after the eruption of Vesuvius.
For something more contemporary, head to the Museum of Modern Art or the Guggenheim, and to learn about American art, choose the Whitney Museum.
35 – Join a scavenger hunt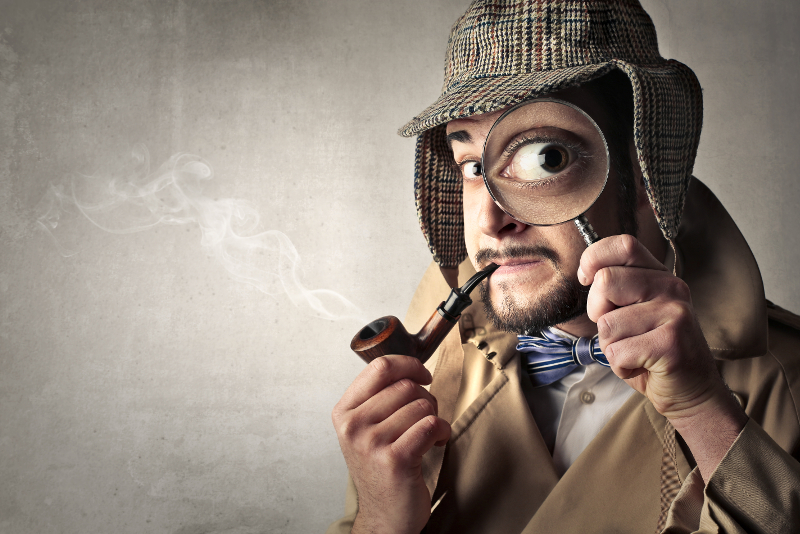 Explore a whole new side of New York City during a scavenger hunt. Visit many of the iconic landmarks and have fun with your friends. Find the best Scavenger Hunts!
36 – Explore the history of organized crime at the Museum of the American Gangster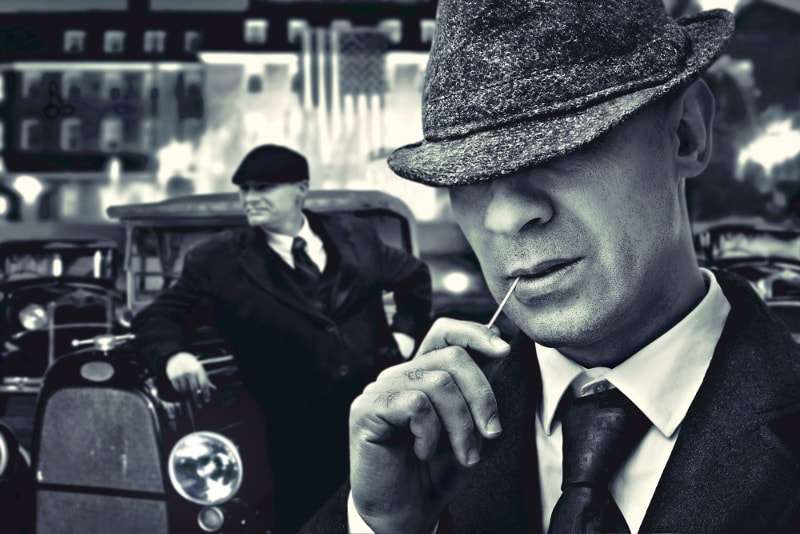 The Museum of the American Gangster is a two-room museum located at 80 St. Mark's Place in the East Village in Manhattan.
In this building that was once one of Manhattan's most notorious speakeasies, you'll find the most emblematic figures of the American prohibition period such as Al Capone.
Learn more about NYC's darkest part of history.
37 – Cycle over Brooklyn Bridge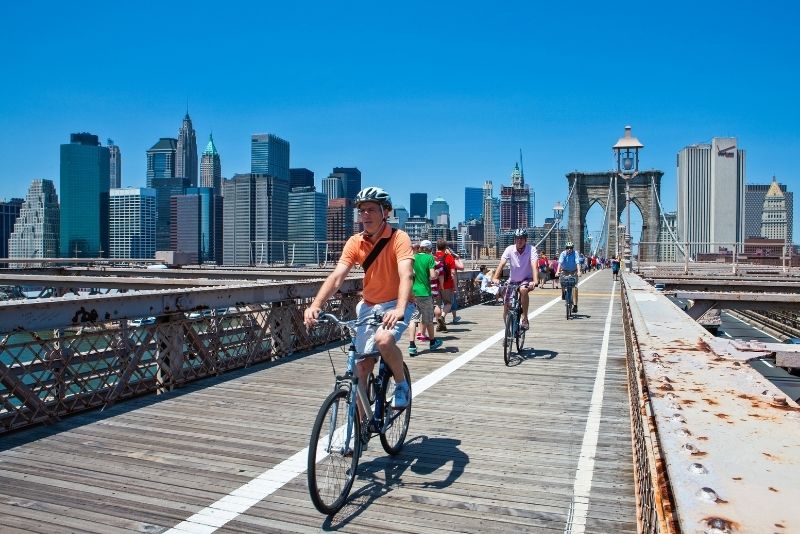 Pedal across New York's most famous bridge and take in views of skyscrapers across the East River on a fun bike tour.
Connecting the vibrant borough of Brooklyn with Manhattan Island, the bridge offers an epic way to see the sights.
See if you can spot movie filming locations in Brooklyn Bridge Park and marvel at the engineering of the world's first steel-wire suspension bridge.
38 – Support the Giants at the MetLife Stadium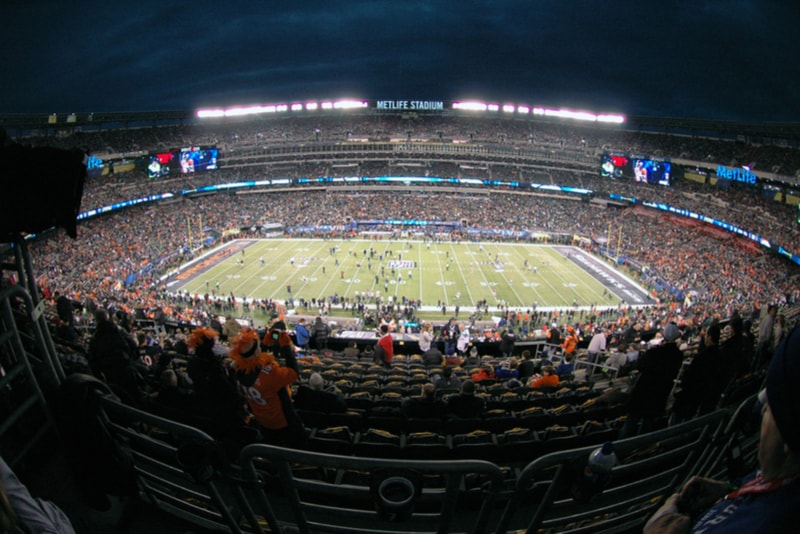 If you'd rather experience an American football game, head to the MetLife Stadium – home to the New York Jets and New York Football Giants.
Located in East Rutherford (New Jersey), you will be amazed by the size of the stadium, 82,500 seats. Find out when is the next match at MetLife Stadium.
39 – Uncover new visual perspectives of NYC in a futuristic exhibition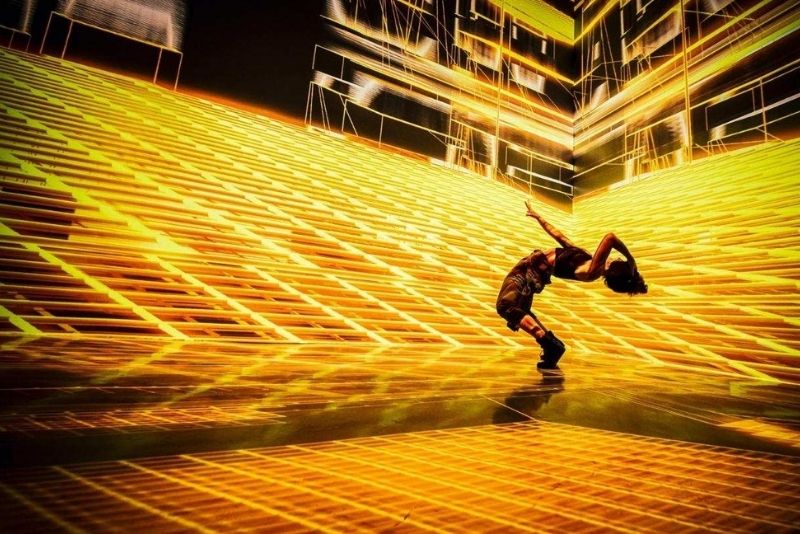 Visit an alternative museum to experience art and technology in a new immersive way. ARTECHOUSE is a futuristic museum with exhibitions covering the relation between art and science and the role of the individual observer.
The ongoing exhibition, Machine Hallucination: NYC, aims to unveil how our perception of this ever-changing iconic city can be altered through new forms of visual representation.
40 – Hunt ghosts at the Ghostbusters Firehouse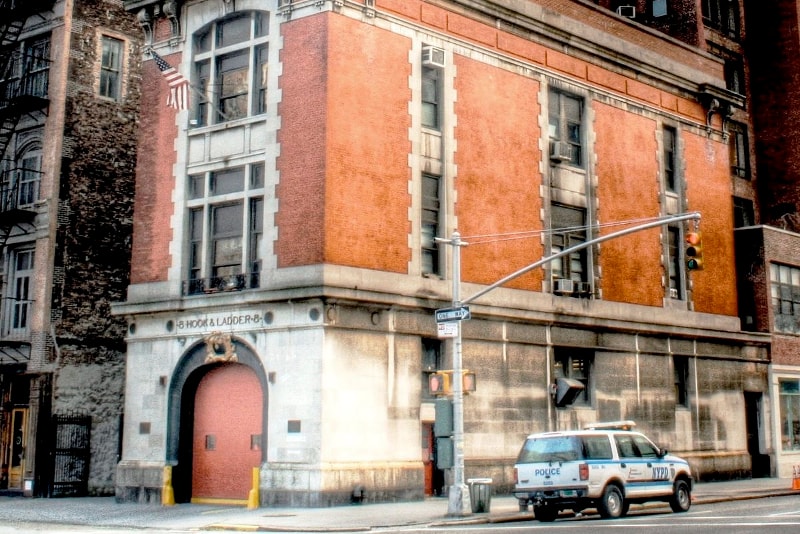 Are you a fan of the mythic Ghostbusters saga? You may want to check out the Ghostbusters' HQ then. Hook and Ladder 8, the building used for the exterior shots, is a working firehouse that has been around for more than a century.
The firehouse is located at 14 North Moore Street at its intersection with Varick Street in the Tribeca neighborhood of Manhattan.
41 – Earn your freedom and "Escape the Room"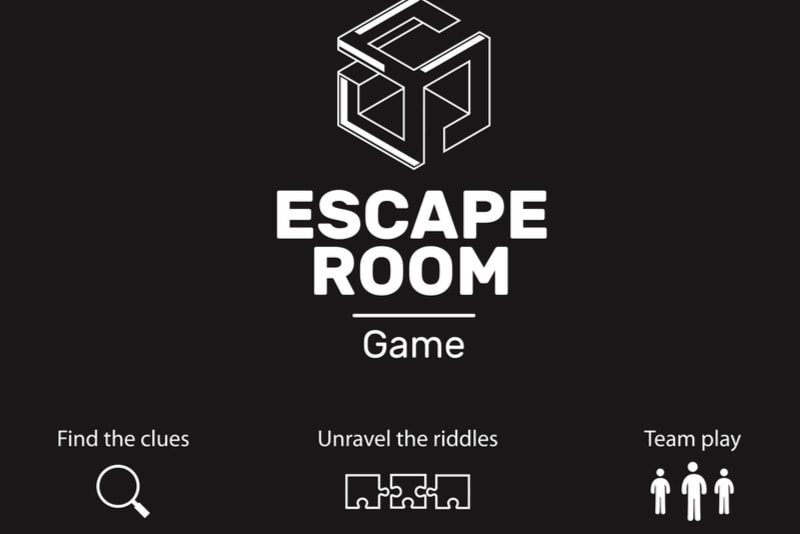 Solve a series of puzzles and riddles using clues, hints, and strategies to complete the objectives at hand. Get out of the room on time and earn your freedom.
You have 60 minutes max, so be quick!
The Escape Rooms of Clue Chase are suitable for everyone and fun is guaranteed! It is rated as one of the top things to do in NYC by Tripadvisor.
42 – Tour contrasting neighborhoods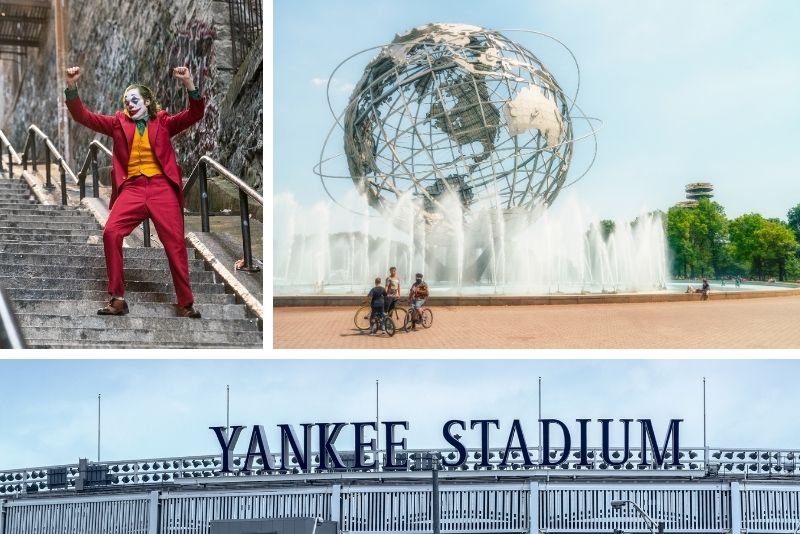 The best way to get to know the real New York is to visit some of its diverse districts. The Bronx is a gritty yet trendy place, with powerful street art and a thriving cross-cultural heart.
Check out the Yankee Stadium and stop at the "Joker Steps" for photos.
Continue to up-and-coming Queens and visit Flushing Meadows Corona Park – home of tennis championships and the Unisphere globe.
43 – Laugh out loud at the iconic Comedy Cellar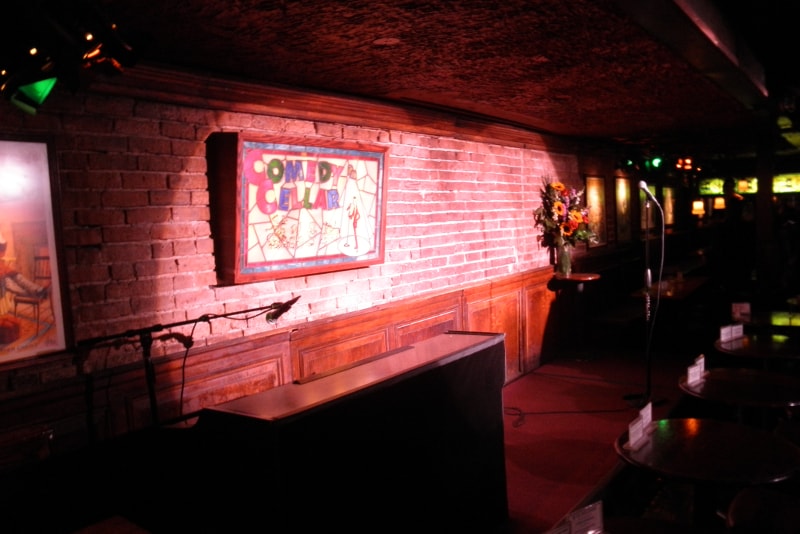 Founded in 1982, the Comedy Cellar is a comedy club situated in Manhattan (in the heart of Greenwich Village) where many top New York comedians perform.
Discover the greatest stand-up comedians (and underground talents) and have a great night
44 – Discover Harlem and attend a gospel mass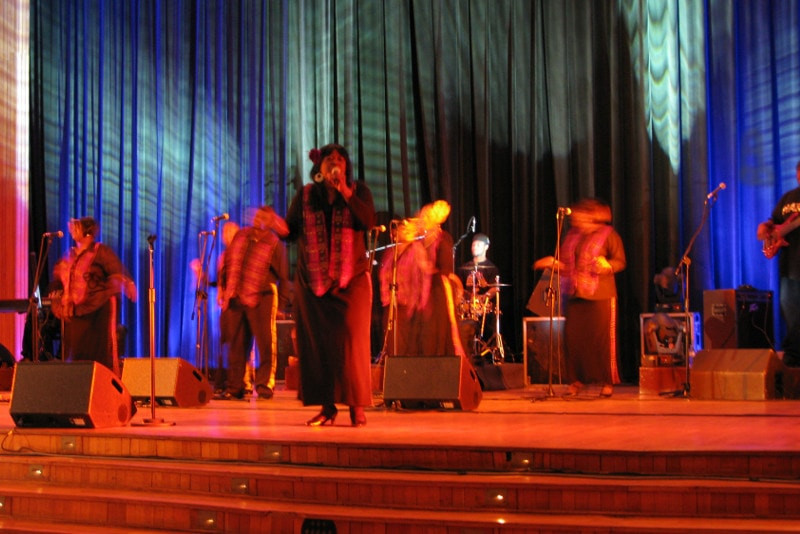 Harlem is a neighborhood in which religious life is very strong, especially in the black community. Gospel masses and the energetic singing of its choirs have become famous worldwide.
45 – Watch hilarious Drunk Shakespeare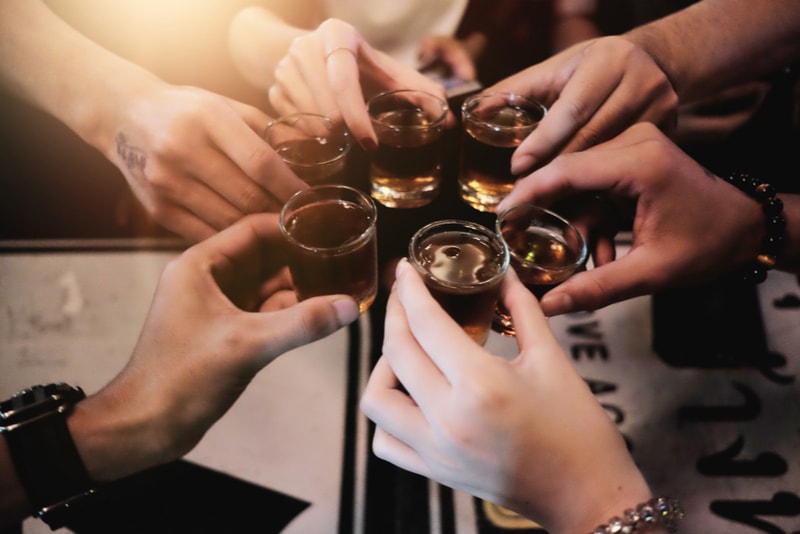 A New York Times critic's pick, drunk Shakespeare brings comedy central's 'drunk history' to the stage. Join five professional New York actors, one of whom has had at least 5 shots of whiskey.
46 – Try the legendary Di Fara Pizza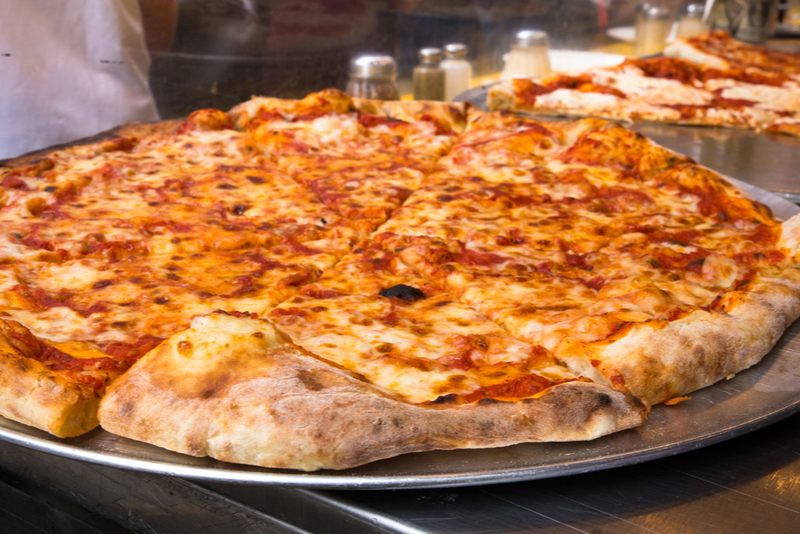 Are you looking for an experience that excites your taste buds? Di Fara is a typical family-owned and operated pizzeria and regarded as one of the best pizzerias in New York City.
47 – Taste the best burgers at J.G Melons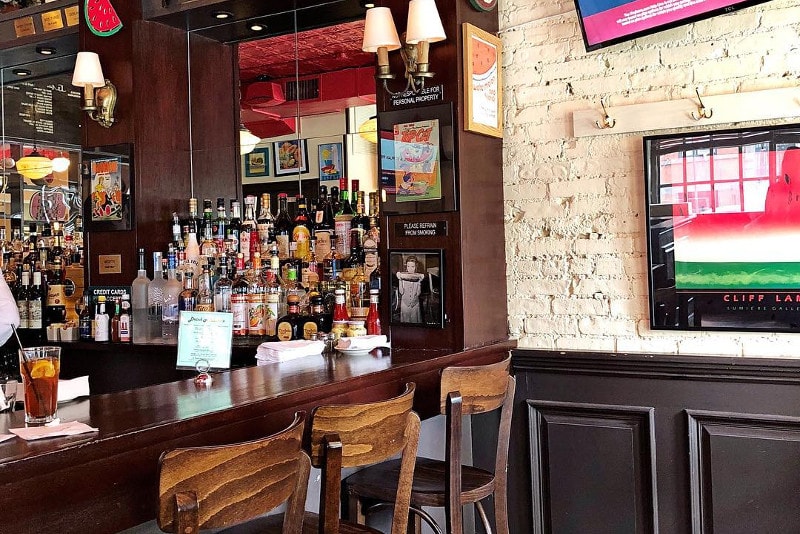 A great burger is a beautiful thing, as simple as it is delicious.
Established in 1972, the J.G Melons firm was called a few times the best burger in the city by famous frequenters — such as the restaurateur Danny Meyer.
It's even called the "best burger" in the world by previous NYC Mayor Michael Bloomberg.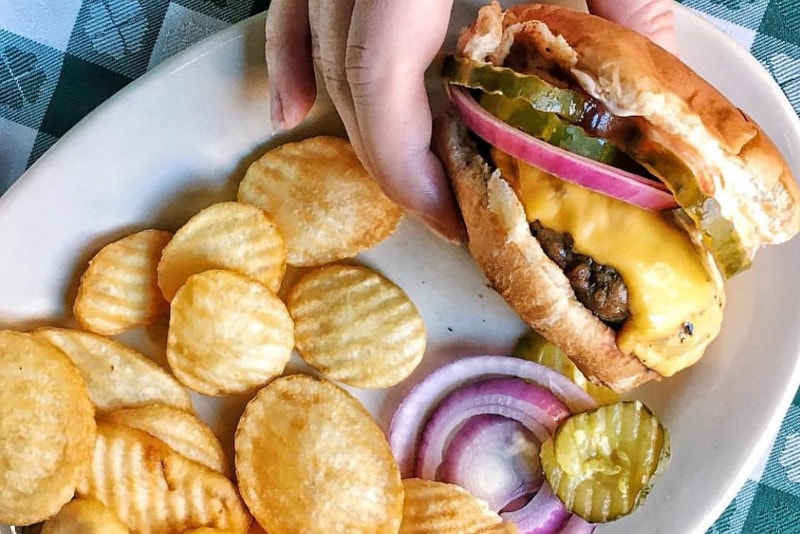 48 – Taste the best steak in the US at Peter Luger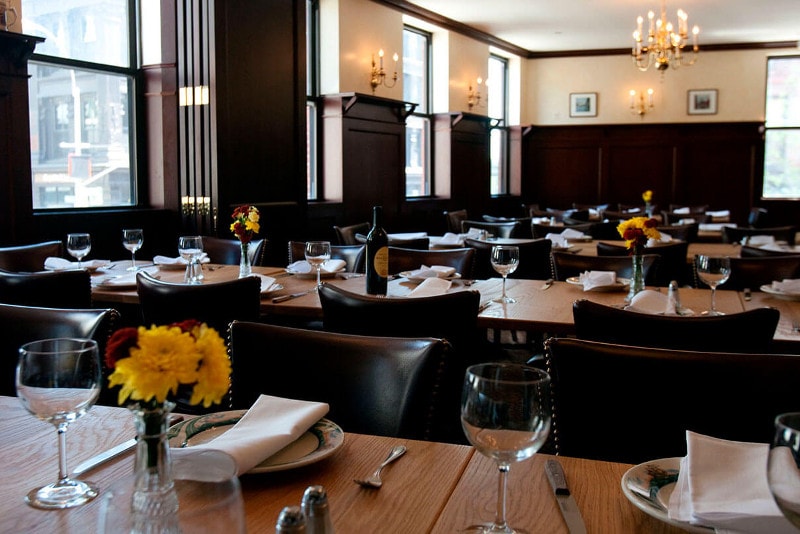 Peter Luger's Steakhouse, located in Brooklyn, serves one of the most delicious and iconic slabs of meat that you can get anywhere on the planet.
If you are a meat addict and visiting NYC for the first time, this is a must-try.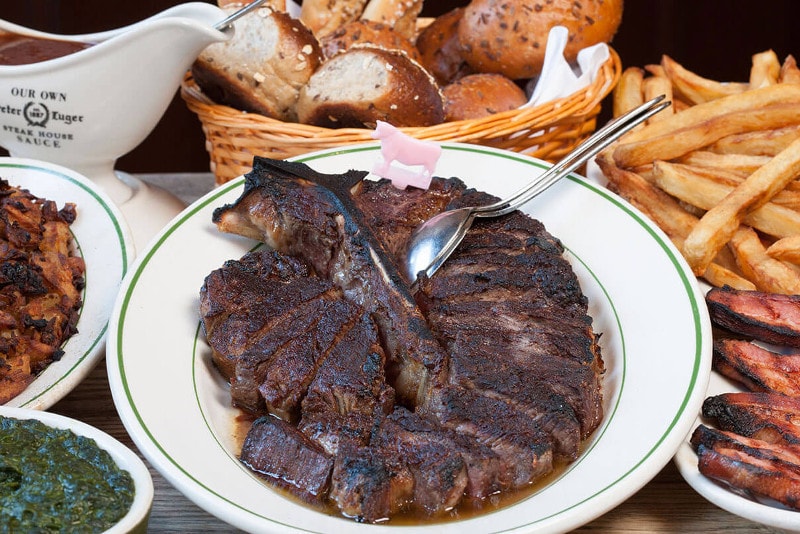 49 – Enjoy the famous pastrami at Katz Delicatessen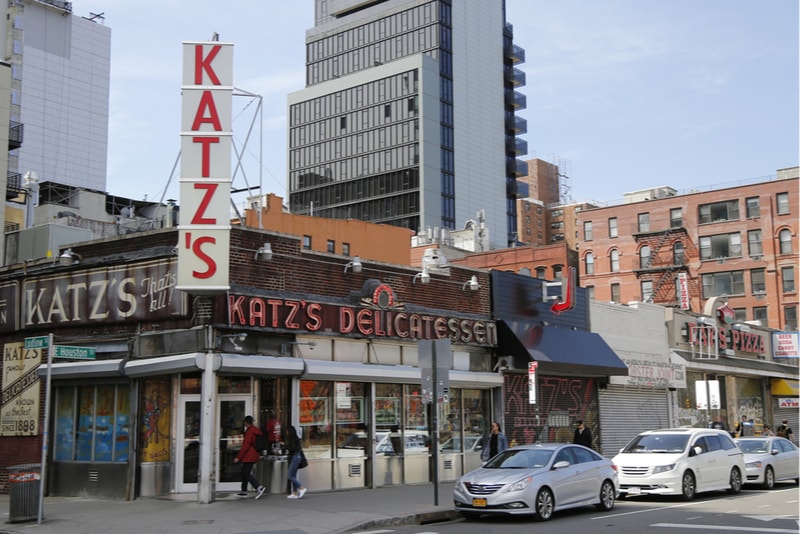 Katz's Delicatessen is a kosher-style delicatessen located on the Lower East Side in Manhattan. Established in 1888, this is arguably the best place in the city for a pastrami sandwich.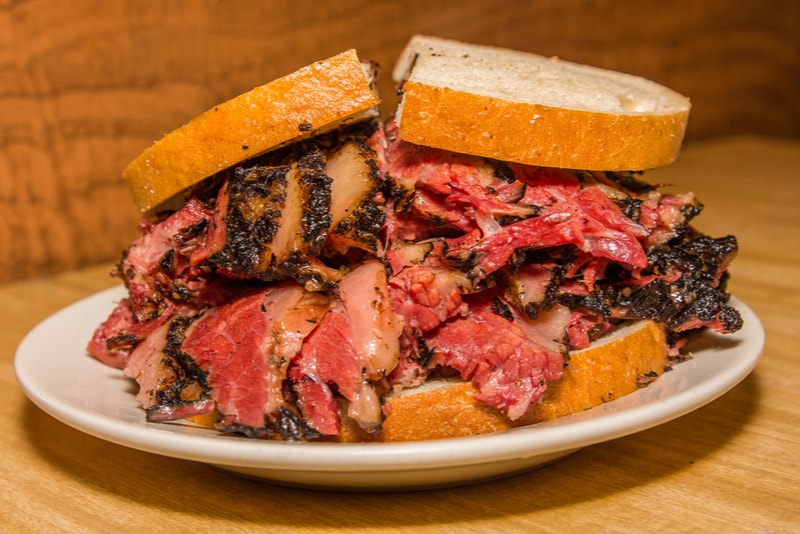 50 – Explore Manhattan's Chinatown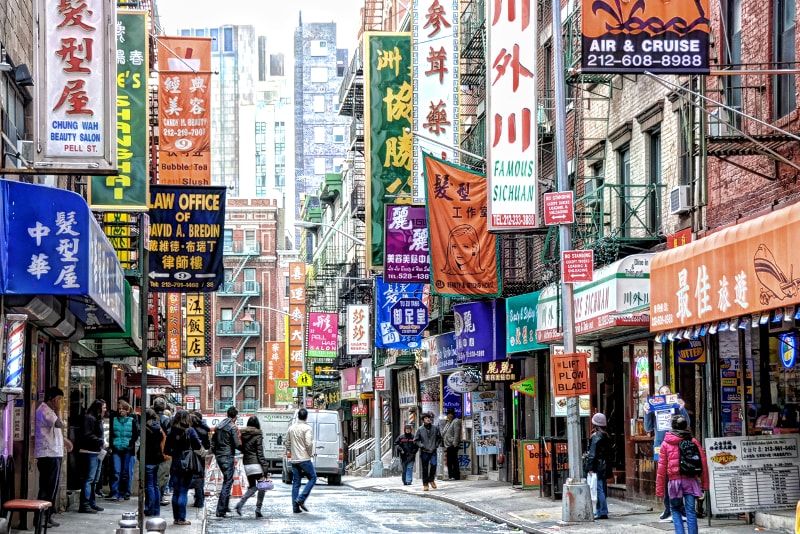 Located in lower Manhattan, Chinatown district is a highly populated neighborhood that draws foodies and tourists to its numerous Asian restaurants and unusual attractions from karaoke bars to cute shops.
Chinatown is also a true New York story, the American Dream in action. The are many cheap walking tours that guide you to Chinatown, Soho and Little Italy.
51 – Experience the best speakeasy bars in NYC
Although the Prohibition era is over, this doesn't mean you can't enjoy the thrill of secret bars with hidden entrances. If you're looking for a truly unique night out in New York City, check out those 2 speakeasy bars and have fun!
Live in Marie Antoinette's quarters in Le Boudoir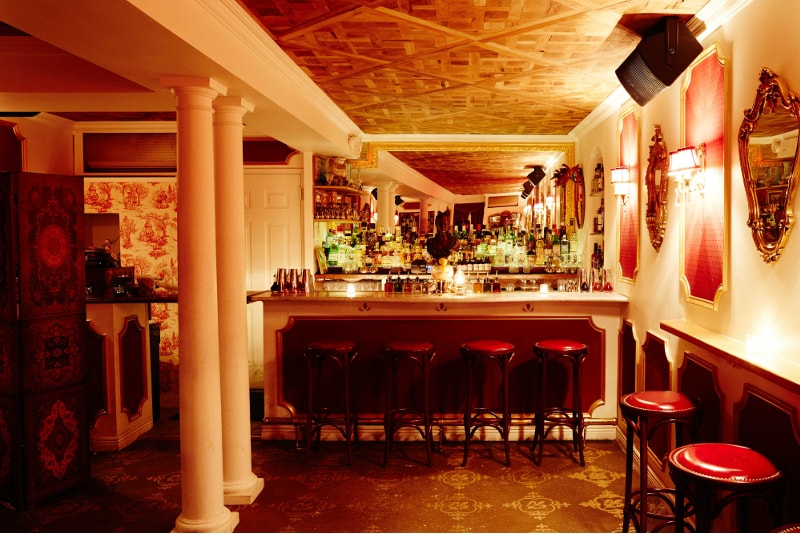 Created by the owner of "Chez Moi" Le Boudoir is a Marie Antoinette-themed bar. To get in, you will need to find the hidden door at 135 Atlantic Avenue near Henry Street.
Drink a unique cocktail at Attaboy bar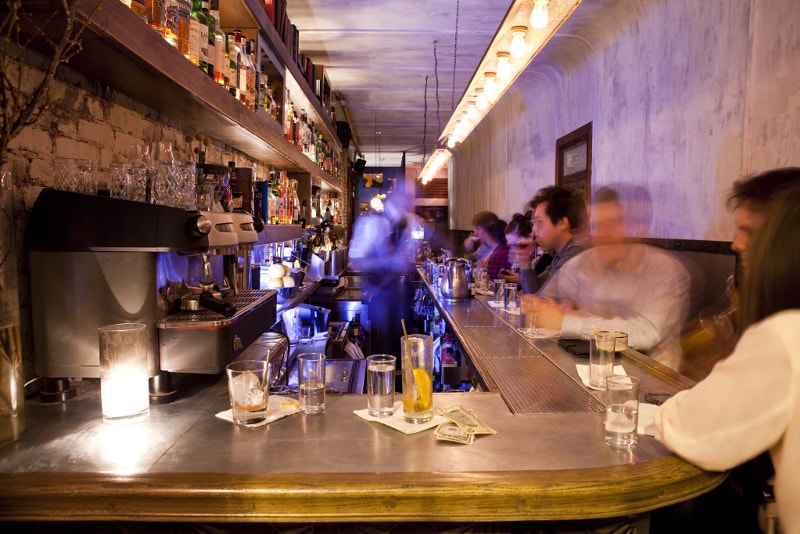 Attaboy bar is an intimate, semi-hidden craft cocktail bar located on the Lower East Side. The cocktails range from familiar standards to unique creations that are among the city's best.
To get in you'll have to ring the buzzer at 134 Eldridge St (look for a window marked with M&H Tailors and Alterations) and pray they have space for you.
52 – Watch & listen to the New York Philharmonic Orchestra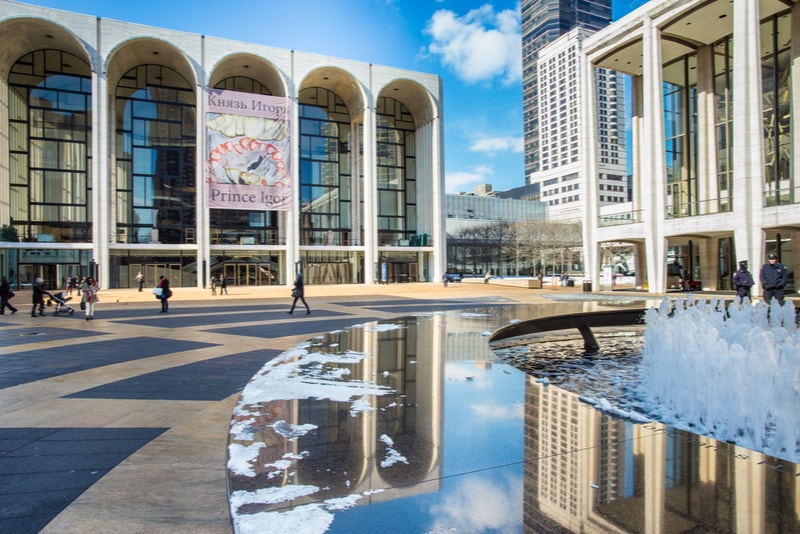 Founded in 1842, the New York Philharmonic is by far the oldest symphony orchestra in the United States and one of the oldest in the world.
It plays a leading cultural role in New York City, the United States, and the world.
53 – Finish your night at Brooklyn Mirage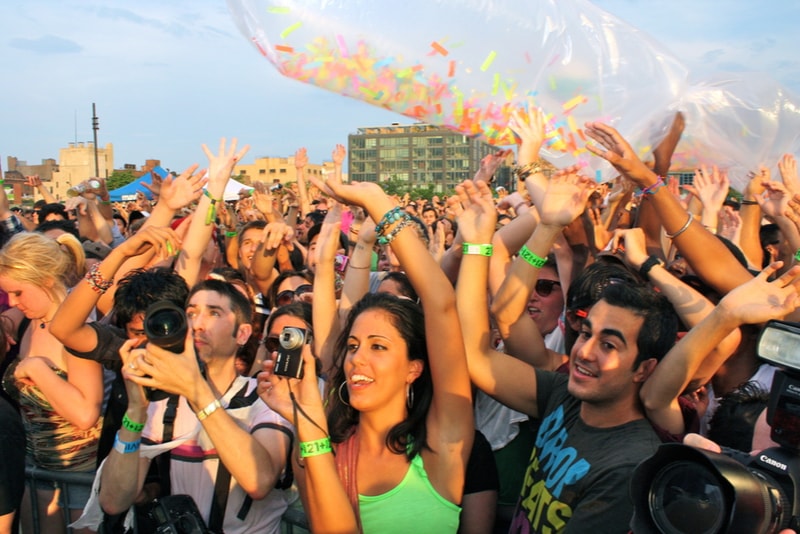 After partying till sunrise at Output club, why would you have to stop the party? Join the other party adepts at Brooklyn Mirage — a huge complex decked with thousands of plants!
The Brooklyn Mirage owns a KV2 Audio System designed to keep your senses sharp!
54 – Find Wafels & Dinges' Waffle truck and enjoy sublime waffles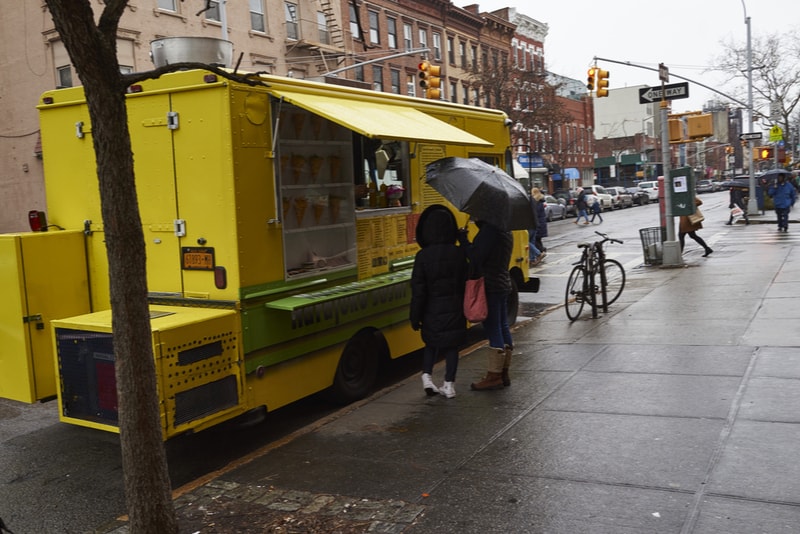 "All the world is a wafel, and all of us are merely Dinges."
Wafels & Dinges rules over the food truck scene in New York. This canary-yellow food truck travels around the city, dispensing ethereal waffles and rich toppings.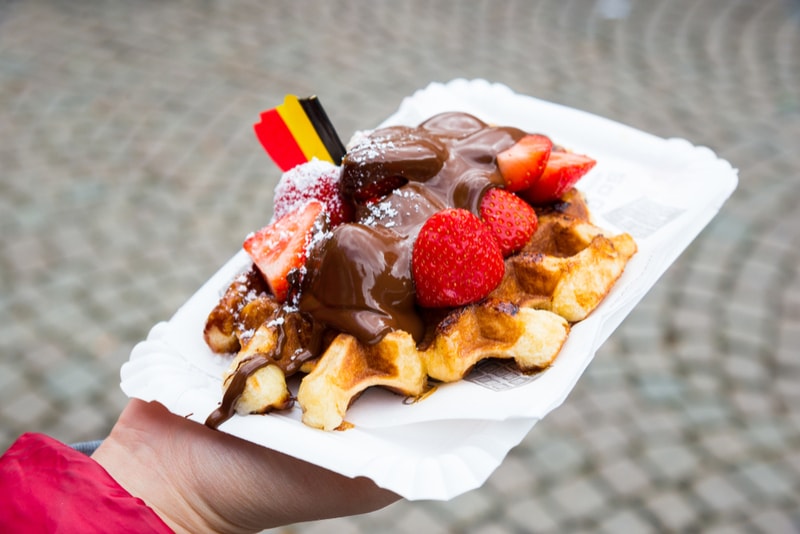 55 – Get a tattoo at Bang Bang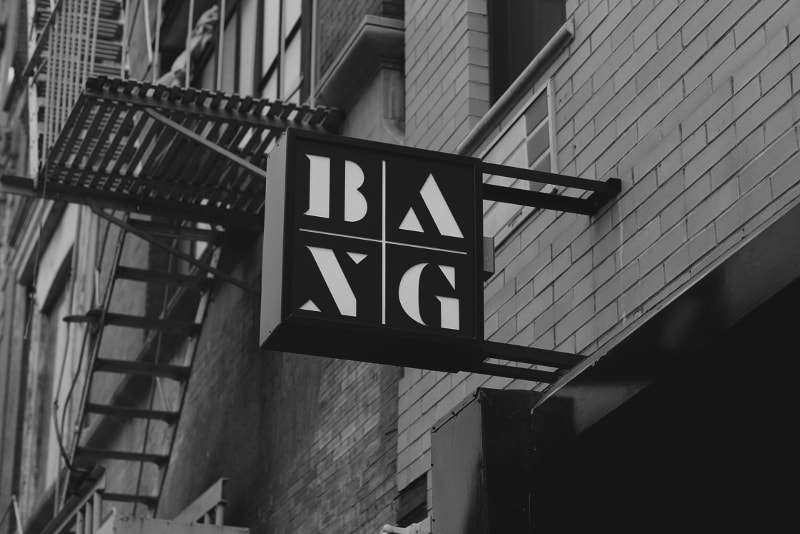 credit to bangbangforever
Located in NYC on the lower East Side, Keith "Bang Bang" McCurdy is considered one of the most successful tattoo artists in the industry.
Many superstars such as Rihanna, Cara Delevingne, and Justin Bieber have all been tattooed by him.
56 – Get your music fix at the mythic Cotton Club in Harlem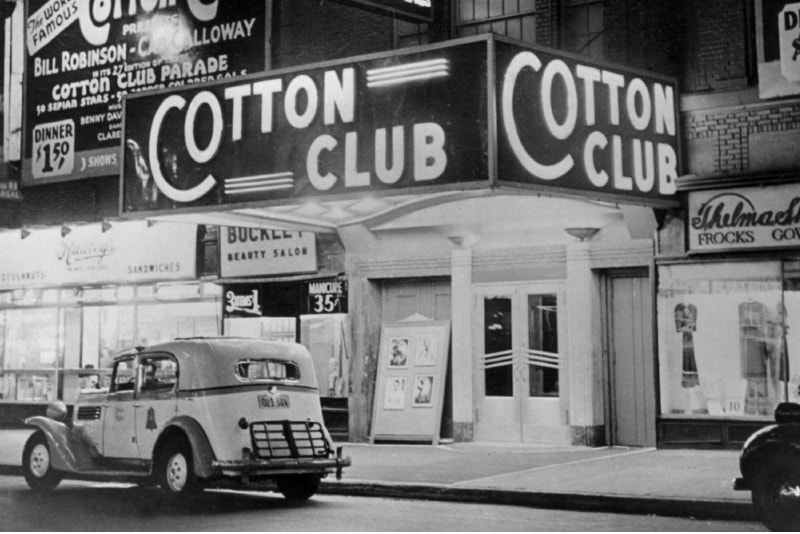 Cotton Club is a legendary nightspot in the Harlem district and one of the most famous jazz venues in the city, delivering some of the greatest music legends of the Jazz Age such as Duke Ellington or Louis Armstrong among many others. Jazz music experiences from 16$.
57 – Visit the Museum of Sex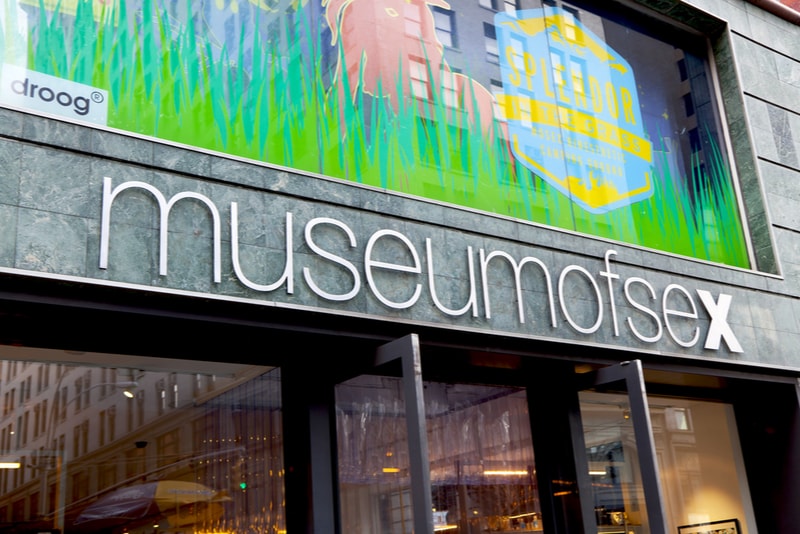 The Museum of Sex, also known as MoSex, has showcased fascinating exhibitions exploring the art, science, and the study of human sexuality. It's probably the most stimulating museum in New York!
58 – Visit famous filming locations
All the best movies and TV shows are filmed in New York, and this is your chance to visit some of the big screen sights.
Hop onboard a comfortable coach and cruise around Manhattan, stopping at iconic locations from Gossip Girl, Sex and the City and The Sopranos.
Relive the glory days outside the Friends apartment and pose beside the iconic Ghostbusters Fire station.
59 – Admire street art in Bushwick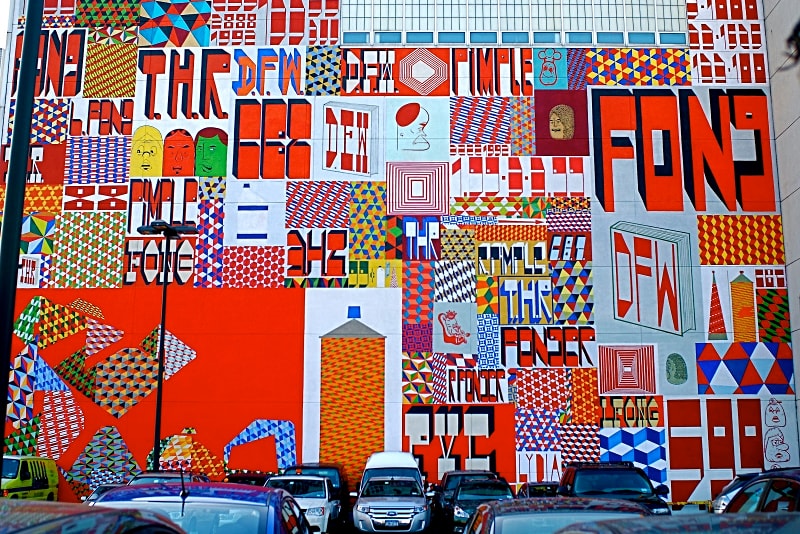 New York City is a mecca for graffiti and street art, making it a very attractive playground for artists from around the world. Bushwick is a working-class district on the north side of Brooklyn where you admire amazing street art.
Check how Barry McGee made this mural in Brooklyn. Watch Barry McGee's Brooklyn Mural from Jason Schmidt on Vimeo. Discover NYC's street art scene with a walking tour starting from 20$.
60 – Go on an NYC architecture tour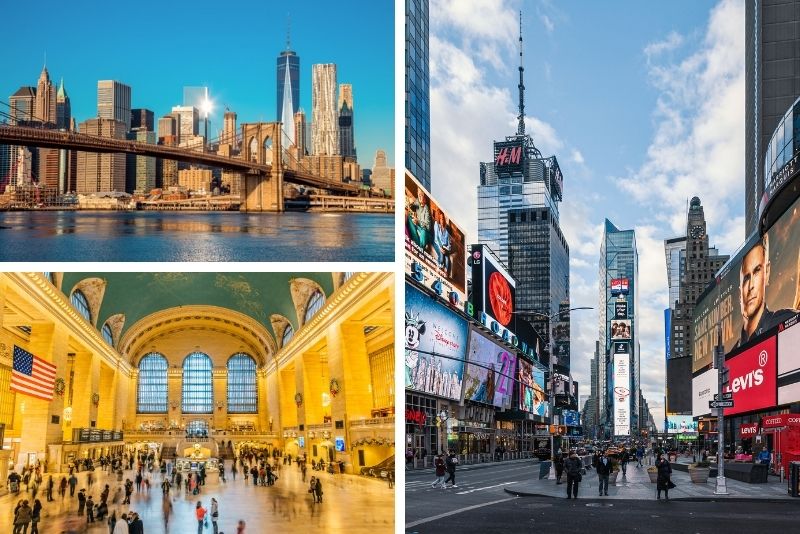 The architecture in New York is truly something to write home about, with everything from designer skyscrapers to historic landmarks waiting to be discovered.
Your camera will be working hard as you visit sights like Grand Central Station, Times Square, and the Chrysler Building. Watch as the light enhances your perspective and listen as the guide shares insider secrets about this beguiling city.
61 – Slow down with an NYC spa day visit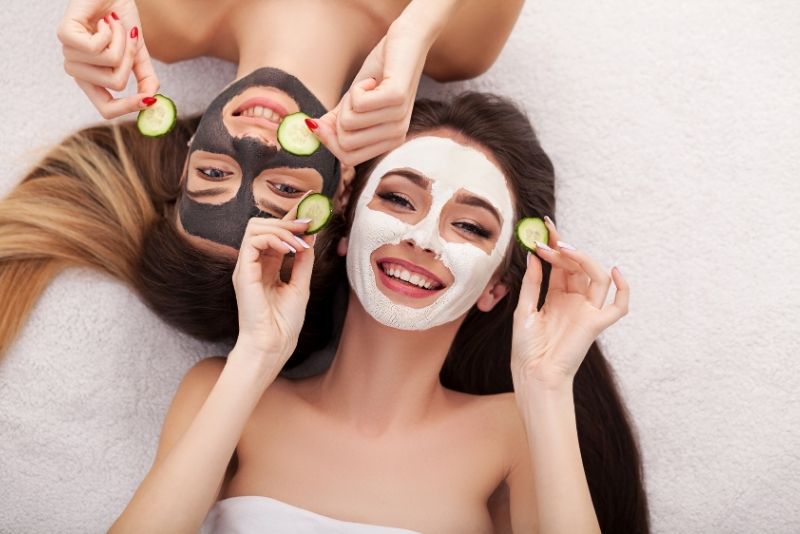 This concrete jungle is about as fast-paced as any place on the planet, so it's important to take an opportunity to catch your breath once in a while.
Whether you're traveling solo or as part of a couple, a number of massage options await, with the option to add steam rooms, reflexology, or even chocolate facial treatments!
62 – Walk through Little Italy and Soho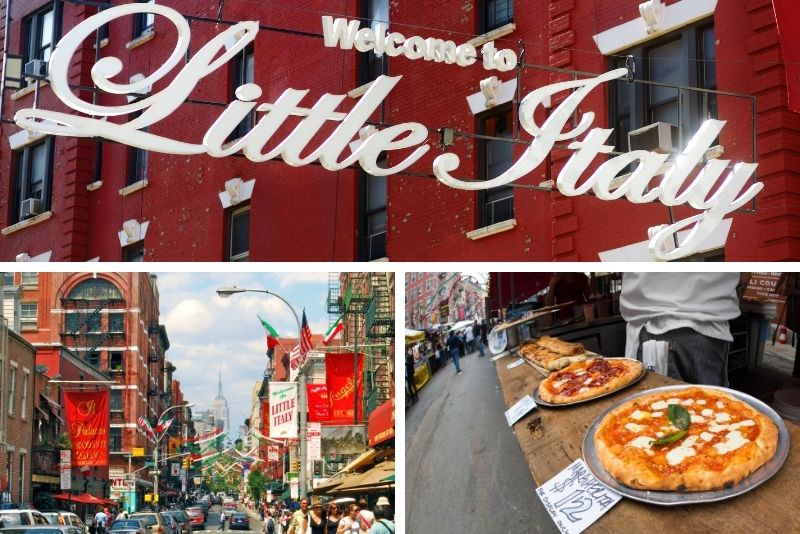 Head to Soho and Little Italy on a relaxed walking tour for a dose of authentic New York life. Keep an eye out for celebrities as you stroll past cast-iron buildings in fashionable Soho, and hear stories of immigrants and gangs in Little Italy.
You will visit iconic sights like Spring Street, Mulberry Street, and Columbus Park on this journey through history.
63 – Visit the Museum of the Moving Image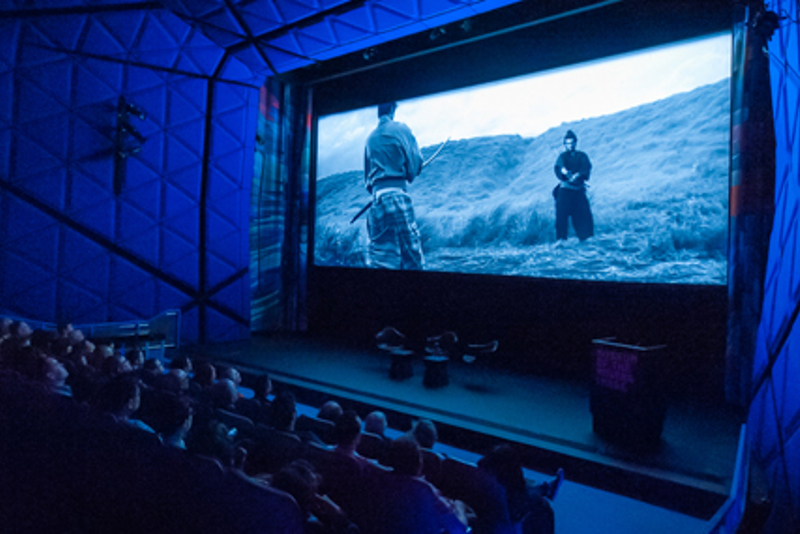 credit to Museum of the Moving Image
The Museum of the Moving Image is a media museum located in Astoria, Queens in a former building of the historic Astoria Studios. It houses a comprehensive collection dedicated to educating the public about the art, history, technique, and technology of film, television, and digital media.
If this list is not enough, there are other hundreds of tours in NYC!
Enjoy the best of NYC!
If you are interested in visiting unusual places outside the city, check out our list of 29 best day trips from New York City.
Planning a longer trip? Head South and visit Philadelphia, Baltimore and Washington DC, or travel North and explore Boston.
Don't hesitate to leave a comment below if you have other unusual things to do in NYC. Share the fun!
Source https://www.earthtrekkers.com/best-things-to-do-in-new-york-city/
Source https://www.touropia.com/best-places-to-visit-in-new-york-state/
Source https://tourscanner.com/blog/fun-things-to-do-in-nyc/