22 Jaw-Dropping Places to Visit in New Mexico (+ Map)
New Mexico is bound to soon have 'its moment'. These are the best places to visit in New Mexico – just proving how diverse and spectacular the state is!
This New Mexico destinations guide will include a bit of everything, from Albuquerque to White Sands National Park and many lesser-known destinations for your New Mexico bucket list.
Let us know which places in New Mexico we failed to mention in the comments!
New Mexico Destinations Map
To add this map to your Google Maps account, click the 'Star' icon next to the map name. You can then view it on your cell phone or computer by heading to your Google Maps account, click the menu and add it to 'Your Places'.
Best Places to Visit in New Mexico – The List
White Sands National Park
One of the craziest and most scenic places to visit in New Mexico is White Sands National Park, a park that is surrounded by the White Sands Missile Range.
White Sands only became popular in a mainstream kind of way in the last few years thanks in part to Instagram but this park in the Tularosa Basin deserves every bit of tourism it receives. It is mind-blowing.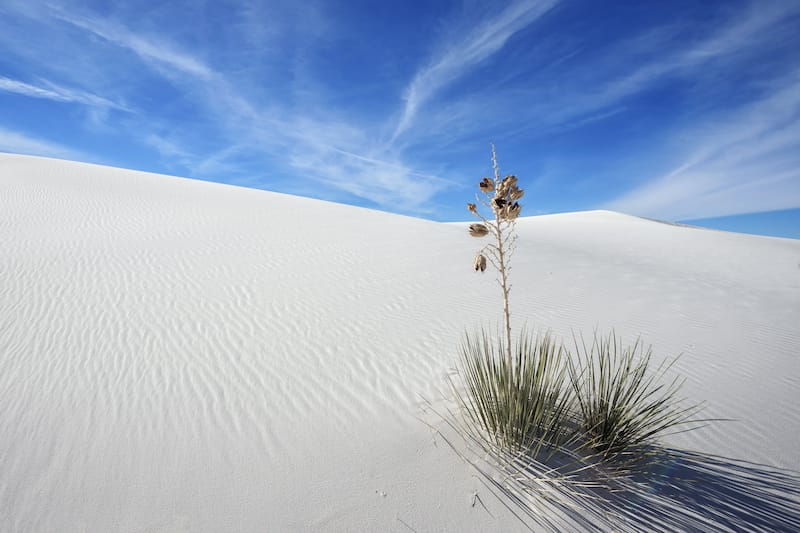 The park covers 145,762 acres and you will find fields of white sand dunes that are created from gypsum crystals there.
This is the largest dune field of its kind on the entire planet, making it one of the coolest destinations in New Mexico, without a doubt.
There are many species living in White Sands National Park, most of which are invertebrates (and 40 moth species, oddly enough).
Interestingly, this national park only gained status in December 2019 after being a National Monument for nearly a century. It is New Mexico's most visited national park.
Some of the wonderful things to do in White Sands National Park are picnicking, photographing, camping, and going sledding on the dunes. You can also take advantage of the hiking trails there.
If you're looking to plan a trip to White Sands, a great base is Ruidoso, a ski and outdoorsy town nearby. You will find many cool attractions in Ruidoso, making it a worthwhile stay!
Petroglyph National Monument
Petroglyph National Monument is one of the best places to explore in New Mexico, especially if you're interested in history and archeology.
This location was formed a few millennia ago, and it's unique mainly because of the extensive volcanic activity that takes place there.
When visiting, you'll find most of the petroglyphs located in the Boca Negra Canyon area, some of which are more than 3,000 years old!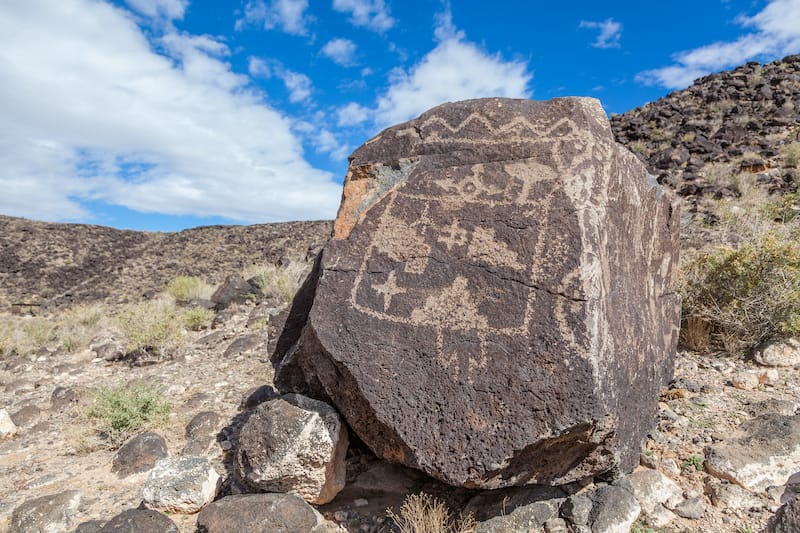 They were carved in the basalt, and there are approximately 20,000 of those within the park. If you decide to do some hiking in the area, you'll be able to see many petroglyphs on the trails.
This is easily one of the most underrated places to visit in New Mexico !
Ah-Shi-Sie-Pah (San Juan County)
Ah-Shi-Sle-Pah is located in San Juan County, New Mexico, between Chaco Canyon and the De-Na-Zin Wilderness.
This location incorporates impressively eroded giant rocks, multicolored badlands, weathered rock formations often referred to as hoodoos, and many other sights that are well-worthy to visit.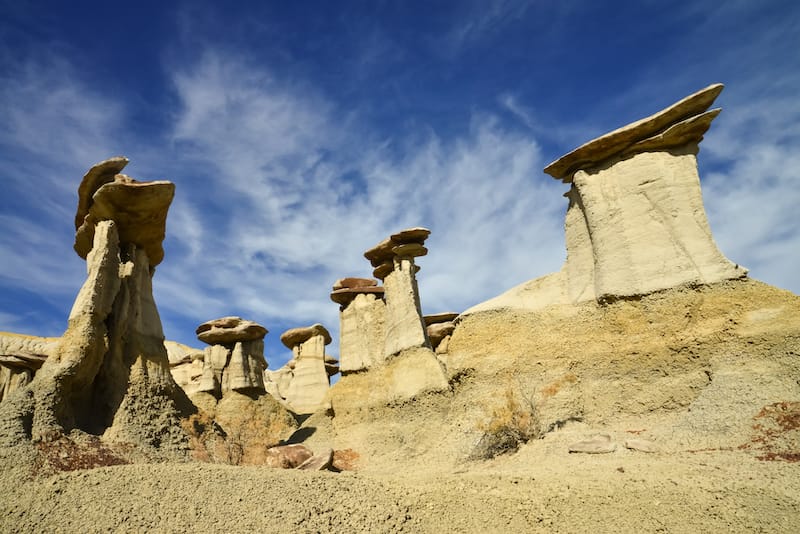 This place has some picturesque locations, and the particles that make up the soil there are geologically composed of layers of sandstone, shale, mudstone, and bituminous coal.
The animal and plant life there is vibrant, mainly due to its geologic age and climate.
Ah-Shi-Sle-Pah's most iconic sights are the hoodoo formations that are also referred to as fairy chimneys.
If rock formations aren't that interesting for you, exploring the wilderness study area is also an excellent option for visitors to this New Mexico landmark .
You can take a look at the dinosaur bones, petrified wood, and so much more!
Santa Fe
Santa Fe is one of the most beautiful cities in the United States and is a must-visit if you find yourself visiting New Mexico! The city is the capital of New Mexico but is merely the 4th largest with a population of just over 84,000.
Founded in 1610, it is technically the oldest capital city in the United States and it is also the state capital with the highest elevation (7,199 feet), which is pretty impressive.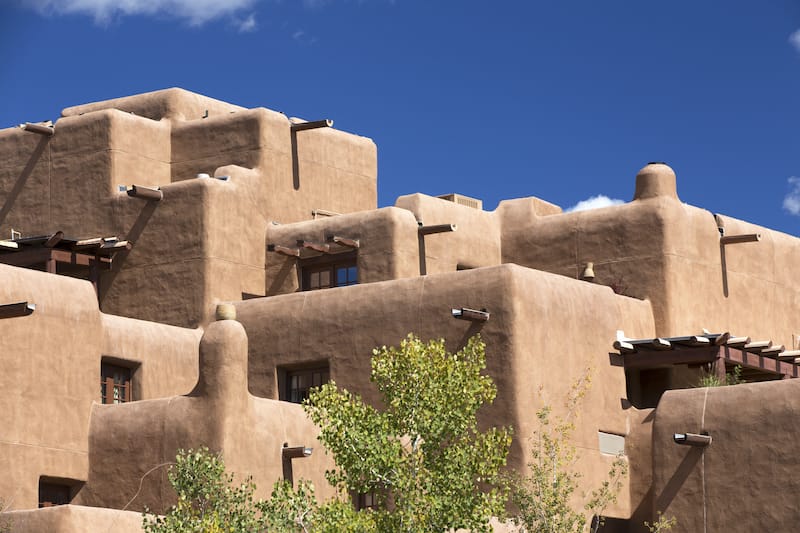 Santa Fe is renowned for its creative vibe and artistic history. It has even been recognized by UNESCO as one of their Creative Cities Network.
Throughout the city, you will find many art galleries and works and another notable thing about Santa Fe is that the city is known for its pueblo architecture.
Not only does Santa Fe have a thriving art scene, but it is also becoming a culinary capital in the US. Don't miss out on the fantastic day hikes from Santa Fe – some of them are epic!
Pecos National Historical Monument
Pecos National Historical Park occupies what was once one of the state's largest Native American villages. It was inhabited from the early 14th-century, with a population of over 2,000, until 1838. The park was extended to 6,600 acres in 1990.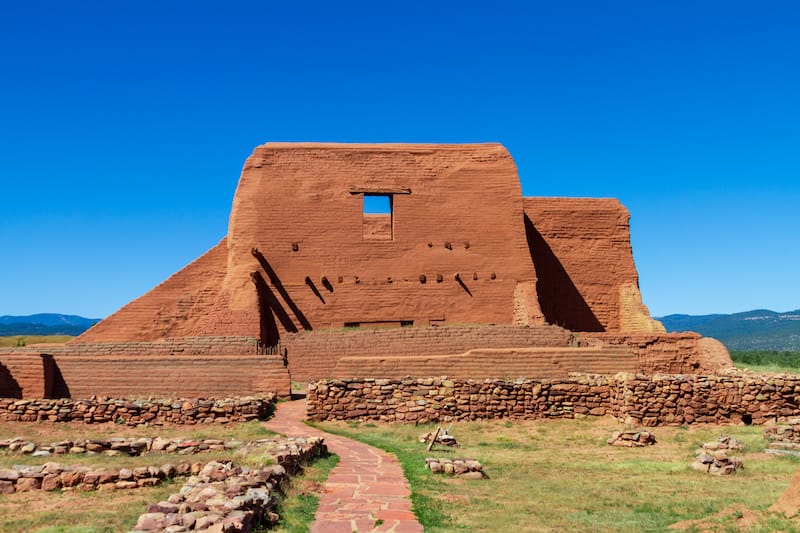 The visitor center provides exhibits and information about everything available in the park.
Also, it offers an Ancestral Sites Walking Tour , which is a 1.25-mile guided hike where you can get acquainted with evidence of the Natives who once inhabited the region and still do today.
Albuquerque
The city of Albuquerque, New Mexico is the state's most populous and the epicenter of most things happening.
The desert city is at the southern tip of the famous Rocky Mountains and its nicknames are 'The Duke City' and 'Burque'.
There are so many reasons to visit Albuquerque these days and one of the main events that lure in visitors is the International Balloon Fiesta that is the world's largest gathering of hot-air balloons taking place in October annually.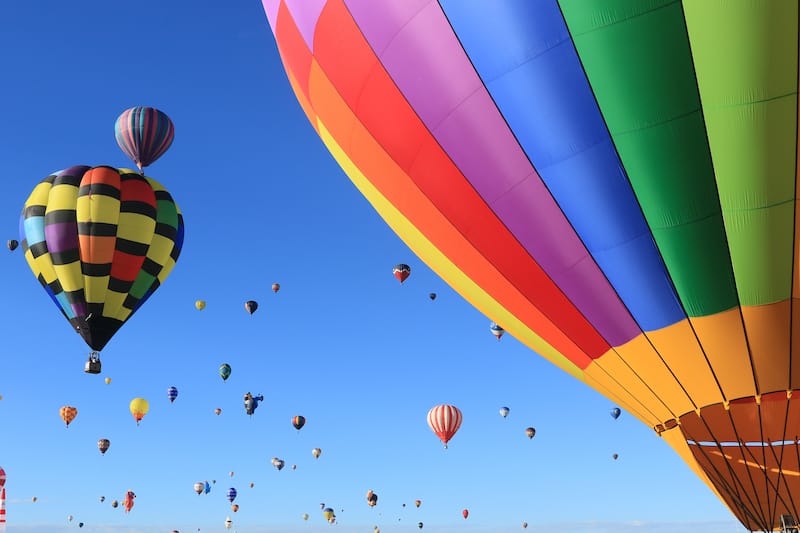 A fantastic thing about Albuquerque is that the city is home to many amazing museums such as the New Mexico Museum of Natural History and Science, the Indian Pueblo Cultural Center, Explora, and more.
You will find several incredible craft breweries in Albuquerque and places to enjoy authentic New Mexican cuisine.
Be sure to check out some of the fantastic day trips from Albuquerque as you will find several places within a short distance of the metropolis.
Don't miss out on all the fantastic hikes near Albuquerque too! The Sandia Mountains offer some of the best trails in the state and it will offer you views over the city.
Tse Bitai (Shiprock)
Having a height of 1500 feet, Tse Bitai , also named Shiprock , is one of the most beautiful and purely natural sites of New Mexico. It maintains great significance for the Navajo nation, and it is thought of as a sacred mountain.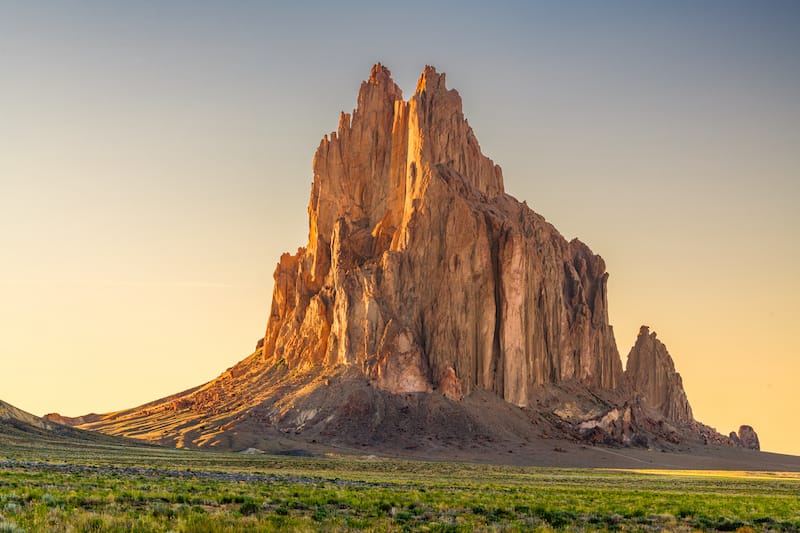 This spot has kept the attention of famous photographers, film producers, hikers, and just tourists, all thanks in part to its stunning views.
Roswell
Located in the southeast of New Mexico is the city of Roswell… probably a city you have heard about in some way, shape, or form.
New Mexico's 5th-largest city has just under 50,000 residents and is famous for its UFO incident.
While that 'UFO crash' took place about 75 miles away, the city became the site for early rocket work by Goddard, so the city always held great importance to those interested in aerospace engineering and ufology.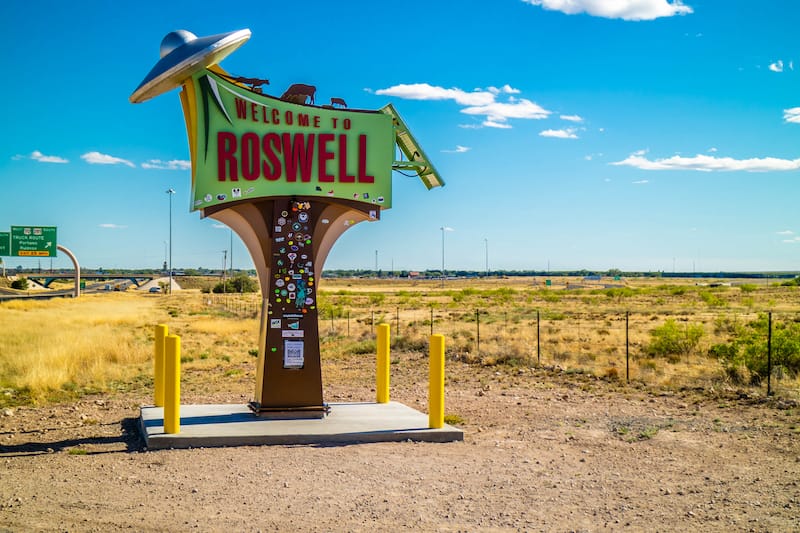 You can visit the International UFO Museum and Research Center when you're in Roswell, or you can just hang out and enjoy the delicious food scene there.
But, the UFO history makes Roswell a one-of-a-kind destination in New Mexico.
Carlsbad Caverns National Park
Carlsbad Caverns National Park sits in the gorgeous Guadalupe Mountains that are shared with Texas. Located in southeastern NM, this national park is famous for its show cave, Carlsbad Cavern, arguably the most famous cavern in the United States.
There are two places on the National Register of Historic Places within this park that spans just under 47,000 acres – the Caverns Historic District and the Rattlesnake Springs Historic District.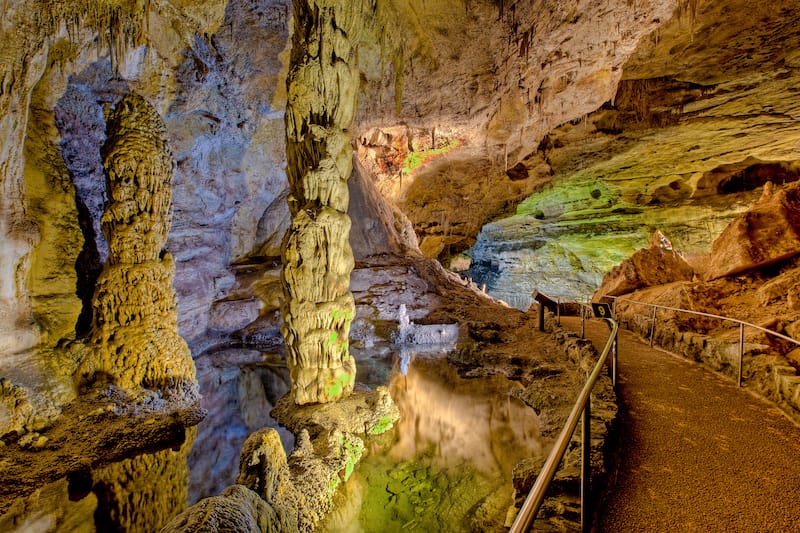 The most famous room inside of Carlsbad Cavern is called 'The Big Room' and it truly is a marvel! It is 4,000 feet long and 255 feet tall at its highest point.
It is the largest chamber in North America even though I thought the caverns in my home state of Virginia were a spectacle!
Some of the other things to do in Carlsbad Caverns National Park are to take advantage of the ten hiking trails that exist there.
Rattlesnake Springs Picnic Area offers a place to take a break and check out the 300+ bird species that call the place home.
This New Mexico National Park was established in 1930. This area of New Mexico is perfect for those looking to relax for a long period of time or even those enjoying van life!
Curious about life in a van? Click here to find out more – and how you can take your life on the road here in New Mexico!
Bandelier National Monument
Bandelier National Monument is located near Los Alamos, New Mexico.
It covers 33,000 acres of spectacular canyon and mesa land, including some of the Southwest's rarest and most fascinating ancient ruins.
This monument includes petroglyphs that date back 11,000 years. It is also home to volcanic landscapes and ruins that are quite prominent remains for archaeologists in the state and outside of its borders.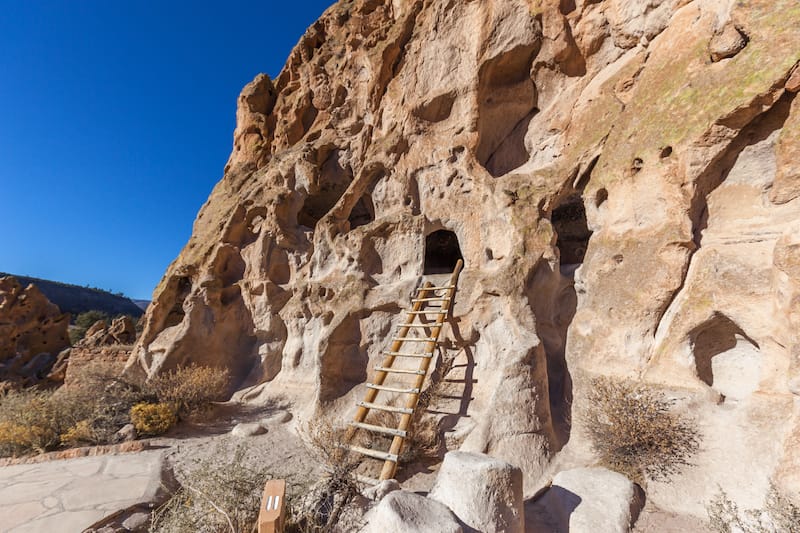 The 33,677-acre area is the former home of ancestral Pueblo people , and there are some impressive remains of the houses of Indigenous habitats that were carved from volcanic rock.
Aside from this, the park also has an educational museum, hiking trails, and campgrounds.
Bandelier is one of the best day trips from Santa Fe for history and nature lovers.
Fajada Butte
Fajada Butte rises 400 feet into the air and is situated within the Chaco Culture National Historical Park . This New Mexico attraction is yet another one of the best places to visit in New Mexico.
When visiting Fajada Butte, make sure you don't miss the chance to see the Sun Dagger , as it's an absolutely unique phenomenon of archaeoastronomy.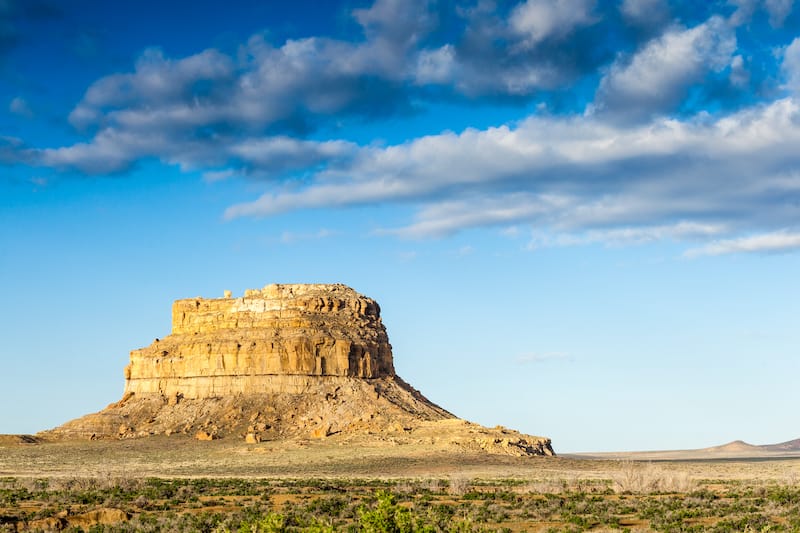 Archeological studies of Fajada Butte show that it had small cliff dwellings (even though there was no water source found), and those structures were in use during the 10th to 13th-centuries.
Also, the magnitude of this building project, with no apparent practical intent, suggests that Fajada Butte may have had some ceremonial significance for the people of Chacoan .
Four Corners Monument
The Four Corners Monument is a very popular place to visit in the US if you want to touch four states at the same time – Arizona, Colorado, New Mexico, and Utah all meet at this one point and it is the only place in the US where four states touch.
This is also a significant area because it is where two semi-autonomous Native governments have their boundary (Navajo Nation and Ute Mountain Tribe).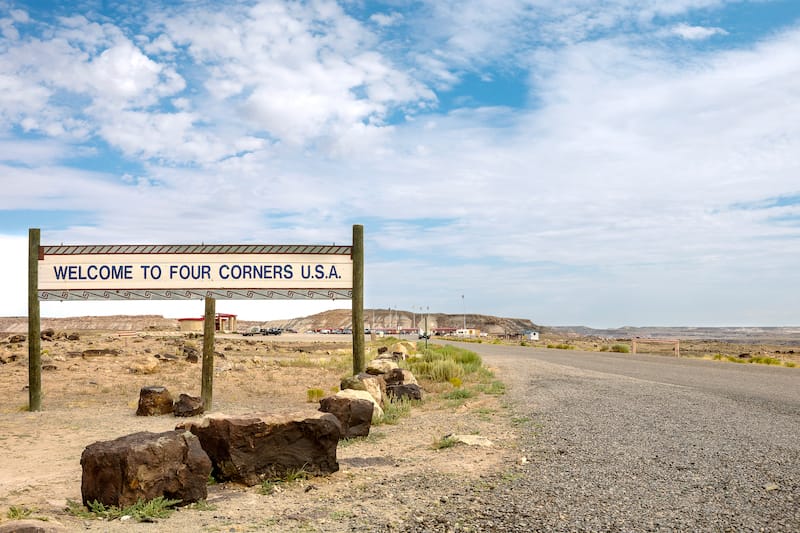 There is not too much to see right at the Four Corners Monument but the scenery in the area is just spectacular and worthy of a visit for that alone!
The monument is located on the Colorado Plateau and is one of the best places to visit in New Mexico (and is also a recommended end stop on a California to Arizona road trip).
Abiquiu (and the Ghost Ranch)
Ghost Ranch is located nearly 60 miles away from Santa Fe. With a spectacular landscape of red and yellow cliffs, the Ghost Ranch in Abiquiu, New Mexico, covers 21,000 acres of high rock walls, sparkling colors, and vast skies.
It was home to Georgia O'Keeffe and suggests a great set of activities, suiting all tastes like hiking, horseback riding, kayaking, and many others.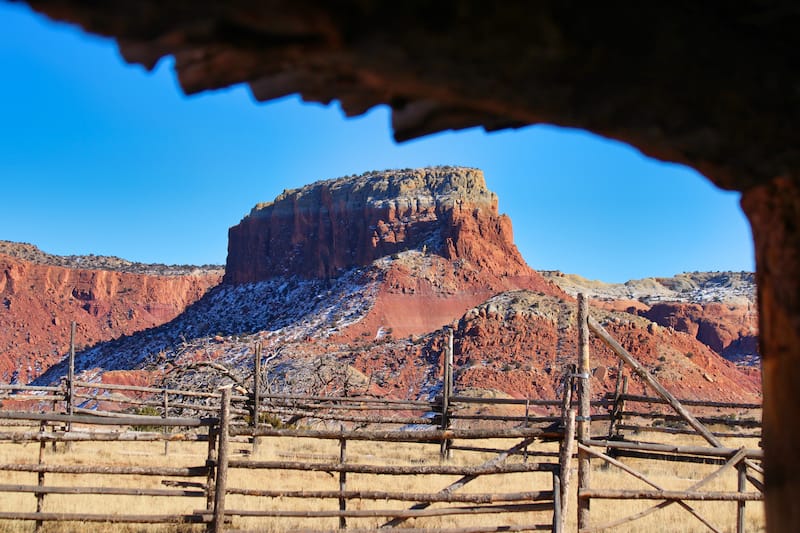 Abiquiu is a beautiful village situated close to Ghost Ranch. Having breathtaking views, there are quite a few things to learn about the Abiquiu region and a lot to discover if it ends up on your New Mexico itinerary.
Taos is a town in the north-central region of New Mexico and it originates from the Taos Language and means 'place of red willows'.
Founded in 1795 as a trading outpost for other communities in the region, today is a popular tourist spot and is known for its Taos Pueblo that has been occupied for nearly 1,000 years!
It is considered to be one of the oldest continuously inhabited places in all of the US.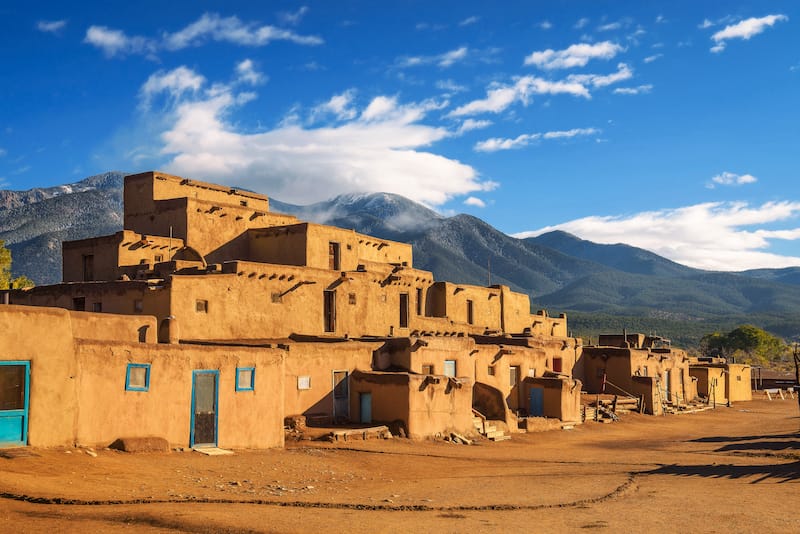 The Taos Pueblo was made a UNESCO World Heritage Site in 1992 and is a popular thing to do in the town and its vicinity. Another popular reason to visit Taos is its artistic community.
Lastly, people head to Taos to ski! It is the most famous place to go skiing in New Mexico and Wheeler Peak, New Mexico's tallest mountain, is located nearby.
There are four ski areas in Taos and you can also visit hot springs nearby. This is a can't-miss destination on a US skiing road trip itinerary!
Valles Caldera National Preserve
Valles Caldera (or Jemez Caldera) is one of the best places to visit in New Mexico for those that love mind-blowing nature.
Located in the northern part of the state, you will find so many cool natural phenomenons around Valles Caldera such as streams, fumaroles, volcanic domes, and hot springs.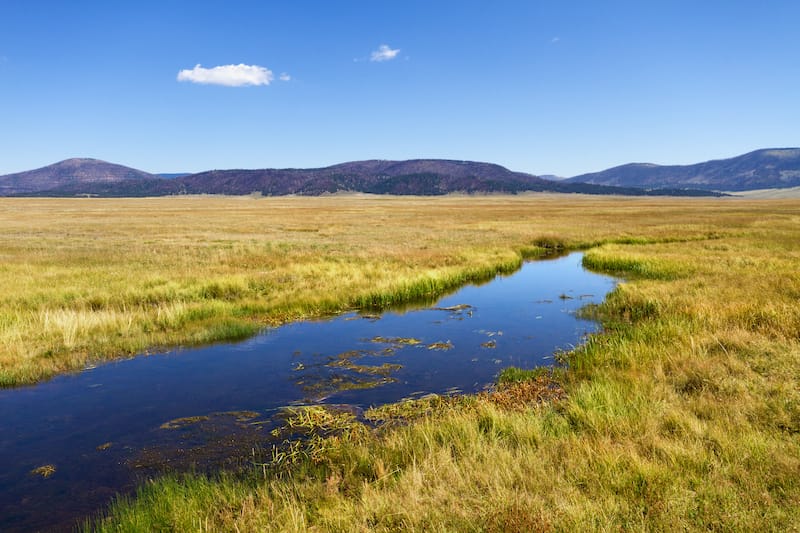 The highest point of the caldera is Redondo Peak (11,253 feet) and there are several grass valleys in the area.
One of the most notable things about this landmark in New Mexico is that it is a beloved filming location. The Lone Ranger, The Missing, Troublemakers, and many other films and TV shows have been shot there.
Kasha-Katuwe Tent Rocks National Monument
Kasha-Katuwe Tent Rocks National Monument showcases cone-shaped formations resulting from volcanic activity that happened approximately 6 to 7 million years ago, leaving pumice, ash, and tuff deposits that are nearly 1,000 feet thick.
It is located just 40 miles southwest of Santa Fe, and there are many signs along the way meant to lead the visitors to the geological site.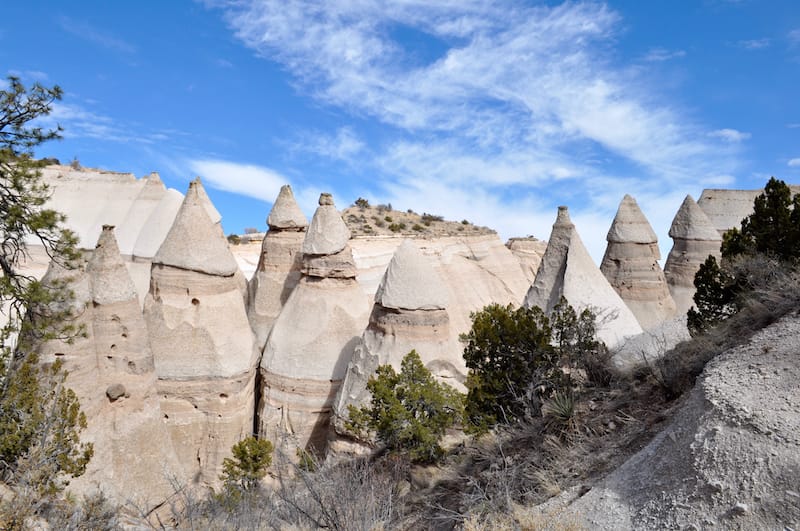 One of the most exciting activities to get busy with there are the hiking trails at Tent Rocks . There are two segments of the National Recreation Trail and a 3rd wheelchair-accessible loop.
One of the popular trails is the Cave Loop Trail , which is an easy 1.2-mile walk. There are also parts of this trail that are accessible for guests in wheelchairs.
Blue Hole in Santa Rosa
The naturally bell-shaped pool named the Blue Hole in Santa Rosa, New Mexico is 80 feet deep, and it's known for its stunning crystal clear water and constant temperature of 61 degrees.
As a result of this, the Blue Hole is considered to be the diving capital of the southwest .
There are a few historical sites worth visiting in the area, like Bless Me Ultima Park, Guadalupe Country Courthouse, Puerto de Luna, etc.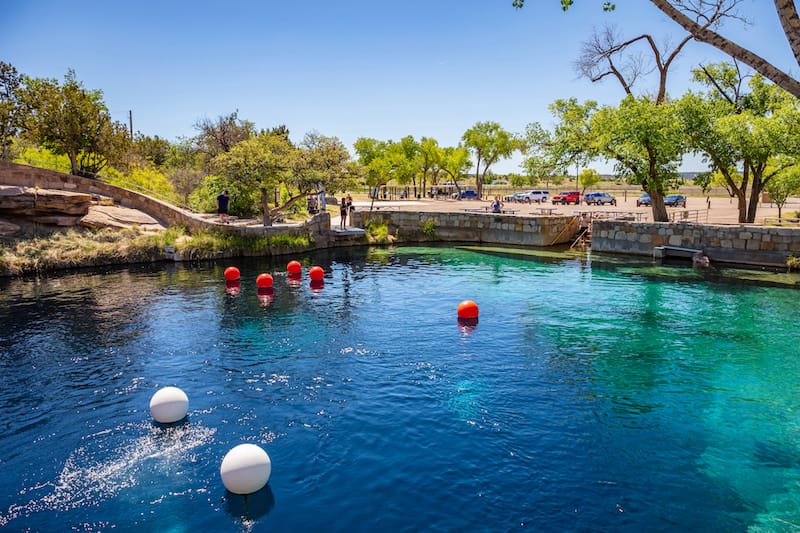 Notably, this New Mexico destination's main activities are created around water . The most famous ones are snorkeling, diving, or jumping off from different heights.
So, in the event that you love water and pools, don't miss your chance and go to the Black Hole at least once in your lifetime.
And Santa Rosa is also one of the best small towns in New Mexico to add to your itinerary!
Chaco Culture National Historical Park
This place is truly spectacular. Chaco Culture National Historical Park is situated in the northwestern part of New Mexico and is renowned for its high concentration of pueblos.
It has the most iconic collection of ancient ruins north of Mexico and between 950-1150 AD, Chaco Canyon actually was the cultural center for Ancestral Puebloans.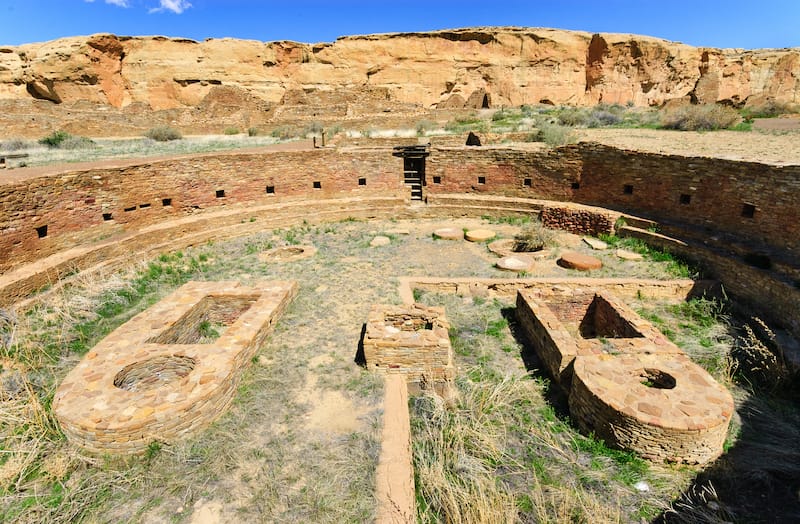 These sites are considered sacred by the Hopi and Pueblo people and this is truly one of the most underrated places to visit in New Mexico… and the entire United States.
Brazos Cliffs (and Chama River Valley)
Rising over 2,000 feet above the Chama River, this is one of the oldest mountain ranges found in New Mexico.
Also created mostly by volcanic activity, Brazos Cliffs rises to 11,405 feet and attracts many enthusiastic rock climbers and hikers.
The highest point of the range is Grouse Mesa ; however, it's important to note that the Brazos Cliffs are private property, making the area access restricted without permission.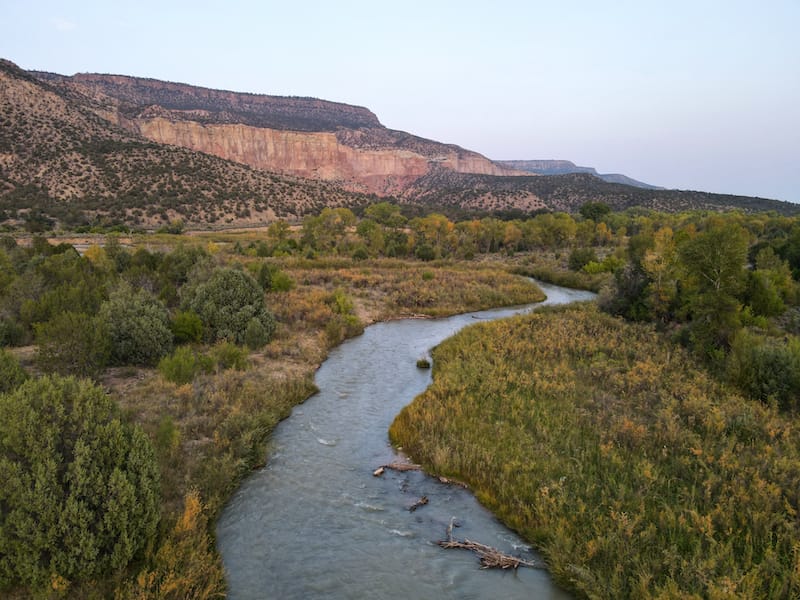 The cliffs incorporate three main parts, from west to east and they are the main Brazos Cliffs, the Brazos Box Canyon, and the Encinado Wedge.
Keep in mind that the best time to visit is the golden sunset hour when the lighting is just stunning!
Bosque del Apache Wildlife Preserve
Located in the southern part of New Mexico, Bosque del Apache Wildlife Preserve welcomes guests and impresses them with tens of thousands of birds!
The birds you can find there include sandy cranes, Arctic geese, and various kinds of ducks that gather at the national wildlife preserve every fall and stay there until the end of the winter.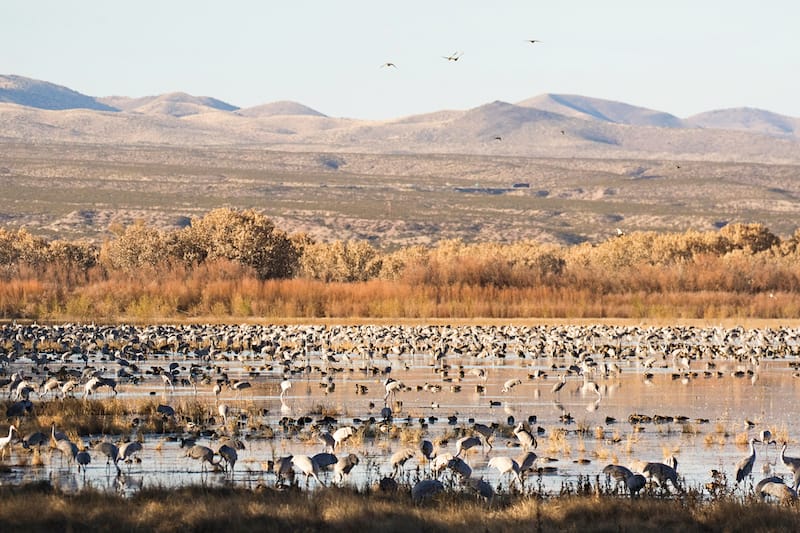 It's a great spot for photographers who can get a beautiful shot while the birds are taking off to fly. The reserve is open all year round, and visitors are free to enjoy walks or have a nice time while having a picnic.
Gila Cliff Dwellings National Monument
At the end of the 1200s, the Mogollon Community inhabitants agreed to establish the Gila Cliff Dwellings as a safe place and called it home.
They had the rooms designed, pottery made, and raised children in the cliff homes for around 20 years. However, then the Mogollon moved on, leaving the walls as evidence of the past.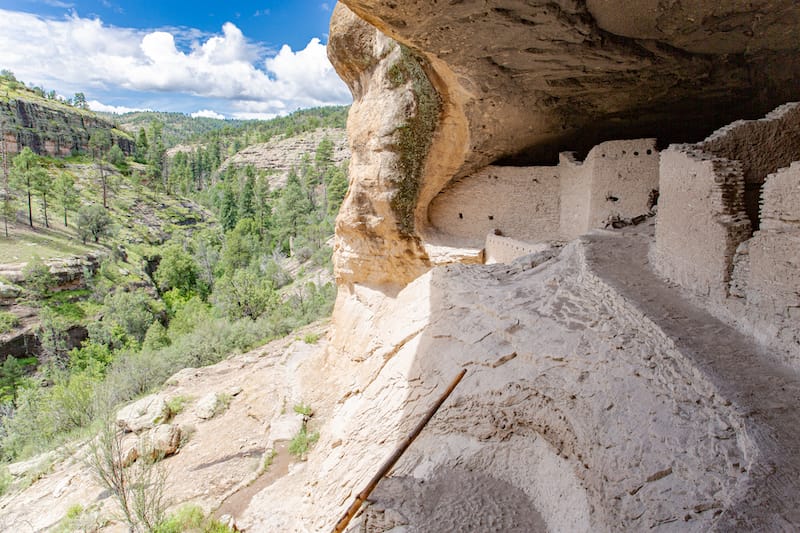 The Gila Cliff Dwellings National Monument is situated north of the old mining town of Silver City . There are 42 rooms in six caves, constructed on the cliff face by the Mogollon Natives around 1300.
By visiting the Gila Cliff Dwellings, tourists can learn more about the Mogollon culture and the area's natural history (everything is available in the museum visitor center).
Bisti Badlands
The Bisti Badlands are on the list of New Mexico's wonders. They are part of the 38,305-acre Bisti/De-Na-Zin Wilderness and are located in the Four Corners area of the state.
It will take less than an hour to get there from Farmington, NM, or 3 hours from Albuquerque.
This area was once a coastal swamp of an inland sea and was the home to many types of trees, reptiles, dinosaurs, and primitive mammals. Nowadays, it's a preserved record of the most unique scenery views in the Four Corners region.
There is an opportunity for visitors to camp there if wanting to stick around for a few days.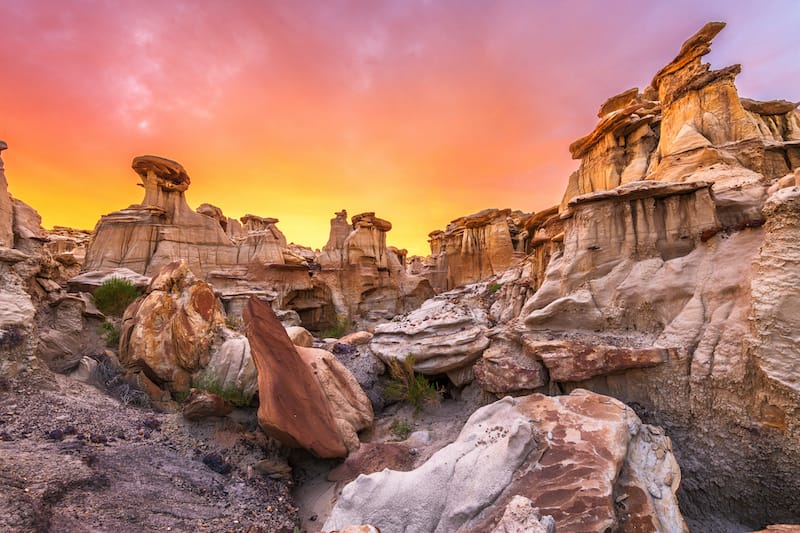 Being located 36 miles from the heart of Farmington, tourists coming to the New Mexico sight can discover the rarest landscapes found in the Bisti Badlands and will definitely leave the location feeling extremely inspired and longing for a trip back!
There are so many places to visit in New Mexico that you should consider and the state is best seen by taking a road trip there!
What are the best places to visit in New Mexico, in your opinion?
Please leave a comment below if you have any suggestions!
Additional New Mexico resources:
Pin this Guide to Places in New Mexico
3 thoughts on " 22 Jaw-Dropping Places to Visit in New Mexico (+ Map) "
I think El Morro. on the way to Gallup is a wonderful place to visit. Very Historic.
I don't think Chimayo was left off on purpose. This list is of beatiful places to visit in NM, not necessarily the top 22. Megan & Arim are travel bloggers. There sure is a whole lot to see in this beautiful state.
How can you not mention El Santuario de Chimayo? A very, very special place.
10 Best Places to Visit in New Mexico
It's no wonder that New Mexico is called the Land of Enchantment. Whether exploring ancient ruins, shopping for silver and turquoise jewelry or just enjoying the ever-changing colors of the sky at sunset, New Mexico casts its charm on every visitor.
With varied landscapes that range from red rock mesas to snow-capped mountains, New Mexico encapsulates all of the geological features that attract visitors to the American Southwest. No other state, however, has such a unique palette of light-infused colors, which is why so many artists call New Mexico home.
Claimed by Native Americans, Spaniards and Mexicans before becoming a state in 1912, few places have a history that is so rich in cultural diversity too. An overview of the best places to visit in New Mexico:
10. Very Large Array [SEE MAP]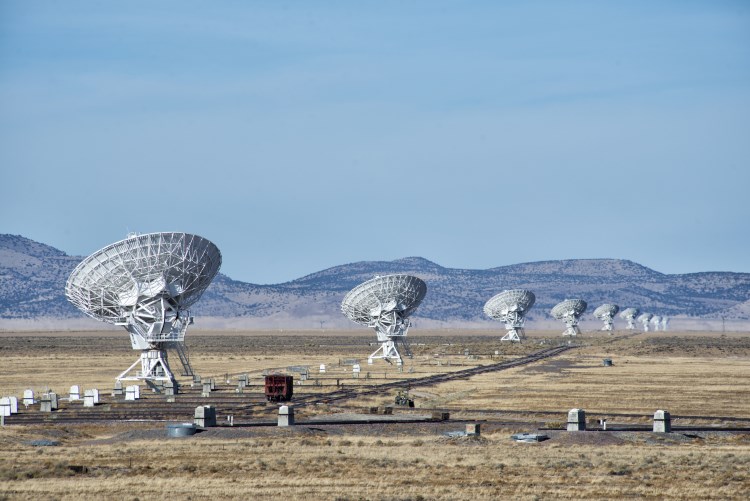 snowpeak / Flickr
Located to the west of Socorro in central New Mexico is the Very Large Array National Radio Astronomy Observatory where 27 giant antennas combine to form a single radio telescope. At an elevation of nearly 7,000 feet (2,100 meters) above sea level, the aptly named array has helped astronomers make key observations about phenomena like black holes, quasars and cosmic gases.
A museum, gift shop and theater are open to the public year round. Self-guided tours allow visitors to get a closer view at the dish-shaped antennas, and guided tours are available the first Saturday of every month as well.
9. Gila Cliff Dwellings [SEE MAP]
Federal Highway Administration
Constructed during the 13th century by the ancestral Puebloans of the Mogollon area, the Gila Cliff Dwellings are the main attraction of this national monument. The ancient dwellings were carved into 6 natural caves on the canyon wall and divided into rooms with stones and mortar hauled up from the canyon floor 180 feet (55 meters) below.
Steps, rocks and ladders lead visitors into the caves, which contain a total of 42 rooms. Hiking is a popular activity within the forested park as well. Several popular hot springs are located near the visitor center.
8. Cumbres-Toltec Scenic Railway [SEE MAP]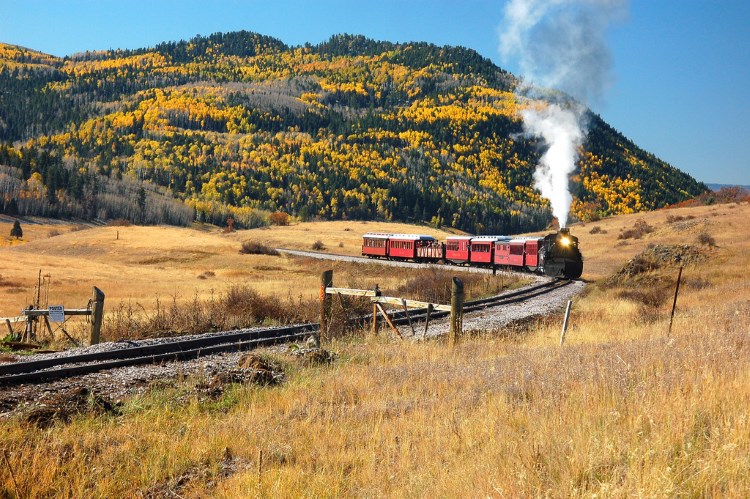 Larry1732 / Flickr
For travelers who want to enjoy views of some of New Mexico's most spectacular landscapes in comfort, there's no better option than a trip aboard the historic Cumbres-Toltec Scenic Railway. Built in 1880, the highest narrow-gauge steam railroad in the country runs for 64 miles (103 km) between the city of Chama and Antonio, Colorado, passing over the 10,000-foot (3,000 meter) high Cumbres Pass and through the Toltec Gorge. Two-hour trips from Chama to Cumbres Pass are available as well. Passengers have their choice of coach, deluxe or parlor cars, and everyone is welcome to enjoy the open-air gondola.
7. Bandelier National Monument [SEE MAP]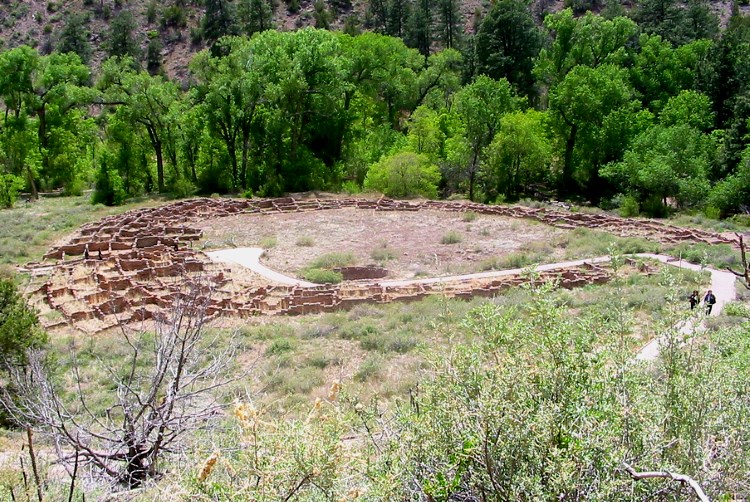 kenkopal / Flickr
Encompassing canyons and mesas, Bandelier National Monument was home to the ancestral Puebloan people between 1150 and 1550 A.D. Located in Frijoles Canyon south of Los Alamos, the Monument has a broad array of restored and unexcavated ruins, a museum displaying archeological artifacts and a wilderness area that includes 70 miles (110 km) of hiking trails.
The 2-mile-long Main Loop Trail leads past the site's famous cliff houses where visitors can climb ladders to reach small alcoves perched 140 feet (40 meters) above the canyon floor. A visitor center is equipped with picnic tables, toilets and parking.
6. White Sands National Monument [SEE MAP]
MiguelVieira / Flickr
One of the most unusual landscapes in New Mexico, the White Sands National Monument covers a huge area of sand dunes in the southeastern section of the state. The sands are composed of 8 billion tons of gypsum crystals blown in over millions of years from an ephemeral lake rich in mineral content located in the western part of the Monument.
The well-marked 16-mile (26 km) long Dunes Drive near the visitor center includes designated parking areas where visitors can stop and explore the dunes. Ranger-guided day and evening walks through the dunes are available as well.
5. Albuquerque [SEE MAP]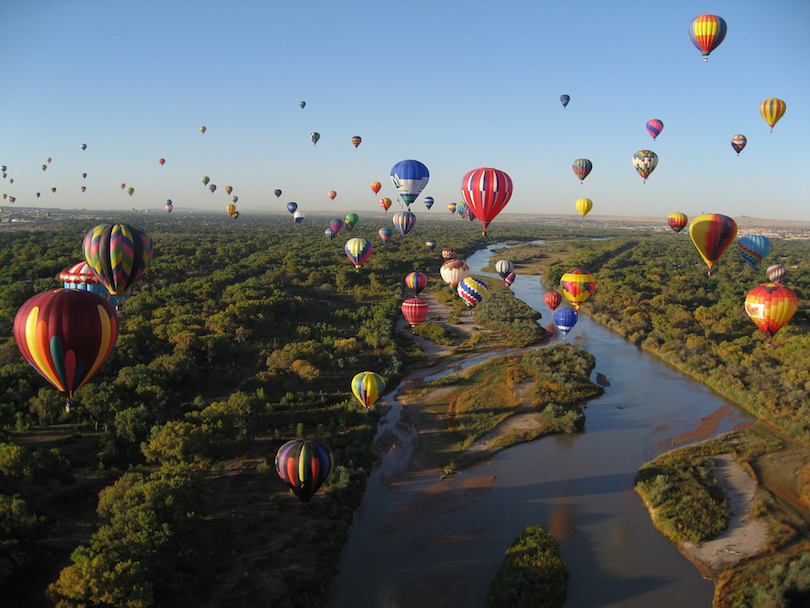 Larry and Linda / Flickr
Located near the center of New Mexico, Albuquerque is the state's most populous city and one of its oldest municipalities too. Founded on the banks of the Rio Grande in 1706, the city is best known today as the site of the International Balloon Fiesta held each year in October.
The new Balloon Museum features exhibits about the history of ballooning while the Albuquerque Museum of Art and History explores the city's cultural past. The nearby Sandia Peak Tramway takes visitors on a 15-minute ride up to the crestline of the Sandia Mountains.
4. Chaco Canyon [SEE MAP]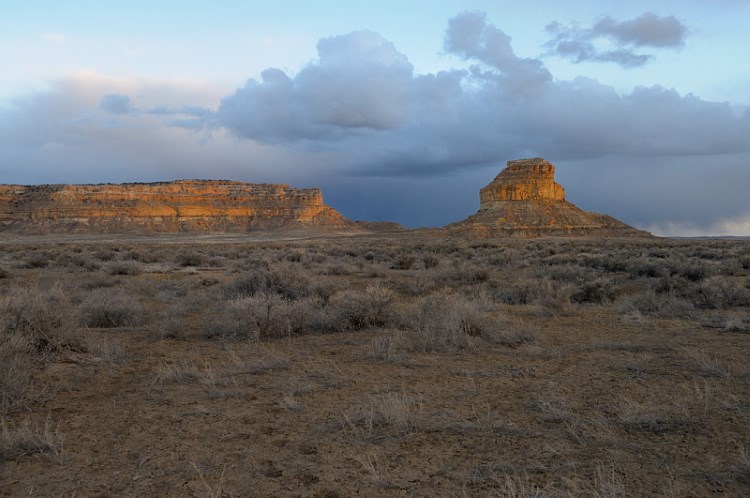 lamsongf / Flickr
Located in northwestern New Mexico, Chaco Canyon National Historic Park boasts the most extensive collection of ancient pueblo ruins in the United States. Between 900 and 1150 A.D., the 9-mile (15 km) stretch of canyon was the center of civilization for the ancestral Puebloan people formerly known as the Anasazi. Sandstone blocks and timber were hauled from great distances to build structures up to four stories in height, and recent archeological findings suggest they were built to align with solar and lunar cycles.
Visitors must drive along dirt roads to reach the canyon. Tours, maps and camping permits are available at the park's visitor center. One of the signature features of Chaco is Fajada Butte near the south entrance. This narrow, steep-walled butte rises about 400 feet (135 meters) above the canyon and includes several small cliff dwellings in its higher regions.
3. Carlsbad Caverns [SEE MAP]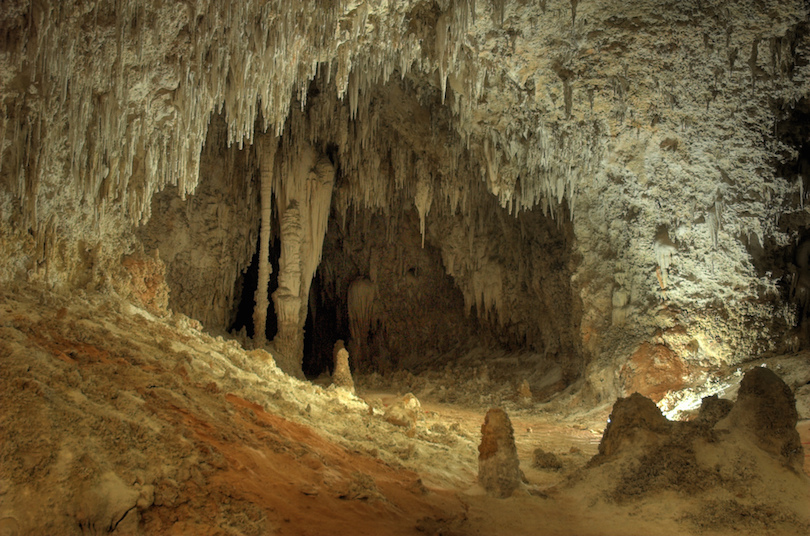 SamuraiCatJB / Flickr
The Carlsbad Caverns are part of a vast cave complex situated in southeastern New Mexico near the town of Carlsbad. One of the most popular places to visit in New Mexico, the main attraction of the Carlsbad Caverns is the Big Cave, which contains one of the world's largest underground chambers, known as the Big Room.
The Big Room is easily accessed by an elevator from the visitor center or by a short walking trail. Once inside the massive chamber, visitors can walk along a paved pathway to admire electrically lighted stalactites, stalagmites and natural pools.
2. Santa Fe [SEE MAP]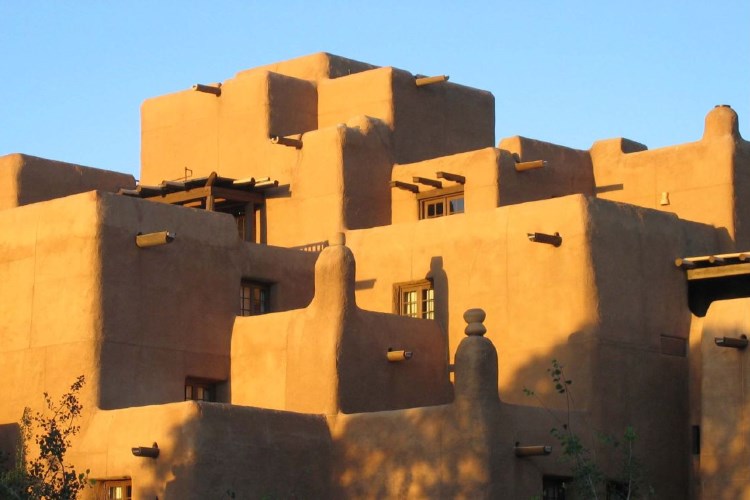 curt / Flickr
Founded by Spanish explorers in 1610, Santa Fe is one of America's oldest cities and arguably one of the most beautiful. It is also the state capital. Building codes require new construction to maintain the "Santa Fe Style" of pueblo architecture, ensuring that visitors will enjoy picturesque views from every corner of the city.
Santa Fe's cultural attractions include the Palace of the Governors museum, which is housed in the nation's oldest public building. With its permanent collection of 20,000 works of art, including pieces by Ansel Adams, Georgia O'Keeffe and Francisco de Goya, the New Mexico Museum of Art is must-see attraction as well.
1. Taos [SEE MAP]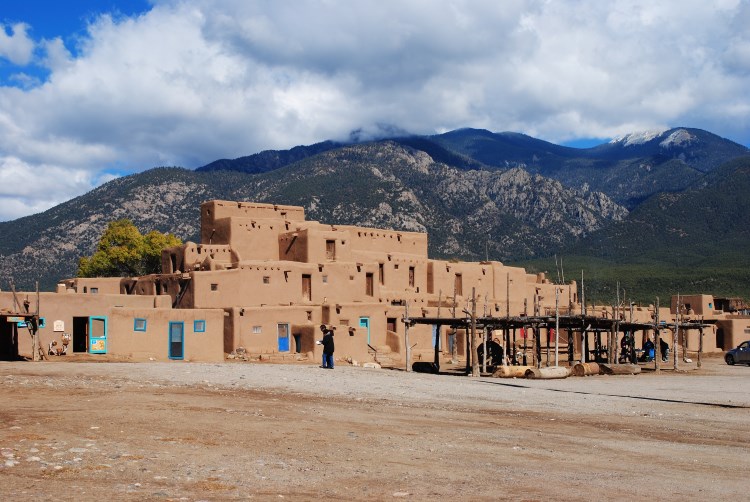 mole555 / Flickr
Situated in a picturesque valley of the Rocky Mountains near the Rio Grande, the beauty of the small pueblo community of Taos has drawn artists to the area for hundreds of years. Long before the town attracted luminaries like novelist D.H. Lawrence, painter Georgia O'Keeffe and photographer Dorothea Lange, the Tiwa tribe of Pueblo Indians made an art of crafting fine pottery.
The town also serves as a base for several places with "Taos" in their name that are all part of the region. The most well-known is probably Taos Pueblo just north of town, an ancient American Indian community in a particularly beautiful setting. Ranchos de Taos is a small village south of Taos proper that is notable for a its much-photographed church. Taos Ski Valley is about 20 miles (30 km) north of town in the Sangre de Cristo Mountains. Finally, the Taos Box is a section of the nearby Rio Grande known for its superb whitewater rafting.
Map of New Mexico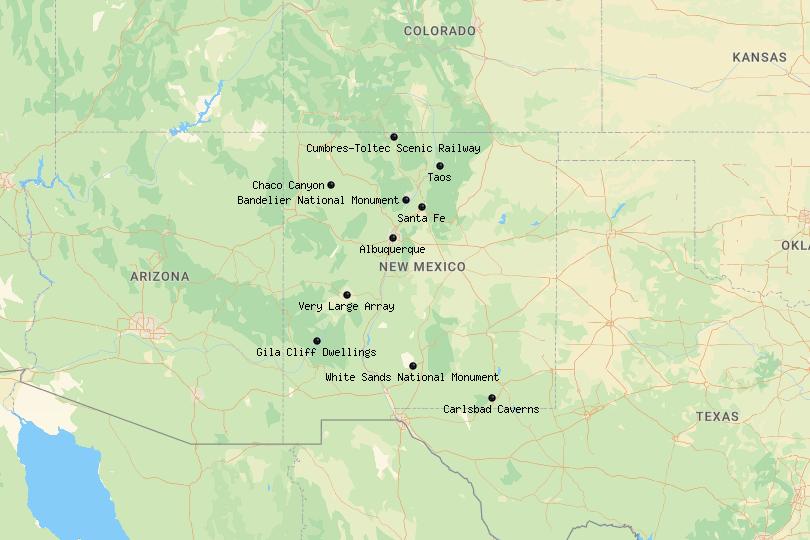 © OpenStreetMap © MapTiler © Touropia
17 Top-Rated Tourist Attractions in New Mexico
Home to one of the most incredibly scenic and diverse landscapes in North America, New Mexico provides endless opportunities for sightseeing, exploration, and adventure.
With strong influences of both Native American and Hispanic culture, the state offers a multitude of unique attractions both in large cities like Santa Fe and Albuquerque, as well as the smaller hubs of UFO-focused Roswell and the artists' colony of Taos.
The center of the American Southwest, the "Land of Enchantment" didn't gain statehood until 1912. Today, New Mexico offers fantastic nature experiences, distinctive cuisine, and an impressive fine arts scene.
For ideas on the best places to visit, have a read through our list of the top tourist attractions in New Mexico.
1. Carlsbad Caverns National Park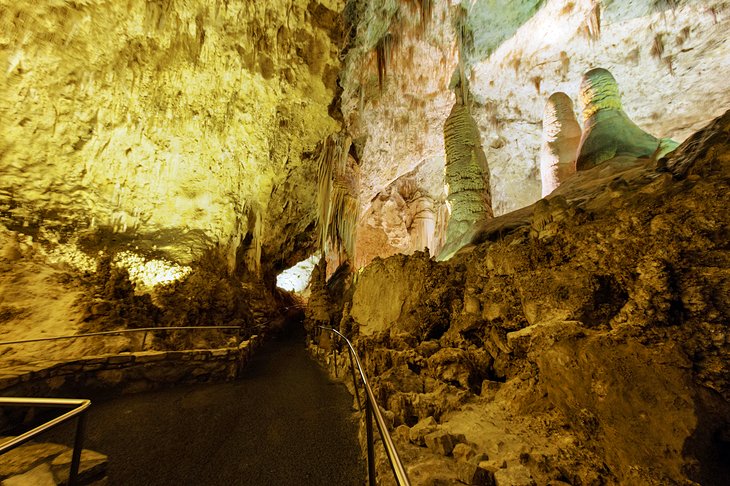 Carlsbad Caverns National Park
Comprised of nearly 120 known caves, Carlsbad Caverns National Park is hidden mostly underground. Carved from limestone deposited in an ancient sea, the alien underground landscape is one of the most famous New Mexico tourist attractions. The Park Service offers self-guided audio tours and ranger-led tours.
Visitors can also experience bat tours, trips to specific caves, and walks through the outlandish geological formations. Up above, visitors will find a wide range of opportunities for back-country hikes and backpacking. Be sure to bring ample water.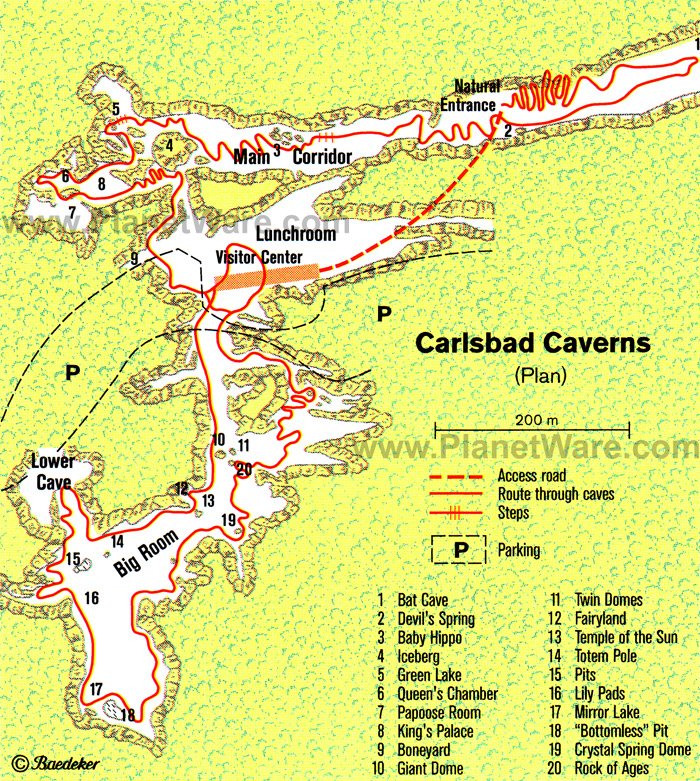 Carlsbad Caverns National Park Map (Historical)
2. White Sands National Monument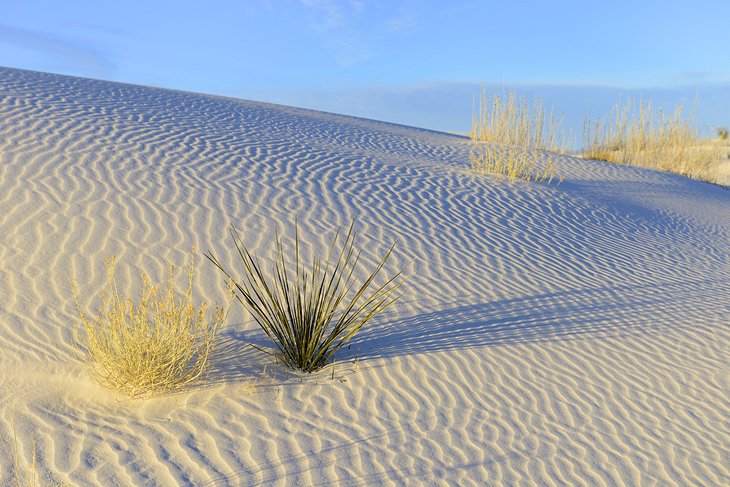 White Sands National Monument
White Sands National Monument is one of the most stunning landscapes in the state, located a half an hour's drive southwest of Alamogordo in the south of New Mexico. It lies in the Tularosa Basin, a northern offshoot of the Chihuahua Desert, and is surrounded by rugged mountains. Here, gleaming white gypsum sand has built up into an extraordinary landscape of dunes up to 60 feet high, which are constantly displaced by the wind.
If you didn't know better, you may be fooled into thinking that sand dunes look like giant snowdrifts. Park your car pretty much anywhere and start your adventure by just walking out into the dune landscape and finding a huge sand dune to explore.
One of the most popular things to do at White Sands is sledding. Round plastic saucers work well, but any sort of plastic snow sled will do the trick. The round saucers are available for purchase at the Park Store.
To get a feel for the vastness of the park, take the 16-mile (round trip) Dunes Drive. This scenic trip takes about 45 minutes, but plan on much longer, as you'll be sure to stop at the hiking trails, picnic tables, and exhibits.
3. Albuquerque International Balloon Fiesta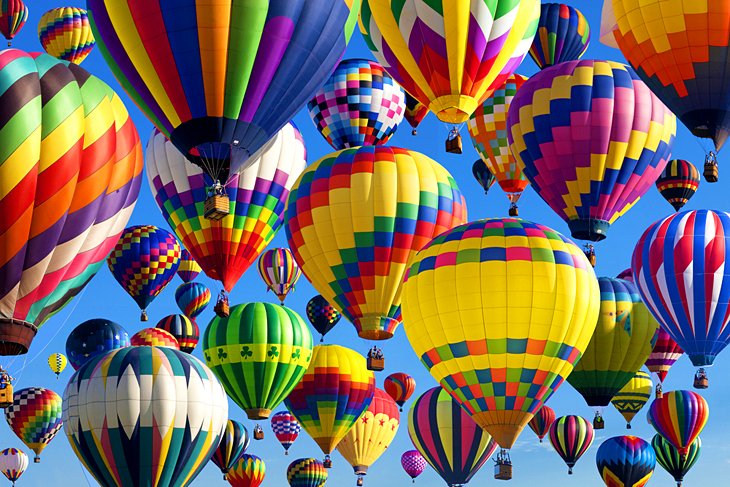 Albuquerque International Balloon Fiesta
Each autumn, Albuquerque hosts the world's largest hot air balloon festival, drawing crowds of more than 80,000 people.
The tradition, which started in a parking lot in 1973 with only 13 balloons, has grown to occupy a 365-acre park with more than 500 balloons participating.
This nine-day festival is kicked off by the breathtaking "Mass Ascension" and continues with unique displays of coordinated ballooning and nighttime presentations.
In addition to the brightly colored skies, the festival offers plenty of things to do, from kids' activities and live musicians to a juried craft show and dozens of street performers among the numerous vendors.
While in Albuquerque, tourists will enjoy sightseeing in the city's old town, where the Spanish first settled, also home to the Albuquerque Museum, which contains historical artifacts and exhibits about the area.
Address: 5000 Balloon Fiesta Pkwy NE, Albuquerque, New Mexico
4. Bandelier National Monument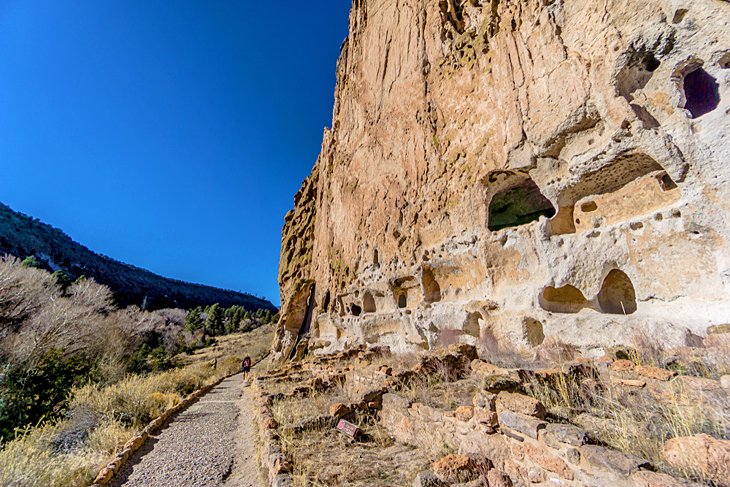 Anasazi dwellings in Bandelier National Monument
Bandelier National Monument is a 33,677-acre preserve encompassing some of the most dramatic volcanic landscapes and archaeological ruins in the state. Former home of ancestral Pueblo people, the area was likely occupied from AD 1150 to 1600.
Among the remains of the indigenous habitats are structures such as masonry walls and dwellings that were carved from the volcanic rock, as well as petroglyphs that illustrate the Pueblo culture and daily life. This national park has an educational museum, hiking trails, and campsites.
To visit the most popular area of Bandelier National Monument between the hours of 9am and 3pm, you will need to take the free shuttle. The bus runs every 30 minutes during the week and every 20 minutes on the weekend. If you have a pet with you, an exception is made and you can drive to the site at any time.
Location: 15 Entrance Road, Los Alamos, New Mexico
5. Petroglyph National Monument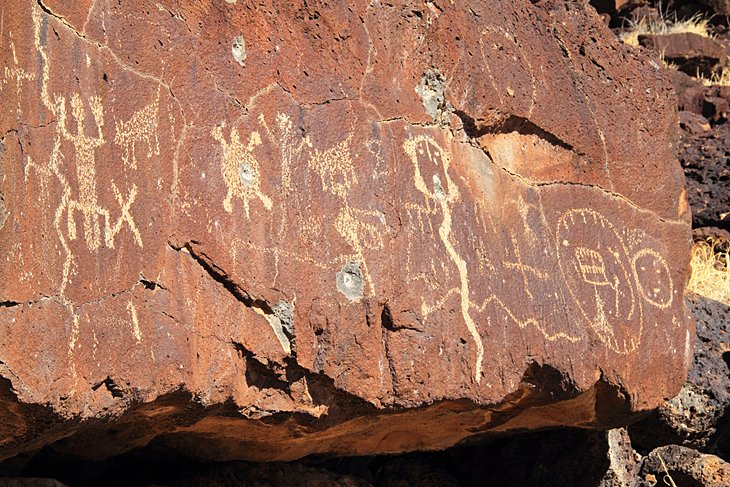 Ancient Native American rock art along the Rinconada Trail
The Petroglyph National Monument is managed jointly by the city of Albuquerque and the National Park Service, which help preserve this culturally significant site while educating visitors.
The area encompasses 7,244 acres consisting of a basalt escarpment, five dormant volcanoes, and an expansive mesa.
The park's most famous feature is its petroglyphs, images which were carved in the basalt by indigenous peoples and early Spanish settlers centuries ago. Approximately 20,000 petroglyphs are found within the park, many of which can be viewed from the hiking trails.
You'll find three main hiking routes, the least strenuous being Boca Negra Canyon, which has 100 petroglyphs along one mile of trails. Those who are up for a longer hike in the desert can take the 2.2-mile Rinconada Canyon trail or the 1.5-mile Marcadas Canyon Loop, each of which have around 300 petroglyphs.
Hikers should be aware of local wildlife, especially rattlesnakes, and should be well prepared with water for the longer treks.
Location: Western Trail NW, Albuquerque, New Mexico
6. Taos Pueblo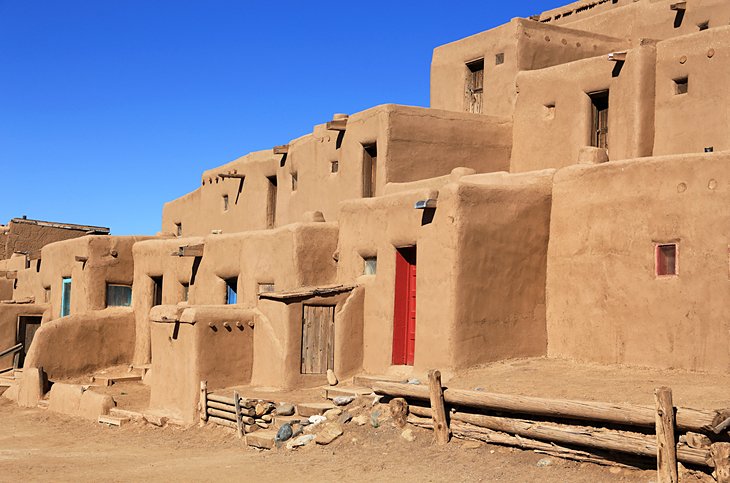 Taos Pueblo
Just outside the city of Taos, the Taos Pueblo has the oldest continuously inhabited dwellings in the United States. These adobe structures have stood for more than 1,000 years, constructed of straw-reinforced mud bricks and timber-supported roofs.
These apartment-style homes are up to five stories high, and around 150 people live within the old town full-time. An additional 2,000 reside on the 95,000-acre property in a variety of traditional and modern homes.
Residents welcome visitors to take a tour of the community, which has been designated both a National Historic Landmark and a UNESCO World Heritage Site. The Pueblo is closed to the public during several of its annual traditional events.
While visiting Taos, the easiest way to see the area's top attractions is on the Taos Highlights Small-Group Driving Tour . You'll visit the Pueblo as well as historic Taos Plaza, the St. Francis de Assisi Roman Catholic Church, and Gorge Bridge.
Address: 120 Veterans Highway, Taos, New Mexico
7. Santa Fe Plaza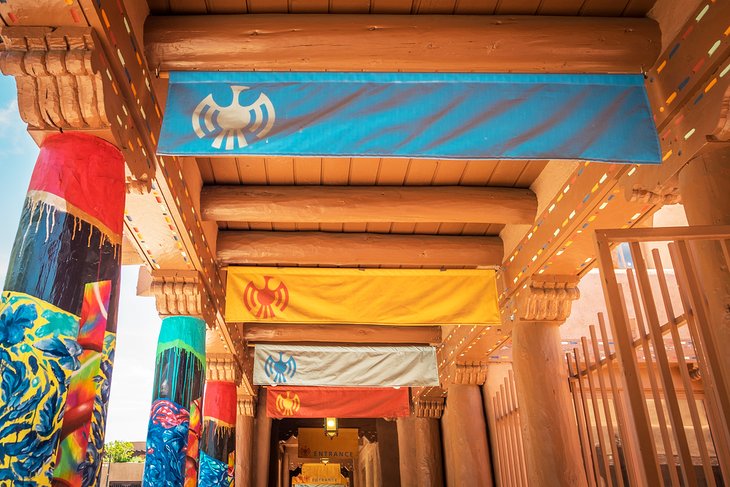 Santa Fe Plaza
Inevitably your journeys around New Mexico will take you through the capital city, Santa Fe. This is fortunate, as the city has a wealth of interesting things to see and do.
One of the most interesting places is the Santa Fe Plaza. It's here that you'll find historical buildings, along with colorfully painted walkways, restaurants, and all manner of shops selling things that are only found in New Mexico.
The Santa Fe Plaza is a pleasant spot to linger under the leafy trees in the center grassy area with a coffee in hand while the warm New Mexico sun filters through the shade to remind you that this is indeed a desert state.
As you relax here, give some thought to that blank space on your wall, or the mantle; chances are that any one of the many artists showcasing their work on the sidewalks will have just what you are looking for to bring home warm memories of this unique state.
8. Cumbres-Toltec Scenic Railway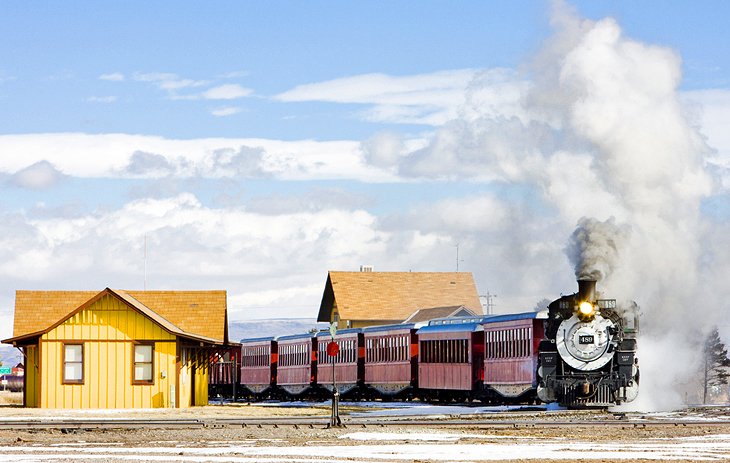 Cumbres-Toltec Scenic Railway
The Cumbres & Toltec Scenic Railroad is a narrow gauge heritage railroad that runs between Chama, New Mexico and Antonito, Colorado. Constructed in 1880-81, this cozy train ride traverses the 10,015-foot Cumbres Pass and heads through the dramatic Toltec Gorge. The ride offers stunning views of the surrounding land, from grassy, deer-filled, hillside meadows to stream-laced mountains.
This is the highest steam-powered railroad in the nation, and the ride has thrilling moments as it crosses the Cascade Creek trestle 137 feet in the air, climbs the face of a cliff, and doubles back dramatically on the Tanglefoot Curve.
Passengers will see many of the Railroad's original structures along the journey and have the chance to stop in the rustic Osier, Colorado halfway through the trip for a lunch break and some exploring.
9. Gila Cliff Dwellings National Monument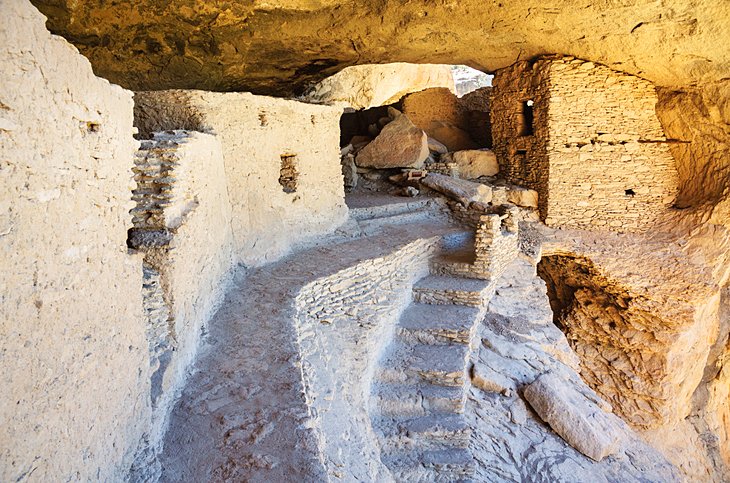 Gila Cliff Dwellings National Monument
North of the old mining town of Silver City are the Gila cliff dwellings: 42 rooms in six caves, built into the cliff face by the Mogollon Native Americans around the year 1300. Tourists can learn more about the Mogollon culture and the region's natural history at the museum in the visitor center.
Among the park's geological features are numerous natural caves, as well as hot springs, some of which can be reached by trail from the visitor center. Tours of the cliff dwellings are available, although visitors should take note that the tours start at the cliff dwellings themselves, and it takes about a half hour to walk up to them from the trailhead.
Address: 26 Jim Bradford Trail, Mimbres, New Mexico
10. Taos Ski Valley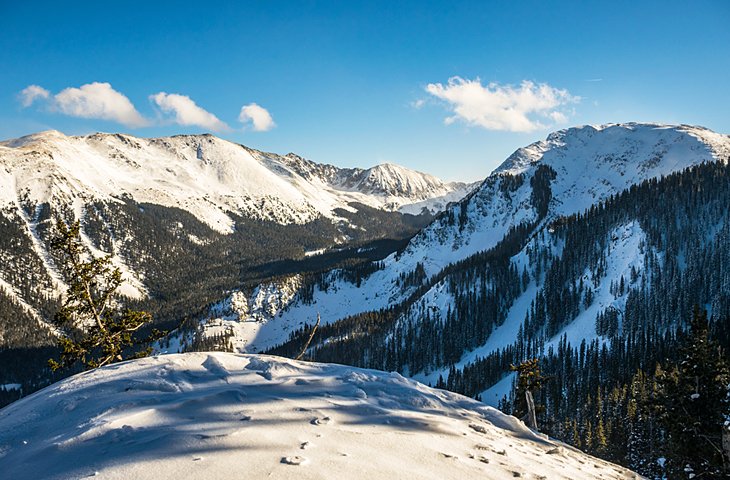 Taos Ski Valley
Northeast of Taos, in the Sangre de Cristo Mountains, at 8,900 to 12,500 feet, is the magically beautiful and excellently equipped winter sports region of Taos Ski Valley. This resort is considered the best of New Mexico's ski resorts.
In recent years, the ski resort has come under new ownership and undergone over $300 million in upgrades that have included new lifts and a revamped base area. Fortunately, the new ownership was careful to preserve the charm and vibe of Taos Ski Valley even with the changes and improvements.
Taos has always been known as a skiers' hill, with outstanding intermediate and advanced terrain. Half of the trails are for experts, but don't let that dissuade you from a visit, the ski school here is top-notch, and they'll have you conquering runs you never thought possible.
Finding good conditions here is rarely a challenge with the 25 feet of annual snow the resort receives.
11. Pecos National Historical Park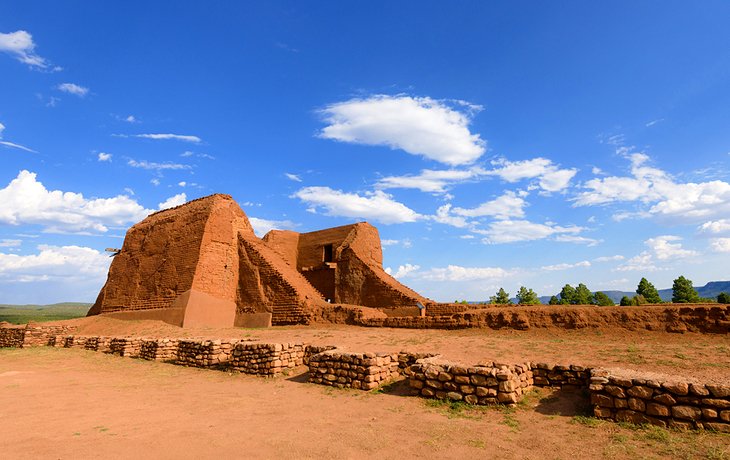 Pecos National Historical Park
Pecos National Historical Park encompasses what was once one of the largest Native American pueblos in the state.
It was inhabited from the early 14th century until 1838, with a population over 2,000. In 1990, the park was expanded to 6,600 acres. The visitor center contains exhibits and park information and also offers an Ancestral Sites Walking tour, a guided 1.25-mile hike that explores evidence of the area's indigenous peoples.
The park is also home to the Civil War battlefield of Glorieta Pass, which can be toured via a 2.25-mile trail with or without a guide. The visitor center also offers van tours of the Civil War site, as well as tours of nearby Forked Lightning Ranch.
Address: 1 Peach Drive, Pecos, New Mexico
12. The Very Large Array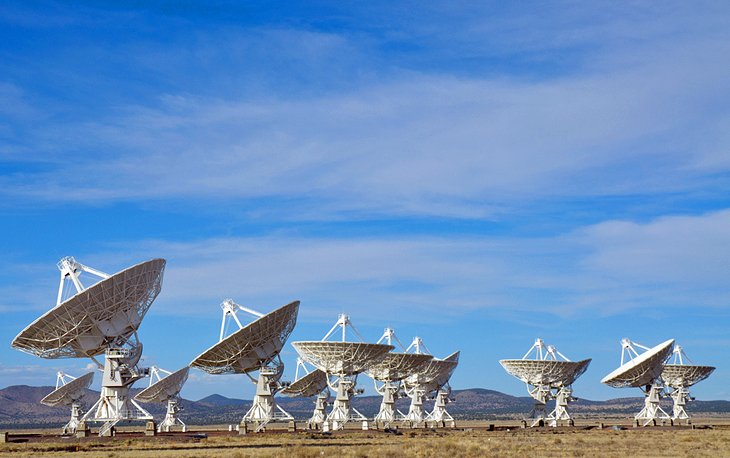 The Very Large Array
In the remote rolling hills west of Socorro, about two hours from Albuquerque, lies the Karl G Jansky Very Large Array (VLA) – a radio astronomy observatory located on the Plains of San Agustin. The array is used to observe black holes and other astronomical phenomena.
A number of self-guided walking routes run through the site, and the VLA also hosts free, guided tours on the first Saturday of each month. Though reservations aren't required, it is worth checking ahead for times. Tours begin from the VLA Visitor Center.
13. Chaco Culture National Historical Park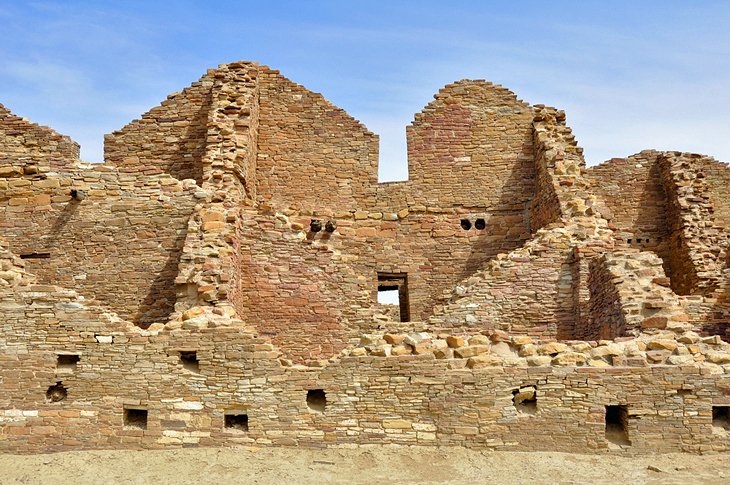 Chaco Culture National Historical Park
Perhaps one of the most stunning archaeological sites in all of North America, Chaco Canyon was occupied by ancestral Puebloan peoples from about AD 800 to 1200. It was a major center, comprised of 15 massive ruins and hundreds of smaller constructions. Located in a remote area northwest of Albuquerque, the park is also a UNESCO World Heritage Site.
Park facilities and activities include camping, an excellent interpretive center, interpretive and back-country hikes, and astronomy experiences from telescopes located in the canyon. Note that GPS and electronic directions in this area can be unreliable. Be sure to make a note of the directions on the park website.
14. Billy the Kid Museum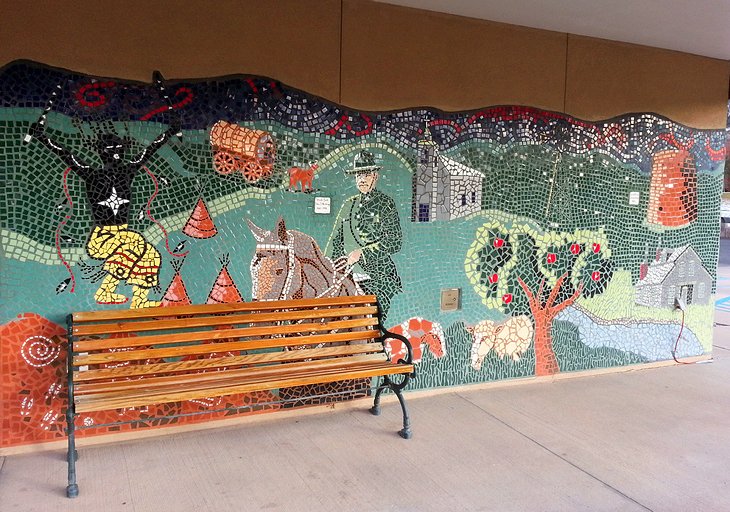 Billy the Kid Museum | ShashiBellamkonda / photo modified
Out on the eastern plains of New Mexico is the small town of Fort Sumner, the resting place of the infamous Billy the Kid. The lanky youth was shot and killed at the nearby Fort Sumner State Monument by Sheriff Pat Garrett at the age of 21.
The museum hosts the Kid's rifle, horse-riding equipment and the original Wanted poster. Rumor has it they even have some of his hair. The museum also has a collection of cavalry swords, old firearms, and antique cars and trucks. Guided tours are available.
15. Wheeler Peak Wilderness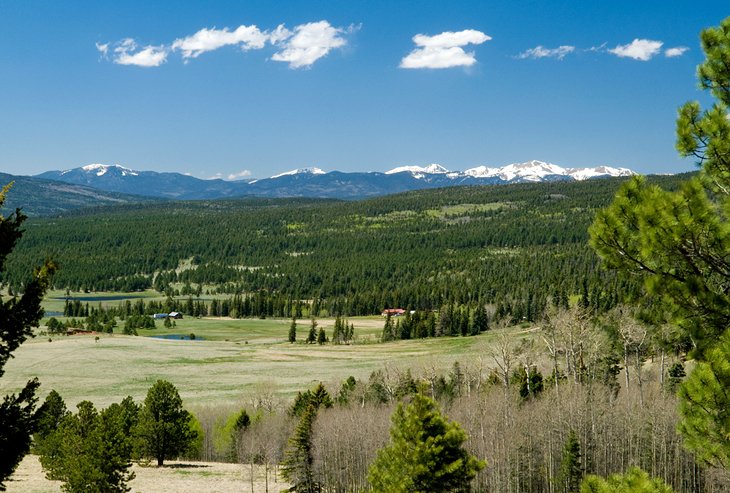 Wheeler Peak Wilderness
The highest point in New Mexico is the summit of Wheeler Peak, at 13,161 ft. The mountain is next to Moreno Valley near Angel Fire in the Carson National Forest, in the Sangre De Cristo mountain range.
The area is home to a variety of wildlife and visitors may be lucky enough to see marmots, pikas, elk, mule deer, bighorn sheep, and golden eagles. Hiking is one of the most popular things to do with several trails, most ranging from four miles to eight miles long.
Due to the elevation, Wheeler Peak Wilderness Area enjoys moderate summer temperatures and cold winters, when temperatures regularly fall below freezing. Most visitors come here during the summer months, which are warm but also a little wet. July and August are the rainy months, so be sure to bring a rain jacket to deal with passing showers.
16. International UFO Museum and Research Center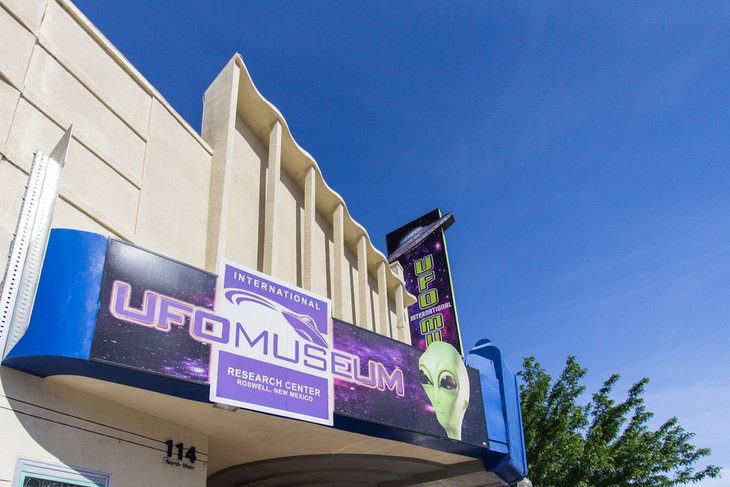 International UFO Museum and Research Center | ehrlif / Shutterstock.com
A top tourist attraction in Roswell, the international UFO Museum and Research Center was opened in 1992 as an information center inspired by the 1947 "Roswell incident."
This widely speculated event put Roswell on the map as a hub of UFO activity and curiosity. Despite this, the museum's intention is not to convince visitors to believe in extraterrestrial life or government conspiracy theories. Exhibits take an objective look at local events, as well as numerous others around the world, inviting visitors to come to their own conclusion.
The museum contains a variety of material, including documents, eyewitness accounts, and artifacts related to UFO research. Tourists interested in Roswell's alien mystery will also enjoy one of the many local "UFO tours" that visit spots like Building 84 at the former army base where the downed craft and its occupants were allegedly brought by military personnel.
Address: 114 N Main Street, Roswell, New Mexico
17. Georgia O'Keeffe Museum
Georgia O'Keeffe Museum in Santa Fe | Fred Mays / Shutterstock.com
Art lovers will want to make sure they visit the wonderful Georgia O'Keeffe Museum in Santa Fe. This icon of the modern art movement shook up the established art world with her incredible works of art depicting New York skyscrapers and her special take on illustrating flowers.
The museum is home to over 150 of her works and hosts special exhibits from private collections from time to time. In addition to the artwork, the museum has a very active roster of classes, speakers, and other events, making it one of the top cultural sites in Santa Fe.
If you'd like to learn more about the artist, tours of Georgia O'Keeffe's homes and studios are available in Abiquiu, approximately 50 miles from Santa Fe.
Source https://www.meganstarr.com/best-places-to-visit-new-mexico/#:~:text=Valles%20Caldera%20(or%20Jemez%20Caldera)%20is%20one%20of,domes,%20and%20hot%20springs.%20Valles%20Caldera%20National%20Preserve
Source https://www.touropia.com/best-places-to-visit-in-new-mexico/
Source https://www.planetware.com/tourist-attractions/new-mexico-usnm.htm