10 Best Places to Visit in New Hampshire
Lying in the northeast of the States, New Hampshire is a wonderful place to visit and is renowned for its astounding natural beauty. With majestic mountains and endless forests found alongside its glittering Lakes Region and small stretch of Atlantic coastline, it really is no wonder that locals are so proud of the dazzling landscapes on display.
Among the best places to visit in New Hampshire are the state's stunning natural sights which lend themselves perfectly to outdoor adventuring such as hiking, camping, kayaking and skiing. One of the best times to visit is during fall when all the leaves on the trees turn a myriad of yellows, oranges, and reds.
Tucked away among all these incredible landscapes are some charming towns and cities which are home to some of the oldest historical sights and cultural landmarks in the whole of the U.S.
10. Keene [SEE MAP]
© Maureen Mchugh / Dreamstime
Founded all the way back in the early 1700s, Keene has long been an important commercial and cultural center. As such, there are some wonderful old brick buildings to be found lining its Main Street, with some fine churches also sprinkled around town.
A very pretty and picturesque city, Keene has a lively and youthful feel to it thanks to its large student population. Lots of great bars and restaurants can be found around its historic downtown area.
While its fantastic Colonial Theater attracts locals and out-of-towners alike with its packed calendar of music, film, and cultural events, many others come to enjoy the annual Keene Pumpkin Festival, which is lots of fun to take part in.
In addition to this, Keene is also a great place to head to if you love the great outdoors, as the wilderness of Mount Monadnock State Park lies nearby.
9. Mount Monadnock State Park [SEE MAP]
© Deborah Hewitt / Dreamstime
Dominated by the lofty peak of the same name that lies at its heart, Mount Monadnock State Park is a great place to go hiking or skiing; there are a plethora of great paths and cross country skiing trails for you to try out. Meandering their way over hills and through highlands, these routes take you past some fabulous scenery, as verdant forests stand alongside babbling brooks and impressive rock formations.
One of the most popular trails is the White Dot and White Cross loop to the summit of Mount Monadnock. The views from the top of the surrounding countryside are so astounding.
For visitors looking to really immerse themselves in the plentiful natural bounties, camping a night in the state park is a magical experience. A particularly pleasant time of year to visit is during fall, when the leaves turn from lush green to auburn and orange.
8. Bretton Woods Mountain Resort [SEE MAP]
© Chee-onn Leong / Dreamstime
Located in White Mountains National Park with majestic snow-capped peaks all around it, Bretton Woods Mountain Resort is home to the largest ski area in New Hampshire and is simply a must if you're looking to hit the slopes.
Renowned for being a popular haunt of the rich and famous in the early 20th century, the resort saw U.S. presidents and celebrities stay. Consequently, it should come as no surprise to learn that there are lots of excellent dining options, golf courses, and spas for you to try out.
Surrounded by breathtaking scenery with over a hundred trails and pistes on offer, Bretton Woods Mountain Resort is well worth checking out if you want to relax in style and make the most of the staggering natural sights all around you.
7. Hanover [SEE MAP]
© Luckydoor / Dreamstime
Lying on the banks of the Connecticut River, right opposite its sister city of Norwich in Vermont, Hanover is famed for being the home of the prestigious Dartmouth College. Much of life in town is dominated both by its campus and its sizeable student body.
One of the oldest higher education institutions in the whole of the U.S., the Ivy League college has some lovely old buildings for dotted around its green and spacious campus, with several great bars, cafes, and restaurants found around Main Street.
Other than visiting the college, there is not all that much to do in town, so visitors may want to hike along part of the Appalachian Trail that runs through Hanover.
6. Concord [SEE MAP]
© Jon Bilous / Dreamstime
The capital of New Hampshire, Concord, is a charming place to spend some time. Its magnificent State House is undoubtedly the highlight of what is on show. Built in a Greek Revival style, the facade of the building is certainly very eye-catching, especially when its golden dome sparkles in the sun. The State House takes its pride of place on the city's bustling Main Street.
Around this historic area, you can find a number of elegant old buildings, all built out of the same tough-looking granite, as well as lots of cozy cafes, shops, and restaurants. Due to its proximity to both the Canterbury Shaker Village and Manchester, it is well worth combining your visit to Concord with a trip to either location – or any one of the lovely state parks that lie nearby.
5. Mount Washington State Park [SEE MAP]
© Amelia Takacs / Dreamstime
Named after the majestic peak that lies at its heart, Mount Washington State Park is full of magnificent scenery. Nature lovers and outdoor aficionados will revel in all that it has to offer. The highest mountain in the northeast of the States, Mount Washington towers to a height of 6,288 feet (1,916 meters).
Its summit contains an observatory of the same name and an accompanying museum, as well as a cafeteria and gift shop. The views from its peak of the surrounding mountains and forests are simply breathtaking. After drinking in the scenery to your heart's content, there are lots of paths and trails that snake their way down the mountainside for you to explore.
4. Portsmouth [SEE MAP]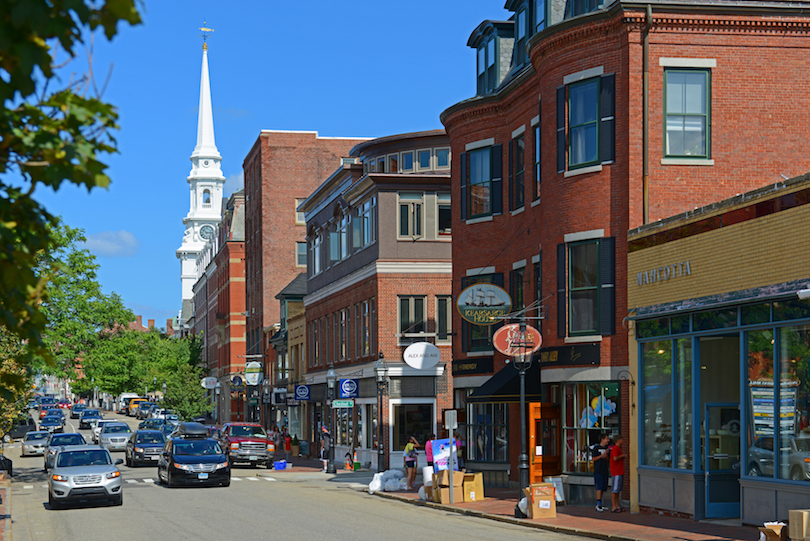 © Wangkun Jia / Dreamstime
Lying at the mouth of the Piscataqua River just a few kilometers inland from the Atlantic Ocean, Portsmouth is home to a bustling seaport and is the third-oldest city in the whole of the States.
As such, there are loads of fascinating historic sights and cultural landmarks for you to check out around town. Elegant, tree-lined avenues lined by beautiful old colonial buildings make up much of its center.
With several interesting museums also on offer, alongside some fantastic microbreweries, Portsmouth is an intriguing mix of old and new. The vibrant feel about its streets is simply intoxicating as the city thrums with life.
3. Manchester [SEE MAP]
© Jon Bilous / Dreamstime
The largest city in the state, Manchester is a vibrant place to visit and has the most going on in terms of arts and culture, entertainment, and sports in New Hampshire. As such, it attracts many visitors from both near and far.
Its convenient location near to both Boston and the Atlantic Ocean – as well as Lake Winnipesaukee and the White Mountains National Forest – makes it a great base from which to explore the region.
The revitalized mill town has a multitude of shops, restaurants, and bars for you to sample, while the Currier Museum of Art is well worth a visit; its fantastic collection includes works by Monet, Picasso, and Matisse.
Other interesting and educational institutions include the Amoskeag Fishways Learning and Visitors Center and the Manchester Historical Society Millyard Museum – both of which teach you more about local life in the area. With so much going on, it is well worth spending a couple of days in Manchester to take in the atmosphere, see the sights, and explore the surrounding region.
2. Lake Winnipesaukee [SEE MAP]
© Pitsch22 / Dreamstime
Bewitchingly beautiful to behold, Lake Winnipesaukee is the sixth-largest lake in the U.S. Its rugged and indented coastline is lined by wonderful forests, with scenic bays and charming towns dotted here and there. A very popular tourist destination, Lake Winnipesaukee has a wealth of great water sports for visitors to enjoy. Swimming in the lake or going sailing around its many, many islands are favorite pastimes among both locals and tourists.
Alternatively, you can simply relax on one of the lake's many beaches or go on a peaceful hike along its scenic shore to take in the astounding views. Lying at the heart of New Hampshire's Lakes Region, Lake Winnipesaukee is not far from many other beautiful lakes and natural sights, so holidaymakers will never be found wanting for something to do.
1. White Mountain National Forest [SEE MAP]
© Jon Bilous / Dreamstime
One of the most popular attractions in the whole of New Hampshire, White Mountain National Forest is an absolute delight to visit, with some simply stupendous scenery for you to enjoy. With a number of mountain ranges, such as the Presidential Range and Sandwich Range, winding through the never-ending forest, there are loads of majestic peaks, as well as a plethora of unique fauna and flora.
Hidden away among the dense foliage are moose, black bears, and bald eagles, along with many more diverse species. Camping overnight in the national forest is a great way to really immerse yourself in the magnificent nature all around you.
As well as the Appalachian Trail that winds its way through the mountains and forests, there is a multitude of other great trails and paths for you to explore. A particularly delightful time of year to visit is during fall when all the foliage transforms into a magical array of yellows, reds, and oranges.
Map of the Best Places to Visit in New Hampshire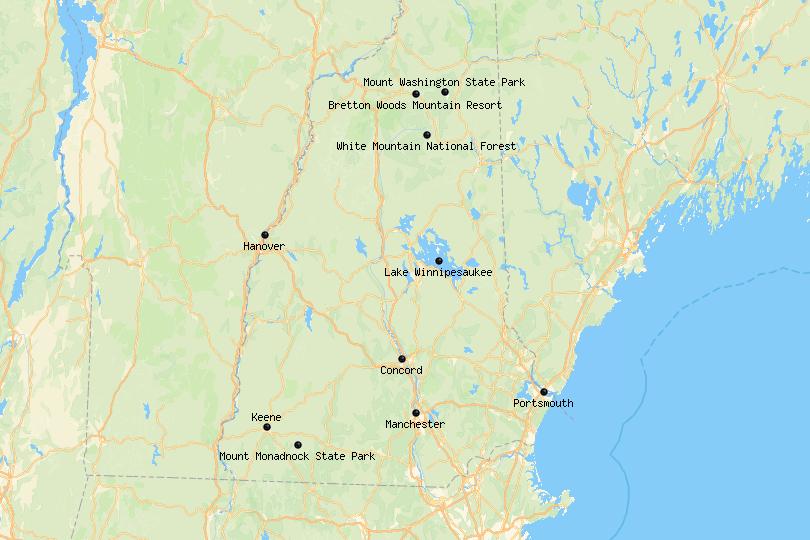 © OpenStreetMap © MapTiler © Touropia
25 Best Places to Visit in New Hampshire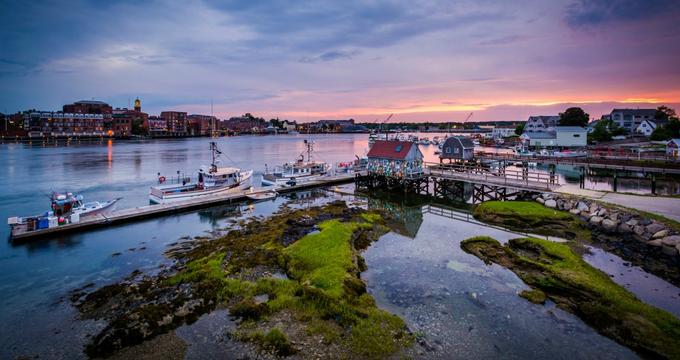 Nestled between Maine, Vermont, and Massachusetts, New Hampshire is a popular year-round getaway destination. The state is renowned for its historic homes and heritage museums to explore, charming small towns, lakes, beaches, bustling culture-filled cities, and wide open spaces waiting to be explored. Here are the best places to visit in New Hampshire.
We recommend that you call the attractions and restaurants ahead of your visit to confirm current opening times.
1. Concord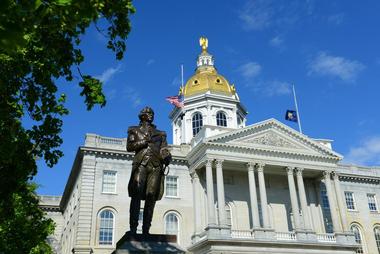 Concord is the capital of New Hampshire and offers visitors a variety of interesting, fun, and educational attractions. You can start your visit in the revitalized downtown, which forms the hub of the city and serves as the starting point for a tour of the impressive New Hampshire State House.
Concord has a thriving arts scene you can uncover at the Capitol Center for the Arts. Families can have some educational fun at the McAuliffe-Shepard Discovery Center. You can spend time outdoors along some of the 30 hiking trails.
Fun day trip ideas: Getaways in California, East Coast beaches, NC quick trip, Romantic weekend getaways — You are reading "25 Best Places to Visit in New Hampshire" Back to Top
2. Portsmouth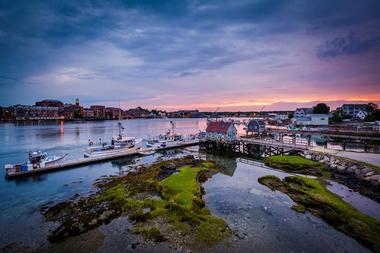 Portsmouth was settled in 1623, making it the third-oldest town in the USA. Consequently, history buffs will find plenty of interesting museums and historic sites to explore, starting with the Strawbery Banke Historic District.
Here you can visit a few historic homesteads that date back to around 1760 and then move on to tour some museums, including the American Independence Museum and the Discover Portsmouth Center. For a break from history you can visit Hampton Beach, go on a whale watching boat tour or an Adventure Lobster Tour, hit the Lighthouse trail, or visit a few local breweries. Families should make time to visit the Children's Museum of New Hampshire, York Wild Kingdom, Water Country, and the Seacoast Science Center. Things to Do in Portsmouth
Things to do near me today: Getaways from Seattle, NC day trips, FL, Near Atlanta, AL — You are reading "25 Best Places to Visit in New Hampshire" Back to Top
3. Places to Visit in New Hampshire: Nashua
Nashua is New Hampshire's second largest city and has a good mix of historic, cultural, and outdoor activities on offer. There is a well-preserved collection of historic buildings that you can tour on foot in the Nashville Historic District just north of Downtown. Be sure to include a visit to the Abbott-Spalding Building (one of the oldest dating back to 1804 that now operates as a museum).
While you are in the area you can take a detour to Greeley Park, which is a large green space offering ball-fields, gardens, hiking trails, and a boat ramp. For more hiking choices, you should head to Mine Falls Park, which is also good for cycling, picnics, and kayaking on the river. Art lovers should visit in October to enjoy the annual Art Walk Weekend.
Our experts' top picks for a long weekend getaway: CO, From San Diego, VA, OH, WI, MI, IL, IL Places, VA, San Diego, TX — You are reading "25 Best Places to Visit in New Hampshire" Back to Top
4. What to Do Near Me: Manchester
Manchester is known as New Hampshire's business capital, but there are also many fun activities for visitors here. You can choose from two Historic Walking Tours, both of which showcase historic architecture and include interesting museums and landmarks.
The arts are very much alive and well in Manchester, and you can feast your eyes on the great collection at the Currier Museum of Art or catch a live performance at the Majestic Theatre or Palace Theater. The city has a large selection of parks and recreation areas where you can go hiking and biking, and in winter the McIntyre Ski Area beckons skiers and snowboarders. The interactive SEE Science Center is a must-do attraction for families. Things to Do in Manchester
More places we like: NC beaches, Ft Lauderdale, Day trips from NYC, From Chicago, PA, CT, CA, Hilton Head, Castles in Texas, GA beaches — You are reading "25 Best Places to Visit in New Hampshire this Weekend with Friends" Back to Top
5. Places to Visit in New Hampshire: Hanover
Hanover ticks all the boxes for a great New-England style holiday along the scenic Connecticut River. There are excellent indoor and outdoor attractions for all ages and seasons, and you will never have a dull moment. You could start your visit at the hands-on Montshire Museum of Science, or learn about history at Old Constitution House and the Enfield Shaker Museum.
Outdoor enthusiasts can try canoeing with the Ledyard Canoe Company, hike along a portion of the Appalachian Trail, or head to the Dartmouth Skiway and Suicide Six Ski Areas for winter fun. To admire the stunning fall colors you can hop aboard the Fall Foliage Train Ride. Foodies head to the Sugarbush Cheese and Maple Farm for local produce.
Expert opinion: Where should I go this weekend for fun? FL, CA, Myrtle Beach, OR, New England weekend, Charlotte, Williamsburg, LA, PA — You are reading "25 Best Places to Visit in New Hampshire this Weekend" Back to Top
6. Weekend Getaway: Keene
The City of Keene exudes small-town charm and offers visitors an interesting and relaxing getaway destination. Absorb the atmosphere as you stroll through the picturesque downtown, which contains a mix of historic and modern buildings housing restaurants and shops and a colorful Central Square.
You can introduce the children to a real working farm at Stonewall Farm, go on a scenic drive to find Covered Bridges, or go hiking in Mount Monadnock area. You can learn about the town's history at the Wyman Tavern Museum and the Horatio Colony Museum, which is housed in a historic building dating back to 1806. Round off your day with a great New Hampshire dinner and then catch a show at the Colonial Theatre or the Peterborough Community Theatre.
Top Rated: Last minute places for couples: Southwest, New England, TN, KS, NY, From Houston, From Palm Springs, From Chattanooga, From Detroit, NJ — You are reading "25 Best Places to Visit in New Hampshire" Back to Top
7. Places to Visit: Salem
Salem is situated at the southern gateway to New Hampshire and offers easy access to Boston, which makes this little rural town an ideal base for exploring the area. For a day of family fun you can head to Canobie Lake Park to enjoy over 40 rides, including some specially suited to children; if you visit in summer you may catch an open-air concert.
Astronomy enthusiasts will enjoy America's Stonehenge where you will learn about the mysterious astronomic rock calendar. The kids can enjoy the petting zoo, and you can hike some of the trails. You can also go hiking in Salem Town Forests where the trails are particularly scenic in fall. The Mall at Rockingham Park beckons shoppers with over 150 stores and more than ten eateries.
Affordable things to see near me, must-visit beaches: OK, Small Town, AL, MI, FL, From Nashville, ND — You are reading "25 Best Places to Visit in New Hampshire" Back to Top
8. Places to Visit in NH: Dover
Originally settled in 1623, Dover is New Hampshire's oldest town, and wherever you look there are historic buildings and sites to delight history buffs. You can take a walking tour along the streets around downtown where you can see the old restored cotton mills, now home to interesting modern shops, art galleries, and restaurants.
The Children's Museum of New Hampshire is a must-visit attraction for families, and those wanting to see a really unusual and whacky museum should not miss the Woodman Institute Museum. Outdoor enthusiasts can follow the Riverwalk from Downtown to the Cocheco River where canoeing and kayaking are popular summer activities. There are also many hiking trails to explore and several annual festivals and events to attend.
9. Places to Visit in NH: Rochester
Rochester is nestled in the picturesque Lakes Region of New Hampshire and offers visitors a blend of small-town charm combined with city attractions. Lovers of the arts will be delighted to visit one of the revolving venues of the Rochester Museum of Fine Arts or attend the opera at the Rochester Opera House.
You can learn about local history at the Historical Society's Museum on Hanson Street or get outdoors and be active in the Mount Isinglass Recreational Area or at Pickering Ponds, where there are a choice of hiking trails. You can also go hiking, camping, and boating at Baxter Lake and Sunrise Lake or take a scenic drive in the surrounding countryside to see the fall foliage.
10. Weekend Getaway Near Me: Plymouth
The town of Plymouth is perfectly positioned between the White Mountains and the Lakes region of New Hampshire, offering visitors a great choice of outdoor activities. Starting close to town, you can go hiking, biking, or cross-country skiing in Langdon Park, which also has a children's playground and a small river beach.
A little farther out you will find Tenney Mountain, where you can go rock climbing, kayaking, biking, and fishing in summer and skiing in winter – guides and lessons are available. Adventure seekers will particularly enjoy Adventure Gorge, which combines a chairlift ride with a thrilling 3,000-foot zip-line descent. Back in town you can enjoy a great New Hampshire dinner and catch a show at the Silver Center for the Arts.
11. Places to Visit in New Hampshire: Derry
The town of Derry is situated in Rockingham County in New Hampshire around 45 miles from Boston. There are good outdoor recreational activities for visitors, and the town's close proximity to Boston, Manchester, Nashua, and Lawrence make Derry a good base for exploring the region.
You can take a guided tour of the Robert Frost Farm State Historic Site to learn all about the New Hampshire's most note-worthy poet, or spend a day in the Taylor Mill State Historic Site in Ballard Forest, where besides touring the old mill you can also go hiking, kayaking, fishing, and picnicking. Back in town you can visit several local breweries, play a round of golf, or enjoy a hot-air balloon adventure with High 5 Ballooning.
12. New Hampshire Attractions: Franconia Notch State Park
The Franconia Notch State Park is located right in the heart of the White Mountain National Forest and beckons visitors with gorgeous scenery and great outdoor recreational activities. You can drive the very scenic Franconia Notch mountain pass for wonderful views and stop at the Flume Gorge Visitor's Center to walk through the dramatic 70 to 90-foot deep gorge.
You can take a ride on the Cannon Mountain Aerial Tramway and visit the New England Ski Museum at the base station. Other activities to enjoy in the park include camping (both tents and RV's are catered for), fishing, swimming, canoeing, kayaking, cycling and hiking in summer, and a full range of snow-sports in winter.
13. State Parks Near Me: Echo Lake/Cathedral Ledge State Park
Situated in Bartlett, New Hampshire, the Echo Lake State Park provides an excellent outdoor playground for both families and adventure seekers. At the heart of the park lies Echo Lake, watched over by the towering 700-foot Cathedral Ledge.
You can start your visit by taking a short one-mile drive to the top of Cathedral Ledge for sweeping views all the way to the White Mountains, or if you are feeling more energetic you can hike up to the viewpoint via various trails. Echo Lake is perfect for swimming, canoeing, kayaking and fishing and both Cathedral Ledge and the near-by White Horse Ledge provide adventure seekers with excellent rock and ice-climbing walls.
14. Places to Visit: Flume Gorge
Walking though Flume Gorge is definitely one of the highlights of any visit to the Franconia Notch State Park in the White Mountain National Forest. Before you walk through the Gorge you can drop by the Visitor's Center to watch a 20-min movie that showcases the beautiful Park. Flume Gorge is quite dramatic – the sheer walls of the gorge are up to 90 feet high in places and are just 12 to 20 feet apart.
You can walk along the floor of the gorge along a boardwalk to see some impressive waterfalls and glacial boulders. If you like, you can extend your walk to include Liberty Gorge where a lovely cascading stream flows through the narrow valley.
15. New Hampshire Attractions: Hampton Beach State Park
If you are looking for an ideal seaside family holiday destination, chances are that Hampton Beach State Park will suit you perfectly. Campers will be delighted to know that they can bring their tent or RV to the campsite situated directly on the beach at the mouth of the Hampton River.
From here you will have fantastic Atlantic Ocean views and access to miles and miles of clean sandy beaches perfect for swimming and fishing. If you are a day visitor, you can enjoy the picnic facilities and the children's playground. Near-by area attractions include whale-watching tours and fishing charters, Para-sailing, surfing, and stand-up paddling.
Near me on a budget: Plattsburgh, Washington islands, La Jolla, Connecticut resorts, Wisconsin, Beaches near Boston — You are reading "25 Best Places to Visit in New Hampshire" Back to Top or Amazing things to do around me
16. Kids Activities Near Me: Lost River Gorge and Boulder Caves
The fascinating Lost River Gorge and Boulder Caves in the White Mountains were carved out of the earth by wind, water, and massive receding glaciers during the Ice Age. Today you can explore this beautiful gorge on foot along a boardwalk, or you can be more daring and venture into some of the many caves.
Joining one of the regular sun-set guided Lantern Light Tours is a highlight of any visit to Boulder Caves. In addition to the boardwalk path, you can also hike the Kinsman Notch Ecology Trail and the Nature Garden Walk, and experienced fit hikers can take on the Dilly Cliff Trail. Children can pan for gemstones or join the Junior Gorge Guide program. The Gorge is open from May to October.
17. Places to Visit Near Me: Prescott Park
Prescott Park is a large public green space alongside the Piscataqua River on what was once a derelict piece of ground in the Portsmouth waterfront. Josie and Sarah Prescott donated the park to the citizens of Portsmouth, and it has become a popular site for summer festivals. You can enjoy strolling through the lovely gardens, which feature formal gardens, lawns, fountains, and experimental flower beds.
There are three boardwalk piers and a public docking area, so you can bring your boat and explore neighboring Four Tree Island, which has picnic tables and barbecue grills. There are also a few historic buildings to admire including the 200-year old Shaw's Warehouse, which features the original all-wood construction and Sheaf's Warehouse, which dates back to 1705.
18. Trails Near Me: Mine Falls Park
Mine Falls Park covers 325 acres of sprawling green space in the heart of Nashua City where locals and visitors will find a shady oasis perfect for recreational activities. You can visit the park to play some baseball or soccer or simply take a walk in the green verdant surroundings.
Both walkers and hikers can enjoy six miles of trails that wind along the banks of the hand-dug canal, which dates back to the 1880s and was used to bring in water to power local mills. You can cycle the paved area of the trail or bring a mountain bike to tackle the graveled parts. Many people come to the park to fish or enjoy boating on the Nashua River, and in winter you can bring snow shoes or cross-country skis.
19. New Hampshire Attractions: Sabbaday Falls
A short and easy hike along the Sabbaday Brook Trail, which you can find just off Route 112/Kancamagus Highway, will bring you to one of New Hampshire's most beautiful waterfalls in less than half a mile. The Sabbaday Falls are the most striking feature of a deep rocky gorge thought to have been formed when Ice Age Glaciers carved deep fissures into the earth's surface.
You can follow the paved path, walking bridges, and steps to see all three sections of the waterfall, which drops a dramatic 35 feet in a series of cascades, ending in a beautiful natural rock pool at the base. (Unfortunately, no swimming is allowed).
20. Mountains Near Me: West Rattlesnake Mountain
If you enjoy hiking, wide open spaces, and rare plants then visiting West Rattlesnake Mountain near Holderness, New Hampshire is a must-do activity to add to your itinerary. You can reach the summit of the mountain along Old Bridle Path and Ridge Trail in about ninety minutes (or less, depending on your fitness levels and how much time you spend admiring the scenery), and the hike is considered to be easy/moderate.
At the summit you will be rewarded for you efforts by sweeping views of Squam Lake and its many islands. The trail is suitable for dogs (on leads), and you could bring a picnic to enjoy under a shady tree.
21. Places to Visit: Isles of Shoals
The Isles of Shoals are a group of nine small islands located off the east coast of New Hampshire and Maine near Portsmouth. Most of the islands are privately owned and off limits to visitors, but you can visit Star Island and stay overnight in the old Oceanic Hotel, which first opened in 1873, or in one of a few Victorian era guesthouses.
The only way to reach Star Island is to hop aboard an Isles of Shoals Steamship Company Cruise during the summer months. The scenic cruises are narrated, and you can go on a guided walking tour of the island when you arrive. Several other companies offer cruises around the Isles of Shoals, but none of them have docking privileges.
22. New Hampshire Points of Interest: Odiorne Point State Park
Odiorne Point State Park occupies a rugged sea-front piece of land in Rye, near Portsmouth, and it is the site of the first European occupation in New Hampshire. Odiorne Point is a day-use park, and there is a long list of activities for all ages including boating, fishing, canoeing, and kayaking, as well as miles of trails for mountain biking and walking, many of which are handicap accessible.
Children can enjoy exploring the rock pool and having fun in the playground, and everyone will love the hands-on activities at the Seacoast Science Center. You can bring along a picnic and enjoy a great family day out.
Romantic resorts & ideas: WA, AL, College towns, MI — You are reading "25 Best Places to Visit in New Hampshire" Back to Top
23. National Parks Near Me: White Mountains National Park
The fabulous White Mountains National Park is an ideal destination for all nature lovers and outdoor enthusiasts, offering a plethora of activities for all abilities. If you enjoy hiking, you will love this park – there are over 1200 miles of trails from easy family strolls to strenuous high-altitude hikes.
You can also go back-country hiking and enjoy some primitive camping. Other activities include boating on Elbow Pond, fishing, picnicking, rock climbing, and wildlife watching. Children will enjoy gold panning and rock hounding or enrolling in a Junior Ranger program. In winter there is a full menu of winter sports to enjoy, including skiing, snowboarding, sledding, tubing and snowmobiling. Camping enthusiasts have over twenty-three campgrounds to choose from.
24. New Hampshire Points of Interest: Madame Sherri Forest
The Madame Sherri Forest near Chesterfield in New Hampshire is named after the eccentric and rather infamous Madame Antoinette Sherri, who once lived in an extravagant "castle" on the site of the forest. The forest is the starting point of one of the region's most popular hiking trails, the Ann Stokes Loop Trail, which winds through two miles of beautiful New Hampshire landscape and covers several different terrains.
Along the way you will be able to see all that remains of the Madame Sherri "castle" after it was destroyed by a fire in 1962. Remnants of the chimney, foundations, and a grand staircase will give you an idea of the grand scale of the former building. Hikers can also explore several other scenic trails in the forest.
25. Islands Near Me: Peirce Island
Peirce Island juts into the Piscataqua River just south of Portsmouth and provides locals and visitors with a 27-acre recreational area. Here you can come and explore an unexpected variety of interesting features that include tidal pools, meadows, salt marshes, and rocky cliffs, all surrounded by the Piscataqua River, which offers good boating opportunities.
You can go kayaking or canoeing on the protected waters of Little Harbor or sail off to Great Bay and the Atlantic Ocean. You can enjoy swimming in an enormous 100-meter outdoor swimming pool or set off to walk along several walking trails that will lead you to picnic areas and very scenic lookout points. The island is a popular jump off site for scuba diving with good marine life to be observed.
25 Best Places to Visit in New Hampshire
, Photo: Courtesy of jiawangkun – Fotolia.com , Photo: Courtesy of jonbilous – Fotolia.com , Photo: Courtesy of jonbilous – Fotolia.com , Photo: Courtesy of SeanPavonePhoto – Fotolia.com , Photo: Courtesy of spirit of america – Fotolia.com , Photo: Courtesy of duke2015 – Fotolia.com , Photo: Courtesy of nd700- Fotolia.com , Photo: Courtesy of jonbilous – Fotolia.com , Photo: Courtesy of demerzel21 – Fotolia.com , Photo: Courtesy of duke2015 – Fotolia.com , Photo: Courtesy of clements photo – Fotolia.com , Photo: Courtesy of catuncia – Fotolia.com , Photo: Courtesy of Ritu Jethani – Fotolia.com , Photo: Courtesy of littleny – Fotolia.com , Photo: Courtesy of jon bilous – Fotolia.com , Photo: Lost River Gorge and Boulder Caves , Photo: Courtesy of jon bilous – Fotolia.com , Photo: Courtesy of Dave – Fotolia.com , Photo: Courtesy of elrepho – Fotolia.com , Photo: Courtesy of khlongwangchao – Fotolia.com , Photo: Courtesy of Paul Lemke – Fotolia.com , Photo: Courtesy of eye emudo – Fotolia.com , Photo: Courtesy of lowphoto – Fotolia.com , Photo: Courtesy of duke 2015 – Fotolia.com , Photo: Courtesy of viktor 2013 – Fotolia.com
Cover Photo: Courtesy of jonbilous – Fotolia.com
You are reading "25 Best Places to Visit in New Hampshire " Back to Top
Top 18 Most Beautiful Places to Visit in New Hampshire
Easily one of the most photogenic states in the USA, especially during the Fall, New Hampshire offers an almost perfect slice of North American life. With its serene valleys, towering peaks, pristine lakes, gorgeous coastline, and impossibly pretty small towns, the East Coast state it's also seemingly made for lovers of the outdoors.
From fruit-laden orchards just waiting to be picked to some of the most scenic road trips in the country, here are the best and most beautiful places to visit in New Hampshire…
1. Kancamagus Highway and White Mountain National Forest – one of the best Fall Foliage viewing areas in the country
If you want an attraction that offers something for everyone, this is the place you want to be. It is filled with 34 miles of quaint towns, beautiful scenery, interpretive signs, and places to take leisurely strolls.
The highway goes through the White Mountains and therefore you never run out of gorgeous views to look at, and you can stop anywhere along the way to enjoy what is in that particular location.
This area is especially popular in the fall when the colorful leaves are blooming, but you can visit it any time and thoroughly enjoy yourself.
2. Portsmouth – one of New England's prettiest and most popular port towns
Located in Rockingham County, this lovely town is a popular tourist destination in the summer months and is home to roughly 21,000 residents.
Covering only 16.8 square miles, it is home to attractions such as the 900-seat Music Hall, the USS Albacore Museum and Park, and lots of churches, theaters, libraries, art galleries, and even public sculptures.
If you enjoy seeing a bit of nostalgia along with a beautiful town, you need to visit Portsmouth. It offers something for everyone and is one place you'll never forget.
3. Hampton Beach State Park – a gorgeous sandy beach to explore in New Hampshire
Located on the southeastern edge of New Hampshire, this state park features a large beach, an amphitheater, a playground, and a pavilion, allowing you to swim, picnic, or camp with your RV.
It is a 50-acre park that is as gorgeous as it is fun, and you can visit in the wintertime to enjoy activities such as snow-skiing, snow-shoeing, and snowmobiling, among others.
It is truly a place that you can enjoy all year long, so whether you want to lie on the beach and work on your tan or take a nice long hike, this place will never disappoint.
4. Franconia Notch State Park – one of the most stunning places to visit in New Hampshire
This is a stunning park that features Cannon Mountain, the naturally formed Flume Gorge, a convenient tramway, and places to swim and hike the day away.
You can go fly fishing at Profile Lake, climb the Cannon Cliffs, or explore what makes the Appalachian Trail so spectacular.
It is especially beautiful in the fall when the leaves are in full bloom, and even if you just want to sit on the side of the lake and relax under the sun, you won't be disappointed when you visit this park. When you're in New Hampshire, this park needs to be on your list of things not to miss.
5. Swift River – a beautiful river spanning over 25 miles in the White Mountains
Also called the Saco River Tributary, the Swift River is 25.6 miles long and is considered part of the White Mountains. It flows into a broad valley surrounded by mountains called the Albany Intervale, and it even goes through the town of Albany to the Saco River at Conway.
It is notorious thanks to its length and its beauty, so if you want to enjoy a leisurely activity that allows you to view some incredible scenery, this is it.
You can even follow the Saco River until it flows into the Atlantic Ocean in Maine.
6. Exeter – a lovely city boasting tree-lined streets and plenty of historical architecture
Exeter is a town in Rockingham County and has a little more than 14,000 residents. Named for a city in Devon, England, it is situated in between the Exeter and Squamscott Rivers.
If you love small towns that have a lot of charm, visiting Exeter will not let you down. Some of the attractions found there include the Exeter Historical Society and Museum, the American Independence Museum, Phillips Exeter Academy, and the Congregational Church, which has been around since the 1630s.
7. Lake Winnipesaukee – of the most beautiful places to explore and relax in New Hampshire
This lake is located at the foot of the White Mountains, and it is 21 miles long and between one and nine miles wide, depending on the exact location. Interestingly, the lake contains more than 250 small islands and is surrounded by several peninsulas.
Some of the larger islands include Bear Island (780 acres), Long Island (1,186 acres), and Cow Island (522 acres). The smaller ones include Birch Island and Mink Island, both of which cover only around 25 acres.
If you love natural wonders and the beauty of the outdoors, visiting Lake Winnipesaukee should be on your to-do list.
8. New Hampshire State House – one of the most spectacular buildings in New Hampshire
Located in Concord, the New Hampshire State House is a sight to behold. Topped with a beautiful gold dome, it is an exquisite-looking building that houses the state government.
The grounds cover 2.6 acres and are encircled by a granite fence. Inside, the Governor, General Court, and Executive Counsel are housed.
The building is truly an architectural wonder, but even those not interested in architecture will enjoy touring it because of everything it has to offer. Made out of granite rocks, it even has a few rectangle-shaped windows, not to mention several statues and an octagonal drum.
9. Odiorne Point State Park – a gorgeous beauty spot and one of the best places to visit in New Hampshire
When researching places to visit in New Hampshire, you'll notice that state parks are very popular, and this park, which is located in Rye, is a great place to spend the day with your family or friends.
Whether you love history, nature, or just being outdoors, you'll love visiting this park, especially if you're interested in marine life.
The Seacoast Science Center is there to help you research the area more deeply, and there are even areas that are undeveloped and therefore of interest to nature-lovers. It's a perfect park for a picnic, hike, and so much more.
10. McDougal Orchards – a seventh generation family farm located in the beautiful village of Springvale
Located just 45 minutes from Portsmouth, the McDougal Orchards allow you to pick your own apples, pears, plums, and fall raspberries, and their immaculate store provides items such as winter squashes, mums, hand-pressed apple cider, peaches and nectarines, pumpkins and gourds, and jams, jellies, and vegetables.
If you want lots of fresh foods and homemade goodies, this is where you want to be.
It is also one of the most beautiful orchards you'll ever see, offering something for everyone because they change up their inventory on a regular basis so that you always have something new to enjoy.
11. Flume Gorge – a unique and beautiful spot to explore in New Hampshire
This is a natural gorge found at the base of Mount Liberty and extends 800 feet. The gorge is part of Franconia Notch State Park and was discovered in 1808 by a woman who accidentally found it while fishing.
It looks different today, and there is even a covered bridge and pool that have been added to the area. When you get to the top of Flume Gorge, you can easily view Avalanche Falls, a 45-foot waterfall which is worth the trip out there on its own.
The gorge is a must-see attraction whenever you're visiting New Hampshire, and you'll enjoy all of the activities close to the area as well.
12. Echo Lake – a stunning place to take the family for a swim and picnic
Echo Lake and Echo Lake State Park are at the top of the list for people wanting to visit premier attractions in New Hampshire.
Located in Conway, not only is the lake spectacular but surrounding it is a trail that provides gorgeous views and opportunities to hike and go rock-climbing.
You can also ride your boat, fish, and swim on the lake, and when you're ready to get off the water, you can visit the park and enjoy some "dry" activities. This is a beautiful area that allows for some very scenic views, creating memories that are certain to last a lifetime.
13. Mount Washington State Park – a great outdoor recreational area to visit in New Hampshire
Mount Washington is the highest peak in the northeastern part of the United States, and Mount Washington State Park offers everything you love about parks and then some. It covers a little more than 60 acres and is open from May through October.
On the site is a museum, gift shop, and observatory, as well as numerous hiking trails and the Mount Washington Cog Railway. If you like history and state parks, you'll love Mount Washington.
It is beautiful and allows you to get some fresh air and exercise, along with a little bit of history regarding the state of New Hampshire.
14. Chocorua Lake – one of the most beautiful lakes to explore in New Hampshire
Located in east-central New Hampshire, Lake Chocorua is one mile long and only 3,500 feet wide at its widest point. It covers 222 acres and at its deepest is only 27 feet deep.
One of the things that makes the lake so unique is that the area surrounding it is undisturbed by buildings and technology, allowing you to enjoy a very serene setting indeed.
You can swim, canoe, or kayak on the water, as well as hike and camp. In the waters, you'll also have access to rainbow trout, catfish, brook trout, and smallmouth bass, among others.
15. Quincy Bog – a beautiful nature preserve to visit in New Hampshire
Located in Rumney, Quincy Bog is a beautiful natural area to visit in New Hampshire. It's a non-profit place run by Rumney Ecological Systems and this unique geological wetland makes a fantastic and educational spot to explore with your family.
Here you can go on a nature study, observe wildlife in their natural setting or just gaze in awe at the incredible New Hampshire scenery. Visit during the Fall and you'll also be treated to some seriously spectacular foliage.
16. Lakes of the Clouds Hike – an upscale place that offers picturesque views
Located in the White Mountains, New Hampshire is home to a very beautiful area called Lakes of the Clouds. This hike takes roughly 5 hours and offers spectacular views of Mount Washington.
The best view can be found at an elevation between 4,000 and 5,000 feet where you see all three lakes.
17. Strawbery Banke Museum – a cool and authentic museum located in the heart of historic downtown Portsmouth, NH
Approximately 1.5 hours south of Manchester, New Hampshire is the small town of Portsmouth nicknamed "the old north state." The quaint and historic city has a variety of points of interests to see including Strawbery Banke Museum.
This museum features many historical buildings from the 1600s and 1700s such as an old colonial mansion, farmsteads, and shops. The museum also features gardens with traditional New England flowers.
If you're looking for a way to see all the beauty and excitement that New Hampshire has to offer, we can help. From fruit-laden orchards just waiting to be picked to some of the most scenic road trips in the country, here are five places not to miss when visiting this East Coast gem.
Whether you've got your heart set on hiking through one of its famous forests or exploring Maine from afar, there's something for everyone in our list below. Ready? Let's go! What do you want to visit first
18. Conway Scenic Railroad – one of the top places to visit in New Hampshire
This is a highly rated New Hampshire attraction located in iconic North Conway Village based in an 1874 Victorian-style train station. Visitors can enjoy a journey back in time in an old-style railroading experience.
There are a few excursions to choose from where it caters for all. Whether you prefer a scenic Heritage Valley or a Night Firecracker Express one thing for sure is that you will have a fantastic time. Depending on which one you choose some of them can last about 4 to 5.5 hours.
This experience is also one of the most romantic things to do in New Hampshire as you can spend all day appreciating breathtaking views. If you choose the 1950s Mountaineer premium and first-class option there is fine dining available to be purchased.
We also have posts on…
My first true adventure began as a six month voyage around South East Asia as a fresh faced backpacker and ever since I've lived a semi nomadic existence, clocking up visits to over 40 countries. I'm a lover of US Road Trips, deserted beaches bathed in warm glow of a sunset, Cuban mojitos, travel destinations far away from the tourist crowds and all things Scandinavian – from cloudberry liquors to Nordic noirs. When not wandering the world and running Global Grasshopper, you'll find me walking my rescued Greek street dog in leafy South West London, strolling around the Brighton Lanes on random day trips, hunting for photogenic landscapes or daydreaming about my favourite places; Havana, Copenhagen, Italy, Laos, California and the surreally beautiful landscapes of a wintry Iceland.
Source https://www.touropia.com/best-places-to-visit-in-new-hampshire/
Source https://vacationidea.com/destinations/best-places-to-visit-in-new-hampshire.html
Source https://globalgrasshopper.com/destinations/north-america/top-15-of-the-most-beautiful-places-to-visit-in-new-hampshire/