10 Best Places to Visit in Kentucky
Kentucky is more than fried chicken and bourbon, though these rank high on the list of things to eat and drink. But horse racing also features prominently in Kentucky culture. The state has five tracks, of which Churchill Downs is the most famous. Settled by frontiersman Daniel Boone and the birthplace of Abraham Lincoln, Kentucky offers a plethora of activities to keep you on the go.
There are panoramic vistas just waiting to be viewed, caves to be explored and bluegrass festivals to attend. Kentucky is where creamy gravy is elevated to an art form, making an ideal companion for that fried chicken. An overview of the best places to visit in Kentucky:
10. Bowling Green [SEE MAP]
daveynin / Flickr
Bowling Green might be dubbed the "motor city" of Kentucky since Chevrolet has manufactured the Corvette here since 1981; you can take a factory tour or visit the National Corvette Museum which is located here. Founded in1798, the city served as the Confederate capital of Kentucky during the Civil War.
In 2014, Forbes named it a top place to retire. The city has many parks, making it a good place to enjoy nature in an urban setting. Other top attractions in Bowling Green include Fountain Square with its Victorian fountain, the hands-on Barren River Imaginative Museum of Science and Aviation Heritage Park.
9. Big South Fork National River [SEE MAP]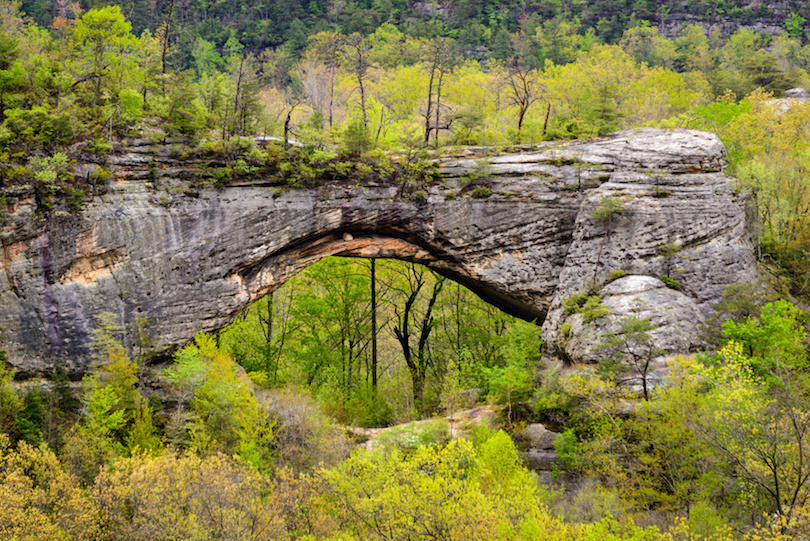 The Big South Fork National River and Recreation Area is a good place for you to get up-close and personal with nature. Located in the Cumberland Plateau in northeastern Kentucky, the national park offers miles of hiking trails, rock climbing and whitewater rafting adventures, horseback riding and camping. And don't forget the stupendous scenery.
The Big South Fork region has many natural bridges caused by erosion as well as stunning views of the river gorge as it cuts through ancient rock. It also has hoodoos that are similar to those found in the western United States.
8. Land Between the Lakes [SEE MAP]
Andy McLemore / Flickr
The Land Between the Lakes National Recreation Area is aptly named: It's located between Kentucky and Barkley lakes, which are connected by a canal. Located in Kentucky and Tennessee, President John Kennedy designated it a national recreation area in 1963. This scenic area offers you plenty to see and do, from hiking trails to driving through an elk and bison prairie.
Additionally, you'll want to visit the Homeplace, a recreated 1850 farm where staff wears period costumes and uses period implements and techniques to grow crops. There's also a planetarium that offers good viewing of any eclipses.
7. Kentucky Bourbon Trail [SEE MAP]
Valerie Hinojosa / Flickr
Spirited travelers will definitely want to journey along the Kentucky Bourbon Trail. The road trip takes in nine of the state's major distillers, including Wild Turkey, Jim Beam, Maker's Mark and Four Roses, as well as some of the smaller craft distilleries.
You'll learn how America's native spirit is made, view the distilleries and maybe even do a little sampling of the state's best. Kentuckians have been making bourbon since the 1700s when farmers realized it was easier to get their crops of corn and grain to market if they were in liquid form.
6. Paducah [SEE MAP]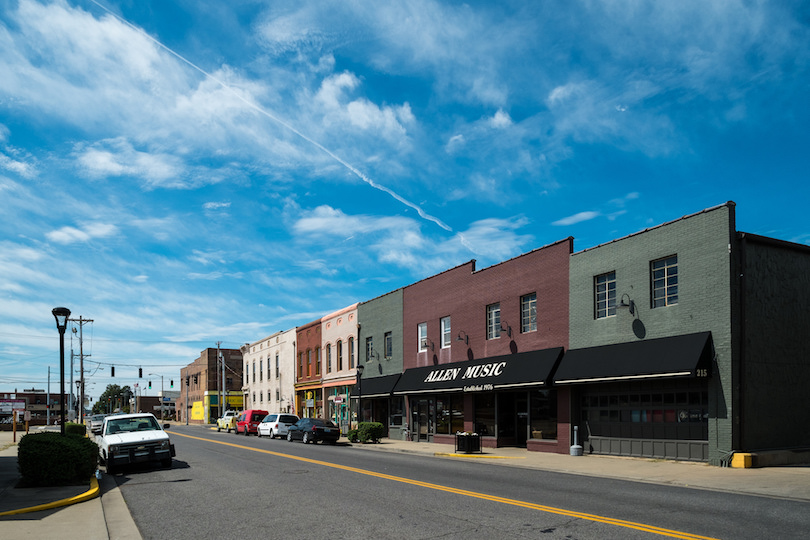 Thomas / Flickr
Paducah is a small city located at the confluence of the Ohio and Tennessee rivers. Paducah was first settled in 1821 but it wasn't until 1827 that William Clark (think Lewis and Clark Expedition) designed the town's layout.
The city's top attraction is the National Quilt Museum, which hosts an annual international quilt exhibition. Just a walk away are the Floodwall murals that trace Paducah's history in 50 panels. Paducah also is known for its historic district – 20 blocks are on the National Register of Historic Places. The city is known, too, for its vibrant music and arts scene.
5. Cumberland Gap [SEE MAP]
When we think of buffalo roaming the range, we think of the prairie states. Yet, buffalo once roamed Cumberland Gap since the trail is based on buffalo trails. The Cumberland Gap is a major break in the Appalachian Mountains and in the early years of settlement was a gateway to the west. Between 1775 and 1810 an estimated 300,000 settlers entered Kentucky.
Cumberland Gap National Historical Park not only preserves the area's natural beauty but its history as well. Be sure to visit Hensley Settlement, an old mining village that is representative of the early 20th century.
4. Natural Bridge State Resort Park [SEE MAP]
If you're an outdoor enthusiast, add Natural Bridge State Resort Park to your bucket list of places to visit in Kentucky. Natural Bridge, one of Kentucky's first state parks, offers 19 miles (30 km) of hiking trails (Note: pets are not permitted on most trails) and a small lake for fishing and paddling.
This is in addition to Red River Gorge scenery and some spectacular sandstone formations, including a natural bridge that is 66 feet (20 meters) high. About half the park is a nature reserve. Square dancers: The park hosts twice weekly Appalachian square dances during the summer.
3. Lexington [SEE MAP]
Anthony / Flickr
Kentucky's second largest city, Lexington, is the heart of the Bluegrass region. It is also known as the horse capital of the world; it's been a center for thoroughbred racing for more than 200 years. Its Bluegrass Stakes is considered a rehearsal for the Kentucky Derby. The city was once dubbed the "Athens of the West" by an early 19th century poet.
Lexington has a vibrant arts scene, hosting music and arts festivals. throughout the year. Notable personages with ties to Lexington include 19th century politico Henry Clay, Confederate president Jefferson Davis and actor George Clooney.
2. Mammoth Cave National Park [SEE MAP]
MargaretRiver.com / Flickr
Spelunkers probably already know this: Mammoth Cave is the longest cave system in the known world. To date, 405 miles (652 km) of passageways have been surveyed; this figure increases with new discoveries every year. Discovered by hunters in 1797, the caves were mined for calcium nitrate in the War of 1912.
Several caves are open to visitors, with electric-lit tours. Hardier explorers can opt for a lantern tour that involves crawling though muddy passageways. One of the most popular places to visit in Kentucky, about two million people visit the national park every year, with around 500,000 taking a cave tour.
1. Louisville [SEE MAP]
Roderick Eime / Flickr
Named for King Louis XVI, Louisville was founded on the Falls of Ohio in 1778, making it one of the oldest towns west of the Appalachians. It is Kentucky's largest city. Louisville is best known as the home of the Kentucky Derby, a leg of the Triple Crown that's called the "greatest two minutes in sports." The annual derby dates back to 1875.
Just prior to the derby is Thunder over Louisville, the largest fireworks display in North America. But take a gander through the city's historic district, the largest historic preservation district in the United States that features Victorian homes and buildings.
Map of Kentucky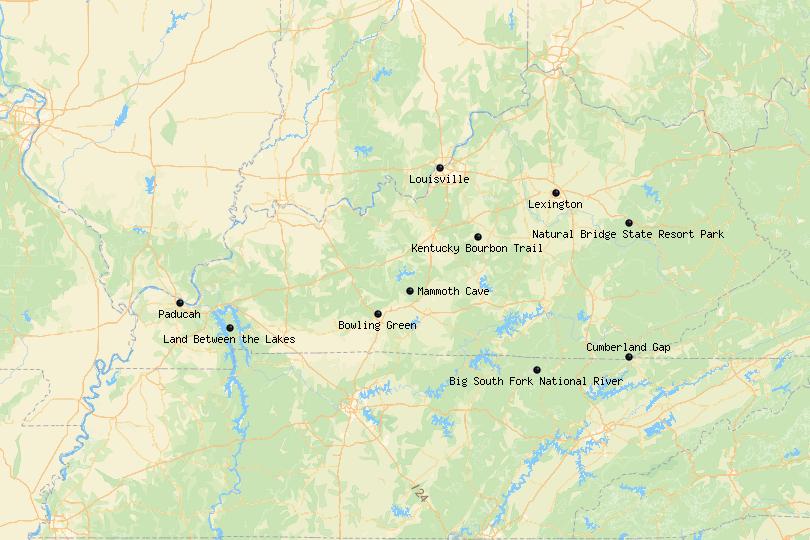 © OpenStreetMap © MapTiler © Touropia
21 Most Beautiful Places to Visit in Kentucky
Kentucky, the Bluegrass State , offers some of the most beautiful and spectacular sights and places to visit! Just browse through these awesome pictures and be amazed by it's beauty.
Dog Slaughter Falls
Source: Alexey Stiop / shutterstock Dog Slaughter Falls
Perfect for a family hike, Dog Slaughter Falls is one of Kentucky's best known natural sights. The 15-foot waterfall is one of the most impressive in the state and great views of the falls are provided from the Dog Slaughter Falls Trail. The two-mile trek is rated at moderate and is an ideal spot for dog-walking. Hemlock and rhododendrons are among the plants visitors can expect to see on the trail, but Dog Slaughter Falls is without a doubt the highlight of any trip to this part of Kentucky.
The Appalachians
Source: Patrick Jennings / shutterstock The Appalachians
Once upon a time the Appalachians were as massive as the Rocky Mountains and the Alps, but over the years they have been slowly eroded away to their present state. Extending for almost 2,000 miles, the mountain range acts as a natural barrier between the interior lowlands of North America and the eastern coastal plain. In Kentucky itself the peaks of the Appalachians are not particularly high, but the terrain is regarded as very rugged and is for experienced hikers only. The views from the top are still awe-inspiring, regardless of the hills' lack of height and physical stature.
Breaks Interstate Park
Source: 00squirrel (talk) (Uploads) / Wikimedia Breaks Interstate Park
Known as the Grand Canyon of the South, Breaks Interstate Park spans the border of Kentucky and Virginia. The park is famous for being home to the deepest gorge east of the Mississippi, with Virginia State Route 80 the best way to reach the area. Explorer Daniel Boone is credited with being the first to discover the beauty of Breaks Interstate Park and today there are dozens of lodges where people can stay to appreciate the sights of the area up close.
Fairmount Falls
Source: Rudi Sofyan / shutterstock No Image Available
Despite being only small at eight acres, Fairmount Falls is home to an incredible 40-foot waterfall that draws visitors from many, many miles. Easily reachable within minutes from the Gene Snyder and Bardstown Road interchange, this superb Kentucky landmark is accessible by permit only to protect the natural landscape. The best time to visit is either in spring or in winter, as this is when the flow of water at Fairmount Falls is at its most impressive.
Gallatin County
Source: W.marsh / Wikimedia Gallatin County Courthouse
A great spot to visit for people interested in learning about the Civil War, Gallatin County is also where some of Kentucky's most beautiful places are located. The historically important county may be the smallest in Kentucky by area, but what it lacks in size it makes up for in its own unique charm. Sparta is one of the Gallatin County communities that are well worth visiting, as this is where the Kentucky Speedway is held.
Sunset on Kentucky Lake
Source: Patrick Jennings / shutterstock Kentucky Lake
Kentucky Lake is one of the largest man-made artificial lakes in the United States, holding up to 4,008,000 acre-feet of water. But, more importantly, the sunsets over the lake are out of this world. Bass and crappie fishing are popular in Kentucky Lake and its neighbor Lake Barkley, with the land between the two lakes housing an elk and bison prairie, which is free to enter and is open all year round. Kenlake State Resort Park can also be found to the west of Kentucky Lake, with Kentucky Dam Village State Resort Park to the north.
George Rogers Clark Memorial Bridge
Source: Joseph Sohm / shutterstock George Rogers Clark Memorial Bridge
The George Rogers Clark Memorial Bridge, which Kentucky locals call Second Street Bridge, provides a crossing over the Ohio River between Louisville and Jeffersonville. The bridge famously features in a scene from the movie Stripes, where the character played by Bill Murray gets out of a cab and throws his keys into the river. The bridge is also the centerpoint of the annual Thunder Over Louisville event, where a waterfall of fireworks lights up the sky. The bridge is named in honour of the founder of Louisville, George Rogers Clark.
Mammoth Cave
Source: Zack Frank / shutterstock Mammoth Cave
The Mammoth Cave National Park is the longest known cave system in the world, with more than 400 miles of caves having been plotted to date. Keen explorers should definitely take some time to check out Mammoth Cave and its surroundings, as new caves are regularly being discovered. A United Nations World Heritage site, Mammoth Cave attracts around 400,000 tourists every year. During tours, rangers typically turn off their guiding lights, making Mammoth Cave National Park one of the few places in the world where people can experience the wonder of true darkness.
Perryville
Source: jctabb / shutterstock Perryville
Perryville is another must-visit Kentucky location for people who are interested in Civil War history. The Battle of Perryville – which is sometimes referred to as the Battle of Chaplin Hills – is regarded as one of the Civil War's bloodiest battles. Today, Perryville is a National Historic Landmark area and it is also listed on the National Register of Historic Places. Some of the first buildings to be built in Perryville still stand today, even though they are now close to 200 years old.
Kentucky State Capitol
Source: Alexey Stiop / shutterstock Kentucky State Capitol
Home to Kentucky's government, the state capitol is located in the city of Frankfort. The state capitol building houses a glorious marble staircase, making it one of the most beautiful pieces of architecture in the whole state. The staircases are without a doubt one of the main reasons to visit the state capitol, with the marble interiors having been inspired by the Opera Garnier in Paris. Guided tours of the Kentucky State Capitol are available and come highly recommended, with the First Lady Doll Collection among the most noteworthy attractions housed in the building.
Pinnacles of Berea
Source: Patrick Jennings / shutterstock Pinnacles Of Berea
The Pinnacles of Berea provide not just some of the best hiking trails in the state, but in the whole of the South. The main trail consists of a loop 6.6 miles long, which typically takes around three to four hours to complete depending on your hiking experience and fitness levels. Beautiful wild flowers are present throughout the trail, which is accessible from April until October and is open to dog-walkers too. Check out the West Pinnacle and Indian Fort Outlook for some of the best views of the stunning scenery at the Pinnacles of Berea.
Big South Fork National River
Source: Zack Frank / shutterstock Ig South Fork National River And Recreation Area
Established in 1974, visiting the Big South Fork National River is a must for anyone exploring Kentucky. Hiking, horseback riding, fishing, hunting and stargazing are all popular activities at Big South Fork, which also hosts a huge collection of natural bridges that are well worth exploring and provide some fantastic opportunities for photography. Wilderness lodge Charit Creek Lodge is among the many places people can stay while visiting the Big South Fork National River.
Red River Gorge
Source: Irina Mos / shutterstock Red River Gorge
Located within the Daniel Boone National Forest, the Red River Gorge is famous for its natural stone arches. The gorge is also designated as a national geological area due to its sandstone cliffs and unique rock formations. The Red River Gorge has developed into one of the world's hottest rock climbing spots, with climbing enthusiasts giving the area the nickname 'Red'. The Red River Gorge's Sky Bridge features in the 1955 movie The Kentuckian, which starred Burt Lancaster.
Newport
Source: Jeff Kubina from the milky way galaxy, upload by Herrick / Wikimedia Newport, Kentucky
Once known as Sin City due to its many casinos, Newport today is a much more family-friendly destination, with the Newport on the Levee entertainment complex one of the busiest leisure and retail sites in the whole of Kentucky. Newport is also home to one of the 20 World Peace Bells. In fact, the Newport bell was the largest swinging bell in the world between 2000 and 2006. Local places worth visiting include Newport Aquarium, music venue Thompson House, the Northern Kentucky Gambling Museum, General James Taylor Park and Newport Southbank Bridge.
Cumberland Falls
Source: Alexey Stiop / shutterstock Cumberland Falls
Cumberland Falls is sometimes called the Niagara of the South or the Little Niagara, with the falls the main attraction of the Cumberland Falls State Resort Park. Visitors should try to time their visit to Cumberland Falls when there is a full moon and a clear sky, as this is when a gorgeous elusive lunar rainbow – also known as a moonbow – can often be spotted. The arch of white light that makes up the moonbow is an unforgettable sight and one of the most beautiful things in Kentucky.
Wolf Creek
Source: U.S. Army Corps of Engineers from USA / Wikimedia Wolf Creek Dam, Kentucky
Wolf Creek may be more famous as an Australian horror movie, but in Kentucky the name refers to a huge dam in Russell County. The area is also home to Wolf Creek National Fish Hatchery, which is free for visitors, with the Visitor/Environmental Education Center open 364 days a year. More than 100,000 people visit Wolf Creek National Fish Hatchery every year and the local area is home to some of the state's most special scenery as well.
Kentucky River
Source: Alexey Stiop / shutterstock Kentucky River
The Kentucky River flows all the way through the state, starting in Lee County at Beattyville before windings its slow route through the state's mountains. The river takes in the Daniel Boone National Forest and flows through Boonesborough and Irvine before eventually linking up with the Ohio River. Perhaps the best place in the state to experience the magnificence of the Kentucky River is at the Kentucky River Palisades, between Frankfort and Clays Ferry in Madison County. This is where a series of gargantuan steep gorges as long as 100 miles long can be viewed.
Lexington
Source: Henryk Sadura / shutterstock Lexington, Kentucky
Known as the Horse Capital of the World, Lexington is a must-visit for anyone travelling to Kentucky. The second largest city in Kentucky, Lexington is home to a huge array of historic sites, such as the Waveland State Historic Site and Kentucky statesman Henry Clay's Ashland estate. But if horses are your thing, Lexington is a fantastic place to visit. The American Saddle Horse Museum and the Kentucky Horse Park are both worth checking out, while there are few places better to watch racing than at the Keeneland Race Course. The Festival of the Bluegrass also takes place in Lexington every June and hikers should head to the Raven Run Nature Sanctuary.
Bardstown
Source: flickr Willett Distillery – Bardstown, Kentucky
Bardstown was described by Rand McNally and USA Today as the Most Beautiful Small Town in America and it is hard to argue with that description. The county seat of Nelson County, Bardstown is famous around the world for its bourbon, while its eclectic shops are well worth exploring too. There are five bourbon distilleries in Bardstown, with Heaven Hill, Maker's Mark and Jim Beam all based in the area. The Oscar Getz Museum of Whiskey History is among the top attractions Bardstown boasts, the Kentucky Railway Museum. The Civil War Museum in Bardstown is one of the biggest in the United States and tourists should also go to Wickland, a private residence that three Kentucky Governors have lived in, which offers public tours.
Top 18 Most Beautiful Places to Visit in Kentucky
Mostly known for its moonshine, bourbon, bluegrass music, and acres and acres of gorgeous farmland, Kentucky is a state with both character and soul. It's not always a major destination for tourists but that's a shame, as those who don't visit are seriously missing out.
The state where both Abraham Lincoln and Jefferson Davis were born is home to scenic countryside, limestone hills unspoiled parks, and forests, and roads seemingly made for extraordinary road trips. Here are the best and most beautiful places to visit in Kentucky…
1. Cumberland Falls – a gorgeous beauty spot sometimes called Little Niagara
Known as the Niagara of the South, these falls include a 125-foot-wide area of water that is nothing short of spectacular.
Located in the southeastern part of the state, Cumberland Falls is not only gorgeous but also has one other distinction – it is one of only two places on the planet that experiences moonbows.
Moonbows are rainbows that occur from the moon's light, and the other place is in Zambia on the continent of Africa. If you want to take full advantage of the falls, rent a raft and visit it when there is a full moon outside.
2. Bourbon Distilleries – one of the best and most popular places to visit in Kentucky
Kentucky is a state known for its bourbon and is home to nearly 70 different distilleries around the state.
This includes Buffalo Trace, where you can enjoy a tour of the entire process, from cooking to distilling; Maker's Mark, where they let you hand-dip your own bottle with their famous red wax; and the Bardstown Bourbon Company, where you can taste bourbon straight from the barrel.
If you love bourbon or you're just curious how they make this amazing drink, Kentucky allows you tons of opportunities to learn more about it every day of the week.
3. Appalachian Mountains – one of the most stunning areas to explore in Kentucky
If you love the mountains, you can head out to the Eastern part of the state and take a look at the Appalachian Mountains. You can hike, visit overlooks, and see some of the most beautiful scenery you've likely seen in a very long time.
You can also stop to go hiking or boating, and you can even hike on the beautiful forest trails, which are nothing short of amazing.
The Appalachian Mountains cover a very large section of Eastern Kentucky, and it is one sight you should plan on seeing on your next visit.
4. Louisville – Kentucky's largest city home to some great bars, restaurants, and attractions
This is the largest and busiest cities in Kentucky and one of the most underrated cities in the USA. It's an easy-on-the-eye place with an impressive skyline, a booming arts scene, and a long-established bluegrass music scene.
Throw in some excellent restaurants, lively bars, and a good handful of distilleries and you have a seriously cool city.
Highlights include the 21C Museum Hotel, the Kentucky Museum of Art and Craft, the Muhammad Ali Center, the Louisville Mega Cavern, and the Kentucky Science Center.
5. Kentucky Lake – a popular and gorgeous vacation spot in Kentucky
Located in the southwestern part of the state, Kentucky Lake covers 184 miles and has more than 2,000 miles of shoreline. But this lake doesn't just offer your usual boating and fishing opportunities.
It also offers poker runs, open regattas, drag boat races, and cabins you can rent if you want a relaxing and fun-filled vacation.
You can also ski, swim, and take your favorite ski jet out on the water so that you can enjoy a safe, family-friendly outing every time.
6. Frankfort – an attractive and charming city to explore in Kentucky
A charming town beautifully located on the Kentucky River, this is a place that seems to embody everything that is great about Kentucky, just in a compact form!
It's known for having one of the most beautiful Capitol buildings in the country, but other highlights include its bourbon distilleries, its wine, and its new and old governor mansions.
7. Dixie Belle Paddle Wheels – definitely one of the best things to do in Kentucky
If you're curious about the old-fashioned Southern paddlewheel boats, try heading out to the Shaker Village of Pleasant Hill and cruise through the Kentucky River Palisades on one of these boats.
After you're done cruising, come back ashore and visit the village itself, where you can experience nature preserves, organic gardens, and more than 40 miles of trails to enjoy.
This is an original Shaker village that still has 34 of its original buildings. Whether you're on the site enjoying everything it has to offer or on a paddlewheel boat cruise, this is one experience you'll never regret.
8. Red River Gorge and Natural Bridge – easily one of the most beautiful places to visit in the US state
With a 65-foot-high natural bridge made mostly out of sandstone, the beautiful Red River Gorge is spectacular in every way.
Nearby, you can rent some really cute cabins for the night, go camping at one of the many campgrounds in the area, hike some great scenic nature trails, go zip lining if you feel extra adventurous, and even go rock-climbing when the desire hits you.
You can relax and enjoy some of the beautiful views and fulfill your dream of being an explorer in the 1800s with this amazing tourist spot.
9. Daniel Boone National Forest – a beautiful national forest to explore in Kentucky
Easily one of the most beautiful places to visit in Kentucky, this stunning area has been a national park since 1937.
It sprawls across a huge 708,000 acres in the most rugged area west of the Appalachian Mountains and is home to forested slopes, sandstone cliffs, and narrow ravines.
This is a nature lover's dream and here you can hike, camp, picnic, rock climb, go boating or just relax and take in the wonderful Kentucky scenery.
10. Dale Hollow Lake – a tranquil and beautiful place to visit in Kentucky
Beautiful Dale Hollow Lake offers not just hiking and boating activities, but also bird-watching opportunities, mountain bike trails, and a lot more.
It is located in south-central Kentucky and consists of more than 27,000 acres of land. Erected in 1943, Dale Hollow Lake is a great place to visit if you love being on the water or you merely enjoy standing on the sidelines and enjoying some of the most beautiful scenery you'll ever find.
Because of its beauty, this is definitely a must-see location whenever you're visiting the Bluegrass State.
11. John A. Roebling Suspension Bridge – an iconic and beautiful landmark in Kentucky
This is an old bridge that was completed in the 1860s, and it sits on the Ohio River between the Ohio city of Cincinnati and the Kentucky city of Covington. It is a spectacular site indeed with its majestic-looking spires and its almost Art Deco look.
If you see the bridge and think you've seen it before, you don't have to get spooked because this bridge was the inspiration behind the Brooklyn Bridge in New York City.
If you live in northern Kentucky and you're interested in attending a sporting event in Cincinnati, this is one of the best ways to get there. This bridge is definitely considered one of the most beautiful spots to explore in Kentucky.
12. Land Between the Lakes Recreation Area – part of America's great outdoors since 1963
Consisting of more than 170,000 acres, the Land Between the Lakes Recreational Area is a UNESCO Biosphere Reserve that is run by the Forest Service.
Highlights include the fascinating wildlife, plenty of history for the history buff in all of us, and of course, lots of wide-open spaces to revel in and to enjoy.
You also get to enjoy more than 300 miles of undeveloped shoreline that is nothing short of spectacular, and through it all, you get to enjoy animals such as bison, elk, buffalo, and wild turkeys.
13. Bardstown – often known as "The Most Beautiful Small Town in America"
Perfectly positioned on Kentucky Bourbon Trail, this charming and attractive town offers a Napa Valley-style experience but just swap the wine with the whiskey!
It's a very easy-on-the-eye place which USA Today even called the "Most Beautiful Small Town in America" and its also been named as having America's Most Beautiful Town Square.
Definitely one of the best places to visit in Kentucky!
14. Mammoth Cave National Park – one of the best places to visit in Kentucky
A natural setting with more than 400 miles of passageways, Mammoth Cave is absolutely spectacular and has some of the longest known caves in the entire world.
These subterranean passageways are home to stalagmites, stalactites, helictites, and travertine dams, which you can view up close without any problems.
You can explore the cave on your own or go on one of the ranger-led tours so that nothing important is overlooked. Located in central Kentucky, if you love the ultimate beauty that can only be supplied by Mother Nature, this national park is where you need to be.
15. Bluegrass Music Hall of Fame and Museum – a must-see attraction in Kentucky for music fans
Located in Owensboro, the Bluegrass Music Hall of Fame is located just a few miles from the birthplace of the man known as the Father of Bluegrass, Bill Monroe.
Included are interactive exhibits, jam sessions, concerts, lessons, and all sorts of special events, including the three-day ROMP Fest, which usually takes place in June each year.
The Hall of Fame currently has 60 inductees and also houses the International Bluegrass Music Hall of Fame. If you love bluegrass music, this place should be on your to-do list when looking for places to visit in Kentucky.
16. Western Kentucky Botanical Garden – home to several themed beautiful gardens and a large collection of daylilies
Located in Owensboro, the Western Kentucky Botanical Garden is the perfect place to visit if you love it when nature decides to show off a bit.
Some of its attractions include not only lots of flowers and plants to enjoy, but they specialize in events that do everything from teaching you everything you need to know about your favorite flower to new ways for you to enjoy everything growing both indoors and outdoors in this spectacular garden.
They offer special activities for kids, events for special holidays such as Christmas, and much more.
17. National Quilt Museum – an informative family attraction in Kentucky
Located in Western Kentucky in the town of Paducah, the National Quilt Museum has over 600 exhibits to enjoy. There are two main sections of the museum – one that stays the same all year around, and one that changes periodically to provide you with something different every now and then.
This is the largest collection of quilts and fiber arts in the country and whether you like the contemporary look or something a little more old-fashioned, this museum will offer something you love. They also offer lots of classes and special events, so you'll never run out of things to do there.
Kentucky is a state with both character and soul. It's not always a major destination for tourists but that's a shame, as those who don't visit are seriously missing out on the best of what Kentucky has to offer.
The scenic countryside, limestone hills unspoiled parks, and forests make it an ideal place to explore by car or foot. Whether you want to take in the beauty from afar or get up close and personal with nature via hiking trails – there's something here for everyone!
So pack your bags because we're going on one heckuva road trip through this beautiful part of America starting right now… Where do you want to start?
18. Nolin Lake – one of the most beautiful places to visit in Kentucky
If you are still thinking about what you could do in Kentucky then Nolin Lake is your place. This stunning place was open to the public in 1996 and covers 5,795-acre.
If you need some time to reconnect with nature Nolin Lake offers activities such as boating, swimming, fishing and so much more!
The park has 32 campsites that provide great facilities for all and is open year-round. There is a private beach and plenty of space for your relaxing vacation.
We also have posts on…
Ever since he was knee-high to a grasshopper Michael has always been a sucker for an adventure. Growing up he was lucky enough to live in a handful of exotic far flung locations including Hong Kong, Pakistan, Kenya and Tanzania and since then he's continued his taste for seeking out new cultures. So much in fact he now travels the world as a trading digital nomad, exploring everything from the sizzling street markets in Bangkok to random back alleys in Sri Lanka and everything in between! He also has a special fondness for Cohibas, street food, playing carrom, and fine wine and knows his clarets from his chiantis. He counts Cuba, Amsterdam, Indonesia, Cambodia and Italy as his favourite destinations.
Source https://www.touropia.com/best-places-to-visit-in-kentucky/
Source https://www.thecrazytourist.com/most-beautiful-places-to-visit-in-kentucky/
Source https://globalgrasshopper.com/destinations/north-america/top-17-of-the-most-beautiful-places-to-visit-in-kentucky/