10 Best Places to Visit in Iowa
Bordered by the Mississippi River to the east and the Missouri River to the west, the Midwest state of Iowa is a very picturesque place to visit. Mostly made up of gently rolling hills and fertile fields and farmland, it is home to quaint rural towns and villages, some of which exhibit rich Dutch, German, and Scandinavian culture and heritage.
Punctuating its charming countryside are some sublime natural tourist attractions such as the glimmering Iowa Great Lakes and prominent Pikes Peak State Park. In addition to this, a couple of large cities, such as Des Moines and Cedar Falls, can be found here and there, while numerous cultural events and festivals showcase the state's agricultural identity and delicious local produce.
10. Iowa City [SEE MAP]
© Vikas Garg / Dreamstime
A lively, cool, and youthful place, Iowa City is located in the east of the state, straddling the banks of the river of the same name. Home to the prestigious University of Iowa, much of life in the city revolves around its bustling campus and sizeable student body.
Lying at the heart of the educational institute is the pretty and prominent Iowa Old Capitol Building, once the site of the state's government before it transferred to Des Moines. Near to the noteworthy National Historic Landmark are excellent art and natural history museums for visitors to check out, as well as some lovely riverside parks and walks.
Long noted for its superb writing programs, the city has a very artsy feel, with its Writer's Workshop alumni having won 17 Pulitzer Prizes to date. In addition to the regular shows and performances put on by its handful of theaters and music venues, the city hosts a number of outstanding cultural events and festivals during the year.
9. Pella [SEE MAP]
© Amdizdarevic / Dreamstime
As it is home to scenic canals, windmills, and tulips, visitors to Pella could be forgiven for thinking they are in Amsterdam or Utrecht rather than the United States. Founded in 1847 by a group of Dutch immigrants, the small town prides itself on its rich history and heritage, which now attracts tourists from far and wide.
Its Historical Village has over 20 traditional buildings to wander around, with a church and blacksmiths lying beside the fully functional Vermeer Windmill, one of its main sights. While its attractive architecture and townscapes look a treat, there are also some delicious Dutch pastry shops to try out and cheeses, clogs, and costumes to buy.
One of the best times to visit Pella is during the annual Tulip Time Festival. Festive parades and performances take place, with everyone kitted out in traditional attire. At this time of year, its gorgeous gardens and parks are full of thousands of beautiful blooming tulips for visitors.
8. Pikes Peak State Park [SEE MAP]
© Steven Prorak / Dreamstime
Located where the Mississippi and Wisconsin rivers meet, Pikes Peak State Park is set in the northeast of the state, on the border with Wisconsin. A popular place to visit in Iowa, it will delight nature lovers and outdoor enthusiasts with its stunning scenery and outstanding natural beauty.
Founded in 1936, it is named after the peak that dominates the state park with its hulking presence. From atop of its lofty peak, visitors can enjoy phenomenal views of the Mississippi River, with verdant forests and wild waters stretching as far as the eye can see.
Hidden away among the diverse landscapes and wilderness of the park are some splendid hiking trails and scenic, secluded campsites. While wandering along its paths, visitors will pass through lush woods and peaceful valleys, with the twinkling Bridal Veil Falls one of its most pleasant and photographed features.
7. Decorah [SEE MAP]
© Hannah Babiak / Dreamstime
Nestled in the northeast of Iowa is the small and charming town of Decorah. Most noted for its Scandinavian heritage, it lies amid lovely scenery, with various parks and the Upper Iowa River nearby.
After being founded around 1840, lots of Norwegian families settled in Decorah, establishing the extensive and illustrious Luther College, which plays a prominent role in the town's life to this day. To learn more about the settlement's fascinating past, visitors can peruse the extensive collection of artefacts and folk art at the Vesterheim Norwegian-American Museum. On top of this, the town also hosts Nordic Fest – an annual festival celebrating the customs and cultures of Scandinavia.
Besides delving into its rich history and culture, visitors to Deborah can go hiking and cycling in the surrounding nature or kayak along the rushing river. It also boasts one of the largest ice caves in the Midwest, with the delightful Dunning's Spring and Siewers Spring two of its standout sights.
6. Effigy Mounds National Monument [SEE MAP]
© Jaahnlieb / Dreamstime
Lying alongside the Mississippi River and Yellow River is one of Iowa's most enigmatic and enthralling sights – the Effigy Mounds National Monument. Here, visitors can find more than two hundred phenomenal prehistoric burial mounds, as well as wonderful woods and sweeping river valleys.
Built by the Native Americans, these astounding earthworks date back over a thousand years, with many of them mounded in the shape of birds, mammals or reptiles. Associated with numerous tribes and peoples, these early burial sites are considered to be sacred. The 42-metre-long Great Bear Mound is the most important and impressive of them all.
At the park's visitor center, guests can learn more about the significance and symbolism of the archaeological site, as well as the ecosystems of the forests, prairies, and rivers on show. A great way to explore the Effigy Mounds National Monument is to hike among the spectacular scenery and take in the breathtaking burial mounds at the same time.
5. Madison County [SEE MAP]
© Erin Cogswell / Dreamstime
Set about 30 miles (50 kilometers) to the southwest of Des Moines is the charming and attractive countryside of Madison County. Long a sleepy yet scenic backwater, it shot to fame following the fantastic 1995 film The Bridges of Madison County, based on the book of the same name.
Now, visitors flock to its fertile fields and farmland and cruise along its quaint country lanes before stopping off at picture-perfect towns and villages such as St. Charles and Winterset. The highlight is undoubtedly its delightful and distinctive covered bridges, of which six remain.
While driving through its historic and handsome wooden bridges is a treat, Madison County also boasts some great vineyards and breweries. Its gentle hills and lovely landscapes lend themselves perfectly to all kinds of outdoor activities, with hiking and cycling among the parks and farms particularly popular.
4. Cedar Rapids [SEE MAP]
© Chris Boswell / Dreamstime
The second-largest city in Iowa, Cedar Rapids straddles the banks of the Cedar River and lies some 20 miles (30 km) to the north of Iowa City. While floods devastated much of the city in 2008, 2016, and 2020, in recent years, it is much revitalized, with new businesses springing up all the time.
Once primarily known as an industrial city, a burgeoning arts and culture scene has since developed, with excellent museums and theaters on offer. One of its most popular attractions is the National Czech & Slovak Museum & Library, which looks at the unique history, heritage, and culture of many of the city's residents.
In addition to this, the African-American Historical Museum and the Cedar Rapids Museum of Art are well worth checking out: the latter boasts the world's largest collection of Grant Wood paintings. The NewBo City Market is not to be missed; it has plenty of shops and cafes and regularly hosts community events and cultural shows.
3. Okoboji [SEE MAP]
© Jesse Kunerth / Dreamstime
Often referred to as Okoboji, the Iowa Great Lakes are a group of lovely natural lakes lying in the northwest of the state. Due to the stunning scenery and shorelines, the resort region is very popular, with innumerable outdoor recreation activities on offer.
Sprawling over a vast area, the three main lakes of Big Spirit, West Okoboji, and East Okoboji are lined by beautiful beaches and scenic coves, with laidback settlements tucked here and there. The largest of these is Arnolds Park, where visitors can find lakesides restaurants and resorts as well as a fantastic amusement park featuring fun rides and games.
Besides basking in the beauty of the lakes, guests can enjoy swimming, fishing, or watersports on their tranquil waters. Superb hiking and golfing are also available along the lakeshore. On top of this, the Okoboji Summer Theater puts on some great live music shows and theater performances in the sunny summer months.
2. Amana Colonies [SEE MAP]
© Dustin88 / Dreamstime
Founded in 1855 by German settlers, the Amana Colonies are a collection of seven small, scenic and secluded villages found in the east of Iowa. As they are wonderfully well-preserved and their inhabitants still retain many of their rich cultural traditions, the villages are now a top-rated tourist attraction.
Set in a small loop, the seven settlements were established by persecuted Pietists who were looking to create self-sufficient societies. Consequently, they farmed the land themselves and made their own handicrafts, household items, and homes. It was only following the Great Depression that the remote and religious community decided to open itself up to the outside world in 1932.
Nowadays, visitors to the Amana Colonies can stay in cosy bed and breakfasts and old farms while exploring the charming and traditional villages. In addition, there are plenty of artisanal shops and workshops where tourists can buy local produce, handicrafts, and artworks.
1. Des Moines [SEE MAP]
© Lisa Mckown / Dreamstime
Iowa's capital and most populous city, Des Moines lies in the center of the state on the banks of the river after which it is named. An intriguing mix of urban meets country, it is a lively yet laidback place that acts as an important center of commerce and culture in the Midwest.
Home to a number of excellent art and natural history museums, the city has some vibrant districts for visitors to explore, with East Village and Valley Junction boasting brilliant boutiques and historic buildings. Its standout sight is undoubtedly the breathtaking state capitol building, which showcases some astounding architecture and a gleaming gold leaf dome.
While its beautiful botanical garden and sensational Pappajohn Sculpture Park are both well worth visiting, the city also has some great cultural events and festivals for visitors to enjoy. In the summer months, the Des Moines' Farmer Market has lots of fresh produce, cheeses and wines to try while the annual Iowa State Fair sees lots of agricultural contests take place in the city.
Map of Iowa
© OpenStreetMap © MapTiler © Touropia
25 Best Places to Visit in Iowa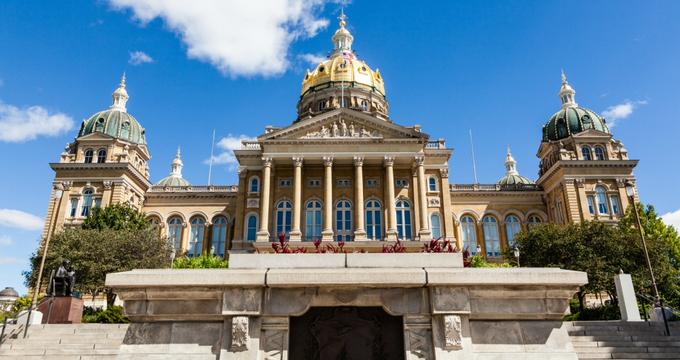 Iowa has more to offer than many visitors might think, from unique beach towns filled with waterside amusement parks to towns with a deep history and inspired by a rich Dutch heritage. No matter what the season, visitors to Iowa will be entertained in a variety of ways, from wintertime snowmobile excursions to summertime festivals and flea markets, springtime golf sessions to delightful walks along the river in the autumn. Visitors to Iowa will find pleasure and enjoyment in many regions but are encouraged to explore many of its destinations to get a solid grasp of all that Iowa has to offer.
We recommend that you call the attractions and restaurants ahead of your visit to confirm current opening times.
1. Des Moines
Originally named after the river on which it sits, Des Moines was first established as Fort Des Moines in 1843 and eventually grew into the city that it is today. Des Moines has come a long way from its U.S. Army base roots, so much so that in modern Des Moines guests and locals can see a Broadway show many nights throughout the year, purchase locally grown produce and locally raised meat from the Downtown Farmers Market, and even visit extensive art galleries showcasing local and national artists. Des Moines also features many family-friendly attractions, ranging from outdoor hikes along the river to child-centric museums and restaurants. Things to Do in Des Moines
Fun day trip ideas: South Carolina, Oregon, Texas — You are reading "25 Best Places to Visit in Iowa" Back to Top
2. Dubuque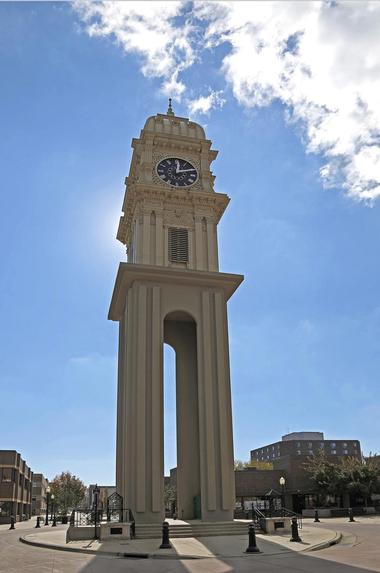 City of bluffs, craft beer, Mississippi River adventures, intricate history, and Loras College, Dubuque finds itself as a bridge between rural and urban Iowa, classic architecture and new innovations, and maintaining the old way of doing things while pushing forward into the future. Officially the first established town in Iowa, settled in 1833, Dubuque was founded by Julien Dubuque before Iowa was officially a state. Depending on the season, guests are often enthralled with eagle watching on Lock & Dam #11, enjoying free family and individual programs through the Multicultural Family Center, or enjoying a tri-city view from the Fenelon City Elevator. Things to Do in Dubuque
Things to do near me today: From Phoenix, WV, IN, AK, Boulder — You are reading "25 Best Places to Visit in Iowa" Back to Top
3. Sioux City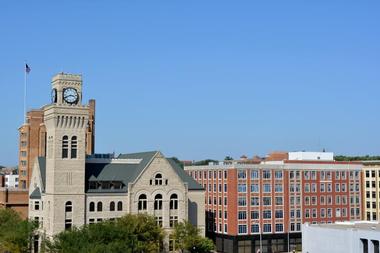 Sioux City, located in northwest Iowa, is locally renowned for its art and history museums, the most significant being the Sioux City Art Center and the Sioux City Public Museum. Families may enjoy a visit to the Children's Museum, which has many interactive attractions, or a trip to the Sergeant Floyd River Museum, which tells of the town's industrial history surrounding the Missouri River. Visitors to Sioux City may also enjoy the Lewis and Clark Interpretive Center, a family-oriented museum covering the early 1800s expedition that helped expand the early United States.
Our experts' top picks for a long weekend getaway: WA, Charleston, New England, Cleveland, San Diego — You are reading "25 Best Places to Visit in Iowa" Back to Top
4. Davenport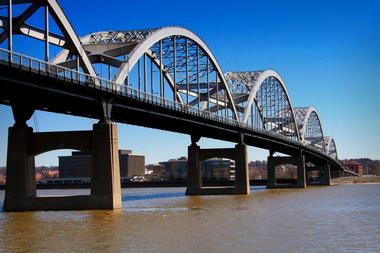 Geographically located along the Mississippi river and symbolically recognized as being part of the crossroads of America, Davenport has a population of nearly 100,000 and is part of the Quad Cities. Once a city that existed primarily for manufacturing and other Mississippi-based industries, Davenport has recently undergone a heavy rejuvenation, helping to reshape the school systems, neighborhoods, public services, and more to levels that haven't been seen in this region in over 80 years. Being a regional cultural hub and third largest city in Iowa, this city offers unique and diverse art, recreation, and music for all to enjoy while spending time in the Quad Cities. Things to Do in Davenport
More places we like: NJ beaches, Retreats, San Francisco, Asheville — You are reading "25 Best Places to Visit in Iowa this Weekend with Friends" Back to Top
5. Cedar Rapids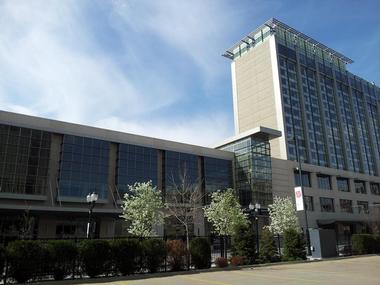 Regionally renowned for being one of the best cities for children, Cedar Rapids has an extensive list of attractions, restaurants, and entertainment geared towards families. From indoor entertainment for children at the Play Station to interactive exhibits and puppet shows at the Cedar Rapids Public Library, children will be endlessly entertained while parents are given a chance to relax. For a more engaging family experience, the indoor Newbo City Market may pique everyone's interests, while Speedeezz Indoor Karting will playfully bring out the competitive side in everyone. For the young learning mind, the Iowa Children's Museum is heavily recommended as it features a 28,000-square-foot playground for children to investigate and learn in while having a lot of fun. Things to Do in Cedar Rapids
Expert opinion: Where should I go this weekend for fun? WI, Day trips from NYC, From San Francisco, Tampa, FL, LA, From Minneapolis, ID, From Dallas — You are reading "25 Best Places to Visit in Iowa this Weekend" Back to Top
6. Iowa City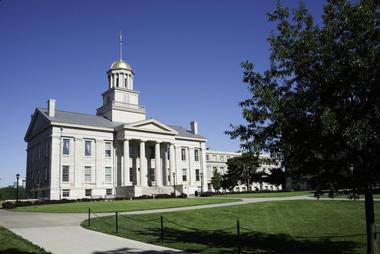 Iowa City, a self-proclaimed collection of communities, rests in the central-southeastern part of the state and is home to the University of Iowa. Filled with plenty of craft breweries, wineries, and local restaurants, visitors to Iowa City will not go hungry or thirsty while looking for something special to please their palate. However, the real charm of Iowa City isn't just its museums, local concert halls, delicious restaurants, or universities. When it comes to pleasing visitors the most, Iowa City strives with its seemingly endless list of events and festivals that take place throughout the year, providing travelers with ample opportunities to plan their trip around a special event they will enjoy. Things to Do in Iowa City
Top Rated: Last minute places for couples: CT, IL, CA, MD, VT, VA, Atlanta, From Chicago, MD beaches — You are reading "25 Best Places to Visit in Iowa" Back to Top
19 Most Beautiful Places to Visit in Iowa
Iowa, nicknamed The Hawkeye State, is located in the Midwestern US and offers some of the most beautiful and spectacular sights and places to visit! Just browse through these awesome pictures and be amazed by it's beauty. Looking these up I also discovered Strawberry Point is the home of the world's largest strawberry, not sure what to do with that but fun to know:)
Grotto of the Redemption
Source: Lost_in_the_Midwest / shutterstock Grotto Of The Redemption
The largest man-made grotto in the world, this Iowa institution is a must-visit for anyone heading to the state. Frequently described as the eighth Wonder of the World, the Grotto of the Redemption is a series of nine grottos that each depict a scene from the life of Jesus. More than 100,000 people head to the grotto every year, with some $4 million worth of minerals and rocks having been used to create this beautiful place. The grotto was given a place on the National Register of Historic Places in 2001 and jasper, quartz, topaz, calcite, stalactites and stalagmites can all be seen at the Grotto of the Redemption.
Iowa River Valley
Source: Zack Frank / shutterstock Effigy Mounds National Monument, Iowa
Iowa is known as being one of the most rural places in the United States, if not in the whole world, but that does not make the state any less beautiful. The Iowa River Valley is arguably the best place in the state to experience its raw, natural beauty, while the River Valley Lodge and Campground in Farmington is worth visiting for anyone seeking somewhere more developed. Dozens of miles of unspoiled horse trails can be enjoyed at your own pace in gorgeous Iowa.
Snake Alley, Burlington
Source: joannapoe / Flickr Snake Alley, Burlington
Once recognized by Ripley's Believe It or Not for being the world's most crooked road, Snake Alley in Burlington is without a doubt one of the oddest sights to see in Iowa. With seven curves over 275 feet, Snake Alley is lit by replica Victorian lampposts in order to maintain its unique old-timey feel. The alley dates back over 100 years and was originally created as a shortcut to Burlington's business district, but today it is best known as a strangely beautiful tourist attraction.
Pikes Peak State Park
Source: McGhiever / Wikimedia Pikes Peak State Park, Iowa
One of the most photographed places in Iowa, Pikes Peak State Park is a must-visit location in the state for anyone who wants to experience the natural, cultural and historical resources of Iowa. majestic views of the Mississippi River are available from the highest point in the park and the breathtaking scenery is well worth the tough climb to the top. Pikes Peak, which officially became a state park in 1936, covers nearly a thousand acres and there are hiking trails and campgrounds to enjoy within the grounds of the state park.
Des Moines
Source: Henryk Sadura / shutterstock Des Moines
The capital of Iowa, Des Moines is also the most populous city in the state and is home to many of the most popular tourist attractions in Iowa too. The Capitol Building is a must-visit location for anyone who wants to see stunning architecture, while the best day out to be enjoyed in Des Moines is arguably at Iowa State Fairgrounds. Blank Park Zoo, Pappajohn Sculpture Park and the Greater Des Moines Botanical Garden are also well worth visiting. The State of Iowa Historical Museum is another Des Moines place to add to the list of places in the city to check out.
Black Hawk Bridge
Source: Tony Webster from Portland, Oregon / Wikimedia Black Hawk Bridge, Lansing
Popularly referred to locally as the Lansing bridge, Black Hawk Bridge is a crossing over the Mississippi River from Iowa to Wisconsin. Opened in 1931, the bridge is a stunning piece of engineering, boasting one of the more unusual designs of any Mississippi River bridge. The bridge is named after Chief Black Hawk of the Sauk tribe, who were involved in an uprising in 1832.
Crystal Lake Cave
Source: soumit / Flickr Crystal Lake Cave, Dubuque
Located five miles south of Dubuque, Crystal Lake Cave is without a doubt one of the most beautiful places to visit in the state of Iowa. Pristine stalagmites, helictites and rare anthodites are all on show in this stunning cave system, which is described by its organisers as a Matchless Wonder. The picnic-perfect outdoor pavilion at Crystal Lake Cave is a great place to relax, while the cave complex also has its own gift shop.
Interstate 80
Source: Frank Romeo / shutterstock Famous Iowa 80 Truckstop On Interstate 80
With so much of Iowa being exceptionally rural, perhaps the best way to experience the state at its most natural is via the open road, with Interstate 80 the most obvious option from which to do this. The road travels all the way through the heart of the state, while visitors should make sure they take a break at Iowa 80, which describes itself as the largest truck stop in the whole world. The truck stop now has a vast array of facilities including a 300-seat restaurant, a barber shop, a 60-seat movie theatre and a huge food court with a range of culinary options.
Mississippi River, Keokuk
Source: Nancy Bauer / shutterstock Mississippi River, Iowa
The Mississippi River is one of the United States' most beautiful natural attractions and one of the best places to see it is in Keokuk, Iowa. The Keokuk-Hamilton Bridge is one of the most beautiful crossings over the Mississippi River, which borders Iowa for a total of 300 miles. Fishing is an extremely popular activity in the Mississippi River among the Iowa people, while Keokuk itself is home to an annual American Civil War reenactment, as well as attractions such as the Keokuk Veteran's Memorial, the Miller House Museum and the George M. Verity River Museum.
Boone & Scenic Valley Railroad
Source: Carol M. Highsmith / Wikimedia Boone & Scenic Valley Railroad In Iowa
No trip to Iowa would be complete without a visit to the Boone & Scenic Valley Railroad, which has numerous locomotives and dozens of cars. The railroad offers a rare chance to ride on the train tracks in an open-air car, while special events including dinner trips are regularly put on by the organisers of the project too. The most common trip on the Boone & Scenic Valley Railroad is approximately one hour and forty five minutes in length and is without a doubt one of the best things you can do in the state of Iowa.
John and Mary Pappajohn Sculpture Park
Source: Dsmspence / Wikimedia John And Mary Pappajohn Sculpture Park
Another of Iowa's top tourist attractions is John and Mary Pappajohn Sculpture Park, which can be found in Des Moines. With more than 20 sculptures from celebrated artists, the John and Mary Pappajohn Sculpture Park is one of the top places of its kind in the whole country. The 4.4 acre park is open during city park hours, which run from sunrise to midnight, with guided tours of the sculptures available from April through to October. Touching and climbing on the sculptures is understandably forbidden, apart from Scott Burton's incredibly beautiful Seating for Eight creation.
Downtown Pella
Source: Laurens Hoddenbagh / shutterstock Pella, Iowa
Pella is not one of the biggest towns in Iowa, but the Dutch community is certainly one of the most beautiful places to visit within the borders of the state. Pella has been given titles such as Tourism Community of the Year and Corporate Friend of Tourism, with many visitors soaking up the incredibly natural beauty at its Lake Red Rock, which is the largest lake in Iowa. Tulip Time is perhaps the best opportunity to visit Pella, as this is when the Dutch community comes into its own, while the Sinterklaas Christmas parade and the July Dutch summer festival known as Kermis are also well worth checking out during a visit to Iowa. Among the best tourist attractions in the town are the Pella Historical Village and the Scholte House Museum and Gardens.
Central Iowa
Source: RK2 Photography / shutterstock Central Iowa
Central Iowa may be dominated by the state capital, Des Moines, but there is a lot more to explore in this part of the world too. One beautiful place that is well worth visiting on a trip to the state is Ames, which was ranked ninth on CNNMoney.com Best Places to Live list a few years ago. The Octagon Center for the Arts is one of the best spots in Ames, while nearby Fort Dodge is worth visiting too, with the Fort Museum and Frontier Village a particular highlight.
Source https://www.touropia.com/best-places-to-visit-in-iowa/
Source https://vacationidea.com/iowa-vacation/best-places-to-visit-in-iowa.html
Source https://www.thecrazytourist.com/most-beautiful-places-to-visit-in-iowa/