10 Best Places to Visit in Hawaii
America's 50th state, Hawaii is a collection of eight islands located in the heart of the Pacific Ocean. Known for white-sand beaches and hula dancing, Hawaii offers a wide range of attractions and cultural highlights. On Oahu, you can see warships from World War II or kick back on the iconic white shores of Waikiki Beach.
On the Big Island, check out black or even green sand beaches. A complete trip to Hawaii involves at least two islands, and preferably more. Let this guide help you pick out some of the best places to visit in Hawaii.
10. Oahu's North Shore [SEE MAP]
Aussie Assault / Flickr
Although the island of Oahu is the most visited of the Hawaiian Islands, most visitors head straight for the capital city of Honolulu. The island's North Shore is a little less touristy, and it offers some truly fantastic beaches.
If you're into surfing, then you might already know that the North Shore boasts some of the best winter waves in the world. Head to Banzai Pipeline to watch world-class surfers and even championship contests. The vibe is very laid back, and it is a great contrast to the busier parts of the island.
9. Molokai [SEE MAP]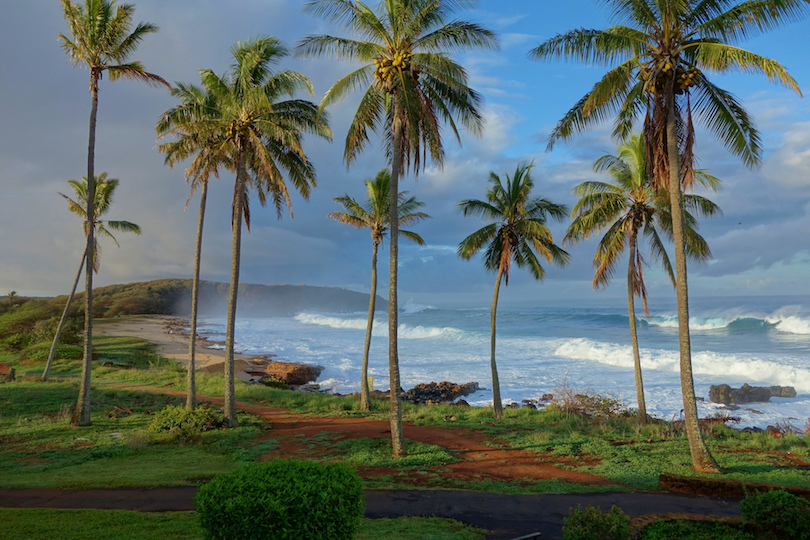 Rose Braverman / Flickr
Not all the Hawaiian Islands have been developed at the same pace. Molokai is one of the least developed, but most scenic, island in the state. Known as the Friendly Isle, Molokai has a unique history. The most famous attraction on the island is the Kalaupapa National Historical Park, which once served as a leper colony.
Today, most visitors to Molokai come for the history as well as for the pristine, undeveloped beauty. You can go hiking in Pala'au State Park, or you can spend the day at Papohaku, a beach where there are rarely more than a few families at any given time.
8. Hapuna Beach [SEE MAP]
Polihale / Wikipedia
The Big Island of Hawaii is home to a number of gorgeous beaches, but one of the very best is Hapuna Beach. The beach is part of a state park located on the Kohala Coast, putting it within a short driving distance of popular hotel destinations like Kona and Waikoloa.
Hapuna Beach boasts a long stretch of fine, white sand, and it is easy to find a spot away from other beachgoers. Hapuna is a top choice for families, and you can make the most of a beach day by bodyboarding or swimming. Towards one side of the beach, there are some reefs where you can even try snorkeling.
7. Kaanapali Beach [SEE MAP]
Upsilon Andromedae / Flickr
On the western coast of Maui is Kaanapali Beach, which is found just outside of the tourist hub known as Lahaina. Kaanapali runs from Black Rock to Canoe Beach, fronted by several resorts and many fine shops & restaurants.
One of the top things to see in Hawaii, the gorgeous, white sand beach boasts a number of rock monuments, many of which had historic or religious significance to local Hawaiians. Pu`u Keka`a, known as Black Rock, is the most famous of these. The beach also offers a stunning boardwalk just over two miles long where you can take a stroll and admire the views of the Pacific Ocean.
6. Na Pali Coast [SEE MAP]
On the island of Kauai, also known as the Garden Isle, you can explore the famed Na Pali Coast. Along the coast, sheer cliffs covered in lush, green vegetation drop off rapidly, meeting the sands of private, secluded beaches. The scenery is unlike anything else on the planet.
Many visitors recognize the landscape because the Na Pali Coast served as a primary filming location for Jurassic Park and several other movies. You can hike among the cliffs if you head for the trails in the Na Pali Coast State Park. If adventure calls, there are some cliffs where locals can show you how to safely jump into the water below.
5. Lanikai Beach [SEE MAP]
Marlon Buchholz / Flickr
If you're searching for paradise on Earth, then head to Lanikai Beach. Located on the eastern coast of Oahu, Lanikai Beach is just a 30-minute drive from Downtown Honolulu. However, it feels like a completely different world.
Lanikai is Hawaiian for Heavenly Sea, and that is the perfect way to describe this half-mile stretch of coastal beauty. White sand, blue water and shade from the occasional palm tree makes this a stunning place to explore. From this tropical setting, you can even view the Mokuluas, two offshore islands called Moku Nia and Moku Iki.
4. Haleakala National Park [SEE MAP]
Haleakala is shield volcano that forms more than half of the island of Maui. Also known as the East Maui Volcano, this summit tops more than 10,000 feet (3,000 meters) at its peak. The area surrounding the volcano is called Haleakala National Park.
Much of the park revolves around the enormous crater, which is comparable to a lunar landscape. Hiking is the most popular way to explore the park, and the best views can be found along the trail leading to the Ka Luu o Ka Oo cinder cone. If you hike along the Pipiwai Trail, there are several pools where you can cool off with a refreshing swim. The 400 foot (120 meter) Waimoku Falls can be found at the end of the Pipiwai Trail.
3. Waimea Canyon [SEE MAP]
Just a few miles inland of the Na Pali Coast of Kauai is Waimea Canyon. Also known as the Grand Canyon of the Pacific, Waimea Canyon is one of the most amazing places to visit in Hawaii. The staggering size draws definite parallels to the Grand Canyon, but Waimea Canyon may be even more beautiful thanks to plenty of greenery among the desert-like landscape.
Clouds often roll in during the afternoon, so the clear mornings are the best time to explore the canyon with a hike through Koke'e State Park. Camping is also possible for the intrepid traveler, allowing you to be there for the glorious sunrise in the morning.
2. Honolulu [SEE MAP]
© Delamofoto / Dreamstime
No trip to Hawaii would be complete without spending time in Honolulu. This is by far the largest city in the island chain, the state capital and a bustling, exciting place to explore. There is no shortage of things to do, but Waikiki is often a highlight.
Waikiki Beach is actually a string of several connected beaches, with Duke Kahanamoku Beach being a popular choice for tourists and local surfers alike. For amazing views in Honolulu, climb up to the summit of the Diamond Head Crater, which overlooks Waikiki. Don't forget to visit Pearl Harbor, where the USS Arizona Memorial is the poignant centerpiece.
1. Hawaii Volcanoes National Park [SEE MAP]
One of the most important attractions on the Big Island is the Hawaii Volcanoes The park encompasses two active volcanoes: Kīlauea, one of the world's most active volcanoes, and Mauna Loa, the world's most massive shield volcano. As the home to the Goddess Pele, the site has a lot of historic significance to the Hawaiian people and the region has been settled for at least 700 years.
Get to know the volcano with a visit to the Kilauea Visitor Center, where a viewing platform allows for spectacular pictures of a large crater. With some luck, you'll witness the primal power of molten earth boiling into the sea. Hike or drive along Crater Rim Road for otherworldly views, and then explore the heart of the Thurston Lava Tube.
Map of Hawaii
© OpenStreetMap
17 best places to visit in Hawaii
Isolated, volcanic, beautiful, culturally significant. Hawaii is many things. From soaring over scalloped mountains to strolling along iconic beach resorts, or from learning to hula to exploring the fiery legends of Pele, each island has its own unique charms and experiences.
Whatever island you decide to visit, Hawaii's charms are plentiful and profound. Here are the Aloha State's top experiences.
Halema'u ma'u Crater under stars of Milky Way in Hawai'i Volcanoes National Park © Matt Munro / Lonely Planet
Hawaiʻi Volcanoes National Park, Big Island
Set on the sloping flanks of the world's most active volcano – whose latest eruption ended in 2021 – this extraordinary park is a dramatic reminder that nature remains very much alive and in perpetual motion. Incredible hiking trails take in lava flows and tubes, steam vents and wild beaches, while a long, winding downhill drive leads past several major sights.
Get local insight on destinations all over the world with our weekly newsletter delivered to your inbox.
Shaped by eons of wind and erosion, the Na Pali Coast is a must-do for every visitor to Kaua'i © chasefogus / 500px
Na Pali Coast, Kaua'i
The Na Pali Coast deserves to top every Kaua'i visitor's to-do list. Admire it from a cruising catamaran, or pit your paddle and kayak against the elements. Hikers can see it close-up on the demanding 11-mile Kalalau Trail. Whether you're on a day hike or a backpacking expedition, you'll encounter a place like no other, where verdant cliffs soar above the waterfalls of wilderness valleys.
Hawaii is perfect for short but exciting road trips, and the Road to Hana is one of the best © Matt Munro / Lonely Planet
Road to Hana, Maui
A white-knuckle roller-coaster of a ride, the Hana Highway in Maui twists through dense jungly valleys and skirts beneath mighty cliffs, curling around 600 twists and turns along the way. Fifty-four one-lane bridges cross nearly as many waterfalls ­– some eye-popping torrents, others soothing and gentle. Driving is only half the thrill. Get out and swim in a Zen-like pool, hike a ginger-scented trail and savor fresh guava and coconuts.
Waikiki, O'ahu
Hawaii's most famous resort, adjoining Honolulu, had become a haven for tacky plastic lei, coconut-shell bikini tops and motorized, hip-shaking hula dolls. But real aloha and chic-modern style have returned. Beach boys and girls surf legendary waves by day, and after sunset tiki torches light up the sand. Every night hula dancers – backed by slack key guitars and ukuleles – sway to ancient and modern rhythms at oceanfront hotels, open-air bars and even shopping malls.
Haleakalā National Park, Maui
As you hike into Haleakalā, the first thing you notice is the crumbly lunar landscape. Then comes the eerie quiet – the only sound is the crunching of volcanic cinders beneath your feet. The trail continues through a tableau of stark lava, rainbow-colored cinder cones and ever-changing clouds. In the park's coastal section, waterfalls tumble into brilliant pools flanked by trails, viewpoints and a bamboo forest.
Intricate lei's of orchids and other exotic flora at Merrie Monarch Festival in Hilo ©Alvis Upitis/Getty Images
Merrie Monarch Festival, Big Island
Ever seen a resort luau (Hawaiian feast) show? Entertaining, for sure. But, to see authentic hula – performed to invoke gods and legends through chant and dance – attend this prestigious hula competition held in Hilo every Easter week. The catch? You must book tickets a year in advance. Fans fly in from around the world for this one. Even without tickets, you can enjoy a parade, craft fair and free performances.
Pearl Harbor, Oʻahu
Pearl Harbor is best known for the 1941 attack on the USS Arizona, now a sobering memorial that still draws many veterans, tourists and military history buffs to Oʻahu. But the history of this place, and many of Hawaii's active US military bases, goes back much further, even before the colonization and annexation of the islands in the 20th century as a growing United States flexed its imperial muscle. The very name "Pearl Harbor" is a translation of the Native Hawaiian name Wai Momi. Nearby, military history buffs can clamber around inside the USS Bowfin submarine, tour the aircraft hangars of the Pacific Aviation Museum and stand on the decks of the "Mighty Mo" battleship, where Imperial Japan formally surrendered in 1945.
Widely viewed as one of Hawaii's (and the USA's) best beaches, Hanalei Bay on Kaua'i is perfect for surfers and beach loungers alike © Glowing Earth Photography / 500px
Hanalei Bay, Kaua'i
Repeatedly voted among the USA's very best beaches, this crescent-shaped bay on Kaua'i's North Shore delights lazy sunbathers and active beachgoers alike. Surfers can charge massive (and some beginner) waves, while onlookers amble along the golden sands. Surf lessons take place near the pier, and every afternoon locals and visitors fire up barbecue grills, crack open cold brews and watch the daylight fade.
Molokini
Hawaiian legend says that Molokini was a beautiful woman turned to stone by a jealous Pele, goddess of fire and volcanoes. Today Molokini is the stuff of legends among scuba divers and snorkelers. The crescent-shaped rock, only a few miles off the South Maui coast, is the rim of an ancient volcanic crater that has eroded over eons and sunk back beneath the ocean's surface. The shallow waters cradled within are a more than hospitable spot for coral and a calling card for more than 250 species of tropical fish.
ʻIolani Palace, Oʻahu
No other place evokes a more poignant sense of Hawaii's history. The palace was built under King David Kalakaua in 1882. At that time, the Hawaiian monarchy observed many of the diplomatic protocols of the Victorian world. The king traveled abroad, meeting with leaders around the globe, and received foreign emissaries here. Although the palace was modern and opulent for its time, it did little to assert Hawaii's sovereignty over powerful US-influenced business interests, who overthrew the kingdom in 1893. Two years after the coup, the former queen, Liliʻuokalani, who had succeeded her brother David to the throne, was convicted of treason and spent nine months imprisoned here, her former home.
Surfing Oʻahu's North Shore
When giant rollers come crashing in, head to Oʻahu's North Shore for a glimpse of Hawaii's surfing rock stars (you can also spot them riding pro-worthy waves at Maui's Hoʻokipa Beach and Kauaʻi's own North Shore). No need to pull out a camera lens larger than a howitzer – you can practically look these surfers in the eye as they paddle into monster surf. Or experience the adrenaline rush for yourself by learning to ride da kine (the best kind of) waves. Hang loose, brah!
Also known as the "Grand Canyon of the Pacific," Kaua'i's Waimea Canyon is worth a trip © Alexander Howard / Lonely Planet
Waimea Canyon, Kauaʻi
Carved by aeons of erosion and the collapse of the volcano that formed Kauaʻi, the "Grand Canyon of the Pacific" stretches 10 miles long, 1 mile wide and more than 3600ft deep. Roadside lookouts along the sinuous scenic drive survey russet cliffs, towering waterfalls and endless abysses. Steep trails lead hikers down to the canyon floor, out to coastal headlands, and deep into the mountaintop swamps.
Waipiʻo Valley, Big Island
A mysterious green bowl filled with ghosts and legends. A sacred site. A retreat from the outside world. Waipiʻo's special distillation of all these makes it irresistible. Some simply snap their photos from the panoramic overlook, one of the Big Island's most iconic views. Others trek down to the valley floor with a local guide to stroll a black sand beach and peer at distant waterfalls while hearing the stories and legends of the surrounding region.
Mantas gather just off the west coast of the Big Island, making an essential experience for snorkelers and divers ©Russell C Gilbert RCG Maru Photography/Getty Images
Night Diving & Snorkeling with Mantas, Big Island
The alien wonders of the ocean become accessible to all on the Big Island. Take a night snorkeling or scuba diving trip near Kailua-Kona and come face to face, eye to eye and sometimes belly to belly with enormous Pacific manta rays. These graceful giants glide like dark angels beneath you, dancing a shadowy ballet that is heart-wrenchingly beautiful and utterly fascinating. Best of all, you don't need to be an expert in the water to enjoy this unforgettable adventure.
Culturally and scientifically significant, Mauna Kea is a must for visitors to the Big Island © Tec Petaja / Lonely Planet
Mauna Kea, Big Island
In Hawaiian tradition, the summit of the islands' tallest mountain, Mauna Kea on the Big Island, is the point where the earth and the heavens meet. Contemporary astronomers feel much the same way, and have in the last fifty years taken advantage of the clearest air on the planet to erect ever more powerful observatories – in many cases meeting with hundreds of Native Hawaiian protestors, who hold the mountain sacred. While science and spirituality remain at loggerheads, visitors can still join mountaintop stargazing sessions.
Downtown Honolulu and the Aloha Tower, built in 1926 as a navigation aid for Honolulu Harbor © John Seaton Callahan / Getty Images
Honolulu, O'ahu
In Hawaii's cosmopolitan capital on O'ahu's southern shoreline, you can eat your way through the pan-Asian alleys of Chinatown, gaze out to sea from the landmark Aloha Tower and explore the USA's only royal palace, where Hawaii's last monarch languished under house arrest. Browse at the world's largest open-air shopping center, then pay your respects at Pearl Harbor.
Once the site of a colony for Hawaiians affected with Hansen's disease, the Kalaupapa Peninsula on Moloka'i still retains the churches and communities that cared for sick © Alexander Howard / Lonely Planet
Moloka'i
More than half of Moloka'i's people have Indigenous heritage, and locals favor preservation of land and culture over schemes promoting tourism. Yet visitors find a genuine welcome, and the aloha spirit is everywhere. As well as the forbidding, spectacular Kalaupapa Peninsula, island sights include the end-of-the-road Halawa Valley, home to hundreds of sacred taro patches, ancient temples and waterfalls pounding into swimmable pools.
Kihei & Wailea, Maui
Famed for phenomenal swimming, snorkeling, sunbathing and sunny skies, the beaches of South Maui are world class. In winter, whales congregate immediately off shore, while snorkel cruises head out year-round. The further south you go, the more magnificent the beaches become, culminating in superb, mile-long Big Beach. If you're not staying in exclusive Wailea, thank Hawaii's beach-access laws, which allow you to visit these beautiful strands anyway, with dedicated public parking lots.
Buy Best of Hawaii
Lonely Planet's Best of Hawaii is your passport to the most relevant, up-to-date advice on what to see and skip, and what hidden discoveries await you. Explore downtown Honolulu, hang out in hip-again Waikiki, or hike the verdant Kalalau Trail; all with your trusted travel companion.
Buy Best of Hawaii
Lonely Planet's Best of Hawaii is your passport to the most relevant, up-to-date advice on what to see and skip, and what hidden discoveries await you. Explore downtown Honolulu, hang out in hip-again Waikiki, or hike the verdant Kalalau Trail; all with your trusted travel companion.
Top 10 Places to Visit in Hawaii
Aloha and welcome to our Top Places to Visit in Hawaii list. We love to provide our readers with the latest insiders' knowledge and tips about the best thigs to do in Hawaii from a local perspective. Whether you live in Hawaii or are planning your next island-style vacation, please enjoy this short list of must-see places in Hawaii.
10 most popular
places to
visit in Hawaii
With so many incredible locations to see throughout the Hawaiian Islands, it is impossible to list everything in just one blog post! Please enjoy our carefully curated list of the most popular places to visit in Hawaii.
USS Arizona Memorial at Pearl Harbor
The USS Arizona Memorial at Pearl Harbor in Honolulu is the #1 Visitor Destination in the Hawaiian Islands. Over 2 million U.S. and international visitors choose to visit the Arizona Memorial every year to see where WWII began for America. There are 9 historic sites that contribute to the WWII Valor in the Pacific National Monument located in Alaska, California, and Hawaii. Five are at Pearl Harbor: the USS Arizona Memorial, USS Utah Memorial, USS Oklahoma Memorial, and areas within Battleship Row and Ford Island.
FREE tours are available from 8 am to 3 pm daily, except for certain holidays. For more information about daily guided tours of the USS Arizona Memorial visit Pearl Harbor Tours.
Located on over 17 acres, the recently renovated Pearl Harbor Visitor Center is now operated by the National Park Service. While visiting Pearl Harbor, guests can tour the entire Visitor Center but should be prepared to spend a couple of hours if they want to take their time and see it all. Upon arrival, guests will be guided towards a ticket counter to receive both movie tickets, for a film summarizing the events of this historic site, and boat shuttle tickets, for a trip to the USS Arizona Memorial. The film and the boat tour together are approximately 1 hour and 20 minutes. Guests will also have the option to arrange a headphone-narrated tour at the ticket counter.
Pearl Harbor is the largest natural harbor within the State of Hawaii and was once referred to as Pu'uloa by the ancient Hawaiians. The Hawaiian name directly translates to "water of pearl," perfectly christened for the immense amounts of pearls that were once found in its waters.
North Shore of Oahu
The North Shore of Oahu refers to the geographic area between West Oahu's Ka'ena Point and East Oahu's Kahuku Point. The North Shore is well-renowned for its incredibly large waves during the Winter, breathtaking coastlines, and for attracting surfers from all around the globe. Famous North Shore surf spots include Waimea Bay, Sunset Beach, and Banzai Pipeline (Ehukai Beach).
The main hub in the North Shore is the historic Town of Hale'iwa, named after the first hotel opened on the North Shore by Benjamin Dillingham in 1898. Hale'iwa is definitely one of the coolest and most charming towns to visit in all of Hawaii with art galleries, local food spots, surf shops, a surf museum, gift shops, food trucks, yoga studios, and a great community of laid-back residents.
When on the North Shore of Oahu, definitely go to Giovanni's Shrimp Truck in Kahuku and order the garlic shrimp plate, visit the historic M.Matsumoto's Grocery Store in Hale'iwa Town for shave ice, spend some time at Waimea Bay, and check out Lani's Beach (Laniakea Beach) to see the Green Hawaiian Sea Turtles in their natural habitat. Please do not touch the turtles!
Waikiki Beach
The name Waikiki, in essence, means "spouting waters," and refers to the freshwater rivers that once flowed towards the ocean. In ancient times, the coastal area of Waikiki in South Oahu once encompassed a larger area, including Manoa and Palolo Valleys. During the 1450s, Waikiki was designated as the first government center in all of Hawaii.
Indeed, there's a host of reasons why Waikiki is one of the top places to visit in Hawaii!
First of all, Waikiki was the first vacation destination for Hawaiian royalty, and then, foreign visitors began to frequent Waikiki in the 1830's. The first hotel was opened in 1901, and a global trend was created! It was then that Waikiki started to become one of the most sought after vacation destinations in the world.
Today, Waikiki is a gorgeous beach town spread across 1.5 square miles, lined by hotels, luxurious resorts, and decorated by a variety of restaurants, shopping centers, and nightlife. Waikiki Beach is a glory in its own right with fabulous stories of Hawaiian entertainers like Hilo Hattie and Andy Cummings.
Mainland celebrities that contributed to popularizing Waikiki were Clark Gable, Frank Sinatra, Shirley Temple, Bing Crosby, Amelia Earhart and Elvis Presley. Perhaps one of the most cherished Waikiki names is Duke Kahanamoku, a celebrated Hawaiian hero and a master waterman.
When in Waikiki, take surf or standup paddleboard lessons at Waikiki Beach, check out the Duke Kahanamoku statue, visit the Honolulu Zoo and the Waikiki Aquarium, and take a walk through the international marketplace for gifts, souvenirs, and a chance to taste some local fare. Do not miss out on happy hour and some ono pupus (appetizers) at Duke's Waikiki on Sundays to listen to famed Hawaiian musician Henry Kapono.
Na Pali Coast State Wilderness Park
The Na Pali Coastline on Kauai is, without a doubt, one of the most beautiful places on earth. This coastal region isn't just one of the best places to see in Hawaii, but it is also super rich in Hawaiian cultural history. This area was home to Hawaiian Ali'i (royalty) and is known for its exuberantly flowing waterfalls and freshwater rivers, an abundance of Hawaiian flora and fauna, and an excess supply of natural food sources from the valley to the sea: taro, sweet potatoes, breadfruit, fresh fish and more. Since the Na Pali Coastline can only be reached by foot or ocean vessel, it has remained somewhat isolated.
Today, visitors and Hawaii residents have a few choices available to them when exploring the Na Pali Coastline. The most "mainstream," and popular way for guests to explore this coastline is by ocean vessel. A variety of sailing companies on Kauai provide snorkel tours to the Na Pali Coastline, sunset dinner cruises, and longer Kauai ocean tours to Nualolo Kai, a remote beach where guests can snorkel, explore, and visit an 800-year-old Hawaiian fishing village.
Another option for experiencing the Na Pali Coastline is by foot through the Kalalau Trail (22 miles roundtrip). Here, Kauai visitors can explore a rare eco-system, see natural waterfalls and streams, dramatically rugged coastlines and two gorgeous beaches, Hanakapi'ai and Kalalau Beach. The full hiking/camping trip through the Na Pali Coastline is at the very least a 3-day trip, although the first 2 miles of the Kalalau Trail from Ha'ena Point to Hanakapi'ai Beach makes for a wonderful day trip, approximately 4 miles roundtrip.
We suggest that guests hoping to explore the Na Pali Coast begin by carefully planning first. We strongly suggest that you do not attempt hiking the Kalalau Trail between mid-September and May to avoid unsafe weather and terrain conditions.
Haleakala National Park
Visit the magical Island of Maui, and feel the power of the 10,023-ft dormant Mt. Haleakala all around you! While on the Valley Isle, visitors absolutely must plan an adventure to Haleakala for a sunrise or a sunset, guided activities, hiking, and camping. When visiting Haleakala for sunrise or sunset, plan for at least a 1-1/2 hour drive from Central Maui (Kahului) to the summit.
This is a must-do activity on Maui, and after witnessing the jaw-dropping scenery, you will instantly understand why Haleakala, "The House of the Sun," is one of the top places to visit in Hawaii.
Due to the high elevation, the temperature drops, so bring something warm to wear for the unpredictable weather. Make sure you load up on gas, bring food and water, and check up on local sunrise and sunset times. Reservations must be made in advance.
If you're planning on doing guided activities at the Haleakala Crater, plan for all the most recent event information.
Here, guests can gather in an outdoor classroom and learn more about Maui's geography and Haleakala's unique natural and cultural history. Park naturalists are extremely educated on all topics and easily engage all participants with science projects, demonstrations, and short guided hikes. If you're planning a visit for sunrise, you'll need to be sure to make a parking reservation.
For hiking and camping adventures to Haleakala National Park, do your research and plan your activities ahead of time. Various day-trip hiking options are available, but Haleakala is most famously traveled through multi-day hiking and camping trips. In this way, guests can journey through the Crater while learning about Maui's unique eco-systems with approximately 30-miles of hiking trails.
Popular Haleakala Maui trails include The Kaupo Gap, Sliding Sands, Halemauu, Hosmer Grove & Supply Trails, and Kipahulu.
Road to Hana
If you're visiting Maui, do not miss out on a chance to witness one of Hawaii's most beautiful landscapes by journeying to East Maui on the Hana Highway. This is unquestionably one of the most incredible and unique places to visit in all of Hawaii.
The Road to Hana is one of the most popular activities to do in Hawaii and one that Maui lovers should do at least once in their lifetimes. Most visitors choose to experience the road to Hana in one of two ways: by car or as part of a guided tour. The choice is yours, but a solo trip with just family and friends is probably the best scenario for those looking to explore more freely.
If you are driving, please be pono (respectful). Pull over at designated parking areas (look for the signage), and do not slow down traffic by abruptly stopping your car for a photo opportunity or a coconut. It's not only dangerous but is also absent-minded and rude behavior toward the many East Maui residents who traverse the Road to Hana daily. Mahalo for understanding!
En route to Hana, guests should definitely stop in Paia Town to gas up and get some coffee and snacks for the drive ahead. We suggest that you plan to reach Paia Town by 7 am. This way you can avoid the traffic that will inevitably dominate the Road to Hana from late morning until the afternoon. We also suggest that you do your research and choose a few places that you definitely want to visit so that you do not get caught up in all the stops on the way—otherwise, your day will go by quickly and you will be sad that you missed some sites!
While traveling down the Road to Hana, we suggest the following stops: Twin Falls (Mile Marker 2) for a light hike to a beautiful waterfall and a refreshing smoothie or fresh coconut, Nahiku Marketplace (Mile Marker 29) for yummy treats and gifts, and Wai'anapanapa State Park (Mile Marker 32) to see a black sand beach, a gorgeous coastline, and a rare glimpse into Old Hawaii. Reservations are required to visit Wai'anapanapa.
Once you reach Hana Town, check out Hana Bay, the art galleries, and farmers markets. Just past Hana, guests can spend the day at Hamoa Beach, or travel further towards Kipahulu to view the 7 Sacred Pools of Ohe'o.
Source https://www.touropia.com/best-places-to-visit-in-hawaii/
Source https://www.lonelyplanet.com/articles/best-places-to-visit-in-hawaii
Source https://www.prideofmaui.com/blog/hawaii/top-10-places-visit-hawaii