21 Awesome Things to Do in Albania – The Ultimate Albania Travel Wish List
21 of the very best things to do in Albania, including adventurous activities, cultural encounters and immersive experiences that will make you fall in love with the Land of Eagles.
Albania has to be one of the most underrated – and most misunderstood – countries in Europe. Stereotypes swirl around the former 'hermit kingdom'. Many of them would have you believe Albania is a dangerous or backwards place.
It wasn't all that long ago that Albania was completely sealed off. Now, like a sleeping beauty awakening from a deep slumber, tourism is booming in Albania and this fiercely proud nation is fully embracing the trend.
Essential reading:My best Albania travel tips.
After being isolated for so long, it feels like Albania is bursting at the seams to share its vibrant traditions, impressive historical sites and culinary prowess with the rest of the world.
Meanwhile Albania's biggest secret, it's natural beauty, is a mystery no more: From the sparkling beaches of the riviera to the peaks of the Accursed Mountains, through plains sprinkled with historic castles and towns, Albania has it and certainly isn't afraid to flaunt it.
After visiting every Balkan country, Albania won a firm place among my top three favourites. I hope this list of the best things to do in Albania will make you fall in love with the Land of Eagles the same way I did!
Please note: This post contains affiliate links, meaning I may earn a commission if you make a purchase by clicking a link (at no extra cost to you). Learn more.
Best things to do in Albania for history, culture & cuisine
1. Unravel Tirana, Albania's cosmopolitan capital city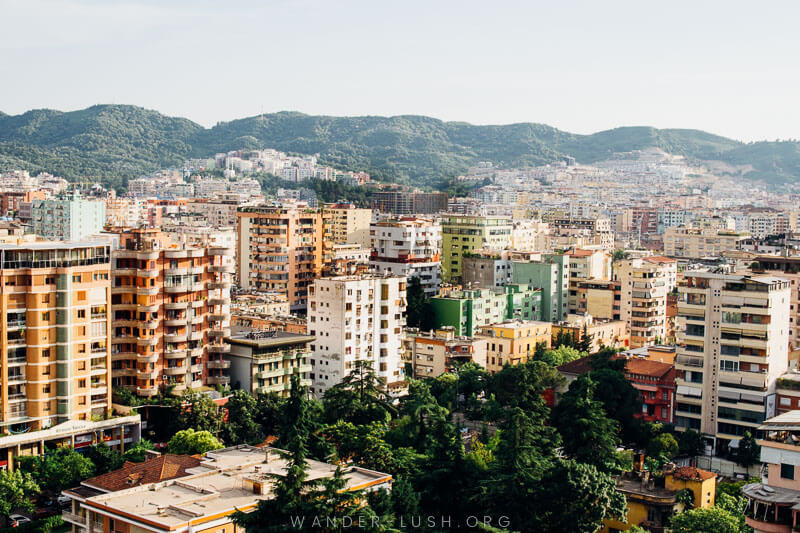 You can't visit Albania without spending a couple of days in Tirana. As a country, Albania has undergone massive transformation since the end of communist rule. There's no place where you can feel the change in the air more palpably than the capital and largest city.
If Tirana (Tiranë) conjures visions of a sea of concrete, you're only half right. Tirana also has a softer side. For me, it's one of the most liveable cities in the Balkans, brimming with parks, pedestrian walking streets and ice cream parlours, outdoor cafes and cool urban spaces. The best way to take it all in is with a panoramic view from the top of the Sky Tower.
The impressive Skanderbeg Square is the heart of the city and holds many of the most important monuments and museums, including the Et'hem Bey Mosque, the Clock Tower and the Palace of Culture.
Over the river, the streets of Blloku and the iconic Enver Hoxha Pyramid symbolise New Tirana. Formerly a closed residential area for the party elite, it's now the city's hippest hood, crowded with communist-retro-themed cafes, whiskey bars and street art.
Believe me, that's only the beginning.
Plan your time in Tirana: See my Tirana itinerary for more recommendations.
Experience the best of Tirana: Take an immersive city tour with a local guide.
Where to stay in Tirana: Allure Boutique Hotel offers modern, beautifully decorated rooms right in the centre of the city.
2. Learn about Albania's communist history at Bunk'Art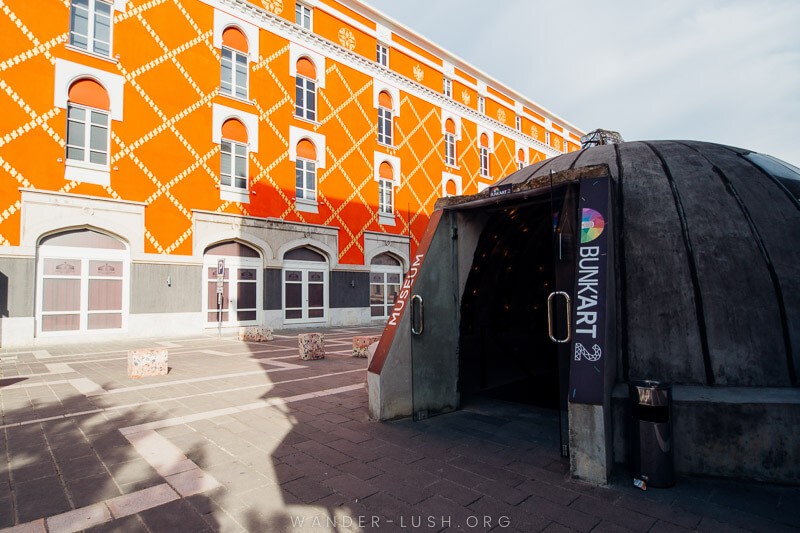 Among all the wonderful things to do in Tirana, Bunk'Art deserves a special mention. One of the most memorable museums in the Balkans, it catalogues the country's time under Enver Hoxha's regime from a myriad of different perspectives (including that of everyday citizens), giving outsiders a precious window onto Albanian life a few short decades ago.
Not to harp on about the country's communist era (there is a whole lot more to Albania than that), but there's no denying this was an consequential period of Albanian history. Understanding what happened in Albania from the 1940s onwards will enrich your time in the country enormously. The very fact that a museum like Bunk'Art exists is a testament to the way Albania unashamedly acknowledges its past while always pressing forward towards brighter days.
Bunk'Art 2 is located in an old underground shelter in the middle of Tirana, one of thousands built all over the country to protect people in the case of a nuclear assault. The graphic exhibits and harrowing first-hand accounts are difficult to digest at times, so pace yourself and come prepared.
There is a second Bunk'Art (the original) located on the outskirts of Tirana, close to the Mt. Dajti cable car station.
Visit Bunk'Art 2: See here for hours, ticket prices and other info.
Learn more about communist Albania: This city tour with a local is a great place to start.
3. Discover the two sides of Berat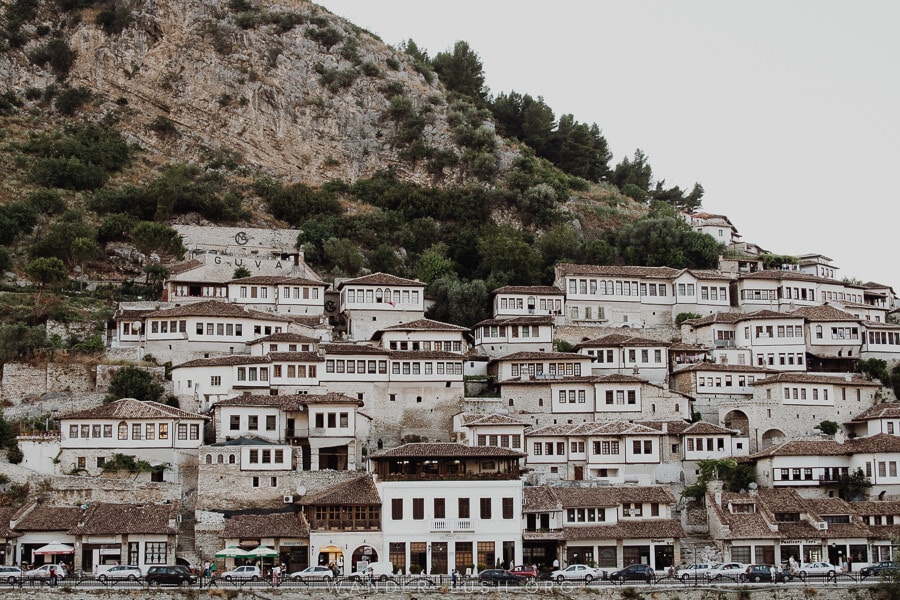 Located 100km south of Tirana, Berat is home to one of Albania's two UNESCO World Heritage Listed Old Towns. Its dual neighbourhoods, Gorica and Mangalemi – traditionally the Christian and Muslim quarters respectively – spill down over two opposing hillsides, separated by a meandering river and linked by a handsome stone bridge.
Nicknamed the 'City of a Thousand Windows', Berat is known for the distinct Ottoman-era architecture in Mangalemi: Stone-and-plaster houses with little square portals. Stacked high, they peep down onto the river valley like a crowd of faces staring down the houses on the opposite bank. Each facade wears its own expression and has its own character.
Like most cities and towns in Albania's rugged interior, Berat is crested with a spectacular fortress. Many families still live within the stone walls of the 2,400-year-old Berat Castle, and you can see shepherds grazing their sheep, women selling souvenirs and children playing as you wander around searching for the next spectacular city view.
Just beyond Berat, you can find waterfalls and canyons (more on that in a moment) and some of the country's best vineyards, including Nurellari Winery and Cobo Winery.
Discover more things to do: Here is my detailed guide to Berat.
See Berat in a day: This day trip from Tirana includes transfers.
Where to stay in Berat: Hotel Klea is a charming boutique accommodation nestled within the fortress walls.
4. Wander Gjirokaster's Old Bazaar
Sitting atop a hill in Albania's central south, this is another UNESCO World Heritage Site that shouldn't be missed. Known as the 'City of Stone', Gjirokastër (Gjirokaster) is even more charming than Berat (if that's even possible) thanks in large part to its sprawling Old Bazaar: A network of shops, cafes and restaurants bound together by decoratively paved stone alleyways.
After exploring the Old Bazaar on foot, tasting the local food and purchasing a pot of honey or a hand-woven carpet, head up to Gjirokaster Castle to look down on the Ottoman-era marketplace from above. Like the bazaar, the castle has been attentively restored and features a terrific history museum.
Gjirokaster's incredible 18th century fortified houses – huge four or five-story homes buttressed with stone fortifications – stand proudly on every hillside. Some have been converted into house museums and are open to visitors.
Find more things to do: Here is my detailed guide to Gjirokaster.
Take a walking tour: This itinerary highlights the best of the city.
Where to stay in Gjirokaster: Bed and Breakfast Kotoni is a comfortable family guesthouse with city views and a delicious complimentary breakfast.
5. Visit Krujë, the spiritual home of Albania's national hero
Under an hour by road from Tirana, Krujë (Kruja) is one of the most important towns in northern Albania. It was the country's first capital and has long served as the spiritual home of the nation's most revered historical figure, General Georg Kastriot Skanderbeg.
Usually depicted atop his horse, Skanderbeg is immortalised in city squares across the region, including in Skopje, Prishtina and of course in Tirana where the main plaza (Skanderbeg Square) carries his moniker.
The Albanian-born military commander is famous for leading a rebellion against the dominant Ottoman Empire in the 15th century, ultimately freeing Albania as well as North Macedonia, Greece, Kosovo, Serbia and Montenegro from the Turkish yoke. And it was here in Kruja that Skanderbeg launched his penultimate campaign.
The Skanderbeg Museum provides an insight into his early years and illustrious military career. Not much remains of the nearby Kruja Castle (Kalaja E Krujës), but it's worth visiting for the stunning views alone (on a clear evening, you can see all the way out to the sea). The lower part of town is dedicated to a cobbled bazaar.
Where to stay in Kruja: Rooms Emiliano is a wonderful family-style guesthouse inside the Kruja Castle complex. Wander amongst the ruins at night and eat breakfast with a view in the morning.
6. Sip a cold birra in Korçë
Located in the south-eastern corner of Albania near the borders with North Macedonia and Greece, Korçë (Korca) has a very different vibe to any other city in Albania. Chapters of Greek and Aromanian heritage are visible in the city's architecture and churches, while the Ottoman effect that permeates all of Albania can be felt here too.
The first ever Albanian Language School was located in Korca and now serves as a museum dedicated to the mother tongue. The Old Bazaar here has been completely renovated and serves as a hip drinking precinct.
Albania's favourite (and first ever) beer, Birra Korca, is made here using local spring water, and yet another excellent experience is to visit the brewery on the edge of town. You'll find a beautiful open-air beer garden serving ale on tap alongside Albanian-style salty beer snacks.
Finally, the National Museum of Medieval Art, a world-class institution that displays more than 7,000 religious icons and wood carvings from around Albania, is worth the trip to Korca alone. This is an immersive museum and a full-body experience – you really have to go to see what I mean.
Find more things to do: Here is my detailed guide to Korca.
Where to stay in Korca: Hani I Pazarit is a historic inn inside the Old Bazaar, features a pretty internal courtyard and an acclaimed restaurant.
7. Step back in time at one of Albania's house museums
Almost every city and town in Albania has at least one house museum – an old family abode that's been lovingly restored to resemble its original form.
Though often modest and without much signage in English, the way these homes are laid out reveals a lot about family life and society, while lavish displays of textiles and embroidered costumes are a tactile display of Albanian culture.
Under communism, most private homes were seized by the state, especially opulent merchant houses and stately Ottoman-era dwellings. Many of the families who were able to reclaim their properties after the regime fell wanted to open them up and share them with the public. Gjirokaster, Berat and Shkoder all have beautifully preserved houses that now serve as ethnographic museums.
8. See Albania's Roman ruins in Durrës, Apollonia and Butrint
Reaching even further back into Albania's history, the coastline is dotted with reminders of the region's time under Ilyrian, Greek, Roman and Byzantine rule. Albania's archaeological sites might not be as well-preserved as those in neighbouring Greece, but they're every bit as impressive (maybe even more so due to their crumbling beauty).
The port city of Durrës (Durres) is known for its amphitheatre, which was built in 100 AD on the orders of Emperor Trajan. UNESCO-inscribed Butrint – with its monumental theatre and ancient city walls – is perhaps the most well-known archaeological site in the country. Given its spectacular location on the coast amidst lakes, wetlands and salt marshes, Butrint is a playground for history buffs and nature-lovers alike.
The ancient town of Apollonia, located 12km west of Fier, was an important centre for economics, trade and education; a hub that attracted many illustrious students, including a young Roman emperor Octavian Augustus. A highlight here is the elegantly restored pillars of the 2nd century Administrative Centre. The Apollonia Museum provides valuable information about the city's history and is also home to the Church of St. Mary and a Byzantine monastery.
Other lesser-known historic sites in Albania include the ruins at Byllis, Orikum and Phoenice.
Take a tour from Tirana: This day trip visits both Apollonia and Ardencia.
Take a tour from Saranda: This tour visits Butrint.
9. Eat scrumptious Albanian cuisine
One of the best things to do in Albania is… Eat! I knew zero about Albanian cuisine before I arrived in the country. Because of that, I was pleasantly surprised every time I sat down to a meal.
Albanian food is about as multicultural and multifaceted as the country itself. Balkan, Italian, Turkish, Greek and even ancient Roman influences can all be tasted in the fresh, flavourful national dishes. The farm-to-table movement is huge in Albania, thus many contemporary restaurants (including the famous Mullixhiu in Tirana) focus on locally sourced fresh produce.
Most towns and regions have their own specialties such as Tavë Kosi, a dish of lamb, eggs and yogurt native to Elbasan; Gjirokaster qifqi (arancini-like rice balls flavoured with mint and black pepper); 'Berati schnitzel' (pork stuffed with hard cheese) and pispili (spinach pie with a cornbread base), both traditional Berati dishes; and Korca's famous savory lakror pie.
Other foods such as byrek, flaky pastry filled with meat, cheese or spinach, and trilece, an indulgent milky dessert, are ubiquitous across the country.
10. Take an evening xhiro, an Albanian tradition
No matter where you find yourself in Albania, one tradition that unites the entire nation is the xhiro. As soon as the sun starts to dip, entire towns and cities empty out onto the nearest pedestrian street to partake in this beloved nightly ritual.
Xhiro is similar to the Sicilian tradition of La Passeggiata. Couples locked hand in hand, trios of friends and entire families stroll up and down, stopping to chat with neighbours, play a quick game of outdoor checkers or sip coffee in a cafe. It takes people-watching to the next level.
Every city and town has its xhiro hotspot. In Tirana, it's the main pedestrian street, Toptani, and in Berat, it's the lovely riverside Boulevard Republika. Join the locals for a stroll and partake in one of Albania's most authentic traditions.
11. Count castles
There are no fewer than 158 castles and fortifications in Albania listed as Monuments of Cultural Heritage (and probably many more that aren't yet in the official inventory). I've already mentioned a few of the most notable ones, Berat Castle, Kruje Castle and Gjirokaster Castle.
The proliferation of citadels, towers and defensive structures throughout Albania alludes to a history of almost constant invasion. Each castle has its own imaginative profile – usually shaped to fit the natural landscape – influenced by Illyrian, Ottoman and even Venetian designs.
Some of these castles are little more than ruins you can (carefully) scamper along for a view. Others have been transformed into museums. The Byzantine-era Fortress of Justinian in the heart of Tirana has found a new life as a trendy dining and shopping precinct. It might be my favourite!
Other castles to visit in Albania include:
Rozafa Castle in Shkoder
Ali Pasha Castle in Porto Palermo Bay
Himara Castle
Sopot Castle in Borsh
Adventurous things to do in Albania
12. Go hiking in the Albanian Alps
Sometimes described as 'Switzerland without the crowds', the Albanian Alps or Accursed Mountains is a surreal landscape of alpine forests, deep canyons and limestone peaks. Located in the country's far-north at the tripoint of Montenegro and Kosovo, the mountain range encompasses two of Albania's most popular national parks: Valbona Valley and Thethi.
This is prime hiking territory. Avid wanderers can tackle the epic Peaks of the Balkans, a 192-kilometre route through the three countries. Day hikers will be more than satisfied with the popular Valbona-Theth hike, which connects two fairytale-like villages.
An A-to-B hike, it requires a medium level of fitness and wherewithal, and can be completed in the course of a day. The climax is crossing Valbona Peak, a dramatic mountain pass with flawless views.
Because of the altitude and climate, it's only possible to do the trek between June and September. Both Valbona and Theth offer a range of attractions and shorter hiking routes, with the Lock-in Tower, Grunnas waterfall and church in Theth being amongst the area's most popular sites.
Where to stay in Valbona: Guesthouse Mehmeti is a spotlessly clean family run guesthouse in a serene location. Home-cooked meals are fresh and tasty, and staff speak English and can organise a car transfer to the Theth trailhead.
Where to stay in Theth: Bujtina Polia is a tranquil property in the centre of Theth featuring light-filled rooms and an on-site restaurant.
13. Ride the ferry over Lake Komani
Also located in Albania's breathtaking north, Lake Komani is a long, narrow reservoir on the Drin river in the foothills of the Accursed Mountains. Twice a day, boats skip across the teal waters between the towns of Koman and Fierza, ferrying supplies to remote villages and transporting tourists to the trailhead for the Valbona hike.
The highlight of the 2.5-hour journey is travelling through a narrow prehistoric gorge carved from the mountains. At times, the vertical rock walls hug the water so tightly, you can look out the window of the boat and barely get a glimpse of the sky. The best views of course are from the front, watching the boat cut across the water.
Furgons wait at the ferry terminal in Fierza to take passengers the rest of the way to Valbona. The easiest way to organise a ferry trip is by booking everything through the official website, including a transfer to the first boat landing from either Shkoder or Tirana.
Reserve your ferry tickets online: Visit the official Komani Lake website.
17. Plunge feet-first into a Blue Eye
If there's one natural phenomenon in Albania's responsible for putting the country on tourists' radar, it would probably be the iconic (and very Instagrammable) Blue Eye.
Not unlike Mexican cenotes in appearance, these natural wonders are essentially deep plunge pools etched out of rock in the middle of the forest. Fed by natural springs, the water inside Blue Eyes is chilly and crystal clear.
The most famous Blue Eye, Syri i Kaltër, is located in southern Albania, around 60 minutes by car and foot from Saranda. Unfortunately it has fallen victim to its own popularity in recent years and can be extremely overcrowded, especially in summer. An alternative option is the smaller Blue Eye near Theth.
14. Discover central Albania's canyons, caves & waterfalls
Central Albania is crisscrossed by rivers, each carving out a dramatic landscape of gorges and ravines. At the right time of year, this is the place for whitewater rafting in the Balkans. Trekking and mountain biking routes, caving expeditions and other outdoor activities are available throughout the seasons.
At 26km long, Osumi is Albania's largest canyon. It supports a rich ecosystem and features several unusual rock formations with imaginative names such as 'the Cathedral' and 'the Demon's Door'. Visitors will find marked viewpoints on the lip of the canyon and swimming holes down below. Rafting on the rapids takes place from spring onwards.
Nearby, Bogovë Waterfall is perennially green and shady, with an ice-cold swimming pool at the end of a short walking route. An excursion to Bogove and Ostuni from Berat is just the thing on a hot summer's day.
Take a day trip to Osumi Canyon & Bogove: This itinerary includes transfers to and from Berat.
15. Hike to the Ottoman-era aqueduct near Gjirokaster
Albania's urban landscape has been transformed many times throughout history. Many mod-cons were installed during the reign of Ali Pasha of Ioannina in the 19th-century, including aqueducts and handsome curved bridges, both arched and crafted from stone.
One such aqueduct was erected on the outskirts of Gjirokaster to ferry water from nearby springs to the castle. Ten-kilometres worth of arches were dismantled in the 1930s so the stonework could be used to build prison cells.
But one small span was left standing, wedged between two hills on the outskirts of town. A short 45 minute hike delivers you to the so-called Ali Pasha's Bridge, from where you can view the contours of the arch from the dry riverbed beneath or climb on top (at your own risk of course!).
16. Enjoy a few of Albania's 15 national parks
Aside from Theth National Park and Valbona in the north, Albania is dotted with a dozen more national parks (both forest and marine parks), each with its own abundance of biodiversity, archaeological value and cultural importance.
Prespa National Park, the country's largest at almost 28,000 hectares, is also known as Balkan National Park and is shared between Albania, North Macedonia and Greece. Inside, you'll find the Castle of Trajan, a number of Byzantine churches, and caves embellished with neolithic rock art.
Other popular national parks in Albania include:
Mount Dajti National Park, accessible from Tirana via a cable car
Llogara National Park, known for its pine forests and paragliding opportunities
Tomori Mountain National Park, site of a Bektashi Sufi festival every August
Shebenik-Jabllanice National Park, a popular hiking area with 14 high-altitude glacial lakes
Relaxing & rejuvenating things to do in Albania
17. Cycle around Lake Shkoder
The largest lake in the Balkans, Lake Shkodër (Lake Skadar) is shared between Albania and Montenegro. The lakefront city of the same name is a popular departure point for the Accursed Mountains and a great destination in its own right.
The best thing to do in Shkoder is hire a bicycle and set out on the designated paths that run north and south of the city. The southern route takes you past Rozafa Castle, Shkoder's medieval fortress, and along the banks of two rivers that branch out from the lake where you'll find clusters of waterfront cafes.
Alternatively, you can follow the river inland to cross over the spectacular Ottoman-era Mesi Bridge, or trace the lake's edge north towards the Montenegrin border.
Though not as marshy nor moody as on the Montenegrin side, Albania's share of the lake is still very picturesque. Paired with the laid-back atmosphere of Shkoder city, this is a peaceful place to bring the pace down a notch either before or after hiking.
Where to stay in Shkoder: Sweet Living Apartment is a self-contained, one-bedroom apartment in the heart of the city, with a full kitchen and bikes for hire.
18. Soak in the Benja Thermal Baths
There are plenty of opportunities to immerse yourself in Albania's natural beauty. Outside the town of Permet (Përmet) near Gjirokaster, you can quite literally 'soak up' the landscape by bathing in the open-air sulfurous thermal baths. I've experienced similar hot springs in Georgia and they're a lot of fun!
A 20-minute drive or long hike from town, the Benja Thermal Baths (Llixhat e Bënjës) are a set of manmade geothermal pools fed by the river. Locals flock here to steep themselves in the naturally warm healing waters – though you're bound to find far fewer foreign faces around.
With the medieval Kadiut Bridge, an arched stone bridge that has spanned this river since Ottoman times, and a backdrop of distant mountains, this really is a spectacular landscape – one best appreciated whilst lolling about in the water, ideally with a cold beer in hand. Picnics and camping are permitted – just remember to take your trash with you and help keep the area pristine.
Where to stay in Permet: Eagle House is a magnificent villa in Permet with a garden and onsite parking.
19. Loaf about on the Albanian Riviera
Albania is bounded on its western side by a sublime stretch of Adriatic coastline. The heart is the Albanian Riviera, a stretch of sandy shore between Saranda and Vlora with both commercial swimming beaches and wild, thusfar unspoiled swimming spots.
I'm not much of a beach person myself, but there's more to the coast than just sunbathing and swimming in crystal-clear waters. This part of Albania is rich with archaeological sites, charming towns and impressive castles, many of which I've already mentioned. If you're looking for some old-fashioned beach time, there is no shortage of spots to pitch an umbrella.
The most beautiful beaches in Albania include:
Gjipe Beach
Dhërmi Beach
Drymades Beach
Borsh Beach
Ksamil Beach (more details in the next section)
The ultimate way to explore the Albanian coast is by ambling slowly up or down with your own car. The coastal roads are extremely scenic, and you can find hidden gem guesthouses in cute villages along the way.
Otherwise, the beach town of Himara is a perfect base. The bay here has several lovely beaches including Prinos and Livadhi, but the highlight is definitely Filikuri Bay (Gjiri I Filiurit), a secluded cove and fabulous beach that's only accessible by boat.
20. Escape to the islands off Ksamil
Further south down the coast from Himara and Saranda, Ksamil village is nestled within Butrint National Park. Just off the coast, four rocky islets form a tiny archipelago in the Ionian Sea.
Known as the Ksamil Islands (Ishuj të Ksamilit), the islets were separated from the mainland during the Jurassic period and can only be accessed by boat. The two most-visited, known as the 'Twin Islands', are connected by a sandy corridor. The whole area has bountiful flora and fauna, and it's not unusual to see pods of bottlenose dolphins frolicking here.
Diving, snorkelling, canoeing and boat cruising are all available from Ksamil – itself the perfect place to chill out for a few days, eat local seafood and sip raki on the beach (Bora Bora Ksamil is a favourite bar). Don't miss The Last Bay, a pristine pebble beach on the mainland.
For something offbeat, book a Mussel Tour, which combines a boat trip, harvesting mussel beds and a tour of the ancient ruins at Butrint with a huge meal of local seafood.
Where to stay in Ksamil: John's Guesthouse is a family run hotel close to the beach with tidy rooms and magnificent views over the bay.
21. Kick back in charming Lin on the edge of Lake Ohrid
Though normally associated with North Macedonia and the city of Ohrid, part of the Balkans' deepest lake (roughly a third) falls within Albania's border. Pogradec is the main city on the Albanian side of Lake Ohrid. For something more atmospheric, head to the smaller towns and villages to the north.
Lin, perhaps the most charming village in Albania, is set on a peninsula that juts out into the lake. Amongst the low roofline of red-crested houses, there are a selection of sweet bed and breakfasts.
In town, there are churches, Ottoman-era mosques and even a set of illustrious Byzantine floor mosaics to see. Up and down the shore around Lin you'll find secluded bays and campsites – and you'll even be able to spot the concrete domes of a few disused nuclear bunkers. They cut quite a surreal figure against the tranquil waters of the lake.
Where to stay in Lin: Guest House Lin offers comfortable rooms that front on to a leafy garden directly overlooking the water.
Quick tips for planning a trip to Albania
For more, see my extended Albania Travel Guide.
How to get to Albania
Tirana International Airport is the main gateway to Albania. It's serviced by regular flights from across Europe. Another option is to take an overnight ferry from Italy to Durres or from Corfu in Greece to Saranda.
If you're on a Balkan road trip, you can cross the land border into Albania from any neighbouring country – just make sure you have the correct permits and paperwork in order.
When is the best time to visit Albania?
Summer (June, July, August) is peak season for tourism in Albania. If you plan on trekking, late summer is ideal.
For general travel, shoulder season (spring or autumn) is the most pleasant time to visit. Because Albania is still a relatively off-the-beaten-track destination, it doesn't really get overcrowded outside of the cruise ports. The Albanian Riviera is thronging in summer so it's best to avoid the most popular beaches and cities.
How to move around the country
I travelled around Albania using local buses and minivans, which are known as furgons. (If you've been to any of the former Soviet countries, they work much the same way as marshrutka vans.)
Schedules are a bit looser and the roads a bit rougher than in some other Balkan countries. But all things considered, the bus network runs smoothly. Coach buses are usually quite modern, with AC and plenty of luggage room (though don't expect WIFI or USB portals).
Every bus station tends to be well signposted (if not a bit chaotic). Tirana has multiple bus stations so it's important to do your research ahead of time. The website Gjirafa Travel is a handy resource for checking bus routes and timetables.
For greater freedom and flexibility, you should consider hiring a car. I recommend using comparison website Discover Cars to find the best deal.
What to pack for Albania
A good quality backpack. The easiest way to get around Albania is with an anti-theft day pack and a large pack for your main luggage. Here are a few of my favourite minimalist backpack designs for inspiration.
A scarf (women). A lightweight cotton scarf is my number one travel item. In Albania, it will come in extra handy for covering your hair when entering a mosque or Orthodox Cathedral. This neutral travel scarf goes with anything, and it even has a hidden pocket.
Walking shoes. From cobbled streets to rocky peaks, comfy walking shoes are absolutely essential for Albania. I love these comfy sandals, and my partner lives in these waterproof shoes.
A reusable water bottle. Avoid single-use plastics whenever you can. I love my S'Well water bottle for warm climates because it doesn't sweat.
Wine Wings. Should you decide to buy a drinkable souvenir in Albania, these handy custom-made bottle protectors will keep your vino safe and sound in your luggage. A travel corkscrew and a wine stopper are bound to come in handy, too.
Entertainment for long bus/furgon journeys. If you don't suffer motion sickness, an e-reader is great for passing the time on long road journeys. If you have a travel buddy, pick up a headphone splitter – probably my favourite travel gadget of all time – so you can share a screen or a podcast. Check out my full list of essential items to make a long train or bus journey more comfortable.
Biodegradable wet wipes. Try this convenient travel pack.
Have you been to Albania? Where are your favourite places to visit in this fascinating country? Leave your recommendations below – I need more inspiration for my next trip!
10 Best Places to Visit in Albania
Still very much off the beaten path, year-on-year Albania is becoming an increasingly popular tourist destination thanks to its stunning scenery, interesting historic sites, and welcoming people. Isolated and shut off from the world for so long, Albania emerged from communist rule in 1991. Nowadays, visitors are invariably surprised at all that it has to offer; beautiful beaches lying alongside breathtaking mountain ranges and glittering lakes.
Thanks to its long and interesting history, Albania's cities and scenic countryside are full of amazing old castles, Roman ruins, and Ottoman-era mosques and buildings, which make the country fascinating to explore. With picturesque towns such as Gjirokaster and Berat for visitors to enjoy, there is always something new to see and do.
The now colorful capital, Tirana, is full of monuments and museums offering a look at the country's communist past. A fascinating country, now is the time to visit the best places in Albania, as word is quickly spreading about what this hidden gem has to offer.
10. Dhermi [SEE MAP]
© Tannjuska / Dreamstime
With its welcoming turquoise waters and beautiful beaches that stretch into the distance, the gorgeous scenery of Dhermi is where many young Albanians head to in the summer. It is also home to some pulsating nightlife.
Located on a mountain slope overlooking the sea, the town boasts some stunning sunsets. Grabbing a drink at one of its numerous bars and restaurants while watching the sun go down is a lovely way to spend an evening.
While there is a fun and festive atmosphere about the place, with lively beachside bars blaring out music, there is more than enough beach to go around; you can always find a peaceful spot to simply kick back and enjoy the scenery of the Albanian Riviera.
9. Durres [SEE MAP]
© Lev Levin / Dreamstime
Once the capital of Albania, Durres is located not far from Tirana on the country's coastline. It is a very popular destination, which means that it can get a bit crowded during the summer.
With one of the largest ports in the Adriatic, the city is a bit stuffy and over-developed, although there is a nice stretch of beach for visitors and locals alike to enjoy. Along the seafront, there are lots of restaurants selling delicious fresh seafood.
Fought over for millennia by the Bulgarians, Greeks, Venetians, and Ottomans, among others, its wealth of historic sites entices just as many people as its beaches. The spectacular Roman amphitheater and fantastic archaeological museum are the undoubted highlights.
8. Sarande [SEE MAP]
© Sergii Zysko / Dreamstime
With its stunning location on the Ionian Sea, Sarande is blessed with year-round warm weather, sparkling waters, and a relaxed way of life.
While the seafront is a bit over-developed with its line of identity-less apartment blocks, there are lots of nice parts of Sarande to walk around, and loads of bars, restaurants and souvenir shops on offer.
In addition to the ancient ruins found in town, Sarande's surroundings are full of historic sites and natural beauty, making it a great place to use as a base to explore the region.
7. Shkodra [SEE MAP]
© Znm / Dreamstime
Lying just a stone's throw away from huge Lake Skadar that straddles the Montenegro-Albania border, Shkodra is a very pretty city to visit. The Buna River runs through town and the Albanian Alps can be seen off in the distance.
The undoubted highlight is Rozafa Castle. Over the course of its history, it has been ruled by the Illyrians, Venetians, and Ottomans, to name a few. The magnificent ramparts and ruins of the castle are fun to explore, and the views over Shkodra are breathtaking.
Although the center of the city has recently undergone extensive renovations, there are still plenty of lovely old buildings and historic sites to be found, such as the Ebu Beker Mosque and Orthodox Cathedral. The Historical Museum showcases just some of the region's rich history and heritage.
With so much beautiful countryside surrounding Shkodra for visitors to explore, there is something for everyone to enjoy.
6. Berat [SEE MAP]
© Jackmalipan / Dreamstime
Widely regarded as one of the prettiest cities in the whole of the Balkans, Berat is known as 'the Town of a Thousand Windows,' as so many windows peer out at you from the front of its hillside buildings which are so tightly clustered together.
Located on a hillside, there are a number of Ottoman-era mosques and Byzantine churches scattered about town. One of the best views of Berat is from across the banks of the Osumi River which runs through it.
While simply wandering around Berat is a lovely way to spend the time, the town also has a great 13th-century hilltop castle, which is worth visiting for the outstanding views. There are also two interesting museums with some fascinating local costumes and artifacts on display and some splendid 16th-century icons.
5. Himare [SEE MAP]
© Ollirg / Dreamstime
With its beautiful setting on the Albanian Riviera, Himare's sparkling turquoise waters and spectacular hilly coastline make it a great place to head if you're after some sun, sea, and sand.
While its beaches and peaceful seaside promenade are what most people come for, the historic old town is lovely to wander around; its atmospheric tavernas are full of Mediterranean charm and delicious local seafood.
Perched atop a hill overlooking the old town is a delightful castle, which offers wonderful views over the sea. The nearby mountains also have some lovely trails and viewpoints for visitors to enjoy, while the surrounding countryside is home to spectacular churches and monasteries, such as the Monastery of the Cross and Athaliotissa.
4. Gjirokaster [SEE MAP]
© Milosk50 / Dreamstime
Located in the south of the country, Gjirokaster is a delight to visit. Its beautiful old town is perched on the side of a hill overlooking a valley and its winding cobbled streets are full of quaint buildings and historic sites.
With over 500 homes and buildings protected and preserved as 'cultural monuments', Gjirokaster is full of wonderful architecture. It is often known as the 'City of Stone' due to the distinctive local rooves that can be seen everywhere you go.
Perched above the scenic Old Bazaar is Gjirokaster Castle, reputed to be the second largest in the whole of the Balkans. A fascinating place to visit, the castle has an underground Cold War-era bunker and an Armaments Museum for visitors to enjoy, alongside its impressive fortifications and ruins.
3. Kruje [SEE MAP]
© Daniel Reiner / Dreamstime
Lying just to the north of Tirana, Kruje – or Kruja, as it is known in English – is famous for being the home city of Albania's national hero Gjergj Skanderbeg. In the 15th century, Gjergj managed to hold out against the Ottomans for 25 years from his base in Kruje.
Known as the 'Adriatic Balcony' by locals, the craggy mountain that looks over the city is home to the majestic Kruje Castle, which was once Skanderbeg's base. Nowadays, there is an interesting museum about the hero as well as a fantastic 15th-century church located within its walls. The panoramic views from the castle are simply spectacular.
The Old Bazaar in the center of town is just as fascinating to walk around. Nestled away amongst its atmospheric streets you'll find some delightful little cafes and restaurants, alongside the plethora of shops selling anything from souvenirs and artisan goods to antiques and leather products.
A picturesque and peaceful place, Kruje is well worth visiting for its historic sites and beautiful natural setting. The surrounding area is equally enchanting to explore, with its lakes, canyons, and mountains.
2. Butrint National Park [SEE MAP]
© Todorovic / Dreamstime
Home to a number of diverse ecosystems and stunning archaeological sites, Butrint National Park is a popular tourist destination, in large part due to its proximity to the Greek island of Corfu. Many people come to see its majestic blend of history and nature.
Covering a peninsula that is bordered by the huge Lake Butrint on one side and the Vivari Channel on the other, the natural beauty is magnificent; over 1,200 different types of animals and plants reside amongst its scenic wetlands, hills, and islands.
The main attraction, however, is the amazing archaeological site which covers over 2,500 years of history; this includes ancient city walls, remnants of a Roman theater, a Byzantine Basilica and two castles. Wandering around the ruins with the beautiful scenery all around you is a delightful experience. This is undoubtedly one of the hidden gems of what Albania has to offer.
1. Tirana [SEE MAP]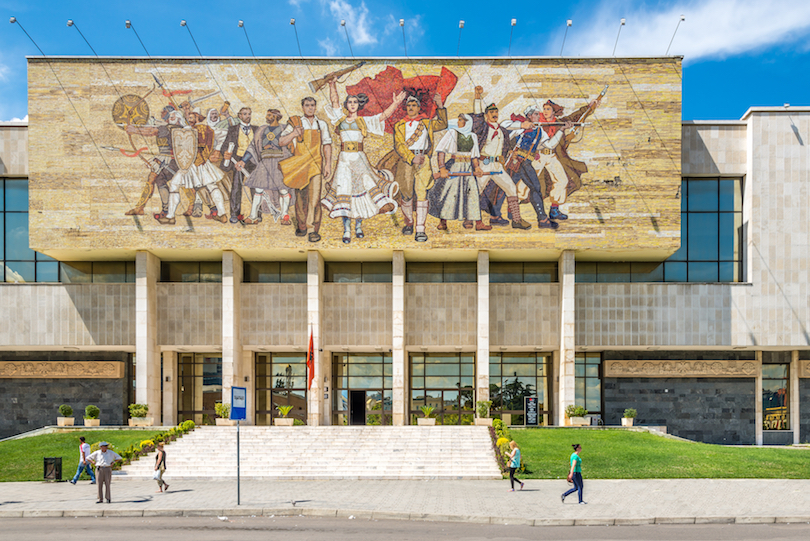 © Milosk50 / Dreamstime
Once full of grey, unwelcoming communist buildings, Tirana has transformed considerably since the early 90s. Albania's capital is now a fun, friendly and festive place to visit.
Full of life, the now brightly colored pedestrian streets showcase some delightful Ottoman-era buildings and Italian architecture that highlights the country's rich past. There are a number of great museums and art galleries worth checking out. Of particular interest is BUNK'ART, which was once a huge government bunker but now hosts art installations.
While it can be slightly chaotic in the traffic-filled center of town, the scenic Mount Dajti is just a short cable car ride away. With fantastic views of the city below and resplendent nature all around, it's a lovely place to spend an afternoon.
With endless bars, cafes, and restaurants to be found around the trendy Blloku area, Tirana has a lively nightlife scene. Visitors to this under-visited capital invariably come away impressed at all that the city has to offer.
Map of Albania
© OpenStreetMap © MapTiler © Touropia
15 Best Places to Visit in Albania
Albania may be a little country but there is a lot to see and do in this exciting up-and-coming location. Bordering Macedonia, Greece, Kosovo and Montenegro, Albania's long coastline is one of the most ruggedly beautiful in the world.
While Albania is slowly becoming more popular with tourists it remains extremely undiscovered, as well as almost completely unspoiled. Albania boasts some of the best examples of Ottoman architecture in the world, along with supremely clear Mediterranean air and stunningly fabulous beaches.
And, perhaps best of all, travelling to Albania remains an extremely affordable trip, even compared to much of the rest of this part of Europe. Let's have a look the best places to visit in Albania!
1. Albanian Riviera
Source: lukaszimilena / shutterstock Albanian Riviera, Himara
The Albanian Riviera is perhaps the most popular place in the country for tourists to visit. The riviera has a growing reputation as an important music location, with many international music festivals – including Turtle Fest and Soundwave Albania – having taken place here.
Nightclubs such as Folie Marine in Jale beach and Havana Beach Club near Dhermi draw young people from across Europe to the Albanian Riviera.
The seaside town of Himara is one of the riviera's best places to visit, while Porto Palermo Beach, Llamani Beach and Filikuri Beach are some of the area's finest sandy stretches, while Drymades Beach is one of the liveliest spots here.
2. Tirana
Source: RussieseO / shutterstock Tirana
The capital city of Albania, Tirana will be the starting point for many people exploring the best places in Albania.
The city is home to few must-see tourist locations, but the 18th-century Et'hem Bey mosque is well worth a visit.
Tirana's people, like the vast majority of Albanian locals, are exceptionally friendly and the city is supremely affordable, with surprisingly excellent food and drinks both very cheap.
Skanderbeg Square is one of Tirana's most important places and this is where the National Historical Museum can be found too.
At the heart of Skanderbeg Square – and therefore the heart of Tirana – is a statue of the historic Albanian national hero Skanderbeg.
3. Llogara Pass
Source: Uwe Seidner / shutterstock Llogara Pass
The Llogara Pass is one of Albania's most famous places, with the road providing one of the most spectacular drives in the whole world.
Located in the middle of the Llogara National Park, the road travels to over 1,000 metres above sea level and the scenery will take your breath away.
At the top of the pass there is a good range of restaurants, which are ideal places to enjoy some of the most stunning sights in Albania.
Llogara National Park itself is home to animals such as the golden eagle, European wildcat and fallow deer.
A drive from Tirana to Saranda taking in the Llogara Pass should take a few hours, but allow plenty of extra time to stop and take lots of photographs.
4. Berat
Source: milosk50 / shutterstock Berat
Berat is in the middle of Albania and it is believed to be one of the country's oldest towns. Berat is often known by its nickname – the City of a Thousand Windows – due to its mix of Ottoman and Albanian architecture.
Berat's main tourist site is the 140th century castle, Kalaja, which is still home to hundreds of people. Formerly among the most important Albanian cities of the Ottoman Empire, Berat was added to the list of Unesco World Heritage sites in 2008.
The Church of St. Mary of Blachernae is a must-see sight for anyone visiting Berat, as is the Mangalem Quarter.
5. Saranda
Source: Leonid Andronov / shutterstock Saranda and Lekursi Castle
Saranda is one of the hottest tourism locations in Albania, with the town having undergone a huge amount of development in the last 20 years or so.
Saranda is home to some of the most unforgettable beaches in Albania, while the Unesco World Heritage site at Butrint is located just outside of Saranda and is well worth a visit too.
Lekursi Castle is one of the best places to go in Saranda, with people flocking here to enjoy stunning sunsets. Saranda is located a short trip across the Ionian Sea from the popular Greek island of Corfu.
6. Gjirokastra
Source: Stefano Ember / shutterstock Gjirokastra
A Unesco city, Gjirokastra is without a doubt one of the best places to visit in Albania. Unique Ottoman period architecture – with houses designed like small castles – can be found all over Gjirokastra, which has a military museum and art gallery in its amazing castle that dominates the skyline.
A folklore festival also takes place in Gjirokastra's castle every five years – the last one was in 2015. Visiting the old Ottoman bazaar in Gjirokastra should be on the agenda for anyone visiting this part of the country.
Gjirokastra is famous as the birthplace of world-renowned author Ismail Kadare and Albania's former dictator Enver Hoxha – today their old homes are museums.
7. Kruja
Source: trabantos / shutterstock Kruja
Located a short trip away from the capital Tirana, Kruja is a must-visit spot for anyone heading to Albania for the first time.
Kruja is home to the national ethnographic museum, but it is best known for being where the Skanderbeg museum can be found. Located in the Kruja castle, the museum is one of Albania's most important and popular tourist attractions.
It was from this fortress that Albania's hero – George Kastrioti Skanderbeg – defended the country from Ottoman invasion over a period spanning three decades.
The castle also offers staggering views of the Adriatic Sea. The national park Qafe Shtama and the tomb of Sari Saltik are also located close to Kruja.
8. Theth
Source: Radim Ryba / shutterstock Theth
Away from Albania's biggest cities, in the north of the country, is Theth. Located high in the Albanian Alps, Theth is a designated area of outstanding natural beauty and it is easy to see why.
Theth National Park is perhaps the most beautiful place in all of Albania, with its Grunas Waterfall and the Lock-in Tower both extremely popular with visitors.
The mountain peaks of Thethi, Boga, Razma and Vermoshi provide an unforgettable experience of Albania in its most natural state.
Hikers and nature lovers will find Theth to be one of the best places to visit during a trip to Albania.
9. Ksamil Islands
Source: Iurii Dzivinskyi / shutterstock Ksamil Islands
The highlight of the Albanian Riviera is perhaps the Ksamil Islands, a remote group of three small islands located just off the coast, accessible only by boat from the small town of Ksamil.
Part of the larger Butrint National Park, the Ksamil Islands are a fantastic example of Albania at its most untouched and unspoiled.
Visiting the Blue Eye Spring is also a must for anyone who wants to experience what Ksamil has to offer during their magical Albanian break. July and August are the busiest time of year for the Ksamil Islands, but even then there are few tourists around here.
10. Shkodra
Source: Shemyakina Tatiana / shutterstock Shkodra
The largest town in the north of Albania, Shkodra is often considered the cultural capital of the country.
This is because it hosts events such as Carnival, Lake Day, the Children's Festival and Shkodra Jazz Fest, while it is also home to a famous historic castle notable for its important role during the First Balkan War.
Shkodra has a simply gorgeous lake, while the medieval citadel of Drisht is only a few miles away. The famous Migjeni theatre is in Shkodra as well, along with an ace market that is well worth visiting. Shkodra's Malazeze cuisine is perhaps Albania's best too.
11. Vlore
Source: PaulSat / shutterstock Vlore
In the south-west of Albania is the popular coastal resort of Vlore, which has long been best known for its olive production – it is believed to house some 280,000 olive trees.
Vlore has many important historic sights, but perhaps the most famous of them is the Albanian Independence Proclamation Building, which is where Albania declared independence a little over 100 years ago.
Today, there is a monument dedicated to this defining moment in Albania's history. The area of Cold Water in Vlore is popular with younger tourists due to its choice of hip bars and restaurants.
12. Apollonia
Source: RossHelen / shutterstock Apollonia
Apollonia was once one of the most important cities in the world, and as such it is a must for anyone visiting Albania for the first time.
Found in the heart of Albania, within easy reach from the city of Fier, Apollonia's ruins are breathtaking and the views from this part of the country are superb too.
Once upon a time, Apollonia was listed among the dominions of Pyrrhus of Epirus. Those days are long gone, but Apollonia should still be on the itinerary for anyone who wants to learn more about Albania's rich history up close.
13. Durres
Source: PaulSat / shutterstock Durres
Albania's main port, Durres is also one of the nation's oldest cities. Durres is most famous for being home to the biggest amphitheater in the Balkans, while the unspoiled northern coastal stretch of Lalzit Bay is one of Albania's most beautiful places to visit.
Tourists should consider taking time out of their schedules to visit the Durres Archaeological Museum, the Aleksander Moisiu Theatre and the Royal Villa of Durres during their time in the second largest city in Albania.
Many cultural events and feastings are held in Durres throughout the year, while the city is also the birthplace of Bujar Nishani, the current President of Albania.
14. Lake Koman
Source: Andrii Lutsyk / shutterstock Lake Koman
For the most breathtaking scenery in the entire Balkans, visiting Lake Koman in Albania should be on anyone's bucket list. Often described as one of the world's great boat trips, the journey takes visitors from the hydro-electric dam at Koman to the port of Fierza.
While the locals that use the boat regularly may now take the rugged beauty of the Albanian mountains for granted, any first-time visitor will find the sights from the Lake Koman Ferry to be truly jaw-dropping. The trip on the ferry is also a great opportunity to see what life is like for many Albanians in remote areas.
15. Pogradec
Source: Andrew Mayovskyy / shutterstock Pogradec
One of the most up-and-coming places to visit in Albania is Pogradec, which can be found on the shores of Lake Ohrid in the east of the nation.
Lake Ohrid is the deepest lake in the Balkan region and while the Macedonian side of the lake is more popular, Albania's shore is definitely on the up.
Pogradec is famous for its rich folklore, while its Puppet Theater Festival is one of the most interesting events on Albania's tourism calendar.
The stunning Shebenik-Jabllanice National Park is around 30-45 minutes away from Pogradec as well, while the springs of Drilon are also close.
Source https://wander-lush.org/things-to-do-in-albania-travel-bucket-list/
Source https://www.touropia.com/best-places-to-visit-in-albania/
Source https://www.thecrazytourist.com/15-best-places-to-visit-in-albania/