30 Amazing Hidden Gems in Alabama
Dubbed as the Yellowhammer State after the state bird, Alabama is located in the south-eastern part of the United States of America. While Montgomery stands as the state capital, Mobile is the oldest city in Alabama, which as per records was founded in 1702 as the capital of French Louisiana by French colonists.
With approximately 1,500 miles of inland waterways, which is 3.2% of the total state area, Alabama has the second-largest inland waterway system in the country. It is also the 24th most populous state and the 30th largest by area in the United States.
Named after the Native American Alabama Tribe, the state is famous for its picturesque landscapes and brilliant outdoors. Alabama is divided into four sections – the metropolitan centers, the mountains, the inland waterways, and the Gulf Coast.
Neighbored by Tennessee to its north, Florida and the Gulf of Mexico to its south, Georgia to its east, and Mississippi to its west, the state is famous for its southern hospitality. Along with hospitality and genial behavior, Alabama is also home to several secret treasures that are longing to be discovered.
Let us discover the many hidden gems in Alabama and indulge into the many wonders of the Cotton State.
1. Spectre Set Ruins, Millbrook
Source: Kenny Shackleford / Flickr Spectre Set Ruins
Outside Millbrook, Alabama, Jackson Lake Island on Alabama River stands the dilapidated remnants of Spectre, a fictional town which was built as a set for Tim Burton's fantasy movie, Big Fish (2003).
Edward Bloom, the lead character in the movie, visits Spectre a few times in his life – once as a kid and the second time when the town is almost in ruins. Bloom visits the town one final time to find it restored.
When the shooting of the film ended, Spectre was left abandoned with the movie set and Styrofoam trees. Unfortunately, after a few years from when the filming wrapped, some of the structures collapsed.
As of present, Spectre has left six homes, a church, two trees from the forest, and the columns from Jenny, the mayor's daughter's home. Add your shoes to the collection of several others hanging in line.
2. Alabama's Natural Bridge, Natural Bridge
Source: Jason Patrick Ross / shutterstock Alabama's Natural Bridge
Outside the William Bankhead national Forest lays the 148-feet-long and 60-feet-high curved rock formation that stands as one of the most exquisite forms of natural geological formation in the state – the Natural Bridge.
The area was listed as a National Park in 1954, however, history shows that the bridge and the surrounding area has been used by the Native Americans for hundreds of years. A few steps ahead from the Natural Bridge is a strange, inexplicable carving of an Indian Head that looks almost similar to that of a buffalo nickel.
Claims have been made that the carving depicts a chief from the Native American tribes that resided here but no proofs have been found, yet.
Unfortunately, to safeguard the safety of visitors (you can't really trust a 200-million-year old bridge to withstand hundreds of visitors) and the ancient natural asset, walking on the bridge is prohibited. However, you can stroll around the bridge and the park as much as you want.
3. The Museum of Wonder, Seale
Source: www.museumofwonder.com Museum Of Wonder
A ten-year-old boy's obsession with collecting junk and other discarded items turned into a full-fledged hobby when he accidentally sold a painting of a turnip.
Butch Anthony, an Alabama artist and a former taxidermist, realized the potential of revenue generation from his scrap collection that he has been compiling as a young boy.
To materialize on the thought, he transformed his taxidermy store into an exhibition of strange objects – animal bones, jars full of dead critters, weird paintings, lost-and-found objects, and just about any piece of rubbish you could imagine.
In almost no time, Anthony's 500-square-foot cabin in the rural town of Seale turned into an extraordinary collection and gave rise to the Museum of Wonder.
Among many other items on display are a few signature-style creations of the artist – impressionistic skeletons traced over vintage portraits with added illustrations.
4. The Grave of Miss Baker, Huntsville
Source: www78 / Flickr Grave Of Miss Baker, Huntsville
Among the many "test subjects" that America tossed into space since first starting experimenting with space travel in 1948 is Miss Baker – the first primate that made it back safely after a sub-orbital space flight.
The space program had some success with fruit flies, but, the higher the primates the tougher it became for the Americans to ensure their safe return. Most fell prey to exploding rockets while others lost their lives in violent impacts or got lost in space along with their capsule.
Miss Baker and Miss Able, the only two squirrel monkeys who had survived the initial screenings were sent to space in a Jupiter Rock. While Miss Able passed away four days after their arrival, Miss Baker lived until the age of 27, married Big George, breathed an illustrious life, and died of kidney failure in 1984.
Her remains are buried at the U.S. Space and Rocket Center in Alabama, next to her beloved husband, and has a nice headstone.
5. Dismals Canyon, Phil Campbell
Source: BJ Ray / shutterstock Dismals Canyon
This Alabama Canyon located in Phil Campbell comes alive every day at dark as thousands of miniature bio-luminescent creatures taxonomically called the "North American Orfelia Fultoni," and popularly known as "Dismalities," come alive with their natural glow.
A type of gnat larva, the Dismalities are extremely rare, so much so that they are only found in the Appalachian Mountains and Cumberland Plateau. The bright bluish-green light that they emit is their way of attracting insects so they can feed on them for survival.
Dismals Canyon, as they are called after the habitat living in them, provide the specific ambiance that these larvae need to survive in their larval stage – humidity to build web so they can trap insects for food, enough insects, darkness to allow them to glow, and a still atmosphere that would prevent their webs from tangling.
The Canyon is home to two more significant features – one of the surviving twin Canadian Hemlocks, which at 138 feet tall, is considered to be the largest of its kind in the state, and the world's largest Deumaria vine.
Best way to spot the mesmerizing phenomenon is at night.
6. Neversink Pit, Fackler
Source: jimmywayne / Flickr Neversink Pit, Fackler
A sinkhole? A cave? Though the geological name of the structure isn't certain, the Neversink Pit in Fackler, Alabama is a dramatic 162-feet deep sinkhole with a 40-feet wide opening. It is among the most photographed sinkholes in the United States of America, if not the world.
The interiors inside the pit, as viewed by abseilers, change dramatically with season – ferns in the summer, ribbony waterfalls in the spring, and ice sheets in the winter.
Belonging to the Southeastern Cave Conservancy since 1995, entry into the pit and rappelling below to the floor is only allowed for expert climbers and requires a permit.
7. F. Scott and Zelda Fitzgerald Museum, Montgomery
Source: Chris Pruitt / Wikimedia Fitzgerald Museum, Montgomery
Plenty of museums and other attractions have been erected all over the world to honor F. Scott Fitzgerald, the renowned novelist and author, but, here in Montgomery, Alabama is the only museum in the world that is dedicated to the story writer and his wife, Zelda.
The Fitzgerald's, along with their daughter Scottie, moved into the then-house-now museum in 1931. Unfortunately, however, Zelda had a mental collapse and was moved to a clinic in Baltimore. The father and daughter duo continued to stay at the house until April that year.
In 1986, Julie and Leslie McPhillips saved the iconic structure from being torn down and transformed it into the F. Scott and Zelda Fitzgerald Museum instead.
8. Cheaha Mountain, Delta
Source: Jim Vallee / shutterstock Cheaha Mountain
The highest point in the state of Alabama, Cheaha Mountain rises above Talladega National Forest and is 2,407 feet above sea level. Regarded as one of the most picturesque spots in the state, the Mountain was once almost deforested until President Roosevelt crafted the National Forest in 1936!
Befittingly named after a Creek Indian word which means "high place", Cheaha was once extremely rugged. The logged and vacated farmland around the tall peak was anything but attractive.
However, the expansive regrowth, thanks to the park system, covered the area with greenery and a gorgeous view.
Bunker Tower, constructed in 1934 by the Civilian Conservation Corps sits on the mountaintop and acts as a visitor center with the most spectacular view of the mountains.
9. Alabama Booksmith, Homewood
Source: facebook.com Alabama Booksmith, Homewood
Originally a tiny shop in the lanes of Homewood, Alabama, that sold used and rare books, the Alabama Booksmith may be the only of its kind that exist in the world today.
Located behind a vet clinic, the one-of-a-kind bookstore is owned and managed by Jacob Reiss, who only houses books that are signed copies! Yes, you read it right. Every single book in his collection is signed by the author.
While operating his former old books' store, Reiss realized that the dough lays in selling signed books rather than the usual ones as not only did they sell faster but they also generated a better member loyalty. All the books at the store (except for a few rare ones) are sold at the cover price!
10. Dead Children's Playground, Huntsville
Source: facebook.com Dead Children's Playground, Huntsville
Burial grounds, death, and any such negativities are kept far away from children. But, that's not the case at the oldest and the largest cemetery in Alabama. Maple Hill Cemetery in Huntsville has a small playground on the same grounds as that of the century-old burial ground.
Though it sees more ghost chasers and teenagers than children (for obvious reasons), the simple playground has a few swings and a modern-day jungle gym. Named aptly as the Dead Children's Playground, the small site for children was once almost lost when the city officials decided that there isn't enough room for graves.
Of course, there is barely a graveyard that is not associated with (alleged) ghost sightings. Rumors of swings swaying by themselves and floating ghost lights have been reported quite a few times.
Care to take your toddler for a day out in the sun here?
11. Goldie 1971 – The Fallen Robot, Tuscaloosa
Source: commons.wikimedia.org Goldie 1971
Sloss Blast Furnaces was one of the leading manufacturers of Pig Iron during Birmingham's industrial era. When the business closed in 1971, a former graduate of the University of Alabama, Joe McCreary, used the celebrated past of the company as an inspiration to create "Goldie 1971."
Today, Goldie rests peacefully at the sculpture garden at the University which bought the rusting giant in 2010 and installed it as a permanent collection.
While Sloss Blast Furnaces opened as a museum and was listed as a National Historic Landmark in 1981, Goldie remains at the Woods Quad Sculpture Garden serving as a reminder to the hundreds of students that art can be used to express all their stories.
12. Ave Maria Grotto, Cullman
Source: Larry Porges / shutterstock Ave Maria Grotto, Cullman
A hunchbacked, poor man, Brother Joseph Zoettl lived a hard life – due to his living conditions and of course, his physical limitations. At the age of 14, he signed up with St. Bernard Abbey in the hopes of escaping his tough life.
Nothing much changed for Brother Joseph. He spent 17 hours everyday for almost 30 years working at Abbey's pump house. Consequently, the same routine became boring but he didn't have a choice so he started his own private amusement project – he began constructing miniature grottoes. Soon, tens became hundreds and hundreds became thousands.
Brother Joseph kept the larger models at the Abbey and sold the miniature ones to others. And, soon, it became the Ave Maria Grotto aka Jerusalem in Miniature – a four-acre mini-town that was filled with almost 125 famous and religious locations.
His last creation, Basilica in Lourdes, was built in 1958 when Brother Joseph was 80.
13. Frank Lloyd Wright-Rosenbaum House, Florence
Source: Blake Wylie / Wikimedia Frank Lloyd Wright-Rosenbaum House, Florence
Frank Lloyd Wright has been mentioned in the American architectural history several times for his flawless designs and striking creations. However, the Rosenbaum House in Florence, Alabama, as architect critic Peter Blake mentioned, is by far considered one of the most stunning constructions to date.
Constructed in 1940 for Stanley and Mildred Rosenbaum, the structure was donated in 1990 to the City of Florence. Often regarded to depict the purest version of Wright's Usonian style, the home was not just functional but in sync with the natural surroundings.
Plenty of glass windows, cantilevered roofs, and a carport are some of the significant characteristics of Wright's Usonian masterpiece.
14. Tinglewood Carvings, Montevallo
Source: Southernpixel – Alby Headrick / Flickr Tinglewood Carvings, Montevallo
Orr Park in Montevallo, Alabama is an amazing place for a family picnic. Everything about the park calls for a day out in the sun, amidst nature – six baseball-come-softball fields, a soccer field, a football field, a walking trail, two playgrounds, and a creek apt enough for wading.
However, the most attractive feature on the park grounds is a bunch of dead trees that were destroyed in a storm in 1993. What's so amazing about dead trees, you ask?
Mr. Tingle, a resident in the area, in an attempt to save the dead but old trees, started carving them.
As a result, today, over 30 carved alligators, squirrels, men, and even an alligator not only coexist peacefully with the visitors at the park but they also add an air of mystique around the area.
15. Africatown, Mobile
Source: Graveyardwalker (Amy Walker) / Wikimedia Africatown, Mobile
The slave trade in America was legally prohibited by 1808, however, Timothy Meaher, a wealthy businessman, challenged the law in his own way and set out to bring a "shipment" of 32 African slaves in the country in 1860.
His attempts were put to an end by the authorities who caught wind of Meaher's illicit attempts and the group of slaves were given a small piece of his land to live at in the town. This is how the little village of Africatown came about in the history of Alabama.
The African community built houses in the area and appointed a chief and a medicine man, when former slaves were added to the new community.
With time, the first settlers of the town died off and their successors implanted themselves in the American culture, leaving Africatown abandoned.
A small history museum at Mobile's Count Training School still exists.
16. The Drive-Thru Museum, Seale
Source: Marcus O. Bst / Flickr Drive-Thru Museum, Seale
The world's first drive-thru museum is in Seale, Alabama, and it is the creation of the same ten-year-old boy, Butch Anthony, who grew up to be an artist, a taxidermist, a collector and creator (of the weirdest things in the world), and the founder of Museum of Wonder.
Created as a relief to the overflow of tourists at his other museum, the Drive-Thru Museum is constructed out of old shipping containers. Windows have been cut off from the container walls to allow insights into the strange collection of items either collected or crafted by Anthony.
Among other things is a large gallstone attached to poems, the two-headed ducklings, and Anthony's signature style – skeletons imposed on old portraits.
17. Sloss Furnaces, Birmingham
Source: IA Fillm Group / shutterstock Sloss Furnaces Historic Landmark
As Alexander Graham Bell once said, "When one door closes another door opens", Sloss Furnaces, a pig-iron producing giant that served the country for nine decades and was shut down for business in 1971, was listed a National Historic Landmark in the city of Birmingham, Alabama in 1981 – after a decade of it closing down.
Today, the blast furnace site functions as an interpretive museum and conducts several metal arts courses that are acknowledged universally. Additionally, it is perhaps one of the most unusual locations where festivals and concert venues are hosted.
Coined after one of the founding fathers of Birmingham, Colonel James Withers Sloss, the two furnaces were constructed on 50 acres of land and stand 60 feet tall. Known as one of the largest in the world at the time, the Sloss Furnaces are still being preserved to date.
18. Hank Williams' Death Car, Montgomery
Source: visitingmontgomery.com Hank Williams' Death Car, Montgomery
Hiram "Hank" Williams, more popularly known as Hank Williams, was among the most substantial and effective American songwriter and singers of the 20th century. The musician recorded 35 singles, of which 5 were released after he passed away. What's most intriguing about his life though is how it ended.
Williams, along with Charles Carr, a college freshman he hired to drive him around in his 1952 Cadillac, was on a tour through Ohio and West Virginia. Soon after the car passed the West Virginia State Line, Carr stopped at a gas station for refilling when he noticed that Williams laid unconscious in the back seat. When he checked up on him, Williams seemed unresponsive and his body was becoming rigid.
As his doctor reported, Williams drank often and had just asked him to give him a Morphine shot to get rid of the back pain. Though a lot has been blamed on his habits, what killed the musical superstar at a tender age of 29 still remains a mystery.
Even though the true cause of Hank Williams' death remains unknown, the Cadillac, where he apparently breathed the last time, remains the centerpiece at the Hank Williams Museum in Montgomery, Alabama.
19. Bamahenge, Elberta
Source: DFChurch / Flickr Bamahenge, Elberta
America certainly has a weird obsession with Stonehenge, but, one person in particular, Mark Cline, of the Enchanted Castle Studios, is the man behind creating two of the existing Stonehenge replicas in the country – the Foamhenge in Virginia (2004) and the Bamahenge in Elberta, Alabama (sometime in the spring of 2013).
Cline, a brilliant architect, is known for his larger-than-life creations, and so, when George Barber, an Alabama millionaire, wanted a few dinosaurs to be built for himself, he hired Cline to do the job. The result – a T-Rex, a triceratops, a brontosaurus, and a stegosaurus stand at the edge of Barber Marina.
Extremely impressed with the installations, Barber commissioned Cline to build him a fiberglass replica of Stonehenge.
Though Bamahenge stands tall and proud at the Marina, Foamhenge may be in danger as the land it stands on is reportedly going to be a part of the Virginia State Park. Maybe, Foamhenge can join his cousins over at the Marine, eh?
20. Moundville Archaeological Site, Moundville
Source: Melinda Stuart / Flickr Moundville Archaeological Site
Not so distant from Tuscaloosa, in the town of Moundville, Alabama, are massive earthworks that transport you to another time – to the pre-Columbian culture!
Known as the Moundville Archaeological Site, the area comprises 29 mounds that were created over a thousand years ago by the Mississippian culture, a Native American Society at the time. The culture was divided into several chiefdoms, each of which functioned as per their own religious beliefs.
These chiefdoms were each headed by an appointed figure who was of religious and political significance to the community they represented. Supervised by these ruling members, these mounds were created to serve as foundations of housing properties, temples, and council buildings.
The second largest of its type, the mounds were abandoned by 1500 B.C. and proper excavation began in the early 20th century.
21. Berman Museum of World History, Anniston
Source: facebook.com Berman Museum, Anniston
What happens when an American GI weds a French Spy? Simple. It gives birth to one of the most thought-provoking museums in the world!
Farley Berman and his wife established the Berman Museum of World History while they were stationed in North Africa. The husband-wife duo traveled all over the world for 40 years and collected as many oddities, antiques, and weapons as one possibly could.
Berman never confirmed how they managed to get hold of some of the more intriguing items in the collection but he joked that they may have accidentally come with their bedroll after World War II; the rest, he unapologetically claimed, appeared out of magic.
Well, magic or not, someone please tell us exactly how did the couple manage to get Hitler's tea service?
22. Civil Rights Memorial, Montgomery
Source: Danny E Hooks / shutterstock Civil Rights Memorial
The American Civil Rights movement from 1954 to 1968 included several social movements and strategies that were being pushed forward to end racial discrimination against African-Americans in the country. However, it wasn't just strategies and movements. For a "movement" that went on for 15 years, many lost their lives fighting for equal rights along with Martin Luther King, Jr. – one of the most significant personalities of the Civil Rights Movement and a Nobel Peace Prize awardee!
A proud commemoration of the lives lost and wars won, Civil Rights Memorial, standing across the Southern Poverty Law Center, is a dedication to the 40 people who sacrificed their lives so the rest of country could live in harmony.
A hub for hundreds of civil right workers around the globe, the Law Centre sponsored the memorial and Maya Lin designed and created it. A guard stands alert by the architecture to prevent any vandalism.
The memorial is visited by several tourists every day, yet not enough as compared to the history it holds.
23. Holmes Medical Museum, Foley
Source: Peter Titmuss / shutterstock Holmes Medical Museum, Foley
Holmes Medical Museum may not be the most intriguing medical museum in the world (and, it definitely doesn't have anything to do with Sherlock Holmes), but, it is a celebration of the sterile, vaguely terrifying past of the obsolete tools that have been used in the history of medical science.
Situated within the walls of Foley's first hospital, which treated patients from 1936 to 1958, the Medical Museum allows you to walk through the old operating theatre of this tiny, four-bed former hospital. You could also stroll through some of the patient rooms and observe the strange, almost-brutal looking tools kept in the glass cases around the museum.
Apart from the frightening display of tools that looked more torturous than healing, you could also see the birth certificates of some of the children born here along with information on the hospital's past.
24. African Village in America, Birmingham
Source: Gary Bridgman / Wikimedia African Village In America, Birmingham
Not the same as Africatown (which was actually built by Africans and later abandoned by their descendants), African Village was established by Joe Minter, who draws inspiration from his love for God, and believes that God wouldn't want anything to be thrown away to waste; instead He would rather that his humans created something out of all that is thrown away or discarded.
As if to reflect his ideas and theme, African Village has been created using all types of junk and scrap material – toys, utensils, lawn decorations, old sporting gears, satellite dishes! Five of these huge dishes adorn the back of his property and spell J-E-S-U-S in big, bold letters. African masks and feathered headdresses can also be found lying around in the village.
Minter has an open-gate policy and you are welcome to come in free and stroll around whenever you want. You could also buy DVDs or other such items at the village.
As Minter still continues to build, he has earned himself the title of "African Warrior" for his thoughtful creation.
25. Anniston Museum, Anniston
Source: Sangre-La.com / Flickr Anniston Museum Of Natural History
Also known as Anniston Museum of Natural History, the museum was founded in 1930 and houses seven permanent displays – the Dynamic Earth, the Alabama Sand to Cedars, the Attack and Defense, the Environments of Africa, the Ancient Egypt, the Nature Discovery Room, and the Bird of the Americas – the last being the base for Anniston Museum's original collection.
Home to one of the oldest taxidermy collections in the country, the Bird of the Americas was collected and established by William H. Werner in the 19th century, but, the compilation was purchased and brought to Anniston upon Werner's death by H. Severn Regan. The display contains over 1,000 dioramas of birds, eggs, and bird nests.
Over 400 species of birds can be found at the display including the passenger pigeons, who were once commonly found around North America but are now extinct due to hunting and deforestation. It is believed that these migratory birds gathered in flocks of billions and covered the sky a mile wide and about 300 miles long, resulting in dark skies for days at a time!
26. Tolstoy Park, the Unusual Home of Henry Stuart, Fairhope
Source: Chris Pruitt / Wikimedia Tolstoy Park
In 1923, Henry Stuart, a resident of Idaho, was diagnosed with tuberculosis aka "consumption". The typical medical advice to the illness was a change of weather. With only a few months to live (as confirmed by the doctors), Stuart bought an unseen ten-acres of land in Alabama and moved 2,500 miles at the age of 65.
To spend his "remaining days" in peace, he built himself a circular, hurricane-resistant little hut which was only 14 feet in diameter. Within a couple of years, Stuart named his little abode "Tolstoy Park" after Leo Tolstoy and went on to live another 22 years.
Though Stuart lived mostly in isolation, visitors started frequenting the unusual house (1,200 as per his visitor's log).
The "home" is now listed on the National Register for Historic Places and the owner of this strange residence has been immortalized in Sonny Brewer's "The Poet of Tolstoy Park."
27. Henry Wells' Lightning Portrait, Carrollton
Established in 1820, the Pickens County Courthouse, named after General Andrew Pickens of South Carolina, has been burnt down twice – once in April 1865 by troops of Union General John T. Croxton, and the second time (presumably) by Henry Wells, a former slave who was apprehended and locked inside the courthouse garrett.
As the story goes, Wells was kept there to be protected from citizens who could have hurt him. However, it didn't stop the residents forming a mob and protesting outside the Courthouse for days.
Apparently, one of those days, a terrified Wells stood by the courthouse window as the mob screamed and chanted when a sudden bolt of lightning struck the same window, and indelibly etched his face on the glass!
Astonishingly, it is the only glass that has never been destroyed in the last century or so that the courthouse has been in existence.
28. The Hodges Meteorite, Tuscaloosa
The Hodges Meteorite isn't remarkably big or beautiful or exquisite, but, it is one of the only fragments of a meteorite that has made its way to earth "alive", and, also one of the very few that has hit a human!
Named after the woman it bruised, the Meteorite made its way to Ann Hodges rental home in Tuscaloosa, Alabama, on the afternoon of November 30th, 1954, when Ann laid on her couch, taking a short nap.
The meteorite first crashed into her radio cabinet, and then bounced to her side, bruising her a little in the process. But, it was the least of her concern.
As the rule goes, considered pretty much space gold, the ownership of an object, such as a meteorite, rests on the person who finds it. However, since it was a rental house, the owner felt otherwise since it was his property and filed a legal battle.
Of course, Hodges won it, but, in order to avoid the unwanted limelight, she decided to donate the piece to the Alabama Museum of Natural History.
29. Peanuts on Parade, Dothan
Source: Cliff Dix Jr / Flickr Peanuts On Parade, Dothan
Dothan, with a 100-mile radius of peanut farming, is not only where half of America's peanuts are grown but it is also regarded as the "Peanut Capital of the World."
Each Fall, the community comes together to celebrate the National Peanut Festival, dedicated to the town's history with peanuts, the harvest season, and the farmers. The two-week carnival hosts a Peanut Parade and offers livestock shows, rides, agricultural exhibitions, and of course, a lot of peanut-this and peanut-that to munch on.
Don't worry even if you missed the festival, for Dothan pretty much celebrates its peanut-rich history throughout the year. Originally a public art project to beautify the town and attract tourists, "Peanut Around Town" has peppered the city streets with various painted peanut statues – fireman peanut, doctor peanut, military peanut, a boiled-peanut selling peanut, a breast cancer awareness peanut, and even a Dalmatian cuddling with his favorite fire hydrant peanut!
Now known as "Peanut on Parade", the public art project has resulted in over 60 painted peanut statues around Dothan.
Take a brochure from the Visitor Center for the exact locations of all the sites and have a nutty day ahead!
30. Little Nadine Earles Doll House Grave, Lanett
Nadine Earles, the beloved daughter of Julian and Alma, was not even 4 when she passed away in 1933. It was the month of December and the little girl's only wish was a dollhouse. Before her father could build the dream dollhouse, she was taken away from them, but, that didn't stop Julian and Alma to continue working on the project.
The Doll House was completed and kept next to little Nadine's grave at the Oakwood Cemetery in Lanett, Alabama. A replica of an actual house, Nadine's dollhouse was equipped with a front porch, a mailbox, striped awnings, flower boxes during the summer, and Christmas Lights and an evergreen wreath in the winter.
The parents further decorated the house with toys, dolls, a high chair, a baby buggy, and a little bed – all kept ready for Nadine's playtime in her afterlife.
Now, managed by the city of Lanett, the Doll House is still maintained and kept ready-to-play for "Little Nadine."
10 Best Places to Visit in Alabama
Alabama is a state of many names: Yellowhammer State after the state bird, the Cotton State and the Heart of Dixie. Though Spanish explorers passed through the state in 1540, it was the French who settled the area, founding Mobile in 1702. Because it's located on the Gulf of Mexico, Alabama is a good place to indulge in water activities. The 22nd state also enjoys a vibrant arts, culture and entertainment scene.
You may want to consult the weatherman before visiting, however, since the state is vulnerable to hurricanes. Hurricanes aside, Alabama is a wonderful place where you can kayak a wild river or learn more about our nation's space program. It's no wonder this southern state is a popular tourist destination. Here's an overview of the best places to visit in Alabama:
10. Dauphin Island [SEE MAP]
faungg / Flickr
Dauphin Island, off the coast of Mobile, is a rest stop on the way from South America if you're a migratory bird. The island is often the first land birds see as they journey north. There are several bird sanctuaries on the island, but the main one is Audubon Bird Sanctuary.
Named for the Dauphin of France, great-grandson of Louis XIV, island beaches feature spectacular sunsets. If you've ever heard the phrase, "Damn the torpedoes! Full speed ahead!" it originated here with Admiral Farragut during the 1864 Battle of Mobile Bay. The historic walled Fort Gaines once stood guard per the bay's entrance.
9. Noccalula Falls Park [SEE MAP]
Romantic tragedy lurks beneath the waters of Noccalula Falls Park. According to legend, rather than marry the rich chief her father wanted her, Noccalula chose to jump over the 90-foot falls on her wedding day. You'll see a nine-foot tall statue of her at the falls that drop into the Black Creek ravine.
But where there is sadness, there is also beauty, the 25,000 azalea plants in this Gadsden park. While camping here, you can stroll the park's paved hiking trail, let your kids play at the petting zoo and visit Pioneer Village to learn about the past.
8. Montgomery [SEE MAP]
Alabama's capital, Montgomery, has a notable history, but it was Rosa Parks who really made it famous. The African-American woman name civil rights history in 1965 when she refused to give up her seat on a bus to a white man. In an ironic twist of history, Montgomery was where the Confederacy was formed in 1861.
Today, this city on the Alabama River is noted for its numerous arks, skyscrapers and one of the best art scenes for cities its size in the United States. Alabama Shakespeare Festival presents the Bard's work throughout the year at its Blount Park theatre.
7. Cheaha State Park [SEE MAP]
Cheaha Mountain is the highest point in Alabama. The 2,413-foot (735-meter) high mountain can be found in the state park named for a Cree Indian word. Located inside Talladega National Forest, Cheaha State Park has good hiking with access to the Appalachian Trail as well as other trails.
There's even a trail for ATV riders if you'd rather ride than hike through nature. Accommodations range from camping to a luxury lodge. If a pretty outdoor setting in your venue of choice, park staff can help you arrange your wedding. The park also is popular with day users.
6. Mobile [SEE MAP]
faungg / Flickr
Mobile, located at the head of Mobile Bay, is Alabama's only saltwater port. Alabama's third largest city is also the largest on the Gulf Coast between New Orleans and St. Petersburg in Florida. It is a cultural center on the sea, with museums, art galleries, and professional symphony, ballet and opera.
In early spring the city is ablaze with azaleas, while in February it hosts the oldest organized Carnival in the United States; their carnival dates back to the early 1700s when it was organized by French Catholic settlers. Mobile is famous for its antebellum architecture, a blend of several styles found throughout nine major historic districts.
5. Orange Beach [SEE MAP]
Bill Sutton / Flickr
Orange Beach is a resort city of 5,500 residents on Alabama's Gulf Coast border with Florida. It's one of the best places to visit in Alabama if you want to chill out, perhaps staying in beachfront housing and playing a little basketball or tennis at a rec center if you get tired of water activities.
Orange Beach also is a good place to do dolphin spotting, or you can do what the locals do for entertainment: visit the Orange Beach Islands. The four islands are located in Perdido Pass and are accessible by watercraft. The islands are popular with water sports enthusiasts and also are a good place to see seabirds and marine mammals.
4. Little River Canyon National Preserve [SEE MAP]
The Little River Canyon is a special place, frequently described with superlatives, such as the deepest canyon east of the Mississippi River. The Little River, which starts in northwest Georgia, is believed to be the longest river in the United States that runs atop a mountain, in this case, Little Top Mountain.
Though it's only about 600 feet at its deepest, it's considered a spectacular landform in the southern Appalachian Mountains. The Little River is a Wild and Scenic River. The nature preserve that surrounds it is home to many protected species of plants and animals.
3. Huntsville [SEE MAP]
Bryce Edwards / Flickr
Huntsville is known as Rocket City because of its association with the U.S. space program. Chemical munitions facilities built during World War II were converted to space exploration use following the war; the United States launched its first satellite here in 1958. Today, NASA's Manned Space Flight Center is located in Huntsville.
The city has a number of historic homes, some constructed in the early 1800s. Museums include Space Camp, Alabama Constitution Village with its reconstructed Federal style buildings, Clay House with its collection of Noritake porcelain and Veterans Memorial Museum with its collection of military vehicles.
2. Gulf Shores [SEE MAP]
Paul Nicholson / Flickr
Gulf Shores is a popular tourist destination on the Gulf of Mexico. Just 54 miles (87 km) from Mobile, it's a good place to go ocean fishing, play golf at two top courses or go dolphin watching. Besides the usual beach activities, you can also take a sunset cruise on the Gulf or take the whole family to a water/amusement park.
If you're a party animal, then late April is the time to visit. That's when what's billed as the world's greatest beach party takes place. Join in the fun as you toss a dead mullet over the state line with Florida.
1. Birmingham [SEE MAP]
The city named after Birmingham, England, was founded during Civil War Reconstruction. Today, it is Alabama's largest city. Because it was once the south's main industrial area, it was given the nickname of "the Pittsburgh of the South." Birmingham is the cultural capital of Alabama, with the largest art museum (Birmingham Museum of Art) in the southeastern United States.
You'll also find ballet, symphony and opera companies here as well as several theaters for the performing arts. Birmingham is host to several music and film festivals, including the Sidewalk Moving Picture Festival that draws filmmakers from around the world.
Map of Alabama
© OpenStreetMap © MapTiler © Touropia
17 Top-Rated Tourist Attractions in Alabama
Alabama is home to a range of tourist attractions and things to do for all ages and interests. Brush up on your history at several Alabama cities, where you'll find some of the most important Civil Rights monuments, museums, and historic sites. This includes the Civil Rights Institute and Sixteenth Street Baptist Church in Birmingham, Montgomery's Civil Rights Monument and National Memorial for Peace and Justice, and Selma's Voting Rights Museum.
Alabama is also a culturally rich region. You can see the birthplace and former creative workspace of musician W.C. Handy, admire architecture and design at the Frank Lloyd Wright Rosenbaum House Museum, and view impressive collections at major art museums in both Montgomery and Birmingham.
Alabama is also full of beautiful natural attractions, especially along the shores of the Gulf of Mexico in Mobile Bay, where tourists will find state parks, nature reserves, and gorgeous sandy beaches. In addition to history and nature, the curious can explore science at the family-friendly McWane Science Center, or behold some of the world's most advanced technology at Huntsville's U.S. Space and Rocket Center.
Find the best places to visit in the state with our list of the top tourist attractions in Alabama.
1. Birmingham Civil Rights Institute and the Civil Rights Historic District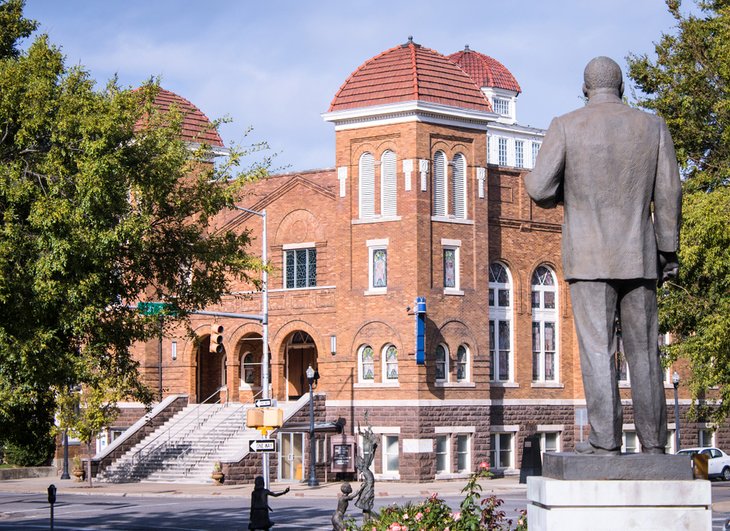 Dr. Martin Luther King, Jr. statue in Kelly Ingram Park, Birmingham | Stan Reese / Shutterstock.com
The Birmingham Civil Rights Institute provides an in-depth look at the events of the Civil Rights Movement of the 1960s in both Birmingham and the United States, as well as continuing issues that African Americans have faced since. The galleries feature permanent and temporary exhibits on a variety of topics from violent conflict to segregation.
The struggle that began here in Birmingham was part of a larger social movement that eventually led to changes, and a defining moment was the bombing of the Sixteenth Street Baptist Church on September 15, 1963. This bombing, orchestrated by the Klu Klux Klan, killed four girls and was a tragic catalyst for change, adding urgency to pass the 1964 Civil Rights Act.
The Birmingham Civil Rights Institute sits at the corner of Sixteenth Street and Sixth Avenue North, forming the cornerstone of Birmingham's Civil Rights District, which covers a six-block area. Additional landmarks include Kelly Ingram Park, the Fourth Avenue Business District, and Carver Theater.
Address: 520 16th Street North, Birmingham, Alabama
Read More: Top-Rated Tourist Attractions in Birmingham
2. USS Alabama Battleship Memorial Park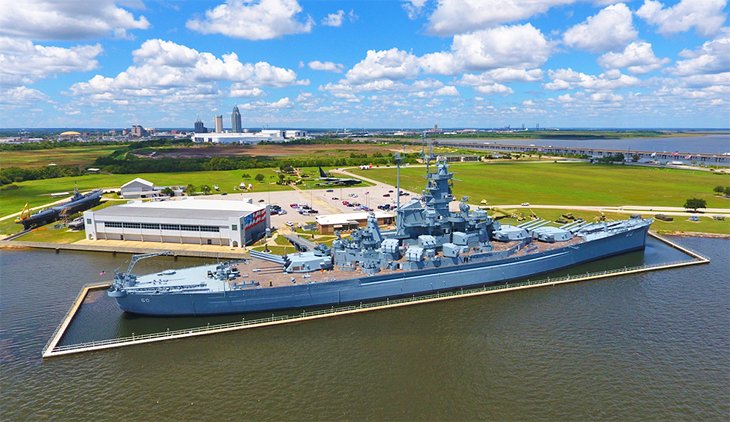 USS Alabama Battleship Memorial Park in Mobile
The star attraction of the Memorial Park in Mobile is the 1942 USS Alabama Battleship docked along the waterfront. This BB-60 battleship is nicknamed "the Mighty A," and was decommissioned after the end of WWII. You can tour many parts of the ship, including the captain's cabin, bridge, mess hall, and turrets.
The park is also home to the USS Drum, a submarine used during the second World War, which can be toured as well.
Also on-site are a variety of aircraft, including a B-52 bomber and an A-12 Black Bird spy plane, as well as military equipment from various conflicts, including tanks and weapons. The park is a memorial to all those who served in WWII, as well as more recent operations.
Address: 2703 Battleship Parkway, Mobile, Alabama
Read More: Top-Rated Tourist Attractions in Mobile
3. Gulf State Park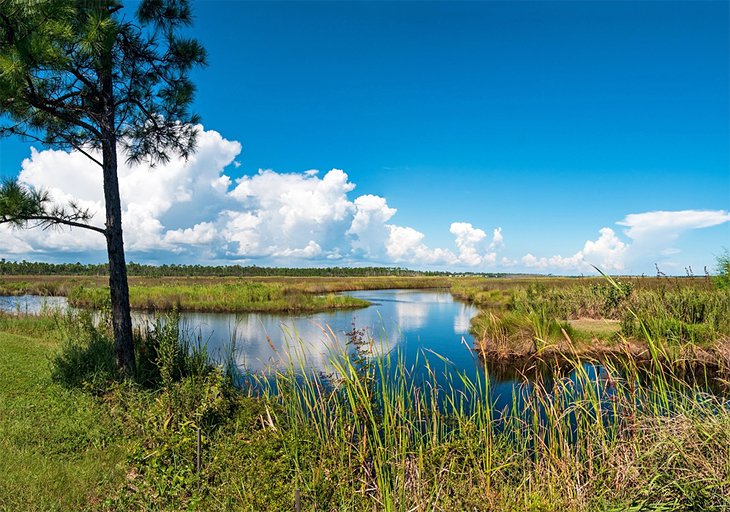 Gulf State Park in Gulf Shores, Alabama
Gulf State Park in Gulf Shores is popular with both campers and day-trippers, offering a wide variety of facilities and more than two miles of white, sandy beaches.
The Nature Center provides free classes and activities, including guided nature walks, animal encounters, fishing lessons, and other fun and educational programs led by naturalists and rangers. Recreational facilities include volleyball, tennis courts, horseshoes, and a swimming pool with a splash pad, as well as bicycle, kayak, and paddle-board rentals and guided Segway tours.
The park also features 25 miles of paved walking trails, also open to bicyclists, and a championship golf course. Tourists making a day trip to Gulf State Park can enjoy all of these amenities for a very low vehicle entrance fee.
The campground, which has nearly 500 full-hookup sites for RVs, is a favorite family vacation spot thanks to its many amenities and things to do.
If you're not interested in camping, more luxurious options are available at The Lodge at Gulf State Park, a Hilton Hotel . The property has recently been completely reconstructed and occupies a premier beachfront location.
Address: 20115 Alabama 135, Gulf Shores, Alabama
Read More: Top-Rated Tourist Attractions in the Gulf Shores
4. Civil Rights Memorials of Montgomery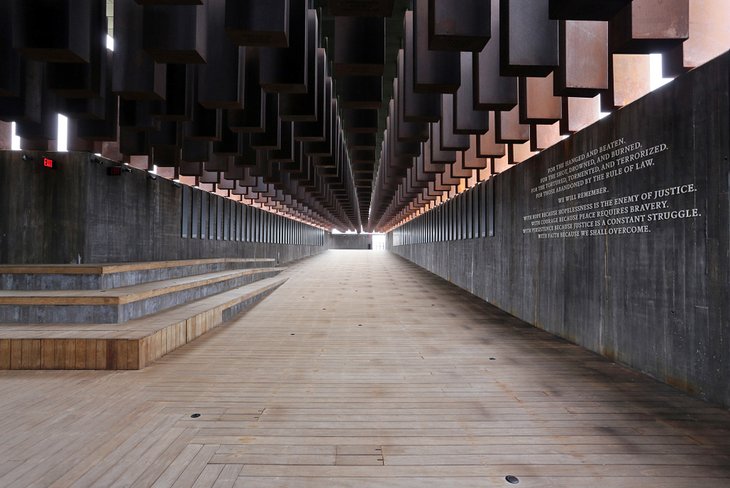 National Memorial for Peace and Justice in Montgomery | Katherine Welles / Shutterstock.com
The Civil Rights Memorial in Montgomery features an exquisite black granite sculpture commemorating those killed during the struggles of the Civil Rights Movement. The memorial stands in a square next to the Civil Rights Memorial Center, where tourists will find educational displays and exhibits, including the Wall of Tolerance.
Another Montgomery landmark is the National Memorial for Peace and Justice, a six-acre space dedicated to African Americans who were victims of lynching and other forms of racial injustice. The memorial includes artwork, sculptures, and monuments, which honor various figures in the Civil Rights movement, as well as a field of 800 monuments each representing a county where lynchings took place.
Address: Civil Rights Memorial, 400 Washington Avenue, Montgomery, Alabama
Read More: Top-Rated Tourist Attractions in Montgomery
5. U.S. Space and Rocket Center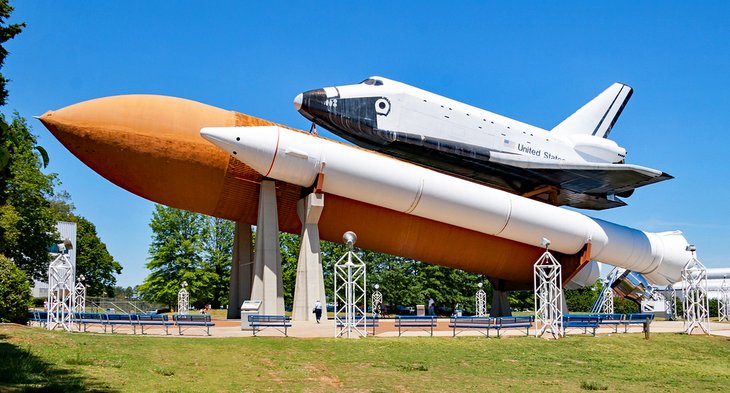 Space Shuttle at the U.S. Space and Rocket Center in Huntsville
The U.S. Space and Rocket Center in Huntsville is an exciting attraction for all ages, providing exhibits, interactive experiences, presentations, and one of the world's largest collections of spacecraft on display. A Smithsonian affiliate, the center's exhibits provide visitors with information on everything from the history of the space race and NASA's growth since then to the International Space Station and beyond.
Tourists can experience multimedia presentations at the National Geographic Theater or the Spacedome IMAX, and explore a model of the International Space Station. Visitors also have the chance to see Rocket Park, where 27 rockets and missiles are on display, as well as the gigantic launch vehicles that propel the rockets into space.
Perhaps the most popular things to do at the Space Center, however, are taking turns in one of the museum's simulators. There are two launch simulators, one of which allows the astronaut-in-training to experience 4 Gs of force, a few seconds of weightlessness, and then a free-fall. The kids' version of this gives young astronauts a less intense version, then "lands" on the surface of the moon.
The Hyper Ship simulator uses motion and immersive media to provide a variety of rides, and visitors can also get active on the Mars Climbing Wall. There are also interactive areas for younger kids, where they can explore the surface of Mars and crawl through the space station. The center also offers week-long and single-day camps for kids.
Address: One Tranquility Base, Huntsville, Alabama
6. Montgomery Civil Rights Landmarks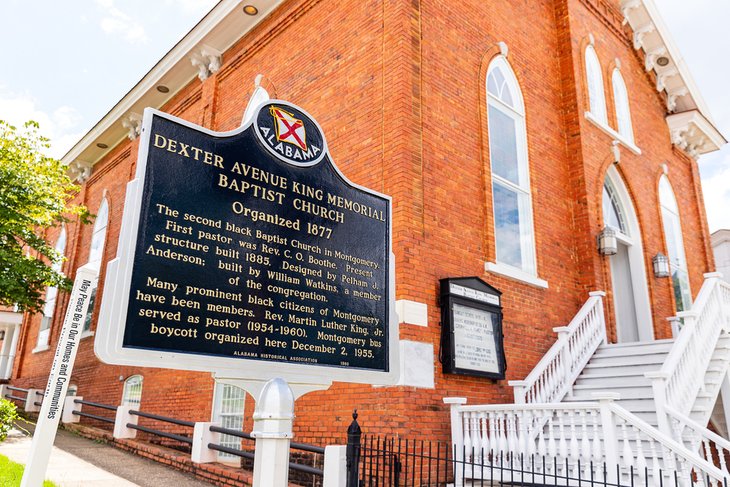 Dexter Avenue King Memorial Baptist Church | Chad Robertson Media / Shutterstock.com
Montgomery is home to several important Civil Rights landmarks, which commemorate places and events that were instrumental in the movement. The most famous of these is the Dexter Avenue King Memorial Baptist Church, which was the meeting place of early Civil Rights activists and once the parish of a young Martin Luther King, Jr., who lived with his family in the parsonage from 1954-1960. Today, it has been restored to display a great deal of their original belongings, and is open to the public as the Dexter Parsonage Museum.
The Rosa Parks Library and Museum is located near the site of Parks' arrest in downtown Montgomery. It contains exhibits that tell her story and outline the public transportation boycott that resulted from her brave act of defiance. Artifacts on display include her original fingerprints from her arrest records, court documents, photographs, and a 1955 Montgomery City Bus, as well as one of the station wagons used during the boycott to transport protesters.
Another important historic site is the Freedom Rides Museum, located in the former Montgomery Greyhound station, which was the site of the 1961 attack on the Freedom Riders who were continuing the movement that Parks began.
7. McWane Science Center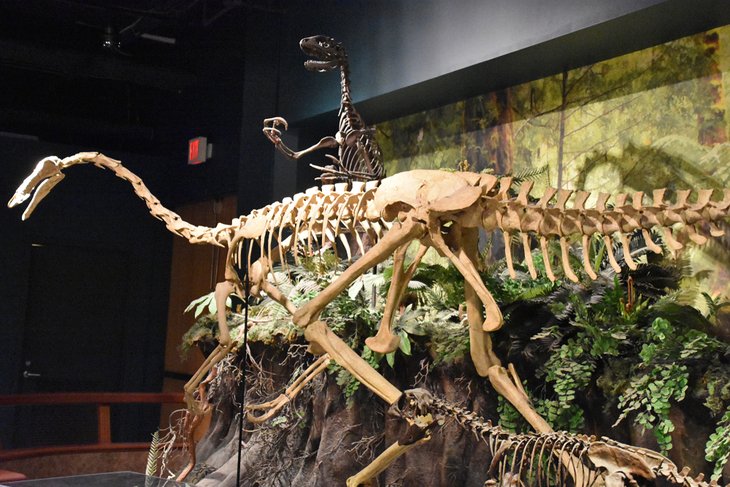 McWane Science Center | Ritu Manoj Jethani / Shutterstock.com
Birmingham's McWane Science Center is home to a variety of exhibits and interactive experiences, which encourage both kids and adults to learn through hands-on activities. This popular family tourist attraction explores topics from the natural sciences to the latest technology and allows visitors to participate in their own experiments.
One of the most popular areas of the museum is its aquarium, which is home to many species of ocean and freshwater life, especially those native to the region. This section also looks at the importance of water and water-related science like erosion.
Other museum exhibits include an exploration of the ways that art and technology intersect, as well as a variety of rotating and traveling exhibits. The museum also has an IMAX theater, which offers screenings of various films each day.
Address: 200 19th Street North, Birmingham, Alabama
8. Mobile Bay
Interstate through Mobile Bay
Set along the Gulf of Mexico, Mobile Bay is a scenic area of Alabama's coastline. The area has beaches and historic areas, which attract both locals and tourists year-round.
Dauphin Island, located in the Bay, is a barrier island with a small town, which is also called Dauphin Island. This island has several things to see and do, including the historic Fort Gaines, which was established in the early 1800s and became an important outpost during the Battle of Mobile Bay. The island is also home to a freshwater lake, which is popular with swimmers, as well as an Audubon bird sanctuary.
The town of Fairhope is another tourist destination along Mobile Bay, located along its eastern shore. Fairhope Pier is popular for fishing, and the town has many outdoor recreational activities, including golf, tennis, and bicycling.
Nearby, the Weeks Bay National Estuarine Research Reserve provides amateur naturalists with the opportunity to explore diverse habitats. Elevated boardwalks and trails can be explored with a guide or independently.
Along the southeastern shores of Mobile Bay lie Orange Beach and Gulf Shores. Gulf Shores is a top Alabama resort destination, home to plentiful activities for couples, families, and independent travelers.
9. Frank Lloyd Wright Rosenbaum House Museum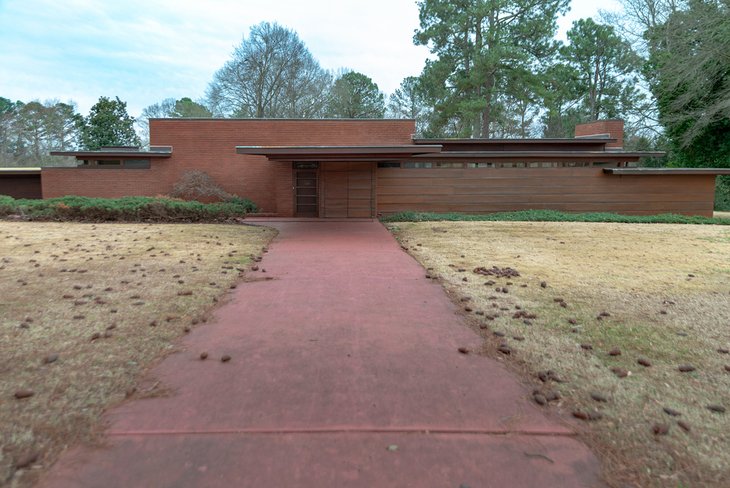 Frank Lloyd Wright Rosenbaum House Museum | Tim Daugherty / Shutterstock.com
Rosenbaum House was built by Frank Lloyd Wright in 1939 for newlyweds Stanley and Mildred Rosenbaum. Located in Florence, the house is the only structure in Alabama designed by Wright. It is constructed of cypress, glass, and brick. The Usonian design features a flat, multi-level roof, and board and batten walls.
The house has its original Wright-designed furniture. The Rosenbaums were the only owners and occupants of Rosenbaum house until 1999, when it was purchased by the City of Florence and restored. It is the only house of Wright's in the southeast that is open to the public.
Address: 601 Riverview Drive, Florence, Alabama
10. W.C. Handy Home and Museum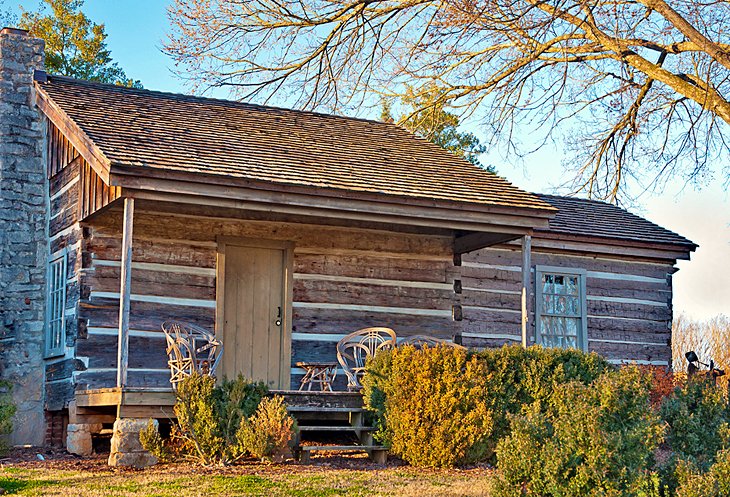 W.C. Handy Home and Museum
Located in Florence, the W.C. Handy Home and Museum is housed in the log cabin where this iconic musician was born and lived. Known as the "father of the blues," Handy lived here when he wrote several of his most famous songs, including Beale Street Blues and Memphis Blues.
Visitors are able to see original sheet music hand-written by the artist, as well as other personal papers and artifacts. Collections on display also include several musical instruments, including his trumpet and piano, which he used while writing these songs.
Address: 620 West College Street, Florence, Alabama
11. National Voting Rights Museum and Institute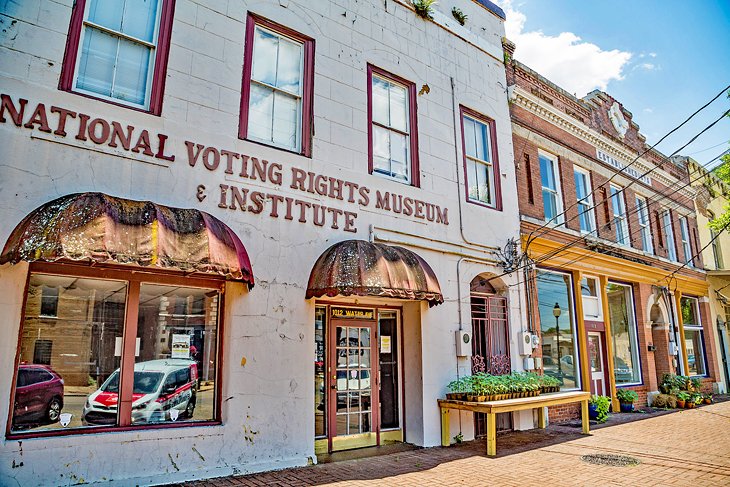 National Voting Rights Museum and Institute | Tony Webster / photo modified
National Voting Rights Museum and Institute, located in Selma, explores the struggle for voting rights for American citizens, namely women and African-Americans. The museum is located at the site of the tragic 1965 "Bloody Sunday" attack on protesters who were marching from Selma to Montgomery.
Exhibits highlighting the lives and accomplishments of important African-American political and social figures are featured throughout the museum, including Reverend Martin Luther King, Jr., Reverend Jesse Jackson, and President Barack Obama. Additional exhibits focus on specific locations where monumental vote-related Civil Rights events occurred, like Albany, GA; Greenwood, MS; and Selma.
There are also displays that take a closer look at more general issues and events, including women's suffrage, non-violent protest, and extremist organizations like the KKK.
Address: 6 US Highway 80 East, Selma, Alabama
12. Barber Vintage Motorsports Museum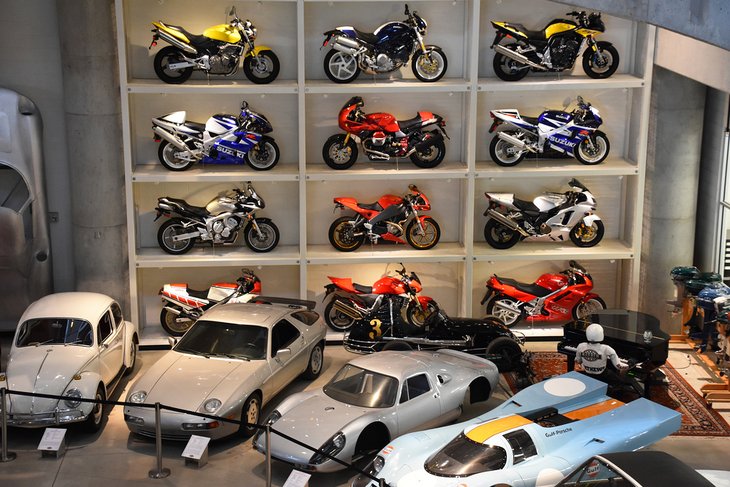 Barber Vintage Motorsports Museum in Birmingham | Ritu Manoj Jethani / Shutterstock.com
The Barber Vintage Motorsports Museum is home to a collection of more than 1,400 motorcycles, from some of the earliest and rarest models to modern machines. Around half of the collection is on display in the museum, and it is regularly rotated, so true aficionados will want to consider a repeat visit.
The collection, formed by former race car driver George Barber, gained notoriety shortly after the museum's opening in 1995, when several bikes were loaned to the Guggenheim Museum in New York for their exhibit, "Art of the Motorcycle."
A car lover as well, Barber's collection includes rare and coveted vehicles, including several models of Lotus. In addition to the museum itself, the grounds are home to a 930-acre park, which features a proving ground and 2.38-mile race track open to the public. Here, tourists can watch major auto manufacturers test new vehicles or even film a product reveal video.
Address: 6030 Barber Motorsports Parkway, Birmingham, Alabama
13. Birmingham Museum of Art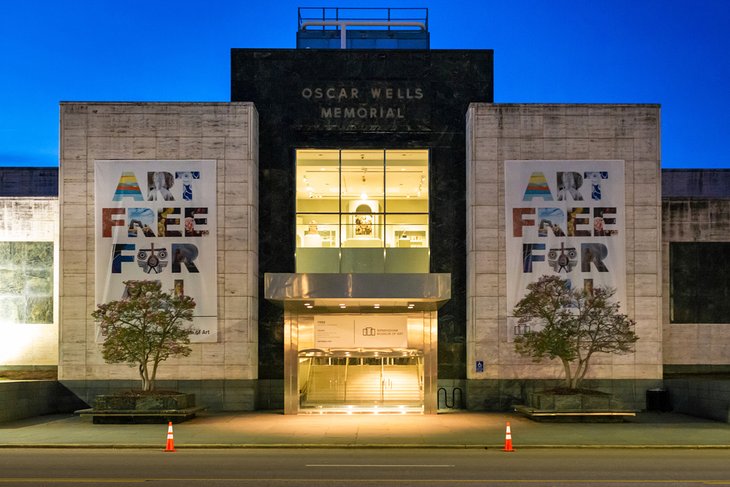 Birmingham Museum of Art | Tim Daugherty / Shutterstock.com
Regarded as the finest art museum in Alabama, The Birmingham Museum of Art features an extensive permanent collection, as well as changing exhibits. Among the permanent collection are examples of ancient and international folk art and fine art, including decorative arts.
The African gallery contains a variety of historic and contemporary work, ranging from traditional figures and ritual headdresses to fine beadwork and batik. The Asian gallery includes some of the museum's oldest artifacts, including bronzes and ancient earthenware.
The largest part of the permanent collection is European art, including fine art by artists like Pissarro and van Rijn and a huge selection of decorative arts, including silverwork, furniture, and porcelain.
The museum also hosts multiple temporary exhibits, which feature various themes, media, or artists and change regularly. The tiered grounds feature the Charles W. Ireland Sculpture Garden and botanical displays.
Address: 2000 Rev Abraham Woods, Jr. Boulevard, Birmingham, Alabama
Read More: Top-Rated Tourist Attractions in Birmingham
14. Montgomery Museum of Fine Art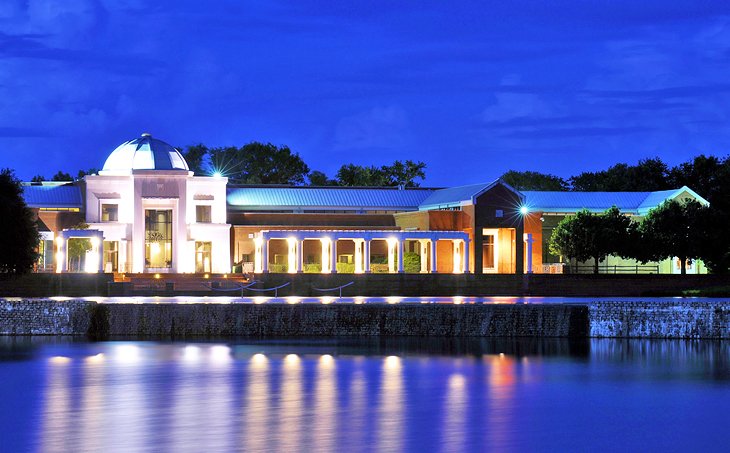 Montgomery Museum of Fine Art
The Montgomery Museum of Fine Art is home to a large permanent collection, which focuses on American art. Among its most prized works are examples of etchings, watercolors, drawings, engravings, and woodcuts, which are remarkable for their preservation, a difficult task for paper-based media.
Prominent American artists like John Marin and Winslow Homer are featured, and there is an extensive exhibit dedicated to regional art and folk artists, with examples ranging from crafts to paintings.
Other areas of note include the African art collection, examples of fine porcelain in the decorative arts gallery, and a display of glassworks by leaders in the craft. The museum also hosts educational programs for both adults and children, as well as traveling exhibits from other museums.
Address: One Museum Drive, Montgomery, Alabama
15. University of Alabama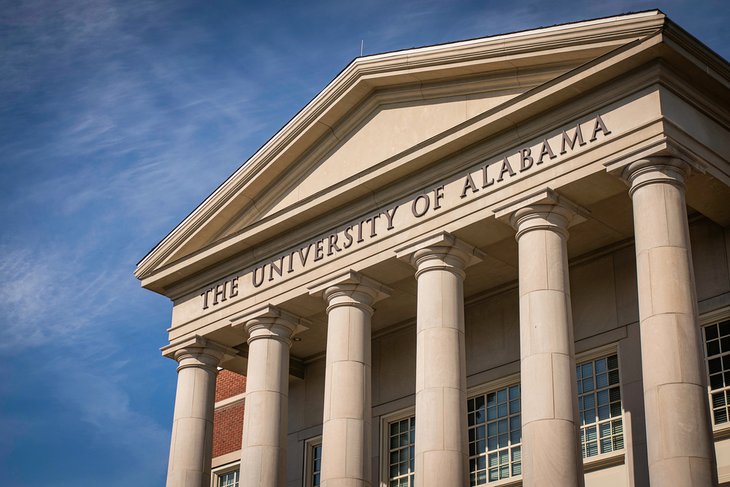 University of Alabama | University of College / Shutterstock.com
The University of Alabama in Tuscaloosa began in 1827 and by 1831 had seven buildings on campus. Today, the campus is home to an art gallery; 50-acre arboretum; pre-Civil War classroom; two museums; and the Gorgas House, which now serves as a museum.
The Gorgas House, named for a former university president, General Josiah Gorgas, was built in 1829 as the first structure completed on the campus by renowned architect William Nichols. It is also one of only four structures that survived the burning of the university during the Civil War. Today, the house serves as a museum with collections of antiques and Gorgas family memorabilia.
The Alabama Museum of Natural History is located on campus in Smith Hall. Exhibits include displays from the Age of Dinosaurs, the Coal Age, and Ice Age. Visitors can also view the Hodges meteorite, the only meteorite known to have struck a human.
The Paul W. Bryant Museum traces the history of the University of Alabama football tradition back to its beginning in 1892. The collections highlight other sports played by university athletes as well.
16. Cheaha State Park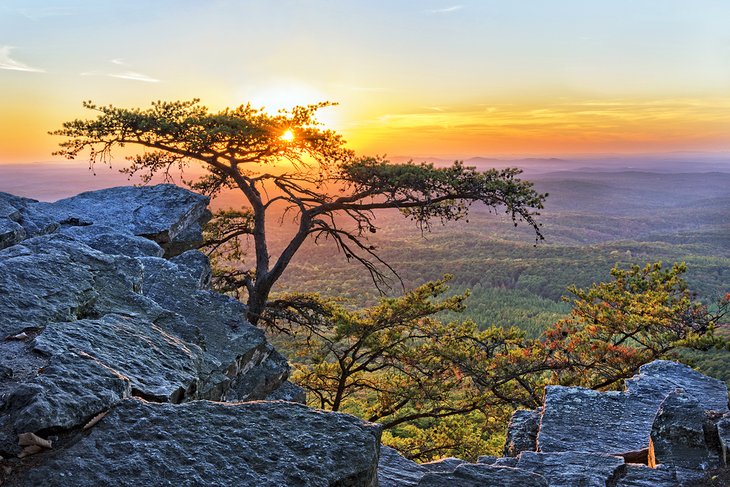 Cheaha State Park
Most people think of the Gulf of Mexico and beaches when they think of recreational opportunities in Alabama, but the inland areas and their unique ecosystems are well worth a look. Cheaha State park, Alabama's oldest park, is a wonderful place to visit to experience the hill country of Alabama.
Home to the state's highest peak, Cheaha Mountain (2,407 feet), this nearly 2,800-acre area is full of recreational opportunities. Camping, RVing, hiking, biking, and ATVing all top the list of things to do in the park.
Cheaha State Park is also chock-full of waterfalls just waiting to be explored on a steamy summer afternoon. The park is adjacent to the 392,567-acre Talladega National Forest, and several major trails traverse both areas.
The park makes a great weekend getaway from Birmingham or Atlanta. Accommodation for those not interested in camping can be found in historic lodges, A-frame chalets, and cabins.
17. Alabama Gulf Coast Zoo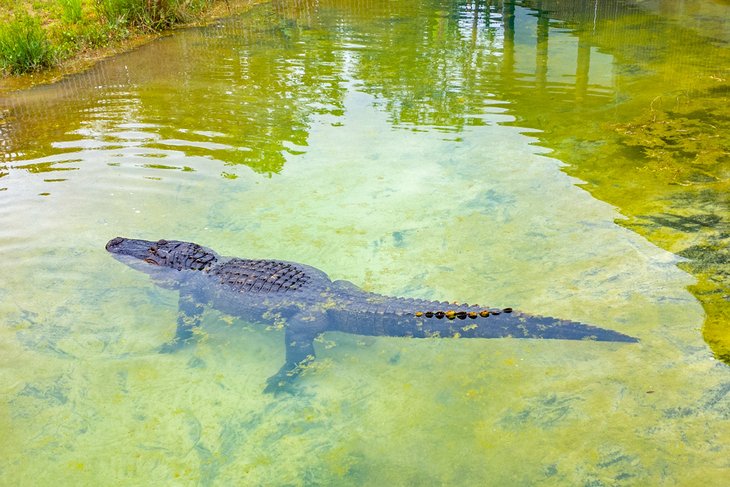 Alligator at the Alabama Gulf Coast Zoo
This small zoo is home to over a hundred species, and is emerging as a respected safe-haven for endangered and threatened species. The residents here represent a surprisingly diverse population of mammals, birds, and reptiles, many of which were once abandoned animals who needed a second chance.
The primate exhibit is a top attraction, featuring more than 50 animals including spider, squirrel, and Capuchin monkeys, as well as Hamadryas baboons and marmosets. There are also several big cats including two Bengal tigers, a black leopard, and an African lion among others. Other mammals include an American black bear, an American alligator, a Eurasian lynx, and camels.
The zoo is also home to a selection of birds, from species like the umbrella cockatoo and Australian kookaburra, to flamboyant peacocks. Reptiles include tortoises, snakes, lizards, and iguanas.
Among the zoo's most popular programs are its Animal Adventure experiences, which give visitors the opportunity to get up close to some of the zoo's most popular residents. Ages three and older are welcome to sign up to meet kangaroos, lemurs, and two-toed sloths. Guests opting for the lemur adventure can even cuddle with the friendly critters – that is, if they aren't using you as a jungle gym!
There is also a petting zoo, where even the youngest visitors can meet and feed the gentlest of the animals, including sheep, deer, and goats.
More Related Articles on PlanetWare.com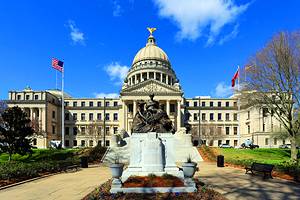 Civil Rights in the South: Tourists can also find several historic sites in the neighboring states of Georgia and Mississippi, which each have many landmarks found on the Civil Rights Trail. Among the top tourist attractions in Atlanta, Georgia are the King Center, the Martin Luther King, Jr. Birth Home, and the National Center for Civil and Human Rights. Jackson, Mississippi is also home to several major attractions, like the Medgar Evers Home Museum, the Mississippi Civil Rights Museum, and important sites along the Mississippi Freedom Trail.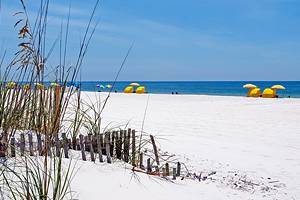 The Gulf Coast: You may not immediately think of white-sand beaches when you think of Alabama, but the southern coast is home to some of the best resorts in the state. Many of these can be found in the vacation paradise of the Gulf Shores, where families and couples alike can find a wide range of things to see and do, including boat tours in the Gulf of Mexico. Beach lovers can also explore the sandy shores and attractions in Pensacola, Florida, where tourists flock for both day trips and ocean-side vacations.
Source https://www.thecrazytourist.com/30-amazing-hidden-gems-in-alabama/
Source https://www.touropia.com/best-places-to-visit-in-alabama/
Source https://www.planetware.com/tourist-attractions/alabama-usal.htm