10 Best Cities to Visit in Arizona
When people think of Arizona, the first things that spring to mind are understandably the Grand Canyon and Monument Valley; while the scenery in these spots is certainly stunning, the state is home to much more than just old rocks. Its many cities are full of wonderful historic sites, pulsating nightlife, and fantastic restaurants, while its people are as welcoming and friendly as they come.
With the famous Route 66 passing through the state, you can stop off and explore some of its many landmarks, get a feel for the Old West in some of Arizona's atmospheric saloons, or learn more about the rich Native American culture at one of the many archaeological sites or reservations. Wherever you go, the places on this list are the perfect cities to visit in Arizona before delving into the majestic scenery all about you.
Map of cities in Arizona
© OpenStreetMap © MapTiler © Touropia
10. Yuma [SEE MAP]
Ken Lund / Flickr
Lying at the point where the Gila and Colorado Rivers join, Yuma is just a stone's throw away from both Mexico and California.
Having undergone extensive renovations for its centenary celebration in 2014, Yuma is full of pretty little parks and there are a couple of great museums to boot. The Territorial Prison museum, for instance, serves up some interesting history related to the time it was known as 'the Hellhole of the West'.
Due to its proximity to Mexico, there is lots of great Mexican food on offer, and its year-round blue skies and sun make Yuma a pleasant place to stop by.
9. Lake Havasu City [SEE MAP]
Located in western Arizona, Lake Havasu City is a planned city that was built on the banks of the lake which gave it its name. Remarkably, it is home to the original London Bridge.
Put up for sale in 1967 because it was falling down, the city bought and reassembled it; it is now the main attraction alongside the touristy 'English Village' which can be found at one end of the structure.
Other than that, there is not all that much to see or do in Lake Havasu City, other than to enjoy the lake and go boating on its waters, try out some watersports, or simply watch the beautiful sunsets.
8. Prescott [SEE MAP]
© Twildlife / Dreamstime
Flanked by mountains, Prescott is a friendly place to visit. Its historic downtown is home to some lovely old Victorian buildings, which will make you feel as if you've stepped back in time.
The Old West town is charming to walk around with its leafy center, welcoming cafes, and the famous Whiskey Row's lively saloons. It is also home to the oldest rodeo in the world.
Located in a picturesque setting, Prescott's incredible landscapes are perfect for exploring by horseback, on foot or by bike. The fresh mountain air feels a million miles away from the searing desert heat of some of Arizona's other cities.
7. Mesa [SEE MAP]
© Legacyimagesinc / Dreamstime
The third largest city in Arizona, Mesa is part of Greater Phoenix and was founded by Mormons all the way back in the late 1800s.
The interesting museums make Mesa well worth checking out; its fabulous natural history museum and museum for youth are two of the best on offer, while the Mesa Arts Centre is home to a number of theatres and art galleries.
Away from arts and culture, Mesa has some wonderful outdoor activities for visitors to enjoy. You can go kayaking or swimming in one of its lakes or go hiking in the nearby Tonto National Forest – one of the largest forests in the States.
6. Tempe [SEE MAP]
© Derrick Neill / Dreamstime
Located in the Greater Phoenix Area, Tempe is a lively college-town that is home to the Arizona State University – the largest university in the United States.
As such, there is a very youthful feel about the place and a lot of life in Tempe revolves around the university. For instance, there are lots of restaurants and shops in town, as well as fantastic sporting facilities and loads of bars, giving Tempe a lively nightlife scene.
A fashionable place to live, lots of research-based industries are located in Tempe. Many people visit the city for one of the conferences, shows or events that are held here, while also stopping in to sample the flourishing culinary scene or vibrant nightlife.
5. Sedona [SEE MAP]
Famed for the stunning red sandstone formations that surround the city, such as Cathedral Rock, Sedona is a delight to visit, in large part due to the magnificent scenery. There are loads of outdoor activities on offer ranging from hiking and mountain biking to swimming and camping.
Considered by many to be a sacred place, there is a very New Age feel about Sedona – it is easy to see why once you take the breathtaking scenery into account. Indeed, lots of people come to attain spiritual enlightenment, relax at one of the numerous spas or stock up on alternative medicines.
While Sedona can get very busy during the summer, it is certainly worth checking out for all that it has to offer. Its fantastic art galleries and delicious restaurants mean that there is something for everyone to enjoy.
4. Flagstaff [SEE MAP]
Lying alongside Route 66 with the splendid San Francisco Peaks looking out over it, Flagstaff is a charming and laid-back place that has many different aspects.
While wandering around town, you'll find lots of old architecture that dates back to when the city was an important railroad station, as well as atmospheric coffee shops and bars catering to Flagstaff's large university population.
With beautiful nature surrounding it, there is some great skiing, mountain biking and hiking to be had. Mount Elden is the place to head if you want to enjoy the great outdoors. Combining nature, Route 66 landmarks and a delightful downtown into one enticing package, this college town is well worth stopping by when in Arizona or on your way to the Grand Canyon.
3. Tucson [SEE MAP]
The second-largest city in Arizona, Tucson is home to an intoxicating mix of cultures which is showcased in its fantastic restaurants, museums, and historic neighborhoods.
With a youthful feel, thanks in large part to the University of Arizona's sizeable student population, there are lots of eclectic shops, as well as a great bar and nightlife scene.
While Tucson's lively streets are fun to explore, the majestic natural sights that surround the city are yet another reason to visit, with Saguaro National Park and the Arizona-Sonora Desert Museum just two of its must-see attractions.
2. Scottsdale [SEE MAP]
Sometimes referred to as 'The Beverly Hills of the Desert', Scottsdale is part of the Phoenix Metropolitan Area and is a wealthy, upmarket place to visit with loads of resorts, high-end hotels, and swanky restaurants.
There are some lovely art galleries and museums scattered about, while its Old Town plays up to its cowboy and American West identity. There are lots of souvenir shops and themed restaurants to be found.
Home to one of the largest malls in the States, Scottsdale is a popular city among tourists. Its lively nightlife and trendy cocktail bars make it a great place to go out in.
1. Phoenix [SEE MAP]
The economic, cultural and political heart of Arizona, Phoenix is located in the Valley of the Sun. As such, the desert city is blessed with year-round warm weather and glorious sunshine.
Full of energy and life, Phoenix has a thriving cultural scene, as is evidenced by its numerous theaters and great museums such as the Phoenix Art Museum and the remarkable Musical Instruments Museum – which hosts the largest collection of instruments in the world.
Sports fans will also feel at home due to the city's professional sports teams. There are over 200 golf courses to try out, while outdoor aficionados can enjoy exploring the wealth of amazing desert scenery that surrounds the city. With loads of great Mexican food on offer in its fantastic restaurants and some lively nightlife to boot, the Southwest's largest city has loads for you to check out.
22 Best Places to Visit in Arizona
Overflowing with distinctive landscapes and footprints of the Old West, Arizona offers both iconic national parks and fabled history in droves. Although home to such famous sites as the Grand Canyon and Horseshoe Bend, Arizona rewards those that expand their horizons.
With Indian reservations making up almost a quarter of Arizona's area, there are lots of interesting archaeological, historical and cultural sites relating to Native American culture for tourists to enjoy.
As they are home to a plethora of great museums, theaters and art galleries, Arizona's cities are fun and friendly places to stop by and there is some great nightlife to boot. An incredible state to visit, the best places to visit in Arizona will live long in the memory.
22. Lake Havasu [SEE MAP]
© Snehitdesign / Dreamstime
In 1967, Robert McCulloch made a mind-boggling purchase when he decided to buy the London Bridge and move it, brick by brick, to the humble town of Lake Havasu. Now on the proverbial map, Lake Havasu was later awarded the title of one of the best communities in America.
Along with this startling attraction, Lake Havasu is an outdoor paradise. With over 300 days of sunshine, you can enjoy 60 miles of navigable waterways, and 1800 miles of off-road trails.
On the lake, you'll discover 27 replica lighthouses and the largest skatepark in Arizona, all alongside a white sand beach. All the more reason to make Lake Havasu the spot for your winter vacation,
21. Bisbee [SEE MAP]
Andypiper / Flickr
In the foothills of the Mule Mountains, Bisbee was once one of the richest mining towns on planet earth. The Old West mining camp, however, managed to stay the course over the years without becoming a classic ghost town. Today, with the mine closed, Bisbee is a hub of art and culture.
Along the delightful and leafy streets, you'll find a selection of boutique stores, cozy cafes and local art galleries. All within the classic buildings that flourished during the mining era. As a throwback to the good ol' days, Bisbee still has over 45 saloons to grab a pint at, along with the original library and opera house.
20. Tonto Natural Bridge State Park [SEE MAP]
© Dreamstime
Slowly and patiently, the spectacular nature of Tonto Natural Bridge State Park came to life. To begin, seawater, volcanic lava and rainfall help to form a travertine dam. Over the years, the dam eroded. Leaving before the largest natural travertine bridge in the world.
The bridge is 150 feet wide, rising over 180 feet above the dazzling Pine Creek. Surrounded by pines, flowing springs and grottoes enveloped by ferns, the inspiring nature creates stark contrasts to the world around it. The most popular activity in the park is climbing over the bridge, but you'll also find four other hiking trails to further explore the geological wonder that is Pine Canyon.
19. Tombstone [SEE MAP]
bambe1964 / Flickr
A historic town that is famous as the site of the Gunfight at the OK Corral, Tombstone was one of the last boom towns. It was a rough place that attracted hardy prospectors, tough gunslingers and lawless gamblers who came to win their fortune in the silver mines.
Very much a tourist trap, Tombstone is a fun place to visit in Arizona to learn about how the West was settled. With the historic part of town perfectly preserved, step into the past and wander around its saloons or check out a reenactment performance of the gunfight. As the place is geared towards tourism, there are lots of cheap eateries, souvenir shops, restaurants and hotels around town.
18. Scottsdale [SEE MAP]
© Bambi L. Dingman / Dreamstime
Part of the Greater Phoenix Area, Scottsdale's year-round warm weather means that it welcomes millions of visitors to its streets every year. As such, there is a plethora of resorts, hotels, restaurants, and bars that cater to every budget.
Marketing itself as 'The West's Most Western Town', numerous historic sites are scattered around and festivals and events embracing this heritage are regularly held, with cowboy competitions and horse shows often featuring.
With lots of great museums and art galleries on offer, Scottsdale has a thriving arts and cultural scene for visitors to enjoy. On top of all this, the city's nightlife is pounding; there are loads of great nightclubs, swanky lounges and trendy bars for you to explore.
17. Montezuma Castle [SEE MAP]
ladylinoleum / Flickr
Fifty miles south of Flagstaff, Montezuma Castle was built between 700 and 900 years ago. The five-story castle was cut using the limestone cliffs in Beaver Creek Canyon. One hundred feet off the valley floor, Montezuma Castle is a visual story of resilience and ingenuity of the Sinagua people.
Held together by clay mortar and mud, the castle comprises 20 separate rooms. Unfortunately, visitors can't explore the inside of Montezuma Castle. However, the striking views along the walking trail complemented by various informative panels create a memorable experience. To learn more about the castle, explore the visitors center.
16. Glen Canyon National Recreation Area [SEE MAP]
© M. Zysman / Dreamstime
Mostly consisting of endless desert, the huge Glen Canyon National Recreation Area surrounds the beautiful waters of Lake Powell. With over three thousand kilometers of shoreline, the dark waters of the lake are lined by beautiful red rock formations and the dramatic rock faces that plunge down into it.
A popular place to go boating, five marinas are scattered about and there are loads of great water sports and activities for visitors to enjoy. Whether it is kayaking and jet-skiing on Lake Powell's waters, fishing along the shoreline, or hiking amidst the spectacular rock formations; this national recreation area has something for everyone.
The desert scenery is otherworldly, with Paria Canyon and Rainbow Bridge being particularly memorable. Horseshoe Bend is another must-see area in Glen Canyon. Make sure to stop by for a couple of days; you won't regret it!
15. Phoenix [SEE MAP]
© Timroberts / Dreamstime
Set in the middle of the desert in an area which is appropriately known as 'the Valley of the Sun', the state capital is undoubtedly the cultural and economic heart of the state. Bathed in glorious sunshine almost year-round, Phoenix attracts over sixteen million visitors every year.
With lots of educational and entertaining museums on show, as well as some great theaters and shopping options, Phoenix has a lot going for it. There are a number of great restaurants and bars for visitors to check out. Sport lovers can watch any one of the city's teams, while golfers will adore exploring the more than two hundred courses found in the town.
14. Jerome [SEE MAP]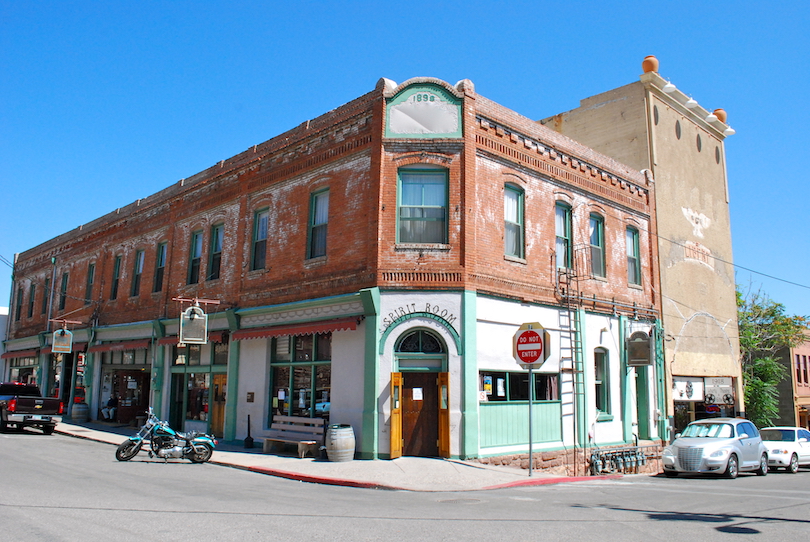 © Dreamstime
In its short and turbulent history, Jerome has seen it all. Once a thriving mining town, soon the numbers dwindled until it was nothing but tumbleweeds meandering along Main Street. But with enough of the old town remaining, it turned into a popular tourist destination.
Today you can explore the historic stores, old restaurants and museums in the restored buildings. Or simply admire the crumbling facades still standing. Learn all about Jerome's history at the Gold King Mine Museum before exploring the famous Sliding Jail. The original building was made on clay slick and over the years has moved 2500ft from its first location.
Those exploring Sedona, Phoenix, Flagstaff and Prescott can make a day trip to the ghost town with on-site accommodation also available.
13. Prescott [SEE MAP]
© Twildlife / Dreamstime
Found at over 5000ft, Prescott experiences the change of seasons more than most towns in Arizona. With a balance of exotic desert features among the ponderosa pines and sprawling lakes, there's a wide variety of fun to be had.
Once the capital of the Arizona Territory, Prescott is the place to go for idyllic lakes where you can kayak by craggy canyons and camp under the stars. If you're more of a dry land person, complete the Watson Lake Loop Trail. Covering 4.7 miles, experience the deep blue lake colors while trekking over desert boulders.
Prescott has an adorable downtown area, with historic buildings like the Elks Theater and the old courthouse. For accommodation in town, check into one of the daintily restored BnBs.
12. Horseshoe Bend [SEE MAP]
© Dreamstime
In the Glen Canyon National Recreation Area, Horseshoe Bend is one of the most recognizable sights in the United States. The park itself features an abundance of epic rock formations, scenic vistas and a fascinating layer of human history. But Horseshoe Bend will always steal the show.
Carved over the course of millions of years, the Colorado River completes a sharp 180-degree turn through the park. The result is a stunning horseshoe vista with the dark blue waters flowing through the orange canyon.
To get the best view in the house, complete the relatively flat 1.5 mile hike to the observation platform (this hike is wheelchair accessible). From there, try to avoid vertigo as you peer down 1000ft to the river below.
11. Havasu Falls [SEE MAP]
Turquoise waterfalls amid the rich desert await you on this bucket list worthy hike. The charm and beauty of Havasu Falls is hard to describe but when a hike of this difficulty is worth it, then you know the reward fits the bill.
The popularity, strenuousness and fragility of the landscape means visitors will have to plan ahead to make the famous journey. Permits need to be arranged ahead of time, with a night spent at either Havasupai Lodge or under the stars at the campground near the falls.
With your permit sorted, the hike begins by losing 1800ft of elevation as you trek to the base of the Grand Canyon. All up the hike to the mystical falls is ten miles one way.
10. Tucson [SEE MAP]
© Meunierd / Dreamstime
Home to the University of Arizona, this lively college town is a fun and friendly place to visit, with some great nightlife on offer. The second largest city in the state is a delightful mix of cultures that attest to its long and varied history. Its numerous museums and lively arts and culture scene showcase the city's diversity.
With great local shops on offer and fantastic restaurants and bars, the university's large student body gives the town a youthful vibe. Lying in a valley and surrounded by arid mountains and cacti-filled plains, the brightly-colored buildings of the city make Tucson an attractive place, full of charm.
With amazing natural sights lying just outside of Tucson, most tourists to the city come to explore the mesmerizing Saguaro National Park or hike in the nearby Santa Catalina Mountains.
9. Saguaro National Park [SEE MAP]
D.H. Parks / Flickr
The city of Tucson is surrounded by serene desert and one of the few places in the United States where you can see the giant saguaro in the wild. The Saguaro National Park was formed to allow the opportunity to both protect and show off the rare and spectacular cacti.
The park is split into two sections, with Tucson taking up the middle, granting easy access to anyone in town. The saguaro can live for 200 years while growing at the snail-esque pace of an inch per year.
The best time to visit the chandelier-like plants is in the morning and late afternoon, when the Sonoran Desert sun is less ferocious. The west side has a higher concentration of saguaro, but you can expect more crowds. While you can camp under the desert sky in the eastern section.
8. Meteor Crater [SEE MAP]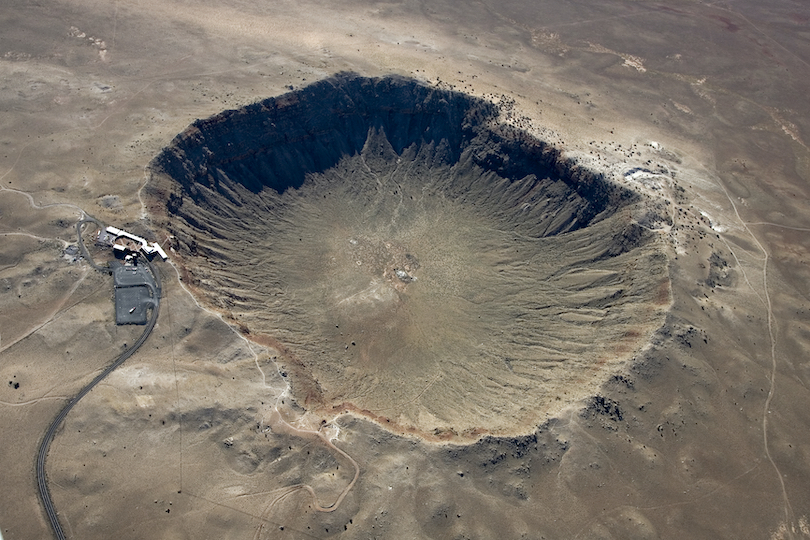 © Dreamstime
Just out of Winslow, Arizona, is a massive meteor crater that has to be seen to be believed. Known as the Barringer Crater, named after the man who discovered the popular attraction, the crater came to be roughly 50,000 years ago. On that fateful day, the Canyon Diablo meteorite hit the Arizonan landscape at a speed of 26,000 mph.
With the equivalent force of 20 million tons of TNT, the 100ft wide meteorite created a 700ft hole with a 4000ft diameter. Today, visitors can get up close to one of the biggest craters in North America. Stand on the observation platform on the cliff of the crater and admire the sheer size of the hole. Afterwards, spend some time in the visitor center learning more about the history of Barringer Crater,
7. Petrified Forest National Park [SEE MAP]
© MNStudio / Dreamstime
The idea of fossils isn't new. In fact, you probably loved them as a kid. But to see a different type of fossil, the tree kind, then you have to explore the incredible Petrified Forest National Park.
Spread through the Navajo and Apache regions of Arizona, the forest became famous for the sheer number of petrified wood on display. As you drive through the park, you will be taken in by the striking terrain of desert badlands with varied shades of color. Stop along the way to embark on one of the several hiking trails through the forests. Get up close to the fossils which date back over 200 million years.
One hike you must do is the Blue Mesa Trail. The simple 1-mile loop guides you through blue-infused clay to a large area of petrified wood.
6. Flagstaff [SEE MAP]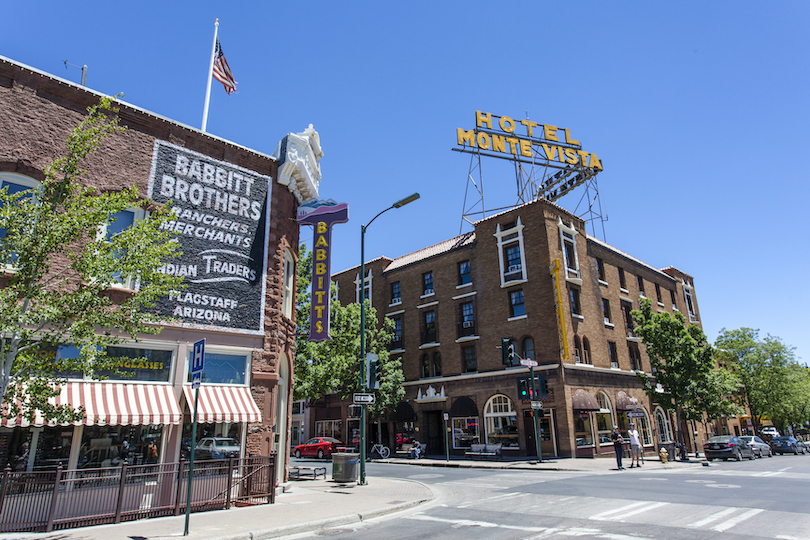 © Dreamstime
The City of Seven Wonders, Flagstaff is the perfect base from which to tackle many of the attractions on our list. But the college town isn't just a handy waypoint on your travels to the Grand Canyon.
The unheralded city tends to your inner-traveler, allowing you to experience a fresh place that hasn't yet been bombarded with Insta-famous attractions. Flagstaff is the highest point along the entire Route 66 and also where Pluto was first discovered. But that's not its only claim to fame.
With beautiful nature surrounding it and a diverse art, culture and dining scene, there are many reasons to make the journey to the city. None better than to see why Flagstaff became the world's first International Dark Sky City.
5. Antelope Canyon [SEE MAP]
The winding, twisting cracks of Antelope Canyon are mesmerizing to wander around, as sunbeams enchantingly snake their way along the sandstone walls, illuminating and bathing the soft red tones in resplendent light.
A beautiful sight to behold, the two different parts of Antelope Canyon are both well worth visiting; their distinctive features have led them to be respectively nicknamed 'The Crack' and 'The Corkscrew'.
While they each have their own unique look, in both parts the rock appears to be flowing, thanks to the shapes created by the erosion of the rock. Set in a Navajo Tribal Park, the Upper and Lower parts of Antelope Canyon are only accessible by guided tour.
4. Canyon de Chelly [SEE MAP]
VerismoVita / Flickr
One of the most visited national monuments in the country, Canyon De Chelly has been inhabited for over five thousand years. The canyon walls protect and shelter some amazing old buildings that date back to the days of the Ancestral Puebloans.
Since the Navajos began calling it home in the 1700's, the canyon has tragically been the site of numerous massacres throughout history, with both the Spanish and US Army having persecuted the Native Americans.
Nowadays, the site is owned and run by the Navajo and there are a number of great trails and horseback tours available to visitors. While Spider Rock is the canyon's most distinctive feature, Canyon De Chelly is lovely to gaze upon, and there are great views from along its rim.
3. Monument Valley [SEE MAP]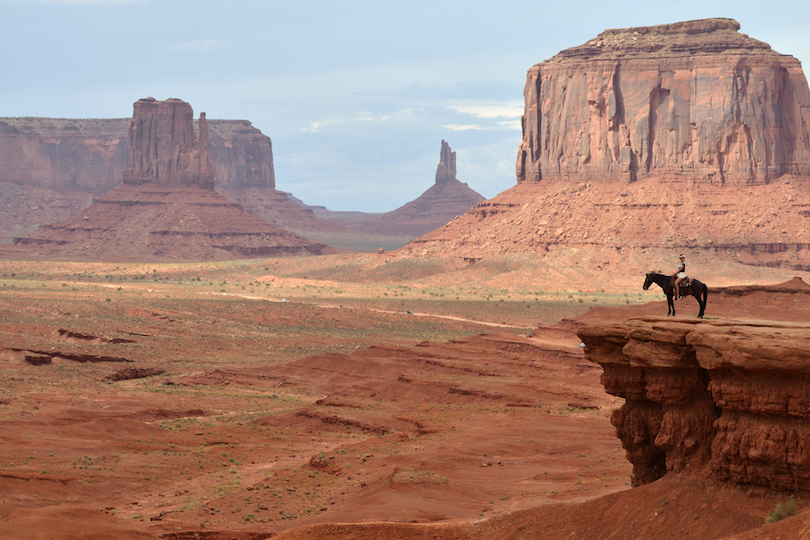 © P. Giancristofaro / Dreamstime
Iconic in look, Monument Valley's incredible geological features have starred in TV commercials, featured in films and appeared in magazine ads. As such, they are instantly recognizable around the world.
Surrounded by a desolate and featureless desert that stretches almost interminably, the massive sandstone buttes rear impressively towards the heavens, their vivid reds, and oranges standing out against the blue sky. Beautiful to behold, the 'Valley Between the Rocks' – as it was dubbed by the Navajo – is a must-see place when visiting Arizona.
2. Sedona [SEE MAP]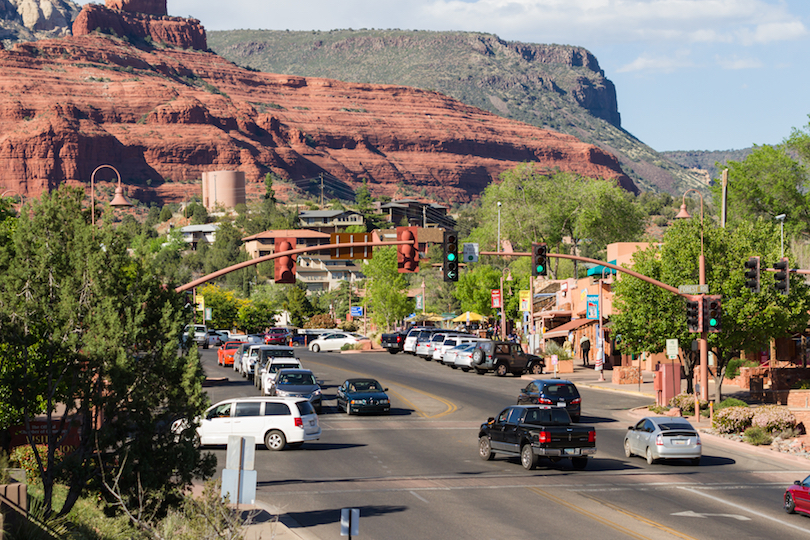 © Wollertz / Dreamstime
While the jaw-dropping red sandstone formations are the undoubted highlight of what Sedona has to offer, there is lots more to see and do; visitors to the area invariably come away astounded at what they have witnessed.
Nestled amid the beautiful rock formations, Sedona is considered sacred by Native Americans and people come here to heal themselves and seek spiritual enlightenment. There are many shops selling alternative medicines and lots of spas for visitors to relax in.
An area of outstanding beauty, there are plenty of outdoor activities to take part in here; cycling or hiking in the canyons is an amazing experience, while swimming in the pristine waters will replenish your spirit. With lots of great restaurants on offer, as well as numerous art galleries to explore, the town can get a bit busy during summer, although the stunning scenery more than makes up for it.
1. Grand Canyon [SEE MAP]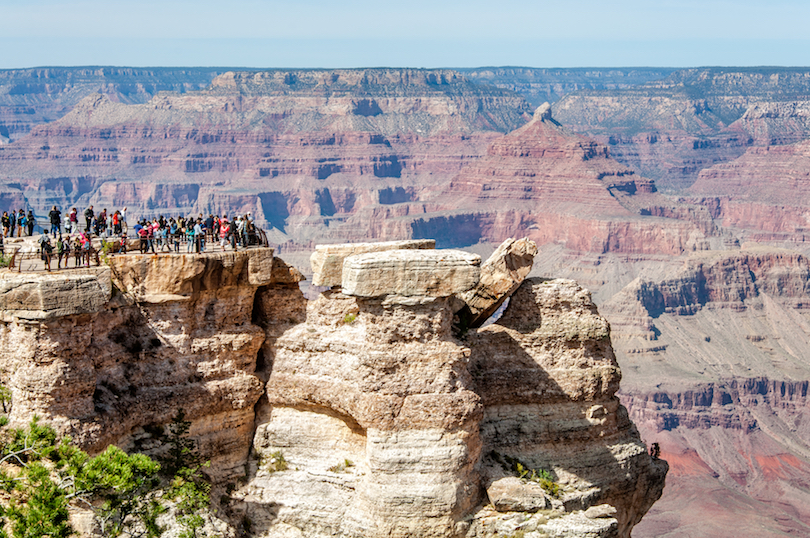 © D. Constantinescu / Dreamstime
Renowned throughout the world, the Grand Canyon is awe-inspiring to visit and the beautiful panoramas on show are simply breathtaking. Gigantic in size and scale, the views from the edge of the canyon are incredible, as you look out over the rock face dropping away below you and the dramatic vista stretches towards the horizon.
Descending into the canyon, the geological formations are mesmerizing. The arid and desolate terrain is peaceful yet picturesque and indeed a powerful place to explore. The ruddy hues of the canyon walls look beautiful in the light and the fossilized remains of plants and animals can be seen here and there.
To gain a greater insight into how the Grand Canyon came to be, head to the Geology Museum or the Trail of Time exhibition, which will take you through the layers and landscapes that the canyon has to offer.
With Ancestral Puebloans having lived in and around the area for centuries, head to the Tusayan Ruin and Museum for an interesting look at their history and culture. A simply incredible place, the Grand Canyon is undoubtedly the highlight of what Arizona has to offer.
Map of Places to Visit in Arizona
© OpenStreetMap © MapTiler © Touropia
The Best Time to Visit Arizona in 2022
If you're planning a trip to Arizona, you're not alone. Home to the Grand Canyon, one of the world's seven wonders, Arizona has an astounding natural bounty.
The Grand Canyon alone is one of the most visited destinations in the U.S., drawing millions of people each year. However, there's plenty more to love about Arizona, from desert cities to snowcapped mountains.
Arizona has something for every interest and taste, whether you want a luxurious spa and resort in the mountains or a rugged hiking trip.
Arizona's weather changes drastically from hot and arid to cold and snow. You should investigate the best climate conditions, least touristy seasons, or best bargain months for the trip you have in mind.
Below, we'll show you the best time to visit Arizona to take advantage of the weather, beat the crowds, or get the cheapest travel package.
Why You Should Visit Arizona
If you're reading this article, you probably have a good idea of why you want to visit the Grand Canyon State. Of course, the biggest attraction is the Grand Canyon , a mile-deep, 275-mile long, and 18-mile-wide crater with some of the most majestic scenery on earth.
The Grand Canyon offers:
Trails
Hundreds of lookout points
Hiking
Helicopter and river rafting tours
There are countless ways to experience it. They're all equally breathtaking.
Arizona has many more natural, urban, and cultural attractions to explore. A quick drive from the Grand Canyon lies Sedona, a beautiful, spiritual town nestled amongst the deep red canyons and rock formations of Antelope Wells and Horseshoe Bend.
Northern Arizona has incredible skiing in Flagstaff's Arizona Snowbowl . To the south, Phoenix and Tucson are bustling metropolises with museum districts, universities, great restaurants, and a lively nightlife scene.
Lastly, the best part about visiting Arizona is that there's never a wrong time to visit weatherwise. If it's too hot down south, you can head north for cooler temperatures and vice versa.
Overall Best Time to Visit Arizona
Arizona welcomes visitors year-round due to its arid and sunny weather. That said, Arizona does experience extreme heat during the summer months in the southern part of the state while northern Arizona experiences freezing and heavy snowfall in the winters.
The best time to visit Arizona depends on what part of the state you want to see and what activities you plan to participate in. However, the best weather is usually in the spring or fall, when the temperatures are cool and the rainfall or snowfall is moderate.
If you want to visit Phoenix, Tucson, and the surrounding southern Arizona mountains and desert scenery, the best time to visit would be from October to mid-May.
Southern Arizona is known for its mild, summer-like winters with temperatures averaging 68 and 75 degrees. Springtime in Southern Arizona sees temperatures between 75 and 85 degrees.
If you want to visit the Grand Canyon, the best time is the spring season, from April through June when the temperatures average around 76 degrees. The early summer experiences drier weather, while mid to late summer is more humid, with mild rainfall from Gulf currents.
Finally, suppose you want to visit Flagstaff, Sedona, and other northern Arizona destinations. In that case, the best times are the fall months between September and November, when the weather is in the 60s and lower 70s.
If you plan to visit the Snowbowl, the best skiing months are February through March to catch the best snow cover and powder.
Cheapest Time to Visit Arizona
If you want to save money on flights to Arizona, you'll find the cheapest time to visit Arizona during the low seasons for each region.
The low season in Phoenix, Tucson, and the southern Arizona national parks is from June to September. You'll find the cheapest deals on flights and lodging during this time. The summer months present extreme heat, dust storms, and flash flooding.
If you're planning a budget trip to the Grand Canyon, the cheapest time to go is from November through February. These are the winter months with the coldest temperatures. You could see snow!
Despite cold weather, there's nothing more visually stunning than snow-covered canyons. Flights are cheaper and so are off-season rates on hotels and family packages.
The cheapest time to visit northern Arizona is from December through February or the month of April. December through February experience cold, snowy weather, and April experiences strong winds.
The spectacular scenery of snowcapped mountains and red-walled canyons will more than compensate. You can save the ski pass expenses in April while enjoying discounted prices for a luxurious ski resort stay.
You'll find the best deals on flights and lodging during the summer. Another cheap season for northern Arizona is from June through August due to the highest volumes of rain.
Additionally, while there are the highest chances for rainy days, Arizona is still an arid state, so you're guaranteed at least a few sunny days during a summer trip.
Least Busy Time to Visit Arizona
Large crowds and hiked-up prices can put a damper on your vacation. Going during the off-season is your best bet if you're looking to avoid crowds.
If you want to get the most unfettered views of the Grand Canyon's north and south rim , the least busy time to visit is from March through May and from September through November.
You'll beat the summer crowds and experience pleasantly cool weather for less strenuous hikes. The least busy times to visit southern Arizona's main cities of Tucson and Phoenix are from April to May and September to October.
They're also the months after spring break and summer break respectively, when most people aren't traveling. These narrow windows have great weather.
These off-seasons are also great opportunities to look for discounted flights and hotel rates. You'll also just miss the terrible dust storms that plague the area from July through August.
The least busy time to visit northern Arizona is from June through August and September through November. You'll beat the crowds and get a better deal on hotels and flights. Just bring warmer clothes when you venture outdoors.
Worst Time to Visit Arizona
Arizona's natural wonders and outdoor appeal are also prone to extreme weather conditions. The worst time to visit Arizona corresponds with the most dangerous weather conditions, whether extreme heat, dust storms, flooding, or freezing.
The worst months to visit the Grand Canyon are the summer months from June through August because they are hotter, muggier, and more crowded than any other season. Since summer break is a highly popular time to travel, hotels and flights are more expensive, too.
A trip to the Grand Canyon during the summer is still spectacular and a bucket list experience you can enjoy with the whole family. The heat is not as extreme as in southern Arizona, so you can still make day hikes if you get an early start.
The worst months to visit northern Arizona depend on what you have in mind for your itinerary. The snowiest months between December and February are the worst if you aren't into skiing. If you don't like big crowds, the summer months would be the worst months.
Due to very strong winds, the worst all-around month to visit northern Arizona is April. You'll still get mild weather if you visit during April, but you should be wary of high-altitude hikes.
Southern Arizona encompasses some of the driest and hottest weather in the U.S. Not only is there extreme heat, but within the hottest season, there are also flooding and dust storm seasons.
The worst season to visit is undoubtedly the summer months, from May through September. Temperatures reach up to 120 degrees during the day, which is far too hot for outdoor activities other than swimming.
July and August experience dust storms and rainstorms, which can lead to mudslides and deadly floods. If you dare to brave the southern Arizona heat, be sure to stay well hydrated and take short hikes or outings in the early morning or nighttime.
Things to Consider
Arizona Weather Changes Drastically
Not only does Arizona weather change drastically from North to South and from season to season, but it also experiences a myriad of extreme conditions in a single day.
While days in the desert can be extremely hot, temperatures can drop to freezing at night, so you'll want to pack clothes for hot and cold weather alike.
Mountain Hiking Preparation
If you've traveled to the mountains, you know how temperamental weather patterns can be. Within ten minutes, you'll be trapped in a windy rainstorm. No matter where you are in Arizona, you should prepare for constant weather changes. This means packing multiple layers of clothing and rain gear.
Stay Hydrated
Arizona's super dry temperatures and hot weather will deplete your water stores, and you often won't know it because you don't sweat. You should always bring at least a liter of water on any hike or outdoor day trip. Long hikes warrant camelbacks or multiple water bottles as there's nowhere to buy or refill water.
Mobility
Since Arizona is a rugged outdoors state, there are a lot of desolate highways and distance between destinations with little public transportation.
It's best to have a vehicle when traveling to national parks in Arizona. A vehicle gives you a lot more freedom to adjust your schedule if you want to stay later at one destination or leave earlier than originally planned.
Planning Trips to the Grand Canyon
The Grand Canyon receives over 6 million visitors a year, so you should plan your trip wisely, and reserve camping, hotels, and tours with months of anticipation. Lodging and campsites fill up very quickly.
River rafting trips along the Colorado River that run through the Grand Canyon often don't have openings until the next year Certain regions of the national park close, so you should also check whether the region you want to visit will be open or not.
Avoid the Busiest Tourist Seasons
The busiest tourist seasons correspond with the highest rates for hotels, flights, and car rentals. The low seasons are the best time to find budget-friendly rates and to avoid large crowds of people.
If you can plan a visit during a month most people work or when schools are in session, you'll have a more relaxing, streamlined, and cheaper vacation.If you are going to travel during the high season, mid-week trips will be less crowded than weekends.
Frequently Asked Questions
Take a look at some of the most popular questions regarding visiting Arizona:
Do I have to reserve camping, rafting, or hiking tours in the Grand Canyon?
Since the Grand Canyon is one of the most visited national parks in the nation, campsites fill up quickly during the summer, and they require a backcountry permit .
Rafting trips and riverside hikes must be led by tour companies or require permits that can take as long as a year to process. The summer months are the most popular tourist season, so be sure to book a hotel far in advance.
What is the best city or town for a relaxation destination?
The best town for a relaxing and picturesque vacation is Sedona. Sedona is full of new-age boutique hotels, shops, and spas. It's also a known for its scenery, with unparalleled views of Arizona's mountains, forests, and canyons.
Phoenix also has a popular luxury resort zone that lies right outside the city center, overlooking the southern Arizona mountain ranges.
Where should I go for the best skiing in Arizona?
The 3 most popular skiing destinations are:
the Snowbowl in northern Arizona outside of Flagstaff
Mt. Lemmon Ski Valley an hour away from Tucson
Sunrise Park Resort in eastern Arizona
What airport do I use for the different regions in Arizona?
Phoenix and Tucson- the two largest cities in Arizona- both have international airports and are major hubs for the south and center of Arizona. The Phoenix airport is usually where you fly to get to the Grand Canyon. Yuma and Mesa also have smaller, domestic airports.
What cultural attractions does Arizona have to offer?
While Arizona is known for its stunning natural scenery and national parks, Arizona's cultural scene has a lot to offer. Tucson and Phoenix have burgeoning restaurants and nightlife, museum districts, and the state's biggest universities.
Arizona is also home to many indigenous groups who live on reservations throughout the state. One of the most famous natural attractions on Native American land is Havasupai falls.
So, What's the Best Time to Visit Arizona?
To recap, the best time to visit Arizona is during the fall and spring, when the weather is mild, dry, and sunny. The cheapest time to visit Arizona is during the off-season which is different for each region.
In the north, the cheapest months are in April and the winter months from December through February. Southern Arizona is best for winter visits. Summer may be cheap, but the extreme heat and severe dust storms can make outdoor activities impossible.
Arizona's a magical place for exploring the outdoors, and now that you have an idea of the best times to visit, you can start planning a memorable trip.
Source https://www.touropia.com/best-cities-to-visit-in-arizona/
Source https://www.touropia.com/best-places-to-visit-in-arizona/
Source https://travellersworldwide.com/best-time-to-visit-arizona/