YouTuber Grant Thompson, aka 'The King of Random,' Killed in Paragliding Accident
YouTube star Grant Thompson died Monday, July 29, and the internet is in mourning. The King of Random star had over 11.6 million subscribers on his popular channel, which features videos of Grant going on adventures and conducting all kinds of experiments.
So how did Grant Thompson die? And how would his loved ones like you to honor his legacy? Here's what you need to know.
How did Grant Thompson die?
Per the Salt Lake Tribune, Grant was killed in a paragliding crash in southern Utah late Monday. A news release from the Washington County sheriff's office said the cause of the accident is currently under investigation.
Authorities were able to recover the crashed paraglider as well as video taken during the flight. The Salt Lake Tribune reported that no foul play was suspected in Grant's tragic death.
Grant got into paragliding around March 2019.
Grant's brother, Mark, told TMZ the YouTube star got into paragliding around five months ago. He was also a fan of skydiving, flying, and other adventurous activities.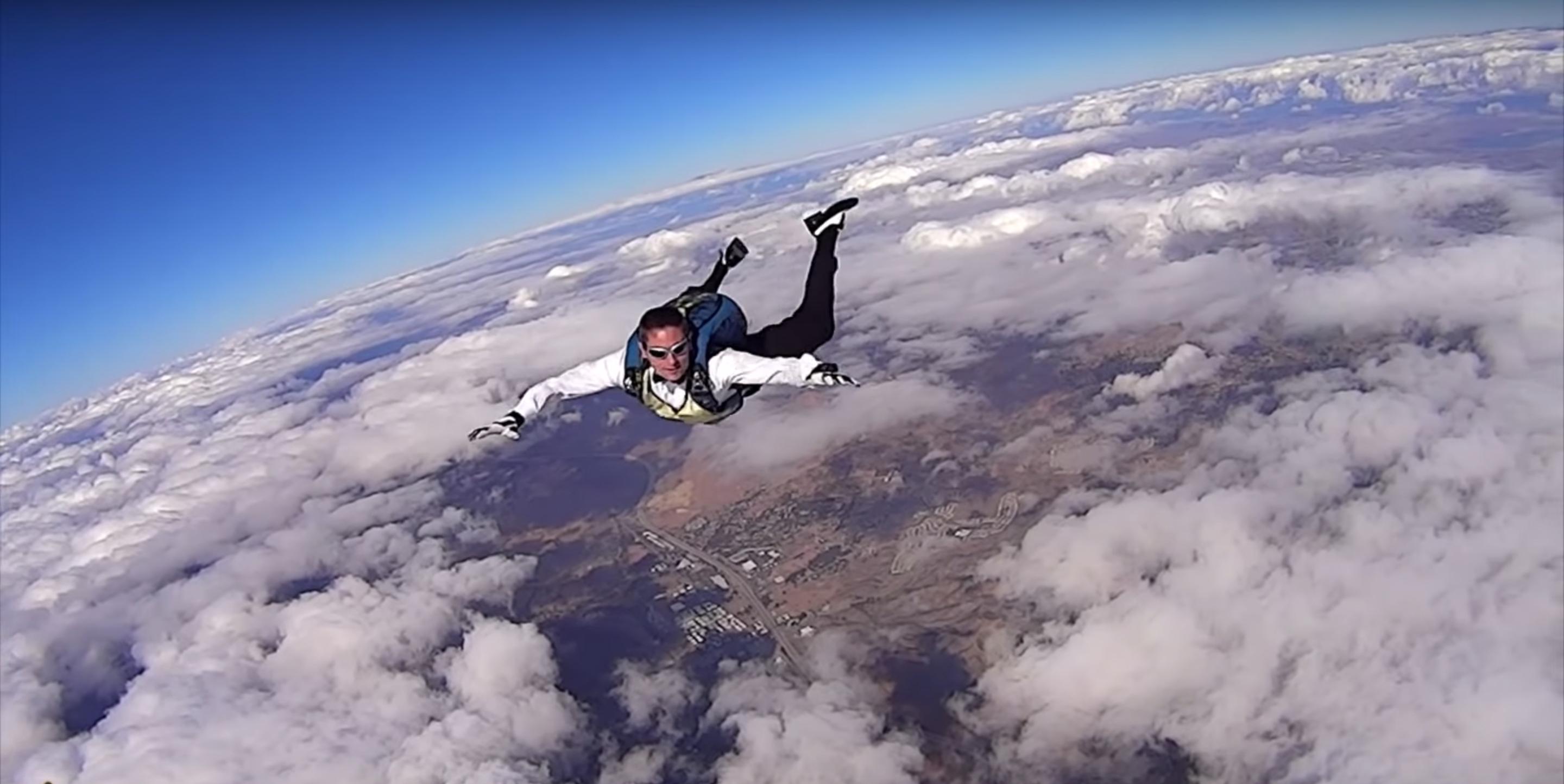 Grant's team asked fans to honor his legacy in a touching way.
On July 30, an update was posted to The King of Random's YouTube page. It read: "It is with great sadness to inform everyone that Grant Thompson passed away last night. Grant had great love and appreciation for his fans. We invite you to share your thoughts for Grant and the channel in the comments."
The statement continued, "Please do a random act of love or kindness today in honor of The King of Random. Grant's legacy will live on in the channel and the global community he created."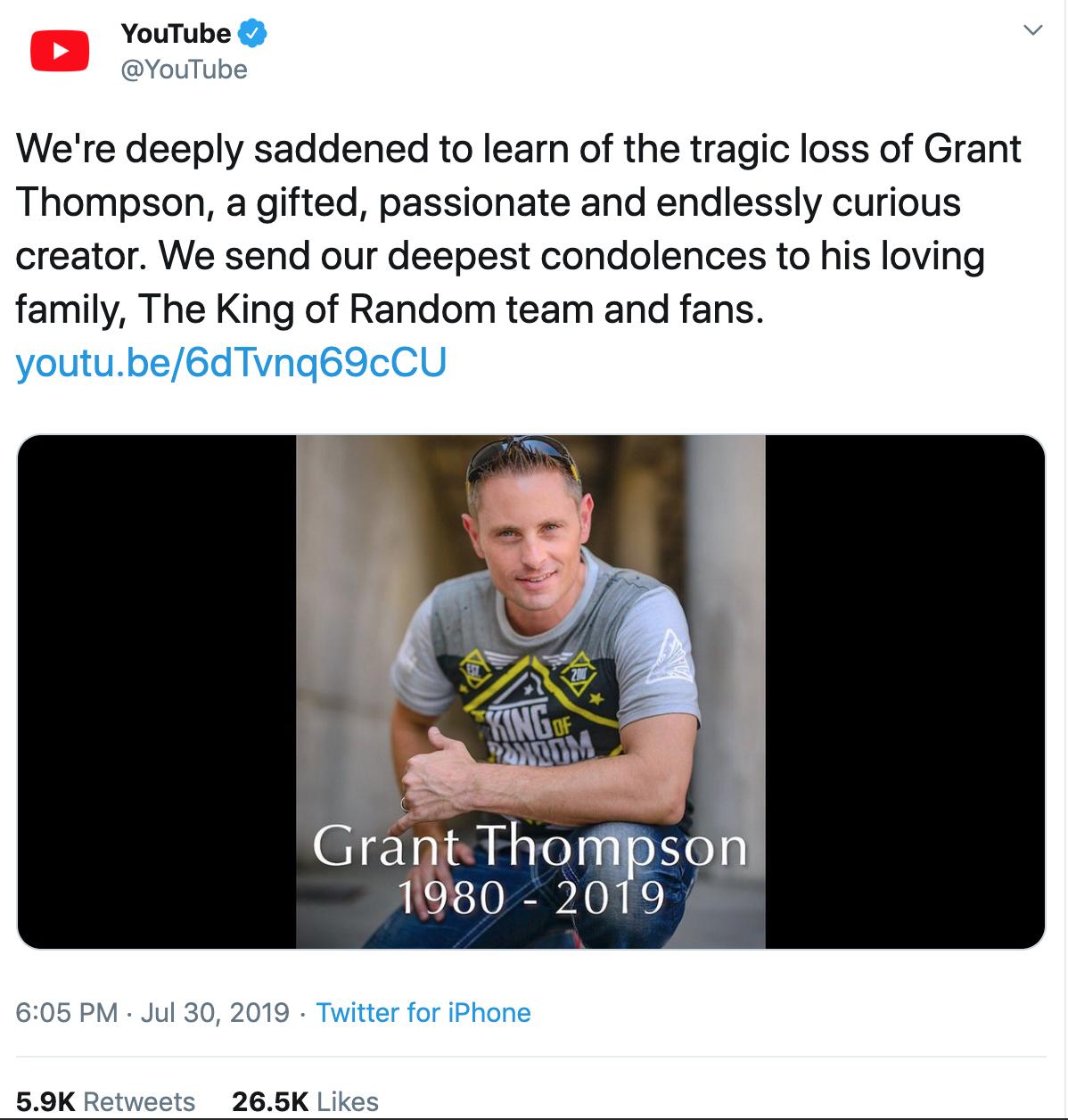 Grant's fellow YouTubers are mourning this huge loss.
Grant's charismatic, adventurous personality, and fun videos made an impact around the world. MatPat, the YouTuber behind The Game Theorists channel, tweeted, "So sad to learn about the tragic passing of YouTube's King of Random, Grant Thompson."
"He was passionate and fearless with videos that inspired millions of future scientists," MatPat continued. "You're gone FAR too soon, but the HUGE positive impact you made will be felt for a long time."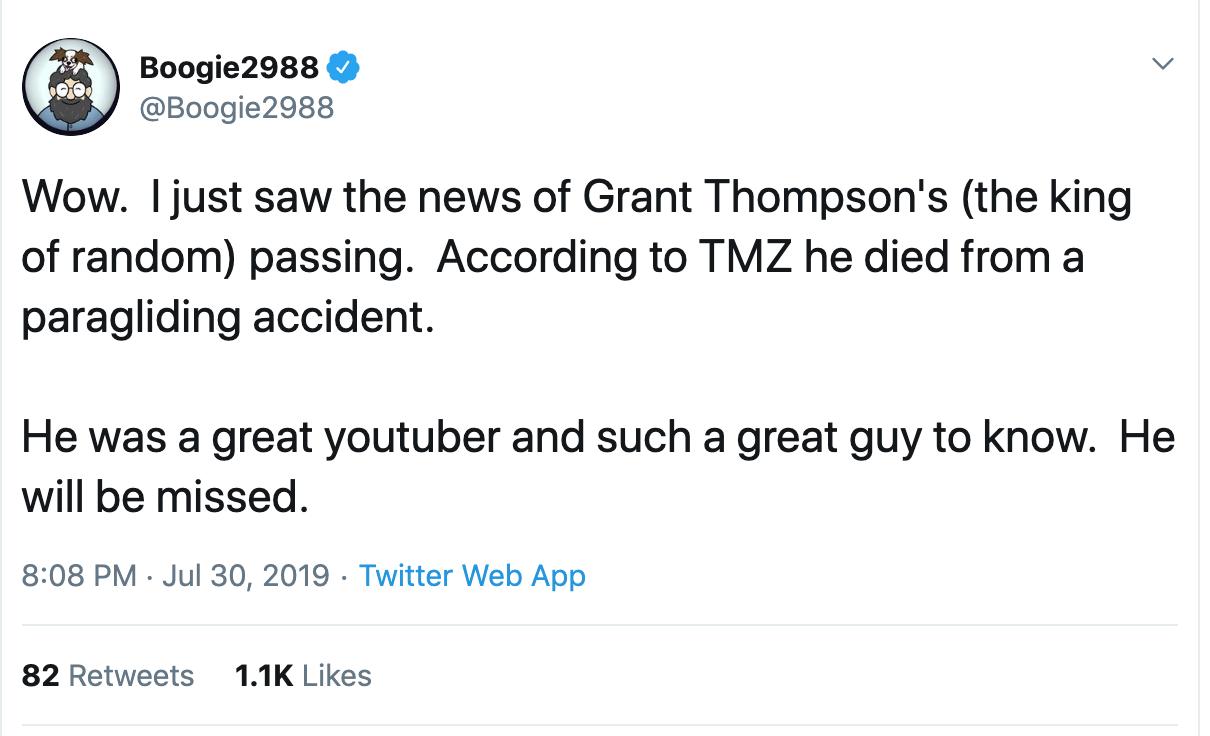 Fans of The King of Random are heartbroken as well.
Longtime viewers of Grant's channel took to social media to pay tribute to the talented YouTube star. Twitter user @ImproveYurself wrote, "Having watched and enjoyed hours of your great content, I am deeply heart broken and saddened — like all your loyal fans, I hoped the the news is fake but we have at some point to say our goodbyes. Thanks for all, the King of Random, Mr. Grant Thompson, you will be always remembered."
Jake Roper tweeted, "Every time I saw Grant Thompson his passion, enthusiasm, and kindness was palpable when we would chat. You might be gone but we can still visit your old videos and spend time together. Rest in peace, Grant."
Our thoughts are with Grant Thompson's family, friends, and the entire King of Random team.
YouTube Star Grant 'King Of Random' Thompson Dead From Accident At 38 — What We Know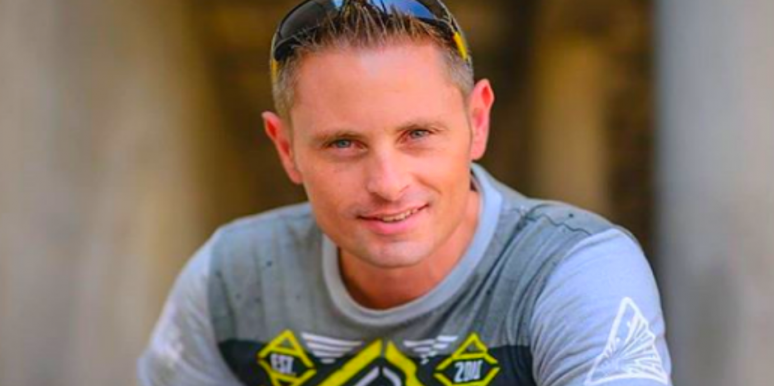 Doing real things have real consequences — and those consequences can sometimes be deadly. A recent report revealed that yet another YouTube star has died long before his time thanks to an accident. How did Grant Thompson die?
Here's what we know about the unfortunate passing of this YouTube star known as "The King of Random."
1. He was 38 years old when he passed away.
According to TMZ, Grant Thompson was only 38 years old when he passed away suddenly.
"Grant started his YouTube channel in 2010, documenting experiments, life hacks and random weekend projects. King of Random amassed more than 11 million subscribers and nearly 2.5 billion views total. His was the 321st most subscribed to channel on YouTube," reported the outlet.
Grant Thompson was known as "The King of Random."
2. Grant Thompson died in a paragliding accident.
According to the BBC, the self-proclaimed "King of Random" was involved in a paragliding accident in Utah. It was his brother, Mark, who spoke to the press and disclosed that his brother had passed away.
"The 38-year-old, whose channel had 11 million subscribers with billions of views, failed to return from a trip in Utah on Monday. Thompson had a GPS device which helped locate his body the next day," reported the outlet.
Grant Thompson died in a paragliding accident.
3. This is not the first paragliding accident he'd been involved in.
Grant Thompson may have passed away from a paragliding accident a few days ago, but this wasn't the first one he'd been involved in. In fact, five months ago, he was involved in a paragliding accident, too! And while he survived the first time, he wasn't so lucky this time around.
"While a sheriff's office release says an investigation into his death is ongoing, it notes foul play isn't suspected. Thompson's brother Mark tells TMZ his sibling had just taken up paragliding five months ago. The Post notes Thompson earned his nickname in 2010, when he started his YouTube channel dedicated to science experiments that were often survival-themed, like opening coconuts without tools and crafting brass knuckles out of bullet shells, as well as quirkier ones like making Lego-shaped gummy candy — his most viral video ever," reported Newser.
Grant Thompson had gotten hurt in paragliding accidents before.
4. Grant Thompson's body was found using a GPS that was attached to him.
According to The Salt Lake Tribune, if it weren't for the GPS that was attached to Grant Thompson's body, no one would have found him.
"The county's dispatch center had received a report of an overdue paraglider who had taken off in the morning near Sand Hollow State Park, the news release said. Police from Hurricane and an agent from the Bureau of Land Management responded. The caller was able to provide the paraglider's last known GPS coordinates. A medical helicopter was able to follow those and discovered Thompson's body. The news release said the search team also recovered the crashed paraglider and video taken during its flight — and said no foul play was suspected," reported the outlet.
Related Stories From YourTango:
Grant Thompson will be deeply missed.
5. He will be deeply missed.
Grant Thompson wasn't just known in the YouTube community. Rather, his success crossed over to the mainstream, and as a result, The Washington Post released a touching tribute in his honor.
"Before his death, Thompson had recently shifted to a role behind the camera, bringing in new hosts so he could spend more time with his wife and four children. He told viewers that he'd previously been working "16 hours a day, six or seven days a week," and was nearing a burnout. The channel kept growing without Thompson on camera, though, and he told viewers last year that working with a larger staff and a more ambitious filming schedule had changed his life. "I feel better than I ever have and I feel very optimistic about the future," he said. "I love you guys," reported the outlet.
Our thoughts are with Grant Thompson, and his family, during this difficult time.
Grant Thompson Wiki: Viral YouTuber "King Of Random" Dead in Paragliding Tragedy
The YouTuber community has been rocked by the tragic death of 38-year-old Grant Thompson. Known for his popular YouTube channel, The King of Random, he and his cohost, Nate, had gained over 11 million subscribers by posting videos of cool life hacks and experiments. Thompson had recently taken a break from hosting YouTube videos to focus on his family before he died in the fatal paragliding accident. Our Grant Thompson wiki pays tribute to the life of this YouTube legend.
Grant Thompson Was from Canada
Jonathan Grant Thompson was born on November 21, 1980 in Calgary, Canada. He was raised there for a few years before he came to the U.S.
In his YouTube videos and occasional interviews, he described going to school in a small-town environment. He said he experienced a lot of bullying growing up.
So, he first got his driver's license and drove school buses, ferrying kids on their school trips. He then started driving buses for rock bands on tour.
While working on the oil rig, Thompson saved the hotel and food allowance his employer provided by living in his car. Eventually, he had saved enough money to buy a small plane, which was the start of his dream to be an airline pilot.
To work on this dream, he came to Hawaii where he got a job as a cargo pilot traveling among the many Hawaiian islands. After a year, he got a job as a commercial airline pilot and stuck with that for 11 years.
Thompson Has Four Kids
When he got the job as an airline pilot, Thompson moved to the mainland and bought a home. That's when he met Janae Vilate Christensen, the woman who bought the house next to his.
Christensen and Thompson reportedly married on September 7, 2007 and lived in Utah. They had been together for about 12 years at the time of his death.
She featured often on his YouTube and social media accounts. However, Thompson kept details of his family private.
Mrs. Grant Thompson is heavily outnumbered in their household, being a mom to four boys. Their youngest son was born in 2017.
Thompson Worked in Real Estate
Thompson and his wife met when they bought homes right next to each other. When they got together, they kept both houses, fixed them up, and rented them out.
Seeing that they'd made a good investment, they kept buying and renting out properties until they had 11 of them. That's when they established their real estate business, which more than supplemented Thompson's income as a commercial pilot.
They, however, sold all the properties during the 2008 housing market crash. They invested that money and lived off their respective interests.
Thompson and Nate Share Life Hacks on "The King of Random"
With a comfortable life and no real estate business to run anymore, Thompson had a lot more time on his hands. "Now I had the opportunity to say, 'What have I always wanted to do with my life?'" he said in a YouTube video.
After discussing it with his wife, he decided to do the things he loved and make videos of them. But first, he learned skills that would help him, like welding and building circuit boards through an online course while practicing at home.
What he learned and experimented with wasn't limited, so long as he could acquire as much knowledge as possible and work or talk about his random projects. That's how "The King of Random" came to be.
Seeing as the skills he was learning online weren't, in his opinion, presented in a very learner-friendly format, he decided to make YouTube videos of his own in a way that anyone could understand. Since 2010, Thompson, along with Nate, had been posting all sorts of life hacks and experiments on their YouTube channel, The King of Random.
He further marketed the videos by writing similar articles for websites and publications. From a modest 50,000 subscribers in his first year, the channel has now grown to 11 million subscribers.
Grant and Nate have created videos like "How to Make Gummy LEGO Candy," which is their most popular video to date, with over 34 million views. Since it was established, the channel has amassed over 2 billion views in total.
charged with two counts of second-degree felony possession of an explosive device from two separate incidents. One of the incidents involved a citizen complaint about Thompson exploding a dry-ice bomb.
Thompson did, however, say he was confused and displeased with the accusations. He didn't want people to think that he was an irresponsible YouTuber blowing things up.
Thompson Passed Away in a Paragliding Accident
After the legal issues, Grant took a step back from YouTube so he could spend more time with his family. Even while making videos, he continued his job as a pilot, gradually taking fewer shifts until he quit altogether.
Thompson loved airborne sports and sadly, he ended up dying doing what he loved. According to the latest reports, Grant Thompson passed away on July 29, 2019 in a paragliding accident.
Source https://www.distractify.com/p/how-did-grant-thompson-die
Source https://www.yourtango.com/2019326827/how-did-grant-thompson-die-new-details-death-youtube-star-known-king-random-paragliding-accident
Source https://www.earnthenecklace.com/grant-thompson-wiki/