Paragliding in Kathmandu
Paragliding in Kathmandu is yet another adventure activity and thing to do in Nepal. In this article, you will find the best time, itinerary, cost, route, and location of Kathmandu Paragliding.
Kathmandu, the capital and the largest city of Nepal is one of the major tourist destinations. There are many things to do in Kathmandu just as shopping, visiting temples, visiting heritage sites, buying souvenirs, etc. Among these exciting things, paragliding is one of the adventure activities to do in Kathmandu, Nepal.
Kathmandu Paragliding was established in 2007 with the motive to promote paragliding in Kathmandu Valley and it is operated by well-experienced pilots and instructors.
The paragliding company is certified by the Civil Authority of Nepal (CAAN) and is affiliated with Nepal Paragliding and Hang gliding Association (NEPHA).
Paragliding in Kathmandu Highlights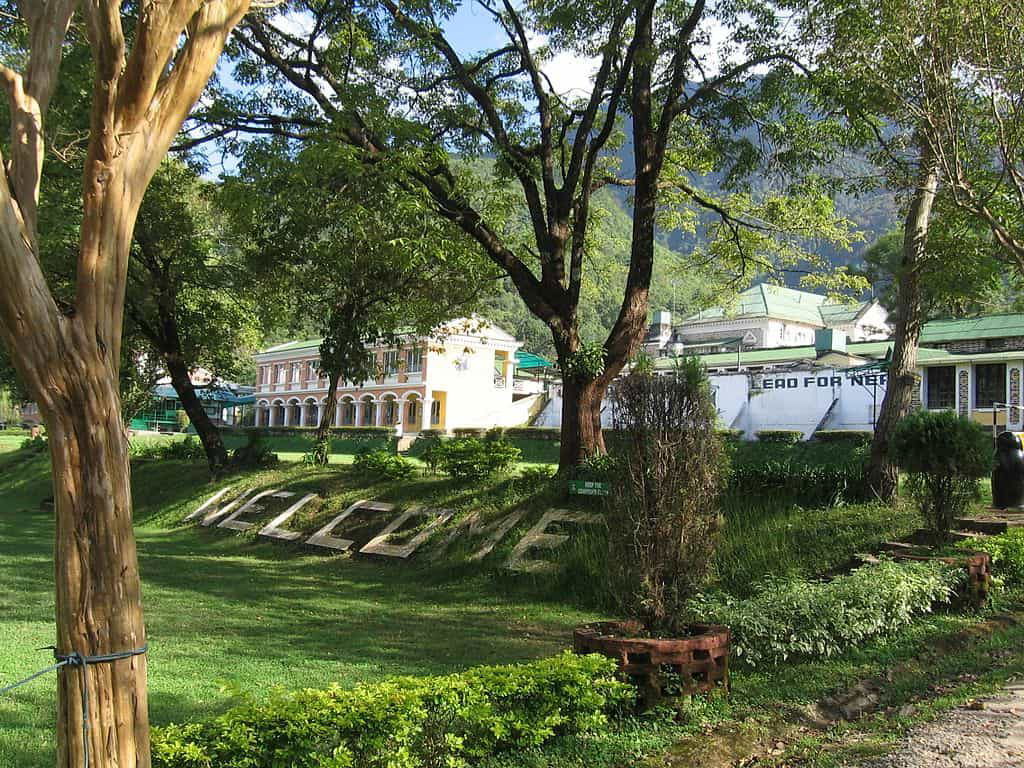 Get refreshed out of your busy schedule.
Enjoy an astonishing view of Langtang, Jugal, and Ganesh Himal.
Visit Godavari National Botanical Garden. Godawari – Nepal's famous dating spot among teenagers.
Take off at an elevation of 2100 meters
Reach the highest elevation – 2400 meters.
Enjoy the view of Kathmandu Valley.
Kathmandu Paragliding is also known by another name Phulchoki Godawari Paragliding. The paragliding spot is located at the Godavari, Lalitpur which is 15km from Thamel, Kathmandu.
It is almost a 30-45 minutes ride by vehicle from Kathmandu valley to reach the paragliding viewpoint which is situated at the height of 2100 meters from the sea level. Chapakharka is the place where you will start your gliding. You can enjoy the astonishing view of mountains like Jugal Himal, Ganesh Himal, and Langtang.
The flying duration is around 15-20 minutes and you can enjoy the view of Godavari Village, Kathmandu Valley, etc. You can also take breathtaking photos and videos with the help of your pilot.
Paragliding in Kathmandu Itinerary
You have to separate the time around 5-6 hours for the trip. You can book and visit the viewpoint and enjoy the day without rushing.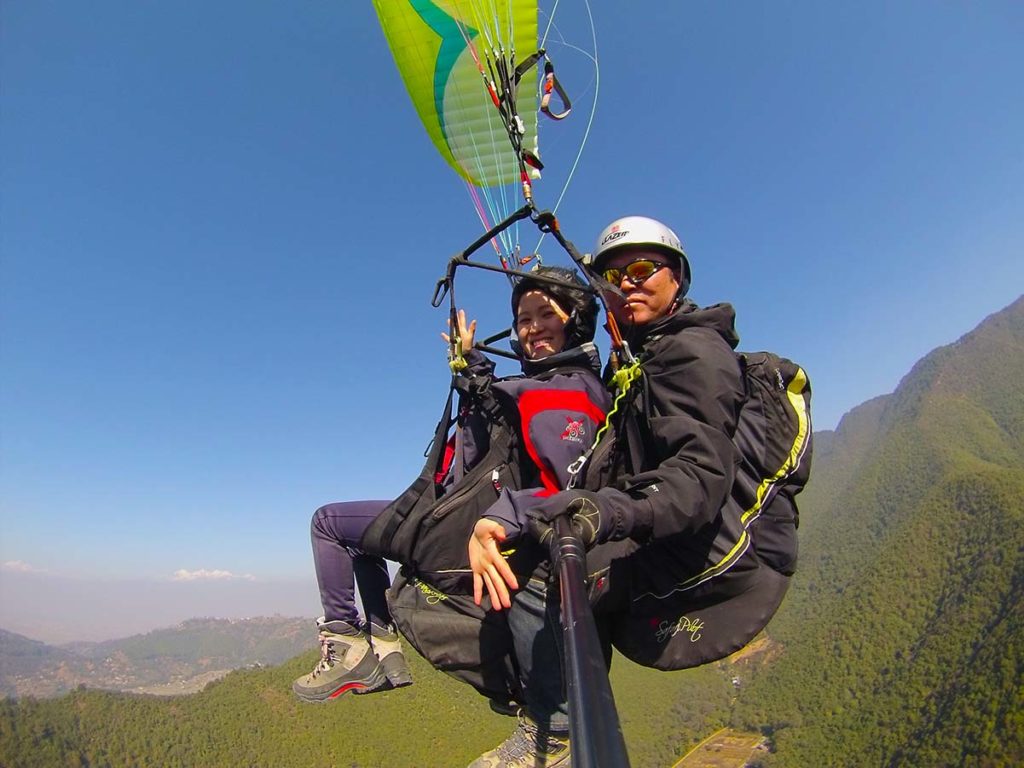 Drive from Kathmandu to Godavari and back to Kathmandu: You will be picked up by office vehicle at your favorite location/hotel or you will get picked up at a possible point within the following areas listed below.
After almost a 30-45 minute drive you will reach the Godavari. You need to fill up all the necessary forms before the entrance. After a few minutes walk, you will reach the paragliding viewpoint.
The company staff will help you to get ready and the instructor will brief you about everything needed before flying. After that, you are ready to take off with your pilot.
Almost after 15-20 minutes of flights, you will get landed at Rachantar, well managed and smooth runway. After finishing everything company vehicle will drop off you at your location or at the dropoff point as mentioned below.
Possible pickup and drop off point for clients
Inside Ringroad
Inside Ringroad
Kantipath
Ratnapark
Chabahil
Thamel
Best Season for Paragliding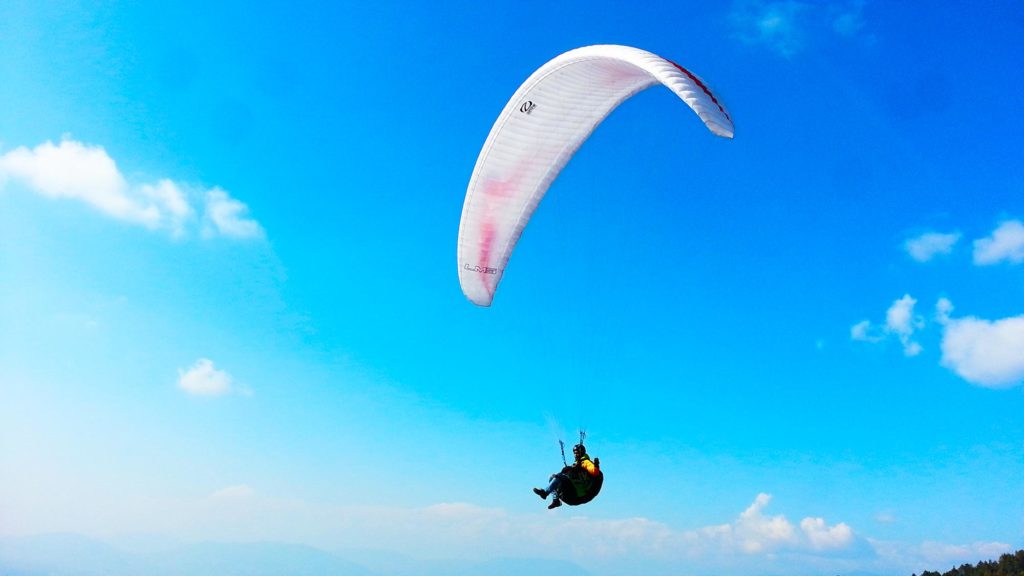 In clear weather, you can fly over the sky in any season. There is no limit to flying and enjoying gliding but the best seasons to experience the Kathmandu Paragliding are January, February, March, April, May, June, and September, October, November & December.
Paragliding Cost in Kathmandu
If you are searching for paragliding in Godawari, Kathmandu cost then here is the complete price list in detail. Also, know what the paragliding cost includes and excludes. The cost for photos & videos and transportation is optional.
Cost Includes
Two-way Transportation from your Hotel.
Escape from busy life and drive to a paragliding point.
15-20 minutes flight.
Stunning Photos and Videos.
Paragliding Flight Insurance.
Refreshment Drinks.
Cost Excludes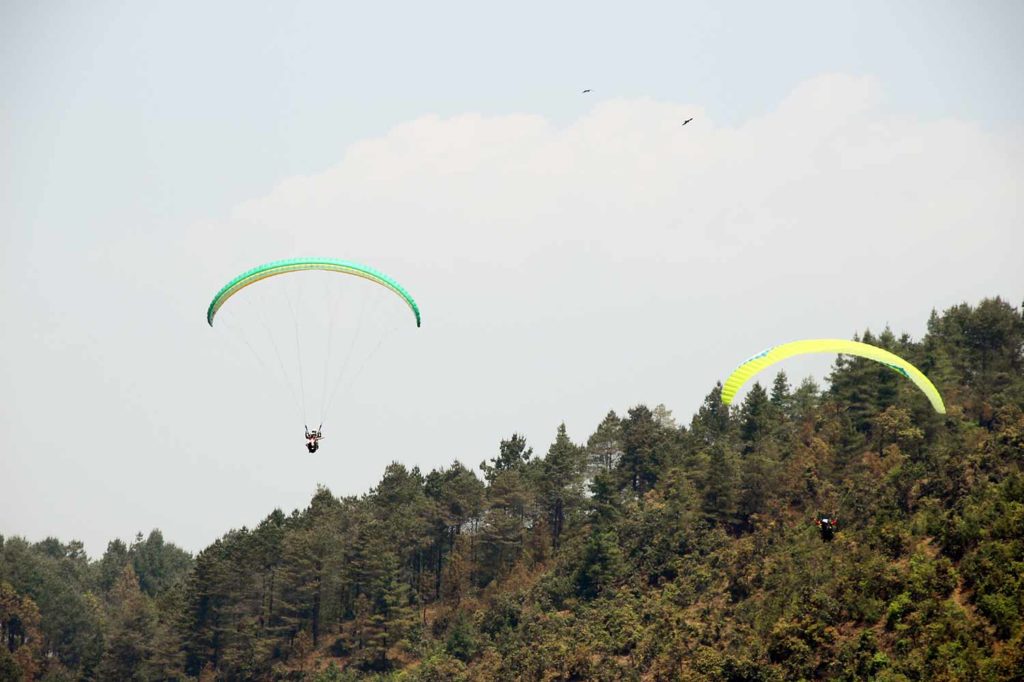 Paragliding in Kathmandu Price for Nepalese
The total cost for Paragliding in Kathmandu for Nepali is Rs. 8000 including photos, videos, two-way transportation, and taxes.
| | |
| --- | --- |
| Nationality | Price (NPR) |
| Tandem Flight | Rs. 5500 |
| Photo/Video | Rs. 1500 |
| Transportation | Rs. 1000 |
| Total | Rs. 8000 |
Paragliding in Kathmandu price for SAARC/Chinese
The total cost for the Kathmandu Paragliding for SAARC and Chinese is Rs. 10,000 including photos, videos, two-way transportation, flight insurance, and taxes.
| | |
| --- | --- |
| Nationality | Price (NPR) |
| Tandem Flight | Rs. 7500 |
| Photo/Video | Rs. 1500 |
| Transportation | Rs. 1000 |
| Total | Rs. 10,000 |
Kathmandu Paragliding cost for Foreigner
The total price for Paragliding in Kathmandu for foreigners is Rs. 11,300 including photos, videos, two-way transportation, and taxes.
| | |
| --- | --- |
| Nationality | Price (NPR) |
| Tandem Flight | Rs. 8500 |
| Photo/Video | Rs. 1800 |
| Transportation | Rs. 1000 |
| Total | Rs. 11,300 |
Paragliding in Nepal Tips
Fear of heights? Go for paragliding, first, you may get fear before flights but later you will enjoy the whole flight. Here are the safety tips to remember before going paragliding.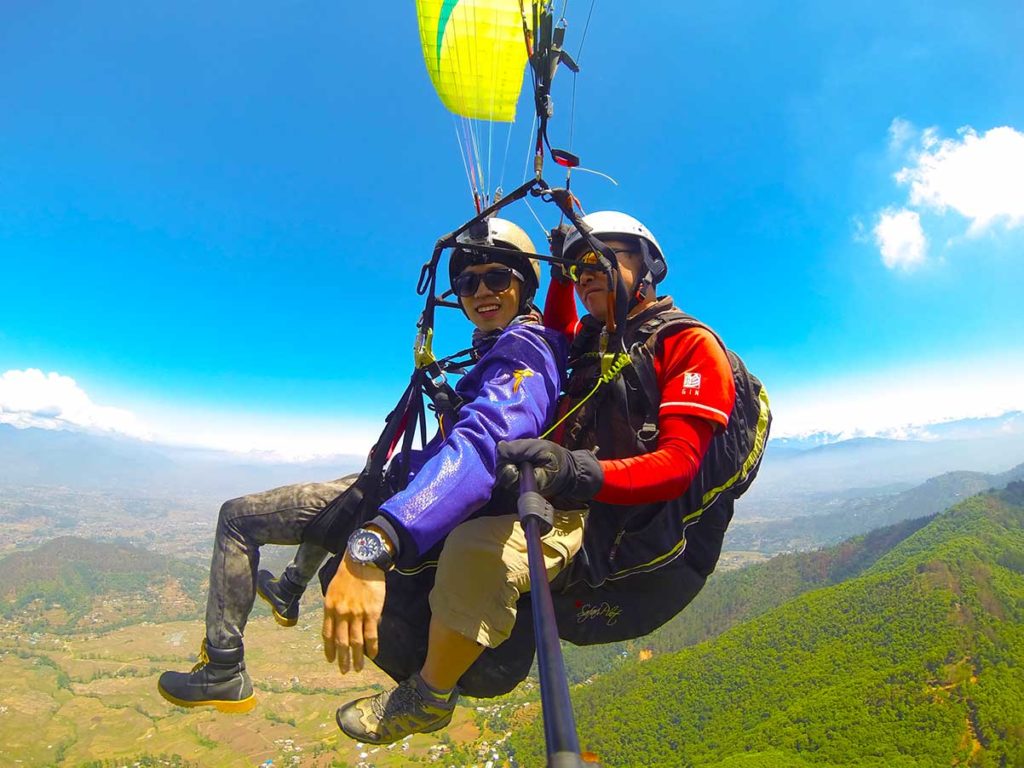 Always book a flight in perfect weather.
Trust yourself and your pilot.
Stay calm and cool.
Wear long pants, long sleeve shirts, tight shoes, and sunglasses.
If you have any medical conditions then inform the paragliding team.
If possible go with your close ones.
Ask your pilot to manage every flight gear.
Safety
When it comes to adventure activities like paragliding, bungee, etc. there is always a risk. With these kinds of extreme activities, the paragliding company needs to have insurance.
Here, Kathmandu Paragliding covers the insurance for both passengers and pilots. You don't have to worry about anything, the company handles everything for the client's safety.
How much does paragliding cost in Kathmandu?
The cost for paragliding in Kathmandu for Nepali nationals is NPR 8,000 per person, For SAARC and Chinese is NPR 10,000 per person and for Foreigners is NRP 11,300 per person. This includes 2-way transportation, 15-20 minutes flights, photos & videos, insurance, and refreshment drinks.
Is paragliding safe in Kathmandu?
Paragliding is totally safe in Kathmandu, with the experienced team and pilots it is easy to fly and no one has encountered accidents till date.
What should I wear while paragliding in Kathmandu?
While Paragliding, you need to wear comfortable shoes, long shirts, long pants, sunglasses, etc. Note: There is no specific dress code so wear something that you feel comfortable in.
How long is a paragliding flight in Kathmandu?
The paragliding flight lasts for 15 to 20 minutes in the sky of Kathmandu. It is a tandem paragliding and you can enjoy free flying with your pilot.
Is there a weight limit in Kathmandu Paragliding?
The minimum weight for Kathmandu paragliding is 15 kg and the maximum weight is 100 Kg.
Is there an age limit in Kathmandu Paragliding?
Yes, the minimum age is 3 years and the maximum age is 100 years for paragliding in Nepal.
Wrapping Up
Trust your pilot, fly like a bird, take good photos and videos and enjoy paragliding in Kathmandu, Nepal. And last, don't forget to scream.
Paragliding Cost in Nepal
If you are interested in paragliding adventure, you may be curious about the paragliding cost in Nepal. Paragliding cost in Nepal is low compared to other offering countries. Nepalese companies offer a longer duration of Paragliding. There are a number of companies offering the Paragliding services in Nepal, most popularly in Pokhara. Depending upon the area you're doing the adventure, the cost will be different.
The aerial glimpses of the mountains, valleys and lakes are an amazing experience and the best part of Paragliding. The gliding adventure emerges the worth of flying and the true thrill while flying over the lakes and valleys.
Pokhara is the most popular destination for paragliding in Nepal, besides that, Kathmandu, Bandipur and Sindhupalchok are the other options. The cost of Paragliding depends on the season and off-season. During the monsoon and wintertime, you can get some discount on the general rate. The service providers also offer you photography and videography services during the activity time.
Paragliding in Nepal
Nepal is the home of adventure sports. Paragliding is one of them and the most popular adventure among the youngsters and every adventure enthusiasts. Travellers can also choose the duration of flight on their desire. With the duration of the flight, the cost of paragliding is determined.
Pokhara is the most popular destination with the majestic views of Annapurna Himalayas, aerial view of the City and Phewa lake. The beautiful flight over the cityscape and lake provides a lifetime experience. Paragliding companies also offer different side adventures such as stunts and thrills during the flying time. But pilots do charge some additional amount for those stunts.
Paragliding Cost in Pokhara
Pokhara is a popular adventure hub offering many adventurous activities. Paragliding cost differs according to nationality as well. The cost of the Nepalese is cheaper than the foreigners one. The paragliding with the given cost is inclusive of photos and videos. The detailed cost information is shown in the table below.
| Nationality | Nepali | SAARC/Chinese | Foreigners |
| --- | --- | --- | --- |
| Cost (For 25 min.) | NPR 8000 | NPR 11000 | NPR 11000 |
| Cost (For 1 Hour) | NPR 12000 | NPR 15000 | NPR 15000 |
Paragliding Cost in Kathmandu
Paragliding in Kathmandu is operated by Katmandu paragliding at the Godavari. It offers the Paragliding adventure with spectacular mountain views and natural sceneries, situated nearby central Kathmandu. The cost differs according to nationality. The cost of a Nepali citizen is slightly cheaper than that of foreigners. Whereas SAARC nationals and Chinese get a little privilege to get a little cheaper cost. The paragliding with the given cost is inclusive of photos and videos. The detailed cost information is shown in the table below.
| Nationality | Nepali | SAARC/Chinese | Foreigners |
| --- | --- | --- | --- |
| Cost (For 15-30 min.) | NPR 6500 | NPR 10000 | NPR 11300 |
Best Time for Paragliding in Nepal
Spring and Autumn are the best times for Paragliding in Nepal. The months of March, April, May, September, October and November are the best time for Paragliding in the two most vibrant tourist capitals of Nepal, Kathmandu and Pokhara. These months are also the best time for trekking and hiking as you will avoid the monsoon and associated risk of avalanches in these months. So, while in the trekking adventure you can undergo the Paragliding in Pokhara and Kathmandu. You get to see the most beautiful mountain panorama while enjoying the beauty that Nepal has and also capturing the moments.
The Photos and Videos are also included in the Paragliding activity. So, you can always have a digital memory in your device of the activity you performed while you are in Nepal. Reminiscence the memories in the mountains, after getting the video and Photo of your Paragliding in Nepal. Paragliding is not a seasonal activity. In any span of time, you can do Paragliding, if the weather condition is good and favourable for you.
Quick Facts
Paragliding is an aerial adventure that provides wonderful Himalayan views.
The cost for a 25 min flight is NPR8000 and for a one-hour flight, it is NPR 12000 for Nepalese.
The cost for a 25 min flight is NPR 10,000 and for a one hour flight, it is NPR 15000 for foreigners.
The video and photos are included in the cost.
Best seasons for Paragliding in Nepal are Spring and Autumn.
Safety and Paragliding in Nepal
Safety is a prior concern that Paragliding companies should undertake. This adventure can be life-threatening sometimes, if not guided with proper safety arrangements. Most of the Paragliding in Nepal are tandem paragliding. Tandem means you will be taking a paragliding flight along with the pilot. So, you will be guided with proper safety arrangements and the pilot will be there along with you. If you want to perform Paragliding solo, you need to get the proper training to pursue paragliding.
Extreme sports are prone to the dangers and with the right training and favourable weather, you can pursue a smooth experience. The mild and favorable atmosphere will make your experience better and you can have the best views from the mountains. The surpassing panoramic beauty of mountains will always lure you to undergo the paragliding activity if you visit Nepal again and again.
The compliance with necessary safety measures is always the major part of Paragliding for companies. During Paragliding, you will be flying 2500 to 3400 m above sea level. This means you can see the wonderful Himalayan views from the Paragliding. Also, the valley views are equally spectacular.
Paragliding cost in Nepal is not so high for the beauty it offers. The thrill of the mountains and the ultimate air adventure you get is worth it. So, you can always have a nice deal with paragliding, but in some off seasons, you can have discounts and some offers. You may negotiate with the companies for discounts. But if you are going for Paragliding from us, we can do that for you.
Paragliding is undoubtedly the best adventure in Nepal. However, if you want to explore the true mountain beauty, you can always have trekking and hiking in the mountains. You get to explore the wonderful surrounding of the mountains and the sceneries along with the mind-blowing Himalayan spectrums. The best part of the trekking is you can also explore the lifestyle and culture in the rural mountain villages. The wonderful and hospitable people will be serving you the best experience after extensive yet amusing experience in the Himalayas.
If you want to pursue any activity in Nepal, we are always available to assist you with the entire process. You can always ping us for assistance in our contact us section. We are one of the best companies in Nepal serving the finest travel experience for the tourists, who want to explore the true beauty that Nepal has.
Paragliding in Nepal
Paragliding in Nepal is another popular tourist adventure to do in Pokhara. It is like hang-gliding adventure spot. Nowadays Sarangkot paragliding has been operating various flights but tandem flights are special. Gokyo Treks Nepal agency arrange various Paragliding flights, such as Tandem flights, cross-country flight, and cloudbuster flight throughout the year on request.
Furthermore, we can organize a paragliding course in Nepal granting you special training & gliding over the low seasons. The mainly paragliding flight operates over the Sarangkot viewpoint. Hike Sarangkot hill to get an amazing view of fea lakeside, majestic city, and peace world peace stupa. As you are flying in the sky you can see the great Annapurna ranges within the 3 tallest Mountains above 8000 meters.
In addition, if you are in Nepal, check paragliding near me or paraglider for sale. As it is an adventure flight, there were already Pokhara paragliding accidents. So we recommend sunrise paragliding Pokhara.
Cost of paragliding depends upon two factors. Time duration and types of flight that you want to choose are the major factors to affect the price. Book your tour package with us as we are a leading paragliding tour operator agency in Nepal for more than 17 years. Our paragliding cost – price is cheaper comparing other operators.
Paragliding in Nepal detail itinerary
Our special paragliding tour in Nepal is another popular tourist adventure activity in Kathmandu and Pokhara city.
Join for a Paragliding tour activities
Adventure paragliding tour – half-day tour in Pokhara.
Nepal Paragliding tour takes roughly 20 minutes jeep ride from Pokhara uphill to Sarangkot hill. Moreover, we can see three of the greatest mountains, Dhaulagiri, Annapurna, and Manaslu (all over 8,000 meters). We offer 3 types of tandem flights as given here.
Option – 01: Cloud Buster paragliding [Duration: 20-30 Min and cost price: US$ 85]
We take off from Sarangkot hill down to Fewa lake. Fly over the villages, forests, and gorges. After landing, we transfer you back to the office in Lakeside. In addition, The biggest shot that our world-class acrobatic pilots can do it with a wing as you loop, spin, and spiral through the air. This flight will leave you breathless yet an amazing experience of a lifetime. We have one plan and cost system for paragliding trip booking. Thatswhy, if you want to add a normal acrobatic flight, it is possible at the customer's request.
Alternative plan, Magical Cross Country [Duration: 45-60 Minute and price: US$ 110]
Taste of the exploration side of flying. Each day provides slightly different conditions, even though the day is changing. So routes change accordingly. There is the possibility of flying over the long ridge leading to Phewa lakeside. On other days we cross the valley and soar directly at these stunning 6,000 meters peaks. Additionally, the normal acrobatic flight can be added to the customer's request within the same cost (condition apply).
How much is the paragliding in Nepal tour cost?
Paragliding price will vary according to group size. Taking flights to and from Pokhara saves your time and riding buses reduces trip expenses.
For the deluxe and luxury tour plan, we add Kathmandu – Pokhara – Kathmandu round trip airfare with 3-star category hotel accommodation in Kathmandu and Pokhara town. But we are open to customizing your trip according to your interest and requirements. International tour leaders are highly encouraged to get a discount and attractive complimentary.
Frequently Asked Questions.
Question: Is pick-up service available if my arrival day in Kathmandu?.
Answer: Yes sure. Provide us with your flight details. Our representative will come to pick up you at Kathmandu international airport.
Question: Do I need previous experience to fly?.
Answer: Not really.
Question: When is the best time to fly?
Answer: You can do a paragliding trip any time of any day during the year.
Question: How much additional money do I need daily?.
Answer: You can allocate US$ 08 – 10 for a lunch/dinner in Kathmandu and it depends on your spending habits. US$ 7 to 10 US$ each day will be enough to buy bottles of water, chocolates, tea coffee, and some drinks while you are on your trek.
Paragliding in Nepal highlights
Amazing town of Pokhara city, lakes and the high mountains view.
Fly to get closure to the Annapurna massive.
Fly as a Bird to experience the lifetime.
What includes in the paragliding flight cost:-
A Jeep/VAN transfer from Phewa lakeside area to Paragliding starting point below Sarangkot hill.
A professional certified pilot for paragliding tour package.
Safety equipments and flight videos on extra cost.
Nepal Government Tax, VAT, and as well as Company service charge.
What excludes in the paragliding flight cost:-
All food and accommodation during your stay in the city.
Any kind of laundry service, phone calls, Personal nature expenses like any donation and monuments entrance fees
Tourist travel insurance.
Any other things which are not mentioned above.
Departure & Return Departure Point:
Have in mind that we pick up all the travelers from Inside an area of Lakeside, Pokhara.
What To expect on the Flight?
Paragliding is flying in its simplest form, so it's the closest you can get to this experience. People are often surprised by how comfortable they feel in the air and love how they feel "at one" with the skies watching the mountains and lakes. Flying in smooth weather on a paraglider can be surprisingly calm and relaxing. Besides that, see the Hindu pilgrimage place at Barahi Temple.
Additional Information (TIPS AND TRICKS)
Confirmation will be received at the time of booking
a wheelchair is not accessible entire the tours
A maximum of 25 people per booking
Not recommended for Travelers with back pain, pregnant, and very old travelers.
It's a private tour/activity.
Cancellation Policy
You can cancel up to 24 hours in advance of the experience for a full refund. For a full refund, you must cancel at least 24 hours before the experience's start time. If you cancel less than 24 hours before the experience's start time, the amount you paid will not be refunded.
Any changes made less than 24 hours before the experience's start time will not be accepted. Cut-off times are based on the experience's local time.
Paragliding Tour Travellers Review
There are no reviews yet. Be the first one to write one.
Take a minute to fill the given form properly to send us a Paragliding flight inquiry.
2% Off US$ 84 See Group Discount
| | |
| --- | --- |
| No. of people | Price Per Person |
| 1 | USD 85 |
| 2 | USD 84 |
| 3 | USD 84 |
| 4 – 6 | USD 82 |
| 7 – 9 | USD 80 |
| 10 + | USD 78 |
Book NowCustomize Trip
Your Trip Your Style!
ITINERARY, COST, DEPARTURES, will adjusted according to your GROUP SIZE NEED TIME
Source https://www.stunningnepal.com/paragliding-in-kathmandu/
Source https://holidaystonepal.com/blogs/paragliding-cost-in-nepal
Source https://www.gokyotreksnepal.com/paragliding-in-nepal/