Paragliding in Interlaken, Switzerland: All you need to Know
Ever wondered what it's like to fly? To feel nothing but the air beneath you and the wind taking you on a journey? It's everyone's fantasy as a kid, but with paragliding, it's as close as you can get to the real thing! However, there's no point in flying in the sky without an incredible view, so where else would be better to try paragliding than in SWITZERLAND?
In this review, I'll take an in-depth look at what paragliding at Interlaken, Switzerland is like. I'll share my own personal experience doing it, as well as information and tips you should know when booking the activity!
Disclaimer: Some of the links below are affiliate links, which means I may earn a small commission if anyone purchases through them. This helps support my channel so I can continue to create travel content for ya'll!
Table of Contents
Paragliding at Interlaken: Getting Ready
As part of my Grand Tour of Switzerland, I visited interlaken in early April and did my para-gliding flight.
A quick check on the weather forecast that day showed clear skies and a beautiful sunny weather, how lucky!
There are multiple time-slots that you can choose, starting from 7.15am at the earliest to 6pm. We were assigned the second morning slot, with an early meeting time of 8.15 am.
From our hotel at Carlton Hotel Europe, the meeting point is just a short 5 minute walk away.
Once everyone has assembled, we gathered inside the transport van and set off towards Beatenberg mountain, the take-off point. During the 20 minute ride, we were given a safety briefing on take-off and landing process. This is also when you will be required to sign an indemnity form.
We were given a weird but important tip: Do not scream during the flight. Why? I asked out of curiosity. Well, it's out of consideration for the residents living down below in Interlaken! Imagine all the dreadful noise they would have to deal with if every single persons in mid-airscreams at 120 db every 15 minutes? That's why it's common etiquette to keep your voice levels down. If you're terrified, maybe try doing a silent scream… :O
Once the van reaches Beatenberg, we each received a small card with the name of our assigned paragliding pilot.
A 3 minute walk through the woods and we reach the take-off site, a gentle slope. We started putting on our gear including harnesses and helmets, while the pilots busied themselves with setting up the parachutes.
Paragliding at Interlaken: Up in the air!
A nervous selfie before my turn. I was the last to set off, and watched Vince and the rest flew up into the sky. Albeit it not being first time doing para-gliding, I couldn't help feeling butterflies fluttering in my stomach!
The flight does appear scary from afar, but in terms of fright-level, I would rate it a 2/10. The only part when I felt was when my pilot yelled "RUN" and we had to run as fast as we can. This is the most physically strenuous activity of the entire flight, but yet the most critical: Because it's the fast running momentum that catches the wind and gets the canopy up in the air!
Once my feet lost touch with the ground…I felt the wind lift us up and release the weight from beneath us. With the initial anxiety and excitement fading…I could finally enjoy the scenery and take in the fact that I'm actually FLYINGGG!
It's such a lovely sensation to be floating, bobbing and being buffeted by the air. For the very first time, I got to marvel at the incredulous, contrasting sights of white, green and blue: The majestic mountains of Jungfrau, Eiger and Monch and the water bodies of Lake Thun and Lake Brienz.
The amount of beauty surrounding us from all sides was just…indescribable!
When you are looking down at the vast expense from above, everything below just looks so tiny…From time to time, I think we all need moments like this: To be completely engulfed by the magnitude and beauty of nature. It's a good reminder of our place in this world: how small and insignificant we and our problems are in this big, big world.
Nearing the end of the flight, my pilot asked if I would be keen to try out some "stunts" in the air. Of course I was game for it! We did some somersaults and fast spins, and while it was super thrilling, it was giddy at the same time. If you're abit more faint-hearted you can choose to give this a miss.
Safely landed! All smiles and Two BIG thumbs up for this ride of a lifetime!
Upon landing, you will arrive Hohematte Park. It's a big field right smack in the center of Interlaken, and just eight-minutes away to the Interlaken West station.
What should I wear for paragliding at Interlaken?
It's best to wear a zipped jacket for the flight, since the weather will be chilly up high. Make sure that you are fitted in sturdy boots or sports shoes, NOT flimsy sandals nor slippers. As mentioned, you will need to run down a slope during take-off when the wind catches in the right direction.
How much does it cost to paraglide at interlaken?
The company we did paragliding with is called Para-gliding Interlaken. It has different offerings of varied prices.
Big Blue Summer: This is the basic flight with an altitude of 4450ft – 6570ft and 10 – 20 minutes airtime. It costs 170CHF.
Double Airtime: This flight goes up to 4450ft – 8250ft and provides double the airtime, up to 30 – 40 minutes airtime. It costs 270CHF.
Sunset Fligh t: For sunset lovers, this is the choice for you! You can enjoy the views of Interlaken from above, covered in the warm colours of the setting sun. This is 250CHF.
Funky Chocolate Flight: This is essentially the Big Blue Summer flight, topped up with an additional sweet treat at the end, a chocolate making workshop at the Funky Chocolate Club! It costs 219 CHF. This is the package we went for. (Read more about it down below)
All packages includes free pick-up from the Interlaken East/West stations or your Interlaken-based hotel, as well as shuttle service to the take-off site at Beatenberg. You can book your paragliding package here.
Is paragliding at Interlaken/Switzerland safe?
I do get that with freaky news of para-gliding accidents…some people may find the activity unsafe. But just like every other outdoor, high-altitude sports, it does comes with its own risk. While you don't get to choose your pilot…rest assured that they are well-trained with a great deal of experience. My pilot is called Miki and till date, he has flown at least a thousand times!
Is paragliding scary?
For those of you who are afraid of heights, this might perhaps be something a little outside your comfort zone. However as compared to sky-diving, paragliding is definitely a lot less scarier. In fact, I actually find the whole experience pretty relaxing! Apart from the take-off which running, the rest of the flight was basically just me sitting back comfortably in my seat and swinging my legs with glee.
When is the best season for paragliding in Switzerland?
Summer time from July to August are an exceptionally popular months for paragliding in Switzerland, so if you are planning to do so during this peak season, then be prepared to book ahead in advance.
Some people really enjoy paragliding in winter for the snow-capped sceneries, but I find that a little too cold for my liking.
I was in Interlaken back during November and saw a couple of tourists who had their flight done in grey, rainy weather, which was a hugeee bummer and sadly a waste of money…But I guessed they couldn't have the flight cancelled at the last minute! If you want to avoid disappointment, then stay clear of peak rainy seasons (early March and early-mid November).
How long should I plan for my paragliding flight at Interlaken?
In my opinion, the classic Big Blue Summer flight worth 10-20 minutes would already more than sufficient. While the sceneries from high-up are incredible, by the 15 minute mark, the wow-factor would have reached its peak and you would be slightly bored already…so the 30-40 minutes Double Time Airtime package is quite a bit of an overkill.
Can I bring my own camera to take photos during the paragliding flight?
For safety reasons, you are NOT allowed to bring your mobile phones or cameras during the flight. While you can still choose to (secretly) bring your own phone along, bear in mind that it's all at your own risk, and the pilot (depending on how strict he is) may also forbid you to use it during flight.
Honestly speaking, it is safer and worth it to take up the photo and video package for an extra 40CHF. Why give yourself the added stress of trying to capture shots in mid-air (what if you drop your phone!?) when you should just truly take in the moment? Besides, the pilots themselves have paraglided a gazillion times and they are the ones who know where to film, with the best photo angles and shots. So I would say, leave it to the experts.
Also to point out: once you land, your pilot will IMMEDIATELY transfer all photos and videos taken during the flight, directly onto your phone! I was mightily pleased with that because for my previous para-gliding experience at Aletsch, the photo and video files were saved in a thumbdrive and I had to do the transfer onto my phone for social media separately. So this method definitely saved me a lot of hassle!
Where else can I do paragliding in Switzerland?
My previous para-gliding experience was at Fiescheralp, in the Aletsch Arena. Having tried out at both destinations, I would say that the views at Interlaken certainly beats the one at Fiescheralp, because for the former, there were only views of the Alps, which was more a mountainous, rugged scenery. being in a landlocked area, there were no views of any lakes.
Other popular spots for paragliding includes Lauterbrunnen and Montreux, so you may consider that if you are around the area. I've heard that Lauterbrunnen is particularly beautiful for paragliding, because from there you get post-card sceneries of the meadows and valleys in the Alps!
What other activities can I do after paragliding in Interlaken?
Consider the chocolate-making workshop at Funky Chocolate Club! This is just 10 minutes from the Hohmatte park and a relative chill and yet enjoyable, fun choice after all the adrenaline rush. You can book this under the Funky Chocolate Flight package.
In 1.5 hours, you get to learn about the art of chocolate-making, sample the various varieties of chocolates and create THREE of your own chocolate bars!
While there isn't any informative chocolate exhibition on site , I felt that the whole experience and quality of the chocolate-making workshop was definitely on par with those offered by the two chocolate giants, Cailler at Gruyeres or Lindt Home of Chocolate in Zurich.
Our chocolate connoisseur really went into details: from explaining the anatomy of the cocoa bean, to guiding us step-by-step through the whole hands-on chocolate making process.
I would highly recommend this as a family activity, or even just for couples/ friends. This is especially if you do not have enough time to visit the chocolate musuems in Switzerland but still would like to have a unique Swiss chocolate experience.
All in all, paragliding at Interlaken is something that I will never forget, and I'm glad to be striking off yet another bucket list activity in Switzerland!
Even if I do go paragliding elsewhere in the world, the sheer beauty of the Swiss Alps will stay with me. It's been 2 months after my trip already but till today, I still recall the sense of awe I felt as the paraglide caught the wind and we took off and how blown away I was by the scenery.
If you are coming to Switzerland, this is one experience I whole-heartedly recommend!
You might also want to check out my other Swiss itineraries below!
This post is made in collaboration with MySwitzerland and Paragliding Interlaken. Special thanks for sponsoring this experience so that I can share this with my readers. All opinions are my own.
Go Paragliding In Switzerland For The Most Amazing Swiss Alps Experience In 2022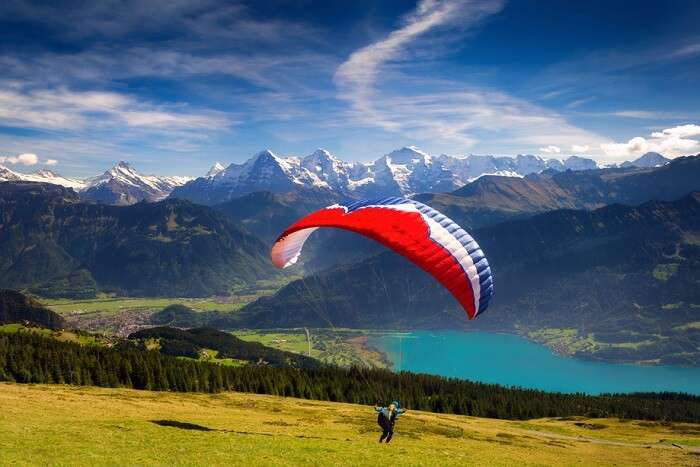 Flying in the sky excites you? But skydive seems like an option too harsh on the pocket? Paragliding is just the activity for an adventure enthusiast like you. Looking for a paragliding school in Switzerland? Confused what to wear when paragliding? How much would paragliding in Switzerland cost you? Read on and find answers to all the questions that might pop up in your mind about paragliding in this beautiful country. Gear up for the adrenaline rush and find out the most exciting places to enjoy paragliding in Switzerland.
Top 10 Places To Enjoy Paragliding In Switzerland
Switzerland is often addressed as 'a heaven on earth', for its unbeatable mesmerising scenic views. Now, imagine yourself viewing this paradise from sky, while soaring like a bird. What an astonishing feeling, isn't it? So, we have shortlisted for you, some of the cities that offer the best views when paragliding in the Swiss Alps. And do not think twice about the cheapest paragliding here, such experiences are priceless!
1. Zurich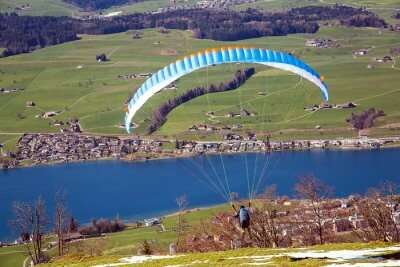 The thought of flying gets your adrenaline pumping faster? Do you crave adventure more than food? If you do, then Zurich is the place to set yourself lose. The amazing paragliding sites here would set you soaring high in the clouds. Zurich's local mountain of Uetliberg is one of the best from these sites of paragliding in Switzerland. Enjoy the panoramic views of the city and lake of Zurich here!
2. Geneva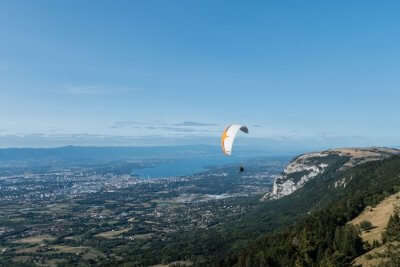 Seeking an unforgettable experience? Take a leap of faith from the 'Balcony of Geneva', the Salève mountain. Experience the tandem paragliding in Geneva, Switzerland. Float above the beautiful city of Geneva and the daunting ranges of the Alps and Jura mountains. The clear blue skies above and the sparkling lake of Geneva beneath is once in a lifetime experience!
3. Lauterbrunnen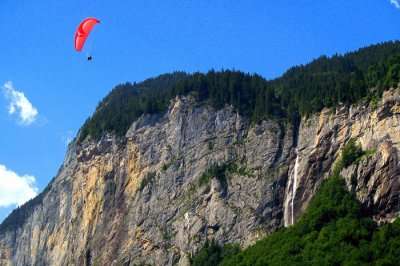 Anxious much? Well, this couldn't be any easier! All you have to do is to put your best foot forward and in no time you would be flying over one of the most magnificent valleys in the Alps amidst the colossal rocks and snow covered peaks. Paragliding in Lauterbrunnen, Switzerland, is one of the most sought experiences. Enjoy the sights of the beautiful alpine meadows while paragliding here.
4. Interlaken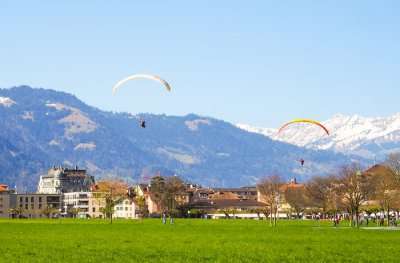 Interlaken is the adventure capital of Switzerland. Interlaken paragliding in Switzerland is quite famous as it has some of the best sites to paraglide. For best paragliding in interlaken, Beatenberg is one of the best vantage points here and one gets to paraglide against the backdrop of the towering Alps. So, what are you waiting for? Take the plunge and experience tandem paragliding in interlaken.
5. Davos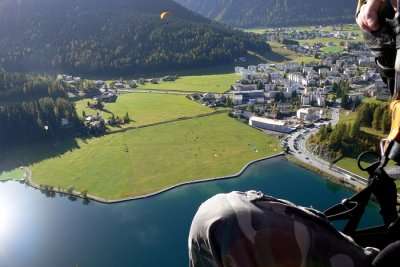 Davos is a beautiful terrain of rugged topography, mapped with scenic trails for the best paragliding in Switzerland. These trails during the winter months are covered in a sparkling sheet of pristine snow. Paragliding in winter in Switzerland is another adventure in itself. Fly over the snow-covered town of Davos as you enjoy a tandem flight with the skilled trainers. So take a step ahead as the edge of the cliff would become your best memory later of the bygone days as it is one of the best places to paraglide in Switzerland.
6. Engelberg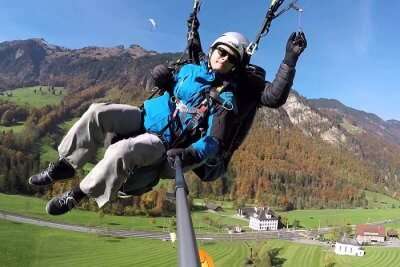 Ever sit and think what freedom is like? If it is flying free like a bird above beguiling mountain slopes, gazing at the snow-capped sedentary peaks then head to Engelberg in Switzerland. Here you can enjoy one of the best paragliding in Switzerland. Watch the trails meander their way up to Mt. Titlis and enjoy panoramic views of the town below from the beautiful sky as it is amongst the best places for paragliding in Switzerland.
7. Klosters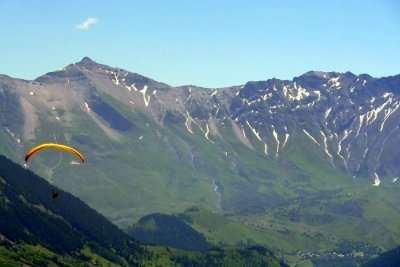 Klosters is a beautiful Swiss village which is often frequented by tourists for its various outdoor activities. The village has plenty of adventures to partake in. Quite close to Zurich, the village is a hub of adventure enthusiasts. It is an extension of Davos and one can enjoy the serene views of both these Swiss places from sky high while paragliding. شحن نتلر بالكاش يو It is also known for skiing activities.
8. Gandria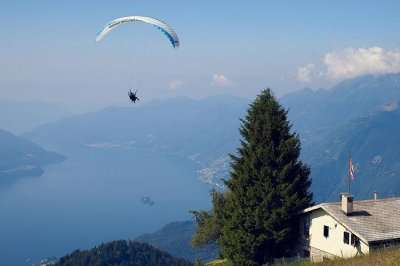 This lakeside town is the last of the Swiss territory right before the Italian soils. The fun of paragliding here is totally different because other than just the Swiss glimpse, one gets to enjoy the Italian views too. The tandem paragliding in Switzerland can be experienced here and there's nothing to be scared as one flies with professionally trained pilots. So don't hold yourself back!
9. Kriens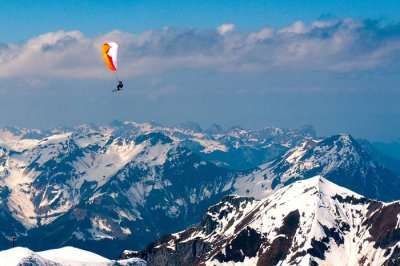 If you are looking for some offbeat Swiss towns for an undisturbed paragliding experience then Kriens could be your pick. This is a town of Lucerne in Switzerland. Like all the Swiss cities, it offers the best scenic views. It is also one of the places to enjoy the cheapest paragliding in Switzerland due to fewer tourists. Watch the green valley and Mount Sonnenberg during your tandem flight from the slopes of Kriens.
10. Grindelwald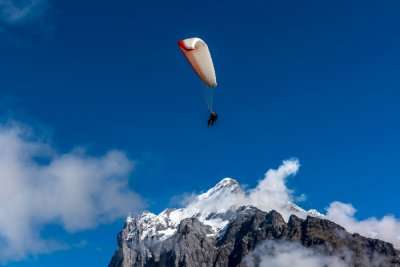 Mostly famed for skiing in winters and hiking in summers, Grindelwald is a treasure trove full of adventures. The village is the base point for the mountain climbers and a haven for nature lovers. The beautiful waterfalls and gorges attract tourists from all over the world. And this is not all because the best is yet to come. You can enjoy the best tandem paragliding with trained professionals hands down in this Swiss city of Grindelwald!
11. Wengen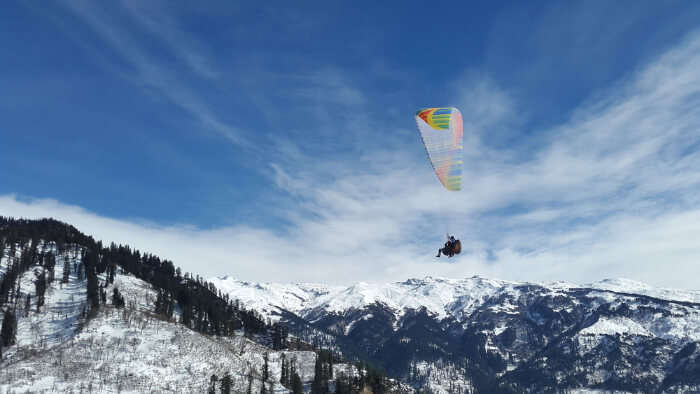 This village is famous for hiking and skiing all year-round along with paragliding adventure sports. You can visit during any time of the year and enjoy gliding in the sky amidst snow-capped peaks and witnessing the mountains and the surreal landscape from a different perspective. Paragliding happens to be one of the favourite sports at this destination.
Enough watching the Swiss Alps in Bollywood flicks. Now watch them for real and do not fret about the travel, stay, and cost of paragliding in Switzerland. Just go ahead and book a hassle-free trip to Switzerland with TravelTriangle now!
Disclaimer: TravelTriangle claims no credit for images featured on our blog site unless otherwise noted. All visual content is copyrighted to its respectful owners. We try to link back to original sources whenever possible. If you own the rights to any of the images, and do not wish them to appear on TravelTriangle, please contact us and they will be promptly removed. We believe in providing proper attribution to the original author, artist or photographer.
Please Note: Any information published by TravelTriangle in any form of content is not intended to be a substitute for any kind of medical advice, and one must not take any action before consulting a professional medical expert of their own choice.
Frequently Asked Questions About Paragliding In Switzerland
Is paragliding in Switzerland safe?
It is very safe. While not without risk, the training that Swiss pilots, including tandem pilots, receive is the most extensive that I have come across.
Where can I go paragliding in Switzerland? بطولة اليورو 2023
Zurich, Geneva, and Danos are some prime locations.
Can you paraglide in the rain in Switzerland?
It is considered unsafe and not recommended during the rain.
Is there a weight limit to paragliding?
There is no weight limit for paragliding tandems, as long as we have enough wind.
What is the most scenic sight to paraglide in Zurich?
Uetliberg is one of the best sites in Zurich to paraglide and view many scenic vistas. You get to see a panoramic view of the city and beautiful landscapes spread across the city.
Which is the best place in Switzerland to get a view of the Alps while paragliding?
This paragliding spot in Geneva is also known as the 'Balcony of Geneva,' which gives the breathtaking view of the Alps and the surrounding landscapes.
Where should you glide to get a beautiful view of the valleys and meadows in Switzerland?
Lauterbrunnen is the best paragliding site in Switzerland to get the best view of meadows and valleys in the Alps mountain range.
What is the maximum height you can reach while paragliding at Interlaken?
You will fly at a maximum height of 800 meters at this sight. Picture as well as video service is also provided at this site. اسرار الروليت
Which is the best site to paraglide in winter in Switzerland?
Davos has scenic landscapes and terrains. If you choose winter for paragliding you can glide at Davos and view the pristine snow-capped mountains and other picturesque vistas.
Which place in Switzerland offers cheap paragliding?
Kriens in Switzerland offers the best scenic vistas at a cheaper price. You can choose to glide over green landscapes, valleys, and Mount Sonnenberg.
Paragliding in Switzerland
Paragliding is an extremely popular sport in Switzerland. The unique landscape with a mixture of lakes, rivers and mountain giants is perfectly suited for a flight with a paraglider. Tandem flights are offered at countless locations in Switzerland, for which no prior knowledge is necessary.
Popular places in Switzerland for Paragliding
Lucerne Region – Lake Lucerne
Bern Region
Graubünden region
Valais region
Zurich region
Paragliding Activities and tickets
In lofty heights you can enjoy the feeling of weightlessness and adrenaline to the fullest during this tandem paragliding flight from Pilatus!
Unfortunately, this offer is not bookable at the moment.
Unfortunately, this offer is not bookable at the moment.
Unfortunately, this offer is not bookable at the moment.
On this paragliding flight with an experienced pilot you will experience the city of Zurich from a bird's eye view and experience extraordinary moments in the air!
Unfortunately, this offer is not bookable at the moment.
Unfortunately, this offer is not bookable at the moment.
Unfortunately, this offer is not bookable at the moment.
The snow-covered mountains around Davos offer the perfect backdrop for a winter paragliding flight. Enjoy the romance of the Grisons mountains over a cozy fondue before returning to the valley by air.
Duration: 28 hours
Use your phone or print out the voucher
No booking fees
For Today + Tomorrow
Jump from Büelen with a professional tandem pilot into a paragliding adventure of the extra class. Jump at an altitude of over 1100 meters!
Unfortunately, this offer is not bookable at the moment.
Unfortunately, this offer is not bookable at the moment.
Unfortunately, this offer is not bookable at the moment.
Find out more about Paragliding
Hardly any other country offers so many possibilities for sporting activities in such a small area as Switzerland. Many cantons offer the perfect terrain for spectacular paragliding flights
Paragliding is probably the closest thing to the movement of a bird. However, it also requires some skill. Flying like a bird has become a learnable reality for us humans thanks to the paraglider. Today, the sport of flying inspires not only experienced pilots, but also beginners intoxicated by the zeal of flight
Beginners and novices usually start in tandem. For almost 90% of the participants the first flight is a tandem flight. During a tandem flight, you sit back, relax and enjoy the view while an experienced pilot controls the paraglider. After only a few seconds of flight, you will find a comfortable sitting position with the help of the pilot. A few quick steps before, the paraglider opens and you rise gently into the air. You can do (almost) nothing wrong
Paragliding flight (Photo: Switzerland Tourism My Switzerland)
Flight School Horgen (Photo: Switzerland Tourism My Switzerland)
Paragliding flights are offered all year round. With a fast-paced ski launch, you'll also get your money's worth if you want to fly in winter
In winter, the air is usually very calm and is therefore ideal for tandem flying. On the other hand, turbulence can occur in the summer, especially in the afternoon. If you don't tolerate the jerking so well, the pilot will immediately head for the landing site or recommend you to fly rather in the early and calmer morning hours.
Paragliding in general
Paragliding has been around in its infancy for more than 70 years. NASA engineer Francis Melvin Rogallo received the first patent of a predecessor paraglider in 1948
In Switzerland, the German Strasilla brothers, together with Andrea Kuhn of Switzerland, developed the world's first paraglider from towed parachutes in 1973. They registered their own paraglider patent as the Skywing. Even then, their glider had an ingenious system of arresting and control lines
Dieter and Udo Strasilla were the first people to fly together from the Jungfraujoch at 3463 meters above sea level to Lauterbrunnen, covering 2676 meters of altitude. This was the birth of paragliding in Switzerland. Even today, the world's first paraglider, an 11-cell glider made of spinnaker fabric, can still be seen at the Schleissheim airfield near Munich
How does paragliding work?
The pilot sits safely in a harness under the paraglider, which is connected to the harness by lines. He steers the flight by means of control lines. In a tandem flight, the passenger sits in a second, tightly connected harness directly in front of the pilot. All the equipment fits into a backpack and weighs between 15 and 20 kg.
How do you take off when paragliding?
In the mountains, the flight is usually done with a forward takeoff. The paraglider is behind you and you start walking slowly until the paraglider has filled with air and is above you. After a few steps downhill, the paraglider lifts you into the air at 20 km/h already.
The start to the flight takes place over four phases:
The launch preparation: Exploring the launch site, mental preparation.
Launch phase: This phase starts from the feeling. Here you determine by pressing the line whether the glider needs to be counter-steered.
Control phase: Probably the most important phase decides whether to launch or abort the launch
Acceleration and take-off: You accelerate continuously until the take-off speed is reached. You decelerate in a controlled manner and continue to run until your last steps in the air
For whom is paragliding suitable?
As a passenger of a tandem flight you do not need any previous experience. You will be briefed by the pilot before the paragliding flight in the launch preparation. Thereby you will learn what you have to pay attention to during take-off, landing and during the flight
The provider of a tandem flight often specifies a minimum and maximum weight, which is usually between 30 kg and 120 kg. A special fitness is not required. In case of serious illnesses, however, you should consult your doctor beforehand. It is better to specify this when booking
If you suffer from motion sickness or have a strong fear of heights, a paragliding flight is not suitable for you. Paragliding is also not suitable for pregnant women.
Tandem paragliding flight
During a tandem flight, the professional flight instructor or pilot will take care of everything important. You can do one thing above all: enjoy the magnificent scenery. For example, if you like to plunge from the Jakobshorn or the Gotschnagrat, you can book a tandem flight with a renowned provider for about 190 CHF. The approximate cost of a general paragliding flight in Switzerland ranges from about 150 to 250 CHF, depending on the duration. Usually it's an unforgettable 20 to 40 minutes that you float over a beautiful alpine landscape.
(Photo: Paragliding Interlaken)
Tandem flight (Photo: Paragliding Interlaken)
Learn to paraglide
Paragliding can become a lifelong passion. is an experiential process that always needs training. Training as well as learning should not be effort, but fun. In any case, paragliding is an uncomplicated, easy to learn and above all safe sport
The good training, professionally supervised flight areas, attractive paragliding trips and interesting advanced training courses promote the popularity of this sport in Switzerland
Swiss Activities tips for paragliding
In less overflown areas, animals are not yet familiar with the silhouette of the paraglider. Therefore you should keep enough distance to the ground.
Fiesch in the Valais offers a wonderful and special flying experience: The flight "Barrierefrei" is a 20-minute paragliding flight in a wheelchair. It is carried out by a professional tandem partner.
A steep mountain slope provides further altitude gain for cross-country pilots due to the sunshine that has been rising for some time. Here you can use the thermals to your advantage.
Long-term and regular weather observation is indispensable for alpine pilots
For destinations up to 1000 meters altitude a good general condition is sufficient.
Paragliding Switzerland – 7 popular areas
Switzerland declares itself the Dorado for paragliders. The trump cards are the diversity and beauty of the landscape, the countless paragliding schools and the transport network. Wherever there is a breeze and there is a mountain, paragliding takes place in Switzerland.
Interlaken is considered a good terrain. Flying in the area of the Aletsch Glacier, a World Heritage Site in the cantons of Bern and Valais, is no less enthusiastic. On the Fiescheralp there are particularly good upwinds. Grindelwald First is the top spot for great panoramic views over the Jungfrau region
If you prefer flying over lakes, then you should take off in the area of Lake Lucerne or Lake Lugano. Get inspired and get to know 7 wonderful locations for paragliding in Switzerland.
Paragliding Interlaken Bernese Oberland
Interlaken stands for a fantastic location and ideal flying conditions. There are numerous passenger flights offered from various launch sites. You will enjoy a breathtaking view of the blue shimmering mountain lakes and the Jungfrau massif. A flight in this dreamlike area is undoubtedly an unforgettable experience in a class of its own
Since the region around Interlaken is so popular for paragliding flights, we have compiled a separate article with the best paragliding flights from Interlaken.
Tandem flight paragliding (Photo: Paragliding Interlaken)
Landing approach (Photo: Paragliding Interlaken)
Paragliding Central Switzerland
Thanks to the excellent flying conditions, you can paraglide all year round in Central Switzerland Paragliding. You float above the beautiful landscape of the Alps of Central Switzerland.- The route for Paragliding Niederbauen / Emmetten is considered one of the most beautiful for paragliding. The view over Lake Lucerne is breathtakingly beautiful. After a fabulous flight experience of over 15 to 30 minutes, you land gently back in the valley
Since the area in central Switzerland is so wonderfully suited for this sport, we have also created a separate guide for paragliding.
Paragliding Ticino
The mountains in Ticino offer ideal jumping ramps for "Icaruses". From Sasso Ferro or even from Monte Nudo, you glide gently down and land on the field of Icaro. But that's not all: all paragliding flights are absolutely suitable for families. Even the youngest ones will enjoy the unique flight experience and the unforgettable view of Ticino
Strong emotions are offered on a flight from the 1704 m high summit of Monte Generoso. The stone flower of the architect Mario Botta is enthroned at the top. During the flight, the landscape of this region presents itself in all its beauty: the Mendriosotto with its vineyards, Lake Lugano and the enchanting Alpine chain. You will share the sky with falcons, eagles and many other birds
Monte Tamaro also offers a great opportunity for a flight with a magnificent view. On your way down to the valley you will climb about 1000 meters in altitude. Depending on the thermals, you will enjoy a magnificent view of Lake Lugano, Bellinzona and Lake Maggiore.
Meanwhile, passionate paragliders appreciate Monte Lema as an extremely suitable place to pursue their passion. At an altitude of 1620 m.a.s.l. paragliders from all over the world meet. Some flights extend over 200 km and go as far as Engadin or Valtellina. However, these are then not suitable for tandem flights.
Paragliding Ticino (Photo: Switzerland Tourism MySwitzerland)
Paragliding Lake Lugano (Photo: Switzerland Tourism MySwitzerland)
Paragliding Eastern Switzerland
Thanks to its exceptional panorama, eastern Switzerland is a highly frequented region for paragliding
Paragliding Walensee: Above Lake Walen, a pearl between Zurich and Chur, you can enjoy the light-heartedness of the skies. There are ideal thermal conditions for a panoramic flight. Whether in winter or summer: Based on the optimal conditions of this area, panoramic flights as well as thermal flights are offered
Paragliding Alpstein: Touch the clouds and fly free like a bird through the air Here you take the gondola up to Ebenalp and fly past the world famous mountain restaurant Äscher and enjoy the view of the Seealpsee. The flight ends in Wasserauen next to the valley station of the mountain railroad
Paragliding Toggenburg: From the mountain station Chäserrugg it is only a 15 min walk to the starting point on the Hinterrugg. Here you can start a magnificent paragliding flight with a view of the Churfirsten, a mountain range in Toggenburg. Passenger flights are also offered for disabled people who are bound to a wheelchair
(Photo: MySwitzerland)
(Photo: MySwitzerland)
Paragliding Davos Klosters
Besides snow sports, this area is a very popular hotspot for paragliding in Davos. And this is true at any time of the year.
During a paragliding flight in Parsenn you will look at the snow mountains lying in the sun as well as at the dark Davos forests
In the winter sports area Parsenn you also have the possibility to start from the Gotschnagrat. From an altitude of 1000 m you can enjoy the breathtaking alpine landscape of this region in Graubünden over a flight time of 15 to 35 minutes
And finally, you take to the air at Jakobshorn for joy. Probably this launch site is so popular among paraglider pilots because the upwind blows here a bit stronger and more constant than elsewhere. In addition to the good thermal conditions, the flight over magnificent peaks and forests is thrilling
Paragliding Zurich
In the beautiful surroundings of Zurich, paragliding over the Uetliberg is a first-class experience. If you like, and weather conditions permit, you can fly into the sunset on a summer evening. Also, at your request, particularly rapid maneuvers are conceivable – of course under the care of an experienced paraglider pilot.
Paragliding in winter (Photo: MySwitzerland)
(Photo: MySwitzerland)
Paragliding Valais
The Aletsch Arena promises boundless freedom in the middle of a UNESCO World Heritage Site. In this area, Kühboden is a mecca for paragliders and delta pilots. Fiescheralp, Bettmeralp and Riederalp are famous for paragliding. They are located on the southern saddle of the Aletsch Glacier and are ideal for a scenic flight.
Finally, Zermatt attracts with a breathtaking view of the Matterhorn and the surrounding four-thousand-meter peaks. Numerous passenger flights are offered, which let you experience Zermatt and the region with 38 fantastic peaks with over 4000 m height from the bird's eye perspective
Paragliding for children
In the Aletsch Arena, children as young as four can take part in the flight spectacle. These are exclusively tandem flights with an experienced pilot. The little passengers love to have a bird's eye view of the houses, streets and hiking trails. With quick steps the tandem pilot rushes down the slope. The wind reaches under the sails and the paraglider silently takes off: children's hearts beat faster
Many providers specify a minimum age. As a rule, however, the little sky stormers can be taken along. For children from about seven years, a tandem flight is possible in most cases, but there must be a permission of the custodian. In addition, it should be really clear that the child also wants to carry out the flight, since there is no turning back in the air
Depending on the organizer, children between the ages of 3 and 15 are allowed to participate in a tandem children's paragliding flight. The minimum weight varies between 15 to 25 kg. A normal mental and physical condition is required.
(Photo: Flugtaxi Switzerland)
(Photo: Flugtaxi Switzerland)
Paragliding safety
Professionalism and safety are guaranteed in paragliding. Without exception, all pilots are certified by the Swiss Hang Gliding Association SHV. They possess the hang gliding certificate, which confirms their skills. Pilots who are allowed to perform tandem flights go through an additional, strict examination
There are also very strict regulations for paragliders. All parts of the paraglider must be able to withstand at least an eightfold load. In addition, every paraglider is equipped with a rescue parachute that is pulled in case of emergency.
Equipment for paragliding
Good mountain equipment is in principle also suitable for paragliding. Personal equipment is chosen to serve both functions. First and foremost, it must be safe, packable in small pieces and suitably light.
Sturdy shoes, long trousers and a windbreaker are a must In summer, good, ankle-high shoes, a light windbreaker or a sweater are recommended. In winter, good, ankle-high shoes and a warm jacket and pants are also important. Not to be forgotten are the gloves. For a ski start, skis and a ski suit are needed, of course. Light equipment fits well in a large alpine backpack and weighs less than 10 kg
Paragliding equipment should meet safety standards. Helmet, reserve parachute and protector are always included
Source https://olliechinny.com/paragliding-interlaken-switzerland/
Source https://traveltriangle.com/blog/paragliding-in-switzerland/
Source https://www.swissactivities.com/en-ch/paragliding-switzerland-ultimate-guide/