Hawaii in December: How to Spend Christmas in Hawaii with Kids
We know it can be hard to plan a trip to Hawaii with kids, but we have all the information you need.
You'll find everything from Santa Claus sightings to festive parades and holiday events that will make your December unforgettable. And don't forget about New Year's Eve. There are tons of ways for adults and children alike to ring in 2022 while celebrating together as a family!
We've got everything you need so that this will be one of the most memorable Christmases ever!
You deserve an unforgettable holiday season with your loved ones. And if you want some tropical weather while doing it – then head over here! With our help, you'll have everything planned out in no time at all.
So what are you waiting for? Get started now!
Want to skip all the planning and just access my detailed Hawaii Itineraries complete with daily schedules, kid-friendly activities, and travel hacks? Click the button below.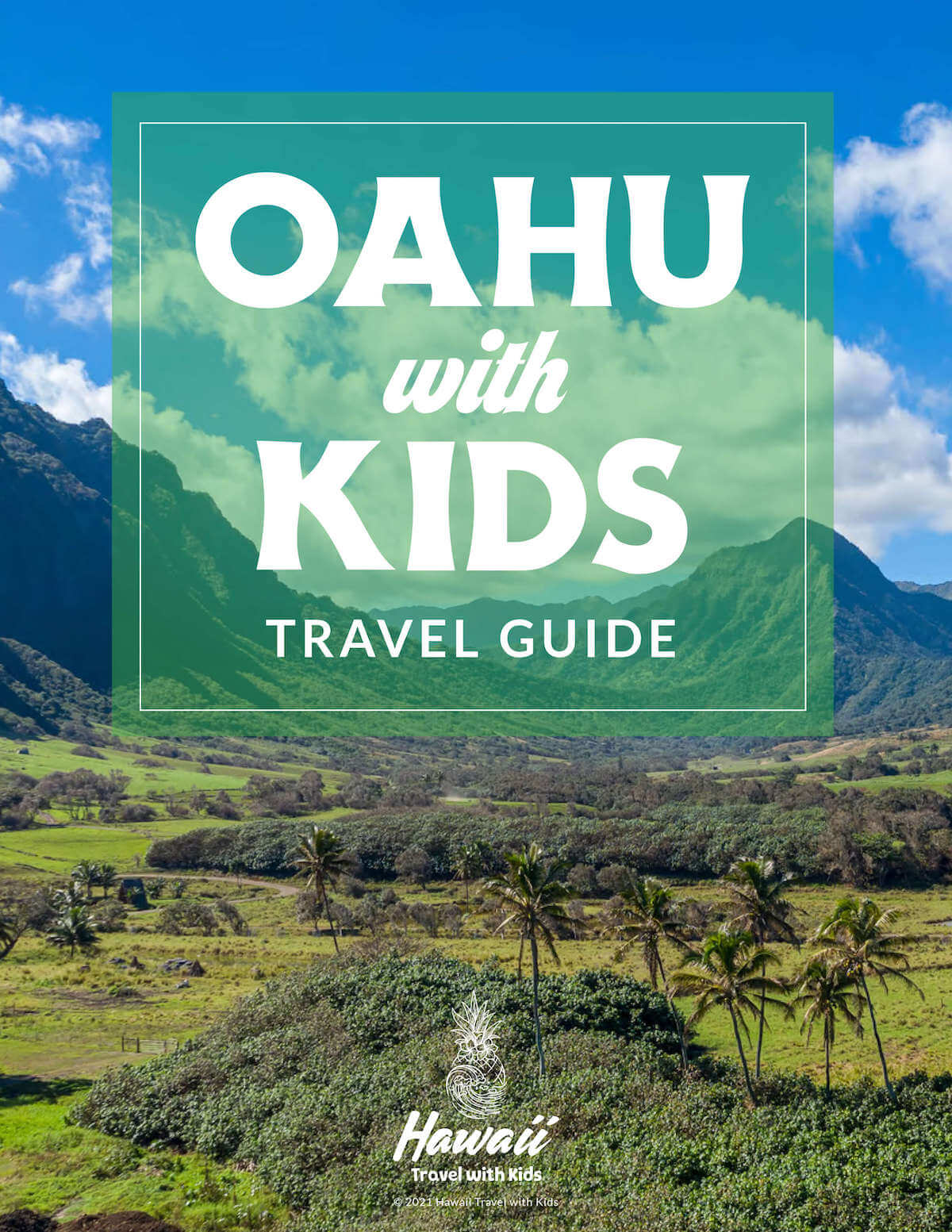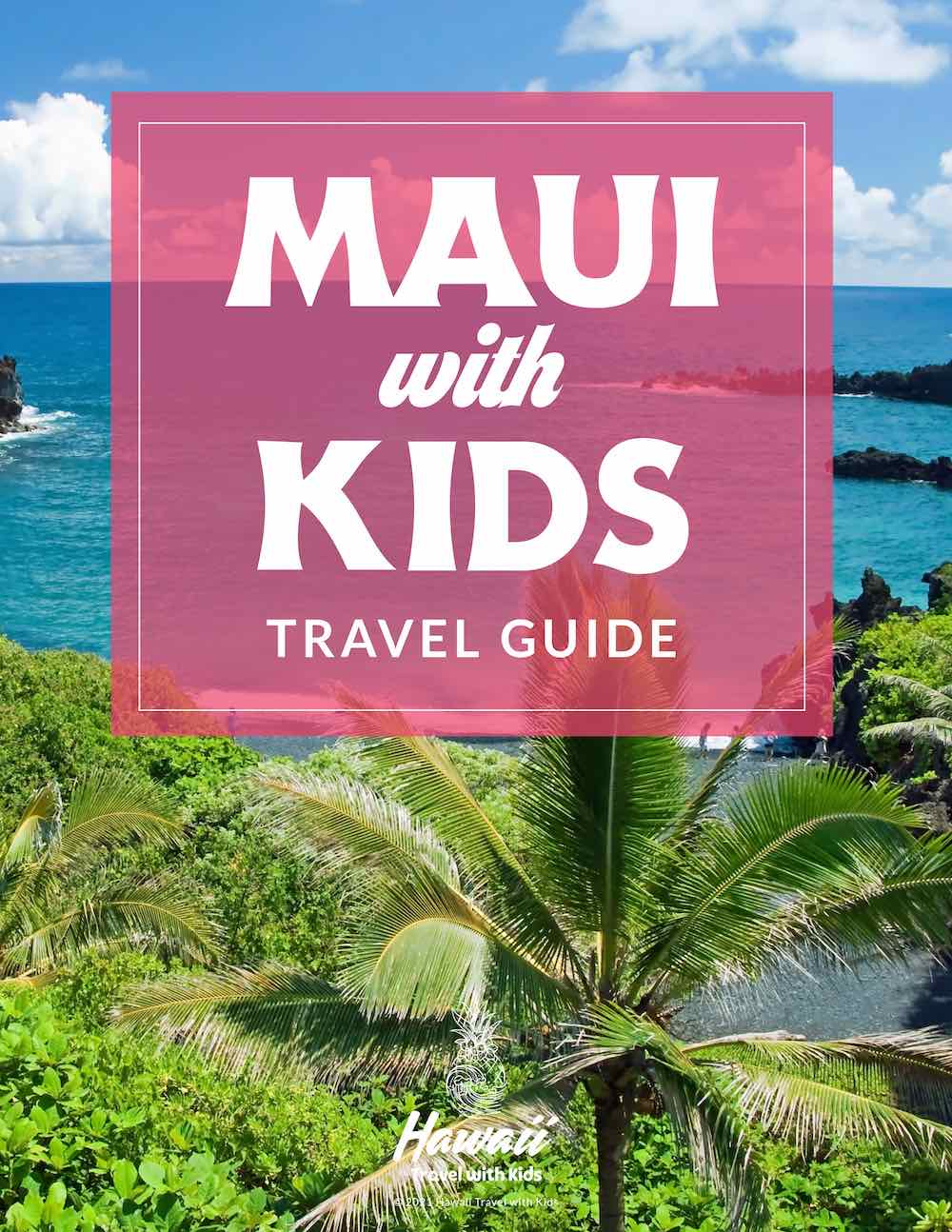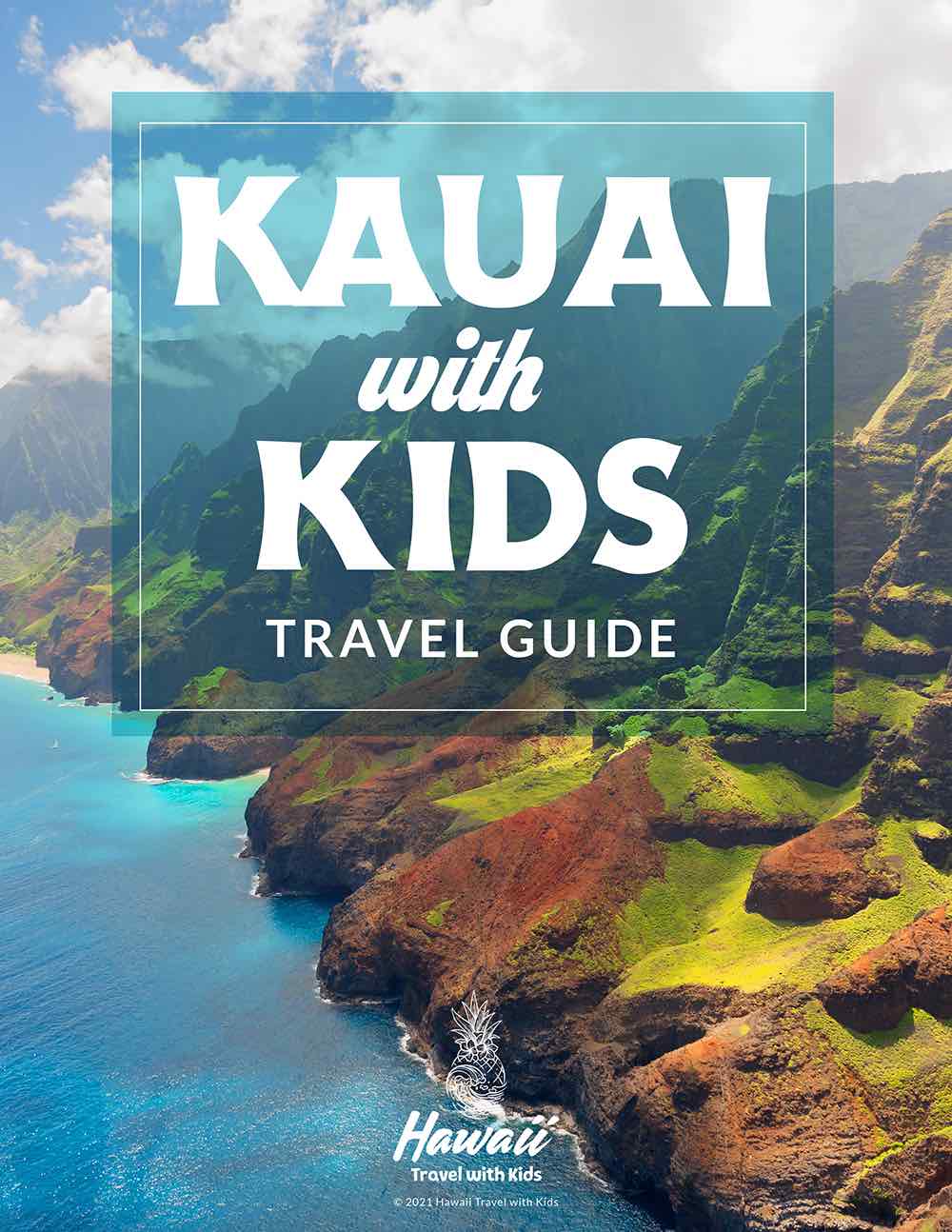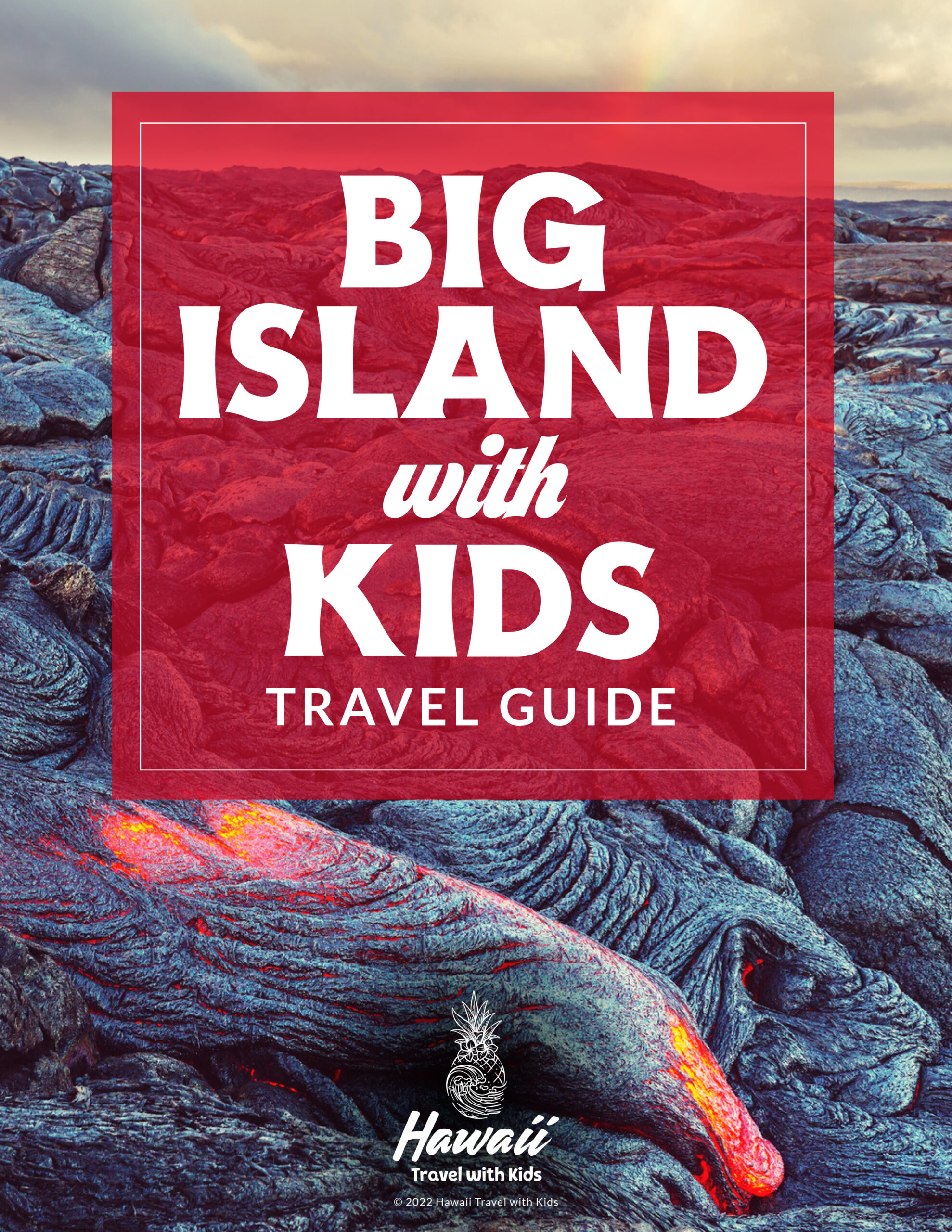 Hawaii Christmas FAQs
Yes! While traditional Christmas trees (like pine trees and Noble firs) don't grow in Hawaii, they are actually shipped to the islands each holiday season. You'll mostly see these in hotel lobbies or in shopping areas. Additionally, you'll also see a lot of palm trees with tropical decor!
Absolutely! While Santa is known for vacationing in Hawaii during his off-season, he also makes a special arrival in Hawaii. He comes by outrigger canoe! There are a few places for Santa meet & greets and photos on most of the islands.
If you're heading to Hawaii in December, you'll definitely hear Hawaiian Christmas carols in stores and restaurants. Bing Crosby's Mele Kalikimaka is by far the most famous. Willie K's version of O Holy Night is another good one. And you'll definitely want to hear the local favorite Numbah One Day of Christmas.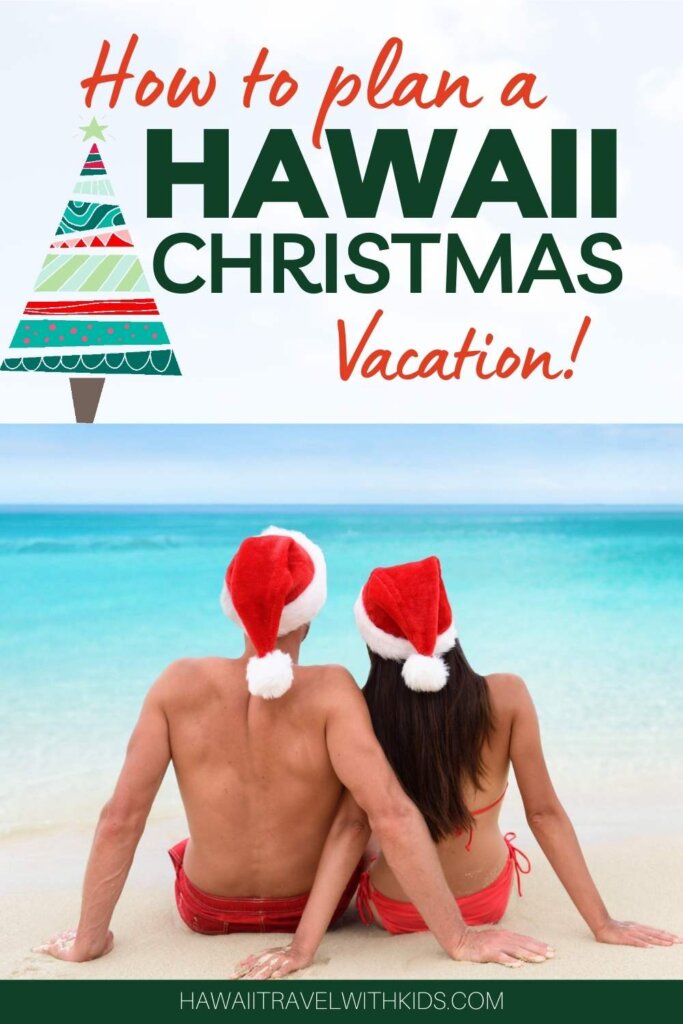 What To Expect While Vacationing in Hawaii In Late December
The Christmas spirit is alive and well in Hawaii in December, you will still see lights, decorations, and Christmas trees. The island climate and activities will also still be in full swing, so you can enjoy a bit of everything on your holiday vacation.
What's the weather like in Hawaii in December?
The December months are temperate and offer ranges from 70 to mid-80 degrees Fahrenheit in the winter months. This is usually pretty comfortable for getting out and exploring the islands.
The temperature is still great for swimming and going to the beach, but it will get chilly in the evenings. It can also sometimes rain a bit, so it's a good idea to pack a light jacket. Check out my full Christmas packing list for Hawaii HERE.
While there will be no snow in mass quantities, the high peaks of Mauna Kea and Haleakala Crater can be snow-covered. This is a pretty amazing thing to see.
If you are looking to go surfing in Hawaii, you'll definitely want to check the surf report. North Shore waves can be pretty intense, so it's best to sign up for surfing lessons if you're a beginner.
Is December a crowded time to visit Hawaii?
It is important to remember that the Christmas and New Year's holidays are a busy time in Hawaii, with many travelers, so be prepared for some crowds if your visit will be towards the end of the month.
If you're looking for fewer crowds, a good time to visit would be the beginning of December, before the holiday rush.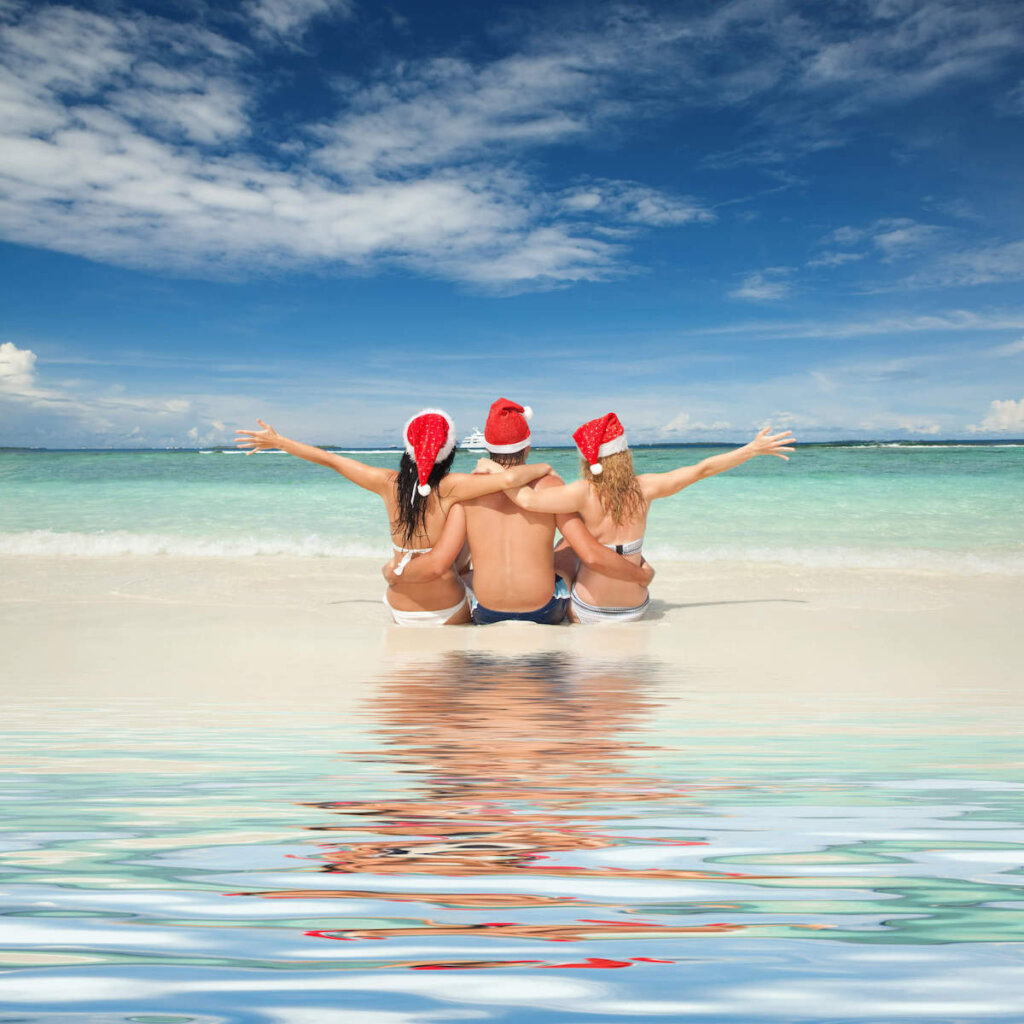 What's There to Do In Hawaii During Christmas With Kids
There are many fun activities offered in Hawaii during Christmas. You and your family can spend time at the beach, go skiing, or even enjoy many different Christmas events that are held on the islands.
Fun Christmas Events In Hawaii For Families
Big Island Christmas Parades
The Big Island is very big on Christmas celebrations and there are many parades hosted throughout the island. The Keaau Christmas Parade is a popular option for visitors and offers carolers, performances, and parade floats.
Another option is the Pahoa Christmas Parade which also includes floats, singers, performers, and even an appearance from Santa!
This attraction is more for early birds as it starts earlier in the morning. At night, Pahoa village is also decorated with lights and decorations for those who may not get up early enough for the parade but still want to enjoy the holiday festivities.
Mauna Kea Snow Adventures
Hawaii is not known for its snow, but the same can't be said for the high peaks of Mauna Kea.
Every winter the volcanoes of Hawaii are covered with snow and those interested in experiencing it can drive up the mountain and take in the snow, make snowballs, or even snowboard or ski if you'd like to.
Skiing and snowboarding on the volcano are not advised for young children as the weather and terrain are unpredictable. However, there is an observatory where you may be able to stargaze on clear nights.
Here's a cool Mauna Kea stargazing tour that looks amazing!
Honolulu City Lights
Another exciting celebration is Honolulu City Lights. This Oahu Christmas event features a 50ft Christmas tree decorated with island décor and lights.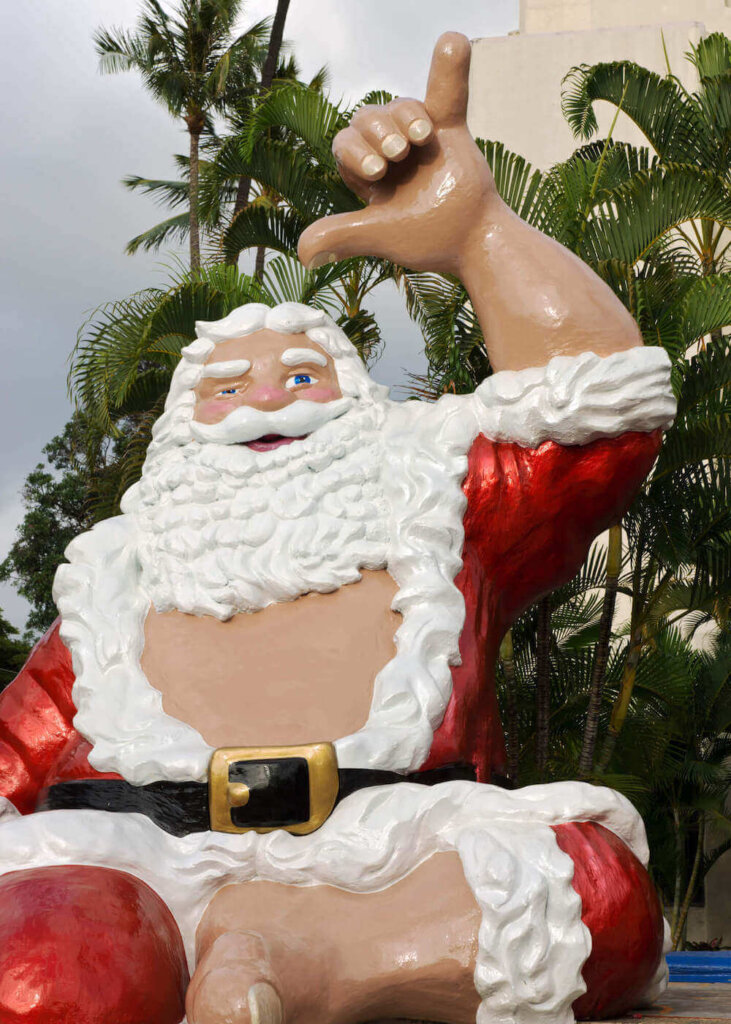 Shaka Santa at Honolulu City Lights
This Hawaii Christmas event is sure to give your children a magical experience. It also features a giant island Santa and Mrs. Claus for you to take pictures with.
There are actually a bunch of events on Oahu associated with Honolulu City Lights, including outdoor movies, displays, etc.
Santa's Arrival
The most unique experience to have with your children on a Hawaiian Christmas vacation is Santa's Island arrival. It's not Christmas in Hawaii until you've seen Hawaiian Santa!
While this experience can be found on several different islands and in several different cities, the most well-known occur at the Grand Wailea Resort on Maui and at the Outrigger Hotel on Waikiki Beach.
For this tropical Hawaiian Christmas tradition, Santa arrives at the beach on an outrigger canoe. From there you can take pictures with him, and witness him reading off his nice list!
Kauai Festival of Lights
The county of Kauai hosts an annual Festival of Lights, which is perfect for families. This is a park decorated fully with Christmas lights and decorations, so you and your family can walk through and enjoy the scenery.
This Kauai Christmas event also offers indoor setups for decorations and you can meet with Mr. and Mrs. Claus.
Things To Do On Christmas Eve & Christmas Day When Everywhere is Closed
Whale Watching
During the months of November to mid-April, there are active whale migrations that you can observe.
Depending on your location, several companies offer whale watching tours on Christmas Eve and Christmas Day.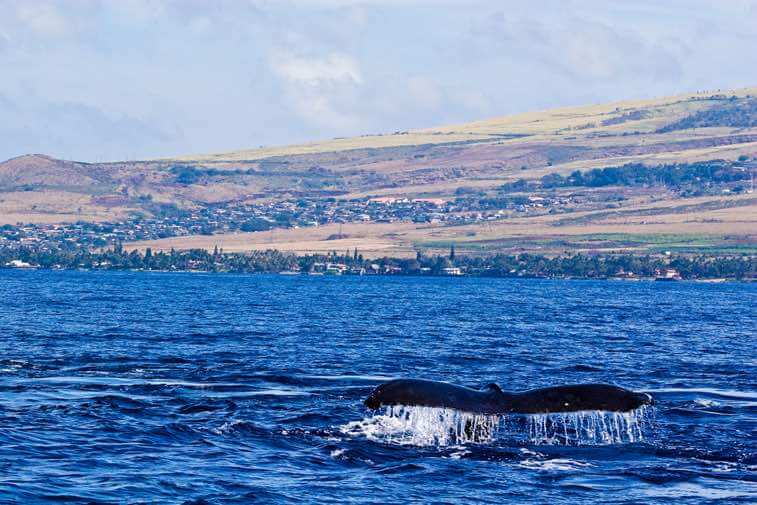 Photo credit: Hawaii Tourism Authority (HTA) / Tor Johnson
Maui is a popular spot for Christmas Day whale watching, this company even offers a Christmas dinner cruise where you can watch the whales while you eat.
I've got full guides to whale watching on Maui and Kauai that include whale watching tours if you're looking to book out around Christmas.
Chinatown Winter Walk
Honolulu has a beautiful city, and their Chinatown is also a spectacle of Christmas cheer during the month of December.
The Chinatown Winter Walk is a self-guided walk-through of Chinatown's shopping district where shopkeepers compete to have the best window display. It is available to the public on Christmas Eve and Christmas Day.
National Parks and Beaches
If you and your family want to get out and do something active then you can enjoy any of the Hawaii National Parks at any time of the year! That means Christmas Eve and Christmas Day.
You can also visit any of the public beaches if you want to build sandmen and take a dip in the ocean.
Christmas Cruise from Lahaina
If you're spending Christmas in Maui, this is a fun Maui brunch or dinner cruise. You'll get to enjoy delicious food at a private table while gazing out at the stunning view of West Maui.
There's also live Hawaiian music to get you in the spirit!
Magical Christmas at Rock-A-Hula
If you're looking for a fun Waikiki Christmas event, you might book tickets for the Magical Christmas at Rock-a-Hula. It's a dinner show that's fun for your whole family!
Attend a Christmas Luau
Another way to make Christmas Day in Hawaii a bit more fun is to attend a luau. I did a quick search and found that the following Hawaii luaus are hosting Christmas luaus for 2021:
Oahu Christmas Luaus
Maui Christmas Luaus
Drums of the Pacific Luau at Hyatt Regency Maui
Big Island Christmas Luaus
Hawaii Loa Kohala Luau at the Fairmont Orchid Hotel
Best Restaurants To Eat Christmas Dinner At On December 25th
One of the things I've noticed over the years when traveling to Hawaii for Christmas is that it can be tricky to find somewhere to eat. Here are a few places that are open on Christmas Day that are worth making a reservation for.
Ruth's Chris Steakhouse
This popular steakhouse is available on a few different islands and they are open to serve you Christmas Day. Find Ruth's Chris Steakhouse Hawaii locations HERE.
Deck. Restaurant
A Waikiki restaurant that boasts a four-course meal and holiday dessert tasting, this is a great option for the whole family if you all want to sit down and enjoy a nice meal together.
The best part is the cuisine is Hawaiian so you can further immerse yourself into your tropical vacation. Find out more information HERE.
Duke's or Hula Grill
Another place to eat dinner in Hawaii on Christmas Day is Duke's. They have locations in Waikiki, Maui, and Kauai.
Their sister restaurant Hula Grill is another good choice. They have locations in Waikiki and Maui.
Hotel Restaurants
If you are having trouble locating a restaurant, then you can be comforted by the fact that all hotel restaurants will be open and available on Christmas Day.
You just might want to make a reservation a few weeks ahead of time if you're planning on eating out because the accommodations are usually crowded.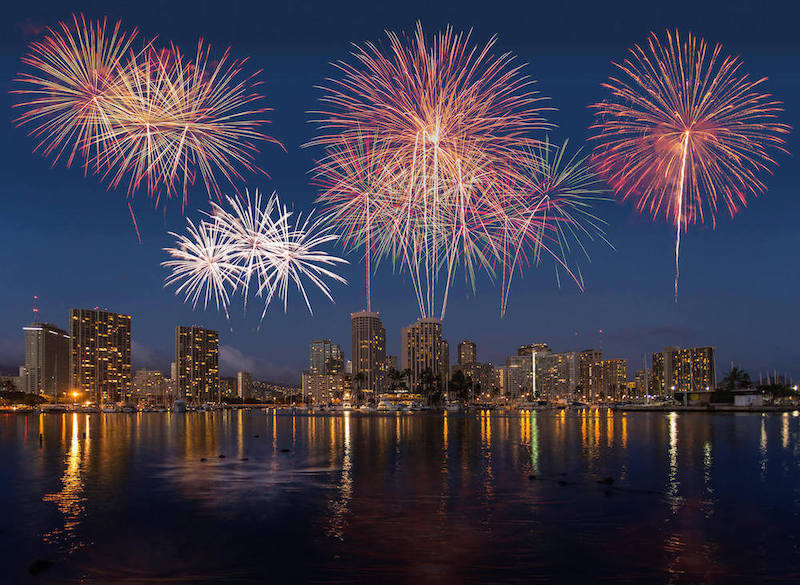 New Year's Eve in Honolulu
Fun New Year's Eve Events For Adults & Kids
Poʻipū Beach Park on Kauai
This beach celebration offers traditional fireworks displays that the whole family will enjoy. This event also hosts an outdoor movie and has a selection of food trucks so you and your family can have a fun celebration without leaving the beach to search for food and entertainment.
Hawaii Dinner Cruises
Another popular option to celebrate the New Year in Hawaii is a dinner cruise. There are many different companies and areas that offer these but they usually allow for a beautiful view of fireworks while drifting out to sea.
They also provide spectacular dinner options, with the option for alcoholic drinks, or not, if you are enjoying the time with your children.
Oahu Dinner Cruises Open New Year's Eve
Star of Honolulu New Year's Eve Midnight Celebration Dinner Cruise
Moana Waikiki Sunset Dinner & BYOB Cocktail Sail
Paradise Waikiki Sunset Cocktail Cruise with BBQ Dinner
Maui Dinner Cruises Open New Year's Eve
Ocean Quest Lahaina Sunset Cruise – Four Course Dinner & Cocktails
Maui Princess Lahaina Sunset Dinner Cruise
Alii Nui Royal Feast Maui Sunset Dinner Cruise with Open Bar
Calypso Maui Sunset Dinner Cruise & Island Music from Maalaea Harbor
Waikiki New Year's Fireworks
Waikiki throws a particularly awesome firework show that helps you ring in the New Year. You can see these fireworks from the beach, park, and even some hotels.
This event also hosts a party of the year at Aloha Marketplace Tower, showcasing DJs and live performances.
Fukubukuro at Ala Moana Center
One of the best New Year's Day events is Fukubukuro. This is a Japanese New Year event where people pay for mystery bags at stores throughout the mall. You pay a discounted price for a grab bag.
We did this many years ago and it's one of my favorite shopping memories!
How To Handle Santa & Presents While In Hawaii For Christmas With Kids
We talked about the Hawaiian way of Santa's arrival above, so it only makes sense that he would know your kids are in Hawaii instead of at their house!
To make it truly feel like Christmas you should still decorate your vacation home or hotel room and bring along a few of your family's presents.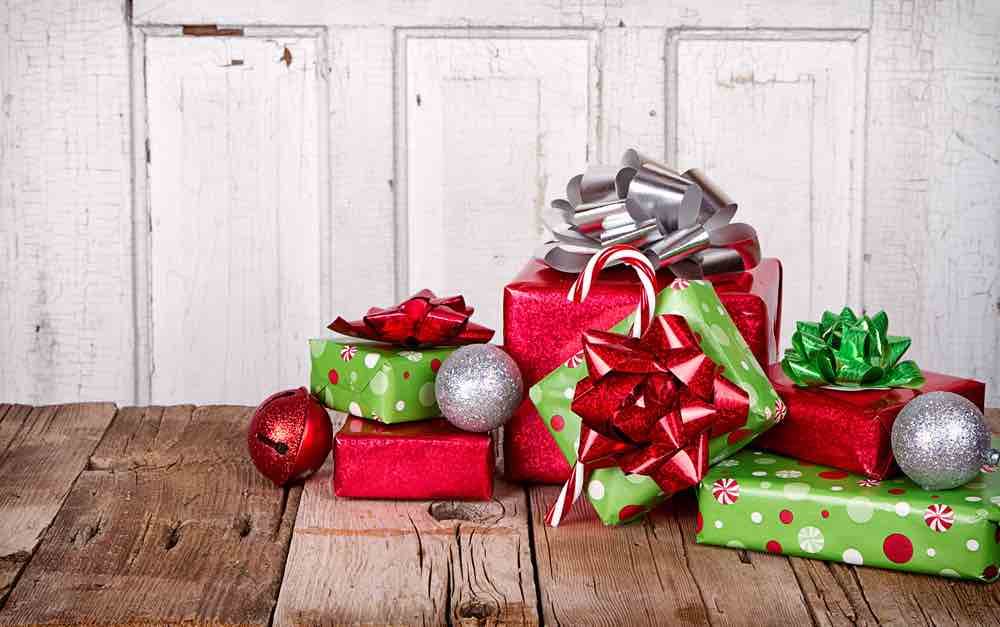 Christmas Presents and Ornaments on Wooden Background
While traveling with presents may be difficult if you have bought your children large gifts, it may be best to plan for smaller or minimal gifts when you know you will be traveling for the holidays.
In the past, we've saved the larger gifts for our kids to open once we got back home. These are usually big LEGO sets and things I know our kids would want to play with as soon as they open.
For older kids, you can give them cash/gift cards to go shopping in Hawaii. Or you can do experience gifts where each kid gets to pick an activity, like going ziplining or swimming with dolphins.
Decorating For Christmas While in Hawaii
When it comes to decorating for the holiday while in your vacation home, you should use local styles, such as beautiful Hawaiian flowers and minimalistic lights on your tree and house.
The Christmas poinsettia is also in full bloom during this time on the islands, which is perfect for decorations.
When it comes to a tree, it is quite impractical to pack a fake tree to travel with so it is a better option to try and find something once you arrive.
I've seen people hang little ornaments on the leaves of a pineapple. Or they get a mini tree from Target to put somewhere in their hotel room.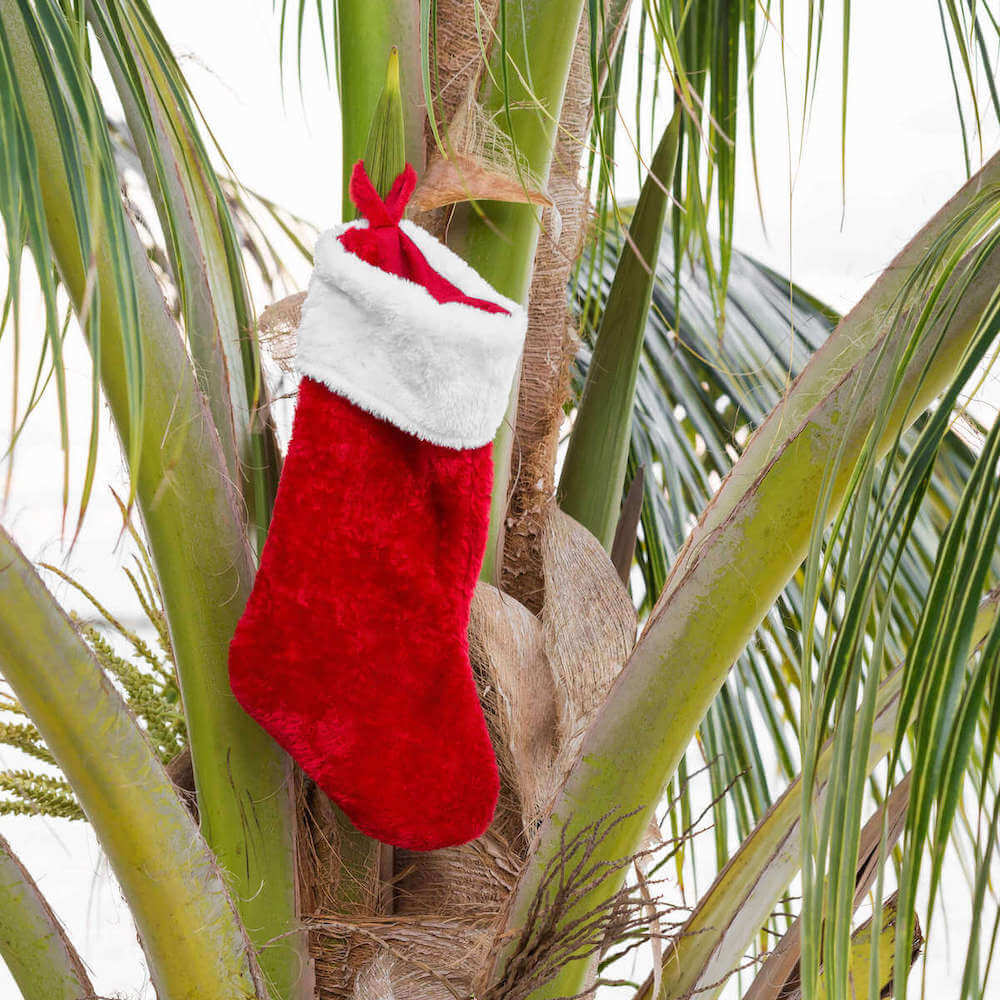 If your family has a tradition of hanging stockings, it would be fairly easy to pack these and hang them for the holidays in your vacation home.
If you have younger children you want to maintain the "magic of Christmas" even during your vacation. So if you have any family traditions for Christmas, try to find ways to incorporate them.
To Bring the Elf or Not To Bring the Elf, That is the Question
The Elf on the Shelf is a very popular tradition for younger children and you may be wondering if you should bring it with you on your vacation.
If you have younger children who are invested in this tradition, then you should absolutely bring it!
Even though you are on vacation, you still want your children to enjoy the Christmas magic, and don't want to feel as if they have confused Santa or their elf by going to Hawaii for the holidays.
It is also fun and exciting to watch their faces as they find their holiday friend around their temporary holiday home. You can even have your elf wear a little Aloha shirt or a hula skirt to really go all out!
Christmas in Hawaii Is a Magical Time That Is Sure To Bring Joy to the Whole Family
Christmas is a great time to visit Hawaii. There are so many things you can do during this festive season!
We've compiled just some of the best activities and events on our list above, but there are plenty more options for your December holiday in paradise.
Christmas in Hawaii is a unique experience that allows your family to experience another culture while also bringing some of your personal traditions along.
Whatever way you celebrate you and your family will have an amazing time together by enjoying these celebrations.
And if you want to keep the magic going year after year, check out these adorable Hawaiian Christmas ornaments and decorations to add a little Mele Kalikimaka to your holiday spirit!
Looking for more things to do in Hawaii in December? Find out where to see Christmas lights in Hawaii, where to see the Nutcracker in Hawaii, the best Waikiki Christmas activities, and read our full guides to whale watching on Maui and Kauai!
Aloha! I'm Marcie Cheung, a wanderlust mom of two and a professional hula dancer. I've visited Hawaii MORE THAN 35 TIMES. Join me to get all my Hawaii tips, tricks, and all things Hawaiiana.
Hawaii in December: The Best and Cheapest Hawaiian Island for Christmas
Disclosure: This post may contain affiliate links, meaning if you decide to make a purchase through my links we may earn a commission at no additional cost to you. Read about our affiliate policies here.
Share with your friends!
Sleigh bells aren't jingling but swaying palms and ocean waves will be music to your ears during your Hawaii Christmas vacation.
The best Hawaiian island to visit for Christmas is Oahu. Oahu is the cheapest Hawaiian destination in December, the least busy, and has the most Christmas events. Prepare to pay $7,200 to $10,000 for a family of four for a Hawaii Christmas vacation. But the ocean will be warm and the sun will be shining for Christmas.
After being on Oahu, Maui, and the Island of Hawai'i for numerous Christmas and NYEs as a resident and a tourist, let me help you plan your perfect Hawaii Christmas vacation.
From what a Christmas vacation to Hawaii costs (including ways to save) to Christmas events across the Hawaiian islands, this is your place to plan your Hawaii Christmas vacation.
Planning Your Hawaii Christmas Vacation
Mele Kalikimaka to you and your family. I swear it isn't cheesy when you hear Mele Kalikimaka and other Christmas songs in Hawaii. A palm tree with Christmas lights in Hawaii is just as good as the famous Corona Christmas ad makes you feel.
You are already convinced a Hawaii Christmas vacation is what you, your partner, and your kids need right now.
Hawaii is a popular destination for the Christmas holidays. It is one of the busiest times on the islands and hotel rates skyrocket. There are ways to save money on accommodations and the island you visit so let me give you some insights. Insights supported with data as I do get biased at times to my home island of Maui.
The Best Hawaiian Island to Visit in the Winter
Things to Do in Hawaii During Christmas
Is Maui in December a Good Time to Go?
Is Hawaii Expensive at Christmas?
Hawaii is expensive at Christmas. Hotels, vacation rentals, rental car companies, and flights are at a premium during this busy time of year in Hawaii. For example, hotel average daily rates were 24% or $69 higher than the yearly average during Christmas (source: Hawaii Tourism Authority. ) in 2020.
Rental car and hotel rates spike around the holiday as occupancy rates near 85%. That doesn't mean you have to panic.
To save money on your Hawaii Christmas vacation , I recommend the following ways to save. I'll provide more details below on these methods.
Stay in a vacation rental like Airbnb or Vrbo
Book airline tickets as early as possible. Southwest opens up tickets 6-months in advance, reserve then.
Visit Oahu as the cheapest Hawaiian island during Christmas
See free Christmas pageants, parades, and hula performances during your Hawaii Christmas vacation
Hawaii is expensive at Christmas but it doesn't have to be a killer on your wallet.
Oahu Wayfinder Itinerary
Maui Itineraries
Kauai Wayfinder Itinerary
Big Island Wayfinder Itinerary
Cost of a Hawaii Christmas Vacation
We are getting good at researching the cost of a Hawaii vacation as we look at each island and time of year with our articles. To determine which island is the cheapest during the Christmas period we looked at three different costs: airfare, lodging (hotels and vacation rentals), and rental car.
Using these averages, we calculated the cost for a family of four to each island from December 23rd to January 2nd, a 10-day Hawaii Christmas itinerary.
I'd expect the novel coronavirus will continue to impact the Hawaii tourism industry. Hotel and vacation rental occupancy rates will be down compared to 2019 and rates will be lower than in 2019.
We use 2019 accommodations price data for our cost estimate. Prices have increased about 20 to 30 percent.
The green boxes in the tables highlight the cheapest option.
Here is what we found about how expensive Hawaii is at Christmas.
Airfare to Hawaii at Christmas
We already spilled the beans that Oahu is the cheapest island to visit during Christmas. But, Oahu has the 3rd most expensive flight to Hawaii.
Using Skyscanner, we found the average, low-cost round-trip fare from LAX to each island. We could not check Southwest as Southwest only allows reservations six months in advance.
We found the cheapest island to fly to is Kauai for Christmas. Maui is a very close second-cheapest. But let's face it, it is a push as they are all close.
Ticket price for one adult, roundtrip over Christmas and New Year's.
Kauai (LIH): $900
Maui (OGG): $909
Oahu (HNL): $918
Big Island (KOA): $930
Note, these Hawaii Christmas tickets are more than double the average roundtrip ticket cost during the year to Hawaii.
Airlines have slashed prices and routes to Hawaii due to the virus but flights for Christmas are near the averages from 2019 still. So check ticket prices with the changing tourist industry due to the virus as December approaches.
Christmas Accommodations in Hawaii
Your accommodations during your Hawaii Christmas vacation will be your biggest expense.
Luckily, there are plenty of options – hotels, vacation rentals, and timeshares – but budget accommodations are few and far between.
To get the average rate, we used data from the Hawaii Tourism Authority, which tracks average daily rates for hotels, vacation rentals, and timeshares.
Fun (expensive) fact on Hawaii: Hawaii hotels are the most expensive in America. The average hotel daily rate was $283 in Hawaii followed by New York at $255 and San Francisco at $251 in 2019. In the world, the Hawaiian islands are five out of the eight most expensive sun and sea destinations.
That is why we recommend you stay in a Hawaii vacation rental during your Christmas vacation. As the data from 2019 below shows, you can save a considerable amount on your Christmas holiday.
Basically, when it comes to accommodations at Christmas, the Big Island and Oahu are very close. Vacation rentals are slightly less expensive on the Big Island and hotels are slightly less expensive on Oahu.
Maui and Kauai proudly put themselves in the most expensive category.
To get real thrifty, consider camping or glamping. Maui has the best and safest camping option on the Hawaiian islands at Camp Olowalu. Check out the article (with a video) below for details.
Costs are for a midsize car with a major national brand, like Budget, Avis, or National.
This is where the big island makes a bit of a leap in cost, ahead of Oahu.
Check out our video below for more information on a Hawaii Christmas vacation.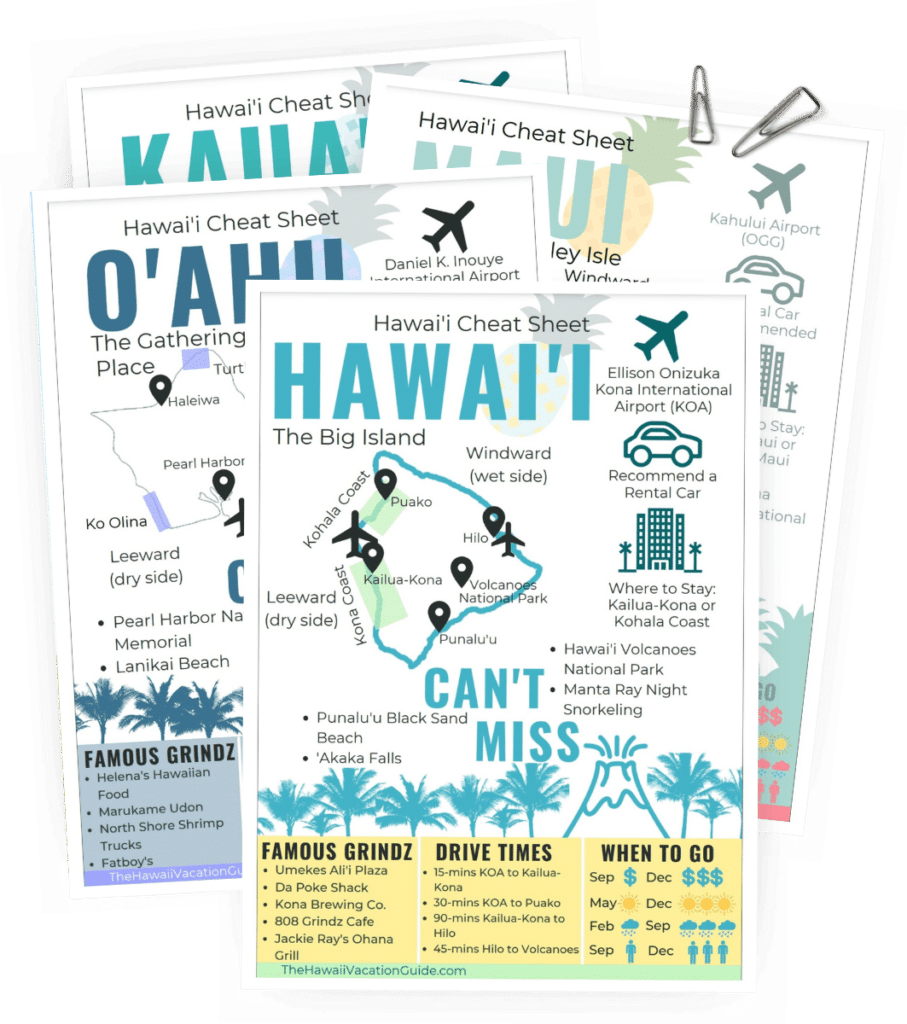 Free Download!
Hawaiian Island Cheat Sheets
Sign up & we'll send you our island cheat sheets so you can get to know the islands like the back of your hand!
We'll share 4 can't-miss activities on each island, a map with the main sights in town, & famous local grindz (eats)!
This is the Best Hawaiian Island to Visit in the Winter
Disclosure: This post may contain affiliate links, meaning if you decide to make a purchase through my links we may earn a commission at no additional cost to you. Read about our affiliate policies here.
Share with your friends!
Winter weather on the mainland can leave you dreaming of a beach vacation. If you're ready to escape the cold, snowy months and head to Hawaii you might wonder what the best Hawaiian island to visit is. While they are all probably warmer and sunnier than where you live, the islands all have different climates and weather patterns you should know.
The best Hawaiian island to visit in the winter is Maui. In the winter on Maui, you'll find little rain, relatively calm ocean conditions, and great whale watching.
But there's more to it than that. Read on to learn more about what you can expect when you visit each island in the winter.
The Best Hawaiian Island To Visit in the Winter: Maui
If you're looking for an amazing winter vacation in Hawaii, your best bet is to head to Maui. There are three very good reasons why:
1. Weather
If you're staying on the western side ( Lahaina or Ka'anapali ) or the South Shore (Kihei or Wailea), you will probably have pretty good weather. While it's not all sunshine all the time, as you can see from the charts below, you have the least amount of rainfall on average in Kihei.
2. Ocean conditions
You most likely are excited to get into the water on your vacation (yes, the ocean is still warm here!) and you're most likely to encounter calm conditions on Maui, specifically in Ka'anapali and Wailea. While the ocean can still get rough and Maui does get it's fair share of winter swells, there are a number of days when winter swimming is calm and clear.
Want to know where to snorkel in the winter? Here are the best snorkeling spots on all the islands by month.
3. Whale watching
Each year, approximately 12,000 humpback whales migrate down from Alaska to give birth and mate in the warm waters of Hawaii. And while you can see whales from any island, you have the best chance of seeing whales on Maui. That's because they love the shallow waters of the 'Au'au Channel.
Don't miss our complete guide to whale watching on Maui (with discount codes from some of our favorite tour operators!).
The biggest drawback of choosing to visit Maui in the winter is that it's the most expensive island year-round. So if you're headed to Maui, you can expect to pay more for your accommodations, rental car, and even some activities.
If you're considering a Christmas vacation to Hawaii, then go no further than our 19 tips to plan your Hawaii Christmas vacation.
Hawaii in the Winter: island by island
When you're planning a trip to Hawaii in the winter you might be curious about what to expect. While the islands can all have sun (and rain) during the winter, each one has a few differences you should know about.
What's it like to visit Oahu in the winter?
Oahu, or The Gathering Place, is the most popular island to visit year-round. According to data from the Hawaii Tourism Authority, approximately 50% of all visitors to Hawaii go to Oahu . If you're coming in the winter, don't expect to see a decrease in crowds — Oahu is a hub of activity all year.
In the winter (and year-round) you'll find the cheapest average hotel prices on Oahu. The average nightly rate is less than $300 while the average nightly rate on Maui is over $400. So you can expect to find more reasonable prices on a hotel stay for your winter vacation.
When it comes to weather, average rainfall in Waikiki (Honolulu) is pretty dry, averaging less than 2" per rain each month in the winter. You'll also see temperatures in the mid 70's, which is likely warmer than where you're visiting from.
Two of the most popular places to stay on Oahu are Waikiki and KoOlina. Those two areas are located on the leeward side and will see plenty of sunshine and dry weather. You'll also find calmer ocean conditions making it easier to get out to swim, snorkel, or take a boat ride.
But if you're hoping to head to the North Shore for some beach time, you likely won't be as lucky. Popular swimming spots like Waimea Bay are incredibly calm in the summer but will have huge winter surf and swells, making swimming there dangerous. The north shore will also get more rain and have cooler temperatures. But on the plus side, you might get lucky and be able to see the Eddie — a big wave surf competition in Waimea Bay.
And if you're coming for Christmas, you'll find the most Christmas activities on Oahu.
If you're heading to Oahu, don't miss our full Oahu guide helping you find the best places to stay, where to eat, and what to do.
Oahu Wayfinder Itinerary
Get The Oahu Itinerary
The step-by-step itinerary takes you to all the best beaches, snorkeling spots, restaurants, and sights. You'll get six carefully planned excursion days to help you see the can't miss stops no matter how limited your time is.
Get all the details on our itinerary and download it for a memorable and easily planned trip to Oahu.
What's it like to visit Maui in the winter?
Looking for your best shot at clear skies? Maui is your spot. With the smallest average rainfall in the winter (using Kihei/Wailea, a popular place to stay for measurement), you should get great beach days. Average high temperatures will still be balmy in the mid-70's, making it warm enough that you'll want to get into the water.
Just like the other islands, the windward (wet) side of the island will get more rain, especially during the winter months. But most of the resorts are located on the leeward (dry) side of the island. And you'll find that most of the south and west Maui beaches have reasonably good swimming conditions during the winter months.
But this winter beauty comes with a cost. Maui has the highest hotel per night cost of any island year-round, so expect to still pay that premium. Average nightly hotel rates during the winter months are above $400 per night.
With that hefty nightly price tag, there is one big perk: whale watching. During the winter months, approximately 12,000 humpback whales migrate from Alaska to Hawaii. While you can see humpback whales on any island, the best whale watching is on Maui.
What's it like to visit the Big Island in the winter?
The Big Island is a popular winter destination and it's easy to see why. You can enjoy some seriously warm weather during the winter months when you're staying on the Kailua-Kona side. And while Kailua-Kona does get a little rain, if you head up to the Kohala Coast, you'll find less rain.
But don't expect calm seas to match the dry conditions on the Kohala Coast. Swimming at the northern beaches is often off limits in the winter months as large swells and dangerous ocean conditions make a regular appearance.
If you're looking for another whale watching option, aside from Maui, visiting the Big Island is a great choice. You can often spot humpback whales off the Kohala Coast and there are some great tours that can bring you up close and personal with these beautiful animals.
And if you're heading to the Big Island hoping to do a night snorkel with manta rays, you're in luck. You're still able to swim with these gentle giants in the winter. But you do run a slightly higher risk of your tour being canceled due to large swells and unfavorable ocean conditions. So you can still see them but just be prepared that adverse weather might make things a little more difficult. Our Manta Ray guide gives you all the information you need to know before going on a Manta Ray night dive or snorkel, plus we list our favorite tour operators that we always use.
Our Big Island guide will give you the most important information you need to know while you're planning your trip.
What's it like to visit Kauai in the winter?
Kauai is nicknamed the Garden Isle because of its lush, beautiful landscape. But that lush landscape needs one thing: a lot of rain. And that's what you'll find on the northernmost Hawaiian island.
There are three popular places to stay on Kauai: the north shore, including Princeville and Hanalei, the east coast, called the Coconut Coast, and the south shore, which is home to the popular resort area in Poipu. Unfortunately, for winter travelers, the north shore and the east coast get a considerable amount of rain during the winter months. If you're visiting in the winter and want to try to avoid the rain, staying in Poipu will be your best option.
Our Princeville vs. Poipu article dives into the details of staying on the north shore and the south shore of Kauai.
Not only will the north shore and east coast have rain, but swimming at beaches in those areas will mostly be dangerous (large waves and currents). Luckily, Poipu and the south shore area will usually have very calm water, great for swimming and snorkeling.
Our Kauai guide will help you with everything you need to know to plan a great trip to Hawaii.
Visiting Hawaii in the Winter FAQs:
Is winter a good time to visit Hawaii?
We like to say there is never a truly terrible time to visit Hawaii. Winter can be a great time to visit, but just know what to expect. You might encounter more rain, cooler temperatures, and ocean conditions that aren't great for snorkeling and swimming. But chances are that Hawaii is warmer in the winter than wherever you're traveling from, so head to Hawaii and enjoy some sun!
Which Hawaiian island has the best weather in the winter?
All of the islands offer fairly mild winter weather on their leeward side. But if you're hoping to see the most sun, Maui is the best island for you. If you're heading for the hottest temperatures, the Big Island has the winter weather you're looking for.
What is the coldest month in Hawaii?
On all of the islands, February is the coldest month. But it's not too cold — average high temperatures range from 81 degrees in Kailua-Kona (Big Island) to 73 degrees in Poipu (Kauai).
Make Your Trip Planning So Much Easier
If you're planning a trip to Hawaii, we've got you covered. Our island itineraries help you navigate the planning process and make your trip smooth once you're on-island. Thousands of customers have loved them, whether they were planning for a trip that was a year away or a trip that was a day away.
"This is not a question but simply a "thank you". Our original European vacation plans fell through last minute. So we had 2 weeks to plan something else…your Vacation Guide was a LIFE SAVER. We had no idea how to begin planning, which island, where to stay, what to do. Your honest reviews of the islands led us to Maui for 8 days….Mahalo. You guys are awesome!!" – Eva M.
Source https://hawaiitravelwithkids.com/hawaii-december-how-to-spend-christmas-kids/
Source https://thehawaiivacationguide.com/hawaii-christmas-vacation/
Source https://thehawaiivacationguide.com/this-is-the-best-hawaiian-island-to-visit-in-the-winter/