5 Spots To Try Paragliding In Manali To Taste The Thrill And Thunder All At Once In 2022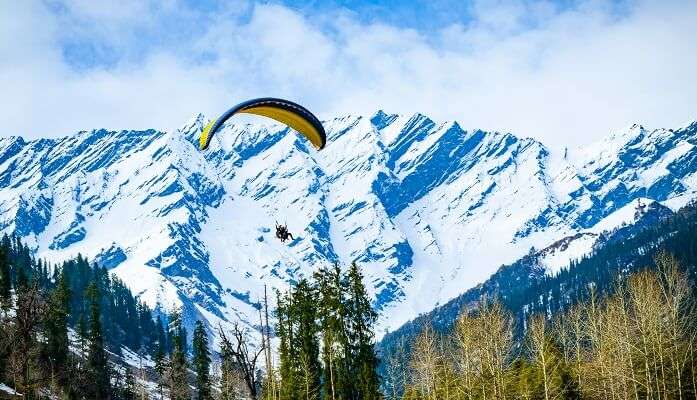 If you are excited at the slightest mention of adventure and keep looking out for activities to try then paragliding in Manali is for you. Located in the Kullu district of the northern state of Himachal Pradesh, Manali offers a breathtaking view of the snow-clad mountains of Pir Panjal and Dhauladhar ranges of the Himalayas. Forests with tall pine and eucalyptus trees, gushing streams and meadows with rich coloured flowers greet a traveller on reaching the small town of Manali.
Manali is also an adventurer's paradise. Offering the gliders a scenic view and clean atmosphere in their glide from 2050 metres above sea level. Trekkers and hikers also visit Manali across the year to enjoy their stint through the Beas Kund trek and Bhrigu Lake Trek. Manali is the starting point of an early trade route to Ladakh that connected to the Tarim Basin through the Karakoram Pass.
The town also attracts historians who come to visit the Naggar castle. Manali serves as a haven for photographers too! Solang Valley, another picturesque town near Manali also offers a number of adventure activities like zorbing and horse-riding. It is also a well-known skiing destination for adventure lovers. But that is all about what Manali offers. However, paragliding in Manali is a completely different experience and something you must try.
5 Best Places For Paragliding in Manali
If you are on a lookout for the best places for paragliding in Manali then we have prepared a list for you to take a quick glance at and choose what suits you best.
1. Solang Valley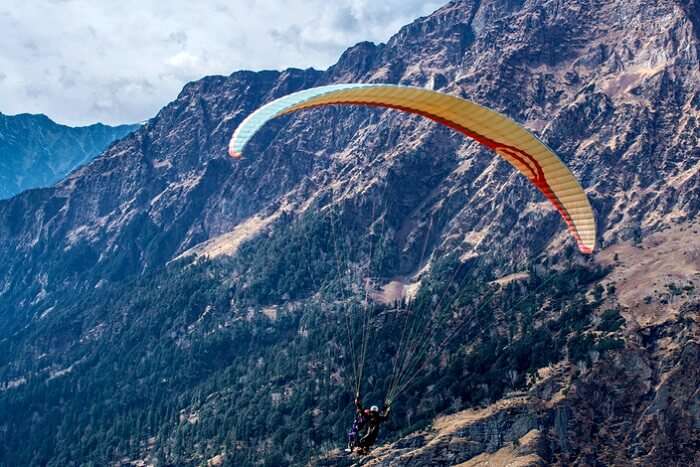 Solang valley is well known to offer a complete taste of this adventure activity. A mere 15km from Manali, Solang valley is favoured by most tourists who wish to try their hands on paragliding in Manali. The magnificent view and lush greenery adds to the charm, making it perfect for paragliding in Manali. Soar up in the sky with the help of experienced instructors who will guide you through the activity, as well as its do's and don'ts.
Duration: 20 minutes
2. Fatru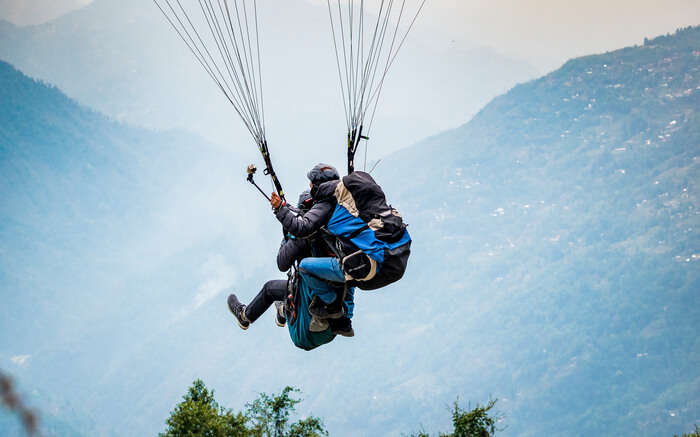 The location provides one of the best paragliding in Manali experiences to look forward to. Considering the conditions prevail right, this place is preferred by individuals who enjoy a longer flight time. Fatru is a decent option for people who are more experienced and have tried paragliding a few times before, for shorter durations. The spectacular view from the sky is as ravishing as can get and makes the experience worth your while. The experience gives such a great adrenaline rush, making you feel high on self-accomplishment.
Duration: 30 minutes
3. Bijli Mahadev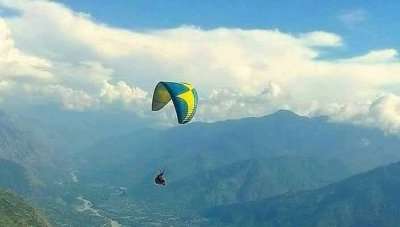 What is known about this place is that it is one of the most famous treks in Manali. What is unknown is that it is even more amazing and awe-inspiring when it comes to paragliding in Manali which is prefered the most. Located in Kullu Manali which is surrounded by Parvati Valley range and covered with beautiful and colorful flowers which make for a sight to behold, it is a spot framed for Bijli Mahadev.
Duration: 20 to 30 minutes
4. Kangra Valley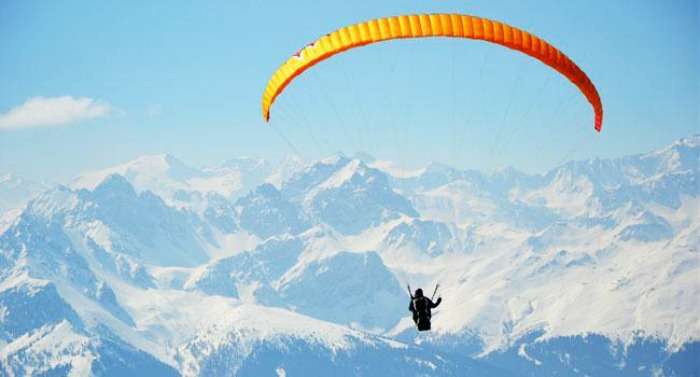 Adventure junkies are often drawn to the paragliding adventure at the Bir Billing stretch. The flight takes off from the spectacular sight of Bir while landing takes place at the dainty region of Billing. The place is filled with adventure seekers between the months of August to November. During these months, the yearly Himalayan paragliding pre-event is also conducted. As you glide in the sky like a free bird, you can indeed enjoy the true beauty of the Kangra Valley.
Duration: 15 to 30 minutes
5. Marhi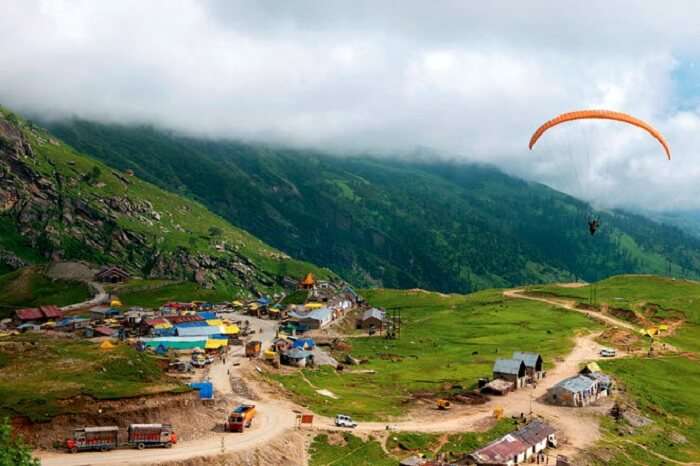 Another one of the famous spots for paragliding in Manali, Marhi is very popular among tourists and why not! Offering stunning views of the Dhauladhar Range, Marhi is indeed amazing. The views you will have while paragliding here are impressive and unforgettable and you will keep coming back for more. Situated at a height of about 3360 meters, Marhi is what you were looking for.
Duration: 20 minutes
Tips For Paragliding In Manali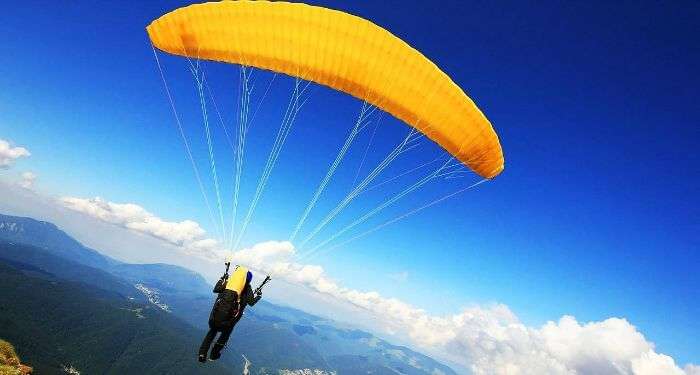 Make sure to carry appropriate government-issued documents that prove your identity, like your passport or ADHAAR card.
It is better to keep a local guide and an experienced paraglider who can communicate and assist you as well as can communicate with the local people. It makes easy for you to communicate with the local people and people of different communities. Also, it assures you to have a safer paragliding experience.
Follow the instructions of the experienced paraglider carefully to have a safe journey.
Check the equipment provided thoroughly before starting your ride.
Carry your own sleeping bags, yoga mats, tents, water bottles etc. you might need if you are planning for a trip of paragliding around several places around Manali
Although there are ATMs, the availability of ATMs becomes less frequent as you move away from the city area, so make sure you have enough cash on hand at all times.
Take your own first aid kit with you and don't forget to take your regular medicines with you. Keep medicines for common cold and fever with you all the time as the weather is very different.
As you are travelling from Mumbai, take care of the weather. Be sure that it is not rainy.
Altitude sickness is something that is likely to affect you as you go higher up the mountains—the lack of oxygen and changes in air pressure may cause nausea, dizziness and in rare cases, pulmonary oedema! Make sure you check with your doctor first and go slowly
Paragliding in Manali is adventurous and enjoyable as the views are mesmerising. Lush greenery and an ever flowing river make it worth it. It's advisable to follow the guidelines provided by the instructor properly. If you are planning a trip to Manali it is suggested that you include paragliding as one of activities to try.
Disclaimer: TravelTriangle claims no credit for images featured on our blog site unless otherwise noted. All visual content is copyrighted to its respectful owners. We try to link back to original sources whenever possible. If you own the rights to any of the images, and do not wish them to appear on TravelTriangle, please contact us and they will be promptly removed. We believe in providing proper attribution to the original author, artist or photographer.
Please Note: Any information published by TravelTriangle in any form of content is not intended to be a substitute for any kind of medical advice, and one must not take any action before consulting a professional medical expert of their own choice.
Frequently Asked Questions About Paragliding In Manali
What can one wear in Manali?
Make sure you pack warm clothes, Scarves, jackets, mittens, sweaters—anything to cover up. You can also buy winter clothing from the local shops in Kullu valley and Manali, where you get the best quality woollen clothes for cheaper prices. Also, you will get some special kind of local traditional clothes which are really worth buying.
What is the best time to visit areas near Kullu-Manali?
The time between November and April is the best time to visit this place if you are starting from Mumbai. Because this is the time of year when the temperatures are pleasant, the sky is not cloudy and there isn't much rainfall.
Can you specify the things we should be aware of?
Pack warm clothes and necessary food items, especially for children and senior citizens. Make sure that no member of your group gets lost their because it is hard to find out then as Manali is a famous tourist place.
How can we find an experienced paraglider there?
Anyways you can always find people practising paragliding there, depending on the weather of course. But you can search and hire paraglider through local people.
Is Paragliding a risky sport?
Well, not exactly if you follow the instructors properly. Also, for new and inexperienced ones, it is preferable to go on a Tandem paragliding or with a pilot instead of going for solo paragliding.
What do you mean by tandem paragliding?
Tandem paragliding consists of a pilot and a passenger. It means the professional rider will also ride with you.
Is Paragliding costly?
Actually, it is a bit costly as it is not that popular and you can find only a few places where you can actually learn, practise and enjoy paragliding, but it is totally worth it.
What is the best time to visit for paragliding to Manali, Himachal Pradesh?
Mostly you can see the colourful wave while paragliding during spring. Also during this time of the year, the sky will be partially cloudy.
Manali In January 2022: Know What Makes It A Great Time To Explore This Paradise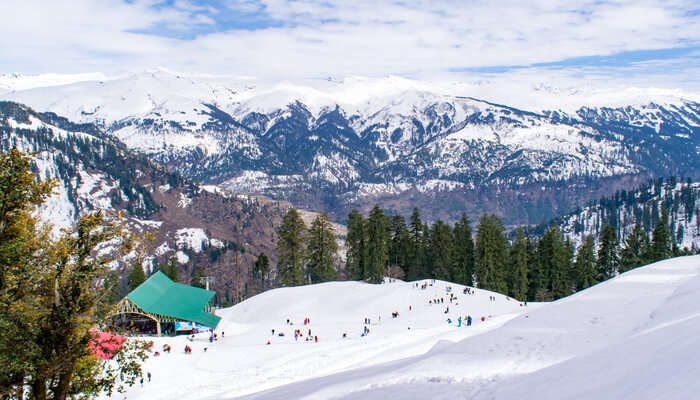 The world has started associating Manali with 'fun' and 'adventure' over the years. And rightly so! This beautiful paradise in the hills of Northern India provides endless opportunities for people to experience thrill and excitement out of the numerous things that they can do. Easy-peasy! Visit during the season of Manali in January to experience all this, and more!
Covid-19 Update: At TravelTriangle, we are focused on creating an experience that delights every traveler. Those who choose to travel are strongly encouraged to check local government restrictions, rules, and safety measures related to COVID-19 and take personal comfort levels and health conditions into consideration before departure.
Note: The following guide to visiting Manali in January during Coronavirus is a comprehensive guide, but due to the current circumstances some of the attractions/places mentioned might not be open for visitors.
Best Time To Visit Manali
The most ideal time to visit Manali is from March to June and from September to October. Manali enjoys mild weather during these two time periods when the hills are covered in lush foliage, there's lots of sunshine, and one can engage in plenty of activities. The temperature ranges from a minimum of 10 degrees Celsius to a maximum of 20 degrees Celsius.
Why To Visit Manali In January 2022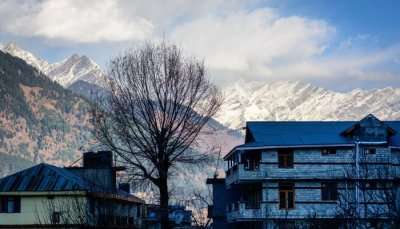 October to February is the winter season in Manali. If you wish to see snowfall and don't mind a little frosty weather, then it's the perfect time for you to visit. January is the ideal time to witness fresh snowfall here. The temperature in Manali during winters usually drops below zero degrees Celsius, so be sure to carry enough warm clothes. Here are a few reasons why you should visit Manali during the winter season:
Less crowds
Low prices of hotels
The Manali Winter Carnival
Snow sports and activities
And sweet snowfall!
Things To Do In Manali In January 2022
There are plenty of winter activities in Manali that you can indulge in while you're here. Whether you're here for hardcore adventure or just want to relax, there's something for everyone. Make notes of these absolutely amazing things to do in Manali in January.
1. Solang Valley – Go Paragliding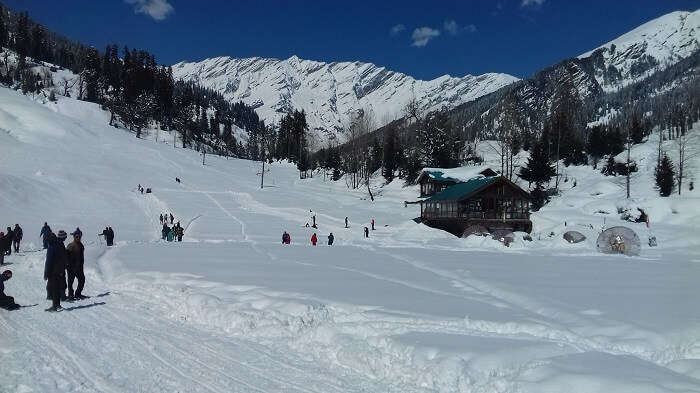 If you're looking for some thrilling adventure sports in Manali, then you must get to Solang Valley. Here, you can indulge in plenty of exciting activities at the mesmerising Solang Valley during your trip to Manali. This mini paradise is located just 14 kilometers away from the city centre and is a popular tourist hotspot owing to its scenic views and plethora of activities. Other than paragliding in Manali in January, once can indulge in cable car rides, helicopter rides, skiing, trekking, and zorbing, and much more.
Location: Solang Valley, Manali, Himachal Pradesh
2. Mall Road – Buy Himachali Handicrafts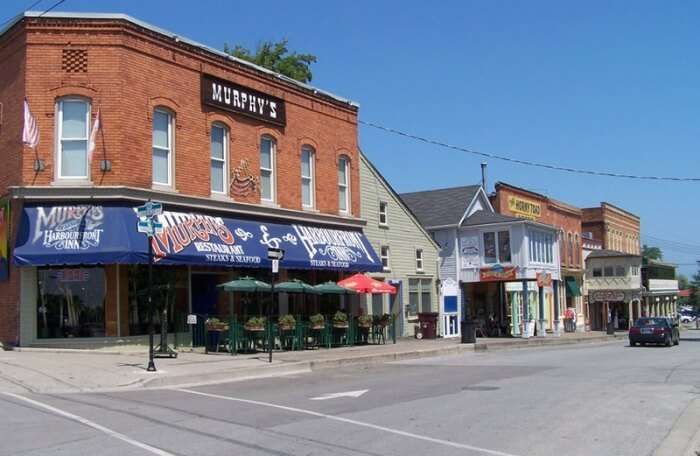 The Mall Road is often referred to as the heart of Manali. It is among the busiest places in this hill station and the perfect place for you to buy some winter clothes in Manali. Lined with hotels, restaurants, local shops, food stalls, and emporiums for people to delight themselves with, it is one of the top places to visit during Manali tour in January.
Location: Mall Road, Manali, Himachal Pradesh
3. Hampta Pass – Trek To The Top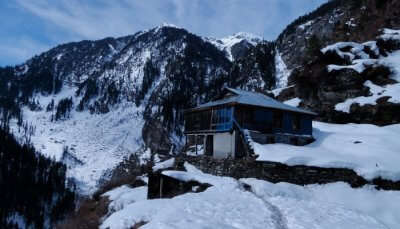 If you want to taste the ultimate thrill of trekking in the snow, you should take the Hampta Pass trek. It is one of the best things to do on your Manali trip in January. Located at an altitude of 4,270 meters in the Pir Panjal range, Hampta Pass is a minute corridor connecting the Kullu Valley to Lahaul. It is possibly the best trekking trail as well as site for camping in the valley for adventure enthusiasts. Trekkers can even witness the lush green hills of Kullu on one side and the cold desert of Lahaul on the other while standing on the top of this pass.
Location: Pir Panjal Range
4. Rohtang Pass – Play In The Snow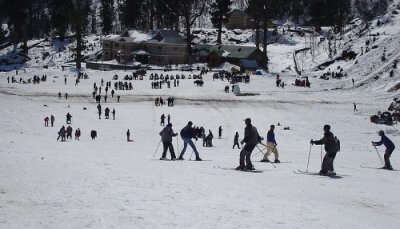 If you're looking for a snowy paradise to try some winter sports in Manali like skiing, ice-skating, and ATV rides, then Rohtang Pass is your best bet. It's one of the most visited places near Manali in January and provides awesome views of the snowy landscapes all around. Even the road leading up to the pass feels dreamy and has been featured in popular movies like 'Jab We Met' as well as 'Yeh Jawani Hai Diwani'. Just stay updated on the weather forecast before visiting as this place tends to close down during heavy snowfall in winter.
Distance from Manali: 53 kilometers
Duration: 2 hours
5. Manali Winter Carnival – Attend The Fiesta!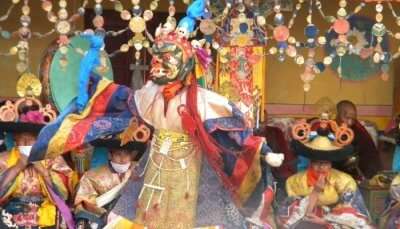 Your search for some fun and unique things to do in Manali in January 2022 is over. The winter carnival in Manali was brought together by the District Administration of Kullu and Manali and has been a hit amongst locals and tourists since its very inception. It's the most highly anticipated event organized here every year to showcase the rich culture and history of Kullu and Manali. It's a charming fiesta that merges heritage with sports events to make it more interesting for onlookers. You can be a part of various activities here during this time including skiing competitions, craft mela, music competitions, folk dances, and street plays.
When: 2nd January – 6th January 2022
Places To Visit In Manali In January
Be it camping, river rafting, paragliding in Solang, or simply engaging in shopping at Mall Road, you'll never run out of excuses to visit Manali. But how to experience peace and tranquility in this beautiful town? Check out the top 3 places to visit in Manali in January as discussed below.
1. Jana Waterfall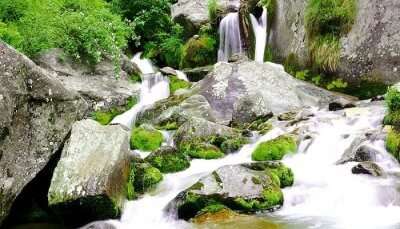 Image Credit: Wikimedia Commons
Disclaimer: The image is for representation purposes only.
Manali is clearly one of the most beautiful locations in India and when you're visiting this place, it is important to keep your things to do list update. For example, if you're visiting Manali, you cannot just miss the Jana Waterfall trek. This is one of the best treks that one can ask for. The trek will provide you with beautiful sightings of surrounding areas of Manali alongside some birdwatching opportunities as well. The waterfall is the prime beauty of this place and the place comes packed with beautiful orchids, pine trees, etc. In short, it can be said that you will have a great time here.
Distance From Manali: 36 kilometers
Duration: 1 hour
2. Hadimba Devi Temple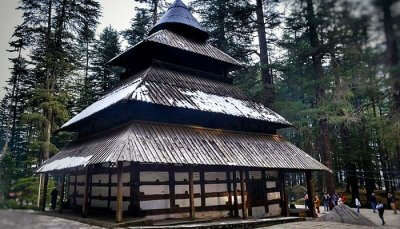 Image Credit: Wikimedia Commons
Disclaimer: The image is for representation purposes only.
If you're looking for some peace and serenity in Manali, then this temple might be a great choice. It offers great views of surrounding areas to the visitors, which is basically greenery, water bodies, etc. The temple exists since 1553 and is 1.5kms from the mall road, which means that you can find this place quite easily. The crazy thing about this place is that no idols are worshiped here and for a peaceful setting, anyone can literally come and spend a couple of hours.
Distance From Manali: 2.2 kms
Duration: 30 mins/1 hr.
3. Rozy waterfall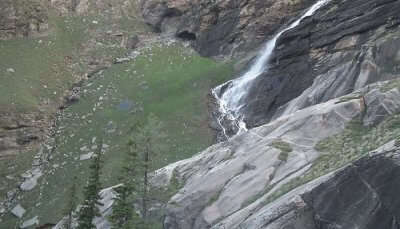 Image Credit: Author Name for Wikimedia Commons
Disclaimer: The image is for representation purposes only.
If you get a moment to lie sit down and relax in mother nature's lap, would you let that moment go? No! This place will provide you that opportunity and make you feel like you're in heaven. The nearby mountains, vast valleys, and mountains on the back are something that will make you feel like you're in heaven. The place will be ideal for a perfect weekend getaway with you friends.
Distance From Manali: 10 kms.
Duration: 1hr to 1hr 45mins.
Tips For Visiting Manali In January 2022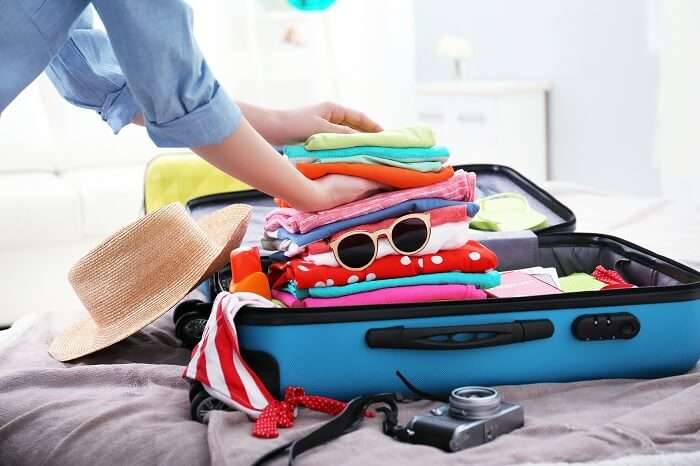 Below are some of the things you should keep in mind while planning for Manali trip in January.
Stay updated on the weather forecast at all times and be prepared if it gets worse.
Pack right – carry adequate amount of woollens, scarves, hats, comfortable shoes or boots, jackets, sweaters, and more.
Drive slow in the snow. Get your vehicle checked before setting off and keep a minimum distance between your vehicle and of those around you.
Keep handy a list of emergency numbers to contact in case you need help.
Give your body enough time to acclimatize to the winter weather in Manali in order to avoid medical complications.
How To Reach Manali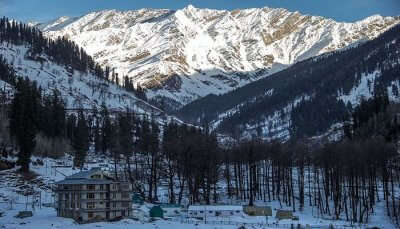 By Air: You can fly to the Bhuntar Airport located just 10 km from Manali. Flying to Manali can cut down your travel time by a lot. Flights to Bhuntar are available from all major cities of India.
By Rail: Jogindernagar Railway Station is the nearest railway line to Manali and it links this hill town to various important cities of India. One can also take a train till Chandigarh and Ambala and drive the rest of the way from there.
By Road: If you're a fan of road trips in the hills, then you'll really enjoy driving to Manali. Just hop into the Himachal Pradesh state bus service or even any of the privately owned volvos for a smooth ride to Himachal.
With so much to see and do, Manali in January will surely be an unmissable adventure! So, why wait? Plan your trip to Manali already before all the good deals and hotels are gone. Plan a trip to Manali and Connect with TravelTriangle's trained professionals to whip you up a sweet and snowy getaway in the those picturesque hills for a vacation you'll never forget!
Disclaimer: TravelTriangle claims no credit for images featured on our blog site unless otherwise noted. All visual content is copyrighted to its respectful owners. We try to link back to original sources whenever possible. If you own the rights to any of the images, and do not wish them to appear on TravelTriangle, please contact us and they will be promptly removed. We believe in providing proper attribution to the original author, artist or photographer.
Frequently Asked Questions About Manali In January
Is Rohtang Pass safe to visit during Covid-19?
Yes, it is comparatively safe to visit the Rohtang Pass than any other destination as the rate of tourist flow is less, and the chances of overcrowding are slim.
Is Rohtang Pass open in January 2021?
No, Rohtang Pass, Manali is closed in the month of January due to the heavy Snowfall. If you want to go to Rohtang Pass Manali then must visit between the month of May to November.
Can we visit Manali in January?
Yes, definitely January is the best time to visit Manali. At that time you will be able to adore the beauty of nature with snow-filled mountains.
Is Solang Valley Open in January?
Visit to Solang valley is only restricted in the winters for 2–3 days when there is heavy snowfall rest it is open throughout the year.
When Rohtang Pass will open in 2021?
In winters, the pass remains closed but is open from June to October for motor vehicles. This pass is a gateway to Lahaul Spiti, Pangi and Leh valley. The best time to visit the pass is between May/June to October/November.
What should I wear in Manali?
What to wear – Travel tips for Manali 1. Even in summer, Manali can get chilly, so bring something for occasional cool summer nights.pack light and airy clothes with a couple of warm clothes for the nights. 2. Light cotton clothing is the order of the day. 3. In winters, take woolens that include sweaters, jackets, caps and socks.
What is Rohtang Pass famous for?
Known for its scenic beauty, Rohtang Pass holds strategic importance for India. It's the gateway to Keylong in the landlocked Lahaul Valley from Manali in the state's Kullu district.
Is Kullu and Manali same?
Kullu and Manali are two different places, nestled in the snow clad ranges of the Himalayas. While, the charming Kullu is a valley with scores of picturesque sights and temples, Manali is a stunning hilltop with splashing rivers, water streams, and lofty mountains in the state of Himachal Pradesh.
Paragliding in Manali: Here are Dos and Don'ts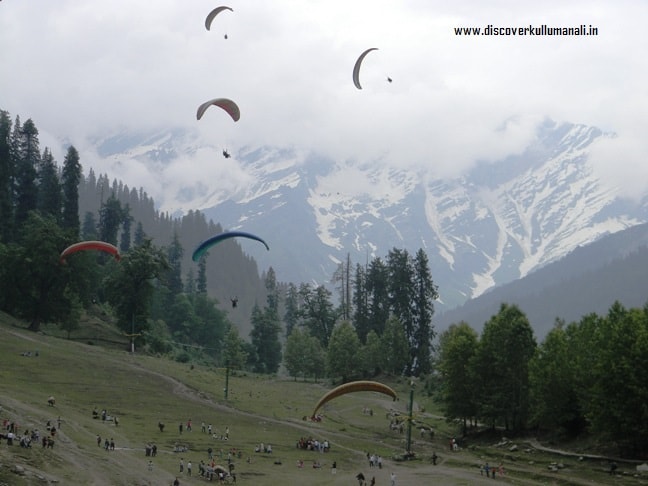 Paragliding is as safe as you make it. The safety checks, quality of equipment, preparedness, wind, air pressure and visibility are the main factors that decide how safe the flight would be.
With a large number of paragliding sites came up in recent years, Himachal has emerged as the top destination for paragliding in the country. With nearly a lakh tourist trying hand at (tandem) paragliding, Kullu-Manali tops the list in terms of number. And the Kullu district is also topping the list of most fatal paragliding accidents. Five persons have died in four accidents this year only while many have sustained injuries. Human error is the main reason behind maximum accidents.
Tourists generally go for a tandem flight but nobody asks pilots for their license, registration and quality of the equipment. In many accidents, pilots were found to be flying without a valid license and registration with the tourism department. The pilots, who always remain in hurry to finish the flight to catch another customer, never brief the dos and don'ts to the customers who always remain in suspense that what to do next. Almost 100 per cent of the clients here are tourists.
On Monday, a tourist from Chennai was killed in similar accident where tourist slipped off the safety harness and fell on the ground from altitude of hundreds of feet near Falayan in Kullu. He died on the spot. The matter, according to police, appeared to be negligence in safety check. Similar incident had happened in May 2015 when a Mumbai tourist had died of harness failure at Solang valley.
Falayan, Solang, Majhach, Diyar and Kharahal are the main paragliding spots in Kullu district where thousands of tourists enjoy joy-rides. The most operators at these sites are not following the proper safety procedures. While some are flying with outdated paragliders and harnesses, some even fly with two children at a time. This is the reason dozens of tourists visit hospitals in the district with broken limbs every year.
According to experts, there are some dos and don'ts that should be taken care of before going for paragliding which should be checked for safe and thrilling experience.
Best time for paragliding in Kullu Manali
Except for July to September, paragliding is legal and considered safe in Himachal. Still, this thrilling outdoor sport can be fatal if done during rain, snowfall, thunderstorm and on a windy day. Before booking the ticket, tourists should ensure that day is clear and pleasant. Paragliding in state remains completely banned during monsoon season under Himachal Pradesh Aero Sports Rules, 2004.
Safety checks before going paragliding
– Before you hit the sky, check if weather is clear and safe for paragliding.
– Ask the pilot to show his license to fly and make sure that he is registered with tourism of Himachal Pradesh. Before this, ask his full name.
– Check and make sure that flying equipment are new. Every paraglider is made to fly for certain hours, after which it retires.
– Ask pilot to brief you in advance on what to do and what don't starting from taking off till you land.
– Check your safety harness is tied and secured safely with you and the karabiner. With some mild jerks, you can check if the locks are slipping.
– Wear a helmet of proper size and belt it up. Ask pilot that he has working reserve parachute.
– Make sure that you are mentally prepared to touch the sky, several hundred meters above the ground. Once to take off, there is no way back.
– If you think pilot is putting your life in danger despite you resist, dial 100 (police) or 01902252175 (tourist information centre) to file a complaint.
Never do this
– Do not attempt flying in bad weather condition, poor visibility, rain or during snowfall.
– Landing is the most crucial part of tandem paragliding. Do not wear sandal and chappals which can cause you leg injury.
– Never ask your pilot to do stunts like wing overs, spirals and top landing which have tendency to go parachutal stall. The stunts are meant for professional paragliding only.
– If you feel unwell while midair, do not panic and shout. This can put the pilot in stress who can take a wrong decision under pressure. Instead, ask him calmly that you are not feeling well and he should land as soon as possible.
– Do not fly if your harness seat does not have enough cushion where you can't sit and which cannot provide you enough protection in case of dragged landing. Ask your pilot to change the cushion harness.
– If you have knee, back, heart, breathing related problem, avoid paragliding.
How to choose a safe paragliding site and pilot in Kullu Manali
According to Roshan Thakur , the first civilian paraglider of Himachal, who also runs a paragliding school in Manali, a safe paragliding is responsibility of both pilot and customer. "Kullu district has multiple paragliding sites. Tourists should choose a site where there is no rush. The site should be approved by the tourism department. It is always safe to book your ticket through paragliding association counter and ensure that you get a licensed and experienced pilot. Never ask your pilot for stunts and to go beyond the limit. If you feel unsafe and uncomfortable with a particular pilot, do not take off. Harness, helmet and other safety checks should be done in advance. High fly is always safer than the low fly as you get some time to rectify the errors in you are high above the ground."
Another paraglider Rakesh Kumar said almost all the paragliding accidents in Kullu-Manali are result of human error. "We know that all adventure activity has risk involved with it. But we can reduce the risk if we act wisely. Tourists should not totally depend on pilot for safety checks as many pilots treat them just as a customer. Do not argue with your pilot. If, while asking for his license, other documents and condition of the equipment, tourists enter an argument, it is wise to cancel the flight and find another pilot as angry pilot is not less than a devil who will be controlling your life," he said.
Manali Paragliding Association president Chaman Lal said his association has nearly 172 pilots who have valid license. None of our member flies in bad weather condition. The association has already made it clear that a strict action would be taken against the offenders who fly against the rules , he said.
What is paragliding
A paraglider is a mixture of parachute and hang-glider (delta). The shoot is made of a rectangular piece of ripstop nylon which is specially coated with polyurethane to avoid porosity. The shape is attached to a reed by lines. The canopy is constructed of a top and a bottom surface joined by a number of vertical segments, resulting in chambers known as "the cells". The opening at the front is called the leading edge. After inflation, the canopy takes up an airfoil shape with a fattish lower surface and a curved top. The rear edge of the wing is called the trailing edge. The lines are made of very strong Kevlar and are usually encased in an outer sheath of nylon. The risers connect the canopy lines to the reed. The trailing edge is connected by risers called control lines and constitute the most important part of the glider. The control risers let the pilot maneuver the paraglider.
Paragliding courses in Manali
Day 1 – Familiarization with the equipment, inflation technique and ground run.
Day 2 – Practice ground runs and hopping techniques.
Day 3 – Alpine launch (take off techniques).
Day 4 – Supervised solo flight including practice turns.
Day 5 – Practice spot landing and solo flight.
Update on November 25, 2019
Now training must for commercial paragliding pilots in Kullu
After a large number of tourists becoming the victim of paragliding accidents in Kullu, the district administration on Monday decided to make a special training programme must for all the commercial pilots to be able to run business in the district.
Five people have died in four paragliding accidents this year only. A large number of other tourists have sustained injuries. Everybody has been pointing finger at the tourism department and administration for their incapability in stopping the accidents. The deputy commissioner on Monday called on a meeting of paragliding monitoring committee to make some strict rules so that mishaps can be stopped at all the seven paragliding sites of Kullu.
It was decided that all the commercial pilots will have to undergo a special training programme. Manali based Atal Bihari Vajpayee Institute of Mountaineering and Allied Sports (ABVIMAS) will organize the programme for the pilots and will issue them certificate after successful completion of the course. Those who will not have this certificate will not be allowed to fly.
"Over 300 pilots are organizing tandem flights under 24 paragliding companies that are registered with the district. Paragliding is providing self-employment to a large number of local youth. But, we have to ensure that all the safety standards are being followed properly for the safety of the tourists. A small mistake may result in loss of a precious life and may also harm the local tourism," she said.
The DC directed officials of tourism department and ABVIMAS to design a comprehensive training programme for the pilots. She added that all standards of safety, dealing with tourists and other aspects should be included in the training syllabus.
"All the paragliding sites would be developed systematically on the lines of Solang valley paragliding association. The booking counters of all the paragliding companies would be removed from roadsides and booking counters would be established with the help of local associations. The paragliding technical committee has been directed to visit all the paragliding sites of Kullu-Manali to review the safety standards," she added.
Over 30 lakh tourists visit Kullu district every year and thousands of them try hand at tandem paragliding. The local operators here offer low and high flies in tandem. In past years, the number of accidents in paragliding has increased. In many cases, pilots were found to be flying without a license. Brawls with tourists is a common problem at paragliding sites. To deal with these problems, Kullu administration is framing strict rules for pilots so that the adventure sport becomes safe and memorable.
Update on December 18, 2019
Tests conducted for paraglider pilots in Kullu, only 58 pass test
Over 30 per cent of the paraglider pilots in Kullu, who claim to have years of experience in flying, have failed in the test conducted by the technical committee of tourism department.
According to officials, after series of fatal accidents in adventure sports activities, Kullu administration has tightened screw on the operators. In this series, the technical committee which has members from tourism department and Atal Bihari Vajpayee Institute of Mountaineering and Allied Sports (ABVIMAS), are taking tests of the pilots at the authorized paragliding sites of Kullu-Manali which are visited by lakhs of tourists.
Surprisingly, only 58 out of 92 pilots from Dobhi, Raison and Garsa sites have passed the test while 34 have failed. Not just flying skills but equipments of the pilots were checked for genuineness and efficiency. The wings were also test electronically. The test was conducted at Dobhi paragliding site.
Only passed pilots were authorized to fly for next six months. However, all the pilots will have to undergo a special training progamme conducted by ABVIMAS. The purpose is to make tandem flights safe for tourists and minimize the accidents. Only trained pilots with valid license and equipments will be allowed to fly in the state.
ABVIMAS director Colonel Neeraj Rana said 92 pilots from Dobhi, Raison and Garsa areas had applied for the test and only 58 have passed the test. "Whenever we go to take test at any site every year, a large number of other youth come forward with a claim that they have flying experience of many years and should be given one opportunity. Most of such claims are false," he said.
The committee has now decided that all the pilots will have to keep an electronic logbook application with them while flying which will keep record of the flying time.
"The government is convinced with it that electronic logbook should be made mandatory for the pilots. This will help us in issuing license to the eligible pilot as the application will show us genuine data of his past flying," Rana added.
The technical committee is visiting all the paragliding sites and is ensuring that they are equipped with all the safety measures. As thousands of tourists go for paragliding in Kullu district, it has become an integral part of the tourism that is providing self-employment to hundreds of youth. The administration is taking strict steps to streamline the sport and allow only trained pilots to make this adventure sport safe and tourist friendly.
Source https://traveltriangle.com/blog/paragliding-in-manali/
Source https://traveltriangle.com/blog/manali-in-january/
Source https://discoverkullumanali.in/paragliding-in-manali-here-are-dos-and-donts/