Paragliding in India
India is a land of infinite possibilities. And by infinite I literally mean infinite! There are some ways in which you can be flying like a bird like soaring away in a hot air balloon or parasailing, in which you are tied at the rear end of a boat using a rope or something, and then there is the ultimate feeling-like-a-bird sport which is paragliding. Paragliding may well be referred to as the ultimate bird-like feeling. As a basic overview, the pilot is supposed to sit in a harness which is suspended from a wing-like structure and then you have just got to run off a cliff and viola! You are up in the air like an actual bird. Interesting much?! Or thinking that it is for the mad adrenaline junkies or the suicidal maniacs. To tell the truth, it is none of those things. People now are becoming aware of the fact that the rides are pretty safe and that there are other fail-safe options. If you manage to follow the rules and regulations of paragliding, then there are absolutely no chances of failing. So take a chill pill and understand the fact that you can manage to take care of the fun factor and the adventure streak of yours while being safe.
1. Bir-Billing: Best Paragliding Site in Asia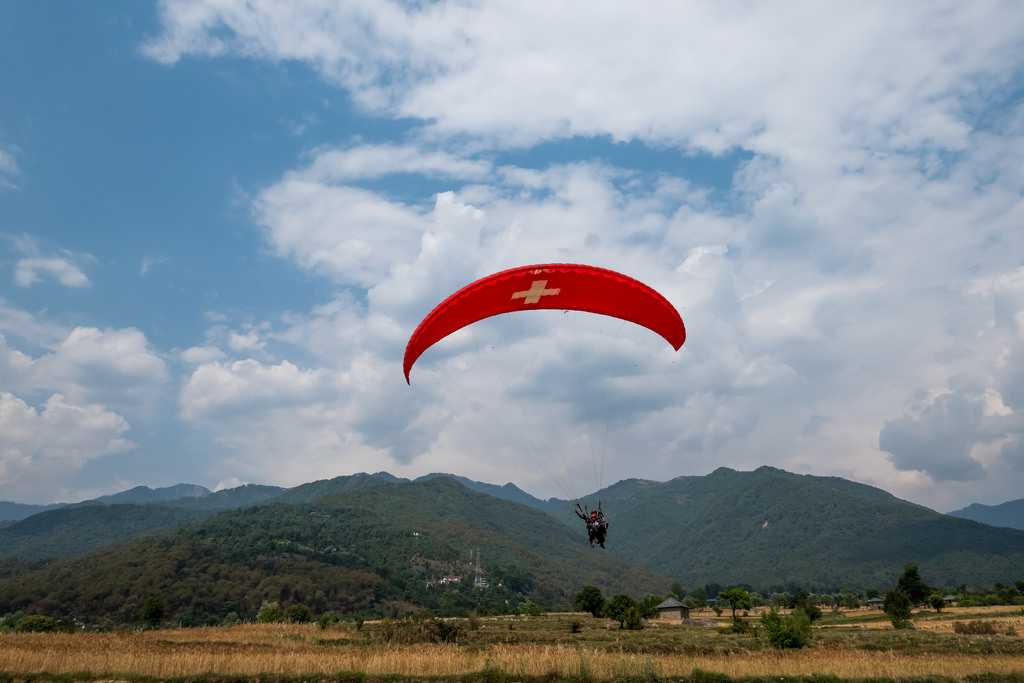 Source
Set in the backdrop of the beautiful Himachal Pradesh, the little village of Bir is practically the Paragliding Capital of India. The beautiful mountains, the greenery, the weather, everything is just so perfect. And paragliding adds a dash of adventure to the tranquil atmosphere. It is a perfect place for adventure junkies as well as country lovers. Bir is the take-off site and Billing, which is located at a distance of about 14 km from it, is the landing site. The nearest airport is Dharamshala, located at a distance of about 70 km from Bir. The Paragliding world cup took place for the first time in India at Bir-Billing in the year 2015. The place is equally famous for its amazing paragliding experiences both inside the country as well as with the foreigners. The place has one of the best take off and landing sites combined with the suitable air currents plus the ideal cloud base.
How to reach
From Delhi to Bir via buses (Volvo or Tata) or flights to the nearest airport at Dharamshala
Best Time to Visit
The best time to visit is between October and mid-June when there is no rains and weather is pleasant.
Popular Operators
Camp Oak View, Friends adventures, and tours, Blue Umbrella
Approximate Cost
INR 3500- INR 5500 (approx)
2. Manali, Himachal Pradesh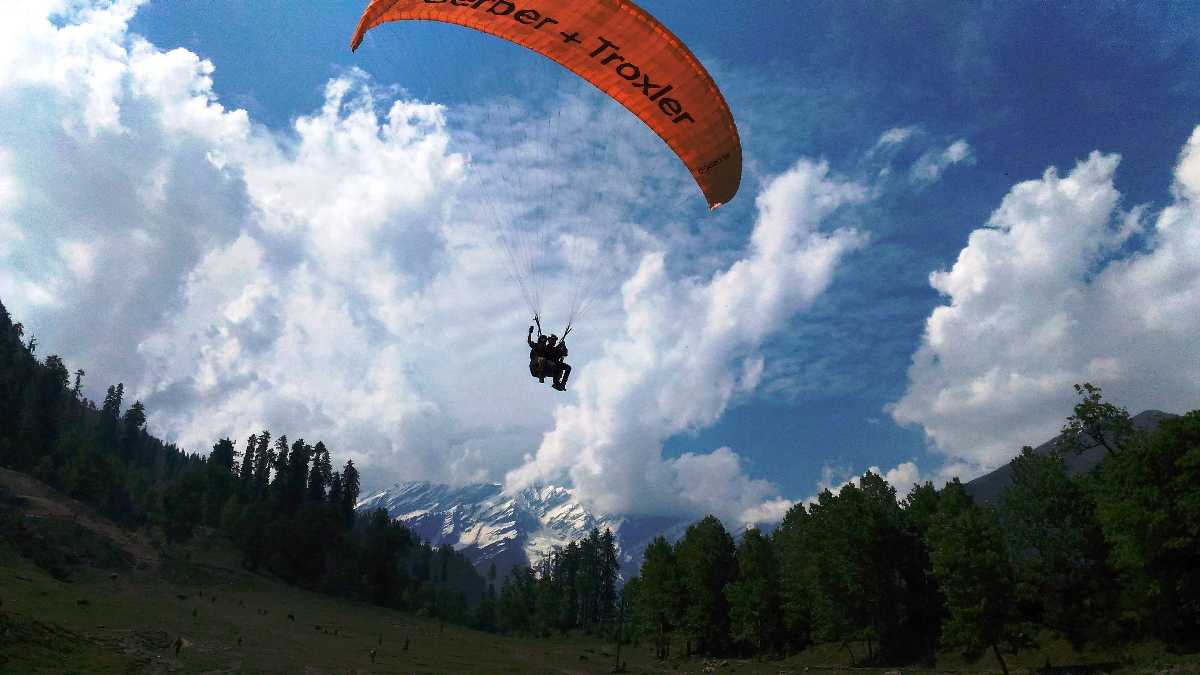 One of the major tourist attractions of Himachal Pradesh, Manali is a beautiful valley located in the heart of the Himalayas. The town is located at an altitude of about 5500 ft to 6000 ft above the sea level which makes it ideal for paragliding trips. The scenic beauty is further aggravated by the thrill factor of paragliding in the area. The areas of Solang Valley, Fatru Mountain, Gulaba, and Nagger Road are the places where paragliding takes place. Apart from the monsoon season, during which paragliding is banned, one can practically enjoy the feel of the air from up above practically for the rest of the year. It is an ideal getaway for someone who loves adventure as much as the beautiful locales.
How to reach you can go there by air, the nearest airport being at Bhuntar, a mere 50 km away or you can go there via buses which run periodically; then there is the option of a train. Or if you are a little too adventure minded, you can go on a bike ride.
Best Time to Visit
Between October and May. And as told earlier, paragliding is banned during monsoons.
Popular Operators
Ski Himalayas, TigerEye Adventures, Himalayan Extreme Centre
Approximate Cost
Starting from INR 1800 and above
3. Nainital, Uttarakhand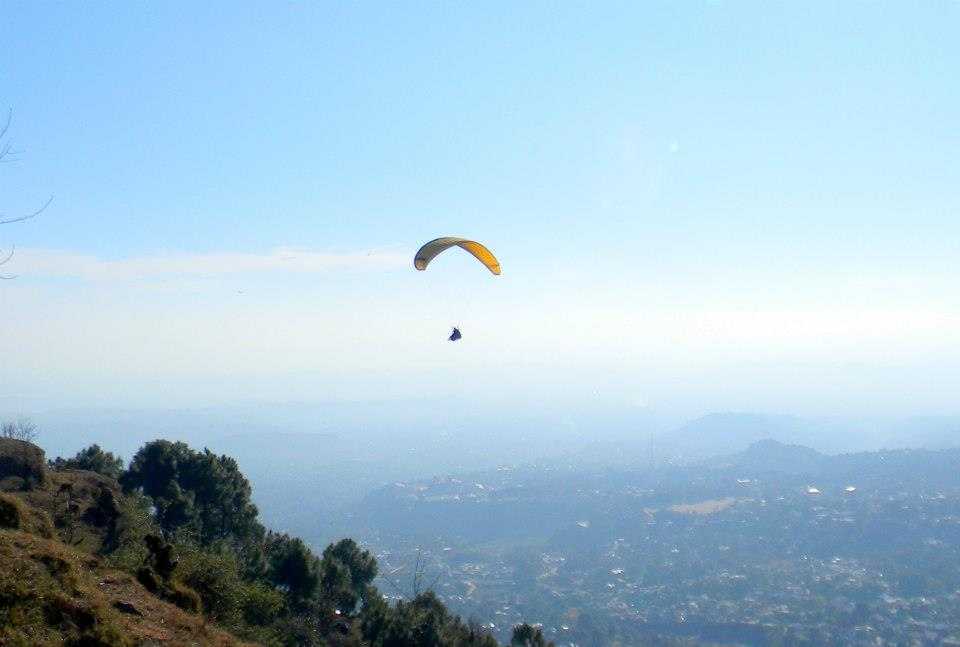 This is again a beautiful resort town located in the foothills of the Himalayas. Located at the height of about 2000m above the sea level, the picturesque place is one of the best places to go to. And paragliding in such a place has its perks too. One can view the beautiful city from a bird's level. The beautiful pear-shaped Lake, Naini lake, one of the 64 Shakti peeths of the country, is considered to be one of the holiest places in the world. Paragliding is offered at Naukuchiyatal. Paragliding among the fluffy clouds amidst the beautiful mountains of Naina, Deopatha and Ayarpatha hills is truly one of the heavenly feelings. So come here if you want to have best of both worlds.
How to reach
You can go there via bus (Nainital has excellent bus connectivity) or train, the nearest railway station being at a distance of 34 km at Kathgodam, or book a chartered plane to the nearest airport at Pantnagar, situated at a distance of about 65km from Nainital (no commercial flights here).
Best Time to Visit
All seasons except rainy seasons. (i.e. July- August)
Popular Operators
Pathikworld Tours, Skybird Adventures
Approximate Costs
INR 1500- INR 5000 (approx)
4. Paragliding in Pithoragarh, Uttarakhand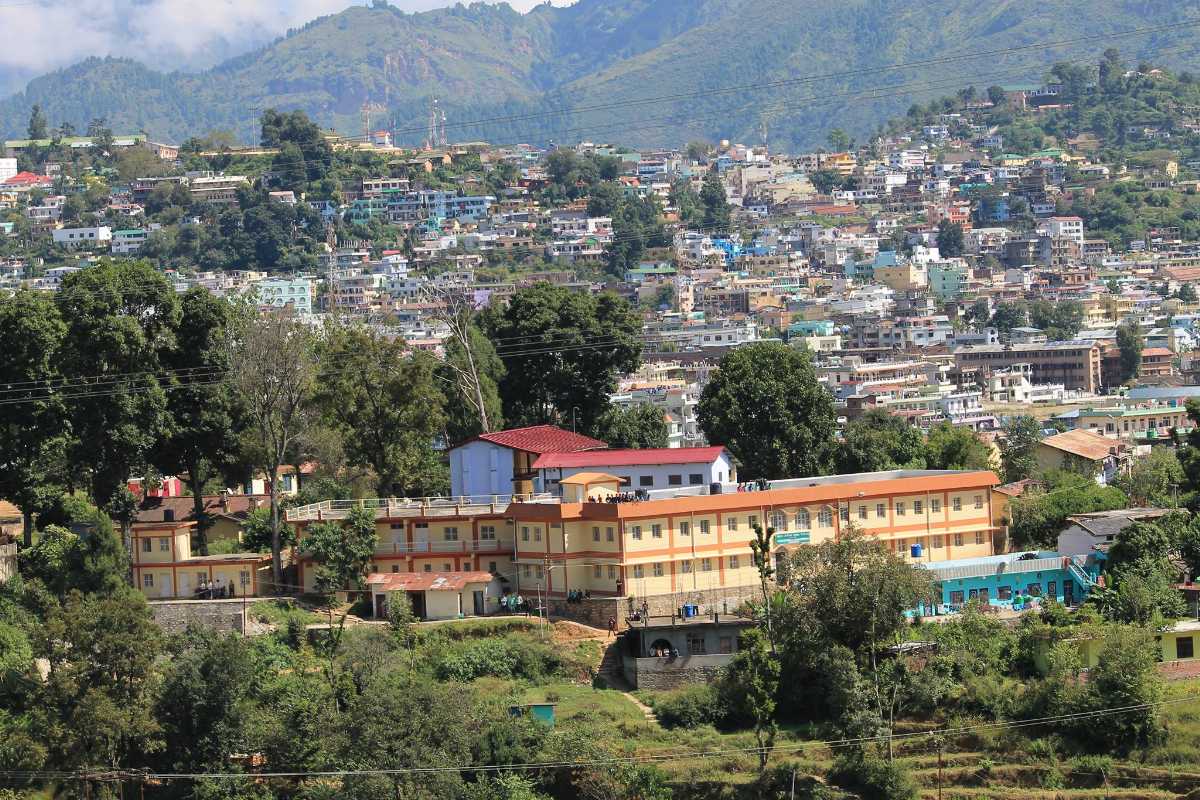 Source
The district of Pithoragarh, Kumaon's easternmost district is one of the many natural beauties of the state of Uttarakhand. The valley, wedged between Nepal and Tibet, is flanked by four hills- Dhwaj, Chandak, Thal Kedar, and Kundar. Being flanked by the hills gives an amazing view of the place, both dramatic and soothing. The unique conditions give ample scope of conducting adventure sports like paragliding, hand gliding, trekking, river rafting, canoeing, etc. One can enjoy the beautiful locales and get high on adventure, Pithoragarh has it all!
How to reach
By buses or trains, there are also some gas stations in the middle.
Best Time to Visit
March to June and September to mid-October are the best months to visit, due to the clear weather and sunny outdoors.
Popular Operators
Uttarakhand tourism organises various paragliding courses.
Approximate Cost
INR 6000- INR 10000 (for 5-7 day course) (approx).
5. Panchgani, Maharashtra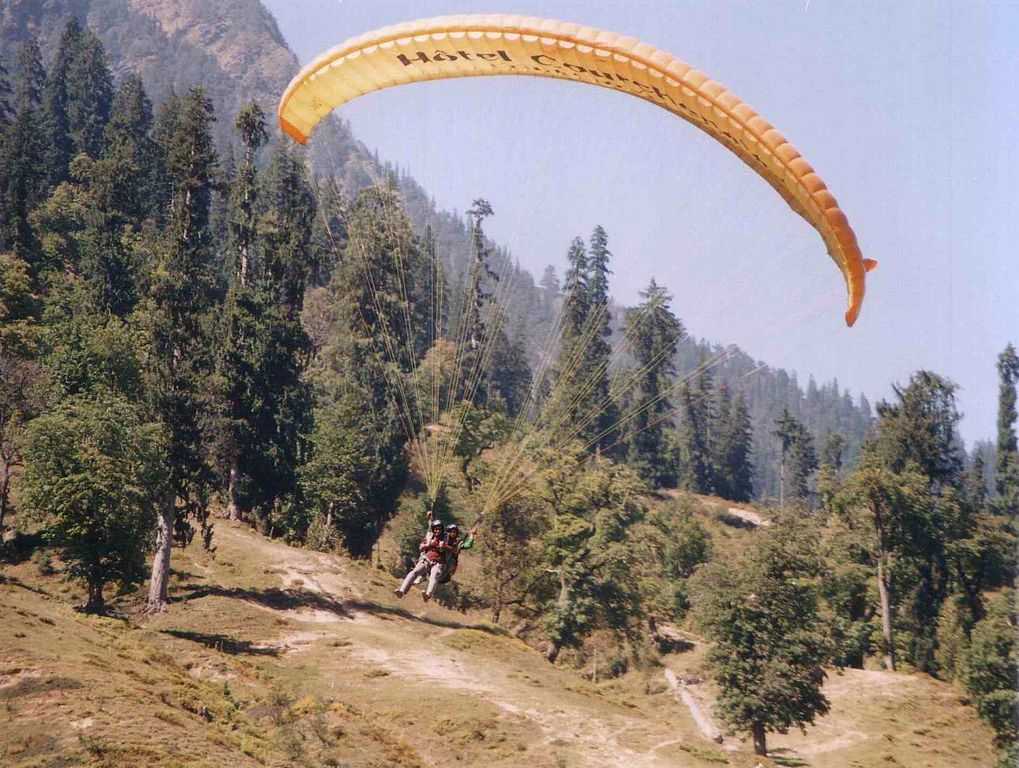 Source
A famous hill station located in the Satara district of Maharashtra, Panchgani is one of the best weekend getaways one could probably ever think of. With an altitude of about 1200 m above the sea level, the fantastic hill station opens doors for some adventure sports, paragliding being one of the favourites of the tourists who frequent the area. The weather is pleasant throughout the year which adds to its glory. It is also fascinating to know that the plateau region of the hills surrounding Panchgani is the second largest in Asia after the Tibetan plateau. Due to various favourable conditions like clear skies, perfect altitude, favourable winds, pleasant weather all the year round, Panchgani has become one of the hotspots of paragliding industry. Bhilar, Tapola and Khingar are some of the popular paragliding sites in Panchgani.
How to Reach
Panchgani is well connected by rail, road, and airways. The nearest railway station is at Pune which is about 96km away, after that you can hire a taxi t reach Panchgani. Pune also has an airport.
Best Time to Visit
November to February because the weather is most pleasant during that time.
Popular Operators
Ravine Hotel, Eco Camps
Approximate Cost
INR 1500 onwards (approx)
6. Ranikhet, Uttarakhand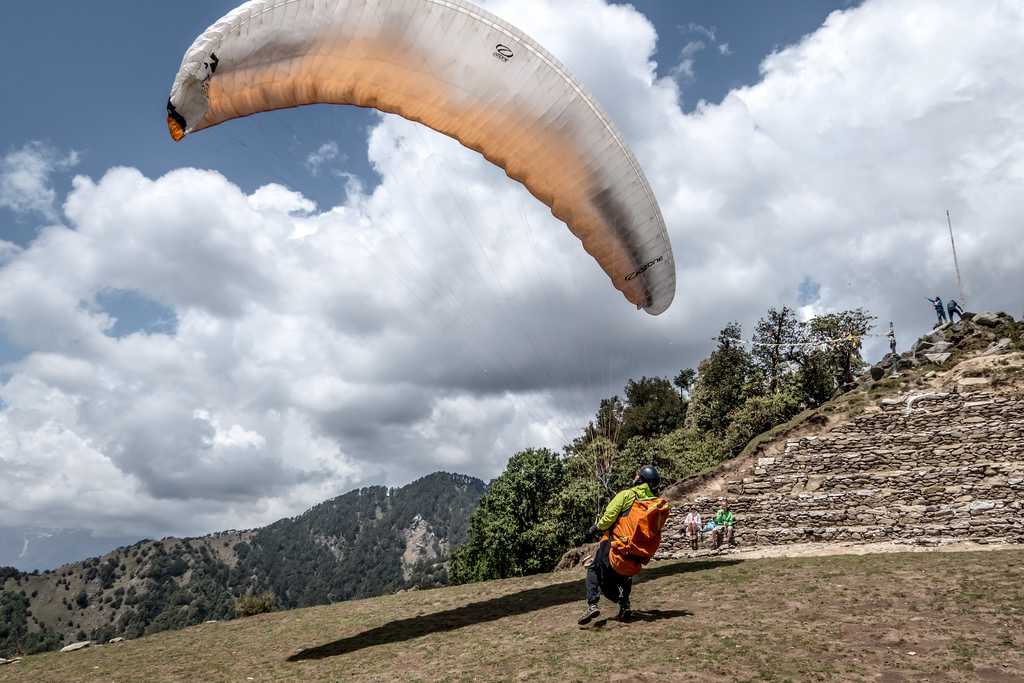 Source
One of the best locations for paragliding, especially for beginners due to the amazingly calm and clear atmosphere, Ranikhet sure has a lot to offer. The campsite for paragliding is located nearly 12 km away from the main town, on the road to Goluchina area. The place is simply wonderful, with the safe paragliding camps and amazing locales. The paragliding camp, locally known as Daan Kurhi, is located at a beautiful site at the edge of an oak forest. Ranikhet is known to be one of the safest sites for paragliding.
How to Reach
The nearest railway station is 101 km away at Kathgodam, and the place is also easily accessible from Delhi
Best Time to Visit
September to March
Popular Operators
Wild rift adventures
Approximate Cost
INR 3000 onwards
7. Kamshet, Maharashtra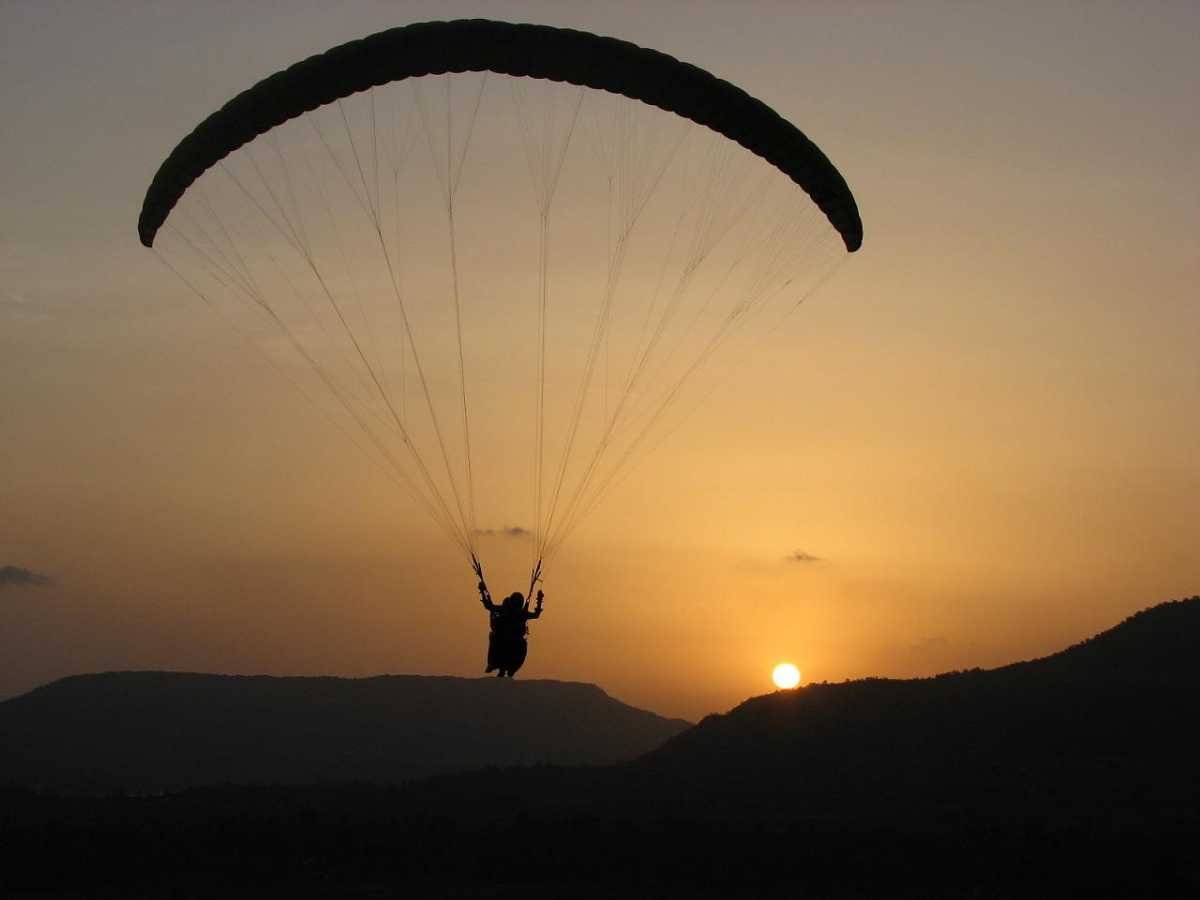 Source
Located at a distance of about 45 km from the populous city of Pune in the state of Maharashtra, this beautiful retreat is a jerk into the past, the place reminds of a rustic setting, the real India, lost in the din of city life. The place is well suited for paragliding again due to the favourable weather conditions, amazing view and perfect wind conditions. It is well suited for beginners, in addition to being connected to the Pune- Mumbai expressway; this place is great for a weekend getaway.
How to Reach
By air, rail or road. Being near to both Pune and Mumbai, there is absolutely no problem at all in terms of connectivity.
Best Time to Visit
From October to June
Popular Operators
Indus Paragliding School, Paragliding Mantra
Approximate Costs
INR 2500 (approx) for tandem flights and above.
8. Shillong, Meghalaya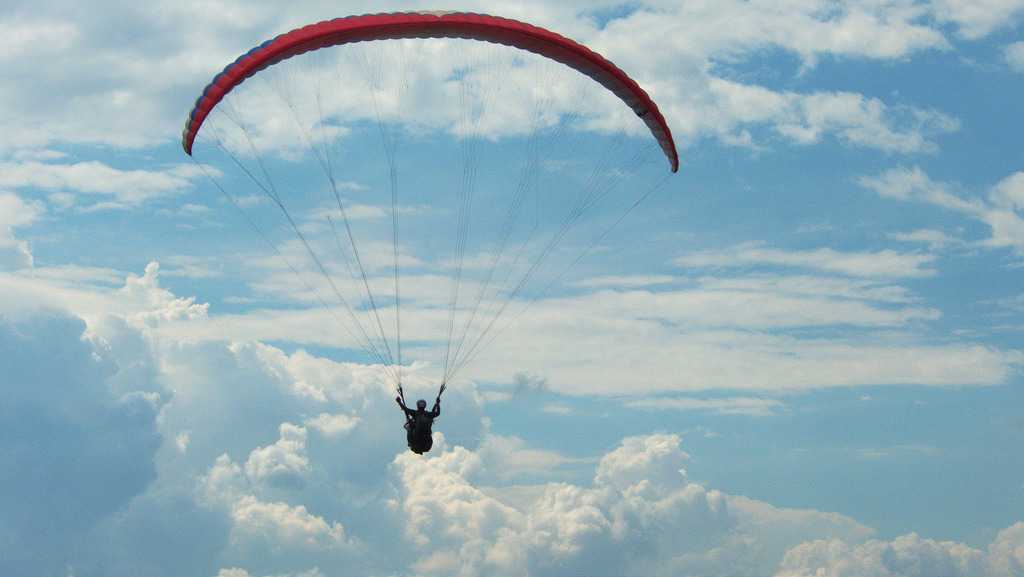 Situated at an average altitude of 1400 m, Shillong or Scotland of the East is one of the most beautiful tourist destinations of the North East. And to add to its already exciting locations and scintillating greenery all around, one can now go for paragliding too. The paragliding market is slowly but surely evolving in the cute little town, attracting travel and adventure enthusiasts equally. There are provisions of hydraulic payout winch system, which are connected by means of radio where the pilots are guided by flight supervisors. The heights of up to 700m can be achieved.
How to Reach
Shillong is well connected by roads; other means of transport are not as reliable.
Best Time to Visit
Summers, when the skies are clear and the winds are just fine.
Popular Operators
Yatra
Approximate Costs
9. Gangtok, Sikkim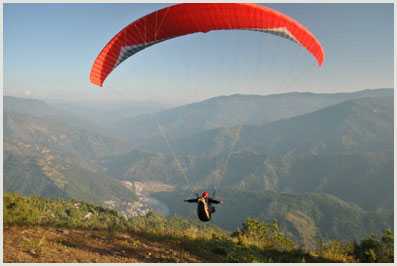 A famous tourist destination, the city is located in the small North Eastern state of Sikkim. The city holds a lot to show and paragliding is surely one of the major attractions for adventure seekers. The place has amazing landing ridges and is surely growing to be one of the major attractions of the state.
How to Reach
By air, rail or self-drive. The nearest airport is at a distance of about 124 km at Bagdogra and the nearest railway station is at New Jalpaiguri.
Best Time to Visit
Summers
Popular Operators
Fly Sikkim Adventures
Approximate Cost
INR 1800 onwards
10. Sanasar, Jammu
A beautiful paragliding spot in the state of Jammu, Sanasar sure has a lot to offer. Flying like a bird, with the snow-capped Himalayas surrounding you, the feel is certainly heavenly. Located at a distance of about 19 km from Patnitop, surrounded by conifers, it is one of the most beautiful locales for paragliding.
How to Reach
By air, Jammu is the nearest airport, located about 120 km away.
Best Time to Visit
Summers, because winters are very cold
Popular Operators
J & K Tourism
Approximate Cost
INR 1600 onwards
11. Nandi Hills, Near Bengaluru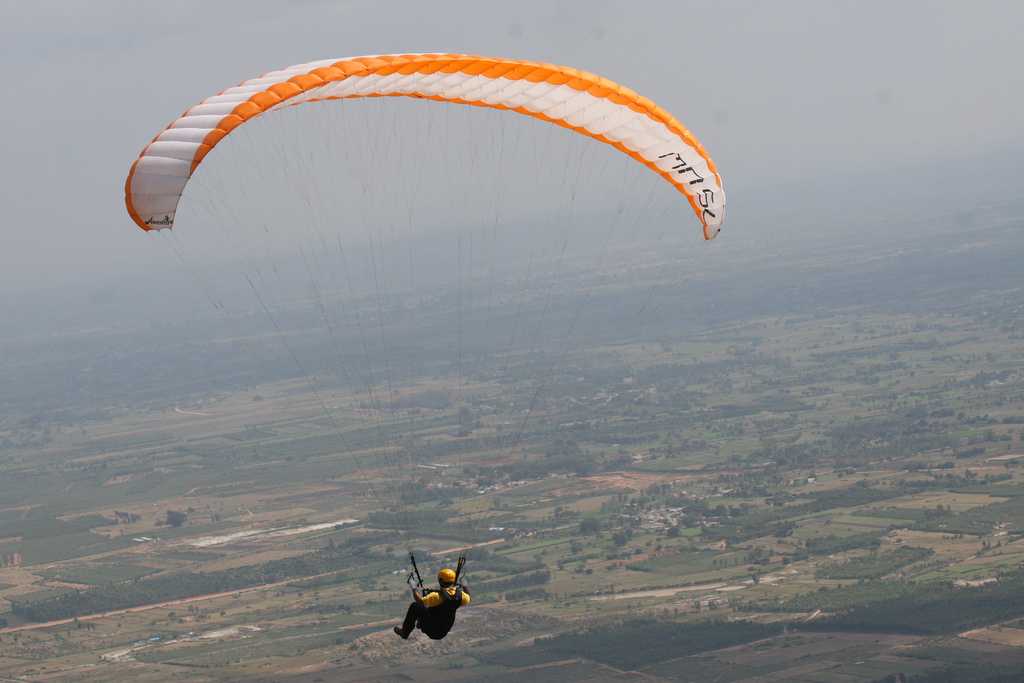 Source
Located at a small distance from Bangalore, the beautiful hill station is surely a treat to the eye. Paragliding in this area is particularly famous, one of the must do things while being in the area. The place is located at a height of about 1400 m above the sea level and has a lot of flat surfaces around hills for landing.
How to Reach
The nearest airport is at Bangalore, located at a distance of about 68 km from Nandi Hills; from there you can take a bus to reach the hills.
Best Time to Visit
All the year round except in the months of July- September, when monsoons arrive.
Popular Operators
Karnataka State Tourism Development Center
Approximate Cost
Starting from 1500 INR (approx)
11. Vagamon, Kerala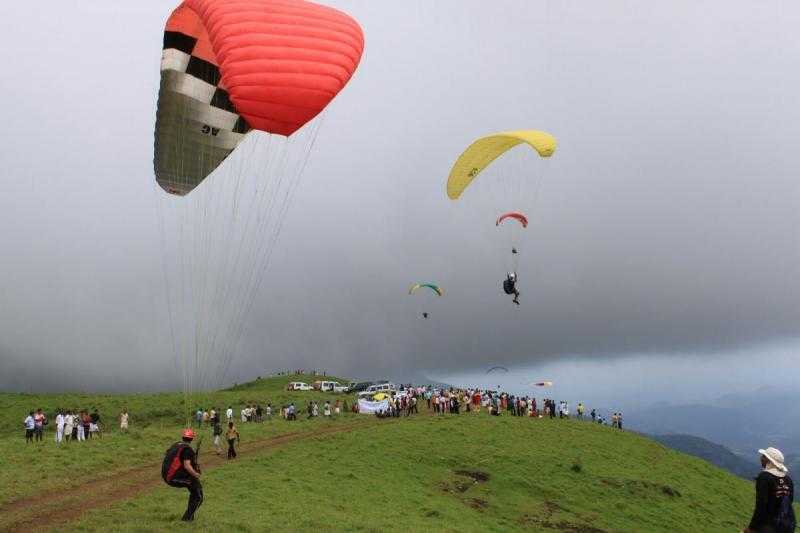 Source
Located in the Idukki district of Kerala, the beautiful hill station is a dream for adventure enthusiasts. Temperatures ranging from 10- 23 degree Celsius on summer midday, this place is ideal for paragliding. Trained pilots are available which means tandem flights are possible.
How to Reach
The nearest airport is at Cochin, 75 km from Vagamon. The nearest railway station is at Kottayam, about 100 km from the hill station. The place is also well connected by road.
Best Time to Visit
October to March; when the monsoons are over.
Popular Operator
Paragliding Kerala
Approximate Cost
INR 3500 (approx)
12. Arambol, Goa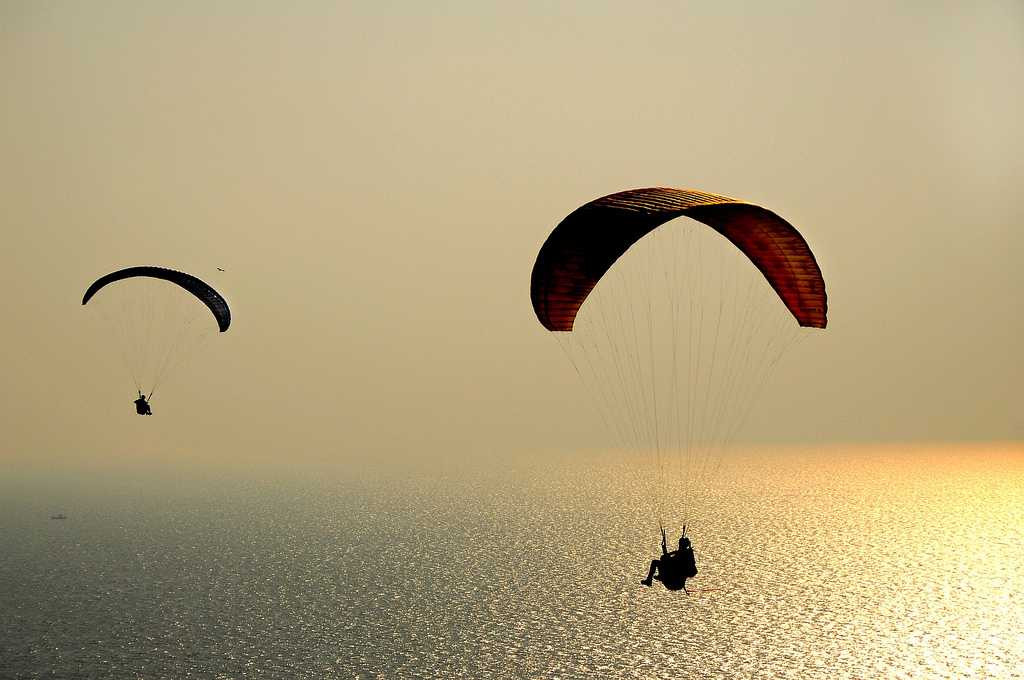 Source
One of the famous beach areas of Goa, Arambol is also famous for the paragliding experiences that the place has to offer. The best launching point is the headland above the Kalacha Lake. Arambol is perfect for beginners, the reason being the smooth and calm breeze which is perfect for a no-break flight.
How to Reach
Arambol is a two-hour drive from the Dabolim airport.
Best Time to Visit
October to June
Popular Operators
GOA Extreme, Xtacee Paragliding Club
Approximate Cost
Tandem flights starting from INR 2000 (approx)
13. Yelagiri, Tamil Nadu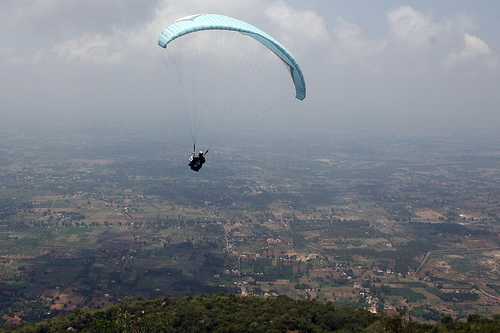 Source This is one of the best places for paragliding in south India. Located about 3 hours away from the capital city of Chennai, the hill station of Yelagiri is a boon for travellers and adventure seekers. The hill station also has a paragliding club which lends various paragliding equipment and also provides various tandem flights. The beautiful green grass of the hill station and the altitude of about 2000 m is perfect for an amazing paragliding experience.
How to Reach
By railways, the nearest railway station is at a distance of about 21 km from it at Jolarpettai. The station is well connected to all the major cities.
Best Time to Visit
September to February
Popular Operators
Yelagiri Marigold Ridge
Approximate Costs
Tandem flights starting from INR 2000 (approx)
These are some of the most popular spots all around the country, and if you are an adventure seeker you can definitely go visit them, and even if you are not, you can always overcome them.
14. Mussoorie, Uttarakhand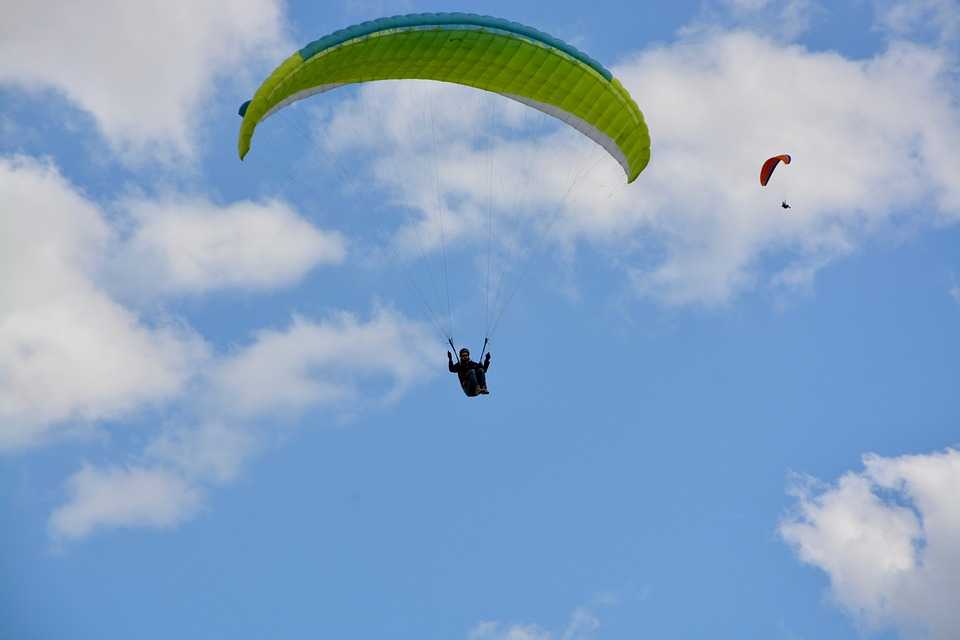 Source
Located around 60 km (2 hours) away from Mussoorie is Lakhamandal on the Yamunotri Road and take off point is 20km from there.
How to Reach
By railways, the nearest railway station is Dehradun which is at a distance 33km.
Best Time to Visit
September to June (Except monsoon)
Popular Operators
Sky Riders Adventure
Approximate Cost
Tandem flights starting from INR 1600 (approx) and goes up to INR 10000 for long flights
15. Kunjapuri, Uttarakhand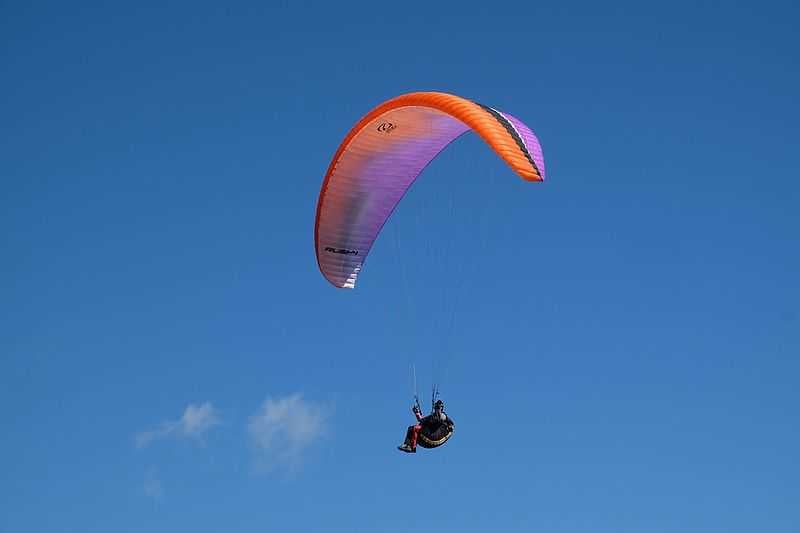 Source
Kunjapuri is one of the most desired locations for paragliding enthusiasts. Located in the holy city of Rishikesh on the banks of the sacred river Ganges. Kunjapuri is erected by nature at the peak of the Shivalik range. Once airborne you are feasting your eyes on the Banderpunch, Sawrga Rohini, Chaukhamba and Gangotri peaks. If mountaineering humbles you gliding in the air at par with the Himalayas will make you feel surreal. Relish as you see the sun going beneath the mountains after a hard day's work casting a luminous glow over the landscape.
How to Reach
You can reach this destination by air. The nearest airport being the Dehradun Airport situated 15 km away from the location. If you are using the rails, the nearest railway station is at Rishikesh, or you could grab a ride from the many buses or taxis that ply routinely.
Best Time to Visit
Any time except during monsoon. The region has a pleasant climate and favourable winds.
Popular Operator
Paragliding Earth
Approximate Cost
INR 3500 onwards
16. Pawna, Maharashtra
Ever felt like growing a pair of wings and taking off to the sky and let bygones be bygones. The chance awaits at Pawna, a paragliding hotspot in south India tucked in nature precisely at Kamshet 110 kms from Mumbai and 45 kms away from Pune. This adventure sport caters to a larger group of adventure junkies as it is one of the prime locations in the state of Maharashtra. As you take to the air, the valley of Sahyadari unveils itself for a visual treat. The gleaming valley below you and the small villages starts to look as low as it is ancient with the glares of the sun reflecting on your face from the bright and pristine waters of the Indrayani and Pawani river. All that is required is to saddle yourselves and unwind to nature as the accomplished pilot pulls the reins and do all the hard work. You also stand a chance to gain tips from experienced pilots.
How to Reach
Pawna lake lies in between the Pune – Mumbai express highway. You can come down to this paragliding hotspot by flying down to either Pune or Mumbai and avail the trains to Lonavala railway station and hitch a ride from there to the lake which is a mere twenty kilometres away. Might we suggest a good old fashioned bike ride which could be an even more pleasing prospect?
Best Time to Visit
The best time to visit the lake would be a time which would offer a pleasant climate and a picturesque view of the lake at its best. The optimal time to visit the lake would be from November to December.
Popular Operators
Temple Pilots and Indian Outdoors.
Approximate Cost
INR 4000 to 5500 approximately.
17. Bedini Bugyal, Uttarakhand
The vast expanse of the sky has always been a ludicrous tale of curiosity for all of humanity. The interest has rocketed us to explore the heavens. Travelling on a flight gives us only but a bird's eye view of the air before we are taken up to the clouds. The search for exploring the skies ends at the sport of paragliding. In India paragliding enjoys a vast potential due to its diverse topography. Uttarakhand has always been frequented by tourists and Bedni Bugyal in the Chamoli district of Uttarakhand state is a sweet spot for adventure junkies. This aero sport in Bedini Bugyal is ideal as it takes you over the grasslands, snow-capped mountain peaks and the hilltop ranges of Bedni Bugyal. The view of alpine covered Himalayan meadows is another blessing for the eyes at 3.354m above sea level. Enjoy the tranquillity and peace that steals over you never like before and don't forget to pose for a selfie from with the beautiful landscape in the background. You also have the option for a weekend-long getaway as the place is a plethora of activities and adventure sports and tourist attractions
How to Reach
Uttarakhand has its only airport located in in the state capital of Dehradun. There are private tour buses and cabs which will drop you down at the location. The Indian rail network well connects Uttarakhand. The nearest stations are Dehradun, Haridwar and Kathgodam.
Best Time to Visit
The best time to visit Bedni Bugyal is from September to May, and it is seasonal since snow covers the region and the mountains which pose a threat to paragliders.
Approximate Cost
A visual treat from the air will roughly cost you INR 2000 – 3000.
18. Satpura, Gujarat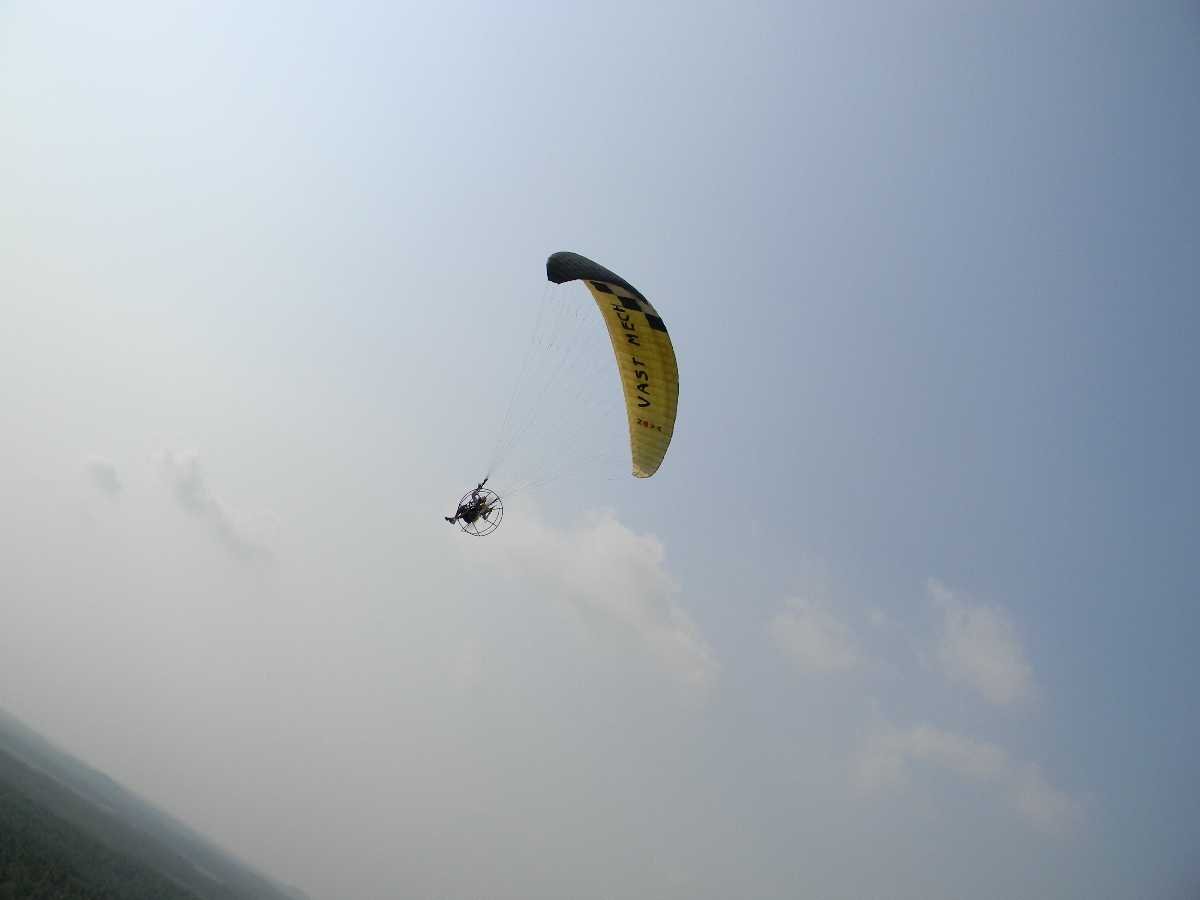 Source
Satpura in Gujarat is an upcoming paragliding destination in India located in the state of Gujarat. Satpura has recently started to become a growing blip in for those who have a sweet tooth for adventure sports to those who love the feel of adrenaline pumping through their bodies. The paragliding festival held annually brings together a group of aero sports enthusiasts and children. Take off to the sky from the lofty heights of the Pavagadh hill in the district of Panchmahal like the mythical character Icarus and have no fear of flying too close to the sun as you take your journey with an experienced and professional instructor. Below you the historical city of Champaner rolls out to meet you. History states that the hill was once the location of an active volcano. 500 million years ago there was a volcanic explosion. Currently, the area has been termed dead and dusted though if a freak of a nature activity occurs your glider is your best and last resort which will carry with the winds for kilometres without the need of an engine. Once airborne; dense forests come up to meet you along with reddish-orange rhyolite boulders, and a natural cave located just below the summit all the while enjoying the strong monsoon winds fiddling with your air filling you with a heightened sense of euphoria. The place is also home to the country's highest mono cable ropeway.
How to Reach
The nearest city is Vadodara, and it is well connected with a fully-fledged road network to all major cities in India also with an airport and railway station. Vadodara is just an hour from the city.
Best Time to Visit
The best place to visit Satpura would be between December and January which will be when the twenty-six day of paragliding festival conducted.
Popular Operator
Satpura adventure sports club
Approximate Cost
INR 3000 – 5000 approximate
Do's and don'ts While Paragliding
There are certain things to keep in mind while paragliding. One must know that the rules and regulations that are set out are absolutely necessary to be carried out. One cannot just take risks while being up there. There needs to be some kind of preparation because one cannot fight nature. So we have made a checklist of the things that you will need and the things that you should steer clear from to stay safe. But rest assured, it is one of the safest airborne adventures that one can think of.
5 Best Paragliding Places in India
World's second highest Paragliding site which is approx 5000 feet AGL (Above Ground Level) and approx 8000 feet above sea level. A typical paragliding joy ride take around 20-25 mins from top to bottom.
Bir is the landing point and Billing is the takeoff site. Trip to the take off site Billing takes approx 30 mins by road.
Average cost: Rs.2500 to 3000/- per flight (Gopro camera optional)
Pre-booking is not necessary.

Since there are many operators here, just Don't go for the lowest cost, ask for references of good paragliding pilots with good harness, glider and reserve parachute. You would not want to go home bruised or broken.
#2 BHIMTAL NAINITAL – Uttarakhand
Paragliding in Bhimtal valley situated in the Himalayan state of uttarakhand has become a fast growing adventure activity that is drawing adventure seekers from all across. It is one of the most affordable/ cheaper options for paragliding in India.
Here too, many operators provide this flying adventure sport. The average height attained here is up to 1000 feet AGL (Above Ground Level, though operators will quote you 6000+ feet Above Sea Level which is irrelevant since you do not land at sea level ) and the joy ride lasts for 3-5 minutes from top to bottom. You though have an option to extend the flying time, but you would only be circling around in the sky for extra money.
Average cost: Rs.1300 to 1500/- per flight (Action camera optional)
Pre-booking is not necessary.

Ask operator to ensure safety with harness and reserve parachute.
#3 JODHPUR – Rajasthan
One of the newest and the most popular in the recent times Jodhpur has emerged one of the best and unique destinations for paragliding in India. All thanks to the skills and efforts of the only operator in the state of Rajasthan, SkyVentures operated by Mr. Samarth Sharma (Advanced Paragliding and Hang Gliding pilot) personally flies his clients almost throughout the year. Average duration for each flight is about 10 minutes and height attained is approx 1500 feet Above ground Level as per weather conditions.
Average cost: Rs.2990/- per flight (Gopro action video + pics optional)
Pre-booking is necessary.
This operator ensures safety with a reserve parachute and high-end equipment combined with over 12 years experience and clear airspace.
#4 Kamshet – Maharashtra
A very popular destination for paragliding training, Kamshet has several hills for paragliding. Flying is possible here from October to May/June. There are many professional training schools for paragliding here you can though get in touch with any of them for Tandem Paragliding. Average duration for a flight is 8-10 mins and height is 1500 feet Above ground level.
Average cost: Rs.2500 to 3500/- per flight (Weekdays are cheaper, Gopro video optional)
Pre-booking is not necessary.

Operators here are very professional and take all safety aspects into consideration.
#5 Vagamon – Kerala
Vangamon is a beautiful hill station of Kerala and you've an opportunity to take off and land into the welcoming arms mother nature. Paragliding at Vagamon is a 10km ride at approx 3000 feet Above ground level. Average flying duration is 15-20 minutes. There are only few operators there with "Fly Vagamon" being the most popular. Pre-booking is recommended.
Average cost: Rs.3500/- per flight (Gopro video optional)
Pre-booking is necessary.

Fly Vagamon is professional and takes all safety aspects into consideration.
Paragliding in India – Complete List
This is one experience that literally made our hearts skip a beat as we took off from almost 8,000 ft with a view of the stunning Himachali landscape below us. Men have always dreamt of flying and unless you got superpowers, nothing comes close to flying than Paragliding.
Given below is a comprehensive list of places for paragliding in India that is simply breathtaking in every way! Are you ready for the adventure ?
Where can I go paragliding in India?
Here is a list of 22 places where you can go paragliding in India! See which one is closest to you!
Paragliding in Bir Billing
Located in a small hamlet in Himachal Pradesh, Bir Billing is the go-to destination for serious paragliders and therefore, one of the best places for paragliding in India. Its claim to fame came when it hosted the Paragliding World Cup in 2015 and the sport has taken off since then, with thousands of adventure enthusiasts visiting this place from all over the world.
Charges – INR 1,500 for a 15-30 minute flight. INR 500 for hiring a GoPro
Paragliding in Manali
Sitting pretty at an altitude of almost 6000 ft, Manali is another popular paragliding joint in the states of Himachal Pradesh. Except for the monsoons, the destination offers courses for Paragliding with stunning views of the valley around it. Therefore, it is one of the most popular paragliding destinations in the North.
Charges – INR 1,800 onwards
Paragliding in Mussoorie
Another popular one in the North, Mussorie also offers the sport at competitive rates during the season with an altitude of around 7,400 ft. One can take off from the Lake and reach Dehradun on a long flight!
Charges – INR 2,000 onwards
Kamset paragliding experience. Pic Courtesy – Mumbai Travellers
Paragliding in Kamshet
This one's located in Maharashtra, near Lonavla and offers tandem paragliding joy rides. Because of its landscape, Kamshet Paragliding Club is one of the most popular vendors there and boasts of having more than 20,000 fliers! Located in between Mumbai and Pune, you can reach here by bus or taxi.
Charges – INR 2,500 onwards
Paragliding in Nainital
Experience the thrill of flying high up in the air with tandem paragliding at Nainital. Because of lots of operators and low prices, you can experience the serenity of the hills below from an altitude of over 4,000 ft.
Charges – INR 1,500 onwards
View of the Yelagiri hills. Pic Courtesy – Travel ka baap
Paragliding in Yelagiri
If you are looking at Paragliding spots near Chennai then head to the Yelagiri hills to experience this cool new adventure sport. The take-off height is approx 2,000 ft and Temple Pilots is the best operator there.
Charges – INR 1,500 onwards
Paragliding in Ranikhet

Ranikhet is another popular paragliding destination near Nainital, therefore a great site for beginners. You can experience the joy of tandem flights or actually learn solo flying with trained instructors.
Charges – INR 2,500 onwards
Paragliding in Panchgani

Clear skies, favorable weather, stunning views of the hills, and the scenic valleys, makes this hill station a must-visit place for paragliding. Flyers can make it to a soaring height of around 4,000 to 5,000ft and enjoy a bird's-eye view of Panchgani.
Charges – INR 2,500 onwards
Paragliding in Dharamsala

Solo jump or a tandem flight, Indrunag Dharamsala is a fantastic spot for paragliders offering spectacular sights of the golden sunset in the hills all around. If you are not a trained glider, don't worry, you can still partake in paragliding in the company of a professional.
Charges – INR 2,000 onwards
Paragliding in Kunjapuri

Kunjapuri provides a beautiful panoramic site for paragliding in the Shivalik hills and is located just 45 mins away from Rishikesh. Again the highlight of the flying experience is to witness the gorgeous sunrise and sunsets in the valley.
Charges – INR 2,000 onwards
Take off point in Sikkim. Pic Courtesy – Fly Sikkim Adventure
Paragliding in Gangtok

Welcome to the world of paragliding in Sikkim where you can enjoy a Medium Flight (4,500 ft) or a High Flight (6,500 ft) with a landing site located 4 km from the jump spot. Baliman Dara and Bulbuley Dara are the only two certified paragliding take-off locations in East Sikkim (both are near Gangtok).
Charges – INR 2,500 onwards
Paragliding in Bedni Bugyal

A very off-beat destination giving you a marvelous view of the Kumaon district, Bedni Bugyal gives the ideal setting to Paragliding in Uttarakhand. The best time for Bedni Bugyal Paragliding season is September to May.
Charges – INR 2,000 onwards
Paragliding in Shillong

The Scotland of the East, Meghalaya, has one of the Best Paragliding places in North East India. Thrill-seekers can visit this beautiful destination to have the best experience of paragliding in the scenic surroundings.
Charges – INR 2,000 onwards
Pic Courtesy – Youtube
Paragliding in Arambol Beach

How about enjoying a bird's-eye view of Goa and the surrounding seas? Try a hand at paragliding in Arambol Beach and you are sure a see a different view of Goa from up above! The flight starts from a cliff located between Arambol and Harmal beach, and you take off to a wonderful view of the mountains, plains, and the ocean below.
Charges – INR 3,000 onwards
Paragliding in Pithoragarh

One of the most breathtaking regions in the hills of Uttaranchal is Pithoragarh that offers hang gliding, paragliding, trekking, skiing, canoeing, river rafting, and fishing.
Charges – INR 2,000 onwards
Paragliding in Sanasar

You can experience the beauty of the Sanasar valley by flying over its beautiful landscapes full of meadows and lakes. A low flying ride here includes a larger bit of the flight path over a lake and a landing into the meadows and a high-flying ride can be experienced from Nathatop for a duration of about 20 minutes.
Charges – INR 2,000 onwards
Vagamon paragliding spot. Pic Courtesy – Kerala Tourism
Paragliding in Vagamon

A beautiful hill station in Kerala, full of lush green meadows, hills, waterfalls, and rivulets, Vagamon is an upcoming Paragliding destination in the South offering jumps from an altitude of 4,000 ft. All you need to do is have the courage to fly to the hills of Kolahalamedu, a part of South India's second-largest peak 'Amruthamedu' and enjoy the thrilling journey!
Charges – INR 3,000 onwards
Paragliding in Pavagadh Hills

Pavagadh Hill is situated within a plain in Gujarat in the southern Aravalli Range. The flight distance is about 3 km and lasts 20 minutes. Because private vehicles not being allowed in, registered buses and government vehicles provide transportation up the hill and to the take-off point.
Charges – INR 2,000 onwards
Paradliging in Matheran

An ecotourism destination, Matheran is also a great paragliding spot located in the Sahyadris. Matheran is a calm and unpolluted place, an ecozone. Therefore no vehicles are permitted inside the town and because of this, it is a lovely place to go paragliding.
Charges – INR 1,500 onwards
Paragliding in Jaipur
Grab your chance to fly over the Pink City because the sport has gained a lot of interest in Rajasthan. View the surrounding hills or witness a charismatic sunset over the desert as you soar the skies over the rustic, historic city.
Charges – INR 2,000 onwards
Pic Courtesy – Thrilliphilia
Paragliding in Purandar
This one is located just 45 km from Pune and set in the Purandar Fort. What makes this place ideal for paragliding is that the entire region is composed of a lot of open fields because of which take-off and landing is an easy affair.
Charges – INR 2,000 onwards
Paragliding in Bhopal
Quite an unusual paragliding destination, but Bhopal features in our list because the city is now pushing it as an adventure sports destination . You can book your flight with Singh's Paragliding and Paramotoring. They offer paragliding courses and tandem joy rides in Bhopal.
Charges – INR 2,500 onwards
Apart from paragliding in India, if you are looking for other adventure activities , why not try the trek to Mount Kailash ? Here are some great trekking tips as well.

Liked this article? Don't forget to leave your comment below and share it with your friends! If you would like to travel the way we do, then join us on our tours through our boutique travel company, Moto Overlanders.
We also recommend our section on Food, Reviews, and International destinations in our blog. If you like our pictures, do check out our Instagram and Facebook page as well.
This article and the pictures in it belong to Travelmynation and usage without prior permission is prohibited. If you would like to use any of our content, pls feel free to reach out to us.
Source https://www.holidify.com/pages/paragliding-in-india-46.html
Source https://skyventures.in/5-best-paragliding-places-india/
Source https://travelmynation.in/paragliding-in-india-complete-list/