Winter Backpacking: An Essential Guide
Perhaps, like so many backpackers, you've thus far confined your tenting-out adventures to summer (and maybe some shoulder-season forays here and there). When the temperatures plummet, the days shorten and the flakes fly, you hang up your back, store away the sleeping bag, and content yourself with a winter spent dreaming up backcountry treks for next year.
Here's the deal, though: The start of the snowy season doesn't have to mean the end of backpacking season. Winter backpacking has loads of appeal: more solitude and the indescribable glories of the whitened wilderness first and foremost among them.
For first-timers, though, the prospect of trekking into that cold, snowy, blustery wintertime backcountry can be intimidating, to say the least. Really, tackling winter backcountry is very achievable: Much of the logistics of it are just the usual wilderness-recreation ones turned up a notch or two to account for the special demands of the season.
In this guide, we'll run down the fundamentals of winter backpacking to give you the confidence to maybe give it a go. All-season backpackers, after all, can enjoy the pleasures of the deep wilds—which, mind you, get deeper in the snowbound months, when even easily road-accessible acreage can feel deliciously quiet and empty—throughout the year (and, in fact, the heart-of-winter backpacking is honestly often easier to pull off than early-spring adventures, which can involve much gloppier, harder-going conditions).
So, without further ado, let's lace up those winter boots—maybe strap on the snowshoes or the touring skis as well—and foray our way through winter backpacking basics!
Winter Backpacking Destinations
It goes without saying that in snowy climes, access to public lands can become a little more complicated. But maintained winter recreation zones in national parks, forests, and other areas mean you'll likely still have plenty of options for backpacking areas reachable by plowed road. Just remember to properly winterize your vehicle (snow tires, chains, emergency essentials) before striking off.
We'd be remiss not emphasizing that there's also plenty of country that won't exactly be locked in extreme winter conditions. Indeed, winter can be the prime season to backpack in mild weather in, say, subtropical Florida or the Desert Southwest.
Planning a Winter Backpacking Trip, Route & Course
Some parks and other recreation areas maintain marked backcountry winter routes for cross-country skiers and snowshoers. These circuits—if overnight camping is allowed along them, of course—can be great choices for the beginner backpacker, given wayfinding is that much easier.
Often you'll be going cross-country when backpacking in the snow. In fact, a good snowpack can open up access to off-trail areas much harder to get around in during the growing season. It's generally a lot easier to cross brushfields, talus slopes, swampland, and shrubby forest depths when floating over a few feet of snow. This can open up backcountry routes in wintertime that otherwise would be harder to both traverse and navigate through in the summer.
Of course, landscapes can also be made significantly more treacherous in winter. If you can at all avoid it, you'll want to steer your route away from avalanche-prone terrain, knife-edge ridges coated with sketchy cornices, and icy ledges or slopes equalling super-dicey footing and big consequences for a tumble.
How to Train for Backpacking in Winter
Winter trekking tends to be much more physically demanding than warm-weather backpacking—probably no surprise even to somebody who's never tried it. Moving over snow, ice, slush—even just lightly (and slickly) frosted grass—tends to be a lot more work than traversing dry, bare ground. The cold conditions themselves force your body to work harder to stay warm. You also may generally be hustling more than usual given the shorter day length and the sim appeal of having to pull off too many tasks once night's fallen and the mercury's nosediving.
When it comes to conditioning for winter backpacking, you certainly can't do better than a full summer's worth of hiking and trekking. Combine that with strength- and endurance-training at home and in the gym—including, when it comes to the legs especially, accounting for a heavier winter pack—should set you up for success out in the snowscapes.
Gear to Bring Winter Backpacking
The gear you need for winter backpacking isn't fundamentally different (with a few exceptions) from what you bring backcountry adventuring other times of year. It generally just means scaling things up.
First off, what sort of pack do you want for the winter wilderness? Well, generally speaking, a bigger one than that you'd likely be using for strictly warm-season backpacking. You will, after all, be hauling more and bulkier gear along the way. Personal preference and experience come into play here to a significant degree, but you likely don't want to go with a backpack less than 65 liters of capacity for wintertime overnighting.
If you're camping amid mild winter weather or down in sheltered forestland, a three-season tent (combined with the right components of the rest of your sleeping system) might see you through just fine. If you're camping in harsher country, or expecting much in the way of wind and/or heavy snowfall, you'll likely want to go the four-season tent route. The sturdier build and more comprehensive tent-fly protection of these all-season tents give you a more secure shelter in the face of wintry gales and snowstorms.
Sleeping Bag
Select a sleeping bag rated to at least 10 degrees F lower than the kind of temperatures you're anticipating out there while backpacking in snow. You can boost your sleeping bag's warmth with a sleeping bag liner—given its significant insulating, lightweight, and packability properties, a good idea to have on hand regardless. You want to go the mummy-bag route for winter camping, given you need that hooded setup to stay cozy in frigid conditions.
You'll typically want to bring along two sleeping bags: a closed-cell foam one to lay on the floor of your tent, then a self-inflating one to place atop that and sleep on. This not only gives you more insulation from the cold winter ground: It also gives you something to play with in case the inflatable pad punctures.
Cooking Stove
When it comes to a cookstove, liquid-fuel/white-gas stoves perform better at lower temperatures—including sub freezing conditions. If you do decide to use a canister stove, choose one with a pressure regulator to help it maintain a steady flame in chilly weather. Bringing extra fuel is a good idea, especially if you're going to be melting snow for your drinking and cooking water (which is a fuel-demanding process). You'll cover your bases by bringing a backup stove as well, in case your primary one checks out.
Snow Shoes, Boots & Skis
We'll get to clothing—obviously an essential part of your winter-backpacking inventory—later in this guide. But how about travel aids? If you're going to be exploring country with more than a few inches of snow, you're likely going to want to suit up in either snowshoes or cross-country skis. Deep snow can be impossibly grueling to traverse in mere boots, especially when you're hauling that much extra poundage given the demands of the season. Snowshoes are the most immediately user-friendly option, and also allow you to explore just about any winter terrain. Cross-country skis, whether touring or (better yet) backcountry models, perform less well in heavily timbered or rocky country, but otherwise can help you coast along with relatively minimal effort compared to snowshoeing or bare-boot hiking.
Traction Gear & Sleds
If you are going the winter or backpacking-boot route given accommodating snow conditions, you'll often do well bringing crampons or similar traction devices along: essential for tackling steep slopes or simply the uneven surface of snowy or icy trail.
Whether you're hiking, snowshoeing, or skiing, use trekking/ski poles for balance and support. You may well also need to bring an ice axe if your route takes you into steeper terrain.
A sled or pulk is handy for hauling that extra winter gear over snow, though it's better suited for more level and open country or on-trail travel.
First Aid & Emergency Packs
It goes without saying you need to bring along fundamental wilderness emergency essentials, not least fire-starting supplies in case you need a warming blaze.
Setting Up a Winter Campsite
We'll cover some of the basics of setting up your winter campsite here, but much more can be found on our blog post, "Tips for a Happy Winter Campsite."
Selecting a Campsite
Naturally, it's always important to carefully select a campsite when backpacking, but winter ups the ante a bit. You want to make sure your bedding-down zone is as out of the wind as possible, and certainly out of the most hazardous avalanche terrain—not just the base of risky slopes, but out a ways in the "runout zones" often revealed by flagged trees.
Placing the Tent
Depending on where you're winter camping, you may or may not actually be pitching a tent on snow. Doing so definitely requires some special consideration and preparation.
You can buffer yourself against wind if you can't find a fully sheltered spot by erecting a snow wall, or at least digging down a ways into the snowpack to set a lower base for your tent.
Any tent site on snow should be well tamped down before putting up your shelter. Loose and uneven snow under the weight of your sleeping tent will develop a hard, lumpy, super-uncomfortable glaze. Stamp out a flattish area of packed snow—snowshoes come in particular handy here—to avoid this recipe for a tossing-and-turning night.
Digging a Pit
Dig out a pit under your tent vestibule to make putting on and taking off boots and getting into and out of your shelter that much easier.
From a cold weather backpacking "Leave No Trace" perspective, it's best to set up over as deep snow as possible. Also, if you can't dig a cathole down into soil, you should be packing out all human waste.
When to Make Camp
Given how carefully you want to select a safe, sheltered location to bed down in winter, and how much extra time preparing your site can take, it's essential to make camp with daylight to spare. That means careful time management while trekking, and favoring setting up camp over pushing on if you're not covering as much ground as you intended.
Food for Winter Backpacking & Cold Weather Cooking
The physical and metabolic demands of cold weather backpacking mean you're going to need to up your food intake significantly—not just beyond your everyday at-home diet, but also generally beyond what you'd be consuming on a summer or fall trek. You may well be packing away upwards of 6,000 calories per day on a winter backpack.
Bring Fat-Rich Foods & Energy Snacks
Bring along plenty of fat-rich foods so you've got long-burning energy. Energy-packed snacks for daytime sustenance are important, because on a winter trek you're not likely going to want to stop for extended lunch breaks—or stop at all. Winter backpackers want to eat more as well as eat more often, and they want quick-cooking, fuel and time-efficient meals so they're not hanging around in the cold and dark waiting to eat. Quick cleanup is desirable, too. One-pot breakfasts and dinners—especially (ahem) "just-add-hot-water" options from Mountain House — are ideal.
Pack a Stove for Meltwater
Backpacking through snowscapes, there's a good chance you'll need to rely on the white stuff (unless you're camping close to an open, running stream, say) for cooking and drinking water. Because much of snow is not water but air, first-timers are often shocked at how little liquid's produced from melting snow; you need a lot of snow, and thus a lot of stove fuel, to generate enough water. That means bringing more fuel than for a comparable trip in other seasons—and again points up the benefit of one-pot and just-add-water entrees (when melting snow, remember to pour a little water in the cookpot first to avoid a scorched taste to your meltwater).
Starting a Fire
Whether for warmth, obtaining drinking water, or cooking food, there's a chance you may find yourself needing to start a fire while winter backpacking. Rather than cover that nuts-and-bolts backcountry skill here, we'll point you to this handy Mountain House post, "How to Start an Emergency Fire."
What to Wear Winter Backpacking
Repeat after us: layering. Layering's the M.O. of any backpacker's wardrobe game, and its value is never so starkly clear as on a winter trek.
In summary, you'll want a base layer such as wool or polyester long underwear, mid layers such as fleece or down puffies, and an outer shell layer of waterproof and breathable jacket and pants. You want to maintain an insulating layer of air around your body while wicking away perspiration and keeping wind and external moisture from penetrating.
Hats & Gloves
A warm winter hat and a balaclava for protecting your face in extreme cold or bad wind take care of (along with a hood) your head protection. For your hands, consider wearing thin glove liners or fingerless gloves—handy for dexterous tasks at camp—underneath warmer shell-layer mittens or overmitts.
Socks & Boots
Depending on conditions, you may be able to wear waterproof backpacking boots, but often robust winter/mountaineering boots are best. Size up to accommodate thicker or double-layered socks as well as an extra wool insole. Long gaiters worn over your boots and lower legs help keep out snow and ice while providing some insulation.
Hand Warmers
Hand warmers are a treat out there in the snowlands, slotted not just in your gloves but also, potentially, in your boots, pants, hat, and other cold-vulnerable spots.
Sunglasses & Goggles
Don't forget sunglasses or goggles: The glare off that winter snowpack, even in light overcast conditions, can be prodigious, and can even lead to temporary but ultra-painful "snow blindness."
How to Prevent Frostbite & Hypothermia
Two of the chief hazards in winter backpacking are frostbite (when blood vessels and adjoining tissue actually freeze) and hypothermia, the dangerous decline of body temperature. Wearing proper insulating and waterproof clothing and gear is obviously paramount. Bring along extra clothing layers so that, if your garments get wet, you can quickly get out of them and into dry ones.
Symptoms
Hypothermia symptoms cover a lot of territory, and it's important to know the early signs so that progression into a more serious, even life-threatening, condition can be avoided. Here are some of the initial cues either frostbite or hypothermia may be setting in:
Shivering
Numb extremities
Clumsiness
By the way, dehydration can be a trigger of hypothermia, so don't forget to drink plenty of water when winter backpacking—even if you aren't feeling thirsty).
Frostbite can also be reversed if noticed early enough; treating frostbitten extremities in the backcountry is challenging, the main course of action being getting a frostbite victim back to civilization for medically supervised reheating.
For more information, check out this Forest Service page on these two medical conditions.
More Resources
For more winter backpacking tips and tricks, we urge you to check out the following Mountain House posts in addition to the ones we've already linked to:
Hiking in Cold Weather: Advanced Tips & Hacks
Hiking in cold weather doesn't have to be a sufferfest. In this guide, we'll provide you with all the know-how you need to ensure your cold-weather hiking trips are as comfortable, safe, and fun as can be.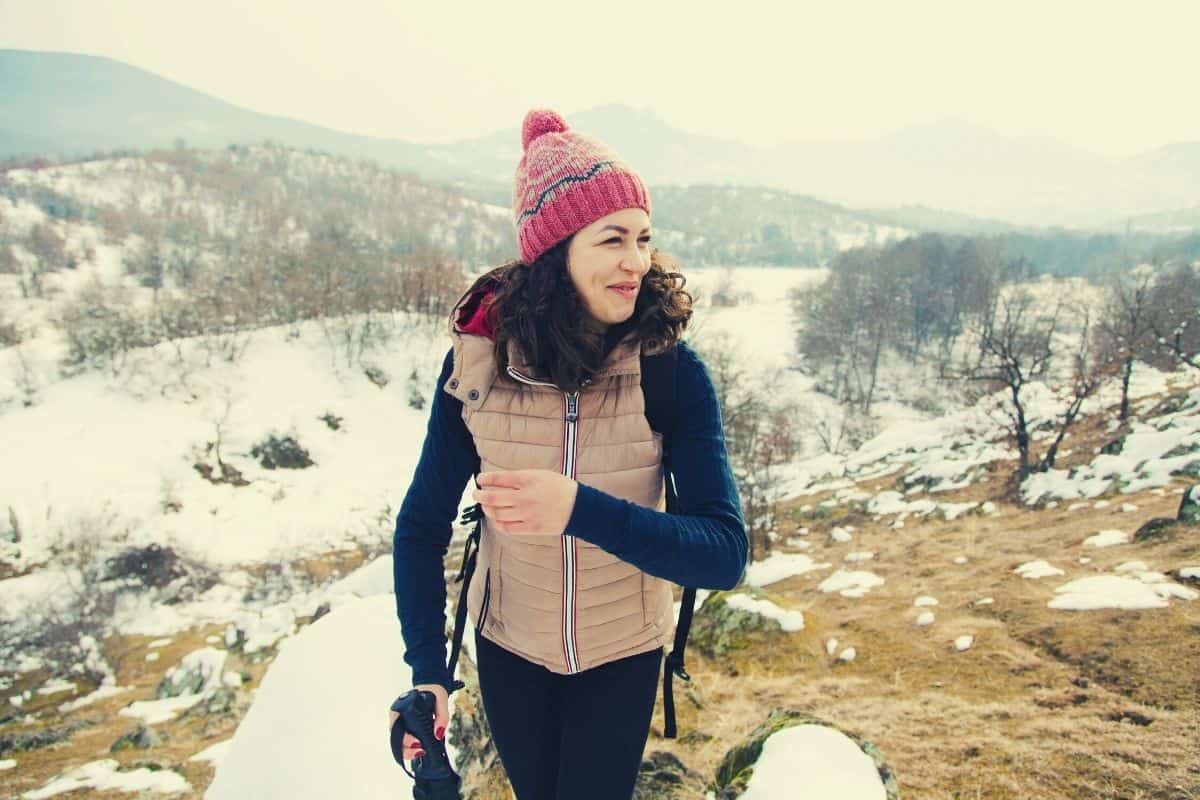 How to Beat the Cold When Hiking in Winter
Want to know how to stay safe in winter conditions?
You're in the right place! In this guide, we will be covering the following:
Learn how to stay warm
Minimize the risk of subjective and objective dangers
Know how to dress for cold-weather success
Winterize you gear essentials

When temperatures start turning south in Fall, many hikers are apt to stick their boots in storage and resign themselves to a few months of hibernation.

Hiking in frigid conditions, after all, is not without its hardships. We have to pack with more care. Our backpacks are heavier. Rain, snow, and strong winds are to be expected. Conditions underfoot range from bog-like at best to ice-rink-like at worst.

But it ain't all bad.

Hiking in the winter offers many benefits that more than offset the downsides. The trails are quieter. Parking's easy. The snow-clad world of your surroundings is magical. The feel and sound of fresh snow crunching under your feet is awesome. And best of all, of course, doing so earns you a "bona fide badass" rating from your friends.

So you can enjoy all of the above and do your wintertime wandering in safety and comfort, we've compiled a short guide to help you prepare to beat the brrrrr and everything that goes along with it when hiking in cold weather.

Research and plan your route ahead of time
Leave a route card with a friend
Carry the ten essentials of hiking
Layer up!

Follow trails made by others on steep snow slopes
Underestimate timing

Table of Contents

Trail Knowledge & Preparation

A good hike always starts with good at-home preparation.

To avoid unwelcome surprises, the most important part of pre-trip prep is getting a handle on the conditions in which you'll be hiking.

First up, check weather forecasts carefully. If you are unsure about the conditions of the route, or you have never hiked the trail before, then contact the local ranger station or land managers. If you happen to be planning a hike in an area where hunting is permitted, it's also wise to check the dates of the hunting season before setting off.

Secondly, make sure you have a clear route planned, and always leave your route and expected return time with someone trustworthy. Should things go wrong, they can contact the authorities if you fail to return on time.

Finally, because daylight hours are fewer in winter, leave plenty of time to complete your hike before dark. When doing so, bear in mind that the going in winter conditions is often much slower due to snow and/or ice on the trail.

What to Wear Hiking in Winter?

Let's start with the bottom line as regards hiking clothes for winter: start warm to stay warm. Cooling down when you're too hot is far easier done than vice-versa. This is particularly true if you happen to be using the…

Three Layer System

The layering system is, pretty much, the gold standard of safe and suitable sartorial practice in the wilds. And its benefits are never more evident than in winter.

In the layering system:

Your base layer is all about "moisture management." Sounds icky, we know, but this simply means the layer absorbs sweat and "wicks" it through to the next layer, leaving your skin dry.

Dry skin = happy skin, particularly given that liquid can conduct heat away from the body up to 25 times faster than air.

The mid-layer is all about insulation, i.e. warmth. While the temptation may be to opt for a bulkier midlayer, two thin midlayers will actually serve you better because they'll be more breathable and create an additional, buffering air pocket between each layer.

The shell layer is all about keeping the elements out. With waterproof pants and rain jackets, opt for waterproof-breathable fabrics that block our rain and snow but allow sweat to wick through and evaporate on the surface. To complete your armory, throw on a pair of gaiters to keep your feet dry.

Each layer in this system should be breathable and high-wicking. If any layer isn't, then the whole system will fail. Also bear in mind that cotton is a poor choice. It absorbs sweat and wicks roughly as well as your average sponge, i.e. suboptimally.

The above applies to both shirts and pants for winter hiking. Even if you're buying insulated hiking pants for winter, it's wise to invest in a pair with a breathable shell and ventilation panels that will let you dump excess heat if need be.

The layering system can also be easily tweaked without removing layers. To release heat, simply push up sleeves, open cuffs, remove gloves, down your hood, pit zips, or side zippers on pants, switch to a headband instead of a hat, and/or open your pockets.

To trap in more heat, cover your neck with a buff, tighten the hem in your jacket, tuck socks into pant bottoms, and wear gaiters even when there's no ground snow.

The key to avoiding chills and frostbite is avoiding leaving any portion of skin exposed. As such, it's a good idea to wear a balaclava, face mask or buff, a hat or headband to cover your ears, and glove liners that will allow you to perform more delicate tasks (taking photos/peeing/using your compass) without exposing the skin.

Also avoid tight clothing (this can hinder healthy, heat-giving circulation), bring extra gloves and socks, and throw on a pair of sunglasses or goggles to protect your eyes from the sun's reflections in the snow.

Food & Drink for Hiking in Cold Weather

In winter, our bodies burn more calories in a bid to keep warm. As such, on winter hikes we need to make sure we're putting enough fuel in the engine to keep it running smoothly.

Also, our bodies generate heat while digesting food, so getting your munch on will help to maintain your core temperature.

The best foods for winter hiking are, ahem, those that remain edible for the hike's duration. This may seem like a no-brainer but rules out many popular summertime trail foods that can freeze over easily and, thus, become inedible or likely to deprive you of pricey dental work.

Whatever types of eats you choose to bring, store them in jacket pockets or the rear of your backpack so your body heat will keep them from freezing.

Hydration

H20 is no less important in winter than in summer. But getting an adequate fill can be tricky, with wild sources frozen over and carried supplies following suit en route.

To prevent your hydration bladder from freezing, blow the water in the tube back into the reservoir after each sip. Alternatively, buy or build insulation for the tube and bite valve. Making your own can be done in various ways, but the most effective involves covering the tube in neoprene or foam wrap.

If all this sounds like too much hassle, switch your bladder for a wide-mouth water bottle and store it upside down in your backpack (water freezes from the top down). And if you're especially concerned about being able to hydrate adequately, bring a thermos flask filled with your favorite warm beverage or hot water as backup.

Safety Tips for Winter Hiking

Staying safe in winter requires a little more diligence than in warmer months.

As always, prevention is far better than cure.

Winter-Related Injuries & Illnesses

Frostbite

Frostbite is one of the most serious injuries you can sustain while out hiking in the cold. It occurs when the skin and underlying tissue freeze and can result in permanent damage or loss of fingers, toes, ears, your nose, or lips.

The signs of frostbite include cold, pale, and waxy skin, tingling and numbness, and a wood-like hardness and hollow feeling in the affected area.

After thawing, painful blisters often form on the skin. These may also be accompanied by something known, in ice-climbing parlance, as the "screaming barfies". This is the almost exquisite, tear-inducing pain caused by blood and heat attempting to return to the extremities.

The best way to prevent frostbite is to wear adequate clothing, stay dry, and keep all parts of your body covered at all times.

Here's how to treat frostbite should it occur:

First, cover the affected area, ideally with insulating fabric like wool or fleece. Place frostbitten extremities in your armpits (or your partners) to warm them up. Your crotch is also a good option if you're not too shy/prudish.

It's important not to rub the skin, as this can result in damage to both the skin and tissue. Take the shortest safe route to your vehicle and seek medical assistance asap.

Hypothermia

Hypothermia occurs when your body temperature drops below 35C/95F from the normal 37C/98.6F and can, in extreme cases, be deadly.

The signs of hypothermia include shivering, clumsiness, confusion, slow thinking, and disorientation.

The best way to treat hypothermia is to get the affected hiker inside and warm asap. If this is not possible, they should be protected from exposure to rain, wind, and snow by using an emergency shelter. This can take the form of an emergency bivy bag, tarp, sleeping bag, or tent.

Next, swap wet clothes for dry ones, give the stricken hiker food and water and attempt to raise their core temperature using your own body heat by spooning and rubbing.

Sunburn

The winter sun is weaker but still more than capable of causing sunburn or sunstroke, particularly when there's snow coverage. Snow and ice reflect the sun's UVB rays, amplifying their potency.

To avoid sunburn, headaches, and sunstroke, be sure to add sunscreen to your cold weather hiking gear and wear sunglasses to protect your eyes.

Avalanches

As with all aspects of safety, avalanche avoidance begins at home. Before setting off, make sure you check online avalanche forecasts and call ahead if these are not available.

It's also well worth taking a class in avalanche awareness so you'll be able to gauge risk, ascertain the safety of any given route, and will know what to do in the event of a member of your team being caught in an avalanche.

A few general rules of thumb should be followed.

First, avoid hiking in mountainous terrain following sharp shifts in temperature, which are prone to undermine the stability of the snowpack.

Secondly, steer clear of high-risk slopes. These are heavily laden slopes with an angle of roughly 25 to 45 degrees.

Thirdly, don't follow another's trail—just because others have passed safely before you is no guarantee you'll do likewise.

Fourthly, consider buying an avalanche beacon, probe, and shovel to help with rescuing others/being rescued in the event of being caught in an avalanche.

Finally, if you have any doubts whatsoever, turn back.

The Importance of Rest Stops

When you're hiking in the chilly winter months, the number of rest stops you take and their duration should be kept to a minimum.

Stopping too long will let your core temperature drop and any sweat you've built up will cool quickly, further contributing to the loss of body heat.

A good policy is to hike for longer between breaks at a lower speed. This will allow you to cover the required ground without sweating excessively, using your layering system, zippers, and cuffs to cool off as you go.

If you have to stop for longer than a few minutes, throw on an extra layer prior to "parking" and close all zippers and cuffs.

Hiking Gear for Cold Weather

Carrying a few cold-weather-hiking-specific pieces of kit can greatly enhance your safety and comfort on winter wanders in the wilds.

First up, tweak your ten essentials to make them winter-worthy. This means doubling up on insulation, carrying extra batteries, food, and warm drinks, and storing everything in dry bags or waterproof containers.

Because underfoot conditions are liable to range from icy to post-holing-prone snow, you may also need to carry snowshoes, crampons, or at the very least a pair of slip-on microspikes. Again, getting a handle on trail conditions before you leave home will help you determine the most appropriate choice.

Getting lost in winter months could have far graver consequences than in summer, so bring a backup navigation system to be on the safe side. If your backup's a GPS device, bring extra batteries and store these and the device close to your body—cold temps can sap battery juice quickly.

Finally, a few other winter hiking gear add-ons that could turn out be worth their weight in gold include a pack liner or cover to keep your gear dry, electric or chemical hand warmers to keep your paws in working order, and a lightweight stove to make yourself a restorative brew when your thermal flask runs empty.

Maintain a Positive Attitude!

Hiking in winter takes a little more prep, patience, and stoicism, granted. But rewards are well worth the effort…

Not only do you get to go home feeling a whole lot more badass than you did when setting off, you'll also have truly taken a genuinely less-traveled path and, no doubt, racked up a handful of truly unforgettable memories along the way.

By following the above tips, moreover, you'll be able to continue doing so safely, comfortably, and with greater confidence in your ability to deal with whatever the winter weather gods might choose to throw your way.

Did you like our article? If so, please feel free to comment, like, and/or share!

Last update on 2022-11-18 / Affiliate links / Images from Amazon Product Advertising API

Kieran James Cunningham

Kieran James Cunningham is a climber, mountaineer, and author who divides his time between the Italian Alps, the US, and his native Scotland.

He has climbed a handful of 6000ers in the Himalayas, 4000ers in the Alps, 14ers in the US, and loves nothing more than a good long-distance wander in the wilderness. He climbs when he should be writing, writes when he should be sleeping, has fun always.

Kieran has taught mountaineering, ice climbing, and single-pitch and multi-pitch rock climbing in a variety of contexts over the years and has led trekking and mountaineering expeditions in the Alps, Rockies, and UK. He is currently working towards qualifying as a Mountaineering and Climbing Instructor and International Mountain Leader.

Kieran's book Climbing the Walls—an exploration of the mental health benefits of climbing, mountaineering, and the great outdoors—is scheduled for release by Simon & Schuster in April 2021.

10 Tips on How to Stay Warm Hiking in Cold Weather

Most hibernate during the winter months. Shying away from the cold and all the wonder that winter brings to a hiking trail.

It doesn't have to be that way. If you know how to stay warm, you can enjoy the trails year-round.

Hiking in cold weather is magical. Frost glitters through trees, spiders and flies take a welcomed vacation and the trails are almost always quieter.

Through some research and LOADS of trial and error, I have compiled a list of 10 tips that will help you stay warm on the trail – either on a day walk or overnight.

Disclaimer: This post contains affiliate links. If you make a purchase of a product we recommend through one of our links, we may make a small commission at no extra cost to you! This helps to support our blog and enables us to continue providing you with helpful tips and exciting adventures, so thank you

Table of Contents

Layer, Layer, Layer

The most obvious, the most important, yet the one most get wrong. Layering sounds easy but can just as easily be done incorrectly.

Lets start with the Base Layer

The first thing everybody needs to know when it comes to staying warm while hiking in cold weather is…

Especially for a layer touching your skin.

Clothing keeps you warm by trapping air near your skin. When cotton gets wet – mainly due to sweating – it stops insulating as the air pockets in the fabric fill up with moisture. As a result, any cotton touching your skin will make you ten times colder as your sweat cools and the temperate drops.

You may have heard of some materials being 'moisture-wicking'. This means the material has the ability to draw moisture away from your body and dry rapidly, keeping your sweat away from your body and your clothes dry and warm. Cotton does not do this.

Ok, if it's between going naked or choosing cotton I guess cotton will be warmer…

Merino wool is the best moisture-wicking material, closely followed by synthetic materials like polyester, polypropylene and nylon.

A good set of merino wool or polyester long underwear will do wonders in setting you on the right track to blissful warmth.

See the latest Price on our favourite base layers:

The Mid Layer For Your Upper Body

The mid-layer is highly dependant on the temperatures you're hiking in. Though I would always start with more and shed layers later.

Trust me, I've been stuck on top of a mountain with goosebumps the size of my head on too many occasions while hiking in cold weather. Just don't do it to yourself!

You may get away with only adding your Down Jacket next, but if it's bitingly cold or camp time, I suggest adding an extra mid-layer beneath the puffer.

The best material for your next layer after your merino wool or polyester long sleeve is a fleece. Fleece is lightweight, moisture-wicking and oh so cosy.

The downside to fleece – and the reason I suggest adding a down jacket next – is its inability to win a fight with the wind.

Adding a down jacket or insulated jacket next is a recipe for a snug upper body. Have a look at my guide to choosing the right down jacket for help on this subject.

See the latest Price on our favourite Mid Layers:

The Mid Layer For Your Lower Half

While hiking in cold weather, most will be fine with just one layer on their legs. Our legs are our biggest muscles and therefore don't need as much heating.

I usually wear a good set of full-length sports tights as my only layer… and I am the biggest sook you've seen when it comes to the cold!

If this sounds preposterous to you, a great option is to wear your merino base layer leggings topped with a pair of nylon hiking pants or sports tights under shorts. Snug as a bug in layers.

The Outer Layer

Your outer layer needs to be waterproof and windproof. Breathability is also a huge bonus, otherwise all your efforts in avoiding sweat will be for nothing.

The top contender for waterproof, windproof, lightweight and breathable products is Gore-Tex.

However, there are many brands that are stepping up to the challenge of making equal products – which just makes our decision making all the more difficult. Check out this post for help on how to pick the right Rain Jacket.

Waterproof pants are questionably necessary. I wouldn't bother for day hikes around most of Australia. But If you're planning multi-day hikes in winter or loads of snow hikes then grabbing a pair of rain pants would be beneficial.

Rain Jackets are like snacks, and everybody loves snacks! You should never go hiking without one stashed in your backpack. They could be the difference between life or death…

See the latest price on our favourite outer layers:

Keep Your Head and Extremities Warm

How many times have you been told as a child that heat escapes from your head, hands and feet?

My father used to tell me this on a daily basis – I hated and still hate wearing shoes!

But I have to give it to him, he's right. If your extremities are cold, you'll have a much harder time warming up.

Your Head

Keeping your noggin warm is relatively easy. Most outer layers come with a hood or you can wear a beanie (Toque for my Canadian friends).

However… there is always a however isn't there.

I get frustrated with hoods and losing my peripheral – don't get me started on the fact that my hearing sucks and hoods restrict it even more. And beanies – while they're perfect for camp and snow – make me far too hot when hiking.

We have recently found the perfect medium – Head socks or tubes or buffer or whatever you want to call them! (Yes I know these have been out for years but we have newly become acquainted with them so we are still excited.)

These bad boys can either be worn as a headband to keep your ears warm or even as a neck and face warmer. Their multi-function makes them popular for pack weight-conscious hikers. And if your head gets too hot, chuck it around your neck and avoid opening your backpack…again! They're also great to avoid that good old neck sunburn. As I said, multi-functional!

Your Feet

As with your base layer, your socks should never be cotton. Your feet are destined to sweat, and wet socks equal cold feet and blisters. Yuk.

Merino wool is a good material for hiking in cold weather, however, it should be blended with nylon as merino isn't strong enough to withstand the constant abrasion against your shoes.

Your camp socks need to be warmer. I find that every time I camp, my feet are the coldest.

The bee's knees of the warm sock world are alpaca fleece. But with that comes a very high price tag. I settle for merino wool mixed with polyester and my toes stay toasty enough.

Your Hands

This is the hardest extremity to keep warm while hiking and camping due to the amount you need them. Annoying I know.

Finding a pair of gloves that allow you to freely work with your un-matched fingertip sensitivity is almost impossible and for this reason, gloves are something I rarely considered.

Then a smart chap invented liner gloves that have smartphone-friendly fingertips. What a world we live in. Now you can continue snapping happy photos while avoiding the loss of a digit.

See the latest prices on hiking gloves:

Indulge In Warm Drinks

It can be a whole lot harder to stay hydrated during a winter hike. Who wants to slurp up cold water and undo all the effort you've just expelled in keeping warm!?

Enter warm drinks. By simply heating up your water and sticking it in an insulated bottle, you can sip away at warm water and stay cosy inside and out.

Tea is another perfect solution if drinking warm water sounds terrible. Similarly, chuck a tea bag or two in an insulated bottle with hot water and bobs your uncle.

It's especially beneficial to sip a warm drink before bed to help kick start your body into warming itself up. You don't have to give me any more reason to 'need' a hot chocolate!

And now for the bad news… coffee doesn't help in keeping you warm due to the fact it dehydrates you. Of course, this doesn't stop us from fuelling our addiction. However, we are sure to have a non-caffeinated tea ready to counter-balance our indulgence.

Pack The Right Food

The absolute best part (aside from the whole nature thing) about hiking in cold weather is the absolute necessity of carbohydrates.

Pasta come at me!

In all seriousness, packing the right food is of the highest importance. While two-minute noodles are cheap and light, they don't have the necessary nutrition to keep you full, replenished and warm.

Hiking in cold weather causes your body to expel even more energy than in summer. Not only are you trying to hike up a damn hill with a heavy backpack, but you're also trying to keep your body warm. Therefore, picking warm foods with complex carbohydrates is paramount.

All of our favourite hiking meals are super easy to replicate and the best part is you don't need a dehydrator for any of them!

Get Yourself An Emergency Blanket

Emergency blankets are super light and oh so beneficial. You never know what could happen in the wilderness and if you're only out for a day hike, you won't have a sleeping bag or a tent to keep out the extremes. An emergency blanket could save your life.

And they're oh so small!

There are two types of emergency blankets you can purchase, a multi-use or single-use. I recommend a multi-use blanket as it also has multi-purposes. You can use these tougher blankets for a tent footprint, a picnic blanket, a shelter or to wrap around you if you're in need of superior warmth.

We recently bought a SOL multi-purpose emergency blanket and couldn't be happier. It kept our tent base dry and our butts further insulated from the freezing ground.

Make a Fire

Even if you're planning a day hike, bringing some matches with you and a bit of cardboard is a great idea. If you happen to get stuck in the elements, a fire will greatly improve your mood.

If you want to be completely new age and have the luxury of sparking a flame easily, invest in some firelighters! They are cheap and make burning wet wood a walk in the park. Some may say we are cheating, and to that I say – yes we are, but we're warm!

Be sure to use a fire circle that has already been set up. If there isn't one, start the fire on a slab of rock to avoid fire scars and the potential for a bush fire.

Invest In A Good Quality Sleeping Mat

These are SO IMPORTANT! If you ever think you'll be fine sleeping on the ground, you're bonkers. Especially in winter, the ground is the ultimate heat sucker. While a good sleeping mat can break the bank, they are absolutely worth it.

Picking a sleeping mat that has insulating properties will be a huge factor for a good nights sleep.

Dylan went with the cheap option and is massively regretting the decision. As we speak he is trying to find a cheap second-hand mat to make up for his mistake.

What About Sleeping Bags?

Well, this is a no brainer, isn't it? You surely wouldn't go on an overnight hike without a sleeping bag!

But is yours warm enough?

Companies rate their sleeping bags by comfort and extreme. The comfort is the temperature you will stay snug in and not need to layer up excessively.

The extreme is the temperature you could endure without dying. But by no means will you have a good nights sleep in this temperature!

Always check the comfort rating. If you're planning to sleep in temperatures lower than the comfort rating, get a warmer sleeping bag!

Now one more thing on sleeping bags, they work best when they come in close contact with your skin. Using your body heat to warm the air around you. Picking a sleeping bag that isn't too big is important, as is not wearing too many layers to bed. Keeping just a thermal base layer is recommended… even though stripping down to this layer may feel counterproductive!

Sleeping Bag Liner

Essentially, a sleeping bag liner is a big sock for your entire body. These bad boys are a great addition to add some warmth… and keep your sleeping bag less stinky. You can find some great liners that can add up to 10 degrees to the comfort rating of your sleeping bag.

Sleep in the Next Days Base Layer

Putting on freezing cold clothes in the morning is hell. Absolute hell. To avoid this, wear your base layer that you're planning to wear the next day to bed. And stuff the rest of the clothes you want to wear in the bottom of your sleeping bag. Not only does this keep the clothes warm, it also fills up extra space in your sleeping bag, creating a warmer environment inside your sack. Win-win.

And the secrets are out. There is no reason for you to stay inside all day every day this winter. Get outside and explore! If camping in a tent is still too daunting, here are some of our favourite winter camping spots in Thredbo.

If you've got some good hacks or tips for hiking in cold weather, please let us know in the comments below.

This story is only just beginning, don't miss a single chapter of it.

Sign up to Tracks Less Travelled for exclusive resources, updates and subscriber only promotions.

Source https://mountainhouse.com/blogs/backpacking-hiking/winter-backpacking-cold-weather-guide

Source https://www.myopencountry.com/hiking-in-cold-weather/

Source https://trackslesstravelled.com/stay-warm-hiking-in-cold-weather/