Appalachian Trail: Choose the Best Time to Begin Trail Life
As an Amazon Associate I earn from qualifying purchases. Some of the links on this website may link to vendors which are "affiliate links". If you click on a link I may receive a commission.
If you are starting to look at hiking the Appalachian Trail you will more than likely be trying to figure out when you want to start. This will change depending on which direction of travel you choose though. So then, how do you choose when to start the Appalachian Trail?
This will depend on your direction of travel as to north or southbound which will have different start times based on the season. For a NoBo hiker, you are typically looking at March into April start dates. For SoBo you would want to look at a start date in May running to mid-June.
Since you now have the basics of what times are the normal starts for hikers attempting the Appalachian Trail let s dig into whether you can start earlier and what side effects this may cause to a successful hike or the gear that may change.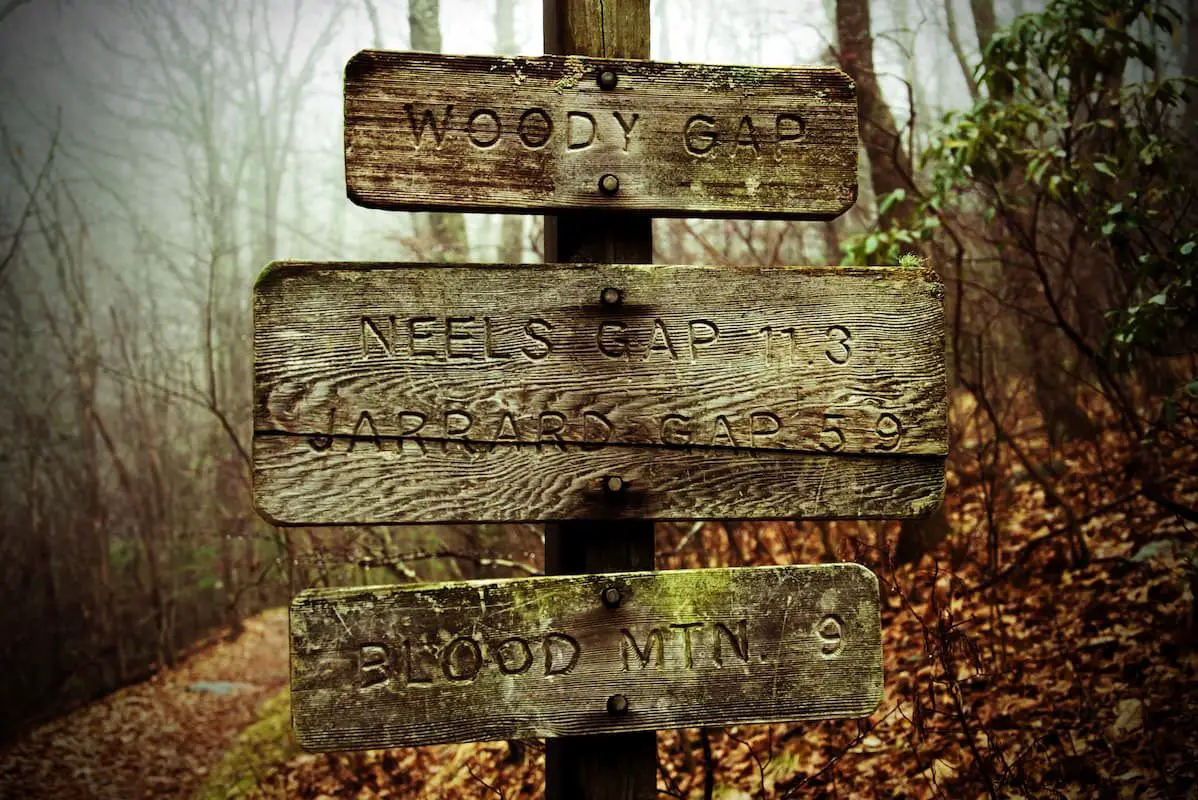 How Early Can You Start the Appalachian Trail?
When you want to start hiking the Appalachian Trail you will tend to first need to figure out when you want to leave to start your trek, for those heading NoBo, or Northbound, this is very open.
If you plan to start a SoBo, or Southbound, hike you have some variables that cant be changed, places like Mt Katahdin have very specific open times and closed times through the winter you have to work around.
Earliest Time to Start Appalachian Trail for a Northbound Hiker
This time used to be March and April with March hikers trying to stay ahead of the bubble and hike with less overall hikers on the trail and more quiet.
As time has moved though this time crept into hikers starting the Appalachian Trail in February to jump on the March hikers while also adding some padding in for Zeros and Neros on the trek.
Fast forward to 2021 and now this year there are already people posting to YouTube about starting in Mid-January. This is definitely pushing an edge on dangerous when not prepared well for the drastic weather.
Earliest Time to Start Appalachian Trail for a Southbound Hiker
This start time will be limited by the opening of Baxter State Park to hike to the summit of Katahdin, the summer starts with opening on July 1st which means you cant start prior to this legally.
How to Pick Your Start Date
When looking to choose your start date you will need to think about what the weather and temperature will be along with what will be open to you.
Then you can focus on the date that works for you to be done within your time requirements and validate your gear to match those times.
While this may seem easy to understand, the earlier you leave the more warm gear you MUST have. This includes a higher R-Value 4 season sleeping pad for ground based insulation and at least a 0 degree sleeping bag or quilt like the EE Revelation Quilt to stay warm at night.
Then you will want to make sure your tent is suitable to 4 season use with less mesh walls in many cases to help conserve heat, then you need to make sure your gear is properly waterproof to maintain dry gear inside.
How Long Does it Take to Hike the Appalachian Trail?
This will go into measuring your starting date as the AT, on average, is around 5-6 months to complete from end to end. Your start date will dictate your necessary hiking distance per day with the clock racing on Katahdin.
The earlier you choose to start the more time you have to take zero's and nero's while out on your hike. With additional issues related to the pandemic and testing requirements this additional time can make the difference between finishing or running out of time.
When to Start the Appalachian Trail Northbound?
If you want to start the northbound hike time is never a limitation, the only issue with proceeding earlier in the year is that the weather can vary wildly and this means better packing and gear meant for more weather variance.
The traditional start time would be March and April, this allows for spring to have begun and more of the hike will be in better condition in most years. Though still being hit by random snow and heavy rain can frequently occur.
Choosing to leave earlier will mean much more cold weather so the hiking clothing and all camp gear will have to be built to keep you warm at lower temperatures and to help you manage being cold and wet together.
Where Do You Start the Appalachian Trail as a NoBo?
For the northbound hiker you will typically want to start your hike at the approach trail from Amicalola Falls. This approach trail is 8 miles leading up to the marker that signifies the southern terminus of the Appalachian Trail.
When to Start the Appalachian Trail Southbound?
When you are looking to make the journey south on the Appalachian Trail you need to plan around when the starting point, Baxter State Park, at Mt Katahdin opens for travel.
This time per the Baxter State Park website is July 1st, so travel southbound to start the trail will require waiting for this moment to begin, though you could introduce a flip and hike south of Baxter prior to backtracking to complete Katahdin.
Southbound has much more limitation to the starting time then the northbound trail does, many will start southbound right around the 1st after completing registration for the park to start their thru hike.
Where Do You Start the Appalachian Trail as a SoBo?
For the southbound hiker you will start your hike at Baxter State Park and take the trail from their to the peak of Mt Katahdin. This trail leads up to the peak and the marker that signifies the northern terminus of the Appalachian Trail.
Final Thoughts on When to Start the Appalachian Trail
Choosing a start date for your Appalachian Trail thru hike is up to personal timing as unlike the PCT you don't get designated start dates given out.
The freedom for you then will come down to having the time available and the gear that can keep your safe and secure on the trail.
During the winter time the weather can be all over the place and snowing and super cold to rainy and clear. You need to be ready to be able to survive these all before choosing to start.
When To Start Hiking The Appalachian Trail? (Important Facts)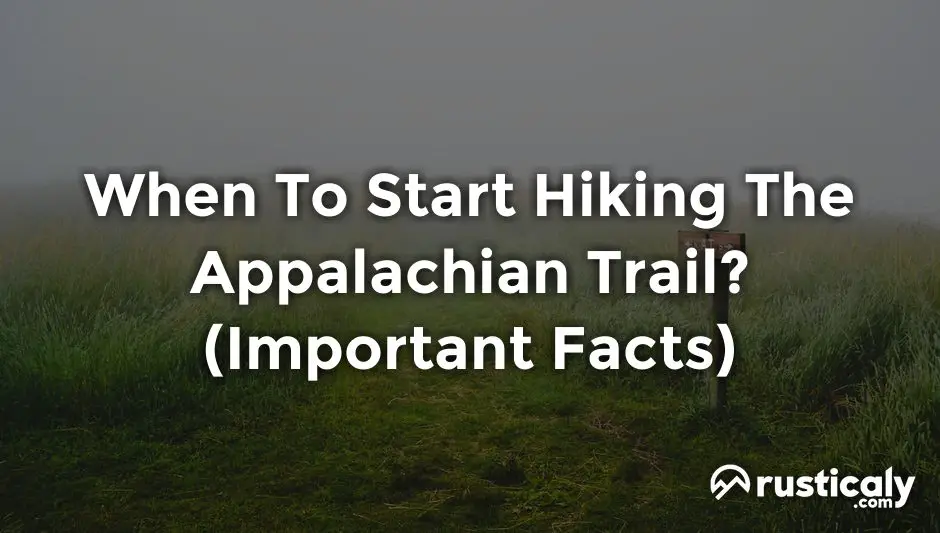 If you want to avoid crowds and winter weather, the best time to start is the first week of February. If you are planning to hike the Appalachian Trail in the winter, you will need to be prepared for cold temperatures, snow, and snowshoeing.
You will also need a good pair of hiking boots to keep your feet warm and dry. If you have never hiked the AT before, it is recommended that you take a few days to familiarize yourself with the trail before you begin your hike.
Table of Contents
Can a beginner hike the Appalachian Trail?
Even though it may seem intimidating, beginners can scale the numerous mountains of the Appalachian Trail and see some of the best views in the world.
What is the best month to start the Appalachian Trail?
If you start in Georgia and end in North Carolina, the best time to hike the AT is mid-March to early April. Hiking the Appalachian Trail (AT) is one of the most popular outdoor activities in the U.S., and it's easy to see why.
The AT traverses more than 2,000 miles of rugged terrain, from the Blue Ridge Mountains to the Great Smoky Mountains. It's also a great way to get to know the area and its people, as well as learn about the history and culture of this region. If you've never hiked the trail before, here are a few tips to help you get started.
What is a zero day hiking?
Resupply day is when you lay over in a nearby town when you're not gaining mileage toward the end of the trail. It was nearly a zero day on Nero Day. One hikes just a few miles, often spending most of the day in the woods, and then returns to town for the night. The second day of Nero.
This day is spent in town, eating, drinking, sleeping, etc. It's also a good time to get some rest, since you'll be hiking for a long time. You'll also have a chance to catch up with friends and family who have been hiking the same trail for months or even years.
Do you need a permit to hike the Appalachian Trail?
The trail is free for everyone to enjoy. Fees, memberships, and permits are not required to hike the trail. The trail is open year-round. For more information, please visit www.AT.gov.
Can you hike the Appalachian Trail in 3 months?
You will not have time to stop as you will not have time to look at the country. If you only have three months to do it, then you should do it in pieces over the course of several years.
I would recommend hiking, mountain biking, cross country skiing and snowshoeing. If you are looking for a place where you can enjoy the beauty of nature without the hassle, then this is the place for you.
Do people hike the Appalachian Trail alone?
The Appalachian Trail is hiked by hundreds of people every year. They travel through the amazing trail towns of the great smoky mountains in the United States. It is a right of passage for some and a way of life for others.
But for many, the trail is more than just a trip to the mountains. It is an escape from the everyday and a chance to reconnect with the people and places that make up their lives. This is the story of one of those people.
Can you hike the Appalachian Trail with no experience?
The Appalachian Trail spans 3,524 km and is no joke. A lot of people spend a lot of time in the wilderness and training to be able to complete the trail in one go. While it is possible to complete the AT with minimal experience, there are a few things you need to know to make the most of your time out there.
Why February Is the Best Month To Start the Appalachian Trail
E veryone wants to hit Springer in March, but I'm here to tell you to consider starting the AT in February instead. Will it be colder? Will it be quieter? Probably, but I would argue that those are good things as long as you're prepared.
From quiet campsites to warmer welcomes in town, there are many reasons to start the Appalachian Trail in February. I'd even go so far as to say that February is the best month to begin a northbound thru-hike. Here's why.
Why February Is the Best Month To Start the Appalachian Trail
1. It's less crowded.
More people start the Appalachian Trail in March than in February. Image via Appalachian Trail Conservancy.
Let's start with the obvious. Between three and four thousand would-be thru-hikers start their hikes at Springer Mountain every year. Most hikers hit the trail between the last weekend in February and the end of April, with the majority embarking in March.
This year, for instance, between 40 and 50 people were planning to start the AT at Springer every day in March, according to the Appalachian Trail Conservancy's voluntary registration system. Many people don't register their hikes with ATC, so the actual number is undoubtedly higher.
In contrast, less than 10 per day planned to begin in early February. That sounds a lot more manageable.
While many hikers love the social aspect of the AT, few enjoy the litter, noise pollution, and overflowing privies that come with overcrowding. Socializing is great, but no one wants to have their wilderness solitude ruined by noisy crowds or vie for space at a campsite-turned-impromptu tent city.
The bubble is like a swarm of locusts moving up the trail, leaving nothing but trampled vegetation, poorly buried poo, and empty grocery store shelves in its wake. If you start in February, you'll probably be able to stay ahead of the bubble throughout your hike. Once you get a few hundred miles under your belt, the crowds will have thinned and dispersed a bit, anyway.
2. You'll be part of a small, tight-knit community.
Left to right: Zoom-Zoom, CPU, Legs, and Hot Sauce AT '18. Photo via Harvey "Lotus" Howard.
Don't worry—even if you start early in the season, you won't be alone out there. Plenty of thru- and section-hikers begin in February. The difference is that you'll be hiking in the company of a few dozen newly-minted AT hikers instead of a few hundred.
Therefore, you won't miss out on any of the social or cultural aspects of the trail—and in some ways, starting early may even enhance your social experience. Instead of jostling around with vast crowds of hikers, you'll be part of a small and tight-knit hiking community. You'll know everyone out there, and everyone will know you.
You'll probably never worry about campsites and shelters running out of space, and you'll get beautiful viewpoints to yourself. When you visit towns, grocery stores won't have been picked clean by swarms of hikers, and there will be beds available in the hotels and hostels.
Will there be trail magic around every corner? Not to the extent that you'll see during the bubble. But there are still plenty of wonderful trail angels out in February, and you'll continue to run into trail magic throughout your hike. Besides, starting with slightly less free food raining down upon you might set a better precedent for the rest of your walk (so you won't be tempted to start relying on trail angels instead of yourself).
3. The locals will still be excited to see you.
Photo via Harvey "Lotus" Howard.
If you start the Appalachian Trail in February, you'll be among the season's first thru-hikers. Local businesses will probably be thrilled to see you, in the same way that they're probably thrilled to see the first green buds of spring after a long winter. Not only do thru-hikers bring an influx of business to local economies, but they're also integral to the cultural and social life of many trail towns.
Townsfolk will have had all winter to forget the downsides of the dirty, smelly, and (sometimes) incredibly obnoxious hikers who crowded their communities last year. As a result, they'll probably greet you with open arms and goodwill.
Being among the first thru-hikers on the trail also gives you the opportunity and responsibility to make a good first impression on local communities (i.e. don't be a jerk and ruin it for everyone else).
The generosity of locals is one of the greatest gifts you can receive as an AT hiker. It's part of what makes thru-hiking so magical. Being courteous to townsfolk isn't just the right thing to do for its own sake—it will benefit all the thru-hikers who come after you.
4. The trail will still feel fresh.
There isn't much green and growing when you start the Appalachian Trail in February, but the whole trail corridor has a fresh, newly minted feel like the start of a new day. The forest has had all winter to rest and recover from last year's herds of hikers, and it shows.
Once March rolls around, it'll be back to trampled vegetation, eroded trails, impromptu campsites, and litter and TP blooms everywhere. After an entire season of heavy traffic, the footpath starts to look distinctly careworn in places.
It's worth noting that on the flip side, trail crews haven't always had a chance to get out and clean up winter blowdowns before early-season thru-hikers come through, so you may have to navigate around more deadfall.
Educating hikers about Leave No Trace principles is one way to address this growing problem. Another is encouraging them to spread out. Starting early is better for your wilderness experience, and it's better for the health of the trail too.
5. The green tunnel doesn't exist yet.
Peekaboo views through bare trees are abundant before the green tunnel fills in. Photo via Harvey "Lotus" Howard.
Aside from evergreen tunnels of mountain laurel, there's not much foliage to block your view of the surrounding mountains in February. Most of the AT is in deciduous hardwood forest, so you genuinely get socked into a green tunnel of leafy vegetation during the growing season. Although this is lovely in its way, it does mean the AT is notoriously short on views compared to, say, the Pacific Crest Trail.
However, if you're on the trail before the leaves start growing, you'll enjoy an uncharacteristic number of peekaboo views through bare trees. For instance, Trek contributor and Triple Crowner Eloise Robbins started the AT from Springer in early February, and she didn't experience the green tunnel until she reached Vermont.
Remember: more views = less shade, so if you start your hike in February, you should beef up on sun protection, including shades and a decent hat.
6. Snow Is Better Than Rain
Lotus encountered mild weather in February (left) but hiked through five heavy snowstorms in March (right). Photos via Harvey "Lotus" Howard.
SNOW IS AMAZING. Go ahead, try to change my mind.
For one thing, it's gorgeous. Ordinarily drab stretches of forest become magical under its fluffy white influence.
For another thing, it doesn't soak through your clothing instantly, drenching you and all your gear the way rain does. By brushing yourself off occasionally, you can often stay weirdly dry.
(Pro tip: keep your shoes in a waterproof bag inside your sleeping bag overnight so they don't freeze, but put them outside to cool for a few minutes before donning them in the morning. Don't slog through the snow in warm shoes, because it will melt and get them wet.)
That said, snow can be dangerous if you don't know what you're doing. Starting the AT in February means you're likely to encounter at least some winter weather.
Be especially cautious about the weather in high-elevation regions like the Smokies and the Roan Highlands. Even in the mountains, Georgia weather is sometimes—not always—mild by February. But in the Smokies, you'll often be above five thousand feet, and freezing conditions will be significantly more likely.
Come prepared with warm clothes and sleep gear, extra fuel, and microspikes. If you've never hiked in snow before, take a few practice trips this winter. Make sure you and your gear can handle freezing conditions safely before you commit to an early-season thru-hike.
Also, don't be shy about taking a day or two to wait out bad weather. Budget extra time and money for town stays, and carry a little extra food and fuel in the backcountry in case you need to zero in your tent.
7. You can beat the heat.
Photo via Harvey "Lotus" Howard.
Consider this: the AT doesn't break 2,000 feet above sea level from northern Virginia to Connecticut. Most March starters don't hit this stretch until late May or June, by which time the humid, bug-infested hellfires of summer are merrily crackling.
Take it from someone who grew up in Virginia: the heat and humidity of the east coast are horrible. HORRIBLE! By starting in February, you get more miles under your belt before the inferno overtakes you. You may even get through most of the low mid-Atlantic miles before summer gets going.
One note on timing: beware of getting too far north too early in the season. May is mud season in Vermont (self-explanatory). Also, in general, the Northeast can be horrendously buggy in late spring and early summer.
For reference, the blackflies in Vermont, New Hampshire, and Maine are in their glory between roughly Mother's Day and Father's Day. The bug situation (blackflies and skeeters included) will calm down a lot by mid-July.
The notorious river fords of Maine's 100 Mile Wilderness are also more treacherous in early summer, so be careful.
If you can delay getting this far north until late June or early July, you'll be better off. If you can't, bring a bug net and a sense of humor, and you'll be fine.
Closing Thoughts
The truth is, there's no perfect time to start the Appalachian Trail. It's a 2,200-mile hike that takes a while to complete, so no matter when you start, you're bound to run into less-than-ideal conditions somewhere along the line.
If you start later in the season, you'll encounter more heat and have less time to reach Katahdin before the snow flies. If you start earlier, you'll have to deal with cold weather and might run into mud 'n' bugs up north. It depends on your own goals and preferences.
I advocate for an early start because I love snow and dislike mugginess. Might I encounter some unpleasant conditions further north? Yes, but that's the future.
Thru-hiking is a long and unpredictable undertaking. I prefer to start at a time that will set me up for success in the early months. I'll deal with challenges that arise further north as I come to them, but I won't base my start date around them.
Whenever you choose to start, remember to be flexible and roll with the punches.
Featured image: View from Shenandoah National Park's Hightop Mountian. Photo via NPS/Brett Raeburn. Graphic design by Chris Helm (@chris.helm).
This website contains affiliate links, which means The Trek may receive a percentage of any product or service you purchase using the links in the articles or advertisements. The buyer pays the same price as they would otherwise, and your purchase helps to support The Trek's ongoing goal to serve you quality backpacking advice and information. Thanks for your support!
Source https://nomadhiker.com/when-to-start-the-appalachian-trail/
Source https://www.rusticaly.com/when-to-start-hiking-the-appalachian-trail/
Source https://thetrek.co/appalachian-trail/why-february-is-the-best-month-to-start-the-appalachian-trail/