Can I Use Hiking Shoes for Running?
Hiking and running are two of the best ways to get outdoors and stay fit, all with relatively little equipment.
Compared to many other outdoor sports, you can hike with just a pair of good boots or shoes, and maybe a backpack to store some extra gear.
However, not all hiking boots are made equal, and you will not be able to use your hiking boots for all outdoor activities, including running. You will need to get some special running shoes if you are going to be doing trail running, or just running on the road.
Table of Contents
Hiking Boots vs Trail Running Shoes
If you are into hiking, you will need a good pair of hiking boots that will support your feet and ankles.
If you are more into trail running, or even just walking on moderate trails, you should look into a good pair of trail running shoes. These are different than the average running shoe and are generally a bit lighter and less heavy duty than a hiking boot.
What are Hiking Boots Good for?
Hiking boots are generally a heavier boot that provide a good amount of stability for your foot and ankle.
They tend to have a thick sole, so that your feet will not be bothered or impacted by things like rocks or uneven paths.
Hiking boots are a good all-around choice if you plan to do a lot of rugged hikes that may have very uneven terrain. Their thick, wide sole provides a lot of stability which may be especially important to new hikers.
Usually, hiking boots will have thick lugs and a hardy rubber role which allows them to grip soil and a variety of other surfaces really well. You won't always get this from a trail running shoe.
Hiking boots are often better than trail running shoes if you plan to hike in muddy, wet or cold conditions as they will protect you much better from the elements.
They usually require a break in period, which means they might be uncomfortable before they get better. To break them in, you can wear them around the house or during walks in your neighborhood before you use them on a hike.
In general, hiking boots are a better choice for moderate to difficult hiking trails, or trails that may be slippery or have risky footing.
What are Trail Running Shoes Good for?
Trail running shoes are a good choice for running on any trails that are off road, or just as an alternative to hiking boots on moderate trails.
Some people enjoy running on easy to moderate trails, to change up their runs. Running on trails, or even a packed dirt road would be a good use of trail running shoes.
However, if you aren't into the heavy feel of hiking boots and you want to use trail running shoes for hiking, you probably can.
Trail running shoes are a lot more flexible than the typical hiking boot, but usually do not provide quite as much stability since they are less rigid and do not cover the ankle, eliminating ankle support.
Hiking boots will keep you warmer in cold weather, but trail running shoes are a great option to keep you cooler in the hot months.
In general, trail running shoes are best for easy to moderate nature trails.
Should I Bring Trail Runners and Boots on a Hiking Vacation?
Deciding which pair of hiking boots or shoes to bring on vacation will all depend on where you are going, and the difficulty of the hikes you plan to complete.
If you are planning to do a few easy hikes on gentle terrain, just throw your trail running shoes into your bag and you will be ready to go!
However, if you are planning to do some seriously tough hikes, bring your tried-and-true hiking boots. Though the trail running shoes would be lighter to pack, you will want a good amount of support for a tough hike.
If you can spare the room in your suitcase, you may even want to bring both pairs. But this is usually not necessary.
When you're planning your trip, make sure to map out the hikes you plan on doing, and then plan your suitcase from there! If you need tips on planning a great trip, check out our recommendations on how to organize your travel plans!
Can I run in my hiking shoes?
If you have a pair of hiking boots and want to run in them, the answer is definitely not. If you are hiking a trail and decide to jog a bit in your hiking boots, then you won't have a problem, but hiking boots are in general too heavy and bulky for running.
You run the risk of injuring yourself if you try to run in hiking boots long term.
When it comes to trail running shoes, you can definitely run in them! Many people enjoy running on trails as a way to change up their routine.
Adding a short trail to your run can help to break up the monotony of running on the same roads day in and day out.
Of course, some people like to do their whole run on a trail. Most people will pick easy to moderate trails for their run, mostly to get out in nature and enjoy a change of scenery.
In general, your trail running shoes will be light enough for running, while still providing enough grip on most surfaces.
What if I still don't know which one is best for me?
If you are still iffy on whether you should buy hiking boots, trail running shoes or maybe even both, it is worth it to do the following:
Do you prefer difficult hikes or more moderate inclines? – depending on where you usually hike and the degree of difficulty, you can choose between hiking boots or trail runners
Make a list of hikes you'd like to do – if you know you'd like to start doing more intense hikes, you may need to look into getting hiking boots
Try out a few pairs – go to a store and try on some trail runners and hiking boots. See how they feel for you! It can be tricky to know what you need without trying anything out. Try different pairs at a store and read reviews online.
Some people may even end up getting a pair of really solid hiking boots for more intense hikes, and lighter, more flexible trail runners for their easier hikes. It all depends on what you are doing, as well as your preferences.
Final Thoughts
You shouldn't wear your toughest hiking boots for running since they won't give you the flexibility that you need and they are too heavy.
Trail running shoes can be great for hiking easy to moderate trails, but if you plan on climbing mountains, you should invest in a good pair of sturdy boots.
Remember to always do what is best for you. It may be a journey to find a perfect pair of shoes or boots that match your hiking style and comfort needs.
What to Wear When you Visit the Grand Canyon
When it comes to exploring the Grand Canyon, comfort is key. But if you've never been to the Canyon before, dressing appropriately for the climate and the terrain can be a challenge.
Here are some guidelines to keep in mind:
1. Wear comfortable, sturdy shoes
Even at the South Rim, which is the most highly developed region of the Grand Canyon, the terrain can be rough and unpredictable. Running shoes, sport sandals, or hiking boots are ideal. Flip flops, high heels, or new shoes that you're still breaking in are not.
If you're planning on hiking into the Canyon, wear a mid-weight boot with lots of ankle support. For the Rim trail, a running shoe with good tread will do the job.
2. Stay comfortable in light layers
Light layers give you the most flexibility to adapt your outfit to the Canyon's weather. Add a layer in the morning or evening when it's chilly, and peel them off as the day warms up or as you hike!
In the summer, wear shorts, a t-shirt, and running shoes with a light jacket or sweater. In the winter, opt for jeans, good shoes (or even boots – it does snow at the Grand Canyon!), and a long-sleeved shirt with a jacket or sweater.
If you're taking a guided tour, read the tour description carefully in case you need to pack or wear anything special, such as close-toed shoes or a bathing suit.
3. Wear a hat
Some areas of the Grand Canyon, such as the West Rim, don't provide much shade. No matter which Rim you visit, a hat with a wide brim is essential to protecting yourself from the hot sun.
It can also get cool in the winter, so if you're visiting between November and April, consider packing a warmer hat to keep you nice and toasty while you explore.
4. Don't forget sunglasses!
The sun shines brightly all year at the Grand Canyon, so bring a pair of sunglasses no matter what season you visit in. Consider leaving your designer shades at home in case they get scratched or broken.
5. Pack a mask
Face masks are required on NPS-administered lands where physical distancing cannot be maintained, as well as inside all NPS buildings and facilities.
Individuals over the age of two years must wear face masks, except when actively eating or drinking in the following locations:
All common areas and shared workspaces in buildings owned, rented or leased by the National Park Service, including, but not limited to: park visitor centers, administrative offices, lodges, gift shops, and restaurants.
The following outdoor areas, when others are present, where the superintendent has determined that physical distancing (staying at least six feet apart) cannot reasonably be maintained: Mather Point, Grand Canyon Visitor Center Plaza, all bus stops, Hopi Point, Greenway Trail from Verkamps to Bright Angel Trailhead, and all entrance stations.
The Complete Grand Canyon Visitor Guide
Find answers to all your questions about the Grand Canyon in our newly updated guide!
Can You Run In Hiking Shoes? The Pros and Cons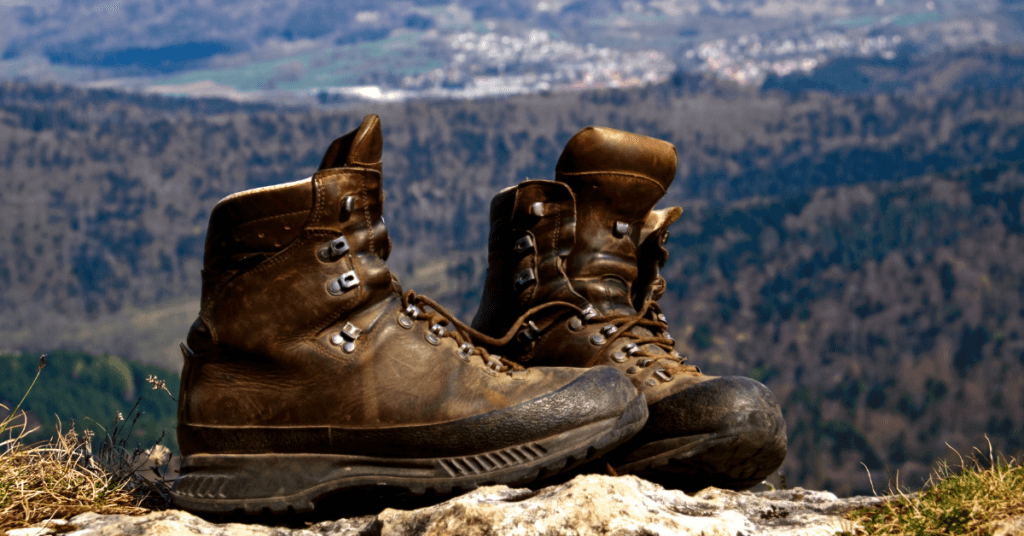 I love a good trail run now and then, but my thin, lightweight running shoes don't always cut it. Being the money saver I am, I discovered that I could run in my hiking shoes without investing in a pair of trail running shoes. Using hiking shoes for running has its pros and cons, so I'll walk you through them so you can decide if they're the right "fit" for you.
So, if you're wondering, "can you run in hiking shoes" the short answer is yes. The long answer is that hiking shoes are better for rougher terrain and for people who need more foot and ankle support. While running shoes are more suited for competitors or people who run in hot climates.
Running vs Hiking Shoes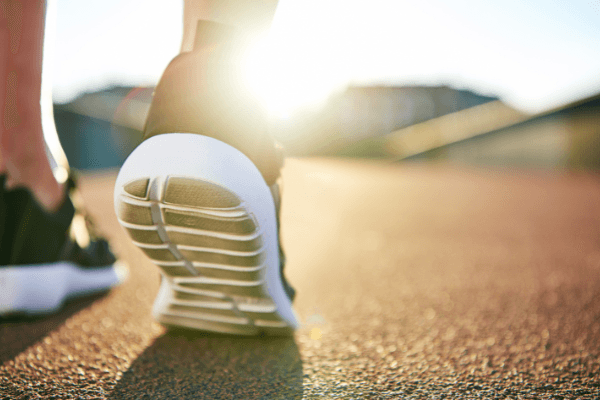 When it comes to running shoes there are many options.
When exploring the question, "Can you run in hiking shoes?" the answer is that it depends on the type of running you'll be doing, the terrain you'll be traversing, and how far you'll be going.
Some of the factors that make running and hiking shoes stand apart from each other include:
Running shoes are lighter
Hiking shoes have more tread
Running shoes are more breathable
Hiking shoes have better support
I've run in both running and hiking shoes and can say this from experience: Both shoes have their advantages, depending on the running conditions.
Furthermore, the type of running shoe we're talking about makes a difference. Road and trail running shoes fall under the "running shoe" category but differ in their offerings.
Advantages of Running in Hiking Shoes
If you run on intense trails with lots of stones, tree roots, and uneven terrain, hiking shoes might be better suited. They can also be an excellent option for people who struggle with ankle or knee problems when using traditional running shoes.
Unlike running shoes, hiking shoes have a stiffer mid-sole. The result is more protection from rocks and other debris on the trail. These shoes also come higher around your foot and ankle than running shoes, offering better support.
Another advantage of using hiking shoes for a run is if you'll be traveling over more slippery terrain, such as rocks and wet surfaces. Hiking shoes have deeper tread, which studies show have better grip than shoes with shallower tread.
Of course, the type of hiking shoe you purchase will make a difference in the quality of your run. I recommend picking a lightweight shoe with plenty of flex in the forefoot, despite the rock guard that many of them have.
Advantages of Running in Running Shoes
There's a reason why manufacturers make different shoes for running and hiking—running shoes come with several advantages that are hard to get from hiking shoes.
For starters, they're more lightweight. If you're a long-distance runner or sprinter, you likely know the difference that having as little added weight as possible can have on how far and fast you run.
Running shoes are also more breathable than running shoes. That can make a huge difference when you're running in hot climates. And although running shoes don't have the waterproof nature of most hiking shoes, they tend to dry fast since they have such lightweight material.
A Special Look at Trail Running Shoes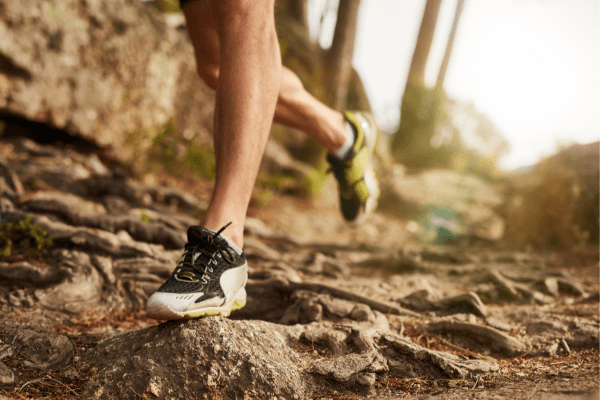 Trail running shoes may offer you the best of both worlds.
When exploring the question, "Can you run in hiking shoes?" it's important to consider that there are many varieties of running shoes.
So, if hiking shoes sound too intense for you and standard road running shoes don't seem sturdy enough, the solution might be a pair of trail running shoes.
Trail running shoes are often the perfect balance between road and hiking shoes. Many contain stiff midsoles to prevent you from rock punctures, and they have features that offer better traction.
You'll also benefit from less debris getting into your shoe, as trail running shoes have more durable uppers than road running shoes.
If you think this sounds a good option for you, read our guide on trail running shows.
Can You Run in Hiking Shoes? Items To Consider
Comfort will play a vital role in helping you determine whether you prefer running or hiking shoes for traversing your favorite off-road trails.
So, I encourage you to ask yourself the following questions while analyzing whether hiking or running shoes are a better fit for your runs.
Are you a casual jogger, or do speed and distance matter?
Would you rather have a shorter or longer-lasting shoe?
How much foot and ankle support do you need?
Will you be running on slippery terrain?
Do you run primarily in cold weather?
Hiking boots can weigh as much as 3.5 pounds, whereas trail running shoes typically stay within the one to two-pound range. According to a study in 1978, for every extra pound of weight a runner carried, they lost 1.4 seconds per mile.
So, the everyday jogger shouldn't have to worry about added weight from a trail run, but if you're training for a race, every pound counts.
In contrast, some people appreciate running in hiking shoes if they live in colder weather and don't want to purchase a new running shoe every four to six months. Hiking shoes have a longer lifespan than running shoes, so this can save you money over time.
If you want to know more about your running options, read our guide on trail vs pavement running.

report this ad
Latest Articles

report this ad
Follow us
About Fitter Habits
Get practical fitness, yoga and running advice here today.
This website is reader-supported. When you buy through links on our site, we may earn an affiliate commission. As an Amazon Associate, we also earn from qualifying purchases.

report this ad
Source https://travelgeardiscounts.com/can-i-use-hiking-shoes-for-running/
Source https://www.canyontours.com/guides/visiting-the-grand-canyon/what-to-wear-when-you-visit-the-grand-canyon/
Source https://www.fitterhabits.com/can-you-run-in-hiking-shoes/