What to Pack for Your Rocky Mountain National Park Vacation
How do you pack for Rocky Mountain National Park, a place where temperatures can fluctuate 35 degrees in one day? Here are the top 16 items to bring to the park.
Share this
Join Colorado National Park Trips
Create a personalized feed and bookmark your favorites.
Already have an account?
Join Colorado National Park Trips
Create a personalized feed and bookmark your favorites.
Already have an account?
The Loch in Rocky Mountain National Park Photo: Grant Ordelheide
You are headed to Rocky Mountain National Park where you will find yourself surrounded by 300 miles of hiking trails, beautiful alpine lakes and outstanding views of the 14,259-foot Longs Peak. But how do you pack for Rocky Mountain National Park, a place where temperatures can fluctuate 35 degrees in one day? Here are the top 16 items to bring to the park.
At National Park Trips, we independently source all of the products we feature. If you buy from the shopping links on our website, we may receive an affiliate commission, which in turn supports our work.
1. Sturdy Hiking Boots to Help You Really Experience the Rockies
A good pair of hiking boots is a must. To make the most out of your trip, pack a pair of supportive, waterproof and breathable hiking boots. These will allow you to navigate wet and dry hiking trails with ease and enable you to explore farther than you maybe would have.
If you're not going more than a couple of miles down the trail, you can pack light with a hiking shoe that can go from the trail to the restaurant. We love the Lowa Locarno Low hiking shoes.
2. A Rain Jacket to Protect You from Colorado's Afternoon Storms
Who brings rain jacket to dry Colorado? We do. Every time we head to the mountains in the summer. Like clockwork, afternoon rainstorms can roll in, wrecking a perfectly beautiful day. The good news is they pass quickly. The bad news is the temperature drops dramatically when it rains, turning a warm day into one that feels freezing. When it rains and temperatures plummet, you want a jacket that can keep you warm and dry. Be sure to take cover from thunderstorms and lightening.
Tip: Pick a jacket that claims to be waterproof or watertight, not water resistant. Check out the many brands of rain jackets at www.rei.com.
3. Binoculars to See Rock Climbers and Wildlife
Don't miss seeing the rock climbers on Longs Peak or elk and moose grazing in a nearby meadow. Bring along a good pair of binoculars to see it all. It's worth talking to your local camp store employee about the different types of binoculars for sale as not all are created equal. You don't want to end up with an extraordinarily weak pair, nor a pair too heavy to hike with. The Nikon Monarch series offers some great features.
Need help on choosing a pair of binoculars? REI.com has this helpful article and has a plethora of binocular brands.
4. Daypack for Extraordinary Alpine Hikes
Make going for a stroll to Adams Falls on the park's west side or a strenuous hike to Thunder Lake on the east side much more comfortable with a daypack. Place all your (and your family's essentials) like extra layers, extra snacks, a flashlight, binoculars, whistle and simple first-aid kit in it.
Daypacks don't need to be the big expensive kind that backpackers use. If you're just going out for the day, a smaller 18-30L size will work just fine and many can also double as a personal item on an airplane. Here are some good options for daypacks made specifically for travel.
5. Snacks to Fuel Adventures in Rocky Mountain National Park
The only restaurant inside the park is next to the Alpine Visitors Center, situated at nearly 12,000 feet on Trail Ridge Road. Be sure to stock up with food you will need for camping in the park or for day trips before you enter the park. Estes Park and Grand Lake have grocery stores, gas and restaurants. Grand Lake has two small grocery stores, so do not expect a huge national chain grocery store when you drive into this quaint historic town.
6. A Couple of Water Bottles or a Hydration System
Combat the effects of elevation and sun by drinking water almost constantly. Because the air is dry, your sweat quickly evaporates. Often, you won't know you are sweating. Drinking water ensures you won't get dehydrated, which can lead to headaches, altitude sickness and more serious conditions like heat cramps and heat stroke. Plan to drink .5 -1 liter per hour of hiking.
Even when you are not recreating, be sure to keep drinking while you are in Colorado. If your urine is clear, you are hydrated. We love bringing along our CamelBak, which allows us to keep sipping even as we are on the move.
7. Warm and Cold Clothing Layers for Rocky Mountain's Temperature Extremes
When you are sitting in sweltering heat in Dallas, it may seem totally ridiculous to pack a winter hat and warm layers for your Rocky Mountain National Park trip. Ignore your inner cynic. With extreme elevations changes, park temperatures in July can fluctuate 35 degrees in one day, going from 80s F during the day to 45 F during the night. Be sure to pack light layers for daytime and others that will keep you warm in the evenings, including a winter hat, for when the sun sets and cooler air moves in. You will be surprised at how quickly temperatures drop as the sun sets.
8. A Star Chart or Star App
You'll find some dark skies in Rocky Mountain, despite the fact it is easily accessible from Denver, the state's capital. With a star chart, you'll be able to identify some of the formations you may never have seen before, especially if you are coming from an urban environment. Or use technology and download the SkyView® Free app for iPhone or Android, which enables you to identify stars and so on by pointing your phone at them. You may be able to see up to 15,000 stars in the park's sky in comparison to 500 in an urban sky. It's far out!
9. Sturdy Water Shoes for Rafting the Colorado River or Boating in Grand Lake
If you plan on river rafting the Colorado River or canoeing, kayaking or paddle-boating in Grand Lake, you will want a good pair of water shoes. Flip-flops are not recommended for water activities as they will get stuck in the mud and either break or get swallowed by the current down river. A covered rubber-toed shoe can help you avoid getting bruised toes from river rocks or cuts from stray logs.
Not sure what a water shoe is? Here's a great selection of everything from socks to sandals and shoes made for the water.
10. A Tablecloth
It's the little things that make a big difference. When you stop at the roadside weathered picnic table to eat lunch, pull out your tablecloth to go from down-home to gourmet in a matter of seconds. You'll also avoid getting hard-to-remove splinters when you lean against the table.
11. Bug Spray to Combat Mosquitos
Spend more time enjoying the scenery instead of swatting bugs. If you don't want to use strong chemicals, there are plenty of bug sprays available these days that are derived from natural ingredients and are safer for use by children.
Our pick is the family-friendly Sawyer 20% Picaridin Insect Repellent. Consumer Reports has ranked this formula as the best protection against mosquitoes. Sawyer's insect repellent is also very effective for ticks and biting flies, and it won't damage gear or equipment. Learn more at Sawyer.com/picaridin
12. Headlamp to Read or See at Night
Read at night in your tent comfortably with your headlamp or use this great lighting device to safely walk to and from evening ranger talks. Taking photos of the night skies? A headlamp with a red light option will help you change your camera settings in the dark with minimal annoyance to your travel mates.
13. A Sun Hat, Sunglasses and Sunscreen to Protect Yourself from the Colorado Sun
You only need to have experienced the sun in Colorado one time before you realize how strong it really is, especially since Rocky Mountain elevations ranges from 7,700 to 14,000 feet. Bring a wide-brimmed hat, which is preferable over a baseball cap, to cover your entire face.
Then, apply sunscreen over all exposed skin, including the back of your neck. Sunglasses will protect your eyes from being burned and polarized lens will help you see views more clearly. Don't forget you are 7,000-to-14,000 feet closer to the sun than at sea level. Purchase sunglass straps if you plan to be on the water ⎯ it can be frustrating watching your new sunglasses float down the river without you.
14. Park Maps
Rocky Mountain National Park has a plethora overlooks, trails and waterfalls. It's good to have a map. You can wait until a park ranger hands you a map at an entrance station, or you can plan ahead and get your maps now. Download a free PDF map, or get the detailed NatGeo topographic map or NatGeo Day Hiking map at REI.com
15. Plastic Bags to Leave No Trace
Plastic bags come in handy to keep things dry in the event you get rained on, as well to pack out used toilet paper if nature calls while you are hiking. It's a big no-no to try to bury toilet paper in the back country. It has to be packed out.
16. Ice-Traction Devices for your Shoes
If you are headed to Rocky Mountain's shaded hiking trails in late spring and early summer, bring ice-traction devices like Yaktrax to prevent you from slipping on the icy snow. The forested Bear Lake, Glacier Gorge and Wild Basin trails get heavy snow in the winter which gets packed down by snowshoers, so the snow often remains until mid to late June. Here is a good selection of traction devices.
Pssst. Want to receive a printed insider's guide to Colorado's four national parks including Rocky Mountain National Park? Order our free stunning National Park Trip Planner for Colorado filled with an inspiring itinerary, gorgeous photographs and everything you need to plan your dream vacation.
What to Pack for Rocky Mountain National Park: Full Hiking Gear List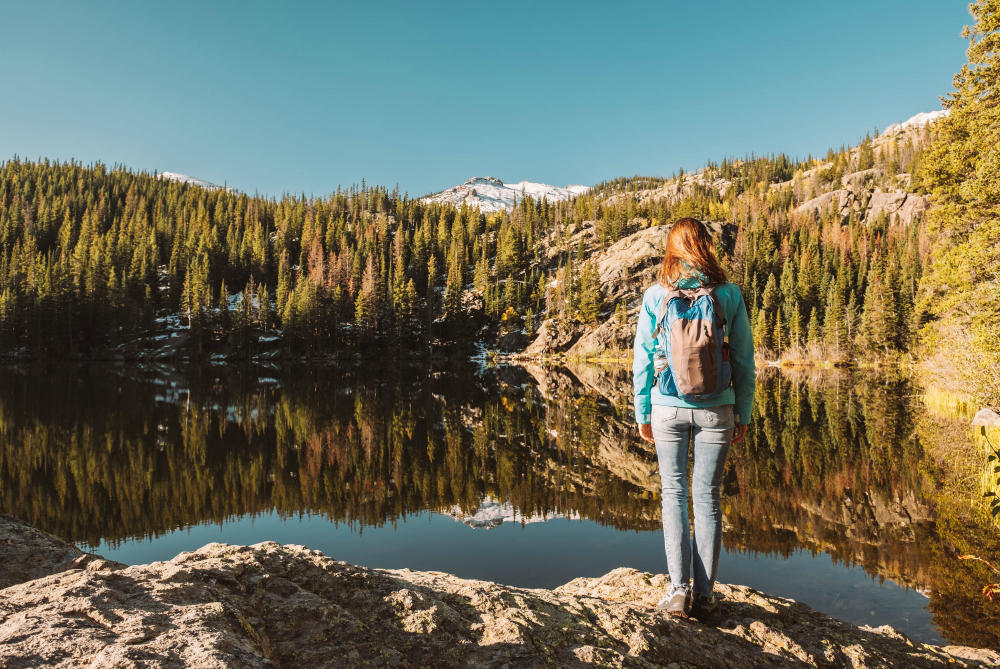 Support TFG by using the links in our articles to shop. We receive a small commission (at no extra cost to you) so we can continue to create helpful free content. As an Amazon Associate, we earn from qualifying purchases made on Amazon in addition to other retailers featured on the blog. Thank you, we appreciate your support!
You can't beat the scenery and stunning vistas on a trip to Rocky Mountain National Park, but what do you need to pack? Let TFG help you out!
What to Wear in Rocky Mountain National Park
Written By: Laura Pulling
Table Of Contents
Right in the heart of the US, in the state of Colorado, is the home of Rocky Mountain National Park. It has over 415 square miles of protected mountain terrain and 395 square miles of wilderness, along with a huge array of hiking trails and wildlife.
It's the perfect place to spend hours on the trails and well worth it when you see the stunning sights of Dream Lake or the picture-perfect, Alberta Falls.
Visitors to the park are welcome year-round, with the warmer summer months generally attracting the most people. Temperatures vary though, due to the change in elevations, but at higher points, like Bear Lake, Trail Ridge Road, or Longs Peak, it may snow even in July!
A wide variation between day and night temperatures is typical of mountain weather, so remember this when preparing your Rocky Mountain National Park packing list.
During the cold winter months you may even partake in some skiing or snowshoeing, with the mountains also offering some great spots for sledding.
What are you going to take on your trip? TFG is here to help you with all the things to pack for Rocky Mountain National Park!
What to Wear Hiking in Rocky Mountain National Park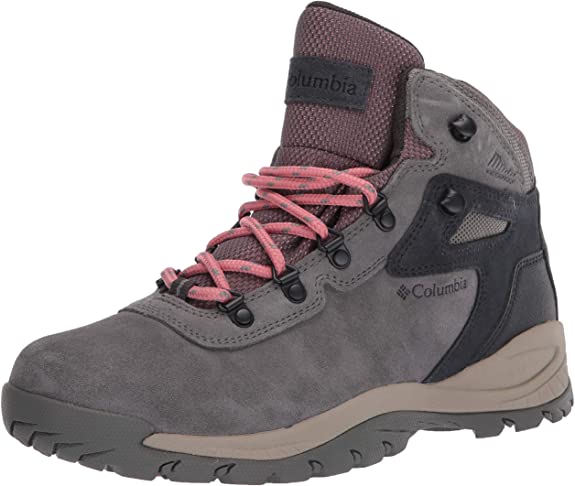 Shoes
The most important thing to consider, for any trip where you're going to be hiking along the trails is what is on your feet. When you have miles of trails and such mesmerizing vistas of lakes and mountains, you want to be comfortable enough to trek for hours. Hiking shoes are vital when planning a trip to Rocky Mountain National Park.
In the summer, a pair of hiking shoes will work well for shorter hikes. If you're planning on traveling in during any colder winter seasons (snow isn't unusual in spring or fall either!). These Columbia Newton Ridge Hiking Boots can handle the job of both rocky and snowy terrain.
There are a ton of trails, so you're going to be walking a lot, especially to get up the mountains for the best views.
When choosing the best boots, look for ones that are waterproof, have a sturdy sole and quality tread. Ensure that they are supportive of your ankle, and can withstand the types of activities you'll be doing.
When hiking, even if you plan on a shorter ramble, at Rocky Mountain National Park, the tracks and terrain make having hiking poles useful. Find some that are sturdy enough for your style of walk, and you'll find it much easier on your legs afterward!
Looking for more hiking poles? Find out the best in this list here !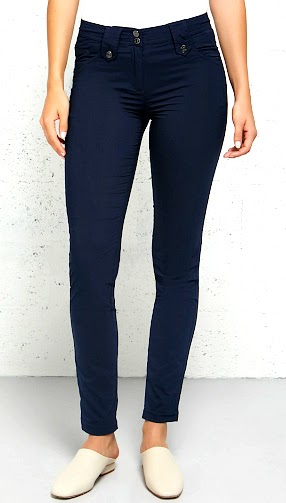 Bottoms
Long bottoms or even specific hiking pants are your best option for a day of hiking in a Rocky Mountain National Park. Even in the summer, the temperature cools dramatically by the evening, or at an elevation. Long pants will not only keep you warm but will also save your calves and ankles from being scratched by prickly branches that protrude from the trail. Choose pants that are moisture-wicking and quick-drying, in case you get caught in an unexpected rain shower.
The Anatomie Skyler Travel Pant is our all-around favorites here at TFG. The material is stretchy and they fit comfortably. Plus, they are water-resistant to withstand the rigors of hiking and climbing.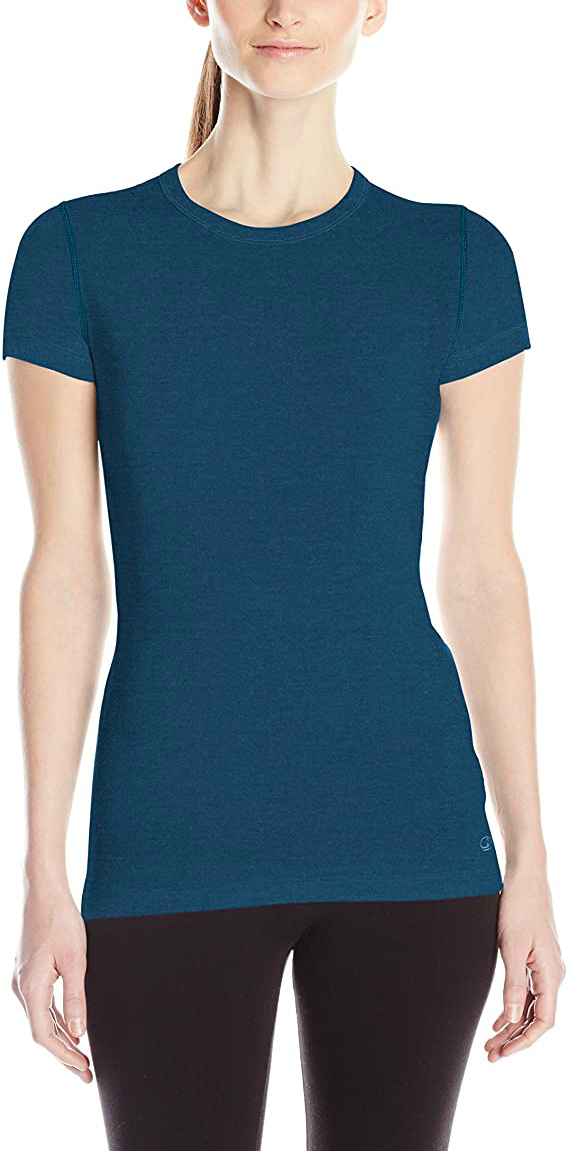 Tops
Layers are great, and t-shirts are the most versatile of tops in all weather situations. For a long hike, get one with moisture-wicking properties, like this Icebreaker Merino Sprite Short Sleeve to keep sweat at bay.
If you feel the cold or are hiking up a shadier trail, a long-sleeved tee is beneficial as it keeps you from feeling the chill, plus adds a layer of protection.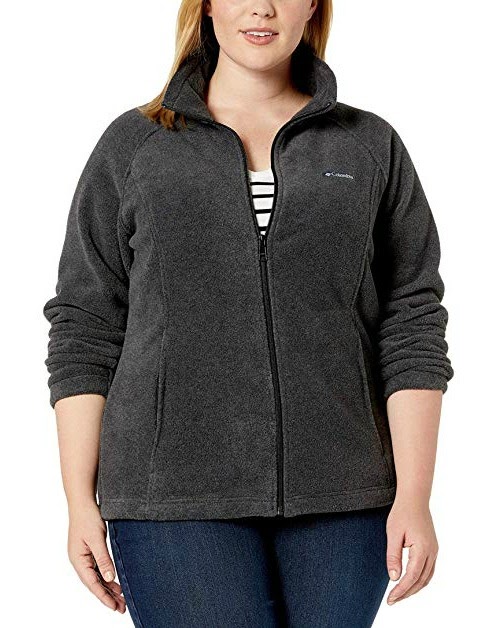 Layers are essential for anyone taking a hike through the Rockies—no matter the season.
Fleece is a great travel fabric as it is easy to roll up and stuff inside your backpack without worrying about it getting creased (you could even pop it in a packing cube). Packing a fleece jacket, like this Columbia Fleece Jacket , as an additional layer, can keep you from feeling cold and ruining a great day of hiking up Deer Mountain by not having the clothing for it.
Check out some fleece travel jackets here !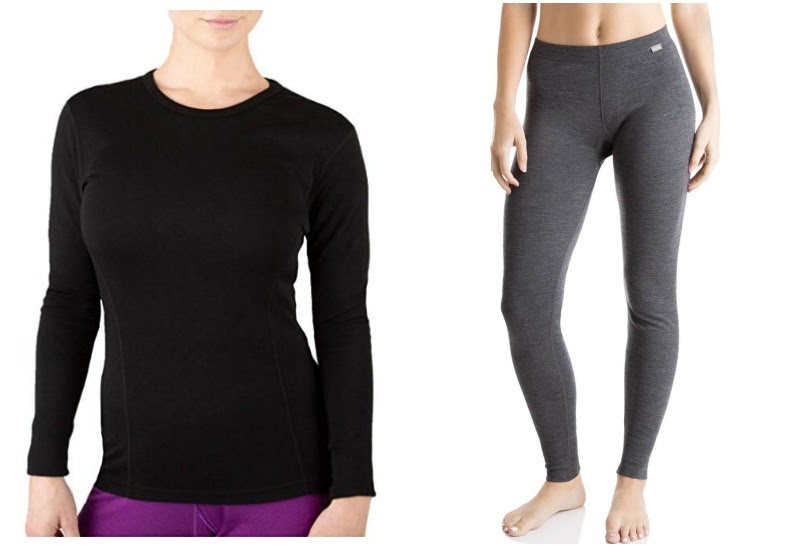 Layers
Your outfit needs to be able to cope with the different changing weather. Think layers, layers layers! If you get warm, you can simply shrug a layer off, but there's nothing worse than being too cold.
Wear or pack some merino wool undergarments, as they are thin, but cozy. These Meriwool under layers are rated as some of the warmest you can buy! They have sweat-wicking properties to help to keep you dry, no matter how tough the hike gets.
Check out a full range of base layer options that'll keep you warm on the trails!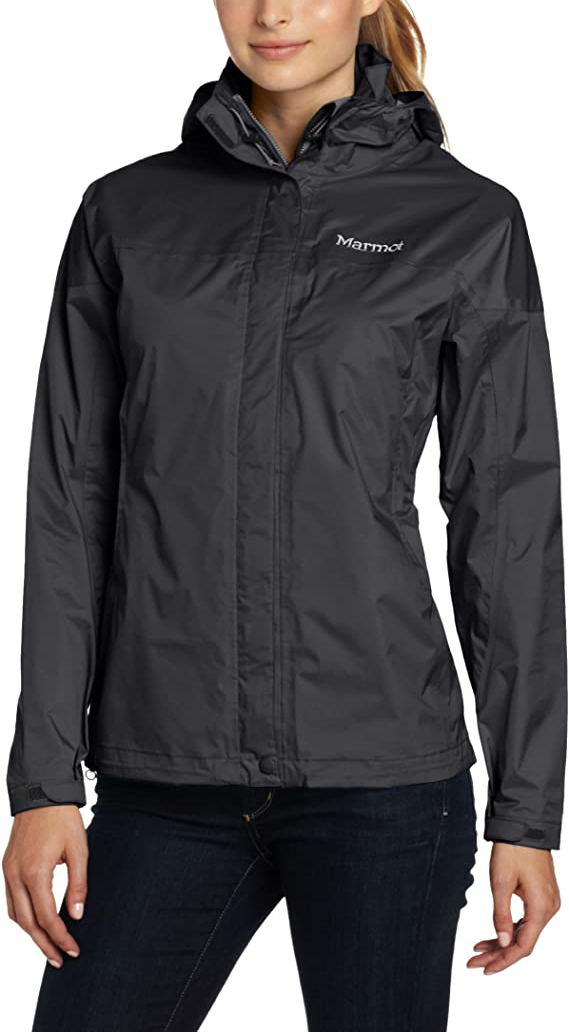 Jacket
If you're taking in the views around Bluebird Lake, or are in search of the Timberline Falls you are exposed to the elements across the elevated terrains. A warm but lightweight rain jacket is essential for your trip. No matter what the season, there's always a chance of a shower, so you need a jacket that keeps you dry.
Choose a jacket that is warm, waterproof, and windproof. Preferably, one with a hood will have you covered (literally) no matter what the weather!
This Marmot rain jacket is waterproof for optimal protection, with a packable hood hidden in the collar. It's heavily functional while remaining lightweight and breathable.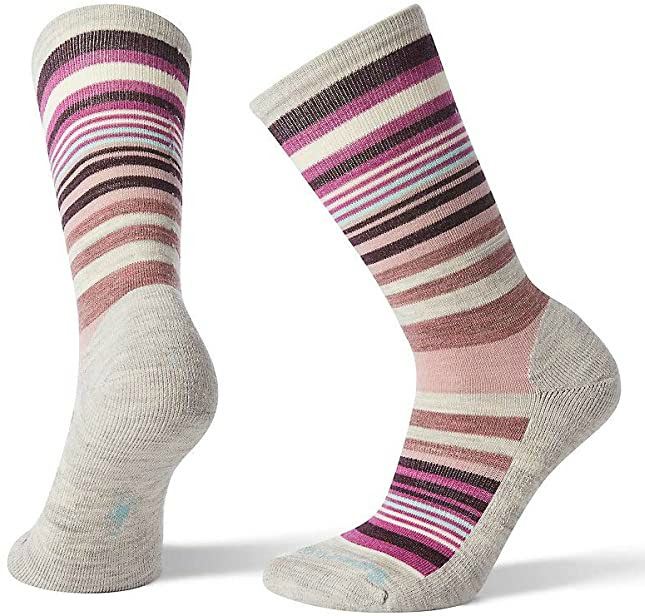 Accessories
After an eight-mile hike, your feet are going to feel it, but not if you prepare them well. Normal cotton socks will lead to blisters, so try wool socks to keep your feet super dry and prevent any rubbing from your shoes. Even if you have the best hiking boots on the market, it's the socks that make the difference!
It's also recommended to take a spare pair in your backpack, for those "just in case" situations. (wrap them in a packing cube to keep them totally dry).
Things to Bring to Rocky Mountain National Park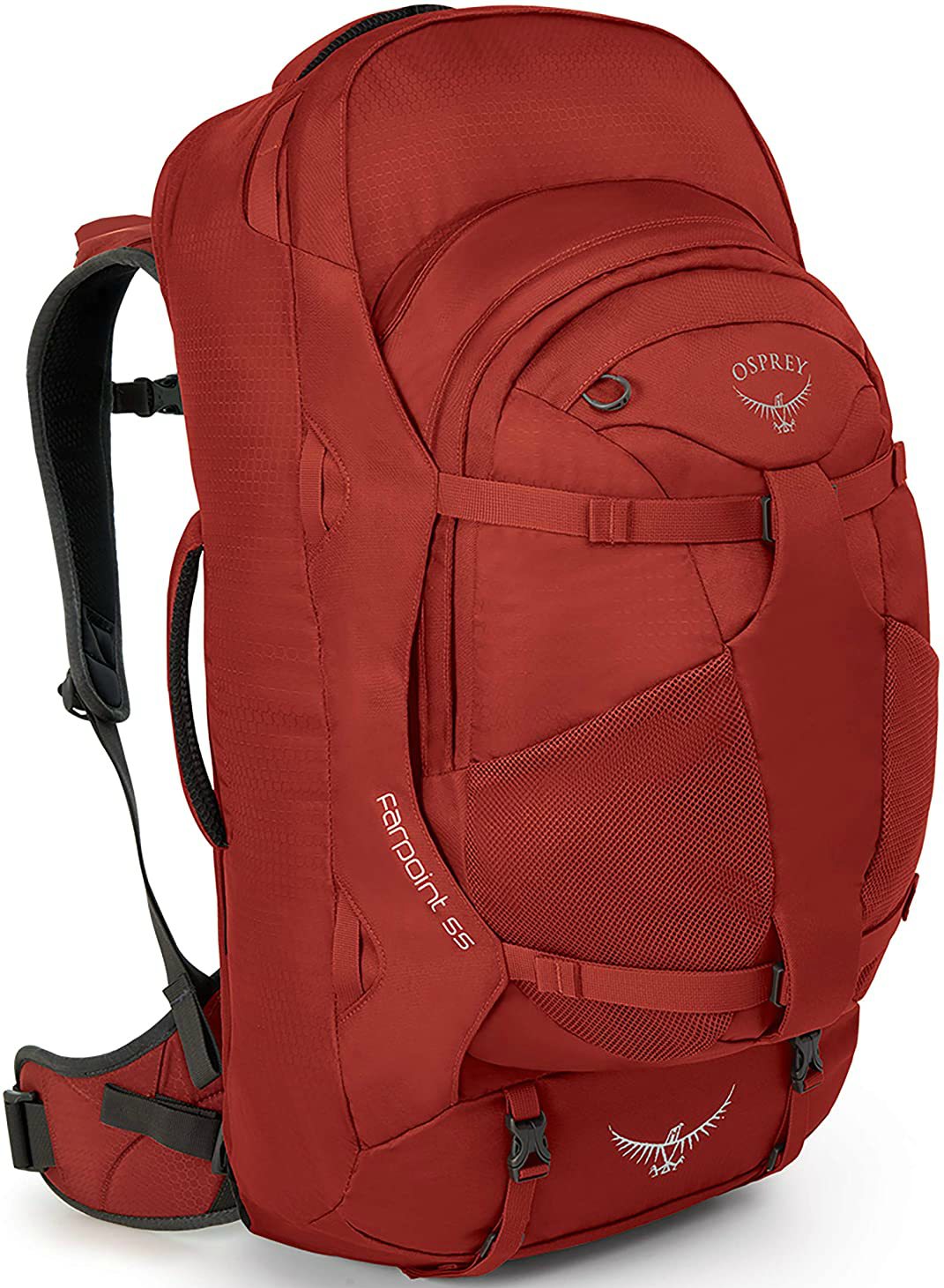 Backpack
Depending on the length of your stay, you'll either need a backpack or a day pack. If you're backpacking Rocky Mountain National Park you'll need a bigger bag to ensure all of your equipment can fit in easily and it is comfortable enough to wear until you make it to your campsite (especially if you have to walk for some of the way).
The most important features are it needs to be water (and snow!) resistant and adjusted well to fit your frame. This Osprey Farpoint Jasper Red Backpack is a great option for hikers, as it has a ventilated mesh back panel with an ultra-comfortable waffle foam harness. It offers a unique two-in-one style. The main compartment is a 40L backpack and it attaches to a 15L detachable day pack for a total space of 55L.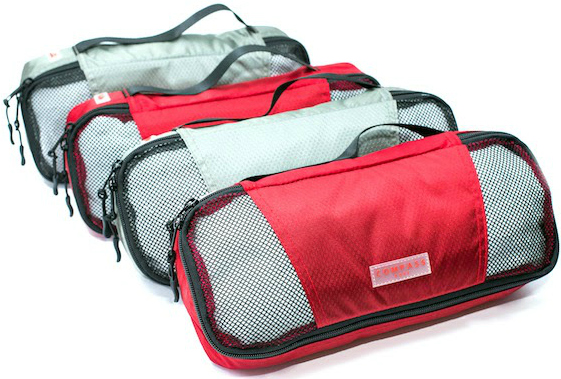 To be a pro packer, you can also use Compass Rose packing cubes to help you pack your backpack for your trip. They're great for keeping your different layers in, and the numbered and color-coded pouches will keep you extra organized.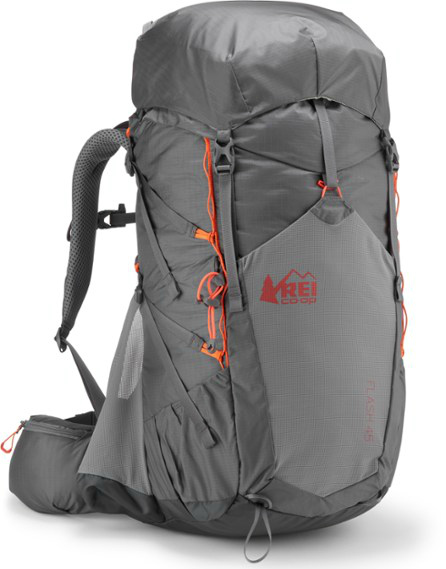 Daypack
If you are planning a day trip around the Rockies to see the vast array of wildlife, or just for a hike around Bear Lake you can fit essentials in a day pack. Choose one that's lightweight and for ultimate comfort, ensure it has padded mesh back support and a waist strap. The REI Co-op Flash 45 pack allows you to wander around the trails with enough room to pack hydration and layers!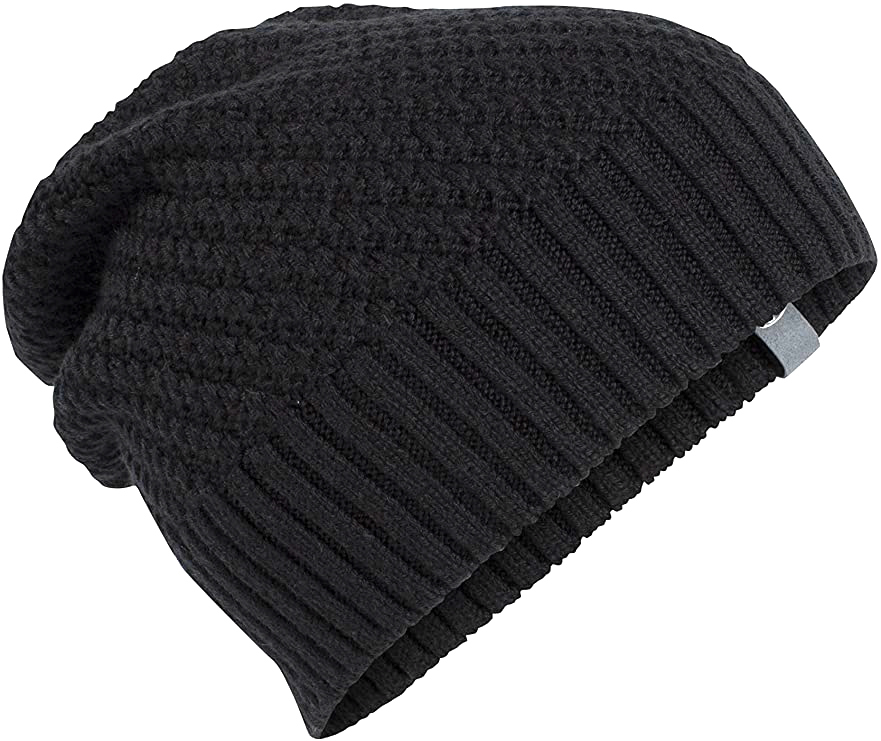 Warm Hat or Sun Hat
The Rockies can be very different in the winter and summer, so choose a hat that matches the season!
You lose most of your body heat through your head, so a cozy hat like this Icebreaker Merino Skyline Slouch Beanie is needed on your hike in the colder months to keep in that essential warmth. Choose a hat that's made of soft fleece or wool, and remember to cover your ears for an extra warm feeling.
When you're on the trail and the sun is shining, the sun can cause issues for hikers, who fall foul of sunburn or even sunstroke when on an all-day hike. We recommend a wide-brimmed hat that covers your entire face to keep you cool as you hike.
Water Bottle
A water bottle is as essential as it gets. You need to stay hydrated on the trail, and being prepared is a necessity.
A vacuum style bottle, like this one from Day 1 Fitness can keep your water icy cold for hours into your hike. This one comes in multiple colors and three different sizes and has a carabiner to attach to your pack. Or you might prefer a squishy bottle that can be squeezed to fit your pack and take up almost no space once you are finished with it.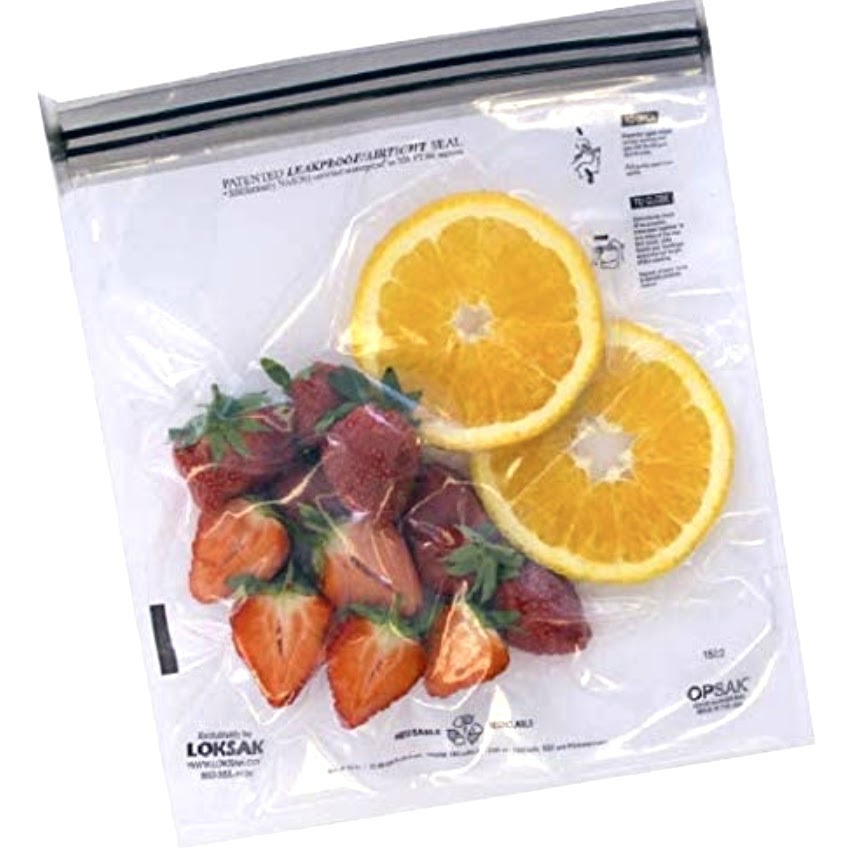 Bear Proof Accessories
There are black bears, wild elk, mountain lions and bighorn sheep in Rocky Mountain National Park and the rangers advise that you stay way back from any wildlife. Bear spray is available in camping shops close to the parks (you can't fly with it), but also consider smell-proof bags , or a hanging tree pack, for your outdoor picnics.
Additional Gear Checklist for Rocky Mountain National Park
What are your recommendations for Rocky Mountain National Park clothing and gear? Share your packing list below!
Experience the Differences Between the Rocky Mountains' Best National Parks
We live in a magical place. Our headquarters located just a few short hours from Yellowstone, Grand Teton, and Glacier National Parks, three of the world's most renowned national parks.
Having such an array of national treasures, almost literally in our backyard, has allowed us to get to know them better than nearly anybody. While each of these destinations has spectacular vistas, teeming wildlife, and a deep sense of history, each of these parks offers its brand of adventure.
Here are three unique experiences that illustrate the differences between these Rocky Mountain destinations.
Three Amazing Parks, Three Unique Experiences.
Grand Teton National Park
Grand Teton National Park is the smallest of the Rocky Mountain national parks, but what it lacks in size, it more than makes up for the sheer magnificence of the Teton Mountain Range. Soaring more than 13,000 feet high, the Tetons offer the perfect backdrop for any activity.
One of the park's surprises is the abundance of cycling paths. While other national parks have cycling routes on roads, few have as extensive a bike path network as Grand Teton. One of the best cycling routes is the Grand Teton Multi-use Pathway running over twenty miles between Jackson and the Jenny Lake visitor center.
The Tetons soar overhead while the trail meanders through some of the best wildlife viewings in northern Wyoming. The thing I love about cycling through any national park is the connectedness you experience with the sights and sounds.
Depending on when you go, you may hear elk bugling in the distance. You get the clean mountain air in your face. And in Grand Teton National Park, you can experience it all without worrying about drivers on too-narrow roadways.
Yellowstone National Park
While Yellowstone is most famous for its geothermal features like Old Faithful and Grand Prismatic Spring, it's the abundance of wildlife that keeps me coming back. Pristine valleys cradled between low mountains create some of the best grasslands in the world for megafaunas like iconic herds of bison and elk.
The Lamar and Hayden Valleys have compared to Africa's Serengeti in terms of wildlife density. Often, hundreds or thousands of bison can be seen grazing in these wide-open spaces. Elk can be seen throughout the park as well, including hanging out in Mammoth Village.
Yellowstone generally has a ranger stationed in Mammoth to stop people from getting too close to the animals (they are wild, after all) and make sure that traffic can move through. Throughout the summer, smaller groups of elk come together to form herds of one hundred or more. The bulls fight for dominance. Encountering a couple of eight-hundred-pound elk sparring is a sight you'll never forget.
Because Yellowstone gets a ton of snow in the winter, spring runoff creates vast wetlands. Like Grand Teton National Park, Yellowstone is a great place to see moose. These massive creatures can be seen in bogs and marshes around the park, generally alone or a cow with her calves. For many, seeing the elusive moose is a special moment that ranks up there with seeing a grizzly bear or wolves.
Best to see
The conditions that draw bison, elk, and deer to the Lamar Valley also support the park's most massive wolf packs. The best time to see these hunters is at sunrise and sunset when they're on the prowl. Train your spotting scope on the edge of the woods and wait for them to come down to the Lamar River.
A few wolves "hot-spots" we like to hit along the river where regular sightings occur. Grizzly sightings throughout the park are more common today than they have been since the days when people used to feed bears through the windows of their cars (definitely an illegal and unsafe practice.)
That said, if you want to maximize the chances of seeing a bear, we recommend heading up to Dunraven Pass. Grizzlies and black bears often seen rummaging for berries and grubs at the edge of the forest. Even if you don't catch sight of a Griz, the view of the wildflower-covered mountains will leave you more than satisfied.
Glacier National Park
I'm not afraid to say that Glacier National Park is the most beautiful park in the national park system. Bold words, but Glacier backs up the claim with shockingly beautiful landscapes in every direction. Going to the Sun Road is considered one of the top five drives globally, winding its way up the side of a glacially-carved cirque to Logan Pass. The Jagged mountains hug the valley, and the Waterfalls cascade down mountainsides.
Also, Mirror-surfaced lakes line valley-bottoms are reflecting the surrounding peaks. Postcard-perfect vistas surround you every inch of Going to the Sun Road. But the road only shows a thin slice of the park. The best scenery reveals when you step off the highway onto one of the hundreds of trails into the backcountry.
A short hike away from Logan Pass brings you to one of the most incredible views in the park, Hidden Lake Overlook. Mount Oberlin towers to 8180 feet overhead as you make your way through fields of bear grass. The nearby Garden Wall seems to glow with a thick blanket of red, yellow, and blue wildflowers. Below you, Hidden Lake comes into view, nestled between steep slopes, glittering in the sun.
At just barely a mile, this hike has a lot of payoff for just a little effort. With a little more effort, you can hike to one of the last remaining glaciers that the park is named for. In 1850, the Glacier Park area was home to over one hundred fifty glaciers.
Now, only twenty-five remain. Grinnell Glacier flows down Mount Gould's rugged slope into the deep turquoise lake at its base and calving off house-sized icebergs all summer. The Glacier has lost more than 40% of its acreage since 1966. If you haven't had the opportunity to see one of these ancient geologic features. This year may be the time to check "see a glacier" off your bucket list.
Hence, these are the best parks. So, what about your Rocky Mountain National Parks visit!
Source https://www.mycoloradoparks.com/park/faqs/what-to-pack/
Source https://www.travelfashiongirl.com/what-to-pack-for-rocky-mountain-national-park/
Source http://www.wildland.com/blog/best-rocky-mountain-national-parks/