Best Waterproof Socks For Hiking: How to keep feet dry in wet conditions
Yes, waterproof socks exist and yes, they are really waterproof. Here's when to wear them, when to skip them, and some of the best waterproof socks to wear hiking or anytime feet need to stay dry and warm.
What makes waterproof socks waterproof? It is similar to wearing a plastic bags between two socks, and much less sweaty. Waterproof socks are made of three layers with a waterproof membrane sandwiched between knit socks. The outer and inner socks have to be thick enough to protect the membrane from damage so these socks will be thicker than athletic socks but can be comparable to heavy hiking socks.
It is easy to test who waterproof these socks are – put one under the tap and fill it with water like a balloon. However, water can get in where the cuffs meet the leg. Waterproof socks need to be higher than water when wading through or covered by waterproof gaiters or pants to work in the pouring rain.
Waterproof socks do more than keep feet dry. They also block out mud, sand, dust, and wind and help toes stay toasty. These socks are also useful for many other outdoor activities including biking, hunting, kayaking, surfing, paddleboarding, and anything else that gets the feet wet or uncomfortable
All that being said, waterproof socks are more of a preference than must-have hiking gear. Here's how to decide if and when you need them.
When To Wear Waterproof Socks
Waterproof socks easily upgrade non-waterproof footwear or increase the coverage of waterproof footwear. They are also helpful in damp and wet conditions.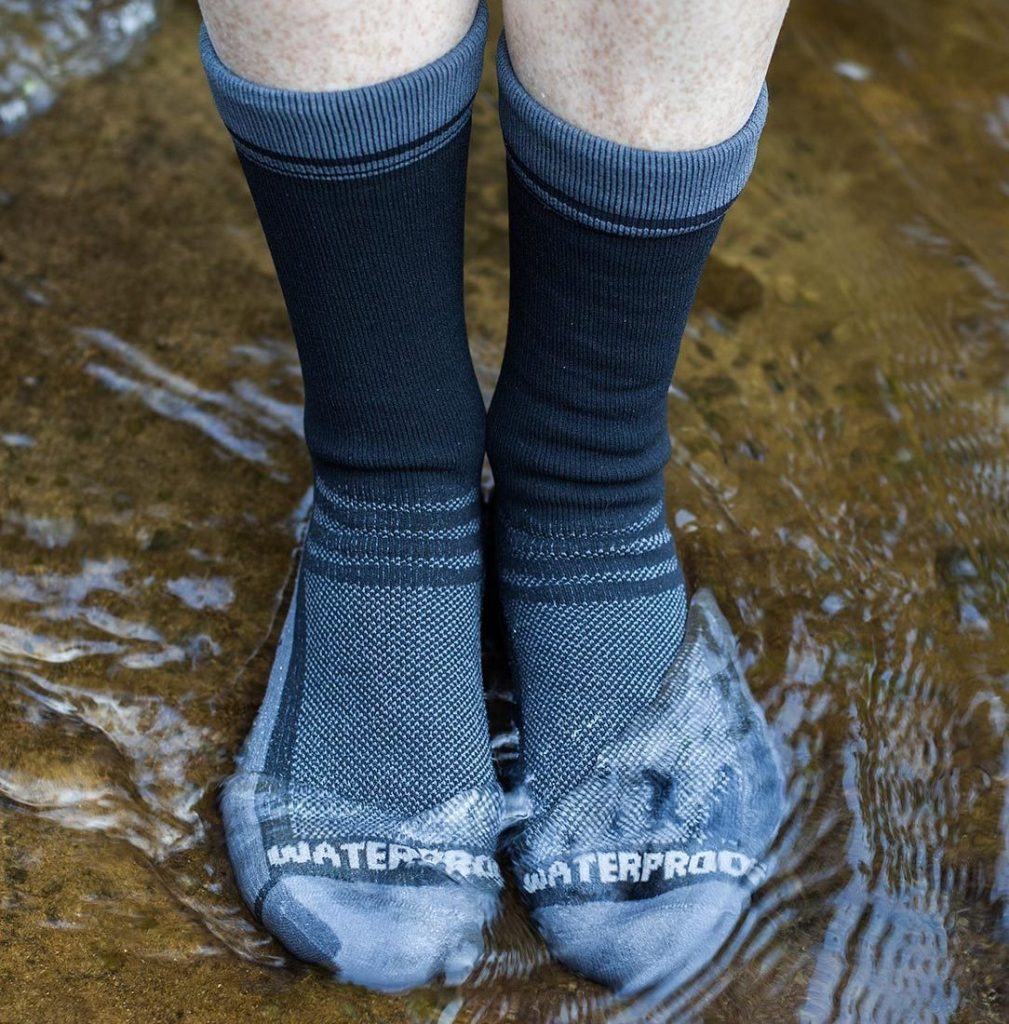 Showers Pass
Try waterproof socks if:
You prefer to hike in non-waterproof trail runners, sandals, or athletic shoes
Waterproof shoes aren't in the budget at the moment
Very wet conditions or terrain
Waterproof socks are so effective that many hikers wear them with their favorite lightweight shoes and sandals – year round.
When Not To Wear Waterproof Socks
The membrane that keeps water out also keeps some sweat in, which can be hot and damp. They may not be the choice for all day wear, hot conditions, or people with sweaty feet.
That being said, the combination of mesh shoes and waterproof socks can be more breathable than a Gore-Tex shoe. Try out different sock and footwear combinations to find the best one for you. Switching up the insole can also make a world of difference in shoe comfort.
If hot feet or perspiration is an issue, a sock liner or a generous does of foot powder can help.
There are also products dedicated to minimizing foot moisture. Deodorants for feet reduce perspiration and odors. Try Carpe Antiperspirant Foot Lotion or SweatBlock Lotion. Blister prevention powders also work by minimizing moisture. Check out 2Toms BlisterShield, waterproof powder that repels moisture instead of absorbing it. These products can be used on their own or together.
In summary, these socks are excellent hiking gear but only wear them when they are required.
Waterproof Socks vs Gaiters
There is an overlap between the benefits of waterproof socks and gaiters. Gaiters keep water and other elements out of waterproof shoes but they do not make shoes waterproof. Gaiters could be worn with waterproof socks to keep moisture out of the cuffs.
Other than that, it all comes down to preference. Many hikers prefer the lightweight, cushioned soles of trail runners. When waterproof, they can be worn with gaiters but waterproof socks can make any shoe waterproof.
Waterproof Sock Layers
The challenge for all waterproofing is the balance between allowing air out without letting water in. Most waterproof socks use Coolmax in the liner sock for its moisture wicking, anti-bacterial properties. Coolmax absorbs sweat from skin quickly to keep feet dry, odor free, and reduces blister.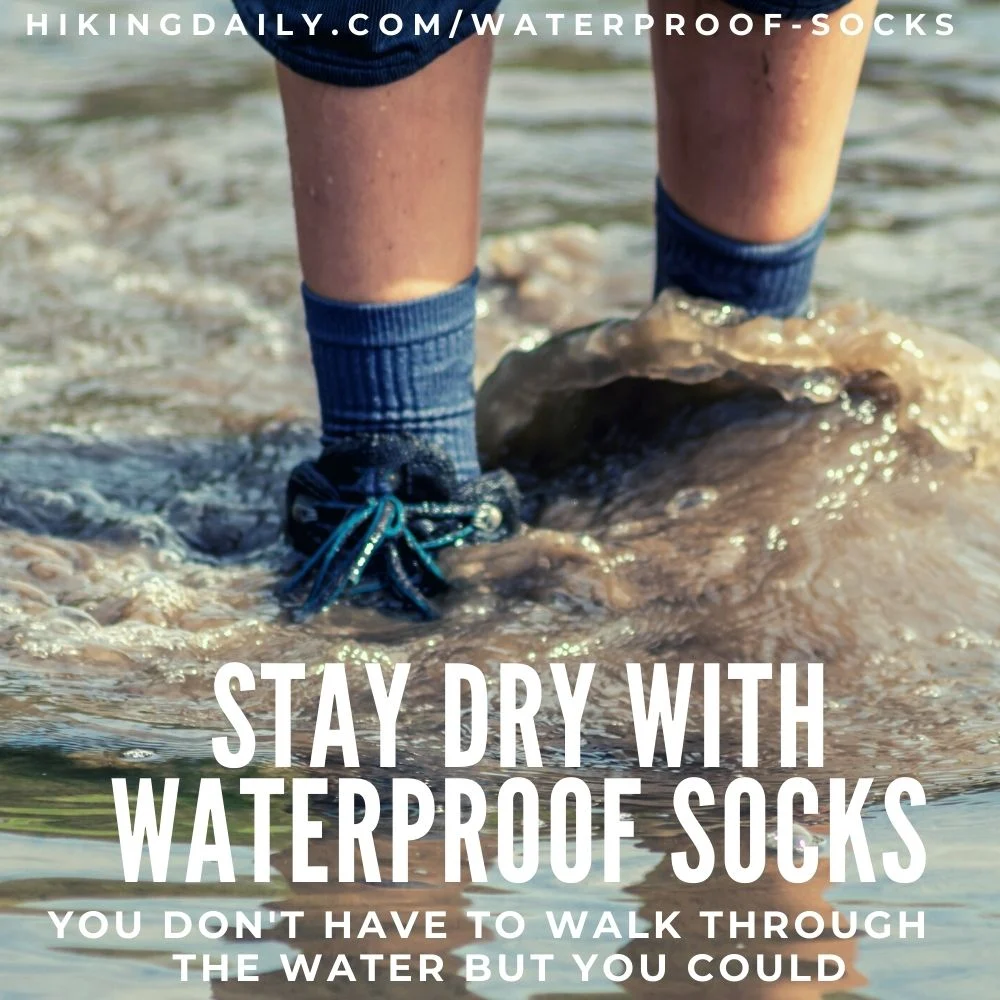 Some socks use natural fibers like wool or bamboo. Of course, the breathability of all these fabrics is reduced by the waterproof membrane. There will also some percentage of Spandex, Elastane, and/or Lycra for stretch.
Each sock company has their own waterproof membrane.
For the outer sock, nylon and/or polyester are used for their water-resistance. There will also be some added stretch.
The Best Waterproof Socks For Hiking
Here are some of the best waterproof socks for warm and cool weather:
Thin + Lightweight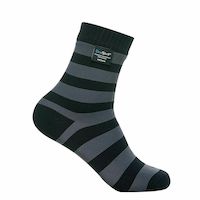 Cold Weather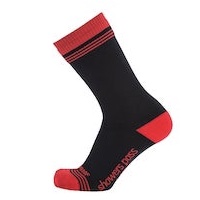 Merino Wool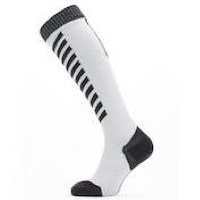 Most Colors + Styles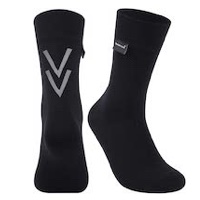 Budget (Under $30)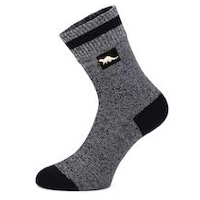 The Most Lightweight Waterproof Socks
Dexshell Ultralite Bamboo Waterproof Sock
Inner Sock 70% bamboo rayon/30% nylon
Membrane Porelle membrane
Outer Sock 96% nylon/3% elastane/1% cuff elastics
+ Bamboo socks feel great
+ Lightest weight waterproof sock
The thickness of waterproof socks is one of the most common complaints that people have. With 70% bamboo for the inner layer, this is the lightest weight sock out there. They work well in hot weather and keep feet warm in cooler temperatures as well. They also come in a knee height.
Best Waterproof Socks For Cool Weather
Showers Pass Crosspoint Socks
Inner Sock 81% Coolmax/16% polyester/2% Spandex/1% nylon
Membrane Artex microporous membrane for breathability
Outer Sock 78% nylon/7% Spandex/15% polyester
+ Highest % of Coolmax fiber
Based in Portland, Oregon, Showers Pass wanted to make gear that helps keep people outside in all types of weather. Their proprietary microporous Artex membrane keeps water out while letting the inner layer breathe. The same technology is also available in gloves.
Best Waterproof Sock With Merino Wool
SEALSKINZ Waterproof Cold Weather Knee Length Sock
Inner Sock 36% Merino wool/36% acrylic/18% polyester/5% nylon/5% elastane
Membrane Hydrophilic membrane that draws moisture away from skin
Outer Sock 90% nylon/10% elastane
+ Lifetime warranty
– Higher cost
The inner layer of this waterproof sock contains 36% Merino wool to keep feet warm, dry, and odor-free. Sealskinz waterpoof socks are the highest quality – every sock is handmade and tested for waterproofness in the United Kingdom and they come with a life time warranty.
Best Waterproof Sock Price + Variety
Randy Sun Waterproof Breathable Socks
Inner Sock 66% Coolmax/30% polyester/4% elastane
Membrane RS-Tech
Outer Sock 61% nylon/32% polyester/7% elastane
+ Lowest price waterproof sock
+ Most colors and patterns
+ Most waterproof sock types
Like many of the other companies that make waterproof socks, Randy Sun wanted to solve the problem of waterproofing with breathability. That's not all, the price point is about half of some brands. They also make the widest variety of these socks with ankle, knee height, compression, and merino wool options in a wide variety of colors of patterns. Randy Sun works so well that some users hike with sandals and Randy Sun socks in the winter.
Best Waterproof Socks Under $30
Otter Socks
Inner Sock 80% Coolmax/20% Lycra
Membrane PTFE
Outer Sock 74% nylon/23% Lycra/3% elastane
+ Under $30
+ Good for hot feet
+ Most stretch in outer sock
Otter Socks makes a comparable waterproof sock at a lower price. Most ring in close to $50 but these are under $30. With a liner sock of 80% Coolmax these work well for hot, sweaty feet in warm to cool temperatures.
Brand
Inner Sock
Waterproof Membrane
Outer Sock
Best For
DexShell Bamboo
70% bamboo rayon/30% nylon
Porelle membrane
96% nylon/3% elastane/1% cuff elastic
Thin + lightweight
Showers Pass Crosspoint Sock
81% Coolmax/16% polyester/2% Spandex/1% nylon
Artex microporous membrane for breathability
78% nylon/7% Spandex/15% polyester
Cold weather
SealSkinz
Knee Length Sock
36% Merino wool/36% acrylic/18% polyester/5% nylon/5% elastane
Hydrophilic membrane that draws moisture away from skin
90% nylon/10% elastane
Merino wool, cold weather, lifetime guarantee
Randy Sun Sport Socks
66% Coolmax/30% polyester/4% elastane
RS-Tech
61% nylon/32% polyester/7% elastane
Great price, many colors + patterns
Otter Socks
80% Coolmax/20% Lycra
PTFE
74% nylon/23% Lycra/3% elastane
Under $30, good for hot feet
Do Waterproof Socks Work?
Waterproof socks absolutely work when worn and washed correctly. If water comes in from above the sock, feet will get wet. This can be a deep stream or wet pants.
The balance between breathability, stretch, and water-resistance mean that the inner membrane is delicate. Follow the washing and drying instructions to extend the life of socks.
How Do You Wash Waterproof Socks
While some brands can be put in the washing machine, hand washing socks can extend their lifespan.
Even machine-washable waterproof socks need to be air-dried, which can take up to 24 hours. To shorten drying time, I like to put the socks between two towels and press out excess water. Repeat the process on the inside and outside layers. When the outside layer of the sock is dry, flip it inside out to let the inside dry.
We use affiliate links and may receive a small commission on purchases. Please read our disclosure.
What Socks are Best for Hiking to Keep Feet Dry and Healthy?
As an Amazon Associate I earn from qualifying purchases. Some of the links on this website may link to vendors which are "affiliate links". If you click on a link I may receive a commission.
Hikers and adventurers know the importance of quality footgear. Knowing how to keep feet clean, warm, and dry is key to staying comfortable and safe…healthy too.
Keeping feet dry during outdoor activities is crucial to proper foot care so what kind of socks are best for hiking?
Hiking means tight confined shoes for 8+ hours of consistent movement, this makes merino wool the best material as it repels smell while maintaining a good consistent heat even while damp. Many hikers will choose to wear Ininji liner socks under wool socks as a way to cut blistering chances also.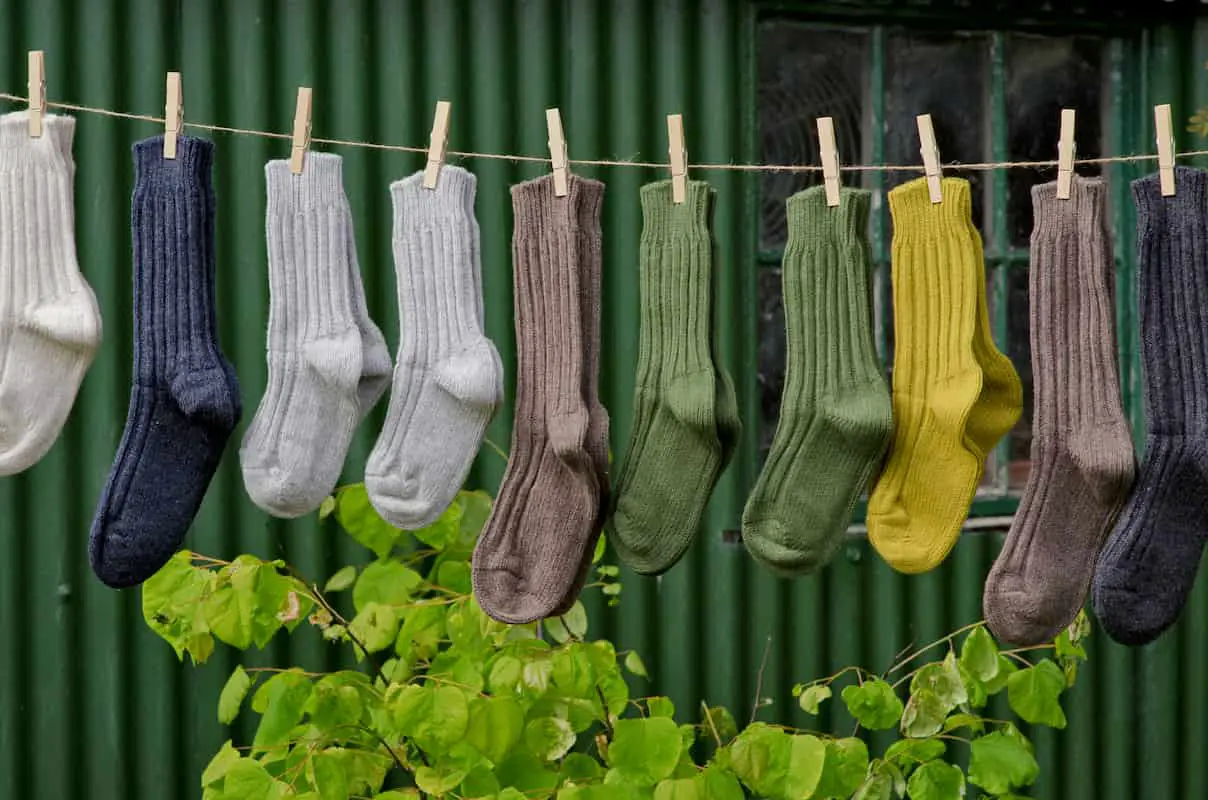 Feet that are consistently wet can cause a variety of foot maladies. This can then cause the deterioration of foot health, which in the worst cases can be a major health risk. So, what kind of socks are best for hiking?
Best Sock Choices for Hiking and Outdoor Adventures
The average walker takes about 2,000 steps to travel one mile. This means that for a 5-mile walk or hike, around 10,000 steps will be taken.
When the elements including the weather, the walking surface, and the obstacles including rocks and roots that may be encountered, wear and tear to socks can be expected.
The type of socks adventurers choose can help feet to stay free of blisters, and comfortable.
Merino Wool Socks
Merino wool socks are the most popular choice for hikers and outdoor adventurers. Why use Merino wool for hiking? Merino wool is wool produced by New Zealand Merino sheep.
It is softer and thinner than regular wool. This natural fiber wicks away moisture, helps regulate body temperature, and decreases foot odor. It has the same water repellency as traditional wool, but feels softer to the touch and does not tend to have the common areas of hot spots that traditional wool has.
The moisture-wicking benefits of Merino wool are well-known by adventurers or hikers. It is a porous, natural fiber that wicks sweat and moisture away from the body as a vapor.
This leaves the skin feeling comfortable and dry, not cold, damp, or wet. Since it is a natural fiber, it is porous. Synthetic fibers are not porous, and therefore can cause the skin to become damp, clammy, and cold when the wearer sweats or becomes exposed to moisture. The qualities of Merino wool help keeps adventurers dry and warm during outdoor activities.
Merino wool also helps to keep body temperature at a stable temperature. When temperatures are warmer, the material helps keep sweat away from the skin, to keep the wearer dry and cool. In colder temperatures or climates, Merino wool fibers help trap air, which helps insulate the skin.
Merino wool is softer than regular wool because the fibers are very fine. It isn't prickly like traditional wool but is so fine that it is 1/3 the width of human hair. It isn't prickly like traditional wool, because it is not thicker and stiff. It bends, and so remains soft to the skin.
Other Fabrics
Polyester is also a fabric that is used to craft hiking socks. It is a synthetic material that is known to be effective for wicking moisture away from sweaty or wet feet. It also insulates the feet providing warmth and comfort. It is durable and dries fast, which is beneficial to hikers and people on outdoor adventures.
Another popular choice of material for outdoor socks is nylon. Nylon is sometimes used as the primary material for hiking socks but is more commonly blended with other fabrics and materials. Nylon helps make socks more durable and longer-lasting, and can help socks to dry quicker.
Spandex is another material that is frequently used in hiking socks. It is included in small percentages in socks made of blends of fabrics. The inclusion of spandex helps socks to stay in place and helps prevent socks from becoming stretched out and retain their shape.
There are many options when choosing socks made from blends of fabrics. Many hiking socks are made of a weave blend of both synthetic and natural materials.
Spandex and nylon are the most common synthetic fabrics used in blends. They help keep the socks looking good and fitting well. This is key to helping the socks retain their shape and fit and keep them from sliding on the foot and ankle.
Too much give or gap in the fabric can cause frequent rubbing, which may cause uncomfortable rubbing, chafing, and blistering. Nylon, silk, spandex, polyester, and rayon are just some of the materials used in hiking socks.
What Material to Avoid When Purchasing Hiking Socks
The cotton fabric used for hiking clothing and socks may be extremely comfortable when starting, however it is a material to be avoided. While it is cheap, natural, and feels good against the skin, it lacks breathability, which can become a safety issue.
Cotton acts as a sponge, soaking up sweat and moisture and keeping it next to the skin. Cotton also does not dry as quickly as other available materials.
Just remember this, cotton kills. On the trail once wet it takes forever to dry and can leave you in dangerous positions!
This can lead to chafing, dampness, discomfort and can also lead to more serious situations like hypothermia and in the worst cases, even death. Cotton should be avoided for the majority of outdoor adventures.
What to Look for When Choosing Hiking Socks
Moisture-wicking, the ability of the fabric to move moisture from the inside of the sock to the outside, should be one of the top priorities when choosing which hiking socks to purchase.
This ability is crucial to cut the risk of foot infections, chills, hypothermia, and in the most severe cases…death. The breathability of the fabric used in hiking socks is a feature to be seriously considered. Breathability is a feature that, along with moisture-wicking, is crucial to hikers and adventurers.
The length of hiking socks is also a crucial consideration before making a purchase. No-show and ankle-length socks are lengths to consider only when wearing light hiking shoes or shoes used for trail running.
The most popular lengths of hiking socks are crew or knee-length. Crew length is the most popular length, because they cover the ankle bones, and help prevent the chafing or abrasions that can be caused by hiking boots.
Knee-length hiking socks are the preferred length for hikers who wear weightier, more sturdy boots. The coverage they provide shin and calf areas helps keep the lower areas of the legs insulated and protected against the elements when hiking in colder regions, or for extended periods.
Conversely, knee-length socks can be too warm in the spring and summer months.
Cushioning
The amount of cushioning in hiking socks should also be taken into consideration when purchasing. Cushioning can range from those not cushioned, to those with heavy cushioning.
Un-cushioned socks are designed to be worn in warm and even hot temperatures. This type of cushioning helps the socks to remain more breathable. Since they aren't cushioned, wearing them may cause abrasions, chafing, or blistering.
Lightly cushioned socks are also popular choices for warmer weather use. They are comfortable choices and are good for wicking moisture away from wet or sweaty feet. They are generally cushioned on the balls of the foot and the heel area.
Socks with medium cushioning are designed to cushion the heel and balls of the feet and are good for use in moderate to chilly conditions. They are sturdy enough to use when climbing, hiking, and backpacking in a variety of terrains and conditions.
Hiking socks made with heavy padding are recommended for longer hiking and adventuring expeditions. They can withstand climbs and hikes on difficult types of terrain and in cold temperatures. Heavily padded socks are recommended for colder weather, as they will be too warm for higher temperatures.
Final Thoughts on What Kind of Socks Are Best for Hiking
For hikers and adventurers, feet are the most important body part to care for. Care and attention should be given to the choice of hiking socks, in addition to the footwear to be used. With numerous options available, hikers can find just the right sock to meet their needs.
How Do I Keep My Feet Dry While Hiking in the Rain?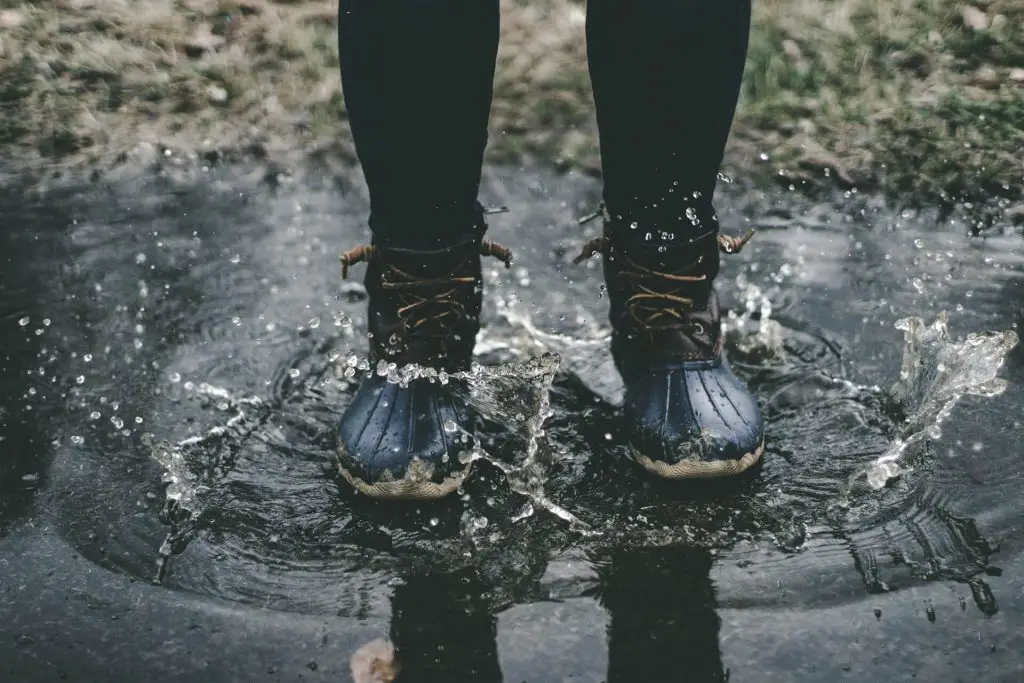 You might have an upcoming hiking trip where the forecast calls for rain. Hiking in the rain and keeping your feet dry might seem like a big challenge. So what can you do to help keep your feet dry in the rain so you can think about the trail and not your soggy wet feet?
When I started hiking I was caught unprepared when the storm clouds came out of nowhere and heavy rain started to fall. My shoes were soaked and my socks were done for. Ever since that day there have been a number of things I have done to help prepare me and never experience soaked hiking boots again.
If you want to keep your feet dry when hiking in the rain then you can wear waterproof hiking shoes and protect your feet with merino wool socks. Waterproof hiking shoes will keep the water out and merino wool socks will keep your feet insulated and warm.
Below we will go over things you can do before you step foot on the trail, what gear you can buy to help keep your feet dry, and what to do if despite all of your efforts your hiking shoes still end up wet.
What should I wear to keep my feet dry on hikes?
First let's start off with what not to wear and common items people start with that will cause many issues. When I first started hiking I was definitely wearing the wrong type of shoes and socks. The first thing you want to do is avoid wearing cotton socks and regular running shoes if you expect there to be rain. Cotton is one of the worst materials to get wet as it soaks up the water and does not dry quickly. Your running shoes are likely designed to be used on dry pavement or on a gym treadmill, far away from the rain. If you are wondering if its worth switching to hiking boots, check out our detailed post here.Those shoes are not designed to get wet.
The problem with this combination is that since both do not dry quickly you will be hiking with completely soaked shoes your entire hike. Having completely wet socks and shoes will potentially lead to blisters on your feet as your wet feet are continuously being rubbed as you take each step on the trail. This will be very painful the day of your hike and the days to follow, so try to avoid this.
The first thing I wish someone told me to upgrade would have been to buy some waterproof hiking shoes and wool socks. While these aren't completely waterproof, they will help your feet stay much more protected and you will have a way better experience hiking. The following sections will go into more details to help keep your feet dry while hiking.
What socks should I wear to hike in the rain?
If you are expecting rain on the trail or even snow, the type of socks you definitely want to buy are merino wool socks. Merino wool socks have many benefits which include great insulation, foot protection, and they dry quickly. Merino wool socks are my go-to sock type and are highly recommended in the industry. I have been wearing merino wool socks for years for hiking in the rain, snow, and extreme heat with great results on my past hiking trips.
Insulation
One of the best benefits of wool socks is that they provide fantastic insulation. You can choose between thin wool socks to very thick socks depending on the weather you expect. The thicker the material you choose the warmer your feet will feel. This will prevent your feet from freezing in downpours and during the winter. For summer months you also have the option to buy thinner wool socks that provide more breathability and the other great benefits wool socks provide.
Feet Protection
The next benefit of wool socks is that you can opt for pairs with more cushioning. The cushioning will help with blister prevention and shock absorption as you make your way across varying terrain.
Quick-Drying
If you are expecting rain and your socks unfortunately end up wet then wool socks are the best pair of socks you want to have on as they dry the quickest out of all materials. If your socks end up soaked then your best option is to change your socks if possible and let the wet pair dry out.
Although no sock materials will keep your feet dry, merino wool socks offer the best benefits as you hike in the rain and if your socks do end up wet. Socks help protect your feet from the inside out, but the next layer of protection is what protects the outermost layer of your feet. Buying the right hiking shoes makes all the difference when it comes to keeping your feet dry while hiking in the rain.
What shoes should I wear to hike in the rain?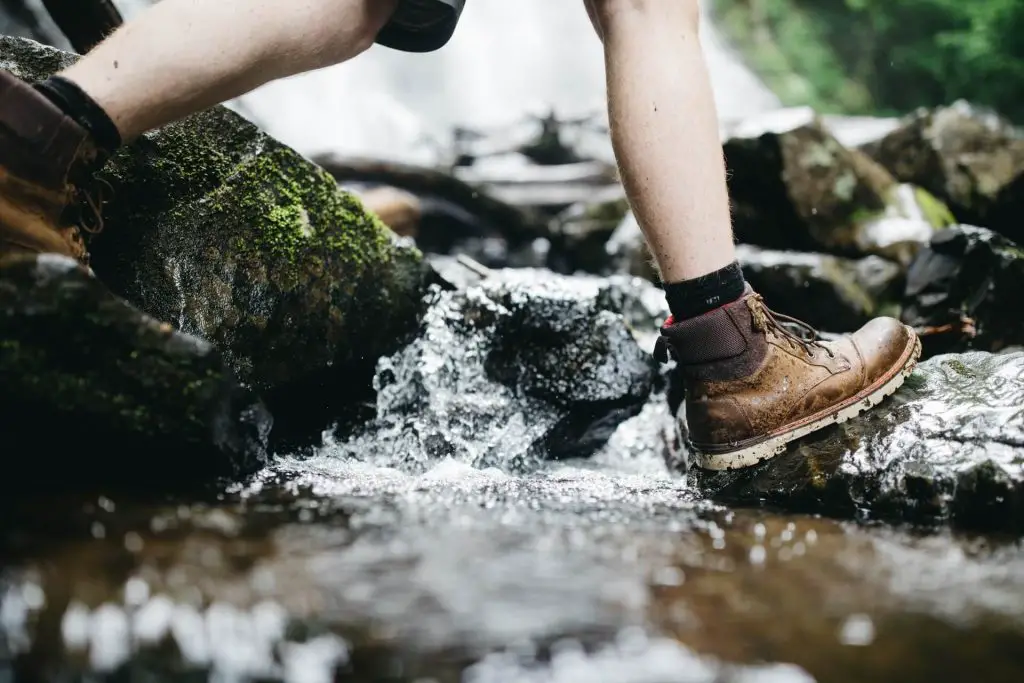 If you've ever been on a hike and tried to avoid puddles like the plague or maybe even kept worrying about keeping your feet dry from light rain, just know there are hiking shoes you can buy that will keep your feet completely dry. You can buy men's Gore-Tex shoes or women's Gore-Tex shoes. These shoes are designed to keep your feet completely dry regardless of the terrain or weather, however there are a few trade-offs.
What are the trade-offs of waterproof hiking shoes?
Waterproofing technology for hiking shoes has come a long way. Waterproof shoes will have various patented names such as Gore-Tex or Merrel's DRY, but they all produce pretty similar results. While waterproof boots will keep your feet dry, the things they sacrifice will be breathability, weight, and cost.
Breathability
In order for waterproof boots to keep water out of the shoe, they all have a membrane to prevent water from getting in, which also limits the amount of airflow to your feet. Although some waterproof shoes claim to have breathability, they aren't as breathable as non-waterproof shoes, especially in warmer weather.
Weight
Another tradeoff for waterproof hiking shoes is that they will be heavier than their non-waterproof counterparts due to the added water membrane. If you are trying to go ultralight than this is something you should definitely consider. If you aren't trying to shave off ever ounce, then weight shouldn't be that large of a consideration as the difference is just a few ounces.
The last major tradeoff of waterproof hiking boots is that they cost more. Due to the added technology in these hiking shoes, manufactures will charge on average about $30-$50 per pair.
What should I do if my feet get wet from hiking in the rain?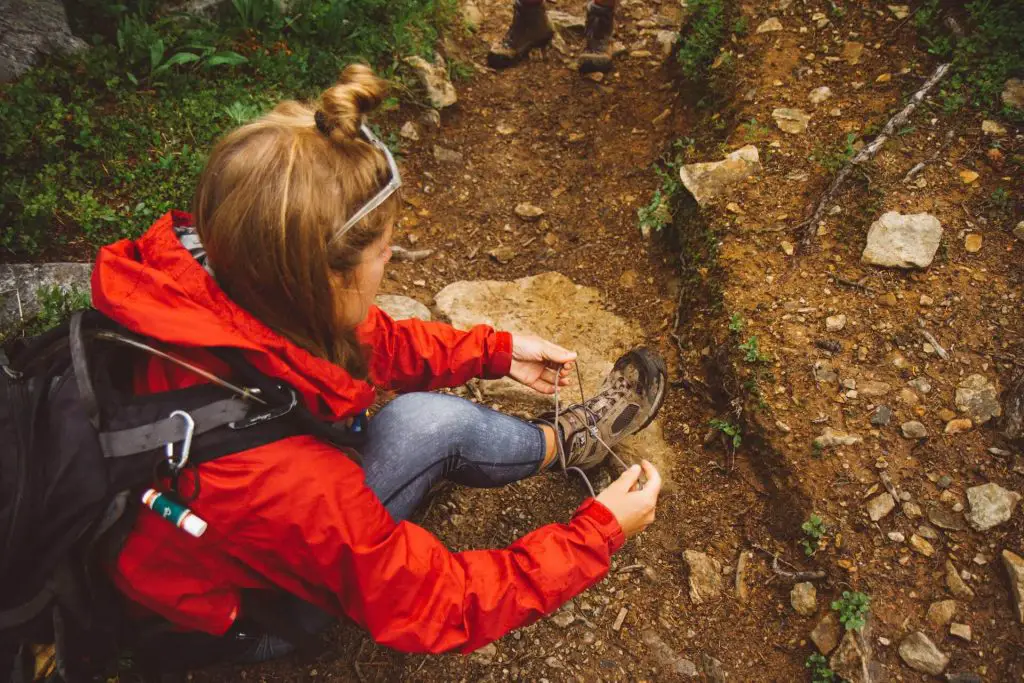 If you buy waterproof hiking shoes and merino wool socks and your feet still end up soaked from the rain then there are a few things you can do so you can continue hiking safely and comfortably. Your feet can still get wet if water is entering from the top of the boots.
Gaiters
If you want water to roll off the base of your legs and ankles then something you can buy are gaiters. Gaiters will prevent water or snow from entering the top of your boots. This will drastically help keep your feet dry. Check out affordable gaiters on Amazon.
Switching Socks
If your socks are completely soaked then the next thing you should do is change into a new pair of wool socks. This will help your feet from becoming soaked which may cause blisters since your feet are softened from the water. From there you can ring out your soaked socks and place them in your pack so they can dry. This will allow you to continue your hike and keep your feet comfortable.
Drying Your Hiking Shoes
If your boots are completely soaked then once you reach camp or your destination then the first thing you want to do is shake out your boots for any excess water. If the weather calls for rain for the next few days then you have no choice but to continue hiking with wet boots as they likely will not dry. If however you are lucky and there is sun then you have a chance to dry your hiking shoes. Place your shoes upside down at a slant so that water can run downwards and out of the opening of your shoe.
Waterproof boots and merino wool shoes are your best bet, but they are not 100% waterproof and will possibly become wet. The best thing to do is just be open to getting wet feet while in the rain and your hike will be much more relaxing. However, wearing waterproof hiking boots and wool socks will greatly increase the odds of your feet staying completely dry. There have only been a handful of times where I wore those items and my feet still got wet because the downpour was excessive and over a long period of time. Enjoy your hike out in the rain!
Source https://hikingdaily.com/waterproof-socks/
Source https://nomadhiker.com/what-kind-of-socks-are-best-for-hiking/
Source https://hellohiker.com/how-do-i-keep-my-feet-dry-while-hiking-in-the-rain/