What Is The Difference Between Hiking and Trekking Shoes: Here's How To Pick!
Do you plan to go outdoor for trekking or hiking, then you have to pick good shoes for that adventure. But what is the difference between hiking and trekking shoes?
If you're the outdoorsy type and spend a lot of time hiking and exploring, then you'll understand the value of good hiking shoes. After all, no one wants to get blisters or skin irritations from rubbing against things for extended periods of time.
Even if you're not much of an outdoorsman, chances are you have at least one friend who is. After all, what's a party without some kind of activity that can get everyone moving?
Fortunately, there is a wide variety of options available when it comes to finding the ideal set of trekking shoes. However, there are some key differences between these two types of footwear that should be taken into account before making any purchases.
Here we'll explore the important details so that you can choose between trekking and hiking shoes with confidence!
Table of Contents
Trekking Shoes
Trekking shoes are designed for outdoor activities that involve walking, hiking, or running on uneven and often rugged surfaces, such as trails, uneven dirt roads, and even smooth rock surfaces.
The best way to think of these shoes is as hiking boots with the soles worn off. This design helps reduce the weight that you'll have to carry while also helping to protect your feet from rough ground.
Because they are designed to be lightweight, they can be used for activities that range from relatively short walks to multi-day adventures in the wild. However, they are not meant for walking on paved roads or trails.
Instead, they are ideal for activities that involve walking on uneven surfaces while incorporating a small amount of hiking.
Hiking Shoes
Hiking shoes are designed for hiking and are generally built with more durable materials than the trekking variety. Some even have more robust protections, making them ideal for more extreme outdoor activities, such as climbing and backpacking.
Some hiking shoes even have a sturdy, water-resistant feature for use in wet areas. Depending on the activity you're trying to accomplish, you may want to consider buying a hiking shoe or a lightweight trekking shoe.
Types of Trekking Shoes
There are three main types of hiking shoes – alpine, trad, and lightweight. Alpine shoes are designed to be rugged and have a stiff, sturdy upper that is made from durable synthetic materials.
The trade shoe is generally lighter while also providing more flexibility. This design is what you'll find in lightweight trekking shoes.
Lightweight trekking shoes are best for those who are looking for a shoe that is lightweight and provides a more flexible experience. It's worth noting that lightweight shoes may not offer as much protection as heavier models.
What Is The Difference Between Hiking and Trekking Shoes
Durability: Durability is always an important thing to consider when shopping for hiking or trekking shoes. The upper should be stiff enough to withstand the rigors of outdoor activities, but it shouldn't be so durable that it becomes too heavy and tires you out while walking.
Protection: Protection is another important factor that should be considered when shopping for hiking or trekking shoes.
It should be thick enough to protect your feet from sharp objects on the ground, but it shouldn't be so heavy that you're fatigued by carrying it around.
Weight: Finally, the weight of your hiking or trekking shoes should be a consideration. The lighter they are, the more you'll be able to comfortably carry while still having enough protection to keep your feet safe.
Things to Look for in a Hiking Shoe
Water Resistance: While many hiking shoes can handle a small amount of water protection well, it's always a good idea to look for ones that have a sturdy, water-resistant feature built in. This will help you to stay comfortable in inclement weather conditions, even if it starts raining.
Durability: The same goes for durability. If you're planning on hiking in your shoe for a long period of time, you'll want to make sure that it's durable enough to last.
Weight: The last thing you want to think about is the weight of your hiking shoe. You don't want to be too heavy and find yourself fatigued while walking.
Foot Protection: It's ideal to look for a hiking shoe with adequate protection against sharp objects on the ground.
Things to Look for in a Trekking Shoe
A good pair of trekking shoes is an important part of any outdoor adventure. When you're wearing a pair of hiking boots, you'll be able to handle more rugged terrain and get a better workout than you would in a regular pair of sneakers.
But even more importantly, it's important to choose a shoe that fits properly. If your shoes don't have enough room in the toe box, they will become very uncomfortable when you start to walk.
And if they have too much room in the toe box, they will slide around when you walk, making them difficult to walk in. So it's important to know what to look for when you are choosing a new pair of hiking shoes. Here are some things to keep in mind:
There are many different types of shoes on the market these days, so it can be hard to know what size to get. A great way to find out what size is right for you is by trying on several different pairs at the store.
You can also take your own measurements to see how your foot measures up against the standard scale.
Should You Buy Hiking or Trekking Shoes?
If you're only planning on hiking short distances, then you may want to consider buying a lightweight pair of trekking shoes.
However, if you're going to be backpacking or doing longer hikes, you should definitely look into getting a pair of hiking shoes.
Whether you're looking for something lightweight or rugged, there are plenty of options available for outdoor enthusiasts.
Conclusion
Hiking and trekking shoes are designed for those who wish to hike or walk on uneven and often rugged surfaces, such as trails, uneven dirt roads, and even smooth rock surfaces.
The best way to think of these shoes is as hiking boots with the soles worn off. This design helps to reduce the weight that you'll have to carry while also helping to protect your feet from rough ground.
These shoes are not meant for walking on paved roads or trails. Rather, they are ideal for activities that involve walking on uneven surfaces while incorporating a small amount of hiking.
They are available in a variety of different types, depending on your specific needs. There are hiking shoes that are lightweight while also offering protection, durable hiking shoes that are also lightweight, and durable heavy-duty hiking shoes that are best suited for long-distance backpacking trips.
Hiking Boots Versus Trekking Shoes
Today's backpackers have more footwear choices than ever before. Traditional leather hiking boots, lightweight trekking shoes, and in-between fabric-leather hybrid boots each offer advantages and disadvantages.
Pros and Cons of Traditional Leather Hiking Boots
Traditional leather hiking boots have been around for years. Some hikers swear by them; others swear at them.
Pro: Traditional backpacking boots offer ankle support for rugged conditions, especially for hikers with weak ankles or poor balance.
Pro: Leather boots are a good choice for hikers with heavy packs.
Pro: Leather boots are durable and can be resoled and repaired so they last for years.
Pro: Leather boots are waterproof, and come up high enough above the ankle to keep sand and mud out of the boot.
Con: Traditional boots are heavy – up to four pounds per pair – making hiking more tiring.
Con: Leather boots are more expensive than the alternatives.
Con: Stiff heavyweight boots are more likely to cause blisters; they need to be broken in.
Con: Leather boots are bulky to pack in luggage.
Verdict: Not usually necessary, but a good choice for hikers with weak ankles, heavy loads, or those going into rough conditions where durability and support are important.
Pros and Cons of Lightweight Trekking Shoes
Lightweight trekking shoes look and feel a lot like running shoes, but they are usually a better choice because they have stiffer soles with better traction for slippery trails.
Pro: Trekking shoes are lightweight, which means the hiker exerts less effort to lift them.
Pro: Trekking shoes pack more easily into luggage.
Pro: Trekking shoes are less expensive.
Pro: Trekking shoes are a good choice for hot weather and deserts.
Con: Because trekking shoes don't cover the ankle, blister-causing dirt and sand can creep in.
Con: Trekking shoes don't offer as much support, making them a poor choice for hikers with heavy packs.
Con: Hikers with balance issues or weak ankles might need the support of an above-the-ankle boot..
Con: Trekking shoes aren't waterproof, making them poor choices for wet or snowy conditions, especially if kicking steps into snow banks is necessary.
Con: Trekking shoes are the least durable.
Verdict: Good choice for day hikers and long-distance backpackers with strong ankles who have managed to minimize the weight of their packs.
Pros and Cons of Leather-Fabric Hybrid Hiking Boots
Leather-fabric boots combine the best of both worlds.They are the best choice for hikers who trek in a variety of conditions. Leather-fabric hybrids have leather for support and fabric (usually Cordura) for flexibility and breathability.
Pros: Hybrid outdoor boots need less breaking in than leather boots. (Note: they can cause blisters if not broken in at least a little).
Pro: Hybrid hiking boots come up over the ankle, keeping dirt out and offering ankle support sufficient for most hiking conditions.
Pros: Hybrids are rugged enough to handle uneven terrain, scree, and even kicking steps into snow.
Pros: Hybrids offer ankle support, those not as much as leather boots.
Cons: Hybrids are not waterproof, and in wet conditions can become heavy.
Cons: Hybrids are heavier than trekking shoes, and are not be necessary for day hikers on easy terrain.
Verdict: Good choice for most backpackers hiking in a variety of conditions.
These three categories of hiking boots give today's backpackers a choice of footwear for any conditions (although specialty boots are also available for mountaineering and extreme cold). As a rule, most backpackers today choose leather-fabric hybrid boots. Day-hikers lean to trekking shoes, as do ultralight backpackers who prioritize light weight over support or durability. And a few traditionalists stick to leather boots, valuing their stability and ruggedness.
Hiking Vs Trekking

Kristina has been writing for the internet of things since 2010. She enjoys writing about adventures in nature just as much as embarking upon them herself.
Trekking and hiking are oftentimes used as synonyms, but is that correct? If you can't answer with certainty, continue reading. Learn about hiking vs trekking and back up your enthusiasm for the outdoors with knowledge of the terms.
Hiking and trekking, two activities that most adventurers deeply enjoy. The two terms are used online interchangeably, as though it's the same thing. But is it?
Not at all! Turns out, these are two very different activities. To clear things up, we crafted this hiking vs. trekking guide. In this guide, we'll cover:
THE DIFFERENCE BETWEEN HIKING AND TREKKING
Hiking involves a long energetic walk in a natural environment on hiking trails or footpaths for a day or overnight.
Trekking involves a long vigorous hike in wild natural environment for multiple days. It can be done off hiking trails.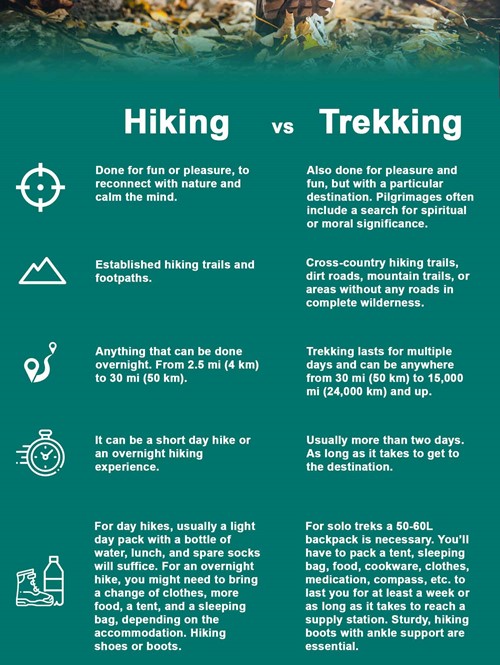 WHAT ARE THE HEALTH BENEFITS OF HIKING AND TREKKING?
As well as fun and riveting, hiking and trekking can improve your mental and physical health. Here are just a few benefits of hiking and trekking:
1. IT LOWERS THE RISK OF HEART DISEASE AND IMPROVES YOUR BLOOD PRESSURE
Hiking and trekking are both amazing for your health!
A study conducted by the CD C recommends that you walk at least an hour a day, five days a week. This reduces the risk of you having a stroke in half! Hiking and trekking regularly improves your heart and blood pressure, minimizing the chance of stroke.
Keep that blood pumping!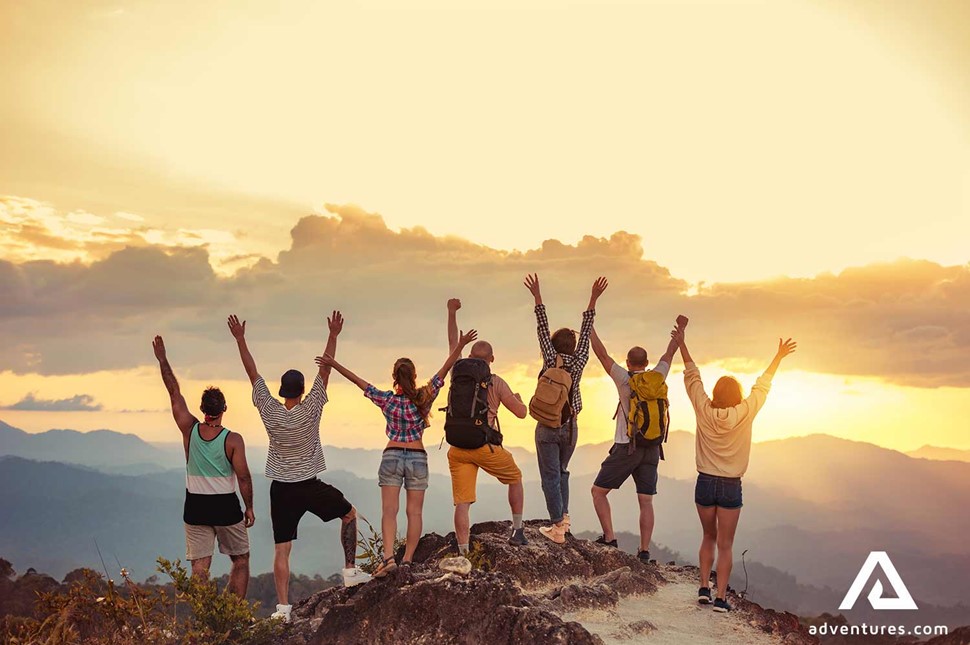 2. BETTER OVERALL FITNESS.
These activities do amazing things to your muscles. Build up strength in your thighs, lower leg muscles, hip muscles and hamstrings. It also builds your endurance. Hiking and trekking are both weight-bearing exercises, which build up bone density. Trekking also boosts your core strength as you hike with a heavy backpack.
The more you do, the more your overall strength and fitness improves.
3. IMPROVES YOUR MENTAL HEALTH.
Get away from the stress of everyday life and escape to the outdoors. Stress, depression and anxiety have a way of building up when you're cooped up indoors too long. Hitting the trail helps to put your life in perspective and take your mind off your worries.
The world around you has a way of demanding your attention, which can ease any stress you may have built up.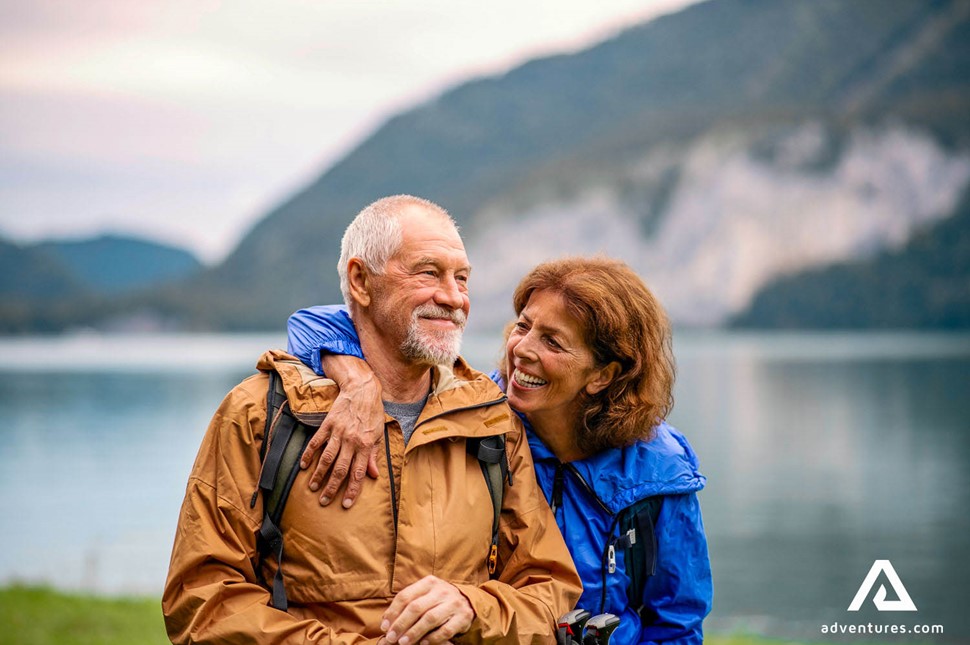 4. HIKING AND TREKKING BURNS CALORIES.
Looking to lose weight? Or tone your muscles? Forget the gym and hit the trail instead.
Hiking burns between 440 and 550 calories per hour according to Livestrong research. Imagine how many calories will an overnight hike or a week-long trek burn. Burning calories helps you lose weight and tone your muscles.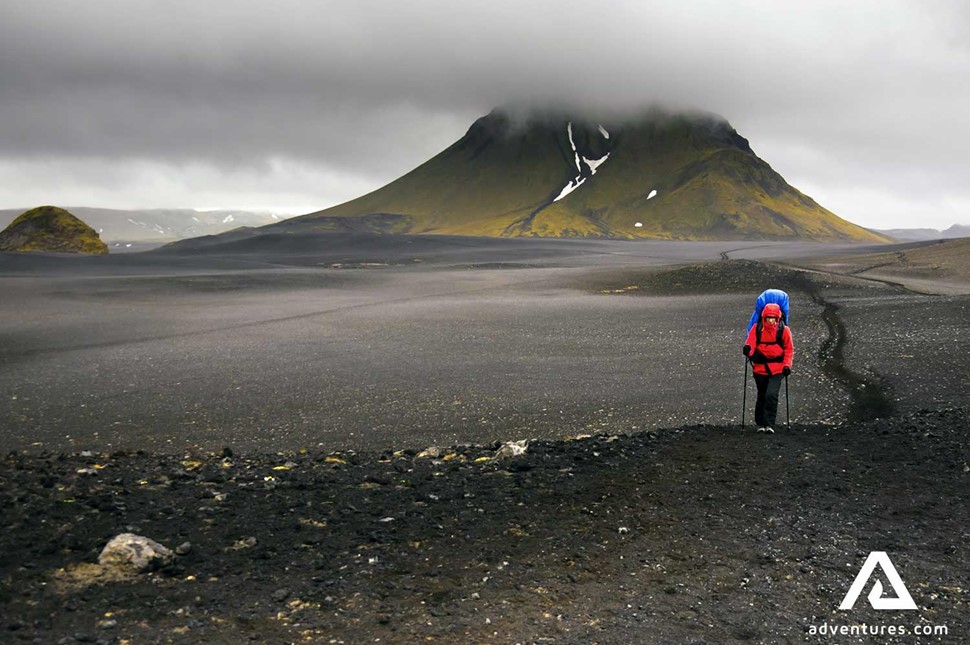 5. IT MAKES YOU CREATIVE.
On top of all the physical and mental boosts, hiking and trekking can also make you more creative. It's true! Spending time outdoors and soaking all the Vitamin D from the sunlight can improve your mind. Vitamin D, "the sunshine vitamin," increases attention span, and improves our ability to focus. Put a creative spin on our problem-solving skills.
Vitamin D is also great for maintaining healthy bones and teeth, supporting your immune system and boosting cardiovascular health.
BEGINNER'S GUIDE TO HIKING: WHERE DO I START?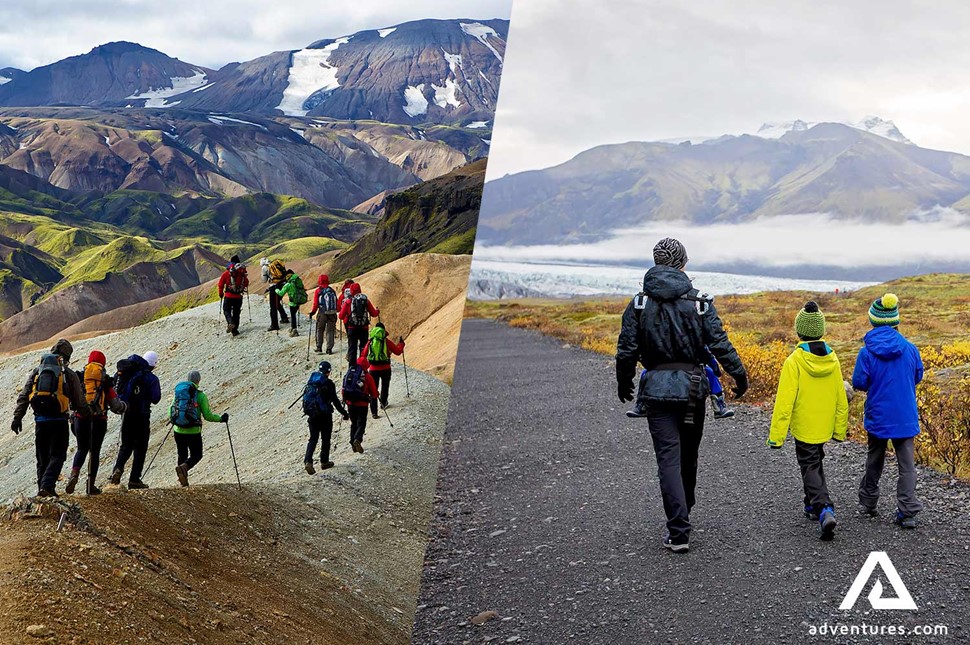 Convinced you need to do more hiking? Here are a few tips on where to start:
Start with day hikes. If you want to get out there more, start with day hikes. Spend an afternoon strolling around your local park, or drive to the closest forest for an afternoon hike. Make this your routine and increase the length and amount of hikes you take over time.
Join your local hiking community. While hiking on your own can be very inspirational and spiritualizing, it often gives very little motivation to get out there again, especially on longer hikes. By joining your local hiking community, you'll meet like-minded people, who will hike with you and motivate you to keep on hiking.
Go on an overnight hike. Grab a friend and go on an overnight hike with a tent and a sleeping bag. Test your physical condition by hiking for 5 hours and see if you're ready to try trekking.
Get proper hiking boots. If you feel like longer forms of hiking are for you, get some proper hiking boots, a durable tent and a warm sleeping bag with pad. Your hiking boots should be waterproof with a good sole and ankle support. Properly wear them in before a long-distance hike.
Go on a trek. Once you've been on a few overnight hikes and got the necessary hiking gear, go on a multi-day trek. Join one of our awesome hiking tours exploring the Icelandic Highlands.
EQUIPMENT LIST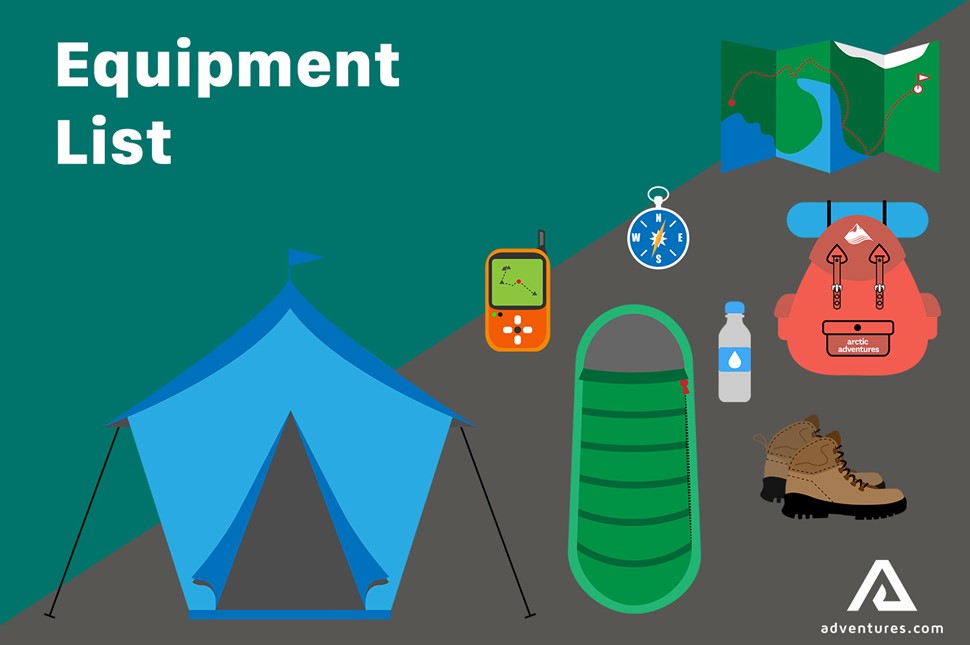 Good quality hiking and trekking equipment is essential. High-quality equipment will allow you to enjoy your hikes and treks even more and stay safe and warm no matter the weather!
Here's a list of equipment that is worth the investment:
Hiking boots. For short day hikes, comfortable sneakers might do it but for longer overnight hikes good hiking shoes or boots are essential. For trekking, you might want to think about boots with ankle support. Don't forget to wear in your shoes before you go on a hike. Read more about the best hiking shoes and boots here .
A backpack. For day hikes, a light day backpack with a hydration pack is perfect. For longer hikes and treks, where you need to carry your food and tent, a 50-60L backpack should suffice. Make sure it has a waist belt and adjustable back support.
A tent. Your accommodation for the duration of your trip should be sturdy. If you intend to hike during warmer seasons, a 3 season tent will do, yet if you plan to hike during winter, make sure your tent has a skirt and can withstand wind, rain, and snow.
A sleeping bag. When buying a sleeping bag, adhere to the comfort temperatures provided by the manufacturer. Usually, there are three numbers: comfort, limit, and extreme. Comfort is the temperature at which a female will rest comfortably, limit – a male comfort temperature, extreme – the lowest temperature at which female will be able to sleep for 6 hours without the risk of hypothermia.
Compass, maps, and a GPS device. Before you go on any hiking trip, make sure you have a detailed map of the area. For longer treks, it's good to have a GPS device or a compass too. Make sure you know how to use them.
Source https://happyecofriendly.com/what-is-the-difference-between-hiking-and-trekking-shoes
Source https://theadventurerr.com/hiking/hiking-boots-versus-trekking-shoes/
Source https://adventures.com/blog/hiking-vs-trekking/