The 7 Best Hiking Baby Carriers – [2021 Reviews]
Go hiking your baby comfortably and safely with a baby carrier, we examine this year's top models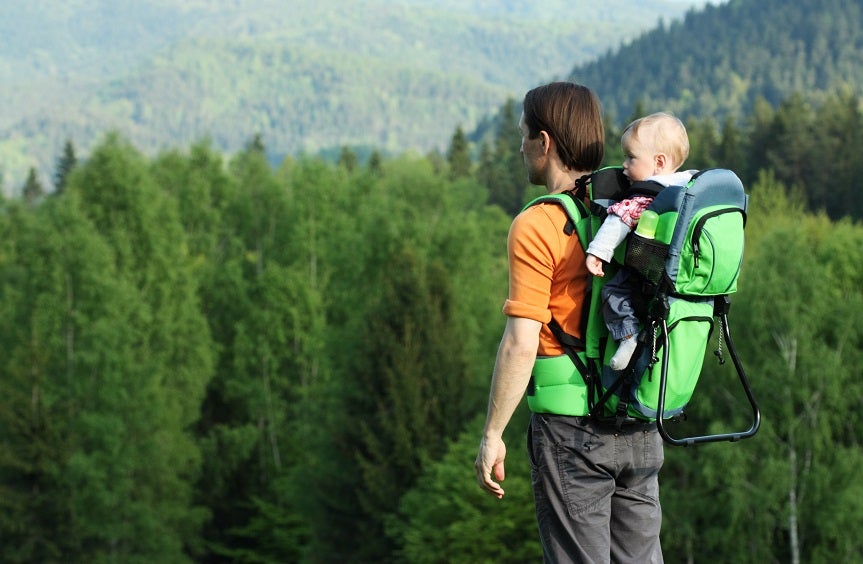 Our Editors independently research, test, and rate what we feel are the best products. We use affiliate links and may receive a small commission on purchases.
So you want to go hiking and would like to take your baby or small child with you?
Using a hiking baby carrier is the answer. These are backpacks designed to carry babies or toddlers safely and comfortably even through the wilderness.
In this guide, you'll find our recommendations for the best hiking baby carriers available on the market today.
We'll also give you some features you should look for when choosing a carrier in our guide, along with reviews.
Best Hiking Baby Carriers
Osprey Packs Poco AG Child Carrier
Deuter Kid Comfort 2 Carrier
phil&teds Metro Child Carrier
Weight:
7 Pounds
7.5 Pounds
5.5 Pounds
Max Weight:
48.5 Pounds
48 Pounds
40 Pounds
Free Standing:
Yes
Yes
Yes
Hydration:
1.5L Reservoir sleeve
N/A
N/A
For more of my hiking gear recommendations, have a look through these popular Outside Pursuits guide links: Hiking Backpacks, Hydration Packs, Travel Backpacks.
Quick Answer: The 7 Best Rated Baby Carriers For Hiking
Our reviews of the top rated hiking baby carriers with a comparison table and our buyers guide below will help you choose a good baby carrier for you.
Hiking Baby Carrier Reviews
#1 Osprey POCO Plus Child Carrier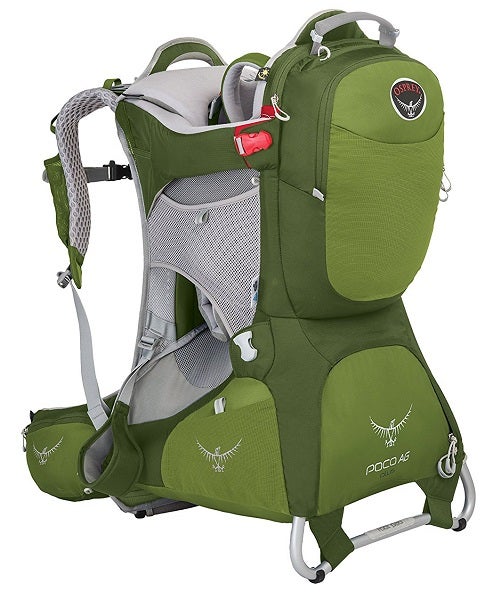 This baby backpack has some awesome accessories including a sun hood and changing pad — you never know when you might need that!
Designed to hold even heavier children, this baby backpack has a 48.5 lb weight limit. The evenly padded straps and ergonomic design make it comfortable to carry.
Osprey designed the Poco so that the main storage compartment detaches as a separate mini backpack along with compartments for water bottles.
The well-designed kickstand enables safe loading and unloading of your child.
An easy-access adjustable suspension system means it can be easily adjusted to fit either the mom or dad, and there is a large amount of useful built-in storage space.
Video: Features of the Osprey POCO AG Plus Child Carrier.
This is an all-around best seller for a reason, there are a lot of great features here. Definitely one of the best hiking baby carriers on the market.
#2 Deuter Kid Comfort 2 Child Carrier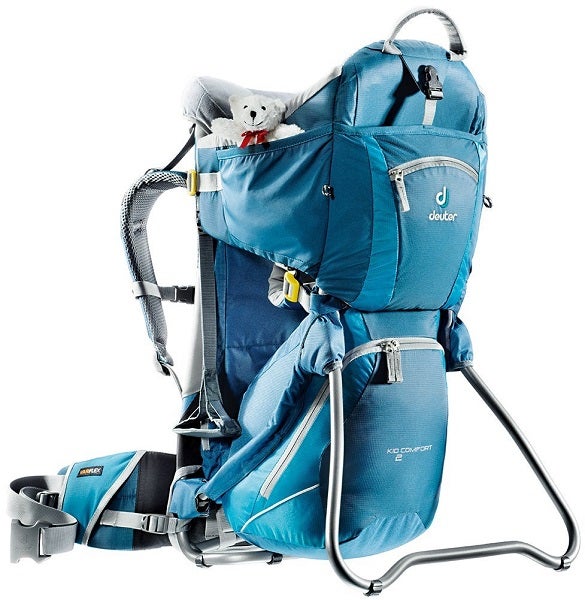 Safety was a clear focus for the manufacturer when they designed this baby carrier, which is JPMA Certified (Juvenile Products Manufacturers Association).
It was independently safety tested to exceed both state and federal guidelines to keep your baby safe and secure while out on your hike.
A particularly popular feature of this child carrier backpack is how adjustable the ratcheting shoulder straps are, allowing it to be swiftly changed to fit a large or a small hiker.
This makes it extremely simple to transfer the back carrier to someone else quickly and easily.
With good air ventilation on the back padding, it was designed specifically for heavy loads and long distance hikes while keeping you cool and dry.
With multiple large storage pockets, there is a lot of room for all your essential baby equipment.
The integrated kickstand creates a stable platform for the carrier to be placed on the ground, even with a baby or child seated in place.
#3 Phil & Teds Metro Child Carrier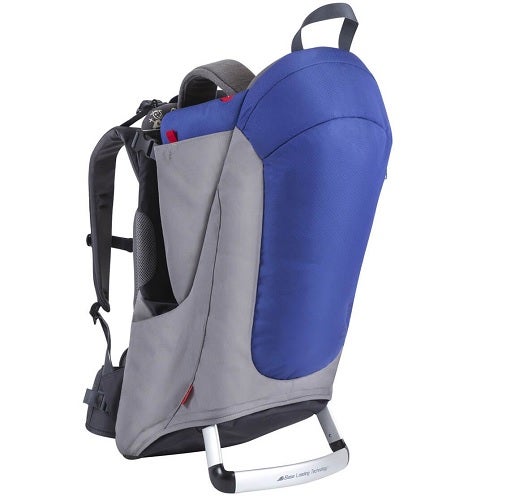 Cuteness seems to have been a huge factor when designing the Metro. However, this hiking baby carrier is also practical.
There is ample storage space at the bottom for diapers, wipes, and snacks. The kickstand works well allowing children to be loaded on with ease.
At only 5.5 lbs, it is extremely lightweight and yet still holds children up to 40 lbs in weight and is designed for both user and baby comfort.
It can be folded flat when not in use and even complies with most airlines' carry on requirements if you want to go hiking abroad or in a distant state.,
We loved the small detachable backpack, this way you and your partner can share the weight. You can also get a sun canopy and rain cover but they are sold separately.
#4 ClevrPlus Canyonero Camping Baby Backpack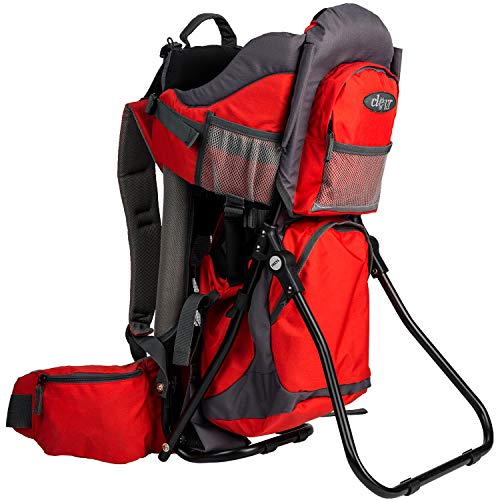 The thick padded shoulder pads make this lightweight backpack (only 6 lbs!) comfortable to carry. The metal frame folds flat for easy storage.
With multiple pockets, including two water bottle pockets, there is ample space to hold all your baby necessities.
This carrier is a good choice for children up to a maximum weight of 42 lbs. It has a handy retractable sun/rain canopy. The metal kickstand allows the backpack to be stood on a flat surface.
The external insulated compartment is perfect for keeping snacks or drinks cold. The hiking baby carrier also folds flat for easy storage and even has a adjustable and detachable sun shade.
With many features and a bargain price, the Deluxe is the best budget baby backpack.
#5 MiaMily Hipster™ Plus 3D Child & Baby Carrier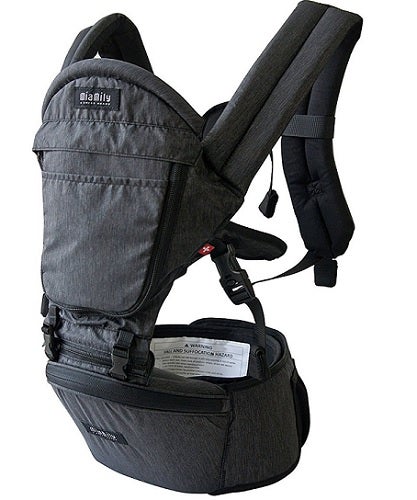 This popular front loading softshell baby carrier is exceedingly lightweight at only 2 lbs. It is designed to carry babies and toddlers between 3 months and 3 years old, with a maximum weight of 40 lbs.
Its main design feature is its versatility, because it is designed to allow you to carry the baby in 9 different ways.
Your baby can be held facing you or facing front, so you can adjust use to suit the mood and temperament of your child.
Its ergonomic design distributes weight evenly throughout your lower back and shoulders with the aim of preventing long term effects from bad posture and fatigue.
Versatility is key when it comes to this backpack.
#6 Backpack Cross-Country Child Carrier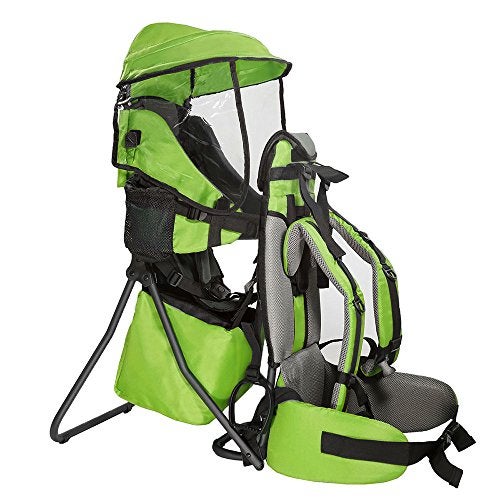 Ideal for children between 6 months and 4 years old (up to a maximum weight of 40 lbs).
The detachable sun/rain canopy on this backpack carrier protects your baby from the elements and easily folded away when not in use.
The padded shoulder straps and waist strap make this carrier especially comfortable to wear.
Storage is a huge feature in this baby backpack, with side water bottle holders and an extra-large back pocket for diapers and other baby care essentials.
The metal kickstand allows this carrier to sit upright on a flat surface and can be folded in while hiking. The backpack carrier folds flat for storage in the car or at home.
If you are looking for the best baby carrier backpack for the money, look no further!
#7 Thule Sapling Elite Child Carrier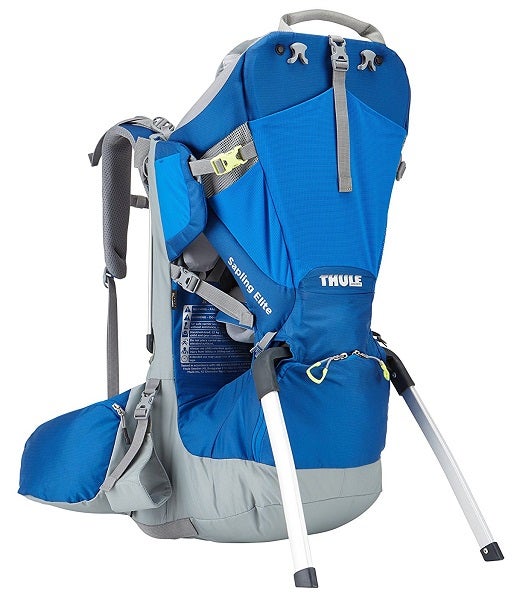 The fully adjustable back panel and hip belt on the Thule Sapling makes swapping between mom and dad simple.
The load stabilizer straps are designed to allow adjustments to the backpack's center of gravity on-the-go to ensure maximum comfort.
There is ample storage with a large zippered compartment for diapers and clothes, mesh pockets, two spacious hip belt pockets and a handy removable backpack.
A foldaway sunshade is convenient to protect baby from the sun.
The Thule is designed for all day use, the back panel is breathable, keeping your back cool and dry and it also has a 3 liter hydration reservoir.
Video: Features of the Thule Sapling.
The Sapling even includes a handy viewing mirror which allows you to monitor your baby while out on your hike. Comfortable and with loads of features make the Sapling one of the best baby hiking backpacks.
Hiking Baby Carrier Comparison Table
Baby Hiking Backpack
Carrier Weight
Max Weight Capacity
Free Standing
Zip-Off Day Pack
Rating
Osprey POCO Plus
7 Pounds
48.5 Pounds
Yes
Yes
4.8 / 5.0
Thule Sapling Elite
8 Pounds
48 Pounds
Yes
Yes
4.3 / 5.0
Phil & Teds Parade
7 Pounds
40 Pounds
Yes
Yes
3.9 / 5.0
Deuter Kid Comfort 2
7 Pounds
48 Pounds
Yes
No
4.4 / 5.0
ClevrPlus Canyonero Baby Backpack
6.2 Pounds
48 Pounds
Yes
No
4.7 / 5.0
MiaMily HIPSTER Baby Carrier
3 Pounds
40 Pounds
No
No
4.6 / 5.0
Cross-Country Child Carrier
5 Pounds
33 Pounds
Yes
No
4.5 / 5.0
How to Choose a Hiking Baby Carrier – Buyers Guide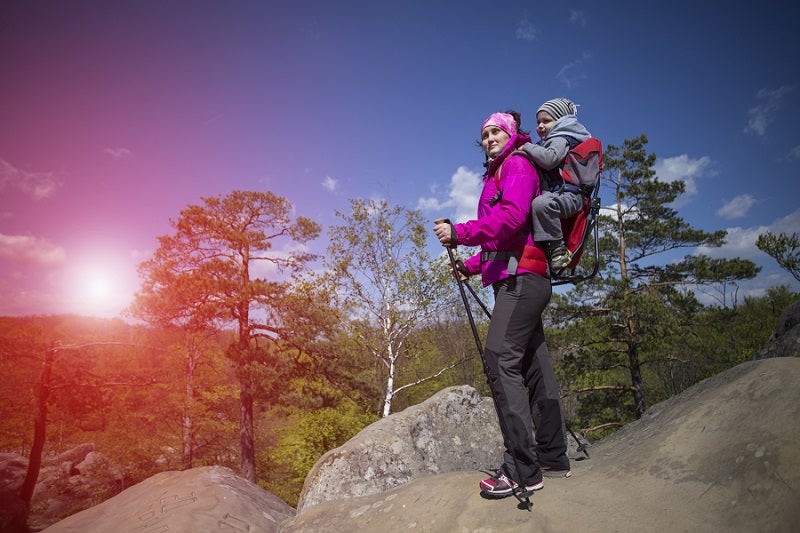 Safety for your baby is clearly a priority, and that's probably why you're reading this guide. You want the best child carrier backpack you can get but at an affordable price.
Features aren't everything. But you've also got to consider other things such as comfort, for your baby and for you, and convenience.
If your back hurts two miles into a ten-mile hike, that's not going to be good for you, and may also be a problem for your baby if you lose focus while out on your hike.
Modern hiking baby carriers are ergonomically designed to evenly distribute the weight on your body and keep you comfortable.
Hiking is not the same as a weekly shop at Walmart. You may have to climb steep slopes, descend into ravines, cross streams, and navigate across uneven surfaces.
And there's no special room where you can go to change your baby's diaper! You may need to unfasten and remove the baby in challenging environments.
Clearly, you need to invest in a good quality hiking baby carrier. But which make and model should you choose?
This isn't a mundane purchase, so you need to make an informed choice.
Types of Hiking Baby Carriers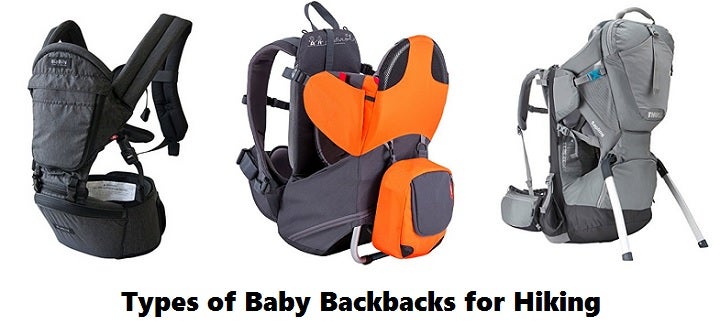 There is a wide variety of baby carriers available for you to purchase, but essentially, they fall into two types: front loading, where your baby hangs in front of you, or back loading, where your baby is supported on your back.
Front loading carriers are usually only designed to hold babies who are up to six months old, so if your baby is older than this then you'll need to choose a more supportive carrier with baby sitting in the back.
However, there are exceptions to this, and one of the carriers reviewed below is a front loading model designed to hold children up to 3 years old.
Baby carrier frames come in two general types: Framed and Non-Framed.
Framed Carriers
For hiking long distances, in most cases, a back loading baby carrier with a frame will be your best bet because they are sturdy and will give your baby a comfortable ride for a longer period of time.
They also provide the storage you may need for all the essential baby care products you have to carry with you if you are going to be away from civilization for several hours.
Non-Framed Carriers
Tend to be less expensive, but they are usually only designed for babies less than a year old. Framed carriers are more expensive, but they are more versatile and you can carry larger children over greater distances with comfort.
Features of Baby Carriers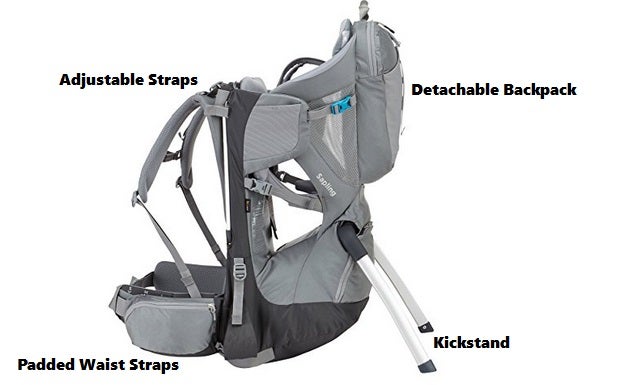 Obviously, this is an important decision. There are a wide variety of carriers on the market, but how do you even begin to narrow down the choices?
Here is a list of factors that you should take into consideration when choosing the best carrier for your baby.
Straps & Adjustability
Shoulder straps play an important part in ensuring that your baby stays safe, especially when you slip or stumble. Ensure the hiking baby carrier you purchase has strong straps.
But at the same time, straps can dig into your shoulders and become painful, so you must also ensure that they are adequately padded for your comfort.
Its also a good idea to have wide straps on the child carrier. The wider the strap, the more surface area the weight is spread over. So when your hiking for hours it will be more comfortable and easier on your shoulders.
Storage Capacity
The baby carrier will also double as a backpack, so you should consider how much storage you'll want built in.
Obviously, if you're hiking longer distances, you'll need to think about diapers, disposal bags, hygienic wipes, baby cream and baby powder.
Where's it all going to go?
Of course, you can always store some items in your friends' backpacks, but what if you want to venture out just by yourselves, your baby and you?
You need to be able to keep what is essential for both you and your baby on you at all times, and that means, in your hiking baby carrier.
Free Standing
Many of the larger framed carriers are freestanding, which means the carrier can be set down without you worrying about it tipping over.
This makes them much more convenient to use on occasions where you have to set your baby down for a moment. This may be essential if just your baby and you are out hiking alone.
However, just because a backpack has a kickstand, it does not mean it is safe to set down with your baby on board. Check the product safety sheets with caution and always make sure you are settled in a safe location.
Folding
Before you can go hiking, you need to get there. Some carriers may be folded up so they take up less room in your car when you're packing to go hiking or camping. Some may even be folded up so neatly that the airlines will allow them to be taken on board as carry-on luggage.
The Baby's sitting position is very important. Adjustable seats allow you to find the optimum position for your baby's comfort. Adequate padding is essential, especially for very young babies who cannot support themselves without assistance.
Max Weight Capacity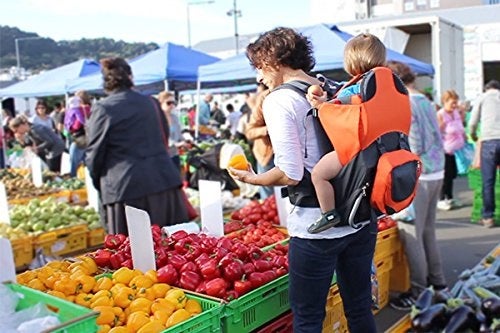 How heavy is your baby? Most carriers are designed to hold a maximum weight of 40 lbs (18 kg), so if your baby is now a toddler who has grown heavier than this, you'll need to shop around.
Always check the recommended weight range of any carrier you are seriously considering. It not only protects against voiding the warranty on the product but it helps protect you.
Pack Safety Certification
The Consumer Product Safety Commission has issued manufacturing standards for baby carriers, so ensure the product you buy complies with these.
Some baby carrier manufacturers also register their products with the Juvenile Products Manufacturers Association (JPMA) and so describe their products as JPMA Certified.
In order to become JPMA Certified, such baby carriers have to meet stringent safety criteria and be independently tested.
Protection From The Elements
Sun Protection – If your out in the woods hiking or even around town your baby is going to be exposed to a lot of sun, so a sunshade is a necessary feature. Luckily most all baby backpacks will include one will varying levels of protection.
The shades varied in design from a fold up hood to a detachable, snap on hood. Both designs provide protection but we felt the Osprey Poco offered the best sun protection with a detachable cover. However all provided good protection from the sun with the notable exception of the Mia Hipster.
Rain Protection – Unless your hiking in the desert, eventually your going to get caught in a rain storm. All of our reviewed hiking child carriers come with a cover to protect your baby except for the Mia Hipster. The rain cover do not protect the entire carrier, you would need an option rain cover for that, they do provide adequate coverage for your baby.
Pack Ventilation
There are two parts to ventilation. First, how well the pack allows air to flow through the back panel allowing sweat to evaporate while helping keep you cool.
This becomes especially important in the hot summer months where the better designed baby backpacks will make a big difference in your comfort level. The better ones like the Deuter and Osprey use a mesh backpanel to allow maximum movement of airflow.
Ventilation around your baby is also a consideration so your baby doesn't overheat. All of our reviewed packs have spacing around your baby allowing air to flow keeping your child cool. Although we felt the Thule Sapling did a slightly better job at allowing airflow around the child.
Your Baby's Age
Older babies have a better ability to support themselves. It is essential to ensure that very young babies' heads are supported. Always check the recommended age range of any baby carrier you consider purchasing.
How Long Do You Hike?
If you're a serious hiker who wants to trample long distances over rough terrain, then you'll need a larger and more supportive carrier with plenty of storage like the Thule Sapling
For day trips or a short walk through a park, lightweight carriers like the Mia Hipster might be better for you. You may even want to start out with short walks and day trips to work your child up to the heftier trips.
Fabric
All-weather fabric will prove more practical if you intend to go for long hikes where the baby carrier will be exposed to sun, rain and wind. You'll want your carrier made from a tough, hard-wearing fabric so that you get long use out of your carrier, especially if your baby is your first and you plan another three in the near future!
Accessories
Some carriers come with rain/sun hoods and diaper changing pads. Check what extras come with any carrier you are considering.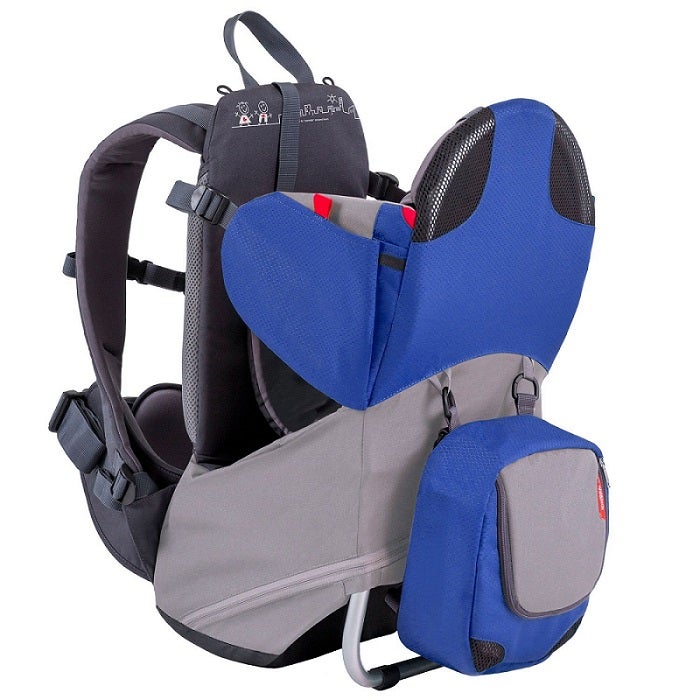 If you intend to hike in exposed areas over long distances, some kind of built in protection against the elements will be essential. You don't want your baby to catch a cold or suffer bad sunburn.
FAQs About Hiking Baby Carriers
Q: How old does my baby have to be in order to ride in the pack?
A: More importantly than any other factor, go by the manufacturer's recommendations. If you can't figure that out, check their website for the manual that goes with your baby carrier. This manual should tell you the age requirements for your specific product.
Usually backpack carriers for kids are meant to be used once the child has full control of their head and neck. If your child can sit up on their own and hold their head with control, then they're probably ready for the baby backpack. This is usually after the 6 month mark.
If you're not 100% sure, ask your doctor for clarification if it's safe.
Q: Are there additional steps I can take to help keep my child safe?
A: Off hand the best tip I can think of is to keep the difficulty of your hike to a minimum. You don't want to be scrambling class 4 routes or heading out into the remote wilderness, obviously. Really, though, you should probably only be hiking the easiest, flattest, and most well groomed trails you can find.
Another step you can take to help with safety is to use hiking poles. Hiking poles can help you maintain and recover balance which is even more important than normal when you have a large, heavy pack with your child in it on your back.
Consider some nice heavy duty poles you can use to keep balance.
Q: How can I take some of the weight off my shoulders?
A: Baby backpacks are heavy by themselves, let alone with a growing child in them! This weight can often be about as much as a fully loaded overnight backpack in some cases.
If you're feeling like the load is resting heavy on your shoulders, it's probably because you need to do some fine tuning of the pack.
Because baby carriers like these are heavily based on a modern internal frame pack design, you can fit them in much the same way. Here are the steps:
Loosen all the straps
Put the empty pack on your shoulders
Clip the hip belt and tighten it so it's snug above your hips (resting on your iliac crest)
Loosely snug the shoulder straps until the pack rides gently against your back
You should be able to fit two fingers between the top of your shoulders and the straps
If you find that you can't get the fitment right, you may have a pack that is too small for your torso length. Many can be adjusted for this. Check your user's manual and try again!
Q: Is my baby too big for the backpack carrier?
A: I can't tell you for sure, but I can tell you how to find out!
No matter what carrier you have or that you may be looking at, you can use this method to determine size and weight limits.
Go to the manufacturer's website and navigate to the model of carrier you're interested in. Then look for the user's manual for that baby carrier. Once you've found it you can read up on the size and weight limits.
If you can't find the manual on their website, try searching for it on Google.
This is a sure-fire way to know whether or not your child will fit. Don't trust reviews or blog articles, just go straight to the source for the most accurate info!
Q: How do I protect my child from the elements?
A: First off, make sure you've prepared your kid to head outdoors by wearing the right clothing. For infants this means enough warm clothes for the day's weather. Don't forget to cover the feet, head, and hands! Even if it's just sun protection, it's important.
Now you'll need to make sure you're ready to deal with bad weather. Even if it's sunny and 70, rain and nasty storms can whip up fast! Don't leave your child exposed to the elements during a surprise storm by assuming you don't need to bring along protection.
Some baby carriers have a rain and sun awning that can go over the top. This is step number one.
After that, you also need to make sure you have waterproof and wind resistant clothing or wraps for your child. Don't expect the rain cover to keep off all the rain because it won't.
When in doubt, pack more options rather than less and stay near the car or other shelter in case you need to bail out! Nothing is more challenging than a screaming infant getting soaked by rain while you scramble back up the trail in a mad rush for the car.
Final Thoughts
Deciding which is the best to buy for baby and you can be daunting, especially if you are a first time buyer.
Using this guide to help decide what is important and narrow your search. All seven hiking baby carriers were selected with safety in mind, but comfort for your baby and you is also a major consideration.
Once you have selected your ideal hiking baby carrier, your baby's first exposure to the freat outdoors will be a wonderful, fun experience for both of you.
So, what are you waiting for?
Buy yourself a hiking baby carrier and go enjoy the beautiful wilderness together with your child. You will be building a love of the outdoors and fresh air in them that will last a lifetime.
How We Researched
To come up with the baby carrier for hiking we researched a variety of sources for reviews such as REI, Bass Pro Shops, Cabelas and Backcountry along with our own personal experience.
We also consulted online magazines for product research and reviews to get as much unbiased information as we could. To help weed out fake reviews we used Fakespot.com to make sure we only looked at genuine reviews.
With so much quality gear available, we had to narrow it down based on what we felt were the best options for the price. The author, Casey Fiedler has been leading backpacking trips for over a decade in his native state of Michigan.
To help narrow down the selection he used his personal experience along with recommendations from fellow guides and outfitters.
After extensive research, we came up with our list to help you choose the right one for you.
Hiking with a Baby
Hiking is an incredible way to see the world and it a wonderful activity to do when traveling with your baby. Whether you are exploring the green spaces around home or traveling with your family internationally, hiking with a baby is a great way to get outside.
With a little practice a little preparation and the right baby hiking gear, you'll be able to explore amazing mountain trails and national parks around the world with your baby.
We took our daughter on her first hike up the Grassi Lakes hike in Canmore (near Banff National Park) at around 6-8 weeks old. I'm not going to lie, the first time hiking with our baby was a disaster. With our tiny newborn in our Ergo baby carrier, we were so proud to have gotten out on our first hike. We thought we were well prepared to go hiking with our baby, but Mother Nature had other plans.
We didn't make it to our destination. It started to rain, which made us feel like the worst parents in the world hiking with an infant in the rain.
Turns out this wouldn't be the last time we'd get stuck hiking with a baby in the rain. And I can't even count how many times we've had to turn back before reaching our destination. It's something that we've just come to accept when hiking with babies and toddlers.
Turning back early is never easy, but it's usually the right choice to make for your family.
Despite our challenges learning how to hike with a baby, we persevered and all those struggles early on have paid off in spades. By starting early and bringing our baby hiking, our kids have learned to love outdoor activity and have developed an appreciation for nature. Our kids are now able to hike long distances (for their ages) and we've even accomplished our first multi-day hike to the Lost City in Colombia with a 4 and 6 year old.
Hiking with a Baby
This post contains compensated links.
Benefits of Hiking with a Baby
What are the benefits of hiking with babies? The biggest benefit is that it gets you out of the house. It's a perfect outing and is something anyone can do. Your baby is happy to be snuggled in close to you and you get to experience a small part of your pre-baby life.
Sometimes just the accomplishment of getting out and doing something is what we need as new moms. Hiking in nature will lift your spirits. It will make you feel like you can still get out and do things.
Not to mention the benefits of fresh air for everyone!
Finally, hiking with babies is something that you can do anywhere. Even when traveling internationally with a baby, it's a great way to experience the beauty of your destination. And it's the one place you don't have to worry about your baby crying!
13 Tips for Hiking with Baby
Based on our real-life experiences, here are our best tips on how to hike with a baby:
1. When Can You Hike with a Baby
I don't need to tell you that your body has been through A LOT! Give yourself the time to heal before planning your first adventure hiking with your baby.
I know you are anxious to get back out there and do the things you did before having a baby! I felt the same way. I was hiking right up to a couple of weeks before having my first baby. I was just as eager to get back out hiking.
It's just too easy to push yourself too hard, too soon, so give yourself the time you deserve to heal.
I had a c-section with both kids, so we waited until around 6-8 weeks before going on any family hikes. And even then, we started with long walks around our neighborhood followed by easy hikes we were familiar with.
2. Celebrate the Small Wins!
When hiking with an infant, it's very likely you won't get to finish every hike you start. Rather than stress about it, we believe you should celebrate your family accomplishments!
Finishing a hike with an infant is not the goal. Your family got out and enjoyed nature together. There are huge benefits in just starting a family hike, so even if it didn't go well, you likely learned something for the next hike with your baby.
Celebrate all of that!
3. Plan Your Family Hikes
Before having a baby, it was easy to go where the wind took you. Now that you have children, you'll enjoy your day much more if you have a plan. If your baby has a feeding or sleeping schedule, try to plan your day around that, taking into account the time that it will take you to get to and from the hiking trail.
You'll also have to factor in the time on the hike to stop and feed your baby, diaper changes, etc.
More importantly, have a checklist for hiking with a baby. If you can, get as much ready the night before as possible. It's just too easy to forget baby essentials or hiking gear when you are trying to get yourself and your baby ready for a hike.
4. Pick the Right Time of Day for Hiking with Your Baby
If your baby will nap on your family hike, then this is the perfect time to be on the trail. This works especially well for hiking with a newborn, who might be spending a lot of time sleeping.
We always tried to plan our hikes with a baby so that our baby would be napping on the longest part of the hike. Then plan to stop and feed baby, do a diaper change and continue on.
If our baby was going through a phase where she wasn't doing well napping in the baby hiking backpack, we might opt for a shorter hike in-between her naps.
5. Finding baby-friendly hikes
For your first hike with a baby, start with one of your favorite hikes you are familiar with. When you have enough experience hiking with an infant and want to find new hiking trails, we recommend you use AllTrails to help find baby-friendly hiking trails.
Find your destination and use the handy filters on AllTrails to set limits on the hike distance, elevation gain etc. You know your family's capabilities best – just make sure your family hike is something you can do with the extra weight.
Keep in mind that with all the extra responsibilities that come with hiking with a baby, you will hike at a slower pace than pre-kids. Take this into account when picking the best hike to take your baby on.
If you know the hike, you'll also know if there is a good place to stop and feed your baby on the trail. Depending on the time of year or where you are hiking, you'll always want to make sure you can hike in the shade to provide some relief from the sun. Especially if you aren't using sunscreen on a baby under 6 months old.
6. How to Dress Your Baby for Hiking
Keep your baby happy and comfortable while outdoors by dressing your baby in layers. Unlike you, your baby won't be moving, so you'll probably need to put an extra layer of baby clothing on your child.
You can further protect your baby by using a hiking backpack baby carrier with a good canopy and a rain cover (this will also help protect a bit from the wind). A backpack carrier for babies is especially good on a hike where you'll be sweating, as a baby hiking carrier would get your baby sweaty too.
Don't forget to bring your baby an extra set of baby hiking clothes (in case of blowouts), a sun hat with a wide brim, sunglasses and warm baby hiking booties.
See all our recommended baby sunglasses and best sun hats for babies.
7. Finding the Best Hiking Baby Carrier
The age of your baby and the hiking condition will determine the best baby carrier for hiking. For example, if you are hiking with an infant, you'll want a comfortable front carrying baby carrier. If you'll be hiking in warmer temperatures, opt for a baby carrier that is breathable with mesh panels.
We often used our Ergo Baby Carrier with the infant insert as our infant hiking carrier.
For older babies, you can look into other options like doing a back carry with your favorite baby hiking carrier. This will make it much easier to hike, since you'll be able to see the hiking trail a lot easier.
For babies who are able to sit up independently (typically around 6 months), a hiking backpack carrier for babies is one of the best hiking carrier options. These will often have space large enough to carry snacks, diapers, water and all your baby essentials for hiking. It also keeps you and your baby cooler since they aren't right against you.
Short on time? Shop all the best hiking carrier options in our convenient Amazon List.
8. Hiking with a stroller
If you prefer to hike with a stroller, it is possible to find stroller-friendly hiking trails. Though your options may be limited, with a little research you should be able to find suitable hiking trails for a stroller.
Look for walking trails that are wide and relatively flat. You'll also want an all-terrain stroller like this one if you aren't going on a paved trail.
9. Feeding Baby on the Hiking Trail
Be prepared for feeding your baby on the trail. If you are breastfeeding, it's pretty easy to find a comfortable place to stop to feed your baby before continuing on your hike.
For formula fed babies, pack your formula in a measured formula dispenser, a travel bottle warmer and some extra water in a thermos to make your bottles on the go. Be prepared to make a few bottles on the go just in case the hike takes longer than anticipated.
Easy to grasp fruit like cut up blueberries or bananas
Cooked and cut up vegetables like sweet potato
Cheerios in a snack cup
Small pieces of bread without crusts or other dissolvable snacks
10. Changing Diapers on the Hiking Trail
A portable change mat is a must because it's almost a guarantee that you'll be changing your baby on the hiking trail. Make sure to bring plenty of wipes (in a protective baby wipes travel case) and an extra outfit (or two) for those blowouts.
Out of respect for your fellow hikers and local wildlife, you'll need to pack out all your garbage. A wet bag for your little ones dirty clothes or diapers is perfect for this purpose.
11. How to Carry all the Baby Hiking Gear
In addition to your baby, you'll also be carrying all your baby hiking essentials. If you are hiking with someone else, you can share the load by having the other person carry the diapers, wipes, snacks and other hiking essentials for your baby in their backpack.
Otherwise, a hiking backpack carrier with a storage compartment is your best option. They typically even have a spot for a water bladder which helps keep everyone hydrated while outdoors.
If you are front carrying your baby on the hike, you can carry all your hiking essentials in your own backpack.
12. Hiking With a Baby in the Rain
Weather can be unpredictable in the great outdoors, so be prepared for the elements. As I mentioned earlier, our first hike with a newborn ended with us being caught unprepared in the rain. If you are hiking with a newborn and need a rain cover, get one of these rain covers for baby carriers.
Once we started to use a backpack carrier, we bought a rain cover and brought it everywhere with us. The rain cover also worked well for extra wind protection.
13. Hiking With a Baby in Winter
Hiking in the winter with a baby is one of the best outdoor winter activities with a baby. All it takes is a little preparation and the proper winter hiking gear. You'll want to make sure to check your baby often as your baby will be much colder not moving.
Feeding and diaper changes also get more complicated, as you'll want to keep your baby warm. We recommend picking the mildest of days for winter hiking with a baby.
See our recommendations for winter gear for babies here.
For hiking with toddlers we've put together two additional posts on tips for hiking with a toddler and toddler hiking gear.
Essential Baby Hiking Gear Checklist
What hiking gear for baby do you really need? Your baby really doesn't need all that much, as long as your baby is warm, fed and you can do diaper changes on the go.
To help you prepare for your family hike, here is our checklist for essential baby hiking gear:
Everything on this list of essential baby hiking gear has been included in a convenient Amazon shopping list for you!
What About Hiking Gear for Mom?
Plan to bring plenty of snacks for yourself and lots of water. We also recommend using proper hiking boots for extra stability and hiking poles (depending on the hike).
If you are breastfeeding, wear a comfortable nursing t-shirt or nursing tank top. This long sleeve hoodie would also be a good layer.
More FAQS on Hiking with a Baby
Yes! You absolutely can go hiking with an infant or baby. It will take more preparation and your hikes might be shorter, but this is a great way to get out with your baby.
Most age recommendations for a hiking backpack are when your baby is able to sit upright on their own, which is typically around 6 months old.
You can start hiking with your baby as soon as you are feeling up for it. Start with short hikes near your house and build up from there. Only you know how long your baby will tolerate being in a baby carrier.
It's best to dress your baby in layers that you can adjust while out hiking. Keep in mind that your baby won't be moving, so your baby should be dressed warmer than you. Also protect your baby against the elements like rain, wind and sun.
Yes, you can hike with a newborn as young as 2 months old. Hiking with an infant can be very enjoyable as they are happy to be carried and near you, sleeping on and off during the hike. As mentioned previously, try shorter and easier hikes first to gauge how your baby does.
If you are planning on hiking while traveling internationally with a baby, get all our tips for flying with a backpack carrier.
The best hiking carrier for a baby is the one that is most comfortable for you and your baby. If your baby is much more content in a soft structured carrier like an Ergo Baby Carrier or the LILLEBaby Complete Airflow 360° carrier, then use that.
If your baby prefers to sit up and see the world, then a hiking backpack carrier for babies might be better suited. Just make sure your baby meets all the recommended height, weight and milestones before moving to this type of hiking backpack for babies.
All the carriers we recommend plus the other baby hiking essentials can all be found here.
Pin It For Later!
Hello
We heard it too: "I guess your traveling days are over". We are here to say that you CAN travel with a baby.
On Baby Can Travel you'll find everything from baby and toddler travel tips, gear recommendations and inspiration for where to go. All from parents JUST LIKE YOU!
What Age Can A Baby Go In A Hiking Backpack?
After having my first child I was itching to get back on the trail. For your own sanity it's nice to get back into your normal routine after having a baby. My parents love babysitting my son, but I really wanted to find a way to get my son onto the trail. At our 4 month checkup we decided it was time to ask our doctor when it would be safe to take our son on a hike and start looking into baby carrier backpacks.
What age can a baby go in a hiking backpack? You can use a baby carrier hiking backpack at 6 months when your child can sit up on their own. If your child can sit in a high chair they're ready to use a baby carrier pack. With younger infants you should use a front carrier with improved head support. I also recommend using trekking poles with a front carrier since it's harder to look at your feet and get a feel for the trail.
So it's generally safe to take an infant on a hike, but there's a serious learning curve you'll need to get over. You need to keep your baby safe while still being able to carry the gear needed for a hike. I'll give you a brief overview of the different packs you'll need based on age and then go into further detail to determine if your child is ready for a hiking backpack below.
When Can I Use A Hiking Carrier? It Depends!
Let me start by differentiating between the two types of carriers. You have the swaddle style carriers like the Moby Wrap that are designed for newborns (under 6 months). These offer head support for newborns and would be used with a traditional hiking pack.
Then you have the traditional hiking carriers that go on your back like the Osprey Poco Plus (my favorite carrier). These are the types of carriers that most people talk about when discussing baby hiking carriers. You can use one of these packs when your baby is old enough to support the weight of their head(usually 6 months). Here are a few considerations before moving to a traditional carrier.
Need to be able to sit up unassisted for extended periods of time. A child can usually support their neck and sit before they're strong enough to pull up on their own. If your child can sit in a high chair, they should be able to handle a carrier.
Has good head and neck control. There's a big difference between sitting in a stable high chair and bouncing around in a carrier. I recommend waiting a few weeks after sitting up so they can build strength in their neck muscles/tendons.
Look at weight requirements for the specific carrier. This is more for the tail end of your baby carriers lifespan. Most packs have a total load capacity of 35-40lbs so you'll need to ditch the carrier at the 3-4 year mark. Toddlers will be ready to hike a mile or so at the 2 year old mark. Use the carrier to build up endurance until they're strong enough to keep up on their own.
Front Carriers For Newborns (Under 6 Months)
I'll start off by separating into two groups. With newborns you will need a front carrier like the Moby Wrap and a regular day pack to carry diapers, bottles, etc. With my second son, I switched over to the BABYBJÖRN Baby Carrier with headrest, because it was more comfortable and easier to use.
Plan on short 1-2 hour hikes to get back into the swing of things and at 6 months you can start looking into overnight trips. For my own sanity I decided to keep our hikes short so I would be able to make it back to my car at a moments notice.
I highly recommend using trekking poles when using a front carrier. It's hard to see where you're stepping when trying to navigate difficult terrain. Trekking poles give you added stability when stepping over roots and trying to navigate through mud.
Baby Carrier Hiking Backpacks (Over 6 Months)
Most children can start using a child carrier backpack when they can start sitting up on their own and supporting their head. After trying what seemed like every single baby carrier pack on the market, I eventually settled on the Osprey Poco Plus Child Carrier. I really like that it included the sun shade, but you might want to pick up a child carrier raincover as well.
Osprey and Deuter make comparably priced packs, but the Osprey seemed far more comfortable and had extra pack space. My Osprey pack fits just like a regular hiking backpack and the mesh back is surprisingly comfortable in the hot summer sun. I really like that you can adjust the carrier position as the child ages.
The Deuter packs all seemed to have a higher center of gravity and I prefer to have most of the weight near my hips. Osprey just seemed to have a better suspension system compared to everything else I tried. Kelty packs were nice from a suspension standpoint, but gear is stored behind the child. That's great from a convenience standpoint, but would pull the center of gravity away from your back making it awkward to carry.
Just remember that most of the child carriers are rated to about 40lbs of total pack weight so your kid will quickly outgrow them. Don't plan on using the pack after your kids about 3 years old or about 35lbs. My son had to get booted out of the carrier at around 3.5.
We ended up getting a Freeloader Carrier that's designed for larger 40-80lb kids to use on longer overnight trips, but he could handle a few miles on his own. There were a few times where I needed to carry him by hand, but he was usually good to go after a quick play break.
What Age Can a Baby Go In a Hiking Backpack? How Do I Know If They're Ready?
As a general rule, most kids will be ready to go in a hiking backpack around the 6 month mark. That's when they should start being able to support their bodyweight and hold their head up for extended periods. Especially active babies might be able to start holding their heads up at 3 months, but that's usually for a few minutes at a time.
Don't jump to the carrier too fast! It's better to use a forward carrier for longer than your child needs so they have enough head support. Using a forward carrier for a few extra months is much better than risking your child's safety.
It takes a while to realize that newborns aren't as fragile as we think, but we've all been warned about shaken baby syndrome. You don't want their heads flopping around in your pack. The occasional jerk or bounce likely won't hurt them, but bouncing around on a trail is much different than holding up your head in a stable high chair. It's better to wait 1-2 extra months until the muscles/tendons are developed so there's no risk of injury.
Wait Until They Can Use a High Chair
Our doctor gave us a simple recommendation when we asked about using hiking baby carriers. She told us to wait until our son was comfortable using a high chair. He was a little wobbly at first but after a few weeks he was sitting up on his own without needing support.
This ended up being right around the 6 month mark, which happens to be the point most baby carrier manufacturers recommend. It took a few weeks to pick out the Osprey Poco Plus Child Carrier and by then he had no issues supporting his own weight in the pack.
He was scared at first, but after a few minutes on the trail he was smiling from ear to ear. It was expensive, but that pack was worth every penny we spent. We finally felt like we were back to our normal lives again!
Hiking With Your Baby Is Great For Postpartum Depression
Our doctor was excited when we told her that we were planning on taking our son on his first hike. At 4 months he was a little young to go in a hiking carrier on his own, but she was excited that we were trying to get back into normal activities.
Looking back we didn't recognize most of the warning signs of postpartum depression, but it must have been fairly obvious to her. We just thought it was normal fatigue from lack of sleep and it would get better on its own. At the time I had no idea why she was so adamant about making healthy lifestyle choices and bringing the baby into our daily routine.
She wanted us to get on the trail immediately and ended up sending us home with a Moby Wrap that one of the other mothers had donated. Getting back on the trail was the kick in the butt we needed to get back to our normal happy and healthy lives.
Hiking Carriers For Older Kids (3+ Years)
Right around the 3 year old mark we decided that it was time to ditch the traditional baby carrier. There were two main reasons for ditching the carrier. Carrying around a chubby little toddler that won't sit still was torture on my back. Plus he was ready to get out of the carrier and explore on his own.
That was great for short 2-3 mile hikes, but he couldn't keep up on longer hikes. Unfortunately, we didn't realize the problem until it was to late and we decided to go on a backpacking trip. We had gone on longer 8+ mile hikes before, but there were lots of breaks and times to play breaking up the hike.
About 5 miles into the hike I realized that I would need to carry him the rest of the way. It was too far to get back to the car, but we didn't want to continue further into the woods. So we ended up heading back towards the car and I had to carry him 2 miles.
Let's just say carrying 40lbs in my arms plus a fully loaded pack (and his small pack) wasn't fun. By the time we set up camp, I was exhausted and he was miserable. So I decided to look into packs for bigger kids so we could go on longer backpacking trips.
I ended up buying the Freeloader Child Carrier that basically turned me into a pack mule and left my wife carrying the rest of our gear. It has a fold out seat and foot stirrups and it's rated to carry a 40-80lb child. That was perfect for our needs.
He could hike for a while and we would alternate carrying the empty pack. Every 2-3 miles he'd hop on the pack for a quick nap and we could continue down the trail. Thankfully, after a year or so he was strong enough to handle the hike on his own and we could go back to our regular packs.
Related Posts
What Are D Rings Used For On Backpacks?
Does your backpack have small rings shaped like the "Capital Letter D"? D Loops are commonly found on outdoor camping, climbing, and hiking packs, but… Read More » What Are D Rings Used For On Backpacks?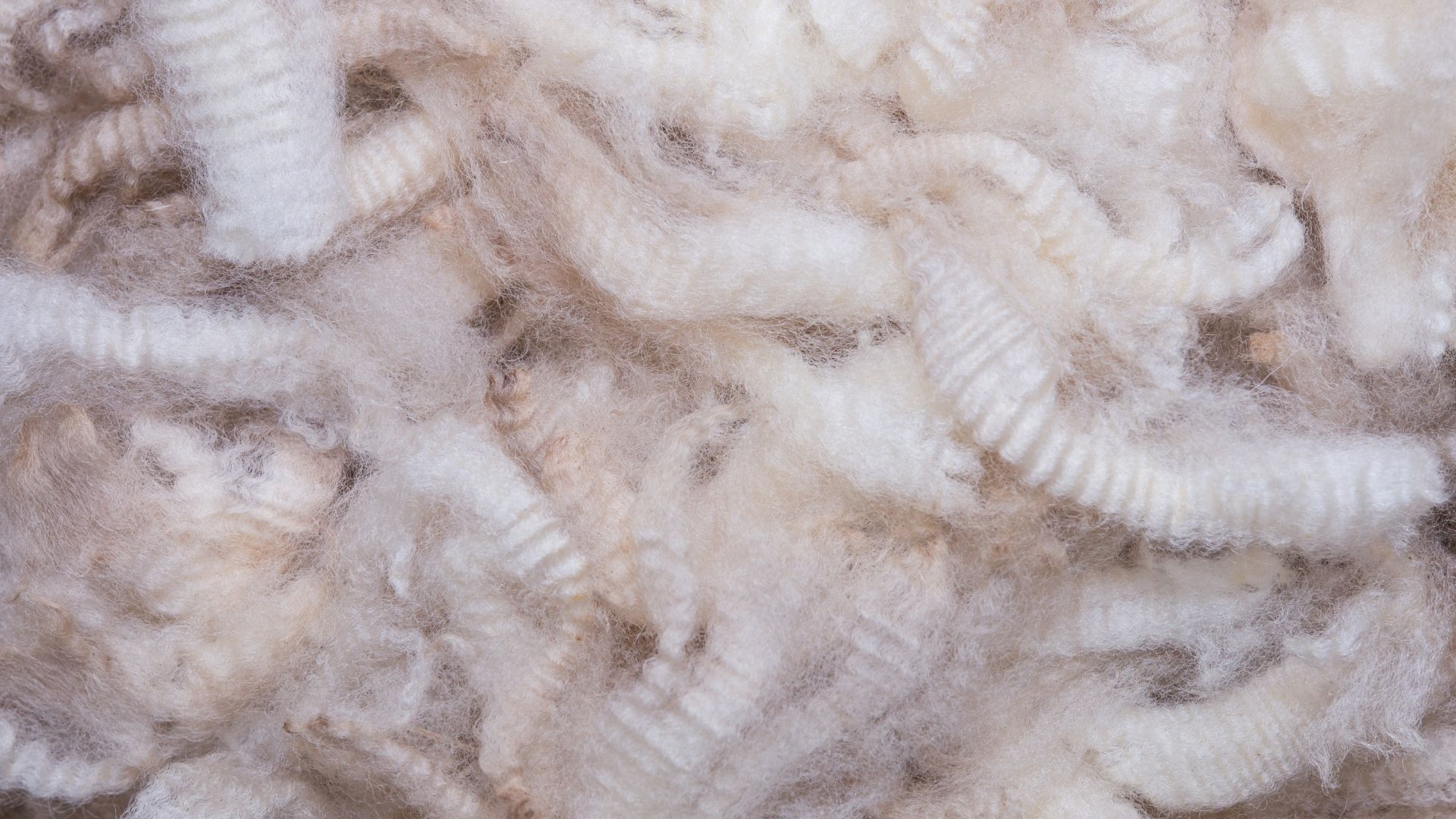 Does Merino Wool Shrink After Washing?
Merino wool is often considered one of the most comfortable fabrics. It's warm, soft, moisture-wicking, breathes well, and has antimicrobial properties. However, some people are… Read More » Does Merino Wool Shrink After Washing?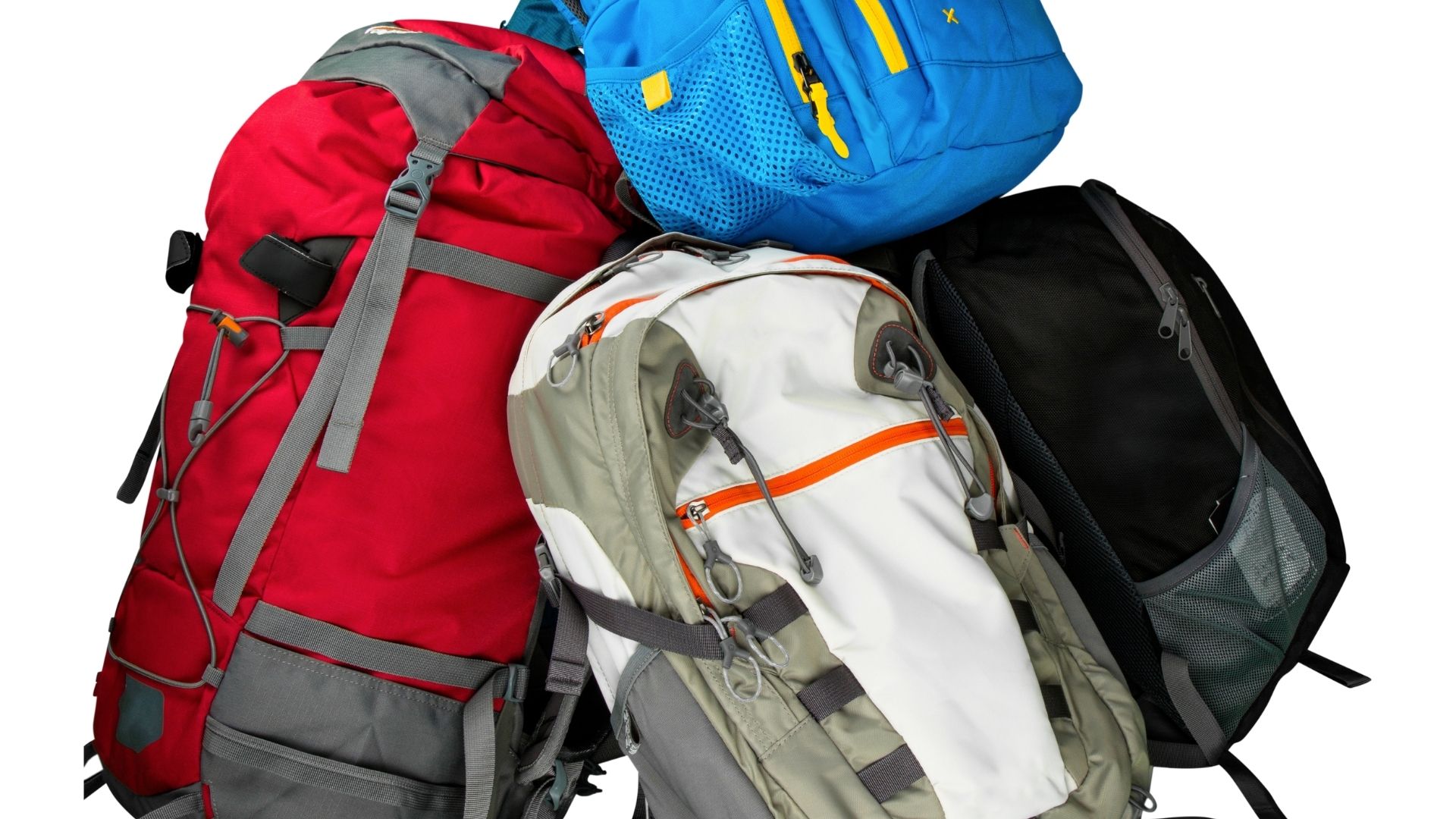 Backpack Materials Guide: Choosing The Right Backpack Material
A backpack seems like a simple accessory. It's just a simple fabric bag, with straps, and a few zippers. You may be surprised that there's… Read More » Backpack Materials Guide: Choosing The Right Backpack Material
Hiking Authority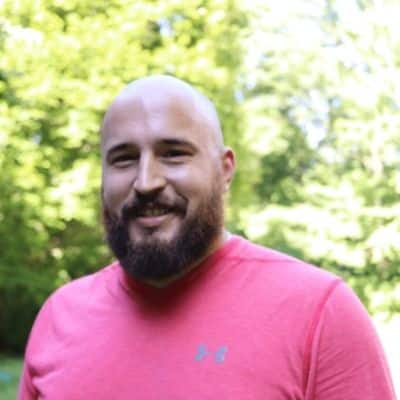 About The Site Owner
Hi, I'm Justin the owner, content manager and primary writer on TheHikingAuthority. I grew up in a small Ohio town just outside of Cleveland. My parents started me off right and I've been camping/backpacking since before I could walk.
Throughout the years I've spent countless hours researching gear and perfecting my backpacking setup. Now I want to share what I've learned with you. Feel free to ask me questions by following the contact us page below.
Amazon Affiliate Disclaimer
"We are a participant in the Amazon Services LLC Associates Program, an affiliate advertising program designed to provide a means for us to earn fees by linking to Amazon.com and affiliated sites."

report this ad
Source https://www.outsidepursuits.com/best-baby-carrier-for-hiking/
Source https://www.babycantravel.com/hiking-with-baby/
Source https://thehikingauthority.com/what-age-can-a-baby-go-in-a-hiking-backpack/