Peru's Choquequirao Trek: The Ultimate Hiking Guide
We've all had dreams of the Inca Trail and walking a path so steeped in history and beauty. But the reality is you have to book months in advance and the experience offers very little in the way of real adventure.
If the idea of authentic exploration excites you, consider the Choquequirao trek, the best alternative to Machu Picchu and the Inca Trail.
Views across Choquequirao, often referred to as the "other Machu Picchu" in Peru
High on the Quriwayrachina mountain range of Peru lies the Choquequirao archaeological site, and the only way in or out is on foot. Now, this trek is not for the fainthearted, but it's almost unsurpassed in Peru.
With sweeping views of the Andes and opportunities to observe local plant and wild life, including the sacred Andean condor, this trek is a must for any serious hiker.
With the country's popularity growing among international tourists, it is becoming difficult to find an authentic, uncrowded adventure in Peru. The Choquequirao trek is just this.
The Choquequirao route takes you through the steep Apurimac Canyon; as you descend down into this plunging valley, and hike back out the steep other side, you will pass through several microclimates that vary with the altitude.
Sunset across the Apurimac Valley in Peru.
Surrounded by lush rainforest and snow-capped peaks, the Choquequirao route has new views at every turn and it should come as no surprise that this mountain-top city is being lauded as the "new Machu Picchu" and is widely considered one of the finest treks in South America.
Planning Your Trip to Peru?
Save time, stress & money with a customized travel itinerary planned for you by a Peru expert
What previous clients have said:
Steph did a great job! I have never used such a service before and I wish there were more of them!
Getting off the beaten track was important to us and with Steph's knowledge we were away from the crowds. The information is very detailed and she knows some great places to stay! Thank you Steph!
Justin and Lisa
What is Choquequirao?
Choquequirao, meaning Cradle of Gold, is an Incan city that was built in the same era as Machu Picchu. Thought to be built by Pachacuti, the Incan Emperor who envisioned Machu Picchu, the city was extended by his son, Tupaq Inka Yupanki.
It's roughly the same size as Machu Picchu and contains a few different architectural styles. Despite covering six square kilometres, only about a third of it has been reclaimed from the jungle.
Choquequirao was built on a flattened hilltop that was levelled centuries ago and ringed with stones to stop it sliding down the mountain. Though much of the city is inaccessible due to the encroaching jungle, a temple and several other buildings around the main square have been cleared, as well as several terraces.
Well-preserved Inca walls at the Choquequirao ruins
My favourite part of the site is these terraces. On the west side of the summit, huge stepped terraces have the shapes of llamas built into them with carefully carved white rocks.
These are accessible through a clambering jungle path that opens out to breathtaking views. On the east side, below the main site, are the iconic animal shaped terraces, thought to mirror the shape of a guinea pig.
With no people around, and no definitive answers about what everything means or was for, enjoy feeling like a true adventurer exploring a city time forgot.
Why you should go to Choquequirao as soon as possible
Currently, the only way to get to the Choquequirao ruins is the four-day trek but the local Peruvian government is planning to build a Choquequirao cable car through the Apurimac Valley. In February 2018 a company was awarded the project, but the start date of construction hasn't been announced yet.
Many people wonder what's the main difference between hiking to Choquequirao and Machu Picchu. In two words: visitor numbers.
The Choquequirao ruins receive less than a dozen visitors a day – that's only 5,800 a year compared to Machu Picchu's 1.2 million. Unfortunately, once the cable car is functioning, the government is expecting over 200,000 visitors a year.
This fate is already happening to Kuelap, a huge stone fortress perched high in the mountains near Chachapoyas in northern Peru – it won't take long before Choquequirao is overrun with visitors.
A bromeliad growing off a tree along the Choquequirao trek, Peru.
So, if you want to enjoy this site, which definitely ranks as one of Peru's top places to visit, go now, before it is too late. This trek is still a quiet and unique experience for those brave enough to hit the trail.
Choquequirao Hiking Route: Four days/three nights
The route is 64 kilometres long with a starting altitude of 2,900m and peaking at 3,050m. While there is only one path, the route can be divided up in a variety of ways, but I have laid out the most common four-day route. It can easily be extended to five days, which will give you a full day to explore the ruins and enjoy your time in the mountains.
Fair warning: the Choquequirao trek difficulty level is high. There is no easy day where you can just stroll along.
While the Choquequirao trail is not at high altitude, there is a 1,500m descent into the canyon, followed by a 1,800m climb the next day. If you are up to this challenge, the trek is totally worth it. You will be able to hike unbothered the entire way and you can explore the ruins practically alone with the most stunning scenic backdrop.
This route begins and ends at Cachora, the town just outside the Apurimac Valley. You can get here from Cusco by bus or private taxi.
Day One (five to seven hours)
The trail begins in Cachora (2,900m) and leads down into the Apurimac Canyon. If you want to save yourself some time, you can catch a taxi to the Capuliyoc Mirador (2,915m), cutting 13 kilometres of road off the beginning of your trek. From this viewpoint, the path plunges down into the Canyon, and so begins the steep descent.
You can either stop overnight at Chiquisca (1,835m) before the bridge or carry on to the quieter Santa Rosa (2,905m) to make the next day easier for yourself.
Day Two (four to six hours)
This is the most difficult day, with 13 kilometres of steep ascent comprising of a series of switchbacks and false summits. Be warned the mosquitoes can be murder on this day and the shade fades quickly as you approach noon. Wear cool, long clothing to protect yourself.
There are streams running down the mountain along the route for water refilling but to be safe have some way to purify the water (we love the Steripen Adventurer that works really well with a Nalgene reusable water bottle: get it on REI|Backcountry|Amazon). Otherwise get water refills at Santa Rosa.
Eventually, you will reach the top and find a flag marking Marampata (2,913m), a small town that overlooks the canyon. Pitch camp here and enjoy playing football with the locals or drink a cold beer while admiring the view.
Trekking to Choquequirao: expect sublime mountain views.
If you still have energy after the climb, you can continue on the easy path to Choquequirao (2,950m) and spend the afternoon exploring the ruins. There is a campsite below the archaeological site, or you can return to Marampata.
Day Three (eight to nine hours)
Wake up early and wander in the ruins in the beautiful morning light. Then set off back the way you came, unfortunately, there is no alternative route for the return journey unless you want to hike all the way to Machu Picchu (see below). If you would like more time in the ruins, just spend the day there so you can tackle the return journey on fully rested legs.
Be careful not to slip on the steep descent back to Playa Rosalina (lightweight hiking poles such as these are a good investment for this and other South America treks). Continue past the river to the Chiquisca campsite so that you can save your energy for the uphill the next day.
Day Four (two to three hours)
More steep switchbacks will take you back up to the mirador; this is a great area for spotting Condors to keep your mind busy. At the top, have a cold drink before you continue on the easy downhill back to Cachora.
A condor rides the air currents
Hiking Choquequirao to Machu Picchu – Nine days/eight nights
If you are looking for an even greater trek, the Choquequirao trail can be extended all the way to Machu Picchu. This route is 100km long with a much greater range in altitude, starting at 2,900m and reaching 4,668m at its peak.
Acclimatisation in Cusco is recommended before taking on this long trek (read our guide to where to stay in Cusco).
The Choquequirao to Machu Picchu trek can't be done the other way around, so if you are interested in both sites, consider this option. On this route, you will see parts of the original Inca Road and see views very few people have experienced.
The first two days of the trek are the same as the above route, with the third day spent in the ruins. On day four, you continue forward on the path, instead of turning back. Hiking poles are recommended on this route to help on the daily steep climbs and descents.
Day Four (six to seven hours)
After a relaxed day exploring the ruins, wake up early and continue over the ridge (3,300m) and down the steep descent to Rio Blanco (1,910m). Here is a great place to swim before tackling the tough ascent which will take you up to Maizal (3,000m).
Day Five (six to seven hours)
Continue to climb up to Victoria Mines (4,200m) where you can see some of the originally paved Inca Road. After the Abra San Juan pass, you will start a long descent to Yanama (3,800m) where you will camp for the night.
Day Six (eight hours)
The route through the Queliqua Valley is a day of light trekking until you reach the Yanama Pass (4,668m) – the highest point on this trek. A slight descent will leave you in Totora (4,100m) for the night.
A sheltered viewpoint at the Choquequirao ruins.
Day Seven (seven hours)
A long, winding descent will take you to Totora River, 2,000m below the village of the same name. Then a slight ascent leaves you at the village of La Playa (2,400m) which has a campsite for you to overnight in. This village has shops for you to restock in as well as hot springs to soothe your tired legs.
Day Eight (six to eight hours)
Here it is possible to take local transport to Lucma, otherwise, continue on your trek. At Lucma, the trail ascends for a three-hour climb to the newly discovered ruins of Llacpacta. From here you can catch a glimpse of Machu Picchu before descending to Hydroelectrica where the train departs for Aguas Calientes and takes about one hour.
Day Nine
Get up early and head to the Machu Picchu gates. Tours will take the bus up to the site, otherwise, you can hike up the hour and a half of stairs – if your legs are still strong enough.
Spend the day exploring the ruins and take the train back to Cusco or Ollantaytambo (you will need to book the train and Machu Picchu ticket in advance).
Go it alone or take a guide for Choquequirao?
Unlike many hikes in Peru, guides on this trek are just to make logistics easier, not to help you navigate. This trek is doable alone, but it is one of the most difficult in Peru and you should make an honest assessment of your own fitness and experience before deciding whether to do the Choquequirao trek solo.
I did not do a tour as I had a Peruvian friend knew the trail and who helped us organise, so I got the best of both worlds. If this had not been the case, I would probably have joined a tour group.
Sunset along the Choquequirao trail in the Apurimac Valley.
Guided Choquequirao tours from Cusco ($500+ (S/1,600+) to $1,500+ (S/4,900+) per person)
Tours should include transport to and from Cusco as well as many necessities for the trek. They organise your food, camping equipment, mules, water, and emergency horses if you can't make it out on your own. It is obviously a more expensive option but means you only need to focus on the task of hiking the route.
Choquequirao tours are less frequent than the more famous treks but you should be able to find tours from around $500 or S/1600 (for just Choquequirao) and $1,500 or S/ 4900 (for the route to Machu Picchu). If you want to negotiate down the price, find a group before approaching the tour company.
Some companies offering the trek are Choquequirao Trek, Apus Peru and Choquequirao Trail. However, there are endless tour companies in Cusco and any that operate the Salkantay or Inca Trail treks will also offer the Choquequirao trek.
Want a cheeky 5% discount on the Salkantay trek or Inca trail?
Alpaca Expeditions are not only one of the most sustainable companies offering Salkantay and Inca trail treks to Machu Picchu, but their guides, porters and chefs are the ultimate hosts.
They're now offering Worldly Adventurer readers a 5% discount on all of their hikes – just mention Worldly Adventurer when you enquire!
Guided Choquequirao tours from Cachora ($250+ or S/800+ per person)
Tours operated out of Cachora are far cheaper because they don't include transport from Cusco and they don't get as much business. However, you also don't know what you are going to find there.
Ask in the hotels Inka Dream and CasaNostra about the trek but be sure to check what is included before you agree to leave. Ensure you will have sufficient equipment, meals, snacks and water for the trip.
Choquequirao trek without a guide ($150+ (S/400) per person)
Unlike the Inca Trail, it is possible to take on the Choquequirao trek without a guide. However, this is a very challenging route and you need to make an honest assessment of whether you are up to the task. Navigating the path is not difficult alone, and it means you will truly have the opportunity to experience the valley and the ruins in almost complete solitude.
Organising transport, food, mules, equipment and so on without any local assistance is definitely doable, it just requires more effort and preparation. If you decide to go it alone, you really need to ensure you are well prepared. I would not advise it unless you have experience in multi-day treks and are confident about your level of fitness.
To make the trek a little easier for yourself, consider hiring a muleteer so you do not have to carry your own bags. You will be expected to pay them about S/ 30 ($10) a day (including the time it will take them to return home) and share your meals with them.
Carrying your own gear will make this trek substantially more difficult, and if you doubt your strength (or sanity), you need to make the decision to hire a muleteer before you leave. Consider investing in a good, lightweight backpacking tent (read our review of the Big Agnes Copper Spur) and a water filter (read our review of the Steripen, a personal favourite) – both items that will make your life a lot easier on the trek.
Cachora is the only spot with mules for hire and once you hit the trail, you won't be able to change your mind.
More terraces, barely extracted from the encroaching jungle at Choquequirao, Peru.
If planning on doing the Choquequirao trek solo, you will need to pre-plan your meals. Though there are little stores and kitchens along the way, they are often closed or short on supplies as everything must be carried in with mules. To save yourself being caught short, bring most of the food you need.
Thinking of trekking to Machu Picchu? Check out hiking the Lares Trek for a unique alternative.
Also, consider a camping stove because you'll be craving warm food at the end of the long days.
When is the weather best for hiking to Choquequirao?
The Choquequirao trek is best done in the dry season, which is May to September, when the weather is clearest. Though this is the high season, the trail is quiet and uncrowded throughout the year – unlike bustling Machu Picchu.
In the rainy season, there are mudslides and the steep descents can be quite treacherous because of a lack of solid footing. Good hiking boots and a waterproof coat are essentials: check out our packing guide for Patagonia which has useful tips for equipment that will serve you well for hiking in Peru too.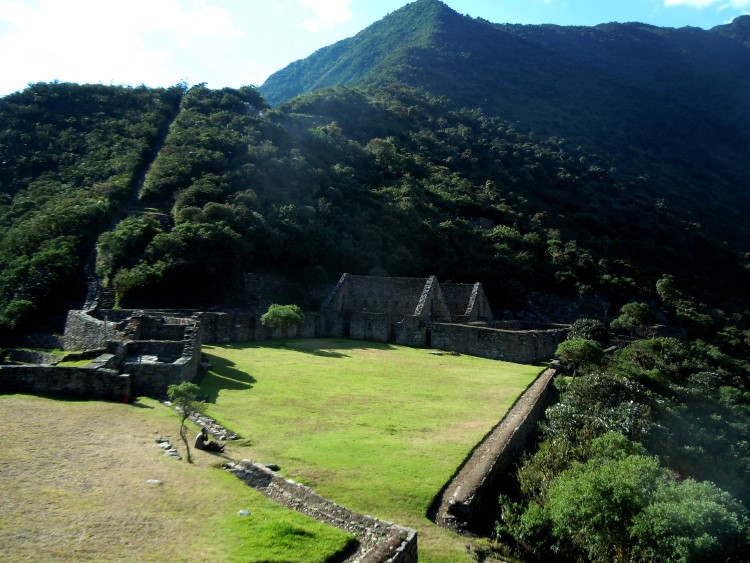 A ceremonial plaza in the Choquequirao ruins.
What about entry tickets for Choquequirao?
The entrance ticket to the Choquequirao Archaeological Park costs S/ 55 ($16). They are bought upon entry to Choquequirao and do not need to be booked in advance.
Though the ticket is only valid for one day, they might let you back in the next morning if you arrived late the previous day.
There is a sign-in sheet at the ticket stand, so you will be able to see how many people have hiked in that day. When I arrived, there were just four names on that sheet.
Remember, the proposed Choquequirao cable car will be carrying in busloads of tourists in no time, so no time is better than the present.
Don't miss these other beyond-the-beaten-trail adventures in South America for more inspiration.
Did you find this guide to the Choquequirao trek useful? Don't forget to pin it
How much does it cost to hike the Tour du Mont Blanc?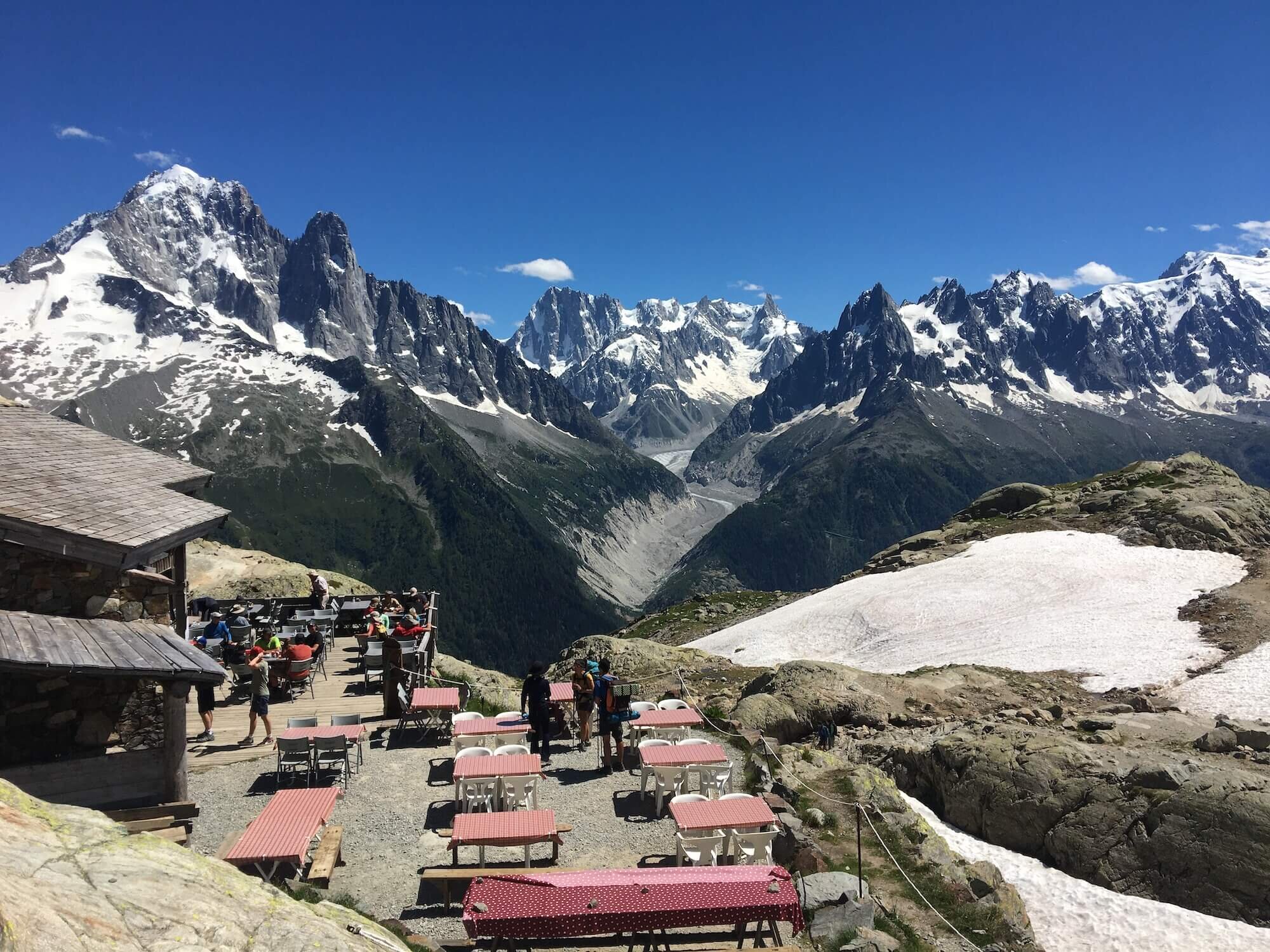 Every multi-day hiker dreams of completing the Tour du Mont Blanc through the European Alps. Unfortunately, fulfilling those dreams come at a cost, especially given about a quarter of the trail is in Switzerland; the most expensive country in Europe for tourists. Although the rest of the trail through France and Italy is cheaper,
With this in mind, it may not surprise you that one of the most common questions I'm asked is how much it costs to hike the Tour du Mont Blanc. Armed with my accounting background and mission to make every hikers self-guided dreams come true, I've dug deep into the numbers across all the different accommodation types, food and services available to provide firm guidance on what it costs to self guide the Tour du Mont Blanc.
Let's take a walk through the numbers!
HOW MUCH DOES IT COST TO HIKE THE TOUR DU MONT BLANC?
Using actual costs as of February 2021, I've determined that once you arrive in Geneva Airport, you can hike the Tour du Mont Blanc in 10 days from:
Camping: 600 EUR per person
Solo in Dormitory: 900 EUR per person
Double in Private Rooms (where possible): 1,100 EUR per person
This is based on a 10 day route and what you can expect by planning your trip using our self-guided products. It includes costs for transfers to/from the trail, accommodation in huts/hotels and eating delicious 3-course meals of local delights, as you self-guide your way across one of the legendary trails of the world.
For those looking to join a tour group rather than self-guide, the cost is upwards of 1,500 EUR per person.
Before I get too carried away with telling you about how amazing the Tour du Mont Blanc trail is, I want to show you how I arrived at 900 EUR and outline how your hiking or accommodation preferences that may reduce or increase the cost further.
WHAT ARE THE DIFFERENT HIKER PROFILES?
There are typically 4 hiker profiles that complete a multi-day trail in the Alps. Their preferences for accommodation, food and transport differ greatly and therefore impact the overall cost. Are you able to quickly identify which one is you?
HAPPY CAMPER
The Happy Camper loves carrying everything they need on their back so they have the most flexibility and ownership of their trip. They feel like they are getting the authentic experience, not just during the day on the trail but under the stars at night. They love talking about their gear, the gourmet freeze dried meals they have for the trip and all their past adventures.
LONE WOLF
The Lone Wolf loves a good adventure and is looking for others on the trail that carry the same passion. They are keen to stay in mountain huts or hostels not just to satisfy their budget conscious requirements, but to meet fellow adventurers. They typically stock up on food at supermarkets to save money on lunches, snacks and other meals which are not provided by the accommodation. But they will also happily spend their pennies on a few drinks each evening.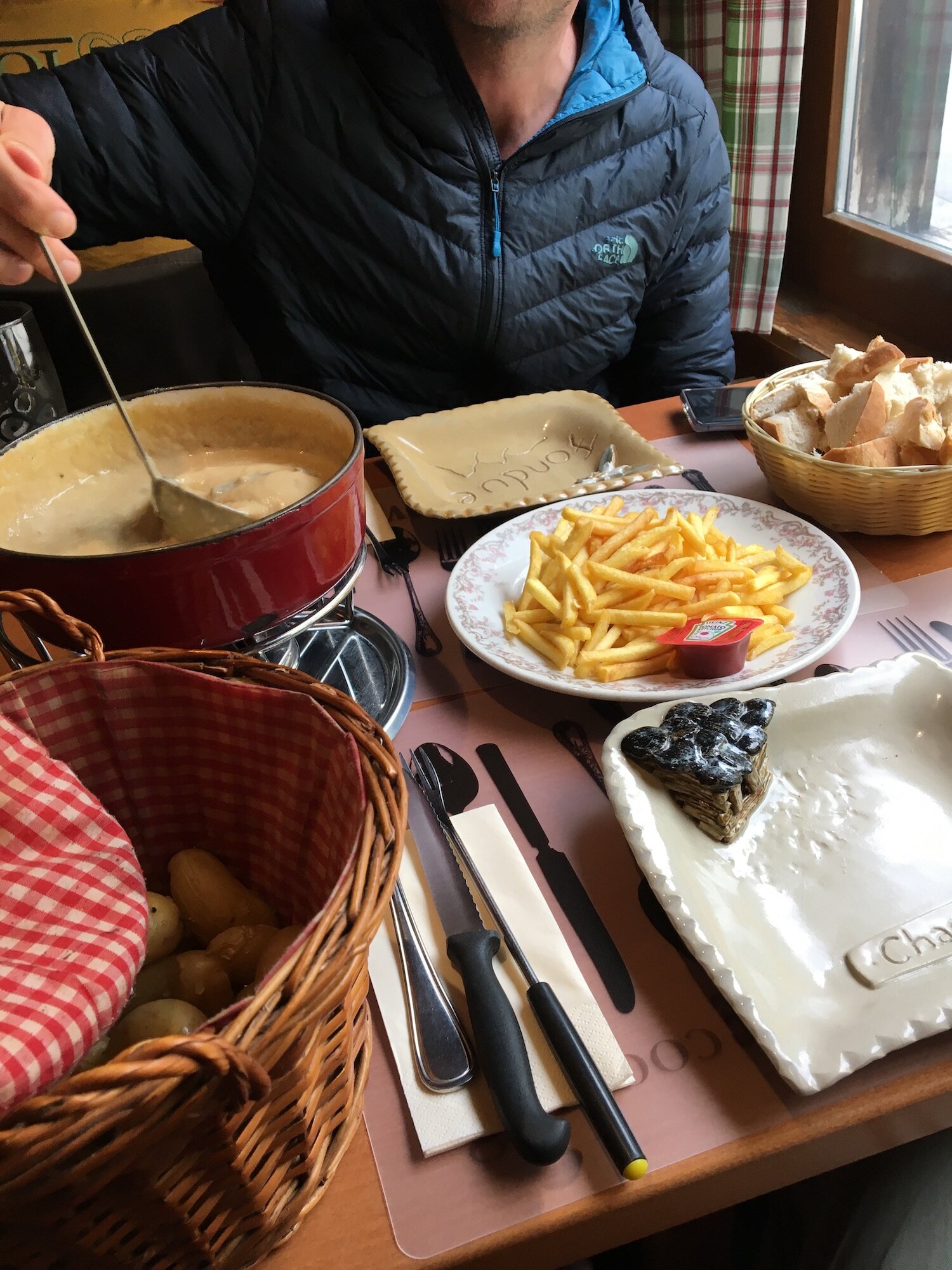 COZY COUPLE
The Cozy Couple are the ultimate adventure duo. Hiking is core to their relationship and they spend hours dreaming, planning and doing epic adventures. They have a bigger budget to indulge in a private room when available and love to stop along the trail at a rifugio or buvette for lunch (like Fondue in the photo!) If neither are available, they are happy to shack up in a dorm and eat their baguette with cheese for lunch.
TOUR GROUPEE
The Tour Groupee is happy to sit back and let someone else do the hard work in planning and navigating on the trail. They are willing to spend money to ensure the logistics of every day run smoothly and they have someone on hand to answer any question about the trail or Alps that springs to mind. It might be their first time hiking in the Alps and therefore don't have the confidence to self-guide, or they simply enjoy the ease and social side that comes with joining a tour group.
So…could you identify which profile you are?
WHAT IS THE COST BREAKDOWN BY HIKER PROFILE?
The Tour du Mont Blanc travels through France, Italy and Switzerland. For simplicity, all costs are incurred in Switzerland (CHF) have been converted to Euro (EUR).
The above table lists the price for different accommodation, food and service options which are used to determine the total cost for each hikers trip. I have omitted 3 costs which each individual hiker will need to estimate based on their location and requirements. These are;
Flights to Geneva/Europe: Depends on where your coming from and what class you fly
New hiking gear: I provide a gear list in the booking portal to help you do an inventory check
Travel Insurance: Based on location, age and coverage/excess preferences
For those that require baggage transfer services too, you can use the rates from Taxi Mont Blanc for your estimate.
All the costs in the table have come from advertised rates as at February 2021 and may fluctuate or change based on availability (mainly accommodation).
HOW MUCH DOES ACCOMMODATION COST ON tour du mont blanc?
Refuge la Flégére – overlooking the Mont Blanc massif within the Chamonix Valley.
The Tour du Mont Blanc crosses high mountain passes and weaves through alpine villages and towns. There are many different accommodation types – mountain huts, BnBs, hotels, campgrounds and bivouac locations. For more information about accommodation in the Alps, read this blog post.
The most unique and special part of hiking in the Alps is the opportunity to stay in mountain huts – refuges/hütte (German), refuge/cabane (French) and rifugio (Italian). Some are luxurious and others are very basic. Most of these huts offer "halfboard", which refers to accommodation plus dinner and breakfast. This is standard at mountain huts and reflects the family style dining that occurs. Some mountain huts are larger and have private rooms in addition to dormitories.
The larger alpine villages such as Chamonix and Courmayeur offer a variety of accommodation types that cater for all budgets, from 4* resorts to campgrounds, and everything in between.
Based on a 10 day itinerary, the average accommodation cost is:
Campground with facilities such as hot shower, kiosk/cafe and wifi: 15-25 EUR per night
Dormitory with half board: 40-70 EUR per night
Private room in 2/3* hotel: 150 EUR per night, per couple
Please note: The average cost of nightly accommodation spend for the happy camper in the table above is higher than the average campground cost here because some nights must be spent in refuges (where no campgrounds/bivouac permitted at that location).
How To Reach Machu Picchu – 8 Options to Suit Every Budget!
Nestled high in the Selva Alta (high jungle) mountains of Cusco, surrounded by snow-capped peaks, sits the magnificent Inca ruins of Machu Picchu. Getting well over a million visitors each year, The Lost City Of The Incas ranks highly on the bucket list of many a backpacker.
But what's the best way to get to Machu Picchu?
Whether you want to trek on a backpacker budget, hike in style, arrive in comfort aboard a classy train, or make the most of just a couple of days, there's an option out there for you.
We've also got something for those of you on really tight budgets… keep reading to find THE cheapest way to get the Machu Picchu!
If like me, you tend to travel by the seat of your pants and don't know what you'll be doing one day to the next, you'll be relieved to hear that most trips to Machu Picchu can be booked when you arrive in Cusco. However, some like the Inca Trail or Hiram Bingham Express need to be reserved months in advance to ensure your spot!
We've taken the hard work out of this research process so you can make the most of your time in South America. Sit back, grab a brew (or beer) and check out the most popular options for getting to Machu Picchu!
8 Most Popular Routes to Machu Picchu!
1. The Inca Trail – THE CLASSIC TREK
The Inca Trail was built by the Incas in the 15th century, linking the Incan capital Cusco with the spiritual city of Machu Picchu. The Classic Inca Trail Trek uses a 43km long (26 miles) section of the original route and undulates through amazing mountain scenery, jungle, cloud forest, past ancient Inca ruins, paving stones and tunnels along the way.
Due to concern of erosion on the world-famous trail, authorities have limited the route to 500 trekkers daily, which means about 200 trekkers and 300 guides. You need to book ahead of time and pay your entrance fee to Machu Picchu in advance if you want to trek the Inca Trail.
The waiting list is currently around 6 months and you can apply for a permit on the official government website. You cannot trek the Inca Trail independently and must be accompanied by a licensed trekking guide. Sure, you can pay for a private guide to take you but this costs an arm and a leg (trust me you'll need all your limbs to finish the trek) so it's much better value to book onto a group trek through one of Cusco's many tour companies.
Due to poor weather and also to give the trail a chance to recover from the countless footsteps, the route is closed in February.
Find out everything you need to know about planning your Inca Trail Hike here.
2. Salkantay Trek – BACKPACKER FAVOURITE
Probably the most popular route for backpackers, the classic Salkantay Trek is an awesome 5-day adventure. You'll walk approximately 70 km through a range of ecosystems. Day two is arguably the highlight that will see you traversing the snowy Salkantay pass at 4600 metres above sea level! The following day is a stark contrast as you make your way through humid cloud forest down to the valley floor.
After four days of hard trekking, you have the option to take a dip in the natural hot springs at Santa Theresa (this does come with a small extra charge) where you'll feel your strength return ready for the final approach to Machu Picchu!
On the final day, you'll wake at 4 am to start the epic climb to Machu Picchu for sunrise. If you still have any energy left you can hike up Machu Picchu Mountain or Huayna Picchu for incredible birds-eye views of the ancient ruins.
Be warned – this trek is hard and you need to be fit and healthy as you will hike around 8 hours a day.
The price includes all meals along the trek, accommodation (tents or huts for three nights and a backpacker hostel in Aguas Calientes the night before you climb Machu Picchu), your entrance fee into Machu Picchu, plus train and combi back to Cusco – all in all, the Salkantay Treks are excellent value for money.
Accommodation quality varies along the trail and in Aguas Calientes, depending on the tour company you book with. Often the more expensive tours offer significantly nicer places to lay your head each night, which is a welcome relief after what can be some cold, wet days hiking! Just make sure you find out exactly what you are getting beforehand!
3. Inca Jungle Trek – ADDED ADRENALINE
The second most popular choice for backpackers to reach Machu Picchu is the Inca Jungle Trek which as well as trekking includes rafting, mountain biking and zip-wiring if you so wish! (The activities are priced separately.)
Rather than going over high mountain passes, this route takes you through misty jungle and coffee plantations where you can spot parrots, monkeys and all kinds of South American tropical fruits.
You'll also get a chance to visit the hot springs in Santa Theresa which are a delight for all trekkers! Check out this itinerary with Loki Hostel for more detailed info. The price includes the entrance fee to Machu Picchu and transport back to Cusco on the fourth day.
4. Choquequirao Trek – SCENIC ROUTE
The longest and scenically most varied route to Machu Picchu, taking you on less-visited pathways and off the beaten track Inca trails.
During this challenging 9-day adventure, you'll visit the ruins of Choquequirao – one of the most remote Inca ruins in the Peruvian Andes. Often referred to as Machu Picchu's sister, large portions of Choquequirao are yet to be excavated.
Whilst the iconic Machu Picchu receives 2,500 visitors per day, Choquequirao (meaning 'Cradle of Gold') is practically deserted. However, there are plans to build a cable car up to the Choquequirao ruins so it may not stay this way for much longer. With that said, the plans appear to have been in place for over half a decade with very little actual progress being made. Maybe this gem will stay off the beaten track for a bit longer yet!
For now, the scene is a refreshing contrast to the tourist-laden Machu Picchu. After trekking through cloud forest and snow-capped mountain scenery, eventually, your trail joins the last section of the Salkantay Trek. You will arrive at Machu Picchu on the ninth and final day of your hike before heading back to Cusco via train.
This trek is a great choice for those with plenty of time on their hands to discover more about Inca culture.
There's also the option on this trek to visit Vilcabamba (not to be confused with Vilcabamba, Ecuador – you've taken a wrong turn if you end up there), the last refuge of the Incas, famed for being a magical and spiritual place.
5. Lares Trek – OFF THE BEATEN TRACK
Peru's Sacred Valley gives hikers a beautiful backdrop for their Machu Picchu treks but what if you could experience equally stunning vistas with way fewer tourists? Sounds like a dream right?
While the official routes vary depending on your guide or the company you book with, the Lares Trek to Machu Picchu takes you through almost 40 km of unspoiled landscapes in the Lares Valley before rejoining the crowds at Ollantaytambo.
Most Lares Treks officially end at Ollantaytambo but you should get a train ticket to the town of Aguas Calientes included in your tour price. If you are planning on taking on this route independently you should be able to pick up a train ticket on arrival, unless it is high season when booking ahead is recommended.
The Lares Trek is quickly becoming the fourth most popular route for backpackers looking to get to Machu Picchu but for now, it's still super quiet compared to the Inca Trail or the Salkantay. You can expect to see only a handful of other travellers along the trail as it winds its way through traditional Andean villages full of smiling locals.
If you are looking for a real cultural experience away from the crowds, the Lares Trek might just be the one for you.
6. Hiram Bingham Express – POSH PICK
The obvious choice for flashpackers and luxury travellers – forget dirty trekking boots and achy muscles, this is the way to get to Machu Picchu in pure style! Sit back and relax as you travel from Cusco to Aguas Calientes before finally reaching the base of Machu Picchu.
The Hiram Bingham Express, named after the American explorer who discovered the forgotten city back in 1911, is an exclusive train service that was voted one of the best in the world by Conde Nast Traveller!
A trip on this luxury locomotive does not come cheap (return from Cusco to Aguas Calientes), but in exchange for your hard-earned money, you are made to feel like a real VIP!
On arrival at the station, you'll be greeted with welcome aperitifs before you jump aboard… Then once inside your plush carriage, gourmet brunch, dinner and a selection of Peruvian wines will be served in utmost style.
7. Lodge Trek – THE FLASHPACKER'S TREK
The Lodge Treks have been designed for flashpackers who still want the challenge of a Machu Picchu trek, without the cold uncomfortable nights of camping. Sure the Hiram Bingham Express is an option but in my humble opinion, the trekking is as good, if not better, than the destination when it comes to getting to Machu Picchu.
Whilst the trails vary considerably depending on which of the route options you take (most commonly trod treks to Machu Picchu will have a Lodge Trek variation), you can expect to spend your nights in comfort.
There is less walking each day than with the standard treks, as little as 3-4 hours a day in some cases, so the Lodge Treks do take considerably longer. When you see the amazing Andean lodges that you'll be sleeping in, fully kitted out with jacuzzis and saunas, you certainly won't resent having to spend less time on the trail each day!
8. Combi and Peru Rail – CHEAP DIY OPTION
The DIY route to Machu Picchu involves combi bus journeys, travelling by train and trekking – but it is very doable. Peru is one of the cheapest countries in South America and this is, without doubt, the most cost-effective way to visit Machu Picchu, whilst also giving you enough time to appreciate its glorious surroundings. If you are low on budget and time may just be the best option for you.
From Cusco, you can get the train direct to Aguas Clients which is the base for starting your trek to the ruins. There is a path which goes directly from the town and will take you up to Machu Picchu in about an hour and a half (uphill all the way of course)!
You will need to stay in a hostel overnight in Aguas Calientes, which should be booked in advance (around $20 USD), as it's a bit too much to do in one day and you don't want to feel rushed in experiencing The Lost City Of The Incas! Here's a breakdown of the total $165 cost:
Train: approx. $100 USD return from Cusco to Aguas Calientes.
Entrance fee to Machu Picchu: $45 USD (or 50% off with a valid International Student Identification Card)
Round trip in combi van: $20 USD
And if you think that's cheap, keep reading to see how our friends at Two Monkeys Travel managed to cut the price of their entire DIY Machu Picchu trip down to just $70 USD!
Note: Prices for the Combi and Peru Rail trip may have risen slightly since Two Monkeys Travel wrote this guide in 2014!
Machu Picchu on a Budget
What if your budget doesn't stretch to tailored treks and expensive tourist transportation? How can you visit one of the worlds' most famous UNESCO World Heritage sites whilst spending as little as $70 USD including all of your transport and accommodation?
Starting from Ollantaytambo:
The authentic and picturesque Inca mountain town of Ollantaytambo is less than an hour journey away from Cusco in a Combi or Collectivo – shared minibuses or taxi – and costs as little as 10 Soles ($2.80) one way.
Ollantaytambo is nestled between high mountain peaks!
Located along the Patakancha River, the town was the site of a famous Spanish defeat by the Inca in 1536 BCE and is home to the Cerro Bandolista Sun Temple and stunning rice terraces adorning every hillside.
There's so much history to see in Ollantaytambo and so many incredible hikes in every direction that you could easily spend a week here.
Whether you stay for one week or one hour, it's only another short combi (minibus) ride to the start of your Machu Picchu trek.
For the princely sum of 2 soles, the 'Veronica' combi will ferry you the 30-minute journey to the Kilometre 82 train station, where you can pose in front of the world-famous Inca Trail sign before setting off on the 30km hike to Aguas Calientes!
Following the Train Line
Walk following the train tracks with the valley on your left until you see your first set of Inca Ruins on your right-hand side. Shortly after that, on your right-hand side, you'll see a small trail winding up onto the side of the valley. There are many of these 'goat tracks' along the journey that help to keep you off the tracks and avoid most of the tunnels.
Starting high up in the Andean mountains and flowing down through the magnificent Sacred Valley you will experience every vista you can imagine, from dry, rocky mountain landscapes with fast-flowing white water in the valley below, to the luscious vegetation of the highland jungle.
You only have to follow the train line itself for about half of the journey, but when you do, the trains are loud and slow, allowing you plenty of time to get out of the way as they pass by with drivers waving and bemused passengers snapping photos of you!
Make sure you get out of the way as the trains come lumbering past!
As you wind your way down through the valley, you will find yourself wandering through Inca ruins that the trains just blow by in a flash!
Wild horses, cattle and the intriguingly comical Peruvian hairless dogs are interspersed with the occasional fellow walker and railway staff, but for the most part, you'll be walking alone in almost complete peace.
As you descend further down towards Machu Picchu your breathing becomes easier and the dry rocky landscape gives way to the green grass and leafy trees of the Selva Alta, with banana and avocado trees lining the tracks.
You're bound to bump into a few of these lovely doggies on your hike!
It's worth saying that if you're not an experienced long-distance hiker, the prospect of walking 30 km in a single day, at high altitude, might be a wee bit daunting. However, there's no need to pass up this otherwise amazing journey as there are plenty of safe opportunities for pitching a tent for the night.
You could even camp inside the stone walls of an ancient, roofless Inca house within one of the many ruin sites that aren't listed or signposted.
If you do decide the walk the whole distance in one day, you should bank on taking about 10 hours, including a couple of breaks for food.
Find a safe spot to rest and wave at the train as it ambles past!
On the final stretch of the journey, approaching the tourist hub that is Aguas Calientes, the tracks and trails become busier with local workers, tourists hiking the various trails towards the ancient citadel of Machu Picchu and Peruvian porters carrying impossible loads on their backs.
When you reach Aguas Calientes, you'll find the ticket office located in the main square with a wide range of hotels and hostels to suit everyone's budget, all within walking distance of Machu Picchu itself.
From anywhere in town it's a short walk to the base of the mountain and the start of the steep, winding stone steps up to Machu Picchu. It may be far and it can take over an hour to reach the top, but the breathtaking scenery will make you glad you didn't take the bus.
…And voila, you've made it! Your very own DIY Machu Picchu adventure for as little as $70 including your ticket, transport and accommodation.
DIY Machu Picchu Trek Costs (not including food and water):
Machu Picchu Entrance – $45 USD
Minibus – Cusco to Ollantaytambo – $2.80 USD
Minibus – Ollantaytambo to KM 82 – $1 USD
Hostel in Aguas Calientes – (from) $20 USD
Total – $68.80 USD!
Best places to stay in Aguas Calientes:
Machu Picchu FAQ's
How long does it take to walk up to Machu Picchu from Aguas Calientes?
There are two options to get to Machu Picchu from Aguas Calientes.
Walking: 45 minutes to 1 hour 30 minutes.
The walk from town up to the ancient citadel is a gruelling climb up a series of steep stone steps carved into the mountainside. This is not for the faint of heart or for those who are already suffering after a long trek to Aguas Calientes.
It's a cold early start to walk from Aguas Calientes to Machu Picchu!
Bus: 30 minutes.
Shuttle buses leave from Aguas Calientes to Machu Picchu roughly every 15 minutes and cost $12 USD each way. Tickets are only available from the ticket office in Aguas Calientes or in Cusco. Check with your hotel or hostel for the exact location of the ticket office.
Is it hard to climb to Machu Picchu?
The hike up to Machu Picchu from Aguas Calientes involves a strenuous climb up rough uneven steps. Unless you're some sort of elite athlete, you will struggle but take it slow and it's doable.
Trekking poles are supposed to be banned from the climb and Machu Picchu itself, due to the risk of damage to the site. Although this is rarely enforced, it is worth being aware that the guards are well within their rights to confiscate any hiking poles that you take with you.
The final ascent to Machu Picchu can be rough after a few days of hard trekking!
Can you go to Machu Picchu in one day?
Machu Picchu can be visited on a day trip from Cusco but you will be flat out and not really have the time you need to enjoy it. If you are short on time, consider a two day trip. You can spend one day getting to Aguas Calientes and the following morning at Machu Picchu before heading back.
Are there toilets at Machu Picchu?
Yes but there's a catch. Well two catches.
Firstly, as with most toilets in South America, there is a small charge to use the facilities.
Secondly, the toilets are actually located outside the entrance gates to the citadel so make sure you go before you enter. If nature calls while you are exploring the ruins you're shit out of luck (excuse the pun). Sure you can leave to use the loo but you won't be allowed back in!
Are there toilets on the Machu Picchu hiking trails?
Unless you have opted for some epic DIY trek through unmapped terrain, there are toilets available on the major hiking trails to Machu Picchu. Some, like those on the Lares Trek, might be portable toilets set up in little tents by your porters. Others, on treks such as the Salkantay or the Inca Trail, will be proper toilets but on some days these are few and far between. Many a hiker has had to squat behind a decent sized rock in the past so carry some toilet paper just incase – and remember to take your used toilet paper with you. Do not leave it for someone or something else to find!
The actual toilets along the trail are built and operated by enterprising locals to help supplement their income. Don't forget to bring change with you so you can pay to use them!
If things get rough and there's no toilets nearby, a well placed rock will have to do!
Are there lockers at Machu Picchu?
Yes, there is a bunch of lockers outside the main entrance to Machu Picchu. These do incur a small charge to use.
How much does it cost to hike to Machu Picchu?
Hiking to Machu Picchu is likely to be one of the biggest expenses a backpacker faces on their trip around South America. Costs vary greatly depending on which trekking route you take, which company you choose to guide your trip, the level of luxury you opt for, or whether you take on the challenge independently.
At the cheapest end of the spectrum you can expect to pay less than $100 USD but that would really be slumming it. The top end of things can run into the thousands of dollars but the average cost would be between $350 – $700 USD.
Does my travel insurance cover a trek to Machu Picchu?
No probably not. Most travel insurance policies do not include cover for treks over 3000 metres above sea level. On a trek to Machu Picchu you will often be above this elevation.
Make sure you read the small print on your policy and get additional cover if required. A rescue team high into the Andes does not come cheap!
Check out this guide to travel insurance for more details on what to look for when buying travel insurance.
Can I hike to Macchu Picchu alone?
Hiking to Machu Picchu alone is possible but it depends on the route you take. The Inca Trail must be done with a guide but you can pay for your own guide as opposed to going as part of a group. Be aware that this will cost significantly more than a group trip.
Other trails can be done completely independently but make sure you do your research on the trail conditions and places to sleep each night!
Why hike alone when you can save money and make friends by going with a group?!
What footwear do I need to take to Machu Picchu?
Picking out shoes for travel can be a challenge at the best of times. Throw in a tough hike of rocky terrain and all of a sudden you'll be throwing a pair of bulky hiking boots into your pack. Whilst hiking boots do work well for Machu Picchu treks, many hikers choose lightweight trail runners or walking shoes. They don't offer the same level of support and are prone to getting wet quickly but they are also much lighter and dry out quicker.
As long as the shoes you choose are comfy, well worn in and offer good grip, you'll be fine, so wear whatever you find most comfortable.
What should I take on a Machu Picchu trek?
There are a huge amount of Machu Picchu packing lists available on the internet but all you really need is:
A pair of good shoes
Waterproofs (poncho or trousers and jacket)
Clothes for walking
Warm clothes for the evening
A comfortable backpack or daypack (depending on the trail you are taking and whether there are porters)
Sun protection (sun cream, lip balm, sunglasses etc)
Snacks
A camera
Walking poles, sleeping bag and tent (these are usually provided for an extra fee if you go with a tour company)
Your passport (you will need this to actually get into Machu Picchu and get a stamp)!
Cash for extras and tips
Do I need to acclimatise before going to Machu Picchu?
The best practice is to acclimatise to the altitude for at least a couple of days before heading to Machu Picchu. Don't fly straight into Cusco and plan to start your trek the next day! Altitude impacts different people in different ways and if you have been at high elevations before without any problems, that is not a guarantee that you'll be fine this time.
There are many ways to combat altitude sickness, whether it's by adopting natural remedies or by taking prescribed medication.
Cusco already sits at over 3000 metres above sea level so by spending a few days there before you start your journey, you'll be setting yourself up for success.
Are there any additional costs involved with getting to Machu Picchu?
As with almost everything, there are additional costs involved with your trek.
Hiring tents, sleeping bags and trekking poles is usually extra but often cheaper if you get them as part of a package deal from your chosen tour company. Likewise, any snacks or extra food you want to take with you will have to be paid for.
Toilets along the trail will cost a couple of soles a time and don't forget porters, guides and chefs along the trail will expect an "optional tip". Whilst the companies stress that this tip is 100% voluntary, we have spoken to many backpackers (and experienced it ourselves) who have been put under a lot of pressure to leave a good tip. Remember, although the tour has already taken a big chunk out of your budget, by leaving a tip you are supporting local guides and porters. As travellers we do have a responsibility to help out where we can. Of course, if you really cannot afford the tip, or think the trek was particularly bad, don't let yourself be pressured into giving one.
Tim Ashdown | Gear Specialist
After a life-changing motorcycle accident, Tim decided life was too short to stay cooped up in his home county of Norfolk, UK. Since then, he has travelled Southeast Asia, walked the Camino de Santiago and backpacked South America. His first book, From Paralysis to Santiago, chronicles his struggle to recover from the motorcycle accident and will be released later this year.
Source https://worldlyadventurer.com/choquequirao-trek/
Source https://www.thehiking.club/blog/tour-du-mont-blanc-cost
Source https://southamericabackpacker.com/the-do-it-yourself-guide-cheap-budget-guide-to-machu-picchu/