Internal vs External Frame Hiking Backpacks – 2022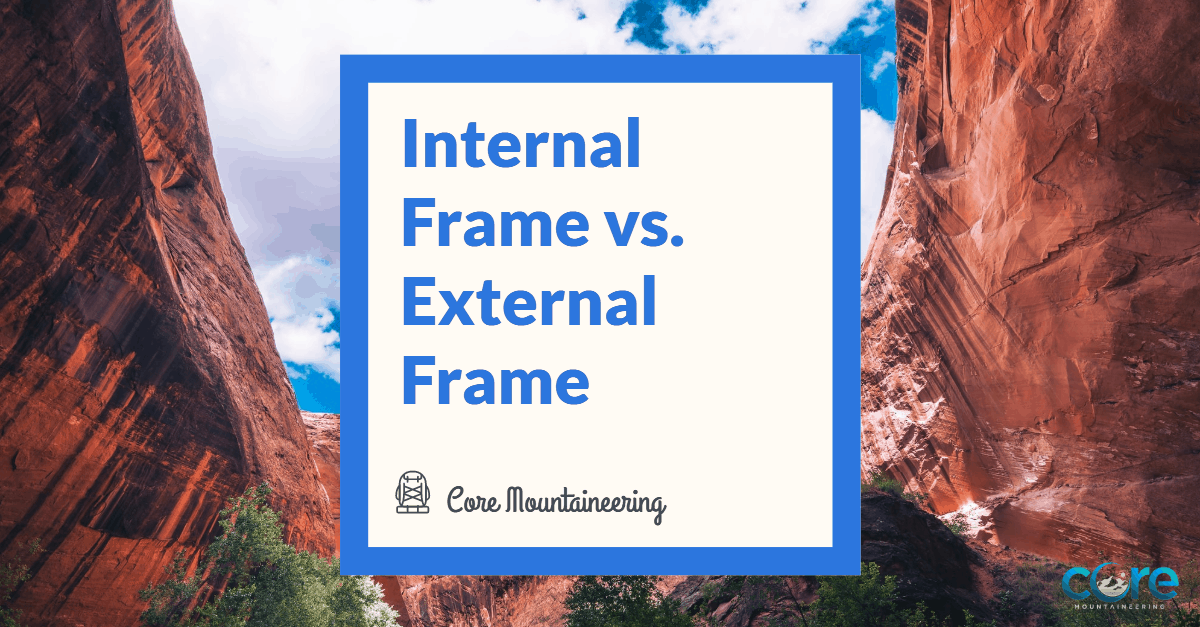 These are the two most common styles of backpacks you'll see on the trail. External frame backpacks are old school, but there are some great reasons why they're still around, and we'll go over all of it. As well as looking at the benefits of internal frames and the reasons they have skyrocketed in popularity.
So which backpack is better? It's going to come down to your needs and the purpose of your hiking trip. Theirs some surprising pros and cons to each. We'll go over each type to find the best style for your needs.
If you'd like to dive deeper into backpacks after reading this, you can find our Ultimate Guide to Choosing the Right Hiking Backpack here.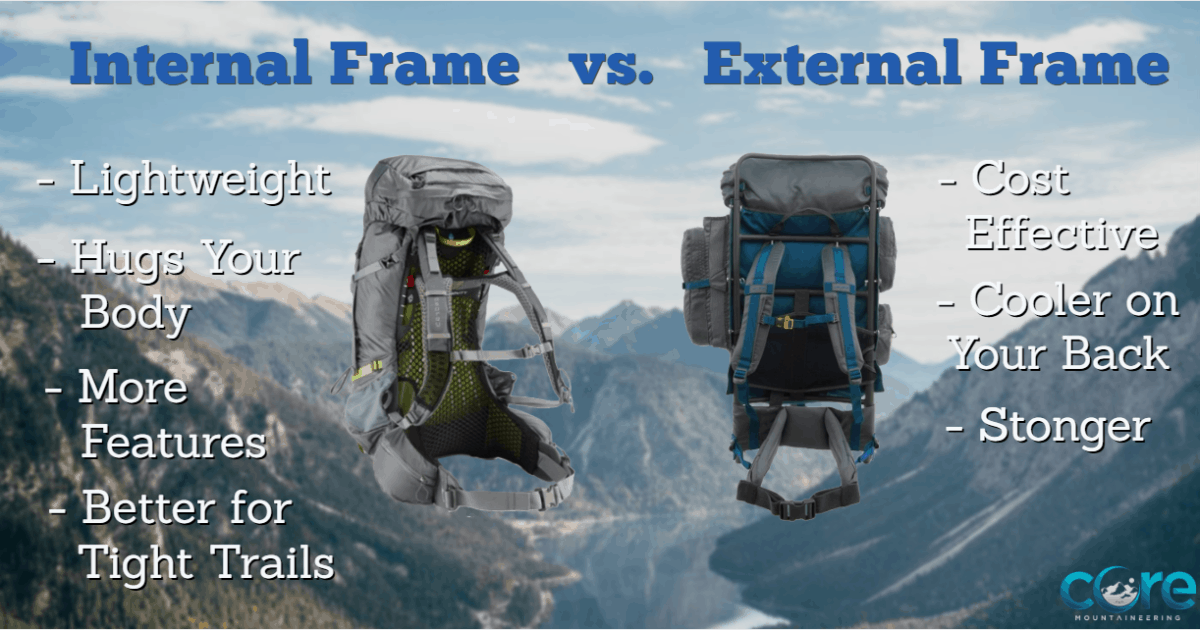 Internal Frame Hiking Backpack
These are the most common out on the trail. Just about everyone has one going up and down the mountain. It wasn't always this way, but due to advancements in fabric and materials, they took over on the trail.
Style plays a significant role in the reason they're so popular. They look sleeker and hug your back better, but that's not the only reason.
An internal frame hiking backpack is more comfortable than an external frame
Internal frame backpacks have a better balance, hugging your back as you move around the hiking trail. This is noticeable on tight trails. There's no frame sticking out, grabbing tree branches, and getting stuck on things.
Part of the freedom of movement is due in large part to the lighter weight. The thin, lightweight frame is tucked inside. The frame is still durable, but no external pieces of camping and hunting gear are going to be attached directly to it. So manufacturers don't need to make the internal frames as strong as external frame backpack.
Pros and Cons of Internal Frame Hiking Backpacks
Pros: Let's take a look at what makes these so accessible.
Lightweight: If weight is the most significant factor and you're not ready to go full-blown ultralight no frame, then an internal frame backpack is for you. Comparing the two types of packs of the same capacity, an internal frame is going to one or two pounds lighter.
Comfort: No way around this with one caveat. An internal frame will be more comfortable while wearing and walking while hiking, but they get less airflow on your back. This might turn you off if you plan on hiking and camping during sweltering months.
More Features and Choices: Manufactures know mountaineers love internal frame packs, so that's where their focus is. External frame packs come second to them. You can browse any manufacturer's website, and you'll see a plethora of internal frame backpacks. With this focus of internal frame bags, there are tons of options and features, from a floating lid, trekking pole holders, to an adjustable length torso. There's a backpack with the right elements to meet anyone's needs.
Better for Tight Trails: If all the straps and belts are used correctly, it can make for a very tight and balanced load on your back. This is great for tight trails or going off where there's no trail at all. Your backpack feels like an extension of you instead of weight floating on your back.
Cons: As great as they are, everything comes with some downsides.
More Expensive: Theirs a wide range of prices for internal frame backpacks, but a high-quality one that will last many years comes at a premium price. Don't shy away for cheaper ones, though. Great value can be found if you're on the lookout, waiting for sales, buying used, or renting gear first before you buy.
Less Airflow: Keep in mind that having a backpack hugging your body, making it easy to maneuver, comes at the cost of less airflow on your back. I've used these kinds of backpacks my whole life, and it's something I've noticed while going for long camping and hiking trips. During the heat of summer, it's just something you'll have to deal with. In cold fall or spring, it's less of an issue.
Fewer Areas to Attach Gear: This one is obvious just by looking at the two styles next to each other. This is a significant win for external frame backpacks, especially if you're a hunter that needs to carry tons of gear on the trail.
Why You Would Want an Internal Frame Backpack
It comes down to a sleek and form-fitting hiking backpack. There are some cons, but overall I think they are minor in light of all the pros that were listed. Style and looks all come down to personal choice. While I do like the looks of both types of backpacks, the slimmer profile of an internal frame looks modern to me.
Our recommended best all-around internal frame backpack is the Osprey Atmos AG 65.
Osprey Atmos AG 65
This is a tremendous multi-day hiking backpack that's recommended for anyone looking into high quality but won't break the bank type of pack.
While there are cheaper backpacks like the Amazon basic brand hiking backpack, the materials are inexpensive to cut down on cost, among other things. The Amazon basic brand is a great starting backpack but you might end up with a high-quality brand anyways.
Osprey makes high quilty outdoor gear, and I see their backpacks all the time while hiking. You can check availability for the Osprey Almos on Amazon here.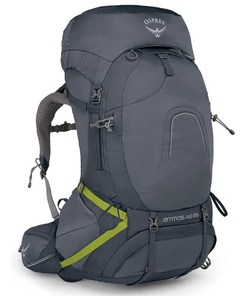 External Frame Hiking Backpack
While not as commonplace as they use to be, they can still be an excellent choice for any backpacker. External frames are going to heavier than its counterpart, but with the extra weight, they have the advantage of carrying a more massive load.
With the more robust frame hanging out, it's easy to strap on just about anything you'd ever need outdoors. This is one of the major reasons this style has stuck around for so long.
Not everyone needs or wants tons of little bells and whistles. External frame packs are simpler backpacks that excel in a few things
Ventilation between you and the pack is also an excellent reason for choosing this backpack. They are made for riding up high against your back, so theirs always space between you and the backpack. Making for some gentle airflow during the summertime.
Pros and Cons of External Frame Hiking Backpacks
Pros: Let's take a look at why these style backpacks have stuck around for so many years.
Cost-Effective: Comparing the price of the same size and quality of external and internal frame backpack, you'll get more bang for your buck.
Durability: With their robust structure and ability to carry larger loads, they have to be durable. Another reason is the way they sit down on the ground. The frame sticks out touching the ground, so they are less likely to rip.
Cooler: The way external packs are constructed, they don't hug your back as well as internal. This is an advantage during hot weather hiking because it allows airflow over your back, keeping you more relaxed.
Back Posture: The stiff frame keeps your back straight, always upright, thus preventing you from leaning forward, no matter the load weight. This increases endurance for longer hikes and improves posture.
Simple and Straightforward: Not everyone needs tons of little compartments and bells and whistles while mountaineering. These are more straightforward backpacks that excel in a few things.
Cons: As great as they are lifting heavy loads, these packs come with some downsides.
Fewer Features: You're going to have fewer features than an internal frame. Less small compartments to stay organized. They're not as adjustable (some models adjust) for your back length due to the ridged sturdy frame.
Tricky Maneuvering: I've mentioned this a few times above, but it's also one of the biggest complaints to external frames. When moving around on the trail, these packs tend to float on your back instead of staying tight on you.
Heavy Weight: They're just heavyweights in the hiking world. They are built like tanks and come at the cost of weight. Usually a pound more.
Clumsier to Transport: Due to the frame sticking out, it can feel like it's smacking and clanging on everything. This is noticeable when lowering or lifting your backpack out of a car trunk.
Back Problems: It's a general rule of thumb to stay away from external frame backpacks if you have back problems. Your posture changes forcing you to conform to the backpack, instead of the other way around.
Why You Would Want an External Frame Backpack
You'll want one of these backpacks if you plan on carrying a hefty load. Hunters that are packing out meat can easily have an extra eighty pounds heading back to camp.
Another excellent reason for choosing this pack is if you enjoy summer hiking and don't mind the backpack moving around a little. If you know the terrain and understand the limitations, an external frame backpack will be perfect.
ALPS Mountaineering Zion External Frame
ALPS Mountaineering has been around for about 30 years, and I've recommended their tents before. This backpack will perform like other external frames, but it also has an adjustable telescoping frame.
This will adjust 17" to 24" allowing weight to be appropriately distributed on your back. Check availability for the ALPS Mountaineering Zion External Frame on Amazon here.
Conclusion
So, what backpack is worthy of being on the trail? They both have their pros and cons, so there's no definitive answer here, but I like to pick a side on a topic. If I knew I was going to spend most of my time hiking on tight trails during cooler months, internal frames are the way to go.
If I had a few planned hunting trips every year that called for a backpack that could take a heavy load, then I'd go external frame.
The reality is that most people that love the outdoors are going to have multiple redundant pieces of gear. You can't go wrong with either as long as it meets your needs.
FAQ – Internal vs External Frame Hiking Backpacks
How Much Weight Can I Carry Backpacking?
External frame backpacks can carry much more weight than internal frames. This is one of the many advantages they have. An external frame can take a load of 150lbs or more, but it will be difficult for you to hike with that load depending on your size.
What Are the Advantages of an Internal Frame Pack?
Lightweight when compared to external frames, comfort, more Features and choices, and better for tight trails.
What Are the Advantages of an External Frame Pack?
Cost-Effective, durable, cooler on your back, back posture, and simple and straightforward among other advantages.
Internal vs External Frame for a Hunting Pack?
Go for an external frame backpack like the ALPS Mountaineering Zion backpack.
Can You Take A Hiking Backpack For A Carry-On
The Geez likes things simplified. Immediately, I looked on the internet for my airline's weight restriction guidelines for hiking backpacks for a carry-on to replace the baggage with a lightweight hiking backpack!
But, traveling on a plane with your hiking gear requires a bit of preplanning and like any other carry-on luggage, backpack weight and size limitations are the same. However, most airlines have between 25 and 50-pound weight restrictions. Yet, some budget airlines have an even lower weight limit.
The real trick is to measure and weigh the backpack at home before setting foot in the airport. Above all, you must adhere to each airline's specific policies before you set out.
What If I Have To Check My Backpack
Is your pack too large for a carry-on? If so, you will be required to check your bag. Therefore, checking your larger backpacks may be your only option. Most importantly, if you do have to check your bag, make sure you secure your backpack's belts, harnesses, and straps.
Loose backpack straps may get entangled in the baggage handling conveyor belts and damage your backpack. Get a backpack airport cover.
Above all, it prevents your pack from getting damaged by airport handling equipment and arrives with added security and peace of mind. And you know that your pack is protected.
Carry On Your Irreplaceable Hiking Gear
Traveling with a hiking backpack as an airline carry-on releases the tension of misplaced luggage. You will always have your necessary gear with you.
A brilliant tip a fellow traveler gave me was to pack my expensive or irreplaceable gear in the backpack as a carry-on. Other non-essential stuff or non-TSA protocol items can be packed in a cheap duffle bag as checked luggage.
After arrival, its contents can be transferred to your backpack and you can throw away the cheap ugly bag.
While hustling through the international airport with your hiking pack on, be vigilant. With several external zippers and pockets for hiking convenience, thieves can open and dig out your belongings quite easily. So, use zip ties, also known as cable tie wraps, to secure the zippers.
Although I can't say which is better, to check your backpack or take it as a carry-on. I can say it really depends.
For instance, are you traveling domestically or internationally? First, how large is your backpack and how much weight are you carrying? Second, do you have TSA restricted items that must be checked? Third, what kind of trip are you going on?
The Geez always likes a carry-on whenever possible. After that, my choice is a carry-on that I check at the boarding gate. Similarly, this is the same procedure some travelers do with strollers and wheelchairs.
Size Limit of A Hiking Backpack For A Carry-On
The perfect backpack volume is based on its dimensions and expressed in liters. Many airlines allow a backpack as a carry-on with a volume of up to 45 liters.
However, make sure to weigh your bag and comply with the airline's weight rules. For instance, budget airlines often restrict carry-on bag weight to even less than the normal 22lbs (10 kg) limit.
For example, they may ask for extra charges and require you to pay an additional baggage fee.
The most common carry-on luggage size limit is 22 x 14 x 9 inches, inclusive of side pockets, handles, wheels. Although, it varies from airline to airline, with some allowing slightly smaller or larger carry-ons and backpacks.
It's always recommended to check with your airlines a few days ahead of the flight. So, to make it easier – here's a carry-on backpack size chart of the airlines worldwide.
If you are like this old geezer, and you prefer traveling light, then pack wisely and use every corner of your backpack. Certainly, you want to take full advantage of using your hiking backpack as a carry-on.
So, for that reason, daypacks are the best hiking backpack carry-on based on size.
How to Pack Your Hiking Backpack For A Carry-On Per TSA Regulations
As per my experience, airlines allow you to take 3.4 ounces or smaller bottles of liquids. Roll-ons and insect repellent containers must not exceed 100 milliliters.
As for your sundries such as toothpaste, deodorant, sunblock, and soap, pack dry non-liquid versions to create more room within the backpack. I know this sounds crazy coming from an old geezer like me, especially one who has been bald for many decades but check out shampoo bars.
Also, make sure and use a bar that has no additional fragrance added. I frequently hike through bear habitats and scented soaps are a no-no.
TSA requires you to carry some gear only in checked luggage—knives, hatchets, and firearms. You can carry them in your bag only if you store them in a sheath or hard casing that meets TSA requirements. But, I really don't trust the TSA agents, their searches seem to be arbitrary.
Can I Carry Bear Repellent In My Backpack Carry On
If TSA regulations aren't met, your gear will be taken away from you, and you might, in some cases, have to face criminal charges. A checked backpack is the right place for carrying trekking poles, arrows, pickaxes, potty trowels, or any other pointy objects.
If your hiking itinerary includes hiking through bear territory you must leave your bear repellent and bear bangers (bangers make an explosive noise like a firecracker) at home. You may buy some when you get to your destination.
Personal pepper spray aerosols with 2% capsaicin are likewise not permitted.
Get the Disallowed Gear Shipped to the Destination
Absolutely in need of your favorite hiking gear, multitool, or food items? Is it expensive to get a new one? Send them via FedEx, UPS, or DHL to the destination city and have the package held. You can claim it by showing your picture ID via your passport.
Most importantly, ship early and give the shipper adequate time to send it to your destination. You want it to arrive before you do.
How Strict Are Airlines About Carry-On Baggage Size
Most airlines have luggage sizers right at the check-in entrance or while boarding the plane. If the check-in agent suspects your pack to be oversized or overweight you may be prevented from boarding with it.
But, beware of overpacking. The trick is to make it appear lightly-packed to help escape unwanted attention at the checkpoints. Hiking backpacks always appear lighter compared to traveling bags.
Yet this old geezer doesn't recommend you to test the boundaries set by the airlines. They can ask you to get your backpack measured and if it doesn't fit in, you could be charged for it or they will make you check it.
In practice, airlines haven't been too strict about the size limits and weight of your carry-ons. But, to be sure ahead of time, you can get a hiking daypack in the range of 30 to 45 liters with overall dimensions which adhere to airline guidelines.
Although, a daypack is hardly big enough for a long trek. Take a look at my post on day pack sizes. The Geez recommends either checking your pack with a backpack airport cover or shipping your larger pack to your destination.
Can I Take Walking Sticks, Canes & Hiking Poles on a Plane
Collapsible Folding Hiking Poles
Traveling to the Rocky Mountains or state parks? Most hikers cannot live without hiking or trekking poles for support and balance to guide them to the top.
As we get older it never hurts to use them, even if you think you don't need them. But, the first question that'll pop up in your mind is whether you can take the canes, walking sticks, trekking poles, or a hiking staff on the plane?
TSA allows walking sticks or canes only if they are required as an assistive device. Trekking poles, however, are strictly disallowed.
You can take folding hiking poles (that aren't sharp or pointy) or folding hiking staffs inside your carry-on. It's better to put it in a protective bag or cover to prevent any damage to the backpack.
If the airlines' policies don't let you carry your hiking poles in the carry-on, you can place them in the checked luggage to be safe.
RELATED ARTICLES:
I fly with my folding hiking poles in my carry-on all the time with no problems. But we all know that TSA agents are all different and can be quite random in their searches.
So, I will advise you to place them in your carry-on while traveling at your own risk.
5 Tricks to Easily Gain Clearance from the Airport Authorities
Overpacking leads to the expansion of the backpack beyond the provided measurements. Therefore strictly avoid doing so.
When the airline allows for an extra personal item, remove your DSLR, laptop, or another heavier item at the check-in desk to make the backpack looks lighter and properly sized. You can always place it back in once you've passed security. In exceptional cases, airlines include the weight of your personal items along with the carry-on, so always check with the airline prior to flight.
Wear your heaviest hiking clothes and shoes or tie them around the waist to lighten your pack.
Compression bags and stuff sacks are great to reduce the bulky-looking size of your backpack. If it appears lighter, most likely the airlines wouldn't weigh it at all.
Carry a single backpack instead of being loaded with various items, again, you don't want to draw attention to your overstuffed backpack.
What Is The Difference Between A Daypack And A Backpack
My daypack is one of my favorite pieces of gear. There are times I want to carry around a few items for regular hiking trips or travel, like my camera, energy bars, my favorite personal-sized ground cloth, etc.
Fortunately, it is smaller in size. Subsequently, my regular larger hiking backpack is quite bulky.
I found a daypack online that I love. Since then it has been easier for me to choose what I really need to carry for short hikes or as a personal carry-on when I fly.
The one I use has been discontinued but check out these daypacks at REI – men's daypack – women's daypack, you can not beat the quality of Osprey.
Conceptually, bags with shoulder straps are categorized as backpacks. So, daypacks are a type of backpack. Still, there is a difference!
A daypack is lightweight, spacious enough to accommodate a few extra small necessities, and is reserved for short-duration, day hikes. Hiking backpacks are much larger and can carry heavier loads. They are built with support in mind.
The carrying capacity of daypacks is generally measured in liters. As a rule, they fall between 15L to 45L. Even a 15L daypack is spacious enough to keep a laptop and a few extra items.
However, a 45L allows you to spend a weekend comfortably with all your necessities in one place. In addition, you can use a day pack as a carry-on.
A Daypack Makes A Great Hiking Backpack Carry-On
Daypacks generally have no back support, although many include some shoulder padding to provide optimum comfort. However, the shoulder straps aren't as padded as a regular backpack. They are not meant to be worn for long treks or heavy loads.
If you are planning to get one for yourself, ensure that it has a sternum or hip belt for added support and comfort. Higher-end daypacks have padded hip belts for even more comfort.
Overall, daypacks can be worn anytime and anywhere. Because they come in a variety of shapes, sizes, and styles they are a must-have piece of hiking gear.
Final Verdict
Years of hiking expeditions have trained this old geezer to leave no stone unturned. Above all, when you travel to your favorite hiking destination, there are always certain rules and regulations to abide by.
That being said, there are generally ways to circumvent those rules by being diligent and a bit creative. However, I always check the size and weight restrictions of the airline ahead of time.
Most importantly, by measuring the size and weight before leaving I avoid problems at the airport.
In short, the Geez gets the essentials on board without the least bit of trouble.
Can you take a hiking backpack as carry on?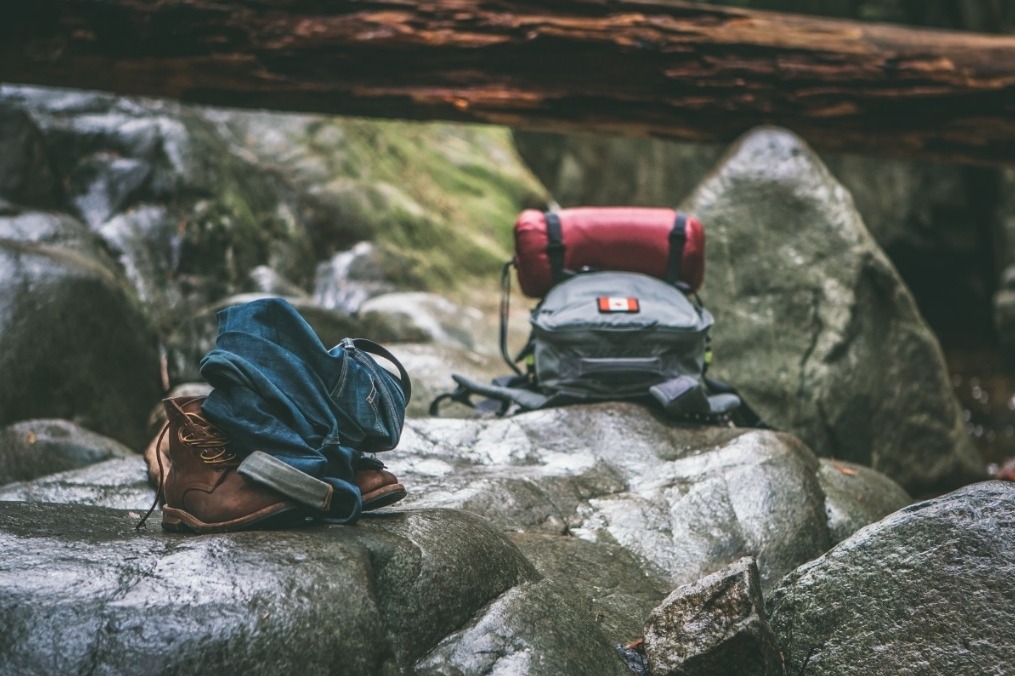 When you are going on a hiking trip you are not going to travel with a classic suitcase, instead you will bring a hiking backpack. However, people are often not sure whether or not these type of luggage is allowed as carry on on a plane.
Can you take a hiking backpack as carry on?
Yes, a hiking backpack is allowed as carry on if your backpack is within the size and potential weight limit of the airline. The average size limit is 22 x 14 x 9 inches (56 x 36 x 23 cm).
When is a hiking backpack allowed as carry on?
There are usually a couple of rules in place when it comes to what is allowed as carry on luggage. The exact rules will differ depending on the airline you are flying with. Every airline will have a maximum width, height, depth and weight of what is allowed.
Let's take a look at an example. For Turkish airlines the allowed measurements are 55 cm (l) + 40 cm (w) + 23 cm (d) and the maximum allowed weight is 8 kg. Additionally, you can have one (small) additional item like a camera, umbrella or laptop.
In order to know what is allowed you should simply take a look at the official website or the airline you will be flying with. Google goes a long way, for example, if you would simply type in "delta airlines carry on rules" in google, you will get all the information you need.
To be clear, the fact that you are bringing a backpack or a suitcase generally doesn't matter, it's all about the size and the weight of the luggage.
What airlines allow a hiking backpack as carry on?
As stated before, all the airlines that I checked do allow hiking backpacks. However, the backpack has to be small enough and sometimes there is also a weight limit. If you are considering to bring a large hiking backpack, this is almost never allowed, simply because they are too large.
Not that the size includes wheels and handles. Also, often there are no weight restrictions on carry on luggage, but this does not mean that there are no weight restrictions on checked luggage.
An overview of some of the most popular airlines:
Note that try my best to keep this information up to date. However, the only way to be 100% sure is to check the official website of the airlines.
Will carry on luggage actually be checked?
In terms of security carry on luggage will of course always be checked. However, will they actually check the weight and the size of the luggage as well? Or can you usually get away with oversized backpacks?
Once again, this mainly depends on the airline you are flying with. For me personally, it has been many years since my luggage was last checked. However, theoretically it can happen with every airline. Also, if your carry on luggage is very oversized, there is a bigger chance that someone will stop you.
It also seems that cheaper airlines will more often check the luggage. The reason for this is not entirely clear. However, we can guess that cheaper airlines will usually be more cramped than the more expensive ones. This means there is usually less space inside the airplane.
In my opinion, it's better to be safe than sorry so I would not recommend taking the risk.
What to do when my hiking backpack is too large?
If you know your backpack is too large to be used as carry on luggage, there are a couple of things you can do. The most obvious one is to simply check in your backpack and do not use it as carry on luggage.
However, if you are travelling with a group, you might be able to put some of your stuff in their backpacks. If they also don't have enough space, you could simply check in one piece of luggage with the group. This way you would avoid paying for checked luggage for every member of the group.
If you backpack is only slightly too large you can always try to take one item out of it – if the airline allows it. For example, Turkish Airlines allows you to have a carry on backpack + 1 additional item like a laptop. Remember if you can squeeze your backpack into one of these, you are good: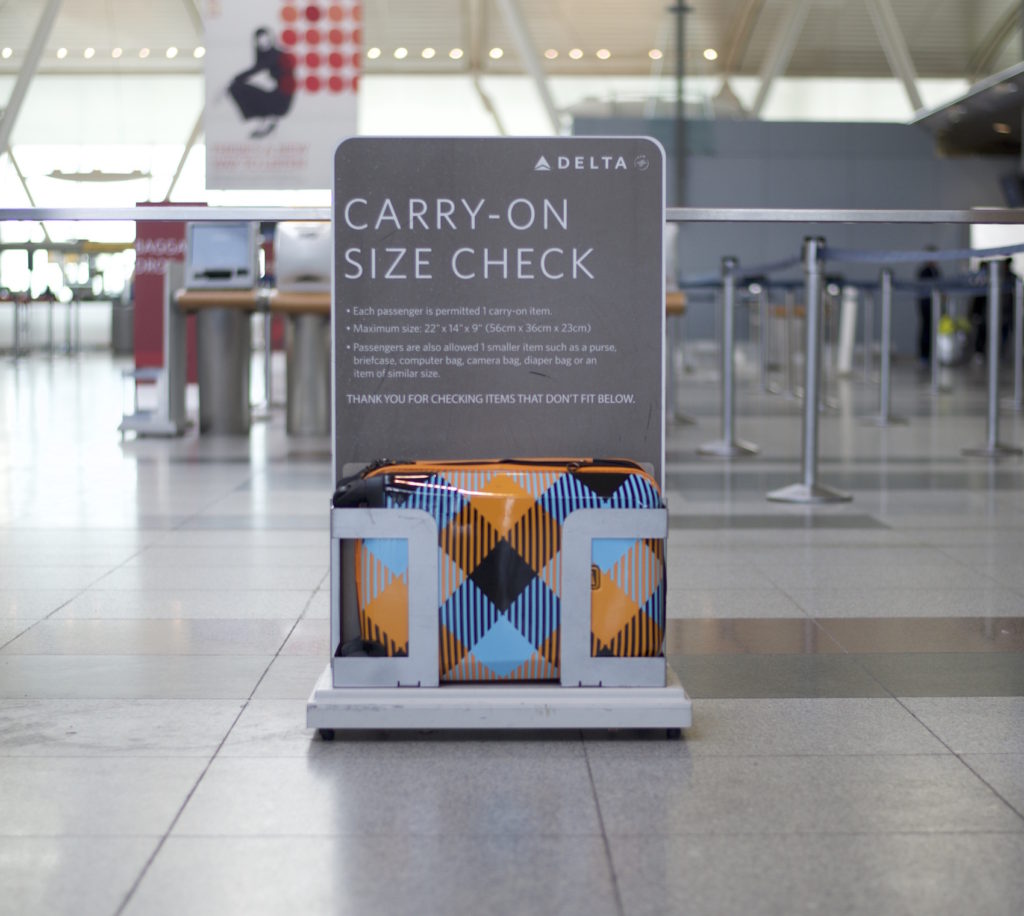 If you do get caught with oversized carry on luggage you will probably have to pay a fee – this will also depend on the airline.
A hiking backpack as checked luggage
If your backpacking pack is simply way too large for carry on, you will have to bring it as checked luggage. There are a couple of things you will have to keep in mind before you do so.
Be very careful with external gear. For example, very often hikers/backpackers will attach a tent externally. This is no problem when you are actually out there hiking but in the luggage space of the airplane the tent might come loose. Hiking poles and sleeping pads are also quite often externally attached.
There are 2 ways how you can deal with this:
Use a protective flight cover
This is a rain cover that can also be used to protect your externally attached gear in the luggage space of an airplane. Also, it will prevent any issues with lose straps as these are tucked away underneath the cover. I really like a protective flight cover because it also functions as a rain cover and I'm going to bring a rain cover anyway.
For those of you who are interested, this is the one I'm using:
This is the Forclaz travel transport rain cover, used for backpacks between 40-60 liters. I'm really happy with this cover and would recommend it to any type of hiker/backpacker.
Put your external gear in your carry on luggage
Another thing you can do is to take your externally attached gear of your hiking backpack and put it in your carry on luggage. Personally, I usually use a dry bag as carry on. Once I start hiking I will attach the dry bag to the bottom of my backpack again. But you could even use a plastic bag as carry on luggage.
Still looking for a hiking backpack?
If you are still looking for a good hiking backpack, I would highly recommend taking a look at one of the following suggestion lists:
Note that 40L hiking backpacks are pretty commonly used as carry on luggage. However, 50L hiking backpacks tend to be slightly too large. That being said, it also depends on how much stuff is inside the backpack of course!
Can you take a hiking backpack as carry on – Conclusion
Theoretically, a hiking backpack is allowed as a carry on. However, it will need to be small enough to fit within the maximum allowed dimensions. Also, it cannot exceed the maximum allowed weight. These rules will differ depending on what airline you are flying with.
The main thing to remember is that the rules are made by the airline company, so be sure to check their official websites!
If you decide that your hiking backpack is not allowed as carry on luggage make sure to take the proper precautions before checking it in. You can either use a protective transport/rain cover or make sure that you don't have any external gear attached.
Source https://coremountaineering.com/internal-vs-external-frame-hiking-backpacks/
Source https://oldgeezerhiking.com/can-you-take-a-hiking-backpack-for-a-carry-on/
Source https://hikeheaven.com/hiking-backpack-as-carry-on/