Hiking RMNP: The Essential Guide
Hiking Rocky Mountain National Park: The Essential Guide is your guide to Rocky Mountain National Park. It incorporates the latest park information keeping you current on everything you need to know.
Overview
Hiking Rocky Mountain National Park: The Essential Guide was written to help you have the most amazing wilderness experience possible in one of America's most beautiful national parks. It informs you about what to expect, how to prepare and what to know in order to stay safe while also respecting this fragile environment.
Content
Whether you are looking for a gentle stroll with young children or planning to push your limits, this hiking book has it all. It guides you on 75 of the most amazing hikes in Rocky Mountain National Park. It takes a unique approach and organizes the hikes by difficulty level rather than by geographical location. It begins with the easiest hike and progresses to the most difficult. The hikes are divided into four levels of difficulty which are color coded making the sections easy to find: Accessible, Easy, Moderate and Strenuous.
Features
There are nearly 100 pages of preparatory information to bring you up to speed on everything you should know before venturing into the mountains. Topics covered include:
What to pack
What to wear
Encountering wildlife
What to do if you are lost
Understanding mountain weather
And much more.
Enjoy 80 custom-made topographical maps that clearly mark the trail and identify waypoints you will encounter along the way. These maps are designed to be easily be readable even by those with colorblindness.
Map page from Hiking Rocky Mountain National Park: The Essential Guide
Each hike has a series of easily identifiable waypoints to help you know that you are on-track, along with distance measurements from the trail head and the elevation of that waypoint.
Most hikes in the book are accompanied by an elevation profile graph. This is like a cut-away of the terrain so that you can visually see the ups and downs you can expect along the way.
Elevation profile graph page from Hiking Rocky Mountain National Park: The Essential Guide
The list of statistics for each hike include:
Total round-trip distance
Estimated hiking time
Elevation start
Destination elevation
Total elevation gain
Possible wildlife you may encounter
Which ecosystems you'll pass through
Views you can expect
When the trail is open
The best time of day to go
Trail conditions
Special reminders
And more.
All of the trails were re-measured using some of the latest tools, resulting in some of the most accurate trail measurements to-date.
Detail Page in Hiking Rocky Mountain National Park: The Essential Guide
Throughout the book you will find beautiful full-color photos and every hike has at least one photo to give you a sense of what to expect.
The text describing where to go and what to look for is conversational, as if the author himself were guiding you on your journey.
Reference Material
At the back you'll find definitions of mountain terms you may not know, as well as a complete index so you can readily find what you are looking for. There is also a quick reference chart with statistics on every destination and hike covered in the book.
reference page in Hiking Rocky Mountain National Park: The Essential Guide
Other Info
Here are a few key facts about the book itself:
512 pages
Sewn binding for durability
Rounded corners to avoid damage in the pack
Beautiful 150gsm art gloss paper
Forest Stewardship Council's seal, confirming that the paper comes from renewable sources and that eco-friendly inks are used.
Size: 8.5″ x 5.5″ x 1.25″
The Author
Erik Stensland has spent the last 20 years living at the edge of Rocky Mountain National Park. He has hiked to every hidden corner of this park at all times of day and night in his pursuit of dramatic photos. In preparing this book, he re-hiked every trail in the book taking copious notes to ensure you have the most accurate and up-to-date information possible.
Awards
In the publishing industry, the most prestigious award for a small publisher is a Benjamin Franklin Award. These are given out each year by the Independent Book Publishers Association. This year they had 1,700 entries. Hiking Rocky Mountain National Park: The Essential Guide was selected as the best travel book of the year, winning the gold award in the travel category. It was also in the top three books in the sports and recreation category.
In September of 2020 Hiking Rocky Mountain National Park: The Essential Guide was also awarded first place in the Travel and Outdoor category by CIPA, the Colorado Independent Book Publishers Association.
Endorsements
"Every generation must write its hiking guides anew. This is particularly true for Rocky Mountain National Park whose well-worn trails to high and special places traverse a fragile ecosystem that is ever-changing. That ecosystem needs our protection and our respect; the kind of good stewardship that is predicated on knowledge and understanding. This is precisely what Erik Stensland has provided in his Hiking Rocky Mountain National Park. In nearly 500 pages, covering 75 hikes, Erik guides us along trails to much-visited places, destinations made fresh and new with updated topographical maps and trail distances, essential site-specific information, and his own stunning color photographs. Particularly praiseworthy is Stensland's lengthy introductory section, "First Things First," in which he carefully prepares us for our journeys and teaches us how to make them safe and enjoyable ones. He also teaches us something more: how to be responsible caretakers of the national treasure that is Rocky Mountain National Park–to be ever mindful, in the words of the 1916 charter of the National Park Service, of our responsibility to protect what we encounter along the way so as to "leave them unimpaired for the enjoyment of future generations." The Rocky Mountain Conservancy, which since 1931 has served as the philanthropic steward of Rocky Mountain National Park, recommends Erik Stenland's book. His message is very much our own."


Vaughn Baker(Rocky Mountain National Park Superintendent 2002-2015):
"Stensland and his team have taken a fresh approach to hiking guides and compiled an easy to use guide for hikers of all levels. In addition, Erik shares the beauty of the park through his stunning photography and photographer's eye. As a former park manager, I appreciate Erik's sensitivity to protecting the park's resources and the emphasis on safety. The guide is a must for anyone concerned with the stewardship of Rocky Mountain National Park for future generations."

Larry Frederick(Chief of Interpretation, Rocky Mountain National Park 2001-2012)
"Erik Stensland's Hiking Rocky Mountain National Park: The Essential Guide is a must to have for the novice or avid hiker. Seventy-five of the most spectacular, official trails are featured with thorough descriptions, updated mileages, routes and maps. Trails are organized into four categories of difficulty: accessible, easy, moderate and strenuous. Each section describes trails from easiest to most challenging allowing readers to quickly select a trail suitable for their interest and hiking ability. The trail descriptions are prefaced by nearly 100 pages of background material, advice, logistics, park regulations, and information on how to get the most out of the guide and your hike. Low impact principles are emphasized which is extremely important as the park experiences increasing visitation. Don't just think of this as a book of trail descriptions, but also as well-researched treatment on hiking safely, responsibly and respectfully. An accompanying website – hikingrocky.com – provides additional explanations, guidance, updates and corrections as well as a conduit to the author. Depend on Stensland's book to help you get the most out of your Rocky Mountain National Park hiking adventure."
Bob Falcone(Hiking Bob) Full review at the Colorado Springs Independent:
"Erik Stensland has hiked countless miles of trails to become the premier photographer of Rocky Mountain National Park. His hiking guidebook is as comprehensive as any hiker or backpacker could wish for, and will become the defacto standard for years to come."


Reader Comments
"I am in love with this guide. I had NO idea how many trails there are that are easy/moderate enough to keep you out all day without killing yourself for certain views of scenery and wildlife. After going every year for 8 years, I am amazed at how much I didn't know about that RMNP has to offer." – Jennifer Frank
"Just making my way through the 'Using this Book; and 'First Things First' sections. Oh my gosh, I've learned a ton of things that I had no idea about and I'm originally from Cheyenne and have come up to RMNP multiple times a year as a kid and at least yearly since moving to Nebraska." – Anna Marie
"Far and above, THE best hiking book I have ever read! It is so much more than just a hiking book with all the information it contains. From the organization of the categories, the attention to detail, and the breathtaking photographs, it will leave you yearning to get out on the trail. Whether you are an avid hiker of Rocky Mountain National Park (like myself) or have never been there before this book is a must have." – Carol Murin
"Love, love, LOVE the book! I really like how this book reads. I can flip through the pictures like a magazine to see places I want to go. I can learn about the trail from the elevation profile and I can take a picture of the CLEAR map to bring with me. It puts images, maps, and descriptions all in one place. This truly is an essential guide for hiking RMNP. Can't wait to snuggle down and plan my hiking adventures for this summer!" – Anne Rusk
"My first thought when opening the box and holding the book was Q U A L I T Y – fit, finish, feel, binding, the way the page corners are rounded, the visibility from the side of the colors for the hikes, page "feel", etc etc etc. NICE!" – Paul Beiser
"You will not find a better book or resource on hiking RMNP. I received my book Saturday and it is outstanding. The amount of time Erik took on this book is incredible. Is obvious he covered every inch he has written about. I suggest purchasing one if you plan on visiting RMNP." – Jamie Beeler
"What an amazing guide book! The quality of the book is second to none. The photos are obviously incredible as is the attention to detail. It's super easy to navigate through." – Glenn Benigni
Also Available At:
As well as this website, Hiking Rocky Mountain National Park: The Essential Guide is now distributed by Publishers Group West, a division of Ingram Books. Because of this partnership it can now be found wherever books are sold such as: Macdonald Bookshop, The Tattered Cover Bookstore, Rocky Mountain Conservancy bookstores, The Boulder Bookstore, REI and other bookstores and retail outlets throughout the USA and Canada. If you don't find it at your local bookstore ask them to order it. That's a great way to help both us and your local bookstore.
Additional Information

We unfortunately don't ship internationally. However, you can buy a Kindle version of this guide on Amazon or pickup a copy when you arrive for your visit.
How to Pack for Your Hike in Rocky Mountain National Park
Many people come to Rocky Mountain National Park without really thinking about what to pack or what they might need in an emergency. Here are some of the essentials to always have with you.
Happy backpackers returning from a successful camping trip at Lost Lake
Far too often visitors head into the mountains entirely unprepared for the wilderness. Besides dressing appropriately, it is important to bring more on your hike than just your cell phone and car keys. If you end up lost or injured, having the following essentials will enable you to better handle the situation.
Navigation (maps & compass)
Sun Protection (sunglasses, sunscreen, lip balm, sun hat)
Extra Clothing (rain protection, warmth, extra socks, gloves, hat)
Illumination (head lamp & batteries)
First Aid Supplies
Tools (knife, multi-use tools, duct tape)
Hydration (water filter & bottle)
Signaling Devices (whistle, mirror, high-visibility clothing)
Emergency Shelter (bivy sac, tarp)
Navigation

The most important thing to have in your pack is an old-fashioned map and manual compass together with the knowledge of how to use them. They aren't very heavy or expensive and may save you in an emergency. The National Geographic Trails Illustrated Topographic Map is a good option. You also need a simple compass, which you can buy for about $10–$20. If you aren't comfortable reading a topographical map and using a compass, take a few minutes and watch the linked instructional videos. This is all very old school, but you want these in your pack. They may save your life.
There are of course more high-tech options out there. However, they all have significant limitations. The main limitation is that they rely on battery power. You can help to compensate by bringing a battery backup but when that also runs out, the high-tech device in your pack is meaningless weight. In many emergency situations, people are stuck in the wilderness for days or even weeks. No battery will last that long. Additionally, these are fragile electronic devices, and if they were to be damaged by a fall, water exposure, or an electrical strike, you are again stuck. So, bring a map and compass with you and know how to use them, just in case.
Once you have those in your pack, then you can take advantage of some of the modern options available. There are numerous apps for your phone such as Gaia GPS, AllTrails, and many others. With such apps you can download detailed maps of the areas you plan to hike, and the app will help you know where you are even when you lose cell reception, assuming you downloaded the detailed maps before you left. These tools will not only help you find your way but can also track your trips, and many have a lot of other fun features. There are also dedicated GPS devices that are designed for this purpose. They are usually waterproof and have a long battery life. I mentioned elsewhere that there are some devices that have not only the GPS capability but can also serve as a personal locator beacon that can summon help in an emergency. Some of them even allow you to send texts via satellite when you are far from any cell connection.
Sun Protection
Coloradans often boast that they get more sun than places like San Diego or Miami with over three hundred sunny days a year. This makes for beautiful dark blue Colorado skies and great hiking, but it also comes with some drawbacks. Because of the high elevation of Rocky Mountain National Park the rays of the sun are much more intense. At Bear Lake the UV rays are 40 percent more powerful than at sea level and they continue to increase by about 4 percent for every additional 1,000′ in elevation gain. As a result, it is very easy to get burned in the mountains not only in the summer but also in the winter. Not only will this harsh light quickly burn any exposed skin, but it is also very hard on the eyes. In the winter people sometimes suffer from snow blindness when their eyes become burned by the sun. Even though snow blindness is usually temporary, it is definitely something you don't want to happen out in the wilderness.
It is therefore essential that you always wear sunglasses with full UV protection. Cheap sunglasses may actually cause your eyes to dilate and let in more harmful UV rays, causing even greater harm to your pupils than if you had no sunglasses at all, so get ones with proper protection. Additionally, you'll want to lather on the sunscreen before you leave the trailhead and take additional sunscreen with you to apply as needed. In the winter it is important to also cover areas such as under your chin and nose since light will reflect off the snow below you. You'll also want to wear sun-protective lip balm. Some hikers wear lightweight loose clothing that has UV protection in the fabric. You can find this type of clothing at most outdoors stores such as REI or the hiking stores around Estes Park and Grand Lake. Additionally, it is a good idea to wear a UV-protective sun hat while out in the mountains, especially is you have less hair to provide natural protection.
Extra Clothing
You never know what the weather is going to do when you are in the mountains, no matter the time of year. The wisest thing to do is pack your backpack with the idea of what with items you might need to survive a night in the mountains in case the unexpected happens. Do you have enough clothing to stay warm at night? In particular, do you have a warm hat, gloves or mittens, a warm sweater or jacket, as well as a weatherproof (wind and water) shell? Some folks like to bring along an additional pair of warm socks and two thick plastic bags about the size of bread bags. This way if you have gotten your feet wet you can dry them, put on a pair of dry socks and then before you put your feet back in wet boots, put a plastic bag on each foot to serve as a moisture barrier. This isn't a great long-term solution but for the short term it is much more comfortable than wet, cold feet.
Illumination
Never leave a trailhead without a head lamp in your pack. If the hike ends up taking longer than you expected you might find yourself out at night, which can be very disorienting. Because the mountains block the horizon, it can get dark very quickly unlike other places where the sky can give off light for hours after the sun goes down Some people think they can rely on their phones for light. This works for only thirty minutes to an hour. When your phone runs out of power, you are stuck. It is a good idea to have some sort of light that will work for several hours. Headlamps are better than flashlights as they allow you to keep your hands free. Carry several spare batteries for your headlamp and keep the batteries separate from the headlamp until you need it lest the batteries discharge or corrode. Just remember to put those batteries in before it gets fully dark, as you will have some trouble doing it at night without another light. Without a headlamp or a full moon, you'll have to sit by the trail until the sun rises again the next day. Even in summer, this will involve some long hours out in the cold and exposed to the elements.
First Aid Supplies
Always keep a first aid kit in your hiking pack. Essential items include antiseptic cream, bandages of various sizes, gauze pads, tape, pain reliever such as ibuprofen, tweezers, blister pads, moleskin, allergy medicine, any personal medicine you might need if you had to spend the night. You can find great little first aid kits that include most of the basics at most outdoors stores. If you plan to travel in the wilderness regularly, take a Wilderness First Aid course to help you know what to do in an emergency in the backcountry. Whether or not you've taken a course, it is wise to carry either a physical or digital copy of a wilderness first aid book. It will have all sorts of helpful information to guide you if you find yourself in an emergency.
Fire Starter
While making fires in Rocky Mountain National Park is illegal in all but a few special areas, if one's life is in danger, then the wise use of fire may keep you warm and alive until help can arrive. For this reason, it is good to have with you what you need to start a fire in the wild. This includes waterproof matches, a lighter or flint, as well as fire-starter sticks or squares made of something like wood chips and wax. A candle can also be helpful to maintain a flame while getting a fire started.
Be aware that the Rocky Mountains are a high desert and so it tends to be very dry. With great ease one could burn down an entire forest. So, choose a location where you can completely control the fire, where the ashes are not likely to drift into the dry treetops or the flammable undergrowth. When you are done, be sure to not only extinguish the fire but also douse it completely with water and stir it well, since fire can actually continue to burn underground. If you don't have easy access to water, use dirt, sand, and a stick to really stir until it is no longer hot. In 2013 an illegal wildfire spread across the park and to the border of Estes Park. It resulted in the evacuation of a large area of Estes Park and cost $6 million to put it out.
Tools
You don't need to bring a hammer or drill, but there are a few small pieces of equipment you may find very helpful. The first is a pocketknife or better yet a multi-tool with a knife. This can be helpful for everything from creating wood shavings for a fire to making a small spear for catching fish. A multi-tool often includes things such as a small saw, pliers, a screwdriver for fixing your hiking poles, or other useful little tools that can help you fix your equipment or survive in the wild. The second item that you should certainly have with you is duct tape. There are so many uses for this in the wilderness, from protecting your heels from developing blisters to patching a rain jacket or creating a splint with pieces of wood. If you start to feel a "hot spot" on your foot, a place where the boot is beginning to rub, put a large piece of duct tape on that area and it will likely prevent you from developing blisters. It is also helpful to carry a length of parachute cord. It is small, lightweight, and very strong and can come in handy for a wide variety of situations.
Nutrition
When you head out into the mountains, you'll be burning a lot of calories. To keep going you need to bring adequate food with you. Candy bars and potato chips are not what your body needs. Choose foods that will last in both the heat and the cold and will provide you with proper nutrition to fuel your body. Be aware that meat and cheeses may go bad in your backpack, and chocolate may turn into a runny mess unless these types of items are properly insulated. Consider bringing snacks such as trail mix, granola bars, nuts, dried fruits, and dried meats. For sandwiches consider using tortillas instead of bread, as they are less compressible.
When out for a day of hiking it is best to eat small amounts at frequent intervals rather than eating large meals less often. People often eat too much when they stop and then they find themselves very fatigued just a short time later, as their body has to work too hard to process all that food.
Be sure to bring an empty bag with you such as a Ziplock bag where you can put all of your trash. Check all around you before you leave the place where you ate to be certain that you've picked everything up and that nothing has blown away. Pay attention to any micro-trash, those tiny pieces that might be overlooked. Take it all and leave this place pristine for the wildlife that live here and for those who will come after you.
Hydration
At these high elevations staying adequately hydrated is essential. Your body loses moisture at a much greater rate in the mountains than at sea level but surprisingly you might not feel as thirsty. People are often unaware that they are dehydrated until it is fairly advanced and a serious issue. So be very conscientious about your water intake. There are apps that will remind you to drink and tell you how much you have drunk during the day, and these can be helpful when at elevation. The recommended amount of water intake is 48–72 ounces per day, but if you are out hiking on a hot summer day you may need to drink as much as a liter of water per hour. Your goal should not be to over-hydrate, just be sure you are not ignoring your body's need for water. Also, don't substitute coffee, soda, alcohol, or other drinks for what your body needs most, which is water.
So how do you stay hydrated while hiking? Unfortunately, you won't find water at the trailhead so come prepared. Bring a good supply of water with you. Buy a bottle you can use over and over again while hiking, one that won't break. The visitor centers near the park entrances have places where you can fill your own bottles with fresh cold water. For long hikes, you will also need a way to clean water that you find along the way.
A SteriPen is one way to purify water in the mountains
While the streams and lakes in the park come directly from melting snow and are generally pretty clean, it still needs to be properly treated, as elk, bighorn sheep, and other animals may have contaminated the water farther upstream. If you don't clean the water you find, it could lead to giardia, which is a way to lose a lot of weight in the most unpleasant of ways. There are different ways to filter water. Many people choose to bring a pump type of water filter with them, others use special straws, or use a SteriPEN (specialized UV light) to purify the water. Each of these methods has pros and cons. A good outdoor store can walk you through the options. (Be aware that if you are using one of the UV light purifiers, it only works properly with lithium batteries even though it looks like it works with regular batteries. Regular batteries simply aren't strong enough to fully purify the water.) Remember that without one of these purifying options, your hikes are limited in length by the amount of water you can carry.
Be aware that along with water your body also needs a little salt and electrolytes to maintain its balance. A few bites of a salty snack and a few sips from a sports drink along with enough water can help to keep your body chemistry in equilibrium.
Signaling Devices
If you find yourself lost in the wilderness, you need a way of signaling others. The first item you absolutely must have is a whistle. You will lose your voice after about twenty minutes of yelling, but you can keep using a whistle as long as you can breathe. Another helpful thing to have with you is a small mirror. With a mirror and some sunlight, you can signal a helicopter that may be looking for you. Wearing very bright clothing also helps if you get lost, as it will make you easier to spot. Consider keeping a brightly colored rain jacket in your pack that you can wear if you need to be found.
Carrying with you an emergency locator beacon will be invaluable if you need to be rescued, as you will not only be able to notify the authorities of your need for rescue, but the device will also transmit your exact GPS coordinates. When paired with the other signaling devices listed above, tan emergency locator beacon is an invaluable tool.
Emergency Shelter
If you end up having to spend a night in the wilderness, you will be glad to have some sort of emergency shelter. A small tarp with string can be set up to keep the rain off you during a cold, rainy night. An emergency bivy sac can help you hold your heat and avoid hypothermia. These are made of waterproof, windproof, reflective material that may save your life. They also can be used for signaling for help. Both the bivy and emergency tarp come in small packs that will not take up much room in your backpack.
Additional Items to Consider:
Besides the essentials above, consider bringing:
Hiking Poles
Hiking poles are not just for older people. People of all ages can benefit from hiking poles. They absorb some of the impact on the knees and feet when descending, they help with balance on unstable terrain, and they may actually increase the speed at which you can comfortably hike. However, simply having them isn't enough; you need to know the best way to use them. Here's a great YouTube video showing the best way to use them.
Cell Phone and Portable Power Charger
Although cell reception is nonexistent in many parts of Rocky, it is wise to bring a cell phone with you just in case you can get reception. Yet a cell phone by itself won't do you any good if it loses power, so bring along a portable charger. Ideally, keep your phone off and in a waterproof pouch inside your backpack until you need it. If you are in an emergency situation, you'll want to connect with the NPS Dispatch (970-586-1203) and then set a schedule with them for ongoing communication. This way you can turn your phone off to conserve power until the scheduled check-in time.
Insect Repellent
Generally, there are very few pesky insects here in Rocky Mountain National Park but on wetter years or when you are traveling near marshy areas you may find yourself attacked by mosquitoes. For those rare situations keep some insect repellent in your bag as well as a mesh head net to wear when they are at their worst.
Garbage Bag
Bring an extra bag that you can use to carry out any trash you come across on the trail. If all of us take a little extra responsibility, we can keep this park pristine for generations to come. You might want to bring a pair of medical gloves to remove the worst rubbish.
Earplugs
This may sound like an odd item to carry, but often when hiking through the tundra there is a strong cold wind. In high winds, you can simply put in some earplugs and prevent earaches. Alternatively, music earbuds can serve the same purpose.
Ziplock and Human Waste Bags
If you use toilet paper in the wilderness, you need to pack it back out with you. For this purpose, keep a few Ziplock bags in your pack. They don't take up any space or weight and ensure that you can leave the wilderness as you found it.
If you find that you have to do more than pee, bring a human waste bag for poop and toilet paper and pack it out. With the millions of visitors, burying your waste is no longer a viable option.
Gaiters
A pair of gaiters can be helpful year-round. They wrap around the lower part of your leg and boot. In the winter and spring they can keep snow out of your boots and during other seasons they can keep the rocks and sand out. They are handy when you encounter deep mud or if you simply want to keep the bottom of your hiking pants clean. They are also very helpful during tick season, preventing ticks from crawling under your pant leg.
Microspikes
If you plan to visit the park between late October and early May, you will have a much better experience on the trail if you have a set of microspikes such as those made by Kahtoola. They stretch around your boot and provide great traction when you are walking on icy trails. While others are slipping and falling, you can hike right on by without difficulty.
What to Pack for Rocky Mountain National Park: Full Hiking Gear List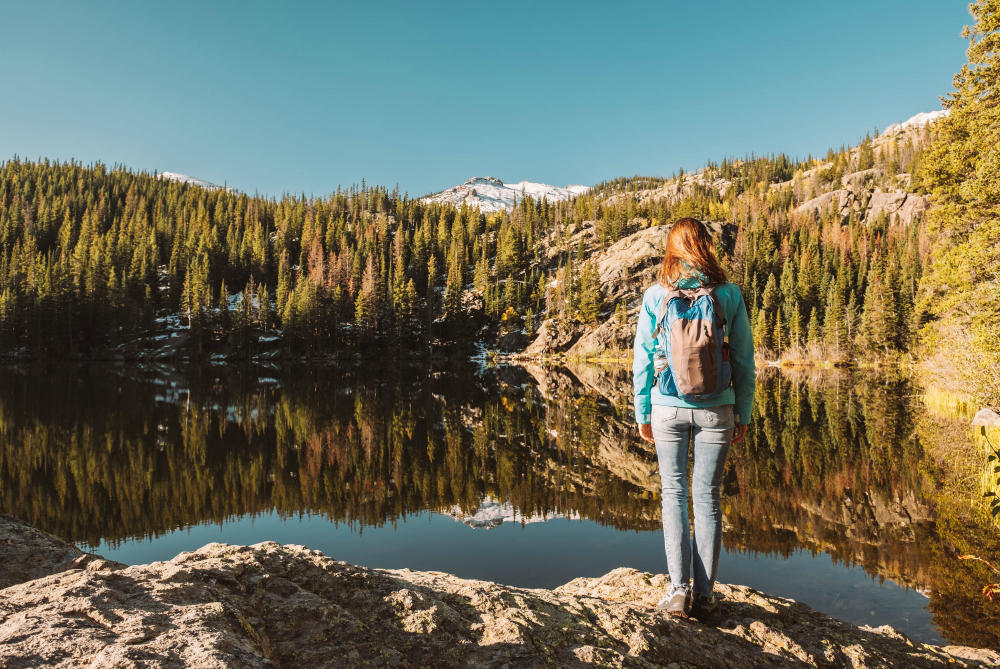 Support TFG by using the links in our articles to shop. We receive a small commission (at no extra cost to you) so we can continue to create helpful free content. As an Amazon Associate, we earn from qualifying purchases made on Amazon in addition to other retailers featured on the blog. Thank you, we appreciate your support!
You can't beat the scenery and stunning vistas on a trip to Rocky Mountain National Park, but what do you need to pack? Let TFG help you out!
What to Wear in Rocky Mountain National Park
Written By: Laura Pulling
Table Of Contents
Right in the heart of the US, in the state of Colorado, is the home of Rocky Mountain National Park. It has over 415 square miles of protected mountain terrain and 395 square miles of wilderness, along with a huge array of hiking trails and wildlife.
It's the perfect place to spend hours on the trails and well worth it when you see the stunning sights of Dream Lake or the picture-perfect, Alberta Falls.
Visitors to the park are welcome year-round, with the warmer summer months generally attracting the most people. Temperatures vary though, due to the change in elevations, but at higher points, like Bear Lake, Trail Ridge Road, or Longs Peak, it may snow even in July!
A wide variation between day and night temperatures is typical of mountain weather, so remember this when preparing your Rocky Mountain National Park packing list.
During the cold winter months you may even partake in some skiing or snowshoeing, with the mountains also offering some great spots for sledding.
What are you going to take on your trip? TFG is here to help you with all the things to pack for Rocky Mountain National Park!
What to Wear Hiking in Rocky Mountain National Park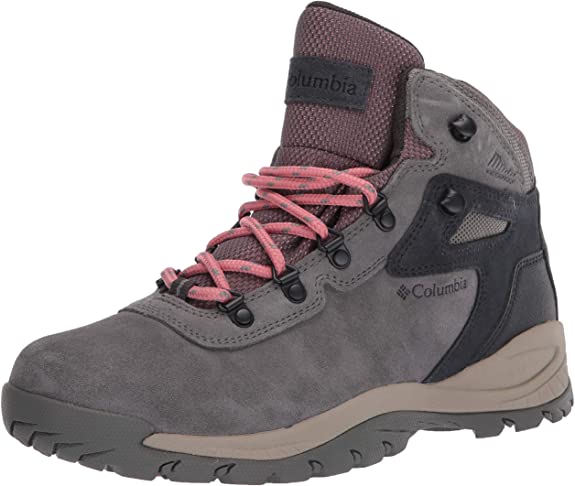 Shoes
The most important thing to consider, for any trip where you're going to be hiking along the trails is what is on your feet. When you have miles of trails and such mesmerizing vistas of lakes and mountains, you want to be comfortable enough to trek for hours. Hiking shoes are vital when planning a trip to Rocky Mountain National Park.
In the summer, a pair of hiking shoes will work well for shorter hikes. If you're planning on traveling in during any colder winter seasons (snow isn't unusual in spring or fall either!). These Columbia Newton Ridge Hiking Boots can handle the job of both rocky and snowy terrain.
There are a ton of trails, so you're going to be walking a lot, especially to get up the mountains for the best views.
When choosing the best boots, look for ones that are waterproof, have a sturdy sole and quality tread. Ensure that they are supportive of your ankle, and can withstand the types of activities you'll be doing.
When hiking, even if you plan on a shorter ramble, at Rocky Mountain National Park, the tracks and terrain make having hiking poles useful. Find some that are sturdy enough for your style of walk, and you'll find it much easier on your legs afterward!
Looking for more hiking poles? Find out the best in this list here !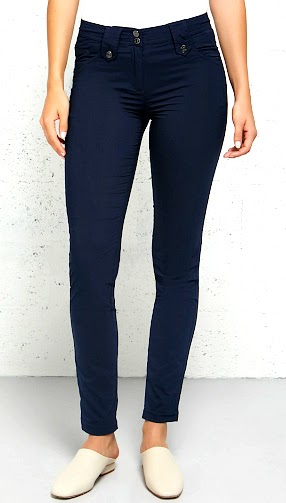 Bottoms
Long bottoms or even specific hiking pants are your best option for a day of hiking in a Rocky Mountain National Park. Even in the summer, the temperature cools dramatically by the evening, or at an elevation. Long pants will not only keep you warm but will also save your calves and ankles from being scratched by prickly branches that protrude from the trail. Choose pants that are moisture-wicking and quick-drying, in case you get caught in an unexpected rain shower.
The Anatomie Skyler Travel Pant is our all-around favorites here at TFG. The material is stretchy and they fit comfortably. Plus, they are water-resistant to withstand the rigors of hiking and climbing.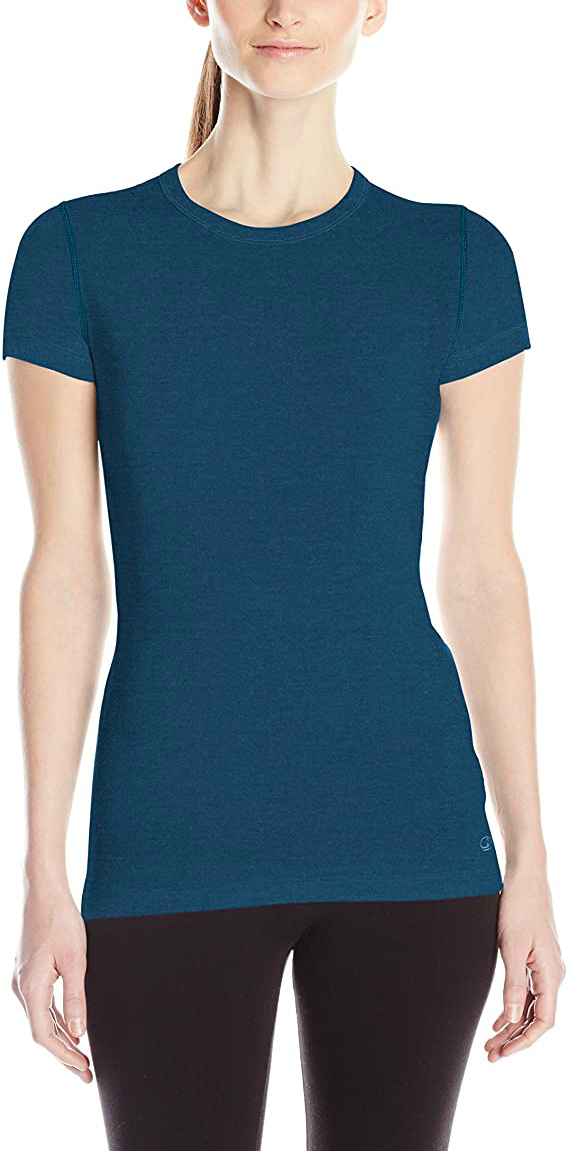 Tops
Layers are great, and t-shirts are the most versatile of tops in all weather situations. For a long hike, get one with moisture-wicking properties, like this Icebreaker Merino Sprite Short Sleeve to keep sweat at bay.
If you feel the cold or are hiking up a shadier trail, a long-sleeved tee is beneficial as it keeps you from feeling the chill, plus adds a layer of protection.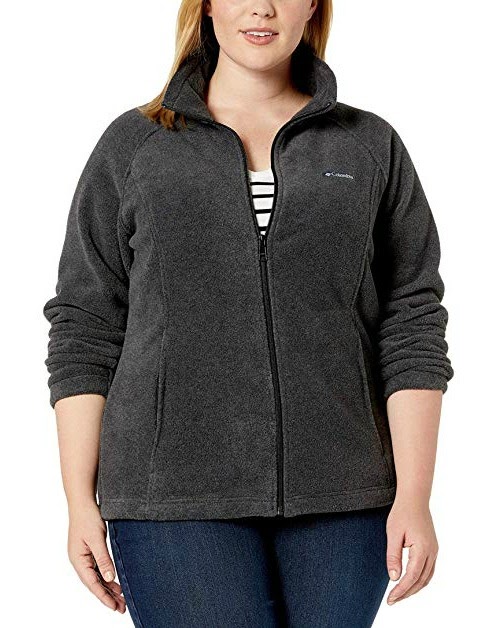 Layers are essential for anyone taking a hike through the Rockies—no matter the season.
Fleece is a great travel fabric as it is easy to roll up and stuff inside your backpack without worrying about it getting creased (you could even pop it in a packing cube). Packing a fleece jacket, like this Columbia Fleece Jacket , as an additional layer, can keep you from feeling cold and ruining a great day of hiking up Deer Mountain by not having the clothing for it.
Check out some fleece travel jackets here !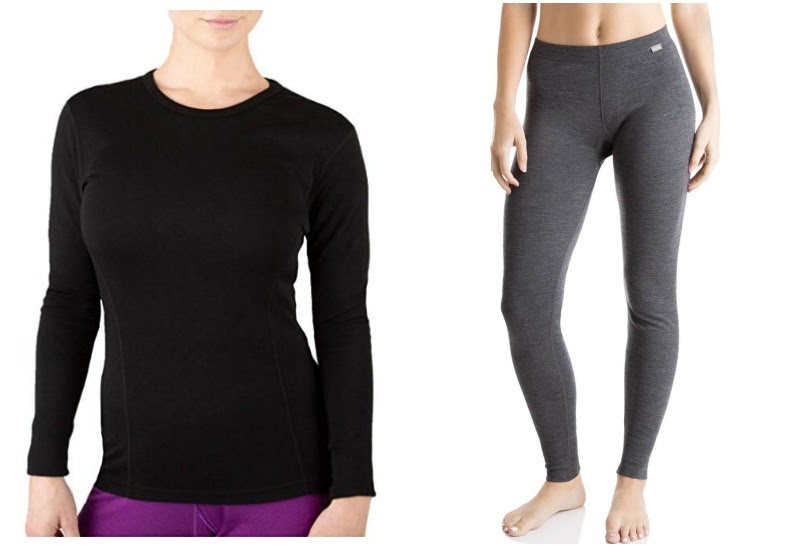 Layers
Your outfit needs to be able to cope with the different changing weather. Think layers, layers layers! If you get warm, you can simply shrug a layer off, but there's nothing worse than being too cold.
Wear or pack some merino wool undergarments, as they are thin, but cozy. These Meriwool under layers are rated as some of the warmest you can buy! They have sweat-wicking properties to help to keep you dry, no matter how tough the hike gets.
Check out a full range of base layer options that'll keep you warm on the trails!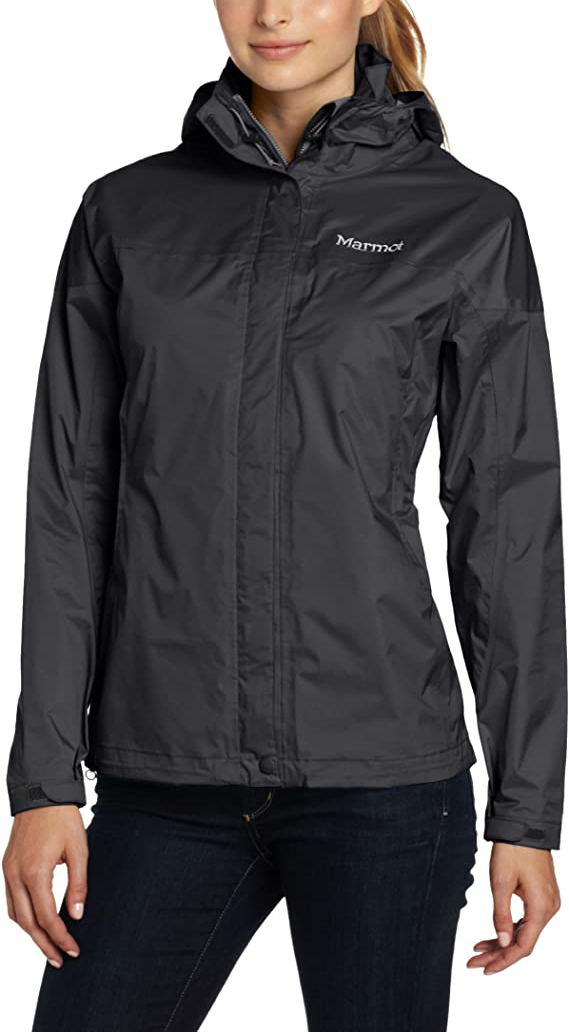 Jacket
If you're taking in the views around Bluebird Lake, or are in search of the Timberline Falls you are exposed to the elements across the elevated terrains. A warm but lightweight rain jacket is essential for your trip. No matter what the season, there's always a chance of a shower, so you need a jacket that keeps you dry.
Choose a jacket that is warm, waterproof, and windproof. Preferably, one with a hood will have you covered (literally) no matter what the weather!
This Marmot rain jacket is waterproof for optimal protection, with a packable hood hidden in the collar. It's heavily functional while remaining lightweight and breathable.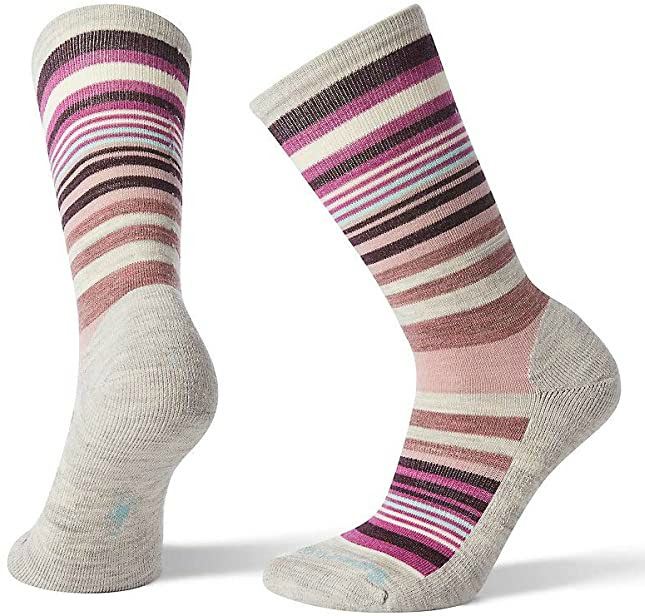 Accessories
After an eight-mile hike, your feet are going to feel it, but not if you prepare them well. Normal cotton socks will lead to blisters, so try wool socks to keep your feet super dry and prevent any rubbing from your shoes. Even if you have the best hiking boots on the market, it's the socks that make the difference!
It's also recommended to take a spare pair in your backpack, for those "just in case" situations. (wrap them in a packing cube to keep them totally dry).
Things to Bring to Rocky Mountain National Park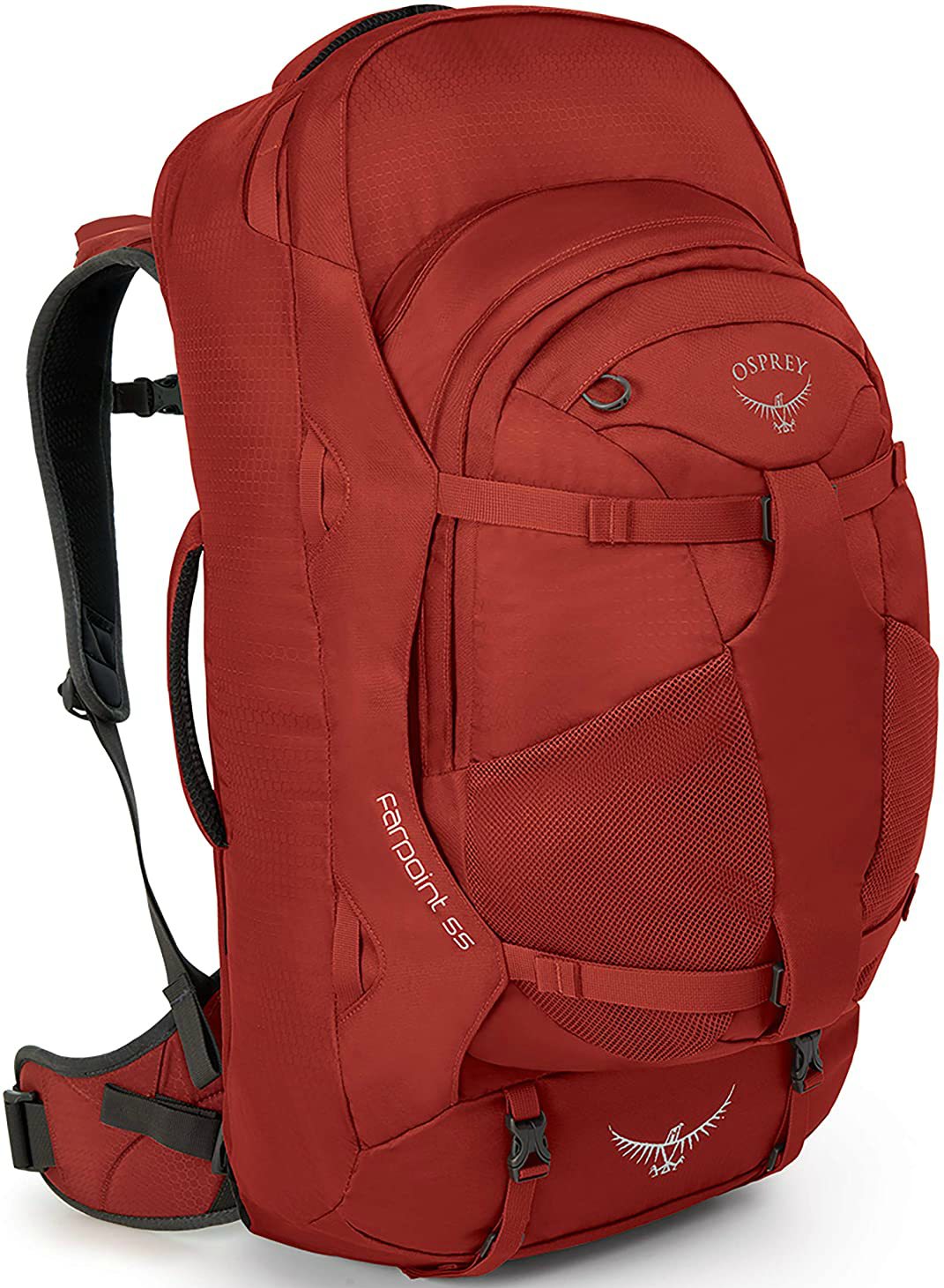 Backpack
Depending on the length of your stay, you'll either need a backpack or a day pack. If you're backpacking Rocky Mountain National Park you'll need a bigger bag to ensure all of your equipment can fit in easily and it is comfortable enough to wear until you make it to your campsite (especially if you have to walk for some of the way).
The most important features are it needs to be water (and snow!) resistant and adjusted well to fit your frame. This Osprey Farpoint Jasper Red Backpack is a great option for hikers, as it has a ventilated mesh back panel with an ultra-comfortable waffle foam harness. It offers a unique two-in-one style. The main compartment is a 40L backpack and it attaches to a 15L detachable day pack for a total space of 55L.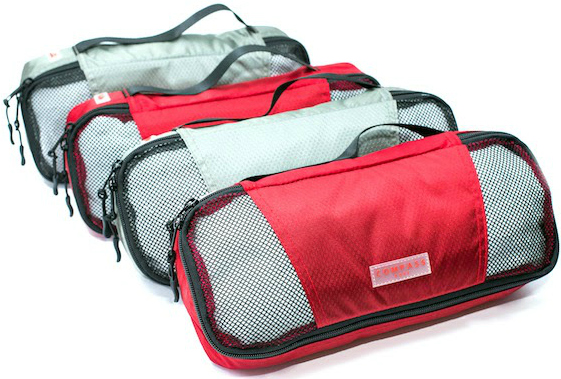 To be a pro packer, you can also use Compass Rose packing cubes to help you pack your backpack for your trip. They're great for keeping your different layers in, and the numbered and color-coded pouches will keep you extra organized.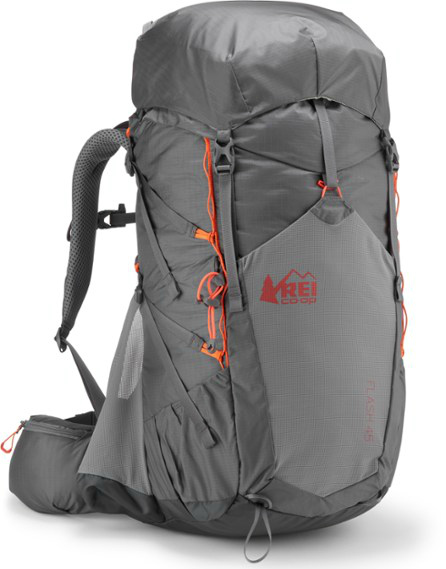 Daypack
If you are planning a day trip around the Rockies to see the vast array of wildlife, or just for a hike around Bear Lake you can fit essentials in a day pack. Choose one that's lightweight and for ultimate comfort, ensure it has padded mesh back support and a waist strap. The REI Co-op Flash 45 pack allows you to wander around the trails with enough room to pack hydration and layers!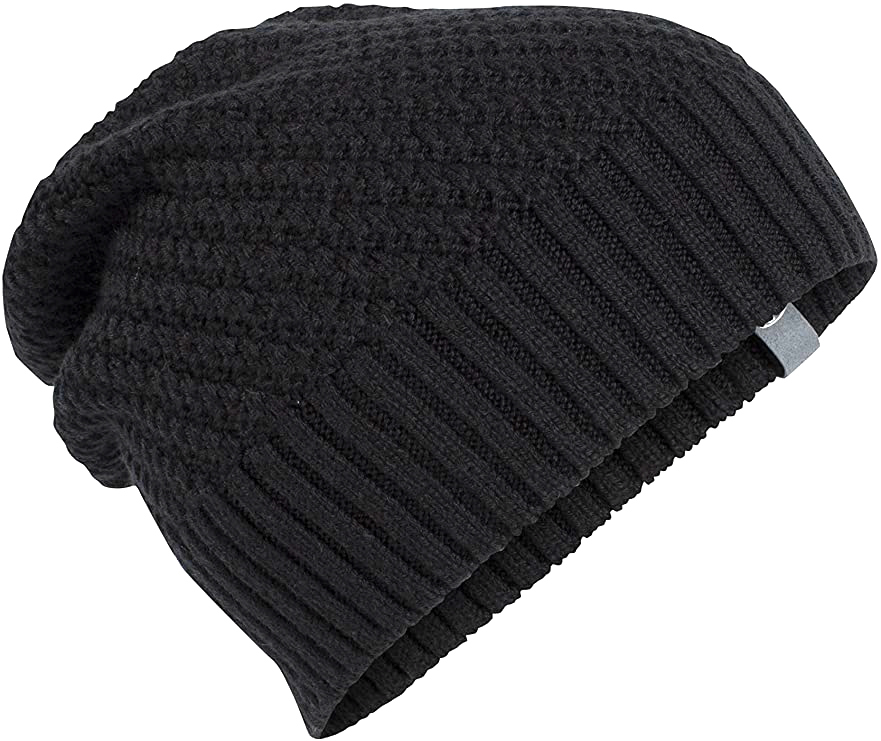 Warm Hat or Sun Hat
The Rockies can be very different in the winter and summer, so choose a hat that matches the season!
You lose most of your body heat through your head, so a cozy hat like this Icebreaker Merino Skyline Slouch Beanie is needed on your hike in the colder months to keep in that essential warmth. Choose a hat that's made of soft fleece or wool, and remember to cover your ears for an extra warm feeling.
When you're on the trail and the sun is shining, the sun can cause issues for hikers, who fall foul of sunburn or even sunstroke when on an all-day hike. We recommend a wide-brimmed hat that covers your entire face to keep you cool as you hike.
Water Bottle
A water bottle is as essential as it gets. You need to stay hydrated on the trail, and being prepared is a necessity.
A vacuum style bottle, like this one from Day 1 Fitness can keep your water icy cold for hours into your hike. This one comes in multiple colors and three different sizes and has a carabiner to attach to your pack. Or you might prefer a squishy bottle that can be squeezed to fit your pack and take up almost no space once you are finished with it.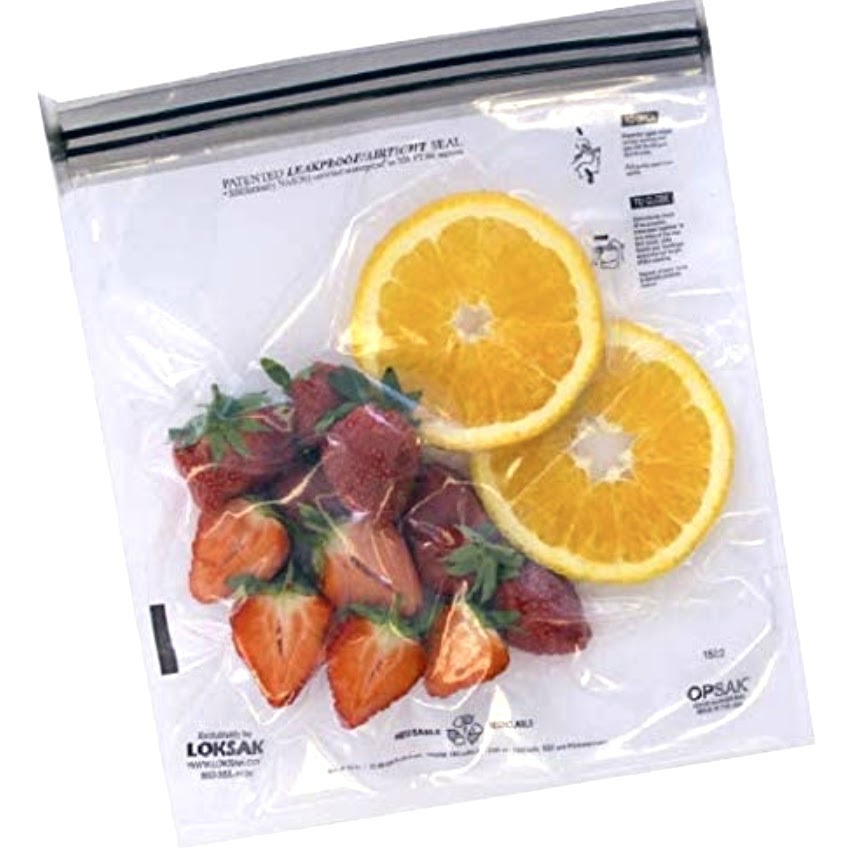 Bear Proof Accessories
There are black bears, wild elk, mountain lions and bighorn sheep in Rocky Mountain National Park and the rangers advise that you stay way back from any wildlife. Bear spray is available in camping shops close to the parks (you can't fly with it), but also consider smell-proof bags , or a hanging tree pack, for your outdoor picnics.
Additional Gear Checklist for Rocky Mountain National Park
What are your recommendations for Rocky Mountain National Park clothing and gear? Share your packing list below!
Source https://www.rockymountainnationalpark.com/product/essential/
Source https://www.rockymountainnationalpark.com/gallery/hiking-pack/
Source https://www.travelfashiongirl.com/what-to-pack-for-rocky-mountain-national-park/