How To Wash Hiking Boots In Washing Machine | 4 Basic Steps
Depending on the nature of the terrain that you hike, one of two things is likely to happen to your boots. It is either you get mud splattered all over the boots with a thick cake under your soles that fills up the lugs or you will get sand in your boots.
Now, imagine this scenario. You just spent two to three hours cleaning your hiking boots to get the mud or sand out but when it got dry, you examined and could still see patches of mud with some traces of sand inside.
Imagine how frustrated the person that first tried to wash his or her boots in a washing machine must have felt that he or she was willing to do whatever it takes to get the stubborn dirt out.
No doubt, the idea of tossing your boots into a washing machine is a scary one that not everyone may be willing to try. In fact, anyone that has spent hundreds of dollars to acquire their boots will be wary of trying this out for the fear of damaging the boots.
However, the big question here is, 'Is washing hiking boots in a washing machine effective?' Can you wash just any type of hiking boot in a washing machine or is this process reserved for boots made with a certain material?
If these questions have plagued your mind ever since you discovered this crazy idea, you will get all your answers today.
Can you wash hiking boots in the washing machine?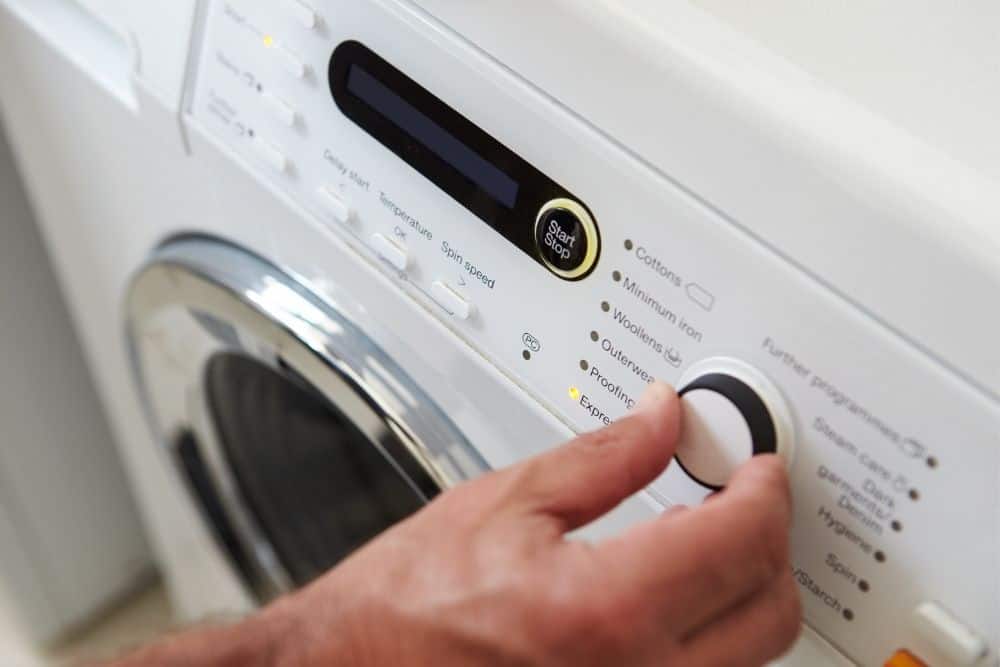 Without mincing words, the answer is yes, you can wash hiking boots in the washing machine—but there is a caveat.
Washing your hiking boots in a washing machine can either damage your boots or the washing machine if you don't follow the right instructions which explains why a lot of people are against this idea.
Firstly, washing boots in a washing machine is not recommended for all types of boots. This method is mostly recommended for boots made of genuine leather.
Fabric boots made of cotton, nylon, or polyester can be safely washed in a machine. However, washing boots made of suede or other similar materials in a washing machine is a bad idea.
Also, when washing boots it is advised that you make use of the front loader rather than the top loader. The top loader has a more aggressive agitator that can damage your boots.
Another important point to mention is that when washing hiking boots in a machine avoid the use of detergents and bar soap which may contain additives that may fade off the colors or damage the fabrics.
If you have mold on your boot, using a mixture of 20 percent vinegar and 80 percent water will help to get it out. It is important to thoroughly rinse your boots to get rid of any residue of the cleaning agent
Properly drying your boots is also important to ensure the water that gets into the boots during machine wash properly dries out.
Can you wash steel toe boots in the washing machine?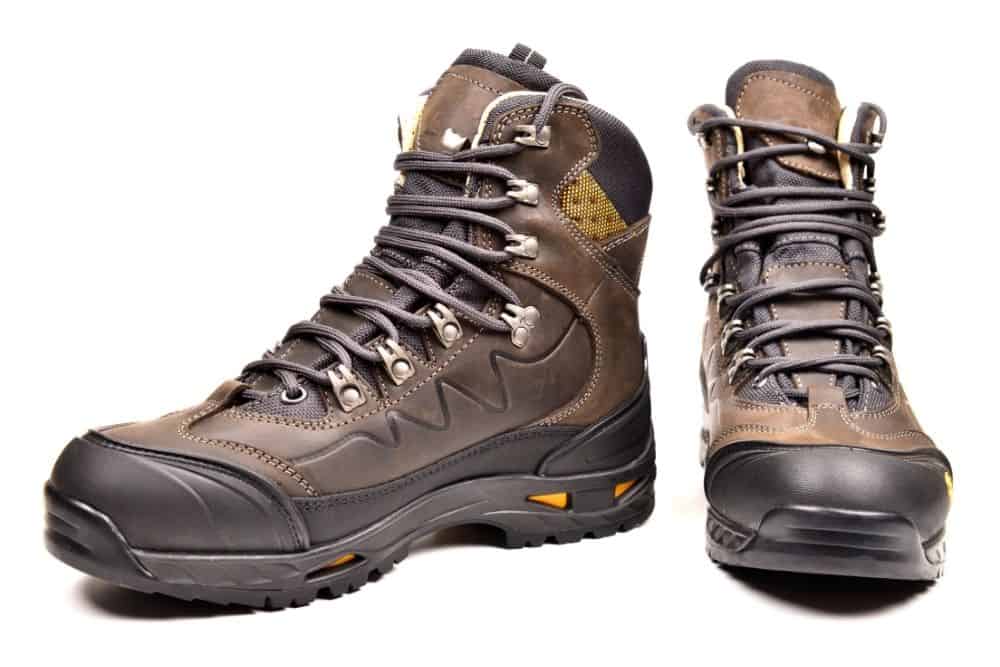 Hiking boots usually do not come with steel toe caps. This feature is usually associated with work boots—but this has not stopped people from using boots with steel toe caps for hikes.
So, if you are one of those using steel toe caps for your hike, it is important to mention that you should not attempt washing them in a washing machine. The steel toe caps of such boots act as a super heavy load that bumps into every corner of the inner tub millions of times when it's spinning, causing severe possible damage to the device.
You should only attempt washing boots with steel toe caps in a machine if the label says you can do so. Even at that, you need to take some precautions as we will highlight below.
How to wash hiking boots in the washing machine
The main reason why people attempt washing their boots in a washing machine is either because the boots are dirty or have developed an odor.
Before washing a hiking boot in a washing machine, you need to be sure that it will not affect its waterproofing properties. To safely wash your hiking boots in the machine, follow the steps we have highlighted below.
1. Prepare the boots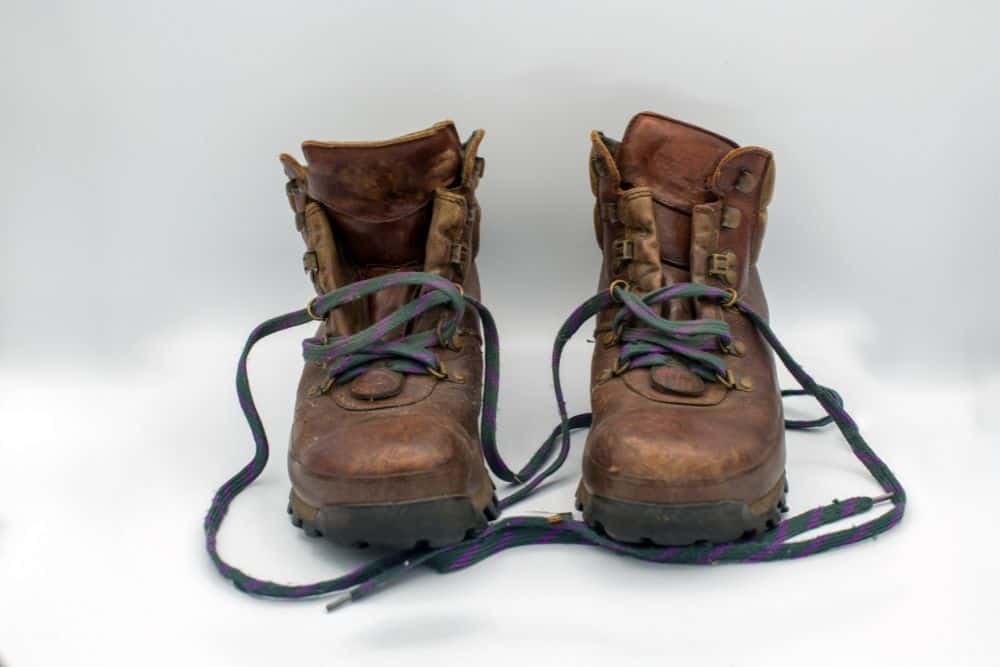 The first step you need to take when preparing your boots for machine wash is to take out the laces. If the insoles are removable you need to take them out also.
Nevertheless, if the insoles are not removable but you notice that the glue used to hold it down has become weak. For that reason, the insoles have begun to lift in some areas allowing sand to enter and hide under the insoles, you need to use a tool and pry out the insoles entirely. You will need to re-glue them after washing and drying.
2. Pre-clean your boots
Tossing dirty boots with caked mud under the outsoles or on the body into a washing machine is a bad idea. The dirt will wash off from the boots and get stuck in the washing machine.
Also, sand and debris can wash off from the boots and during the process of agitation by the washing machine will leave scratch marks on the boots as they rub against the boots.
Bang the soles of the boots together four or five times to dislodge as much mud or dirt as possible. The vibration from the banging also weakens the bonding of the mud to the soles of the boots making it easier to get them out.
Use a soft brush (an old toothbrush can do the trick) to gently brush off the loose dirt or mud from the body and soles of the boots. Furthermore, you can use a rag to gently scrub the boots all over to make sure there is no clump of mud or debris sticking anywhere on the boots.
If the dirt is tightly stuck to the soles, placing running water or tap over the soles of the boot can help to weaken the bond and make it easier for the dirt to come off.
Turn the boots upside down. Holding it by the soles, bang it together so that any sand in the boots will fall off.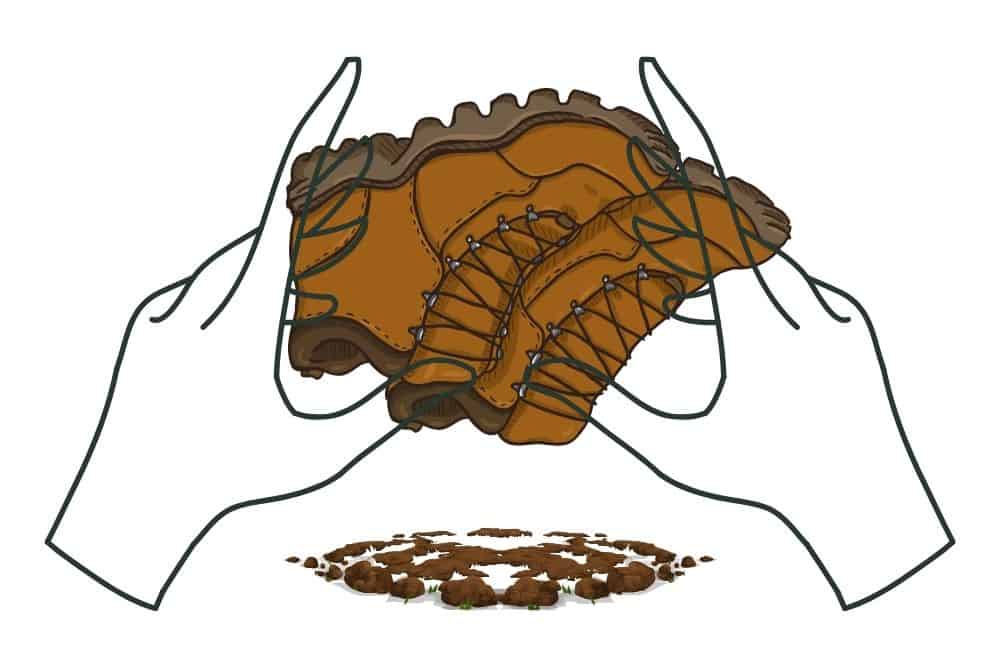 Use a microfiber cloth to clean the inside of the boots to make sure there is no debris in the boots. When you prepare your boots properly, it makes the work of the washing machine easier.
If you have a tough stain, you should spend more time pre-cleaning it with mild soap and brush. Repeat the process until the stain is almost gone so that the washing machine can do the remaining job when you toss it in.
3. Prepare the washing machine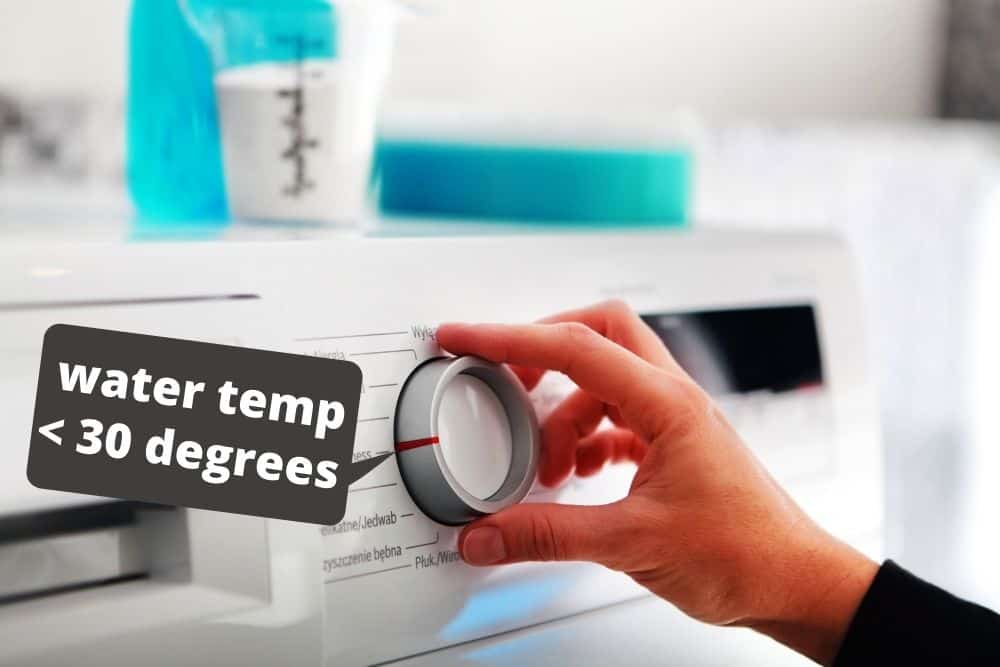 Make sure you set the temperature of the water to no more than 30 degrees.
Since you have already done the pre-clean section of your hiking boots with mid soap, it is enough to wash the rest in the washing machine with warm water.
4. Insert your boots into the machine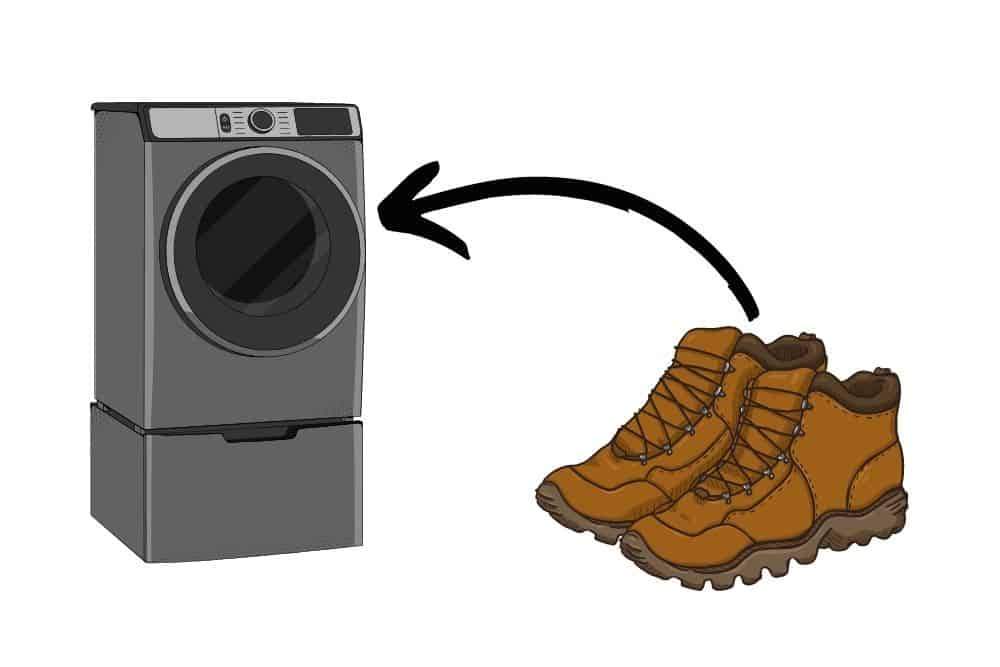 While you can toss leather boots into the washing machine, we suggest that you put the boots and the laces into a mesh laundry bag or pillowcase before placing them in the washing machine. There are two reasons why you should do this.
Firstly, this will prevent the boots from becoming snagged. Secondly, boots make a lot of noise when you wash them in a washing machine—especially those with a steel toe cap.
Placing them in a mesh laundry bag or pillowcase will not only protect the boots and the washing machine but will also lower the level of noise that you have to endure.
For regular hiking boots, another smart thing you should do is to stuff the toe area with a cloth so that it maintains its shape during the washing process.
Turn on the washing machine, set it to gentle wash to prevent any damage to your boots, and wait for the timer to run out before taking them out for drying.
Common mistakes with washing hiking boots in a washing machine
While washing hiking boots in a washing machine is arguably the fastest and least time-consuming technique, there are mistakes that you should avoid which, sadly, many people fall for ignorantly.
1. Using warm or hot water
When you use water above 30 degrees to machine wash your boots, you risk having the color of the boots wash off. You may notice the discoloration of the washing water showing that the color of the boots has bled into the water.
2. Using just any detergent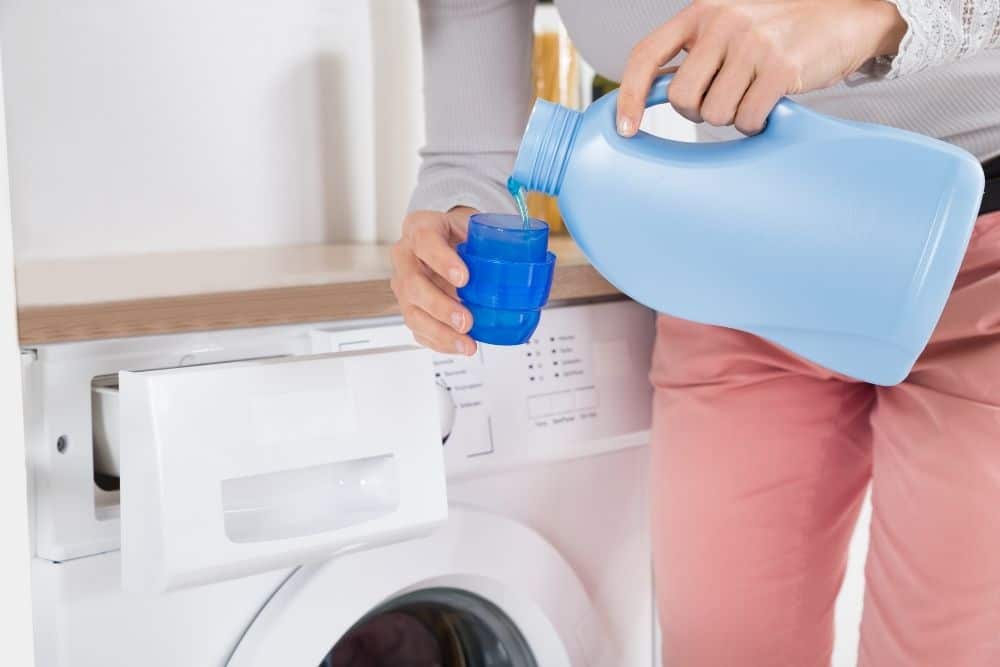 We cannot emphasize enough the importance of using a mild soap to wash your boots instead of using just any detergent. Some people use any detergent on their boots because they live under the illusion that their boots are really tough or because they want to get rid of a tough stain.
This is a bad idea. If it doesn't ruin your boots immediately, the wear will happen gradually over time.
3. Tumble drying
Tumble-drying hiking boots is one of the worst things you can do to your boots because some of the glue in your boots will melt from the heat of the tumble dryer. The best way to dry hiking boots after washing remains air drying.
Conclusion
Perhaps, the reason why you are eager to toss your boots into a washing machine is because of a thick stench coming out of them. Maybe you have washed your hiking boots several times by hand and the smell has refused to go away.
It may interest you to know that the insoles usually harbor odor-causing bacteria that have led to the stink in your hiking boots. Taking out the insoles and giving them a thorough wash can resolve this problem.
Alternatively, you can take out the insoles and replace them with new ones. We have another article that talks about how to get rid of stink from boots and you should check it out.
Regardless of the method that you are using to wash your hiking boots, always make sure that the boots dry properly before taking them for your next hike.
How To Clean Merrell Hiking Boots? (Explained for Beginners)
It is recommended that you wash your shoes. Some people wash their shoes in the machine even though it is not recommended. Allow your shoe to air-dry after you finish. Don't worry, they'll get clean in no time if you remove the laces or not.
Table of Contents
Can Merrell boots be washed?
After a long time of use, wash with warm water and mild soap. To avoid attracting more dirt, be sure to rinse your soap off. Remove the laces and open footwear and lay them flat to dry.
Can I put hiking boots in the washing machine?
Don't put boots in a washing machine because it can damage them. Before you put your boots in the machine, make sure you waterproof them. Wash your feet in cold water, not hot water. Cold water is more likely to damage the soles of your shoes.
Hot water on the other hand, will soften the leather and make it easier for water to seep into the shoe. This is why it's important to wash your footwear before putting it in your dryer.
Do Merrell shoes have removable insoles?
There areremovable and non-removable straps on all my other merrells. Rated 5 out of 5 by Anonymous from Love it! I bought this a few weeks ago and I love it. It is very comfortable and the straps are great. The only thing I would change is that it would be nice if it came in a different color.
How do you get smell out of hiking boots?
Baking soda is a popular product for cleaning smelly equipment because of its ability to remove stains and odors with relative ease. If you want to use baking soda on your hiking boots, you can rub them in with your hands.
How long should Merrell shoes last?
I don't know how often to replace my hiking shoes. If the traction is not what it used to be, it's time to replace the shoe. If the soles are worn down to the point where they can no longer support your weight, you should replace them.
This is especially true if you've been hiking for more than a year, or if your feet have become so worn out that you can't walk without crutches or a walker. You should also replace your hiking boots if they've lost their laces, and if the sole of the boot has become worn or worn-out.
If you have a pair of shoes that's been in your closet for years, but you haven't worn them in a long time, they're probably too old and should be replaced.
Can I put Merrell shoes in the dryer?
They should not be put in the dryer. The material and glue in the shoes can be damaged if they are exposed to any type of heat. If you want to protect your shoes from damage, air dry them for at least 24 hours before putting them on.
Can you wash Gore Tex shoes in washing machine?
The GORE-TEX materials have very small pores. As soon as a shoe with GORE-TEX is put in the washing machine, it is destroyed and the shoe is no longer waterproof. It is a good idea to clean course dirt with water and a brush. If you want to keep your shoes waterproof, you need to use a waterproof shoe liner.
A waterproof liner is a thin layer of material that is applied to the inside of your shoe. The liner prevents water from entering the shoes and keeps them from getting wet. You can buy waterproof liners at most sporting goods stores.
Can walking shoes be washed in washing machine?
You can run the washer on a cold delicate cycle with liquid detergent. The wash time varies from 30 to 40 minutes depending on your washer. Allow the sneakers to air dry after they are removed from the washer. The heat may warp shoes, so never put them in the dryer.
Cleaning Your Merrell Hiking Shoes: Can They Be Washed?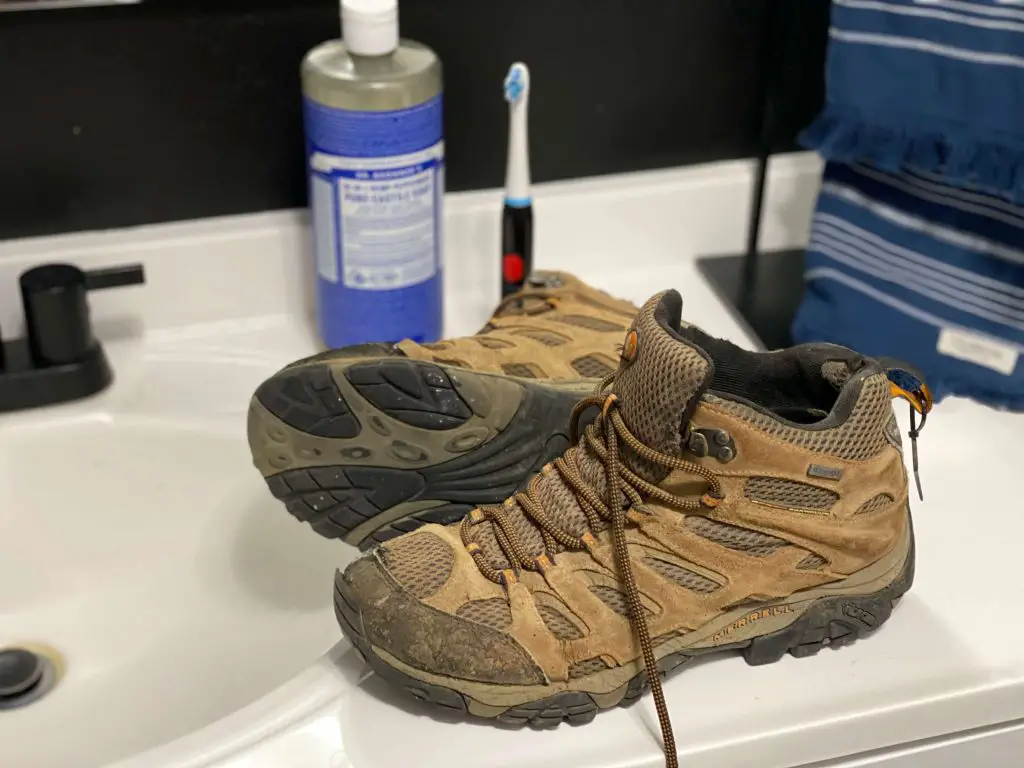 Merrell Hiking shoes are built to take a beating when you're out on the hiking trail. You can cross rivers, step onto muddy trails, and walk all over loose gravel with no issues. However, once you get back home they might be caked in mud and dirt, so can they be washed?
Merrell hiking shoes should not be machine washed as the leather and adhesive can be damaged in the washing machine. Merrell officially recommends you to clean them with a brush and mild soap and to be dried at room temperature. This will help extend the life of the materials of the boots.
I've hiking in my Merrell Moab hiking shoes for years. I've taken them on dry desert landscapes, stepped across rivers, and went into ankle deep mud. My Merrell hiking shoes have stood the beating on the trail, but lasted longer because of the careful steps I've taken in cleaning them. There are a few key things you can do when you are cleaning your hiking shoes to help them last longer.
How to Clean Your Merrell Hiking Shoes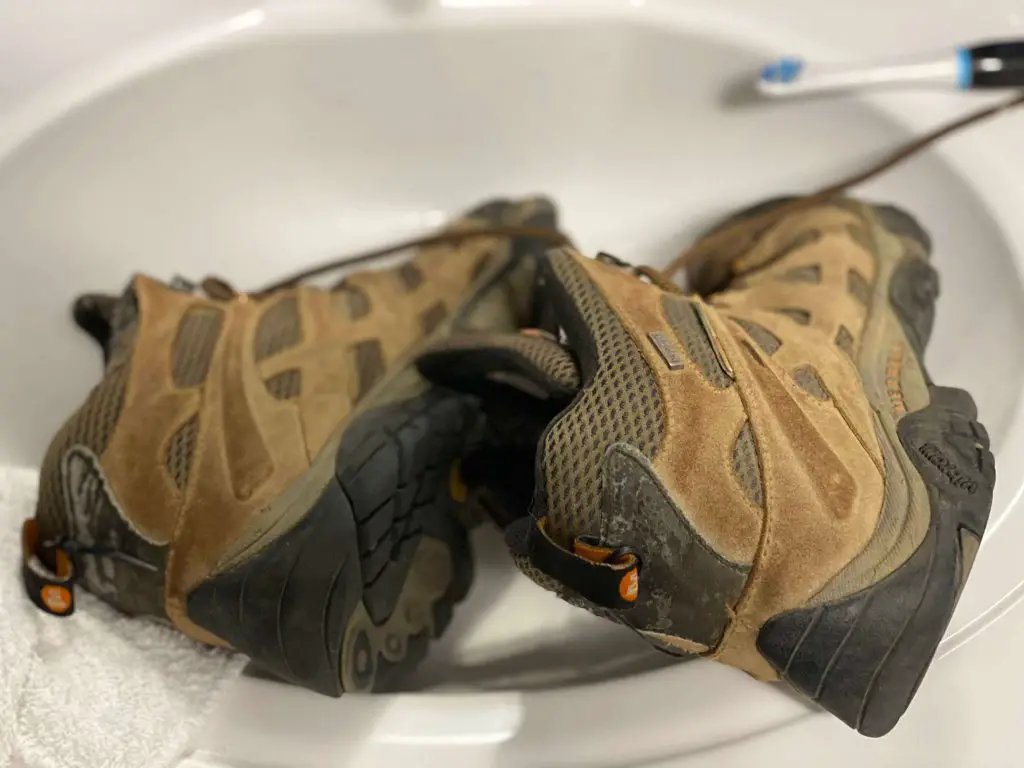 When it comes to cleaning your hiking shoes, less is more. It is easy to want to toss your hiking shoes into the washing machine, but this can damage and shorten the life of your hiking shoes.
The first thing you want to do is use a soft brush such as an old tooth brush to brush away any dirt. Next you want to remove any lodged gravel or rocks from the bottom of your shoes. Once you have brushed the shoes, the next step is to remove the laces.
Once the dirt and laces are gone, the next step is to rinse your hiking shoes with water. Use a mild soap mixed with water to brush the outer layer of your shoes. This should help remove almost all of the dirt and grime from your shoes.
Our Favorite Merrell Hiking Boots:
What kind of Soap Should I use to Clean My Merrell Hiking Shoes?
One thing to keep in mind is what type of soap or cleaner to use for your Merrell hiking shoes. You want to avoid using soaps with too many additives or things that have strong chemicals as it can damage the leather and other materials of the shoes.
The first and main choice for me is Dr. Bronner's Soap. This soap is very mild and is made of organic ingredients. This soap will be very gentle on your hiking shoes and help extend their life since it does not have any harmful chemicals.
An alternative to Dr. Bronner's Soap is Gear Aid Boot and Shoe Cleaner. This cleaner helps clean leather and suede shoes with a concentrated gel cleaner that helps remove dirt and grime without harming the underlying fabric.
An added bonus of this cleaner is it will help prep your hiking shoes for waterproof treatment. This spray will help ensure that the fabric is ready to be treated for waterproofing. As your shoes age they will need to have their waterproofing protection reapplied after common wear and tear.
How Should I dry my Merrell Hiking Shoes After Cleaning Them?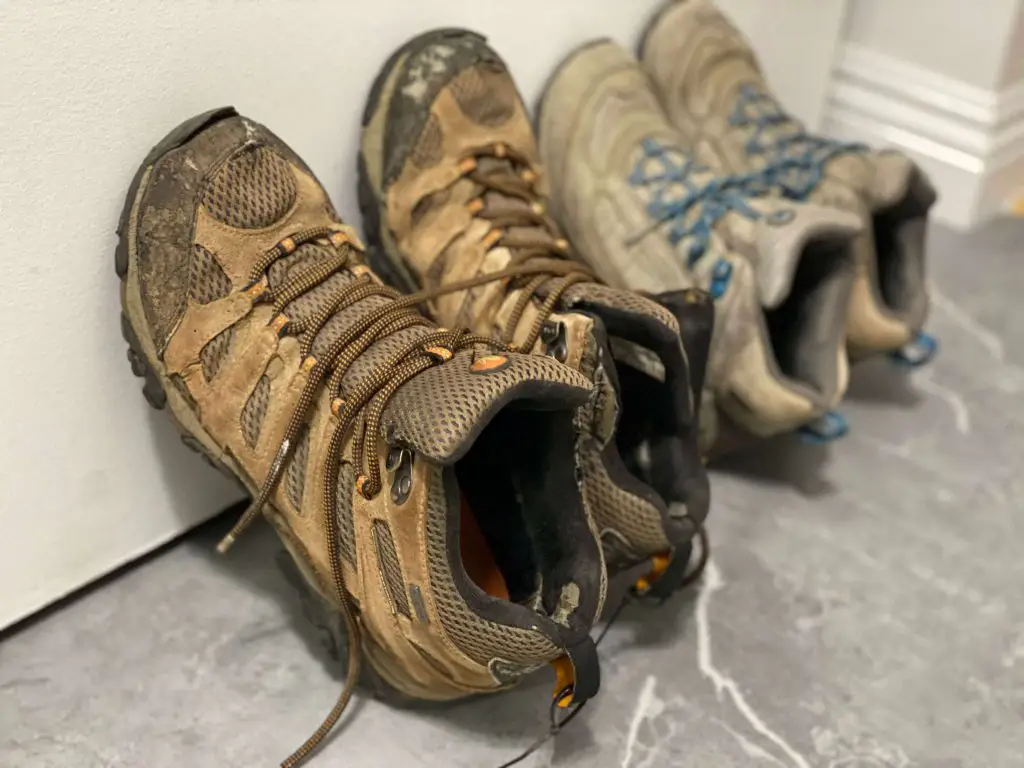 Once you are done washing your Merrell shoes, you want to shake off excess water. You might be tempted to place them in the dryer, but this is not a great idea. The excess eat from the dryer can ruin any adhesive and age any leather in your shoes. You also want to keep your shoes away from direct sunlight or campfires as this too can damage the shoes. Merrell officially recommends you dry your boots at room temperature.
Before drying, the first thing you want to do is remove your insole and set it aside. Sweat builds up as you hike and soaks in the inner fabric and insole of your shoe, so its best to remove it so it can air out.
The next step you want to do is place newspaper or paper towels inside of the shoe. This will help absorb any excess moisture that is trapped inside the shoe.
Drying your hiking shoes can take a day or two. Once your shoes are completely dried you can put the laces back on and put the insole back into the shoe. Now your shoes are clean like-new and the soles of your shoes have improved traction as they are not covered in dirt and mud.
Why Do My Merrell Hiking Shoes Stink?
After tackling the trails and taking off your hiking shoes, you may notice they may have a slight stench, or maybe after cleaning your hiking shoes there is a lingering smell. As you are hiking, your legs and feet are generating sweat. This sweat gets trapped in the shoes and can create a breeding ground for bacteria.
Before we get into what you can do to your shoes after you return from your hike, you can prevent a lot of the sweat from ever getting to the fabric of your hiking shoes. You can do this by purchasing wool hiking socks. If you are wearing cotton socks or regular gym socks, this is not enough to wick away the sweat from your hiking shoes. Wool hiking socks will help absorb the sweat and keep them away from your feet and your hiking shoes. This will severely reduce the source of the stench in your hiking shoes.
Our Favorite Hiking Socks:
Once you return from the trail you need to give your shoes some time to dry out. If a stench remains even after cleaning them then you can apply an odor eliminator. This will help remove the stench from your hiking shoes. Allow the shoes to dry in room temperature after you have applied the odor eliminator.
How Can I Waterproof My Merrell Hiking Shoes?
As you hike and as time goes on the water proof layer on your hiking shoes will wear off. After thoroughly cleaning your hiking shoes, you may consider applying a waterproof coating. The best time to apply this waterproof coating is immediately after you have washed the soap off of your shoes.
Make sure your laces are off. If you have leather hiking shoes then you want to get them to soak in water. Wet a towel and wrap it around your boots so the leather can absorb the water. Follow the waterproofing treatment steps to thoroughly apply the waterproof treatment. Your shoe's waterproofing should be fully restored once they are completely dry.
How Should I Store My Merrell Hiking Shoes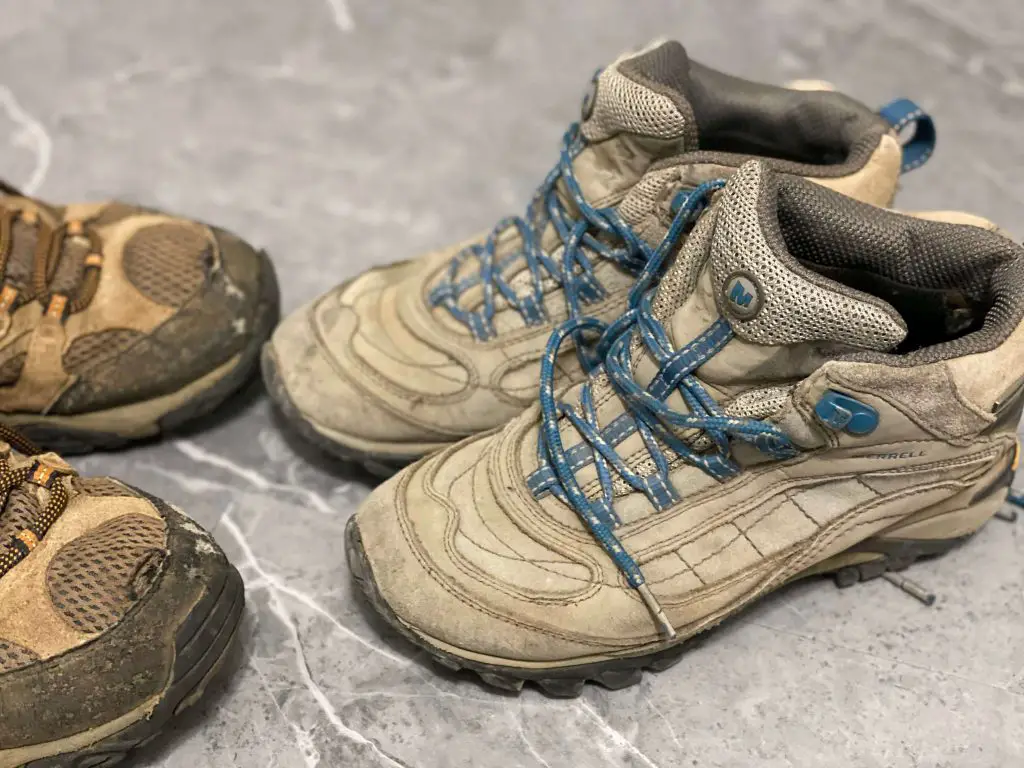 When you are done cleaning your hiking shoes you might be wondering what the best way to store them. The best way to store your Merrell hiking shoes is to let them completely dry out in your house away from the sun. Once they are dry then you should store them in a cool, dark, and dry location.
The reason why you want to store them in a cool and dry location is that any kind of heat or humidity can negatively impact the materials of the Merrell hiking shoes. Any sun can pull natural oils and moisture from the leather in the shoes. It can also dry out any rubber or adhesive on your shoes. If the place you store your hiking shoes has humidity than you can possibly get mold or keep a stench in your shoes.
If you are wary of any odors in your shoe you can also store them with de-odorizing products. These will help remove any stench and keep your merrel hiking shoes smelling fresh.
Final Thoughts
Cleaning your hiking boots is probably one of the last things you want to do after returning from a hiking trip. The easiest thing to do is to toss them in the washing machine, however this can damage the shoes and shorten the lifespan. By handwashing your shoes and letting them airdry you will have clean shoes, improved traction, and extend the life if your Merrell hiking shoes.
Cleaning your Merrell hiking shoes is important, but its also important how you store then. Storing them in a cool and dry location will help keep odors away, mold out, and make sure theyre fresh for your next hike.
Source https://fromyourtrails.com/how-to-wash-hiking-boots-in-washing-machine/
Source https://www.rusticaly.com/how-to-clean-merrell-hiking-boots/
Source https://hellohiker.com/cleaning-your-merrell-hiking-shoes-can-they-be-washed/#:~:text=Merrell%20hiking%20shoes%20should%20not%20be%20machine%20washed,the%20life%20of%20the%20materials%20of%20the%20boots.