How To Wash Hiking Boots In Washing Machine | 4 Basic Steps
Depending on the nature of the terrain that you hike, one of two things is likely to happen to your boots. It is either you get mud splattered all over the boots with a thick cake under your soles that fills up the lugs or you will get sand in your boots.
Now, imagine this scenario. You just spent two to three hours cleaning your hiking boots to get the mud or sand out but when it got dry, you examined and could still see patches of mud with some traces of sand inside.
Imagine how frustrated the person that first tried to wash his or her boots in a washing machine must have felt that he or she was willing to do whatever it takes to get the stubborn dirt out.
No doubt, the idea of tossing your boots into a washing machine is a scary one that not everyone may be willing to try. In fact, anyone that has spent hundreds of dollars to acquire their boots will be wary of trying this out for the fear of damaging the boots.
However, the big question here is, 'Is washing hiking boots in a washing machine effective?' Can you wash just any type of hiking boot in a washing machine or is this process reserved for boots made with a certain material?
If these questions have plagued your mind ever since you discovered this crazy idea, you will get all your answers today.
Can you wash hiking boots in the washing machine?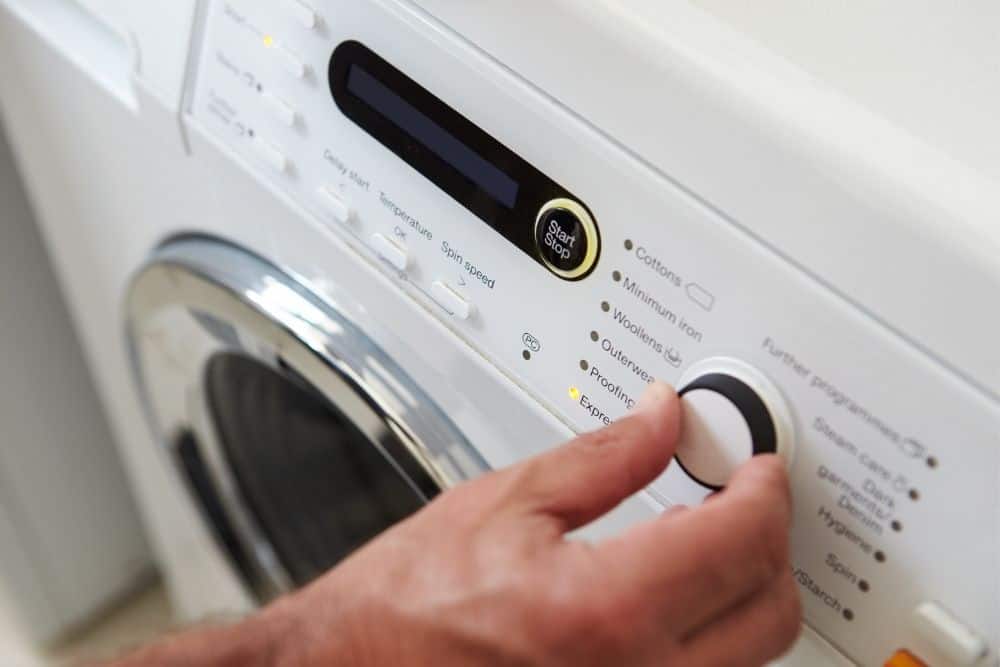 Without mincing words, the answer is yes, you can wash hiking boots in the washing machine—but there is a caveat.
Washing your hiking boots in a washing machine can either damage your boots or the washing machine if you don't follow the right instructions which explains why a lot of people are against this idea.
Firstly, washing boots in a washing machine is not recommended for all types of boots. This method is mostly recommended for boots made of genuine leather.
Fabric boots made of cotton, nylon, or polyester can be safely washed in a machine. However, washing boots made of suede or other similar materials in a washing machine is a bad idea.
Also, when washing boots it is advised that you make use of the front loader rather than the top loader. The top loader has a more aggressive agitator that can damage your boots.
Another important point to mention is that when washing hiking boots in a machine avoid the use of detergents and bar soap which may contain additives that may fade off the colors or damage the fabrics.
If you have mold on your boot, using a mixture of 20 percent vinegar and 80 percent water will help to get it out. It is important to thoroughly rinse your boots to get rid of any residue of the cleaning agent
Properly drying your boots is also important to ensure the water that gets into the boots during machine wash properly dries out.
Can you wash steel toe boots in the washing machine?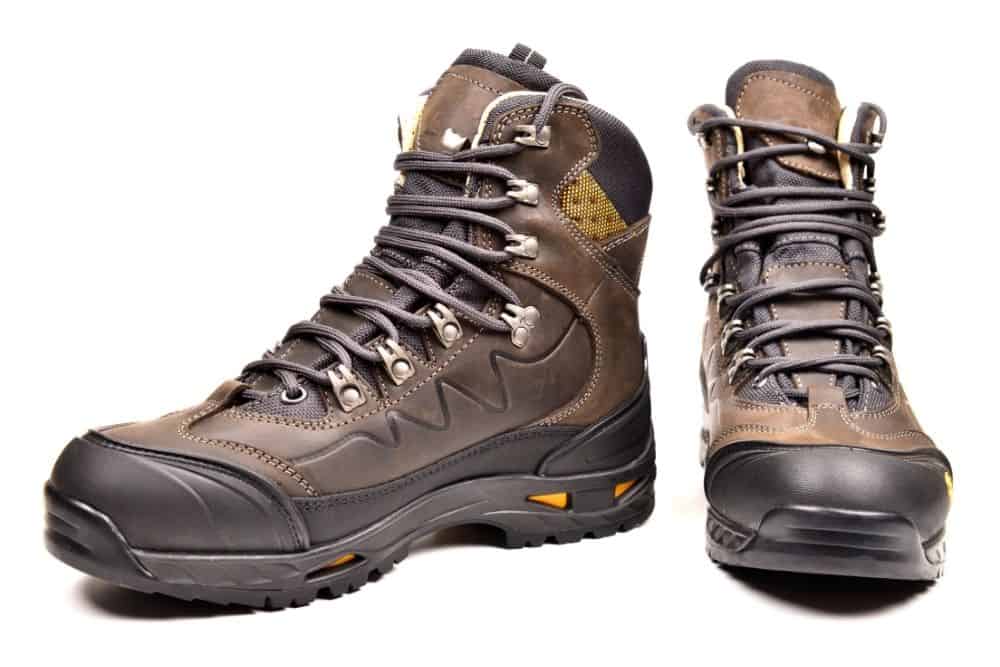 Hiking boots usually do not come with steel toe caps. This feature is usually associated with work boots—but this has not stopped people from using boots with steel toe caps for hikes.
So, if you are one of those using steel toe caps for your hike, it is important to mention that you should not attempt washing them in a washing machine. The steel toe caps of such boots act as a super heavy load that bumps into every corner of the inner tub millions of times when it's spinning, causing severe possible damage to the device.
You should only attempt washing boots with steel toe caps in a machine if the label says you can do so. Even at that, you need to take some precautions as we will highlight below.
How to wash hiking boots in the washing machine
The main reason why people attempt washing their boots in a washing machine is either because the boots are dirty or have developed an odor.
Before washing a hiking boot in a washing machine, you need to be sure that it will not affect its waterproofing properties. To safely wash your hiking boots in the machine, follow the steps we have highlighted below.
1. Prepare the boots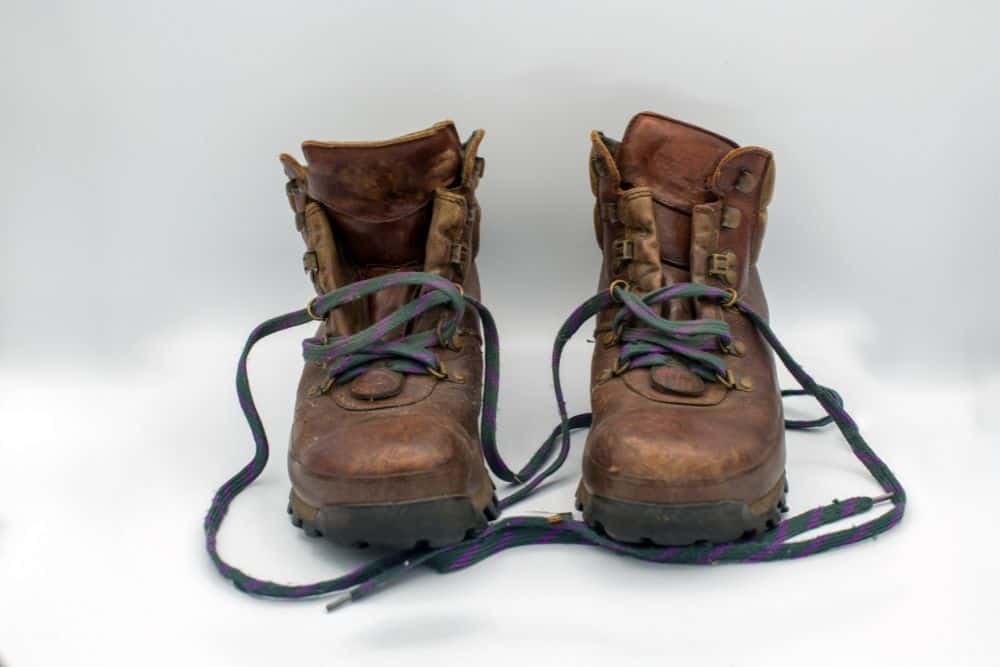 The first step you need to take when preparing your boots for machine wash is to take out the laces. If the insoles are removable you need to take them out also.
Nevertheless, if the insoles are not removable but you notice that the glue used to hold it down has become weak. For that reason, the insoles have begun to lift in some areas allowing sand to enter and hide under the insoles, you need to use a tool and pry out the insoles entirely. You will need to re-glue them after washing and drying.
2. Pre-clean your boots
Tossing dirty boots with caked mud under the outsoles or on the body into a washing machine is a bad idea. The dirt will wash off from the boots and get stuck in the washing machine.
Also, sand and debris can wash off from the boots and during the process of agitation by the washing machine will leave scratch marks on the boots as they rub against the boots.
Bang the soles of the boots together four or five times to dislodge as much mud or dirt as possible. The vibration from the banging also weakens the bonding of the mud to the soles of the boots making it easier to get them out.
Use a soft brush (an old toothbrush can do the trick) to gently brush off the loose dirt or mud from the body and soles of the boots. Furthermore, you can use a rag to gently scrub the boots all over to make sure there is no clump of mud or debris sticking anywhere on the boots.
If the dirt is tightly stuck to the soles, placing running water or tap over the soles of the boot can help to weaken the bond and make it easier for the dirt to come off.
Turn the boots upside down. Holding it by the soles, bang it together so that any sand in the boots will fall off.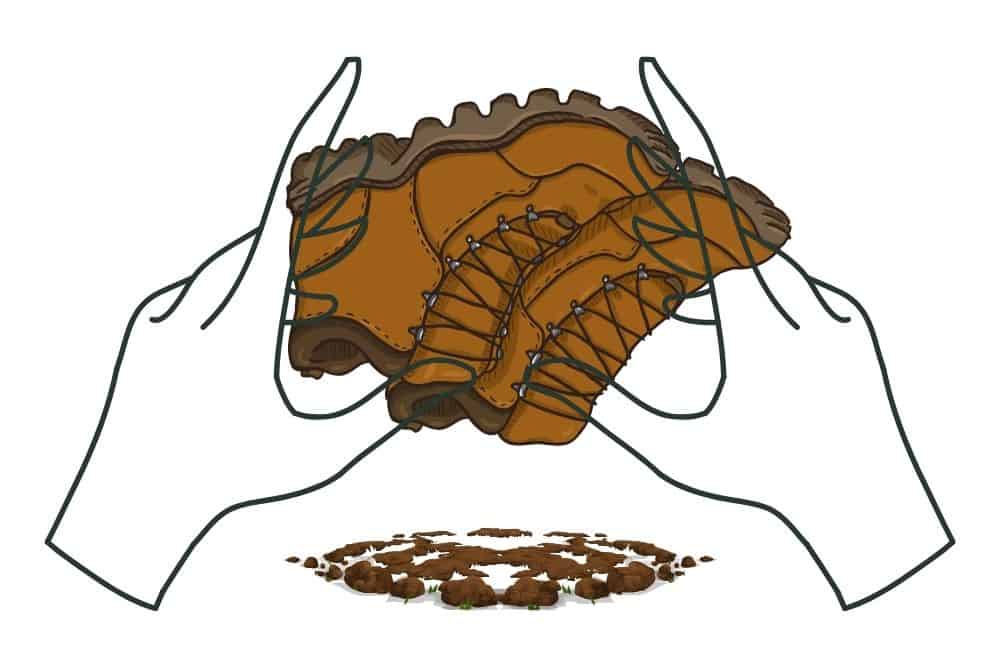 Use a microfiber cloth to clean the inside of the boots to make sure there is no debris in the boots. When you prepare your boots properly, it makes the work of the washing machine easier.
If you have a tough stain, you should spend more time pre-cleaning it with mild soap and brush. Repeat the process until the stain is almost gone so that the washing machine can do the remaining job when you toss it in.
3. Prepare the washing machine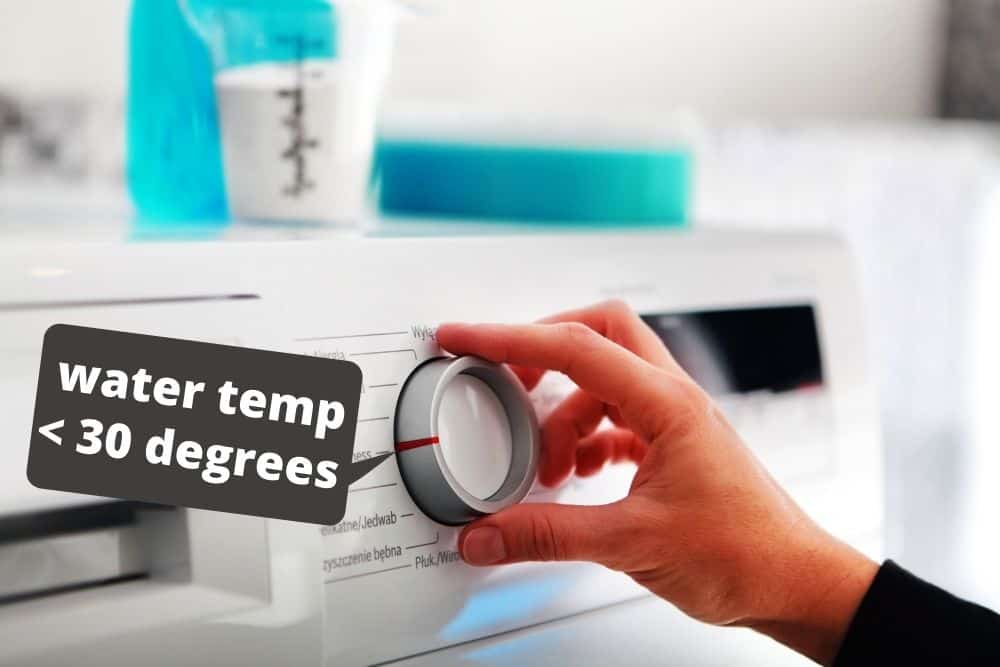 Make sure you set the temperature of the water to no more than 30 degrees.
Since you have already done the pre-clean section of your hiking boots with mid soap, it is enough to wash the rest in the washing machine with warm water.
4. Insert your boots into the machine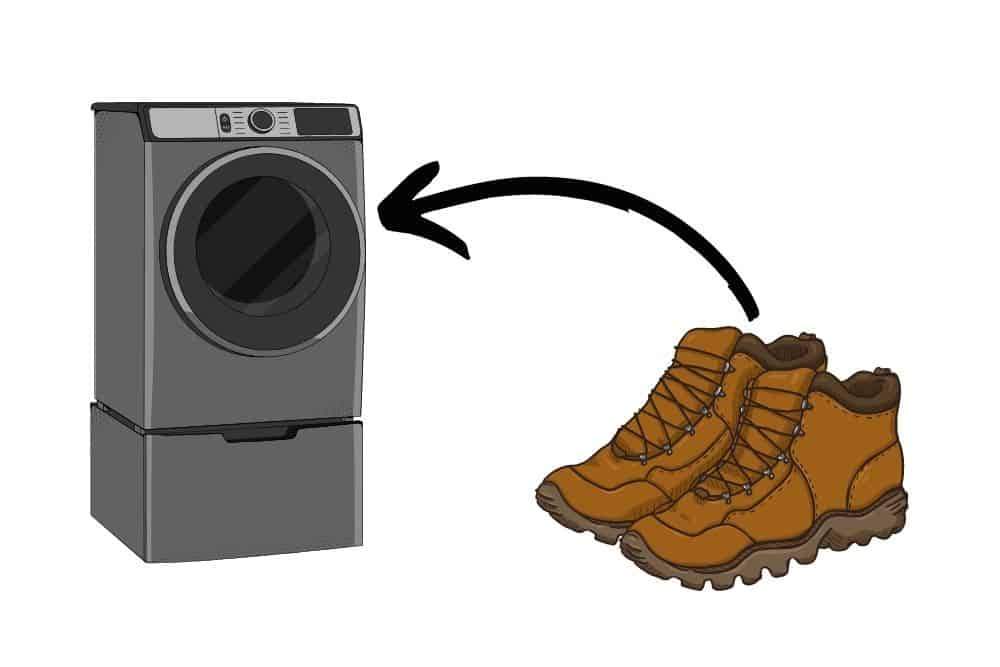 While you can toss leather boots into the washing machine, we suggest that you put the boots and the laces into a mesh laundry bag or pillowcase before placing them in the washing machine. There are two reasons why you should do this.
Firstly, this will prevent the boots from becoming snagged. Secondly, boots make a lot of noise when you wash them in a washing machine—especially those with a steel toe cap.
Placing them in a mesh laundry bag or pillowcase will not only protect the boots and the washing machine but will also lower the level of noise that you have to endure.
For regular hiking boots, another smart thing you should do is to stuff the toe area with a cloth so that it maintains its shape during the washing process.
Turn on the washing machine, set it to gentle wash to prevent any damage to your boots, and wait for the timer to run out before taking them out for drying.
Common mistakes with washing hiking boots in a washing machine
While washing hiking boots in a washing machine is arguably the fastest and least time-consuming technique, there are mistakes that you should avoid which, sadly, many people fall for ignorantly.
1. Using warm or hot water
When you use water above 30 degrees to machine wash your boots, you risk having the color of the boots wash off. You may notice the discoloration of the washing water showing that the color of the boots has bled into the water.
2. Using just any detergent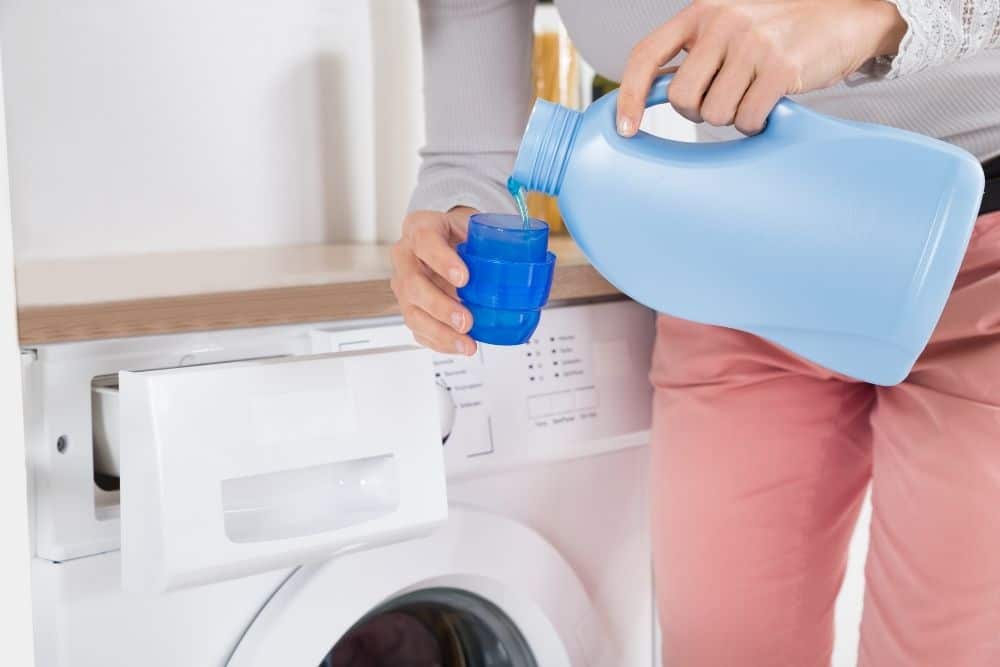 We cannot emphasize enough the importance of using a mild soap to wash your boots instead of using just any detergent. Some people use any detergent on their boots because they live under the illusion that their boots are really tough or because they want to get rid of a tough stain.
This is a bad idea. If it doesn't ruin your boots immediately, the wear will happen gradually over time.
3. Tumble drying
Tumble-drying hiking boots is one of the worst things you can do to your boots because some of the glue in your boots will melt from the heat of the tumble dryer. The best way to dry hiking boots after washing remains air drying.
Conclusion
Perhaps, the reason why you are eager to toss your boots into a washing machine is because of a thick stench coming out of them. Maybe you have washed your hiking boots several times by hand and the smell has refused to go away.
It may interest you to know that the insoles usually harbor odor-causing bacteria that have led to the stink in your hiking boots. Taking out the insoles and giving them a thorough wash can resolve this problem.
Alternatively, you can take out the insoles and replace them with new ones. We have another article that talks about how to get rid of stink from boots and you should check it out.
Regardless of the method that you are using to wash your hiking boots, always make sure that the boots dry properly before taking them for your next hike.
How To Clean Keen Hiking Boots? (Explanation Revealed!)
After extended use, we recommend you take the insoles out, wash them with a soft cloth and detergent, and then let the air dry without heat. Do not use fabric conditioners.
Table of Contents
Can you put walking boots in the washing machine?
Don't put boots in a washing machine because it can damage them. Don't waterproof your boots if they're still wet. You can read how to waterproof your boots.
How do you clean waterproof boots?
For waterproof shoes and boots, you'll want a boot brush to help reach into thin folds and crevices. If you want to get the initial clean, you could either use a specialized cleaner or a solution that's half water and half vinegar. Allow the boot to sit for a few minutes and then wipe it down with a damp cloth.
How do I clean the inside of my hiking boots?
If you want to clean the inside of your walking boots, simply fill them with water and leave for 12 hours. It should be poured away and dried as normal. Most hiking boots have a thin layer of water– repelling material on the outside of the boot.
If the membrane is too thin, it won't be able to keep out water, and you'll have to replace it every few years. How to clean your boots When you're done with your cleaning, you can put them in the dryer for a few minutes to dry them out.
You can also use a damp cloth to wipe them down, but be careful not to get them too dirty.
How do you clean mud hiking boots?
You can wash your boots with water and dish detergent. Warm water and a mild dish soap can be used to clean your boots. For stubborn stains, use a soft bristled brush or a soft cloth. Use gentle pressure to not damage the leather in your boots.
How do you dry wet hiking boots?
The amount of hot air needed to dry the shoes is dependent on the size of the dryer. Make sure the pipe is pushed to the toe edge by placing it inside the boot. The dryer needs to be turned on next. For a completely dry boot, leave for a few minutes and then turn it off.
Once the boots are dry, it's time to put them on again. To do this, you'll need a pair of shoes that are at least one size larger than the size of your feet. If you're wearing a size 10, for example, your shoes will need to be about an inch and a half bigger than your foot.
Once you've got your boots on, take them off and lay them flat on a flat surface. You'll want to make sure they're flat, but not so flat that you can't see the bottom of the shoe. This will ensure that the heat is evenly distributed throughout the entire shoe, which will help to keep the feet dry.
How do you wash decathlon hiking shoes?
Hand washing your shoes with warm water and neutral soap is the simplest and most efficient way to do it. If the shoes are dirty, you can use a small brush to clean them. Before washing, you should remove the insoles from the shoe.
How do you take care of hiking shoes?
You should rinse your hiking shoes with water. If necessary, use a soft brush or sponge to remove mud and dirt. It's important to let your shoes dry completely after you wash them. These boots will keep your feet dry and protected from the elements while you hike. You can find a variety of different types of boots at your local outdoor store or online.
Can you wash army boots in the washer?
The spin cycle can ruin their shape if they are put in a washing machine. The inside of the boots need to be wiped down with a soft cloth and a mixture of water and dishwashing soap. You're good to go after a wipe down with plain water.
Are you supposed to wear socks with Keens?
The sandals look great with shorts and pants, and the footbed is incredibly comfortable. He tried them out with socks a few times and found them to be very comfortable, even though he spent most of his time wearing them without socks. The sole is very grippy and has a good amount of traction.
Women's Choice – Keen Newport This sandal is a great option if you are looking for a more casual option. It is made of a very soft and comfortable material that is easy to walk in and out of. I would recommend it to anyone who is looking to add a little more style to their wardrobe.
Why do Keens make my feet stink?
It's probably due to that plastic material that it's an issue with Keens. The upside is that the feet are very comfortable, but the downside is the smell. I've had them for about a year now, and they still smell like they've been in the washing machine for a few days. It's not a big deal, just annoying.
Rated 5 out of 5 by Anonymous from Great shoes! I bought these shoes a couple of months ago and have been wearing them every day since. They are super comfortable and I love the way they look. My only complaint is I wish they came in a different color.
Here's How to Clean Hiking Boots
If you spend enough time outdoors, at some point, you'll need to clean your hiking boots.
While your boots are, indeed, designed to be covered in mud and dirt, over time, all of that muck can actually start to destroy them. If your boots get too dirty, even the best-made model will eventually need to be replaced because the fabric will start to disintegrate.
One of my dirty boots next to the other one that I just cleaned.
However, there's a lot of misinformation out there about the best way to clean your boots. Although some people think a simple rinse off with cold water is enough to do the trick, it's important to realize that hiking boots are an investment that need to be taken care of if you want them to last.
So, to get you started off on the right foot, we'll walk you through the basics of cleaning your hiking boots, and give you a step-by-step guide to getting your boots back in tip-top shape.
Table of Contents
Why You Need To Clean Your Hiking Boots
Hiking boots are made to get dirty, right? So why would you possibly need to spend your valuable time cleaning them?
Well, it turns out that while, yes, hiking boots are designed to get dirty, if they're left dirty for too long, all of that dirt and grime can actually take a toll on the shoes, and cause them to wear out prematurely.
How, you might ask? Basically dirt destroys your hiking boots in three ways:
Way #1. The dirt and sand that gets caked onto your boot sticks on, and starts grinding away at your boot's upper fabric.
When these particles get embedded into the fabric on your boots, they actually dig deeper and deeper into the material with every step you take, causing them to disintegrate faster than they normally would if they were clean.
Way #2. When leather is covered in mud, the mud sucks away almost all of the moisture from the leather as it dries.
This might not seem like a big deal, but, over time, your boots' leather will become less flexible and pliable, which will eventually cause it to crack prematurely and wear out faster than it should.
Since leather boots can be quite expensive, you certainly don't want to have to buy a new pair very frequently, so keeping your boots clean is of the utmost importance.
Way #3. When dirt and grime get lodged in the lugs of your boots' soles, it speeds up the wear and tear process on the rubber.
All of this friction will wear away at the rubber on the soles of your boots, so you'll either need to get them re-soled or buy a new pair when your toe starts sticking out of the front of your shoe.
The Two Ways of Cleaning Your Boots
At this point, you should understand why you need to clean your hiking boots, so now we can start to talk about how to clean your boots.
Basically, there are two parts to boot care: regular boot cleaning and deep cleaning.
Regular boot cleaning is what you should do after you get home from a hike or from a long day outside. This is the sort of regular maintenance you can do for your boots to help ensure that they'll stay happy and healthy for the duration of their usable lifetime.
A deep clean, however, is what we should all do once in a while to help our boots stay at peak performance for years. This is a more thorough, in-depth process that you can do every few months (if you're a frequent hiker) or whenever your boots are particularly dirty.
The deep clean will take up to a half an hour of your time, while a regular clean should only take a few minutes.
Method #1: Regular Post-Hike Cleaning
The following guidelines for a regular post-hike cleaning of your boots should be followed every time you get back from spending a lot of time outside.
This method is designed to be a sort of regular maintenance for your boots to keep them in good condition throughout the span of their useable lifetime. Here's what you need to do:
Step 1. Remove the insoles
All shoes come with some sort of insole, and hiking boots are no exception. While some insoles provide stability and support for your foot, others are just flimsy pieces of foam that sit under your foot.
It's important to remove the insoles in your boots at the end of each hiking day. When your boots get wet, either through sweat or water the insoles basically tap a nice layer of moisture inside your boot, which is pretty much as disgusting as it sounds.
When you keep the insoles in your shoes all the time, you basically create the perfect dark and damp conditions for mold and mildew to grow inside your hiking boots.
So, to stop this from happening, take your insoles out of your boots at the end of each hiking day, even if you're backpacking to let them and your boots dry. This is especially important if you have expensive orthotics that can get destroyed by all that mildew.
Step 2. Rinse with cold water
Whether or not your boots are caked with mud or are just a little dirty, go ahead and give them a quick rinse off with water:
This will help remove any larger pieces of dirt that are stuck either on the uppers or on the soles.
Step 3. Quick scrub
Once you've rinsed your boots off with cold water, it's time to give them a quick scrub. It's best to use an old vegetable brush, or an old toothbrush to get this done:
Tough, durable bristles are a must with any brush you use because you'll really need to dig in to get some of the dirt off of your boots.
Since this is just a regular maintenance clean of your boots and not a deep clean, this process shouldn't take too long. Just focus on getting the dirt out of the lugs on the soles, and getting the obvious dirt off of the top of your boots.
Step 4. Freshwater rinse
After you've given your boots a quick scrub, it's time to rinse them off again. A dash of freshwater from your hose or sink should be enough to wash away any of the dirt that you've scrubbed up.
Step 5. Dry
The final step in a regular maintenance wash of your hiking boots is to leave them out to dry. It's incredibly important that your boots dry out completely, or you might risk mold and mildew growth, which is sure to ruin them quickly.
So, leave them in a dry location with plenty of ventilation to make sure they dry out completely. Setting up a fan near the boots is also a good way to expedite the drying process.
To dry your boots, you can leave them out in the sun for a few hours, or use a purpose-built boot dryer if you need to use your shoes the next day.
However, leaving your boots by a fire is NOT recommended as the soles of many shoes are attached using hot glue (a.k.a hot melt adhesive). This means that if you leave them near a fire, they can start to delaminate and the soles may fall off.
If you do have to leave your boots near a fire to dry them out (perhaps you're in a damp cabin), keep them at least 5-10 feet away from the actual source of the heat.
You can also try packing old newspapers into the boots to remove the moisture. Replace the newspaper whenever it is soaked until the inside of your boots are dry.
Method #2: Deep Cleaning
If you have particularly dirty boots or you just think it's time to give your boots a bit of love and care, a deep clean is a solid option.
When deep cleaning your boots, you want to be sure that you're removing as much dirt and grime as you possibly can to help extend the lifespan of your shoes.
Thus, this process usually takes about 30 minutes to complete because being thorough is key. Here's what you do:
Step 1. Remove the insoles and laces
As we've mentioned, removing the insoles is important if you want to prevent your boots from growing mold and mildew. However, when you do a deep clean, you also want to be sure to remove the laces from your shoes.
Doing so will allow you to do a deeper clean of the boots' eyelets (the holes that laces go through) and the laces themselves. Plus, it's easier to clean the tongues of your boots if you remove the laces, so it's a win-win all around.
Step 2. First rinse
Once you've prepped your boots for cleaning, it's time to give them their first rinse. Depending on how muddy they are, you may want to do this outside with a hose, instead of clogging up your drain with mud and debris.
The goal here is to soften any caked-on mud, and remove larger chunks of dirt before you head back inside to get those boots squeaky-clean.
Step 3. Scrub
Now it's time to get to work. At this stage, you're going to want to get that old vegetable brush or old toothbrush back out and scrub away. However, unlike during the routine clean, in a deep clean, we really want to be sure that we're getting every single bit of dirt off of our boots.
Pay particular attention to the lugs of your boots, as well as any mesh areas on the boots, especially around the tongue.
Mesh tends to trap in little bits of dirt that quickly wear away at the fabric. You'll also want to be sure that you remove dirt from the crease between the midsoles and uppers of your boots as this area tends to trap dirt, too.
This is also a good time to give your insoles and shoelaces a little scrub to ensure that they're clean, too. There's no point in putting dirty insoles or sticking muddy laces back into your shoes.
Also, be sure to check the inside of your boots to see if they could do with a quick scrub. Often, mud and dirt finds its way into our boots so you might want to clean that out, too.
Step 4. Clean with footwear cleaner
If you have it, now's the time to clean your boots with a dedicated footwear cleaner that's made specifically for the fabric on your boots. This footwear cleaner from Nikwax is a time-tested favorite.
It's important that you don't use regular soap or detergent as a substitute here because they can contain additives and chemicals that can damage leather or certain fabrics.
To clean your boots you'll make a solution of water and the footwear cleaner, and scrub with a brush to make sure your boots are nice and clean. If a footwear cleaner isn't available, you can simply skip to the next step.
Should you have mold or mildew in your boots, you can also try cleaning them with a mixture of 80% water and 20% vinegar.
Step 5. Rinse again
For this final rinse, you'll want to focus on cleaning off any left-over dirt, as well as ensuring that the footwear cleaner and vinegar you may have used are fully removed from the surface of your boots.
Leaving these substances on your boots can cause them to deteriorate the fabric over time.
Step 6. Apply waterproofing
If it's been a while since you've applied any waterproofing product to your hiking boots, this stage in the deep cleaning process is the perfect time to re-waterproof your boots.
You'll want to do this right after the final rinse. Your boots need to be wet before you apply any waterproofing.
Before you waterproof your boots, you'll need to find the appropriate products to do it with. You can find these online or in some shoe stores.
To apply the waterproofing, simply follow the directions on the container. Generally, these waterproofing products are "brush-on," so it's a pretty simple process. Just ensure that you're using the appropriate product for the specific fabric type of your boots.
Step 7. Dry your boots
In this final step, it's time to dry your boots. At this point, your boots should be sparkly clean and re-waterproofed, so you'll just want to set them aside to dry.
As we've mentioned, you don't want to place your boots near a heat source, unless it's a purpose-built boot dryer.
However, placing your boots in a dry, low-humidity area with a fan can help expedite the drying process. Be sure you dry the insoles and shoelaces separately, too.
Once your boots are dry, you can put them back on, head out into the great outdoors, and get them muddy once again! Woohoo!
Can You Put Hiking Boots In The Washing Machine?
If all of this cleaning sounds like a lot of work to you, you might be wondering if there's a simpler way to get your boots nice and clean.
Since most of us rarely, if ever, hand-wash our clothing, many people wonder if they can simply place their hiking boots in the washing machine, instead.
The fact of the matter is, no manufacturer would ever recommend that you put your boots in the washing machine, especially if they're expensive full-leather boots.
Washing machines are actually quite rough when it comes to "delicate" items and they can easily damage your boots or destroy the leather.
That being said, you'll certainly find people who have had good success washing their boots in a washing machine.
Since there's so much risk involved, we really can't recommend that you try it out, unless you have an old pair of boots and want to do a little experimenting in your free time.
How to Remove Odor From Hiking Boots
Besides removing dirt and grime from the outside of your boots, one of the main reasons people want to clean their hiking boots is to remove that wonderful scent that seems to accompany every piece of outdoor gear in the world.
While standard washing procedures will certainly help, giving your boots a deep clean might not be enough to rid your boots of their overwhelming stench.
If you have particularly troublesome boots, you can try the following to get rid of that smell:
Step 1. Check for mold.
It's possible that a lot of the smell in your boots is from mold or mildew.
Check under the insoles and in the small cracks of the boots for any evidence of mold. If you find some, or have any doubt, try scrubbing the inside out with a solution of 80% water and 20% vinegar.
Step 2. Dry your boots out completely.
After you give your boots a wash with vinegar and water, let them dry out completely. Perhaps let them sit in a shaded spot outside for a few hours to air them out a bit. Then, reinspect them to see if the smell is still there.
Step 3. Try different deodorizers.
One of our favorite, cheap ways to get the stink out of shoes is to stick a pair of dryer sheets inside. You might already have these at home, so this method doesn't really cost you anything. More often than not, after a few days, the dryer sheets will make your boots smell nice and fresh.
If the dryer sheet method doesn't work, it's time to call in the heavy artillery. You can buy a whole slew of different shoe deodorizers online that all do help eliminate odor from your boots.
However, we'd recommend using purifying bags instead of disinfectant sprays as the chemicals in different sprays can destroy your boots.
Clean Your Boots Regularly
At the end of the day, cleaning your hiking boots is an important part of maintaining your gear. Although it might seem like a drag, cleaning your boots regularly can help extend the life of your gear, saving you money and frustration in the long run.
Gabrielle is a professional outdoor educator, mountain guide, and survival expert with a passion for helping others be prepared for whatever might come their way. She is a polar guide in the Arctic region and is an experienced wilderness medicine instructor/EMT.
Source https://fromyourtrails.com/how-to-wash-hiking-boots-in-washing-machine/
Source https://www.rusticaly.com/how-to-clean-keen-hiking-boots/
Source https://www.survivalsullivan.com/how-to-clean-hiking-boots/