How NOT to Hike Sleeping Giant Provincial Park
I love the outdoors but have a severe problem with overzealousness and lack of basic map skills. My husband is much more practical than me but is no match for my overwhelming enthusiasm when I plot our outdoor schemes. This has caused minor hiking failures and longer-than-intended park visits many times. One of our most adventurous examples of this was a summer day trip to Sleeping Giant Provincial Park in Ontario, Canada.
Our Misadventures at Sleeping Giant
We started the day off with a short, uneventful hike to the Sea Lion, one of Sleeping Giant's famed rock formations. The path down the start Kabeyun Trail was easy, well-maintained, and full of people. As beautiful as the Sea Lion's final outlook was, I was aiming to find "the one less traveled." We decided to check out Middlebrun Bay Trail, a 4.2-kilometer path to a sandy beach. It had been recommended to us by a park ranger as slightly off the beaten path, but very flat and accessible. As we traversed tree roots as thick as my arm and walked up and down, up, and down, up and down, we had to laugh at the relativity of the terms "accessible" and "flat." Grandma wasn't taking the wheelchair on this route! Nonetheless, it was a satisfactory level for us, and I loved the scenery. Every now and then a break in the trees provided sweeping views onto an endless forest, and the trail itself was dotted with beautiful mossy hills and rocky outcroppings.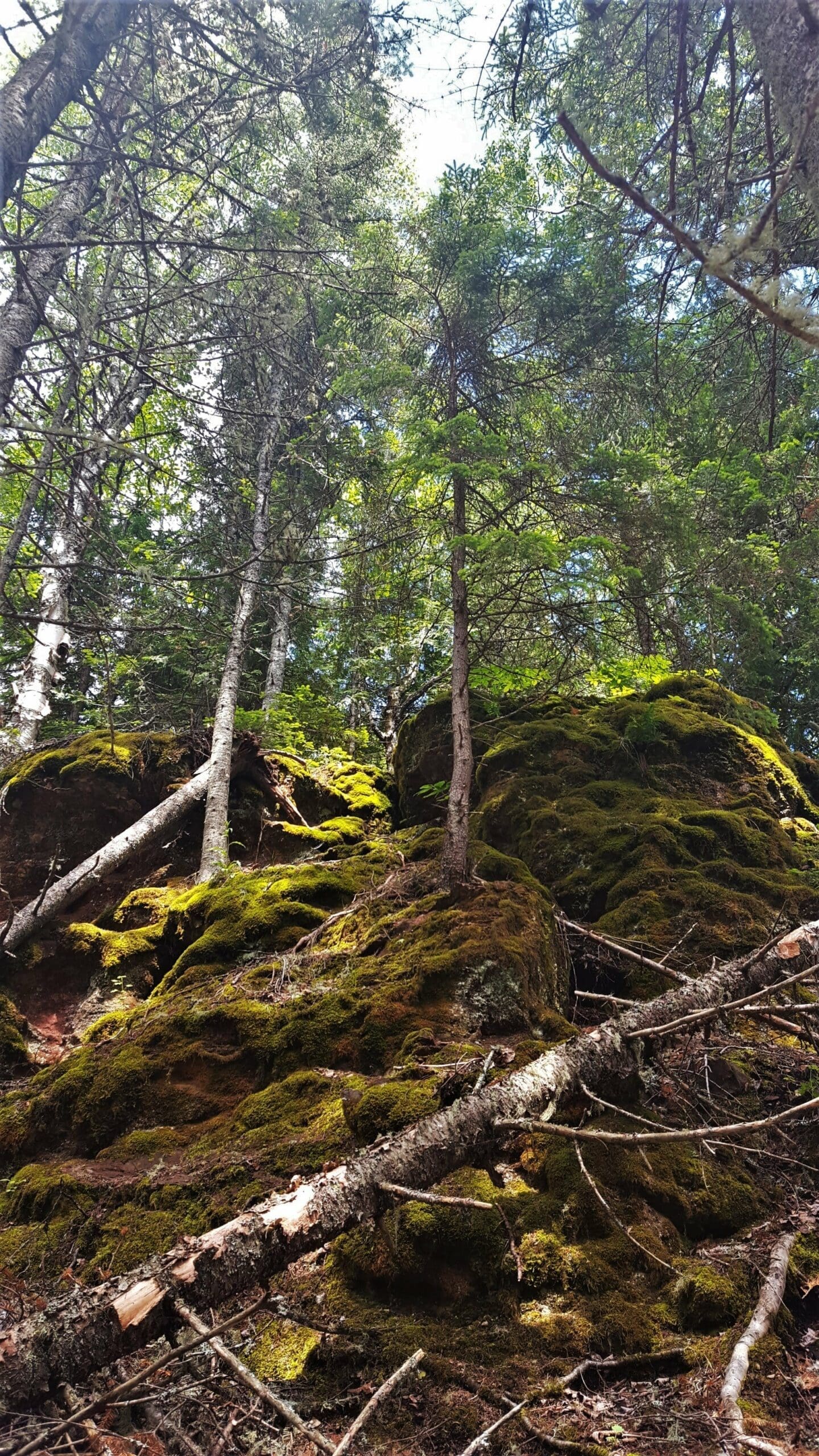 Along Middlebrun Bay Trail
The primary trail ended at Middlebrun Bay beach, which was a gorgeously long and almost-empty stretch of Lake Superior. The air was warm, but the lake maintained its northern frigidity enough to deter any would-be beachgoing families. We wandered down its sandy shore until we were at the end and could barely see the few people relaxing at the other end. This would have been the perfect end to our hike – soaking up the views a bit before heading back for a timely supper. Instead, fueled by our success, I had begun eyeing up the map. There was an uninformative note simply stating, "An extension of the trail at the end of the beach leads to Finlay Bay." My active imagination wondered, "Could it be better than this beach? What hidden treasures await just beyond us?" Images of a secluded oasis danced before my eyes, and my husband gamely agreed to forge on.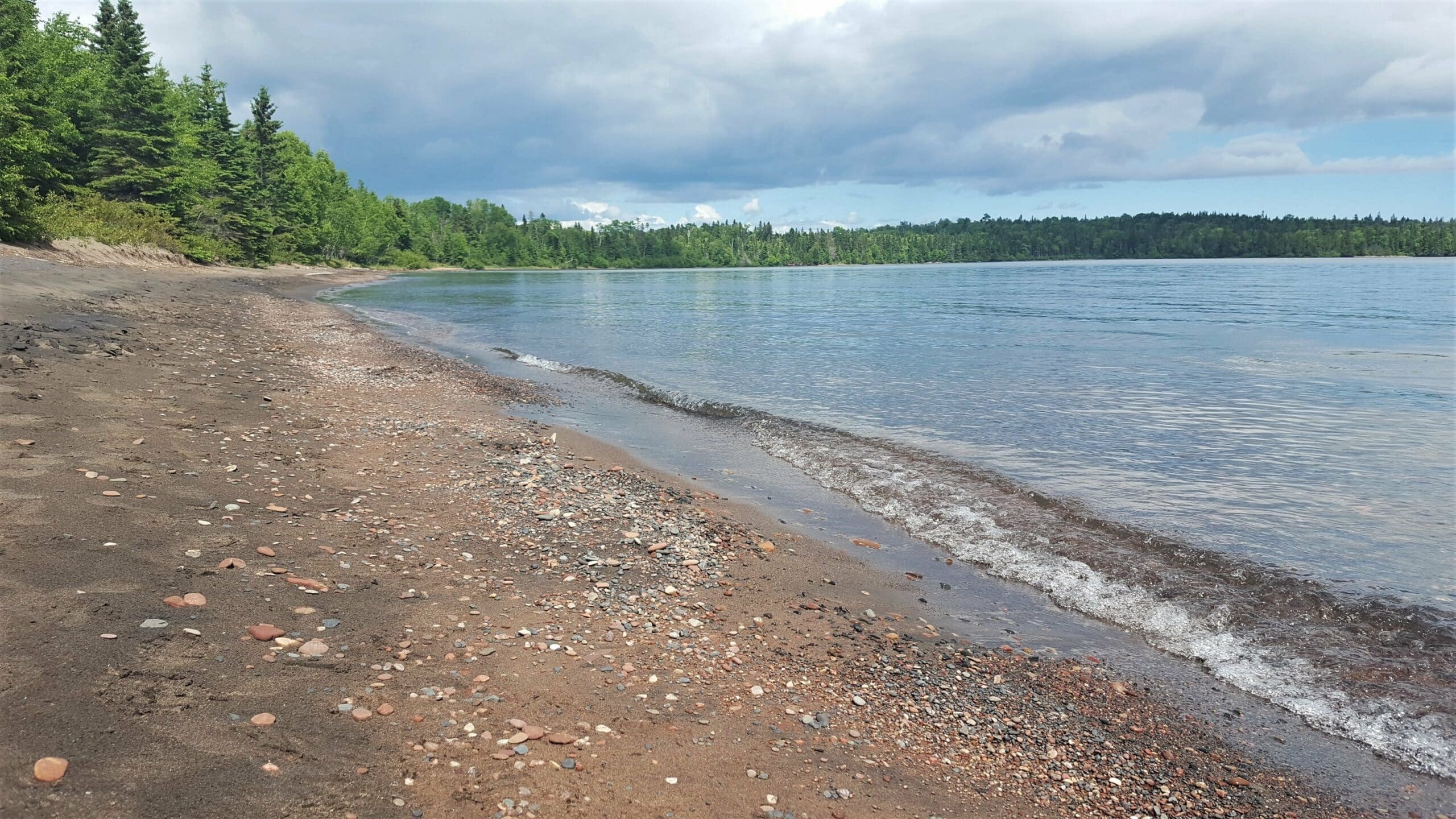 Middlebrun Bay Beach, with no trail extension in sight
The problem with this was that we weren't exactly sure where the extension began. After a couple of false starts into breaks in the woods along the shore, we turned back to the beach. Wildly overgrown trees extended into the lake itself, signaling – we assumed – a dead end. "You don't think…?" With no other option presenting itself, we took off our shoes and socks and hopped our way through the icy water, pushing branches back in an attempt to not go so far in as to get our rolled-up pants wet. We were rewarded with a trail sign. Triumphant, we decided to leave our shoes off. "It's only a short way, and I don't want to get my socks wet. We'll have to take them off again soon enough." After walking a while, the pine needles were starting to hurt my feet and I was beginning to remember the sign in the park bathroom that had warned me of what to do in case of bear sightings. We kept on, me eyeing the dark and silent forest suspiciously. Much longer than expected later – due to the slow pace our bare footedness brought about – we reached the anticipated Finlay Bay… to find a four-foot patch of rocks looking out into a tiny bay occupied by a family on their motorboat. As we put our shoes back on, our disappointment was compounded by a swarm of bloodthirsty mosquitoes attacking our every limb. Not to say we didn't appreciate the humor in our failure!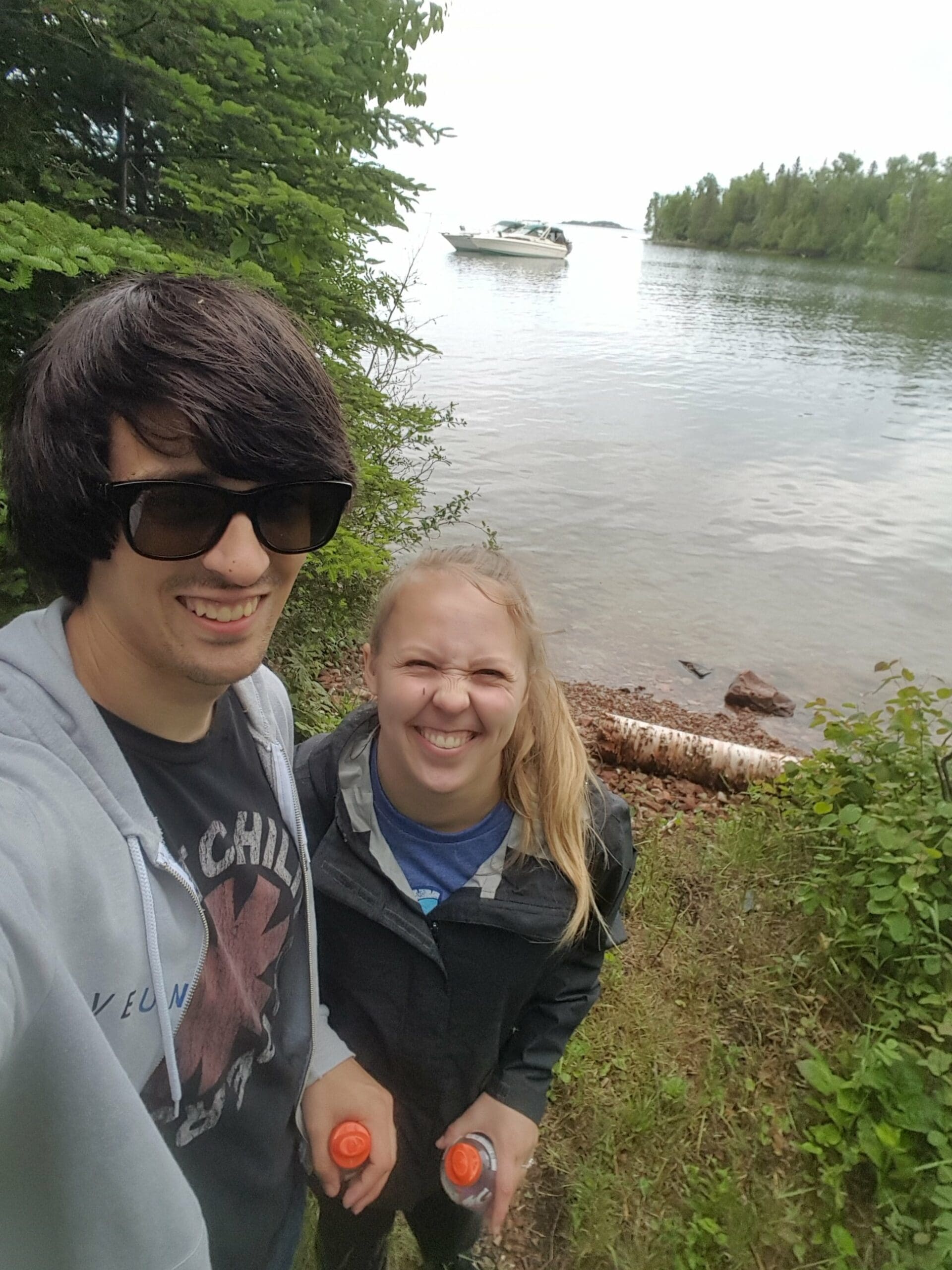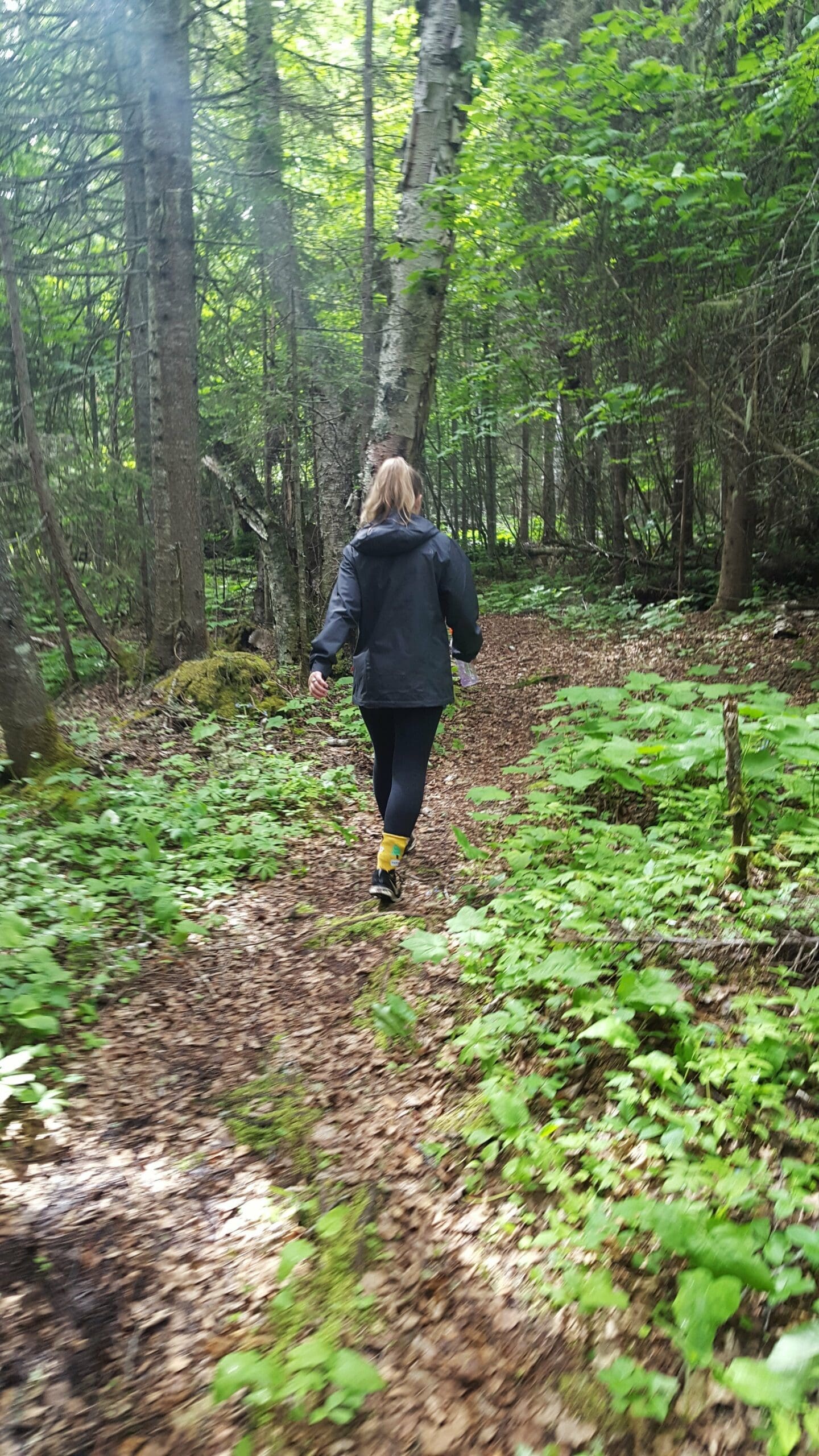 The return trip did have one final failure, as I stubbornly refused to take my shoes off to wade through the branches on our way back to the main path. "I'll go quickly! I'll forge my way through the middle, they'll barely get wet!" The cold squelch each step brought on our way back attested to the stupidity of this idea. Lesson learned!
Canada is vast and beautiful. If you're looking for another adventure on the very western edge of Canada just north of Vancouver be sure to add Garibaldi Provincial Park to your plans. You won't want to miss its many miles of Alpine summit trails and beautiful Panoramic Ridge!
Planning Your Trip to Sleeping Giant Provincial Park
So, what do I recommend for a slightly less adventure-ridden trip to Sleeping Giant Provincial Park? First, Middlebrun Bay is worth it – but there is absolutely no need to take the extension to Finlay Bay! Of course, be sure to talk to a park ranger before heading out to check if they have any recommended routes that might be better for your fitness level, time frame, and desired sights. If you are a serious hiker, look into reaching the top of the Sleeping Giant via Kabeyun Trail. This is a strenuous day hike that boasts incredible views. Second, arrive early in the day. We really enjoyed the Sea Lion and Middlebrun Bay's beach, but ran out of time to find the overlook of the park's famous namesake, the Sleeping Giant itself. This was partially due to the time, but also because we were getting pretty hungry and had devoured all our snacks. Which leads me to my final advice, pack a meal or two! The park is huge and relatively distant from nearby towns. In retrospect, a picnic dinner overlooking the Giant would have been the perfect end to our day trip.
If you're now eagerly planning your trip to this beautiful Canadian treasure (which you should be!), here is a little more practical information to get you started:
Phone: 807-977-2526
Address: R.R. #1, Pass Lake, ON P0T 2M0 (East of Thunder Bay on Highway 11/17, then take Highway 587)
Website: http://www.ontarioparks.com/park/sleepinggiant
Day Pass: $14/vehicle (Gate hours vary; generally 9 a.m.–9 p.m. during peak season)
Camping: mid-May until mid-October, reserve online or call 1-888-668-7275
Activity Options: Biking, Canoeing, Fishing, Hiking (over 100 km of trails), Swimming, Cross-Country Skiing
Have you been to Sleeping Giant Provincial Park? Leave your comments and reviews below! We'd love to hear from our readers.
Emily is a Minnesota native currently teaching English in China with her husband. They travel at every opportunity, with an emphasis on budget adventures and unmissable experiences. Find their most recent stories at Our Quarter Life Adventure. Emily is also freelance travel and outdoors writer and an art and history enthusiast. You can often find her in search of strong coffee, fancy cheese, or good books!
Related posts:
The 9.5-mile hike from Camogli to San Fruttuoso to Portofino.I'm lying in snow, 14,000 feet above sea level on.The Culver City Stairs offers an intense climb up 282.A factory Jeep Wrangler is a highly capable vehicle that.I spend so many daylight hours of my winter months.Stunningly beautiful landscape, or a site of exploitation and environmental.
4 thoughts on "How NOT to Hike Sleeping Giant Provincial Park"
At the Y near the end of Finlay Bay trail (right leads to the campsite where you were with the rocks), take the left and you'll reach another gorgeous beach. I prefer this bay to Middlebrun as it isn't quite as windy, fewer people make the trek to Finlay and it's just as gorgeous. I'd recommend it without hesitation.
Thanks so much, Jonathan! This is great advice. We must have taken the wrong turn. If we ever make it back there we'll have to check it out!
I'm a Saint Paul, MN resident who has taken several day trips into Sleeping Giant, but we're actually spending a week there over Canada Day/Independence Day Week. The Middlebrun Bay hike is one I haven't done for some strange reason, but plan to do. I was intrigued with the idea of Finlay Bay as well. You almost entirely stopped me, but it looks like Jonathan might have renewed my interest. We'll have to see what I feel like I'm up to, but if I dedicate a day to just hanging out over there, I imagine the added adventure won't be too much. Thanks for the info!
If you make it to Finlay Bay let us know how it goes! I definitely make a lot of rookie mistakes (everyone's got to start somewhere, right?), so I wouldn't be at all surprised if Jonathan was correct and I just missed the Y. I'm glad he shared the information!
Leave a Comment Cancel reply
This site uses Akismet to reduce spam. Learn how your comment data is processed.
Top of the Giant Trail
How high is the Sleeping Giant? What is the Sleeping Giant hike time and length? Get the Top of the Giant map and plan your trip now.

The Sleeping Giant is one of Canada's most iconic landforms—one that you cannot miss if you drive through Thunder Bay. On any given day in Sleeping Giant Provincial Park, you can identify more than 100 species of birds.
Base Camp Hiking: Lake Superior's 10 Best Hikes You Can Do In A Day
"Hear that?" Parks Canada's Greg Stroud asks me. Stopped mid-stride, he sang back to an ovenbird that was perched in a tree overhead, "teacha, teacha, teacha."
We heard quite a few ovenbirds that day, and identified a host of others — Magnolia Warbler, Black-capped Chickadee, Swainson's Thrush, and Winter Wren. From up on the rock formation itself, the Sleeping Giant feels alive. The forest is dense; there is constant birdsong.
Why Is It called the Sleeping Giant?
According to Ojibway legend, the Sleeping Giant is "Nanabijou" — The Spirit of Deep Sea Water — turned to stone when the white man was given the location of a nearby silver mine.
From a distance, the Giant is seemingly at rest. The stone figure sleeps peacefully on his back, arms folded on his chest. He's mysterious and looming — you can't escape his presence.
The Sleeping Giant
A formation of volcanic rock mesas on the Sibley Peninsula jutting out into Lake Superior, the Giant divides Thunder Bay to the west from Black Bay to the east. The top of the Giant is among the highest points in Ontario and after looking at the Giant for a few days from across Thunder Bay I was finally climbing to the top.
As we hiked along the Top of the Giant Trail, Greg sang along with the birds and identified plants. We saw Thimbleberries, Ostrich Ferns, Largeleaf Asters, Eastern Cedar, and White Pine.
From above Lake Superior, we looked west toward Thunder Bay. The sky and water were a seamless hue of bright blue and the overhanging cliffs dropped straight down into the lake.
"You really have to watch your step," Greg warned as I climbed out on the cliff to enjoy the view. "Each one could be your last."
If this were back home in California, I thought, there would be a guardrail. But here in one of Ontario's most pristine wildernesses there was none, nor any warning signs.
The wilderness was still wild and I ventured out to the edge.
How High is the Sleeping Giant?
At 290 metres, the dramatic steep cliffs on the west side, at the Giant's Knees, are among the highest in Ontario. The best view of Lake Superior and the incredible rock formations is from the Lake Superior Lookout at the top of the cliffs.
Sleeping Giant Trail
Although often referred to as the Sleeping Giant trail, the hike to the top of the Giant and the Lake Superior Lookout actually combines three trails.
Trail Names: Kabeyun Trail, Talus Lake Trail and Top of the Giant Trail, Sleeping Giant Provincial Park, Ontario
Trailhead: South Kabeyun Trailhead on Highway 587
Distance: 22.4 km roundtrip
Elevation Gain: 290 metres
Level: Difficult
Sleeping Giant Hike Length
The Sleeping Giant hike begins at the south trailhead for Kabeyun Trail with an easy 5.0 km trail that leads just past Tee Harbour. Here you will take the Talus Lake Trail for 1.5 km to the Top of the Giant Trail junction.
The initial 5.0 km section of the trail is an easy hike or a fun mountain bike ride because it is wide, relatively smooth and has rolling hills.
The Top of the Giant Trail is where the real climbing begins. You'll head straight up the mountain for 2.7 km until you reach the "Top of the Giant," which sits 229 metres above Lake Superior. There you will find a "top of the giant" sign, a cold creek and a bench for resting.
To get to the Lake Superior lookout it's another 2.0 km of more gradual climbing. The extra hiking is well worth the trek. Once you reach the end of the trail, you'll look out over Thunder Bay and Lake Superior from 290 metres above.
The Ultimate Guide to Visiting Sleeping Giant Provincial Park
Jake O'Flaherty is a freelance outdoor guide who loves to explore the remote corners of the world, but Lake Superior is where he feels most at home.
The Sleeping Giant landform is a local landmark, adorning t-shirts and stickers, even becoming the name of a craft brewery. Climbing to the top of the Giant is one of the most rewarding hikes in the area. It's hard to believe you're still in Ontario when you're standing atop the vertical cliffs and looking out on the endless horizon. Come winter, the challenging ski trails are some of the most scenic in the province.
Best Ontario Provincial Parks for Bike Rides
Established in 1944, Sleeping Giant Provincial Park boasts 200 campsites and more than 100 kilometres of trails. There are frontcountry and backcountry camping opportunities, activities galore and paddlers can even get out on the vast Lake Superior or the warmer inland Marie Louise Lake. This guide will help you plan your trip and learn more about this unique place.
The Basics
Why do they call it Sleeping Giant Provincial Park?
After spending any time in Thunder Bay, it would be easy to see how Sleeping Giant Provincial Park got its name. The cliffs on the end of the Sibley Peninsula resemble a human figure laying supine. Ojibwe oral tradition names it as Nanabijou, a protector who was turned to stone after the location of the silver deposits in Silver Islet was revealed to Europeans. Read an account of the story here.
Where is Sleeping Giant Provincial Park?
Sleeping Giant Provincial Park is on the Sibley Peninsula, just an hour's drive from Thunder Bay. You'll turn off the Trans-Canada Highway and wind down Highway 587 through Pass Lake, a small community where you can pick up some groceries at the Pass Lake Campground's convenience store.
Things to Do at Sleeping Giant Provincial Park
Summer
Stick to the calmer Marie Louise Lake, or venture out into sprawling Lake Superior. | Photo: Ontario Parks
Sleeping Giant Provincial Park kayaking
The frontcountry campground is right on Marie Louise Lake – a calm, sheltered lake perfect for launching kayaks. It's four kilometres long, with different types of shoreline to explore.
More experienced paddlers can take properly outfitted kayaks onto Lake Superior if the weather allows. Silver Islet's boat launch can be busy, but kayaks are allowed to launch for a fee.
Silver Islet, the cottage community near the park, is a popular start/finish point for multi-day sea kayak trips through the Lake Superior National Marine Conservation Area. These trips are guided by Naturally Superior Adventures and Such A Nice Day Adventures.
Canoe, kayak, and paddleboard rentals are available at the Park Store, located in the Visitor Centre. If you're staying in Thunder Bay, Wilderness Supply also provides rentals.
Hiking Sleeping Giant Provincial Park
There are more than 100 kilometres of trails to explore in the park and something for everyone. Of course, most visitors to Sleeping Giant will want to ascend the Giant. There are many different ways to do so, beginning in the South Kabeyun parking lot. Think of the Kabeyun Trail as the "highway" to the Giant. This is a former logging road, now a double-track trail with rolling hills. The first 7.5 kilometres of the South Kabeyun are easy walking and will take you to the Tee Harbour and Lehtinen's Bay campsites. From here, you can also access the following trails:
Top of the Giant Trail takes you up to the "knees" of the Giant where you'll be treated to stunning views from the tall cliffs. This is a 22-kilometre round-trip hike from the South Kabeyun trailhead. Give yourself 6 to 8 hours to complete this strenuous hike. It can be busy, and you'll see why when you get to the top. For inspiration, read about outdoor writer Monica Prelle's experience on the Top of the Giant.
Linking the Kabeyun, Talus Lake and Sawyer Bay trails will turn your hike into a loop and offer a different vantage point. The Talus Lake Trail travels the valley between Thunder Mountain and the Sleeping Giant. Near the top, a one-kilometre spur known as The Chest Trail will take you to a lookout above Sawyer Bay. Finish the loop along the Sawyer Bay Trail to round out a 20.5-kilometre hike. This is also a 6-8 hour undertaking for experienced hikers.
A shorter option is to bag the Head of the Giant via the Sawyer Bay Trail. This 17-kilometre out-and-back round trip also starts in the South Kabeyun Parking Lot. Don't be fooled by the shorter distance – this route has 550 metres of elevation gain, most of which are in the final climb up the Giant. You can stop and relax in Sawyer Bay campsite afterward, or even brave a dip in Lake Superior's cold water.
For those who just want to get a taste of Superior, head down the South Kabeyun trail to glimpse the Sea Lion, a thin formation of diabase rock that's only about one metre wide but extends into Lake Superior for 15 metres, with an archway eroded through near the end. It's a 2.4-kilometre round trip from the parking lot, with a tiny section of rock steps.
Some of the park's lesser-known trails are more suitable for short, half-day excursions.
The Piney Woods Nature Trail is a 2.8-kilometre round trip. It takes hikers through a quiet pine forest filled with large trees, ending at a lookout over the peaceful Joeboy Lake.
For a self-guided interpretive tour, walk the Sibley Creek Nature Trail. Interpretive signs are posted along the way to inform about the area. You'll pass through wetlands and over Sibley Creek. Although it is just a 2.3-kilometre loop, hope for lots of wildlife along the way.
The Plantain Lane Nature Trail is suitable for hikers of all abilities and is wheelchair accessible. This short, 600-metre trail travels over Sibley Creek and is situated right off the highway.
Biking at the Park is so great, you could (and should) plan an entire trip around it. | Photo: Ontario Parks
Biking
Before the park was established in 1944, a network of logging roads ran along the peninsula between the base of the cliffs and Superior's shores. Many of these roads remain as rugged paths for biking.
The Park allows biking on the following trails:
South Kabeyun to the junction with Talus Lake Trail.

If you are heading out to Thunder Cape Bird Observatory, or the Top of the Giant hike, biking saves a significant amount of time. This trail passes campsites at Tee Harbour and Lehtinen's Bay.

Choosing to bike at least part of this trail will make a trip to the Chest or Head of the Giant much quicker. The last section of the trail towards Sawyer Bay can be quite bumpy, so use caution.

This trail links directly to the Sawyer Bay Trail from the Marie Louise Lake Campground, allowing you to ride into the backcountry while avoiding the busy road.

A mix of grass and compacted soil most of the year, in the winter, this trail turns into an excellent ski/fat bike route. It's quieter in the summertime.

More popular in the winter on fat bikes, you can ride this 11.4-kilometre linear trail if conditions are dry enough – but often it is quite muddy and wet.

Most of these trails are best ridden with a mountain bike as sections can be quite bumpy. Quieter routes in the park, like the road out to the Thunder Bay Lookout, are suitable for gravel bikes. Road cyclists also enjoy pedalling down the shoulders of Highway 587 to Silver Islet on warm summer mornings. Local cycling expert Keith Ailey knows these trails extremely well. Let him tell you where to ride on your trip. You can easily fill a full trip cycling in and around the park.

Mountain bikes are available for rent at the Park Store. Many people ride bikes to the base of the Top of the Giant Hike, where there's a bike rack to lock your bike.

BIRDING

Sleeping Giant Provincial Park is a hotspot for bird activity, especially during the spring and fall migrations. The Sibley Peninsula sticks out into Lake Superior in a welcoming way, making it an appealing resting point for migratory birds.

Thunder Cape Bird Observatory is a monitoring station which collects data on bird populations and their migratory patterns. It's at the very end of the peninsula, where staff track birds they see. Birds caught in nets are "banded" with a small numbered ring around their leg. When these banded birds are found at other stations, it gives valuable insight into bird behaviour and migrations.

Visitors are welcome to visit the station (open from late April to June and again from August 1 to October 30). The station lies just off the end of the Kabeyun Trail and is a 13-kilometre round trip from the trailhead. If you're camping in the backcountry sites, you may arrive early enough to see birds being banded and released. Climb the observation tower for a unique view of the Giant—you may come eye-to-eye with soaring birds.

The other trails in the park are phenomenal for bird-watching as well. Bring binoculars on your hikes, or just listen to the birdsong as you walk through the boreal forest. The park's Discovery Leaders and staff at the Visitor Centre will be happy to help identify birds you may have seen.

Sleeping Giant Provincial Park in Winter

Snowshoeing

The hiking trails remain open throughout the winter. Those who strap on snowshoes and get out on the trails will find they have most of the park to themselves. You can snowshoe any of the trails that aren't groomed for skiing.

Skiing

Sleeping Giant Provincial Park boasts some of the finest cross country skiing in Northern Ontario. There are both skate and classic ski trails, with options for beginner or experienced skiers. The 20-kilometre loop around Marie Louise Lake is a mellow tour typically sheltered from the wind.

If you're looking for a longer, more challenging ski, take the Burma and Pickerel Lake trails to make a 30-kilometre loop. There are some steep climbs on this route, and the skiing is pretty remote – it's best to always ski with a partner.

Since 1978, the Sleeping Giant Loppet has taken place on the first Saturday in March. This ski tour draws competitive athletes and casual skiers into the park for a fun-filled day. Distances range from 8 kilometres to the 50-kilometre ski marathon.

Fat Biking

The cycling opportunities don't end in autumn at Sleeping Giant – Fat bikers are also allowed to use the ski trails. After the ski Loppet, Thunder Bay's Blacksheep Mountain Bike Club hosts a Fat Bike Loppet, with distances of 8, 20, and 50 kilometres.

Winter Camping

Cabins are available for rent at Marie Louise Lake all year, including winter. These comfortable accommodations have propane heat, potable running water, and three bedrooms, sleeping six people comfortably. It's great to have a cabin in which to warm up and hang wet gear after skiing and snowshoeing adventures.

All-Season

Sleeping Giant Provincial Park's Northern Lights

Most of the places in the park are great for stargazing – or hopefully seeing the northern lights. Nights are short in June and July, but darkness falls sooner toward the end of August, and your chances of catching the northern lights increase with longer nights all the way until Christmas. You can check the Aurora Forecast for a three-day prediction of geomagnetic activity.

On clear nights, try to go near the water, whether Marie Louise Lake or Lake Superior. The Milky Way is often visible, reflecting onto the lake's surface. If there's northern light activity predicted, you'll want to go somewhere with a north-facing view. The Thunder Bay Lookout is a good spot to drive to at night.

Sleeping Giant Provincial Park Camping

Sleeping Giant Provincial Park campground

Marie Louise Lake's campground has 200 sites, 85 of them being electrical. Every campsite has a fire pit and picnic table. Two of the sites are designated as barrier-free, accessible sites. The park also has standard comfort stations, showers, flush toilets, and laundry services.

At the Marie Louise Lake campground, you'll also find a boat launch. Fishing rods and tackle are available here for free loan through the Ontario Federation of Anglers and Hunters.

The Visitor Centre features interactive exhibits and programs that are perfect for rainy days and is where you can rent kayaks, canoes, and mountain bikes. The centre also houses the park store, where visitors can purchase books, maps, and souvenirs.

Sleeping Giant Provincial Park Backcountry Camping

Sleeping Giant has 27 backcountry sites throughout the park. Most of the sites are clustered along the Kabeyun Trail. The most popular ones are in Tee Harbour, Lehtinen's Bay, and Sawyer Bay. This is for good reason—they are stunning sites, all with great views. The sites each have a fire ring and shared bear boxes and outhouses. Because of their coastal location, you can hike, bike or paddle to most of the sites in these zones. These first-come-first-serve sites fill up quickly in the summer, so you'll want to arrive at your campsite early. Below, we'll detail how to reserve sites in the park.

The other backcountry sites see much less use and are good stopover sites—these are Zones 3, 4, 6 and 7. If you're planning a big push the next morning or comfortable camping away from Lake Superior, these sites are adequate, but they wouldn't be the first choice of most people.

Best Campsites at Sleeping Giant Provincial Park

The best backcountry sites at Sleeping Giant are the sites at Tee Harbour, Lehtinen's Bay, and Sawyer Bay. Tee Harbour has the closest backcountry sites to the trailhead. If you arrive early enough, you'll have your pick of open, grassy areas or secluded spots deeper in the harbour. A relatively short walk from the trailhead, Tee Harbour is a good spot for first-time backcountry campers.

Lehtinen's Bay sites are further down the Kabeyun Trail but are adjacent to a quiet pebble beach. Cliffs loom over the site for a spectacular backdrop. Typically, these sites are not as busy as Tee Harbour. These are good sites to base yourself and do day trips. The Top of the Giant Trail access is nearby, or you could continue on the Kabeyun to Thunder Cape.

In the frontcountry, all the sites are just a short walk to Marie Louise Lake or a nearby comfort station. If you prefer a quieter site with some privacy, sites 200-220 are away from the main cluster of campsites. Sites 310-319 are even more secluded on the west side of the lake.

Sleeping Giant Provincial Park Camping Reservations

You can make reservations for Sleeping Giant over the phone or online. You'll need to reserve both frontcountry and backcountry sites before your visit, but the process of site selection differs.

Booking frontcountry sites is fairly straightforward. Visit the Ontario Parks' reservation website, select the dates, and see the available sites. The roofed accommodations are also booked through this web portal. It's helpful to read the descriptions of each site before booking. Pay special attention if you are taking an RV or trailer, as not all the sites are pull-through.

Backcountry site reservation is similar, except bookings are made for zones rather than specific sites. Selecting the "Backcountry Camping" option brings up the available zones for your selected dates. Making a booking will ensure you have one of the campsites in your desired zone, but specific sites are occupied on a first-come, first-serve basis on the day of your booking.

Accommodations In and Near Sleeping Giant Provincial Park

Sleeping Giant Provincial Park Cabin Rentals and Cottages

Just outside the park is the comfortable Beyond the Giant Nature Retreat. They have three beautiful off-grid log cabins, all on the shores of Black Bay, just a 30-minute drive from the park. 625 Portage Drive, Shuniah, 807-251-5853.
The cottage community of Silver Islet has some rental options available, like this one overlooking Lake Superior. 702 Camp Bay Road, Silver Islet, 807-628-4908.

Closer to Thunder Bay, there are cottages available for rent in Shuniah. This community is just off Highway 11/17, an ideal halfway spot between Sleeping Giant and Thunder Bay. There are excellent beaches and rivers to explore here as well.

Stay at the Eldorado Beach Bed and Breakfast, which has waterfront access and some of the best hosts on the North Shore. 2845 Eldorado Beach Road, Shuniah, 866-205-0855.

Hotels near Sleeping Giant Provincial Park

Most hotel accommodations are in Thunder Bay. For a stay near Thunder Bay's waterfront, you've got quite a few options, including:

The Courthouse Hotel, a boutique hotel with 40 rooms. The hotel is perched on a hill, overlooking Thunder Bay's downtown with a view of the Sleeping Giant in the distance. 277 Camelot Street, Thunder Bay, 807-699-7666.
In the heart of downtown Port Arthur, the Prince Arthur Hotel is within walking distance of some of the city's best restaurants. 17 Cumberland St. North, Thunder Bay, 807-267-2675.

Hostels

is right in downtown Port Arthur, Thunder Bay. The hostel caters to social travellers, emphasizing communal space and offering both private and shared rooms. The hostel also provides motorcycle/bicycle storage and adventure packages to book rock climbing excursions. 226 Ambrose Street, Thunder Bay, 807-285-1142.

Maps of Sleeping Giant Provincial Park

Sleeping Giant Provincial Park trail maps can be purchased at the Visitor Centre or online through the map-maker, Chrismar. Basic maps of the park and campground are available on the Ontario Parks website. The trails are signed, and a map is posted at the South Kabeyun trailhead, but it's still a good idea to have a detailed map when travelling in the backcountry.

A map of the ski trails is available through Thunder Bay Nordic Trails.

Sleeping Giant Provincial Park Fees

All visitors to Sleeping Giant must pay the day-use fee, in this case, a vehicle permit. If you're going in for a day hike, purchase your permit at the Joeboy Lake Trail parking lot on your way into the park. It's a self-purchase station open at any hour. Vehicle permits can also be purchased at the Visitor Centre if it is open.

A Thunder Bay Nordic Trails membership gives skiers and fatbikers access to the park in the winter. If you aren't a member, you'll need to purchase a day-use permit.

Consider getting an annual or seasonal permit if you frequent any other Ontario Provincial Parks. The annual permit works out that if you visit a park at least ten times a year, it's worth the money.

Campsite fees range depending on the site and time of year. There are also discounts for seniors. View the complete breakdown of front-country camping fees here.

Backcountry camping fees are on a per-person, per night basis. The fees vary depending on age, and a full breakdown of this year's fees is available online.

Sleeping Giant Provincial Park Weather

The weather at Sleeping Giant can be very different from Thunder Bay. Because the Sibley Peninsula sticks out onto Lake Superior, it catches a lot of wind that those in the city may not feel. Being right beside the coldest Great Lake also keeps the local climate damper and cooler than further inland. This makes the temperature pretty comfortable for outdoor activities like hiking or biking – it rarely gets too warm. The cool breeze near the shore also keeps bugs away, but you'll want a bug net handy if you're in the park's interior.

However, when you're out hiking, it's a good idea to bring an extra layer at any time of the year. Bringing warm sleeping gear is a really good idea if you're doing any backcountry camping. Even in the summer, temperatures can plummet into single digits at night near Lake Superior.

As the snow stays fairly late, the trails are usually muddy for most of spring. The best biking conditions are from late June to September.

In the winter, temperatures are generally very cold through January and February. The wind off of Lake Superior brings the temperatures down to as low as -40 Celsius with wind chill. The peninsula gets a lot of snowfall, which stays until late April. Skiers can enjoy the best skiing conditions through March.

It's best to prepare for any weather that may occur on your visit by dressing in layers that can be added or removed. The Weather Network offers 14-day forecasts and check out Windy for a detailed wind forecast, with updates every three hours.

Source https://rockchucksummit.com/sleeping-giant-provincial-park-ontario/

Source https://www.northernontario.travel/outdoor-adventures/hiking-guide-to-sleeping-giant-provincial-park

Source https://www.northernontario.travel/outdoor-adventures/sleeping-giant-provincial-park