The Best Hiking Trails in Yosemite: Which Will You Choose in 2022?
Yosemite is one of the jewels in the crown of U.S. national parks. The towering granite rocks of its valleys are so famous that names like El Capitan and Half Dome have probably crossed your sight before.
But they're just two of the craggy peaks that make views here so dramatic. Combined with the sweeping pine forests, the scenery here is absolutely breathtaking.
And the scale of this place is impressive too. All of Yosemite's natural goodness is situated throughout its 4 million acres — that's a lot of space to explore!
So, as you can imagine, hiking in Yosemite is awesome. But if you've never visited before, or you're new to the hiking game, all of this can seem a bit daunting at first. Where do you begin in this immeasurable slice of nature?
Don't sweat it, though, because we've got your back. Our guide to the incredible Yosemite National Park has all the info you'll need, from all the top hikes, to where to stay, and how to stay safe on the trail.
Let's check it out!
Do You Want to Travel FOREVER??
Pop your email in below to get a FREE copy of 'How to Travel the World on $10 a Day!'.
What to Know Before Hiking in Yosemite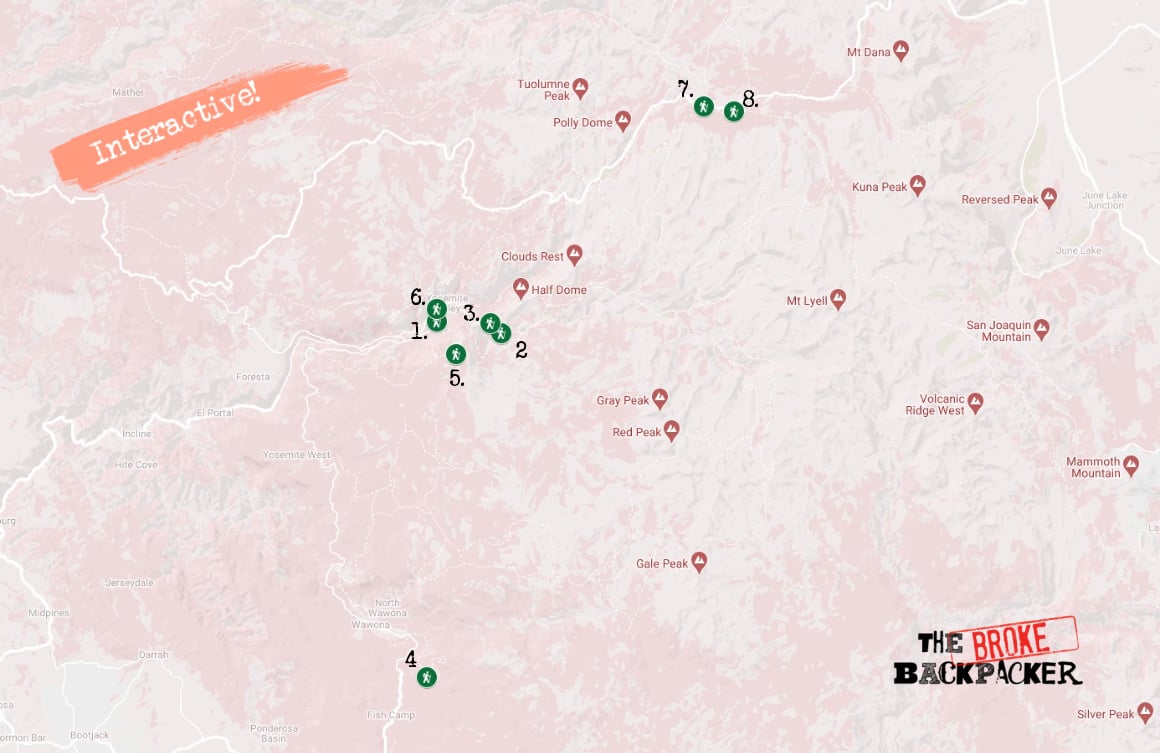 1. Four Mile Trail, 2. Vernal and Nevada Falls, 3. The John Muir Trail, 4. Mariposa Grove of Giant Sequoias Trail, 5. Sentinel Dome Trail, 6. Yosemite Point, 7. Cathedral Lakes Trail, 8. Nelson Lake Trail
With its millions of acres packed full of towering granite cliffs, magnificent mountains, and giant sequoias, it's easy to see why so many people are drawn to Yosemite. This vast landscape is ripe for adventures!
But it can be scary: there are so many different hikes and viewpoints that choosing where to start is a hard task.
The main thing to take into consideration is what you want to get out of it. There's no point in trying to tackle a mammoth hike up to an insane viewpoint if all you want is to enjoy a chilled walk in a beautiful setting.
A Yosemite itinerary takes some planning. Some of the trails will need a permit, and some of these permits are only available through a lottery system. There's no guarantee upfront, so it's worth considering a few alternatives in the process.
And as for getting around the park, you have a couple of options too. You can bring your own ride and go from A to B on your own schedule, but that can also turn into a bit of a headache: parking spaces at the more popular trailheads are hard to find. If you want to avoid it, park up at Yosemite Lodge and use the park's free shuttle bus to get around.
Most of the trails are well-trodden and well-marked, with an array of opportunities for different abilities and fitness levels. It's important to only attempt these if you're well prepared, and that's coming up next…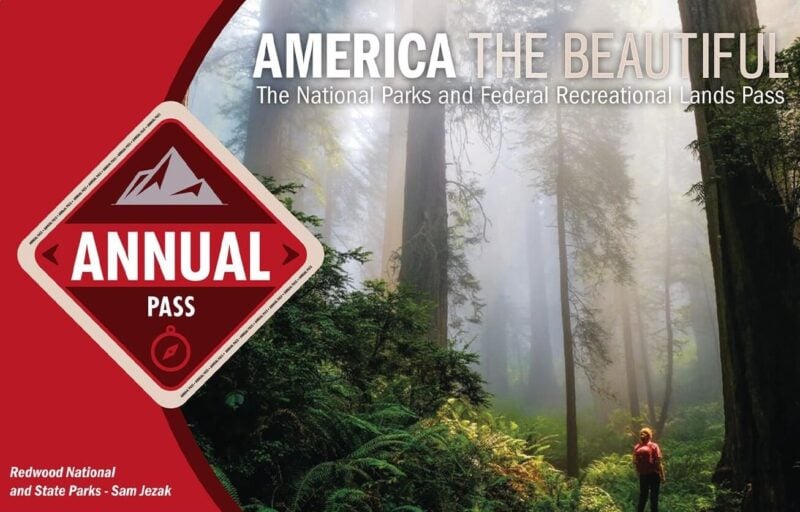 The USA is blisteringly beautiful. It's also blisteringly expensive! Visitng two national parks in day can run you $70+ in entry fees.
Orrrr… you kick those entry fees to the curb, buy an annual 'America the Beautiful Pass' for $79.99, and get unlimited access to ALL 2000+ federally managed sites in the States totally FREE!
You do the math.
Yosemite Trail Safety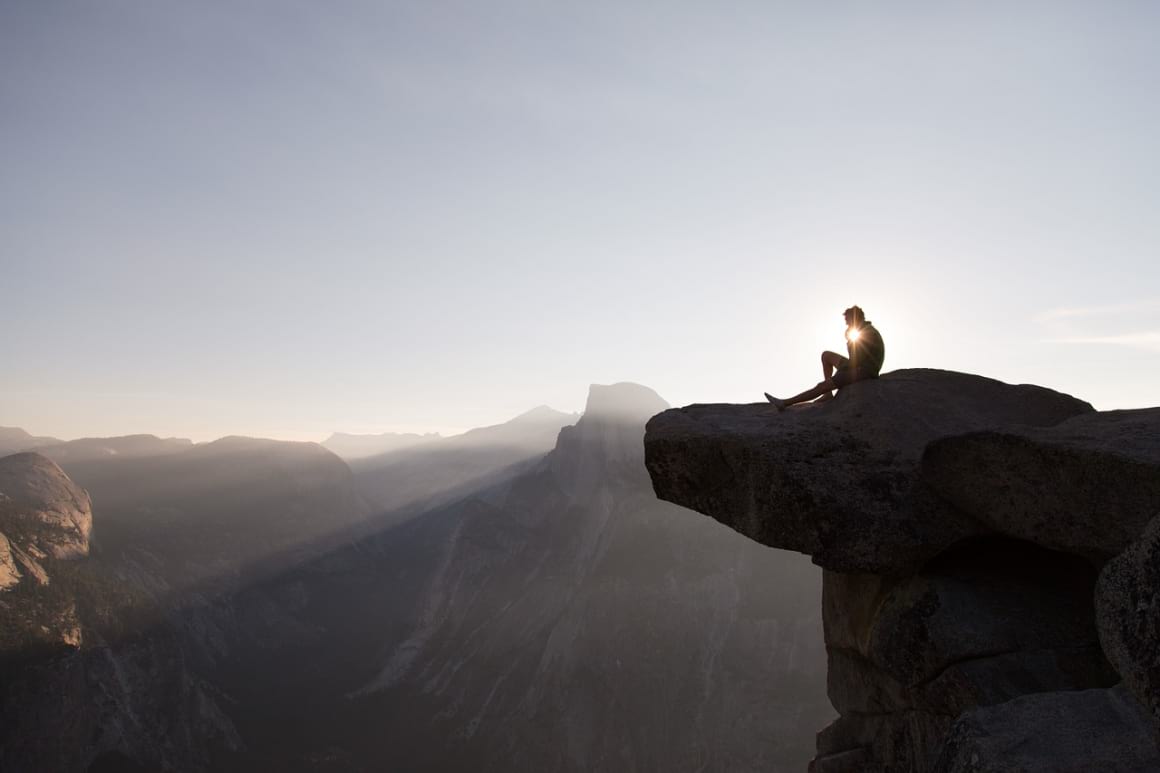 Whatever it is that's luring you to explore this enticing landscape, you can bet that Yosemite will have the perfect trail for you. Hiking in Yosemite is delicious!
But, whichever trail you decide to hike, the most important thing is keeping yourself and others safe. Yosemite is not a theme park: there are real-life bears, pathways with sheer drops, and scorching heat to contend with.
Protect against the sun – Hiking in hot temperatures can be dangerous. Make sure you're prepared to tackle a trail when it's hot by taking regular breaks in the shade, covering up, and slathering on sunscreen.
Drink plenty of water – Staying hydrated is super important, especially when the weather is warm. Bring enough water with you for the route and pack a filter water bottle so you can refill from anywhere.
Wear the right gear – Read up on the route you're going to take to learn more about special equipment you might need: ropes, harnesses, and all that jazz. Wearing reliable shoes is a must.
Tell somebody your plans – Hiking alone can put you in danger, especially if there's no help nearby. Always let somebody else know your plans if you're going to attempt a hike alone.
Leave enough time – You do not want to be out on a course when the light is fading, especially when you don't master your environment. Leave early in the day and plan for extra time in case you get lost. For this case, maybe consider staying at one of the epic Yosemite Airbnbs nearby to be fully recharged for your adventure.
Do not push it – Pushing yourself is rewarding, but attempting a hike that's way beyond your abilities can be dangerous. Know your limits!
Be aware of the wildlife – Yosemite is home to a whole bunch of wildlife — bears in particular. Be informed on what to do when you spot or are under threat by one.
Get travel insurance – Hiking in Yosemite should be all about good times, but you never know when something might happen. Put your mind at ease and get some good travel insurance for your trip.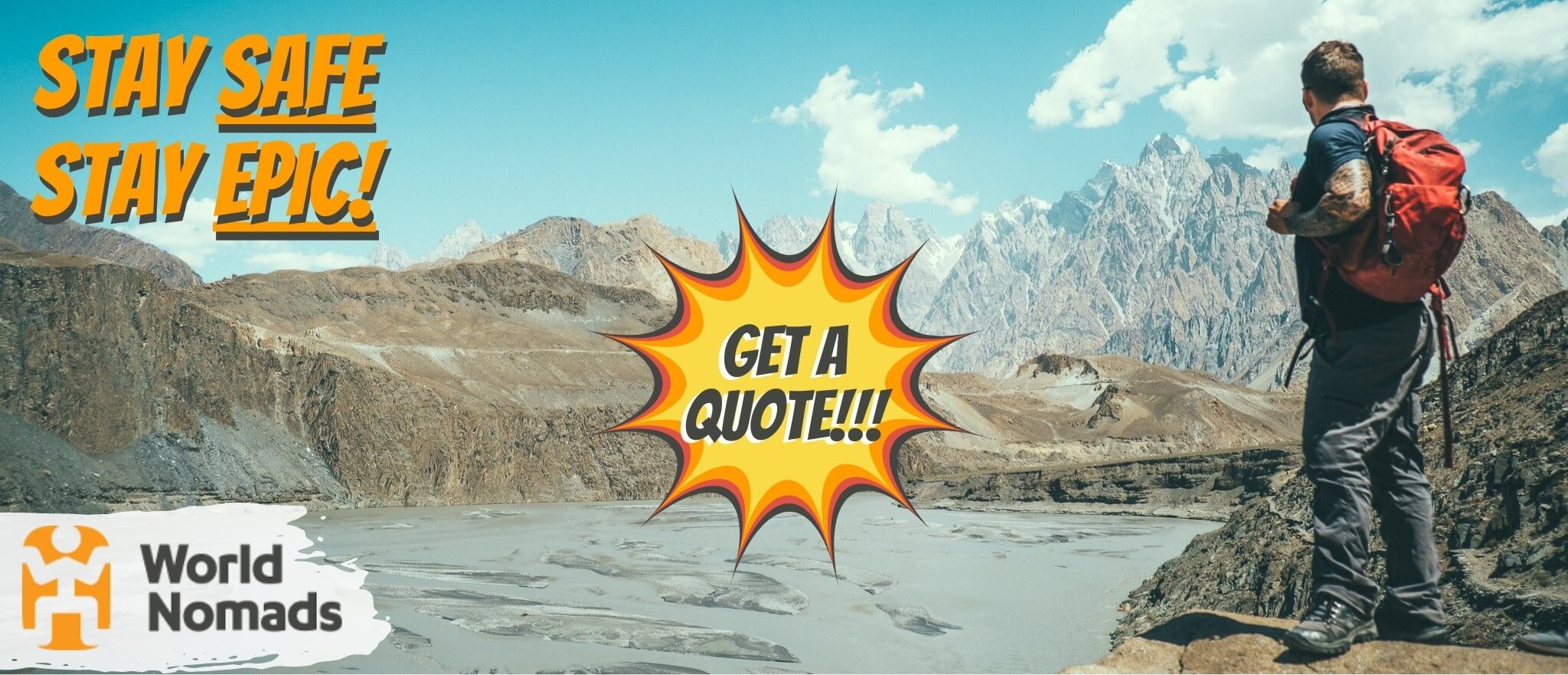 It's good to get lost sometimes, but it's also good not to get too lost. There are people that want you home in one piece.
There's one travel insurance provider The Broke Backpacker trusts for all his wildest shenanigans… World Nomads!
Click the button below to get a quote on your insurance or read our in-depth review of World Nomads' coverage. And then… let the shenanigans begin. 😉
The Top 8 Hikes in Yosemite
You know about all of the details and the important safety tips now, it's time to get to grips with the hikes themselves.
We've listed the best hikes in Yosemite in different categories to help you out: from mountain climbing adventures to chilled easy-going walks. There's plenty for you to get your head around here!
– The Best Day Hike in Yosemite– Most Beautiful Hike in Yosemite– The Best Multi-Day Trail in Yosemite– Must-Visit Hike in Yosemite– A Fun, Easy Hike in Yosemite– The Toughest Trek in Yosemite– Best Hike for Views in Yosemite– Off the Beaten Path Trek in Yosemite
1. Four Mile Trail – The Best Day Hike in Yosemite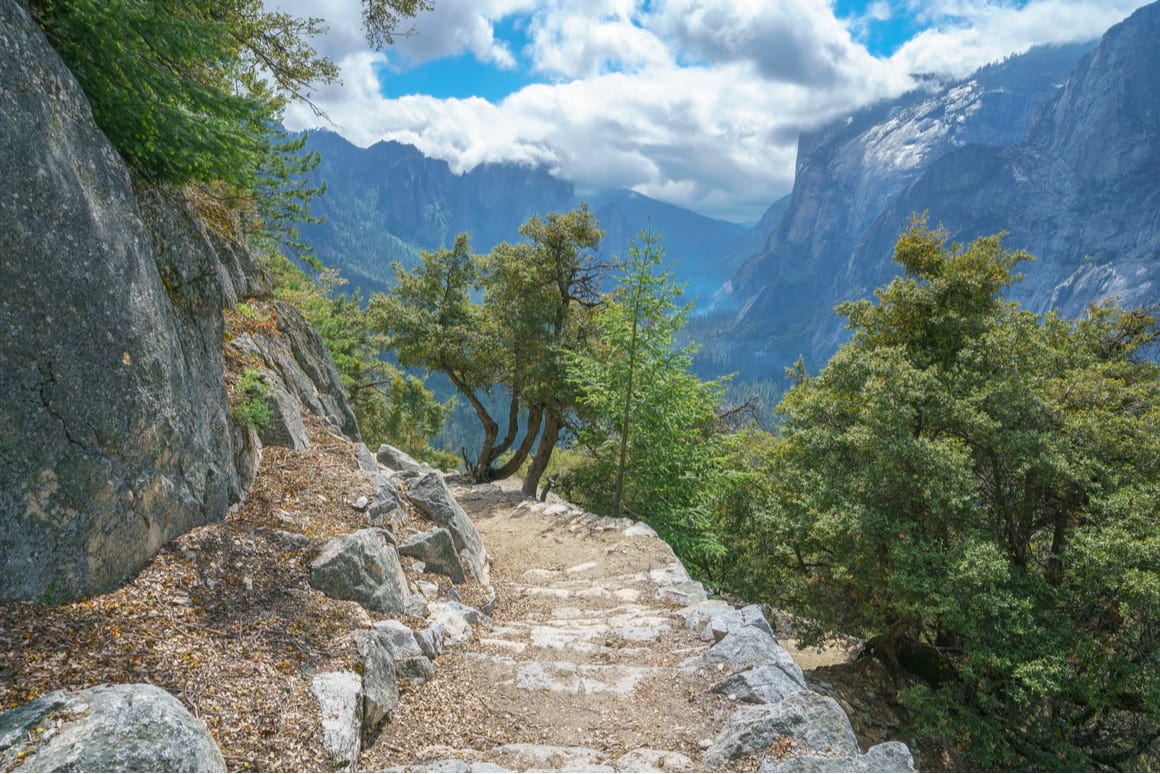 The Four Mile Trail is a great all-rounder of a hike. It's a bit of a challenge, but rest assured: your efforts will be rewarded.
And while its name can seem self-explanatory, this Yosemite hike actually extends for about five miles. With switchbacks from Glacier Point all the way to Yosemite Valley, you have incredible views all along the way. Half Dome, North Dome, El Capitan… you'll see it all!
Visually speaking, it's a doozie. It starts pretty flat, but after about a mile, you'll enter onto a series of pretty unforgiving switchbacks. They'll take you along the cliff, through the trees, and down into the valley floor.
We're not going to lie: the trip down can be pretty strenuous on the ol' legs. And you'll need some good shoes, too, as it can get slippy.
If you're hitting this trail up in summer, leave early. The switchbacks will still be shaded, but later in the day, you'll have the sun on your back.
Length: 15km round trip
Duration: 5-8 hours total
Difficulty: Easy/Average
Trailhead: Four Mile Trailhead (37°44'01.6″N 119°36'06.4″W)
2. Vernal and Nevada Falls – Most Beautiful Hike in Yosemite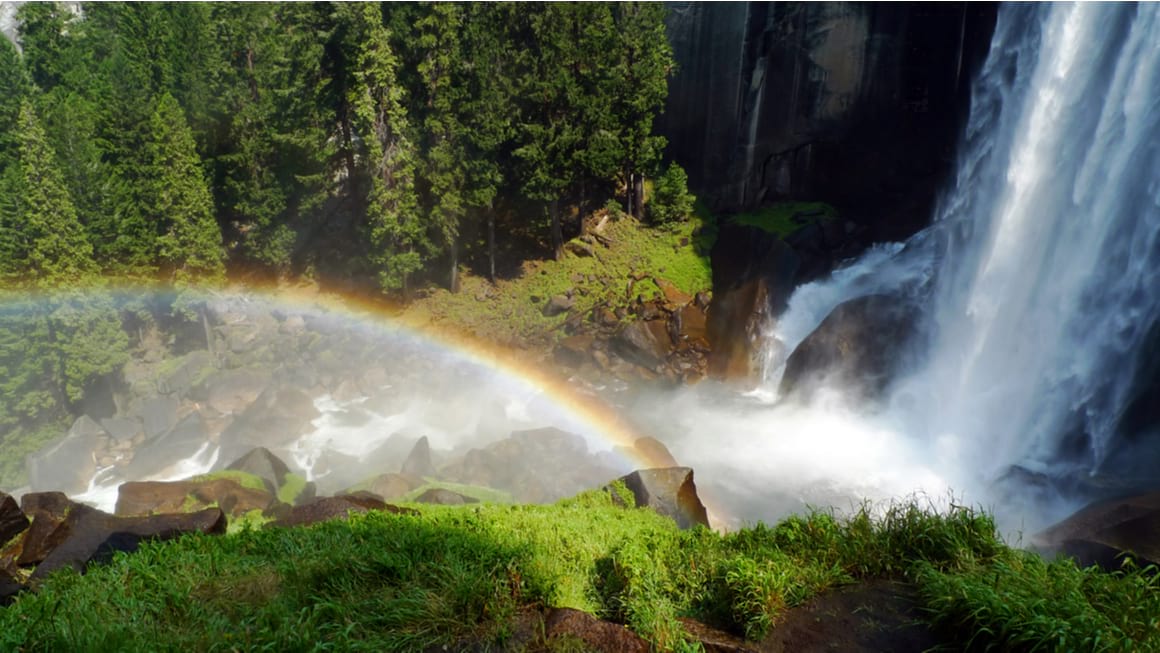 This loop is a must-do trail in Yosemite National Park. It gives you a good overall feel of what this place is all about, and in a fairly short amount of time, too. Plus it's a good leg workout!
Essentially, you'll be hiking through classic Yosemite scenery along part of two of the most popular trails in the park.
You can expect absolutely stunning views everywhere — especially at Nevada Falls. The hike kicks off on Mist Trail at the bridge just below Vernal Falls — this part of the trail is busy, but once you're past the falls, the trail starts to empty out.
You'll then continue up a steep granite stairway towards Nevada Falls until you lay your eyes on it. You'll be in the splash zone, so expect a little spray from this powerful watery wonder.
Continue back round along part of the much longer and more famous John Muir trail. Be careful though, it can be slippery coming down.
Length: 14 km
Duration: 4 Hours
Difficulty: Moderate
Trailhead: Mist Trail Trailhead (37°43'33.5″N 119°32'56.0″W)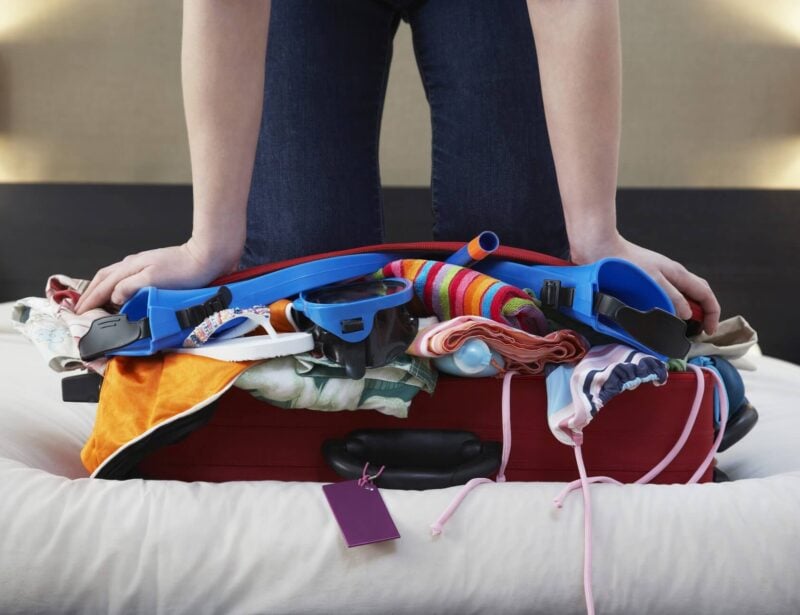 My missus travels with all her clothes in ziplock bags: don't be like my missus. UP YOUR PACKING GAME!
Packing cubes for the globetrotters and compression sacks for the real adventurers – these babies are a traveller's best kept secret. They organise yo' packing and minimise its volume too so you can pack MORE.
Or, y'know… you can stick to ziplock bags.
3. The John Muir Trail – The Best Multi-Day Trail in Yosemite
Did anyone ask for a challenge? This multi-day hike in Yosemite is absolutely legendary!
The John Muir Trail kicks off at Happy Isles and traces its way through gorgeous landscapes in Kings Canyon and Sequoia National Parks, all the way to Mount Whitney.
It's touted as one the most famous trails in the USA — the scenery it passes through is nothing short of jaw-dropping.
Within Yosemite National Park itself, the John Muir Trail passes by Half Dome before heading onto Tuolumne Meadows. Then it runs parallel to the main range of the Sierra Nevada. After this, it heads out of the park.
Obviously, you can't do it in a day. You can't even scale this mammoth trail in a few days, it'll take careful planning and imply some camping along the way. But it's an incredible journey, to say the least.
The best time to tackle this Yosemite hike is between July and early October. It can be strenuous and tough-going at times, so we'd recommend it only to confident, experienced hikers.
It's also important to note that to even be privileged enough to do the hike, you'll need a permit for it. It's pretty competitive: 97% of permit applications are denied… good luck!
Length: 339 km
Duration: 10 days – 3 weeks
Difficulty: Hard
Trailhead: John Muir Trail Trailhead (Happy Valley) (37°43'57.9″N 119°33'28.1″W)
4. Mariposa Grove of Giant Sequoias Trail – Must-Visit Hike in Yosemite
No trip to Sequoia National Park needed: you can see those giant trees right here in Yosemite. All you need to do is head to Mariposa Grove, where you'll find over 300 of them — some of the trees are over 2000 years old!
There is a selection of paths that loop around the grove so you can really get up close and personal with these amazing trees.
It takes you all across the grove, allowing you to glimpse famous sequoias such as The Faithful Couple, The Bachelor, Three Graces, and The Clothespin Tree — you have your own name, why wouldn't they??
The route also takes you right up into the far reaches of the grove, where you'll eventually get to Wawona Point. And that means panoramic views from over 1,200 feet up. Woohoo!
The only thing you need is to get there early. Otherwise, you won't be able to get a spot in the car park and you'll have to take the shuttle (which doesn't always run). It's a two-mile walk from the Yosemite Visitor Center otherwise.
Everything is very well-marked with boards and signs pointing out the nature and history of the area. This Yosemite trail is easy to explore and we highly recommend it to anyone wanting to explore more of the park.
Length: 9 km
Duration: 3 hours
Difficulty: Average
Trailhead: Mariposa Grove Welcome Plaza (37°30'09.3″N 119°36'35.8″W)
5. Sentinel Dome Trail – A Fun, Easy Hike in Yosemite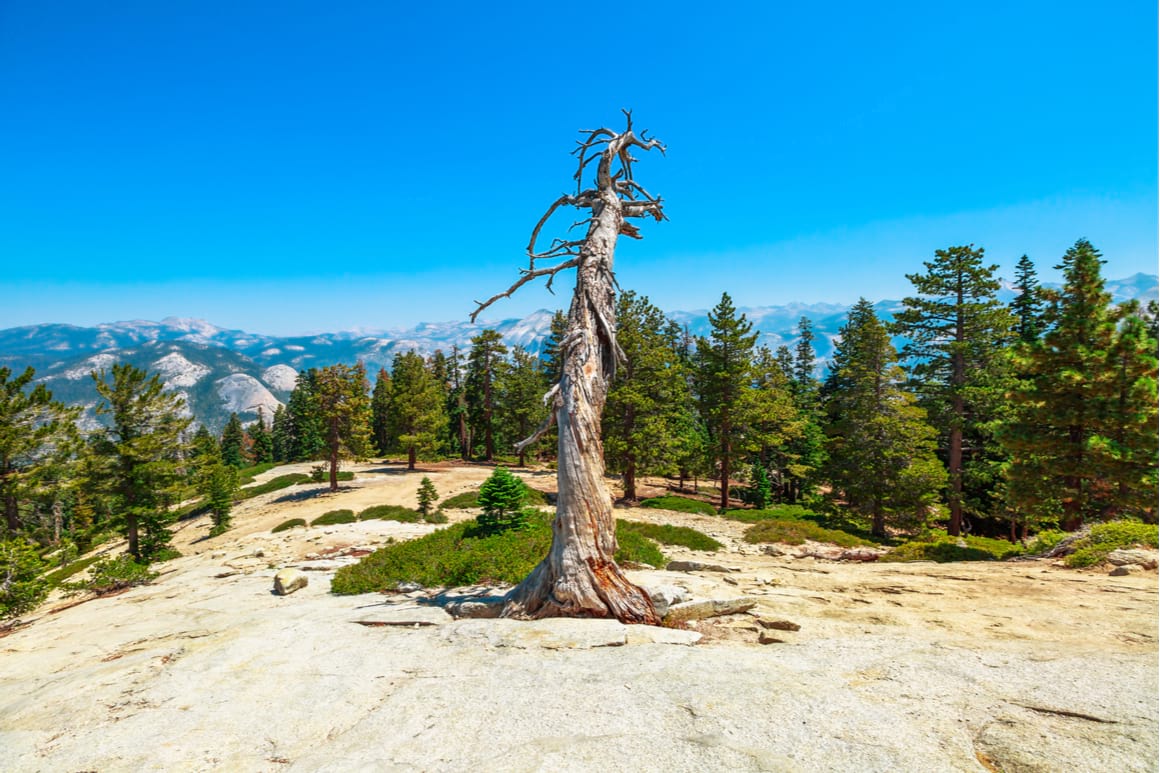 The Sentinel Dome Trail is one of the best hiking experiences in Yosemite for all ages and all skill levels. There are a few ups and downs, and a gradual ascent to the summit, but there's nothing wrong with taking it slow.
The 360º views from the summit encompass all of Yosemite's greatest hits: Half Dome, El Capitan, Nevada Falls, Clouds Rest, and numerous peaks of the High Sierras. It's a great opportunity to take your camera out, just like Ansel Adams did in the 1940s.
You'll start this hike off at Glacier Point Road before beginning the gentle ascent up to the high dome itself. Then you'll cross a bridge over a stream and hit the slope as you climb up through the pines.
After that, take a sharp left and voilà: you're on Sentinel Dome. These are some of the best views in all of Yosemite, and a great choice for casual hikers who don't want to spend hours out trekking.
Length: 3.5km
Duration: 1 hours
Difficulty: Easy
Trailhead: Sentinel Dome Trailhead (37°42'45.3″N 119°35'11.2″W)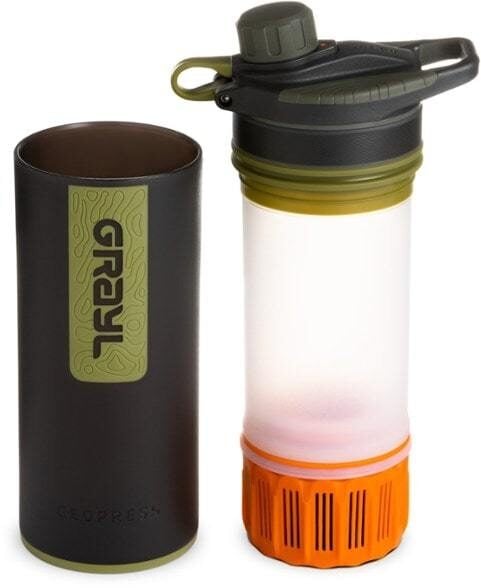 Drink water from ANYWHERE. The Grayl Geopress is the market's leading filtered water bottle protecting your tum from all the waterborne nasties. PLUS, you save money and the environment!
Single-use plastic bottles are a MASSIVE threat to marine life. Be a part of the solution and travel with a filter water bottle.
We've tested the Geopress rigorously from the icy heights of Pakistan to the tropical jungles of Cuba, and the results are in: it WORKS. Buy a Geopress: it's the last water bottle you'll ever buy.
6. Yosemite Point – The Toughest Trek in Yosemite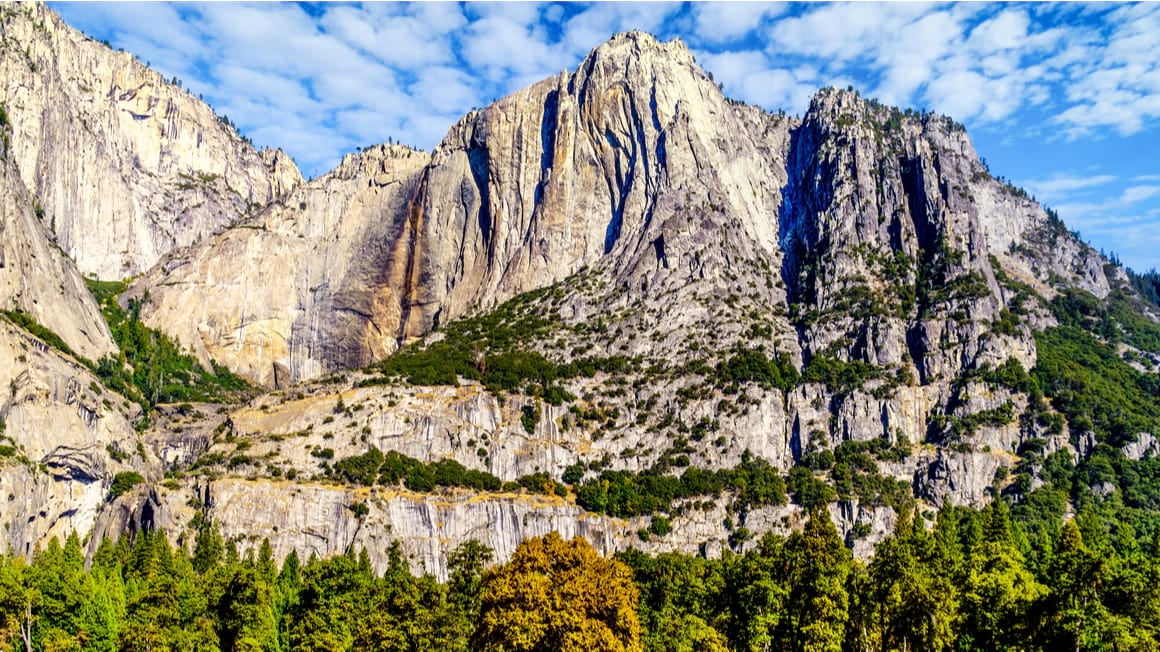 Now, from one of the easiest hikes in Yosemite to one of its most grueling trails: this is the path to Yosemite Point.
On this hike, you'll mainly be traversing rocks and scaling steep steps for much of the way. And you'll be exposed to the sun most of the time, too. Steep inclines and endless switchbacks are the name of the game here.
Yes, this is a toughie, alright. But if you like a challenge, then the glorious vista at the top is what you should be aiming for.
It starts with a hike to the Upper Yosemite Fall Trail, which takes you to the top of the valley. Then you'll head across Yosemite Creek, before tracing the North Dome Trail. Yosemite Point itself will be on your right, standing at 6,939 feet above sea level.
We recommend this one to experienced hikers only — it's extremely difficult, and you'll need to bring plenty of water. Split it in bite-sized chunks and cool off at the waterfalls along the way. Bring snacks!
Length: 13.5 km
Duration: 8 Hours
Difficulty: Difficult
Trailhead: Yosemite Falls Trailhead (37°44'31.8″N 119°36'07.6″W)
7. Cathedral Lakes Trail – Best Hike for Views in Yosemite
While you also have Yosemite's "typical" views to enjoy (Tunnel View, for example), there's much more in this beast of a park to enjoy.
Named after Cathedral Peak which rises, well, like a giant cathedral over the glassy lakes, this high-altitude area is incredibly serene and beautiful.
As lovely as the views are, however, it does take a bit of effort to get there. The path is fairly steep and the first part is particularly hard-going. But for the last portion of it, things start to flatten out considerably.
Before you know it, you'll be beside the lakes, among the shade and sand, listening to the water flowing and the sound of your mind decompressing.
Strolling around is a reward in itself: there are Alpine meadows strewn with wildflowers and a few prime spots for keen photographers to get the perfect shot. The air quality is particularly amazing — if you're a fan of breathing too, gulp it all down.
There are a few backcountry campsites up here, so you can extend your stay if you feel like. You do need a wilderness permit for overnight stays, though.
Length: 13.5 km
Duration: 5 hours
Difficulty: Difficult
Trailhead: Cathedral Lakes Trailhead (37°52'23.9″N 119°22'58.6″W)
8. Nelson Lake Trail – Off the Beaten Path Trek in Yosemite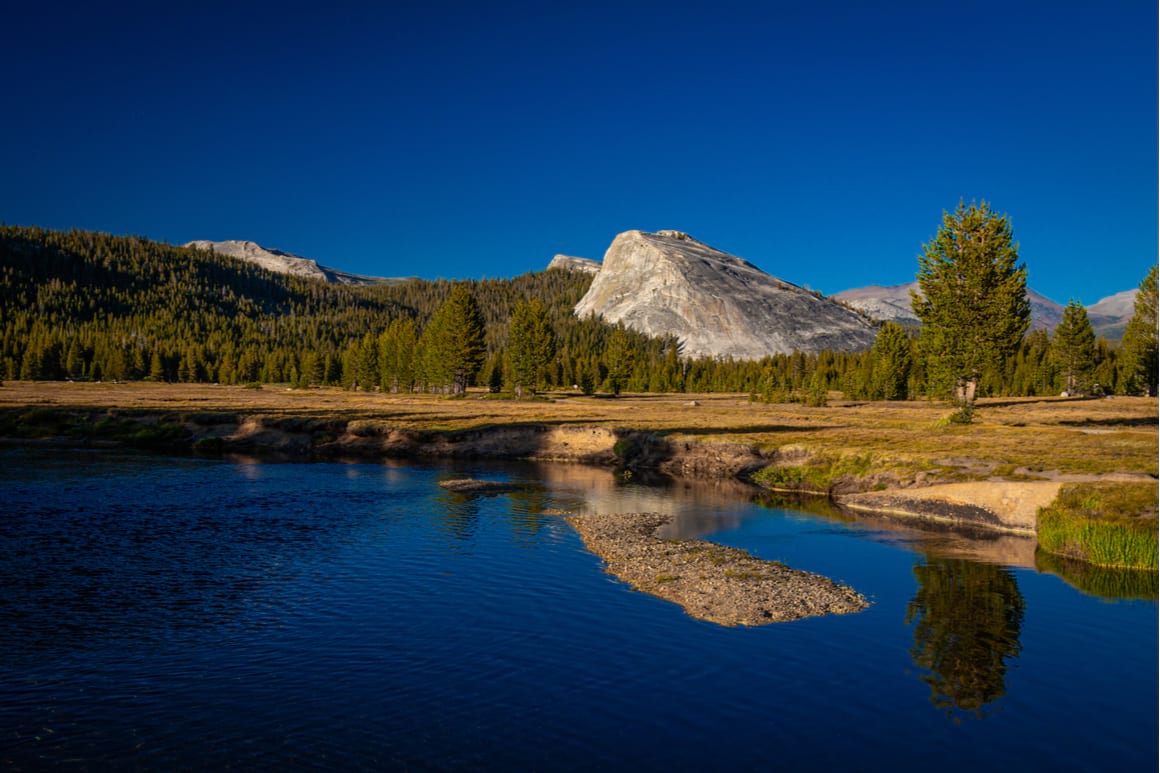 This out-and-back trail is a great way to escape from Yosemite's busier regions. The boundless beauty here makes for the perfect antidote to schedules and city living.
Beginning at Tuolumne Meadows Campground (where you can park), the hike heads out through pristine forested landscape. You'll then embark on a 1,000 feet climb before reaching Elizabeth Lake.
This makes for a good rest stop. Refill your water, munch a few snacks, and move on.
After that, you'll be hiking your way along a pretty straightforward path (although not always well-marked). From this point on, the fun begins. Meandering through lovely meadows, along the narrow valley of Echo Creek, this Yosemite trail will take you to the serene waters of Nelson Lake.
It's definitely something for those who like their hikes fairly wild — even the trail isn't as well marked as more popular routes in the national park.
There are quiet backcountry campsites around Nelson Lake if you feel like making the most of this remote part of Yosemite. Don't forget that wilderness permit though!
Length: 18 km
Duration: 6 hours
Difficulty: Moderate
Trailhead: Tuolumne Meadows Campground (37°52'11.8″N 119°21'29.6″W)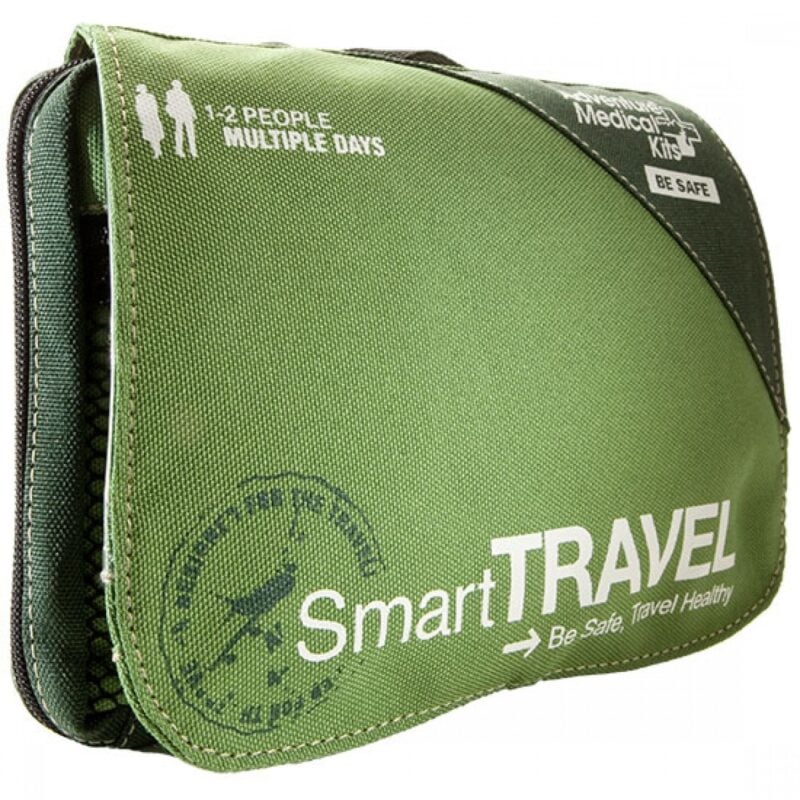 Things go wrong on the road ALL THE TIME. Be prepared for what life throws at you.
Buy an AMK Travel Medical Kit before you head out on your next adventure – don't be daft!
Where to Stay in Yosemite?
As you can see, there's a lot of exploring to be done here. And if you don't stay for the night, you won't really get the full experience. So now you need to decide on where to stay in Yosemite.
Luckily for you, there are a bunch of different types of accommodation options available — both inside and outside the park's boundaries.
Inside the park itself, there's Yosemite Valley. It's a killer location if you want jaw-dropping views from your window. You can also camp here, but you'll find cabins for a more plush and cozy experience as well.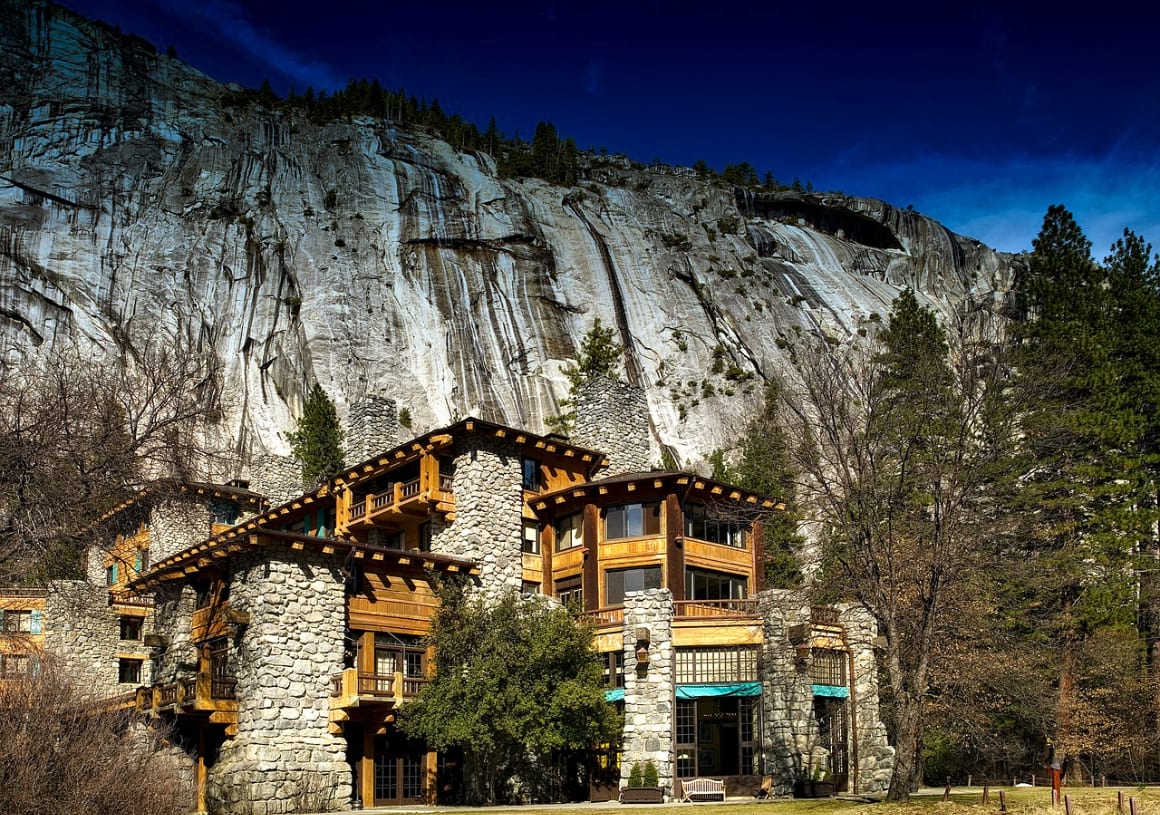 Yosemite West has a few upscale options if you're into that — sleek, modern cabins, and lodge-style accommodation with excellent conveniences. As for the views? Expect masterpiece-level sights from your window.
Throughout the whole park, there are stunning bed and breakfasts you can stay at. These unique accommodations are perfect for a little more comfort on your hiking trip and range all the way from high-end luxury joints to more budget-friendly options.
But if you don't want to be right in the thick of it, you could try Mariposa. It's just a short drive from the entrance to the park, and accommodation options range from villas, hotels, and sexy cabins.
Camping in Yosemite is definitely possible too, but it's not a free-for-all. There are rules you need to know, such as how to store your food away from bears. And you'll need a permit, or else you're not allowed to camp.
Luxury Home in Yosemite: Forest Park Lane
If you've read some of our other guides, you'll know that we love the stylish interiors and exceptional guest service that come with Airbnb Plus properties. It's extra cash, but it's totally worth it if you want to live like a king for a few days. This charming bungalow is where it's at!
Stylish Studio in Yosemite: Peregrine Lodge
Nestled among the trees of Yosemite West, this is our top pick for self-catering accommodation in the national park. Peregrine Lodge is a great choice for a romantic getaway to one of the most beautiful parks in the world.
Modern Hotel in Yosemite: Yosemite Valley Lodge
Want to stay right in the heart of Yosemite? This hotel has long been established as the best place to stay for exploring the region. It has a modern feel and cool furnishings, with a private balcony in every room.
You can also take a look at VRBOs in Yosemite for something a bit different!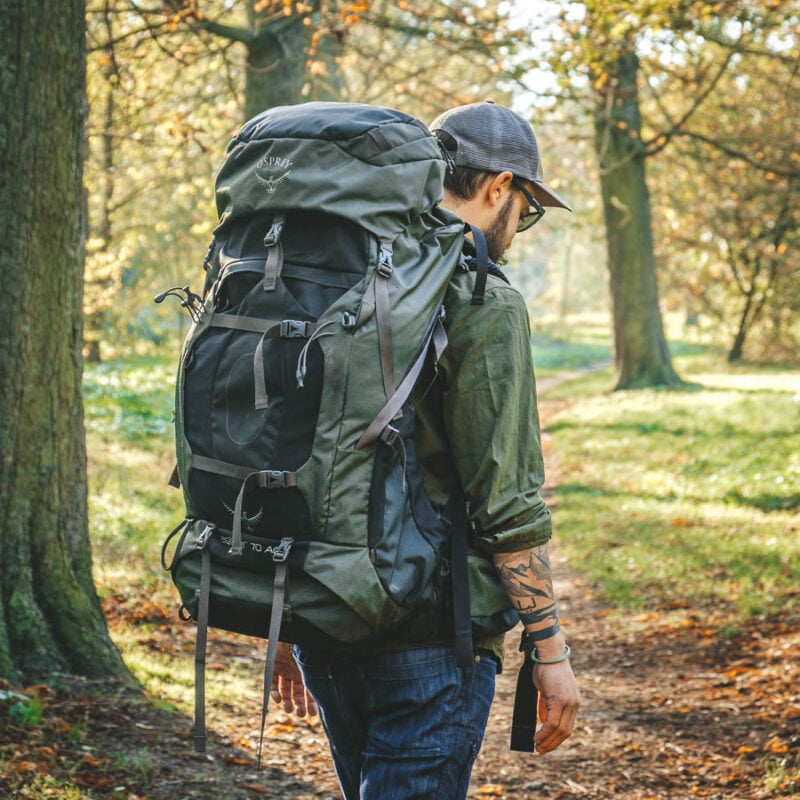 We've tested countless backpacks over the years, but there's one that still stands the test of time: the backpacker-approved Osprey Aether.
Want more deetz on why it's so damn perfect? Then read our comprehensive review for the inside scoop!
What to Bring on Your Hike in Yosemite
Now that you're all amped up for your trip to Yosemite, it's time to get packing. Depending on what you plan to do, we have different recommendations on what you should take on your hiking trip.
A multi-day trip out into the wilderness will mean backcountry camping, so you will have to consider tents, food supplies, and extra clothes. But, if you're only thinking about a day hike in Yosemite, your backpack will be more streamlined (possibly a harness and some ropes).
Good walking shoes are crucial for hiking in Yosemite, no matter the trails you choose. Opt for a sturdy pair that you can rely on, and test it before you come (they might rub). And just in case something happens, pack a first aid kit with plasters and other supplies.
Hydration is another key concern, so bring along a nice reusable bottle in your pack. You can refill from anywhere along the way if you use a filter water bottle — plus, a whale smiles every time you refuse single-use!
Get yourself a good, reliable daypack to stash all of your gear, and make sure that it fits you well and is comfortable on your back when loaded up.
How Long Does it Take to Hike Through Yosemite?
Located in the western United States, Yosemite National Park offers some of the most spectacular views and scenery of any U.S. national park.
Known for its granite cliffs, waterfall-filled valleys, and large oak trees, this is one of the most popular parks in the country, attracting four and a half million visitors each year.
If you want to experience Yosemite's beauty yourself, your main concern may be wondering how long it will take to hike through the park when you go there.
After all, you want to make sure that you have enough time to enjoy all that Yosemite has to offer.
How Long Does it Take to Hike Through Yosemite?
Several thousand hikers attempt to navigate Yosemite Park Trails each year, and regardless of where you begin, you'll be close to a variety of excellent hiking paths.
One of which is the Glacier Point Trail, roughly about .6 miles long that would take you up to a 30 minutes hike. This trail exhibits a waterfall and is suitable for all skill levels. It is also best used from May to October and is mostly used for hiking, walking, nature tours, and snowshoeing.
Another option is the Panorama Trail, 8.5 miles long and takes most people between 4-6 hours to finish one trip.
Generally, the length of the hike will always depend on the trail you'll hike to. So to know how long you would take, be sure to search about the trails you'll be visiting.
What is The Scenery in Yosemite Like?
As you make your way around Yosemite, one of your biggest challenges will be choosing which sights to see first.
After all, if you could choose only one sight, it would be: Vernal Falls or Half Dome? You should probably stop by each one of them before deciding because they are both stunning.
Vernal Falls drops 317 feet over a granite cliff face that's 2,425 feet tall—nearly as tall as Niagara Falls! The fall is not considered overly wide, but its beauty makes up for that fact.
Is There a Trail That Goes All Through Yosemite Park?
Not exactly. If you want to get from one end of Yosemite Valley to another, then you'll need a car or a bicycle.
That said, hiking around Yosemite Valley is certainly an option and can be done in a day if you do some off-trail exploring on your own—make sure you have enough food and water with you.
Also, remember that the hiking season starts in late spring and ends in late fall. In winter, trails are closed unless they're cross-country ski trails or areas specifically designated for snowshoeing.
Remember this when deciding whether or not a multi-day backpacking trip around Yosemite is right for you!
What is The Longest Trail In Yosemite National Park?
There are several different trails and hikes available in and around Yosemite National Park, which you can find out more about on their website.
Among them is Glacier Point Trail, which is famous for its breath-taking views over much of Yosemite Valley below and beyond, including El Capitan, Half Dome, and Bridalveil Fall, to name a few.
It is also the longest trail in Yosemite, with a total distance of 8.5 miles, with 4,500 feet of elevation change.
In addition, the trail begins at Badger Pass Ski Area in California's Sierra Nevada mountains before proceeding along open meadows dotted with pine trees until it reaches Echo Mountain.
After that comes an up-and-down trek past smaller granite formations such as Grinnell Point before reaching Glacier Point itself.
What is The Best Trail in Yosemite National Park?
The answer depends on what kind of hiker you are. If you want a stroll with some stunning scenery, head to Bridalveil Fall on short day hikes in Yosemite Valley, a 5-mile round trip trek accessible for most hikers.
Thus, if you want some more solitude and elevation gain, you can also opt to hike up to 4,000-foot Clouds Rest on an overnight trip in Yosemite's backcountry.
But if you're into technical climbing routes, choose Half Dome as your destination; but be sure to register for a permit first. The path used to be less frequented than other park trails due to its length and difficulty, but in recent years, trail traffic has increased to as many as 800 persons per day.
In general, Yosemite Park offers a variety of trails that will satisfy your hiking desires; all you need to do is search for the best route for you!
How Many Miles of Trails Are Available To Hikers At Yosemite Park?
Hiking through Yosemite means taking on a lot of different terrains, including high altitude areas, valleys, granite outcroppings, and more, so you can expect longer trails of up to 8 miles.
However, most trails are short and land between 0.5 and 1 mile in length. Thus, the shortest trail is only .1 miles, but many others are very close behind at .2 or .3 miles.
So, if you're looking for an easy trail that doesn't require a lot of physical activity or endurance training, plan for an average trail length somewhere around 2 miles.
Hiking Preparation
Many of us plan on taking an overnight hiking trip to Yosemite National Park. Here are some tips on how to prepare for your trip!
Here are a few things you should consider before heading out:
Have your equipment ready
Before setting out on your trip, make sure you have all of your necessary camping equipment. This means having everything from hiking boots and a first aid kit to a tent, sleeping bag, water bottles, gloves, and portable stove.
Take note of the temperature.
Temperatures in Yosemite can get quite cold and wet at night. Ensure you have all of your necessary clothing for camping in colder climates, including a heavy jacket, pants, and a hat.
Take into account that Yosemite is at a high altitude
If you're hiking up to higher altitudes in Yosemite, you should be prepared for less oxygen. Also, consider bringing along extra food and water, as well as medicine for altitude sickness (if necessary).
In addition, if you're not sure what sort of camping equipment or clothing you'll need for your trip, there are several outdoor shops in nearby Fresno where you can buy whatever you'll need.
Get a good night's sleep.
Before going on your overnight trip, make sure you get a good night's sleep so that you have all of your energy for the hike.
Also, you can do things to help yourself stay energized and hydrated while hiking, such as keeping a steady pace and stopping every hour or so for food and water.
Safety
Safety is always a concern when hiking and backpacking. Before leaving for your trip, invest in an appropriate backpack and learn to use all of its safety features.
For example, ensure that you have a sturdy yet comfortable hip belt so you can distribute weight evenly across your body.
It's also important to bring along plenty of water and snacks as well as a first-aid kit containing any necessary medication.
In addition, know your route and be sure to plan. Set out for your adventure with plenty of time (and daylight) left in case you need to turn back due to bad weather or other factors beyond your control.
Lastly, always let someone know where you're going and when you should return; if something goes wrong, they'll be able to alert authorities who can send help.
Hiking Through the trails of Yosemite Valley
How long will your Yosemite trek take? The answer would vary on the trail you'll take. If you're looking for a leisurely weekend excursion, plan to camp in Tuolumne Meadows and take two days or more.
But if you're looking for an easy trail that doesn't require a lot of time, then hike through the Lower Yosemite Falls and Tenaya lake, where you'll be greeted with spectacular views!
However, finding your way around in these areas can be difficult, so make sure you invest some time in researching before setting out to go hiking in Yosemite.
And remember: As with any multi-day backpacking trip, leave an itinerary with someone at home. While it may seem like things never change in nature, always remember that even small incidents can escalate into dangerous situations.
Recent Posts
Halibut fishing in the San Francisco Bay Area has been spectacular over the last few years and 2022 has been by far the best. So if you love fishing or you're just starting out, it might have.
Whether you are an avid halibut fisherman, like myself. Or you're just learning how to fish for halibut. You may be wondering what is the best bait to catch halibut? Well I've done the research.

report this ad
Current Conditions
Carry tire chains in your car and be prepared to use them (even if your car has four-wheel drive): chains may become mandatory at any time. Drive carefully even when there are no chain requirements: you may encounter icy spots on mostly dry roads.
Call 209/372-0200 (press 1 then 1) for the most up-to-date conditions (the information below only reflects planned or long-term closures)
Wawona Road (continuation of Highway 41 from Fresno)
No stopping or parking between southern park boundary and Wawona.
El Portal Road (continuation of Highway 140 from Merced)
Open
Big Oak Flat Road (continuation of Highway 120 from Manteca)
Yosemite Valley Roads
Open
Hetch Hetchy Road
When open, hours are 8 am to 5 pm
Tioga Road (continuation of Highway 120 through the park)
Temporarily closed due to snow.
No overnight parking anywhere between Crane Flat and Tioga Pass starting October 15
Closed
Glacier Point Road
Closed
Mariposa Grove Road
When open, road is open only to vehicles displaying disability placards. All others must use the free shuttle from Mariposa Grove Welcome Plaza (near South Entrance).
Seasonal Information
Rivers & Waterfalls: Vernal Fall, Nevada Fall, Bridalveil Fall, and Yosemite Falls are running low.
Fire and Smoke
Prescribed fires and pile burning are planned for this fall, which may cause smoky conditions at times, mainly in Yosemite Valley, Wawona, and Crane Flat areas. Pile burning and a prescribed burn in western Yosemite Valley are in progress. Yosemite air quality may be affected by fires elsewhere in the region or by prescribed fire in Yosemite; hazy or smoky conditions are always possible.
Fire and Smoking Restrictions
Current Air Quality in Yosemite Village
Campground Information
Yosemite Valley:
Open: Reservations required: Upper Pines
First-come, first-served: Camp 4
Closed: Lower Pines, North Pines
Outside Yosemite Valley:
Open: Reservations required: None
First-come, first served: Wawona, Hodgdon Meadow
Closed: Bridalveil Creek, Crane Flat, Tamarack Flat, White Wolf, Yosemite Creek, Porcupine Flat, and Tuolumne Meadows
Check today's campground availability by calling 209/372-0266.
View estimated opening and closing dates in 2023 for all campgrounds.
Reservations are available up to five months in advance and are strongly recommended. If you don't have a reservation, get details about camping without a reservation.
Visit Yosemite Hospitality's website for lodging information (including information about Housekeeping Camp and High Sierra Camps). Reservations are available and recommended up to 366 days in advance.
Trails and Wilderness Conditions
Trails in Yosemite may be closed when there are hidden hazards or when they are impassable due to rock fall, snow, ice, or fire. Open trails aren't necessarily free of hazards–by entering the wilderness, you assume responsibility for your safety and must use good judgment. Trails not listed below are open, but may be snowy and very difficult to find from about November through May/June (and may have other hazards).
Yosemite Valley Area
The Mist Trail from its junction with the John Muir Trail above Vernal Fall footbridge to the top of Vernal Fall is closed due to icy conditions. The John Muir Trail between Clark Point and Panorama Trail junction (near the top of Nevada Fall) is closed due to dangerously icy conditions. It is possible to hike to the tops of Vernal and Nevada Falls via the winter route, although these may also be snowy and/or icy.
The Four Mile Trail is closed due to hazardous conditions.
The boulders around the base of Lower Yosemite Fall (the off-trail area between the footbridge/viewing area and the waterfall) is closed.
The trail to Bridalveil Fall is closed due to the Bridalveil Fall Rehabilitation Project until summer 2023 .
The Half Dome cables are down for the season. They are usually available for use starting Memorial Day weekend in May. A permit is required to hike to the top of Half Dome when the cables are up.
Due to bear activity along the Snow Creek Trail and the potential for bear/human interactions the area to the south and east of the footbridge is closed to overnight camping and unattended food (even if stored properly). The National Park Service will continue to monitor the bears' activity and will re-open the area to camping as soon as possible. The trails and areas are open to day hiking.
Wawona and Mariposa Grove Area
The trail from the Mariposa Grove toward Wawona is closed. The western portion of the Perimeter Trail (from the Galen Clark Tree to near the Grizzly Giant Loop Trail) is also closed. Please stay on trails: hazards may exist off trail in the Mariposa Grove. View a map for details. The Washburn Trail reopened on August 18.
Glacier Point Area
The Glacier Point Road, including land and trails adjacent to the Glacier Point Road (within 100 feet from centerline on both sides of the road) are closed. (The Pohono Trail remains open, including where it crosses Glacier Point Road just above Glacier Point. This is the only exception for trails crossing the road.)
Camping is prohibited at Glacier Point (and anywhere else within four trail miles of Glacier Point or within one mile of the road).
Crane Flat to Tuolumne Meadows Area
Merced Grove will be closed starting August 22 for a biomass removal project. The closure is expected to last about a week.
Trails leaving from Crane Flat Campground are closed.
Soda Springs Road and Lembert Dome picnic area are closed.
Elizabeth Lake Trailhead (in Tuolumne Medows Campground) is closed. Start from the visitor center or Dog Lake parking areas instead.
Climbing Closures
Climbing closures are in effect on several routes each year from March 1 through July 15 to protect peregrine falcons. Additionally, a free wilderness climbing permit is required for all overnight big wall climbs.
Source https://www.thebrokebackpacker.com/hiking-in-yosemite/
Source https://thecaliforniaoutdoors.com/how-long-does-it-take-to-hike-through-yosemite/
Source https://www.nps.gov/yose/planyourvisit/conditions.htm