How (and Why) I'm Hiking the Appalachian Trail in 100 Days
The Appalachian Trail spans nearly 2,200 miles from Georgia to Maine. The average time of completion is between 4 and 6 months with a pace of 12-20 miles per day plus a day (or two) off per week. Walking that distance is a feat in and of itself, which is made clear by the fact that only about 20% of the nearly 4,000 people who start each year make it to the end.
That being said, there's another side of the coin as well: those who not only complete the trail in its entirety, but do so in record time. The current speed record ( "Fastest Known Time", aka FKT) for the Appalachian Trail is held by Ultrarunner Joe "Stringbean" McConaughy, who completed the entire trail in 45 days, 12 hours, and 15 minutes in 2017 (self-supported, to boot!). Prior to 2017, the record was held by another Ultrarunner, Karl Meltzer, who finished it in 45 days, 22 hours, and 38 minutes in 2016. In fact, Red Bull made a documentary of his journey that is free to watch on their website.
Between the 6-monthers and FKTers is a subgroup of individuals who want to push themselves mentally and physically, yet still want to stop and smell the roses every once in a while. This is where I fit in.
Many folks who set out on the AT with a reduced timeframe for completion are restricted by external forces such as employment or family responsibilities which they must attend to. For me, that is not really the case. Because of the way my job works as Foreign Service Officer, I get a short break between overseas assignments in order to see friends and family and prepare for the next few years abroad (see: How'd You Get Time Off To Hike The AT?). The completion of my current assignment aligns with the ideal time to begin a thru-hike, and I specifically chose a follow-on assignment that begins much later in the year which would provide ample time to complete my journey. Through a combination of paid and unpaid leave, I managed to obtain approval for 5 months off between my assignments. Despite having the time to spare, I still plan to complete the AT within 100 days. Here's why:
1. Physical & Mental Challenge
Like most venturing out on the AT, I am in search of a challenge unlike anything I have experienced before. The mental and physical obstacles that one must overcome to trek such a distance are significant and should not be underestimated. That being said, "slow" hiking (e.g. a leisurely pace, spending multiple days in Trail Towns along the way) doesn't appeal to me as much as it may to others. Since 2016 I have been a devoted trailrunner, which I find to be the perfect mixture of speed, endurance, and exposure to nature. As a result of my training, which has allowed me to complete races such as the Buff Troodos Mountain Ultra 80k, I have become somewhat addicted to the notion of stretching my perceived physical limitations. As such, the prospect of doing "only" 10-15 miles per day just doesn't move the needle for me as much as I'd like. However, averaging 23-30 miles per day? Now THAT's a challenge!
2. More Time with Friends and Family
This sounds a bit backward, but it's true. Because I have a hard-start date for my next work assignment in mid-August, the sooner I get done with the AT means I can spend more time with family and friends before heading to the "sandbox" in Pakistan. Once I leave I likely won't be back home for about a year, so every day counts. If I finish in 100 days, I will have a solid 2 weeks at home in Maine before I take off. While not a long stretch, it's more time than I've had there for several years so it will be welcomed. While I do have some great friends and family who I travel to see (and vice versa), there are others who don't have the opportunity to get out as much so I'll spend some time with them while enjoying the beautiful Acadia National Park.
3. Financial Reasons
Who doesn't like to save a few bucks, amirite? This is actually one of the least important reasons for restricting my timeline, as life on the trail is far cheaper than paying rent. Despite that, the logistics and mental capacity needed to plan for and fund additional months of living outside and in hotels while coordinating resupplies is something I'd prefer to minimize. While I greatly enjoy planning in general, there can definitely be "too much of a good thing", so I'm hoping to not overdose on preparation so I can avoid hating the trail before I even start! Also, I mentioned that I'd be taking Leave Without Pay to account for some of my time off. While I have made sure to set aside enough cash to cover the cost of the trek, there are still bills to be paid and unfortunately hiking doesn't add to the bank account as much as I'd like (i.e. at all). As such, it's in my interest to minimize the amount of unpaid leave I take in order to cause the least amount of disruption in cashflow.
To hike the AT in half the time normally allocated, one faces a unique set of challenges that are exacerbated by the restrictions. Renowned thru-hiker and respected ultrarunner Andrew Skurka wrote a great article in Backpacking Light back in 2006 called, How to hike a "fast" thru-hike. In it, he examines the pros/cons of such an endeavor and also explains a number of ways to accomplish the feat–most of which I plan to incorporate into my own plan of action. Although he wrote the article several years ago, the wisdom still applies.
1. Hike Longer, not Faster
As Skurka explains, there is only one way to increase daily mileage: hiking faster or hiking longer. To hike faster, the only tool you have is to lighten your load and increase your speed. If you instead choose to hike longer, you have the advantage of utilizing all the daylight hours and moving at a more comfortable and sustainable pace. When I covered 53 miles and over 11,000 feet of elevation during the Buff Troodos Mountain Ultra, it took me nearly 16 hours. My pace was slow, but it was faster than I'd want to hike the AT and I surely wouldn't have been able to do it all over again the next day. The key for me will be to put in consistently long days without the physical strain of an ultramarathon.
2. Go Light
This is solid advice for anyone who is planning a thru-hike, but it becomes even more crucial when you're against the clock. The idea is to go "as light as you can afford", but to avoid going, as Skurka writes, "stupid light". Stupid light occurs when you don't bring the gear necessary given the conditions you will face and sacrifice your safety and comfort in the name of weight savings.
But this pack only weighs 3oz!
With a start date of late March, the conditions I will face on the AT should be rather mild. Barring some kind of freak storm, I shouldn't see much (if any) snow or experience more than a few nights where the temperature drops below freezing. As such, I can keep base layers and extra clothing to a minimum. To get my base weight down and to make sure I'm not packing things I don't need, I'll be doing a series of "shakedown" hikes before starting to rid my pack of extra non-essentials.
3. Fewer Zeros, More Neros
This goes back to the "longer, not faster" mantra noted above. Instead of going balls-to-the-walls and risking injury which may necessitate additional rest days, I plan to implement the common tactic of using "Nero" days (near-zero) instead of "Zero" days (when no miles are hiked). To do this, I've planned my town visits and hotel stays such that I'll be able to arrive in the early afternoon and get all of my "chores" done (e.g. laundry, resupplying, etc.), have a good night's rest, and then sleep in the next morning while checking out as late as possible. By bookending a town visit this way, I am not technically taking a zero – rather I'm hiking a full day over the course of two – but I still get to experience the luxuries and benefits that trail towns provide. What's more, I've painstakingly researched the route to find out which towns have both suitable accommodations (e.g. hotels I can book with rewards points) and are close to the trail. There were a number of towns that sounded like a lot of fun and had great sleep options, but were simply too far from the trail. I couldn't justify spending extra time trying to arrange shuttles or rely on getting a hitch to towns that were several miles from the trail on a regular basis, so I cut as many of those out as I could. I am also limiting my town visits to about one per week, coinciding with when I will have a resupply box sent, so that every time I leave the trail it's for more than one purpose.
While I plan to employ this Nero this for most of my off-trail stays, although I have budgeted time for a handful of actual zeroes as well, since I'm sure I'll need a full days' recovery every few weeks.
Other tactics from Skurka's article (which I will use but not emphasise as heavily as the above) include:
Increase efficiency of routine tasks (making food, setting up camp, etc.).
Optimize the morning hours when you have the most energy.
Use resupply boxes instead of resupplying in town.
Summary
My reasons for wanting to complete the AT within 100 days are so that I can push myself mentally and physically, enjoy more time with family once I finish, and to spend less time and money planning the trip. I plan to do it by hiking long days (duh!), going as light as I can, and taking fewer days off. As with many things in life, this plan is simple, but not easy. And while a well thought-out plan is nice to have, the great Mike Tyson reminds us that it doesn't always work out:
Ain't that the truth!
What I need to understand and keep in mind is that I will be having a different experience than many thru-hikers. "Hike Your Own Hike", as they say, applies here. I will be spending less time in the cool Trail Towns having beers, I won't stop at every fire tower or scenic overlook, and I probably won't have much of a "hiking family". That's all perfectly fine, because I know that I will still have a great experience and that the reasons behind my pace are solid.
This website contains affiliate links, which means The Trek may receive a percentage of any product or service you purchase using the links in the articles or advertisements. The buyer pays the same price as they would otherwise, and your purchase helps to support The Trek's ongoing goal to serve you quality backpacking advice and information. Thanks for your support!
How Long Does It Take To Hike Appalachian Trail?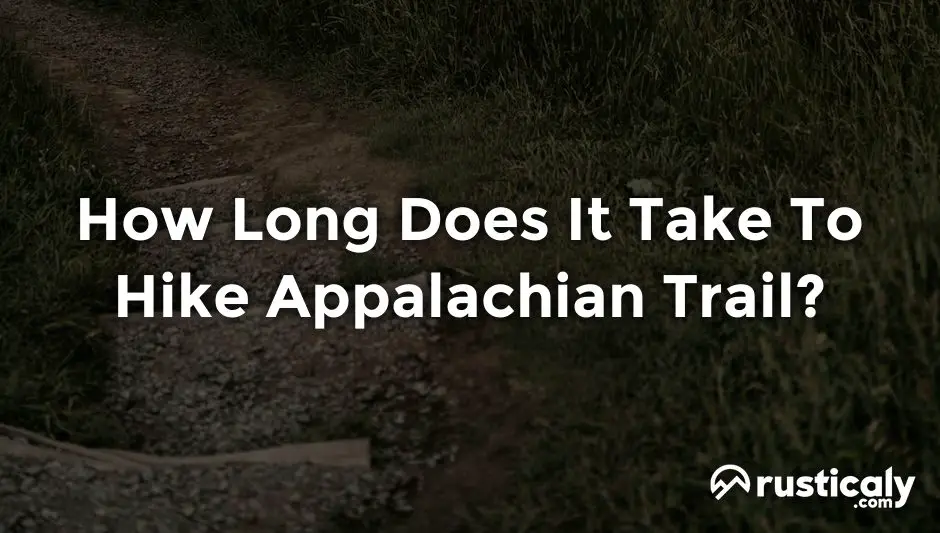 It is difficult to complete the entire 2,190 miles of the A.T. in one trip. Thousands of hikers attempt a thru-hike each year, but only about one in four make it all the way. A typical hiker takes between 5 and 7 months to complete the trail.
To help you get started, we've compiled a list of tips and tricks to make your hike more enjoyable. If you have any questions, feel free to ask in the comments below.
Table of Contents
How many miles a day should you walk on the Appalachian Trail?
Hikers start out slow with an average of eight to 10 miles a day. They will work up to 16 miles a day eventually. If you set a goal for where you need to be each day and stick to it, you will be able to keep up with the pace.
Hiking is a great way to meet new people, learn new skills, and experience new places. It's also an excellent way for you and your family to get away from the hustle and bustle of everyday life.
Can you hike the Appalachian Trail in 3 months?
You will not have time to stop as you will not have time to look at the country. If you only have three months to do it, then you should do it in pieces over the course of several years.
I would recommend hiking, mountain biking, cross country skiing and snowshoeing. If you are looking for a place where you can enjoy the beauty of nature without the hassle, then this is the place for you.
Can a beginner hike the Appalachian Trail?
Even though it may seem intimidating, beginners can scale the numerous mountains of the Appalachian Trail and see some of the best views in the world.
How much weight do you lose on the Appalachian Trail?
Although most hikers practice a see food diet, it's not uncommon for hikers to lose upwards of 50, 70, or even over 100 pounds in a year.
This is not to say that you can't lose weight on the trail, but it's important to be aware of what you're putting into your body and how it will affect your ability to hike.
It's also a good idea to have a plan in place for when you need to make a change in your eating habits, so you know exactly what to expect when it comes to weight loss.
Can you take a gun on the Appalachian Trail?
The Appalachian Trail Conservancy discourages carrying firearms on the trail because it is now legal to carry a gun through national parks with the correct permits. The National Park Service must have the correct permits for all the states.
Do people hike the Appalachian Trail alone?
The Appalachian Trail is hiked by hundreds of people every year. They travel through the amazing trail towns of the great smoky mountains in the United States. For some, it's a right of passage and a way of life. But for others, the trail is just another obstacle in their lives. It's a place where they feel like they don't belong, and it can be a source of stress, anxiety, depression and even suicidal thoughts.
In fact, according to the National Alliance on Mental Illness (NAMI), one in five people who attempt suicide have a history of mental health issues, including depression, bipolar disorder, schizophrenia and other mental illnesses. The NAMI estimates that more than 1,000 people die by suicide each year on the AT. And that's just one trail. There are thousands of miles of trails across the country, many of which are not well-maintained or maintained at all.
Many of these trails are in remote areas that are inaccessible to most people, making it even more difficult for people with mental illness to access them. This is why it's so important that we do everything we can to make sure that everyone has the opportunity to experience the beauty and wonder of this great American trail system.
How safe is it to hike the Appalachian Trail alone?
Hiking the A.T. is very safe; most of my hikes were done alone and I usually camped by myself or with a group of friends. However, there are a few things you should be aware of: 1. The trail is not well marked. There are no official trail markers, so you will have to rely on your own sense of direction to find your way.
If you don't know where you are going, it's best to stay on the main trail and follow it until you get to the end of the trail. This will give you plenty of time to get lost, but it will also make it much easier for other hikers to spot you.
It's also a good idea to keep an eye out for bears and other wildlife, especially if you're hiking in a remote area or in the middle of a forest. You should also be prepared for the possibility that you may be attacked by a bear or other wild animal. Be aware that bears are very territorial and will defend their territory if they feel threatened.
Also, bear attacks are extremely rare, and most people who have been attacked have not been seriously injured. In fact, most bears will simply run away from you and you won't be able to do anything about it.
Where can I sleep on the Appalachian Trail?
There are a lot of campsites and shelters along the Appalachian Trail. Shelters are usually built by local volunteers and have a water source. A tent is a shelter that can be pitched on a flat surface. It is usually made of canvas or canvas-like material, and is designed to be hung from a tree or pole.
Hammocks, on the other hand, are a type of tent that is pitched in the middle of the ground. They are usually constructed of wood, canvas, or other materials that are tied together with rope or cord. The hammocks are often used by backpackers and thru-hikers to stay warm during the winter months.
Who was the youngest person to hike the Appalachian Trail?
5-year-old is the youngest person ever to hike the Appalachian Trail. Little Man," as he is known, won't have much time to bask in the glory of hiking the full length of the Appalachian Trail July 1 is when he starts his hike. Sutton, who was born with spina bifida, is the youngest person ever to complete the AT.
He is also the first person to hike the entire trail in under 35 days, according to The New York Times. "It's a dream come true," Sutton said in a statement. "I've always wanted to do something like this, but I never thought I'd be able to accomplish it. It's been a long road to get here, and I'm so grateful to everyone who has helped me along the way." .
How to Hike the Appalachian Trail [The Definitive Guide]
When it comes to overall popularity, the Appalachian Trail is probably one of the most famous and most popular hiking trails in the world. Trails of Mount Everest, Machu Picchu and Kilimanjaro are the only ones that can compare in that sense. However, it is also among the hardest for thru-hiking. Together with the Pacific Crest Trail, it is considered the longest hiking path in North America.
People all over the world come to see the Smoky Mountains and spend a few days walking and admiring its beauty. Under the National Trails System Act of 1968, the Appalachian Trail is referred to as a National Scenic Trail. In other words, it is a trail of great natural beauty as well as a protected area. In fact, this trail and the Pacific Crest Trail were the first two trails to receive this title in 1968.
Every year, approximately 2 million people take their time to hike on the Appalachian Trail for at least one day. However, the number of hikers that actually finish the entire trail is about 2,700. This says a lot about the difficulty of the trail and how hard it is to cross these mountains.
How long is the Appalachian Trail?
Altogether, the Appalachian Trail is about 2,200 miles (or 3,500 kilometers). As previously mentioned, it passes through 14 states: Maine, New Hampshire, Vermont, Massachusetts, Connecticut, New York, New Jersey, Pennsylvania, Maryland, West Virginia, Virginia, Tennessee, North Carolina, Georgia. It basically goes through entire East Coast.
the Great Smoky Mountains. However, you won't have to deal with extreme heights. The highest peak of the Smoky Mountains is Clingmans Dome (6,643 feet or 2,025 meters) while the lowest is Bear Mountain State Park (124 feet or 38 meters). Due to the terrain, the entire path will feel much longer than it actually is.
How long does it take to hike the Appalachian Trail?
The Appalachian Trail (or the A.T.) is one of the longest footpaths in the world. That being said, it is not surprising that hikers take from 5 to 7 months to cross it. Most people start with 5 to 10 miles per day. However, on average, people cross 10 to 15 miles every day.
Have in mind that this is an average statistic including both people that hike for a day or two as well as those who cross the entire path. But, the variations are enormous. For example, some people finish this distance in one year. On the other hand, the record is just 46 days.
Nevertheless, if you intend to finish the entire trail, you will have to have good pacing. The thing that many people do not realize is that crossing the Smoky Mountains is not a question of strength (or even endurance) but how you utilize your energy and replenish your strength. In that regard, proper nutrition and preparation do much more for you than conditioning (even though conditioning is still very important).
Related:How To Hike The Appalachian Trail Alone Safely
Another thing that needs to be considered is your starting point. The mountainous regions of Maine are much colder than Georgia. In early spring, Maine will still be covered in snow and ice. If Maine is your starting point, May is the best time to hike the Appalachian Trail. On the other hand, those who begin from Georgia should plan ahead so they arrive in Maine around summer.
The Appalachian Trail topography and temperature
Here is how the Appalachian Trail looks like based on altitudinal zones (if you start from Georgia):
From Mount Rogers, Virginia to Mount Greylock, Massachusetts – foothill and montane zone (up to 900 meters)
From Mount Greylock to Mount Moosilauke, New Hampshire – subalpine zone (from 900 to 1500 meters)
From Mount Moosilauke – alpine zone (1500 meter and up)
This is how the A.T. looks in general. Height zones do change but this is the overall layout.
Mount Moosilauke Carriage Road. Photo credit: farnorthendurance.com
You can see a lot of trees up to Mount Moosilauke where topography becomes barren and rocky with evergreen species being dominant. Parts of Pennsylvania are also very rocky and can be troublesome for hikers.
Maine can be very harsh, with a lot of snow and ice. Furthermore, Mount Katahdin is the second biggest alpine environment in the U.S.
When it comes to temperatures, they can vary substantially. No matter what, as you start hiking towards north, it will slowly become colder.
Spring and fall temperatures can be rather low and you may even encounter snow on higher altitudes. In these regions, temperatures below zero are quite common. However, the summer can be really hot and you will most likely need sunscreen, and sunglasses to protect your eyes.
How much does it cost to hike the Appalachian Trail?
Before anything else, you need to calculate the costs. This is especially important for thru-hikers as it may take them several months or up to a year to walk the entire distance.
Have in mind that you can save a lot based on your preferences. In other words, people who do not wish to visit hotels and instead sleep in their tent can cut the costs significantly. This is especially common for fast thru-hikers who do not wish to stay in towns for too long.
But, you should never skimp on food. Hikers burn a lot of calories during the day and it is necessary to replenish them so that you could carry on.
It is very hard to give you an exact price but the average cost of hiking the Appalachian Trail is between 1,000 and 2,000 dollars per month. Then again, there are people who can do it in less than a thousand and those who make a spectacle out of it, spending more than 3,000 dollars per month.
Here is a brief rundown of all the costs:
Transportation – it really depends
Gear – $1,000 to $2,000 (make sure to get quality equipment that can protect your from the weather)
Replacement gear – $150 (you need to set aside some money in case of an accident, thru-hikers use up 4 to 5 pairs of shoes for the entire trail)
Food – $10 to $15 per day (if you eat in towns, it can increase exponentially)
Accommodation – $10 to $15 per night (can easily be avoided)
One of the biggest initial costs comes in the form of equipment. If this is your first time hiking, you will need to get everything. As for the transportation, you will have to pay the costs to and from the A.T. People who live in the United States can do this for a couple hundred dollars while visitors from Europe and other parts of the world will have to spend more than a thousand.
On top of it all, there are several fees that need to be paid. First, you will have to get a permit for thru-hiking along the Appalachian Trail which costs $20 (as of this writing). Besides that, you may expect some overnight stay fees, especially in New England and Maine.
What do you need to carry?
We mentioned the basic costs. But, we still need to mention what you need to buy for that money.
If you are an experienced hiker/camper/backpacker, you are probably acquainted with the basic equipment. But, if this is your first time hiking, these are the things that you must carry at all costs:
When you're ready for a full rundown of the gear to bring, check out our Appalachian Trail gear list.
Related:The 6 Best Hiking Boots For Men
Related:The 6 Best Hiking Boots For Women
Related:The 6 Best Backpacking Tents
On top of that, you should get food for several days (from 5 to 7 days) as well as water for 3 days. As you can presume, you will have to replenish supplies in towns. More experienced hikers use mail drops. With them, you can send supplies and food to towns that are on the trail. When a hiker passes through them, he can simply pick them up instead of shopping in nearby stores.
The load can vary from 20 lbs (9 kilograms) to 35 lbs (16 kilograms). Even though this seems like a lot, these are the basic provisions that will ensure that you arrive at your destination safely.
Do I need to register and how to avoid the crowds along the Appalachian Trail?
For the time being, there is no formal need to register. However, the Appalachian Trail Conservancy (ATC) does encourage it as a way to track hikers and their movement.
This is especially important as it helps reduce overcrowding. The entire region is one big national park and in recent years, there has been a lot of damage to wildlife. As a way to prevent this, hikers should pick a date when there are not as many people on the Trail.
Photo credit: appalachiantrail.org
Most people tend to start from Springer Mountain, Georgia northbound (otherwise known as NOBO while southbound is SOBO).
According to the data provided by Appalachian Trail Conservancy, the period between March 1 and April 1 is especially critical.
As a way to prevent all of this, the organization is trying to promote alternatives. Instead of starting from the bottom of the Trail, hikers are encouraged to start their thru-hike somewhere in the middle.
So, if you wish to avoid all the ruckus and crowds, these are some of the alternatives:
Harpers Ferry, West Virginia – Mount Katahdin – Harpers Ferry – Springer Mountain
Shenandoah National Park, Virginia – Mount Katahdin – Shenandoah National Park – Springer Mountain
Pawling, New York – Mount Katahdin – Pawling, New York – Springer Mountain
Springer Mountain – Harpers Ferry – Mount Katahdin – Harpers Ferry
Springer Mountain – Harpers Ferry – Great Barrington, Massachusetts – Mount Katahdin – Great Barrington, Massachusetts – Springer Mountain
Other modified trails
These options are great for people who do not wish to thru-hike the entire trail at once and prefer to avoid the crowds. Have in mind that you will have to make breaks between destinations. For more information, visit this page.
What do I have to know about shelters and accommodation?
There are two main options you should consider: sleeping in towns and sleeping in the wild.
Given the popularity of the A.T., you can find hotel and motels almost everywhere. Here are our top picks for hotels:
Skyland (Shenandoah National Park, Virginia)
Killington Grand Resort Hotel (Killington, Vermont)
Upper Goose Pond Cabin (Massachusetts)
Standing Bear Farm(Hartford, Tennessee)
White Wolf Inn (Stratton, Maine)
Of course, given that you cannot really choose hotels during hiking, you will have to make do with what you have. Nevertheless, your main concern is a warm bed and full stomach and everything else should come later.
Those who prefer sleeping outside have two options: tents and shelters. There are pros and cons to both options. Anyway, it is best to mix them.
There are more than 250 shelters along the A.T. They are pretty large (8 x 12 feet) and up to 20 people can fit in them. Shelters are a great place to hang your clothes, to socialize, get the latest news and also, to get some food from short distance hikers that brought too much weight.
Here's a brief video showing the Double Spring Gap shelter you'll find on the Appalachian Trail:
The main issue with shelters is that they are unpredictable. Although there is a lot of room in them, they might be full. Having in mind there is a shelter on every 5 to 10 miles, it may be too exhausting for you to walk to the next one. Nevertheless, they are a really nice option as there is usually a water source nearby and they are good for socialization.
Related:What Are Appalachian Trail Shelters Like?
No matter what, you will have to rely on your tent. If there are black clouds looming over your head, you can quickly set up a tent and hide inside. Also, they give you some solitude and allow you to camp off the track. But, setting up a tent does require some time and strength. If you are tired, this can pose a problem. This is why you have to switch between tent and shelters. In the end, it all comes down to personal preferences.
How to prepare physically for the Appalachian Trail?
Depending on the distance you wish to cross, your conditioning will be more or less important. You have to make sure you are fit enough to walk for at least 10 miles in mountainous terrain. People, who wish to hike a shorter distance for a day or two quickly realize that it can be rather strenuous.
Photo credit: exodus.co.uk
If you wish to hike for several days or weeks, you will have to improve your core strength. Bear in mind, we are not referring to weight lifting. A hiker should have a lot of stamina and should do a lot of aerobic training. Push-ups, sit-ups and squats are all good. Leg conditioning exercises are a must. However, no matter how many hours you spend riding a bike or running, nothing can prepare you for the real deal. Always remember that you have to carry a big backpack during the hike so this will test your resolve even further.
Related:10 Tips That Will Prepare You To Conquer an Appalachian Trail Thru-Hike
Your feet are a special case. Not only do you need to improve their fitness level, you will also have to think about your ankles and skin. Excess weight and physical strain simply crush your ankles. Use a balance board to strengthen them. Skin can also be a problem. Open wounds might appear if you are not careful. By using a mixture that will strengthen your skin, you will be able to hike with less trouble. Nevertheless, you will require a med kit as a precaution.
If you're new to backpacking in general, see our beginners backpacking guide.
Handling nutrition
No matter how fit you are, it is impossible to hike on an empty stomach. Improper diet can make or break your dream of thru-hiking the Appalachian Trail.
As said, it is necessary to have food for at least several days. In certain areas, you can easily resupply so this can reduce your load for a little while. Nevertheless, if you do not have enough knowledge regarding the layout of the towns, it is better to constantly have spare food for at least 4 days.
The average man burns around 5,500 calories per day (3,500 for women). This is an enormous amount of energy that needs to be replenished. Basically, you will be food deprived during the entire hike. At the same time, this will allow you to eat almost anything. Focus on protein and fat rich food. You will need strong meals. Otherwise, you will start losing muscle mass. Dry food is a great solution. Make sure that everything is easy to prepare. Finally, you will need increased amount of salts to prevent cramps.
Water is extremely important during the hike. Make sure to drink all the time and have a bottle ready. Electrolyte drinks are also crucial.
There are a lot of springs along the trail. Most of them are near shelters. But, not all of them have drinkable water. This is why you have to make reserves for a day or two in case you can't get fresh water near a shelter. Anyway, whenever you get it from a natural source, make sure to treat it. Filters are a great solution here.
Are there dangerous animals on the Appalachian Trail?
Here are some of the most common animal and plant species that can cause a problem:
Black bears
Snakes
Spiders
Ticks
Poison ivy
Generally speaking, there is no real danger of an animal attacking you. Surely, there have been a lot of sightings of bears and snakes. When it comes to bears, they are usually timid and will not approach you unless you do something aggressive or endanger the cubs. They might smell your food and come to your camp as they have become used to the human presence due to increased activity in the area. You should hang your food on trees so they can't reach it. Also, do not cook near the tent as the smell will remain in the air.
Photo credit: hww.ca
Snakes and spiders are a different story. Unlike bears, they are hard to spot and you might even step on one of them while walking. Luckily, most of the species on the A.T. are not venomous. However, if you encounter venomous copperheads and timber rattlers, you may be in danger. Make sure to check your clothes before putting them on as spiders and snakes may crawl in them during the night.
When it comes to insects, ticks and mosquitoes are the biggest issue here. While mosquitoes are really annoying, ticks are the ones that represent a health hazard. They can give you lime disease so you will have to perform checks every day. As for mosquitoes, a repellent will be enough.
If you need more info regarding flora and fauna, as well as how to prevent accidents and treat wounds, check this page.
Related:3 Best DSLR Cameras for Wildlife Photography
Related:8 Best DSLR Camera Lenses for Wildlife Photography
Related:Interested In Hiking The Appalachian Trail With A Dog?
What type of environmental issues can I expect on the Appalachian Trail?
Those who decide to thru-hike the entire Appalachian Trail will have numerous considerations regarding the weather. It becomes even harder to predict things given how many months it takes for you to reach the other side. Even with good preparation, you never know what to expect.
Here are 5 things you have to look out for:
Snow (especially in northern regions where winter begins earlier)
Heat (especially in southern regions and during summer)
Hypothermia (due to cold rains and bad protection)
Rivers
Lightning
Obviously, there are numerous things you have to consider before you are on your path. When it comes to bad weather, you shouldn't consider it; you should count on it!
Early spring and late autumn can be really perilous. Even if you are in southern parts, you can still expect snow. This shouldn't be particularly surprising given that you are in the mountains most of the time. On the other hand, in northern states (mainly Maine and New Hampshire) you can even expect snow in June. If you need more precise data regarding the temperature, visit the National Park Service website.
Keeping track with the current weather can also help you with the next potential problem – heat. Virginia and West Virginia are notorious for their low humidity during summer which can interfere with perspiration. As a result, hikers can expect cramps, burns, heat exhaustion and heat strokes. This is why you should always try to hike in early morning and before sunset. Avoid too much exposure during midday and try to find proper shelter when resting.
Hypothermia is directly caused by cold rain, strong wind and lack of proper clothing. It can be especially disastrous for thru-hikers as they approach their goal. After a while, their energy reserves will be depleted and they won't be able to make up for the loss of body temperature. As a protective measure, make sure to stay hydrated, well fed and rested, to take cover as soon as you notice cold rain and to wear synthetic and wool clothing. Waterproof boots should be considered as well.
River crossing is something that most hikers do not consider as a hazard until they fall into water. This can be especially treacherous during and after cold days, when the ground is slippery due to ice, snow and rain. You can easily fall down into a river which can result in hypothermia and other cold related illnesses. If the terrain seems problematic, try to find an alternative, safer crossing.
Lightning is not as dangerous as the other natural threats but there is still a chance to get struck. Finding a shelter is the best way to prevent any accidents. Avoid tall trees, solitary rocks, open terrain on high altitude and tall, metal structures and objects.
Even though may not actually face a life or death situation, it's prudent to possess at least basic outdoor survival skills.
Photo credit: visitroanokeva.com
Additional tips and considerations
You will never be lonely – There are a lot of hikers on the A.T. especially in the southern parts, during early spring.
Break your boots in – Don't tackle the AT in brand new boots. Most boots take some time to mold to the unique shape of your feet, which makes them much more comfortable. The more comfortable your footwear, the more likely you are to push on. If you have wide feet, get hiking boots made specifically for wide feet.
Be grateful and considerate – Make sure to be polite and work with others to conquer the mountains.
You do not need a map – Areas are well marked so it is hard to get lost as long as you are following the Trail. However, it is good to carry a map in a case of emergency.
Campfires are not permitted on some parts of the Trail – Many areas along the A.T. restrict fires to designated sites only or prohibit fires altogether. Here is a chart listing regulations for fires and camping. Learn safe ways to build a fire here.
Reduce weight whenever you can – It is one of the main things that can contribute to your success. Check out these Ultralight backpacking tips.
Pace yourself – You shouldn't be too hasty. There is a long way ahead of you and you need to go day by day.
Lace Tying – Learn the various ways of tying your boots. This seemingly small thing can make a huge difference in your daily comfort.
Do not think too much – If you start thinking about all the miles that are ahead of you, it will be much harder. Hiking is also a mental game.
Take rest days – Unless you are into a fast thru-hike, make stops in towns and rest properly. You will have a lot of injuries, blisters and fatigue over the course of the hike and you will need to treat your body properly.
Keep at least some level of hygiene – Even though this sounds impossible, you will have to keep your cleanliness in check. Make sure to filter your water and utensils to prevent any diseases. Dispose of your food properly so that you don't attract wild animals to shelters.
Medical care – Treat your wounds as soon as they appear. Use lubricants or sprays to prevent and treat chafing. Ventilate your feet to prevent blisters.
I hope this guide helped you and that you will have an incredible time on the Appalachian Trail!
Source https://thetrek.co/appalachian-trail/im-hiking-100-days/
Source https://www.rusticaly.com/how-long-does-it-take-to-hike-appalachian-trail/
Source https://backpackerverse.com/appalachian-trail/