Hiking With A Gun In Texas: What You Need To Know (2022)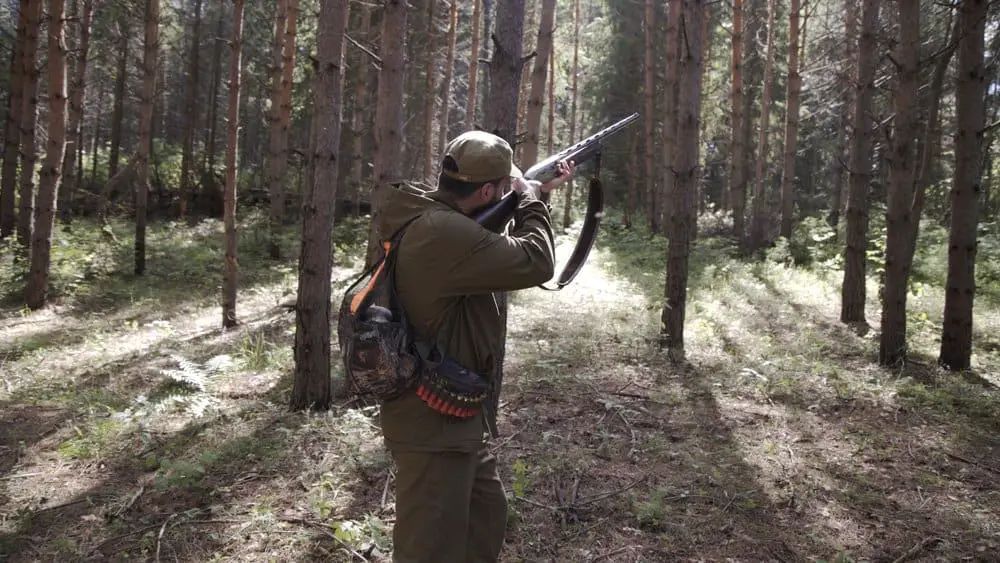 If you live in the southern part of the United States, chances are you're familiar with the open carry policy many states uphold. If you're from Texas specifically, you might've heard of a new state law that allows anybody who legally owns a gun to carry it in public without a permit. Even though this new law has passed, there are still places and areas in Texas that have restrictions regarding the possession and discharge of a firearm.
If you're here, chances are you're a nature enthusiast who may be making plans to take a hike somewhere in Texas. Maybe you'd like to know if you can carry your gun in certain parks or nature reserves. If that's the case, you've come to the right place, and we'll try to fill you in on the firearm policies of Texas state parks and hiking trails.
Is It Legal to Carry a Gun in A Texas Park?
Well, that depends on what kind of park you're visiting. If you're visiting a public park, any person who is 21 or older has the right to carry a handgun with or without a license in compliance with Texas State Law.
However, the discharge of firearms has a lot more restrictions in parks funded by the federal government. This applies to Texas National State Parks, such as Big Bend and Palo Duro Canyon, which prohibit the possession of firearms in any of its facilities. These Federal State parks also restrict the discharge of said firearms anywhere within the park.
The only time guns can be openly carried and discharged in these parks is when one has gotten a form of written authorization from the federal governing facility. To keep yourself out of trouble, make sure that you check with the park before your hiking with a gun in Texas to verify any rules or restrictions around your firearm.
Now that we have the legal part of this knocked out, let's discuss why one might be thinking about carrying a firearm on a hike.
Why Should I Carry a Gun While Hiking?
The most obvious reason one might be thinking about doing this is to defend themselves. Yes, it is possible to have encounters with more dangerous wildlife such as bears, mountain lions, or coyotes, but the majority of times, they'll just run away from you.
Does this mean that they never attack? Not at all; you could very well come across a very brave mountain lion who has the gall to approach you aggressively. It's perfectly reasonable to want to defend oneself in a potentially hostile situation in the woods in the same way one might want to carry a gun on a dangerous city street.
Maybe you're not even looking to defend yourself but instead are looking to actively hunt. If you are hiking during hunting season, it would probably be in your best interest to make sure you have a valid hunting license. You should also make sure that you are only hunting in parks and reserves where carrying and shooting a gun is legal.
Disadvantages of Hiking With A Gun In Texas
If you need a reason not to carry a firearm on a hiking trail, just consider its inconvenience.
If you're hiking, a gun could add unnecessary weight to your pack or outfit. But if you really want to carry a firearm on your hike, consider carrying a lightweight handgun that is compact in size.
Although this alternative will reduce some of the weight from using a typical handheld firearm, it will still be extra weight carried on your hike at the end of the day. If you're a more seasoned hiker, you already know that every pound carried is meaningful. Some people will scrap a toothbrush from their pack just to save the extra weight, so they feel more free and dynamic on their hike.
In general, it is discouraged to carry a firearm on any trail. On federal lands administered by the National Park Service and the U.S. Forest Service, possession of a firearm absolutely must be in compliance with the law of the state in which the park is located.
Many hikers have no issue with leaving their firearms at home, as a good chunk of them believe that carrying firearms is highly unnecessary and creates a hostile atmosphere. Many also believe that carrying a firearm on a hike isn't at all conducive to the social nature of a hiking trail. I would have to agree with that sentiment.
In a worst-case scenario, firearms can be turned against you or result in an accidental shooting. So if you really are keen to carry, please be sure to get adequate training beforehand and mentally prepare yourself in the event that you use that firearm.
Conclusion
Because laws related to carrying and concealed carry vary by State, it'll always be in your best interest to contact the park you're planning to hike. This will ensure that you are 100% aware of the relevant laws and have acquired any necessary permits. This will also ensure that you contribute to a positive environment for yourself and your fellow hikers.
David Martirosian is an avid hiker and nature lover. Growing up in New York City, he gained an appreciation for getting lost in the wilderness, where he was able to escape from the hustle and bustle of city life. David enjoys the peace and solitude that nature provides, and finds solace in the beauty of the natural world. When he's not out exploring nature, David can be found learning about new adventures waiting to be explored.
Can You Carry A Gun While Hiking? (Explanation Revealed!)
Conservancy discourages the use of guns on the trail because it is now legal to carry a gun through national parks with the correct permits. "We don't want people to feel like they have to be armed to protect themselves and their families," said the group's executive director, Tom Tidwell.
Table of Contents
Can I carry my gun while hiking in California?
California law prohibits the open carry of any firearm within the parks. Persons who are not permitted to possess firearms may possess a concealed firearm with a valid permit if they have a permit from the California Department of Justice. For more information, please visit: www.doh.ca.gov.
Should I carry a gun while backpacking?
Many hikers feel the carrying of firearms is unnecessary and contrary to the social nature of the Trail. Extra weight firearms can be turned against you and result in an accidental shooting. Prepare yourself for the possibility that you may need to use a firearm in the event of an emergency if you plan on carrying a gun.
What handgun will stop a bear?
by. Magnum was 358 S&W. Several people have succeeded in killing bears with a.38 Special. Magnum has been around for quite some time, but it was not until the late 1980s that it really took off as a viable option for self-defense.
In the early 1990s, a number of states passed laws that allowed citizens to carry concealed handguns in public places, and in 1994, the National Rifle Association (NRA) created the Concealed Carry Reciprocity Act (CCRA), which allowed concealed carry permits to be issued in all 50 states and the District of Columbia.
As a result of the CCRA, more and more people have been able to legally carry a concealed handgun in the United States.
Can you open carry in Florida while hiking?
Statute 790.25(3)(h), you are allowed to open while on your way to or returning from a fishing, camping or hunting expedition. You can also conceal with a CWFL. You can carry from your home directly to your destination. If you have a concealed carry permit from another state, it will not be recognized in Florida.
You will need to apply for a Florida Concealed Carry Permit (CCP) from the Florida Department of Law Enforcement (DLE). If you do not have your CCP in hand by the time you arrive at the destination you will be asked to show it to a law enforcement officer. The officer will then issue you a CCW permit.
Can I carry a gun while hiking in California 2022?
You can only possess a loaded firearm while you are pursuing your wildlife, and only when you are on property in which you are permitted. If you have a concealed carry permit, you can carry a firearm on your person or in your vehicle.
You must be at least 21 years of age to purchase, possess, or transport any firearm. You must also be a U.S. citizen or a legal permanent resident of the United States.
Can I bring a gun to Yosemite?
Canada, firearms are now allowed in hundreds of national parks. Association, which has long opposed gun control, said it was "disappointed" by the decision. NRA will continue to fight to protect the Second Amendment rights of law-abiding gun owners," the group said in a statement.
Can you walk around with a gun in California?
If the place or street is in an incorporated city or city and county, California law prohibits anyone from carrying an unloaded handgun in a public place. The law does not apply to a person who has a valid concealed carry permit issued by another state or the District of Columbia.
When Is It Illegal to Carry a Firearm in Texas?
Criminal Law Blog by The Law Office of Greg Tsioros
When Is It Illegal to Carry a Firearm in Texas?
The Lone Star State is well-known for its incredible BBQ, the Alamo, and of course its wide-open land. In fact, Texas is the second-largest state in the nation.
With all that open land, is it any wonder that most citizens of Texas are strong advocates for the Second Amendment?
Texans carry licensed weapons for a lot of reasons – from personal protection to hunting. Despite that, we don't live in the wild west anymore, and there are a lot of federal and state laws regarding firearms. So, when is it illegal to carry a firearm in Texas? Find out five instances when carrying a gun is against the law below.
1. When You're a Minor, a Felon, or Have Been Convicted of Domestic Violence
According to the Texas Penal Code , you cannot own a firearm if you fall into any of the following categories:
You have a domestic violence conviction on your record
You've been convicted of a felony
You're currently subject to a domestic violence restraining order
You are under a non-immigrant visa
You were dishonorably discharged by the military
You also must be old enough to possess a gun. To purchase a rifle, you need to be 18 years old. You'll need to be 21 years old to buy a handgun. If you're underage, you can't legally own a firearm. A minor can, however, legally use a firearm to defend themselves or hunt.
2. If You're in a Gun-Free Zone
It's illegal to carry your firearm into any gun-free zone in Texas. Here is a list of specific areas that are considered gun-free, including:
Any public school property
Anywhere a school activity is taking place
Government court buildings
Racetracks
Polling places
Airports
Established gun-free zones on college campuses
Hospitals
Prisons
Businesses that derive more than 50% of their income from selling alcohol
There is one important caveat to these laws, though: you are legally allowed to carry your handgun if you are traveling to or from your own home, apartment or condo.
Have you ever seen a gun-free zone sign posted outside of a business that doesn't fall into these categories? If so, then you could be prosecuted if you still choose to bring your weapon into these areas.
3. If You Don't Have a License (Depending on the Weapon)
In general, you're allowed to carry your weapons without a permit if you're on your own property. You can also carry them in your vehicle or boat while you travel.
If you're hoping to bring your handgun with you while you travel on foot, though, you'll need to apply for a license. You'll need to be a Texas resident and pass a background check before you're approved for this license.
If you don't have a license for a handgun, you can get charged with unlawfully carrying a firearm. You can also get charged with this crime if you purposefully display your handgun in a public area. Even with a license, you must carry a handgun in a belt or shoulder holster. You should never carry your handgun in your hands while out in public.
4. If You're a Member of a Criminal Gang
Here's another important law you need to know about in Texas: you're not allowed to have a firearm if police suspect that you're a member of a criminal street gang.
According to Texas law, a criminal street gang is a group of three or more individuals who regularly commit crimes. To be considered a criminal street gang, the group must also have some 'sign'. This 'sign' could be a specific color, logo, hand sign, tattoo or symbol. The criminal street gang also must have an identifiable leader.
While you might not be a gang member, you could be mistaken for one by police officers. If an officer suspects you're involved in gang-related activity AND you have a firearm, they may choose to arrest you for unlawfully carrying a weapon.
5. If You're Intoxicated
For obvious reasons, it's not a great idea to bring your weapon if you're planning on drinking. Alcohol and weapons do not mix well. If you're intoxicated, then you're not legally permitted to carry your firearm anymore. On top of that, most bars are considered gun-free zones.
A DUI charge is serious enough, but your penalties and charges will both increase if you have a gun in your car.
Penalties for Unlawfully Carrying a Firearm in Texas
In Texas, unlawfully carrying a weapon is considered a Class A misdemeanor. This crime can, however, be upgraded to a third-degree felony if you're carrying your weapon in an area that also serves alcoholic beverages.
A Class A misdemeanor carries the following penalties:
Up to one year in jail
Fines up to $4,000
Possible community service
Possible probation period
A third-degree felony charge carries even harsher penalties. If you are ultimately convicted of a felony, then you'll also be prohibited from ever lawfully purchasing or carrying a firearm again.
When is it Illegal to Carry a Firearm in Texas?
There are few remaining states in the country that strongly advocate for the Second Amendment. More and more states are choosing to enact gun-free zones, ban certain weapons, and tighten restrictions regarding gun ownership. As of right now, Texas isn't one of them.
Despite that, our state still has specific laws regarding who can legally purchase, own, and carry firearms. The state also dictates where you're permitted to carry your gun with you. If you don't follow these laws, you could face serious criminal charges. To avoid this fate, you need to know when and where you can carry your gun with you.
Were you recently arrested for a weapon-related crime? Are you unsure whether your rights were violated? If you have specific questions regarding your charges, we can help. Reach out to our team now to learn more about how our firm can help you move forward after a weapons charge in Texas.
Source https://hikersdaily.com/hiking-with-a-gun-in-texas/
Source https://www.rusticaly.com/can-you-carry-a-gun-while-hiking/
Source https://www.txcrimdefense.com/when-is-it-illegal-to-carry-a-firearm-in-texas/