What Is the Difference Between Hiking and Backpacking?
Summer is by far the best time of the year for outdoor activities such as hiking, trekking, canoeing, bungee jumping, and backpacking. Since there are so many different types of people in the world, it is most likely that not everyone fancies the same sporting activities!
That is why, before planning out your summer vacation with your family, you should do your research and make sure whether the activity you've chosen is the right one for you and the family.
If you are an adventure seeker looking for your next adrenaline rush, then you should opt perhaps for mountaineering or rock climbing as your next outdoor escapade.
However, if you want a quieter, meditative sporting activity, then backpacking is more suited to your needs.
Now let's have a look at the differences between hiking and backpacking from 3 different vantage points:
What the Dictionary Tells Us
At first, the terms and definitions of hiking and backpacking might confuse you. What exactly separates the two?
Hiking is defined as walking for a long distance, especially across the countryside.
Backpacking is defined as traveling or hiking while carrying one's belongings in a backpack.
Thus, based on the definitions from the dictionary, it's quite obvious why backpacking is called as such. As the name implies, it involves the use of a backpack to carry your belongings. So, does that mean, when you go hiking, you don't pack a rucksack? Sounds ridiculous.
The Literal Difference
Here is what actually separates the two. Largely speaking, hiking is a part of backpacking, a single activity that may or may not is done while you go backpacking.
Now, in lay terms, your outing is called hiking when it involves walking through trails, desert, or the wild. You, at most, spend a day or two on these hiking excursions unless you choose to extend your journey.
No rule says that you should not bring a knapsack while hiking. On the contrary, it is recommended you carry essentials like water, snacks, ropes, first aid, compass, etc. in a good travel backpack.
You can go on long-distance walking with your family and friends. If you decide not to return the same day, you can just set up camp and spend a great night outdoors under the stars together.
Since your trekking trip could last over a period of a few days, it is advisable always to carry portable camping gear or sleeping bags while you go hiking. No one is blaming you if you do not take a backpack on your hiking adventure, though.
Backpacking has a lot more to do with what's on your back. No backpacking trip is complete without the presence of a travel backpack on your back.
Unlike hiking, backpacking doesn't merely end with a walk. You can go backpacking amidst the safaris of Africa, in the modern cities of Hong Kong, in the grasslands of the Sundarbans, or amidst the technological marvel called Silicon Valley, as long as you are experiencing feelings in the positive spectrum, where you go and what you do doesn't matter.
This is where hiking comes in. Your backpacking trip will never give you any joy if you don't take long walks to reach your destination finally.
The beauty of both hiking and trekking lies in the feeling you get when you finally get to stop after a long, tiring walk for food and drinks and feel yourself fully exercised and rejuvenated.
The Aesthetic Difference
Hiking can be done either with family or friends or alone. In most cases, though, the trip is way more fun if you bring along your loved ones because that's what hiking stands for a day off from the humdrum of life and walking together sharing, playing, and making memories.
The fact that hiking trips can last only a day or two adds to the whole experience as you will cherish it with your family and friends. Once you overdo hiking, most people will want to go back to the responsibilities of life. Hence it is never advised.
Backpacking, as well as solo hiking, is more soulful in nature. Usually, you go alone on a backpacking excursion, though there is no rule, sometimes you can make your trip more fun by taking your soul mate or your best friend.
Backpacking is all about finding the real you and getting in touch with what you really love about this world. Because let's face it, with jobs and such, we rarely fully get to experience what we enjoy in life.
Backpacking is your one opportunity to see everything the world or your surroundings have to offer.
Backpacking is the perfect way of spending time with both yourself and with complete strangers. It is the ideal way of knowing both the beauties of the world; the technological and the natural.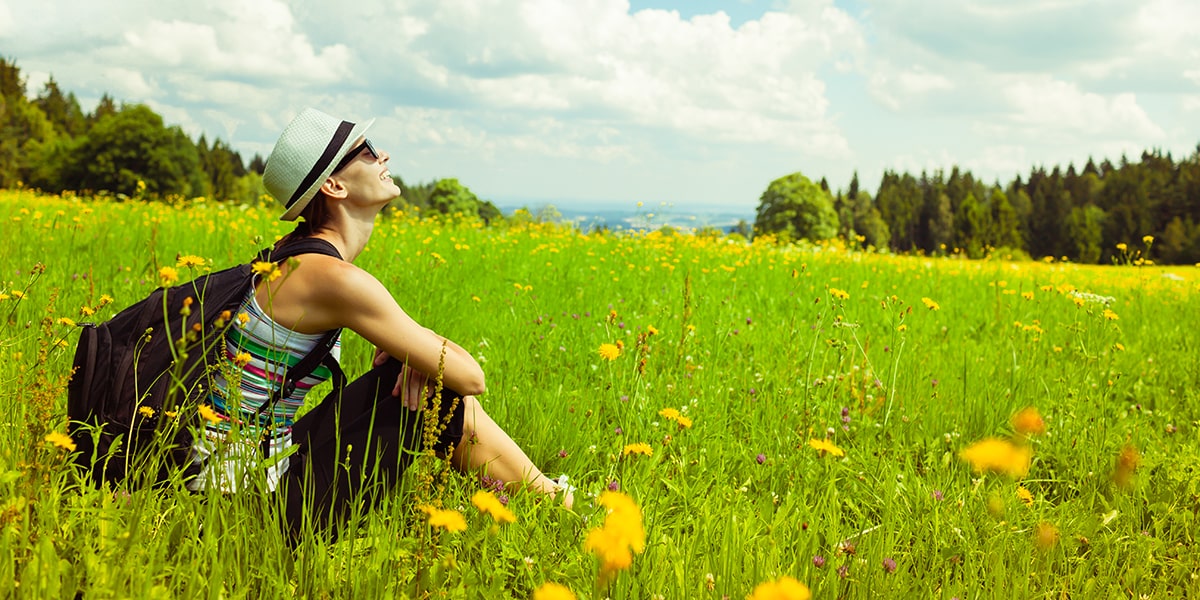 Our words will never adequately describe what hiking and backpacking will unlock inside you. Grab your backpack and head out to find out the pure delight that has always been waiting for you.
Hiking Trekking and Backpacking, What's the Difference?
If you are new to the wonderful world of the outdoors and just getting started with the idea of hiking, trekking or backpacking – this article will help you understand the differences and how exactly to get started. So, let's dive in and define the exact differences between these fun outdoor activities…
Hiking vs Trekking vs Backpacking?
Hiking, trekking and backpacking are all forms of walking. The differences are defined by the type of terrain you'll be traveling through, for how long and what gear is required.
Hiking is done on a trail during a single day and usually has some level of vertical ascent and descent.
Trekking is done over multiple days and will take you through varied terrain, passing through cities, along roads and on nature trails while staying the night in predetermined shelters/huts or tea houses.
Backpacking is done entirely in nature and involves carrying your own sleep system for multiple days.
If you aren't going for a stroll around the block, you should take some time to describe the type of journey you're going on. How long will you be gone? What kind of terrain are you going to be crossing? Where will you sleep? There are thousands of ways you can define your walk, and there are likely just as many "names" you can give these trips. For the sake of simplicity, we're going to be discussing 3 major styles of (outdoors) walking- Hiking, Trekking, and Backpacking.
All these disciplines are done on a loop track or a one-way track. On a one way track, if you haven't arranged transportation from your finish point, you're turning around and heading back the way you came from. If I'm planning a walk, I usually look for loops or tracks that end somewhere with a public transit connection. Even if I'm going to a summit, I'll try to find a ridge to traverse or a different way down, so I don't wind up going over the same track twice. There's no physical drawback to revisiting trail, it's nice to keep the scenery fresh.
Hiking – What exactly is considered a "hike"?
Of the 3 disciplines, hiking is the most embraced. Likely because it is easiest to get started into. While a pair of specialist hiking shoes are recommended, a beginner hike can be done out your front door in running shoes.
Yes, trekkers and backpackers are "hiking" too, but when distinguishing between the three, a hike is a day walk. It's usually on a trail, but if you've planned a route up a mountain through dense forest that's a hike too.
Because hikes can vary so much, websites and guidebooks will usually grade hikes by difficulty. It might not be the best way to divide things up, but I'm going to talk about 3 difficulty levels of hiking here- Beginner, Intermediate, and Advanced.
Now that we know what hiking is, let's take a deeper dive into the discipline.
Hiking Terrain
The first thing we should define is the kind of terrain you'll encounter on your hike. This will influence the type of equipment you need and the level of fitness you need for the day. We'll stick to our 3 levels of hiking here, but as always, there will be some crossover.
Beginner Terrain You're going to be on a well-established trail for most of your hike. This could be an access road, or a trail wide enough for you to comfortably pass hikers going in the other direction. The uphill is usually not too intense, and if it does become steeper at some point there will be steps built into the trail for you.
Intermediate Terrain The trail should be well defined for most of your walk. Expect a few sections where you'll need to find your own way and pick your footing carefully. The trail might have a steeper grade to it so be ready for challenging sections going up and potentially unstable downhill. There might be some water crossings, but if there is no bridge built there should be an easy jump across. At the very least there should be a few logs and rocks for you to step on.
Advanced Terrain Who needs trails? While some advanced hikes are well signed, you may need to navigate marsh, scree, dense forest, and fields with no clear trail. Some advanced hikes never have a clear route! You might be navigating from A-B using a map and compass to avoid cliffs and rivers.
Be prepared for water, muck, and scrambly terrain. The uphill could be steep enough for you to want to use your hands sometimes, and the downhill will be equally as steep (and unstable).
What trail? Marching through the bog in Co. Donegal, Ireland
Level of Fitness For Hiking
Beginner Hikes A beginner hike will usually require a beginner level of fitness. If you're just getting outdoors, these hikes are a great way to be active and get moving. If you're unsure of your ability, pick out a hike that only takes an hour to complete and give urself plenty of time! If you feel like stopping to admire the view (or catch your breath) don't worry about it.
Just because a hike is rated "beginner" doesn't mean an advanced walker won't also enjoy it. Usually, a well-built trail is there to give access to great scenery.
Intermediate Hikes A reasonably fit person should be able to tackle an intermediate hike. If you routinely practice some other form of exercise (running, weightlifting, team sports) you can survive an intermediate hike. Any routine trekkers or backpackers will definitely have the level of fitness required for one of these walks.
If you're unsure, make sure to give yourself more time than what is recommended by your guidebook. There will likely be some challenging sections, so be prepared to balance on logs and rocks while crossing rivers, push through steep climbs or go slowly down dodgy descents.
A basic level of navigation skill is needed for an intermediate hike. The way might not be marked, and you might have to venture off trail to go around an obstacle. The trail could even disappear entirely in sections. Carry a map and compass, and know how to use them.
Advanced Hikes You're almost definitely going to be encountering some steep sections of trail. Be fit enough for a prolonged uphill climb before setting off on an advanced hike. Train yourself with steeper intermediate hikes to make sure you're ready. As the degree of difficulty increases, so will your pack weight, and you should be ready to handle this.
Along the way, you might need to cross a river or two, and there might not be a clear way to do this. Be ready to take your boots off and roll your pants up, and know how to safely navigate flowing water.
You also might need to push through bog, snow, sand, or dense bush at some point (or maybe a combination of the 4!). This can be taxing; you'll need to be able to be physically and mentally fit enough to take a prolonged amount of abuse. But trust us it's (almost) always worth it in the end!
Hiking Gear
Gear For Beginners You should never wear jeans on a hike, but I'm guilty of wearing them on short beginner hikes. You should be wearing athletic clothing that allows you to stay cool and dry. Although for most beginner walks you don't need hiking shoes, at the very least you should wear a pair of supportive walking shoes or runners. This means no heels and no converse!
Unless it's raining, your shoes don't need to be waterproof. If there are any water crossings on beginner trail there will be a bridge of some kind built, or you'll be able to easily step/jump across. It's always smart to bring a map, but there should be adequate signage on the majority of the trail so you may not need one.
Bring a backpack with a sweater and something to wear if the weather cools off. An emergency poncho or a rain jacket are great things to bring along too. You should also pack some snacks, plenty of water (minimum 1 liter), and a phone or some way of calling for help if you get into trouble.
Gear For Intermediates The gear you bring will depend on how long your hike is going to be. Your essentials should include a sturdy rain jacket, warmer clothing, plenty of food and water, a first aid kit, and a map and compass.
Optionally, you can consider bringing hiking poles, an emergency shelter, and a water purification kit. Of course, they aren't essential, but in the rare case you need them, you'll be glad to have brought them along.
You should definitely be wearing a trek shoe or hiking boot. Unless you know the route will be dry, waterproof footwear is a great idea too. You want something with decent grip and support, but avoid wearing something really stiff unless you know the terrain is going to be very uneven.
I'll also typically bring a headlamp- even if I'm planning on being home before dark. You never know what could happen, and I'd rather take the extra couple ounces of weight than get caught out.
Gear For Advanced Hikers Think Murphys Law. Anything that can go wrong, will go wrong. You'll want to pack a map and compass (and be confident in your ability to use them!) along with plenty of survival gear. Bring extra clothing, a well-stocked first aid kit, an emergency shelter, water purification kit, extra food, firestarters, and a headtorch. You aren't planning to spend a night in the wild, but if you do you want to survive it.
Pack quality rain gear, this means a jacket, pants, and an emergency poncho. If you're going through marsh and long grass, gaiters are great to bring along. Throw in a pair of dry socks for good measure too.
"Anything that can go wrong, will go wrong."
Wear boots with a decent amount of ankle coverage on them. This will give you enough waterproofing for a river crossing, and protect you from rocks and loose debris.
While an advanced hike can be done in a thinner soled hiking boot, consider your route carefully when picking your footwear. If you'll be crossing rocky uneven terrain, marshes, or untracked fields, your feet will thank you for wearing a stiffer boot. If you have a heavier pack thicker soles will also help take some of the burden of the weight off of your feet.
Our Favorite Hikes
There are an uncountable amount of hikes out there, and a simple web search is the best way to start looking in your local area. If you're looking for more inspiration than that, crack open our list of the 20 Best Day Hikes in the World. Or if you're from the Seatle, WA area, you can check out our list of 18 Breathtaking Seatle Day Hikes.
My personal favorite is The Tongariro Crossing in New Zealand. It's a stunning day trip through surreal landscapes, walking past dormant volcanoes. It's about 12 miles long and can take 6-8 hours. It's an intermediate level hike with some great side hikes for an ambitious advanced hiker.
Mount Ngauruhoe (or Mount Doom) in the early morning. Tongariro National Park, New Zealand
Trekking – What exactly is considered a "trek"?
The big difference between hiking and trekking is the amount of time spent on the trail. While a single day out is a hike, anything with an overnight stop in the middle is going to be classed as either trekking or backpacking.
Trekking is usually not self-sustained. You may carry a few days of food with you or a few cooking supplies, but usually, there are places to restock food along the way. When trekking, you might only need to carry an emergency shelter too. You could be traveling from village to village, or sleeping in shelters along the way.
Popular forms of trekking include hut to hut hiking and the Camino walks in Europe, or the teahouse treks in Nepal. There are also barebones treks, where you will stay in refuges or 3 sided huts along the way. This accommodation is quite basic and there are usually no (or fewer) supermarkets along the way, so you will need to pack more supplies.
Trekking Terrain
Trekkers need to be prepared for varying terrain. You could be hiking a narrow backcountry trail one moment, and walking along the side of a paved road the next. You might spend long stretches of a trek in the wilderness, or the majority of your trek on gravel roads traversing meadows. Trekkers might need to go off trail, make unbridged river crossing, and traverse scrambly ridges. You should also be able to tolerate walking for miles on pavement.
Varying terrain makes the diverse scenery your reward. While trekking in Nepal, for example, you might start your day in a rainforest, and end it in dry alpine, above the treeline. You'll put on a lot of miles while trekking and find scenery changing rapidly.
Fitness for Trekking
It goes without saying, you need to be reasonably fit for trekking. Depending on the journey, you can plan on walking 7 miles or more every day for multiple days. On some treks you will need food for multiple nights between restocking points, and a heavy duty sleeping bag to weather cold nights in basic shelters.
You'll always be carrying at least your day's water, emergency snacks. Even with porters or luggage shuttles, you'll need to carry your clothing for at least the day. Depending on how light you pack, you should be prepared to trek with 15-20 pounds of gear on your back, often more.
Because of the nature of trekking, you should anticipate most trails being about an intermediate level. Expect to be walking anywhere from 4-12 hours a day, or if you want to put on serious distance, 14 hours and up.
Gear for Trekking
You'll definitely need to carry more gear while trekking than you would while hiking. The amount of gear, however, comes down to what kind of trek you're doing. Here are a few things to consider when going over your plan.
Accommodation Where will you sleep, and what kind of sleep system will you need to carry? You'll need to bring an emergency bivy or shelter in case you get caught out. Depending on your planned lodging you may only need a sleeping bag liner, or you'll need a sleeping mat and winter bag.
Food Will there be places for lunch along the way? Will there be cooking equipment in your lodging? If your route passes restock points for food, how many days of food will you need to carry? Even if you'll have ample opportunity to buy food along the route, I'd recommend bringing a couple of energy bars and some nuts or trail mix.
Water It's doubtful that you'll be packing multiple days of water from the start of your trip so it's important to consider where you'll be getting your H2O. Will there be purified water along the way? How much will you need to carry to get between refill points? As a rule of thumb, always carry 1l more than you expect you'll need just in case something happens to your water supply. Always bring backup purification too. Chlorine tablets or a Lifestraw can be lifesavers, especially if you don't expect to need to purify water along the way.
Backpack This is a tricky one, as everyone is going to have different requirements. Minimalists walking the Camino De Santiago might only use a 25l pack, but someone hiking 8 days, staying in outdoor refuges might need to pack a few more things. They could even be taking something akin to an outright backpacking pack.
Once you know how much kit you need, choose a bag that will accommodate everything, with a few liters of extra space. This way, when you wake up before dark to pack all your things they don't have to fit perfectly for you to shut your bag.
Two 50 liter packs on The Annapurna Circuit, Nepal
Shoes Because the terrain can vary so much, you won't want to bring along something incredibly stiff- this will kill your feet after an hour on pavement. You don't want to bring along something too flexible either- you need support for long days on the trail.
If you'll be walking in warmer weather the hiking shoes will offer plenty of support while still letting your feet breathe. If you anticipate cooler weather, river crossings, or loose crumbly terrain, a boot will help keep debris and moisture away from your foot.
Most outdoor shops will have a good range of "light hiking" boots, or "trek shoes" you can choose from. Make sure above all that you get the fit of your shoe right. Footwear that doesn't fit properly will cause you untold amounts of grief on a long walk.
Our Favorite Treks
Hands down, some of the best trekking in the world can be done in Nepal. The famous "tea house treks" see you walking along (sometimes paved, often gravel) roads and trails from the dense jungle lowlands, through yak pastures, and into the high alpine of the Himalaya, passing the worlds highest mountains.
The Teahouse Treks take their name from the houses along the routes. Usually, you pass through villages or pass by small homes along the way that offer you food and an (often minimalist) bed. The teahouses usually can't be booked ahead of time- when you decide it's time to quit for the day, you'll pick a nice looking teahouse and negotiate a rate for a bed. It's popular to hike with porters and guides as well. These locals will help you arrange your accommodation, and even carry your overnight gear for you to lighten the load!
The Annapurna Circuit and Everest Base Camp are the two most well-known treks in Nepal but there are routes all across the country that you can take. Other popular destinations for trekking include the Camino De-Santiago in Spain or the Hut to Hut treks in central Europe.
A small village with a few Teahouses and homes. Annapurna Conservation Area, Nepal
Backpacking – What activity exactly makes you a "backpacker"?
The final of the three styles of walking is backpacking. When backpacking you're spending at least one night in the wilderness, with no extra help. You'll carry everything you need to survive for the trip on your back.
Some longer Backpacking hikes (like the Pacific Coast trail) will include stops in local towns for a comforting restaurant meal and a resupply of your essentials. Some backpackers might even splash out and spend a night indoors while on a particularly long hike.
Backpacking Terrain
While some backpack trips are planned along a fixed route, with camping spots along the way, some are entirely off-trail. You'll improvise camping sites near rivers or under trees. You might encounter some forestry roads or the occasional stretch of pavement, but you'll likely be on a hiking trail or off road the entire way. Depending on where you've planned your trip be ready for impromptu river crossings and steep climbs.
Fitness For Backpacking
As backpackers are carrying heavy loads they'll definitely need to be the in good shape. A few treks or a few days of difficult hikes consecutively are a great way to figure out if you're in shape for a backpacking trip.
Trail Legs Backpackers (and trekkers) will throw around the term "trail legs" quite a bit. Usually, no matter how fit you think you are, your first few days (or weeks) on the trail will exhaust you. Once you get past this, you'll tap into the next level of fitness- or "trail legs". Sure, you still get tired, but the long days don't bother you so much. The uphills are tough, but they're less of a struggle. Your feet may ache, but your muscles will no longer be sore the next day.
Nothing saps your energy quite like hauling a 35lb backpack across a few miles of sand. The Bibulmun Track, West Australia
Gear for Backpacking
You'll need to consider everything when packing for a backpacking trip. Think about how long you plan on walking, what kind of terrain you plan on covering, where you'll be sleeping, and what could possibly go wrong. Here is a quick crash course of things you'll need to consider.
Boots A heavy pack means you'll need heavy boots. Light boots with a thin sole can be great for your feet when carrying a light load, but if you're a heavy packer they won't offer you the same level of support. The same goes if you're crossing hairier terrain- uneven trail (or no trail) will need a stiffer boot.
Sleep System It's called a sleep system because all elements of it need to work together to ensure a comfortable nights sleep. Will it make sense to bivouac and save weight, or will you need the comfort of a tent? How cold will it get overnight and what kind of sleeping bag/mat combination suits your trip? How will you avoid being eaten alive by mosquitoes or midges overnight?
Food How much food will you need to bring and how will you prepare it? On a shorter journey, it might make sense to cut the weight of a stove system and fuel and only bring cold food. Will you have water available for cooking and washing up?
I like to go with entirely cold or dehydrated food when I hike. This means I only need to bring utensils for boiling water and eating and can skip the hassle of a frying pan. Meals don't have to be expensive prepackaged spaghetti bolognese and curries either. My favorites to pack are portioned couscous and peas, oatmeal and dried berries, beef jerky, or trail mix. Of course, I won't forget the coffee cone and filters either.
It's always good to bring a few meals more than you anticipate needing too. If you wind up getting lost and spending an extra night getting home you'll be glad you did.
Clothes and Emergency Kit The wilderness, as you should know by now can be unpredictable. You'll want to make sure you're ready for the worst with extra (warm) clothes, extra water filtration, and emergency gear. Bring along a well-stocked first aid kit, fire starters, foil blankets, and of course a cell phone or radio you can use to call for help if you do get into trouble.
Backpack When you have all your gear organized you'll need something to carry it in. A proper backpack with harnesses built to take heavy loads is crucial. Unless you're an ultralight hiker, you'll want something that is about 50 liters at a minimum. Most expedition packs start at 60-80 liters with lashpoints for extra pieces like tents and sleeping mats.
Our Favorite Backpacking Trips
One of the most famous trips you can do is the Pacific Crest Trail. It's a 2643 mile trip along the west coast of the USA (aligning with the Sierra Nevada Mountains) from Mexico to Canada. There are many towns along the way for hikers to resupply in but the vast majority of the trail is completely in the wild.
While it can be broken into small manageable pieces, it's popular for backpackers to attempt the entire length of the trail. The hikers, who refer to themselves as "thru-hikers" will often take 4-6 months to hike the duration of the trail.
It's only walking…
While hiking the Bibulmun track in West Australia I remember reading something peculiar. In one of the logbooks in the 3 sided huts we took refuge in, another hiker had signed off by saying "It's only walking".
The hiker had been in the huts I visited a few weeks before me, they signed off their logbook entries like this. At the time, it helped me get through the hikes.
When I woke up knowing that the days 14-mile route included dragging myself across 6 miles of dry sand, I'd think to myself "It's only walking". It helped me roll out of bed, pack my kit, check my boots for spiders, and get at it.
But it's not "just walking" is it? If you're hiking, trekking, or backpacking, it is still one-foot-in-front of the other, but it's more than walking to the supermarket. The type of walking your doing influences a lot of how you prepare for your trip. The kind of provisions you pack, the kind of training you do, and very importantly- the type of shoes on your feet, all come down to how you define your walk.
Now that you have a grasp on what makes these 3 disciplines of walking so different from each other, you can start planning your next trip. You'll be able to feel more confident and prepared having defined what exactly you're doing. You should also have a better idea of how fit you should be and what you're going to need to bring.
In this article we unpacked a lot, picked at the differences between trails and disciplines. Now it's time to apply all your new knowledge to your next hike. Whether you're heading out on a single day hike, a multi-day trek, or a multi-week backpacking trip, don't forget to stop every once in a while. Breathe, drink in your surroundings, and smile. No matter the trail, remember, "it's only walking".
Backpacking Vs Camping Vs Hiking – Our Comparison
So, let's talk about backpacking VS camping VS hiking. In short, camping involves remaining at one location for at least one night with the use of a tent. Backpacking means walking long distances, often for several days, while carrying all equipment in a backpack. Finally, hiking is simply going for walks in nature.
Throughout this article I will define backpacking, camping, and hiking in further detail while also pointing out some of the main differences between them.
All three of these recreational outdoor activities are great and healthy, and I encourage anyone who is considering doing any of these to go ahead and do so – you won't regret it.
If you're not sure which one you should choose, think about and decide what your goals are. Would you rather hang out with friends and/or family by a campfire, or venture off into the backcountry?
Backpacking
Backpacking, as stated in the name, involves going on a journey with a backpack. All equipment, including but not limited to sleeping bags, food, sometimes a tent, and so on.
Most backpackers walk for miles, typically lasting for at least a day to multiple days.
When you take into consideration backpacking VS camping, one major thing that sticks out is how campers often drive to their location whereas backpackers walk most, if not all, of their trip. This is why backpackers can get to areas that aren't accessible by car as well as encounter fewer people. Because of that, the paths and trails tend to be less impacted by human interaction, thus causing a stronger sense of connection with nature.
Campers have a lot more space for equipment, and backpackers have to rely on the bare minimum of lightweight necessities.
Another big difference is where they sleep. Often times, backpackers reserve a room at a cheap hotel or hostel, or bring along a lightweight tent to pitch just for the night.
Backpackers campsites are very primitive, as it's unlikely that there will be any showers or toilets, or any cell phone access either.
That is another distinction; a backpacking tent VS camping tent. Backpacking tents tend to be small, usually big enough for 1-2 people, and they are specifically designed to be more lightweight and to have less features. Camping tents come in all sizes, are made with more durable (and heavier) materials, and tend to have many features to them such as storage pockets, canopy configuration, etc.
First time backpackers should start by not venturing off too far and spending just one night out. Be sure to prepare yourself for this beforehand with a couple of hikes. Never push yourself or overdo it, otherwise you're unlikely to enjoy it.
Also, I do not recommend backpacking with children unless you are prepared to carry their gear as well.
Choosing the right backpack is the most important thing. It's not necessary to lug around some huge backpack, you just need one that's big enough for all of your gear – which varies from person to person, especially depending on the duration of your trip. You only need enough space for the essentials: tent, water, food, and any other things you'd like to bring along such as a camera for example.
Out of all the outdoor activities, camping is the most popular.
According to Statista, 41.76 million participants went camping in 2019, and that's only in the United States.
What exactly defines camping? Well, it needs to take place in an outdoor environment where the campers usually sleep in a tent or vehicle. Some don't even bring a tent along and just sleep in sleeping bags, although this is with the exception of very good weather.
Car camping is ideal for families because it makes things much easier. You can bring a lot more equipment along with you, as well as other things such as a large cooler with plenty of food and drink, and bicycles as a form of entertainment and exercise.
Most campgrounds have showers and toilets, so the whole trip can be very comfortable and truly feel like a home away from home. It's nice to spend the day exploring any hiking trails around, cycling, or swimming in a lake.
The only possible downside to camping is that campgrounds can get crowded. At worst, there can be loud groups that are even partying, and then there's also the noisy sound of generators. There's an easy solution for this though, which is to camp elsewhere and find a less popular campground. Although, by doing this, you will most likely have to give up the benefit of having a bathroom.
Packing for camping can seem rather overwhelming, especially for first-timers. It's actually not difficult a at all, especially once you get the hang of it. I do recommend checking out my other article, the 10 essentials of camping, if you need some insight.
Let's delve further into camping VS backpacking.
Camping and backpacking are often confused with one another, but the main difference is that with camping your tent remains in one location for a certain period of time, whereas with backpacking you are walking for the majority of the time, and backpackers do not necessarily set up camp for the night. If a backpacker does not have a tent, then they will most likely stay at some sort of hostel.
Other differences include the amount of equipment and type of food that are taken. Backpackers normally pack dehydrated food such as jerky and fruit, as well as other food that can be eaten while walking that also don't require cooking such as nuts. Campers, on the other hand, tend to bring along a portable stove and are not restricted when it comes to meals.
Although it's not uncommon for both campers and backpackers alike to bring percolators if they are coffee lovers.
Hiking
Walking on a short trail in a National Park, or even on an unknown path just about anywhere really, is considered hiking. All that matters is that you're surrounded by nature.
If you are a novice who is looking to get into hiking, you should check out this in depth guide for beginners.
Hiking is the most recreational out of the outdoor activities mentioned here, because the main thing that you are doing while hiking is enjoying the fresh air and beautiful scenery around you. It's also a great way to get some exercise into your day.
It is very popular for hikers to integrate a hobby of theirs into their walk, such as photography and/or bird watching. Personally, I prefer to take a book along with me and stop halfway through my hike to sit and read. Nothing beats reading a good book while surrounded by lush green plants and the sound of birds.
Most hikers follow pre-defined paths or trails, which can vary from less than a mile to hundreds or thousands of miles. Some paths are loops, while others are only out and back types. Out and back trails go from point A (the trailhead) to point B, then back to point A along the same path. This is important to keep in mind because if the hiking trail says that it's 2.5 miles, and it is an out and back trail, then the total of your hike will be 5 miles.
There are many types of hikers too. Day hikers usually only hike for half a day to a full day, overnight hikers which are also considered to be backpackers, section hikers who hike specific sections of a long trail, and thru-hikers who hike an entire trail.
When you compare hiking VS backpacking, the key difference is that hikers usually walk much shorter distances than backpackers.
Hikers don't need to carry much equipment at all, in fact just a bottle of water is usually enough. If a hike lasts longer than a day and requires a backpack, then it becomes backpacking.
Frequently Asked Questions
What is the main difference between hiking and backpacking?
The main difference between hiking and backpacking is that a hike could last half a day and all you'd need with you is some water, whereas backpacking has to last more than a day. This is why a backpack is necessary – to carry more food, water, and a tent to pitch overnight. Backpacking is essentially the same as hiking, but for much longer and further distances.
What is the definition of backpacking?
The definition of backpacking is to travel or hike while carrying one's belongings in a backpack.
Essentially, backpacking is a type of hiking which lasts longer and thus requires equipment to be carried in a rucksack. Due to the nature of backpacking, since it is essentially a 'multi-day hike', it should last at least one to two days to be considered backpacking. Some backpacking trips even go as long as to last for several months.
Does backpacking mean camping?
Usually backpacking involves camping overnight, but it doesn't have to. Since backpacking lasts multiple days, it makes sense to carry a tent along with you so that you can set it up whenever you'd like to rest for the night, but there are backpackers who prefer to walk to hostels and such and stay there for the night instead.
Just because you don't pitch up a tent overnight on your backpacking trip does not mean it isn't a backpacking trip, it is just a matter of personal preference.
What's the difference between hiking and trekking?
Trekking is also a type of long hike, except trekking is meant to be more physically strenuous. Typically, the terrain is what makes it more arduous, such as in forests, mountains, or over hills. Whereas a hike that is not a trek would involve easy terrain that is flat.
Source https://besttrailbackpacks.com/difference-between-hiking-and-backpacking/
Source https://trailandsummit.com/hiking-trekking-backpacking-difference/
Source https://besttentforyou.com/how-to/backpacking-vs-camping-vs-hiking/#:~:text=The%20main%20difference%20between%20hiking%20and%20backpacking%20is,food,%20water,%20and%20a%20tent%20to%20pitch%20overnight.