Hiking The Quiraing on Isle of Skye
If you spend some time on our blog, it will come as no surprise when we say that we love to hike. We have hiked in some of the most beautiful places around the world, including Nepal, Canada, Italy, the Andes, Norway, etc., so it's pretty high praise when we were hiking the Quiraing on Isle of Skye and Celine turns to me and says, "This may be the most beautiful hike we've ever done". Wow!
The Quiraing is a very popular Isle of Skye hike and for good reason! It's easily one of the best hikes on the Isle of Skye and should be on your list of things to do on the Isle of Skye (if you are able). Even if you aren't able to, the views near the Quiraing carpark are well worth the drive up!
The Quiraing is located in the northern Trotternish Peninsula. The peninsula has a long, dramatic mountain ridge which was created by a massive landslip. The end result is some incredible, interesting scenery and interesting rock formations, which are a pleasure to hike around.
This post contains compensated links.
The Quiraing walk is often done as a loop, with one leg taking place below the ridge cliffs and the return leg above them. The loop hike is called the Quiraing Circuit.
Given we had two kids (aged 3 & 6) with us, we elected to follow the path below the cliffs there-and-back, instead of hiking it as a loop. We usually trust our kids to take reasonable risks while hiking, but it was a very windy day and we didn't want them close to the edge of a cliff face. Better to live and hike another day…
The drive to the Quiraing car park takes care of a lot of the elevation gain, allowing you to enjoy great vistas without requiring a strenuous uphill to get them.
The views on this hike are simply breathtaking; right off the bat you get views of the towering cliffs, the rock formations, many inland lochs and the Sound of Raasay (the ocean). There are no trees on this hike, ensuring that the scenery remains ever-present the entire way.
Don't miss our post that includes everything you need to know about visiting the Isle of Skye with Kids!
Sheep graze along the slopes of this path, giving it a distinctive Scottish feel – just watch your step as where there are sheep, there is always sheep poop. You'll pass several tall, skinny waterfalls and if you are hiking on the Isle of Skye in the summer, you'll enjoy the sight of thousands of tiny little yellow and purple wildflowers.
About halfway through the first leg of the hike, you'll pass through a stretch of incredible rock pinnacles; The Needle, The Table and the Prison. There are many spur trails around these formations to explore them from up-close or from different angles.
The hike then turns left 90 degrees and you get a whole new view to enjoy. It's not quite as dramatic as the first half of the Quiraing hike, but the hills and rock formations are still very beautiful and the ocean views are just that much better.
The Quiraing Hike Stats
Distance: The official distance of the Quiraing Circuit loop is 4.2 miles / 6.8km. Doing a there-and-back of the lower leg of the hike, we ended up walking 5.1 miles / 8.2km. The extra distance is likely due to some extra exploring along some spur trails to enjoy the views.
Elevation Gain: If you hike the Quiraing Circuit, the elevation gain will be 1,375 feet / 420m. Our hiking app measured our hike as gaining 1,300 feet / 400m, but that number feels overstated. The hike is actually pretty flat; it is continually going up slightly or down slightly, but nothing too hard. There are only two hills which are a little strenuous, but they are pretty short.
Difficulty: We'd rate the Quiraing hike as 'moderate', due to the distance. Effort-wise, there are only two small, steep hills and the rest is pretty easy. There's a little bit of rock scrambling involved, but it was so easy, our 3 year old did it himself. Our kids walked the entire length of this hike themselves without any issues.
Duration: It took us 4 hours to complete this hike, which is a typical pace for us walking with our kids. Without kids, we could have done this distance in about half the time.
This is one of the most picturesque hikes on the Isle of Skye, so your pace may vary depending on how many pictures you stop and take.
The Quiraing Circuit Location
How to Get There: The Quiraing Circuit car park is a 35 minute drive north of Portree. The final few miles of the drive to the trailhead is along a mountainside single lane road. There are plenty of little pullouts to allow cars to pass each other, but this is a very busy hike, so bring a lot of patience.
If you get there early, as we did, the one-way road didn't have much opposing traffic. The trailhead is right across the highway from the car park.
Parking has historically been an issue at this hike, but it looked like a brand-new large carpark was nearly complete (July 2019), so it'll likely be ready for you. Expect this to be a pay lot when completed.
An Alternate Access Point – Fingal's Pinnacles
The Quiraing hike is easy as you drive up the side of the mountain and then basically walk sideways without any real elevation gain or loss. I enjoyed the novelty of having excellent views with zero effort, but it felt kinda wrong at the same time – shouldn't we have to work for these views?
If you feel the same way (or simply can't find a parking spot at the trailhead), here is another alternative.
Fingal's Pinnacles is a hike which begins from the side of the A855 highway in the shadow of the Quiraing rock formation. Fingal's Pinnacles is technically a loop trail which doesn't officially meet up with Quiraing Trail, but you can bypass the loop and follow the main trail to the Quiraing Trail.
The hike was beautiful, passing two small lochs, winding up the rolling hills, passing many sheep grazing in the fields with amazing views of the Quiraing rock formations above and the ocean below.
The hike from the highway to the main Quiraing trail is approximately 1.6 miles / 2.5km long and rises approximately 650 feet / 200m. We made it almost all the way up in an hour, but we turned back due to some dark skies (there was a weather warning that day).
The Quiraing Hike Highlights
Hiking The Quiraing with Kids
Where to Stop for Lunch or a Break
Nearly the entire hike has grassy slopes above and below the trail, so you can literally plop down anywhere and enjoy a sandwich and the views. We stopped for lunch at the end of the first leg as it was at the top of a hill and there were great ocean views to enjoy.
Isle of Skye .com
Two Cuillin ranges dominate the landscape on Skye: the Black Cuillin and the Red Cuillin separated by Glen Sligachan.
The iconic ridge of the Black Cuillin is the UK's most challenging mountain range. Over 11 kilometres long and above 3,000 feet in places, the ridge contains 11 Munros and 16 other summits. The highest point is Sgurr Alasdair at 3,254.59 feet. The gentler, rounded Red Cuillin are popular with hillwalkers, the highest point being Glamaig, a 2,543-foot Corbett.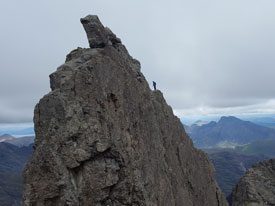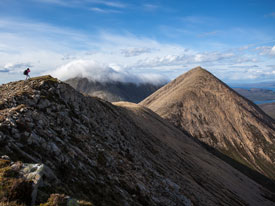 Landscape & Geology
The Black Cuillin Ridge was formed 60,000,000 years ago and is all that remains of an eroded magma chamber of a huge volcano. Comprised mainly of hard, rough gabbro rock and smoother basalt the ridge was sculpted into its current form by glacial activity and subsequent weathering over the millennia, which created the unique jagged character of the Ridge. The Red Cuillin are mainly made up of granite which was less resistant to the glaciers than gabbro, hence the rounded appearance of the hills.
Safety
The mountains produce wetter and windier weather than elsewhwere on the Island and it will be 4-5 degrees colder on the summits than at sea level. The weather can also be very unpredictable and never assume it will remain the same from the time you set off to the end of your day. The Ridge of the Black Cuillin comprises extremely rough terrain, boulder hills, steep scree slopes and knife-edge ridges, suitable for only experienced climbers. The Red Cuillin, although less challenging, contain areas of steep, rocky terrain.
Before setting off, plan your route carefully by using a reliable map. Make sure you leave a note of your route with a responsible person, with the time you expect to set off and a time you expect to be back. It is a good idea to take a mobile phone with you but be aware that GPS and mobile signals can vary in strength on the mountains and there is no signal at all in some places.
For a visit to either the Black or Red Cuillin, as a minimum, the following hillwalking kit is required:
a pair of strong, waterproof boots
a full set of waterproof clothing
hat and gloves
a spare layer of warm clothing
food and water
map and compass
For the Black and Red Cuillin, the following minimum skills are required:
Good scrambling and climbing skills
Good map reading ability
Ability to use a compass (the rock has a high iron content so your compass may well give faulty readings)
The Black Cuillin is an Alpine mountain range, suitable for climbing and not walking, with a large number of hazards unique to any other mountains in the UK. In addition to the above, tackling any part of the Ridge will require good scrambling/climbing skills, some abseiling experience, and good experience in route finding through steep, rocky terrain. There is no natural supply of water on the ridge so it is strongly advised to take along a good supply of drinking water.
Essential Maps
There are plenty guide books covering safety on the Cuillin. If you are inexperienced or unsure, however, hire a guide.
Top Ten Routes
Although the Cuillin offer many great walks and climbs, we have listed 10 of the best, from the easiest first to the toughest challenge the mountains have to offer. A map is essential to find your way to any of these locations and plan your route. Because of the nature of the terrain, none of these walks or climbs should be attempted in very wet conditions.
1. Rubh' an Dùnain
In the shadow of the spectacular Cuillin Ridge, a pleasant walk from Glenbrittle campsite leads to the headland of Rubh' an Dùnain – 'headland of the fort.' Rising to 98 feet above sea level, 8,000 years of Mesolithic, Neolithic, Viking and Medieval history as well as the Highland Clearances can be explored here, evidence of which can be found in a number of archaeological sites dotted around the peninsula. To the north there are remains of a Neolithic settlement, complete with evidence of round houses, a chambered cairn and a passage tomb. To the south lie the remains of a medieval hillfort. To the east by Loch na h-Airde there are remains of a Viking canal. For wildlife lovers, seals, otters and basking sharks are regular visitors to Loch Brittle and the Sound of Soay.
Distance: 12km round trip
Average time: 3-5 hours
Difficulty: Walk
Starting point: Glenbrittle campsite. This is a remote area and emergency services are far away. Although there is a track around the peninsula, there are no paths to the sites and the area can be very boggy.
Additional reading: Isle of Skye | Pathfinder (page 59)
2. Coire Lagan
This 8km round-trip runs from Glenbrittle beach to 600 metres above sea level to a beautiful mountain loch surrounded by Skye's highest peaks.
Distance: 4km
Average time: 1 ½ to 2 hours
Difficulty: moderate walk
Starting point: Glenbrittle campsite
Safety tips: The path is rough and indistinct in places with one short scramble section. This is a great choice of walk in good weather but it is advised not to explore beyond the loch unless you have good scrambling skills.
Additional reading: 40 Coast & Country Walks (page 54) or Walking the Isle of Skye (page 155)
3. Loch Coruisk
A short boat trip from Elgol will take you over to Loch Coruisk where you can spend a couple of hours exploring the area around the landing jetty or take the 6km route around Loch Coruisk. This is one of the wildest lochs in Scotland set in a beautiful natural amphitheatre flanked by foreboding peaks.
Distance: 6km round trip
Average time: 2-4 hours
Difficulty: moderate walk
Starting point: Loch Coruisk jetty
Safety tips: Although this route is a low-level walk, the path takes you through a mis of rocky and marshy terrain. There is a stepping stone forge ford across the River Scaraig Scavaig which should not be attempted in very wet conditions.
Additional reading: 40 Coast & Country Walks (page 64)
4. Sgurr na Stri
This is a long walk through one of Scotland's most impressive glens – Glen Sligachan – with the Black Cuillin rising on one side and Red Cuillin on the other. At the end of the Glen is Sgurr Na Stri, 1620.73 feet high and considered by many to be Britain's finest viewpoint.
Distance: 24km round trip
Average time: 6 to 8 hours (8 or more if climbing Sgurr na Stri)
Difficulty: long walk
Starting point: Sligachan Hotel
Safety tips: This is a fairly long walk which requires a reasonable level of fitness. Going up Sgurr na Stri requires some route finding and navigation skills as well as some experience in scrambling.
Additional reading: Walking the Isle of Skye (page 170)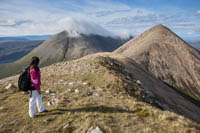 5. The Red Cuillin Horseshoe
Taking in the summits of Beinn Dearg Mheadhonach and Beinn Dearg Mhor, this is a pleasant hill walk over non-technical rocky and grassy terrain. The highest point is Glamaig at over 2,398 feet From the summits there are some wonderful views over Raasay, Rona and Applecross if the weather is good. The Red Cuillin are less popular with hillwalkers so much less busy.
Distance: 10km round trip
Average time: 5 to 7 hours
Difficulty: Non-technical moderate hill walk
Starting point: Sligachan Hotel
Safety tips: The first kilometre of this walk is very boggy but a pleasure to walk thereafter. To avoid the hard slog up Glamaig's scree slope, descend from Bealach na Sgairde.
Additional reading: Walking the Isle of Skye (page 101 & 67)
6. Bruach na Frithe
The Munro Bruach na Frithe is considered the easiest and most straight-forward peak in the Black Cuillin. The route takes you through the grassy Fionn Choire towards the 3,143 feet high Bruach na Frithe. Its summit is easily recognised by the presence of a trig point and there are some magnificent views from the top.
Distance: 14km round trip
Average time: 6-8 hours
Difficulty: Moderate climb
Starting point: Sligachan Hotel
Safety tips: The path can be difficult to find so a map is an essential part of your kit as is careful route planning. There is a small bit of scrambling to do if you find the easiest route.
Additional reading: Isle of Skye | Pathfinder (page 76) or Walking the Isle of Skye (page 135)
7. Bla Bheinn
A good footpath recently upgraded by the John Muir Trust will take you from sea level, through the Coire Uaigneich and up into the UK's most magnificent mountain, Bla Bheinn, standing at 3,248 feet. From a large boulder in the Coire, careful route finding will take you up the eastern spur to the summit through spectacular terrain. The summit has some of the best and most dramatic views of the Black Cuillin Ridge.
Distance: 8km round trip
Average time: 5-7 hours
Difficulty: Moderate climb
Starting point: Drive From Broadford, through Torrin and park after the bridge over Allt na Dunaiche, there is a sign to the car park. The start of the walk is over the bridge.
Safety tips: The path can be difficult to find so a map is an essential part of your kit as is careful route planning. There is a small bit of scrambling to do.
Additional reading: Isle of Skye | Pathfinder (page 52) or Walking the Isle of Skye (page 80)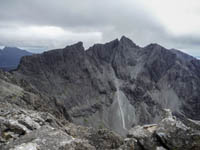 8. Sgùrr Alasdair
Standing at 3,257 feet high, Sgùrr Alasdair is the highest peak on Skye. It was named after Sheriff Alexander Nicolson who first climbed it in 1873. Starting at Loch Corie Lagan, careful route finding will take you up the Great Stone Shoot to the smallest, but also the highest island summit in the UK.
Distance: 8km round trip
Average time: 6-8 hours
Difficulty: Hard climb
Starting point: Loch Corie Lagan (see Route 2)
Safety tips: Sgùrr Alasdair is a mountaineering route. The Great Stone Shoot is a steep, narrow, rocky scree gully that lives up to its name. Even if you are just walking, it is sensible to wear a helmet. At the top, there is a short, tricky ridge which is also very narrow.
Additional reading: Skye – The Cuillin (page 138)
9. Sgurr nan Gillean
An iconic mountain forming part of the skyline scene to the south of Sligachan, is Skye's most famous peak. This peak forms the northern end of the Cuillin Ridge and is a spectacular pointed peak formed by three ridges. On the summit, there is a small flat area where you can perch and take in the views before the long climb down.
Distance: 14km round trip
Average time: 8 plus hours
Difficulty: Very hard climb
Starting point: Sligachan Hotel
Safety tips: The easiest route to Sgurr nan Gillean is via the south eastern ridge, which is also called the "tourist route." This route still requires scrambling and route finding skills and the last section entails walking or crawling along a foot-wide ridge with steep drops on either side. The remainder of the route, which includes some extremely rough, pathless terrain, requires very good route finding judgment and mountaineering skills.
Additional reading: Skye – The Cuillin (page 58)
10. The In Pinn
First climbed by the Pilgrim Pilkington brothers in the 19th century, Skye's notorious peak has earned its name through its menacing appearance rather than for its impossible reputation. Short for 'the Inaccessible Pinnacle,' this giant blade of rock can be seen perching precariously on the steep slope of Sgurr Dearg. Its sheer flanks with huge drops on either side make it not only the most difficult of all the Munros to climb, but also the most intimidating.
Distance: 8km round trip
Average time: 6 plus hours
Difficulty: Extreme climb
Starting point: Sligachan Hotel
Safety tips: The easiest route to the summit is a 70-metre-long rock climb following the most exposed ridgeline in the UK. Once the summit has been achieved, you will still have to find a way down and this is where good abseiling skills will come in handy. There is no easy way up or down the In Pinn and, once at the top, the feelings of exposure surrounded by enormous drops into the glens below can be overwhelming to the inexperienced. Unless you are a highly experienced mountaineer, it is wise to use the services of a local guide.
Additional reading: Skye – The Cuillin (page 120)
This introduction to the Skye Cuillin has been written with the help & advice from the Skye Adventure team (local mountain guides). It is strongly recommended you hire a guide when attempting any scrambles or climbs in the Cuillin (even if you have years of experience).
Why The Isle of Skye Should Be Your Next Otherworldly Hiking Adventure
"Known for volatile weather, jaw-dropping sights and rich history full of turmoil and magic alike, be sure to bring your camera along to the ever cloud-clad, misty Isle of Skye — the crown jewel for hiking in Scotland."
View of the Quiraing hiking trail at sunset with its pink clouds and blue sky, Isle of Skye, Scotland. Quiraing is a favorite of local hikers. It's an 11km (7 mile) loop that's a good introduction to what Skye has to offer.
When you think of some of the most incredible places to hike and explore nature in the world, you have to consider the Isle of Skye in Scotland. Isle of Skye, one of the best hiking destinations in the world, is an island about 50 miles long and 25 miles wide off the West Coast of Scotland. It is one of the most famous locations in Scotland and one of the most trafficked and for good reason! Isle of Skye is famous for its scenery and landscapes, its magical feel and it's great wildlife watching. At the Isle of Skye you can find white tailed sea eagles, otters, seals, whales, dolphins, and red deer to name only a few of what you may run into. Isle of Skye is also known as the Island of Clouds. The weather here can be volatile and change upon a moment's notice, bringing beautiful clouds and lush forestry. The Isle of Skye is the largest island in the Inner Hebrides of Scotland. Famous for its rugged interior, coastal walks, and interlacing miles of hiking trails, this is one of the most popular destinations in Scotland each summer.
Aside from the physical beauty of the Isle there lies a deep history of turmoil and rumored magic. You can find gloomy ruins of old clans and learn about the clan wars that took place on this magical piece of land. Within its small 50 by 25 mile boundary, Isle of Skye will never stop surprising you. You'll be able to see castles and ruins from clans and dinosaur bones within the same couple of miles of each other. The history here is unique and to some extent, it feels as though the Isle is stuck in time.
Dramatic Rainy Clouds over Scottish Highlands in the Isle of Skye.
This small slice of Scotland is so full of history and magical beauty that it will never stop surprising you. It is one of the best and most recommended hiking destinations in the world with its coastal scenery and beautiful bays and water, to jagged massive mountains. Many travelers feel as though they are stuck in a sci-fi movie with fairies and mythical creatures living beyond the rolling hills and spiked peaks.
Now that we have hooked you by our raving of Isle of Skye, let us tell you how you can get there and enjoy this magical experience with little to no hassle. 57hours is an adventure company that believes in making the most out of our free time by spending it completely emerged in nature. Experiencing nature and feeling the magic that the mountains and different parts of the world have to offer absolutely fulfills that scratch to make the most of all the free time you have. 57hours offers guided outdoor adventures all over the world, including the Isle of Skye. With a local guide, you'll escape from reality and be completely immersed in the beauty and mystery of the Isle of Skye.
Isle of Skye Hiking Tour
This 57hours' guided trip is offered from May to October when the weather is most likely the best. For 7 days, you and your family or friends will hike some of the most epic and beautiful sights in the world, something you will talk about for the rest of your life. Group sizes range from 1-12, solo travelers are welcome! This trip consists of long hikes but it is catered towards beginner and intermediate hikers, so you do not have to be in extremely great shape to enjoy the beautiful views and experiences. The program is designed to be challenging but not so much so that you'll be distracted from the out-of-this-world landscapes. Aside from the beauty of the wilderness and mystery of nature, you will learn about the historic sites along the way and stay in some really awesome rustic and cozy lodges. Read the location review by mountain guide and tour leader, Gareth Williams.
Why 57hours Guided Tours are Worth It
A huge part of 57hours guided outdoor adventures is being led by a certified and experienced local guide. The best part about having a local guide like Gareth Williams is learning inside information. Hiking with a local guide offers you the chance to experience this amazing location with inside knowledge of the beautiful scenery as well as the history and mythical stories. Local guides know all of the hidden gems that the area has to offer and can make your experience very unique.
The Isle of Skye has notoriously unpredictable and potentially extremely nasty weather that could ruin your trip if you do not know how to avoid it and how to utilize it. Your local guide will know exactly what to do when the weather takes a turn for the worst and instead of feeling disappointed, you'll experience something completely different with the help of local information.
This 57hours trip is unique because instead of signing up for a rigid itinerary, this trip is less structured. You will start in Glasgow and then drive out to Dunvegan where you'll set up and stay in the historic Uiginish Lodge. Every night you will meet with your guide and go over the next day's plans and where you want to hike. This is designed so you have choices of what hikes you want to do and how you want to structure your day. This also leaves some flexibility in case the weather does not permit certain activities.
Isle of Skye is really a unique place and a must see, especially if you are already in or going to the United Kingdom. With 57hours affiliated guides and their connections, you are sure to have a great trip and experience this really magical.
Book This Adventure
Your escape from reality starts in the historic Uiginish Lodge, where you can relax with a cup of tea or admire the neighbouring castle Dunvegan. These seven days are completely customizable to your group. Depending on your skill level and objectives, as well as the mercy of the weather, you'll decide which trails are of most interest. Leisurely coastal walks with sea otters splashing around? Seeing the iconic Old Man of Storr, or wandering around on landslides with gravity-defying spires above you? Skye never disappoints.
7 days | $920
Book Now!
About Gareth Williams – Mountain Guide
Gareth has always loved the outdoors. He combined his love for nature with skills gained from years of working in publishing and founded Large Outdoors , a guiding service that offers many adventures for their clients turned friends. A certified Mountain Leader, you can find him and his fellow guides all over the UK and Ireland, teaching people how to wild swim, sea kayak or accompanying them on otherworldly hikes.
About 57hours
57hours was built on the idea of packing your weekends with exciting outdoor adventures. Why the name 57hours? Well, there are 57 hours between 3 pm on Friday afternoon and midnight on Sunday. To them, making the most of your weekend means packing your car with gear, heading off to the mountains for the weekend, and returning late Sunday night, exhausted but completely recharged and ready for the upcoming work week.
Best of Isle of Skye Vlog
For more views of the beautiful Isle of Skye, checkout this interesting Vlog.
Source https://www.familycantravel.com/quiraing-isle-of-skye-hikes/
Source https://www.isleofskye.com/skye-guide/skye-places/the-cuillin
Source https://www.skyblueoverland.com/isle-of-skye-hiking-tour/