Hiking In Ireland – Your Guide To The 15 Best Hikes
Although famous for its rain, Ireland boasts a mild climate, so hiking here any time of the year packs its own wonders.
The natural beauty of Ireland has been illustrated from ancient folklore to the epic scenery in famous films like Braveheart, Saving Private Ryan, and Harry Potter and the Half-Blood Prince.
Best Hikes in Ireland
With 44 long long-distance trails in Ireland, five major pilgrimage paths, and a multitude of short half- and one-day trekking trips, choosing a hike in Ireland can be daunting.
So here is an easier list of the best hikes in Ireland.
Ireland's Day Hikes
1. The Divis Ridge Way
On a clear day, this easy 6.8 km dog-friendly hike in Northern Ireland provides great views of Belfast and the west coast of Scotland.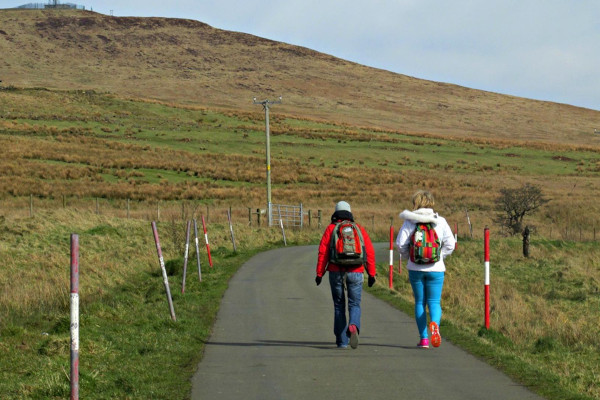 The Divis Ridge Way is the easiest of four trails on the main Divis Trail. It is the perfect option for those seeking a longer trekking tour with spectacular views.
It is moderately easy, so great for beginners.
Along the flat and obstacle-free 4.2 miles of the hike, you'll walk on tarmac, boardwalk and stone pitched gravel, as well as cross a few stiles.
Divis Ridge Way offers a panoramic 180-degree view of Belfast with glimpses of Scotland and the Isle of Man. From the trail, you'll also be able to admire the view of the magnificent Mourne Mountains.
2. The MacGillycuddy's Reeks Ridge Walk
This very strenuous, 26km (16 miles), 12-14 hour trail traverses the entire Reeks Ridge located in southwestern Ireland and includes climbing the highest mountain in Ireland, Carrauntoohil.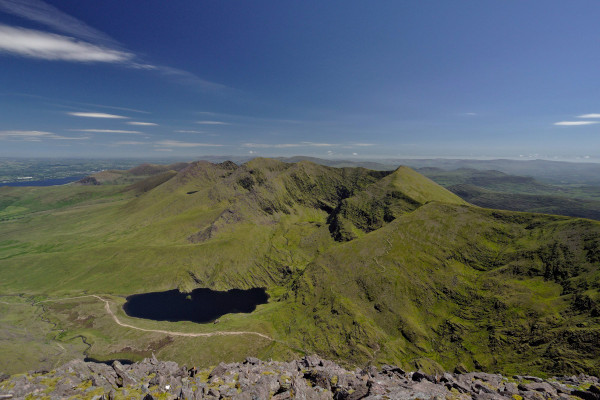 This Kerry trek leads you on a scenic country route towards the local town of Killarney (pronounced as keh-LAR-nee), believed to be favored by loads of tourists and magical creatures alike.
The Reeks is privately owned and is the highest mountain range on the island, with 8 out of 10 ~1,000 m peaks in Ireland.
TIP: At 1,038.6 m (3,407 ft), Carrauntoohil is the highest summit in Ireland, it is visited by thousands of people every year, so plan well in advance and head out early to avoid the crowds.
3. The Bog of Frogs Trail Walk in Howth
This easy, half-day 12 km (7.5 miles) hike allows you to explore an ancient village with views of the Bay of Dublin. Reward yourself with an after-hike meal at a nice local restaurant.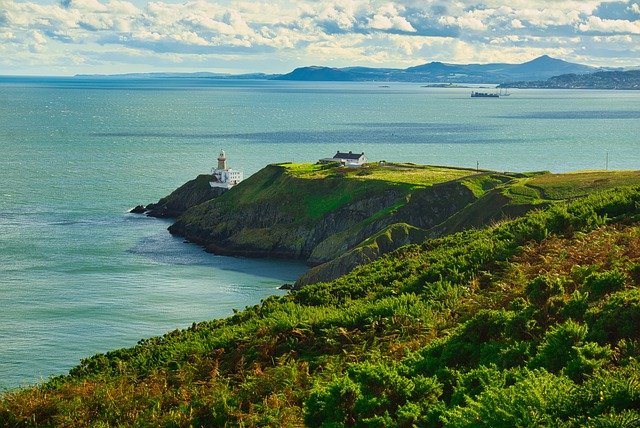 The walk takes you through Howth, the place so ancient it is featured even in Irish mythology.
With its views of the Bay of Dublin and Lambay Island, the trail in Howth can offer some wildlife encounters, as well as quite a variety of activities around the hike, including golf and visits to affluent restaurants.
With many ravens, wagtails, and swallows to spot on the trail, this is a great hiking tour for bird-lovers. Often, trekkers can spot grey seals on the coast.
TIP: It is a popular hike so head out early and make sure to book lunch at a pub in advance.
4. The Torc Mountain Waterfall
This moderate 2-hour loop hike in the southwest of Ireland is popular for the views of the grand Torc Waterfall and the views of the Killarney National Park, as well as some wildlife sightings.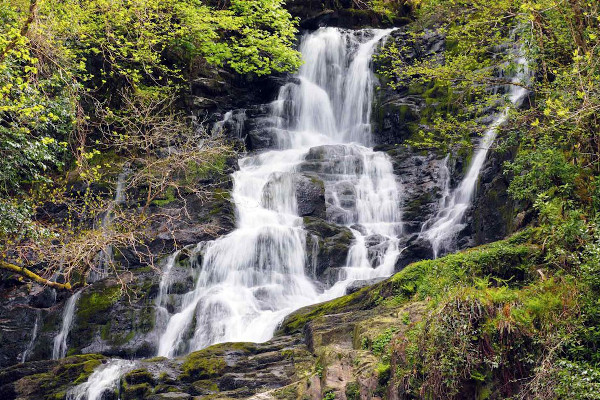 This Kerry trail is an easier option for novice hikers, offering encounters with waterfalls and the stunning views of the first national park in Ireland, Killarney.
Although Ireland doesn't have a huge variety of species of animals, it does offer wonderful trips around its woodlands. This park is renowned for its rare yew woodlands and numerous wildlife.
TIP: To avoid the crowds, head out early. Although the weather might be wetter in early Fall, it's worth considering a hike then as the woodlands will be changing colors and can offer wonderful picture opportunities.
5. The Muckross Abbey
Located in Killarney National Park, South West of Ireland, this easy 3.5km park hike, is great for spotting wildlife with children among the stunning woodlands.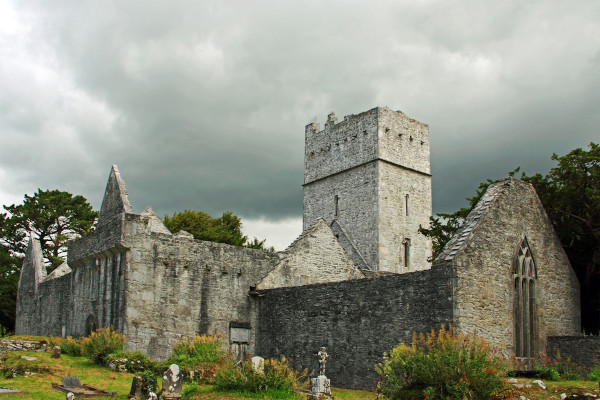 Walkthrough the most spectacular parts of Killarney Park famous for its multiple northern wildlife, including Red and Japanese sika deer, and gorgeous rare yew woodlands.
Leave some time to wander around the remains of the 15th-century abbey, which had to be reconstructed many times due to its violent history.
TIP: The entire hike should take you about 4 hours, so kids could enjoy this lovely adventure also.
6. The Gap of Dunloe
Located in Killarney National Park, the route is a 10-mile round trip that begins and ends at Kate Kearney's Cottage.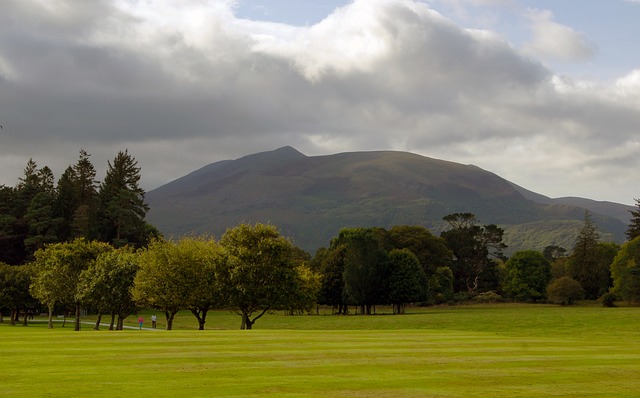 The 25,000-year-old passage literally divides two mighty mountain ranges: the MacGillycuddy's and the Purple Mountain Group.
The mountain ranges offer many well-known tracks, especially the 2-hour there and back trek from Kate Kearney's Cottage, a 150-year-old family Irish restaurant to the full Head of the Gap.
The reasonably strenuous hike can take more than five hours depending on what trail you choose.
However, it will be worth your while when you find yourself overlooking an awe-inspiring landscape that is dotted with a charming family of lakes and imposing mountain peaks.
7. The Hare's Gap
This strenuous 3.4km (2.1 miles) one-way hike takes under 3 hours to complete and allows you to explore boulder fields, glacial cliffs, and a breathtaking route through a passage in the Mourne Mountains.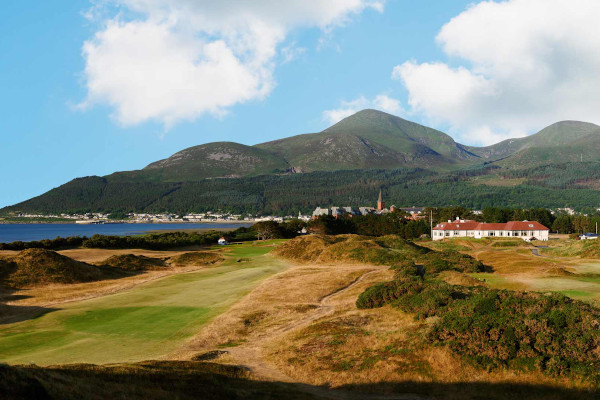 The Hare's Gap is located in the Mourne Mountains, South East of Northern Ireland, and is considered the most characterful mountain pass in the area.
Historically, it marked the exit point for smuggled goods from the coast. But today is a central point for grand views of the Brandy Pad.
This granite mountain range has the highest mountains in Northern Ireland, the highest of which is Slieve Donard at 850 m (2,790 ft). The mountains have a few peaks over 700 m, including Slieve Commedagh, Slieve Binnian, and Slieve Bearnagh, which are worth visiting.
Rough rocky paths that aren't leveled make it a strenuous and steep hike.
Impressive boulder fields line the path with glacial cliffs and amazing mountain views.
Another great perk of this hike is that it is dog-friendly.
TIP: Once you get to the pass you can decide to continue to the other mountain peaks or turn back.
8. The Diamond Hill
This popular, 2-hour moderate loop trip is located near Letterfrack village in Eastern Ireland and is famous for its wildlife spotting and great summit and valley views.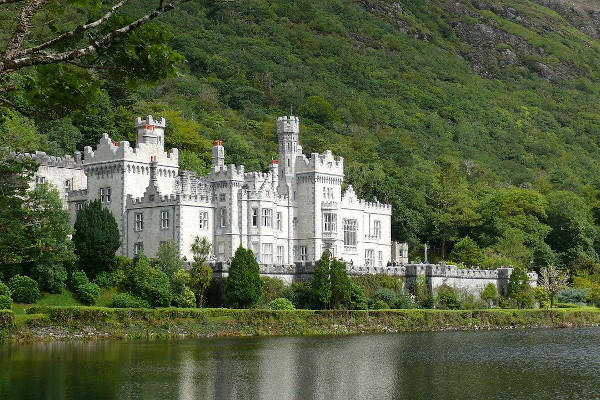 On this 7.2 km-hike through Connemara National Park expect to enjoy great views of Kylemore Abbey's turrets and the Twelve Bens that is a quartz-filled mountain range from the 400m summit of Dimond Hill.
From the top of Dimond Hill summit, you can also see the grand Twelve Bens, Mweelrea and Tully Mountains.
You will see the vastness of Connemara's coastline with the views of the unspoiled islands and Ballynakill Harbour.
TIP: Although suitable for beginners it requires some steep walking, so train accordingly.
9. Devil's Ladder to Carrauntoohil Summit
This 12.7 km 6-7 hour touristy, but difficult loop walk in the South West of Ireland features a crossing of the Gaddagh Riverlake.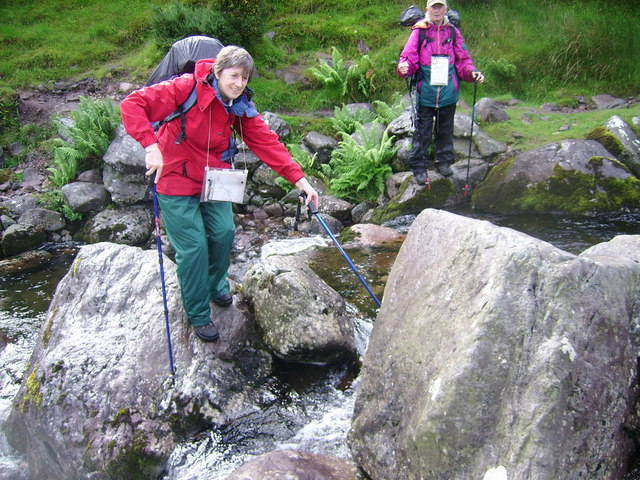 As the ladder is almost completely gone, the trek requires scrambling on wobbly rock.
The crossing of the stunning Gaddagh River is via the big stepping stones, so be careful.
TIP: Best hiking experience is from April until September when the weather is at its best. On the mountain, leave bigger gaps between you and other trekkers to avoid getting hit by a rock on the ladder section.
10. Croagh Patrick Path
This popular, but strenuous 4.4-mile path located near Newport, in Eastern Ireland, takes you on the Croagh Patrick Pilgrim Trail that features a river.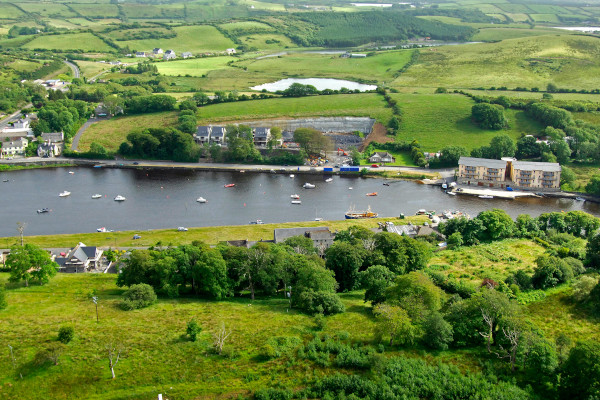 Although the trail takes 3.5 hours of hard walking on very rocky terrain, the views from the Croagh Patrick summit are magnificent and more than worth the effort.
TIP: The weather can change here very unpredictably, so layer up and be prepared for a cloudy and potentially foggy day.
11. The Coomloughra Horseshoe
This very strenuous, 15 km, 6-8 hour loop hike in the South West of Ireland, takes you to to the summit of Carrauntoohil and other high peaks along the way.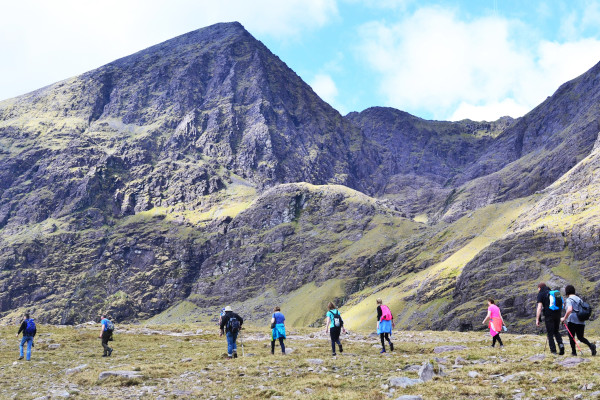 One of Ireland's classic ridge treks, Horseshoe is usually completed clockwise.
But before summiting Ireland's highest mountain, you'll be tested on other peaks along the way, including Skregmore at 848 m (2,782 ft), Beenkeragh at 1,008 m (3,307 ft), and the Bones at 956 m (3,136 ft).
To finish the trek you will still need to get to the tops of Caher 1,000 m (3,300 ft) and Caher West Top 973 m (3,192 ft), before descending right where you began.
TIP: Train well before attempting this trek.
Ireland's Long Distance Hikes
12. The Dingle Way on the Dingle Peninsula
Located in southwestern Ireland, this moderate long-distance village-to-village trail takes 8-9 days to complete and offers the best cliff and picturesque town views.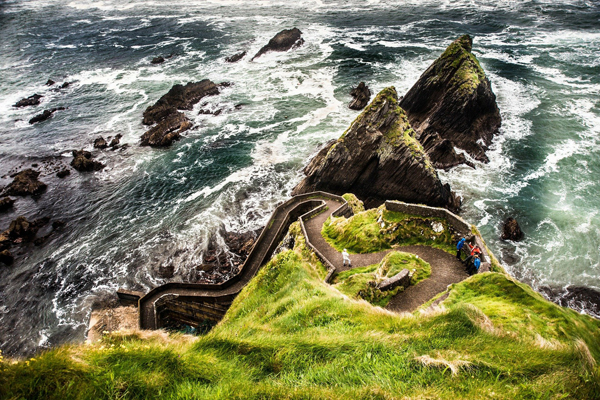 At 179km (111 miles) long, the tour is one of Ireland's longest and best hikes, listed as the National Waymarked Trail. It spans the shoreline of the Dingle Peninsula with stunning cliffs.
The loop adventure begins and ends in the town of Tralee.
Along the way, you will encounter some of the finest archaeological sites and the incredible diversity of the different landscapes.
The Dingle Way is a well-serviced trail that passes through the center of many lovely towns, so you are never far from refreshments and rest.
TIP: The trail is easy to moderate except it can become difficult at the foot of Mount Brendon due to poor weather conditions and visibility. Consider skipping it, by using alternative transport to get you through this portion of the trail.
13. The Causeway Coast Way
Located in the Northern Ireland, this moderate hike has inspired the magic of the Chronicles of Narnia. It stretches along 53 km (33 miles) and passes the legendary Giant's Causeway and offers views of the cliffs.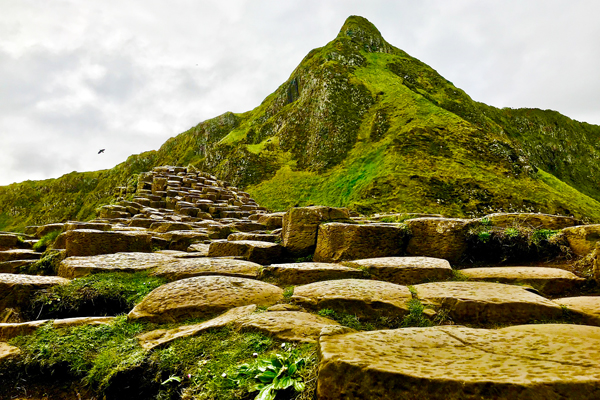 Although it is Ireland's most famous hike, it is moderately difficult.
On the trail, you'll pass a celebrated stretch of coastline and see some historical landmarks including the famous Giant's Causeway and the Dunluce Castle.
The Giant's Causeway is an unbelievable natural rock formation of 40,000 interlocking basalt columns that has been declared a UNESCO World Heritage Site and is featured in the Game of Thrones.
The trail features stunning coastal cliffs, secluded beaches, and picturesque harbors. These mystical rolling hills inspired the enchanting Chronicles of Narnia.
TIP: Download the map (here) and check road closures before starting the trek.
TIP: Don't forget to read about the legend of the Giant's Causeway formation – one of Ireland's best myths.
14. The Kerry Way
This strenuous 8-9 day, 214 km long circular trail in the southwest of Ireland, is known for its lush green terrain and quaint Irish pubs.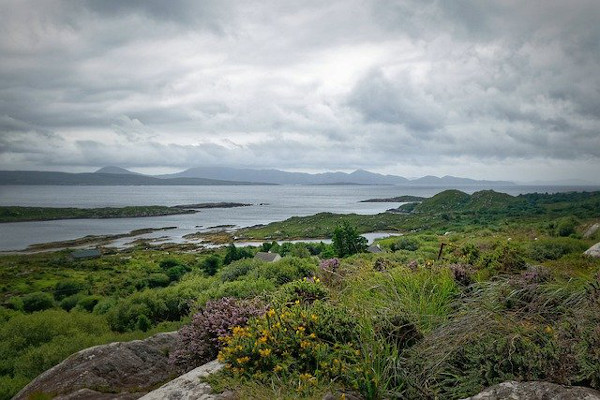 There are over 133 miles of hiking trail on the Way
En route, you'll get to enjoy views of rolling emerald country fields hugging a rocky coast of the wild Atlantic ocean.
Get your camera ready, as these green fields are so vivid in color that they bear the name to their very own shade – the Kerry Green. It's easy to see why Ireland (St Patrick's Day) is affiliated with green.
Plan your trek well ahead to stop for meals (and a pint) at some of the quintessential Irish pubs along the way, as well as sleep in comfortable inns.
TIP: Combine the trek with a drive around the Ring of Kerry on the edges of the Iveragh Peninsula for a family or more relaxing nature experience.
15. The Wicklow Way
This 135 km moderate route in eastern Ireland takes over a week to complete and is known as the Garden of Ireland for its lakes, creeks, and glacier valleys.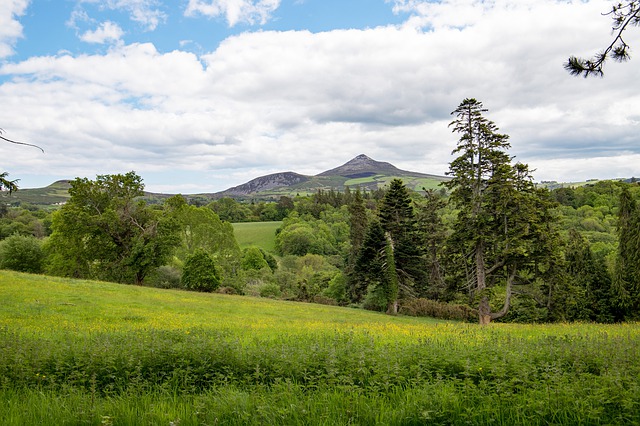 The Wicklow Way is 83-miles long and takes you through the Wicklow Mountains right up to Dublin City's suburbs. It is a great way for city dwellers to explore the beautiful Irish countryside's beauty without having to travel too far.
Although one of the star trails, Wicklow Way is a long-distance self-guided well-marked trail that should take about 7+ days to complete and is moderately difficult.
The hike takes you through the Wicklow Mountains, known as Dublin Mountain, upland lakes, steep-sided glacial valleys, fast-flowing mountain streams, forests, and beautiful farmland.
TIP: The Glendalough Valley is one of the highlights of the route for both its cultural importance and natural beauty. Before your tour, read up on Glendalough, a 6th-century monastic settlement featuring beautiful lakes and the experience will certainly be worth the trek.
Irish Hikes (FAQ)
Which country – Republic of Ireland or Northern Ireland – is best for hiking?
Both countries offer fantastic hikes. We're big fans of the hikes in the southwest of Ireland, like the Kerry Way and the Dingle Way. But equally the hikes along the Causeway Coast in Northern Ireland are also amazing.
How long does it take to walk around Ireland?
There is 6226 km (3868 miles) of coastline around Ireland. Technically it is possible to walk around Ireland, although many sections will require walking inland. We estimate it would take someone 2-6 months to complete, depending on the route chosen and the speed at which they walked. There is a route known as The Ireland Way that cuts through the middle of the island from West Cork to the Giant's Causeway.
Where can I go hiking in Dublin?
There are many day hikes just outside Dublin. We recommend the Wicklow Way, which consists of a series of trails through the Wicklow Mountains, just south of Dublin.
What is the highest mountain in Ireland?
Carrauntoohil is the highest mountain in Ireland. Its elevation is 1,038 meters (3,407 feet). Situated in the Reek's District in Country Kerry, the mountain can be hiked in one day as part of the Coomloughra Horseshoe trek.
Where to Go Hiking in Ireland? The 15 Best Hikes in Ireland
Looking for the best hikes in Ireland? Ireland boasts some of the most undisturbed and remote natural scenery in the world, with a diverse range of mountain ranges, lush, sweeping hillsides, ancient rock formations, and rough crashing shorelines. With this wealth of natural resources to choose from, it stands to reason that Ireland is a popular place for hikers and avid outdoor enthusiasts.
Ireland's endless trails are hard to cut down to less than two dozen, but we've compiled 15 of the best hikes in Ireland for travelers who are thinking of dropping a pin here. These are suited to a range of skill levels from beginner to extreme, so that everyone can have the chance to experience the natural surroundings that Ireland has to offer. If you're planning to go hiking in Ireland, consider these trails.
The Best Hikes in Ireland
1. Ballycotton Cliff Walk
Location: Douglas Rd, Co. Cork, Ireland
Difficulty: Easy
Distance: 7.2 km
Elevation Gain: 178 meters
Insider Tip: The stiles that prevent wildlife from wandering off prevent bikes and strollers from getting through, so this is a footpath-only hike.
More info
This beautiful coastal hike starts and ends between Ballycotton and Ballyandreen. To hike there and back is a full 7km (3.5 each), and good shoes are recommended even in summer weather. You never know when rain or worse weather will strike in Ireland, even in the summer!
This beautiful hike follows the southern coastline near Cork. It is well-known for its plentiful foliage – particularly the coconut-smelling Gorse bushes and the bright yellow wildflowers that line the path.
While the path is relatively flat throughout, it often runs close to the edge with steep, dangerous cliff sides. You'll see signage warning you of impending drops and dangerous areas, so watch out for edges and use precautions as needed.
2. Mount Errigal
Location: Northern Donegal
Difficulty: Moderate
Distance: 4.2 km
Elevation Gain: 504 meters
Insider Tip: Parking is extremely limited, so if you plan on driving to the base (this hike is around an hour outside of Donegal, so most will drive), arrive early to snag a spot.
More info
Mount Errigal is not for the fairweather hiker. Many have claimed that while it is a beautiful route, the trail is almost unanimously more difficult than predicted. However, keep pushing if you can because the views from the summit are unparalleled in their beauty.
The peak overlooks the untouched Donegal landscape below. But be sure to bring water and something to snack on to keep you going when the path seems most exhausting because the result is worth the upward climb.
Once you come down from the high (literally and figuratively), you might take the chance to explore what else the area has to offer. Glenveagh Castle, one of the best Irish Castles, is a 20-minute drive away and offers beautiful grounds backlit by lakes, glens, and beautiful sloping mountains. Plus, the onsite tea room & restaurant is the perfect post-hike recharge.
3. The Famine Walk
Location: Connemara, County Galway
Difficulty: Easy
Distance: 16 km
Elevation Gain: 178 meters
Insider Tip: If you've got an Ireland hiking list or just like a good challenge, Mweelrea Mountain is a nearby mountain among the four tallest in Ireland, putting it on the Four Peaks Challenge.
Information
Connemara is an area that outdoor travelers love, and for a good reason: it has some of the most unspoiled, raw beauty you can find in Ireland. Despite its popularity, it never feels crowded, and you can visit without feeling like people surrounding you. It's incredibly peaceful, as are many of the hiking regions in the country.
The Famine Walk is a 16-kilometer walk so it will take up a good chunk of your day, but we promise it's worth it and will top your walking holiday in Ireland. This spot has the only fjord in Ireland, so secluded that it was used as a U-boat hideout during the Second World War. The path winds along the fjord coastline, passing old cottages and eventually winding through a little marina that ultimately leads back to the start.
4. Glendalough Lake Walk
Location: Glendalough, County Wicklow
Difficulty: Moderate
Distance: 12.6 km
Elevation Gain: 589 meters
Insider Tip: As funny as it may sound, watch out for feral goats!
More info
If you choose to do the whole path of the Glendalough Lake Walk, be ready for a full day's commitment; this ancient pilgrimage route inspired by St. Kevin's secluded and hermit lifestyle spans an astonishing 30 kilometers.
Located only around an hour from Dublin, this outing can easily be factored into your stay as long as you are prepared for a lengthy trek. The region is a 6th-century monastic site; the area even has an ancient graveyard and the ruins of a chapel-like structure, set against a staggeringly beautiful landscape of rolling green hills as far as you can see. Along the hike, you will also spot the cave in the rock face known as St. Kevin's Bed.
5. Cosán na Naomh (The Saint's Road)
Location: Dingle, County Kerry
Difficulty: Hard
Distance: 17.7km
Elevation Gain: 589 meters
Insider Tip: Have a go at surfing if you're in Dingle, or post up at Quinn's Pub – right on the marina – for a pint.
More info
Known locally as Cosan na Naomh, the Saint's Road hike in Ireland is one of many pilgrimage trails in the country. This particular Ireland hike is easygoing and minimally challenging, but its natural surroundings make it enjoyable for casual strollers and more seasoned hikers.
There is a near-constant view of both mountain and sea simultaneously, so from a landscape perspective, you get two in one (in fact, this path leads to the foot of Brandon Mountain, another trail on this list). Ancient beehive huts – leftover relics from the ancient Celts who populated this region – line the trail and make for fascinating – if not slightly eerie – sights along the route.
6. Doolin Cliff Walk (Cliffs of Moher)
If heights don't bother you, then this is a hike worth noting. The Doolin Cliff Walk stretches 7km from Doolin Village to the famed Cliffs of Moher in Galway, or 11km if you continue past the cliffs and into the village of Liscannor.
Even if you decide to proceed, you can't help but stop at the cliffs, even just for a few moments of admiration. It's a back entrance to one of Ireland's most famous natural sights, and bonus: you get to avoid all the traffic and crowds. There's also no fee to walk if you approach from the northern point of the cliffs.
Be careful of the edges; pathways can be narrow and treacherous at times, so ensure that your footwear is good for grip and endurance (even the short version of this hike is not for the faint of heart).
7. Croagh Patrick
Location: Mayo, Ireland
Difficulty: Hard
Distance: 7.1 km
Elevation Gain: 749 meters
Insider Tip: Erosion has worn away at the Pilgrim's Path, making it a mildly unsafe option even for seasoned hikers. The west path leading up to the ridge is a more sound path; regardless, ensure that your shoes are built for a rocky, steep climb.
More info
If you didn't know a mountain could be holy, now you know; the route that ascends Croagh Patrick in Connacht was a pilgrimage route for hundreds of years. The mountainside looks down on the town of Westport and the countless small islands scattered along the coastline.
Its holiness stems from the legend that St Patrick sat atop the peak for 40 days and fasted just as long (there is a shrine at the summit). To this day, the last Sunday of every month still sees pilgrims doing the climb.
8. Cronin's Yard Loop
Location: Killarney, County Kerry
Difficulty: Moderate
Distance: 8 km
Elevation Gain: 300 meters
Insider Tip: Dogs are not allowed, so plan for doggie daycare if you travel with your furry friend(s).
More info
Are you up for a challenge? Cronin's Yard Loop is a little bigger than your average yard, though it's only 8kms in total length, so it is one of those Ireland hiking trails that's doable in around two hours.
It's also the starting point for those wishing to climb Carrauntoohil, the highest point of elevation in the country (this part is physically demanding and trickier navigation, so best left to experienced hikers).
Since the area is at a high elevation point, if you're able to make it out of bed early, this is one of the best places to watch the sunrise.
9. Mount Brandon
Location: Dingle Peninsula
Difficulty: Hard
Distance: 10.9 km
Elevation Gain: 929 meters
Insider Tip: Nearby Dingle town is full of unique restaurants, cafés, and shops to end your day on a high note.
Mount Brandon is located along Ireland's Wild Atlantic Way. The quickest way to its peak – the eighth highest in Ireland – is via an 18-kilometer climb starting in nearby Ventry. The path, marked by white crosses along the route, winds up to the summit and back down to the car park at the beginning of the trailhead.
There's also a shorter, less strenuous 'scenic route' spanning half that distance, starting in Cloghane. The mountain is steeped in Irish mythology; its name is said to be derived from either St. Brendan, who supposedly climbed the peak and got his glimpse of the Promised Land before sailing for America, or from the pagan god Bran.
The rugged and raw natural beauty of this spot is so all-consuming that regardless of what you believe about the origin of the name, you're sure to feel like you've stepped back in time.
10. Achill Head
Location: The foot of Slievemore Mountain, County Mayo
Difficulty: Hard
Distance: 10 km
Elevation Gain: 521 meters
Insider Tip: If you're near the coastline, keep your eyes peeled for basking sharks nearby!
More info
Seaside dwellers – this one is for you. With Ireland essentially being a large island, it's hardly surprising that so many of the trails on the list of best hikes in Ireland would be situated along the rugged coastline.
Achill Head is a beautiful walk in Ireland located atop some of the continent's tallest cliffs. This hike is strenuous, and its height means you'd better have your wits about you – it's not for the faint of heart. Watch your footing, but be sure to enjoy the scenery and even keep an eye out for peregrine falcons!
Achill Island has been accessible via bridge to the mainland for almost 150 years, but it maintains its small, remote island feel, as though it sits far from Ireland's mainland on the edge of the world.
Along the beautiful pathways, you can find, you may come across megalithic tombs, abandoned villages, and old signal towers – to give you the sensation of being one of a few living souls to set foot on the island in decades.
11. Torc Mountain
Location: Killarney, County Kerry
Difficulty: Moderate
Distance: 7.1 km
Elevation Gain: 416 meters
Insider Tip: Nearby, Killarney town is worth a visit for a day of shopping and fine dining.
More info
This Ireland hiking trail is like something out of an Irish fairytale, making it one of the best hikes in Ireland. Consisting of a beautiful forest pathway, Torc Mountain (and Torc Waterfall) are located within Killarney National Park. Within the winding woodland trail, you'll come across gently rushing streams, mossy trees, and, when you emerge, sweeping valley views.
Torc Waterfall is partly Gaelic for 'waterfall of the wild boar' since the region is said to have been a haunt of national hero Fionn MacColl. He supposedly killed a wild boar, earning the mountain and nearby 20-meter waterfall their names.
12. The Burren
Location: The Burren, County Clare
Difficulty: Moderate
Distance: 14.3 km
Elevation Gain: 529 meters
Insider Tip: Though it doesn't seem possible, the Burren will bloom with wildflowers in the spring and become even more awe-inspiring.
More info
This will probably be one of the more unique hikes you'll do while in Ireland, but its intriguing landscape makes it a worthy addition to our list of best hikes in Ireland. The Burren is a region of County Clare that still bears evidence of its time during the last Ice Age. Blanketed in smooth, exposed sheets of limestone, this is an altogether fitting and alien part of Ireland's diverse landscapes.
This area is also a hot spot for archeology; ancient Celtic tombs, huts, and the remnants of other rock formations are scattered, largely unmanned, throughout the region. Nearby, Mullaghmore Mountain offers a three-hour climb to the summit with beautiful views over Clare.
13. Carrowteige Loop Walk
Location: County Mayo
Difficulty: Varies
Distance: Varies by loop
Elevation Gain: Varies
Insider Tip: This part of Mayo is extremely remote, so bring all necessary tools of communication, weather-resistant clothing, and any emergency equipment you may need.
More info
Hiking Ireland doesn't get much better than this. Does venturing deep into the wilderness of Ireland's west coast sound exciting to you? Don't worry; it's worth it. This hike in Ireland is entirely approachable and pretty flat, so even at an average distance spanning two to three hours, the low level of difficulty makes Carrowteige very enjoyable.
Local legend states that the four children of the sea god Lir were turned into swans and exiled by their jealous stepmother. Keep your eye out for a sculpture representing this myth and those who have emigrated to County Mayo from afar – or, if you're lucky, a sighting of one such swan.
14. Inishbofin Loop
Location: Inishbofin, County Galway
Difficulty: Easy
Distance: 5.5 km
Elevation Gain: 83 meters
Insider Tip: Check out hotel schedules ahead of time to catch shows of traditional Irish music.
More info
While astonishingly beautiful, the Inishbofin Loop also played a crucial part in history. Once ruled by Grace O'Malley (popularly called a pirate queen), this place is steeped in lore, tradition, and history. The last location to crumple under Oliver Cromwell's iron rule, the shoreline castle once belonging to the O'Malley family, became the site of Cromwell's (now ruined) barracks. The site can still be explored today.
The island offers several loop walks. These are fairly short, so doing several in one day is common. Each offers something a little different along the way, including Iron & Bronze age structures, ancient churches, and unparalleled views of nearby islands.
15. The Gap of Dunloe
Location: County Kerry
Difficulty: Moderate
Distance: 21.9 km
Elevation Gain: 591 meters
Insider Tip: The spot where the hike begins, Kate Kearney's Cottage, is also a great place to stay if you plan to stick around for a few days. Bonus: the in-house restaurant makes a mean Bailey's cheesecake.
The Gap of Dunloe is pretty much what it sounds like but way cooler, which is why it's featured on our list of best hikes in Ireland. A narrow glacier passes forged between two mountains (Purple Mountain and Macgillycuddy Reeks), and the pathway that runs through the pass takes you through stunning scenery, including not one but five lakes. There is even a "Wishing Bridge," where wishes made are always said to come true.
Since the area was one of the last places in Ireland to adopt electricity usage, it maintains many of its quaint pre-technology ways – including jaunting cars (otherwise known as horse-drawn carriages)
Quick Ireland Travel Tips
'Hello' and 'Thank You' in Gaelic: "Dia dhuit" and "Go raibh maith agat"
Currency: Euro – (EUR) – €
Visa: The Republic of Ireland & Northern Ireland are separate countries on the island of Ireland. The Republic of Ireland, known as 'Ireland,' grants 90-day visas. Northern Ireland, a part of the United Kingdom, also grants 90 days.
Weather: Expect lots of weather! Ireland is known for having rapid shifts and lots of rain – the only reason a country like Ireland remains so green and fertile. See our full packing list here.
When is the best time to go hiking in Ireland? Ireland is a fantastic country to visit year-round. However, you'll find crowds during the summer. My favorite time to visit Ireland is in September when the weather is cool and the low crowds. Plus, it's when the famous Galway Oyster Festival happens!
When is the Best Time to Hike in Ireland?
If you're wondering when the best time to visit Ireland for good weather is – it's summer. You stand your best chance of good weather and conditions for hiking in Ireland between July and early September. Temperatures range from 15°C-21°C.
Locals enjoy the sunny weather and festivals in the countryside and the city. It's the perfect time to enjoy a pint of Guinness outside and watch life go by! Read more about the best time to visit Ireland.
Hiking Ireland Tours
It's understandable if you aren't comfortable hiking in Ireland alone. Many day tour options will take you on a safe, guided hike in Ireland.
What to Pack for These Best Hikes in Ireland
Shop For Travel Insurance
We don't travel without travel insurance, and neither should you. You never know what can happen in a foreign country, and it's best to be prepared. HeyMondo offers excellent short and long-term travel insurance policies.
Rain Jacket
It should go without saying that the weather in Ireland can be a bit rainy, so a packable rain jacket is super important. Arc'teryx makes my favorite rain jackets.
Hiking Pants
Technical pants like these are water-resistant and dry quickly, not to mention they're comfortable on long walks. These pants can be pretty ugly, but if you're serious about exploring and hiking in Ireland, I suggest picking up a pair.
Hiking Shoes
It's wet in Ireland, and you can expect a lot of boggy weather year round so packing a pair of good waterproof boots for hikes is crucial for protecting your feet. Good Boots or hiking shoes for Ireland are essential. You can see our guide to the best lightweight hiking shoes here.
Travel Adapter
Remember that Ireland uses the three-prong British plug. Make sure you have a universal travel adaptor as we have before landing!
About Natasha
Natasha is the co-founder of The World Pursuit. She is an expert in travel, budgeting, and finding unique experiences. She loves to be outside, hiking in the mountains, playing in the snow on her snowboard, and biking. She has been traveling for over 10 years experiencing unique cultures, new food, and meeting fantastic people. She strives to make travel planning and traveling easier for all. Her advice about international travel, outdoor sports, and African safari has been featured on Lonely Planet, Business Insider, and Reader's Digest.
Learn more about Natasha Alden on The World Pursuit About Us Page.
2 thoughts on "Where to Go Hiking in Ireland? The 15 Best Hikes in Ireland"
Mount Errigal Hike, you have mentioned under the Insider Tip: by where to park "(this hike is around an hour outside of Dublin, so most will drive)" …but it is showing to be 4 hours Dublin. Perhaps you meant Donegal? I was looking for hikes closer to Dublin and this definitely through me off while researching. Just wanted to let you know. I do really appreciate all the insight and suggested routes.
Thanks for lettings us know! You are right it was supposed to say Donegal and has been changed now.
Leave a Comment
Welcome to the world, as seen through the eyes of Cameron Seagle and Natasha Alden. On this site, readers will find our experiences, gear reviews, photography, tips, and informative travel guides.
We love getting to off-the-beaten-path destinations and aren't afraid to go it alone. We hope to inspire other independent travelers and provide them with the resources to do so.
If you'd like to learn more visit the about us page.
Follow Us On Social!
This article may contain affiliate links. We receive compensation if you make a purchase, but it won't cost you anything extra.
Related Posts
25 Ireland Travel Tips to Know BEFORE You Go
If you're in the stages of planning a trip to Ireland, we've prepared a few Ireland travel tips to help you out! If you're looking for one of the friendliest,…
What To Wear in Ireland • Ireland Packing List + Irish Outfit Ideas
Are you wondering what to wear in Ireland and what clothing in Ireland is best? The small island nation cast in the Atlantic is known for inclement weather. How else…
15 Epic Things to do in Northern Ireland
What Northern Ireland lacks in size, it more than makes up for it with things to do and see. There are so many things to do in Northern Ireland it…
25 BEST Things To Do In Galway, Ireland
Are you looking for the best things to do in Galway, Ireland? This Irish city is the fifth largest in the country and a major vacation destination for those visiting…
Bothersome Bugs

Depending on the season, time of day, and weather, your hike may be spectacular or burdened with thousands of obnoxious insects bothering you the entire time. From late fall to early spring, insects are less of a concern, and that is when I really enjoy hiking more. As the summer progresses, I head to higher and higher country to stay away from the droves of blood-sucking little critters. Then, when cool weather returns, I head back down.
General Insect Protection
Wear long-sleeved shirts and long pants. Very light-weight, light-colored clothes can be very cool and they keep most of your skin protected. I have a Buzz-Off shirt and pants that I've been using for two summers. I haven't gotten ticks or mosquito bites while wearing them, so I am very happy with the product.
Wear light-colored clothes. Lighter colors make it easier to see insects while they are still on the outside of your clothes.
Tuck pants into socks. This keeps ticks and other crawlies from getting inside your pants legs.
Wear a hat for both sun protection and keeping insects out of your hair.
Wear an insect screen hat, jacket, or full body suit. These look kinda dorky, but they really keep the mosquitos and everything else away from your body.
After your hike, take a shower and check all over your body for ticks.
Ticks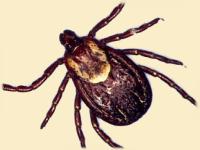 Ticks seam to appear magically while hiking. They can't really fly, but sometimes I wonder how one could have gotten on me without some means of air travel. I hate ticks. I think they are about the most disgusting looking insect around, especially when they're puffed up with blood. Yuch!
Ticks are mostly just a nuisance. They silently and painlessly bite their way into your skin where they suck up your blood. Usually, you find them before they start eating because it takes them awhile to find a good spot and then work their fangs into you.
Preventing Ticks
Avoid brushy areas and tall grass. Try to walk in the middle of the trail and avoid hanging branches.
Sunny, dry areas can still have ticks, but fewer than shady, damp areas.
Wear Permethrin treated clothes or spray it on your clothes. It kills the ticks rather than repelling them and lasts through many washings of your clothes.
Use DEET-based insect repellents on exposed skin. A 25%-30% solution works super from my experience. I mix 2 ounces of 100% DEET with 6 ounces of 4.7% DEET "OFF! Skintastic" pump spray repellent for a 28% solution that works great.
Check each other for ticks when you stop for breaks.
Removing Ticks
Wipe the wound area with an alcohol wipe.
Grasp the tick with a sharp pointed tweezers right down where it is entering your skin.
Pull it straight away from your skin with a slow, steady pressure. Don't yank it; don't twist it; don't rock it back and forth.
Even removing the tick as efficiently as possible may leave some of its mouthparts in your skin. If this happens, pinch up a fold of skin that contains the bite area and carefully scrape the skin containing the mouth parts with a scalpel or razor blade. Or, use a sterilized needle to break the skin and remove the mouth.
It's very important to thoroughly clean the wound with antiseptic.
If you're concerned with the possibility of Lyme Disease, keep the tick in a film canister or between a piece of folded tape and take it to a public health lab for inspection.
Mosquitos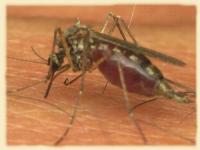 The big deal at the time of creating this page is West Nile Virus. It has spread across the country from the southeast and there are now cases reported in virtually all states. It is still a very tiny risk, but that may change as it progresses. Even without the West Nile virus, mosquitos suck! They buzz around your face, constantly bothering you. Then, when they do bite, it itches like the dickens.
Preventing Mosquitos
Use DEET-based insect repellent in a 20% solution. Spray it on exposed skin to stop mosquitos from landing. Be sure to wash it off in the shower as soon as you get home.
Wear Permethrin treated clothes. Either buy pre-treated shirts and pants like "Buzz Off" or treat yourself with permethrin sprays.
Hike during the morning and early afternoon. Be off the trail before sunset to avoid the peak mosquito hours.
Hike on open, sunny trails rather than in shady, protected forest. The views are better, the wind will blow mosquitos away, and the drier air is harder on bugs.
Burning citronella candles can help keep mosquitos away from an area, but wind will blow the smell away easily.
Treating Mosquito Bites
Don't itch it! That just causes more damage and possible infection.
Wash the bite area with soap and water.
Apply an anti-itch medicine such as Calamine lotion. There are anti-itch sticks that you daub on the bite and they work good for me.
Spiders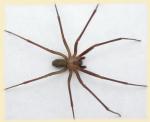 You may not know it, but all spiders are poisonous. Cool, huh? It's just that there are very few that have poison powerful enough to bother humans. But, those that are dangerous are bad – black widows, brown recluse, tarantula, sac spider, and funnel-web spider. Spider bites are actually very rare and a victim may not realize he's been bitten for hours afterwards.
Preventing Spider Problems
Never reach someplace that you can not see – under rocks, into holes, around branches.
Shake out clothes, gloves, boots before putting them on.
When hiking through trees, being tall, I often get spider webs in my face that shorter people have walked under. In those places, I hike slower, point the end of my hiking stick out ahead of me and move it in a circle to catch the webs 4 or 5 feet before I reach them.
Look before you sit down or lean against a tree to rest.
Wear gloves when doing any outdoor work.
Treating Spider Bites
Wash the bite area with soap and water.
Place ice pack or cold water towel on bite area.
Elevate and rest the wounded spot to reduce swelling.
Watch for symptoms and record them.
Call or visit a doctor as soon as you can.
Try to identify the spider. If it is available, take the spider's live or dead body with you to the doctor.
Bees and Such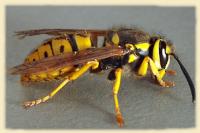 Bees, wasps, hornets, yellow jackets, . they are everywhere and they are beneficial to our environment, but they can sure be a pain. As a kid, I used to put honey on my finger and let bumblebees climb on and lick it up – never got stung. My mom said I was stupid and lucky. Stings from these critters hurt a lot and, for about 1% of humans, they can be deadly. If you've been stung and you know its not a big deal, don't take stings lightly when they happen to someone else.
Honey bees have a barbed stinger and it gets stuck in your skin so they can only sting once. But, yellow jackets and hornets have no barbs and can sting repeatedly.
Preventing Stinging Problems
Avoid wearing bright or flowery patterned clothes. You may attract a bee looking for flowers. Wearing light-colored clothes, like tan or white, is good.
Avoid perfume and scented lotions.
Avoid wearing shiny jewelry.
Avoid strongly odored food that may be attractive.
Don't drink from cans – a bug may have gotten inside trying to get to the sweet liquid. Look in your cup before you drink from it.
Keep your food and garbage sealed in plastic bags.
If a bee or wasp is bothering you, slowly move away down the trail. Swatting at it or rapid movement can provoke an attack.
Treating Stings
Stay Calm. Getting excited will just speed up the blood flow and spread of venom.
If the insect is still attacking you, brush it off and leave the area quickly.
If the stinger is still stuck in you, remove it by scraping it off with a credit card or pulling it off with a tweezer. It has been recommended that using a tweezer can force more venom into the wound, but more recent studies say that removing the stinger as quickly as possible is more important. So, use what you can to get it out.
Apply ice or cold water to the sting area.
Control itching and swelling with over-the-counter antihistamines.
Don't itch or rub the sting spot.
If allergic reaction symptoms appear or the victim is known to be allergic, get medical help immediately. Symptoms include difficulty breathing, swelling of tongue, mouth, or throat, and hives.
There are other bugs that can bother you while hiking. Chiggers, flies, and other crawling, creeping, swarming things that are all just part of the wild. Be aware of the kinds of insects to be found in the areas you hike and be ready in case of an encounter with them. Having a wilderness first aid booklet along is always a good idea, too.
Or, read more about:
Bothered by Blisters
Knee & Leg Problems
May 01, 2012 – Steve
May 01, 2012 – Hiking Dude
Steve – ExOfficio.com or Orvis.com are two spots. You can also just search online for Buzz Off Clothing.
Nov 06, 2012 – JUANITA RIECHERS
I'm from Tucson AZ, and recently we had three hikers around Phoenix AZ attacked by a swarm of bees. Two hid in caves to get away and were stung many times, but the third so viciously attacked he couldn't see where he was going and fell off 150 cliff and died. Is there anything we can carry to prevent this? Smoke bombs. Yes, we have killer bees. They don't need to be provoked before attacking. Thanks
Nov 06, 2012 – Hiking Dude
Juanita – There's not much you can do besides staying on the marked trails so you don't disturb the bees. Once you're under attack, the recommendation is lay down and curl up, protecting your face. Running away doesn't help unless you can run into a house or jump into a water source.
Apr 06, 2015 – wayne
I just saw the show Naked and Afraid and they had a huge mosquito problem. They did a smoky fire; what else could they have done? I know I probably will not end up in the woods naked.
Apr 06, 2015 – Hiking Dude
@wayne – They could have NOT participated in such a silly 'reality' activity. But, some options would be: covering in mud and letting it dry, staying in open, windy, dry areas, and fanning with large leafs.
Jun 26, 2015 – Mindy
Aug 23, 2015 – brokkenpiloot
Do not treat your tick bite with alcohol before you remove the tick! Although its less clean during the procedure treating the tick area with alcohol may result in the tick "throwing up" straight into your bloodatream increasing chance of blood poisoning and lymes disease
Oct 15, 2015 – Patrick O'Brien
What's a good, multi-purpose bug spray you before going into the woods? I was stung recently by a wasp and the pain felt like I'd been stabbed with a hot needle. And the swelling and itching afterwards lasted three days. There are some natural products out there, but are they any good? I would rather use one of them than a petroleum based product or one with a lot of chemicals.
Oct 18, 2015 – Hiking Dude
@Patrick – There is no bug repellent for wasps, yellow jackets, and the like. They attack, they don't bite you for a little snack.
I got stung two separate days on the A.T. and I know what you mean about the 'hot needle'.
Oct 28, 2016 – Rylai
We do share the same frustration and worry about insect or bug bites, have you tried using this bit.ly/LaukatiLimited – seems recommended especially for people who regulary hike or go to camping activities
Oct 28, 2016 – Hiking Dude
@Rylai – I have tried similar products to those wristbands and they are all worthless, in my opinion. Maybe if there was absolutely no breeze and you sat in the exact same spot, they might help. Otherwise, the smell just blows away from you and does nothing.
Oct 29, 2016 – Rylai
Jan 16, 2017 – Deborah Funderburk
Your page has been helpful. I was bee and was and yellow jacket phobic as a child growing up in a wooded area outside Atlanta Georgia. I love the woods but not stinging and biting critters. I'm retired and living in Florida now. I have discovered with mosquitoes you can press your fingernail into the bite not hard enough to break the skin but hard enough to hurt a little and leave an imprint. Then make a second imprint across the first mark making a cross or x mark. Or you can make the mark four times and make a hashtag or number sign like a little tick tack toe board. This releases it but it may have to be repeated. My experience is if you catch it quickly it works better. I was told this method for mosquitoes bites by an Alabama country girl who had lived on Palau island awhile. I have since read the same stuff on acupressure websites. I doubt if it will work on bee stings especially if there's a stinger in there. On trails you have to go off the path to potty and bury it. So how do you avoid accidentally stepping on yellow jacket nest or desturbing a bush with a wasp nest or stepping on a snake?
Jan 16, 2017 – Hiking Dude
@Deborah – Well, you keep your eyes open and watch what you're doing. Over the hundreds of times I've done it, I've never had a problem with wasps, snakes, or anything like that.
Jun 28, 2019 – Sue
Jun 28, 2019 – Hiking Dude
@Sue – Yes, they are. A clothing layer is the only/best way I know of to stop them from biting. My mesh jacket and pants to a great job.
Aug 03, 2019 – melissa
Hey there: thanks for the great article. I live in NW CT, an exceptionally buggy and humid place in summertime. I hike daily and have yet to buy one of those hats with the bug nets in them. Do you recommend a particular brand? It is mostly for those awful deer flies and those small gnat-type bugs that constantly fly into my eyes. Thanks again for the article and your time.
Aug 03, 2019 – Hiking Dude
@Melissa – I certainly recommend bug nets, but no particular brand. I use Coghlan's jacket and pants, and they have worked well. There are many brands to choose from and they are pretty much a commodity, so I'd just get the least expensive and lightest available.
Hike On!
Jul 12, 2020 – Roland
On a hiking trail in Provo, UT there is a place with water on the ground. You can avoid stepping in it, but there are wasps everywhere attracted to the water and you have to walk through them to continue on the trail. Is getting stung here much of a danger? Will you avoid getting stung if you walk through the wasps to the other side of the trail? Thank you.
Jul 12, 2020 – Hiking Dude
@Roland – Yeah, any time you walk through a swarm of wasps, hornets, bees, . there's a chance you'll get stung.
If it's a dozen, I wouldn't be too concerned. If it's more, I'd consider turning back or detouring off the trail to go around.
If this is a managed trail that gets traffic, I'd just let the land management agency responsible for it know about the spot so they can decide if anything needs to be done.
Source https://www.mountainiq.com/hiking-in-ireland/
Source https://theworldpursuit.com/hiking-in-ireland/
Source https://www.hikingdude.com/hiking-bugs.php