Has Anyone Died Hiking Angels Landing?
Pehaps the most well-known hiking trail in Zion National Park, Angels Landing is an exciting day hiking opportunity for anyone on a trip to one of the United States' most popular national parks. The hike gains some 1,488 feet (453m) over 2.7 miles (4.2km) of strenuous uphill climbing providing hikers with some of the bests views in Zion National Park.
Angels Landing starts at the base of Zion Canyon and follows a narrow, highly exposed ridge to a summit with panoramic views. The hike is so steep that hikers almost always need to use their hands and feet to scramble up to the summit.
While a chain anchored to the ground offers hikers a good hand hold for the steepest and most narrow section of the climb, anyone who looks at the hike has to wonder:
Has anyone died hiking Angels Landing? Unfortunately, it is true that people have died hiking Angels Landing. In fact, the National Parks Service has recorded a total of eight deaths on Angels Landing since 2004, with all of them as a result of falling off the trail's steep cliffs.
Coming up, we'll talk about the dangers of Angels Landing and the hike's history of accidents. We'll even give you some information on the hike so you can decide if Angels Landing is right for you! Here we go.
Angels Landing isn't the only trail in Zion National Park where people have died. Indeed, Zion National Park has recorded over 30 deaths by falling on nearly all of the park's maintained trails. While Angels Landing has seen 8 falling deaths since 2004, the Emerald Pools come in with a close second with 7 falling-related deaths in the park.
Here are some of the stories of falls on Angels Landing:
13 year old who died on Angels Landing
One of the most recent deaths on Angels Landing happened in February of 2018, when the body of a 13 year old girl from Southern Utah was found in Refrigerator Canyon, near the West Rim Trail. Park Rangers and investigators believe that she died from a fall from Angels Landing.
The girl, who was hiking with her extended family in Zion, continued on a day hike up the trail alone after her family decided to turn back. Beyond that, investigators know little about the circumstances surrounding her death.
The view of the Virgin River from Angels Landing
Staying Safe on Your Angels Landing Hike
While the death toll on Angels Landing is enough to instill fear in the hearts of any would-be hiker, the Park Service maintains that the trail itself is suitable for experienced hikers with a good head for heights. Although the trail is steep, with plenty of exposure to the canyon floor below, conservative and skilled hikers can make their way up the 1,500 foot ascent to the top of Angels Landing with minimal issue.
Of course, while anything can happen in the backcountry and no hike, especially one like Angels Landing is without risk, the National Park Service has taken large measures to help ensure the safety of hikers on Angels Landing. This includes installing chains as a hand rail for hikers on the steepest and most exposed section of the trail, some half mile from the top.
However, overcrowding on the trail, foul weather, inadequate footwear, and exceeding one's own abilities can put a hiker at risk of injury or death on Angels Landing. If you're looking to hike Angels Landing, here are our top tips for minimizing your risk:
Only hike if you're comfortable with it. A hike up Angels Landing is NOT the time to push you or someone else into trying new things, especially if they're unsteady on their feet or uncomfortable with heights. Anyone hiking Angels Landing should be comfortable with the risk their assuming by making the climb.
Wear the right footwear. Sandels, flip flops, penny loafers, and other non-technical hiking footwear are not appropriate for Angels Landing. Come prepared with proper hiking shoes or boots for the hike.
Hike at off-peak times. Angels Landing is very popular, which means the trail is often overcrowded, which increases everyone's risk of a fall, especially at the narrow sections of the path. While you can't control other people's actions, you can choose to travel to the park outside of peak season (read: summer) and plan to hike Angels Landing during the week instead of a weekend.
Make smart choices. While you might be tempted to stand close to the edge of the trail for an awesome selfie, ask yourself: is this worth the risk of a fall? If not, perhaps reconsider your actions.
Hike conservatively. Be deliberate with your footsteps and food placement, especially on the steepest and narrowest section of the trail. If someone wants to pass you, stick to the uphill side of the trail so they don't accidentally knock you over. Try not to be aggressive with passing others on the trail so no one loses their balance.
Be willing to turn back. If, at any point, you or someone in your hiking group feels uncomfortable with continuing up the trail, you should consider turning back. You can always stop at Scout Lookout, which offers great views while avoiding the most exposed final half mile of the trail.
Angels Landing in the distance
How long does it take to hike Angels Landing?
Angels Landing gains 1,488 feet (453m) of elevation over 2.7 miles (4.2km) one way, making it one of the most strenuous trails in Zion National Park. Due to the elevation gain, the narrow path, and overcrowding, don't expect to run up to the top of Angels Landing for a quick hike. For most people, a hike up Angles Landing takes about 3-6 hours roundtrip, so be sure to factor that in when planning your hike.
Can you hike Angels Landing in the rain?
While you can hike Angels Landing in the rain, it's not really recommended. Due to the trail's steepness and exposure, you don't really want to add an additional hazard to your hike. A slippery foothold can be bad news when you're almost 1500 feet above the canyon floor, so if you're considering hiking Angels Landing in the rain, you should ask yourself: Is this worth it?
That being said, rain isn't the only potential hazard on Angels Landing. Even in the desert, trails can get covered in snow and ice, which poses yet another danger to hikers, especially when on Angels Landing. So, if you're planning a hike up Angels Landing, check the weather and trail conditions before you go.
How many people hike Angels Landing a year?
Although the National Park Service doesn't keep records of precisely how many people hike Angels Landing each year out of the 4.3 million annual visitors to Zion National Park, tens of thousands attempt to hike the trail. As one of the most popular hikes in Zion, you won't find peace and solitude on Angels Landing, in fact, your hike will likely be far from a serene getaway from the crowds.
Interestingly enough, however, the vast majority of people who attempt Angels Landing never make it to the summit. While many people turn back early on because of exhaustion or discomfort with the exposure, many hikers stop at Scout's Lookout, which is a nice viewpoint before the steepest section the trail.
Steep switchbacks on Angels Landing
Hiking Angels Landing with Kids
While introducing your kids to the great outdoors has innumerable benefits, Angels Landing is probably not the place to do it. Due to the steepness of the trail and its exposure, Angles Landing is not a family-friendly adventure.
Indeed, unless you're sure and stable on your feet, comfortable with heights, in good physical shape, and an expeirenced hiker, Angles Landing really isn't right for most adults, let alone young kids. For the most part, we wouldn't recommend taking young children up Angles Landing because the risk of them running around out of control on a steep section of the trail is just too high.
If you're considering bringing your kid on Angles Landing, they should probably already be an experienced hiker with plenty of trail and scrambling experience. They should be able to keep a cool head while scrambling through exposed terrain and should be focused and determined enough to listen to what you say and take the hike seriously.
Generally speaking, we wouldn't even consider bringing anyone younger than a teenager on this hike, but that's a decision every hiking family needs to make for themselves.
Final Words
Hiking Angels Landing can be an exhilarating experience for any outdoor adventurer. However, the hike is steep, exposed, and has a history of fatal accidents, so it's not to be taken lightly.
As with any committing hike, you should feel sure on your feet, comfortable with heights, and be willing to assume the risk of injury or even death when setting out to hike Angles Landing. Be wary of hiking at crowded peak times, wear the right footwear, and check the weather before you go. But, above all, don't forget to enjoy the adventure and the views! Happy trails!
Why do so many people die at Angel's Landing?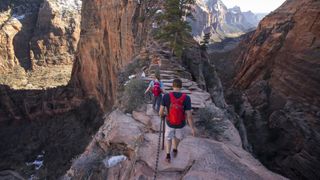 Angel's Landing is the most popular hike in Utah's Zion National Park, its death-defying ascent making it a bucket list item for many of the park's millions of annual visitors (Image credit: Jordan Siemens)
Angel's Landing is the most popular hike in Utah's Zion National Park, its death-defying ascent making it a bucket list item for many of the park's millions of annual visitors. It's also the Park's most deadly hike, with 14 deaths reported since the year 2000. We set out to answer the question, why do so many people die at Angel's Landing?
What is Angel's Landing?
Angel's Landing is a 1,488ft tall rock formation occupying the Big Bend of Zion Canyon (Image credit: Michal Lotocki / EyeEm)
Angel's Landing is a 1,488ft tall rock formation occupying the Big Bend of Zion Canyon and is one of the most famous landmarks in Zion and indeed the world, and rightly so. This precarious trail takes you up a hair-raising narrow rock fin covering 1500ft in elevation gain in only 2.5 miles of climbing. The trail is strenuous and often single file, making it a popular feat with thrill seekers, and at the top you are treated to views that most would be willing to hike days for.
The first ascent of Angels Landing was reported in the Washington County News in 1924, at which time the landing was dubbed the "Temple of Aeolus". In 1926, a trail was carved into the solid rock on the spine – the fin-like summit ridge – after the construction of Walter's Wiggles, a series of 21 switchbacks that connect the spine to the West Rim Trail.
On the Yosemite Decimal System scale, the hike is given a rating of 3 (moderate, but exposed scrambling), which puts it in company with many other popular hikes around the globe – Scotland's Aonach Eagach Ridge, the Sawtooth on Colorado's Mt Evans, Crib Goch on Snowdon, or any of a hundred or so hikes in the Italian Dolomites – where recorded deaths are low by comparison.
Angel's Landing hike
Why is Angel's Landing so dangerous?
The ridge is well protected by fixed chains, in places the trail narrows to no more than a few feet wide (Image credit: picturist)
In the last 21 years, 14 people have died on Angel's Landing. According to the US National Parks Service (opens in new tab) , the greatest dangers faced by hikers on any trip are encountered on the drive to and from the trailhead. The wilds, after all, are home to far fewer hazards than your average road or freeway, and unless you are either particularly careless or strolling through bear country smothered in honey, the odds of making it back home in one piece are stacked in your favor. This being so, when one trail begins posting inordinately high death rates, our curiosity is piqued.
Far from an indulgence of any fascination with the macabre, our wish in creating this post is to alert would-be Angels Landing summiteers to the trail's dangers and bring attention to a worrying trend that threatens to impact the safety of trails far beyond this small corner of southwest Utah.
Is Angel's Landing too crowded?
It's estimated that up to 1,000 people per day take on the Angels Landing hike in peak season (Image credit: Jordan Siemens)
Almost 4.5 million people visited Zion National Park in 2019 and it's estimated that up to 1,000 people per day take on the Angels Landing hike in peak season. For any landmark, that's a lot of foot traffic. For one where visitation requires a scramble up and along a narrow ridge with a 1000-foot drop on either side, occasional fatalities seem less of a surprise and more of an inevitability.
The law of probability alone dictates that any trail hiked by hundreds of thousands of people every year is likely to see its fair share of accidents. However, while on most trails an errant step, slip, or stumble may result in a grazed knee, bloodied hand, sprained ankle, and/or a touch of embarrassment, Angels Landing's slim margins for error and vertical drops mean that the consequences of the slightest mistake are graver by far.
The trickiest section of the Angels Landing hike begins at Scout Lookout, the saddle that connects the West Rim Trail to the 0.5-mile ridge walk that constitutes the Angels Landing Trail proper. From here, hikers still have 500 feet of ascent before reaching the summit, and things soon take a turn for the airy and scary. While the subsequent ridge is well protected by fixed chains, in places the trail narrows to no more than a few feet wide, creating bottlenecks and traffic jams sometimes 50-100 people deep. And among those waiting in line, alas, there are always likely to be at least a few whose patience falls short of the proverbial saintliness and who try to hurry other hikers along or skip by them, thereby putting themselves and others at risk of a tumble.
Is Angel's Landing too accessible?
While one of the principal beauties of hiking is its inclusiveness and lack of bureaucracy, but hopefully the new permit system at Angel's Landing will reduce crowding and make the trail safer (Image credit: gelyngfjell)
While the Angels Landing hike is no Everest, a side-by-side comparison of how accessible each peak is can tell us a lot about why Angels Landing receives so many visitors, and perhaps why the number of recorded deaths has been so high over recent years.
Climbing the world's highest mountain requires jumping through a few sizable pre-emptive hoops. For starters, you'll need a wad or two cash – current permit fees on the Nepali side are not much less than $20,000 and other expenses (guides, porters, oxygen, transportation) can set you back as much again. Secondly, you'll need a very understanding boss and/or spouse – climbing Everest entails blocking around 60 days out of your schedule at a minimum. Thirdly, as of 2019, Everest aspirants are only granted a permit by the Nepalese authorities if they have already climbed at least one Nepalese peak of more than 21,235 feet (6,500 meters). You'll also have to submit a certificate of health and fitness and be accompanied by a trained Nepalese guide.
And Angels Landing? Other than the park entrance fee and enough gas in the tank to see you to the top, until recently you needed nothing at all. However, Zion introduced a lottery system in April 2022 to help control overcrowding, so hopefully there'll be fewer accidents caused by overcrowding in future.
While one of the principal beauties of hiking is its inclusiveness and lack of bureaucracy, a little red tape is sometimes necessary to keep everyone safe. The new system at Angels Landing allocates permits via two lotteries. If you want to hike tomorrow you can enter the daily lottery to secure a spot on the trail at a specific time, or if you'd like to plan your adventure in advance you can enter the seasonal lottery to snag a space on a particular date.
Having a set quota for permits means some people may miss out, but it controls the flow of people, and should reduce both time spent queuing and potentially dangerous bottlenecks.
Is social media to blame?
Social media has played a very big part in the increase of visitation to Zion in general (Image credit: Jordan Siemens)
Blake McWillis of Utah's Epic One Adventures (opens in new tab) guiding agency told us that it's hard to underestimate the role of social media and peer pressure in the trail's surge in both popularity and deadliness.
"Social media has played a very big part in the increase of visitation to Zion in general. If you look at historical visitation numbers, even up to 2010, the park was getting under 3 million visitors per year. When Utah's Mighty 5 Campaign (opens in new tab) began around 2012 we saw a definite increase in visitors to the parks. In addition to that, this is when social networks really exploded, and I think it was a combination of the two that really drove the numbers up and made Zion the fourth most visited national park in the entire national park system and increased traffic on trails like Angels Landing.
"You get a lot of people doing it who aren't capable or might not ordinarily have chosen to do it, whether that's because of peer pressure or because their group wants to do it and they don't want to be left behind. With those that fall, it ultimately comes down to being careless and not paying attention. And I think hubris comes into it."
This claim is backed up by a simple Google or Instagram search, where a quick perusal of the results will reveal no shortage of snaps featuring hikers performing handstands and yoga poses on the edge of the cliff, and at least a few thousand pairs of feet dangling in the ether some 1,000 feet above the nearest landing spot.
Therein lies at least part of the problem.
The internet has a tendency to normalize the abnormal and extreme by dint of exposure, to defuse the (often healthy) fear surrounding the unknown by familiarizing us with it from a safe distance. While in some contexts this may be beneficial, in the case of derring-do and ventures into extreme terrain, it can border on criminal negligence.
Influencers and attention-seekers posing on the edge of perilous cliffs in a bid to bank a few 'likes' are – inadvertently, perhaps – providing the "inspo" for countless followers and fellow attention-seekers to do likewise, or at the very least venture into hazardous terrain without adequate experience, know-how, or caution.
Do weather conditions play a role?
A peek over the edge of the Angel's Landing hike reveals why you wouldn't want to be up here in a rain storm (Image credit: artiste9999)
As with any trail, what the weather's up to can impact how safe Angels Landing is for hiking. The red Navajo Sandstone rock in Zion National Park is renowned for providing excellent friction, but the passage of millions of feet over the years has polished some sections of the trail to a slick and slippery shine, something that can make it particularly precarious following rainfall. The chains are also harder to grasp when wet.
However, as McWillis explains, conditions underfoot aren't the only issue.
"If you're doing it in the summer, you're going to experience a lot of heat exposure, especially later in the day, so be sure to bring plenty of water, a sun hat, sunglasses, and something for your neck. That's just as important because heatstroke is something the park deals with quite a bit." Given that two of the main symptoms of heatstroke are dizziness and confusion, neither of which are conducive to safe travel on knife-blade ridges, we're apt to agree.
Is Angel's Landing really that dangerous?
Of the many people who do the Angels Landing hike, it's a very small percentage who have an accident (Image credit: The Good Brigade)
All of the above is the bad news. The good news, as McWillis states, is that "of the many people who do the Angels Landing hike, it's a very small percentage who have an accident."
Because the park has not yet implemented a permit system, the exact figure of Angels Landing summiteers is unknown. Even if working with a moderate estimate of 150,000 summiteers per year, however, the death toll would stand well below the 0.0001% mark over the last decade. Not only are these very good odds for survival, they also make Angels Landing a far safer venture than the headlines would have it appear and far less deadly than other popular National Park trails like the Mist Trail on Yosemite's Half Dome, Colorado's Longs Peak, or the Grand Canyon's Bright Angel Trail, all of which have a similar Yosemite Decimal System rating.
How to hike the Angels Landing Trail safely
Planning a trip to Angels Landing? Here are a few tips to help you stay safe:
Get a permit: the National Park Service carries out regular permit inspections, and you won't be allowed to start unless you have one. You can enter the two lotteries for permits online
Wear appropriate footwear: either a pair of hiking boots or your best hiking shoes (not sneakers or sandals)
Don't bring the kids: the exposure on the route can spook even the most cool-headed adults, and many guiding agencies in the area will not take families with young kids (under 12)
Go early in the day: this will help you avoid the worst of the crowds and the afternoon heat
Avoid when icy: unless you have mountaineering experience and plan on using crampons or microspikes and an ice axe, attempting the route in icy conditions is not wise
Go in the shoulder season: the park is busiest from April to October, so March and early November are better times to visit for quieter trails
Practice patience: attempting to skip the line at the bottlenecks will take you perilously close to the edge and place the chains out of reach
Skip the on-the-edge selfies: lives are more important than likes
Go home: if the trail ahead is looking crowded or you're feeling tired, heat-stricken, or at all uneasy about taking on the spine, the safest course of action is to do an about-turn, return to the valley, and go enjoy one of the dozens of other outstanding trails the park has to offer
How many people died while hiking angels landing in utah
How Many People Have Died On Angels Landing?
There has been a bit of confusion about how many people have died on Angels Landing in Zion, so here is what seems to be the most accurate figure.
First of all, there were 12 deaths on Angels Landing from 1908 to 2016. This is according to the definitive book Deaths And Rescues In Zion National Park (2nd Edition), which was written by Zion veteran Dave Nally and Bo Beck, a senior search and rescue member in Zion for 20 years.
This means when you add the 5 recent deaths that have happened on the trail since 2016, you get a total of 17 confirmed deaths on the Angels Landing hike as of 2022.
One thing is for sure — Angels Landing is one of the most dangerous hikes in the Unites States, and plenty of people have died hiking it.
Angels Landing Deaths List
This Angels Landing deaths list is the most complete list of its kind available on the internet at the time of writing (2022), although some details are still missing.
The news reports in this list confirm that there have been at least 16 falling deaths from Angels Landing as of 2022.
2021 March – Jason Hartwell, age 43, of Draper, Utah, fell from the summit of Angels Landing. (Source:Salt Lake Tribune)
2019 November – Savannah McTague, age 19, of Newport, Maine, fell from Angels Landing. A spokesperson from Zion National Park said environmental factors may have been a cause. (Source:Portland WGME)
2019 April – Pradeep Beryl Solomon, age 35, of Salt Lake City, Utah, fell from the north side of Angels Landing. (Source:Deseret News)
2018 February – A 13-year-old girl from Colorado City, Utah, (name unreleased) was visiting the trail with family and fell to the Refrigerator Canyon south of Angels Landing. She was hiking alone when she fell. (Source:Salt Lake Tribune)
2017 March – Tate Ryan Volino, age 45, of Osprey, Florida, fell to the Refrigerator Canyon south of Angels Landing. (Source:Salt Lake Tribune)
2010 April – Regine Milobedzki, age 63, of Upland, California, fell 1,000 feet from a ledge near Scout Lookout. (Source:Salt Lake Tribune)
2009 November – Tammy Grunig, age 50, of Pocatello, Idaho, fell approximately 1,000 feet from the north side of Angels Landing. Her fall was witnessed by other hikers who called 911. (Source:National Park Service)
2009 August – Nancy Maltez, age 55, of Glendora, California, was hiking with family when she fell more than 1,000 feet off the north side of Angels Landing. (Source:Mercury News)
2007 June – Barry Goldstein, age 53, of St. Louis, Missouri, fell several hundred feet while descending the trail. A nearby witness said Goldstein was 'goofing off' near the edge and the ground 'crumbled' under his feet. (Source:Deseret News)
2006 August – Bernadette Vandermeer, age 29, of Las Vegas, Nevada, fell more than 1,000 feet from the top of Angels Landing while hiking with her husband. (Source:Deseret News)
2004 June – Kristoffer Jones, age 14, of Long Beach, California, crept out to a narrow ledge and tried to scratch his name into the side of the cliff as part of a $5 bet with some other boys. Kristoffer was hiking with kids from a Provo Boy Scout troop. His mother later sued for lack of supervision by the adults in the group. (Source:Salt Lake Tribune)
2003 January – Dorothy Kaiser, age 66, of Joshua Tree, California, fell 900 feet near Scout Lookout. There was some speculation that her death may have been suicide, since there were no witnesses and she had a terminal illness. (Source:KSL)
2000 August – Georg Sender, age 63, of Illertissen, Germany, fell 10 or 15 feet and hit his head near the top of Angels Landing. He was wandering off the main trail when the accident happened. (Source:Deseret News)
1997 January – John Christensen, age 36, of Provo, Utah, was rock climbing on the cliff face of Angels Landing when a botched rappel caused him to fall. It's suggested Christensen may have been struck by a falling rock, causing him to lose his grip on the ropes. (Source:Deseret News)
1989 April – Jeffery Robert Dwyer, age 28, of Sandpoint, Idaho, fell 150 feet from a rock pillar. His death was labeled suspicious because a lot of blood was found at the top. It may have been a suicide or homicide, but no one knows for sure. Ultimately, it's been listed an accident. (Source:Deseret News)
1987 May – A woman from Denver, Colorado (name unreleased) lost her footing and fell 250 feet while hiking near the final section of Angels Landing. (Source:Deseret News)
As you can see, from 2017 to 2021, an average of one person per year fell and died at Angels Landing. The number of incidents seems to be increasing, although it may just be because there are more total hikers in Zion than ever before.
Again, the reason I'm sharing this information is to motivate you to be as safe as possible at Angels Landing, and also so you can make an informed decision about whether it's the right hike for you. I don't want to discourage you from doing this hike if you're able.
How Did They Fall?
These are always the big questions in my mind when I hear of tragic accidents like this: "How did they fall? What happened? How can I avoid this happening to me or my friends?"
Every case is different and unfortunate, but it does seem like at least some of these deaths were clearly avoidable. Kids shouldn't be doing this hike unsupervised, and of course you can't goof off near the edge of a 1,500 foot cliff.
These Angels Landing death stories are still tragic, but diving into the details gives a clearer perspective of the risk level for an average hiker, and it shows that accidents like this are less likely to happen if you're being careful.
The last time we did this hike in 2021, we saw a couple of young guys foolishly walk over to the edge of a sheer 1,500 foot cliff and crawl partway down the side for 'cliffhanger' pictures. I consider myself a bit of an adrenaline junkie, but I was certain we were going to witness their deaths.
Again, I don't want to imply that everyone who has died on the Angel's Landing hike was being careless or foolish. I don't know if that's the case, but it does seem like at least a few of them were.
If you're curious about more of the details surrounding the Angels Landing death stories and other close calls, I'd recommend you check out the book Deaths And Rescues In Zion National Park by Dave Nally, which explains some of the history of these kinds of incidents.
Other Angels Landing Incidents
There have also been plenty of close calls, rescues, and deaths on the Angels Landing hike that didn't involve people accidentally falling from the cliffs.
Here are a few of the most well known examples:
2016 May – Two hikers were rescued in one day. A man jumped off a rock and broke his leg, then a woman almost fainted from extreme fatigue after hiking without any sleep the night before (graveyard shift). (Source:National Park Service)
2013 September – Aammata Xaymounty, age 23, slipped and fell 30 feet near Scout Lookout, but a ledge and some thick brush kept him from tumbling 1,000 feet to his death. (Source:Deaths And Rescues In Zion National Park)
2010 March – In a dramatic close call, off-duty police officer David Bavencoff is credited with saving a girl from falling to her death by quickly grabbing her leg as she started to slide off the cliff. The U.S. Department of Interior gave him a Citizen's Bravery Award. (Source:Salt Lake Tribune)
2007 June – Mark Ertischek, age 60, of Anchorage, Alaska, died of a heart attack while hiking up the trail. CPR from nearby hikers was unsuccessful. (Source:Salt Lake Tribune)
Is Angels Landing Dangerous Or Safe?
I still think the Angels Landing hike is plenty safe and not too dangerous if you take it seriously.
The Angels Landing deaths list above doesn't really tell the whole story. For starters, more than 300,000 people successfully completed this hike in 2020. I've done it twice myself, and I'd happily do it again.
If we assume there's 1 death on the trail every year, out of 300,000 total hikers, that basically means there's a 0.0003% yearly fatality rate. However, if you're a safe hiker and you don't goof off, realistically, your odds of getting hurt are probably pretty close to zero.
That may not be the most politically correct way to say it, but I'm sure the National Park Service has had similar thoughts, and that's probably why the trail has remained open and relatively unchanged all these years.
For me personally, I have to say I didn't find Angels Landing too scary at all after doing some very sketchy hikes around the world where there are no chains to hold. I expected Angels Landing to be a lot worse than it is.
With that said, I would not recommend this hike for young kids, unfit older folks, or anyone who is not surefooted and comfortable with heights.
I also wouldn't attempt Angels Landing when it's windy, rainy, snowy, or icy. You want decent weather for this one so the rocks aren't slippery.
For safety sake, always make sure you have at least one hand on the chain.
This is especially important when you're passing other hikers going the opposite direction, because you'll be tempted to let go of the chain to get around them.
You don't want a passing hiker to trip you, bump you, or fall into you when you're not holding the chain. That could be lethal. No matter what happens, always put safety first.
If you're still feeling unsure about Angels Landing, you could hike Observation Point instead. It's another hike in Zion with stellar views of the whole park, and it doesn't have any of the safety risks or permit hassles of this hike.
Why Hike Angels Landing?
I know what you were probably thinking after seeing the list of how many people have died on Angels Landing: "Why would anyone want to do that hike?!"
Some people do Angels Landing for thrills or a challenge, but it's also extremely scenic, with some of the best views of Zion National Park surrounding you on all sides.
I'd still say the summit of Observation Point gives you a better overall view of Zion Canyon, but the views on the Angels Landing chain section are more unique, epic, and memorable.
In any case, Angels Landing is a fantastic hike, and I'm glad the National Park Service hasn't dumbed it down too much in the name of public safety.
If you're looking for a much safer hike in Zion with some of the same amazing views, I'd recommend Observation Point trail.
On the other hand, since permits are required for the Angel's Landing trail since 2022, that has reduced the crowds a bit and the overall safety of this hike is better than ever.
Angels Landing Lottery Permit System
Starting in 2022, the National Park Service requires day use permits (via lottery) for the Angels Landing chain section. This is a new pilot permitting system.
The reason for this change was because the trail was becoming very crowded, and oftentimes you'd be passing other hikers going the opposite direction, which was annoying and made it less safe for everyone.
I have mixed feelings about the change. While it's true Angels Landing was a crowded hike and some changes were needed, I don't know if a lottery is the best way to do it.
This is one of the main bucket list hikes that brings people to Zion, and for many people it's not convenient to plan their schedule around a lottery. The system seems a bit overcomplicated right now since it's brand new, but hopefully they'll iron out some of the kinks over time.
In any case, it's still an amazing hike, and you can find more details about how to get a permit in my complete Angels Landing hiking guide.
Where To Stay At Zion
Best Utah Tours
More Utah Travel Guides
Thanks for looking! I hope you were helped by this safety guide for the Angels Landing trail in Zion National Park, Utah.
Source https://trailandsummit.com/has-anyone-died-hiking-angels-landing/
Source https://www.advnture.com/features/why-do-so-many-people-die-at-angels-landing
Source https://theworldtravelguy.com/angels-landing-deaths-list/