Grand Canyon in November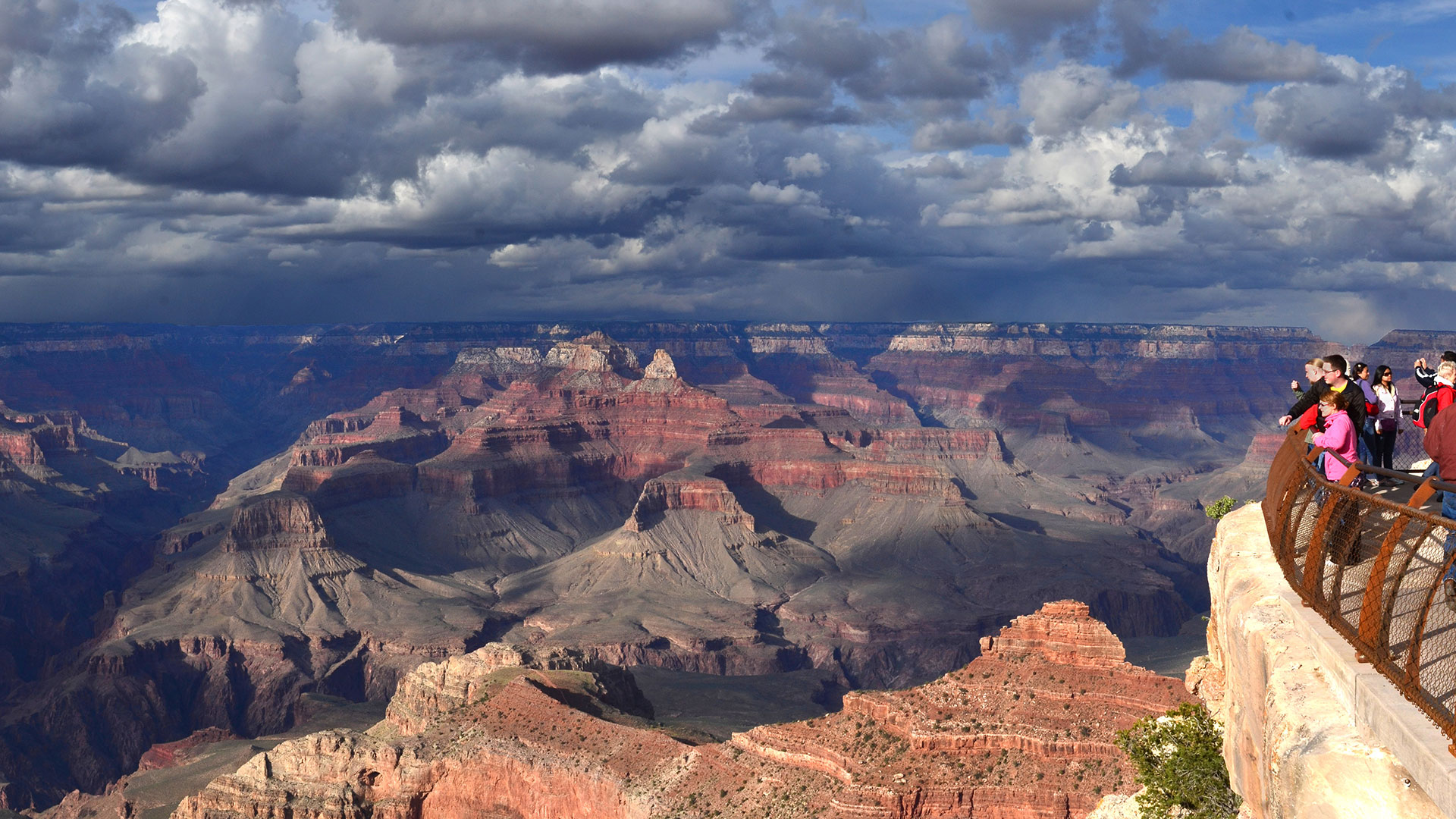 Visiting the Grand Canyon in November (Updated for 2022)
While most visitors come to Grand Canyon National Park in the summer and early fall, November can be one of the best months to visit the canyon. With fewer crowds throughout the park, travelers who enjoy a bit more solitude will really appreciate having a more peaceful canyon experience. Although temperatures drop and snow is possible, sunny days and warm temperatures are common and November can offer some of the best weather all year.
Below are a few ideas to help plan a November you'll remember at the world's grandest canyon. You definitely need to be a bit more flexible and adventurous this time of year but having the North Rim to yourself or enjoying a hike or backpack without hordes of tourist is well worth a bit of uncertainty. If you need some help planning your adventure, we specialize in Custom Trip Design for fully guided private tours and Professional Trip Coaching for self-guided and DIY trips.
Grand Canyon Guru is reader-supported. When you buy through links on our site, we may earn an affiliate commission. Thanks.
Go for a hike
Hiking the canyon in November is as good as it gets! While the masses hoof it up and down the South Rim trails in the sweltering summer months and backcountry hikers max out permits for September and October, November is a great time to hike. If you're interested in a day hike the South Rim and North Rim (if accessible) both have great options with a lot less traffic on the trail this time of year. If you like to backpack, permits are much easier to get in November, especially if you're willing to get on the wait list at the Grand Canyon backcountry office. Because roads are not maintained on the North Rim and facilities are closed after October 15th, it's usually better to stick with the South Rim for backpacking trips. If you need more information on hiking or backpacking check out the backcountry permit page on Grand Canyon's website.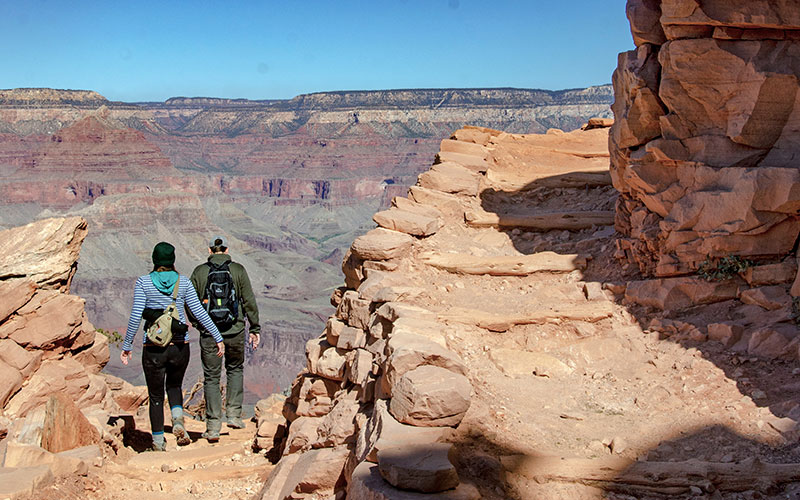 ​
Head to the North Rim
The North Rim is closed in November, isn't it? Facilities on the North Rim of the Grand Canyon including hotels, restaurants, stores, gas stations and park offices are closed after October 15th. The main road to the North Rim (Hwy 67), however, remains open until the first big snowstorm or until November 30th, whichever comes first. This means that for much of November you can stop at a viewpoint, do a hike, or hang out in a beautiful meadow all by yourself. If you need lodging the Jacob Lake Inn, about 45 minutes from the North Rim, is the closest place to stay and offers great off-season rates.
If the weather turns wintery, head back down to Marble Canyon and Lees Ferry to check out the Colorado River and the beginning of Grand Canyon. There are other great year-round lodging and restaurant options at nearby Cliff Dwellers Lodge and Vermillion Cliffs Lodge as well.
Check out the view
Everyone who visits Grand Canyon National Park wants to see an amazing view and you'll find one no matter where you are. Although it's nice sharing an awesome vista with your friends and family, huge summer crowds can dull the experience. With far less visitation, November is a great month to have a little more peace and quiet while you take in the canyon's splendor. On the South Rim, Desert View drive has many overlooks you can drive to in the comfort of your own car. Instead of trying to find out what other people say the best view is, check out all of them for yourself and find one where it's just you and the canyon.
If it's still busy along Desert View Drive, hop on the park's free shuttle and head to Hermits Rest. There are multiple scenic stops and an easy trail that parallels the road with numerous vistas to take in along the way. You can also head to Bright Angel bikes and rent a bike to cruise along Hermit Road instead. Hermit Road is only open to shuttles, hikers, and bikers so you can enjoy great views with a lot less visitation than other areas along the South Rim.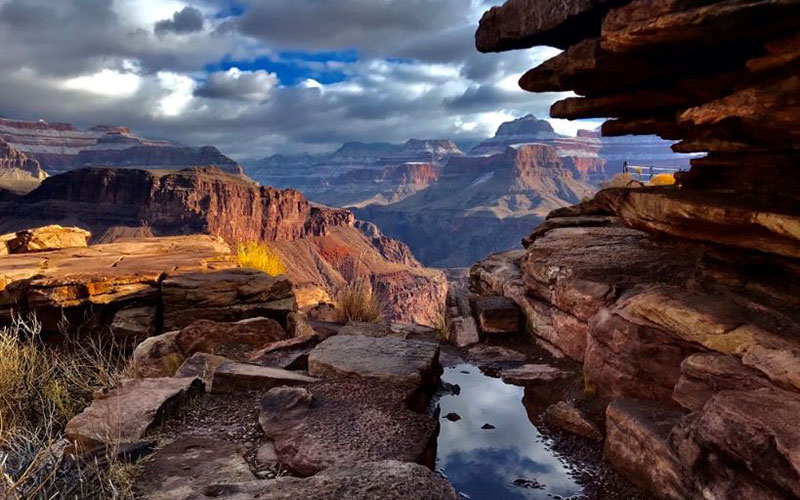 Seek Shelter and Stay Low
If the canyon does get some bad weather during your visit and the rim is blanketed in a fresh dusting of snow, get a photo! If it's just plain nasty, get inside. The El Tovar, Kolb Studio, Lookout Studio, Yavapai Geology Museum and Desert View Watchtower have amazing indoor canyon views as well as some cool art, exhibits, souvenirs and, in the El Tovar, some good drinks too. The Grand Canyon Imax in Tusayan (right outside the park) is also a warm and comfortable way to see the canyon, especially if winter weather is making it hard to get the epic real-life views you were hoping for.
If you still want to get fresh air and avoid the cold and snow, stay low. The lower your elevation, the warmer it will be, and you will be taking off layers in no time as you hike down into the canyon. If you're up for a hike to the bottom of the canyon, see if there's space for camping or lodging at Phantom Ranch. If you're interested in doing something a bit more mellow drive across the picturesque Painted Desert of the Navajo Nation to Lees Ferry. This is where Grand Canyon National Park starts and Vermillion Cliffs and Marble Canyon are great places to explore with a warmer landscape that is very different from the rest of the canyon. ​
Something to be thankful for
While a lot of people couldn't imagine Thanksgiving away from home, for others there is nothing more magical than experiencing a once-in-a-lifetime holiday at Grand Canyon. The amazing thing is you can experience all the comforts of home (think home cooked turkey meals) while spending the day exploring and hiking too.
The South Rim hotels are fully prepared for a festive holiday so book a room to wake up in cozy comfort before setting out for the day. Grab breakfast and then explore the South Rim either on foot or using the free shuttle buses to cover even more ground. For dinner, make sure to get a reservation for the world-famous El Tovar Thanksgiving dinner. Dress up and enter the beautiful dining room with fireplaces aglow to experience truly gourmet meals cooked with the comfort of home – a great menu is served with everything from turkey and stuffing to lamb to some southeastern takes on traditional Thanksgiving foods. Can't get a Thanksgiving reservation at El Tovar for dinner? The Bright Angel Lodge Arizona Room restaurant also serves a tasty first-come-first-serve Thanksgiving feast that will leave you happy and thankful.
Up for a big holiday adventure? Phantom Ranch, at the bottom of Grand Canyon, also serves a festive Thanksgiving meal for those lucky enough to book a cabin over the holiday. They even offer some extra reservations for campers staying in Bright Angel Campground as well. After a tiring hike or mule ride to the bottom of the canyon, there's nothing better than heading over to the canteen for the perfect mix of holiday comfort foods. Between the scenery and the meal, a Phantom Ranch Thanksgiving will certainly rank as one of the most satisfying holiday meals you ever have!
Our last tip for a great Grand Canyon Thanksgiving? Bring your loved ones along as well! Friends and family will love spending a holiday at the canyon with outdoor activities and fun festivities for everyone. Grand Canyon's visitor centers are even open on Thanksgiving so feel free to stop by and wish happy holidays to the rangers on duty, too! ​ ​ ​

Guru Tips to Plan Your November Trip
There are even more ways to enjoy Grand Canyon National Park and the surrounding area throughout November. Grand Canyon is a great destination any time of the year, but November offers a unique window for weather, activities, and solitude that make it one of our favorite months!
What to Wear to the Grand Canyon in the Winter
When most people picture the Grand Canyon, they imagine it in high summer—hot and sunny, full of tourists wearing shorts, and long days with late sunsets.
It's easy to imagine The Grand Canyon as a warm place year round, given that it's surrounded by desert and is located in and close to states well-known for their heat—Arizona and Nevada. But the Canyon also borders on Utah, so it gets cold and can even experience winter weather as early as October. In fact, this drastic drop in mercury is why the North Rim closes seasonally. And the winter weather isn't exclusive to the North Rim—it recently snowed at the South Rim!
While the Canyon is immensely beautiful in winter and worth visiting any time of year, the weather can change dramatically throughout the day, especially across The Canyon's different altitudes. So how does one dress for the Canyon when it gets cold? Keep reading for our advice on what to wear to the Grand Canyon in the winter.
Layer up
The key to comfort at the Grand Canyon in winter is to dress in warm layers. This way you can easily add or remove layers as needed, which is especially important if you are planning to be there all day (it's much cooler before and after sunset!) or if you will be descending below the Rim—it can be considerably warmer at the bottom of the Canyon.
GRAND FACTS: "Thanks to its dramatic changes in elevation, the Grand Canyon contains multiple microclimates. . . This means that the weather can be drastically different in different areas of the Canyon. A mere 8 miles separates the coldest, rainiest ranger station (Bright Angel) from the hottest and one of the driest (Phantom Ranch) – you could be bundled up on the North Rim looking down on people hiking in shorts!"
Make sure you check the weather forecast ahead of your visit so you can dress appropriately for that day's conditions. On cold days at the Grand Canyon, we recommend packing and wearing these items:
Pants (preferably something heavy and wind-resistant, such as denim)
Long underwear
Long-sleeved t-shirt
Zip-up sweatshirt
Weatherproof or waterproof jacket or windbreaker
Thick, comfortable socks
Shoes
While they do clear pathways within the Grand Canyon Village, they can still be slippery in the winter, and trails outside of the Village can be snow- and ice-covered. You should always wear warm, sturdy shoes or boots with a good tread when you visit in the winter. For serious hiking, especially below the Rim, you may also want to bring a pair of crampons.
Accessorize properly
While keeping your core warm will help send heat to the rest of your body, it is still important to protect your ears and hands from the wind and cold. On especially cold days, there is always a risk of frostbite if you will be outside for extended periods. Make sure you bring a hat, scarf, and warm gloves or mittens.
Sun protection
It might be winter, but you can still get sunburned! The sun can be especially bright if there is snow on the ground because the snow reflects the light and can cause skier's sunburn. Make sure you bring sunglasses, sunscreen, and lip block to keep yourself protected.
Drink water
Whether you visit in the winter or summer, the Grand Canyon is arid and you should plan and provision yourself accordingly to stay hydrated during your visit. Be sure to pack a reusable water bottle—there are refill stations located around the Grand Canyon Village and at some viewpoints in the Grand Canyon National Park.
PRO TIP: If you aren't taking a tour and are driving alone or hiking in the Canyon, make sure you pack a winter travel kit with emergency items. If you're not sure what to include, start with:
Shovel
Windshield scraper & winter windshield-washer fluid
Lock de-icer
Cell phone & charger. Consider investing in a solar-powered one if you hike regularly.
Flashlight and extra batteries
Hand-cranked or battery powered radio
Non-perishable food and water
Matches and candles
Extra hats, socks, and mittens
First aid kit with pocket knife
Necessary medications
Blankets
Tow chain or rope
Road salt and sand
Booster cables
Conclusion
As you pack or prepare yourself for your visit to the Grand Canyon in the winter, remember to check the weather in advance and dress appropriately for the forecast. Wear comfortable clothing and layers so you can add or remove things as needed, such as:
Pants (preferably something heavy and wind-resistant, such as denim)
Long underwear
Long-sleeved t-shirt
Zip-up sweatshirt
Weatherproof or waterproof jacket or windbreaker
Thick, comfortable socks
Warm shoes or boots with a good tread
A hat, scarf, and gloves
If you're sure an off-season visit is what you want, check out Things to Know Before Your Winter Trip to the Grand Canyon.
Visiting in a warmer season? Learn more about What to Wear When You Visit the Grand Canyon.
What to Wear When you Visit the Grand Canyon
When it comes to exploring the Grand Canyon, comfort is key. But if you've never been to the Canyon before, dressing appropriately for the climate and the terrain can be a challenge.
Here are some guidelines to keep in mind:
1. Wear comfortable, sturdy shoes
Even at the South Rim, which is the most highly developed region of the Grand Canyon, the terrain can be rough and unpredictable. Running shoes, sport sandals, or hiking boots are ideal. Flip flops, high heels, or new shoes that you're still breaking in are not.
If you're planning on hiking into the Canyon, wear a mid-weight boot with lots of ankle support. For the Rim trail, a running shoe with good tread will do the job.
2. Stay comfortable in light layers
Light layers give you the most flexibility to adapt your outfit to the Canyon's weather. Add a layer in the morning or evening when it's chilly, and peel them off as the day warms up or as you hike!
In the summer, wear shorts, a t-shirt, and running shoes with a light jacket or sweater. In the winter, opt for jeans, good shoes (or even boots – it does snow at the Grand Canyon!), and a long-sleeved shirt with a jacket or sweater.
If you're taking a guided tour, read the tour description carefully in case you need to pack or wear anything special, such as close-toed shoes or a bathing suit.
3. Wear a hat
Some areas of the Grand Canyon, such as the West Rim, don't provide much shade. No matter which Rim you visit, a hat with a wide brim is essential to protecting yourself from the hot sun.
It can also get cool in the winter, so if you're visiting between November and April, consider packing a warmer hat to keep you nice and toasty while you explore.
4. Don't forget sunglasses!
The sun shines brightly all year at the Grand Canyon, so bring a pair of sunglasses no matter what season you visit in. Consider leaving your designer shades at home in case they get scratched or broken.
5. Pack a mask
Face masks are required on NPS-administered lands where physical distancing cannot be maintained, as well as inside all NPS buildings and facilities.
Individuals over the age of two years must wear face masks, except when actively eating or drinking in the following locations:
All common areas and shared workspaces in buildings owned, rented or leased by the National Park Service, including, but not limited to: park visitor centers, administrative offices, lodges, gift shops, and restaurants.
The following outdoor areas, when others are present, where the superintendent has determined that physical distancing (staying at least six feet apart) cannot reasonably be maintained: Mather Point, Grand Canyon Visitor Center Plaza, all bus stops, Hopi Point, Greenway Trail from Verkamps to Bright Angel Trailhead, and all entrance stations.
The Complete Grand Canyon Visitor Guide
Find answers to all your questions about the Grand Canyon in our newly updated guide!
Source https://grandcanyonguru.com/blog/grand-canyon-november-trip
Source https://www.canyontours.com/guides/what-to-wear-grand-canyon-winter/
Source https://www.canyontours.com/guides/visiting-the-grand-canyon/what-to-wear-when-you-visit-the-grand-canyon/