Explore the Wilderness Area on your own!
Only in a few places it is allowed to enter the strictly protected Dürrenstein-Lassingtal area. Here we show you the approved hiking trails!
The Dürrenstein-Lassingtal Wilderness Area, which was designated a UNESCO World Natural Heritage Site in 2017, is on a par with the Grand Canyon or Yellowstone National Park and is subject to the strictest protection category according to IUCN criteria. Only a few specially marked hiking trails allow interested hikers to explore the protected area independently.
The wilderness area itself is a very strict protected area; in contrast, it has the strictest protection category according to IUCN criteria.
Nevertheless, guided hikes can take you deep into the area and thus into the World Heritage Site. Only a few, specially marked hiking trails allow you to explore the wilderness area on your own:
The owl trail ("Eulenweg")
An experience for the whole family! The approximately two and a half kilometer long trail leads through the Windischbachau and tells remarkable stories about the five species of owls found in the wilderness area.
Over eight stations one experiences from the hatching of the chicks over wing spans and characteristics everything to the rare animals. At the end of the trail you will be given an insight into the life of the Ural Owl.
But you can also enjoy the beautiful landscape along the Windischbach, which documents the special features of the wilderness area, as well as the presented owls.
The trail stretches over 3,4 kilometers (6,8 kilometers there and back) and can be walked in 1 hour (one way). In summer there is the possibility to participate in owl excursions.
Starting point is the parking lot "Rothschild-Teiche" in the Steinbachtal Göstling.
The moor path ("Moorweg")
The adventure trail around the Leckermoos! The 25 hectare nature reserve Leckermoos is located in a high valley floor on Hochreit in Göstling an der Ybbs at about 860 m above sea level. This region north of the Limestone Alps is one of the areas with the highest rainfall in Austria.
A moor path around the wetland offers over 11 stations educational and exciting attractions for visitors. The habitats of the Leckermoor, as well as interesting facts about the formation of the raised bog, its use in the past and its rare biocoenoses. There are also numerous attractions for children to understand through play!
For the whole round trip (suitable for baby carriages) you should plan about 2 hours. Please do not leave the paths for the protection of the moor and if necessary always keep your dog on a leash!
Guided high-moor walks can be booked from May to October with the Zettel family, farm Ablaß:
Contact: +43 7484 24 22 or zettel.ablass@a1.net
Dates: Monday & Friday at 15:30 h, Wednesday at 9:00 h
Meeting place: Family Zettel, farm and snack station Ablaß
In winter you can circle the nature reserve Leckermoos on the 3 km long Hochmoorloipe, the cross-country skiing center Hochreit's most snow-sure trail.
The wilderness trail ("Wildnisweg")
Circular hiking trail electronically guided! Recently the wilderness area Dürrenstein can be explored along the Owl Trail, but also beyond, with the help of a tablet!
Using GPS control, the tablet is automatically activated at prominent points during the hike and a short film sequence on a specific "wilderness area theme" is played. The topics range from dead wood to the way of life of the nail spot (a day-active moth).
Two tours with different levels of difficulty can be chosen in English or German. You should plan about 2.5 to 3 hours, depending on the time spent at the stations, if you want to walk the whole path (roundtrip). (Path along the Owl Trail is suitable for prams and strollers!).
The trays can be borrowed for a fee of € 5,00 at the tourist office Göstling/Ybbs and Lunz am See, as well as at the Landhotel Zellerhof.
Starting point is the parking lot "Rothschild-Teiche" in the Steinbachtal Göstling.
20 of the Best Hikes In Europe
What are the best hikes in Europe? It's not an easy question to answer. Here's our top 20 to set you off on the right foot.
Erin Green
Read more posts by this author.
Erin Green
Like this? Tell your friends! →
The best hikes in Europe are those that show off the remarkable nature of the continent. It could mean anything from alpine crossings to coastal walks. Europe is made up of over 40 countries and each boasts their own culture, terrain and beauty. There are a full 10 major mountain ranges which, alongside the 100 minor mountain ranges on the continent, make up around 20% of the European landmass. That's a whole lot of mountains and a lot of hikes to choose from. So, to bring us back to the original question: what are the best hikes in Europe?
The Best Multi-Day Hikes in Europe
Picking just 20 hikes to designate as the best trails in Europe, or best long-distance hikes in Europe, was not easy. But what we've got below are our top 20 areas and routes to set you and your hiking boots off on the right foot. Have a scroll through and see what sort of scenery, distance or terrain takes your fancy. Beware though, we like mountains – so it's more Alps and fjords than Amalfi Coast. From there, you'll be able to formulate a much better idea of exactly where you want to go hiking.
1. Tour de Mont Blanc, France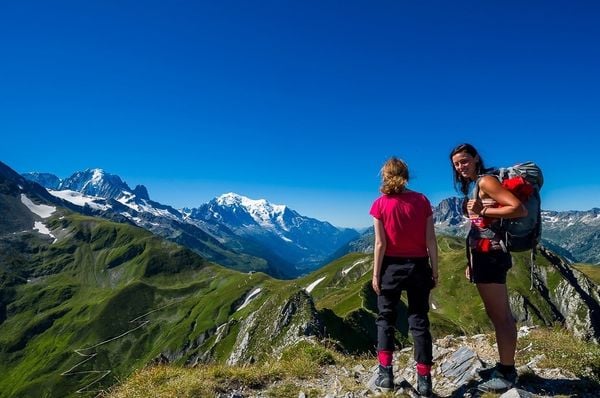 Trekking on the Tour du Mont Blanc with snowy mountains in the distance.
When it comes to hiking in Europe, this mother of all treks circumnavigates the mighty slopes of the highest mountain in the Alps: Mont Blanc. Trekking the Tour du Mont Blanc (TMB) introduces the ambitious trekker to some of the most dramatic and versatile scenery in the world. There's no doubt that it's both one of the most famous hiking tours in Europe, up there with the likes of the Camino de Santiago, and one of the best European walking holidays. With its 170 kilometres, it is certainly a long-distance trek – and you'll be walking on high mountain trails with a lot of elevation gain (around 10,600m/35,000ft) over the course of the 11-day hike.
The history of the Tour de Mont Blanc is super interesting too – it was originally walked by Genevan geologist Horace Benedict de Saussure in the 1700s. He had intended to find a way to climb up to Mont Blanc, but failing to do so, ended up walking the entire way around it.
Countries: France, Italy and Switzerland
Level: Moderate – steep ascents and descents each day
Duration: Roughly 11 days, 5-7 hours each day
2. Norwegian Fjords, Norway
Whooping with excitement on top of a snow-covered cliff above the fjord.
For extreme variations in scenery in one stunning place, head to the Fjords of Norway. Here are thousands of walks for all types of hikers. Take the family on treks over blue glaciers, viewing mountains that come straight up from the narrow fjords. Or, wander through natural parks offering the diversity of barren glaciers to lush forests. Those up for a challenge can visit the iconic Trolltunga, Geirangerfjord, Himakana, Langfossen, or Preikestolen. All levels of trekker are welcome. Check out our map of the Norwegian fjords to get a better idea of exactly where they are in the country.
Countries: Norway
Level: Easy to Challenging
Duration: Endless variation. Anything from 2-3 hour treks to full-day adventures, and overnight trips.
3. Mount Triglav, Slovenia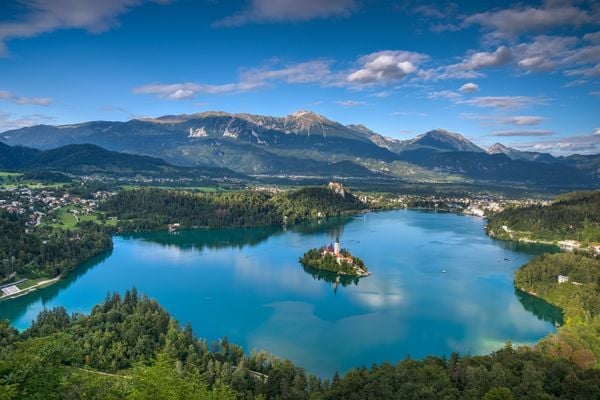 Lake Bled in Slovenia, with the Julian Alps rising up behind it.
Every true Slovenian must climb this beloved mountain – and so should mountaineers visiting this country. There are two ways to access the 2864m summit, both challenging and both relying on via ferrata routes or fixed cables to help climbers through the scree and along narrow paths. Check out the route from charming Bled that rests en route at Kredarica hut, the highest mountain hut in Slovenia. You can get guided walks or take it on yourself – but with the via ferrata in place, a lot of people are thankful they got the guide when they get there. You have to be a very experienced mountaineer and have the appropriate equipment with you to go it alone. There are plenty of other amazing hikes in Slovenia, too.
4. Caucasus Mountains, Georgia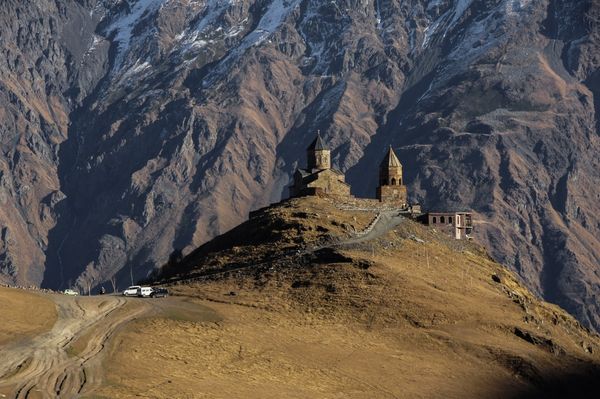 Hiking near the Caucasus Mountains in northern Georgia.
When you go hiking in Georgia, you go exploring where few others have before. Georgia's arid Caucasus Mountains have just opened to tourism in recent years. You'll spot wildlife like deer, chamois and marmot; be sparkled by green, white and turquoise lakes; pass through medieval villages and towns; and be surrounded by peaks shooting up into the sky. The country's third highest peak, Mount Kazbek, can be climbed too.
Countries: Georgia
Level: Easy to Challenging
Duration: Most are 3-5 days to longer treks
5. Via Dinarica, The Balkans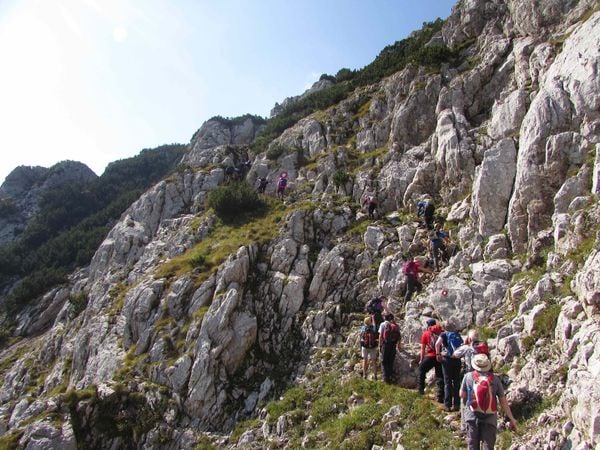 A via ferrata on Maglic Mountain on the Via Dinarica trail.
Get to the Balkans and explore the food, music and the old-world heritage that still exists in this corner of Europe. The Via Dinarica traverses the Dinaric Alps and Sharr Mountain Range in more than 120 stages. It acts as an adventure and cultural corridor across Slovenia, Croatia, Bosnia and Herzegovina, Montenegro, Kosovo, Serbia, Albania and Macedonia. Complete the entire 1930 km trail, or break it down into chunks, such as in our 8-day adventure from Croatia to Bosnia.
Countries: The Balkans
Level: Easy to Challenging
Duration: Several day trip options can be combined for your perfect adventure.
Explore the mountains and Mediterranean coastline that lie along the under-visited Via Dinarica trail
6. The West Highland Way, Scotland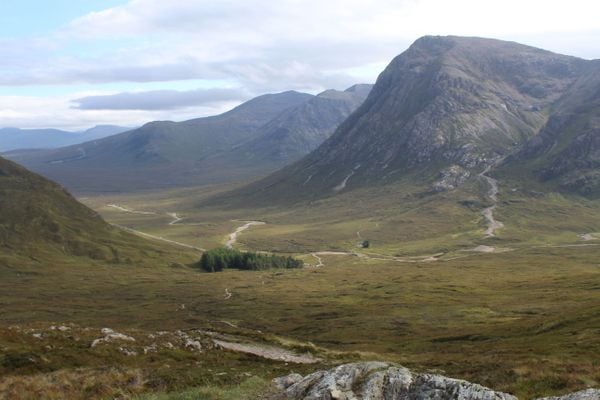 The view from the top of the Devil's Staircase, looking back out over Glencoe. Photo: Stuart Kenny
The West Highland Way is one of the most iconic multi-day hikes in the world. It'd be fair to same the same about the Scottish Highlands in general as one of the globe's favourite walking destinations.
Our first-hand guide to walking Scotland's famous West Highland Way trail, from Milngavie to Fort William.
Stuart Kenny Much Better Adventures Magazine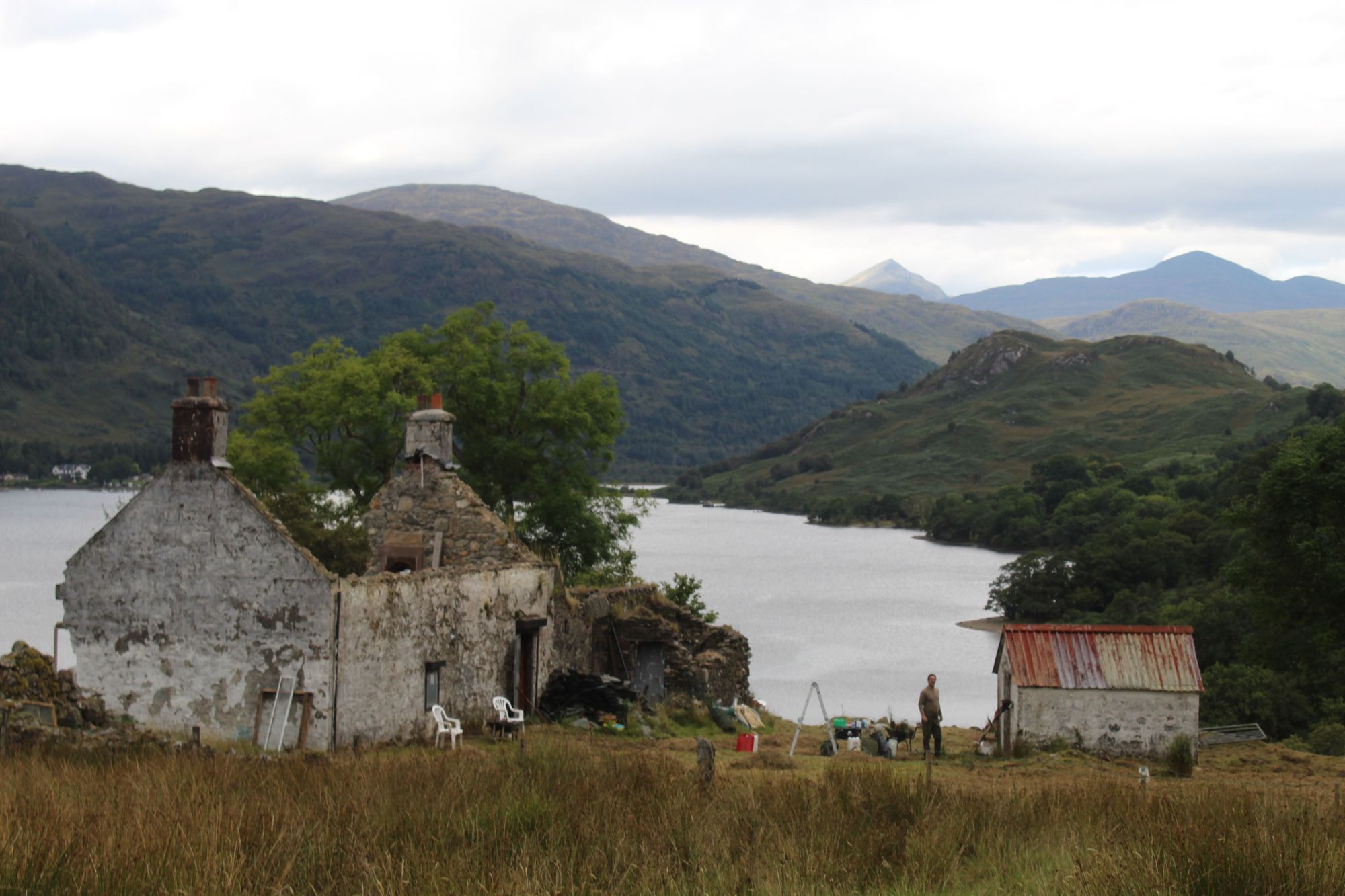 The West Highland Way route has everything you need. Leaving from Milngavie, a small town near Glasgow, you head 95 miles north to Fort William – next to Ben Nevis, the highest mountain in the UK. Along the way you'll walk on the bonnie, bonnie banks of Loch Lomond and climb Conic Hill for beautiful views over the loch. You'll walk through Glencoe, past the famous form of Buachaille Etive Mor, through the Rannoch Moor and eventually reach Glen Nevis and Fort William.
There are options for hotels, mountain huts or cabins to stay in along the way, although many people choose to camp. This is the oldest hiking trail in the UK and remains one of the finest hiking trails in the world.
Remote trekking and hiking holidays in the UK. Award-winning adventures without the logistical headache, helping wild places thrive one adventure at a time.
7. Tour de Monte Rosa, Italy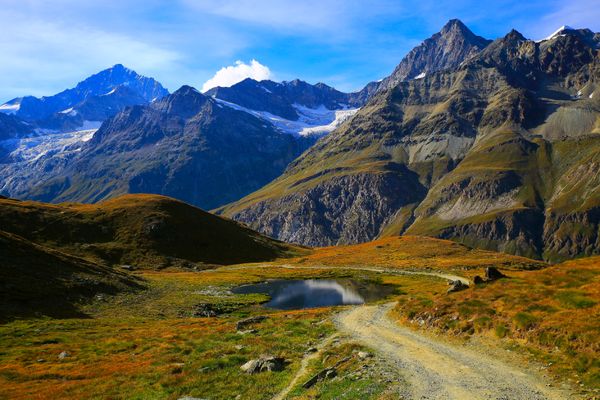 An alpine meadow in Zermatt, on the beautiful tour de Monte Rosa.
The trek around this 4634m mountain is stunning – and it is not easy. Every day there are steep ascents and descents over ice and rock. Besides glacial conditions, there are alpine meadows and forested valleys to trek through. From balcony ridges, you'll see a panoramic paradise of peaks all over 4000m high – including back to the remarkable Matterhorn in Zermatt, Switzerland.
8. Canary Islands, Spain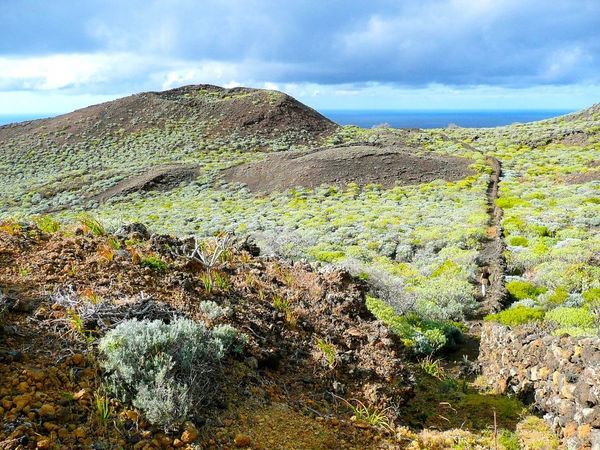 The volcanic landscape of the Canary Islands makes for an interesting hike
Get off the beach and onto the trails. Tenerife, Gran Canaria and La Gomera are all set up for walking and each has an individual flair. Tenerife boasts the world's 3rd highest volcano, pine forests, ravines and coastal paths with the fewest hikers of the three islands. Gran Canaria also has dramatic valleys and rocky shoreline to trek, but it's missing the massive volcano, so it has better views. The most distinctive scenery is on La Gomera, where you could be trekking in South or Central America. If you want to go further afield, take a long weekend to trek El Hierro.
Countries: Spain
Level: Easy to Moderate
Duration: Heaps of different routes lasting from a few hours to 2-3 days.
A challenging coast to coast hike through the heart of Gran Canaria, a tropical mountainous gem in the Canary Island archipelago
9. Laugavegurinn, Iceland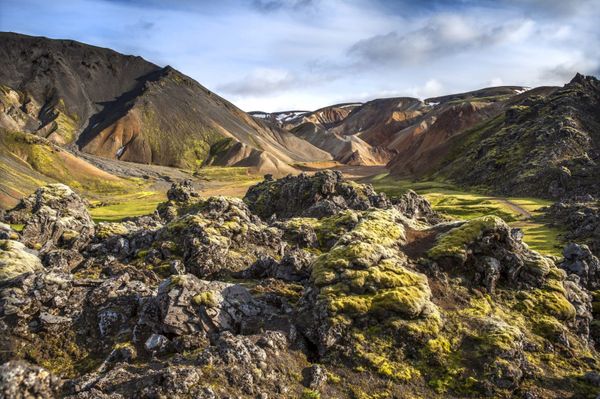 The unusual multi-coloured landscape of Iceland
Wild Icelandic horses running through neon green valleys, hot springs and steam rising from black volcanic rock – sounds like another planet! Trek this 55km route is famous for folklore and magic, which you can experience as you make your way through rainbow-coloured hills and over glaciers. The variety of landscape on this hike makes it distinctively remarkable. Make sure you book huts in advance and be prepared for extreme weather.
Tackle Iceland's classic hut-to-hut trek – 55km of multi-coloured mountains, gorges, glaciers and the Eyjafjallajökull volcano
10. Haute Route, France & Switzerland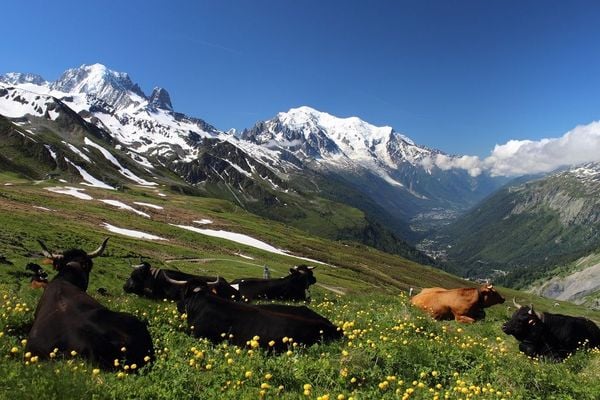 A classic Alpine view – the cows are loving it!
The Haute Route starts at the foot of Mont Blanc, the highest massif in Western Europe, and ends on the flanks of the most famous, if not the most elegant and most instantly recognisable of all mountains, the Matterhorn. Even though it has made its name for being one of the best winter hikes on skis, the 200 km long summer version of this trek is certainly no less interesting or challenging. On this hike, you'll cross 11 passes, clock up more than 12,000 metres in ascents and pass under ten of the twelve highest peaks in the Alps.
Countries: France/ Switzerland
Level: Moderate to Challenging
Duration: Roughly 10-12 days, 6-8 hours per day
11. High Tatras, Slovakia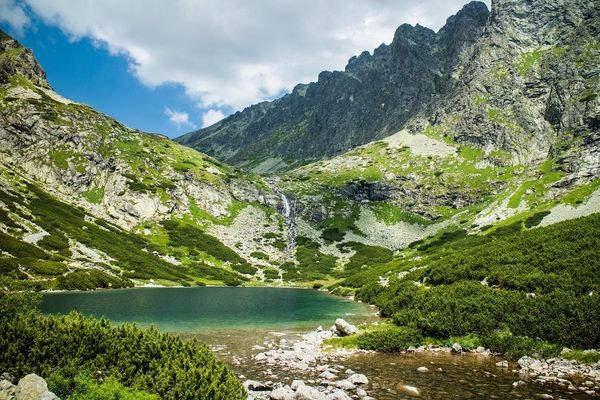 The High Tatras are a highly protected area and an incredible hiking location.
Get amongst Eastern Europe's only alpine mountain range and choose your own adventure. There are over 100 lakes, plus waterfalls and valleys to trek through. There are all sorts of hut to hut hikes to choose from. This is a Biosphere Reserve area of the Tatra National Park, so you can spot local wildlife like marmots and chamois (mountain goats).
Countries: Slovakia
Level: Easy to Medium
Duration: Multiple routes anywhere from 1 day to multi-day hut to hut treks.
Trek across the scenic peaks and awesome valleys of Slovakia's highest mountain range – now a UNESCO protected reserve
12. GR20 (Northern & Southern), Corsica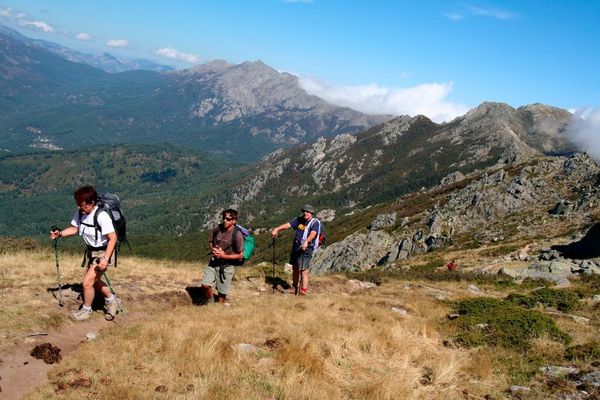 Hiking amongst the jagged peaks of Corsica's mountains.
Running north to south from Calenzana to Concha along the jagged spine of the Corsican mountains, this rugged terrain can still be accessed by any seasoned hiker. Despite the rough exposed areas, the GR20 is well marked by red and white blazes, and there are plenty of places to rest and restock. You'll find sheltering refugios along the way to get a hearty plate of food, ride out a storm with a glass of red wine or have a needed night's rest. A less challenging option is to skip the Northern section and to trek only the GR20's Southern Route.
Much Better Adventures
Much Better Adventures
13. The Dolomites, Italy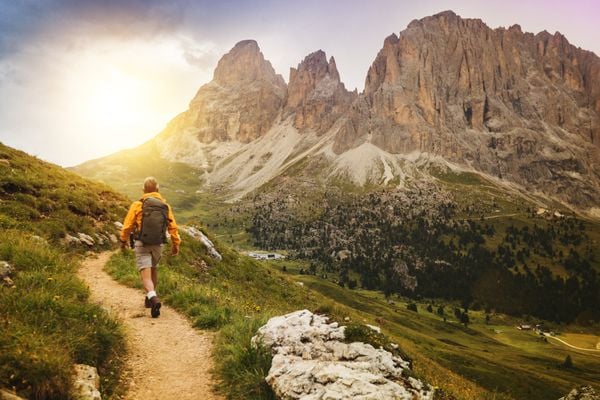 Hiking in the distinctive eye-line of the Dolomites.
Hiking in the Dolomites, it's clear that these spiky peaks, crags and pinnacles are an UNESCO World Heritage site for multiple reasons. There's history, where trails are named after WWI, passing abandoned bunkers along the way. There's culture: visit the Ladin shepherds in their once isolated villages. There's also diversity in beauty and language. Traverse pastel meadows of wildflowers and hear the whispers of different languages inhabiting the Italian Alps.
Countries: Italy
Level: All levels
Duration: Day trips to multi-day adventures.
14. Mont Blanc, France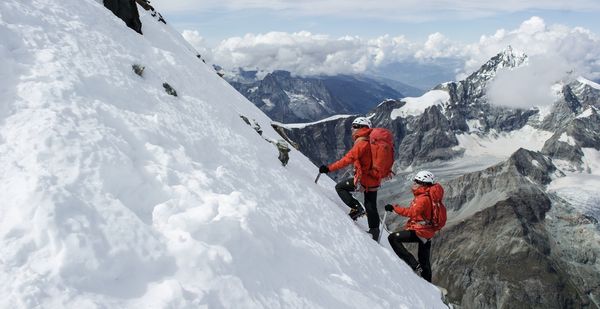 On the ascent of Mont Blanc, ice axes at the ready.
Okay so this is a little more than a hike. Climbing to Mont Blanc summit is a physical challenge, topping Western Europe's highest mountain at 4810m. You'll need to be proficient in use of crampons and an ice axe to make your way over rock and ice, and you'll need an experienced guide. There are a few ways to summit, the easiest of which is using the Tramway du Mont Blanc to the Nid d'Aigle, then up the Aiguille Gouter and the Bosse ridge. Along the way, stay in Refuges, which must be booked in advance. Try an extended 7-day experience starting off with a dazzling training climb to Gran Paradiso.
Tackle the mountaineer's mountain and highest peak in the Alps and gain bragging rights that will last a lifetime
15. Gran Paradiso National Park, Italy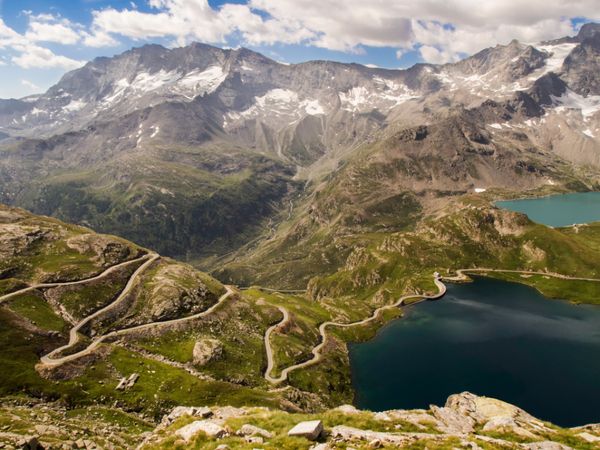 Parco Nazionale del Gran Paradiso, Piemonte, Italia. Photo: Getty
The Gran Paradiso sits in the Valle d'Aosta, in northwestern Italy's Alps. Originally this park was set to preserve the Ibex, and the focus on flora and fauna is still one of the main draws of this sprawling park. There are 70,000 hectares of territory ranging from 800m to 4061m at the peak of Mount Gran Paradiso. Views of Mont Blanc, Monte Rosa and the Matterhorn ranges can be seen from the many routes through the park. There are day hikes around the lakes and also the option to take the multi-day ascent to the highest point.
Countries: Italy
Level: Easy to Challenging
Duration: Hundreds of day walks, or ascending Gran Paradiso itself is a 2-day skilled trek.
16. Plitvice Lakes National Park, Croatia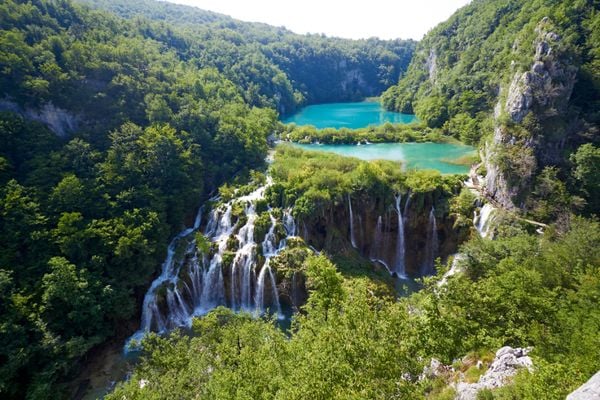 Breathtaking view in the Plitvice Lakes National Park, Croatia
Sublimely turquoise waters interspersed with waterfalls and linked with sturdy and picturesque wood walkways, Plitvice Lakes National Park is the type of place where eight hours of hiking fly by. A ferry ride across Lake Kozjak connects two halves of the park and its sixteen lakes, all tucked in lush foliage that's even more striking layered in snow for winter. You could even make your way over to the beautiful Dalmatian Coast afterwards to SUP, kayak, sail or just relax for a few days after a top bit of hiking.
17. The Kungsleden (King's Trail), Sweden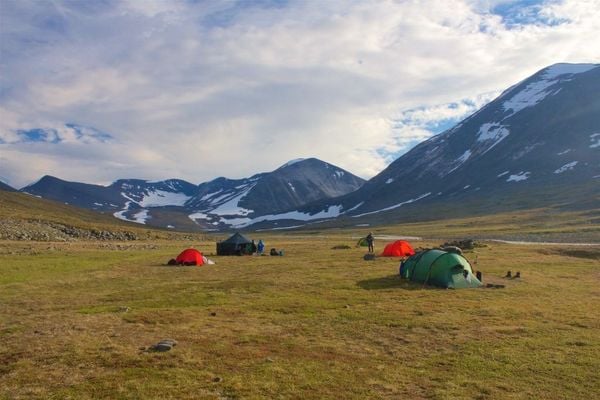 Camping in the valley surrounded by mountains on the Kungsleden.
For spotting reindeer along a wild frontier, and still having time for a sauna at the end of the day, head the to the Kungsleden. This 440km trail goes through low altitude green valleys. The beauty is that this trek is accessible for everyone. There are plenty of huts along the way to rest your head, or you can try out camping and roaming free in this artic playground.
18. Circumnavigating the Matterhorn, Switzerland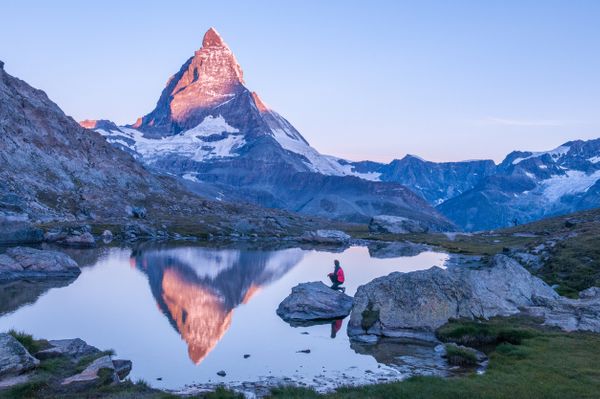 Early morning dawn scene of sunrise on the Matterhorn Mountain. Photo: Photo: iStock / wilpunt
The Matterhorn Trek has been described as one of the most beautiful treks in the world taking in many ancient trails that have linked the Swiss Alps and Italian valleys for centuries. The 150km route offers a multicultural experience, crossing from the pristine surroundings of Switzerland to the slightly more chaotic lifestyle of the Italians. From the cobbled streets and horse carriages in Zermatt, through Alpine meadows and glacial passes, the mirror image of the Matterhorn on Lake Stelli is worth every step.
Countries: Switzerland and Italy
Level: Moderate
Duration: Approximately 8 days
19. Track Wild Bears in Greece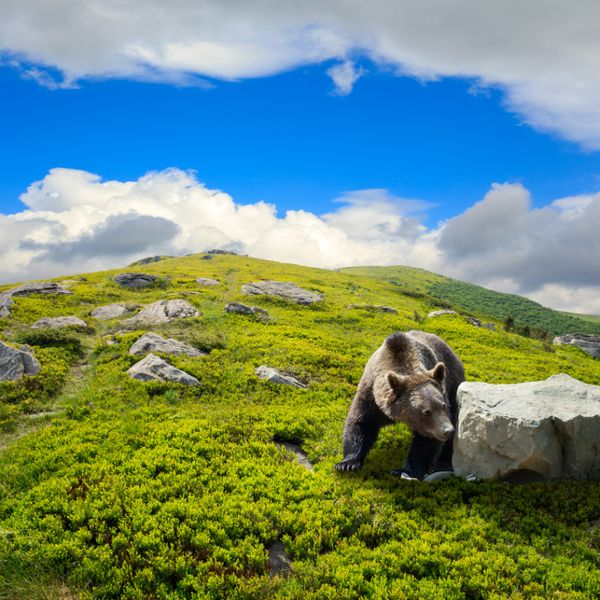 A brown bear walking among white sharp stones on the hillside of Greece. Photo: Getty
Go bear tracking in Greece's Pindos mountains alongside local conservation experts and hike through the world's deepest gorge. The awesome thing about this one is that you get to hike along with the Bear Emergency Team, who are a) a real thing, b) the best named organisation in the world, and c) running an amazing conservation project to protect bears in the beautiful Pindos mountains.
20. Welsh 3000s Challenge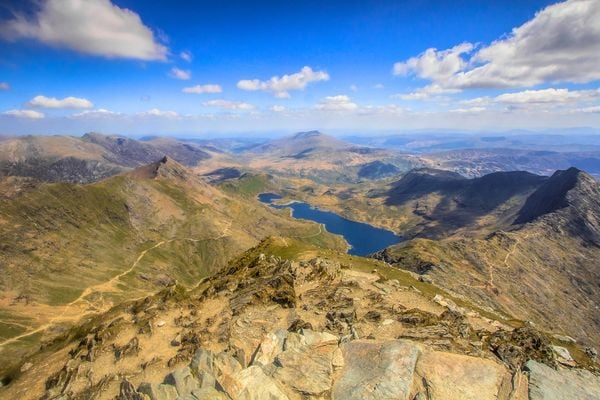 The view from the summit of Mount Snowdon.
Fifteen mountains. Four thousand meters of gain. Every mountain over 3000ft in Wales. And you can do it all in one incredible weekend. To take on the Welsh 3000s, head to Snowdonia, home of the highest mountains in Wales. Hike and scramble through the Carneddau, Glyderau and Snowdon ranges, ascending ridges and linking peaks in rapid succession. Add to that the stellar views and natural beauty of Snowdonia and you're in for a strenuous but memorable weekend.
Countries: Wales, United Kingdom
Level: Challenging
Duration: Two nights (or under 24 hours for the speedy!)
For even more ideas to get your feet itching, check out our entire Wild Hikes collection for hiking adventures across the world.
More in Guides
Trekking the Vale do Pati in Brazil's Diamond Highlands
16 Nov 2022 – 10 min read
10 Volcano Hikes Around the Ring of Fire
8 Nov 2022 – 11 min read
A Guide to the Selvaggio Blu Trek in Sardinia
7 Nov 2022 – 7 min read
10 of the Best Long-Distance Hikes in the Andes
From Torres del Paine in Patagonia to Cotopaxi, the Ecuadorian avenue of volcanoes and Colombia's remarkable cloud forest.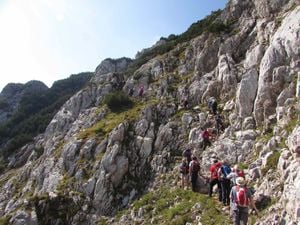 A Guide to the Via Dinarica Hiking Trail in Bosnia and Herzegovina
Our favourite sections of the longest hiking trail in the Western Balkans
Wilderness and Backcountry Hiking: A Complete Guide
Gaby works professionally in the outdoors as a guide, instructor, and educator. She enjoys helping others gain the knowledge and experience they need to get out and adventure in the mountains.
Carl is the founder and strategist of Outforia. Annoyed by the lack of quality online outdoors publications willing to uphold high standards of value and ethics, he decided to make the resource he would have wished to read. Living by the beach in Norway, Carl is never far from outdoor adventure. When not curating Outforia, Carl spends his time kayaking, forest bathing, diving, and camping.
Wilderness hiking and camping are hands-down some of the best ways to get outside and enjoy the wonders of nature.
But, planning your first backcountry adventure can feel overwhelming as there are so many different aspects of your trip that you ought to consider. In fact, from figuring out what you're going to eat to determining what backcountry camping gear to pack, getting your first wilderness hiking and camping trip organized can be a challenge, to say the least.
Luckily for you, we're here to help.
In this complete guide to backcountry hiking and camping, we'll clue you into everything you need to know before you get out on your next venture into the mountains. That way, you can make the most of your upcoming expedition.
Let's get started.
Chapter 1: Wilderness and Backcountry Hiking Basics
The very first section of our wilderness hiking and backpacking guide focuses on the basics of backcountry adventure. Coming up, we'll look at some key terms, phrases, and concepts that you need to know before we talk about the trip planning process.
What Is Backcountry Camping And Hiking?
Before we get too far ahead of ourselves here, let's take a step back and discuss what backcountry camping and hiking really are.
We know that the idea of backcountry hiking might seem fairly straightforward. But with so many different types of camping and trekking out there, it's important that we're all on the same page about what kinds of adventures we're talking about before we start discussing the nitty-gritty details.
Simply put, backcountry hiking is any type of hiking that takes you into a remote environment. Meanwhile, backcountry camping is any overnight venture into a remote locale where you sleep outside without the aid of a shelter, like a hut.
These definitions might seem broad, and it's because they are. In reality, there are many different ways to enjoy your trip into the backcountry, each of which has its own unique advantages and disadvantages.
So, in this section, we'll briefly discuss the most important types of wilderness camping and hiking that you might try in the future. Afterward, we'll talk about some of the benefits of backcountry adventures and a few of the key things that you ought to keep in mind as you start to do some preliminary planning for your first trip.
1. Backcountry Day Hiking
The first kind of wilderness hiking that you ought to know about is backcountry day hiking. Backcountry day hiking simply involves heading out on a day-long hike into a remote environment.
Of course, everyone's definition of "remote" is slightly different, but the idea here is that you're getting fairly far from the road and major crowds. On these adventures, you might follow a maintained trail, or you might hike off-trail. The options are really limitless.
But, as a day hiking trip is only meant to last for the day, you'll plan to be back home or at your accommodation for the night after your hike. It's as simple as that.
2. Backcountry Backpacking
If you're looking to get outside and spend your nights in the wilderness, then backcountry backpacking just might be what you need.
Like day hiking, backpacking involves hiking into remote locations, either on- or off-trail. However, the difference is that backpackers intend to spend one or more nights in the backcountry, while day hikers plan to be back in their own beds by the end of the day.
Since backpackers come prepared with plenty of overnight supplies, like tents and sleeping bags, on their camping checklist, they're often able to travel further into the backcountry than day hikers. So, it can be a nice choice for people who really want to have more of an immersive nature experience.
3. Ultralight Backpacking
While backpacking sure is fun, it does often involve carrying a whole lot of gear. Indeed, your average backpacker's pack might weigh up to 50 lbs (23 kg), thanks to the weight of backcountry camping gear and food.
So, to combat this problem, some folks enjoy going ultralight backpacking, instead.
Ultralight backpacking is essentially the same thing as backcountry backpacking, but with a lightweight flair. Most ultralight backpackers will invest a lot of time and money into cutting their total pack weight for maximum efficiency on the trail.
If the thought of carrying a pack that weighs a maximum of anywhere from about 10 to 20 lbs (5 to 9 kg), appeals to you, then ultralight backpacking might be a nice option.
Do keep in mind, however, that ultralight backpacking does require quite a bit of experience and situational awareness to do safely and comfortably. So, it's best for folks with plenty of prior wilderness backpacking experience under their belts.
4. Thru-Hiking
The last type of wilderness hiking on our list is thru-hiking. Thru-hiking is technically defined as any point-to-point backpacking or hiking trip. However, most folks will qualify this definition and say that a hike is only a thru-hike if it's on an established end-to-end long-distance trail or route.
For example, a 5 mile (8 km) point-to-point hike might not count as a thru-hike, but a one-way trek on the Appalachian Trail (AT), Pacific Crest Trail (PCT), or Continental Divide Trail (CDT) certainly would. All of these trails are substantially more than 2,000 miles (3,200 km) long, so they're major undertakings that involve spending a lot of time in the wilderness.
That being said, some "thru-hikes," such as the Camino de Santiago in Spain, involve staying in hostels and other more organized accommodations each night. So, for our purposes, we'll define thru-hiking as any sort of long-distance point-to-point trek that takes hikers deep into the backcountry.
The Benefits of Backcountry Hiking And Camping
Now that you understand some of the different types of wilderness hiking and camping, let's talk about a few of the benefits of getting out into some of the more remote parts of the great outdoors.
Some of the many benefits of backcountry adventures, when compared to other types of outdoor recreation, include:
More Solitude – When compared to other types of camping, like staying in an organized campground, backcountry camping offers improved chances for solitude in the mountains. Sure, you can often find a moment to yourself, even on a busy trail. But, going backcountry hiking or camping makes it easier for you to get out and away from the crowds as a bit of a respite from the hustle and bustle of daily life.
Spectacular Views – It's hard to argue that the views that you can get while backcountry hiking are anything short of spectacular. Of course, the vistas you'll experience vary from place to place, but you'll certainly find some sprawling mountain vistas that are to your liking if you spend enough time outside.
Great Exercise – Hiking is, simply put, superb exercise. While we don't want you to think that hiking is just about burning calories (it's so much more than that), we should point out that hiking burns more calories per hour than walking, mostly because it involves walking uphill. So, if you're interested in finding a new way to stay active, backcountry hiking might be a nice option.
Enhanced Nature Connectedness – Finally, the further you get out into the backcountry, the greater the opportunities you have to really connect with nature. Every backcountry hiking trip that you go on offers a chance for you to step back from your busy schedule and to get in touch with the natural world around you. By going into more remote wilderness areas on a camping trip, you'll be more likely to do just that.
Key Considerations For Wilderness Hiking And Backpacking
At this point, you understand the different types of wilderness hiking and the benefits that they offer.
But, what are some of the key things you need to take into consideration before you head outside?
Up next, we'll give you a brief overview of four things you should always consider before planning a backpacking or wilderness hiking trip to ensure that it's right for your adventure style.
1. Experience Level
The first thing that anyone ought to consider when deciding if the time is right for them to go backpacking or wilderness hiking is their own personal experience level.
For the most part, outdoor enthusiasts usually start with shorter day hikes and perhaps even an overnight stay at a maintained campground before venturing into the backcountry on their own. That's because increasing the intensity of your experiences in this methodical way can help ensure that you have the skills you need to slowly but surely get out into the wilderness.
Once you feel comfortable with your experience level and your ability to go backpacking or wilderness hiking on your own, it's still best to take things slow.
As a general rule, jumping straight into a 6 month-long thru-hike before you have a few multi-day backpacking trips under your belt isn't advised.
So, consider easing into your backcountry adventures in a step-by-step manner. You can first start with an overnight in a familiar area before heading out on an overnight in a more remote locale. Then, you can slowly build up into doing longer and longer trips as you feel comfortable.
That way, you can be confident in your ability to handle whatever comes your way in the mountains.
2. Leave No Trace (LNT)
As soon as you've decided on a backcountry hiking or camping trip that's right for you, it's time to get into the mindset of a wilderness traveler. In particular, you'll want to familiarize yourself with the principles of Leave No Trace (LNT) before your first trip.
LNT is an organization for outdoor ethics that strives to promote responsible use of the outdoors among hikers, climbers, skiers, and anyone that likes to recreate nature. The organization has a list of seven principles that everyone ought to know before they head outside.
While the seven principles are a bit too much content for us to list out here, the organization does have detailed guides on each principle that you can check out. That being said, there are three key principles that we want to focus on here as they're particularly important for backcountry hikers and campers.
These principles are:
Plan Ahead And Be Prepared – LNT's first principle of planning ahead and being prepared is particularly important for backcountry travelers. There's an old adage that says that failing to plan is planning to fail, and that's particularly true for wilderness adventures. Planning for a backpacking trip starts with researching your route and destination. It also includes being confident in your abilities and having the right gear for the job. So, you're already off to a good start by reading this article!
Dispose Of Waste Properly – When we travel in the backcountry, disposing of your waste properly is of the utmost importance. This means that you'll want to pack out all trash that you produce from the wilderness so you can dispose of it at home. You'll also want to think about how you'll go to the bathroom outside as you'll need to ensure that your human waste is discarded in the proper manner. This normally involves digging a cathole for your solid waste and packing out your toilet paper. But, check with local land managers for their guidance.
Respect Wildlife – As guests in the wilderness, we should always respect wildlife. Doing so involves storing your food in a way that animals can't get to it at night. It also means understanding what you should do if you come across an animal, especially all types of bears. When traveling in bear country, consider carrying bear spray, too. Bears can smell up to 20 miles away so stay out of areas where a bear would likely go. But, you should always check with local land managers and rangers to see what they suggest for hiking in their park or forest.
3. Safety & Risk Management
Along the same lines as LNT, you'll also want to consider your own safety and risk management abilities before you head out on a backcountry trip.
While we hope that your adventures get off without a hitch, anything can happen in the backcountry. So, packing the appropriate survival equipment and first aid kit is essential when you hike or camp in remote environments.
Furthermore, you should always consider what you will do if someone gets hurt while you're out and about. Taking a wilderness first aid class and some navigation/outdoor survival courses is always recommended for new backcountry hikers.
4. Cultural Considerations
Last but not least, backcountry travelers should always be aware of the fact that they may, indeed, be hiking through areas that are of cultural importance to different peoples.
For example, the vast majority of national parks and public lands in the United States are located on the ancestral homelands of many Indigenous peoples and Tribal Nations. As a result, understanding the cultural heritage and significance of a region is essential.
This is particularly important if you are traveling in an area that's known for having a large number of cultural artifacts, such as in the southwestern United States. Or, if you're hiking somewhere that has seasonal closures for traditional land usage or spiritual ceremonies, recognizing these closures and respecting them is vital.
So, consider doing your research and learning more about the cultural history of the lands you'll be traveling on before you go hiking.
Websites like Native Land can offer some insight into the many Tribal Nations that have traditional territory in a region. However, going to a Tribal Nation's website and learning about their culture and sacred sites is always recommended before your trip so that we can all be more aware and respectful of the land that we recreate on.
Chapter 2: Planning A Wilderness Hiking & Camping Trip
By now, you have a solid understanding of the basics of wilderness hiking and camping. So, it's finally time to dive into the details of planning a backcountry trip.
In this section, we'll walk you through step by step everything that you need to consider as you plan your first outing. Plus, as you gain more experience, you can still come back and refer to this part of the article as a guide that you can adjust to meet the needs of your more remote adventures.
Trip Length
The first part of any backcountry hiking or camping trip planning process is figuring out precisely how long your outing is going to be.
For folks who are looking to go out on a day hike, you'll want to think of a rough starting and end time for your trek. Of course, this might vary by an hour or so here or there, but you want to have an estimated total adventure time in your head before you hit the trail.
Once you have a general idea of what time you'll be back from your trip, let someone trustworthy know your plans. That way, they can call for help if they don't hear from you for a few hours after your anticipated return time.
On the other hand, anyone planning a backpacking trip will need to think long and hard about how long they want their expedition to be. While there's no right answer to this question (it varies based on your interests, availability, and skill set), it's important to know your total trip length in days before you head outside.
That's because the length of your trip has a major impact on how much food and fuel you'll need to bring. It might also affect whether you need a permit or not for your trip (more on that in a bit), so you definitely need to know how many nights you plan to spend in the backcountry before you hit the trail.
Location/Destination
Now that you know how long you want your trip to be, you'll need to find a suitable location for your adventure.
As we've mentioned, it's often best to start your backpacking career in a local, familiar place so you'll feel more comfortable on your first outing. However, as you get more comfortable with your backpacking skills, you may find that you're able to venture to more remote locales.
Keep in mind, however, that you'll likely want to stick to backpacking destinations with reliable trails for at least your first few adventures. Once you get more comfortable with your off-trail navigation skills, you might consider going on a mostly or completely trailless trek. But, for now, we'd recommend starting on well-maintained trails.
If you're struggling to think of a good backpacking or hiking itinerary, consider calling the ranger station at a local national or state park or forest. The rangers can often suggest appropriate itineraries based on your skillset and interests. So, this can be a great resource for anyone that needs a bit of help finding the ideal trip for their needs.
Permits & Other Logistics
With your trip length and location squared away, you'll need to do a bit of research to figure out if you need to apply for permits or handle any other logistics before your trip.
Depending on where you plan on camping, you may very well need to apply for backpacking permits ahead of your arrival. Some places, like Yosemite National Park, have very competitive backpacking permitting processes, so advanced planning is helpful here.
We should also mention that some parks and forests even have permit requirements for day hikers. This is mostly true in wilderness areas, so keep this in mind if you're going to a popular destination. In many instances, you may be able to get a free permit at the trailhead, but do check before you leave home.
Other important logistical things to consider include the need for fire permits and trailhead shuttles.
Some places, such as the state of California, require that anyone using a camp stove or starting a fire have a fire permit. These are free and easy to get, but they're important if you want to avoid hefty fines.
Alternatively, you may need to organize a trailhead shuttle for your adventure if you want to do a point-to-point hike.
Since this is more logistically complicated, we often recommend that new hikers stick to doing out-and-back or loop hikes that start and end in the same spot. Then, as you get more experience, you can consider branching out into adventures that require a shuttle.
Gear & Equipment
Fact: Wilderness backpacking and hiking are gear-intensive pursuits. As a result, it's vital that you have all the gear that you need for your trip before you hit the trail.
The good news is that much of what you'd bring with you as part of a regular camping checklist is also relevant here for backpacking and day hiking. But, you may need to modify your gear selection to suit the demands of a more remote environment.
If you're interested in learning more about what you might bring on a summertime car camping trip, check out our ultimate camping checklist to get started. After you have a good idea of what you'd normally bring on a roadside adventure, you can shift your mindset a bit toward selecting lightweight gear that you can carry on your back.
Since there is so much overlap over a camping and backpacking gear list, we'll focus here on what makes backpacking gear different. Additionally, if you're going day hiking, you'll actually find that most of this gear (except the overnight equipment, like tents and camp stoves) is relevant for your needs.
So, without further ado, here are all the pieces of gear that you should never leave home without when wilderness hiking or backpacking:
Share This Image On Your Site
1. Shelter & Sleep System
As you can imagine, wilderness backpacking is about keeping your gear as light as possible so that you can easily transport it in your pack. When it comes to your shelter and sleep system, this often means foregoing extra luxuries and keeping things simple. In particular, you might want to pack:
Lightweight tent
Ultralight tarp
Tent stakes
Lightweight camp chair or sit pad
Inflatable sleeping pad
Sleeping bag or quilt
Sleeping bag stuff sack
Do keep in mind that you probably won't need this gear if you're just going hiking for the day. But, even then, you may want to pack an emergency shelter, especially if you're heading into more remote terrain.
2. Eating & Drinking
If there's one thing that you'll be on the trail, it's hungry. So, packing plenty of eating and drinking supplies is important. As with your shelter and sleep system, your eating and drinking equipment should be as light as you can find.
Often, you can use the same item for multiple purposes to cut down on weight and bulk in your pack. For example, you can eat directly out of the pot if you're camping alone, rather than carrying a separate bowl. With that in mind, here are a few key eating and drinking supplies to pack on your next trip:
Lightweight camp stove
Stove fuel
Pot with a lid
Pot holder
Lighter
Bowl and spork
Mug/thermos
Bear canister or bear hang kit (check local regulations)
Water bottles/hydration system
Water treatment/filtration system
Biodegradable soap
3. Clothing & Footwear
Your clothing and footwear are essential parts of any backcountry camping gear list. Indeed, having the right clothing can literally make or break your adventure, so it's imperative that you have the appropriate layers for the conditions you'll face.
Although every trip brings different weather, there are a few things you'll want to bring on nearly any backcountry camping or hiking trip when it comes to clothing and footwear. This includes:
Hiking boots/shoes
Hiking socks (2–3x)
Warm sleeping socks (1–2x)
Hiking pants/shorts (1–2x)
Underwear (2–3x)
Baselayer pants
Hiking shirt (no cotton)
Puffy jacket (1–2x)
Fleece jacket
Rain jacket
Rain pants
Sunglasses
Sun hat
Warm hat
Liner gloves
Buff/bandana
4. Packing System
Since you'll be carrying everything you need to survive in the wilderness with you on your back while you hike, you'll need to have a quality packing system in place to help keep your camping gear organized during your adventures.
As a general rule, all backcountry travelers will need the following for their packing system:
Backpack
Stuff sacks
Pack liner
Pack rain cover
The overall size of the pack that you need for backpacking or day hiking really depends on the amount of gear that you'll bring. But, most people find that the following pack sizes are appropriate for different length trips:
However, ultralight hikers can often get by with substantially smaller packs for their adventures. You'll actually find that you can use a smaller and smaller pack as you gain more experience with hiking, but, when you're starting out, a slightly larger pack will be easier to organize on the trail.
5. Personal Tech & Gear
In addition to all of the larger items that we've already discussed, there are always plenty of small gear items that you might want to bring with you on your backcountry adventures. Some other essential items that are well worth packing on your trip include:
Headlamp
Spare batteries
Trowel
Map, compass, and GPS
Bug headnet
Bear spray (location-dependent)
Cell phone
Whistle
ID, cash, and a credit card
Permits, reservations, and licenses
Portable power bank
First aid kit
Multi-tool/pocket knife
Gear repair kit
Prescription medications
Toiletries (biodegradable when possible)
Sunscreen
Toilet paper (with garbage bag)
6. Optional Extras
Up to this point, all of the gear that we've mentioned so far are must-have items for any backcountry traveler. But, there may be times where you might want to bring some additional items, either for comfort or entertainment on the trail. Here are some good items to consider packing on your next trip:
Camp shower
Camera and batteries
Journal and pen
Book
Portable watercolors
String lights
Musical instruments
Binoculars
Deck of cars
Fly fishing gear (check local permits)
Coffee brewing system
Small ax or saw
Menstrual hygiene products
Camp shoes
Bathing suit
Compact towel
Wind shirt/jacket
Food Considerations
As we've mentioned, backcountry hikers and campers are always hungry. So, it should come as no surprise that food planning is always a concern for folks that are heading into the wilderness.
When it comes to food planning while backpacking, the first thing to recognize is that there's no one food prep strategy that works for everyone. Rather, what's important is that you find the strategy that's right for you.
Within the world of backcountry food planning, there are two primary food prep systems: the meal planning method and the pantry method. Here's a quick look at how both systems work so you can find the best option for your needs.
1. Meal Planning Method
The meal planning method is, as the name suggests, a system where you plan out each meal of your backpacking trip. Doing so is often ideal if you're going on a very short trip (think less than one week) or if you're trying to stick to simple meals.
There are so many options for cheap backpacking meals and for camping food that you don't have to refrigerate for you to bring on your next trip. While we couldn't possibly list all the meals that you can make, some of the most popular include mac and cheese, packs of instant rice and beans, oatmeal, pasta, and other simple options.
You might also want to pack bagels, tortillas, pita bread, or other similar items to make sandwiches with on the trail. Alternatively, some folks prefer to pack lots of snacks and energy bars for mid-day eating as they hike.
Regardless of what meals you choose while using the meal planning method, there are three key things that you ought to keep in mind:
You Need To Plan Ahead – If you use the meal planning method, you need to count precisely how many breakfasts, lunches, and dinners you need on the trail. Then, pack your food accordingly. You may also want to add in an extra meal to your rations, just in case you get hungry or get stuck out for an extra night.
Freeze Dried Meals Are Not Ideal – Sure, freeze dried meals are great on occasion and for a single overnight trip, they're not bad. But, if you're going outside for more than a day at a time, you'll be much happier if you plan actual meals with real food to eat as you hike. Plus, freeze dried meals are expensive, so it's best to go with real food whenever possible.
Pack More Food Than You'd Normally Eat – You'll almost always be hungrier while camping than you are at home. So, pack about 50% more food for each meal than you'd eat if you were at home on the couch. Your body will thank you for it later.
2. Pantry Method
As you can see, the meal planning method is great for folks that are going out on a short backpacking trip. But, if you're not interested in pre-planning every single meal for your adventures or if you're going out on a longer trip, the pantry method will likely be much more efficient.
The pantry method is often called the NOLS rationing method because it's the system used by NOLS (the National Outdoor Leadership School). With this method, you'll pack the food you need by weight—not by meal.
As a general rule, summertime campers need about 1 to 1.5 lbs (453 to 680 g) of food per person, per day. So, if you were camping for one week, you would need 7 to 10.5 lbs (3.2 to 4.8 kg) of food in total.
This total food weight would be divided up among food items, like flour, oats, pasta, rice, cheese, dried veggies, packets of chicken, summer sausage, dried eggs, chocolate, dried fruits, and the like. These raw materials can then be made into pretty much any meal you can think of, from pizza to cinnamon buns.
We should mention that this method is a bit involved, so it's not ideal for first-time campers. But, as you gain more experience, it's often a great way to eat well while backpacking. For more information, check out this video from NOLS about how they organize their rations system:
Fuel Considerations
The last major planning consideration as you organize your backpacking trip is your fuel consumption.
Except in very rare circumstances where you're limited to cooking only on an open fire, you'll almost certainly do the vast majority, if not all, of your cooking over a camp stove. Therefore, you'll need to calculate how much fuel you need for cooking up tasty fuel during your wilderness adventures.
Unfortunately, fuel calculations, like food rationing, while backpacking are not easy.
With that in mind, if you use a liquid fuel stove, you can generally expect to use about 1/3L of fuel per stove, per day of your trip.
Canister fuel stoves can be a bit trickier, as it really depends on the boil time for your particular stove. So, we recommend figuring out how much water your stove can boil per 1 oz (28 g) of fuel and then calculating your fuel needs from there.
For example, MSR states that you can boil 2L of water with 1 oz (28g) of fuel on their PocketRocket 2 stove. So, if you plan to use this stove for 1L of water at breakfast and dinner each day, you can calculate that you'll use 1 oz (28 g) of fuel for each day of your trip.
Then, multiply that total by the number of your days on your trip and build in a budget of 30% extra fuel (just in case) to determine how much fuel you'll need for your trip.
Again, though, keep in mind that fuel rationing is an art, not an exact science. There are so many factors that can affect the efficiency of your stove, from the temperature to the wind, that you'll be hard-pressed to be completely accurate in your estimates. So, it's always worth budgeting some extra fuel, just in case you need it on your adventures.
Chapter 3: Tips & Tricks While Backcountry Hiking & Camping
Congrats—you made it! After reading chapters 1 and 2 of this backpacking and hiking guide, you have a solid idea of how to plan and organize a trip into the wilderness.
But, as avid hikers ourselves, we know that backpacking is more than just planning for your adventure. Rather, it's about being outside and making the most of your time in the mountains.
With that in mind, we've compiled a list of a few top tips for your next backcountry expedition. In this final chapter, we'll discuss some often-overlooked aspects of wilderness hiking and camping so you can feel confident in your abilities before you hit the trail.
Route Planning Requires Research
We've already spent quite a bit of time talking about how you might go about deciding on a location for your backpacking or hiking trip, but determining precisely what route you'll take isn't always that easy.
Indeed, route planning can be particularly challenging, especially if you're new to ventures into remote locales.
More often than not, you'll need to spend time scouring a topographical map looking for suitable camping locations. This often involves looking for places with relatively small elevation gradients (places where the contour lines are far apart on the map) to increase your chances of finding a flat campsite.
However, you'll also need to make sure that your proposed campsites are within a reasonable distance from each other.
For example, if you know that you're comfortable hiking no more than 8 miles (12.9 km) per day, then you won't want to plan a route with campsites that are 12 miles (19.3 km) apart. Conversely, campsites that are only 2 miles (3.2 km) apart might not provide you with enough hiking each day.
If all of this feels like too much for you as you start your backpacking planning process, we do really recommend reaching out to the land managers at your destination to see if they have any suggestions. Park rangers often know about the best hikes in their area so they can usually suggest some good route itineraries for campers of different experience levels.
Campsite Selection Is Essential
Okay, we know what you're thinking: We've already talked about route planning while backpacking, so why do we need to talk about campsite selection again?
Well, when we say "campsite selection," we're referring to what you do when you arrive in your preferred camping location for the evening. Once you arrive at camp, you may still need to scope out the perfect tent site, which isn't always as easy as it might seem.
In particular, here are a few key things to keep in mind as you select a campsite while backpacking:
Put Safety First – Safety should always be a top priority when camping, and wilderness backpacking is no exception. If you're selecting a campsite for the night, take some time to survey your surroundings. Check to see if there's a big risk of rockfall or avalanches in your area. Then, consider whether you're in the flood zone of a river if a flash flood were to happen at night. Finally, look overhead to ensure that there are no dead trees hanging over your proposed test site.
Follow Leave No Trace – We've already mentioned the importance of LNT principles while backpacking, though we should reiterate that they are vital for proper campsite selection. In particular, LNT suggests that we camp at least 200 feet (60 m) from water, roads, and trails whenever possible to minimize our impact on the landscape and on local wildlife.
A Flat Campsite Is A Happy Campsite – We humans generally prefer to lie down on flat ground, so finding that flat campsite is ideal. It's best to test out a few different potential tent sites by lying down on them to ensure that they're actually flat before setting up camp for the night. If you really can't find a flat site, then sleep so that your head is uphill from your feet. Otherwise, you might feel a little woozy from sleeping on an incline all night!
Always Treat Or Filter Your Water
Although we backpackers often focus a lot of our energy on prepping and planning our food rations, we can't overlook the importance of getting enough water to drink on the trail. In reality, hydration is critical for any outdoor enthusiast, especially if you're hiking in hot weather.
But, when you're hiking and backpacking in the wilderness, you should always treat or filter your water. While you could drink fast moving water in an emergency, doing so isn't ideal because it exposes you to the risk for dangerous pathogens.
Therefore, we always recommend treating or filtering your water before you drink it while backpacking. You can treat your water through one of a number of ways, including:
Boiling – Bringing water to a rolling boil for about 2 minutes will kill nearly any pathogens that might've been in it. But, this method does use quite a bit of fuel.
Pump Filters – These filters are somewhat bulky and expensive, but they can filter out the bulk of bacteria, protozoa, and debris from your water with relative ease.
UV Light – UV light can be used to treat water in a matter of seconds by destroying the reproductive materials of protozoa, bacteria, and viruses in your water. However, these devices are battery-powered and they can break.
Chemical Treatments – You can treat water with various chemicals (usually iodine or chlorine dioxide), most of which kill bacteria, protozoa, and viruses. They are compact and easy to use, but they do leave a funky taste in your water.
Ultimately, the type of water treatment you choose is a personal decision. However, what's important here is that you have a water treatment system with you while backpacking that's ideal for your needs.
Dress & Layer For Backcountry Adventures
Layering your clothing is an essential skill for all backcountry travelers, and for good reason: Proper clothing layering can help you stay warm and dry, even in truly foul weather.
When backpacking or wilderness hiking, it's important to use a three-layer system for your clothing. This involves the following:
Base Layer – Your base layer, or long underwear, is your moisture-wicking layer. These shirts and pants are designed to pull moisture from your skin so it can evaporate and keep you cool and dry.
Mid Layer – While your base layers are designed for moisture-wicking purposes, your mid layers are your insulating clothing. This includes your fleece and puffy jackets, as well as any fleece or puffy pants you might bring for colder weather or winter camping.
Outer Layer – The final layer of the system is your outer or shell layer. This layer consists of your rain jacket and rain pants as it's designed to keep you as dry as can be in various types of precipitation.
The idea behind layering is that you can mix and match these three different layers to best meet the needs of the environment around you. As the weather changes, so too can your layers, so that you're never too hot or too cold for your adventures.
Consider What You'll Do In An Emergency
Finally, if you're going to go backpacking or wilderness hiking, you should spend quite a bit of time thinking about what you'd do if you got caught outside in an emergency situation, be that an injured fellow camper or a bad storm.
Indeed, for each trip, all campers should have some contingency plans at the ready. Thinking through some potential escape routes from your remote campsites and familiarizing yourself with the nearest hospital in the region are important steps to take before you head into the woods.
On a much more broad note, however, all backcountry campers and hikers should strongly consider thinking about taking a wilderness first aid course early on in their career. Learning the basics of handling a medical emergency while camping could literally save someone's life someday, so these sorts of classes are a must-do for all outdoor enthusiasts.
But, above all, enjoy yourself outside, plan ahead, be prepared, and make good decisions. As you gain more experience and skill in the mountains, you can start to venture into more remote destinations.
Source https://www.ybbstaler-alpen.at/en/explore-the-wilderness-area-on-your-own
Source https://www.muchbetteradventures.com/magazine/the-20-best-hikes-in-europe/
Source https://outforia.com/wilderness-and-backcountry-hiking/