Estes Park Hiking & Things to do that are not in RMNP
People from around the world flock to the Estes Park area and Rocky Mountain National Park for all the amazing outdoor adventures that can be had.
Dozens of trails ranging from the most basic to the most extreme call to visitors of all ages. If you want to avoid the crowds or spend a day outside of RMNP and still find a great adventure, here are some hiking trails located near Estes Park not in Rocky Mountain National Park.
Lake Estes Loop Trail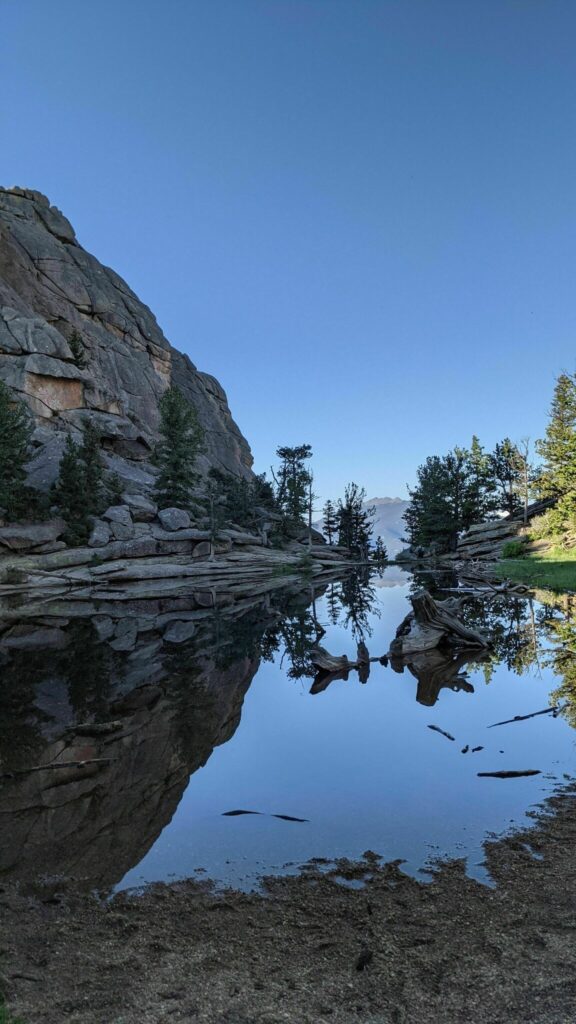 Another easy hike for beginners is the Lake Estes loop. Located in Estes Park, Lake Estes is home to many of the area's activities. The loop follows the lake shoreline offering beautiful panoramic views of the mountains. Used by runners, hikers, bikers, and walkers, this trail is great for spotting local wildlife.
Total Distance: 3.8 miles
Limber Pine Trail
Southeast of Estes Park in the Roosevelt National Forest is the Hermit Park Open Space. With several trails to choose from, the Limber Pine Equestrian Connector Trail is a nice easy trail for the novice hiker. Only 1/4 mile in length with a minimal change in elevation, this short hike is great for guests that are looking for an easy, family and pet friendly walk. Bikes and horses are also welcomed on this trail.
Total Distance: 1/4 mile
Kruger Rock Trail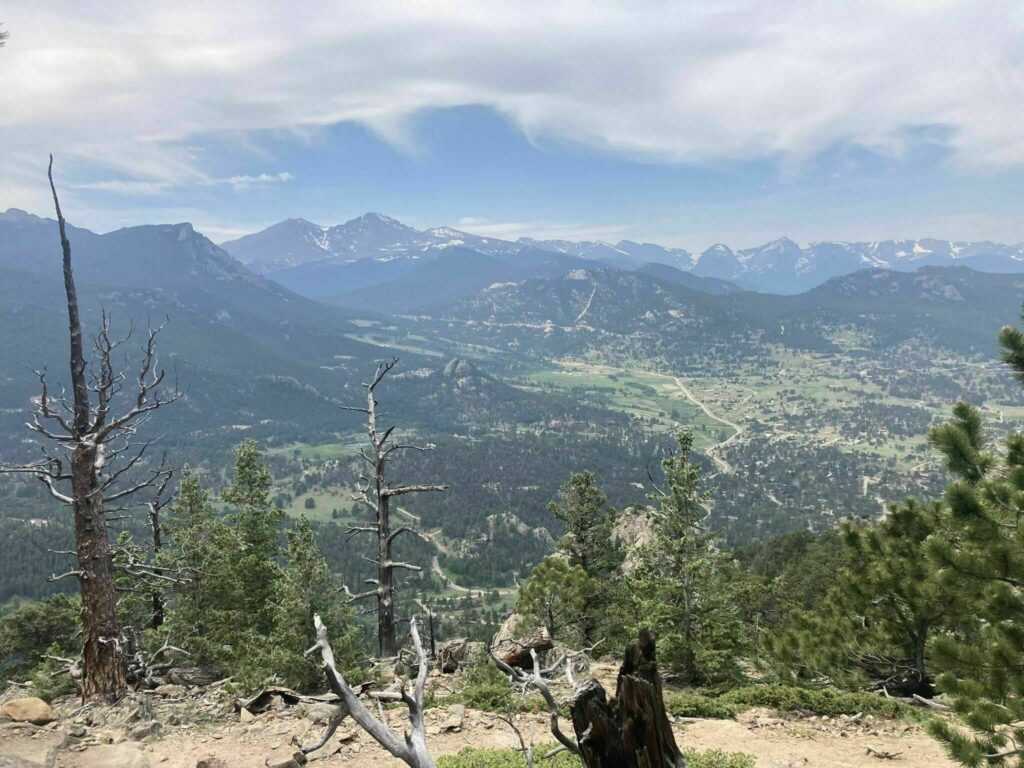 Also located in the Hermit Park Open Space is the Kruger Rock Trail. This trail is for the more experienced hiker with a total elevation change of 878 feet. This winding, mostly dirt path will take adventure seekers from the home base to Kruger Rock. The hike is best used for enjoying beautiful wildflowers and bird watching. Dogs are allowed on the trail as long as they are on a leash.
Total Distance: 4 miles
Lily Mountain Trail
One of the most beautiful trails in the Roosevelt National Forest is the Lily Mountain Trail. An advanced hike that is recommended for experienced hikers, this trail features stunning wildflowers and the possibility of meeting wildlife. The trail offers a number of options regarding length and difficulty and dogs are welcomed while on a leash. With an elevation gain of 1,282 feet, hikers that endure the climb are treated to some of the most spectacular views in Colorado.
Total Distance: 4 miles
East Portal to Sprague Lake
A more moderate hike, the East Portal to Sprague Lake is a popular, out and back, route. Hikers will enjoy views of the Continental Divide, Hallett Peak, Taylor Peak and Flattop Mountain on their way to Sprague Lake via the Adams Tunnel East Portal trailhead. There is very little change in elevation on this hike, making it more accessible to less experienced hikers. Once arriving at the lake, hikers can enjoy an easy mile loop around and enjoy the beauty of Sprague Lake.
Total Distance: 3.2 miles (4.2 with lake loop)
Lion Gulch Trail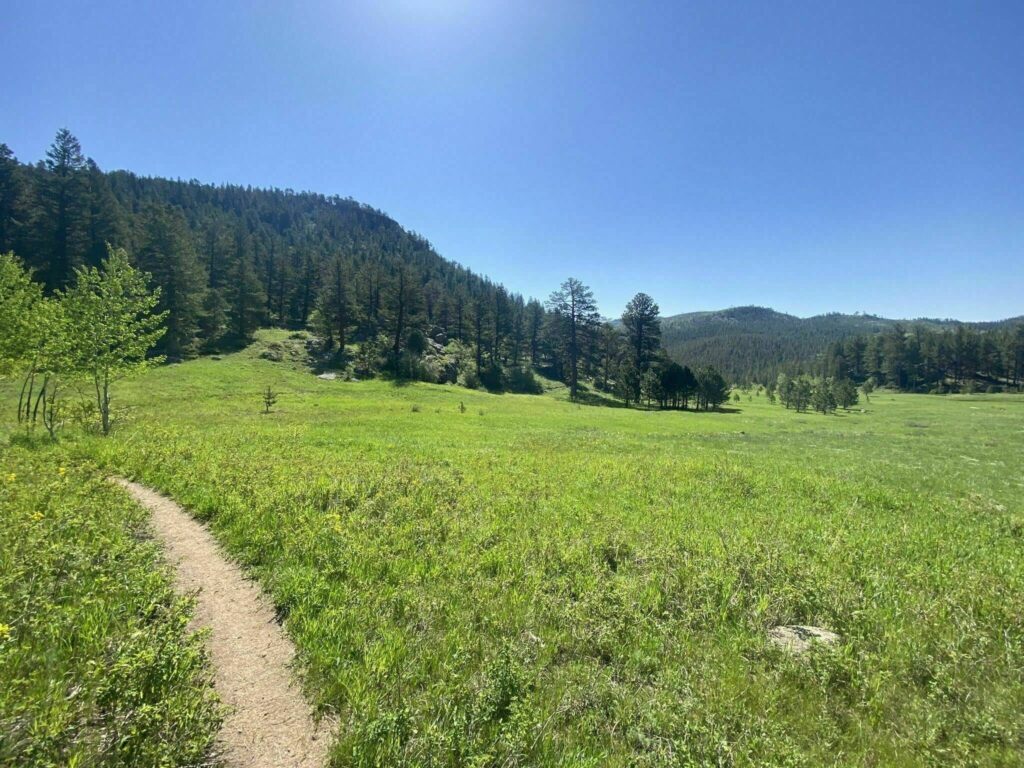 For a great, river view trail, the Lion Gulch Trail is one of the best. This out and back hike features a beautiful, shaded hike along the river and is great for viewing wildlife. with an elevation gain of 1,374 feet, this trail is rated moderate and is recommended for more experienced hikers. Great for a horseback riding adventure, this trail has a steady incline with 2-3 steeper inclines. Beautiful meadows and twinkling aspens are a treat along the way. Dogs are welcomed as long as they are on a leash.
Total Distance: 6.3 miles
Things to do in Estes
One of the most beautiful areas of the country is Northern Colorado. Towering mountains, beautiful lakes, and plenty to see and do make this area one of the top destinations in the country. Taking the grand prize of great vacation destinations is Estes Park and the nearby Rocky Mountain National Park. With activities and adventures for the whole family this beautiful mountain town and surrounding park provide plenty to see and do. Here are some of the top attractions in Estes Park, Colorado.
Estes Park Guided Tours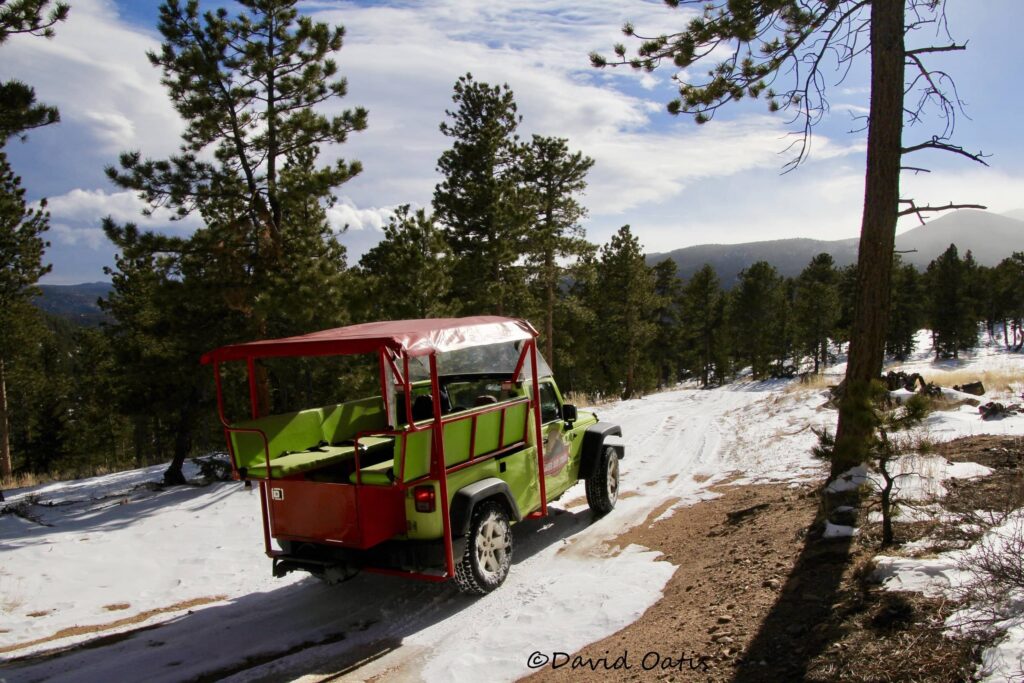 One of the best ways to get to know this beautiful city is to take a guided tour. There are several companies in the area that offer jeep tours of the surrounding mountains, guided walking history tours of the town, and even event specific tours such as sledding, snowmobiling, or other outdoor activities. Visit the local visitor's center for details on tour companies and to book a tour that fits your trip to a tee.
Patterson Glassworks Studio and Gallery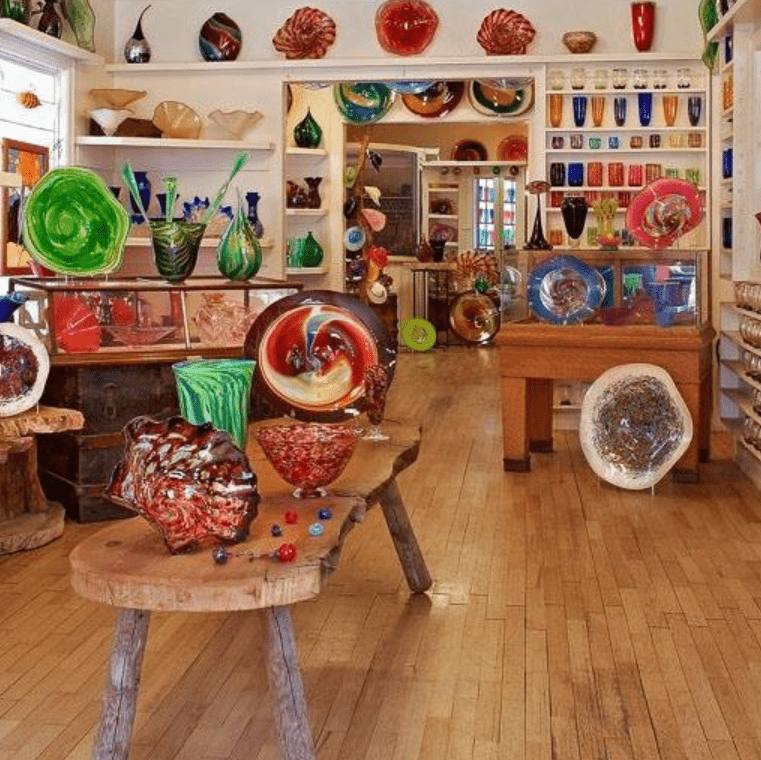 A favorite spot for locals and visitor alike, the Patterson Glassworks Studio and Gallery has been capturing the imagination of visitors of all ages since 1986. Established by glass artist Garth Mudge, this fantastic gallery has been a place for guests to see the artists at work creating beautiful glassworks.
The artists use a variety of tools ranging from jacks and paddles to wet newspaper to create these beautiful designs through a process known as incalmo, or the fusing of two or more air bubbles. The gallery contains items for viewing and for sale ranging from the everyday ware of glasses and plates to more unique pieces.
Estes Park Brewery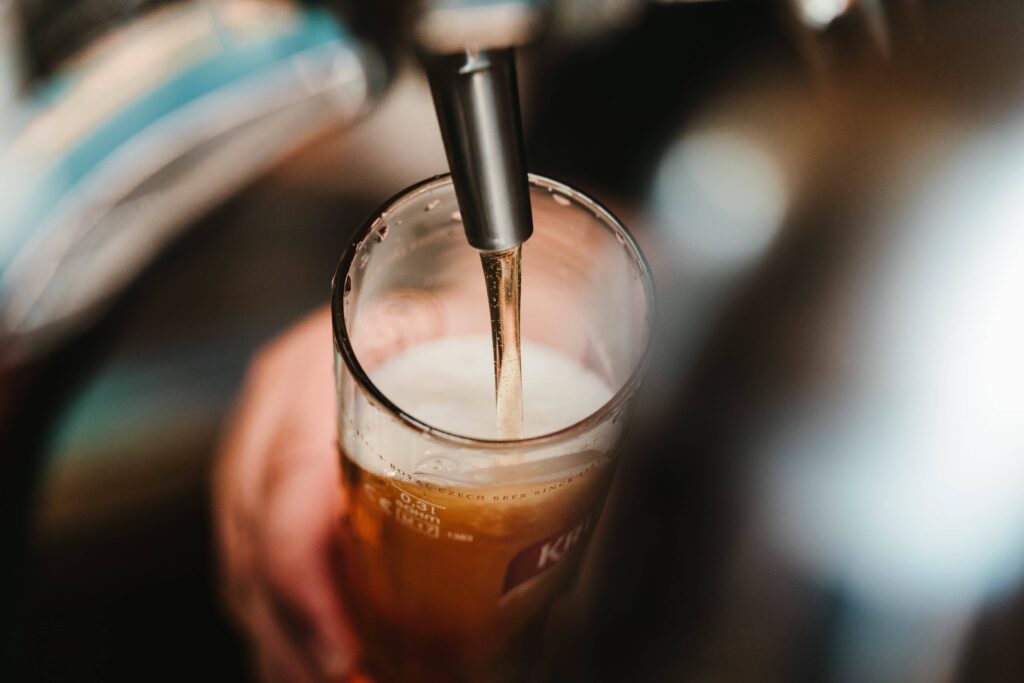 Located on Prospect Village Drive in Estes Park is one of the best local breweries in the area. With over 12 hand-crafted beers on tap created on-site as well as plenty of root beer and other delightful drinks, this location is a must-see when visiting the area. Make a meal out of your stop and select from a wide range of options guaranteed to please even the pickiest of eaters.
The restaurant also offers a fantastic scenic overlook as well as pool tables, video games, and so much more. Don't know what you want to try? Head over to the tasting room to sample all that the Estes Park Brewery has to offer.
The Estes Park Aerial Tramway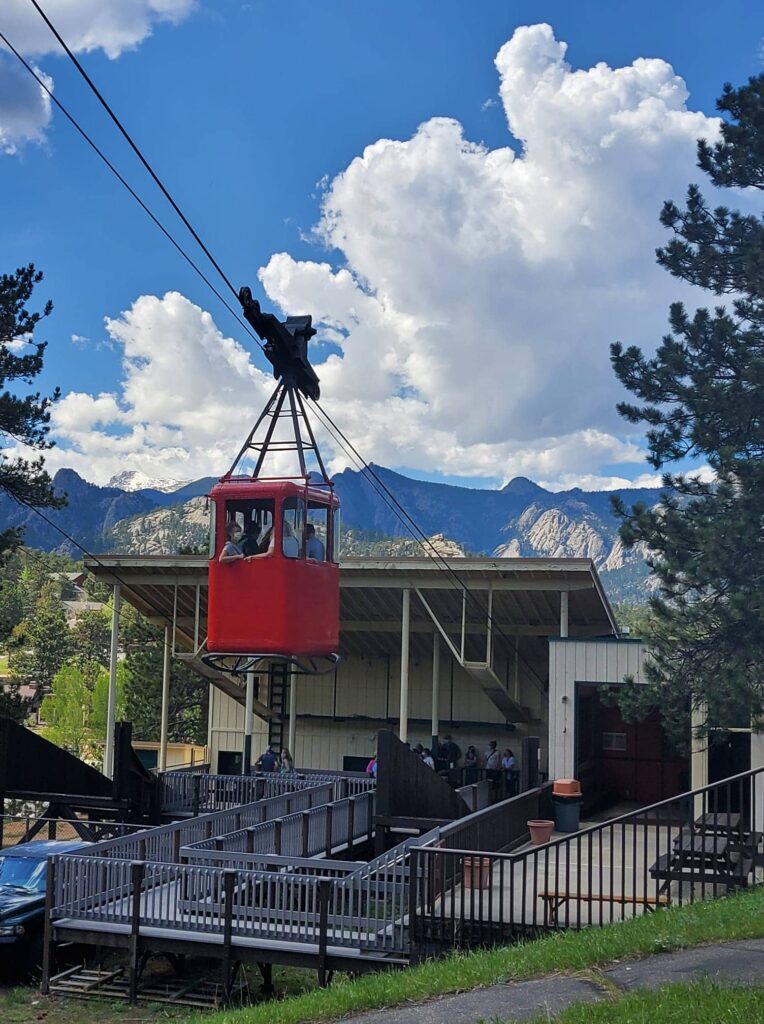 If you don't want to hike, but still want to be treated to amazing views, check out the Aerial Tramway. The Estes Park Aerial Tram glides safely above the treetops from the base to the summit of Prospect Mountain.
Once you arrive at the top, stay and enjoy the majestic views offering postcard perfect scenery. For the best photograph opportunities and the best weather, ride early in the morning or enjoy a sunset from the mountain grandeur.
The Stanley Hotel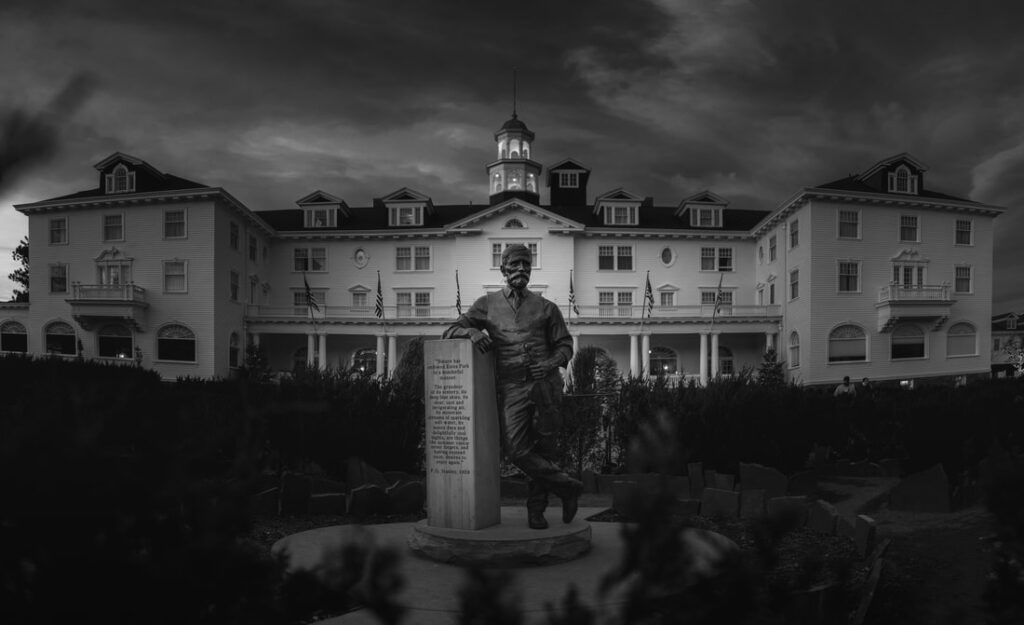 Of course, no trip to Estes Park is complete without a visit to the iconic Stanley Hotel. Built in 1909 by the Stanley Steamer founder, F.O. Stanley, and featured in movies such as "The Shining", the Stanley Hotel is an upscale resort and wellness destination.
Earning a reputation for being home to some unusual paranormal activity, the hotel offers tours during the day for the history buff and at night for those who wonder what goes bump in the night.
The hotel is also home to an expansive whiskey bar and Colorado's largest selection of whiskeys and single malt selections, as well as restaurants, gift shops, and beautiful grounds to explore. Whether you are staying for the night or just enjoying the grounds for the day, this is one location that should be on everyone's to-do list.
Whether it is hiking or visiting one of these popular attractions, there is plenty to do in Estes Park and outside of Rocky Mountain National Park. Plan a fun day trip or overnight trip with family or friends!
Travel
A record-breaking 4.5 million people visited Rocky Mountain National Park last year, and more than 3 million of those visitors were in the summer months
Share this:
ESTES PARK, CO – May 22, 2014: Tourists check out stores along West Elkhorn Ave, the main street in downtown Estes Park, on May 22, 2014.
The summer I worked at the Copper Penny souvenir shop in Estes Park, the top-selling T-shirt was fringed, teal and emblazoned with hot-pink flamingos.
I mean sure, it was the late '80s and fluorescent colors were considered neutrals, but flamingos? In Estes? What about all the saltwater taffy shops that lined (and still line) Elkhorn Avenue, the main drag of a mountain town 1,242 miles from the nearest body of salt water?
This touristy summer version of Estes Park wasn't the Estes I was used to. Living just 45 minutes down the Big Thompson Canyon from the scenic mountain town, my family spent lots of time there in the offseason. But we avoided it like a prairie dog with bubonic plague between Memorial Day and Labor Day.
Nowadays, there are even more visitors. A record-breaking 4.5 million people visited Rocky Mountain National Park last year, and more than 3 million of those visitors were in the summer months. This year marks Estes Park's centennial, and the town of around 6,000 residents is prepared to host record-breaking crowds for the celebration.
There's a long tradition of summer tourism here. The Estes Valley was a summer tourist destination for the ancestors of today's Native Americans 10,000 years before there was an Estes Park or a national park. By the 1870s, the first pioneer families came to the Estes Valley to ranch and farm, but most soon discovered there was more money to be made taking care of the ever-increasing number of summer visitors.
Still, my first summer home from college, I drove up U.S. 34 for some seasonal employment and got a shock. Whoa, where did all these people come from? And why are they buying tropical-themed souvenirs?
I've since come to realize that during peak season, it is the visitors, not the locals, who define the place. Although most people say they don't want to join the pack of tourists, we all do at some point. Tourists go to see the best scenic overlook, the most famous piece of artwork in the museum, the world's biggest ball of string. (And while seeing these must-sees, there's a tendency to buy what's popular, like flamingo T-shirts, even if it has nothing to do with where we are.)
But lucky us, when you are a local, you can avoid falling into the tourist trap by going places at times when the crowds can't.
My family hikes or skis in Rocky Mountain National Park in January, when there are about 100,000 visitors, not July when 10 times that number hit the same trails. Occasionally a lone snowshoe hare turned white for winter will pause at the sight of our cold picnic, curious about the only humans they had seen in weeks. Before heading home we search out an open restaurant for a warm beverage, and we often have the place to ourselves.
But if you can't make it up to Estes before the summer rush, there are quiet places to escape to while visiting Estes and the national park, even during the busiest months:
Visit the beginnings of the mountain town at MacGregor Ranch, which features an on-site museum (only open in the summer). Founded in 1873, this is one of the oldest working cattle ranches in the country. macgregorranch.org/museum.html
On a recent trip to the Stanley Hotel, my daughter spotted the only badger I've ever seen in the valley. For more unexpected sightings, take the 90-minute nighttime ghost tour at the Stanley. stanleyhotel.com/tours/night-ghost-tours
My favorite hiking spots are northeast of town on County Road 43 (which heads northwest out of Drake, which is 13 miles east of Estes). It's home to less-frequented trails at Sullivan Gulch, Crosier Mountain and Storm Mountain. You can continue down 43 (drive or on Sundays, ride your bike) to Glen Haven.
Before heading back up the hill to Estes Park, grab yourself a cinnamon roll at the Glen Haven General Store, which opens for the season Memorial Day weekend. glenhavengeneralstore.com
Reopening U.S. 34: The Colorado Department of Transportation expects to reopen U.S. 34 between Loveland and Estes Park on May 25. The highway through Big Thompson Canyon has been closed to nonresidents to repair damage from the flooding of September 2013.
Join the Conversation
We invite you to use our commenting platform to engage in insightful conversations about issues in our community. We reserve the right at all times to remove any information or materials that are unlawful, threatening, abusive, libelous, defamatory, obscene, vulgar, pornographic, profane, indecent or otherwise objectionable to us, and to disclose any information necessary to satisfy the law, regulation, or government request. We might permanently block any user who abuses these conditions. As of June 15, 2022, comments on DenverPost.com are powered by Viafoura, and you may need to log in again to begin commenting. Read more about our new commenting system here. If you need help or are having issues with your commenting account, please email us at memberservices@denverpost.com.
The 7 Best Hikes in Estes Park, Colorado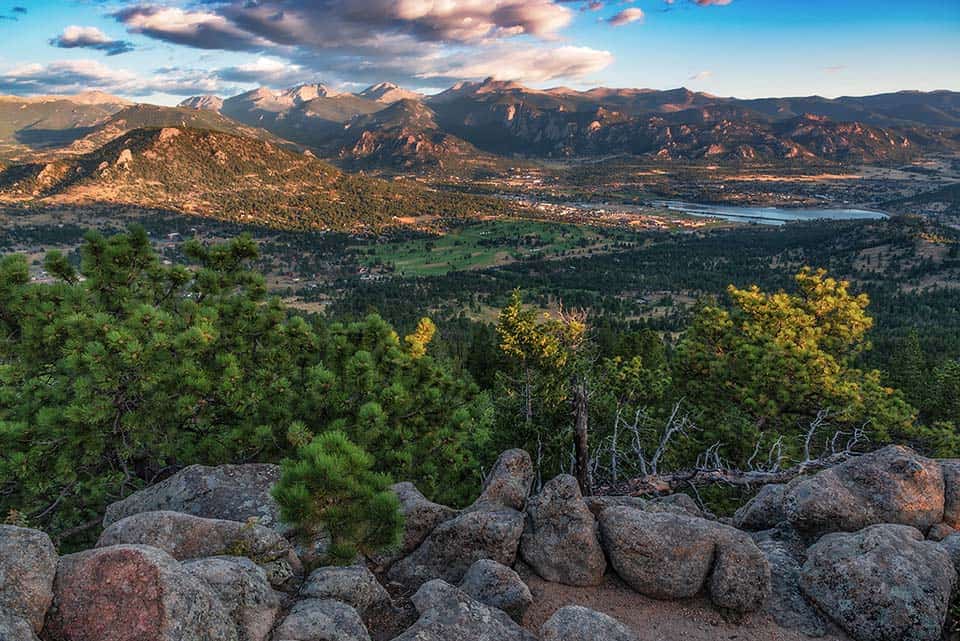 Why you should go: What better way to find some solitude than in a place called Hermit Park?
Hermit Park is an Open Space located right outside Estes Park. Kruger Rock Trail is an out-and-back trail that is very popular among locals. This hike features sweeping fields of wildflowers in the spring.
Enjoy the pleasantries, because after these meadows, you'll be heading straight up a few steep sections through a forested mountain up to Kruger Rock.The view at the top will absolutely be worth the haul.
There is a small entrance fee you will have to pay, and dogs are allowed in the park on leash. This park does close in the winter due to seasonal moose and deer migrations.
2. Lily Mountain Trail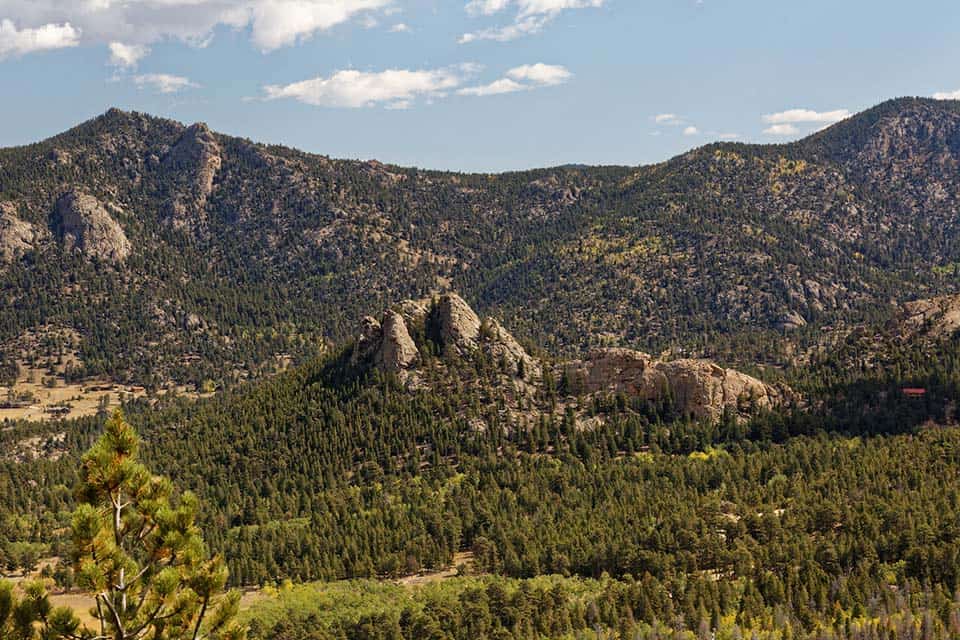 Why you should go: Enjoy a thick forest scene, great vistas, and amazing views at the top of this popular trail.
Best hiked in March-September, Lily Mountain Trail is a great way to start or end a day exploring Estes Park. Views at the top will make for great sunrise/sunset hikes, and the wildflowers during the spring and summer months are certainly a sight to see.
This trail is in Roosevelt National Forest, so it is open year-round and is a popular winter trail here if you have micro-spikes or something similar. Wildlife is abundant on this trail, especially the unique birds and raptors that call this section of the Rocky Mountains home.
This trailhead is free to park and enter, but it is just a small pull-off on Highway 7 so parking can be limited. While it is a popular trail, you'll likely find spaces available early-mid morning. Dogs are allowed (on leash) on this trail.
3. Lion Gulch Trail A.K.A. Homestead Meadows Trail
Why you should go: Go back in time as you hike up through pristine alpine country to the remains of 8 homesteads that date back to 1889.
Hike up through thick forest, listen to trickling waterfalls, then walk through high alpine meadows until you find yourself at the famous Walker and Griffith homesteads. The Walker and Griffith homesteads and cabins will be the first that you come to; you can go further and find the Irvin homestead and sawmill, Laycock, Hill, and Boren Homesteads. Some homesteads were burnt down in wildfires over the years, but most remain. The homesteads are well marked with information plaques, and you will see markers to other homesteads down shorter trails. Some of these trails will add another mile or so onto your hike, but this hike is more of an adventure anyway so why not?
The hike follows a creek through Lion Gulch then ascends and brings you up to Homestead Meadows. The trail crosses this creek several times, so come prepared with waterproof hiking shoes or Chacos! Homestead Meadows is now home to many moose and elk herds that just love roaming through this tucked away alpine wonder.
Not only have wildfires damaged homesteads in this area, but the trail was also taken out in 2013 by flooding and was reopened in 2017. It has since been mostly restored, but the trail can be difficult to find at times, especially in snow. A map and compass is highly recommended on this trail.
4. Lumpy Ridge – Twin Owls Loop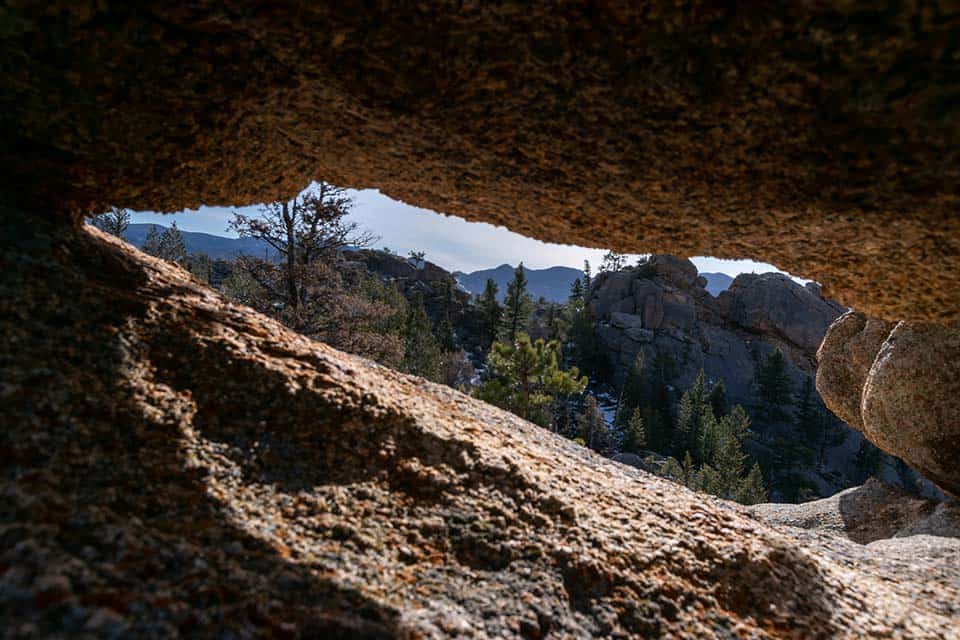 Why you should go: Experience true solitude and adventure on this all-encompassing loop that takes you through Rocky Mountain National Park's untouched northeast corner.
Difficulty: Moderate – Challenging
Distance: 11.1 miles
Elevation Gain: 2,584 feet
More popular among rock climbers than hikers, this trail is a lightly traveled local secret. Lumpy Ridge is a massive granite rock outcropping just to the north of Estes Park.
While Lumpy Ridge is technically part of Rocky Mountain National Park, the trailhead lies just outside the Park's borders and is free to park and enter. The "free-entry" aspect is what makes this area popular among climbers, but they leave the trail after the first 3-4 miles to scramble up to the rock faces.
Unlike other parts of Rocky Mountain National Park that are consistently busy and packed with people, the Lumpy Ridge area does not immediately connect with any trails that are popular among National Park hikers. Allowing you to find yourself some complete mountain solitude on this trail.
The Twin Owls Loop gives you ad complete tour of this Northeast corner of Rocky Mountain National Park. Through Black Canyon, descend into Cow Creek lined with thick aspen groves, and continue on to gain views of the distant Mummy Range and Mount Ypsilon.
Wildlife is quite abundant here; you can find deer, elk, black bears, foxes, coyotes, and even wild turkeys. The quick access to food and water from higher altitude canyons and mountains makes this an ideal spot for local wildlife to move through.
Since this trail does take you into Rocky Mountain National Park, you will have to follow Park rules. Dogs, unfortunately, are not allowed on trails. Backpacking or dispersed camping along this trail will also require a Parks camping permit and reservation that can be obtained here.
5. Bierstadt Lake Trail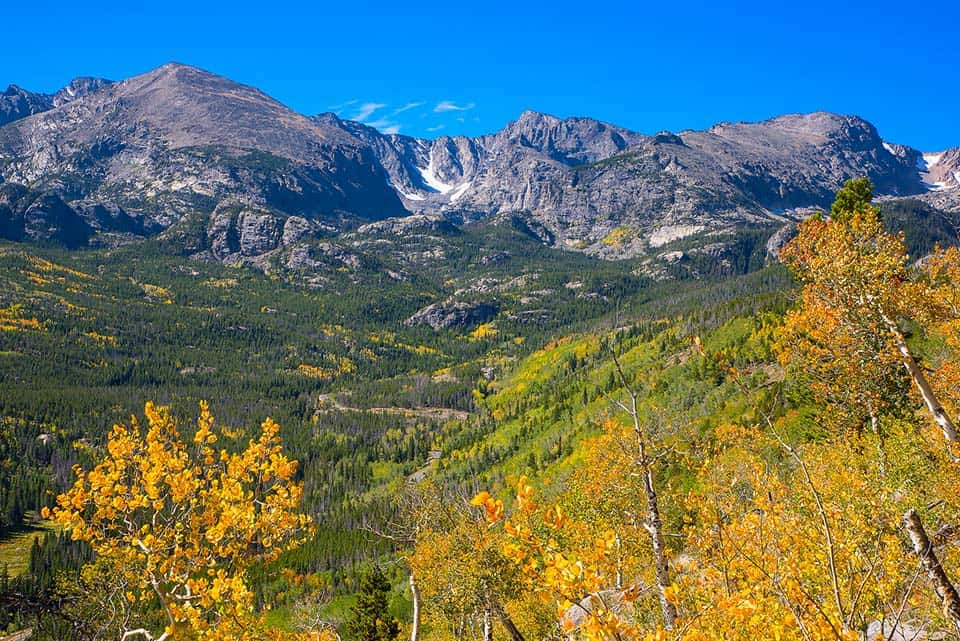 Why you should go: Hike up to one of the most accessible alpine lakes in the Estes Park area!
Bierstadt Lake is a family favorite! This hike is very manageable for hikers of all ages and experience levels. Bierstadt Lake offers amazing alpine lake views and abundant chances to see wildlife up close without venturing too far. Moose especially love this lakeside spot to search for food.
This trail is quite shady and great for hot summer days. Bierstadt Lake is the perfect spot to enjoy a picnic or afternoon snack before your hike back. This trail is open year-round and is a great snow-shoe hike in the winter.
6. Lake Estes Trail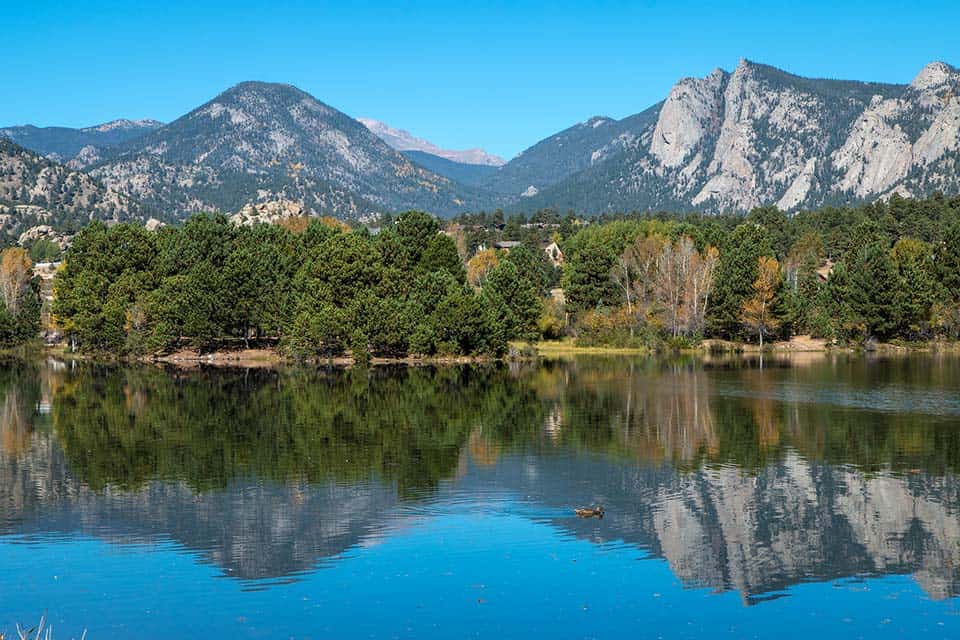 Why you should go: Experience the charm of Estes Park and take a stroll around its namesake.
Even when you are in town you can enjoy a leisurely nature walk around Lake Estes. While this paved trail isn't the most extreme or doesn't take you up an iconic summit, Lake Estes still makes the cut for this article because it's just fun.
A perfect rest day activity, or fun addition to walking around town, enjoying the Lake Estes Trail is fun for all ages and activities. You can even fish around Lake Estes!
Around the lake, you'll get views of Rocky Mountain National Park, the valleys that make up Estes Park, the infamous Stanley Hotel, and you can even catch a glimpse of the Lumpy Ridge rock formations to the north. The Estes Park Visitor Center is also right along this pathway, so take some time to stop in!
7. Donner Pass & Lookout Mountain Trail
Why you should go: Earn these epic views and summit the rightfully named Lookout Mountain!
No, not the same Donner Pass that led to the historic Donner Party's tragic demise. But this trail will make you sweat!
Best traveled between May and October, the Donner Pass Trail is a lightly trafficked out-and-back trail. Located in Roosevelt National Forest, this is a popular and relatively short trail used for backpacking.
The steep elevation gain is what deters most people, but don't be discouraged! This gain brings you high into the Rockies and provides vast 360-degree views of Rocky Mountain National Park, Big Thompson Canyon, the Cache La Poudre Canyon, and the meadows below.
Since the trail is lightly traveled, it isn't the most obvious in some areas. Cairns and survey tape can be found in spots by previous hikers to aid in finding the way. It is also recommended to bring a map and compass on this trail as backup.
Parking for this trail can be tricky. There is a trailhead named Miller Creek/Fork Trailhead that is where this trail begins; but currently, you can't park at this trailhead unless you have a resident pass. You must go down Dunraven-Glade Road and park at the Dunraven Trailhead. The Bulwark Ridge and Indian Trails will take you to Miller Fork Trail which will then take you to Donner Pass. Parking and entering is free, and dogs are allowed on leash in the area.
For After Your Hike
After a long day of hiking, enjoy a burger (or gyro) at Boss Burgers & Gyros. These burgers are the instant fix to any long, hard day on the trail.
More in the need of a classic cocktail? Check out the Stanley Hotel. This infamous hotel is said to have inspired Stephen King's "The Shining," and is one of the top places to visit during your stay in Estes Park. The hotel's bar and restaurant are open to the public and I highly recommend at least having one cocktail in their historically preserved bar.
Source https://coloradosundays.com/guides/estes-park-hikes-things-to-do/
Source https://www.denverpost.com/2017/04/27/escape-crowds-estes-park-this-summer/
Source https://www.territorysupply.com/estes-park-hikes