Essential Washington: 20 Must-Do Hikes
Whether you've just moved to Washington state or you just want to show off Washington's stellar hiking trails to your out-of-state visitors, this list of hikes shows off some of Washington's best trail diversity.
Whether you've just moved to Washington state, or you've lived here for years and just want to show off Washington's stellar hiking trails to your out-of-state visitors, our list of must-do hikes for is a great place to start. How did we choose these twenty out of the hundreds of incredible trails? It was tough, but taken together, we felt these hikes do a great job of showing off Washington's incredible trail diversity.
North Cascades
Horseshoe Basin
Location: Pasayten
Length: 12 miles, roundtrip
Elevation Gain: 1,550 feet
Highest Point: 7,200 feet
Best Season: July – October
Horseshoe Basin. Photo by trip reporter Wild Side.
A backpacking favorite where you can spend a day—or a week—exploring the wonders of this alpine landscape. Climb the local peaks, check out the Canadian border monuments, or kick back and watch the marmots. At night, listen for the coyotes and count stars.
Blue Lake
Location: North Cascades — North Cascades Highway – Hwy 20
Length: 4.4 miles, roundtrip
Elevation Gain: 1,050 feet
Highest Point: 6,254 feet
Best Season: July – September
Blue Lake. Photo by trip reporter Willow's Humans.
When most hikers refer to Blue Lake, this is the one they're talking about. With towering granite peaks, forests, meadows, wildflowers, and of course the beautiful mountain lake surrounded by granite that reaches for the sky, this short hike is easily a classic and should be on your must-hike list. While the larches here turn a brilliant yellow in the fall, we recommend visiting this trail in the summer to avoid full parking lots and congestion.
Park Butte
Location: North Cascades — Mount Baker Area
Length: 7.5 miles, roundtrip
Elevation Gain: 2,200 feet
Highest Point: 5,450 feet
Best Season: Late summer – fall
Park Butte. Photo by trip reporter geezerhiker.
A stunning North Cascades alpine hike just south of Mount Baker. Day hike it or backpack here in late summer or fall, when it really shows off the best of autumn foliage. Along with unobstructed panoramic views of Mount Baker, the Twin Sisters, and the rest of the North Cascades, the route to Park Butte offers campsites, wildflower-filled alpine meadows, rushing waterfalls, and a stunning variety of mushroom species.
Gothic Basin
Location: North Cascades — Mountain Loop Highway
Length: 9.2 miles, roundtrip
Elevation Gain: 2,840 feet
Highest Point: 5,200 feet
Best Season: Late July – mid-October
Gothic Basin. Photo by trip reporter Mountain_Vagabond.
This hike is a thrill for backpackers and day hikers alike. While it may look like an easy trek from the moderate elevation gain and length — it is anything but. The miners who originally constructed it had little time for switchback or nicely graded trails. That said, all who make it to the top will be rewarded with unmatched views.
If you plan on spending the night here, please note that Gothic Basin is an extremely fragile area. Be sure that you're camping on an established site or sturdy surface, like rock or dirt, and avoid camping in meadows or grasses, as this can damage the landscape.
Central Cascades
Kendall Katwalk
Location: Snoqualmie Region — Snoqualmie Pass
Length: 12.0 miles, roundtrip
Elevation Gain: 2,600 feet
Highest Point: 5,400 feet
Best Season: Late July – September
An abundance of wildflowers in Spider Meadow. Photo by Woodsy.
Hike an iconic section of the PCT north of Snoqualmie Pass. This narrow and rocky trail also includes old-growth forest, gorgeous wildflowers, and stunning views into the Alpine Lakes Wilderness from both sides of the pass below Kendall Peak, where the Katwalk begins.
Carne Mountain
Location: Central Cascades — Stevens Pass – East
Length: 7.3 miles, roundtrip
Elevation Gain: 3,600 feet
Highest Point: 7,085 feet
Best Season: Late summer – fall
Larches in the early fall. Photo by dbaile16.
This challenging yet rewarding hike is known for the brilliant gold colors of western larches. Against a backdrop of blue autumn sky and the magnificent peaks of the Cascades, they are a dazzling sight and a Washington essential.
Olympic Peninsula
Hoh Rainforest Trail
Location: Olympic National Park
Length: up to 37 miles, roundtrip
Elevation Gain: up to 3,700 feet
Highest Point: 4,300 feet
Season: Year-round
A view of the river. Photo by trip reporter Akorn.
There is something incredibly magical about the Hoh . The huge trees, the cascading moss, the birds and Roosevelt elk, the Olympic Mountains rising above and the broad river valley extending up and downstream, all make this a hike that must be done at least once in a lifetime. The trail can be tailored to your needs too — hike for as little or as long as you like along the nearly 19 mile route. If you're short on time or are hiking with a family, you may also want to check out the Hall of Moses — a short and sweet rainforest loop beginning from the same trailhead.
Rialto Beach and Hole-in-the-Wall
Location: Olympic Peninsula — Pacific Coast
Length: 4 miles, roundtrip
Elevation Gain: minimal
Best Season: Year-round
Photo by trip reporter ErynnAllen.
With so many mountain hikes to choose from, many hikers forget about the glories of Washington's coast. There is some incredible coastal hiking all the way up and down the coast, but this little slip of the wild Olympic Coast is a classic. Plus, it's great for kids.
mount angeles
Location: Olympic Peninsula — Northern Coast
Length: 6.25 miles, roundtrip
Elevation Gain: 1,254 feet
Highest Point: 6,454 feet
Best Season: July – August
Photo by trip reporter stani.
You can't go wrong finding wildflowers at Hurricane Ridge in Olympic National Park. While many folks head up the paved path to Hurricane Hill, solitude seekers climb up the Mount Angeles trail and branch off to attain Sunrise Ridge. Phlox, penstemon, lupine, bistort, larkspur and more greet hikers here.
Mount Rainier Area
Naches Peak Loop
Location: Mount Rainier Area — SE – Cayuse Pass/Stevens Canyon
Length: 3.2 miles, roundtrip
Elevation Gain: 600 feet
Highest Point: 5,849 feet
Best Season: Late June – October
A small tarn along the trail. Photo by trip reporter TheKingBoar.
This is a trail to save until August or September. In this short window of time, hikers will rejoice by frolicking along the trail surrounded by fields of wildflowers and soaking in one of the classic views of The Mountain. Because it's a short, flat, loop, this is our pick for taking out-of-towners who may not hike much.
Burroughs Mountain
Location: Mount Rainier Area — NE – Sunrise/White River
Length: 9.0 miles, roundtrip
Elevation Gain: 2,500 feet
Highest Point: 7,828 feet
Best Season: Mid-July – October
Photo by trip reporter NobleAdam.
Potentially one of the most iconic Mount Rainier hikes, the Burroughs trail will get you up close and personal with the mountain — so close you feel like you can touch the summit. It's near impossible to choose just one or two essential Mount Rainier hikes, but make this hike is so well-rounded, it makes the cut.
South Cascades
Harry's Ridge
Location: South Cascades — Mount St. Helens
Length: 8.2 miles, roundtrip
Elevation Gain: 970 feet
Highest Point: 4,792 feet
Best Season: Late June – November

A cloud inversion below Mount St. Helens. Photo by trip reporter neverstophiking.
A classic Mount St. Helens hike, leaving from the Johnston Ridge Observatory. The hillsides are alive with wildflowers at mid-summer, and the view from the end of Harry's Ridge has you looking straight into the mouth of the crate, not to mention views of Spirit Lake, Mount Adams and even Mount Hood on a clear day.
Bird Mountain Loop
Location: South Cascades — Mount Adams Area
Length: 10.25 miles, roundtrip
Elevation Gain: 1,875 feet
Highest Point: 5,230 feet
Best Season: July – October
Photo by trip reporter wishfulwanderer.
A ten-mile loop that shows off the lakes, meadows and vistas (not to mention huckleberries) of Indian Heaven Wilderness and Mount Adams with a southern section of the Pacific Crest Trail.
Lost Lake Lookout
Location: South Cascades — White Pass/Cowlitz River Valley
Length: 14 miles, one-way
Elevation Gain: 3,897 feet
Highest Point: 6,316 feet
Best Season: July – September
Photo by tripreporter JimmyBob.
The Goat Rocks Wilderness is a beauty, and this less-traveled access point is a great way to explore the area for yourself. Peaceful lakes, snow-capped mountain views, flower-filled ridgelines and more await you here.
Southwest Washington
Cape Disappointment state park
Location: Southwest Washington — Long Beach Area
Length: varies
Elevation Gain: varies
Highest Point: 200 feet
Best Season: Year-round
A peek out to the Pacific Ocean. Photo by trip reporter WonderSmash.
Cape Disappointment is a stunning getaway spanning the southwestern tip of our state — and despite the name, it is anything but disappointing. There are plenty of trails to choose from across the park. Whether you want to visit a historic lighthouse, hit the sandy beach, or stroll through coastal forests and overlooks, there is something for anyone.
cape horn
Location: Southwest Washington — Columbia River Gorge – WA
Length: 7.2 miles, roundtrip
Elevation Gain: 1,300 feet
Highest Point: 1,350 feet
Best Season: Year-round
Views across the river and into Oregon from atop Cape Horn. Photo by trip reporter ZhuckYu.
This trail is a classic Gorge-area hike. The full loop provides fantastic views of the Columbia River Gorge, an intimate look at the Cape Horn Falls and a challenging workout as it climbs and descends the rocky slopes of Cape Horn.
Central Washington
Steamboat Rock
Location: Central Washington — Grand Coulee
Length: 6 miles, roundtrip
Elevation Gain: 650 feet
Highest Point: 2,250 feet
Best Season: spring and fall
Photo by trip reporter Kimlaree.
Save a visit to this dramatic state park for spring or fall (when things cool off). This hunk of rock in Banks Lake is a distinct example of massive Ice Age floods 15,000 years ago. Explore the geology and admire the unparalleled views.
White Bluffs
Location: Central Washington — Tri-Cities
Length: varies
Elevation Gain: varies
Highest Point: 900 feet
Best Season: spring and fall
Classic, wide, central Washington views. Photo by trip reporter mytho-man.
White Bluffs is divied up into three sections — North, Central Slope, and South Slope — and all three are worth a visit. From massive sand dunes to river vistas and excellent shrub-steppe, this unique are is a delight for hikers' looking to switch up their usual forested treks.
Eastern Washington
Mount Misery
Location: Eastern Washington — Palouse and Blue Mountains
Length: 16 miles, roundtrip
Elevation Gain: 1,000 feet
Highest Point: 6,401 feet
Best Season: spring
Photo by trip reporter ejain.
Mount Misery is a delightful hike to the Oregon Butte Lookout, situated on a hilltop in the remote Blue Mountains. In the spring, this hike is a great one for wildflower meadows dotted with scarlet gilia, dutchman's breeches, calypso orchid, sulphur lupine, giant-head clover, elkhorn clarkia, and more. In autumn, the changing of the seasons brings Roosevelt elk to the area.
Kettle Crest
Location: Selkirk Range
Length: 44 miles, one-way
Elevation Gain: 8,000 feet
Highest Point: 7,140 feet
Best Season: June – October
Photo by WTA staffer Holly Weiler.
The Kettle Crest is a high-country route stretching 44-miles along some of the most glorious areas of northeastern Washington. While this trail makes for an excellent thru-hike, it can also be be easily split into smaller chunks for a day hike or overnight.
The Best Hiking Trails In Washington State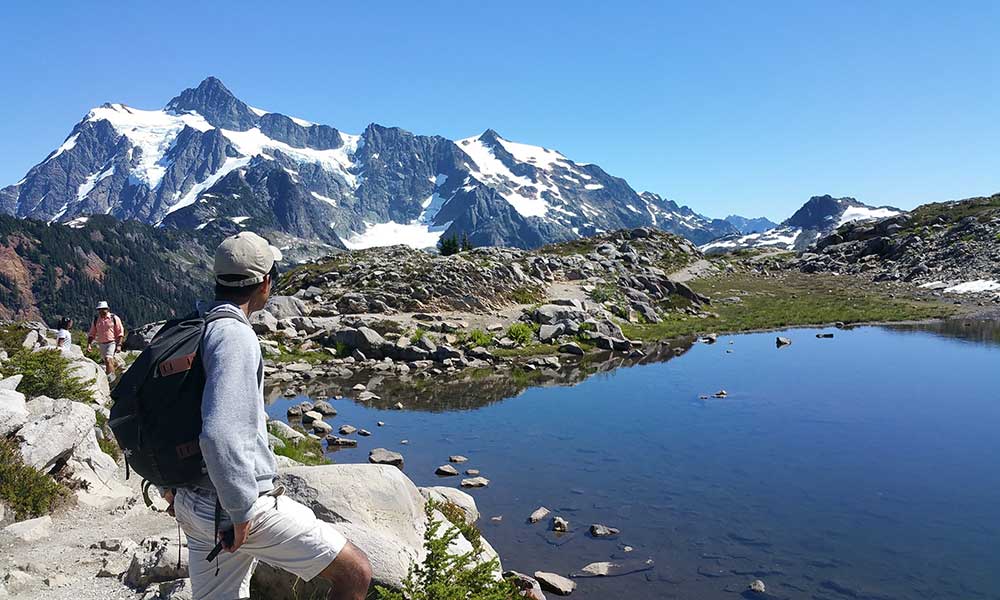 The Grom Life is an independent publisher. You will not find paid product promotions or sponsored content on this site. You will find affiliate links which means we may earn a commission if you purchase through these links.
Washington state has a rich abundance of world-class hiking trails ranging from a pristine coastline in the west to the desert dunes in the east, including majestic mountains and breathtaking wildflower alpine meadows. Simply put – you are spoilt for choice!
Hiking in Washington state is a great way to discover the region's exceptional biodiversity encompassing the Olympic Peninsula, North and Central Cascades, Mount Rainier National Park, and Alpine Lakes Wilderness regions that cater to day-trippers backpackers alike.
You could be forgiven for being indecisive with so many incredible hiking trails. So, let me guide your path to select an Instagram-worthy hiking trail that will "tick all your boxes."
Table of Contents
Breathtaking Hiking Trails In The Cascades
The Cascades is a hiker's paradise as it caters to day-trip hikers with short routes and overnight backpackers who want to explore magnificent landscapes.
Cascades Pass Hiking Trail: A Seven Miles Return Route
This trail is one of the best accessible hiking trails in the North Cascades National Park as the terrain is easy to navigate.
It allows you to enjoy breathtaking mountainous views and glorious valleys with an elevation gain of 2000 feet without having to be super fit. So, don't be surprised if you spot large crowds along the route.
If you are an experienced hiker and need to get away from the crowds – explore the Sahale Arm Trails to enjoy the picturesque subalpine pastures and mountain peaks.
Gothic Basin Hiking Trail: Under Ten Miles Return Route
With an elevation gain of a mere 2840 feet and a relatively short route of 9.2 miles, you would be forgiven for assuming that the magnificent Gothic Basin trail in the North Cascades is a "walk in the park."
The trail was constructed for seasoned hikers who are not put off by the fact that there are no switchbacks, or zigzagging, even paths on this trial.
However, the unparalleled views at the highest peak of 5200 feet are well worth it if you persevere all the way.
While the Gothic Basin trail is suited to daytime hikers and backpackers, it's an incredibly fragile landscape.
For camping purposes, choose a location with a solid rocky area where your tent will not harm the delicate meadows or grasslands.
Park Butte Alpine Hiking Trail: Under Eight Miles Return Route
This incredibly beautiful 7.5 miles alpine trail in the North Cascades offers panoramic views of the Twin Sisters, including Mount Baker, especially during early fall when mother nature displays all her autumn hues.
The trail that leads to Park Butte features a magnificent array of picturesque wildflower meadows, exotic mushrooms, refreshing waterfalls, and rustic campsites along the way.
With an elevation gain of 2,200 feet and a staggering 5450 feet top height, this enchanting trail is well worth exploring either as a day-hike or as a camper.
Blue Lake Hiking Trail: Under Five Miles Return Route
Situated in the North Cascades, the Blue Lake trail is a perfect choice if you are looking for a sedentary 4.4-mile hike with a gentle elevation that is easy to navigate.
The pristine navy-blue mountain lake is surrounded by stately granite towers dotted with peaceful meadows and abundant wildflowers, including a larch tree forest that turns golden yellow in fall.
However, if you plan to explore the Blue Lake and all its glory, do so in summer when it is far less crowded.
Carne Mountain Hiking Trail: Under Eight Miles Return Route
The awe-inspiring Carne Mountain trail amid the dazzling Central Cascades region is legendary for its panoramic mountainous vistas and golden autumn larches.
While the initial 2,600 feet climb for nearly 3 miles is challenging, you can fully immerse yourself in the spellbinding forest with its fiery autumn-tinged shrubs and majestic vine maples.
The switchback route, which meanders through the vast talus hill, includes a refreshing waterfall tucked away on the edge of the route.
There you can enjoy listening to sweet pika sounds scurrying through the undergrowth while taking in the sublime beauty of the surrounding mountainous valleys.
Kendall Katwalk Hiking Trail: Twelve Mile Return Route
While the Kendal Katwalk is my last suggested Central Cascades region hiking trail suggestion, it should not be the least as it is well worth a visit, especially between late July and September.
Located in the magnificent Snoqualmie region, the 12-mile trail, with its 2600 feet elevation gain, is a nature lover's paradise.
While the trail is relatively narrow and rocky, you will be able to enjoy its vibrantly colored array of wildflowers and sublime views of the Alpine Lakes Wilderness, where the trail commences under Kendall Peak.
Magnificent Mount Rainier National Park Hiking Trails
The Mount Rainier National Park is perfectly suited to visitors who would like to spend a day viewing the iconic mountain, including backpackers who are fortunate enough to spend 14 days exploring the majestic landscape.
Skyline Trail Mount Rainier National Park: Under Six Miles
The Skyline Trail is situated in the Paradise region of the iconic Mount Rainier National Park, which is aptly named as it's a picturesque route that is enormously popular for viewing Washingtons' most renowned mountain.
While the Skyline Trail is suited to experienced and amateur hikers, it's important to note that the 5.5-mile circular route has a strenuous elevation gain of more than two miles.
Although the Skyline Trail attracts large crowds in summer, the trail's path is wide and connected to various other longer trail options along the route.
The Skyline Trail starts at the Henry M. Jackson Visitor Center and the Paradise Inn (built-in 1916) scenic parking lot where hikers are surrounded by glorious meadows adorned with an abundance of vibrantly hued wildflowers, especially from July to August each year.
Hikers will also enjoy listening to the soothing, flowing water and encountering marmots and other delightful wild creatures along the scenic route while enjoying the magnificent vista of Mount Rainier, including the Nisqually Glacier along the way.
Visitors will also enjoy a spectacular up-close view of the neighboring Mount Adams, Mount Saint Helens, including Mount Hood at the aptly named Panorama Point on a clear day.
Hikers are also spoilt for choice at the Mount Rainier National Park as there are numerous other trails to explore, like Spray Park or the spectacular Nerada Falls.
The Wonderland Fourteen Day Hiking Trail
The Wonderland Trail is perfect for hikers who would like to spend a couple of days exploring the magnificent 93-mile circular route around the base of Mount Rainier.
However, count yourself fortunate if you manage to obtain a summer permit to overnight on the Wonderland Trails as they are in great demand.
The park issues summer permits (for up to 14 days) by selecting the applicants based on a lottery system from March 15. However, some permits are available to the lucky few upon arrival.
The Wonderland Trail also includes glorious Cascades landscapes dotted with pristine alpine lakes, river crossings, and meadows teeming with spectacular wildflowers.
The Olympic National Park & Peninsula Hiking Trails
The Olympic Peninsula, including the National Park, offers untouched oceans, biodiverse rain forests, awe-inspiring mountains, invigorating waterfalls, and so much more!
Olympic Coast: Four Miles Round Trip Hiking Trail
This incredibly picturesque Olympic Coast trail starts at Rialto Beach (at the parking area) along the coastline for two miles to the Hole-in-the-Wall, which features numerous scenic attractions.
Hikers will enjoy spotting the lushes James and Little James forested islands toward the south, including the infamous Gunsight Rock.
There is also a profusion of wildlife on the route comprising sea lions whales, including cheeky offshore otters.
Bird lovers will enjoy spotting many seabird varieties gliding over the ocean and swooping eagles in the forests.
The route to the Hole-in-the-Wall also includes an exciting Ellen Creek crossing approximately a mile from the beginning of the route, so be well prepared to get your feet a little wet along the way.
The Mount Angeles: Under Seven Mile Roundtrip Hiking Trail
The Mount Angeles trail is ideal for experienced hikers who love a little adrenalin.
The 6.25 miles roundtrip trail starts at the Hurricane Ridge Visitors Center parking area, followed by the High Ridge Nature trail dotted with trees and beautiful lilies all the way up to the top of the open ridge.
At the top of the ridge, you can enjoy spectacular views of the Puget Sound in the north and the majestic Olympic Mountain towards the south.
From there, head towards the Klahhane Ridge Trail and follow the route for approximately 2.5 miles until the road diverts to the left towards the Mount Angeles climbing route.
The steep route features peaceful meadows and forests until you reach the gravelly slope, sometimes dotted with rotten snow – so be careful where you step.
Adrenaline will start kicking in at this trail stage as Mount Angeles, with a class 3 ascension, is not for the faint-hearted.
But you would be well rewarded with the breathtakingly beautiful views once you reach the top – be careful on your descent.
Hoh River Hiking Trail: Bespoke Routes
The biodiverse Hoh Rain Forest forms part of the Olympic National Park located in Western Washington's Olympic Peninsula.
The park encompasses pristine ocean shores and the Olympic Mountain's snowcapped peaks dotted with 60 glaciers, alpine pastures, and glorious wildflowers.
While there are three family-friendly hiking trails in the Hoh Rain Forest, the 17-mile Hoh River Trail leads via a steep path at the end of the trail to Mount Olympus' magnificent Blue Glacier.
Moreover, you can choose how far you want to hike through the lush forest in a circular route.
It's also suited to family hikes as the beginning of the trail can accommodate large groups of visitors during the summer, and the first 13 miles of the trail is relatively flat as it snakes around the circumference of the beautiful Hoh River.
The Hoh Rain Forest is densely populated with four types of conifers: red cedar, Douglas firs, Sitka spruce, hemlock tree varieties, and gigantic Oregon maples that reach a staggering 330 feet.
But the most striking aspect of this magnificent rain forest trail is the Selaginella moss that adorns the trees like elegant flowing garlands.
Backpacker overnight self-service permits are also available should you decide to spend a magical evening in this enchanting rain forest.
The Sol Duc Falls: Two Miles Hiking Trail
This short and sweet trail is perfect for a family day out or for hikers who want to enjoy longer trails to explore the magnificent Sol Duc Valley and its cascading river.
The trail may be accessed either from the Sol Duc Hot Springs Resort or via the Sol Duc Campground; from there, it's a short 2mile walk to the magnificent Sol Duc Falls.
If you prefer a longer trail, simply follow the route to the Seven Lakes Basin with its sublime meadows and pristine lakes. If you have a pre-arranged permit, it is also possible to camp in that region.
Then visit the Sol Duc Hot Springs Resort for a therapeutic dip in their mineral baths or a relaxing massage.
The Enchantments Trail: Eighteen Mile Round Trip
While the challenging 18-mile Enchantments Trial is certainly not for the faint-hearted, it is the ultimate Washington high-level alpine forest adventure.
Set in the Alpine Lakes Wilderness region of the splendid Okanagon-Wenatchee National Forest
It's the perfect setting for a multi-day hiking getaway should you be fortunate enough to obtain a permit. Although seasoned hikers could challenge themselves to complete the entire trail in one day
The Aasgard Pass trail, with its elevation gain in excesses of 4.500 feet, is probably one of the most daunting parts of the trail. It should only be attempted by experienced hikers who are used to demanding hiking routes.
Although, you would be enchanted with breathtaking views comprising of 700 pristine alpine lakes with jaw-dropping mountainous peaks. Clearly, this trial was aptly named!
Conclusion
Nothing compares to the sheer delight of hiking in the sublime wilderness of Washington State, exploring spellbinding Cascade landscape, lush rain forests, and the majestic Mount Rainier that simply takes your breath away.
Best Multi-Day Hikes In Washington State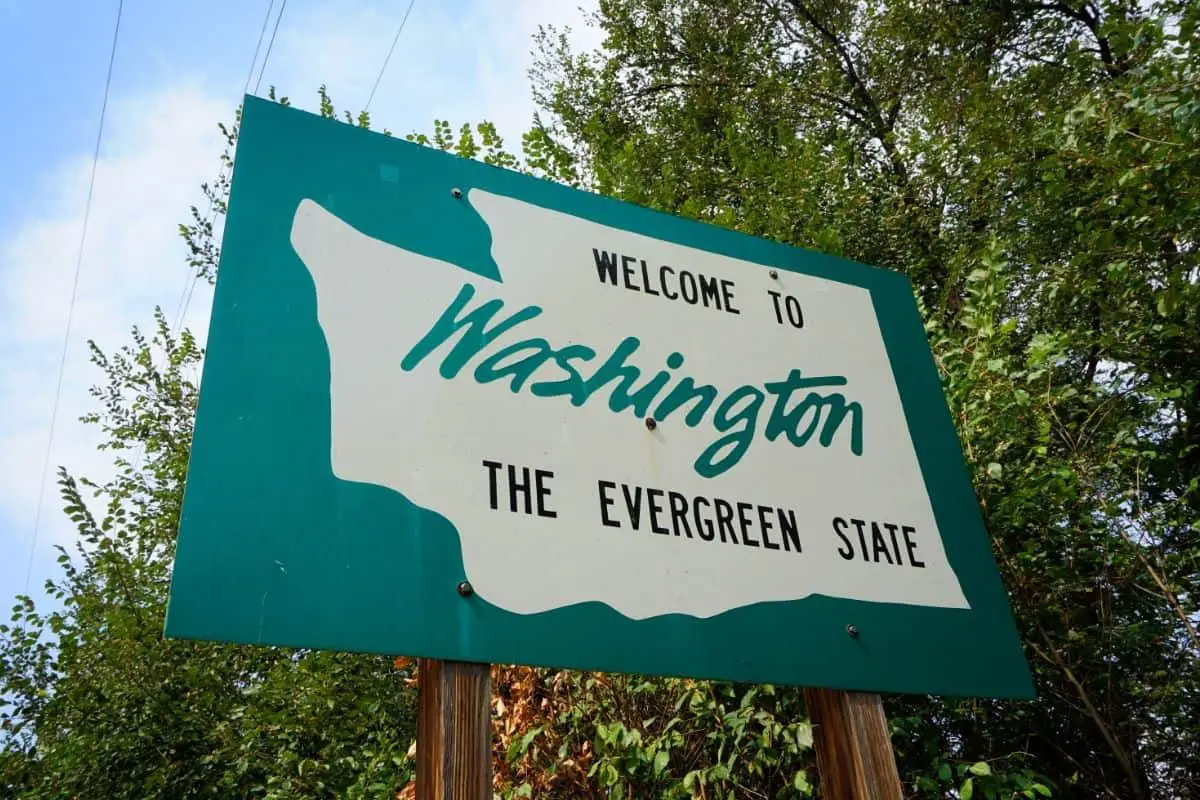 With spectacular mountain ranges, diverse ecosystems, and lively rainforests, Washington State has a lot to offer!
To make this easier for you, we have compiled a list of all the best multi-day hikes in Washington State – no matter your hiking experience, there's something for everyone!
What to Expect?
Hiking is a great way to see what a country or state has to offer. It typically involves a long, intense walk along footpaths or trails within the countryside.
However, don't let this deter you, as the journey and end goals are always worth it. Just imagine breathing in the fresh air and taking in the stunning scenery!
Although, sometimes, a one-day hike just won't do this justice. So why not pack your tent and extend your hiking trip for a trek of a lifetime!
Washington State is known for its gorgeous landscapes and breathtaking views. So much so, that it can be difficult to decide where to begin your hiking expedition.
South Coast Wilderness Trail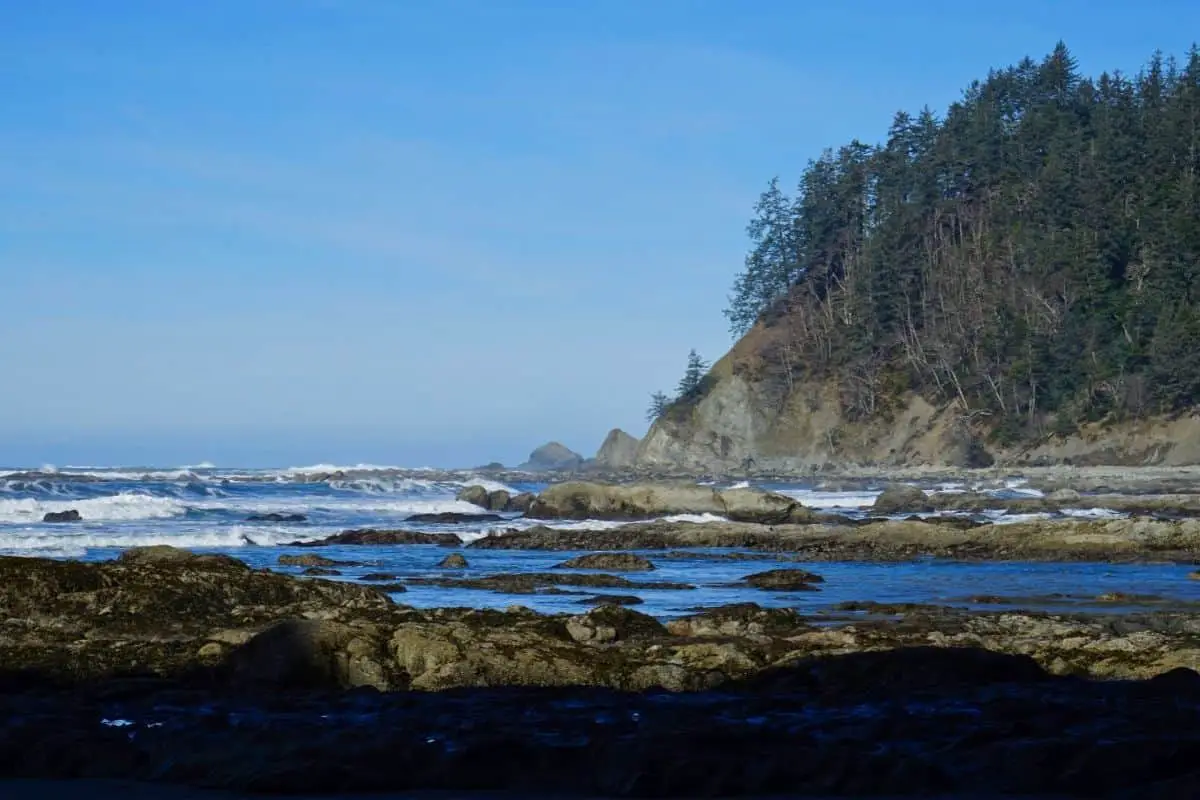 Traverse along an impressive 17 miles of coastline in the South Coast Wilderness Trail, and witness some spectacular ocean sunrises and sunsets while you're there.
Although this seems like an easy walk on the beach, it features some tough and physically demanding aspects.
You're going to be trudging along damp sand/ mud, climbing up slippery ladders, and patiently waiting for tides to go back out at sea to let you continue your journey.
It's a challenge, but it's worth it! With an abundance of nature, impressive sea stacks, and some spectacular waves – you will be fully immersed in nature.
Hoh River Trail To Blue Glacier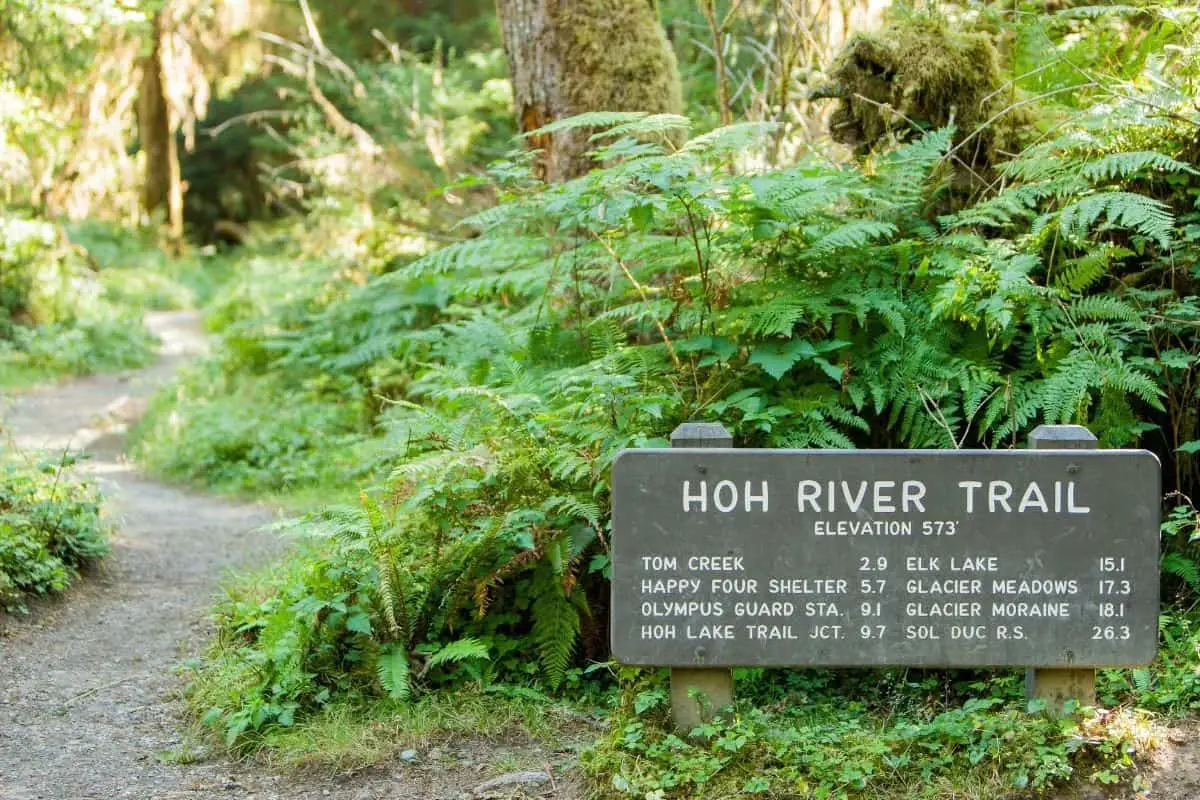 Experience vastly different ecosystems in one single trip when hiking the Hoh River Trail to Blue Glacier.
Begin your journey in the mossy rainforest and then finish off with panoramic views of the Glacier Meadows and the dome of Mount Olympus. With many campsites along the trail, it's great for a weekend away!
Particularly suited for backpackers who want to experience a bit of everything, whether this is bewildering rain forests or staggering mountains with amazing views, anyone would love this hike!
The Enchantments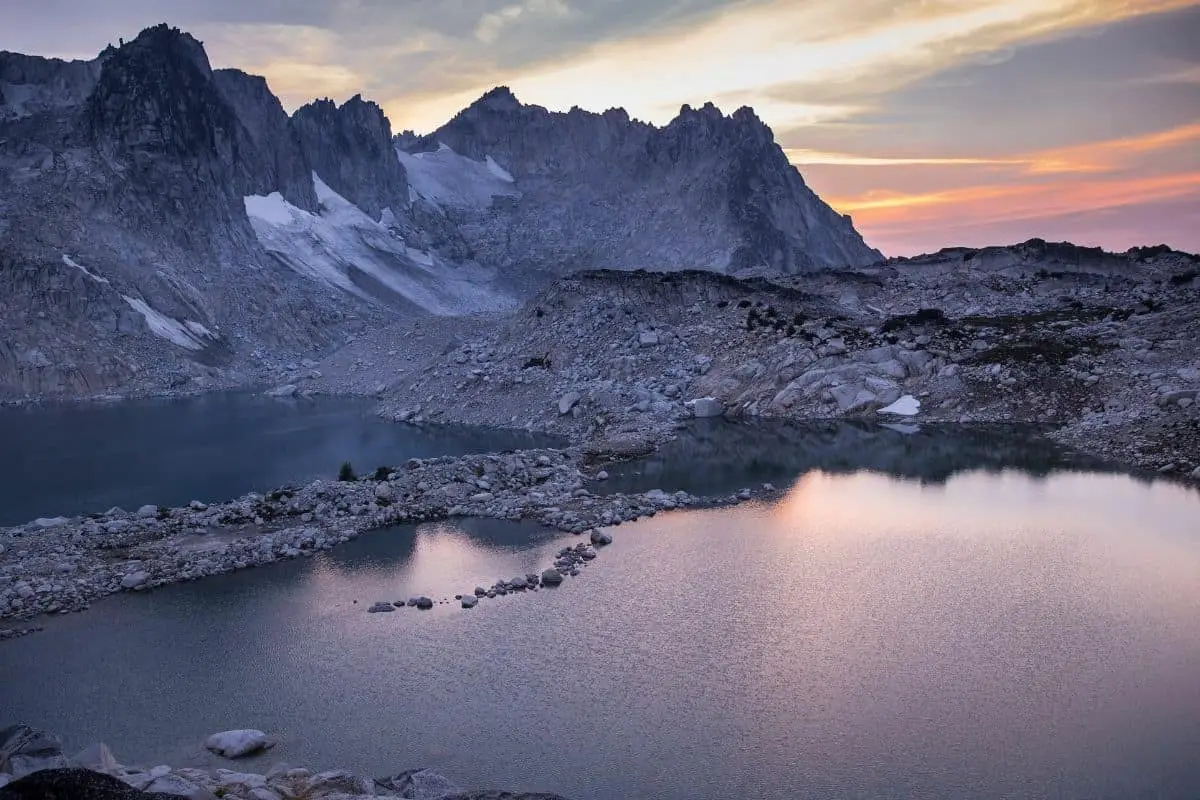 As its name suggests, The Enchantments trail will take you on a very magical journey, indeed. Featuring glistering teal alpine lakes, extraordinary jagged peaks, and glacially-carved granite, your eyes won't be able to stay still!
While getting into The Enchantments is an immense effort, with a long, strenuous hike, it will be an unforgettable experience.
Your impressive 36 miles journey starts at Stuart and Colchuck Lake Trailhead, where you will eventually make your way to Aasgard Pass (a reference to JRR Tolkein) until you eventually reach the Enchantment Lakes and Alpine Meadows.
A great hike for anyone up for a challenge, with eye-popping views and scenery as a reward.
The Wonderland Trail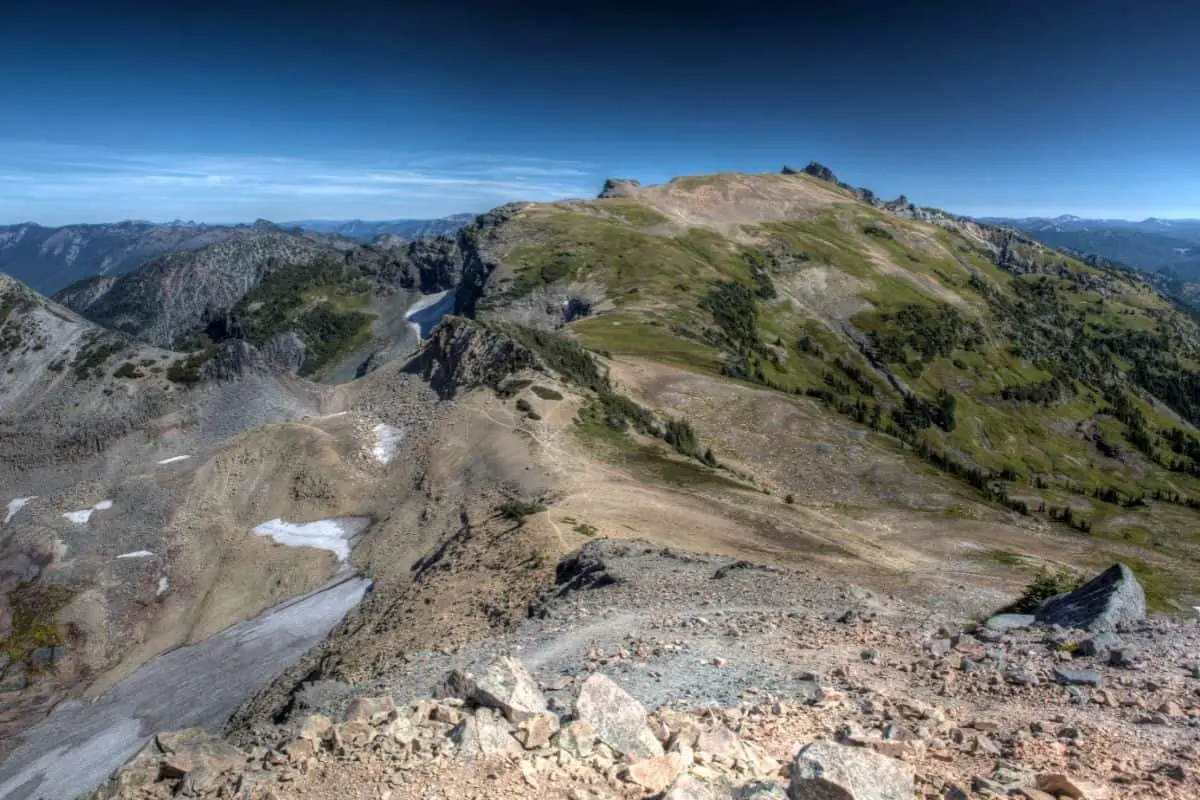 In need of something more challenging? Why not try tackling the 93-mile Wonderland Trail? Completely circumnavigating the base of Mount Rainier, the highest peak in Washington, it stands at an impressive 21,400 ft!
Offering remarkable views of the dense rain forests, turbulent glacial rivers, and the astounding views of the North Cascades.
Depending on your timeframe, there are many trails that will suit your needs. The most popular starting point is at Longmire, with many hikers tackling the journey over 10-12 days.
On the other hand, there is also a 0.8-mile trail, Trail of the Shadow Loop, taking you from old forests to idyllic meadows. There's something for everyone!
Paradise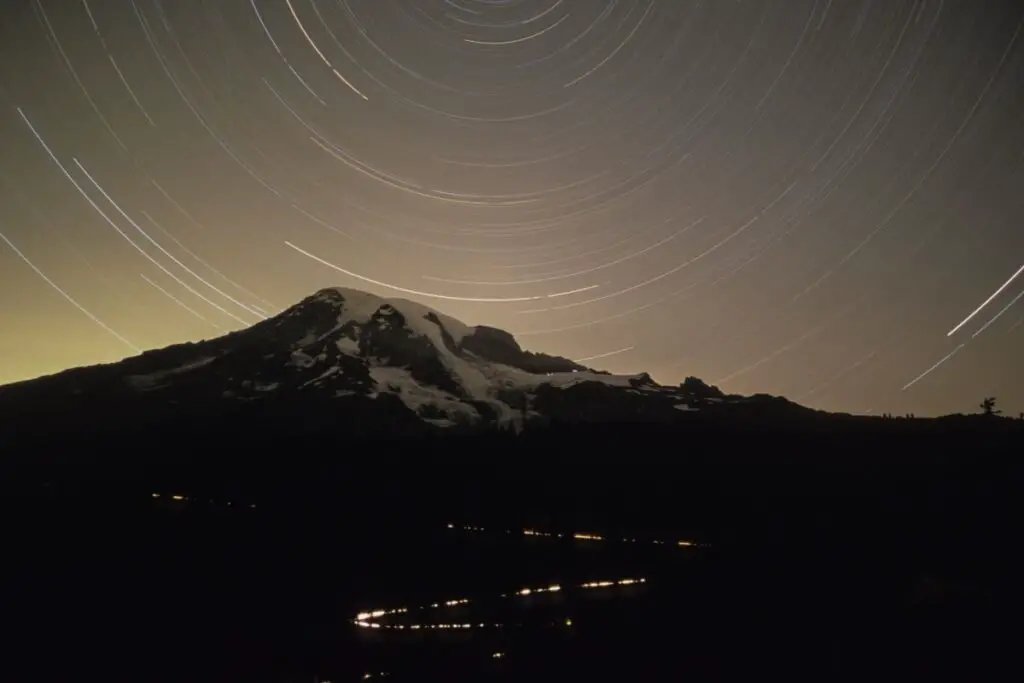 If you get a chance to miss the snow – which can persist into late June – you will be in for some spectacular views.
This trail comes to life with picturesque blooming flowers, some include western anemones, avalanche lilies, paintbrushes, and mountain bog gentians, which makes it an unforgettable experience.
The Paradise trail is subject to many types of trails, ranging from easy to very difficult, suiting anyone's level of experience. Follow the 1.2-mile Nisqually Vista Trail to see the impressive Nisqually Glacier.
On the other hand, hike the 5-mile Skyline Trail for a more challenging journey. Whichever route you choose, you are guaranteed to see some breathtaking sights.
Sol Duc River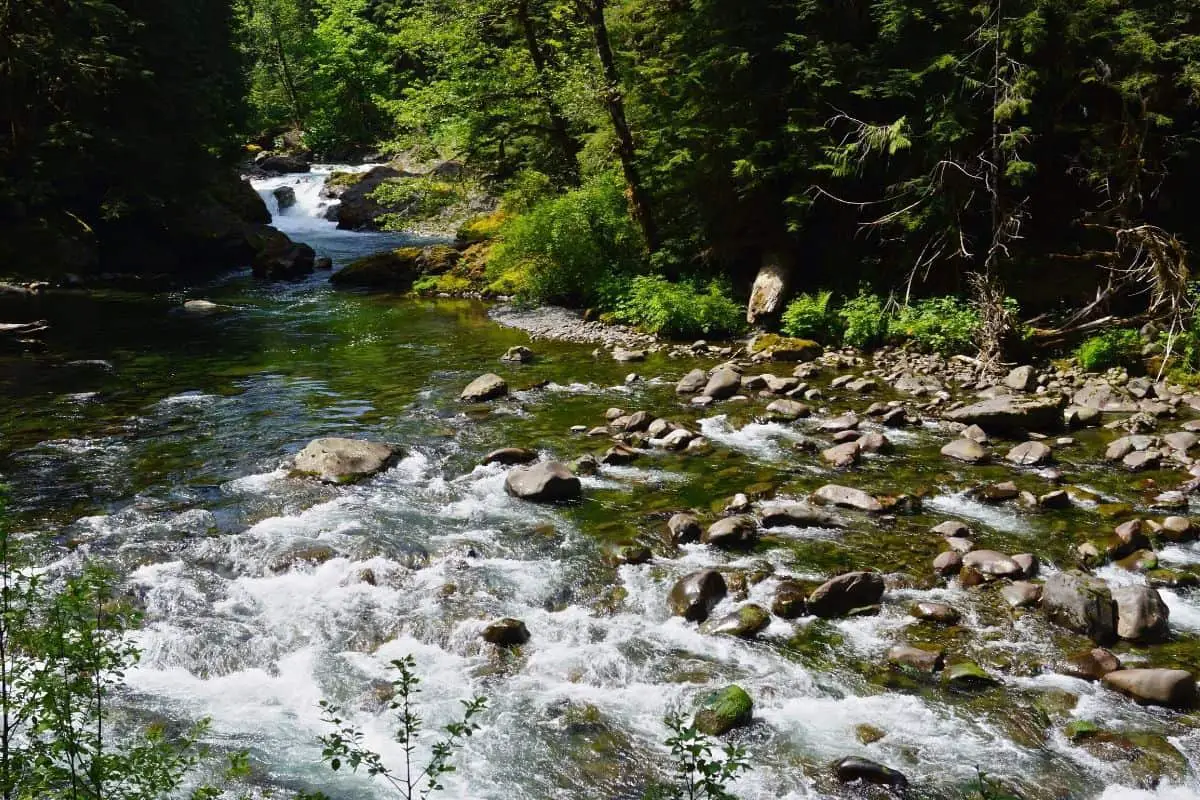 This trail features everything an avid hiker would love: lush green rainforests, marvelous waterfalls, and an abundance of wildlife.
The 14-mile track leads you into the heart of the Olympic National Park, where you can have a dip in one of its natural spas. This is arguably the most popular, and most beloved trail is the Sol Duc Falls.
Depending on the volume of water, the Sol Duc Falls splits into four channels as it spirals down over a 40 feet high drop into a tight, rocky canyon – with many viewing points, this trail isn't one to miss!
A popular overnight destination is the Deer Lake Trail along Canyon Creek. This is an 8-mile round trip where you'll reach the tree-lined lake and come back along the Seven Lakes Basin.
Spider Gap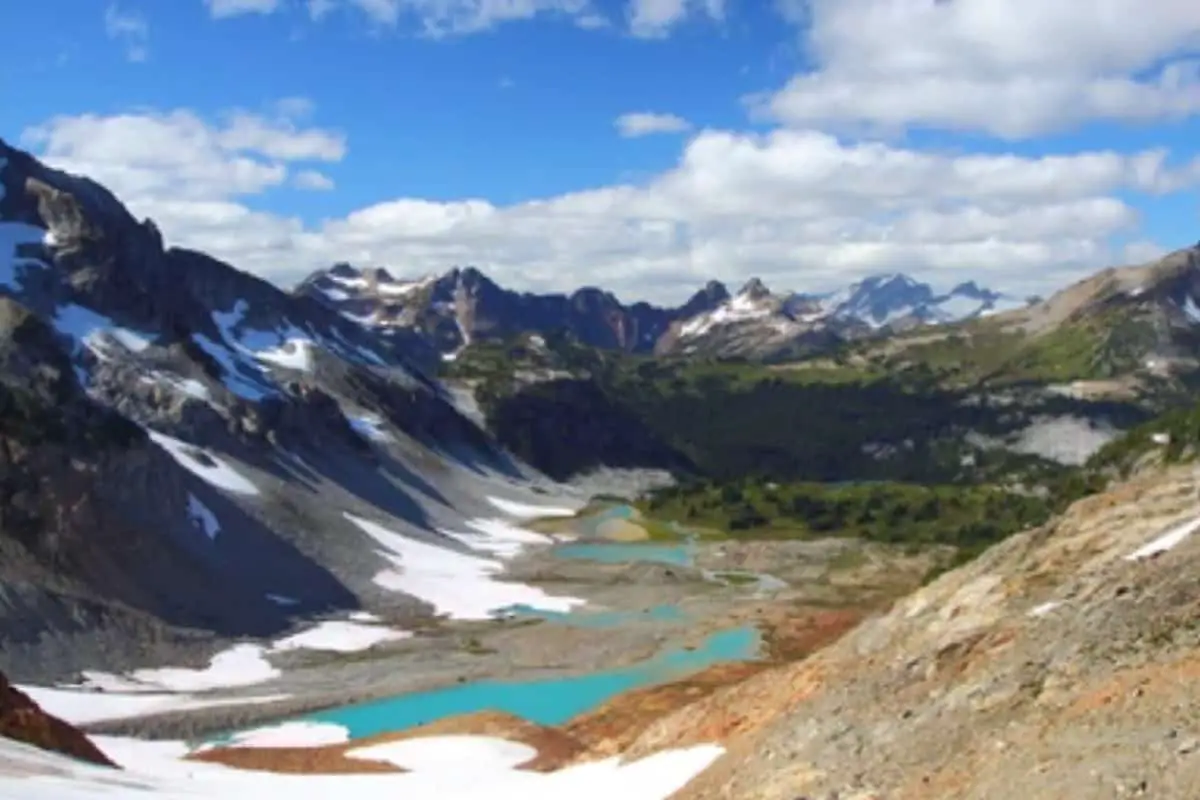 One of the more underrated trails – if you want to get away from the crowds, this trail is the one for you! And, it offers a whopping 44-mile hike!
The Glacier Peak Wilderness is home to some of the best backcountry in Washington State, offering vast alpine lakes, astounding views of the Glacier Peaks, and exceptional wildflower meadows.
Taking you through the Spider Meadows and Phelps Basin Regions, you will never get bored on this hike! With many campsites along the trails, you can complete the whole route or take sections at a time.
It is also a great last-minute hike, as you don't need any permits, and you can take your trusty dog with you on your adventure!
Final Thoughts
Sometimes, a one-day hike just won't do the place you're visiting justice. Especially if you are planning on hiking in Washington State, where the views are spectacular and the different trails are seemingly endless.
Whether you want to see the marvelous glacier mountains, the vast lakes, or the rich rainforests, Washington State has a lot to offer!
Therefore, to make the most out of your trip, you could be considering a multi-day hike.
Hopefully, this guide has informed you of the best multi-day hikes in Washington State, so when you go on that trip, you will be blown away by its beauty and create unforgettable memories.

report this ad
Source https://www.wta.org/go-outside/seasonal-hikes/summer-destinations/essential-washington-hikes
Source https://thegromlife.com/hiking/hiking-in-washington-state/
Source https://happilyeverhiker.com/best-multi-day-hikes-washington-state/