Did You Know You Can Become an Adirondack 46er When You Hike All 46 Peaks?
And Become Part of a Great Organization When You Do!
The Adirondack 46ers (or Forty-Sixers) is a volunteer organization with deep roots in the Adirondacks. While many know them for their role in mentoring and acknowledging hikers who have summited all 46 High Peaks of the Adirondack Mountains, the organization also provides trail maintenance and stewardship, outdoor skills training, and much much more.
This article is part of our hiking challenges series and focuses primarily on how those who hike the Adirondack High Peaks are able to register and become an official 46er!
Contents: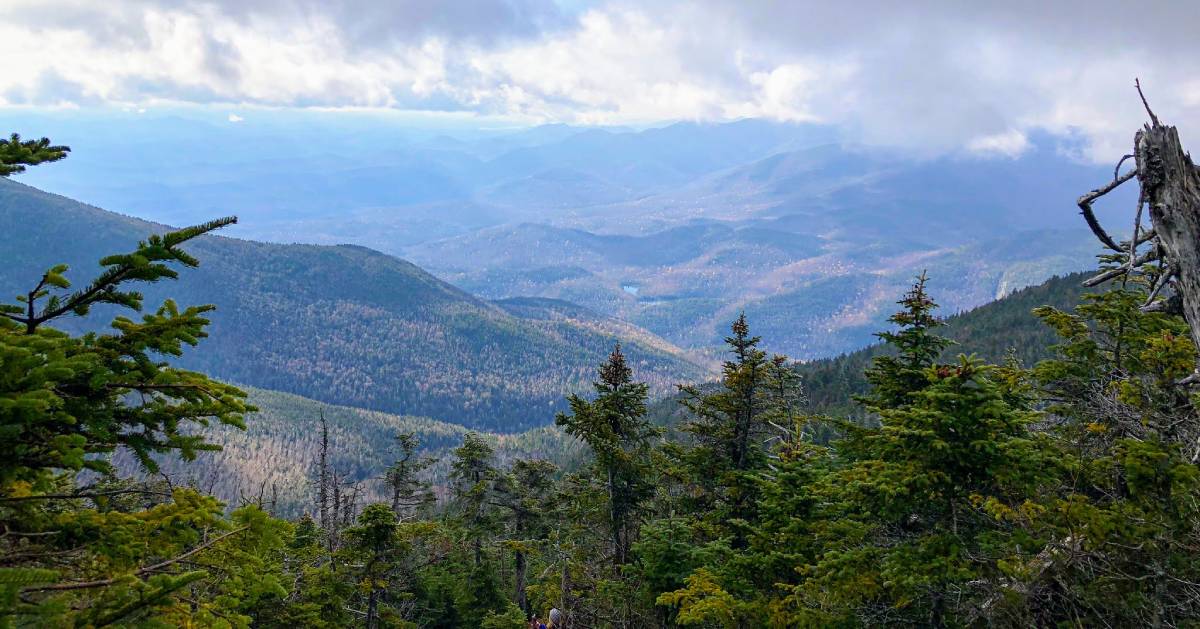 What Are the 46 High Peaks?
In the early 20th century, the High Peaks of the Adirondacks were considered the 46 tallest mountains in the Adirondack Park because each had an elevation of at least 4,000 feet. Although later surveys revealed not all of these peaks reached this elevation, the original 46 peaks are still recognized as the High Peaks.
How Did the 46ers Club Form?
The Adirondack 46ers began with a simple goal, to climb all 46 of the High Peaks of the Adirondacks.
The history of the 46ers dates back to 1918 when brothers Robert and George Marshall, and their friend Herbert Clark, climbed Whiteface Mountain. This was their first high peak, and from there, the trio began their journey to climb all 46.
What ended up as an eight year hiking adventure (1918-1925) for the three hikers would inspire many others in the future. Today, over 7,000 people have summited the same 46 peaks.
In particular, in the 1930s, members of the Grace Methodist Church in Troy, NY began to take hikes up the 46 High Peaks, including Mount Marcy. Reverand Ernest Ryder and parishioner Edward Hudowalski finished climbing all 46 in 1936, and soon after, formed a hiking club called the 46ers of Troy. This club would be the basis for the Adirondack 46ers.
The 46ers of Troy were mainly led by Grace Hudowalski, who became the first woman to climb all 46 High Peaks in 1937. She was in charge of club membership and encouraged members to write about their experiences. This was the start of a tradition for 46ers to share their experiences in order to register for the club.
Over the years, the popularity of hiking the peaks grew. The 46ers of Troy realized the club needed to expand in order to welcome others from beyond their reach. As a result, the first meeting of the Adirondack 46ers was held on May 30, 1948 at the Adirondack Mountain Club's Adirondak Loj.
Grace Hudowalski was chosen as the Adirondack 46ers' first president. From the 1950s to the present, the club has been both a social group for like-minded adventurers and a way for hikers to help preserve the lands they love.
How Can I Become a 46er?
Did you know that if you register on the Adirondack Forty-Sixer website and pay annual dues, you can join the organization as an Aspiring Forty-Sixer while you are actively working on climbing all the 46 high peaks?
Already summited all 46 High Peaks of the Adirondacks? You will also register online:
Create an account on the Adirondack Forty-Sixer website.
Register as a Three Seasons Finisher or Winter 46er (if your peaks were completed between December 21st-March 21st) by completing the Official Finisher Form on the website.
Pay the $15 initial application fee.
Once you submit your finisher form and pay your dues, you'll receive an "Official Letter of Congratulations" in a confirmation email with your assigned 46er climbing number. After you receive your letter, you can purchase merchandise and emblem items in the 46er online store.
Make sure your street address and email address are correct! You'll be mailed a certificate in honor of your accomplishment after the Spring 46er Gathering, should you be unable to attend.
For more info on becoming a registered 46er, check out the FAQ section of the ADK 46er website.
Some Frequently Asked Questions From Readers
Q: What can you do as a registered 46er?
A: Once you are registered as a 46er, you'll be able to receive a hiking patch, get involved in club events and projects, purchase merchandise, and more!
Q: Are the 46ers and the Adirondack Mountain Club (ADK) the same thing?
A. Great question, and the answer is no! A common abbreviation for Adirondack is ADK. You might see Adirondack Forty-Sixers abbreviated as ADK 46ers, which makes it easy to confuse with Adirondack Mountain Club, aka ADK. But they are two separate organizations, and many hikers choose to become members of and support both!
Q: What is an ADK Winter 46er?
A: The title of Winter 46er refers to someone who has climbed the 46 High Peaks during the winter season (December 21 through March 21 inclusive).
Q: What is an Aspiring ADK 46er?
A: An Aspiring 46er is someone who is attempting to finish all 46 high peaks and wants to register and join the organization prior to completing the challenge
Q: What if I completed the hikes years ago and want to become a 46er now?
A: You can still register to become a 46er as long as you complete the Official Finisher Form on the website and pay the initial dues.
More information about the 46ers can be found online at their website.
How long would it take to hike all 46 Adirondack Peaks
Want the challenge of hiking in Upstate New York? Consider hiking the Adirondacks' 46 high peaks. These mountains have been a magnet for hikers and wanderers for the past 150 or more years and the pristine natural beauty of the region is enough to blow anyone away. Most of the high peaks are located in the Lake Placid/Kene-Kene Valley region.
One of Upstate New York's biggest challenges is summiting each of these 46 mountain peaks in the Adirondacks—but with nearly 50 peaks, it's not a challenge that's going to be accomplished in a weekend. What better way to explore the stunning Adirondacks of New York?
46 What are the peaks?
There are 46 Adirondacks mountains that rise to an altitude of over 4,000 feet above sea level. Fun fact, that based on later, more accurate measurements, they should actually be 43 mountains. This is because four of them are slightly less than 4,000 feet and, there is another peak, McNaughton, which measures 4,000 feet, but is not traditionally considered one of the 46.
But there is one more challenge for all those who want to complete them all. About 20 of the higher peaks don't actually have a marked trail to the summit, instead requiring hikers to climb to the top using unmarked herds and sport tracks. Fortunately most of these game trails are fairly easy to follow – although hikers will need to use a map, compass, and GPS to guide them to the top of the peaks.
without path: About 20 do not have paved trails to the top
RELATED: Here's Everything You Can Do in the Adirondacks Besides Hiking
How Long to Climb the Adirondacks' 46 Peaks
How long it takes to complete the 46 peaks depends on the person, the season, and the amount of time and endurance the person has. Overall, one can expect to complete 295 miles and 70,000 feet. It would take around 230 hours to traverse all those trails at a moderate pace.
Overall Trail Length: 295 miles
Overall Height Gain: 70,000 feet
Time to complete the 46ers: can be done in a month (theoretically)
Most routes must be planned to be remote, rocky and difficult. Taking the figure of 230 hours, if one takes 8 hours hike every day, it will take 34 days to complete all the peaks. Individually, each High Peak takes 5 to 18 hours to rise and return (though some can be done simultaneously).
The trails feature granite with rocky creek bed stairs, wooden stairs, sheet rock faces, river crossings and much more to make one's climb that much more strenuous.
Along the Great Range Transverse Trail one can hike up to 8 high peaks in one go – although this is cumbersome in a day.
RELATED: Which is Better, the Adirondacks or the Catskills? Turns out, it depends on when you go
Adirondack 46ers . join in
Hiking the 46 Adirondack High Peaks Considered one of the biggest hiking challenges in the region, there is a select group of hikers called the Adirondack 46ers. They are an organization of hikers who have climbed all 46 of the highest peaks of the Adirondacks.
First 46ers: Robert and George Marshall and Herbert Clark
First Ascent: Between 1918 and 1925
When the first 46 people took up the challenge of climbing all the high peaks, it was much more challenging as there were no trails on many of the peaks. Since then Mount Marshall – one of the peaks of the McIntyre Range – has been named in honor of these first 46.
The organization itself dates from 1936 and has since expanded with a total membership of 12,223 in 2020.
Winter 46ers: climbers of 46 peaks in winter
For some, climbing all 46 high peaks is not enough. Some have gone and climbed all of them again in winter (between December 21 and March 21). These have been awarded the "Winter 46-R" rocker patch. There were 934 Winter 46 in 2020.
Additionally, at least six dogs have completed 46 peaks – Chrissy, Terry, Bobo, Dara, Tiger and Shus.
Ultimate 4 Day Itinerary Hiking in the Adirondack Mountains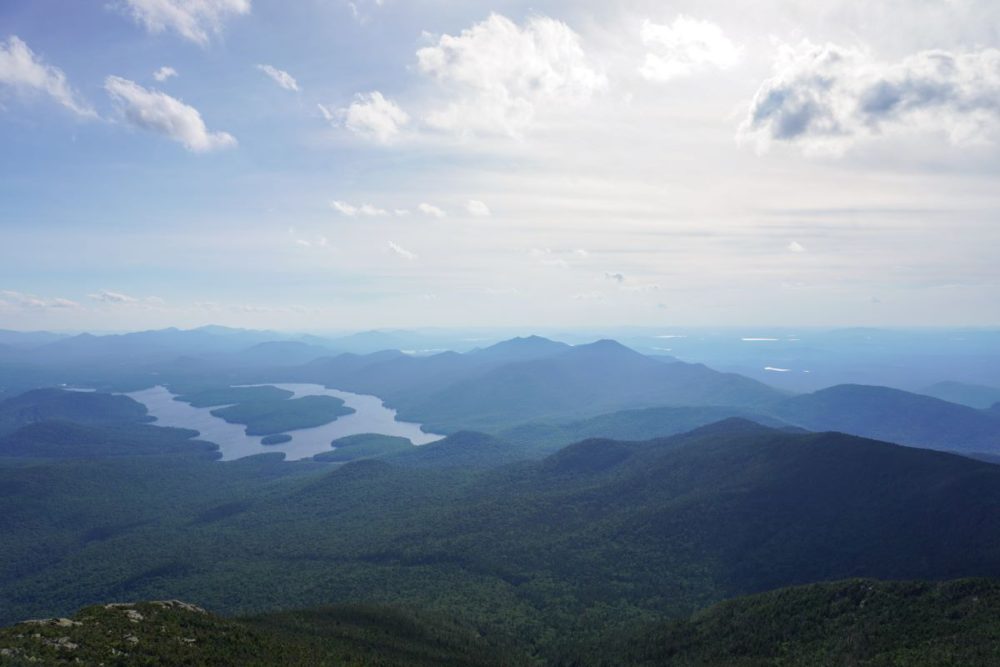 Adirondack Mountains
The Adirondack Mountains are part of a state park found in Upstate New York. Although New York State is often associated with the iconic skyline and bright city lights that make up Manhattan, there's a completely different side of the state only a few hours away. The Adirondacks are an oasis full of tranquil lakes and fresh mountain air. Think cool creek soaks after a hike, crackling bonfires at night, and hot cups of coffee on quiet mornings. These mountains are the perfect place to recharge and immerse yourself in all that nature has to offer. To help plan your next getaway, here is the Ultimate 4 Day Itinerary Hiking in the Adirondack Mountains.
Table of Contents
Where to Stay
I recommend staying in or near Lake Placid. This area has access to great food, drinks and has endless trails for you to explore.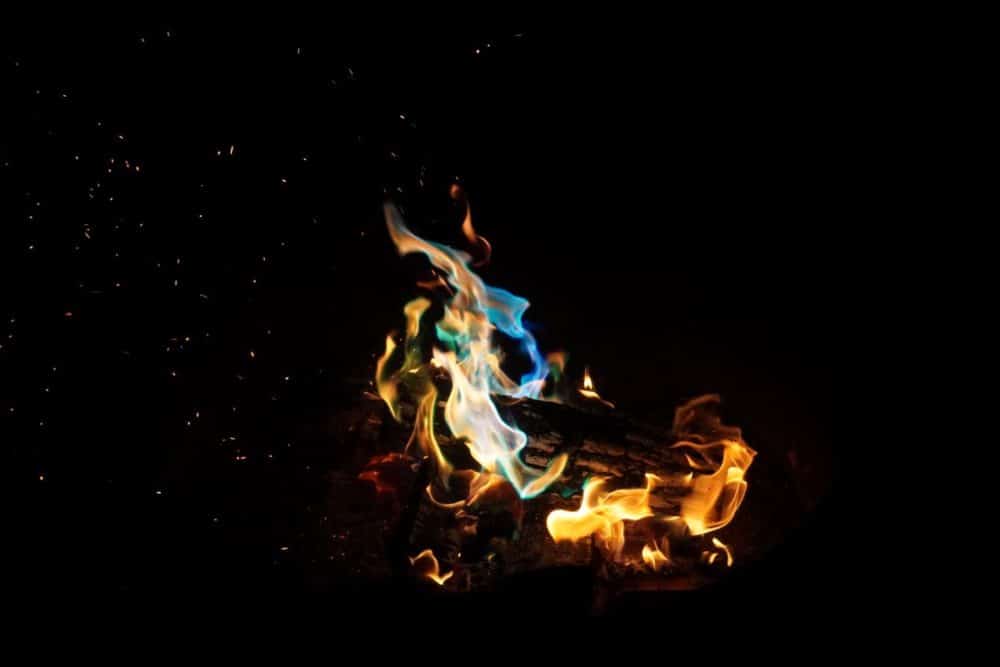 KOA Campground
For the full outdoor experience I recommend staying at the Lake Placid/ Whiteface Mtn. KOA, which is about 15 minutes away from town. The Kampgrounds of America KOA, are a chain of campgrounds across the United States. They offer a great variety of accommodations including; RV spots with full hookups, camping areas, and log cabins nestled in the woods. This particular KOA also had its own amenities including; a general store with everything you might have forgotten to bring, a pool, public bathrooms/showers, laundry and a snack bar.
During my trip, I stayed in an RV and rented a space for it at the KOA. The space included; personal hookups for electric, water and sewage, a private fire pit and picnic table, and plenty of room to set up a hammock, folding chairs and pop up tent. Overall the site was very clean, the staff were great and the campground a whole was very well organized.
If camping's not your thing, don't worry, there are also plenty of beautiful hotels available in the area. Check out a full list of them here. After walking through town, I'm dying to go back to stay at the Mirror Lake Inn, the most beautiful boutique hotel that overlooks the lake.
Day 1 – Arrive & Explore Lake Placid
Mirror Lake, Lake Placid
Once you've arrived and settled in, head into town to explore and grab dinner. Although it's named "Lake Placid", the main area of town is located around Mirror Lake. For first timers, I recommend walking the Mirror Lake Loop, which can serve as a self-guided tour of the area. The loop is 2.6 miles of flat paved sidewalk around Mirror Lake and is a great walk for all ages. As you make your way around the western side of the lake you'll past plenty of restaurants, bars and shops to pop into. There's also a public beach, which is both family and pet friendly.
If you only go into one place in town, I highly recommend The Adirondack Popcorn Co. This place is a local favorite and has every flavor of popcorn you didn't know you needed. Finish off the evening enjoying dinner overlooking the lake. The Cottage, Jimmy's and the Generations Tap & Grill all have an outdoor dining area with beautiful lakeside views.
Day 2 – Whiteface Mountain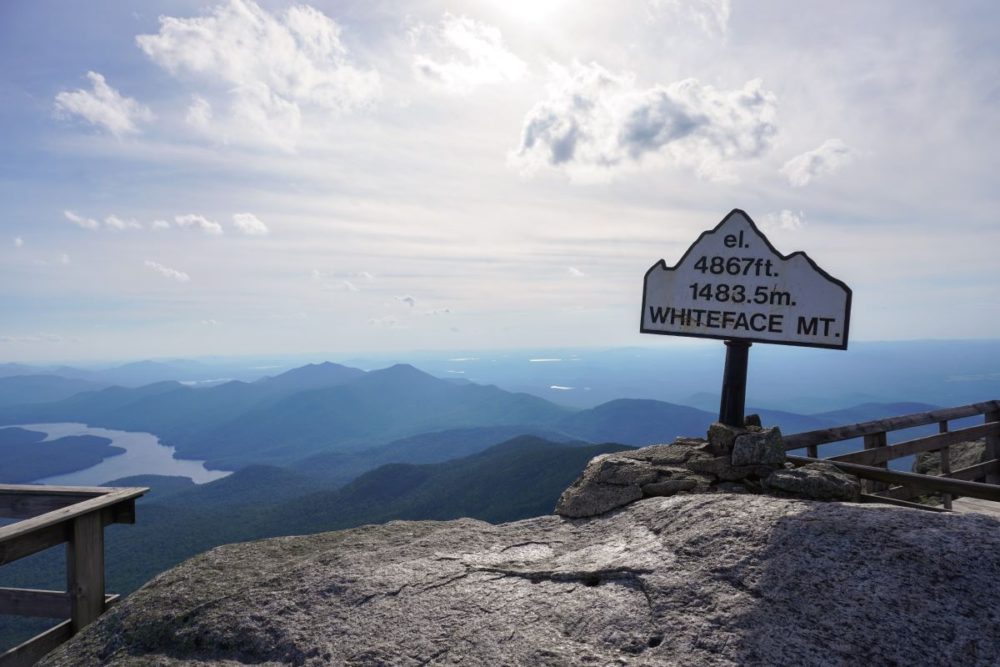 Whiteface Mountain
Summit your first Adirondack high peak of the trip! From the trailhead at the Wilmington Reservoir, hiking Whiteface Mountain is a total of 9.3 miles up and back. It's a hard hike, but has a beautiful trail and breathtaking views from the summit.
Day 3 – Flume Falls /Ausable Chasm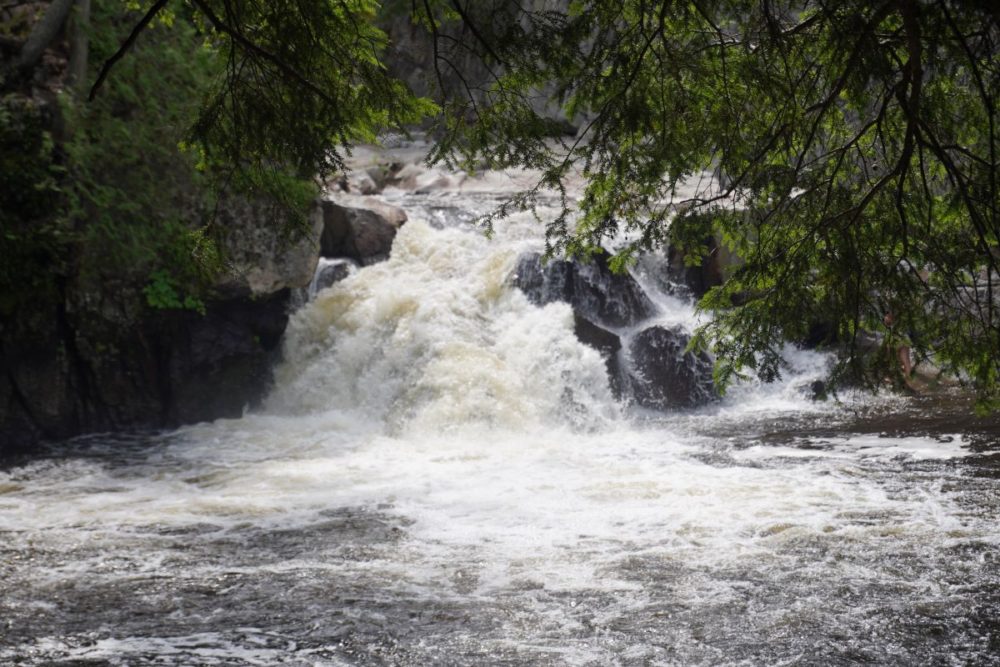 Flume Falls
If you're feeling a sore after the big hike and want to take it easy, head to Flume Falls for some flat trails and cool creek soaking. Flume Falls is a natural swimming hole on the Ausable River that has beautiful waterfalls and is a great place to relax. If you're staying at the KOA you can easily walk from the campground, just follow the campground map that's provided upon arrival. If you're driving to the falls, you can park along the marked pull offs on Route 86, and the fall are only a 5-10 minute walk from the road. Spend the afternoon, walking along the waterfalls, floating in the current, and if you're feeling daring, cliff jumping off the rocks.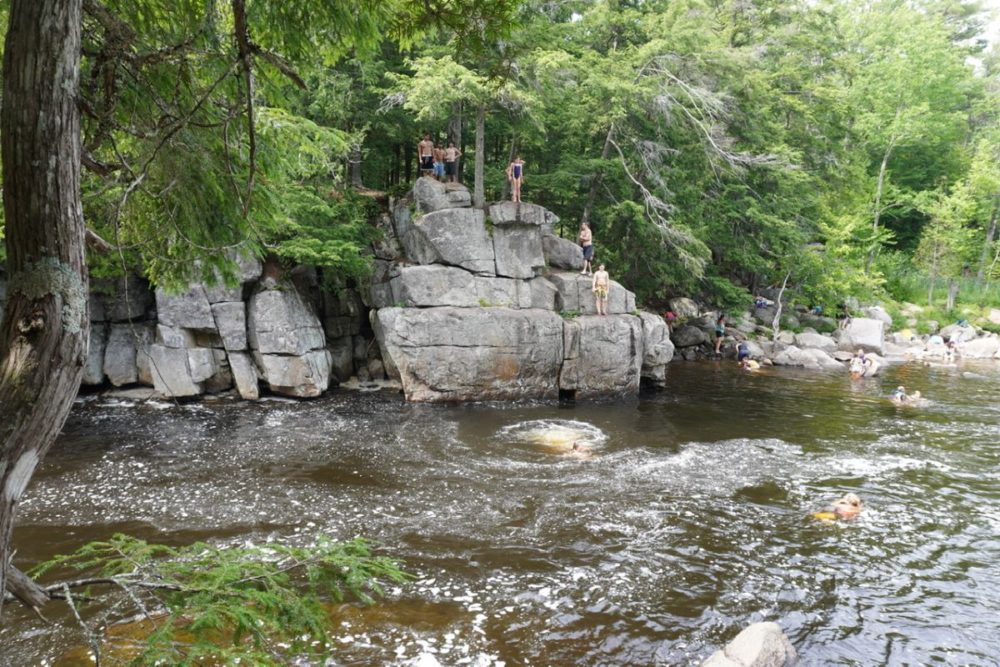 Flume Falls
If you're feeling great and looking for a full day of adventure, grab your day pack and head to Ausable Chasm which is about a 40 minute drive from the KOA. Ausable Chasm, nicknamed the Grand Canyon of the Adirondacks, is a sandstone gorge that offers hiking, rafting, rock climbing and more. Check out their website here to see all of the adventures they offer. They also require you to buy tickets for the date & time of your trip, so make sure you plan accordingly.
Day 4 – Roaring Brook and Giant Mountain
For your final day in the Adirondack Mountains, head to the Roaring Brook/Giant Mountain trailhead in Keene Valley.
Lower Roaring Brook Falls
The great thing about this trailhead is that it offers something for everyone. You can check out the upper and lower lookout spots of Roaring Brook Falls, hike the Nubble trail, or summit Giant Mountain to compete your second ADK high peak of the trip.
If you need any supplies or hiking gear, stop by the Mountaineer on your way for all of your outdoor necessities. We ended up stopping here because Nick and I both needed new hiking boots and were very impressed by the wide variety of products they offer.
Rained In?
Another great perk of staying by Lake Placid is that a rainy day doesn't have to ruin your vacation. If the weather doesn't fair your way, check out a list of rainy day activities here.
Mix and Match
In the itinerary above, I've outlined some of the more popular hikes near Lake Placid, but have barely scratched the surface on the plethora of amazing hikes in the area. Mix and match the hikes that work best for you to customize your ideal trip.
The Adirondack Mountains are famous for their 46 high peaks. Those who manage to summit all of them can claim the title of an ADK 46er. If you're interested you can find all the details here on how to join the club.
In addition to the high peaks there also tons of other beautiful trails in the mountains. To find the perfect hike for you, I cannot recommend the "all trails" app highly enough. It shows you all the trails available in your area, and allows you to sort them by difficulty, length and so much more. I've already saved a long list of hikes to my favorites list for my next visit to the region and cannot wait to summit Indian Head and Rainbow Falls.
Source https://www.adirondack.net/hiking/challenges/46er/
Source https://infotourism.news/how-long-would-it-take-to-hike-all-46-adirondack-peaks/
Source https://aglass-halffull.com/ultimate-4-day-itinerary-hiking-in-the-adirondack-mountains/