Chautauqua Loop Trail in Boulder
The Chautauqua Trail is an easy 3.6 mile loop hike along Boulder's Flatirons. The trails pass several historical sites: a quarry, cabin, shelter, and ski area as it weaves through the meadows and ponderosa forest of Chautauqua Park. About 40 minutes from Denver, the Chautauqua Loop hike makes for a great hike for visitors who are looking for stunning landscapes without the long drive or elevation gain.
Trail Snapshot: Chautauqua Loop Hike
| | |
| --- | --- |
| Hike Distance | 3.6 Miles |
| Difficulty | Easy |
| Duration | 2 hrs |
| Trail Type | Loop |
| Elevation Gain | Approx +700′ |
| Seasons | All Year |
| Dogs | Allowed on Leash |
| Hike Trail Map | Click for a Trail Map for the Chautauqua Loop |
| Denver Drive Time | 40 min |
| Directions | Click for Google Map |
| Town Nearest Hike | Boulder, Colorado |
| Beauty | Rock formations, ranger cottage, raptors, quarry site, Roosa Cabin, Bluebell Shelter |
| Activities | Hiking, Picnics, Wildlife |
Parking & Trailhead Information for the Chautauqua Loop
The trailhead for Chautauqua Park is located downtown in the City of Boulder. The park's 58 parking spaces fill quickly, so plan to arrive early. Alternatively, when the lot is full, hikers can park along Baseline Road and side streets, just be sure to respect the neighbors by parking at least 5 feet from driveways. There are bike racks at the trailhead, so you can bike in from other lots in town, or take the Park-to-Park Shuttle that operates on the weekends and on holidays from the Saturday around Memorial Day to Labor Day Weekend. Here's a map of the free parking lots and shuttle stop locations.
Get a map, fill up your water bottle, and get trail advice from locals at the Ranger Cottage, which is located at the trailhead. See the Ranger Cottage site for current hours and closure information.
The Hike: Chautauqua Loop
Beginning at the Ranger Cottage, head south on the Bluebell Road Trail. This first segment leads up a gentle slope to its intersection with the Mesa trail. The Mesa trail takes us into our first lollipop loop and to Woods Quarry. After about 0.2 of a mile, you'll come to another trail intersection. Heading right, takes you on a counter-clockwise loop and up to Woods Quarry. The quarry was used in the early years of Boulder for building homes and sidewalks out of its iconic red and orange sandstone.
After the quarry, the trail will bend north and return to the Mesa Trail. At the intersection, notice an old stone structures, the Roosa Cabin.
Continue north on the Mesa Trail back up to the Bluebell Road Trail. Go west (left) onto Bluebell Road. Soon you'll encounter another stone structure, the Bluebell Shelter (pictured below). Built in the early 1900's and preserved in the 1930's by the CCC, the historic shelter has become a Chautauqua landmark, undergoing some more recent restoration. This is a great place to have a picnic, and can be reserved for special events.
Now we begin heading into the northern and larger loop of this hike. The Bluebell Road Trail becomes the Bluebell-Baird trail and weaves its way north along the base of the Flatirons. If you are interested in hiking the Flatirons, explor our trail profile for the First and Second Flatirons Hike. You'll enter tall stands of Ponderosa pines with views out to the meadows of the northern meadows.
Notice the interpretive signs along the full hike and stop to read the history of the old ski jump that was in operation post WW2 into the early 1960's. Pass by the Ski Jump Trail and continue northwest until you come to the Gregory Canyon Trailhead. Gregory Canyon is also a beautiful hike (see our Gregory Canyon trail profile for details). Take a right (heading east) onto the Baseline Trail. This will take you past the old ski jump and the site of a CCC camp that operated here during the years of the Great Depression.
The Baseline trail will lead back to the trailhead to complete this 3.6 mile hike.
Chautauqua Hikes
There's something of a magnetic pull toward Boulder's Flatirons. When you get up close to them, you'll see why. These massive sandstone slabs are almost unreal in their beauty, standing out in super-natural clarity against the blue Colorado sky.
The best way to really explore this iconic area is on the network of hiking trails that criss-cross the landscape in the area referred to generally as Chautauqua. But there's also a cute shop to buy mementos, Boulder's best porch and our vintage VW mobile visitor center. Read our Insider's Guide to learn more (including the history of its name).
Note: Boulder's Open Space and Mountain Parks (OSMP) will be undergoing periodic trail projects and closures throughout the summer and fall of 2022. We recommend first checking for the most current closures here.
Ride the Free Chautauqua Shuttle on Summer Weekends
The free weekend Park to Park Shuttle will get you there stress-free and avoid parking fees. Here's all the information on the free Park to Park hiker shuttle, which runs on weekends from Memorial Day to Labor Day. It is fully wheelchair accessible.
Accessibility Info
The City of Boulder's Open Space and Mountain Parks program has assembled an excellent set of resources for hikers using wheelchairs, walkers and scooters, including an incredibly thorough and helpful 40-page accessible trails guidebook (PDF) available for those seeking information about accessible hiking trails in Boulder.
Chautauqua Hiking Trails
Try these hikes for up-close views of the Flatirons, panoramas of Boulder from above, wildlife sightings, wildflowers and more.
Trail Map
Chautauqua Trail
Wood's Quarry Trail
First and Second Flatiron Trail
Second and Third Flatiron Trail (Flatirons Loops)
Bluebell Road
Bluebell Mesa Trail
Ski Jump Trail
Royal Arch Trail
McClintock Trail
Enchanted Mesa Trail
Gregory Canyon Trailhead
Chautauqua Trail Map
Click below to view the City of Boulder's trail map for the Chautauqua area.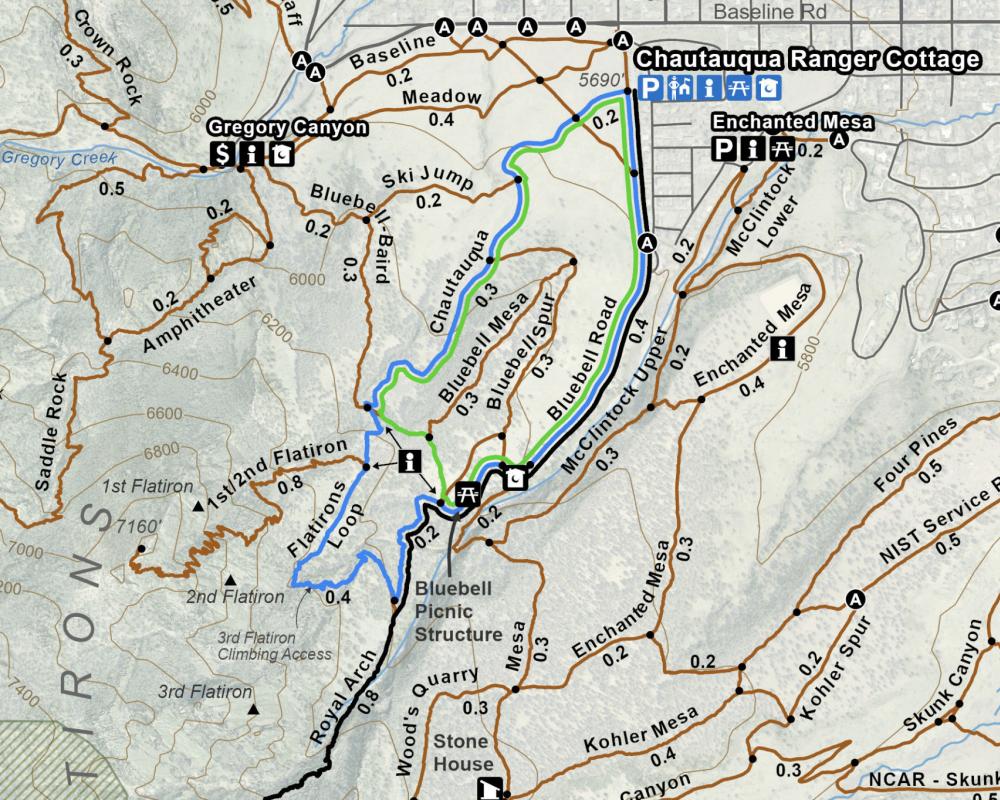 Chautauqua Trail
Dogs allowed: Yes, leashed
Trail Map
Where to Park
The Chautauqua Trail is where you'll want to have your camera out for some classic Flatiron pics. This front-and-center route is like a church aisle leading to the altar of the Flatirons, flanked by tall grasses and sprinklings of wildflowers. You'll likely join a scattered procession of hikers almost any day of the year. The trail hits a junction at the end of the Bluebird-Baird Trail, with a number of trail options from there.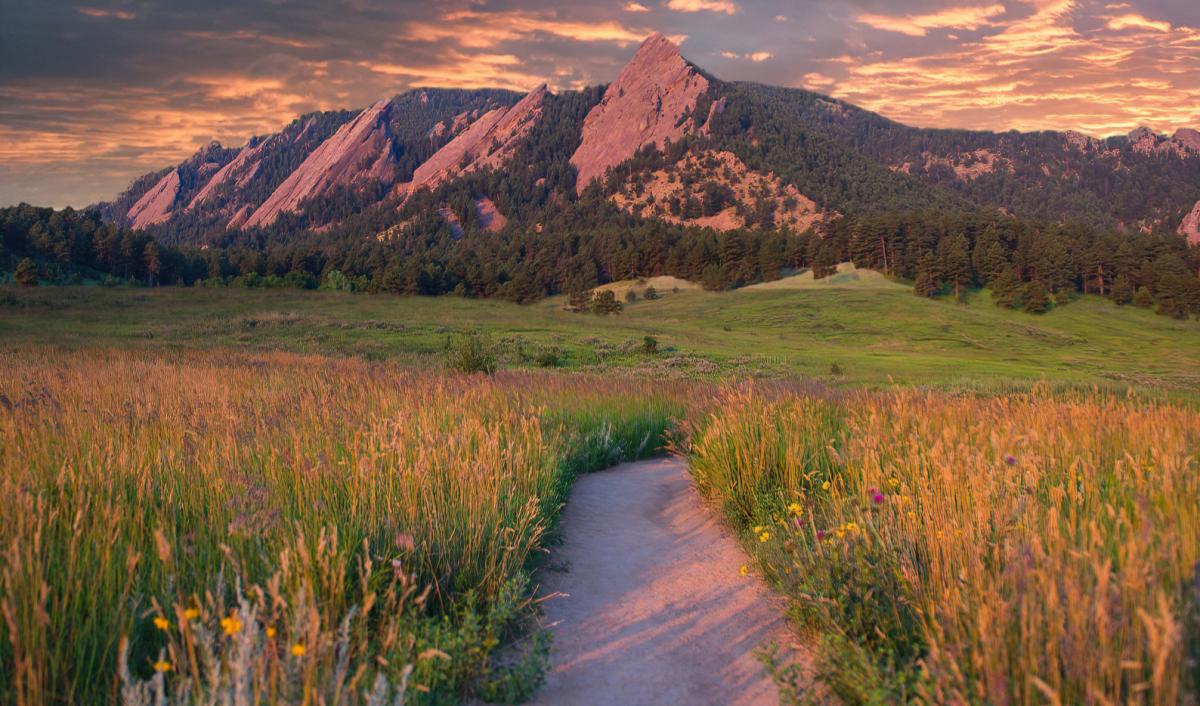 In 1967, Boulder became the first city in the U.S. to tax itself for the acquisition, management, and maintenance of open space (or protected land). The beauty of this spot in front of the Flaitrons helped inspire this movement.
Woods Quarry Trail
Dogs allowed: Yes, leashed
Trail Map
Where to Park
Discover an old stone quarry where large sandstone slabs have been rearranged into an outdoor living room by a few creative folks. Bring a picnic to fully enjoy this unique spot. Start on Bluebell Road, then take the Mesa Trail to a fork, then go right on Woods Quarry. After enjoying the scenic viewpoint, head back down on the loop to pass by a mysterious, old stone cabin.
11 Things to Do at Chautauqua Park & Iconic Flatirons in Boulder
In this guide, we are sharing our personal hiking review of Chautauqua Park in Boulder, Colorado.
When we lived in Boulder we would often visit Chautauqua Park and the Flatirons to go on hikes and meet up with friends.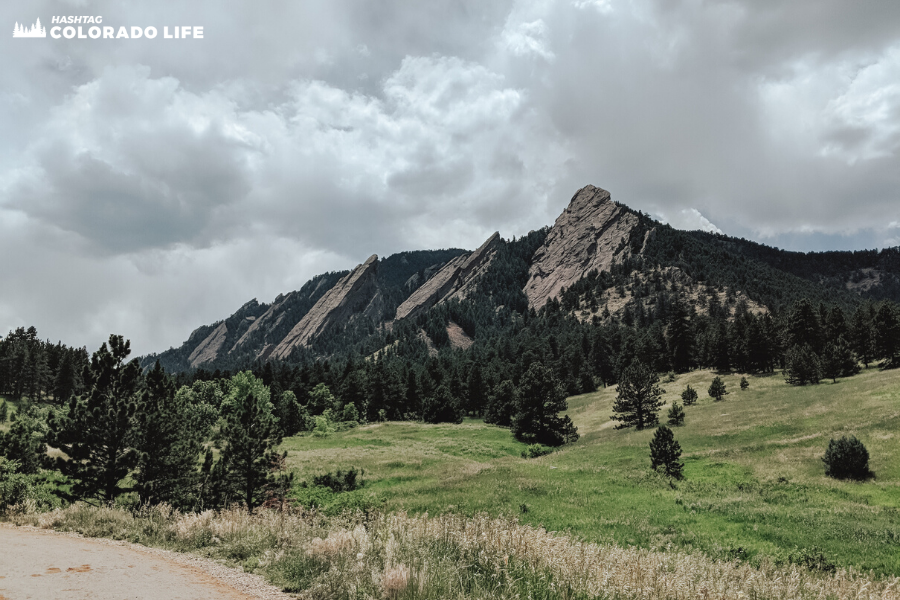 But that's not all you can do at Colorado Chautauqua. You can also enjoy entertainment, dining, and special events at their event center.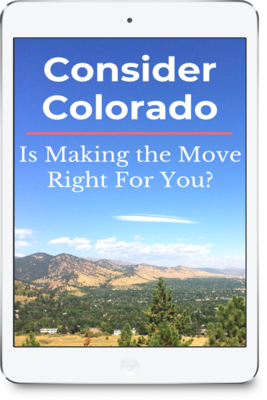 Thinking of living in Colorado? This guide will help you avoid costly mistakes and remove the stress of planning so you can experience the joys of mountain living.
If you are looking for a fun destination for both hiking and history, Chautauqua Park makes a great day trip!
What is the history of Chautauqua Park?
In the late 1890s, the Texas Board of Regents was looking for a cooler climate where they could establish a summer school for teachers.
They set their sights on Colorado and began searching for a location.
Boulder city leaders offered land, facilities, and public utilities in an effort to entice the Texans to build there.
(Have you ever wondered why so many Texans live in or visit Colorado, this is a contributing factor!)
The Texans were quite taken with the beautiful mountain setting beside the Flatirons (we can relate to that feeling!).
Even back then, Boulder had a reputation for being a healthy city.
The summer school was built as a partnership between the Texas Board of Regents, a railroad company, and the city of Boulder — all on the back of the Chautauqua Movement.
What's the "Chautauqua Movement"?
In the late 1800s, a Methodist minister named John Heyl Vincent formed an organization along the banks of Chautauqua Lake called the Chautauqua Institution.
Vincent recognized that many working-class and rural Americans lacked access to formal education, leaving many adults largely ignorant later in life.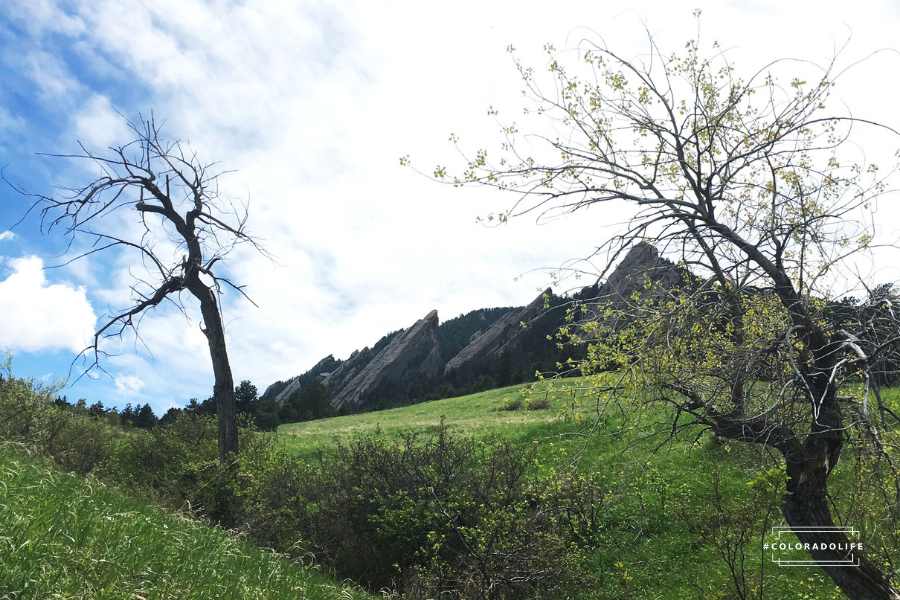 He created the Chautauqua Institution, which grew to include a correspondence course, the Chautauqua Literary and Scientific Circle.
This program allowed working- and middle-class Americans to learn about a variety of subjects.
The success of the Chautauqua Institution sparked a movement that spread across the country.
Some Chautauquas were part of a traveling circuit Chautauqua, while others were permanent fixtures in their communities, like the one the Texans built in Boulder.
As education became more widely available to Americans after the turn of the century, Chautauquas became less popular, and the Movement ultimately died out during the Great Depression.
Some permanent Chautauqua buildings remain to this day, including the Colorado Chautauqua.
Exploring the Colorado Chautauqua today
Chautauqua Park is a 26-acre area owned by the City of Boulder and leased to the Colorado Chautauqua Association.
It includes the park and many trailheads up the Flatirons, as well as the buildings that made up the Chautauqua.
As Chautauquas lost popularity in the middle of the century, Colorado Chautauqua struggled to maintain revenue.
Then, the Colorado Chautauqua Auditorium was designated a National Historic Place in 1974. This led to the restoration of the grounds and buildings making up the Chautauqua.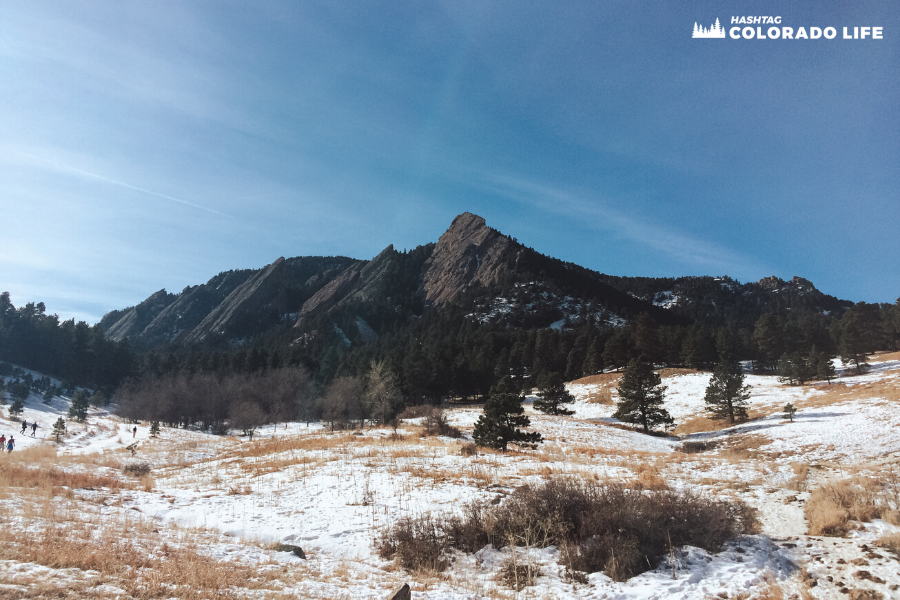 Today, Chautauqua Park is one of only 25 National Historic Landmarks in the state of Colorado.
It is also the only continuously operating Chautauqua west of the Mississippi that still uses all the original structures for their original purposes.
The Colorado Chautauqua continues in the spirit of the Movement. It focuses on serving the community with outstanding cultural and educational programs.
The Colorado Chautauqua attracts more than a million visitors each year.
What are the Flatirons in Boulder?
The Flatirons are a large set of five rock formations that jut out of the land in Boulder, Colorado creating flat-sided mountains.
They resemble the underside of an old-fashioned clothes iron, therefore getting the name "Flatirons".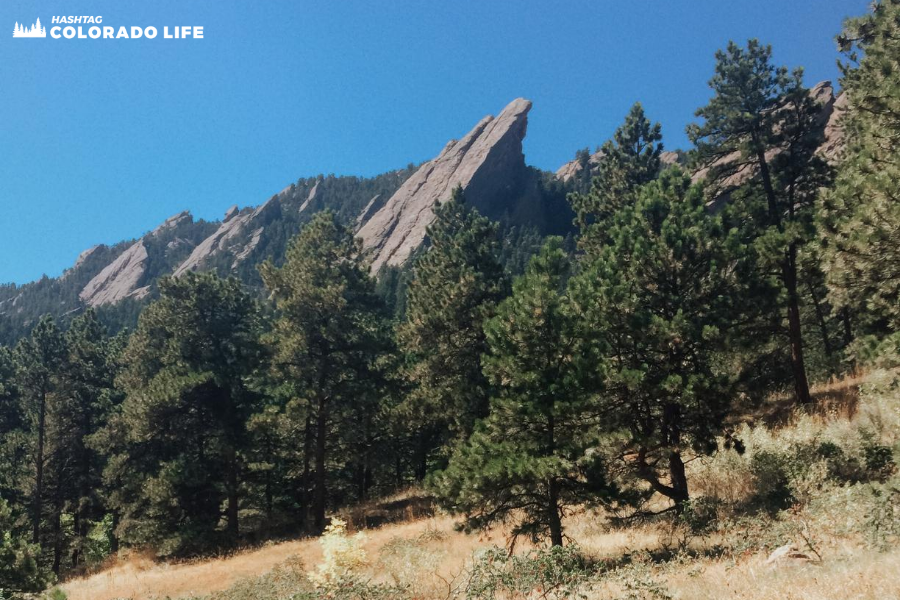 When you see a photo of Boulder, Colorado you are most likely seeing a picture of the Flatirons, due to being so iconic.
These five main flatirons stretch from north to south along the eastern slope of Green Mountain, and are sometimes called "Chautauqua Slabs".
Chautauqua Park refers to the valley around and below the Flatirons and allows for lots of rock climbing, hiking and biking to be done in the area.
How do you get to Chautauqua and the Flatirons?
Chautauqua Park is located in southwest Boulder, about 1 mile southwest of the University of Colorado Boulder.
The main entrance is off Baseline Road, via Kinnikinnick Road (on the west side of the park). You can also access the trailheads and the park from the east on 12th St.
Chautauqua Park is about a 30- to 45-minute drive from Denver depending on traffic and time of day.
If you are coming from Colorado Springs, Chautauqua Park is a one-and-a-half to two-hour-long drive, making it an ideal day trip destination.
Parking is limited
One of the main reasons it's recommended to take a shuttle or bus to Chautauqua is that there is very limited parking on-site.
Cars were definitely not a concern when the Chautauqua was first built in 1898.
If you choose to drive, your best bet for nearby parking will be first-come, first-served street parking in the surrounding neighborhoods.
Ride the bus for free
You can take a direct bus from Denver to Boulder for free! The bus departs from Union Station Gate B17 in Denver and stops at Broadway & Regent Dr. Services in Boulder.
This is just several blocks from Chautauqua Park and the Flatirons.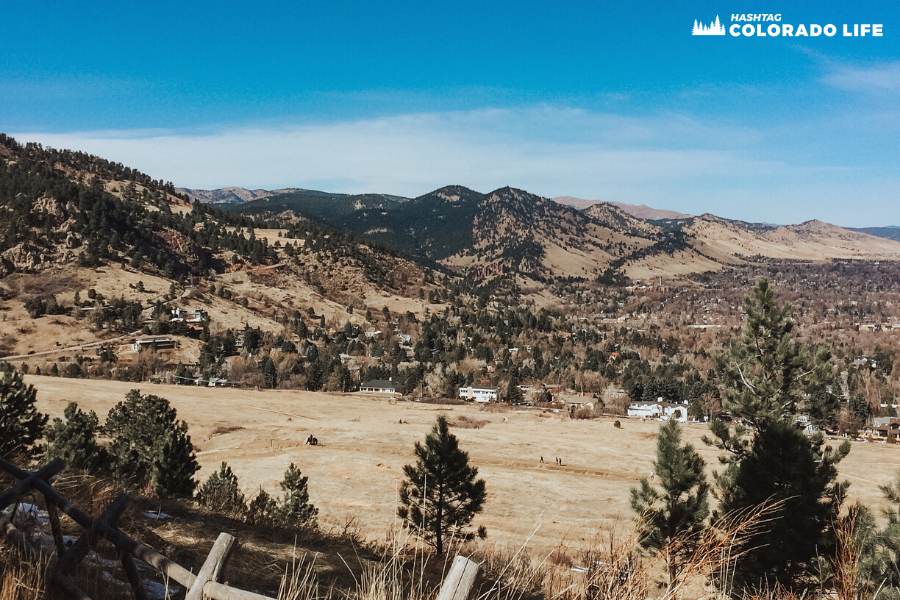 Take the free Park to Park Shuttle
If you're spending the day in Boulder, leave your car behind and take the Park to Park Shuttle to visit Chautauqua Park!
Whether you're visiting the University of Colorado Boulder or shopping on Pearl Street, this free shuttle eases parking congestion near the Chautauqua on summer weekends and holidays.
The Park to Park Shuttle runs every 15 minutes from 8 am to 8 pm on weekends, Memorial Day weekend through Labor Day weekend.
Catch a discounted Lyft ride
You can also get special discounts when riding with Lyft to get to and from Chautauqua Park, to avoid paying for parking.
Use code: PARK2PARK
Take a free Lyft ride between 6am-8am and 8pm-11pm on weekends.
You can get picked up and dropped off between New Vista/CU Regent lots and Chautauqua from Memorial Day to Labor Day.
Use code: RIDE2HIKE
Receive $2.50 off a one-way trip from Anywhere to Chautauqua ($5 round trip) on weekends from Memorial Day to Labor Day.
Chautauqua Park & Flatirons map and trails
When arriving at Chautauqua Park you will see a large open space bordered by the Flatiron mountainside.
There are multiple trails that wind in and around the open space and the surrounding wooded areas.
There are also steeper hikes and trails the closer you get the Flatirons. Check out this map of the Chautauqua Park area, the main entrance, and popular hiking trails.
You can choose to hike any of the dozens of trails in the area, from the Chautauqua Park Trail to the Flatirons Loop.
Things to do at Chautauqua Park
Chautauqua Park has so many things to see and do, and plenty of opportunities to learn and grow as well.
1. Explore lots of hiking trails
There are 10 trailheads accessible from the Chautauqua Park, with views of the Flatirons, ranging in difficulty from easy to strenuous.
Not all trails permit dogs, and the trails that do allow dogs require that they be leashed.
Check the trail instructions before you go to confirm the level of difficulty. Some trails are mixed-use, so be aware that you may share the trail with everything from dogs and horses to bicycles!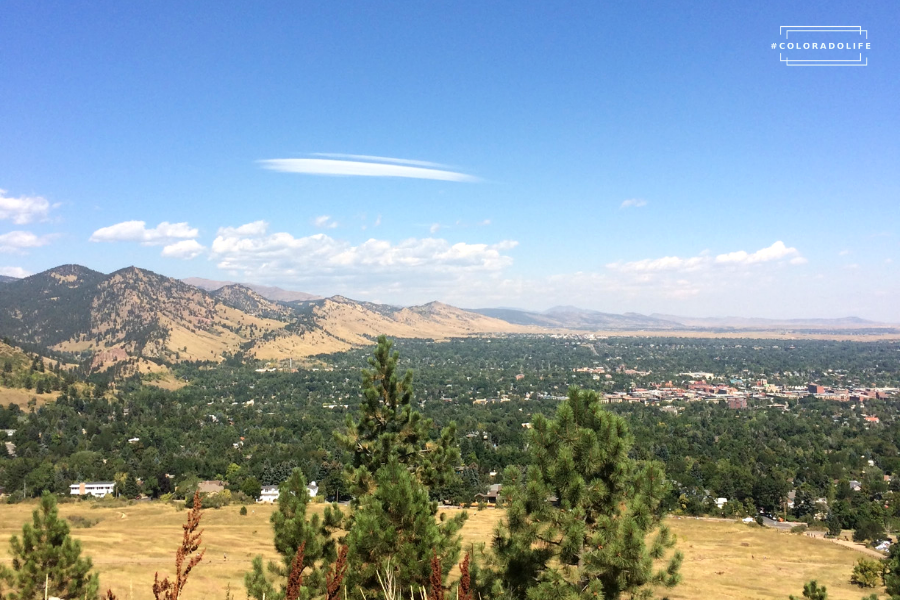 2. Visit the Ranger Cottage
If you are not sure which trail to take, or want to grab a map, stop by the Ranger Cottage and get a recommendation!
You can also get information about the animals in the area that you might see while on your hike.
The Ranger Cottage is right off the main parking lot. This makes it an easy spot to meet up with friends or plan out your hiking adventure.
Heads up: This is a great time to stop and go to the bathroom, or grab a drink of water from the fountain, before starting your hike!
3. Playground and picnic area
Chautauqua Park and the Flatirons is an ideal outdoor getaway for families with kids.
Between the playground, the picnic and hiking areas, as well as the ample open space, there are lots of ways for families to connect and kids to interact with nature.
4. Enjoy views of the Flatirons
The Park is situated right at the base of the Flatiron mountains, which makes for a gorgeous backdrop. This is a wonderful destination for some up close and personal mountain views in Boulder.
Be sure to bring a camera to capture the beautiful views as well as any wildlife you may see in the area.
On one of our hikes up the Flatirons, we saw a mother black bear and her two cubs. The wildlife here are very wild to use safety precautions when on the trails.
5. Go on a self-guided history tour
Pull out your mobile phone for an audio history tour around the historic landmark! Just dial 303-952-1600 and enter the number at each stop to start listening.
Then, search for a free map online to find the 9 stops and 4 interpretive panels.
6. Shop the General Store
During summer months, stop into the General Store for a cup of coffee or tea, baked goods, or for a scoop of homemade ice cream.
You can also find those last-minute essentials like bug spray, sunscreen, and other trail snacks before you take off for your hike.
You can spend a full day (or more!) visiting Chautauqua Park and exploring the Flatirons. There are lots of things to do in the area and on the grounds.
Here are our best tips for what to do after your hike!
7. Have dinner at the Dining Hall
The Dining Hall at Chautauqua has been a fixture since 1898. This beautiful building serves brunch starting at 9 am, as well as afternoon service and dinner starting at 5 pm daily all year round.
Enjoy fresh and delicious Colorado bistro food on the wraparound porch while you feast your eyes on the mountain views.
8. Sip on an afternoon tea
Make your reservation for afternoon tea on Saturdays and Sundays in the summer!
Call to reserve your table for a proper tea. Tea service includes a tiered tower of savory and sweet tea snacks and a pot of premium tea provided by Boulder Dushanbe Teahouse.
Tea service is available from 2-4 pm on Saturdays and Sundays throughout the summer months.
Have your credit card handy when you call to reserve your table.
9. Listen to a concert
Chautauqua Park hosts many regular concerts in the Auditorium. Over the years, this wooden auditorium has been the stage for many talks, lectures, and concerts.
Now, you can stay for a concert by local and well-known artists. Check out the lineup and purchase tickets online.
10. Attend an educational talk
As an institution originally founded for adult education, the Chautauqua community continues that tradition by offering a variety of talks throughout the year.
Topics range from current events and social issues to the arts and sciences. Learn more about the talks coming up and buy tickets online.
11. Stay the night in a cottage or lodge
Chautauqua Park is a great destination for an overnight stay in Boulder.
Stay in one of two lodges or one of 58 cottages available for groups of all sizes. Built as an oasis for education and rejuvenation, you'll find nothing but restful nights and gorgeous mountain mornings here!
All rooms are smoke-free and some are pet-friendly. Click here to make your reservation. If you are a health care provider or active or retired military, discounts are available for your stay.
Exploring Chautauqua Park in Boulder, Colorado
That wraps up our complete guide to exploring Chautauqua Park and the Flatirons in Boulder, Colorado.
Boulder's Chautauqua Park is loaded with things to do for families and kids of all ages.
It's also an iconic place for hiking in Colorado that offers gorgeous views of the cities out east, as well as the city of Boulder below.
If you have a chance to visit and hike Chautauqua Park, we highly recommend it.
Carrie Smith Nicholson is one of the co-founders of Hashtag Colorado Life. After living in Texas for her whole life she moved to Colorado 7 years ago. As a travel blogger and entrepreneur for the past 11 years, her writing has been featured on NBC News, HuffPost Live, Glamour Magazine, Inc Magazine and many other media outlets. When she's not writing about new travel locations, she enjoys spending time outdoors hiking and trying new foods. You can follow her outdoor adventures on Instagram, @hashtagcoloradolife.
Source https://dayhikesneardenver.com/chautauqua-loop-boulder-colorado/
Source https://www.bouldercoloradousa.com/outdoors/hiking/chautauqua-hikes/
Source https://hashtagcoloradolife.com/chautauqua-park-and-flatirons/