Carry-on Bag Size Restrictions & Policy for United Airlines
It's always wise to check the carry-on luggage policies of an airline before you fly, if only to avoid having to check your carry-on at the departure gate. United Airlines' carry-on policy doesn't differ significantly from other airlines, but it does have rules you should be aware of, including the airline's under-seat dimensions, prohibited items, and personal item dimensions. Whether you're flying United Express also impacts what you can carry onto one of United's planes. Here we'll go over United Airlines carry-on size rules and how to make the most of them for your trip.
Carry On Weight and Size restrictions
United carry-on rules allow you to bring one carry-on and one personal item, such as a purse, camera case, or laptop bag . There are exceptions to this rule, such as taking a United Express flight or flying Basic Economy on a non-transatlantic flight
United Airlines Carry-on Size Restrictions
Carry-on luggage for a United Airlines flight must be no larger than 9 inches X 14 inches X 22 inches (22 cm X 35 cm X 56 cm). When measuring, remember these dimensions include the luggage's wheels and handles. If your carry-on luggage does not meet United carry-on rules, you'll have to check your bag at the departure gate and pay a $35.00 gate handling fee plus the applicable checked bag fee.
While United's carry-on policy has limited luggage size, there is no maximum weight allowance. If you can fit it into your carry-on bag and it's acceptable to bring on board, it doesn't matter how much carry-on items weigh. Be aware, however, that you have to store the carry-on in the cabin's overhead compartment by yourself, so make sure you can handle the weight.
United Airlines Personal Item Dimensions
Personal items such as backpacks , laptop bags, and purses are allowed on United flights, as long as they can be safely stowed under the seat in front of you. Before your flight, check to see if your personal item meets United Airlines' under-seat dimensions. Personal items can not be larger than 9 inches X 10 inches X 17 inches (22 cm X 25 cm X 43 cm).
As with carry-on luggage, United's carry-on rules for personal items do not consider weight.
United Express Carry-On Rules
United Express flights are operated by regional airline partners, who typically use smaller aircraft with less overhead space than United's regular aircraft. Often larger carry-on bags and roller bags will not fit in the overhead bins of Express aircraft. In such cases, you will have to check your bag for free at the gate, and United will return it to you just outside the aircraft at your destination. Be sure to remove any vaping devices or e-cigarettes from carry-on should the luggage need to be checked.
United Basic Economy Restrictions
Travelers with Basic Economy tickets can only board with one personal item and no carry-on bag unless the following criteria are met:
You are traveling on trans-Atlantic flights to or from the US, Mexico, Central American, El Salvador, Panama, or South America.
You are on a trans-Pacific flight to or from the USA.
You are a MileagePlus® Premier® member or companion traveling on the same reservation.
You are the primary card member of a qualifying MileagePlus credit card or Star Alliance™ Gold member.
What Can I Bring On Board a United Airlines Flight?
United Airlines allows passengers to carry liquids, gels, and aerosols in their carry-on bags, as long as such substances meet TSA's liquids rule. All liquids, gels, and aerosols are limited to 3.4-ounce containers (100 milliliters), and all such containers must fit into one clear, sealable quart-size bag. This restriction includes shampoo, conditioner, toothpaste, mouthwash, and lotion.
In addition to your carry-on bag and personal item, you can board a United Airlines flight with the following items:
Umbrella
Jacket or coat
Food and drink purchased in the airport after going through security
Merchandise purchased in the airport, such as magazines, books, cameras, or souvenirs
Diaper bags
Breast milk pumps
FAA-approved child restraint system or safety seat
Assistive devices such as canes crutches, and collapsible wheelchairs
Medical devices for prescription medication
Portable oxygen concentrators
Pet carriers (service charges will apply)
Vaping pens and e-cigarettes (which cannot be charged or used during flight)
Lithium batteries removed from their devices, insulated, and protected against crushing or puncturing
Avalanche packs with lithium batteries under 100WH
Liquid nitrogen in vented bags if the item stored is not dangerous (such as biohazards)
Powered air-purifying respirators with batteries removed and stored prior to transport
You can bring small musical instruments such as guitars and violins on board only if the instrument is packed in a hard case and the flight has space in an overhead compartment or under the seat in front of you.
United Airlines Prohibited Items
Any item restricted by the TSA violates United Airlines' carry-on policy. We recommend checking your packed items with the TSA's What Can I Bring webpage before flying. United airlines prohibited items for carry-on specifically include the following:
All matches and lighters (if departing from Beijing)
Smart bags without removable lithium batteries
Powder-based substances over 12 fluid ounces (350 milliliters). Exceptions are made for medically prescribed powders, baby formula, human remains, and duty-free powders, but such items should be sealed in tamper-evident bags.
Self-balancing or self-riding bags
Camping equipment that contains any kind of fuel
Self-defense sprays (mace, pepper sprays, tear gas)
Torch lighters
Explosives (fireworks, gunpowder, flares, flare guns, or novelty items)
Ready-to-eat meals that include flameless heaters
Shock absorbers
Tasers
Knives, guns, or other weaponry
Sporting equipment which could be used as a weapon
Avalanche packs containing 1.4s or CO2
Recalled, damaged, or defective batteries
Certain everyday household items also fall under United Airlines prohibited items list, and cannot be packed in carry-on or checked bags:
Aerosolized spray paint, household cleaners and pesticides
Bleach
Drain cleaners
Epoxy
Fuel
Gel fuel
Glue
Insecticides
Matches (the strike-anywhere kind)
Paint
Torch lighters
Spray starch
Recreational self-propelled vehicles and devices designed to carry people and goods have the potential to injure passengers and crew, and as such are not allowed as carry-on. Such devices include the following:
Hoverboards
Airboards
Skateboards
Self-balancing wheeled devices
Battery-assisted bicycles
Wheeled vehicles
Electric scooters
Riding or motorized suitcases
Those are United Airlines carry-on rules. Remember carry-on policies are subject to change over time. If you're unsure, check with United directly to ensure your carry-on luggage and packed items meet the airline's current requirements.
Can You Take Treking Poles Or Hiking Sticks On A Plane In Carry On Luggage? (TSA Rules)
So you are going on a walking vacation and want to bring your hiking poles, trekking poles, nordic walking sticks, or whatever you call them.
Flying with trekking poles is probably going to cost you a fee to bring checked luggage.
Let's take a look at the regulations.
TSA Rules About Hiking Poles and Treking Poles
The Transportation Security Administration doesn't allow anything that could be used as a weapon into the airplane cabin.
Here's what they had to say about flying with hiking poles.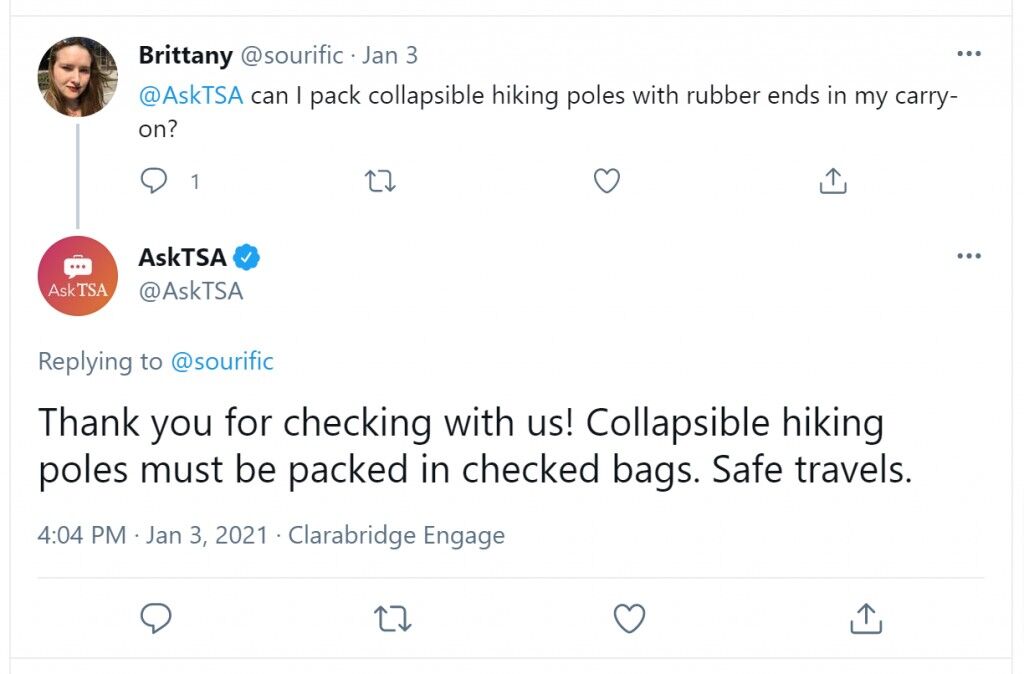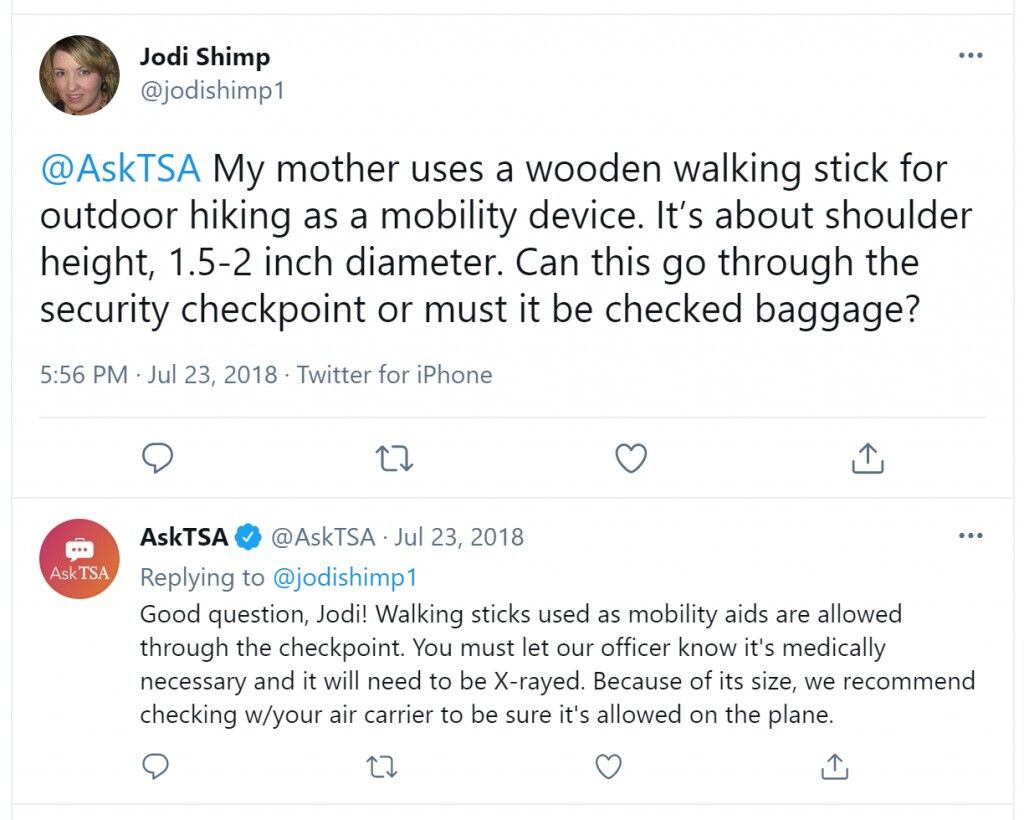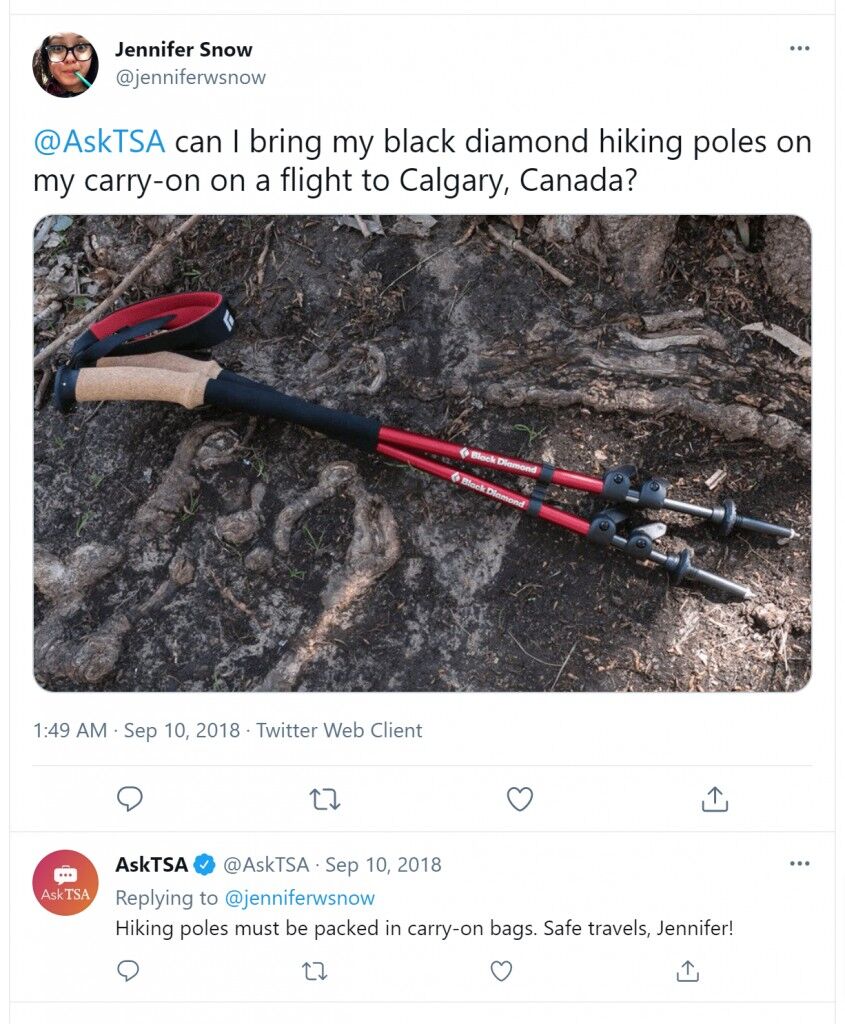 Did This Page Help You?
People Also Ask
Recent Posts
Can You Bring Electronics On A Plane?
Can You Bring Wrapped Gifts On A Plane? (Carry On or Checked?)
Can You Bring A Water Bottle On A Plane?
Can You Bring Champagne On A Plane?
How Much Food Can You Bring On A Plane?
Disclaimer: The information on TravelingLight.com is for entertainment purposes only. There is no right or wrong way to live or to travel. If traveling light is your thing you will figure everything out yourself. Similarly, if you want to lug everything around with you then I'm not going to argue. I write these pages because a smart guy makes his living doing what he enjoys, and I enjoy immensely writing about these topics.
We are sometimes a participant in the Amazon Services LLC Associates Program, an affiliate advertising program designed to provide a means for us to earn fees by linking to Amazon.com and affiliated sites.
Copyright © 2022 by TravelingLight.com.
How Can We Fix The Page?
Great! We Aim To Please!
Maybe you can help us.
Social shares allow us to continue to publish more articles so if you can help out by sharing it would be much appreciated!
Are hiking poles allowed in carry-on luggage? (OR NOT)
Trying to carry trekking poles on an airplane has been a challenge for hikers who fly since the devastation of 9/11.
Trekking poles appear to be prohibited, but they can fall into a gray area with TSA, the Transportation Security Administration of the United States.
While the TSA does not allow them in carry-on bags, we have some tips from experience on how to travel with trekking poles.
Are hiking poles allowed in carry-on luggage?
Ski and hiking poles are not permitted as carry-ons, but walking canes and walking sticks are permitted if Providing they have been inspected to ensure that prohibited items are not concealed.
Ski and hiking poles are permitted in check in luggage providing these items must not exceed 36 inches (91 cm) in total combined length.
How do you bring hiking poles on a plane?
So ,you have read all the above and still want to bring your hiking stick with you mon vacation here are some tips on How do you bring hiking poles on a plane.
1. Send Them
Send them ahead of time to your destination via DHL or UPS. They have a good chance of getting there. The only drawbacks are that it requires more planning and costs money.
2. Check Them In
Place them in your checked bag. If they don't fit into your suitcase when collapsed, pull them apart completely. Cover the tips with duct tape or something to prevent the points from ripping your clothes or suitcases to shreds.
They have a good chance of getting there, and it doesn't take much planning. If you would not otherwise check your bags, the additional cost is the baggage fee, which you will have to pay unless you are traveling on Southwest.
3. Pack Them In Your Back Pack
Wrap them in clothes, stuff them in your daypack. This should not be possible! I was completely taken aback when someone on a hiking trip did exactly this. I wouldn't recommend it, but everyone has a different risk tolerance!
4. Buy One
While this solution is not ideal it could save you a lot of headache at the airport trying to get your walking stick on the plane.Once you have arrived at your destination you can buy a new walking stick or even rent one from the the travel agency.
Bringing Folding & Collapsible Canes and Hiking Sticks on Airplanes
There are folding canes and hiking sticks that fold up small enough to fit in most carry-on bags. If you aren't checking bags, you can fit the cane or walking stick inside a carry-on and bring it with you.
It will be useful to have while walking through the airport. The cane will be scanned along with other devices and items using an X-ray machine.
If you don't want to bring checked bags, collapsible canes and hiking poles are always a good option. Check out our travel-friendly folding canes and walking sticks.
Here are some of the Best Hiking Sticks To take on A Plane
A good foldable hiking stick makes it easier for hikers in climbing steep hills or slippery slopes where footing is uncertain thus providing an extra upper hand on their exploration experience.
Hiking sticks are very helpful tools specially made for people who love to travel and discover beautiful places with fresh air but rough terrain – great place to train the body and mind.
1. Leki trekking pole
The first is the Leki trekking pole stick that has a telescoping grip to adjust to users of different heights and ages. It also has a wrist strap which helps keep it nearby during hikes, but it's not as comfortable as the Merrell stick.
2. Trekking Poles Collapsible Nordic Hiking Pole Pair
The second is the Nordic Hiking Pole that has an ergonomic grip and a cork handle. It also claims to reduce joint stress, so it's the best for people with issues with their hands or wrists.
3. CLINE Travel Folding Trekking Hiking Pole with Carrying Case
Can you take hiking backpacks as carry-on on a plane?
Yes, Hiking backpacks are allowed on flights as long as they follow the terms of the airline's policy.
It is not prudent to pack anything fragile inside your hiking backpack because it will not survive being tossed around like other bags.
Hiking backpacks are allowed as carry-on luggage on most major airlines, as long as they follow the rules and regulations of each carrier.
When flying with a travel pack, make sure to check the airline's policy to ensure your hiking backpack will be permitted in the cabin area.
Gate agents will allow hikers to stow their backpack temporarily if there is room aboard the flight, but do not take it for granted that you can bring a large backpack onto an airplane.
Some people have asked about carrying a camping backpack or daypack on board; this may depend on how much space is available in the overhead compartments.
Can I bring a 50L backpack as a carry-on?
No, It Would not be carry-on size as the carry-on size for a bag is 32cm x 46cm x 23cm.
Carry on bags need to meet size requirements set by each airline so check with your airline for more information, however as of 1 April 2008 the following guidelines apply if you're flying Qantas Airways.
Cabin OK – 32cm x 46cm x 23cm. Includes laptops and smaller cabin bags that fit inside larger cabin bags. Make sure they can fit under the seat in front of you.
Cabin Too Big – If you have a cabin bag that is bigger than the above dimensions, we'll give you a complimentary plastic airline approved stowaway bag or use our boxes for sale at most airports.
Smaller items such as wallets and purses are allowed in carry on bags if they fit inside your luggage.
Conclusion
Hiking poles are not allowed in carry-on luggage, but you should check with your airline to confirm the size and weight restrictions.
Airlines have different policies on how they handle hiking poles: some will allow them as long as they're under a certain length or weight while others may require you go through baggage claim before boarding if it's too big to fit in an overhead bin.
Hikers who want to make sure their pole is within regulations can use packing tape to measure (make sure the end of the tape meets up). Alternatively, hikers could also buy one that folds down for easy travel.
We own and operate multiple camping and RV Trailer site. Its our passion to see the world thru camping and traveling. There is no bigger pleasure for us then to share with you our readers our experience in RV Travels and Camping.
Recent Content
If you have an RV then you need to stay in cool weather, free from humidity. However, that is not possible all the time. Humidity seems to be the greatest enemy for RVers. The dwellers of Costa Rica often notice mold growing in the Chaco sandals. Though we don't live in an RV at that […]
Finding Best GPS for RV? One of the greatest causes of stress between the lovely couples is none other than navigation that travels or lives full time in an RV. Those who have traveled a distance with their partners in an RV know what might be the consequences if the slightest mistake occurs. With the advancement […]
Source https://travelpro.com/pages/united-airlines-carry-on-bag-size-rules-restrictions
Source https://travelinglight.com/can-you-take-treking-poles-or-hiking-sticks-on-a-plane/
Source https://www.rvcamptravel.com/are-hiking-poles-allowed-in-carry-on-luggage/