Best Rattlesnake Protection Boots (Reviews & Buying Guide 2021)
This article contains affiliate links. If you click on these and make a purchase, we may receive a small percentage of the sale. Click here to find out more.
Are you aware of the number of people that get bitten by poisonous snakes every year? You will probably be shocked when you learn that 8000 people become victims of these venomous reptiles annually. So if you live in an area where it is quite likely to encounter snakes, we recommend you find the best rattlesnake protection boots. Wearing them, you will make sure that your feet are safe while you are enjoying a hike in the mountains or hunting.
As the market is flooded with a range of such shoes, we have gone the extra mile and have prepared reviews on rattlesnake protection boots. They will help you to compare the different products and make the wisest decision. After all, these boots are considered to be the most efficient shield against poisonous snakes. We all know that the fangs of these creatures most often attack our feet and legs. So we should do everything necessary to keep these parts of our bodies safe.
Best Rattlesnake Protection Boots Comparison Chart
Chippewa Men's Snake Boot
Danner Men's Hunting Boot
ARIAT Hunting Boots
Thorogood Men's Waterproof Hunting Boot
LaCrosse Snake Boot
Irish Setter Men's Waterproof Hunting Boot
Price: $$ – $$$
Material: 100% Leather and synthetic
Sole: Rubber
Shaft measures: 17″
Best Rattlesnake Protection Boots Reviews (Editors' Choice)
1. Chippewa Men's Snake Boot
Throughout the years, Chippewa has deserved a reputation for producing some of the most durable snake bite prevention boots that can be found on the market. As the shoes are made of 100% leather and fabric, they prove to be very sturdy. It is quality brown russet leather that is used for the foot and collar of the boots. In addition to this, they are 17 inches high, which provides additional protection. So you can be assured that if anything falls on your feet, they won't be harmed. Of course, the essential feature of these shoes is that they prevent fang penetration, which is achieved by 10 ounces of vamp leather and lining. Moreover, the outsoles are made of high-performance Vibram rubber, which also ensures your safety. If you want to adjust the boots to your comfort, you can use the provided straps.
Pros:
Your feet are well protected from fang penetration and objects that may fall on them, thanks to the double layer of leather, and the height of the boots.
Adjusting the boots to fit your feet comfortably is done by using the straps on the sides of the shoes.
You can easily slip on and off these shoes without wasting time on adjusting laces.
Thanks to their viper cloth sides, the boots are pretty light to wear.
Cons:
You should keep in mind that these shoes are not waterproof. However, they don't absorb water very quickly so you can walk on wet grass with them.
2. Danner Men's Hunting Boot
Danner Men's hunting boots are among the champions of snake-proof protection thanks to the 100% full-grain leather they are made of. The material used for the upper parts of the shoes is nylon, which makes them lightweight. Unlike other similar products, these boots are GORE-TEX waterproof. Moreover, they are equipped with breathable lining, which means that your feet won't sweat. Not only your feet will be protected from fang penetration, but also your ankles and half of your legs as the boots are 16 inches high. Danner hasn't forgotten to take care of your comfort, and they have chosen a cushioning Ortholite footbed for your feet. In addition to this, you can adjust the boots to fit your legs using the rear gusset with rugged hardware. If you want to make these boots even more flexible, you can polish them with mink oil. Doing so, you will take good care of them and thus enjoy them for a longer time.
Pros:
100% full-grain leather ensures that these shoes will protect your feet from fang penetration.
Unlike similar products, these boots are waterproof as they feature GORE-TEX.
The Ortholite footbed offers to cushion comfort to our feet.
You can tailor the fit of the boots with the help of the rear gusset.
Cons:
These boots may need some time to break-in, but once they do, you will find them pretty easy to put on and off.
3. ARIAT Hunting Boots
The exterior leather and the rubber soles of these ARIAT boots will protect your feet from snakes. In addition to this, they have a neoprene interior, which helps when it comes to insulation and water resistance. A definite benefit of these shoes is that their upper part is camouflage, which makes them perfect for hunting. In comparison with other similar boots, these are not very high, but their 14,75 inches can still protect your ankles and parts of your legs. If you have a wide foot, then you are lucky as these shoes offer a square toe design for your comfort. Moreover, this feature will help you walk on uneven surfaces. Keep in mind that at the beginning, the boots may seem a bit tight. However, after the break-in, they loosen up and are comfortable to wear. Don't worry if you go hunting in areas with slippery surfaces as these boots are slip-resistant thanks to their rubber soles.
Pros:
These ARIAT boots are comfortable and easy to put on and off.
You can wear these shoes in the winter as they are warm enough thanks to their additional lining.
Winter hunting won't be a challenge for your feet as the shoes are warm in the inside.
You can walk on a slippery surface with these boots as they provide very good traction control.
Cons:
These boots need some time to break in, so they may not seem comfortable at the beginning.
4. Thorogood Men's Waterproof Hunting Boot
These Thorogood hunting boots are among the best-sellers at the market because of several reasons. First of all, they are 100% snake-proof thanks to the fact that they are made of leather and Cordura. In addition to this, they are waterproof, and you can wear them in rainy weather. The height of the boots gives you additional security. Yet another proof of their quality is that they feature breathable construction, which will prevent your feet from sweating. You may also find useful the removable dual-density polyurethane footbeds of the shoes. Walking on different types of surfaces won't be a problem for you as these boots have slip-resistant rubber outsoles, gripping pads, and rugged lugs for superior traction. 3M Scotchgard Protection keeps the shoes in good shape for a longer time. Keep in mind that these boots are not insulated. However, you can still use them in the winter as they keep your feet warm enough.
Despite their height, these shoes are lightweight.
Walking in the rain, shallow water or mud is not an obstacle for these boots as they are waterproof.
It's easy to clean the boots up after using them in the mud.
The leather and Cordura these shoes are made to ensure that they are snake proof.
The zipper may sometimes appear challenging to zip up.
5. LaCrosse Snake Boot
You will love taking these boots on and off, thanks to their large pull loops situated at the top of the upper parts. You will find the pull loops much more convenient to use than zippers. These shoes are made of 100% full-grain leather and fabric and offer 360 degrees Snake Guard. Your legs up to the knees will be well protected from snakes as the boots are 17 inches high. In addition to this, they have a 2-inch heel to help you walk on a variety of surfaces. Abrasion-resistant toe caps ensure the durability of the shoes. Another advantage of these shoes is that they have a waterproof lining that is scent-free. Other than this lining, the boots are not insulated. So you need an additional pair of socks to keep you warm if you wear these in the winter. You will be glad to find out that these boots are offered in half sizes and also in double-wide ones.
You will very soon find these shoes comfortable as they need little time to break-in.
The manufacturers offer these shoes in half sizes and double-wide, so it is easier to find the ones that fit you.
You can climb hills with these boots as their semi-aggressive soles allow this.
The toe area is additionally reinforced so that the shoes can last for a longer time.
The pull loops leave exposed skin, and water may enter from them into the boots if they are not tight enough to perfectly fit your legs.
6. Irish Setter Men's Waterproof Hunting Boot
Your feet, ankles, and the down parts of your legs will be protected from fangs and thorns thanks to the SnakeGuard construction of these boots. They are made of quality, full-grain leather and synthetic, which ensures the durability of the shoes. Moreover, they feature RPM technology to make them lightweight for you to wear while hunting. Unlike other similar shoes, these are equipped with an ultra-dry waterproofing system. So walking in heavy rain or even in water won't make your feet wet. A definite advantage of these boots is their ScentBan technology, which eliminates odor. This feature is essential as it also minimizes the risk of the appearance of bacteria. To ensure that the shoes will resist abrasion, Irish Setter has used special ArmaTech protective covering. If you are looking for insulated boots, these are not. However, they do keep your feet warm enough to wear in the winter.
The whole boots are very flexible so you can sit, squat down, or bend easily with them.
Unlike other shoes, these are ultradry waterproof.
You can be assured that the entire boots plus the tongues are snake proof.
Thanks to the soft rubber material the soles are made of, you will have the necessary traction control to walk on a variety of surfaces.
These shoes are not equipped with zippers. Instead of this, they have laces which takes a long time to put them on.
How Dangerous Are Rattlesnakes?
Before you decide if you need snake proof boots, we encourage you to read this part of our article to understand how dangerous rattlesnakes are actually:
First of all, it is vital to know that snakes are afraid of humans, more than we are frightened of them.
If a snake senses that you are near, in most circumstances, it will crawl away.
Though sometimes we, people are not careful enough, so some of us do end up bitten by rattlesnakes.
A snake will bite you, only if you step on it or threaten it in one way or another.
Keep in mind that snakes spend most of their time in hiding. So if you don't disturb them, they won't attack you.
Six Tips for Preventing Snake Bites
If you live in a region that is inhabited by a large number of snakes, then you will find our six tips for preventing snake bites useful. Read along to understand what can save your life if you are likely to encounter one of these venomous reptiles.
The most important thing you need to do in case there are a lot of snakes in your area is to wear rattlesnake protection boots and long pants. It is absurd to go barefoot or wear sandals in such regions. Snake proof boots are made of materials that do not allow the fangs of the reptile to penetrate through them. Pants offer an extra layer of shield against snakes.
When you go hiking, try to stay on trails where you can see your steps. You are probably aware that snakes like hiding in tall weeds and underbrush to escape their enemies or the extreme temperature. So, if you walk in high grass, you may encounter a hidden snake, and then you will surely not like the consequences.
Don't you dare touch a snake even if it appears to be dead! They usually use the tactic of lying still to attack their enemies. Plus, a freshly killed snake may yet have the ability to bite.
If you have to gather rocks or firewood, always look around to check if there aren't any hidden snakes. Most snakes can cover themselves very well thanks to their camouflage skin. So before you pick up a rock or a log, scrutinize it to be on the safe side.
Avoid hiking alone in remote areas. You need to be accompanied at least by someone else who can help you in case of an emergency. Having a partner when hiking is especially important if you get bitten by a snake. If the situation allows, ask your friend to take a picture of the snake. A photograph can help the doctors a lot to decide on the proper treatment.
Teach your kids to respect snakes and all other animals and not to disturb them. Thus they are more likely to stay away from dangers.
Now you know how to prevent yourself from snake bites. As you read, it is vital to wear proper shoes. If you are a hunter and want to know how the warmest hunting boots can protect you from other dangers, read our articles on them.
Guidelines for Buying Good Snake Proof Boots
Now you are familiar with six of the crucial things to do to protect yourself against snakes. As you have already read, the most effective one of them is to wear rattlesnake protection boots. We are sure that you will want to have such shoes if you live in a dangerous area. So we have prepared some guidelines for buying functional snake proof boots. We hope that you will find our tips useful:
The financial factor – the first thing to consider when you decide on purchasing snake proof boots is the amount of money you would like to spend on them. We advise you if you can afford it to buy quality shoes no matter what the price is. Remember that safety comes first. However, some products offer a reasonable balance between quality and price.
The style of the shoes – there is a variety of styles on the market. You can choose from knee-high ones to western-style boots. Keep in mind that the shoes should be high enough to protect your legs from snakes.
The material of the boots is the essential thing that matters when you choose snake proof boots. Of course, you need to select some thick material to guarantee that the fangs of the snake won't penetrate through it.
The proper size – snake-proof boots should be comfortable enough, so you need to find the correct size. Note that they may feel a bit tight at the beginning as they need some time to break in.
If you liked our pieces of advice that we offered to you in these guidelines, we encourage you to read our tips on buying safety shoes. Whether you need them for working, hunting, or walking, you should be familiar with the features to look for.
Who Needs Rattlesnake Protection Boots?
Before you decide whether you need rattlesnake protection boots, check below if you are one of the people who need them:
If you live in an area where it is likely to encounter poisonous snakes, you should consider getting snake proof boots.
If you are a hunter, then you may also need one pair of those. Hunters tend to walk in areas with swamps or bayous. In most cases, snake protection boots are also waterproof ones. So thus, hunters have two things in one.
If you are a fan of walking in areas with high weeds and underbrush, you must have at least one pair of such boots. The material they are made of will protect your feet as it doesn't allow fangs to penetrate through it and reach your skin.
After all, it is better to have snake-proof boots and not need to use them than to need them but not to have them.
Can a Rattlesnake Bite Through Rubber Boots?
You may think that wearing any hiking shoes or boots is enough protection against snake bites, but it's not. What makes rattlesnake protection boots different than other trekking shoes is that most often, they have thicker outsoles, higher uppers and are made from thicker material overall.
Shoes that are designed with snakebite protection in mind are made of puncture-proof materials. Many models also include snake-guard lining, which adds to the protection. Furthermore, such type of shoes also protects your feet from other sharp objects on the trekking path.
Some models can have extra protection around the chin and calves because they are key points that snakes can easily bite. Your boots need to provide the proper coverage, so you should look for models that are 16 or 18 inches high. However, a snake may attack you while you're taking a break and are sitting down. That's why the thicker the outsole of the boot, the better.
Rattlesnakes' fangs length depends on the size of the particular specimen. For example, larger snakes can have fangs that are 6 inches long. You keeping a distance from snakes and stomping hard to scare them isn't always enough. Rattlesnakes are more aggressive than other species, so they may attack you regardless of whether you're sticking to a grassless path or not.
So, we can say that rubber boots can be used as protection against snake bites. Both rubber and leather can be effective against a snake's fangs. Rubber and often, leather can do one thing other materials cannot. In the unfortunate event when a snake bites your foot, the venom can slide off the shoe. Other shoe materials such can soak the venom. Even though just by merely touching your uninjured skin, it's not dangerous, it is still nice to have peace of mind that it won't.
So, can rattlesnakes pierce rubber boots? Yes, they can, but only thin ones. There are a number of differences between regular rubber boots and snake boots. Investing in a good pair of snakebite protection boots can make a big difference. A pair that is made from rubber is a bit more flexible and comfortable to wear when hiking than leather boots.
The goal of having reliable rattlesnake protection boots is not to allow its fangs even to reach your foot. What is more, a snake's bite force is much stronger than you think. Sometimes it can be even stronger than some dog breeds' bites.
It certainly depends on the area you're going to. If you are hiking in a highly populated by snakes area, you will need to get other protection besides the boots. For example, protective clothing, gloves, a hiking stick can also be useful. If you need another type of specific shoes but are also worried about snake bites or sharp objects piercing, take a look at our home page and read about other protective types of boots.
The more protection a boot has, the heavier it is. So, keep in mind that rattlesnake protection boots are heavier than other models. On the plus side, you will get used to them, so that's not a big problem. You should also know that this type of boots need some break-in time before you go on a long hike.
Wrap Up
It doesn't matter if you are a hunter or you like having walked in Nature, if you live in an area with a lot of snakes, you need to ensure your safety. To protect your feet and legs from the fangs of these reptiles, you need the best rattlesnake protection boots. If you want to buy the most suitable ones, you need to take into account the material they are made of, their size and the money you agree to spend on them.
To help you with the choice, we offered you our reviews on rattlesnake protection boots. They provide detailed descriptions of the products and our honest opinion on their pros and cons. Moreover, thanks to our buying guide, you know how dangerous rattlesnakes are and how to protect yourself from them. You could also check whether you need these shoes and what to consider when buying them. Thanks for reading, and as always – stay put!
Can Rattlesnakes Bite Through Leather Boots?
Leather is a common material used in boots worn outdoors. However, they may not necessarily protect the wearer from rattlesnake bites. This depends on several factors.
Table of Contents
Leather Boots Give You Some Snake Bite Protection
Leather boots, be it work boots or cowboy boots that are not snake proof is not guaranteed to stop a rattlesnake from biting through to the skin. They will, however, give you a fighting chance to get away.
If a rattlesnake gives a glancing bite to the side of the boot it may bounce off or not penetrate the leather cleanly. But you can never bet on this happening, so it's best to play it safe and wear snake boots in rattler country.
The PSI of a Rattlensake Bite
PSI (pounds per square inch) of a rattlesnake bite is 120-150 depending on the size of the snake.
That kind of a bite will go through all types of leather boots unless they are snake-proof. However, if the leather boot is very thick, it could provide extra protection and much more so than sneakers or hiking boots.
Believe it or not, a large rattlesnake does not have the strongest bite force. This title belongs to the larger species of anaconda.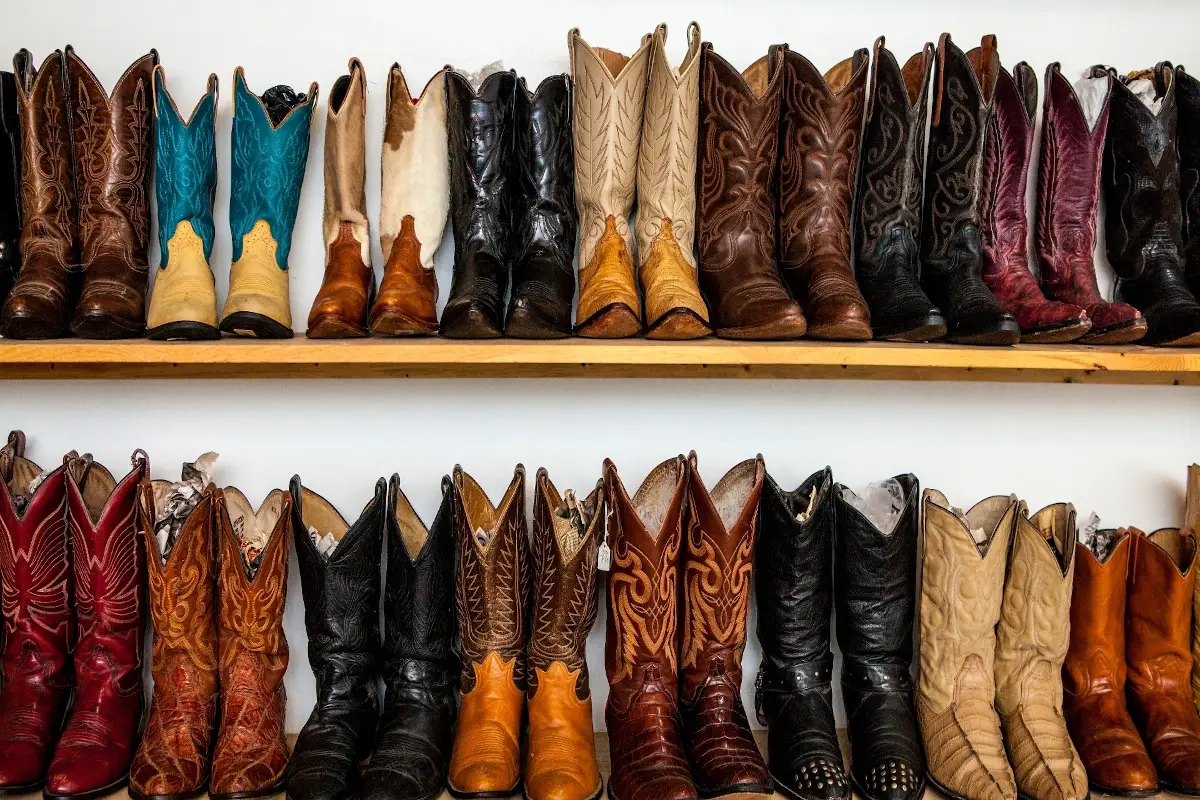 Large Rattlers Have Larger Fangs
Rattlesnake fang length is largely dependent on the snake's overall size.
Larger rattlers can have fangs up to 1 inch in length, more than long enough to reach the skin under a leather boot. Smaller rattlers also have fangs long enough, being 1/2 to 2/3 of an inch in length.
So, leather boots will protect you from small rattlers, but probably not large ones. Casual or formal soft leather boots will likely not stand a chance against a rattler of any size. Cowboy boots are the most secure against small snake bites due to their overall thickness and durability. However, the only way to keep from being hurt when bitten is to simply stay away from rattlers altogether.
The venom of rattlesnakes is highly toxic and can send anyone to the emergency room. When far out in the brush and trails, reaching medical attention before getting seriously ill can be difficult.
A Steel Toe Can Protect…The Toe
A steel toe can definitely stop a rattlesnake bite, but this only protects the toe. This is definitely a bonus to your safety, but again, leaves the rest of your foot and ankle without extra protection. Steel toes are mainly included to protect your toes from falling debris or being jammed into hard surfaces while working outdoors or on construction sites.
Leather Boot Soles
Leather work boots or cowboy boots with thick rubber or hard leather soles can stop a rattlesnake bite from penetrating the bottom of the foot. But being bitten on the sole is not as common as bites to the ankle or top of the foot (also called the vamp, or metatarsal region). And a thin leather sole on a cowboy boot may not stop a rattlesnake bite from penetrating at all, unless it is on the heel area.
Leather Boots Stop Body Heat From Emanating
Snakes respond to the body heat of prey and threatening animals nearby. They can see the heat emanating from your legs and feet areas. Thick leather boots will stop a large amount of this heat, so the snake may not respond. Even at night, when snakes are active, they can see this body heat signature. Boots of all types, not just leather ones can help stop body heat from being sensed by snakes.
Recommended Leather Boots
Western Work Boots Stand the Best Chance Against Rattlesnake Bites
The western work boot is a type of cowboy boot that stands the best chance of repelling a rattler strike. This boot is designed long-lasting and tough for work on farms. The leather on these boots is thick and durable, and unless the metatarsal region (vamp) is bitten, they will stop a rattler's fangs from penetrating to the skin.
However, it is always recommended to only wear snake-proof leather boots when traversing areas where rattlesnakes live. Additional thick socks worn underneath can also help prevent a bite from causing injury if it penetrates the boot.
Can Rattlesnakes Bite Through Hiking Boots? (Important Facts)
Different people hike for different reasons. Some want to explore the backcountry, some want to enjoy nature, some want to enjoy the company of friends or family.
Whether you are hiking by yourself or with others, your footwear must protect you from snake bites.
Table of Contents
Can Rattlesnakes Bite Through Hiking Boots
This is a question that many hikers have asked over the years, especially when it comes to choosing between leather and synthetic materials. Hiking boots are more often made of synthetic materials nowadays, which are usually much stronger and durable.
The answer to the question "Can Rattlesnakes Bite Through Hiking Boots" is that it depends on the thickness of the hiking boots and of course, the size and type of the snake.
If you are wearing a thick pair of hiking boots, then rattlesnakes will likely not be able to bite through them. Likewise, if you are wearing a thin pair of hiking boots, then it will be easy for rattlesnakes to bite through them.
Will Rubber Boots Stop a Rattlesnake Bite?
The rattlesnake bite is one of the most dangerous snake bites. A common myth suggests that if you put on rubber boots before getting bitten then the venom will not be able to enter your body. However, this is not true.
The idea behind this myth is that a rubber boot would protect your leg from the venom either by blocking it or because it would provide a barrier to slow down the venom's spread through your system.
However, a rattlesnake attacks with its fangs and injects venom into you through them, so a rubber boot cannot block the fangs from coming into contact with your leg and injecting you with poison.
What To Do If Bitten By A Rattlesnake While Hiking?
There are many ways to avoid getting bitten by a rattlesnake while hiking. One of the most important things to do is to identify the snake and stay away from it.
The following advice is a summary of what to do if you are bitten by a rattlesnake while hiking:
1. Stay calm and get to safety. The person should not panic and try to run away from the snake, which could result in getting bitten again.
2. If you are not sure if you have been bitten by a snake, we recommend that you call 911 or visit the hospital for immediate treatment.
3. Apply a pressure bandage on the site of injury and cut below it with a knife or scissors, but avoid cutting near the wound site if possible.
4. Place pressure bandages on both sides of the wound and wrap tightly around the limb at least two times then tie off tightly with strips of clothing or other material that can be used as a makeshift tourniquet to stop bleeding
How Common Are Snake Bites While Hiking?
The CDC estimates that there are about 7,000 snake bites per year in the United States. However, that number is tough to confirm because many snake bites go unreported.
For example, there are over 500 species of snakes in the United States and only about 25% of them are venomous.
This means that most people who encounter a snake will not get bitten.
If they do get bitten, if it is by one of the venomous snakes, they will most likely just receive a scratch with possible swelling and numbness around the area where they were bitten.
Bottom line: It is more common for people to be killed by bees or wasps than by snakes in the US.
How Do You Avoid Snake Bites While Hiking?
Don't wear sandals when you're in a high-risk area
Watch where you step and be careful not to touch any brush or leaves on the ground without looking closely first. This is because snakes often live in these areas.
Wear thick hiking boots
Wear bright clothing and carry a flashlight if you're in the dark
Keep your dog on a leash at all times
Stay away from tall grass
Stay in groups
Which Hiking Boots Protect Against Rattlesnake Bites
The first step in avoiding a dangerous snake on your hike is to determine if the snake is venomous or not. This can be done by looking at a map, asking an expert in local wildlife, or consulting internet sources.
After identifying the type of snake you are looking to avoid, it's important to think about how your shoes will protect you from this threat. For instance, if you're walking in sandals, the snake is more likely to slither up your leg and bite you on the ankle. In contrast, closed-toed shoes provide a barrier that the snake cannot penetrate.
Conclusion
In conclusion, you'll want to first identify if there will be snakes on the trail you're hiking. If there aren't any snakes in the area, then great! You'll be good to wear whatever hiking boots you choose.
If you find out that there are snakes like rattlesnakes in the area, or on the trails, then you need to ensure you have boots thick enough and strong enough to prevent getting bitten. It would also be wise to bring along all the necessary first aid equipment, just in case.
You never want to be in the middle of the wilderness and face an emergency snake bike without the proper first aid safety equipment.
Leave a Comment Cancel Reply

report this ad

This post may contain affiliate links. If you click an affiliate link and make a purchase, I may earn a commission. Also, as an Amazon Associate I earn from qualifying purchases. report this ad

report this ad
Source https://www.pickaboot.com/best-snake-proof-boots-reviews/
Source https://selectsafety.net/can-rattlesnakes-bite-through-leather-boots/
Source https://theoutdoorfanatic.com/rattlesnakes-bite-through-hiking-boots/