La Sportiva hiking boots & shoes: gaining traction in the USA
Outdoor gear experts know that La Sportiva makes some of the world's best mountaineering boots, climbing shoes, hiking boots, hiking shoes, and trail running shoes. But this world-class brand doesn't have the same cache in the United States as it does in Europe. That's too bad. La Sportiva is loaded with lightweight options with mountain-goat-worthy traction. Why is La Sportiva a premium brand for hiking footwear? What kinds of hikers are most likely to love them? And which La Sportiva trail runners, hiking shoes, and hiking boots should most hikers target? My La Sportiva brand review should help you figure out if Sportivas might fit your feet, budget, and hikes.
La Sportiva Brand Review
La Sportiva is an Italian brand that's been making hand-crafted footwear for nearly a century. It's more or less been run by the same family since 1928–an anomaly in an outdoor industry dominated by large companies. They adopted the brand name "La Sportiva" in the 1950s and largely remain based in the Italian Dolomites. La Sportiva-North America is based in Boulder, Colorado.
La Sportiva is a premium brand that specializes in mountain footwear. It's one of the best brands for climbing shoes, and their hiking footwear is known for providing great traction on rocks and technical trails. If you mostly hike mountains, La Sportivas might give you the quality grip you've always wanted. They're also one of the best brands for narrow feet.
best La Sportiva shoes & hiking boots
Like Salomon, La Sportiva is one of those brands that's strong across the board in hiking footwear. Their trail runners stand out. But the brand also makes one of the world's best hiking shoes and some of the better lightweight hiking boots, too. With so many good choices, which Sportivas should recreational hikers be checking out? Here are four La Sportivas that stand out for hikers:
La Sportiva Ultra Raptor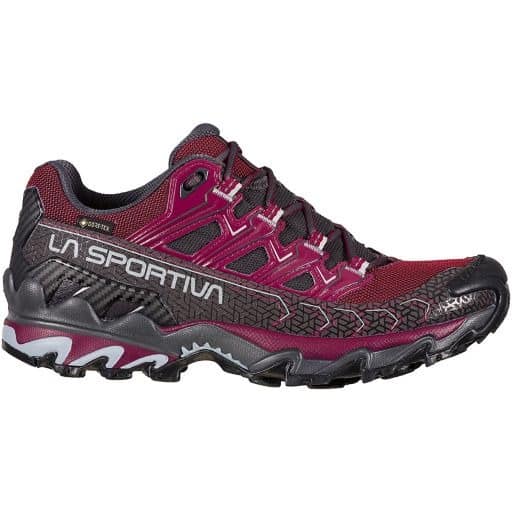 The Ultra Raptor nudges the Bushido II for the best La Sportiva trail runner for hikers. It offers a snug fit with a firm feel, giving hikers plenty of foot protection (for a trail runner), strong trail feel, and great grip on rocks and technical terrain. Ultra Raptors are not as light as Bushidos. But they've got a little more cushion, volume, and structure–which may spare your feet from a little more wear and tear on the trail. Fit-wise, La Sportivas run narrow and a little small (you may need to size up a full size from your everyday shoes). If they fit you, Ultra Raptors may be a killer pick for ambitious day hikers and ultralight backpackers who love mountain trails.
check price & availability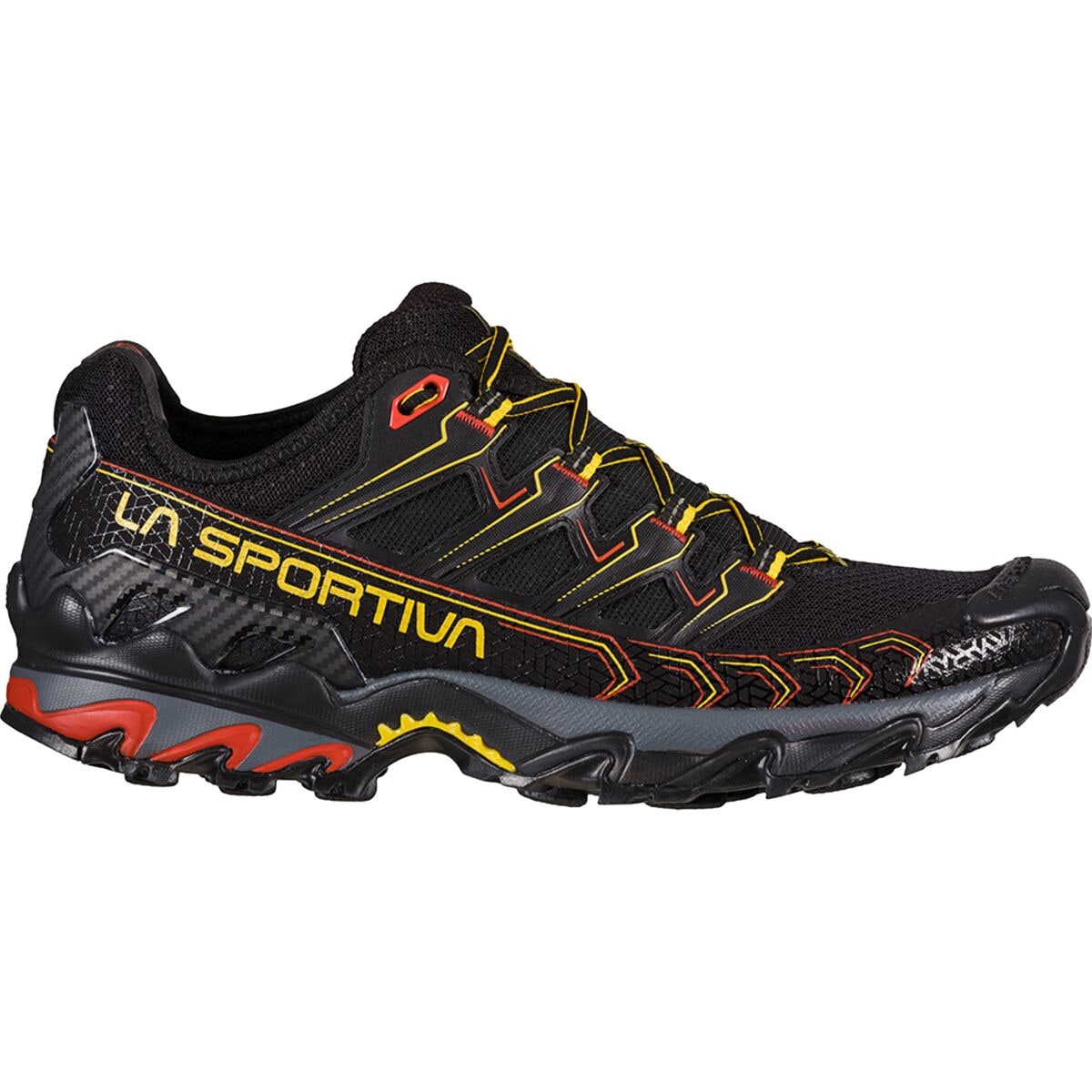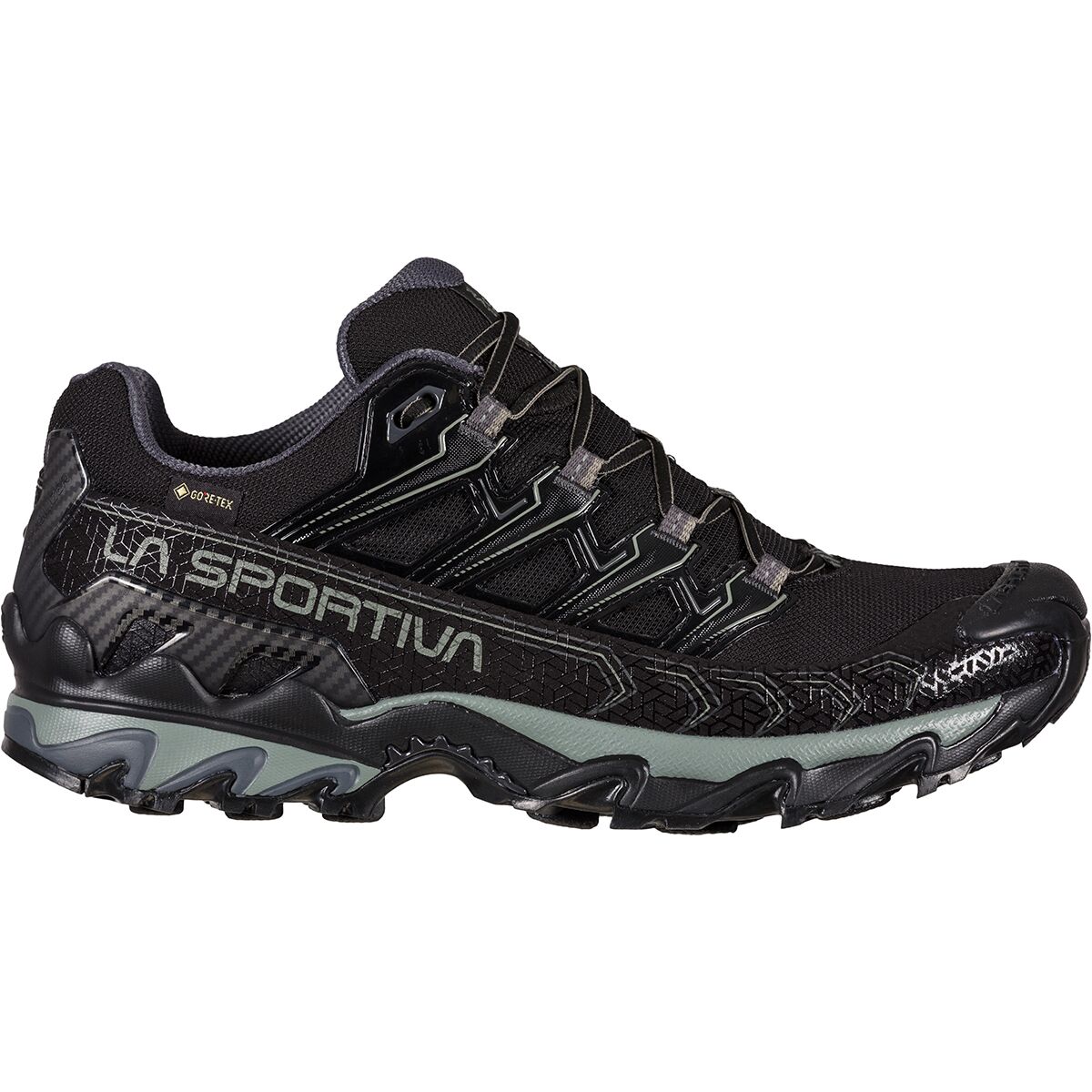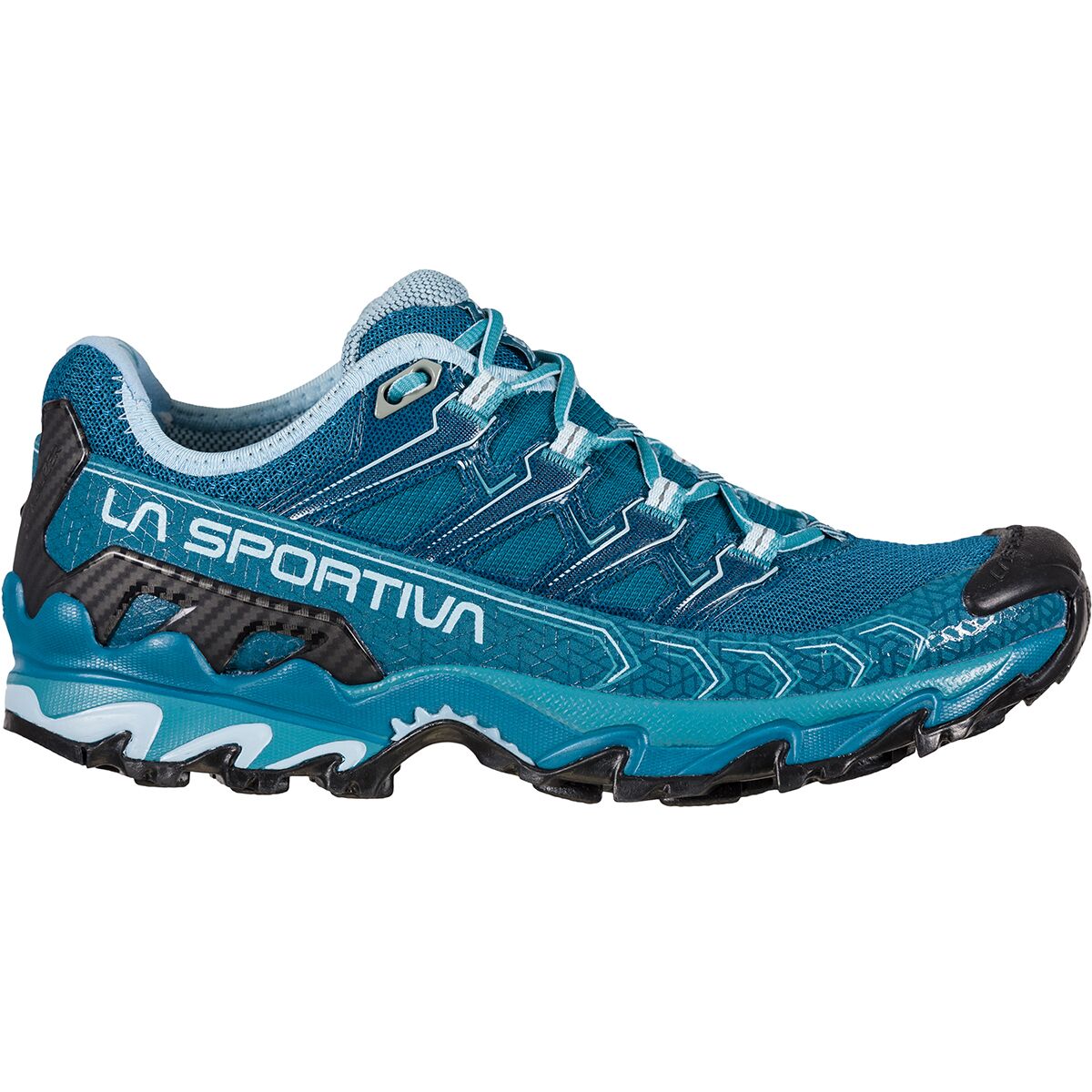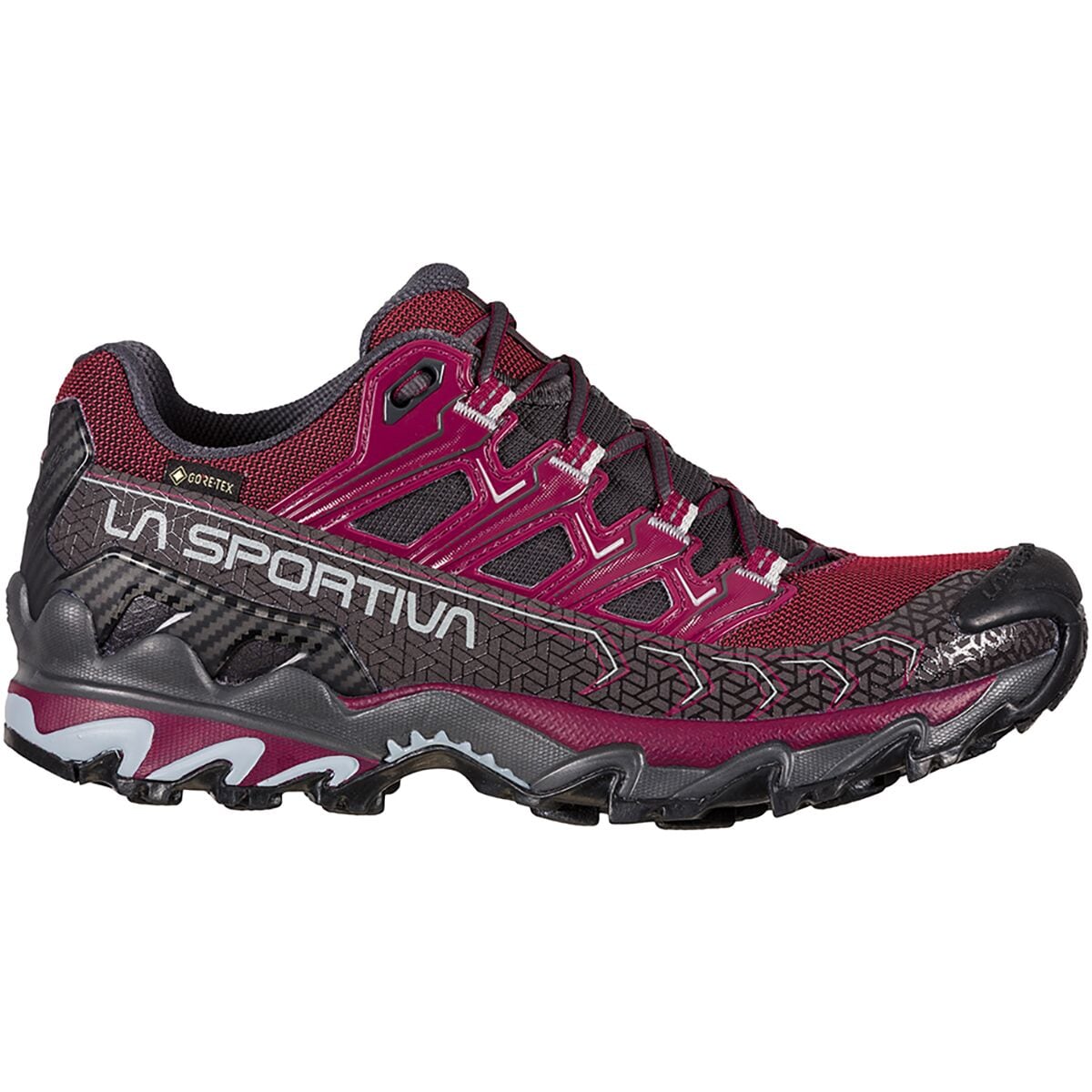 LaSportiva Spire GTX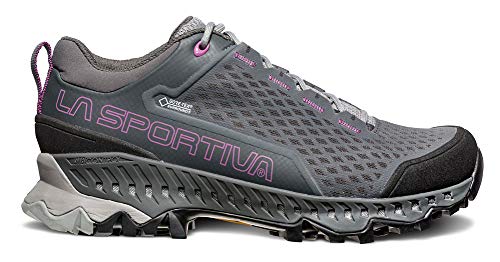 This could be the best hiking shoe on the market. The Spire GTX is both soft underfoot and stable on uneven ground with a mixture of cushiony EVA foam and firmer TPU supports. For a premium price, you get Vibram outsoles for excellent traction and Gore-Tex Surround–Gore's most breathable waterproof membrane. This trail shoe may be a good match for moderate-to-difficult day hikes and backpacking trips with a lighter pack. It's expensive for a low-cut hiking shoe–but may be worth the cost for aficionados who don't mind paying for quality and performance.
check price & availability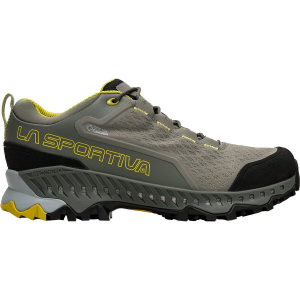 La Sportiva Ultra Raptor Mid GTX (new for 2021)
men's Ultra Raptor Mid (New!) women's Ultra Raptor Mid (New!)
New for 2021, Sportiva released a mid cut version of its popular Ultra Raptor (see above). The Ultra Raptor Mid GTX may be a great choice for hikers who want a lightweight hiking shoe but don't want to lose all the over-the-ankle protection of a hiking boot. Like its low-cut sibling, this hybrid boot/shoe has great grip on rocks, a snug and secure fit, and firm feel on the trail. The "GTX" stands for Gore Tex, a waterproof-breathable membrane for added weather protection and comfort on damp trails and winter weather. The mid-cut Ultra Raptor is also available in wide as La Sportiva (a brand that runs narrow) has started to make its standouts in both standard and wide sizes to fit a broader range of hiking feet. This newcomer looks like a contender in the growing niche of lightweight hiking boots/mid-cut trail running shoes.
check price & availability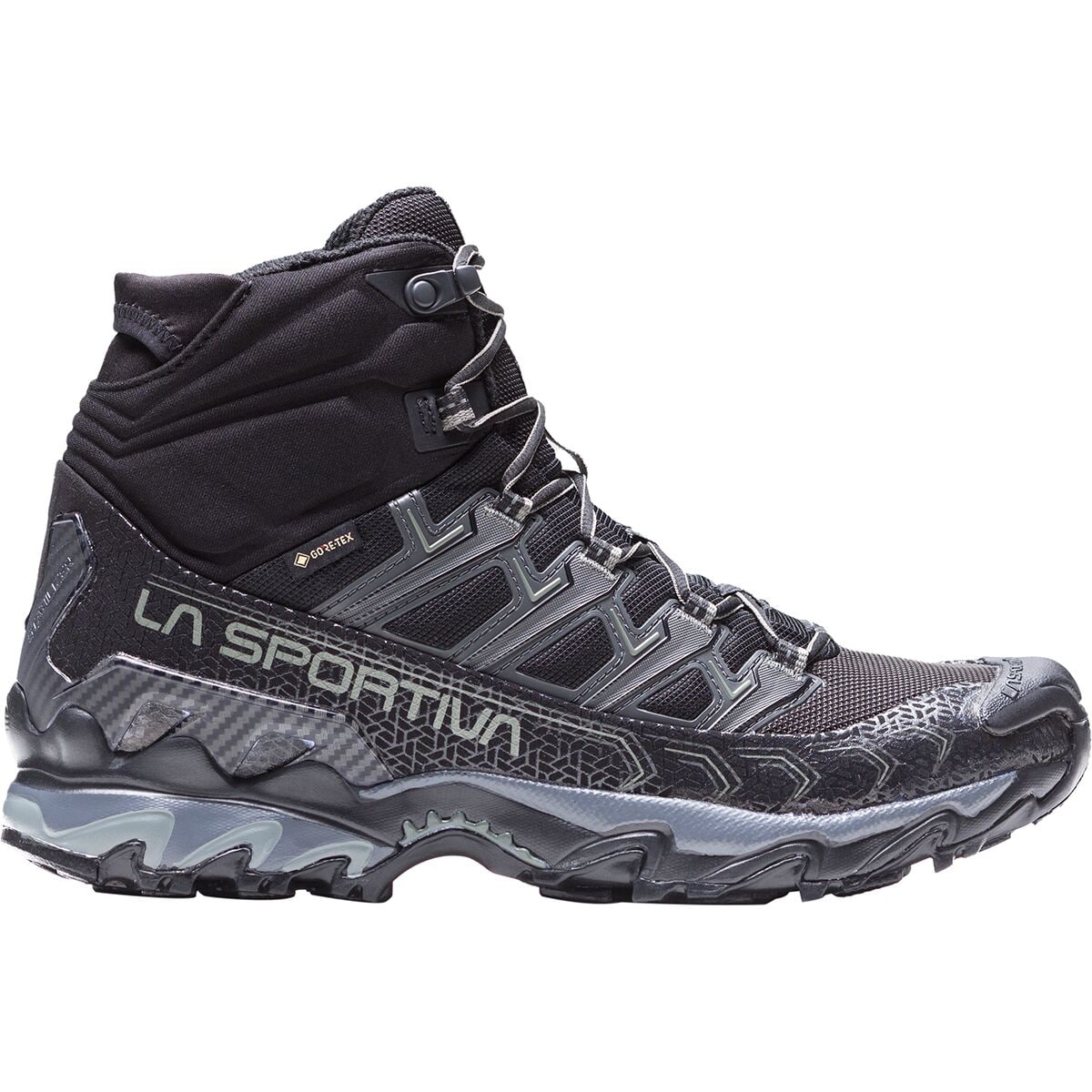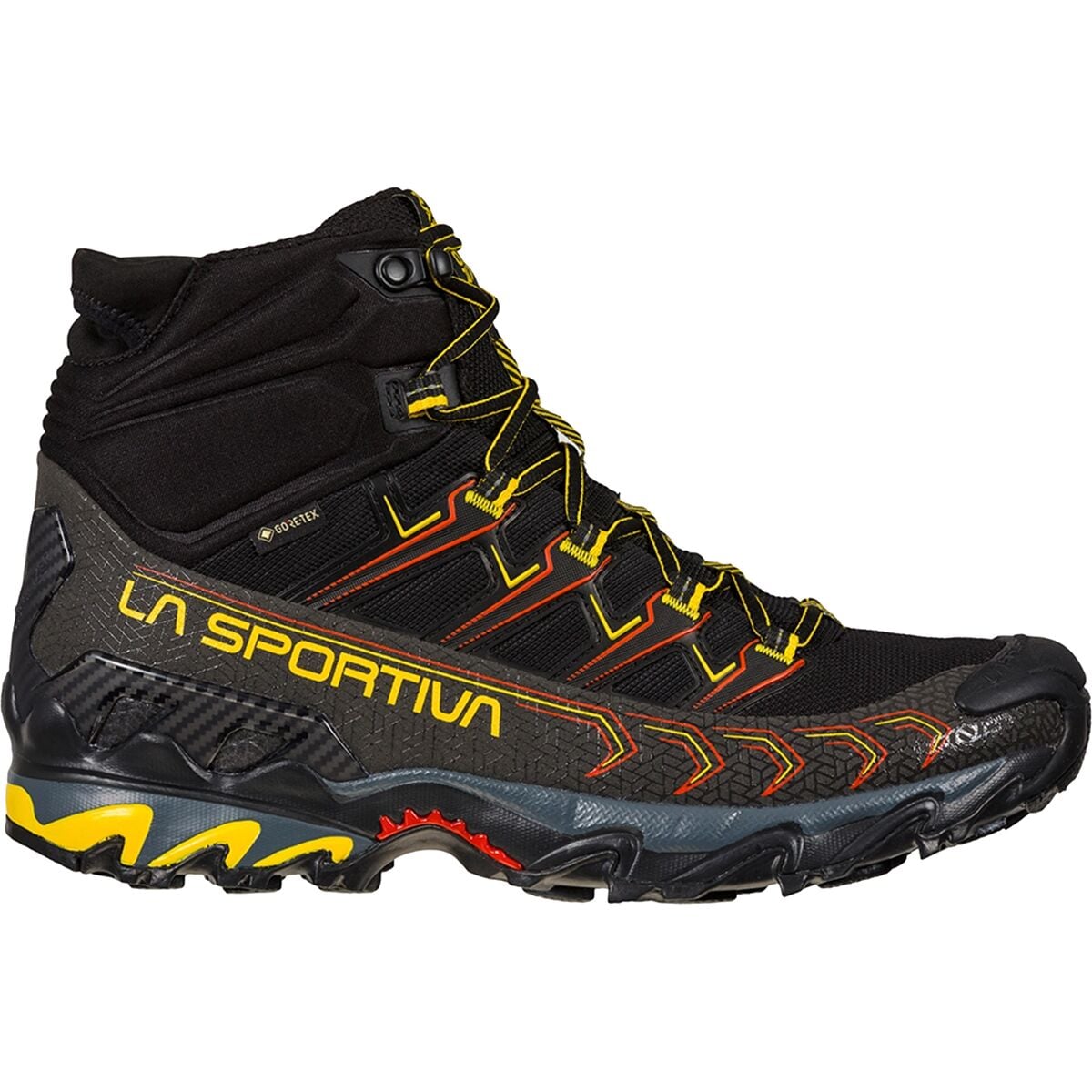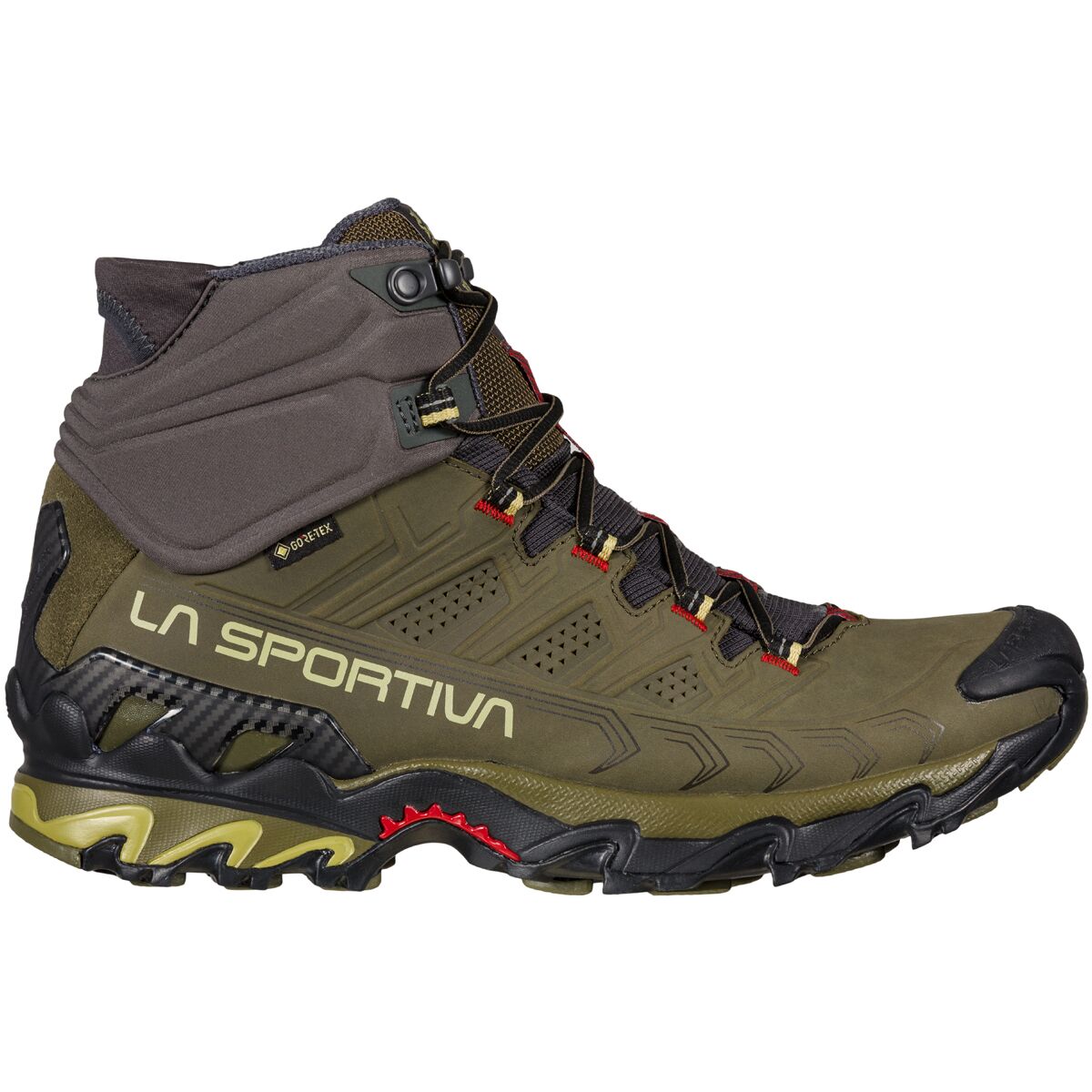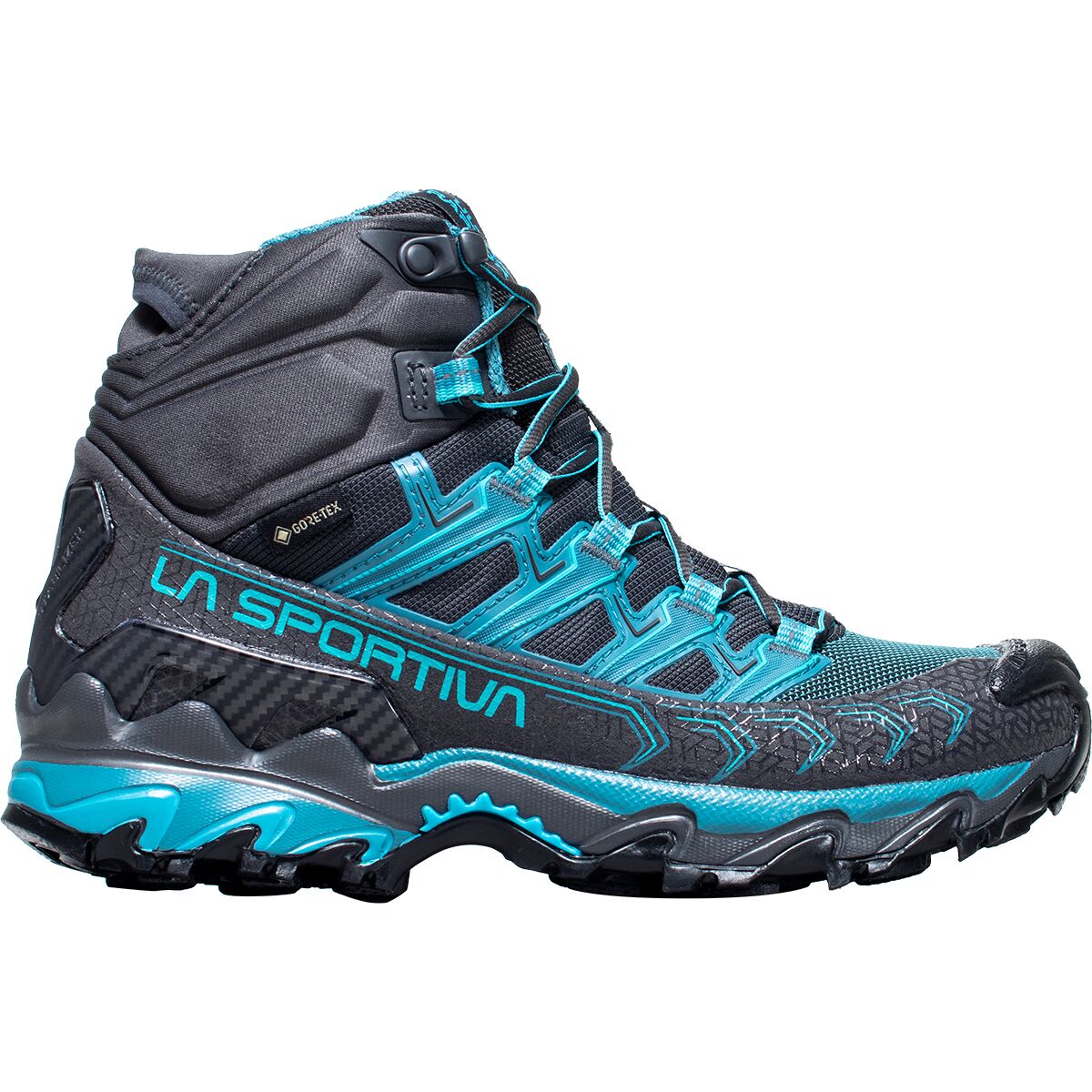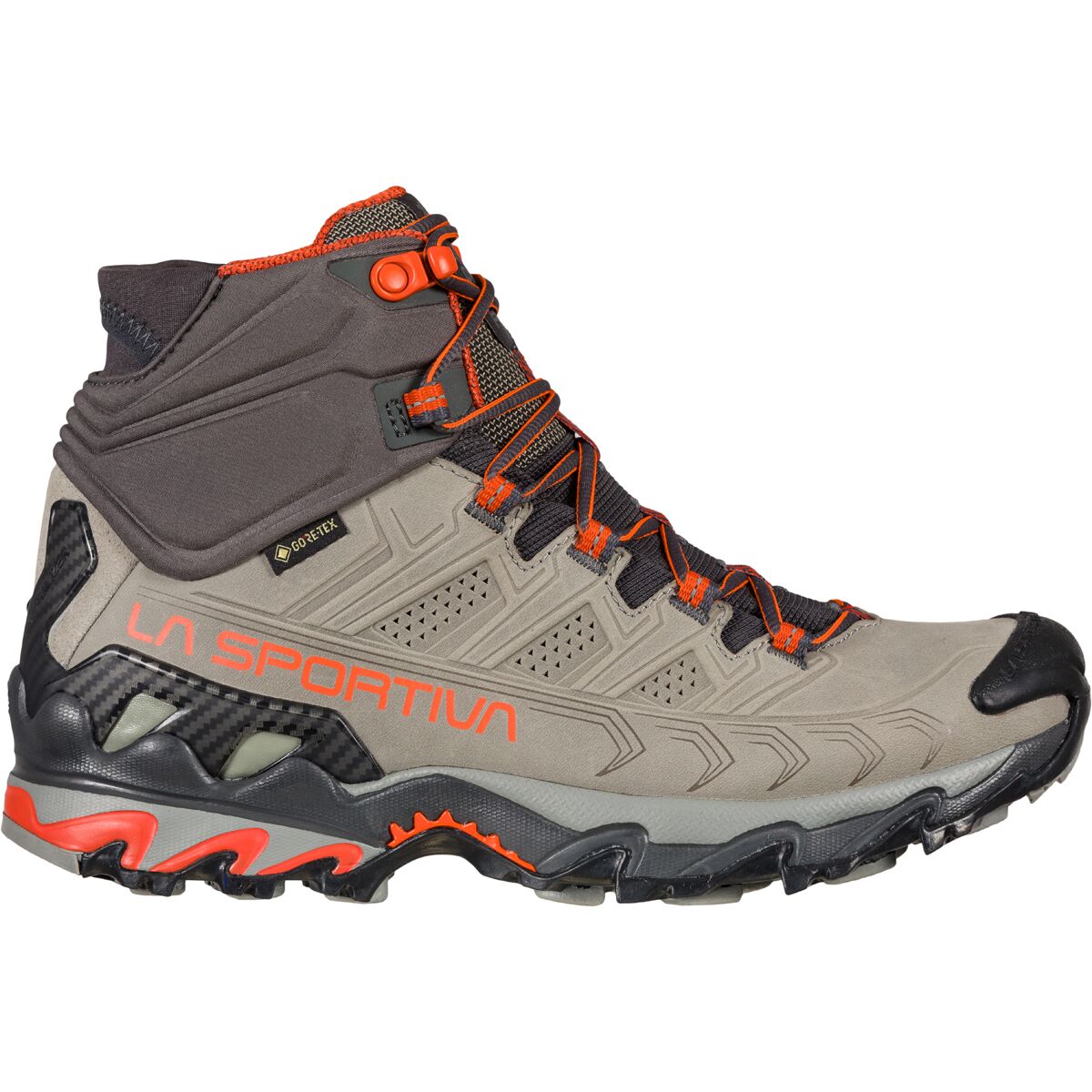 La Sportiva Nucleo II High GTX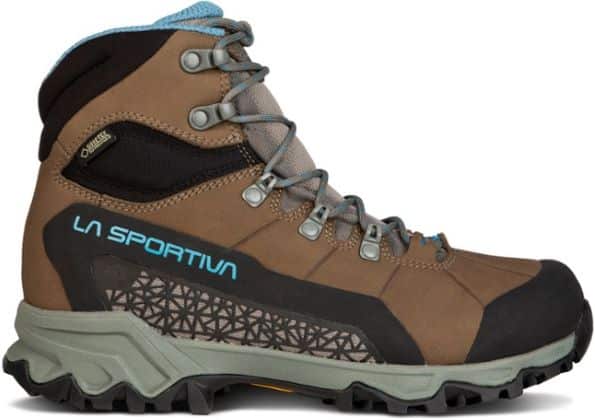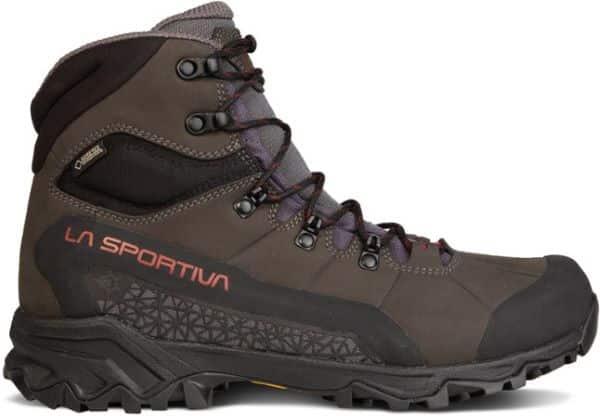 An aggressive-looking hiking boot made with soft nubuck leather, LaSportiva's Nucleo High GTX is an excellent, light-weight hiking and backpacking boot for men and women. The Nucleo is relatively light (for a mid-duty boot) yet supportive enough for backpacking. Packed with premium features, it comes with waterproof-breathable Gore-Tex and a grippy Vibram outsole. The trimmed down Nucleo won't be as sturdy or durable as traditional backpacking boots; however, it's the only lightweight hiking boot with high-cut ankle support, which may appeal to hikers with ankle issues. La Sportivas run narrow, but this is also available in wide (new for 2021). With moderately flexible yet supportive soles, the Nucleo GTX may be a good choice for longer and harder day hikes, fast-packing, and lightweight backpacking.
check price & availability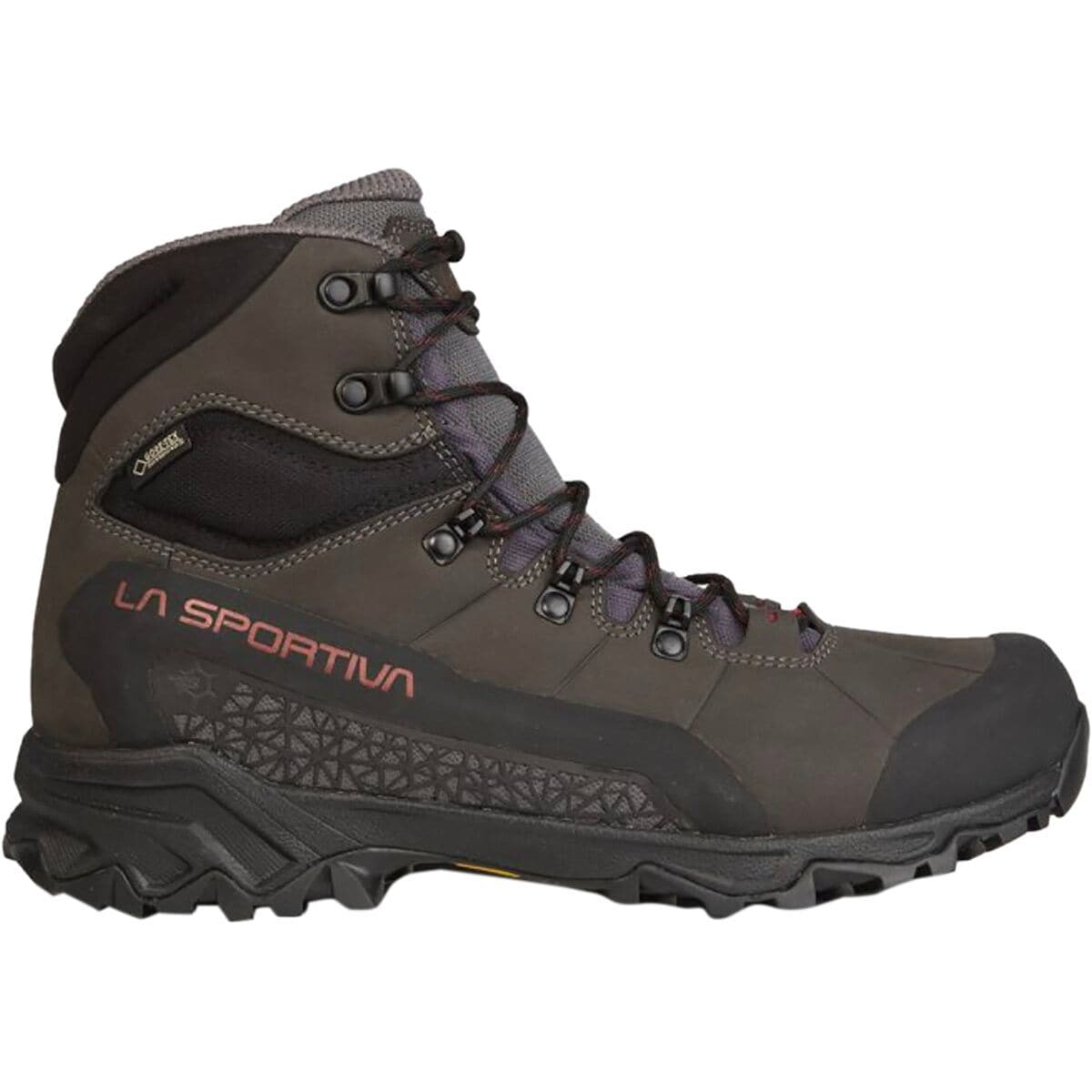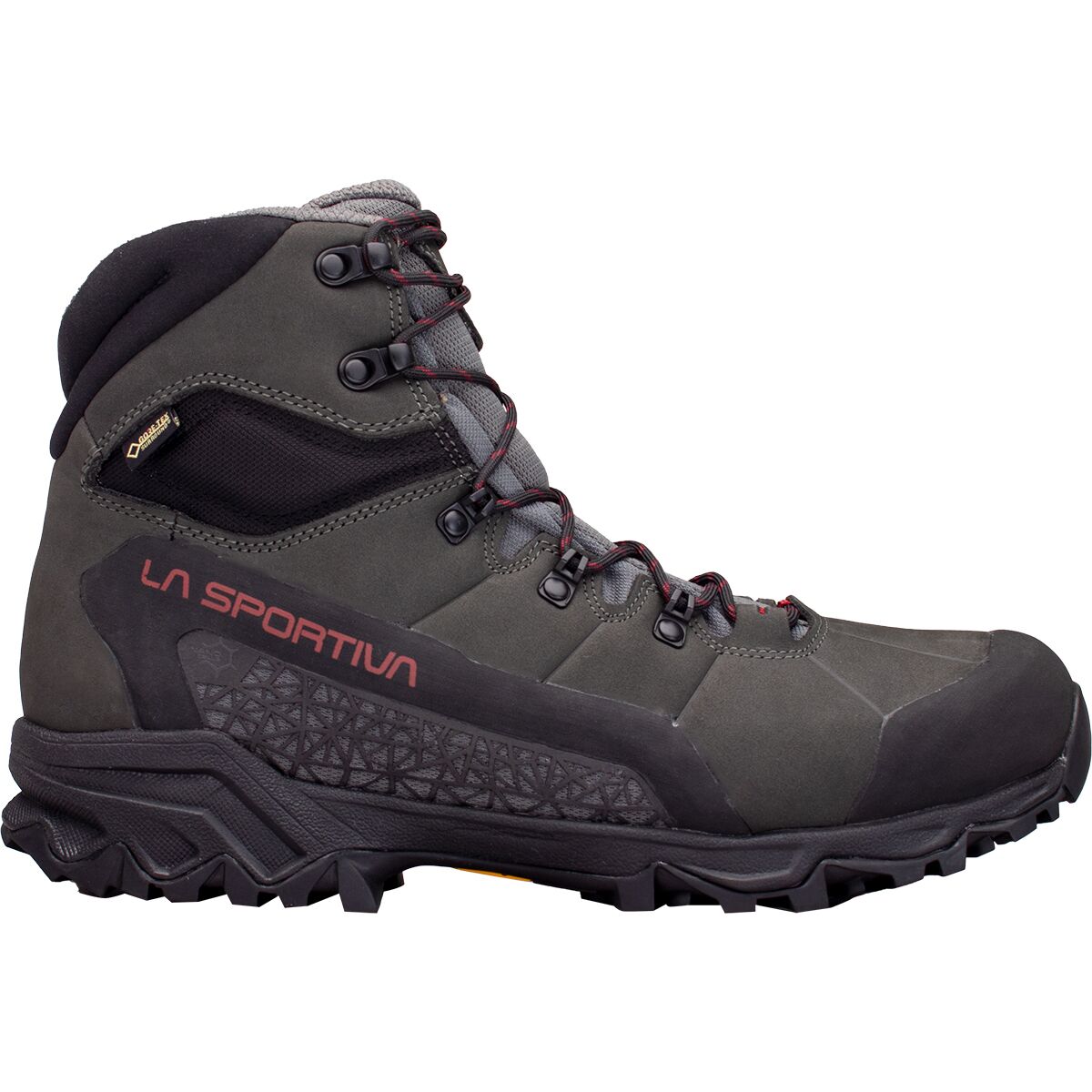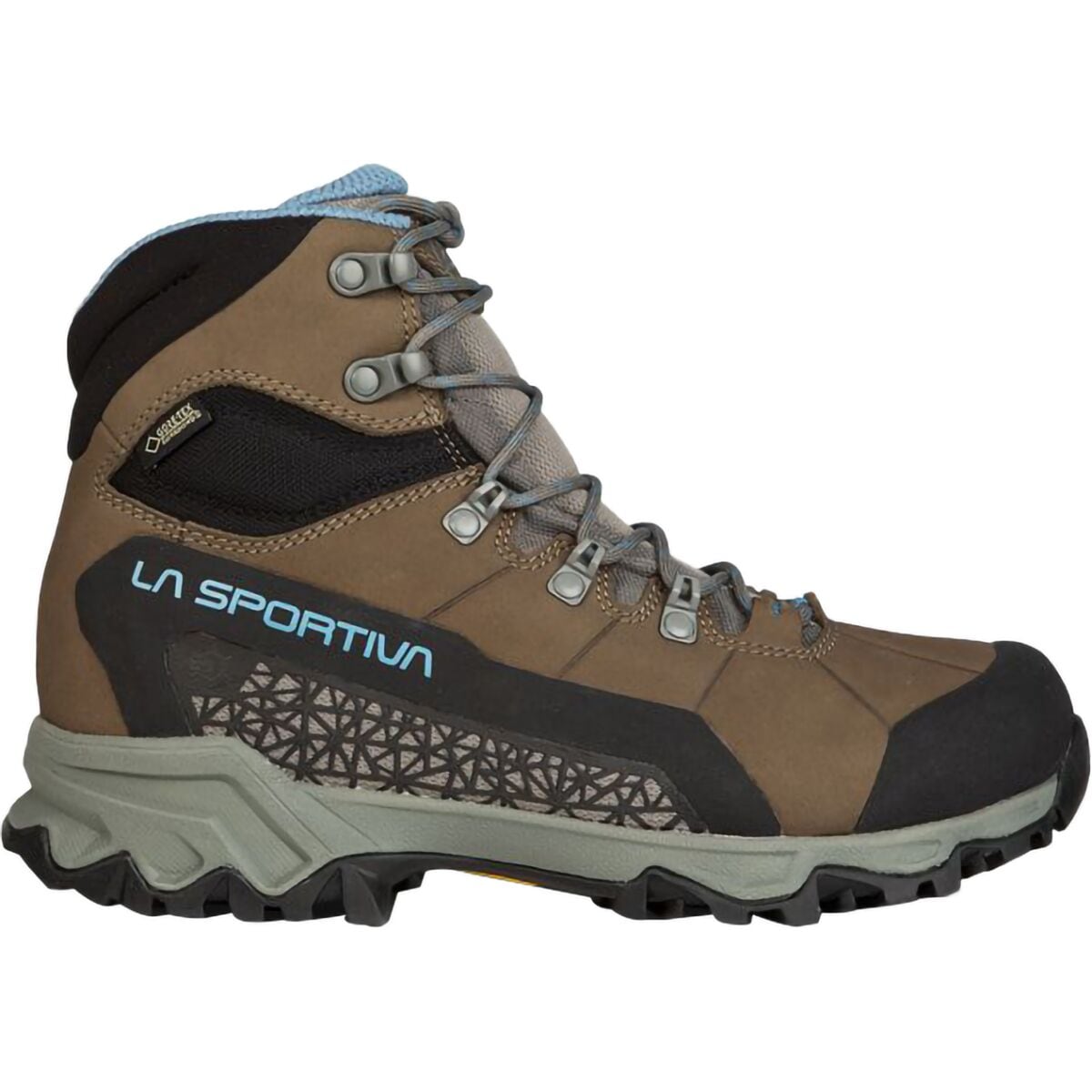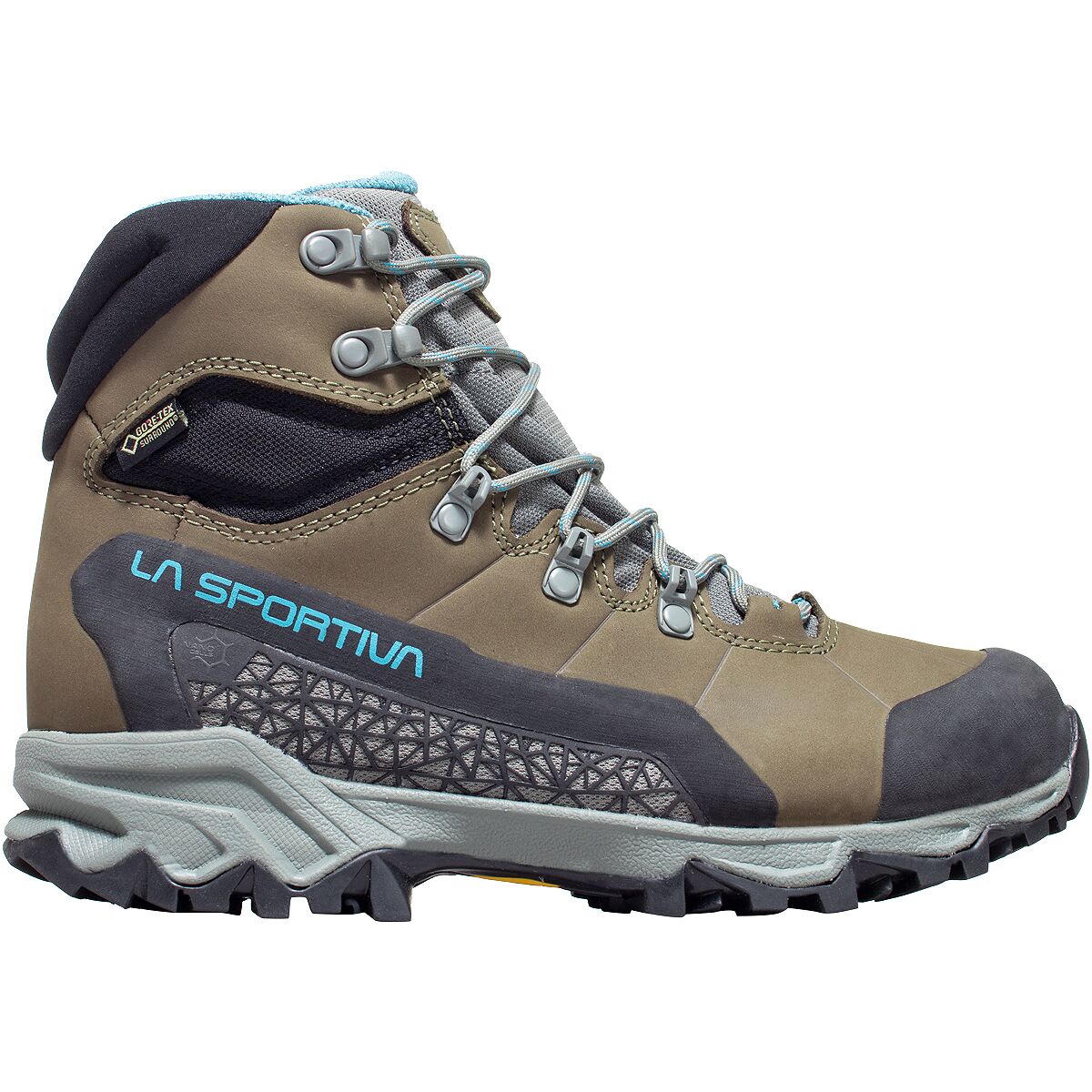 La Sportiva brand: Pros & Cons
La Sportiva could be a nice step up from whatever hiking boots or trail shoes you're wearing now. Before you buy, though, it's best to weigh each brand's pros and cons:
La Sportiva: best fits, best matches
La Sportiva offers several high-end choices for hikers. Ultimately, though, the best brand for you is the one that best fits your feet and best matches your hikes. Who might hook up with this hot Italian brand? As a certified brand expert and footwear specialist at a hiking shop, here's my take on La Sportiva's best fits and best matches:
Best fits: narrow feet. Like most Italian brands, La Sportivas run narrow and small (by American standards). You may need to size up (and convert European sizes)–and may be out of luck if you've got wider feet.
Best matches: mountain hiking. Based in the Alps and Rocky Mountains, La Sportiva specializes in high quality shoes and boots for mountainous terrain: rocks, scree, talus, boulders. Not mowed paths, meadows, or midwestern state parks. It's a go-to brand for serious hikers looking for light-weight trail shoes with excellent traction for technical terrain, scrambling, and rocky routes.
La Sportiva hiking boots & shoes are made for mountains (photo courtesy of La Sportiva)
La Sportiva: traction & performance
Why is La Sportiva one of the best brands for hiking footwear? Traction. Weight. Quality. Performance. It's one of the best companies in the world for climbers, skiers, mountain runners, and hikers. The four options above might be great choices for you, depending on your feet and where you hike.
My take is that a lot more hikers should be wearing La Sportiva. Are you thinking about buying a pair of La Sportivas? If so, please check out the price comparisons above to find the best price at outdoor specialty retailers.
If you've found this site helpful, please consider buying your next pair through the affiliate links above. Hiking Feet may receive a small commission (at no cost to you). Those commissions fund this site (and compensate me for the hundreds of unpaid hours I spent creating free content to help you buy the right hiking boots or shoes). If this site hooked you up, please consider hooking me up, too. Thanks, I appreciate it!
Best Hiking Shoe: La Sportiva Synthesis Review
After using these for over 2 years, I can easily say that the La Sportiva Synthesis is the best hiking shoe or hiking boot that I've owned. This hiking shoe is lightweight, rugged, and has a great trail feel. I use it for everything now. Here's why it's so great.
Why The La Sportiva Synthesis Is Great
How the La Sportiva Synthesis Compares to Traditional Hiking Boots
1200 & 1600 Mile Updates
But before you read on, two things.
If you love a big, solid hiking boot, the La Sportiva Synthesis is not for you. Go with something like the Asolo Fugitive GTX instead.
Second, I only post and recommend gear that I actually use and love. And I love this hiking shoe.
This boot is being is discontinued (yet is still great and available) and is being evolved into a new line. Check out my gear page for the updates and skinny.
LAST WEEKEND ➤ Big REI Sale On Now Including Big Discounts on Hiking Tech Like inReach / Garmin Watches
The La Sportiva Synthesis is a Hiking Shoe / Hiking Boot / Trail Runner Hybrid
I used to have a pair of hiking boots and minimal hiking shoes. I used the hiking boots for rough and sloppy terrain, and the minimal hiking shoes for day hikes. The minimal hiking shoes were my preferred choice because they were light and felt great on the trail.
I own a lot of different footwear, I'd place these in the top two. They feel more like a sneaker than a boot. Extremely comfortable, easy to put on and take off do to the lacing system. Deep treads and good grip. I bought them for tackling mountains however I have been wearing them every day. Might have to get a second pair. – REI Reviewer
The La Sportiva Synthesis has replaced both my hiking boots and minimal hiking shoes. It's light and has the trail feel of a minimal shoe, but it offers the protection of a boot. If you take a look at the pictures, you can see how much more protection they offer compared to my old minimal hiking shoe, and how similar they are to a full hiking boot. And although they look like my hiking boot, they weigh about half.
The light weight becomes an asset when you hike. The less work your legs have to do, constantly lifting and dropping your feet, the more energy you have, the longer you can hike. It's the reason why most Appalachian Trail thru-hikers prefer trail running shoes. La Sportiva took their popular trail runners, and beefed them up for hikers.
The La Sportiva Syntheis compared to a minimal hiking shoe. You can see how much more protection that it offers. The La Sportiva Syntheis next to a full hiking boot. Similar size, half the weight. You can see the La Sportiva is about as wide and beefy as a full hiking boot.
The La Sportiva Synthesis Have the Stability of Hiking Boots
Hiking boot stability is a controversial subject with hikers. Some hikers swear by a full boot. A full boot allegedly supports your ankles when you are carrying a heavy pack.
I've found that ankle support isn't a factor, regardless of how much weight I have on my back. I've rolled ankles in full boots, and I've rolled ankles in low hiking shoes. In both cases, my ankle rolled. My ankles tend to roll when I'm tired and not paying attention. No boot will fix that.
I measure a hiking shoe's stability by how well it grips and adheres to different terrain. I want to be able to step down and know I won't slip. Hiking boots generally have great stability. They're heavy, have a wide sole, and have serious tread.
The La Sportiva Synthesis has these attributes, but without the weight. I tested these hiking shoes in extreme, yet common hiking conditions. Testing included mud, loose dirt, rock scrambles, stream beds, and loose hard rock. I never once lost my footing in any of these cases. The blocky Vibram tread and sole are effective. The ground contact is solid. These hiking shoes are as solid as hiking boots.
Tread on the La Sportiva Synthesis.
La Sportiva Synthesis Offers Good Foot Protection
These hiking shoes have Gore-Tex, and are waterproof. I walked through puddles, I hiked through shallow streams, and no water entered the shoe. It might seem obvious, but water will come in through the top, since it's a mid-cut shoe. Other hikers have used these shoes with waterproof gaiters for water protection higher up on the leg.
Unlike my old minimal hiking shoes, the sides of these come up to your ankle. This offers protection from rocks and debris that get kicked up around your feet. When I take these hiking shoes off after a hike and shake out the debris, nothing comes out.
Gore-Tex keep your feet dry, the high ankle keep debris out of your shoe.
The Vibram sole is effective at protecting your soles from debris on the trail. If you step on sharp rocks, you don't feel it on your foot.
My old minimal hiking shoes and the La Sportiva Synthesis have the same trail feel, but the sole on the La Sportiva is much more protective.
The Most Comfortable Hiking Shoe, Ever
Yea, I said it. Other hikers had told me that the La Sportiva Synthesis shoes were comfortable, but you have to feel it to understand it. You can feel just enough of the trail without the trail debris poking through.
I went 'all-in' on my test hike with the La Sportiva Synthesis. I did a 19.5 mile hike with 5200 feet of climbing. At the end of the hike, my feet felt fine. I didn't have any blisters. There was no break-in period. Beautiful.
My feet stayed cool thanks to the new Gore-Tex Surround technology. This tech has a layer in the sole that vents all the air out of the shoe every time you step down. It does this while still being waterproof. The Gore-Tex breathed and keep my feet cool in 100F+ temperatures.
I've had a pair of the Synthesis for the last 6 months and have been very impressed. They get used mostly hiking around Colorado (though I've had a few trips up to Wyoming and Utah) and the first thing I noticed was how much lighter and more comfortable they were than my old Asolo boots. While they give up just a little ankle support, I feel like they more than make up for that in mobility. The Vibram sole is awesome and it sticks to pretty much everything I've run into. Loose and rocky terrain is so much easier with the better mobility and traction, After reading a few reviews on the way the Surround works, I was intrigued. Generally I avoid GTX shoes for summer as I end up with wet, sweaty feet. After hiking all summer in these, I've decided the Surround is a definite improvement over my old GTX boots. So much so that I even throw these on for trips around town (something I would never do with my old boots). They are equally as waterproof and my feet stay dry after splashing through puddles or crossing streams. – REI Reviewer
These hiking shoes are about half the weight of a regular hiking boot. There's an old hiking quote – "one pound on your feet equals five pounds on your back." Hiking with the La Sportiva Synthesis saves you energy. In practical terms, that means you can hike farther and/or not be as tired.
Hiking shoes have been popular with Appalachian Trail thru-hikers for a while now. The two most popular hiking shoes for AT thru-hikers were the Salomon XA Pro 3D and the Brooks Cascadia. I tried both of them on at REI, and the La Sportiva Synthesis just felt much better. If in doubt, try those on, maybe they'll work for you.
The laces have a quick release on one side. The lacing system tucks into a holder on the front so that you don't snag your hiking poles or sticks.
1200 Mile Update
After 1200 miles, my La Sportiva Synthesis finally failed. Here's an update on their condition.
Overall, they've held up really well. I'm a pretty active hiker, and use the boots in many different conditions. I'm probably somewhere above the average hiker, and somewhere below an AT or PCT through hiker. I had read that the tread wore down for some AT users at around 800 miles, but it held up for me pretty well.
Overall, the La Sportiva Synthesis are in decent condition after about 1200 miles. The tread is still good, with minimal wear. I must heel strike a lot, this is where most of the tread loss was on my boots. The main tread area is still in great shape.
The boots are still waterproof, and they still grip really well on rock scrambles. Some of the threading in the lacing system has frayed though.
Some fraying on the lacing system.
The major malfunction that I experienced was chafing on the lace, which led to them breaking 10 miles into a 20 mile hike. Incredibly, the boot was snug enough that I was able to hike the remaining 10 miles home and the boot stayed on my foot (with the broken lace). After investigating closer, a small pebble had wedged itself into the mesh loop that the lace goes through. As I hiked, the pebble wore away the lace, and it broke at the loop.
Closeup of the broken lace. Amazingly, the boot stayed on my foot like this for 10 miles. It was loose, but it stayed on.
I called La Sportiva, and they recommended replacing the lace with Yankz! laces (available at REI). I went to REI and talked to the shoe guy. He recommended just replacing the elastic webbing cord. I tried both, and they both worked fine. It was a 5 minute swap for both options. I also did a 12 mile hike with both systems. The Yankz! provided a snugger fit, perhaps because of the larger diameter cord. Some of the reviews for the Yankz! laces said they break easily, but after about 100 miles, they're still fine on my boots.
The two lacing systems side by side. Yankz! on the left, standard elastic lace on the right.
Overall, I would still recommend them. I haven't had one blister since using these, they're light as can be, and have held up really well.
1600 Mile Update
I finally called it a day for this pair and got another. They were still comfortable, but the tread just wore away. Here's some new pair / old pair comparison photos. You can see that aside from the laces and tread, the boot held up extremely well.
Review: La Sportiva TX4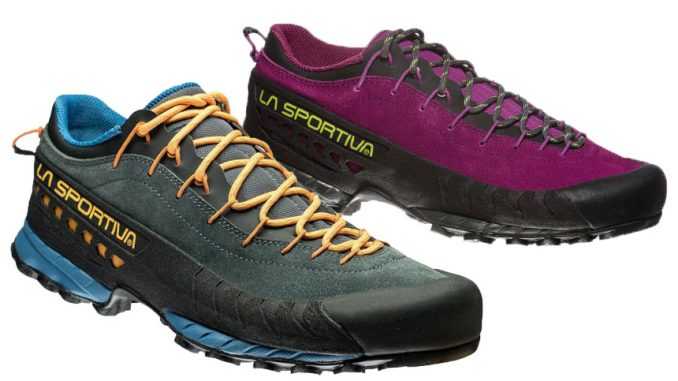 People often ask which is better – boots or low-cut approach shoes/trail runners – and the answer has always been the same: Horses for courses. However, if I had to pick one shoe for almost all situations it would be the La Sportiva TX4!
Key Information
Price (at time of writing): R3599
Weight: Roughly 400g per shoe (Size 10 UK)
Upper: Suede leather, with protective PU rand and rubber toe.
Construction
One of the major benefits of boots is the tough, durable leather uppers that offer great protection against sharp rocks, sticks and general abrasion. The TX4 solidly ticks this box with its sturdy leather uppers, full-length 1.5mm PU TechLite rand and a burly rubber toe guard.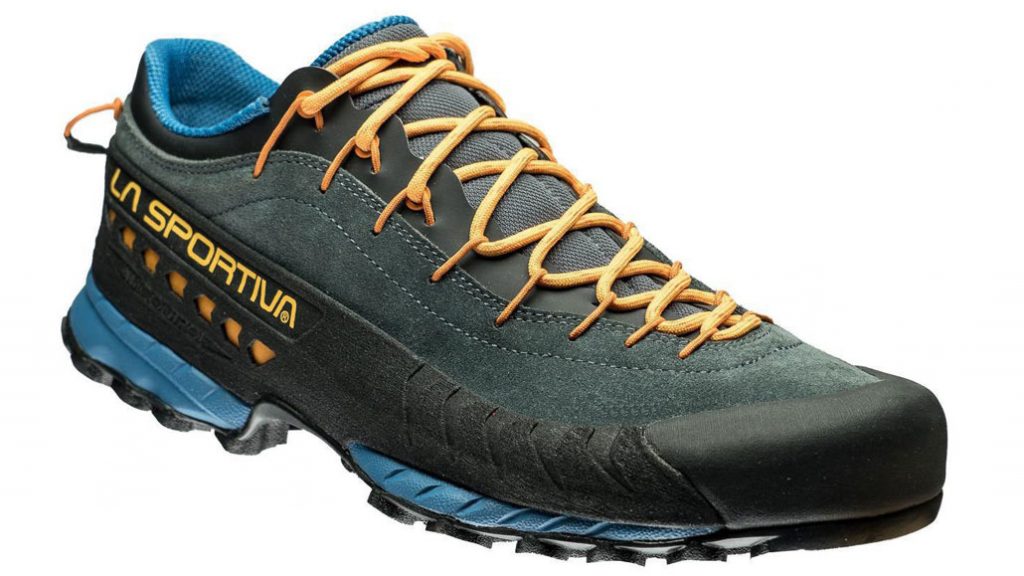 The tongue is fixed to one side of the inner wall of the shoe, preventing it from creeping to the side and limiting debris from working its way in from the top.
The heel cup and ankle collar are also cleverly designed by making use of precise construction, instead of relying on foam to determine the fit. This ensures the correct fit and excellent performance for much longer, as foam tends to compress over time, losing its shape.
The fit is snug in the heel, with a wide, roomy toe box, allowing for some swelling when you're on your feet for the whole day, as well as natural toe movement over technical terrain. The fact that my forefoot and toes were able to move naturally, meant that my feet were a lot less tired at the end of a long day.
People with narrow feet might feel like they're swimming in these shoes. Even with wide feet and a high arch, I had to tighten the laces one or two times throughout the day to lock my feet in place. For me, this is a pleasant change to having my small toe crushed, but if you have narrow feet, the Boulder X might be a better fit.
The TX4's lacing system is also worth mentioning. A loop of cord runs all along the laces and around the back of the heel which does a great job of eliminating any heel-slippage. The laces also extend down to just behind the toes, allowing for a very precise fit.
Comfort & Support
Historically, sturdy and supportive footwear has always come at the cost of a bit of comfort – not so with the TX4. Over the 6 months of wearing these shoes, I regularly got to the end of a full day of hiking over rough terrain and did not feel an urgent need to get them off my feet.
As mentioned, the wide toe box allows one's feet to behave more naturally and more efficiently, but the TX4 also strikes a perfect balance with its mid-sole – soft enough to avoid hot spots, but stiff enough to support a heavy backpack and soak up rough terrain underfoot.
I weigh 86kg and I comfortably carried a 20kg backpack for a full day in these shoes, while still maintaining reasonable sensitivity to move safely over technical terrain.
Another thing I love about these shoes is how the sole is slightly wider than the shoe and angled outward. Many approach shoes narrow where the upper joins the sole, which has a tendency of causing hotspots on the inner edge of one's foot, as well as increasing the potential of rolling your ankle. With the TX4, the sole extends out from where it joins the upper, which increases stability and spreads impact even more.
Traction
While we're talking about technical terrain, this shoe excels in scrambling, which is usually a big shortcoming in stiffer, bulkier boots. Technical routes like Table Mountain's India Venster, Ledges or Hiddingh Ascension were an absolute jol thanks to the extra-grippy "Climbing Zone" under one's big toe – the softer compound rubber makes for easy edging on smaller footholds.
The rest of the sole offers fantastic traction on all terrain, including mud. The lugs shed dirt efficiently and the sharp, in-cut section at the front of the heel ("Impact Brake System" as La Sportiva calls it), does a phenomenal job at controlling the descent on loose terrain.
Durability
The La Sportiva label is synonymous with quality craftsmanship and durability, and the TX4 is no exception. You can venture far off the beaten track without any worries of these shoes letting you down. I've done about 120km in this pair on a mix of gravel, sand and mostly rough sandstone and they hardly show any wear.
A couple of friends have had theirs for longer and used them more extensively, all with the same response: No matter what you throw at these shoes, they just keep going brilliantly. From 5-day kloofing trips, which is definitely not advised for leather shoes, to 10-day solo treks in Patagonia, to daily mountain guiding on Table Mountain, everyone who has a pair, swears by them.
Weight
At roughly 400g per shoe (800g per pair), weight is not a concern at all. Once again, comparing these with boots, you're getting away with about half the weight of most boots out there.
Best applications
With an all-rounder like the TX4, it's really hard to pick a niche, but as far as hiking shoes go, it definitely has a huge advantage on technical terrain. For the Magaliesberg, Table Mountain, Jonkershoek, or some of the rock passes in the Drakensberg, you're going to struggle to find a better shoe.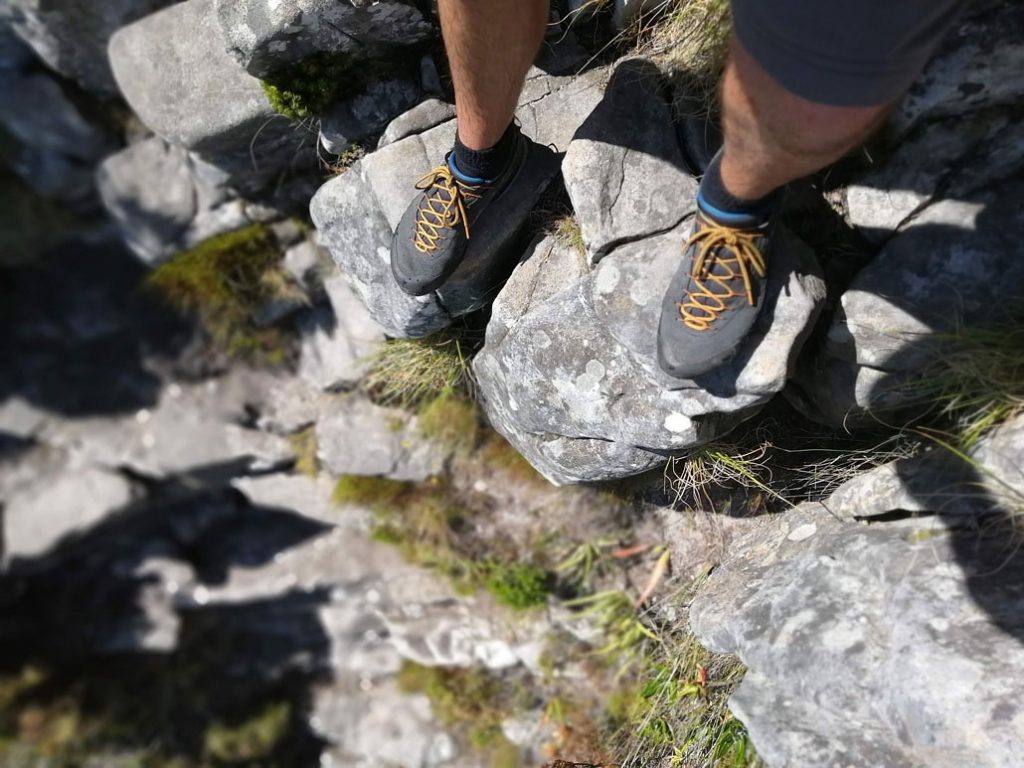 Value
At R3599, this shoe is not cheap. However, if you were to buy entry-level boots for multi-day hikes, and mid-level trail runners for day hikes, you'd end up paying a similar price in total, with neither of those performing as well as the TX4.
As expensive as they are, if they fit your feet, you will not regret buying these shoes.
Conclusion
It's hard not make a review of the TX4 sound like a fluff piece, but they are just so damn good (and they look great!). A comfortable, durable, supportive approach shoe, equally at home on technical scrambles as it is on multi-day hikes with a heavy pack – one shoe for almost every scenario.
If you hike regularly and demand a lot of your footwear, this will possibly be the best pair of hiking shoes you'll buy in a long time (maybe ever!).
These shoes were provided for review purposes by Adventure Inc. They are available from specialist outdoor retailers such as Mountain Mail Order and Drifters.
Co-founder of Hiking South Africa, Arno loves the outdoors and finds joy in sharing it with others. He is a qualified mountain guide, a keen rock climber and has a "thing" for technical footwear and backpacks.
Related Articles
Review: Vango Halo 300
If you're planning on spending a lot of time camping in the rain, this is the tent you want to be in. A solid, semi-geodesic structure, trail weight of 3.89kg and true 3-person sizing, makes […]
Review: Zamberlan Rolle EVO GTX Boots
Key information Price (at time of writing): R4899 Weight: 785g per boot. 1570g per pair (size 11). Uppers: Perwanger® leather Women's version: Yes Intro At first glance, one is immediately aware of the attention to […]
Review: First Ascent Hurricane Jacket
The Hurricane is First Ascent's premium rain jacket. I've used it extensively throughout the winter and also took it along on the Eden to Addo corridor hike, where it got put through its paces as […]
14 Comments
I'm sure they are good shoes…but that weight and price…and leather.
(I can think of three reasons to stick to my current favorite)
What is your current favourite Mo?
Hi Arno, I got stuck with Altra's after a friend recommended them to me. Wide toe box, good grip, quick drying, lightweight and good price for superior quality, but its just my 2 cents. It could be torture devices for the next hiker
I agree wit Nic! I have the Altra Lone Peak 4 Trail Runners which lasted less than 4 months (Altra replaced them for me), and the Altra Lone Peak 3 Mid Boots, which seem to have survived longer. Due to the wide toe box, they are most comfortable. I wouldn't try carrying more than 15kg with the boots.
No on the durability front. Mine died in 6 months. They wear through just above the rand near the ball of your foot. I think the rand concentrates the flexing to that one spot and the leather can't survive. Another friend has the same issue.
Source https://hikingfeet.com/la-sportiva-hiking-boots-and-shoes/
Source https://hikingguy.com/hiking-gear/best-hiking-shoe-la-sportiva-synthesis-review/
Source https://www.hikingsouthafrica.co.za/review-la-sportiva-tx4/