Best Hikes in California – (A Local's Favorite Trails • 2022)
I have narrowed my long, long list of the top hikes in California down to 13 of the very best.
Home to thousands and thousands of miles of pristine hiking trails throughout backcountry and wilderness areas, and national and state parks, I had a tough time narrowing down this list. I mean, even narrowing down the best hikes in Yosemite into one list is no small feat.
But I understand that there are an overwhelming amount of options for hiking in California. As a native Californian and avid outdoorswoman, I can attest that sometimes the hardest part about planning a hiking trip is deciding where to go in the first place.
I put together a guide on the best hikes in California that includes various climates, landscapes, difficulty levels, and lengths. No matter what your hiking experience or fitness level is, you'll find the right hike on this list for you.
These hikes are undoubtedly California's crown jewels and hidden gems. Keep on reading for my list of the 13 best hikes in California.
Do You Want to Travel FOREVER??
Pop your email in below to get a FREE copy of 'How to Travel the World on $10 a Day!'.
What to Pack for the Best Hikes in California
Keep in mind that many of the best hikes in California are located in the elements, where rain and snow-storms, wind, cold, and heat can all be potential factors, sometimes all in one hike.
You don't want the weather to ruin a great trek, or worse, put your life in danger. To be prepared for the weather, elements, and potential mishaps, you must hike with high-quality backpacking equipment.
At the Broke Backpacker, we take outdoor supplies very seriously. We've spent hundreds of hours testing, reviewing, and abusing gear that we hike and travel with for years on end.
Below is a series of gear reviews that will put you in touch with everything you need for a fun, enjoyable, and successful hiking trek.
Don't be a rookie and bring a brand new pair of hiking boots or too big of socks that give you blisters, use your smartphone as a flashlight, or pack a summer tent for the rain. (I've done all of this and then some.) Invest in quality items and you'll find that the best hikes in California will only get better.
Also, keep in mind that much of the Sierra Mountains and northern areas of California are bear country! If you are hiking and camping overnight, you will need a bear canister! Most park offices and visitor centers will rent you a bear canister for free. Pick one up when you get your permit and talk to the experts to learn more about safety in the wild.
For more inspiration, check out our comprehensive Adventure Packing List!
Best Hikes in California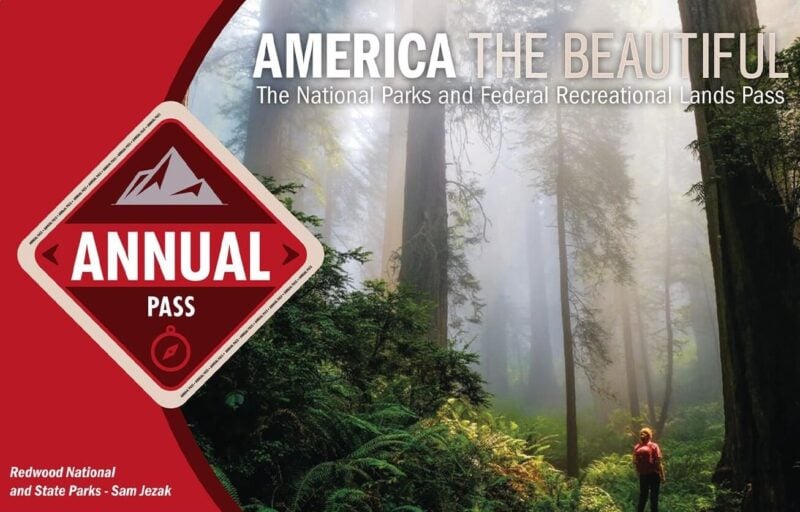 The USA is blisteringly beautiful. It's also blisteringly expensive! Visitng two national parks in day can run you $70+ in entry fees.
Orrrr… you kick those entry fees to the curb, buy an annual 'America the Beautiful Pass' for $79.99, and get unlimited access to ALL 2000+ federally managed sites in the States totally FREE!
You do the math.
1. John Muir Trail, Sierra Nevadas
Distance: 211 Miles
Days Required: 3-4 Weeks
When to go: July – September, depends on annual snowfall
Type: Point-to-point
When it comes to California thru hikes, one of the most popular, longest, and arguably most rewarding treks is the John Muir Trail (JMT). The JMT stretches 211 miles from Yosemite to Sequoia country and ends at the highest peak in the continental United States, Mount Whitney at 14,496 ft.
Ever heard of the Pacific Crest Trail (PCT) – the 2,650-mile thru-hike on the West Coast, made mainstream famous by Cheryl Strayed's book, Wild? Well, the John Muir Trail (JMT) is arguably one of the best sections of the PCT. For about 160 miles (260 km), the trail follows the same footpath as the PCT.
If you didn't catch on, the trail is named after the environmentalist/author/naturalist, John Muir, who fell in love with the Sierras and spent much of his life fighting to protect the wilderness among this mountain range.
For visitors traveling California state and wanting to get off the beaten path, this trail is the best way to explore both the most popular national parks AND the most under-the-radar wilderness areas simultaneously in the heart of the devastatingly beautiful Sierra Nevada mountains.
The trail starts in America's treasure, Yosemite National Park at the Northern Terminus Happy Isles and continues through the Ansel Adams Wilderness, Sequoia National Park, King's Canyon National Park until you reach Mt. Whitney, a tough climb and endeavor in itself.
I have yet to hike the entire thing personally – only sections – but the full hike is high on my bucket list. Most hikers finish the JMT in three to four weeks, starting sometime in July or August, depending on the snowfall.
You can easily tackle one or more sections if you are short on time, or simply don't want to plan such a logistically heavy hike.
The JMT requires serious planning because resupply points are few and far between and large sections of this trail are vast wilderness areas. You will have to pre-organize postal pick-ups in various towns.
Moreover, the permit system is extremely competitive and requires a 6-month reservation, if you can get it. If you have the flexibility, consider trying to get a walk-in pass instead, knowing that it may require a few early mornings to be successful.
With a bit of due diligence and proper planning though, the JMT is one of the best long-distance hiking trails in the world.
Although there are plenty of ways to start the hike, the classic entry point is the trailhead at Happy Isles. Drivers will find long-term parking in Curry Village close to the trailhead, but be sure to check in first and clear everything with the ranger.
Alternatively, via public transport, you can start all the way back in Reno and catch the Eastern Sierra Transit Bus to Mammoth. Grab some supplies (as this is the last major town on the route) before transferring to the Yosemite Area Regional Transit (YARTS) HWY 120/395 bus which will take you to the Yosemite Valley (close to Curry Village and the trailhead).
2. The Four Mile Trail, Yosemite
Distance: 9.6 Miles, round trip
Days Required: 1 day
When to go: Late Spring, Summer, Fall
Type: Point-to-point or out-and-back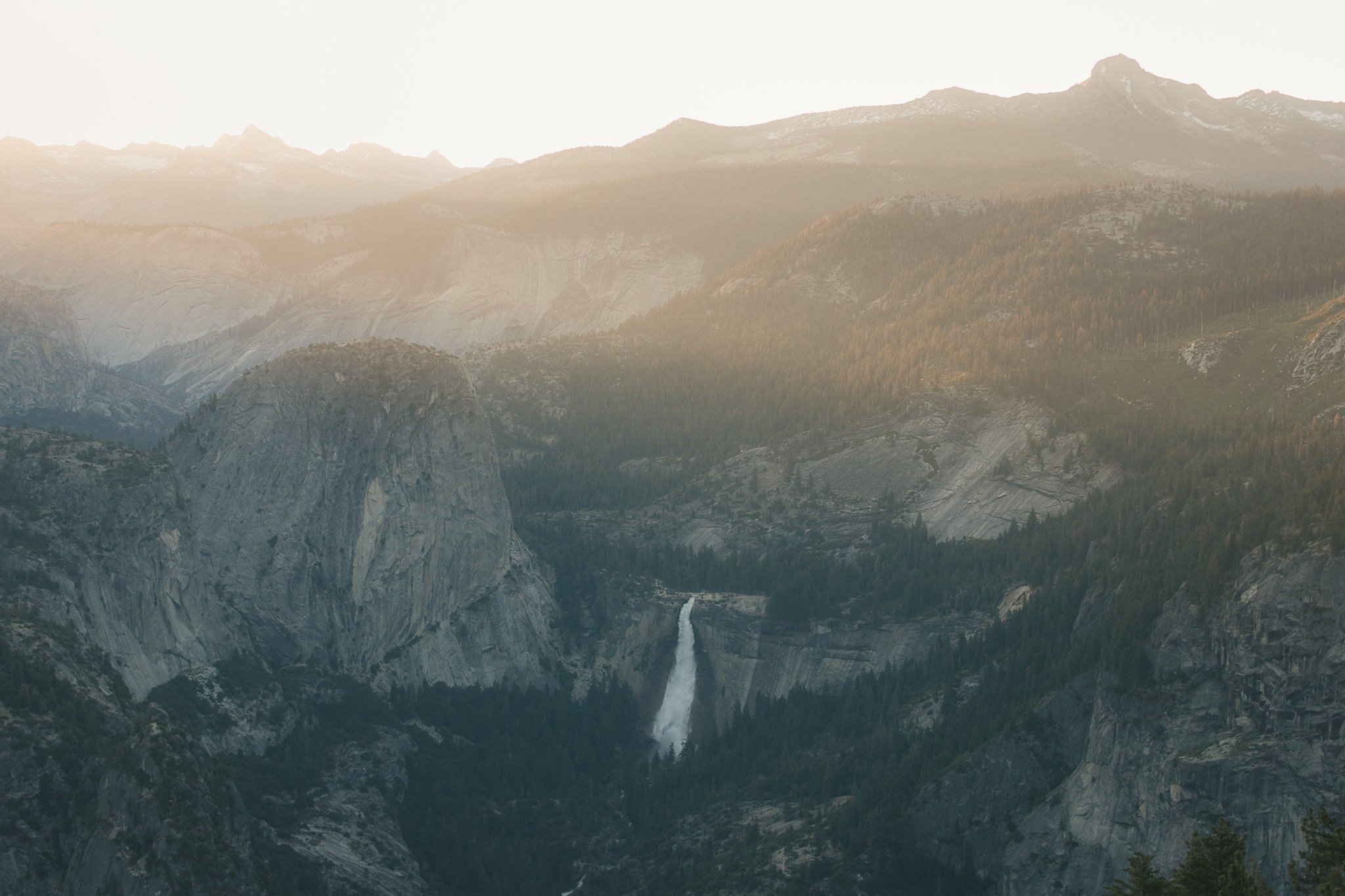 Sunrise at the top of Glacier Point, your Four Mile Hike reward.
Photo: Ana Pereira
Yosemite National Park is the most famous national park in California, if not the USA. It has served as the inspiration for some of the world's best photographers, naturalists, and more since its discovery. (See the John Muir Trail above.)
You will most likely be visiting Yosemite if you are taking a road trip through California. This is one of the best day hikes California has, but it is not for the faint of heart. The Four Mile Trail takes you from the floor of Yosemite Valley to the Glacier Point visitor center, a 3,200-foot elevation gain. I recommend starting as early as possible for this strenuous hike.
About a mile into the hike, you climb above the tree lines and get various viewpoints of the valley on the switchbacks. As you reach the top, you get a straight-on shot of Yosemite Falls across the valley (see above picture), and views of Sentinel Dome, El Capitan, and Half Dome.
The hike finishes at the Glacier Point visitor's center, one of the best viewpoints of the valley, where I highly suggest catching the sunset with a well-deserved snack from the visitor center shop. This hike is possibly the highlight of your stay in Yosemite National Park.
Book Your Cabin in Yosemite: Special Cabin in the Woods
This place is as close as you can get to the national park without actually staying inside but also giving you the same experience as if you were camping. But instead, stay in this cabin with ultimate comfort and the opportunity to see the wildlife the forest provides.
Feel the cool mountain breeze on your cheek upon waking up as they also offer you a free breakfast. A HUGE plus side when you are eager to see everything this park has to show you. You can't help but want to relax on the swing this home has while setting your eyes on the wonders of nature, colorful trees, as you listen to our feathered friends make noise.
You can either start or finish the hike at Glacier Point (the other trailhead is on Southside Drive leading into the Yosemite Valley). There are buses that run from Yosemite Valley to Glacier Point. If you choose to start the hike at Glacier Point and walk down (which is the more common but less impressive walk), be sure to buy your bus tickets in advance at the Yosemite Valley Lodge.
Alternatively, if you choose to walk up and bus back down from Glacier Point, it's first come, first served. Failing that, you'll just be trekking back down the hill.
3. Tahoe Rim Trail, Lake Tahoe
Distance: 165 Miles
Days Required: 10 days to 3 weeks
When to go: July – September, depends on annual snowfall
Type: Loop or Sections out-and-back
View of Lake Tahoe from Section 2 of the Tahoe Rim Trail
Photo: Ana Pereira
Like the JMT, the Tahoe Rim Trail is one of the best hikes in California for its length, diversity, incredible scenery, and high reward vistas amongst the Sierra Mountains.
What sets the Tahoe Rim Trail apart from other Sierra Mountain hikes is the infamous lake that the entire trail encircles: Lake Tahoe, an enormous, deep blue, subalpine lake surrounded by snowcapped peaks, green forests, and granite faces.
The trail is separated into eight segments that loop around Tahoe in 165 miles. Many people tackle the TRT in sections over years, and others complete the rim trail in one go.
Depending on your experience, time-frame, and tenacity, you can do as little or as much of the TRT as you would like. Make it a day hike or a month-long journey; you can even bike or horse ride certain sections too! The choice is yours, though you will need to hitchhike back to your car or make it an out-and-back hike in certain sections.
Snowpack can be present as late as July, so if you plan to thru-hike the entire loop, plan to start in late summer. July through September are generally sunny, warm, and marvelous long days. Pack your sun protection, but also your best rain jacket for those summer storms.
The west side of Lake Tahoe gets considerably more snow than the east, so plan accordingly as you approach snow season. (You can snowshoe many sections in the winter, most famously the Tahoe Meadow, the area around Incline Village, and trails around Kirkwood!) And if you need somewhere to stay near the hiking trails, check out our where to stay in Lake Tahoe guide.
You can hike sections of the Tahoe Rim Trail in winter!
Photo: Ana Pereira
Two weeks would be a comfortable period to thru-hike the TRT. This hike requires logistical planning, but due to its location as a loop, you are never more than a day away from town.
Having civilization nearby makes this one of the best introductory thru-hikes in the US and an excellent warm-up to the John Muir Trail. You can organize food and supply pick-ups at various towns along the way too.
Camping is allowed along the entirety of the trail except in section 7, Desolation Wilderness, where you must obtain an overnight permit at the Tahoe Basin National Forest Information Center. If you plan to hike this section in one day, you'll still need to get a permit at the parking lot trailhead.
On Section 3 of the TRT, you will hike through Lake Tahoe Nevada State Park on the Nevada side of Tahoe. No permit is required, but there are only two primitive campgrounds here.
The TRT travels through Mt. Rose Wilderness, Desolation Wilderness, and Granite Chief Wilderness as well as other state parks and protected lands.
If you're short on time, I recommend backpacking the Desolation Wilderness and west side, as these are personally my favorite parts of the trail.
No matter how long it takes you to complete the TRT, you are invited to join the famous TRTA 165 Mile Club upon completion, in which you are assigned a member number and sent a certificate, pin, and patch. This is the ultimate community accomplishment!
Given that it's the Tahoe Rim Trail is actually a loop walk and has 10 official trailheads (plus all the sneaky unofficial ones), you're really swimming in options!
Starting at either of Lake Tahoe's two bordering cities (Tahoe City or South Lake Tahoe) and using the other city as a site to resupply is the easiest method of hiking the Tahoe Rim Trail. Most people choose to start in Tahoe City.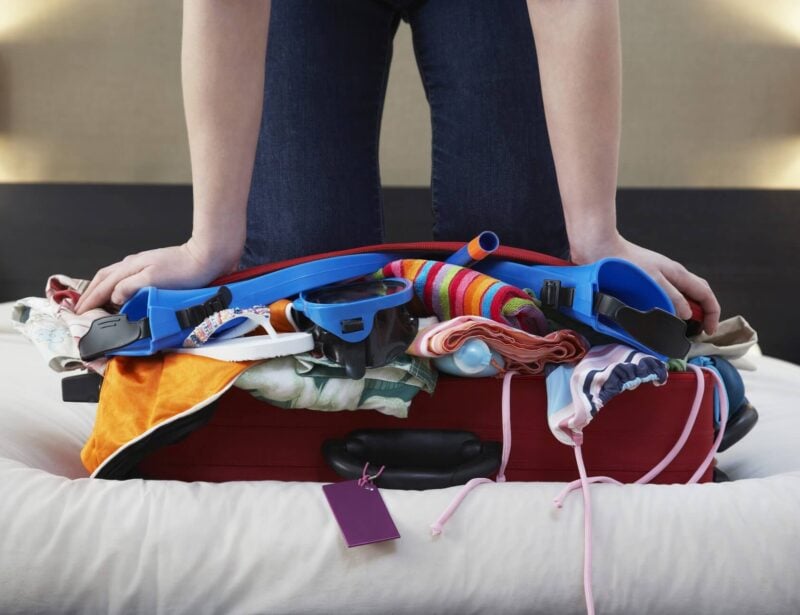 My missus travels with all her clothes in ziplock bags: don't be like my missus. UP YOUR PACKING GAME!
Packing cubes for the globetrotters and compression sacks for the real adventurers – these babies are a traveller's best kept secret. They organise yo' packing and minimise its volume too so you can pack MORE.
Or, y'know… you can stick to ziplock bags.
4. Lost Coast Trail, Mendocino
Distance: 25 miles, one-way
Days Required: 3 days
When to go: Summer, Fall is best
Type: Point-to-point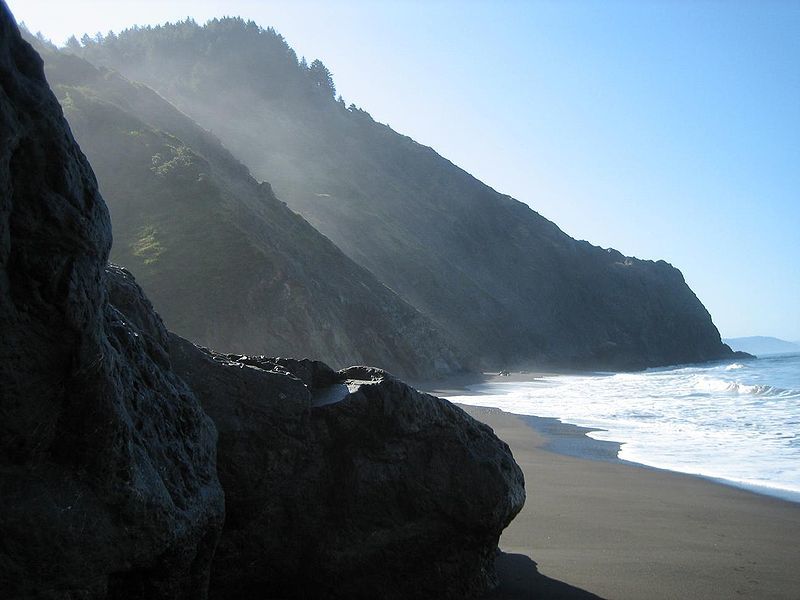 Morning on the Lost Coast.
Photo: Wendy Seltzer (Flickr)
The Lost Coast Trail is a section of Northern California coastline – from Northern Mendocino into Humboldt county – that is so rugged and wild, the old logging companies tried and failed to build a road here.
Instead, the Highway 1 must cut inland, and leave the Lost Coast undeveloped and lost to civilization, unless you hike, that is.
This nearly 25-mile hike can be walked in either direction starting from Mattole Beach in the north or Black Sands Beach in the south. There is a shuttle system to get back to your car.
You can also hike the southern section to Usal Beach about 30+ miles south of Black Sands Beach, but most people stick to the north section.
The hike itself takes you through wild forests and empty stretches of beach. It is as beautiful as beautiful gets, but the most important thing to consider is the tide schedule; you will have to time your hike according to the tide. People have drowned at high tide, so we don't recommend this hike for the wary and inexperienced.
This is also one of the wettest regions of the state, so be prepared for any type of weather year-round. Slick rock, thunderstorms, and freezing nights are possible all year round.
Falls tend to be the driest and sunniest time of the year, though, and summers have less rain but tend to be foggy.
This is one of the best hikes in California because it is located along one of the world's most popular coastlines yet remains one of the most remote stretches of coastline in the country.
This hike takes 3 days so pack your camping gear and a bear canister! A solar light would also come in useful.
The north to south Lost Coast hike begins from the Mattole Beach Trailhead to the Black Sands Beach Trailhead respectively, and you'll have to organise a shuttle transport (unless you have two hiking parties walking opposite directions with a car parked at each end). Parking at one trailhead and organizing transport to the other is the method most hiker use. You can try these transport services:
Bill's Lost Coast Shuttle: 707-442-1983
Lost Coast Adventure Tours: 707-986-9895 or 707-502-7514
Mendo Insider Tours: 707-962-4131 or [email protected]
While the Mattole Trailhead is very remote, Black Sands Beach is actually very close to the town of Shelter Cove. There are accommodation options and eateries in town, and there's even a very small public airport if you're really that desperate to start the hike.
5. Nevada Falls Trail, Yosemite
Distance: 7 miles, round trip
Days Required: 1 day
When to go: Spring, Summer, Fall
Type: Out-and-back
This strenuous and demanding climb is well worth the effort, not just for one, but two close-up views Yosemite's most beautiful waterfalls: Vernal Fall and Nevada Falls.
The views of the valley and raging waterfalls (specifically in late spring) make this one of the best day hikes in California as well as one of the best hikes in the USA for waterfall chasers.
After about 1.2 miles, you'll reach the top of Vernal Fall. If you are not feeling up to the demand of the rest of the hike, this makes for a great 2.4 mile round trip day hike. If you can make it though, keep on hiking to reach the top of the 594-foot Nevada Falls.
Hiking to Nevada Falls and back takes around 6 hours. If you are going to tackle one Yosemite waterfall hike, make it this one.
Tip: If you are feeling really adventurous, grab a backcountry permit from the visitors center and bring your backpacking gear. You can continue your hike to the top of the valley and explore some of Yosemite's other trails for as many nights as you'd like before looping back down to the valley. You can make this as long or short of a hike as you want to.
Wanna Stay Near To Yosemite? Peaceful Private Retreat Room
Enjoy a peaceful private room right outside of the National Park. You can have a taste of the wildlife and some quirky town vibes while staying at this home. The village is close to the market and cafes, but don't worry! It's not too close where you won't have your serene silence.
The plush blanket is to die for after the hiking and other activities you may be indulging in. Plus, there's a big screen. We know that's not a priority, but it sure is nice to kick back and catch a flick if you're taking a break some camping or trekking. This home is for solo and couple travelers who enjoy the simple life near the mountains.
You're back in Yosemite Valley and at Happy Isles. Both the Mist Trailhead and the John Muir Trail (the same as before) begin in this spot.
Following the Mist Trail will take you to both the top of Vernal and Nevada Falls and leave you with the option to loop back via the John Muir Trail. You could also do this in reverse, however the former is the recommendation for maximum prettiness.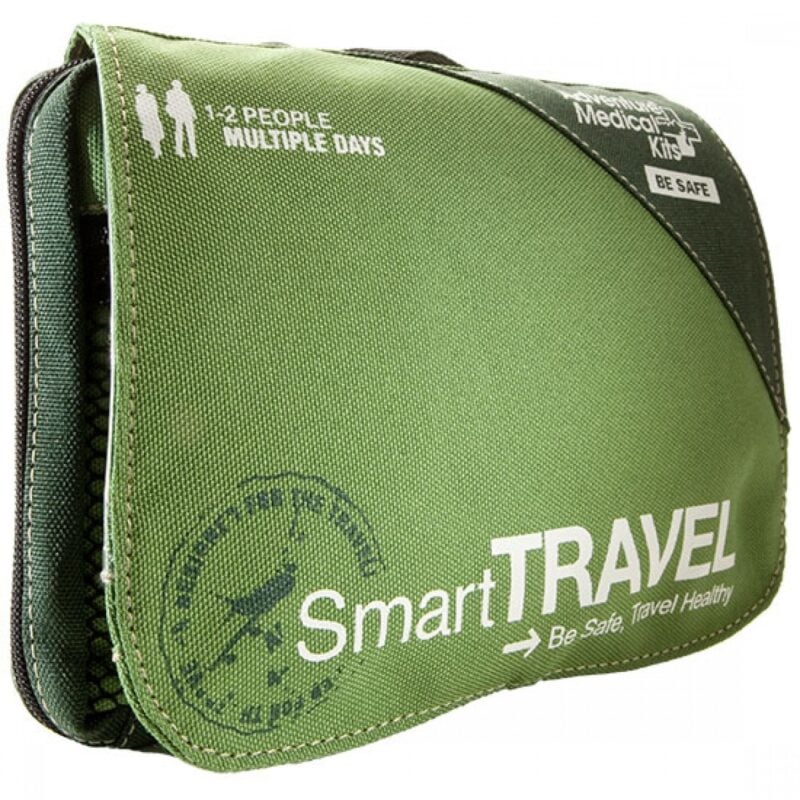 Things go wrong on the road ALL THE TIME. Be prepared for what life throws at you.
Buy an AMK Travel Medical Kit before you head out on your next adventure – don't be daft!
6. Big Pine Creek North Fork Trail, Southern Sierra Nevadas
Distance: 18 miles, round trip
Days Required: 2-4 Days
When to go: Spring, Summer, Fall
Type: Out-and-back
This incredible hike in the Southern Sierras looks like something out of Banff, Canada. The backcountry trail takes you through prime John Muir Wilderness and to seven incredible glacier lakes, notably named First Lake, Second Lake, Third Lake, and so forth…
You also have the opportunity to hike to the southernmost glacier in the country, Palisades Glacier. (Yep, California has glaciers too.)
Before starting your hike, pick up an overnight permit in the town of Lone Pine. Make sure to book your permit online far in advance if you are hiking in summer or on a weekend.
The trail starts about 10 miles outside of town near Glacier Lodge at 7,750 feet in elevation. Much of the hike is exposed and quickly gains more elevation, so be prepared with sun-protection and ample water, and the potential for altitude sickness.
You should reach First Lake about4.5 miles in. Second Lake isn't too far from here and a great place to camp for the night.
Each lake is about a mile in from the other, with the Seventh lake about 8.5 miles from the original trailhead. You could hike this trail in as little as two days, but it would be exhausting, and why rush visiting such a spectacularly beautiful place in the States?
I would consider setting up camp at Second, Third, or even Fourth Lake, and then taking day trips from there.
If you have the time and stamina, don't miss a side trip to Palisades Glacier. This is the Southernmost glacier in North America!
This hike is an out-and-back trail. Expect to gain about 2,000 feet to Second Lake and about 5,000 total to Palisades Glacier!
It's a pretty simple hike to start. First, travel to the town of Big Pine and then it's west on W Crocker Avenue (which becomes Glacier Lodge Road). At the end of this road is the main trailhead for the Big Pine Creek North Fork Trail.
If you have a car, there's parking about one mile from the trailhead, or you can park with a daily fee at Glacier Lodge. Failing that, it would be a pretty simple road to hitch a ride on coming down from Big Pine.
7. Fern Canyon, Prairie Creek State Park
Distance: 2 miles, round trip
Days Required: Couple Hours
When to go: Year-round
Type: Out-and-back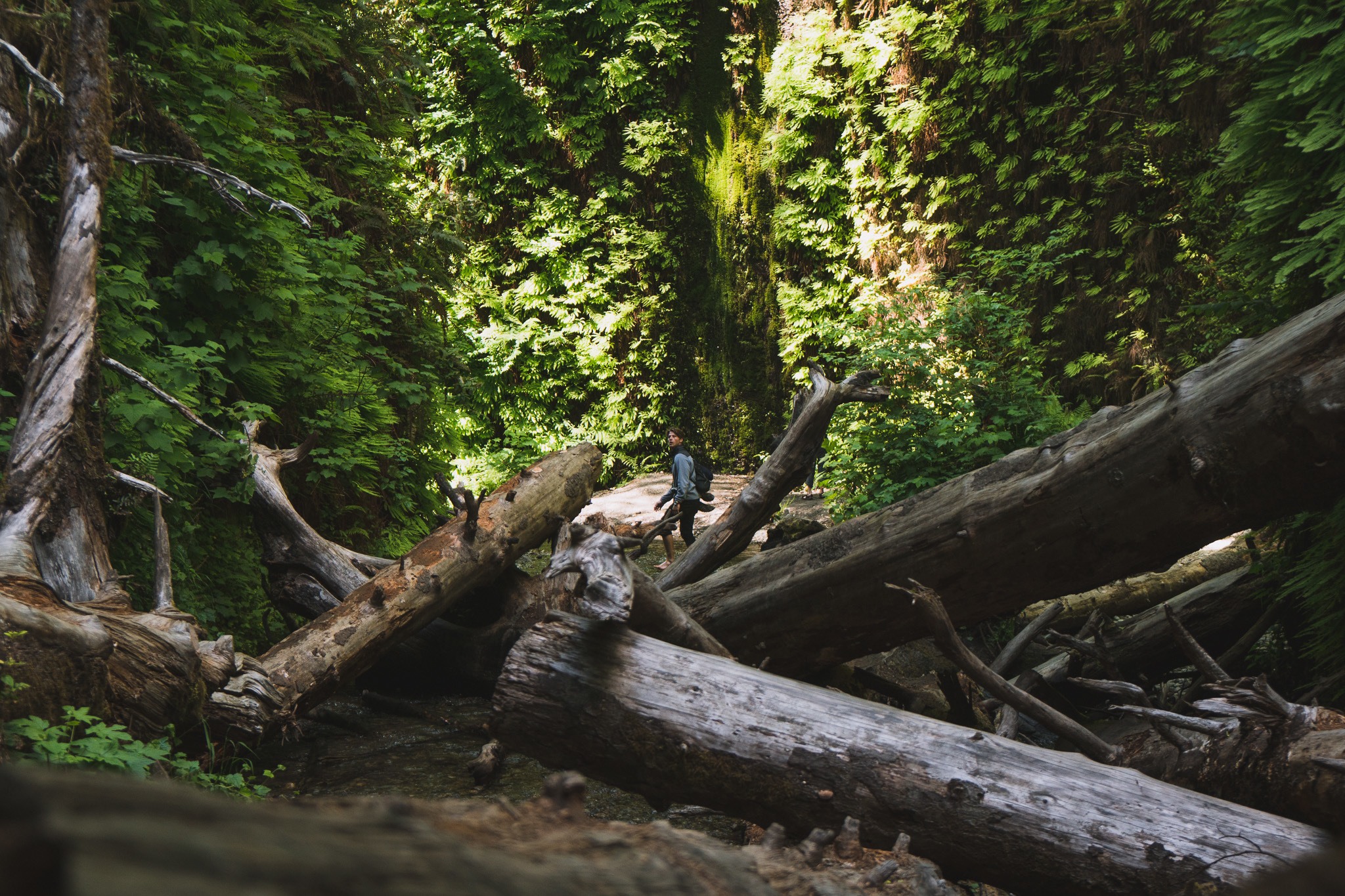 Hiking in Fern Canyon!
Photo: Ana Pereira
This is the shortest hike on this list, but don't let the distance fool you. Fern Canyon is one of my favorite day hikes in California due to its incredible and rewarding views and plant diversity that looks like something out of Jurassic Park… A big bonus is that this hike can easily be done with small children.
You reach the park via Highway 101 near Davison Road. Follow through Elk Meadow (where you will see plenty of elks, by the way,) until you reach Gold Bluffs Beach, which is a lovely beach to hang out and picnic before or after the hike.
You'll have to pay $8 for day use at the state park; there are campsites around here too.
The trailhead to Fern Canyon is about 1/4 mile from the canyon. It is an easy hike, though it requires quite a few stream crossings so bring water shoes or good pair of sandals!
Alternatively, you can combine this hike with the moderate five-mile James Irvine Trail that begins at Prairie Creek Redwoods State visitor center, which is where we decided to camp.
I can wholly recommend camping in the Prairie Creek campgrounds underneath the redwoods.
Consider making this a longer hike 9-mile total hike, which my boyfriend decided to casually run like the show-off he is. It really is an enjoyable hike (only 450 feet in elevation gain) that takes you through an ancient redwood forest and a fern-covered canyon.
For those just tackling Fern Canyon, you can hike into the canyon and back in just a few hours. Your small efforts will be infinitely rewarded as you walk through a carved canyon covered in ferns and mosses with water dripping from the walls.
While this is a year-round hike, it may be limited after rains, so consider avoiding the winter months.
This is another easy trailhead to find. Starting in the town of Orick, head north on Highway 101 about 2.5 miles. There'll be a left-hand (westerly) turn onto Davidson Road.
About four miles in and you'll find the park's entrance station. Roughly another two miles north (now driving Gold Bluffs Beach Road) and at the end of the road, you'll find the Fern Canyon Trailhead.
8. Trans-Catalina Trail, Catalina Island
Distance: 38.7 miles (62. km)
Days Required: 3-5 Days
When to Go: Spring, Winter, Fall (Summers are really hot but doable)
Type: Loop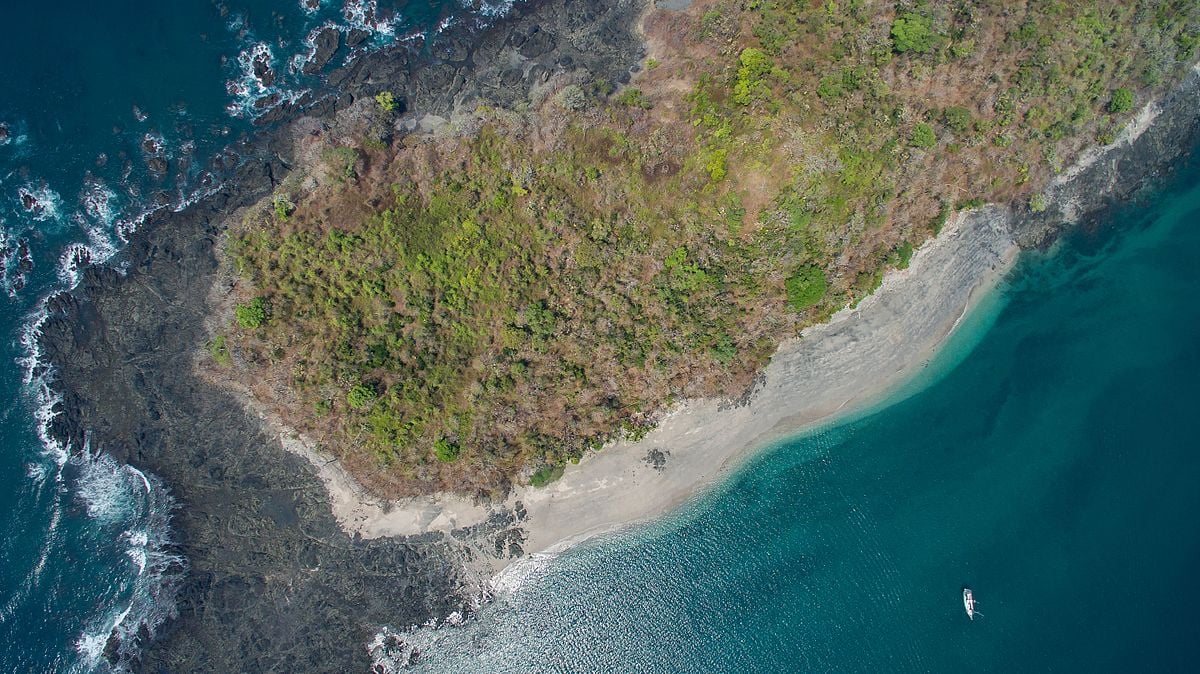 This is easily one of the best hikes in Southern California, and probably the best if not including smaller hikes found in Joshua Tree National Park.
Catalina Island – made famous by a few songs and such – is about 22 miles south of the mainland and not far to travel if you're visiting Los Angeles.
This exposed hike can be pretty difficult in the summer, so I recommend hiking in the spring or fall, or even the winter (though rain is most likely).
Spend a few days camping on secret beaches amongst a desert-island getaway. I mean, what more could you ask from a coastal California hike?
Well, first you actually have to get to Catalina Island. Since the trailhead can be started from either Avalon or Two Harbors, heading to either will work:
Catalina Flyer – This ferry from Newport Beach will take you to Avalon only.
Catalin Express – Ferries from Dana Point and Long Beach will travel to Avalon, while the ferry from San Pedro goes to both Avalon and Two Harbors.
Island Express Helicopters – Will fly to both destinations from San Pedro, Long Beach, Burbank, and Orange County.
While you can walk the track either direction, most people start the hike from Avalon town itself. Alternatively, head down Avalon Canyon Road to Hermit Gulch Campground and stay the night. With an early rise the next morn, you can reach the next designated campsite (Black Jack Campground) with plenty of daylight left and even make a side-hike to the summit of Mt. Orizaba.
9. Skyline to the Sea Trail, South Bay
This is one of the best hikes in the Bay Area and California for that matter. When I lived in the Bay Area, Castle Rock and Big Basin Redwoods State Park were my sanctuaries, and where I went to get away from the city action.
From redwoods to banana slugs, this trail takes you through beautiful redwood forests in the crest of the Santa Cruz Mountains, ending at the Pacific Ocean. A predominantly downhill walk, it's a fairly easy long-distance hike in California presenting some of its best sights.
The second and third days hike through ancient redwoods in Big Basin Redwoods State Park, including a side trip to Berry Creek Waterfall. On your final day, you end at Waddell Beach.
While getting permits on weekends is no small feat (due to the close proximity to San Francisco and San Jose natives taking weekend day trips), this hike is still relatively underrated and unknown amongst Californians for what you get out of it. Note that this trail is accessible year-round, but winters can be a crapshoot.
The hike is actually remarkably close to San Jose, so I'd recommend finding a place to stay there before sussing out transport to the trailhead.
The official trailhead is at Saratoga Gap at the intersection of Highways 9 and 35. The first third of the trail tracks are along the highway, however, so try to just start at Castle Rock State Park instead if you can. There's parking there if you're driving, and it's a much more peaceful beginning to the walk.
10. Half Dome, Yosemite
One of the most exciting (or scariest) parts of this hike are the chains at the end!
Half Dome is one of America's most iconic and recognizable natural formations and a staple for anyone exploring the USA's most beautiful national parks. At over 2,500 feet, Half Dome is a massive slab of granite towering high above Yosemite Valley, and hikers keen enough to tackle the grueling day hike will be rewarded with some of the best views in California.
This hike is so incredible that you may be wondering why other Yosemite hikes ranked higher. I did so because its popularity and chain system mean that getting a permit in the incredibly competitive system is almost impossible these days.
The demanding, extremely strenuous hike gains a total of 4,800 feet in elevation as a 15.35-mile round-trip hike. The summit of Half Dome is reached with the help of the Via Ferrata style series of cables and steps. If you are afraid of heights, then this hike is not for you.
Half Dome is one of the most famous rock formations in the world and has the associated human traffic. My advice is to start your hike early, meaning you will be hiking in the dark. You do not want to get stuck behind a bunch of hikers at the cables.
Hiking up Half Dome is sort of a right of passage for hikers visiting Yosemite National Park. There really isn't another hike like it, but Yosemite National Park has several of the best hikes in California; Half Dome just happens to be one of them.
Lovely Home in Sonora: Spacious Home Above the Main Street
Whether you're in Sonora on business or traveling through the Sierra & Gold Country, look no further because this dreamy home offers just about everything you need. Overlooking Washington Street, you can stay in this home with the whole family, make sure to head over to the Big Trees State Park the kids will love that, and then when it's adult time, check out Murphys to taste some wine.
Enjoy your morning coffee view of the unique sunrise that bloom in this quaint town on the balcony this apartment has. With only an hour away from the Yosemite park, you can pop in and come back knowing there's a warm place to rest your head after all the activities and adventures that take place on your endeavors.
Easy-peasy – just head back to Yosemite Valley, Happy Isles, and the Mist Trail. You should know this area well by now!
11. Rubicon Trail, Lake Tahoe
Make sure to hike around Lake Tahoe for excellent views!
Picking just one day hike in Lake Tahoe was pretty difficult for me, what between Fallen Leaf, the jaunts around Eagle Lake, Desolation Wilderness, and Incline Village, but ultimately, I think the Rubicon Trail has some of the best views of Lake Tahoe, and a little bit of everything.
For one, the hike starts at D.L Bliss Beach State Park on the west shore, which is one of the most beautiful beaches in Lake Tahoe and offers one of California's best campsites.
The hike takes you all the way to Mount Rubicon and Emerald Bay, another one of the prettiest places in Lake Tahoe.
Really, this full-day hike is all about enjoying Lake Tahoe, with endless views around every corner. Note that it is a moderate hike too, without much elevation gain, so you can do this one with the whole family.
You're closer to the south side of the lake here and South Lake Tahoe. I would recommend finishing the walk at Emerald Bay as it's a super beautiful place to chill in the water mastering one of the hardest day hikes in California.
The Rubicon Trailhead can be found at the end of Lester Beach Road close to Calawee Cove Beach. There's parking here too if you're driving but not a lot; make sure you show up early to nab a spot!
12. Tomales Point Trail, Point Reyes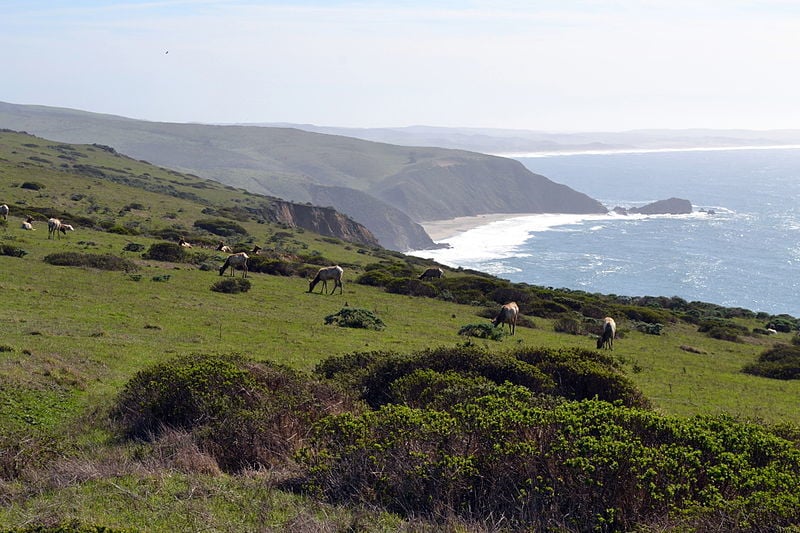 Tule Elk doing their thing on the Tomales Point trail.
The hike out to Tomales Point has everything you could want from a California beach hike: jaw-dropping coastline, wild elk, and hills so green you will wonder if you are actually hiking in Ireland, not California.
Just north of San Francisco, Tomales Point makes for an excellent city escape.
This is one of the best day hikes in California, as it is not too difficult, but really rewarding. Bring a picnic and watch the wild elk graze in front of the Pacific Ocean.
I also recommend trying to camp on Tomales Bay; the reservable sites are reached by kayak, making this one of the best campsites in California.
If you're visiting San Francisco, drive the Highway 1 north until you reach Sir Francis Drake Boulevard (just before Port Reyes Station), and follow that road to the community of Inverness. Continue north until Sir Francis Drake Boulevard becomes Pierce Point Road, and then continue driving until you reach the Pierce Point Ranch.
The trailhead is on the road just leading up to the ranch.
13. Clear Creek Route, Non-technical Mt Shasta Summit
So far I have covered some of the best hikes in California that take you through mountain ranges, on top of sheer granite faces, alongside rugged coastlines, and even circumnavigate an island. What doesn't California have!?
On this hike, you get to summit Mount Shasta, a volcano with a glacier and ski lift on it… This grueling hike gains 7,900 feet, so it is not for the faint-hearted.
It's the least technical route to the summit of Mt Shasta, but it is still dangerous and deaths have occurred. This isn't for beginner hikers: you still want to have some technical experience before tackling Shasta.
Register at the Mt Shasta ranger station and grab your permits as well as human waste bags to pack out of the mountain. This route begins at the Clear Creek Trailhead (elevation 6390 ft). After a few hours, you'll reach Mud Creek Falls and then eventually reach the source of Clear Creek at Clear Creek Meadow (8,500 feet).
Some people make this a long day hike and turn around, but this is an excellent camping area and the way we recommend tackling this hike.
The next day, make an alpine start to the summit to allow for enough daylight. If it is snowy, you'll need crampons and possibly an ice ax to ascend a steep snowfield to the top of a ridge above Clear Creek Meadow.
Once you reach the summit at 14,180 feet, you are officially on top of a (somewhat) dormant volcano! Bask in that and take in the views!
Since you'll have to check-in at the ranger's station, you can base yourself in Mt. Shasta town or move onwards to McCloud which is en route to the trailhead. From McCloud, follow the Volcanic Legacy Scenic Byway east until you reach the intersection and left-hand turn (to the north) onto Pilgrim Creek Road.
At the next intersection, turn left onto Wintoon Way (northerly direction again) followed by the next right onto Hotlum Drive. At the T-intersection, turn right onto Widow Springs Drive and follow this until a 4-way intersection where Widow Springs Drive continues on the left branch (again, northerly). Continue on Widow Springs Drive road without turning off until you reach the very end; you'll be at the trailhead – congrats!
Sunset before crawling into the tent.
Photo: Ana Pereira
Honorable Mentions of the Best Hikes in California:
Cathedral Lakes, High Yosemite; 8 miles: While many of the best hikes in Yosemite are at the bottom or top (or both) of Yosemite Valley, Cathedral Lakes is in high Yosemite, though arguably just as beautiful. This is a small section of the JMT, starting at 8,600-foot elevation. Prepare for altitude! Hike to both lower and upper Cathedral Lake and bring mosquito repellent in the summer!
Mount Whitney: I briefly covered this hike in the John Muir Trail, but really it is its own hike. This arduous full day hike allows you to reach the summit of the tallest mountain in the continental US. Like Half Dome, it is one of the most competitive permit-system hikes in the US.
Big Bear Lake: The thriving ski resorts of Big Bear Lake are popping in the winter, but it's also a stunning area for hiking in the summer. The trails are often fairly easy which makes them great for families looking for a hiking destination together.
Eagle Falls to Maggie's Peak, Desolation Wilderness/Lake Tahoe Area: This is one of the best day hikes around Lake Tahoe that can even be snowshoed in the winter. I highly recommend this hike and almost included it in the list instead of the Rubicon Trail. You really can't go wrong with either, and both are near to each other.
El Capitan to North Dome, 3 days: To get off the beaten path in Yosemite, I suggest picking up a backcountry pass and a map. Plan a route that takes you to North Dome and El Capitan. You'll get epic views of the Valley with hardly any people in sight. Cloud's Rest is good too.
Hikes around Big Sur: Check out our Big Sur camping guide for more information. It is a beautiful place to hike, but many of the best trails are currently closed.
Trinity Alps; Canyon Creek Canyons, 16-mile roundtrip: Want to escape the crowds and get deep into backcountry surrounded by lakes and forests? Head up north to the Trinity Alps and explore the Canyon Creek Canyons.
Lassen Peak in Lassen National Park: This 6-mile round trip hike to the 10,000-foot summit is a great way to explore this lesser-known American national park.
San Jacinto Mountains: This state park in the South West of California has many gorgeous hiking trails that are suitable for all the family. Idyllwild, Pien Cove. andFern Valley are the perfect bases to explore the mountains in the area.
Alamere Falls, Pt Reyes National Seashore: This is one of the most popular day hikes in Northern California, particularly unique because of the 30-foot coastal waterfall at the end of the hike! You start this hike at the Palomarin Trailhead outside the surf town of Bolinas.
Torey Pines State Park: This is one of the best areas for hiking in Southern California and an awesome choice of a day trip when visiting San Diego.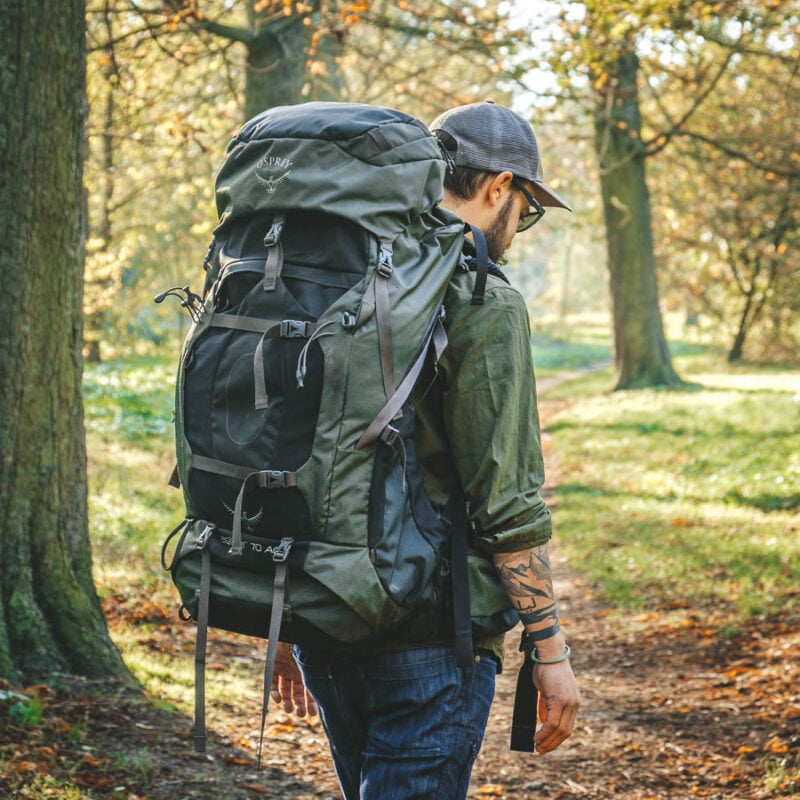 We've tested countless backpacks over the years, but there's one that still stands the test of time: the backpacker-approved Osprey Aether.
Want more deetz on why it's so damn perfect? Then read our comprehensive review for the inside scoop!
Being a Responsible Hiker in California
Before we get to the good stuff – the list of the best long hikes in California – we want to remind you to be a responsible hiker.
Do your part to help keep these trails clean and beautiful, and always practice leave no trace principles when camping or trekking in the backcountry. Ethical, sustainable, and responsible travel is the name of the game!
Wherever your hiking path leads you, please be respectful to the environment along the way. Always hike out your own trash and any trash you find along the way.
Reduce (or eliminate!) your amount of single-use plastic. Use a reusable water bottle, water filter, and/or filtered water bottle!
Leaving no trace also means respecting the surrounding nature. Often times there is a reason you must stick to the trails, especially in protected reserves, parks, and lands. Don't trample all over the vegetation, etc.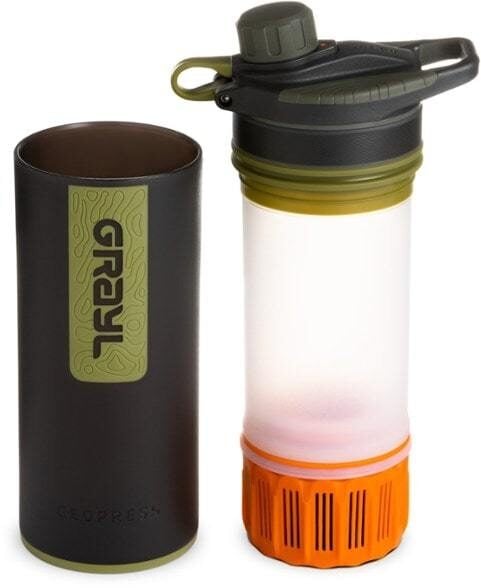 Drink water from ANYWHERE. The Grayl Geopress is the market's leading filtered water bottle protecting your tum from all the waterborne nasties. PLUS, you save money and the environment!
Single-use plastic bottles are a MASSIVE threat to marine life. Be a part of the solution and travel with a filter water bottle.
We've tested the Geopress rigorously from the icy heights of Pakistan to the tropical jungles of Cuba, and the results are in: it WORKS. Buy a Geopress: it's the last water bottle you'll ever buy.
Now, Before You Start Hiking California…
There are a few last tidbits to throw at you!
Books to read on the Best Hikes in California
To get you inspired and well-informed, check out these books on hiking in California. Get to know some of the state's beautiful landscapes and hikes in greater detail:
— John Muir's classic collection of wonderful sketches and descriptions of the national parks of America. A very important book told from an incredible perspective. — John Muir's detailed account of his experiences traveling through the national parks in California (before they were national parks). — Another important book by John Muir. My First Summer in the Sierra is Muir's account of his adventures and observations while working as a shepherd in the Yosemite Valley, which later became Yosemite National Park as a direct result of Muir's writings and activism. I really love John Muir, ok. — The now-famous story turned movie of Cheryl Strayed's PCT journey. —Alone on the Wall recounts the seven most astonishing achievements of Alex Honnold's extraordinary life and career, brimming with lessons on living fearlessly, taking risks, and maintaining focus even in the face of extreme danger. A must-read for anyone who loves rock climbing and adventure sports.
Staying Safe While Hiking Californa's Backcountry
Yeah, it's easy to get carried away when everything is just damn nice to look at! However, be smart. Watch for bears, don't go tumbling off any cliffs, and, for the love of God, please, don't touch the poison oak. Before you go hiking, read up on how to stay safe in America's wildnerness.
And certainly, most definitely, please… get insured! It's crazy important to buy excellent travel insurance coverage before embarking on any grand adventures.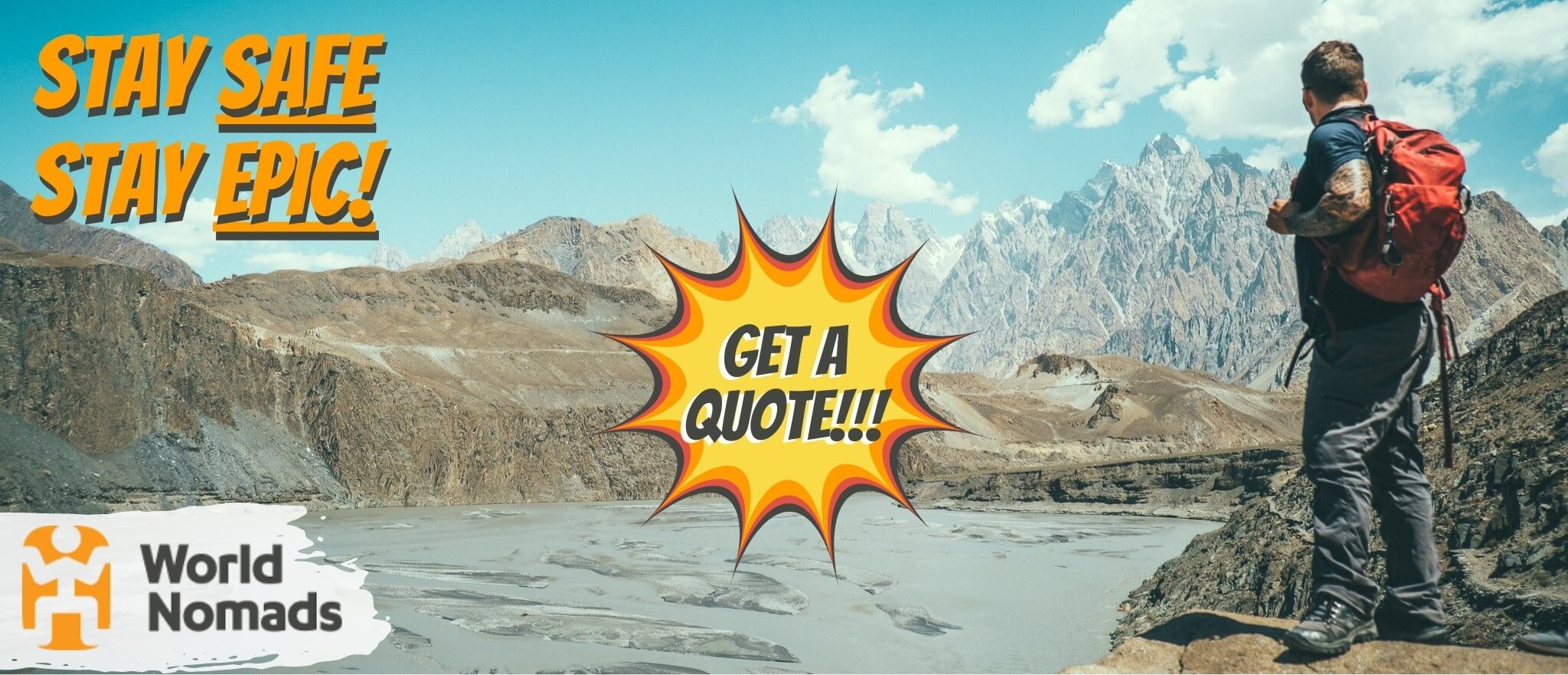 It's good to get lost sometimes, but it's also good not to get too lost. There are people that want you home in one piece.
There's one travel insurance provider The Broke Backpacker trusts for all his wildest shenanigans… World Nomads!
Click the button below to get a quote on your insurance or read our in-depth review of World Nomads' coverage. And then… let the shenanigans begin.
And on a final note, please do read up on the leave no trace principles before embarking on any grand hiking adventures in California. It's super important. And have fun!
(That's also super important.)
Treat her right, yeah?
Photo: Rock Slatter
Bye for now, but not forever!
If you want MORE top-tier Broke Backpacker content like this, then sign up for our weekly newsletter below to get the latest and greatest!
And for transparency's sake, please know that some of the links in our content are affiliate links. That means that if you book your accommodation, buy your gear, or sort your insurance through our link, we earn a small commission (at no extra cost to you). That said, we only link to the gear we trust and never recommend services we don't believe are up to scratch. Again, thank you!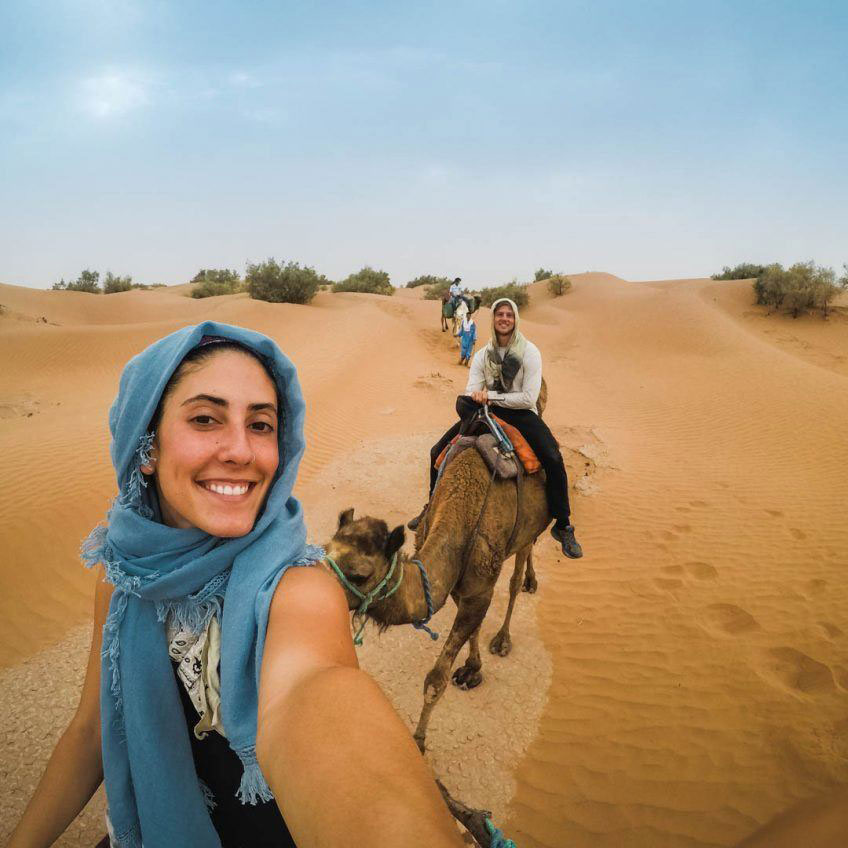 Ana Pereira
A California native, Ana Pereira is a writer by trade and inspired by earthly exploration and introspection. Her travels took her many places: the Latin Americas, the Middle East, the islands of the South Pacific, and across Europe. Eventually, all vagabonds must seek further for that dreaded stability.
These days, Ana can be found spending most of her "down-time" out in the wilderness, climbing, hiking, camping and beyond. She's still seeking that stability.
10 Best Hikes in Southern California (a Local's Guide)
Please double check what's open before your trip and follow all local vax & mask guidelines to keep yourself and others safe! Also, ads are how we pay our bills and keep our blog free for you to enjoy. We also use affiliate links; if you make a purchase through them, we may receive a small commission at no cost to you.
Snow-covered mountains. Rushing waterfalls. Secluded beaches. Otherwordly desert landscapes. If this description of Southern California surprises you, it's time to head out and explore!
Stretching from just north of Los Angeles all the way south to the border of Mexico, the vastness of Southern California includes multiple mountain ranges, a series of islands that double as an overlooked National Park, and a huge expanse of colorful desert.
Although Lia's lived in California for a decade – and Jeremy for over three decades – we're woefully unfamiliar with Southern California. So, we tapped a local to create this guide to the best hikes in Southern California! Our contributing writer Mimi has lived and hiked all over SoCal. Take it away, Mimi!
Table of Contents
Psst: Looking for more outdoor adventures in California? Take a look at some of our other posts:
We've also got a ton of other posts to help you explore California. Take a look at our favorites below or browse them all!
The Ultimate Fall in California Guide: 21 Places To Go For Fall Foliage, Pumpkins, Apples, & More
The Best Hikes in Southern California
Joshua Trees, pristine beaches, and mountain climbs: there's a lot that Southern California has to offer, from Disneyland to major cities like Los Angeles and San Diego.
But its natural beauty, dusty scenery, and outdoorsy communities are really what make it such a special part of California.
And one of the best ways to experience the region's stunning deserts, palm trees, and coastal views is by hitting the trails.
Southern California is known for its hot, dry climate and near-perfect year-round weather (minus maybe its deserts that get scorching in the summer).
It might not have the cool redwoods forest hikes that you'll find in Northern California, but Southern California hikes are a different kind of impressive.
Whether you're looking for good views at the top of a mountain, cacti explorations, or breezy coastal walks next to the ocean, the hiking in Southern California is diverse, scenic, and one-of-a-kind.
After living in the region for five years, these are my picks for the top day hikes in Southern California to get out in nature and really see just how beautiful California can be.
Borrego Palm Canyon Loop, Anza Borrego State Park
COVID-19 Update (as of 6/16/2020): Anza Borrego State Park is currently open with limited parking. All campsites still remain closed. This post will be updated once that changes.
An often overlooked state park, Anza Borrego is one of the most beautiful and underrated places to go hiking near San Diego.
Located within the stunning Colorado Desert and only about a two-hour drive from San Diego, the rugged terrain found within the park and its trails can best be described as otherworldly.
The Borrego Palm Canyon Loop is a relatively easy and quick hike that takes you through the San Ysidro Mountains, past various types of cacti and desert brush, to an oasis in the middle of the canyon.
This trail is a little more rugged than a standard walk through the desert with parts of the hike that require scrambling over rocks. Towards the end, you'll reach a shady fan palm oasis, and a little further on a seasonal waterfall that usually pops up in the spring.
The Borrego Palm Canyon Loop is a fun day hike from San Diego, or a good intro hike to exploring Anza Borrego State Park if you plan to stay in the area longer.
If you're craving good views, once you get back to the trailhead at Borrego Palm Canyon Campground, you can hop on the short 1-mile Panoramic Overlook Trail that leaves from the same area. This short out-and-back trail will give you a nice scenic view over Borrego Palm Canyon, and it's a great way to end a few hours of hiking in the desert.
Hiking tip: The trail is located in the middle of the desert so it's recommended to only hike it between October and May. Summer temperatures at the park are scorching and not the best to hike in.
Looking out over the Hollywood Sign and the sunset as the lights of Los Angeles twinkle below you – is there anything more Southern California than this?
Brush Canyon Trail, Griffith Park
Miles: 6.5 | Elevation: 1,050 ft | Guide
COVID-19 Update (as of 6/16/2020): Some parts of Griffith Park are still closed but The Brush Canyon Trail is open.
One of the top activities to do in Los Angeles, hiking to the Hollywood Sign via the Brush Canyon Trail is an iconic way to spend an afternoon in LA. There are numerous hikes you can tackle to get up to the Hollywood Sign, but the Brush Canyon Trail is by far the most popular choice.
The trail is a moderate and steady climb of 1,050 ft to the back of the Hollywood Sign on the peak of Mount Lee. Along the way, you'll have sprawling views of Los Angeles behind you and the Hollywood Sign in front of you – it doesn't get much more LA than that!
And once you reach the top of the 1,700-foot mountain, you'll be rewarded with even more views of the Griffith Observatory, Lake Hollywood Reservoir, Dodger Stadium, and the Santa Monica Mountains in the distance – as well as the back of the Hollywood Sign for that perfect Instagram-worthy shot.
Minus the very beginning of the hike, the trail is mostly unshaded and it can get very hot so it's best to hike early in the day or just before sunset.
Hiking tip: If you park at Griffith Park, the gates close right at sunset. This means you'll have to leave before the sun goes down if you don't want to have to call a park employee to let you out. So if you plan to hike up to the Hollywood Sign for sunset, make sure to park outside of Griffith Park to avoid being locked in. This will add an extra half mile onto your hike, but it's worth it if you want to catch a stunning sunset from the Hollywood Sign! Bring a flashlight or headlamp with you for the hike down and wait until it gets dark to see the lights of Los Angeles at night from one of the best vantage points in the city.
Solstice Canyon Trail, Santa Monica Mountains National Recreation Area
COVID-19 Update (as of 6/16/2020): The Solstice Canyon Trail is currently open, as well as parking lots and restrooms. Visitor centers remained closed.
Malibu has a lot of great hikes, but a local favorite is the Solstice Canyon Trail in the Santa Monica Mountains National Recreation Area. This is one of the most beautiful hikes in Southern California that features a lush canyon, some shade (a rarity for Southern California hikes), and a small waterfall.
The trail almost has a tropical feel to it, which is a nice change from the usual dusty hikes in the region!
This trail is relatively flat, and can even be walked in just a pair of comfortable sneakers as opposed to hiking boots. In fact, it's not uncommon to see locals walking the trail in flip flops.
One thing to note is if you're looking for less of an elevation change, you should stick to the counterclockwise direction (head left at the trailhead). This way, you can do an out-and-back hike where you turn around and walk back the way you came once you reach the waterfall. The full loop includes more of an elevation change on the way back if you continue on from the waterfall.
Besides the waterfall (best seen during the spring), the other highlight of the hike are the ruins of Roberts Ranch House. The house was originally designed by Paul Williams in 1952 as a relaxing retreat in the canyon, but it was burned down by wildfires in the 1980s. Today, you can still see the outline of the pool and a few features of the house that are now overgrown with flora.
If you're looking for a full day of hiking, there are various other trails that go through Solstice Canyon that are around 3-4 miles long. These are good to add on if you're looking for a longer day of hiking in Malibu.
Hiking tip: This area is unfortunately a common spot for wildfires. The most recent one to hit the canyon hard with the Woolsey Fire in November 2018. The Solstice Canyon Trail has since reopened and it's mostly back to its beautiful natural state. With that said, it's good to check conditions and wildfire warnings ahead of time if you want to hike here, especially in the summer when wildfires happen more regularly.
View of the cliffs and the ocean in Torres Pines state park, one of the places to go hiking in Southern California.
Yucca Point Trail, Torrey Pines State Reserve
COVID-19 Update (as of 6/16/2020): Torrey Pines State Reserve is currently closed. This post will be updated once that changes.
You can't find a much more scenic hike than the Yucca Point Trail at Torrey Pines State Reserve. This beachside trail takes you on an easy jaunt along the golden cliffs of Torrey Pines and down to the beach for a sandy afternoon near the water.
The reserve is just north of La Jolla in Northern San Diego County, and features 2,000 acres of coastal views, sunshine, and desert flora and fauna. It's also home to one of the rarest trees in the world – the Torrey Pine Tree.
There are a few different trails at Torrey Pines State Reserve, but I especially like hiking the Yucca Point Trail because it's the only one with beach access.
If you're looking for a longer hike, first tackle one of the reserve's loop hikes like The Guy Fleming Trail (0.6 miles) or the Razor Point Trail (1.2 miles) before jumping on the Yucca Point Trail down to the beach.
Hiking Tip: This is one of the most popular hikes in San Diego, so plan to get to the reserve early if you want to avoid the crowds, especially during the summer. All parking at the reserve is paid parking ($12-$15 depending on the season). If you don't want to pay for parking, there's free parking along North Torrey Pines Road near Torrey Pines State Beach, which is about a 10-15 minute walk from the reserve.
Looking to spend more time in San Diego? Check out this San Diego weekend getaway for the ideal itinerary!
Cowles Mountain Hike, Mission Trails Regional Park
Miles: 3 | Elevation Gain: 908 ft | Guide
A popular mountain hike near San Diego, the Cowles Mountain hike is a short but steady climb to the highest point in the city of San Diego at 1,593 feet. Your calves and thighs will definitely be feeling it after this hike, but the views at the top are well worth the workout.
From the summit, you'll be able to see Lake Murray, most of San Diego County, and even Mexico on a clear day.
Similar to many Southern California hikes, the Cowles Mountain hike doesn't have any shade, so make sure to stay hydrated and wear a hat!
Hiking Tip: Because this hike is more inland from the coast, near El Cajon, it gets very hot and dusty in the middle of the day. Plan to hike either in the early morning or right around sunset for slightly cooler temperatures and a more pleasant hike.
Mount Woodson Trail, Poway
One of the most popular things to do near San Diego for locals and tourists alike is hike the Mount Woodson Trail, known more fondly as the Potato Chip Rock Hike. The most well-known feature of this hike is reaching Potato Chip Rock, which, as the name suggests, is a rock that looks like a thin potato chip.
In order to get onto the rock, you have to be okay with making a slightly scary leap. But once you do, you'll be able to take all the Lion King poses or yoga tree poses your heart desires. It goes without saying, but this is by far one of the most popular Instagram spots in San Diego County!
In addition to its most popular feature, the Mount Woodson Trail takes you through chaparral and granite boulders on your way to the tallest peak in the area. At the top, you'll get stunning views looking out over Palomar Mountain, Lake Poway, and the Pacific Ocean in the distance.
Hiking tip: Because of its popularity, this hike is much more strenuous than most people realize. The elevation change is intense right from the beginning and it's pretty much all uphill for the first half of the hike, so be prepared to work your calves! There's very little shade throughout the whole hike and Poway is hot, so always bring a hat, plenty of water, and sunscreen. There are also no restrooms at the trailhead, so use the bathroom before you set out on your hike.
Rock climbers clamboring over the rocks in Joshua Tree national park are a common sight along the Ryan Mountain trail.
Ryan Mountain Trail, Joshua Tree National Park
One of Joshua Tree's most popular hikes, the Ryan Mountain Trail is the perfect balance of good views and a decent workout. The trail is a fairly short and straight-forward out-and-back hike, but the real challenge comes in the steep elevation change of 1,069 feet in a mere 1.5 miles.
At the summit, you'll have a bird's eye view of Joshua Tree from above, including the park's rare rock formations, Joshua Trees, and the ruins of ranches and mines down below.
If you're visiting Joshua Tree for the first time, this can be a good hike to start with to get your bearings in the park. The 360-degree panoramic view of Joshua Tree from the summit gives you a good overview of the landscape and the main highlights the park has to offer.
Similar to other desert hikes in Southern California, it's recommended to only hike up Ryan Mountain between October and May because of soaring temperatures in the summer. The spring is also an especially good time to hike Ryan Mountain due to the abundance of seasonal wildflowers!
Hiking tip: Although the trail may seem short at only three miles, the climb to the top is definitely a workout and a somewhat strenuous hike, especially since it's completely unshaded. Give yourself at a minimum an hour and a half to do the full hike.
The views on Santa Cruz Island are well worth the boat ride and hike it takes to see them! Original photo credit
Smuggler's Cove Trail, Channel Islands National Park
COVID-19 Update (as of 6/16/2020): Channel Islands National Park is currently open and boat transportation is running again, although at limited capacity.
One of the most overlooked national parks in California, the Channel Islands located off the coast of Ventura/Oxnard are an outdoor paradise for the adventurous hiker.
There are five islands that make up the national park, but one of the best for hiking is Santa Cruz Island.
On Santa Cruz Island, there are a total of 15 hiking trails, but the Smuggler's Cove Trail is by far the most popular and scenic hike on the island. To get to Scorpion Anchorage and the start of the hike, you'll need to take an hour-long ferry from Ventura – keep an eye out for bottlenose dolphins!
Psst: Did you know that during the winter, this area is a great place to see migrating whales? Check out our guide to whale watching in California for more tips!
Starting from Scorpion Anchorage and ending at Smuggler's Cove, this 7.7-mile hike takes you past diverse ecosystems and highlights some of the unique nature that makes the Channel Islands such a special place. Along the way, you'll enjoy views of the ocean, rocky cliffs, and Ventura and Santa Barbara in the distance.
Once you get to Smuggler's Cove, you can enjoy a nice picnic lunch on the beach before heading back the way you came.
Although this is the Channel Island's most popular hike, you often won't come across more than a handful of people on the hike (it really is that underrated). So if you're looking for a secluded island hike in Southern California, this is one of the best ones to do.
Hiking tip: Once you off-board your ferry, relax in the shade and fill up on water at Scorpion Ranch before getting on the trail. Once you start the hike, there will be little shade and no water along the route.
El Moro Canyon Loop Trail, Crystal Cove State Park
COVID-19 Update (as of 6/16/2020): Crystal Cove State Park is currently open, including parking lots, the beach, and all hiking trails.
In Laguna Beach, you'll find one of the most beautiful coastal parks in California: Crystal Cove State Park. And one of the best ways to see some of the 24,000 acres of wilderness in the park is by hitting the El Moro Canyon Loop Trail.
This moderate trail takes you from the coast, through El Moro Canyon, and up to Moro Ridge for some of the best coastal views in the area. There are some steep inclines as you make your way to the top, but along the way you'll be treated to a colorful display of wildflowers (in the spring), grassy hills, oak trees, willow trees, and glimpses of the ocean.
Once you're done climbing down from the ridge, head to Crystal Cove State Beach to lay out near the water and enjoy the perfect weather of Orange County. There are tide pools and scenic coves to explore nearby as well.
One thing to note is that Crystal Cove State Park gets very busy in the summer and on weekends. If you're going during peak times, parking can be difficult. Go early in the day or on a weekday to avoid the crowds and to have more solitude on your hike.
Hiking tip: Watch out for rattlesnakes along the hike. They're commonly found in the shrubbery around the trail and even on the trail sometimes, so stay on the path and be mindful as you hike.
The snow-covered peak of Mount Baldy rising above the Los Angeles skyline is a rare sight. One of the most challenging hikes in Southern California is summiting Mount Baldy! Original photo credit
Mt Baldy Hike, Angeles National Forest
COVID-19 Update (as of 6/16/2020): Angeles National Forest is currently open, but campgrounds remain closed as well as some restrooms.
There is a giant, snow-covered mountain peak rising above the Los Angeles skyline. You'd be forgiven if you didn't realize this, as on most days, Mount Baldy is obscured in the city's ever-present smog.
Mount Baldy is the highest point in Los Angeles County at 10,064 feet. Accessing the summit will give you miles of views – from the ocean to the desert – on a clear day. Climbing almost 4,000 feet in elevation over 11 miles isn't an easy feat, but if you're looking for an all-day hike near Los Angeles, it's well worth the journey.
For those who are looking for a serious hike, one of the more difficult hikes in Southern California is hiking Mount Baldy on the Devil's Backbone Trail and the Baldy Bowl Trail.
Hiking Mount Baldy, also known as Mount San Antonio, is a rite of passage for any outdoorsy Los Angeles local and anyone looking for a hiking adventure near the city. Because it's such a popular hike in the Los Angeles area, it's best to leave at sunrise or tackle it on a weekday when there are fewer crowds.
The hike is conveniently located in Angeles National Forest and San Gabriel Mountains National Monument, about an hour outside of Los Angeles proper (and still in Los Angeles county because LA is sprawling, to say the least).
Also, if you're looking for a difficult but manageable mountain hike, Mt Baldy is a good one to start with. In fact, it's a popular training hike for those who want to eventually hike Mount Whitney and other more intense peaks in California and beyond.
There are numerous trails to get up to the summit of Mt Baldy. I recommend starting on the scenic Devil's Backbone Trail from Manker Campground and then coming back down on Baldy Bowl Trail for a nice 11-mile loop.
Hiking tip: Hikers die every winter up on the Mt Baldy trails. If you're not comfortable and experienced with crampons and hiking a mountain in the snow, please only hike this trail in the summer to early fall (June-Oct).
Today's contributing author, Mimi, soaking up the sun in Joshua Tree National Park, surrounded by Cholla Cacti.
Day Hiking Essentials for Southern California
Before you hit the hiking trails in Southern California, there are a few things to be aware of Southern California is hot and sunny, and it's important to be prepared – heat and sunstroke are no joke!
Packing these essentials will help keep you safer, as will paying attention to the weather forecast before your trip. Hiking between October and May is the best time to take advantage of cooler weather as well as enjoy waterfalls, wildflowers and greenery from California's seasonal winter rains!
Hydration Daypack: When you're hiking in the dry desert heat of Southern California, it's worth it to pack extra water for day hikes. Dehydration is a common problem, especially if you're not used to the dry heat of California deserts. Carry a comfortable hydration daypack filled with at least 100oz of water and sip from it frequently!
Hiking Shoes:Having proper footwear when you're climbing over boulders or avoiding cacti needles is key. Make sure you have a solid pair of hiking shoes, like trail runners, or boots will help you on rough terrain and to get more grip on dusty trails.
Hiking Clothes: Although Southern California tends to be mostly hot year-round, parts of the coast can also be cool and breezy – particularly mountain summits. Depending on where you're hiking, it's important to have breathable layers that keep you cool, warm, and comfortable.
Hat / Sunscreen / Sun Shirt / Sunglasses: Southern California weather is gorgeous but it can also be very HOT! Make sure you have the proper gear to protect you from the harsh sun rays, like a hat, sunscreen, and sunglasses, and consider wearing a lightweight, longsleeved white shirt. It's also usually good to avoid hiking during the hottest part of the day – or for some of these trails at the height of summer – to protect yourself from heatstroke, which is a very real thing in Southern California. If you're prone to bad sunburns like me, it's also worthwhile to make sure you have aloe vera or some sort of after sun care handy as well.
Snacks: Regardless if you're hiking for a few hours or a whole day, it's good to bring snacks with you to keep your energy up on the trail. Plus, you never know what might happen. In case you get lost, it's important to have some sustenance to keep you going longer than you originally planned. Look for snacks that are heat-proof and will keep you full and energized, like dried fruit, energy bars, peanut butter pretzels, or beef jerky. Just be sure to pack out all of your trash!
Headlamps / Flashlight: Many of these hikes, especially up to beautiful viewpoints are stunning at sunset. This also means that it's worthwhile to bring a headlamp or flashlight for when you're coming back down the trail. And even if you don't plan on doing a sunset hike, hikes sometimes take longer than expected or you might get slightly lost. A flashlight or headlamp is lightweight and easy to throw in your pack just in case.
Trekking Poles: It's good to have a solid pair of trekking poles for those strenuous inclines and, most importantly, declines if you're tackling one of the many mountain hikes in Southern California.
First Aid Kit:It pays to be prepared! It's SO important to hike with a small first-aid kit just in case you run into trouble on the trail, or you find another hiker who has been injured. This is another thing that's easy to throw in your pack and makes all the difference if you end up needing to use it.
Compass: Just in case you're sometimes directionally-challenged (is that just me?), your phone doesn't have service, or you need some help finding the trail again if you go off track.
Hand Sanitizer / Face Mask: These days, it's more important than ever to sanitize and stay safe on the trails. In California, it's currently required statewide to wear a mask when you're within six feet of another person who's not in your household.
Contributor Bio: Mimi McFadden is a travel blogger, avid hiker, and paneer enthusiast. Originally from California, she has been slow traveling the world and blogging since 2013. After living abroad for five years in Australia, New Zealand, Thailand, Greece, and Portugal she has finally found a home in San Francisco, California. You can find her on Instagram, Facebook, and her blog, The Atlas Heart.
As of July 27: What's open and closed among Southern California beaches, parks, trails
As local and state authorities scramble to limit indoor risks amid rising pandemic infections, Southern Californians are increasingly looking to local parks, beaches and trails for summer exercise and relief.
Most of these public spaces are open, allowing hiking, walking, running, biking, swimming and surfing. But exceptions and restrictions apply, and local leaders have said they will be focusing more on enforcement.
•In Angeles National Forest, the Henninger Flats Trail (via Pinecrest Gate) is open and accessible through the Eaton Canyon Nature Center. (Reservations are required to visit the adjacent Eaton Canyon Natural Area.) The forest's popular Chantry Flat, previously closed on weekends, is now open but limited to 300 cars at a time on Saturdays and Sundays, a spokesman said. It remains open on weekdays.
•In heavily trafficked Griffith Park, where the L.A. Zoo, Griffith Observatory and many other attractions remain closed, rangers have also closed Wisdom Tree Trail and Burbank Peak Trail.
•At L.A. County beaches, you can bring umbrellas and coolers and spend a day hanging out at the beach. Face coverings are required when you are not in the water and when you are around other people. Gatherings, volleyball and other group sports are still banned.
Since July 13, when Gov. Gavin Newsom announced a new round of restrictions, indoor dining is again banned at restaurants. Bars and breweries are restricted to outdoor sit-down service with food. Throughout California, zoos and museums are closed. So are bowling alleys, miniature golf, batting cages and arcades.)
The new order also forced more than two dozen counties, including Los Angeles, San Bernardino, Orange and Riverside, to shutter gyms, houses of worship, hair salons, malls and other businesses. The order remains in effect indefinitely in counties on the state's list of highest infection rates.
Details on coronavirus cases county by county are available on the Los Angeles Times' California coronavirus tracker. The L.A. Times is tracking openings, closures and restrictions at beaches statewide.
The Times is also tracking evolving rules county by county as California's regions regulate restaurants, bars, retailers, hotels and other businesses while the state fights the coronavirus outbreak. (Los Angeles, Riverside, San Diego and Santa Barbara were among the California counties to close their bars in the last days of June after reopenings were followed by a jump in COVID-19 cases.)
How California went from a rapid reopening to a second closing in one month
Two months ago, California looked like a coronavirus success story. Now cases and hospitalizations are up and the state is rolling back its reopening.
Around Los Angeles County
•Golf courses are open (no more than four players per tee time).
•The county trails network is open, with at least 6 feet of distance required; gatherings banned; and face coverings required in parking lots, at trailheads "and on any trails where there are other groups of people nearby."
•County tennis and pickleball courts are open (singles play only).
•Equestrian centers are open (with various restrictions) and BMX bike areas are open (no rentals).
•Archery and shooting ranges, model airplane areas, community gardens, county campgrounds, RV areas, lake swim beaches and day camps are all open, with restrictions.
In the Greater San Gabriel Valley, three popular garden sites are open, but by appointment only to nonmembers. The Huntington Library, Art Museum, and Botanical Gardens in San Marino, Descanso Gardens in La Cañada Flintridge and the L.A. County Arboretum in Arcadia all moved to the reservations-required policy to maintain distancing among visitors.
Get inspired to get away.
Explore California, the West and beyond with the weekly Escapes newsletter.
You may occasionally receive promotional content from the Los Angeles Times.
In other areas, Monrovia Canyon Park is open to visitors who get tickets in advance from 6:30 a.m. to 6 p.m. Mondays through Fridays. The park is closed Saturdays, Sundays and holidays, and access to the Waterfall Trail remains closed. "This trail is narrow and incredibly popular, making it incredibly difficult to ensure safe social distancing," the website says.
Catalina Island businesses are open and the Catalina Express is running boats between Long Beach (or Dana Point) and Avalon, the island Chamber of Commerce said.
Most Los Angeles County trails will remain open, but Eaton Canyon Natural Area in Pasadena requires advance reservations because of overcrowding. County health officials urge hikers to stay home if they feel ill, to wear a mask and pass other hikers with care, to avoid gathering in groups, and to leave no trace. More details and advice are offered on the county trails website.
L.A. County on July 17 opened 14 splash pads (play areas with water) that will be open through Sept. 30, Tuesdays through Saturdays, 10 a.m. to 6 p.m. The openings come with physical distancing requirements, group gatherings forbidden, "face covering required except in the water."
The sites include: Allen Martin Park, Carolyn Rosas Park, City Terrace Park, Calton Park, Los Robles Park, Mayberry Park, Pathfinder Park, Pearblossom Park, Rimgrove Park, San Angelo Park, Stephen Sorenson Park, Sunshine Park, Valleydale Park and Washington Park.
In addition the county Friday opened three swim beaches at Castaic Lake, Frank B. Bonelli Regional Park in San Dimas and Santa Fe Dam Recreational Area in Baldwin Park. They are to be open through Sept. 9., Thursdays through Sundays, 10 a.m. to 5 p.m.
Pasadena's Rose Bowl Aquatic Center is gradually resuming operations at reduced capacity, lockers closed and water fountains disabled.
Long Beach's Belmont Pool reopened June 29 for lap swimming and water exercise, reservations required, showers closed.
Los Angeles city parks and streets
Though city golf courses and tennis courts have reopened and parks are open, city recreation centers, aquatic facilities, skate parks, playgrounds, baseball fields, soccer fields and basketball courts remain closed.
At popular Runyon Canyon Park, the city website reported that the park was open dawn to dusk with "limited trail access."
In Los Angeles neighborhoods from West L.A. to Eagle Rock, scores of streets have been barricaded to reduce auto traffic as part of the city's growing "Slow Streets" program.
The idea, city officials have written, is for local residents (not visitors from across town) "to gain access to more space for recreation activities in their neighborhoods, while protecting Angelenos from overcrowding on sidewalks and promoting social distancing." Residents can apply for "slow street" status and see a map on a city Transportation Department website.
Don't want to wear a mask on the plane? Too bad. Airlines now will require it
All major U.S. carriers will require masks during the COVID-19 pandemic, Airlines for America, an industry trade group, announced Monday.
Piers at Venice and Cabrillo beaches are closed, even for fishing. Also, the Venice Boardwalk is open to people who grab a bite to eat or shop at a store, not to recreational walkers, cyclists or runners. Also, the Cabrillo Marine Aquarium in San Pedro remains closed, as is the Sherman Oaks Castle, and the Expo Center in Exposition Park.
Inland Empire
San Bernardino County has reopened its county parks, lakes, rivers and recreation areas.
Riverside County leaders have allowed golf courses to reopen, with restrictions. Hiking, bike- and horseback-riding on trails and in parks are also permitted under the county's health order.
California state parks
State officials continue to urge Californians to stay close to home, but the parks system has been gradually reopening. Of roughly 280 parks statewide, 193 have at least partially opened their parking lots.
Now just 16 state park sites remain closed, including Los Encinos, Pio Pico and Watts Towers state historic parks in L.A. County.
Campgrounds are at least partially open at 85 state parks, but many are booked solid for many weeks ahead. Visitors are advised to visit the COVID-19 resource page to check which destinations and parking areas are open.
Get The Wild newsletter.
The essential weekly guide to enjoying the outdoors in Southern California. Insider tips on the best of our beaches, trails, parks, deserts, forests and mountains.
You may occasionally receive promotional content from the Los Angeles Times.
Santa Monica Mountains
The Santa Monica Mountains National Recreation Area, which straddles Los Angeles and Ventura counties, has reopened most of its trails, parking lots, overlooks and restrooms. Its two visitor centers remain closed, however. Like other agencies, the National Park Service urges hikers to wear face coverings and keep their distance from others.
Also, the Mountains Recreation and Conservation Authority has reopened most of its parks, trails, parking lots and restrooms. The authority manages more than 75,000 acres of open space, much of it owned by the Santa Monica Mountains Conservancy.
National forests in Southern California
Most trails and natural areas are open in Southern California's national forests. Some areas are closed because of overcrowding during the pandemic.
In the Angeles National Forest north of L.A., besides adjustments at Chantry Flat, Roberts Camp above Sierra Madre remains closed on weekends. Picnic areas are open. So are the popular first-come, first-served campgrounds at Sycamore, South Fork and Big Rock. Many other campgrounds and visitor centers are still closed.
In the San Bernardino National Forest, trails, trailheads, picnic areas and campgrounds are open. However, popular swimming holes, including Aztec Falls at Deep Creek, are temporarily closed in the Lake Arrowhead area. The closure also includes Hook Creek Road.
In the Los Padres National Forest, trails and campgrounds are open, except the Santa Paula Canyon and the Last Chance Trail in the Ojai District is closed. For information on different areas, go to the forest's website for updates about the Monterey, Santa Lucia, Santa Barbara, Ojai and Mt. Pinos areas.
In the Cleveland National Forest, trails are open, but check the website for the status of campgrounds.
National parks in California
All of California's 11 national parks and recreation areas are now open. The most recent reopenings include several campgrounds in Death Valley, and Muir Woods in the Golden Gate National Recreation Area.
Recent closures include two campgrounds in Joshua Tree National Park — not because of COVID-19 but because of aggressive bees seeking water in the summer heat. See a park-by-park list of closures.
Get our L.A. Goes Out newsletter, with the week's best events, to help you explore and experience our city.
You may occasionally receive promotional content from the Los Angeles Times.
Born and raised in California, Christopher Reynolds has written about travel, the outdoors, arts and culture for the Los Angeles Times since 1990.
Mary Forgione launched and wrote The Wild, a weekly newsletter featuring insider tips on the best of Southern California beaches, trails, parks, deserts, forests and mountains.
Source https://www.thebrokebackpacker.com/best-hikes-in-california-usa/
Source https://practicalwanderlust.com/best-hikes-in-southern-california/
Source https://www.latimes.com/travel/story/2020-07-24/beach-parks-closures-southern-california