Are Keen Hiking Boots Any Good? (Explained)
There are so many footwear companies and brands that sell great hiking boots. But you might be trying to find something newer and better. Lucky for you, in this article, we will talk about Keen, a relatively new footwear company – and their hiking boots.
We will discuss the quality of their hiking boots and figure out if they are a reliable brand or not. Continue reading to find out what Keen is all about.
Table of Contents
A Brief History Of Keen Hiking Boots
Keen is a relatively new footwear company that was founded and established in 2003. Their first launch, which consisted of their exclusive line of sandals for adventure water shoes, was declared Launch of the Year by Footwear News. The range was titled 'Newport' and offered toe protection, despite being a line of sandals.
Keen was focused on making a difference in the footwear industry and the world. When they had started, Keen donated their $1 million advertising budget to victims of a tsunami in the Indian Ocean and various other causes.
Ever since their establishment, they have exponentially grown not only for their efforts towards helping people but also for the high-quality footwear standards they maintain. Thus, their hiking boots are known for the comfort and good value they offer.
Are Keen Hiking Boots Good For Hiking?
Keen hiking boots are known for the cushioning in their shoes, giving them some of the best ratings for comfort among hikers. They use fine-quality cushioning materials, and the wide toe boxes give your toes plenty of wiggle room. The signature toe boxes are also solid enough to protect your toes, accommodate swelling during long hiking trips and allow your toes to spread in the boots naturally.
Their hiking boots provide plenty of support for the ankle and arch of your foot as well. If you are interested, you can also check out their hiking sandals. Whether you choose boots or sandals, their footwear will be great for your hiking trips. You can also wear them for your daily commute.
As for their value, it keeps increasing with time as of late, but you will appreciate the quality offered at the $100-$150 price ranges.
How Durable Are Keen Hiking Boots?
Keen hiking boots are pretty heavy, and according to customer reviews, the durability is just fine. They can last you a few years, at least with moderate use on slightly rough terrains. However, if you often hike on rough terrains or are a serious hiker, you might find them wearing down quicker than some of their competitors.
However, the durability of these boots will depend on which ones you buy and how you use them. If you take good care of them and get a few repairs along the way, you will be able to enjoy them for a good while. The best boots they produce can last for 400-450 miles which is pretty good mileage.
Where Are Keen Hiking Boots Manufactured?
Keen assembles their hiking boots in Portland, Oregon. However, they source their materials from various countries worldwide. Many of their boots are built in one of their factories in Portland, Mexico or Thailand.
It is one of the only footwear companies that own its factories, which means they directly oversee manufacturing. They maintain quality control of all their products and quickly provide footwear in crises.
They also partner with factories in China, Cambodia, Vietnam, Europe, and India.
Are Keen Hiking Boots Waterproof?
Their hiking boots are made with waterproof nubuck leather uppers, removable EVA footbed, compression-molded EVA midsole and a breathable mesh lining. The boots remain waterproof while allowing your feet to breathe and vaporize sweat. The rubber outsole on the bots provides lots of traction, and the shaft is high enough to support the ankles.
Their waterproof hiking boots feature the Keen Dry waterproof membrane. It allows moisture within the shoe to escape without letting outside moisture in the shoe. You can walk in their boots over wet trails or during rainy days without dealing with wet socks and feet.
Are Keen Hiking Boots Vegan?
Unfortunately, Keen's hiking boots are not vegan. They do not use fur, down or silk, but they still cannot guarantee vegan-friendly products. Usually, if the boot is not made of non-vegan materials, their glue might be non-vegan.
How Is The Warranty For Keen Hiking Boots?
Keen offers a one-year limited warranty for defects or damages on original, unmodified and unaltered hiking boots. If the defects and damages are due to craft or materials from the manufacturer or retailer, you can return and refund your boots within 30 days of purchasing.
It does not apply to boots with regular wear and tear, mishandling, misuse, accidental, negligence or natural material breakdown damages. The return policy is only valid for 30 days and is applicable with proof of purchase at an authorized retailer.
What Brand Produces Similar Hiking Boots To Keen Hiking Boots?
There is some head-on competition for Keen on the market. If you want a similar brand that provides quality shoes for more or less the same price ranges, you can look at Salomon or Hoka One One.
Salomon has been in the footwear industry since 1947, when it started as a family ski shop in France. As time went on, they were the first to provide various innovative designs, including the first self-releasing heel piece. Their hiking boots are waterproof, durable, and comfortable, but they might cost a little more than Keen.
As for Hoka One, One used to be a brand dedicated to running footwear but is now a go-to for hikers. Their hiking boots will cost less and provide just about the same fine quality, comfort, durability, and waterproof features.
Final Thoughts
To conclude, it is clear that Keen is a reliable and high-quality brand. Their hiking boots come at a reasonable price and are great in value. We think you would enjoy their hiking boots if you are a casual hiker or don't often go on wild hiking adventures.
They can also be great for everyday wear and come in various designs. We hope you found this article useful and can now pick the right hiking boots for yourself!

report this ad
This post may contain affiliate links. If you click an affiliate link and make a purchase, I may earn a commission. Also, as an Amazon Associate I earn from qualifying purchases. report this ad report this ad

report this ad
The Best Boots For Snowshoeing (Updated for 2022)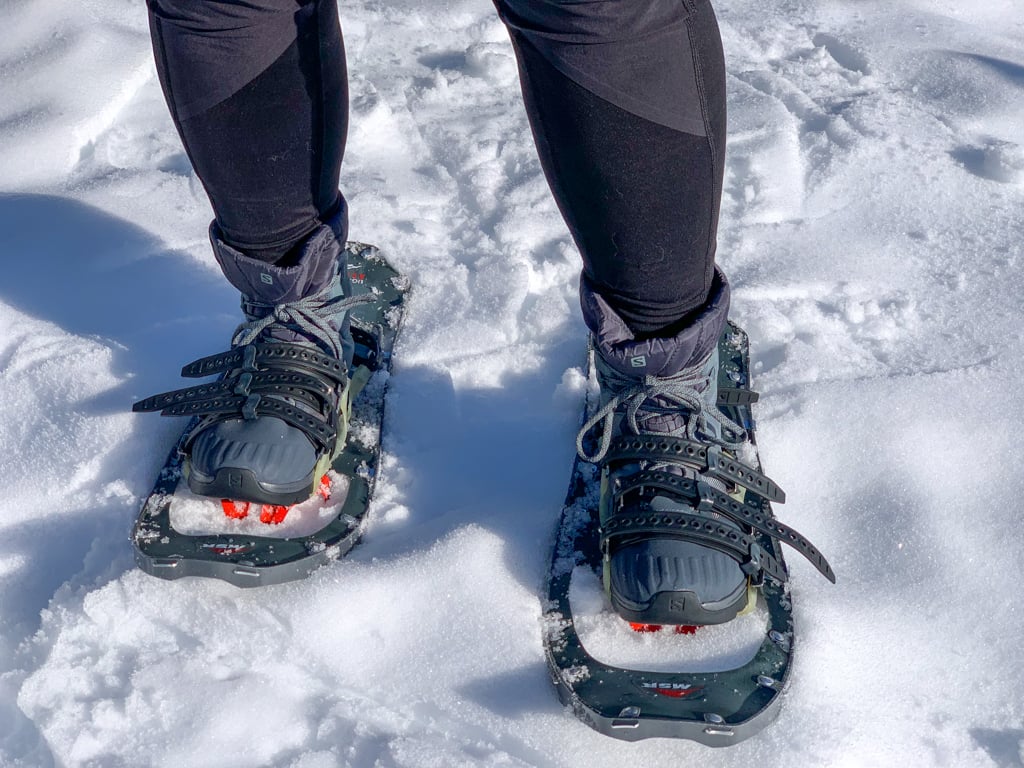 Snowshoeing is a fun and easy winter sport. All you need to get started are some snowshoes and some warm clothing. But one of the questions I get asked all the time is: What are the best boots for snowshoeing? What type of boots should you buy? Which features should snowshoeing boots have? What brands are good?
I've put together a complete guide to choosing the best boots for snowshoeing for you. It has everything you need to know to buy your first pair of snowshoeing boots. Here's what you'll learn:
What type of boots are best for snowshoeing?Should you snowshoe in traditional winter boots, summer hiking boots, or insulated hiking boots?
My recommendations for snowshoeing boots: I've got picks for boots that are lightweight, extra warm, budget-priced, for wide feet, and more.
Which features to look for in snowshoeing boots:How important are waterproofing, insulation, support, and fit?
Which snowshoeing boot accessories will help keep you warm and dry? Learn about gaiters, warm socks, thermal insoles, heated socks, and heated insoles.
Hey there: Some of the links in this post are affiliate links, which means I earn a small commission at no cost to you. Thanks for your support. -Taryn
Table of Contents
Why You Should Trust My Advice
I've been snowshoeing most of my life. My dad used to take us out on borrowed snowshoes once a year or so. About 20 years ago, I got my first pair of snowshoes. I've been going snowshoeing every winter since then.
I also used to work in the outdoor industry. In my twenties, I spent three years working in an outdoor store helping people choose boots.
Later, I spent six years writing marketing materials for a large outdoor retailer. I wrote product descriptions, gear guides, and staff training materials for tons of different products. And one of my areas of expertise was snowshoeing.
So I know A LOT about snowshoeing and which features are actually important when choosing the best boots to wear with snowshoes.
What Type of Boots Do You Need for Snowshoeing?
There are a few types of boots you can wear for snowshoeing: classic winter boots, hiking boots, and insulated hiking boots. Here's the lowdown on each of them. (Spoiler: I REALLY don't recommend one of these types of snowshoeing boots.)
Old-Fashioned Winter Boots
Have you ever tried snowshoeing in big and soft old-fashioned winter boots? (Think Pac boots like ones you get from Sorel, Baffin, LL Bean, etc.) They are nice and warm and fit a lot of people, but they offer no support – the whole foot, ankle, and upper is floppy and your foot slides around inside.
On one of the first overnight snowshoeing trips I did years ago, I wore a pair of Baffin winter boots. They were super warm, but I got blisters from my foot sliding around and wrenched my ankle badly a few times since they offered no support. I haven't worn them snowshoeing since. (But I have worn them for winter car camping and around the city – they're great for that!)
If you already own old-fashioned winter boots you can use them for snowshoeing if you stick to flat trails and don't have ankle issues. However, for the reasons mentioned above, I really don't recommend winter boots for snowshoeing. Read on to learn about better snowshoeing boot options.
Traditional winter boots aren't great for snowshoeing.
Hiking Boots
If you already own hiking boots, great – you don't need to buy anything new! As long as they are waterproof, your summer hiking boots will work for snowshoeing. I've worn summer hiking boots snowshoeing dozens of times.
If you find your feet are getting cold, warmer socks, heated socks, or special winter insoles can help. (See the accessories section of this post for details on those.)
Hiking boots plus warm socks are often all you will need if it's not that cold out or you tend to run hot.
Summer hiking boots can work for snowshoeing.
Insulated Winter Hiking Boots
I used my summer hiking boots for snowshoeing for years. Eventually, I found that my feet were always a little bit cold, so I switched to a pair of insulated winter hiking boots.
Gear companies often make winter versions of their popular hiking boots simply by adding a little bit of synthetic insulation. If you snowshoe a lot, I suggest getting a pair of insulated winter hiking boots.
I never thought I needed them, but now that I have warm snowshoeing boots, my trips are a little bit more pleasant. No more cold toes! I'm definitely a believer: Insulated winter hiking boots are the best boots for snowshoeing.
The best boots for snowshoeing are insulated hiking boots
Best Boots for Snowshoeing
If you're looking to buy snowshoeing boots, I've got a bunch of recommendations in this section for you. These recommendations are based on my personal experience snowshoeing, my years of work in the outdoor industry, and recommendations from my newsletter readers and members of my Facebook group Snowshoeing in Vancouver. (If you live in Vancouver, apply to join us!)
Just a heads up that all the boots on this list are insulated hiking boots designed for snowshoeing and winter hiking. You won't find any regular hiking boots on this list because you probably already own some.
But… if you're looking for ways to turn your regular hiking boots into snowshoeing boots, scroll down to the snowshoe boot accessories section at the bottom for some tips.
Columbia Bugaboot Celcius Plus OmniHeat: Best All-Around Snowshoeing Boots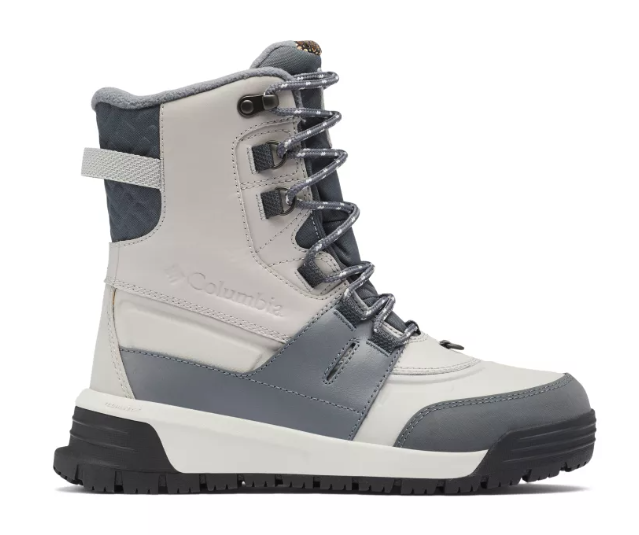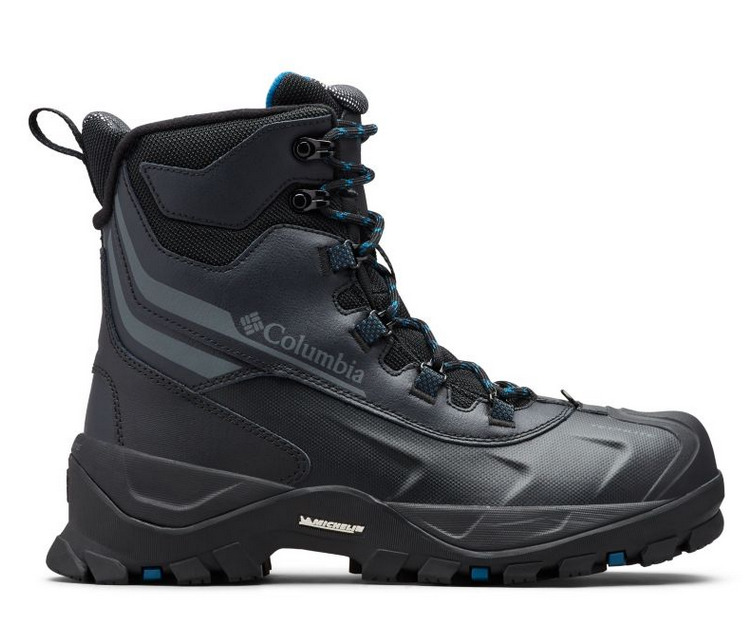 Columbia's Bugaboot series has been around for years – they were one of the most popular winter boots I helped people buy back in my boot fitter days. They're reasonably priced boots that aren't the highest tech or the lowest weight but are still well made and work great for snowshoeing.
The waterproof uppers are fully seam-sealed to keep moisture out. They have cozy warm synthetic insulation and they use Columbia's OmniHeat reflective technology to keep the heat your body generates in. I have a different pair of Columbia winter boots for city use that have OmniHeat and it's shocking how much extra warmth it adds.
The soles and construction of these boots are pretty burly, which means they are a bit heavy and bulky. But for the price and the warmth, the Bugaboots are great all-around winter boots to wear with snowshoes.
Waterproofing Keen Hiking Boots (A Step By Step Guide)
Most hikers and backpackers know that you need to waterproof your boots before heading out into the wilderness. Even if you don't plan on getting them wet, it's a brilliant idea because they can still get drenched from puddles or rain.
If you have a pair of Keen hiking boots, you may be wondering how you can waterproof them without ruining their breathability and insulation.
Here's a simple guide on how to build protection and waterproof your Keen hiking boots!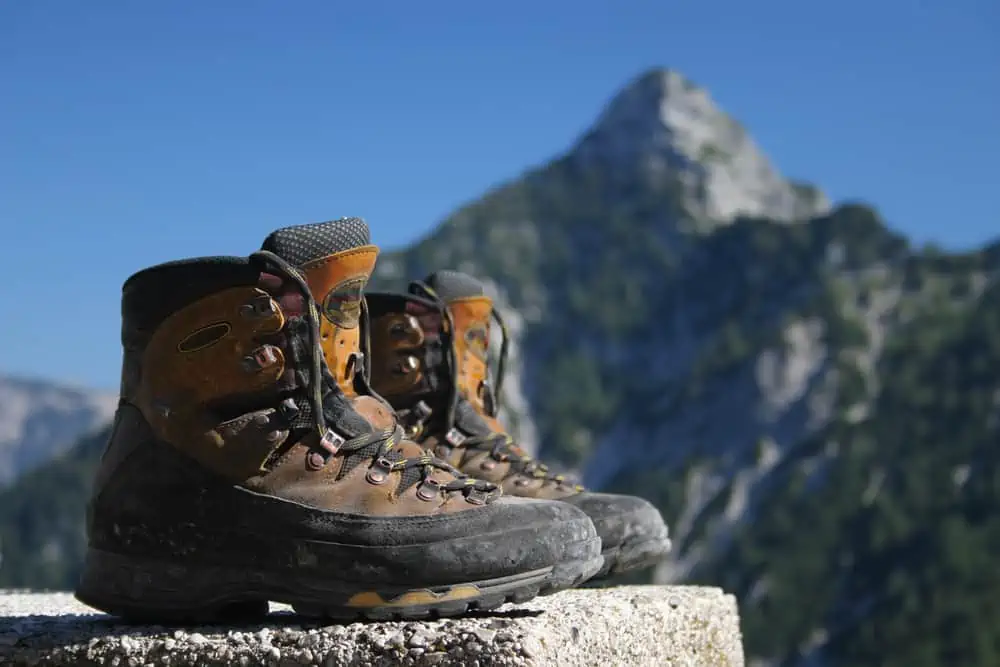 Waterproofing Your Keen Hiking Boots
There are four main steps that need to be followed to help make your Keen boots waterproof.
Choosing an appropriate waterproofing treatment
Cleaning your Keens
Drying your Keen boots
Applying the treatment
Decide on a Resistant Treatment
Choosing an appropriate waterproofing treatment is the first step to take. First, you need to know if your hikers are made from leather or synthetic materials.
Here's a list of waterproofing treatments that work well for Keen hiking boots:
Nikwax Waterproofing Wax for Leather
SnoSeal Liquid Beeswax Boot and Shoe Treatment with Lanolin and Coconut Oil (for all types)
Seam Grip (for synthetic hikers)
Choose a waterproofing agent according to your keens' material. These treatments are either full-grain leather or rough leather.
Fully Clean Your Keen Boots
Make sure to use a mild soap and water or leather cleaning solution for these hikers. You can also use a stiff brush to remove any dirt that might be lodged into the creases of your boots before you start applying anything onto them.
Surprisingly enough, dish soap is one of the best cleaners for hikers because it works as an emulsifier and degreaser. You can create a cleaning solution by creating a mixture of water and dish soap in equal parts; this will help clean dirt off without stripping too much oil away from the material.
If you don't want to make your mix, there are several commercial cleaners available for hikers.
Allow the Boots to Dry
Make sure the boots are completely dry before moving on to the next steps! Drying hikers will help prevent too much moisture from getting trapped once treated with one of the options above.
While some hikers are made out of synthetics that allow airflow through its mesh lining, others aren't so lucky and may take longer than average to dry after being soaked wet by water.
Apply the Waterproofing Treatment
Apply some water onto the surface of your boots with either a spray bottle or cloth. You can then apply one layer of wax onto each foot (or boot) and wait around five minutes before adding another coat on top once it is dried slightly.
After this has been done, you should also add two coats all over both boots which will help create an even protective barrier sealing out moisture from getting in throughout your hike or backpacking trip.
Lastly, make sure to waterproof both sides of your boots to fully make them water-resistant. Any water that gets into the material from outside will have difficulty seeping through because you've added two layers of wax onto each area.
This will help prevent moisture from getting trapped inside, leading to bacteria growth or uncomfortable dampness against your skin while hiking/backpacking for long periods.
This method should be enough protection for most hikers as long as they aren't exposed directly under running water or soaked in puddles throughout their hike – those hikers would need more treatment than just adding one coat on top!
By following these steps, hikers can easily ensure that their Keen boots stay dry during even the wettest hikes by using this waterproofing process.
How Often Should You Apply Treatment
Waterproofing spray should be applied to Keen water-resistant boots once every two to three months. If you have newer boots you should avoid adding any other waterproof treatments until the original protection starts to wear down.
If your Keen boots came with the Keen Dry Membrane, any waterproofing treatment should be avoided as it can decrease the breathability in your boots.
Tips For Keeping Your Keen Boots Dry
Line The Inside With Plastic Bags
Lining the inside and outside with plastic bags or garbage bags before putting them in storage for long periods if they're not frequently worn out in wet conditions (i.e., winter boots).
This is one trick we recommend for hikers who live near snow year-round – be careful when taking off the liner because it can get complicated once things warm up again!
You may want to note that there are also outdoor sprays available that hikers can use to waterproof their boots – these sprays are more convenient than waxes and cleaners.
Seal The Seams With Seam Grip (for synthetic hikers)
If you're worried about water getting in through your laces, we recommend using a small piece of plastic cut from an old bag or garbage bag to cover each lace hole before putting it on your booties!
This will help keep away all moisture and dirt while hiking or backpacking to avoid getting stuck inside against your skin. Lastly, make sure not to wear cotton socks because they'll absorb wetness which could cause discomfort throughout the day when wearing hikers out in the wild like this!
Cotton is also not recommended for hikers to wear while backpacking because it'll take too long to dry out.
Source https://theoutdoorfanatic.com/are-keen-hiking-boots-any-good/
Source https://happiestoutdoors.ca/best-boots-for-snowshoeing/
Source https://hikingsoul.com/waterproofing-keen-hiking-boots/