Hiking in Banff and Lake Louise
The hiking in Banff and Lake Louise is among the most scenic and inspiring in the world. Ranging from walks and easy hikes to multi-day backcountry epics, hiking is an accessible way to immerse yourself in the spectacular landscape of Banff National Park.
Wander along the shore of glittering blue-green lakes, trek up a mountain pass, hike across a frozen lake, and be amazed by the glowing larches in the fall. With a little effort and a dose of adventurous spirit, hiking in Banff and Lake Louise is your chance to step outside of your norm and into a truly magical world.
Related Links
Hikes to Lakes and Waterfalls
There's nothing quite like an afternoon spent sitting quietly at the edge of an alpine lake, surrounded by soaring peaks and fresh mountain air.
The stunning turquoise lakes of Banff National Park have been drawing visitors from all over the world for more than one hundred years, so dip your toes into the icy water, take a look around, and soak in the silence. You'll feel like you've been frozen in time. Here are a few of our favourite local lakes and waterfalls to start your adventure.
Hikes to Lakes:
Rockbound Lake– Located just off the Bow Valley Parkway at Castle Junction, Rockbound Lake is a classic example of a high-alpine lake. Surrounded by stunning cliffs, the scenery is worth the moderate 16.8 km (return) hike.
Taylor Lake – A great place to check out the famous fall larch trees, Taylor Lake is also home to a few cozy backcountry campsites. 12.6 km return.
Lake Minnewanka – The Minnewanka Lake shoreline is perfect for everyone. Backpackers will enjoy several campsites along the shore (starting at 8 km, one way), while day hikers can continue as far as their legs will take them before returning to the picturesque picnic area.
Helen Lake – Well known among local hikers as a "must-do" hike during wildflower season, Helen Lake is an amazing choice for a day hike. Travel 12 km (return) and enjoy stunning views of endless alpine meadows.
Cephren Lake – Departing from Waterfowl Lakes Campground on the Icefields Parkway, the quiet 7 km return hike to Cephren Lake is the perfect way to start your day. As a bonus, you can also include Cirque Lake with a short detour on your way back.
Hikes to Waterfalls:
Bow Glacier Falls – Starting at stunning Bow Lake on the Icefields Parkway, travel 4.6 km (one-way) to the roaring falls and witness the stunning origins of the Bow River.
Silverton Falls – On your way to Rockbound Lake, take a short detour up to Silverton Falls – a classic Banff hidden gem.
Johnston Canyon – If you're after waterfalls, this is the place to go. The iconic catwalks of Johnston Canyon offer amazing access to several thundering waterfalls. A 1.1 km forest walk will bring you to the lower falls, but it is always worth continuing an additional 1.6 km to the upper falls.
Bow Falls – Located in the heart of downtown Banff, Bow Falls has been a classic stop for visitors since it was featured in Marilyn Monroe's 1954 film, River Of No Return. Start in downtown Banff and stroll along the Bow River until you reach the beautiful waterfall. A great walk for all abilities.
Looking for more hiking inspiration? Check out 9 Bucket List Hikes in Banff National Park.
GUIDED HIKING AND HELI-HIKING
One of the best ways to experience the mountains and the incredible hiking trails of Banff National Park is with the help of a friendly, knowledgeable, local guide.
Joining a guided hike will not only give you access to incredible trails and scenery, but it will give you a much deeper appreciation of your surroundings. Want to know why the water is turquoise? They'll tell you. Is that a goat or a sheep? They'll have the answer.
BOOK AN INTERPRETIVE OR GUIDED HIKE
A variety of companies offer interpretive and educational hikes in Banff and Lake Louise, including:
Book a Heli-Hiking Experience
Another great option for guided hikes involves the addition of a helicopter! Heli-hiking offers you the chance to reach the wildest and highest locations in comfort. An exhilarating helicopter flight will sweep you over some of the most stunning mountain scenery in the world, and then you'll be dropped off in the alpine, far from any other hikers or signs of civilization, to trek through the wilderness.
Book a heli-hiking trip with Canadian Mountain Holidays (CMH) for multi-day trips through the breathtaking backcountry, including access to remote lodges and via ferrata; Rockies Heli Tours Canada offer both summer and winter heli-hiking adventures in the Canadian Rockies; White Mountain Adventures and Alpine Helicopters offer heli-hiking day trips including guided hiking; Canadian Rockies Alpine Hiking can create bespoke multi-day adventures for small groups.
For more inspiration, check out our Beginner's Guide To Heli-Hiking.
Easy Hikes and Walks
Whether you're new to the trails, looking for a family friendly hike or simply looking to get out and enjoy the views, there are plenty of options for you to choose from.
Banff and Lake Louise offer a number of hikes and walks for all ability levels. Here are a few incredible, year-round trails to get your adventure started.
Lake Minnewanka– While ambitious backpackers can use Lake Minnewanka for several days of hiking, the first few kilometres of the trail are perfect for a family day hike. Wander around the lakeshore and then enjoy a picturesque mountain picnic in one of the several shelters available. Take Roam transit for the most convenient experience.
Johnston Canyon – Children will love the thundering falls of Johnston Canyon. The paved trail to the lower falls (1.1 km one way) will make the perfect first mountain adventure. For the best experience, visit before 8 a.m. or after 6 p.m. Take Roam transit for the most convenient experience.
Johnson Lake – Take the family for a 3 km jaunt around Johnson Lake and enjoy stunning views of Cascade Mountain and Mt. Rundle. Local tip: Johnson Lake is a great place to swim on a hot summer day. Take Roam transit for the most convenient experience.
Lake Louise Lakeshore – A classic 2 km stroll in the heart of the Canadian Rockies. For the best experience, visit before 8 a.m. or after 6 p.m. Take the Parks Canada shuttle or Roam bus for the most convenient experience.
Hoodoo Lookout – On your way down Tunnel Mountain Road, don't miss the HooDoo lookout viewpoint. Here you'll get the best view of Banff's geological wonders while enjoying a short, mostly paved interpretive trail. – An easy 2.8km loop trail that features wetlands and river views.
Fenlands Loop – Discover stunning old-growth forest just steps away from Banff Ave on this gentle 2.1 km trail. This is a great spot to watch for birds and wildlife along the river.
Bow River to Bow Falls – Walk through the Town of Banff along the Bow River. Most of this 2 km path is well-graded, making this a great accessible option for an afternoon stroll.
Tea House Hikes
Perched by the lake and amongst the peaks surrounding Lake Louise you'll find historic Tea Houses perfectly positioned for your well-earned rest.
With breathtaking views and delicious food and refreshments, hiking to a cosy backcountry tea house is a must-do experience for your visit to Lake Louise.
Starting at the Fairmont Chateau Lake Louise, the trail to the Lake Agnes Tea House is a moderate 3.4 km climb up switchbacks. Along the way, you'll pass numerous viewpoints and the stunning Mirror Lake. Once you arrive at Lake Agnes, you'll be well positioned to enjoy a snack and then head off on another adventure, including side-trips to the Big Beehive and Little Beehive.
For those looking to continue their tour of tea houses in the Lake Louise area, continue on a 4km moderate hike up to the Plain of Six Glaciers Tea House where you'll be rewarded with dramatic views of the glacial valley and the vastness of the area, and have more opportunity to spot wildlife. Relax and enjoy a well-deserved hot cup of tea with a delicious selection of homemade treats, before your return journey either via Lake Louise or via Lake Agnes.
12 of the Best Hikes in Banff National Park (for 2022)
It shouldn't come as a surprise that ALL of the hikes in Banff are breathtaking! Even a walk through downtown Banff will wow you – especially if it's your first time visiting. There is a very good reason why hiking is one of the best things to do in Banff National Park.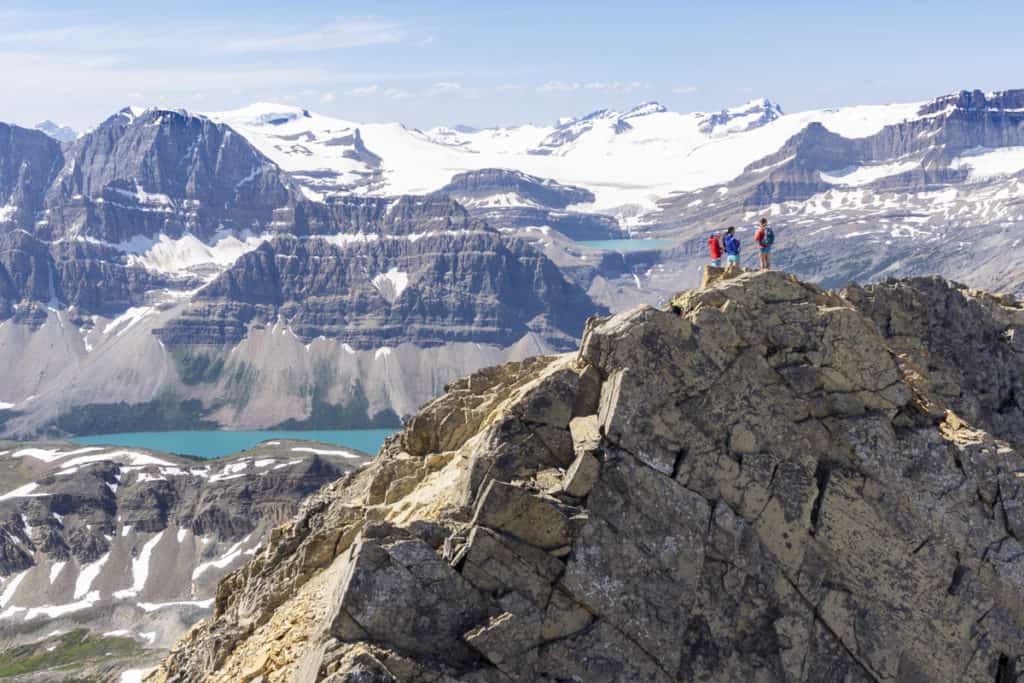 If all you want is a great hike, you can close down your browser, throw a dart at a map of Banff National Park, and be confident there's an incredible hike wherever the tip touches.
However, if you want to find the cream of the crop – the absolute best hikes in Banff that will suit your skill level –keep on reading because we've got a list of hikes that are guaranteed not only to impress, but to match your skill level too.
Know Before You Go
Be Prepared for Weather Conditions
Weather can change drastically and quickly in Banff National Park. Before you go be sure to check the weather forecast and prepare accordingly. Make sure to pack for all sorts of weather (from sun to snow) and bring sunblock, sunglasses, bear spray and a hat. Finally be sure to let people know where you are planning to go in case an emergency happens. The more prepared you are the better.
Stay Bear Safe
Before we go any further, it's important to mention all these hikes in Banff are located in bear country. Though bear spray isn't required to bring (although it is recommended) on the more heavily trafficked trails, you should always be bear aware. That means: make noise while you're hiking (sing, talk, etc.), don't throw out food along the trails (apple cores, crumbs, etc.), and if you do see a bear, stay calm and keep moving on. Don't try to get closer to it, and remember to tell others nearby about your bear sighting.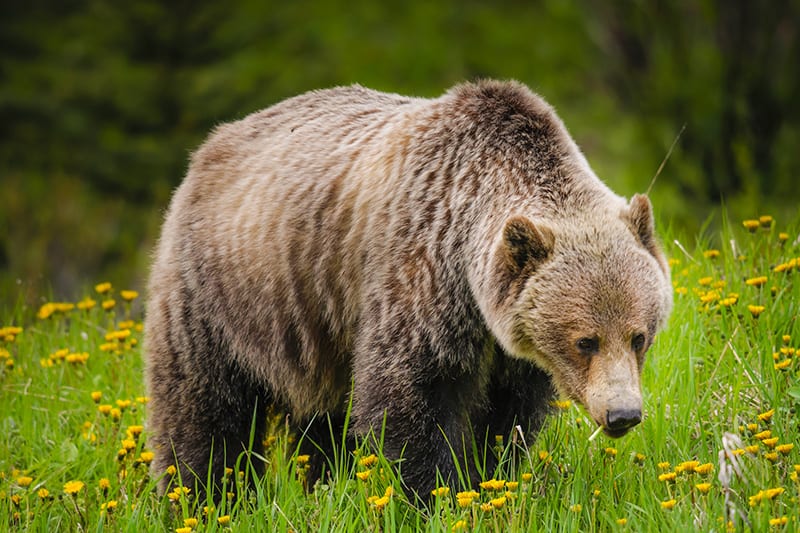 Easy Hikes in Banff National Park
Not everyone likes hiking for days to attain a summit, but in Banff that's (literally) no sweat! There are a variety of hikes accessible to everyone that have amazing views, beautiful forests, and enough scenery to fill up your Instagram feed, along with your heart.
Moraine Lake Rockpile
Moraine Lake is absolutely gorgeous, which is why it's one of the most trafficked hikes in Banff. During high times, that means the parking lot is full, and the road in is closed. Unless you want to pay to catch a bus from the Chateau Lake Louise, we recommend getting there really early – like sunrise early. Otherwise, you risk being turned back at the gate.
Once you're in and parked, there's nothing but a short walk to the Instagram-famous Moraine Lake rockpile. If you find yourself wanting more, you can head back to the parking lot and hike around the lake!
Difficulty: Easy
Hiking time: 25 minutes round trip (if you don't get caught up taking pictures for a few hours)
Elevation gain: 30 m
Distance: 0.8 km return
Trailhead: The trailhead leaves right from the Moraine Lake Parking Lot.
What to Bring: A sturdy pair of runners will do fine for this hike, as well as some water or a thermos-full of coffee.
Seasonality: Open year-round, but in winter there is no car access to Moraine Lake, so be prepared to hike or cross-country ski.
Lake Agnes and Little Beehive
Want to sit down to tea and crumpets (or soup and biscuits) at the top of your hike? Crazy as it sounds, Banff has you covered! The Lake Agnes hike features a series of switchbacks that lead to a beautiful waterfall, and beyond that, the Lake Agnes Tea House, nestled along the shores of the brilliant blue, glacier-fed Lake Agnes.
Stop for tea and photos (especially if you're there during the fall when the larch trees turn a bright and brilliant yellow) then continue up Little Beehive (the trail goes up behind the tea house – just ask one of the waitstaff at the tea house if you're unsure where to go) where you can watch canoes skitter across the surface of Lake Louise like water bugs.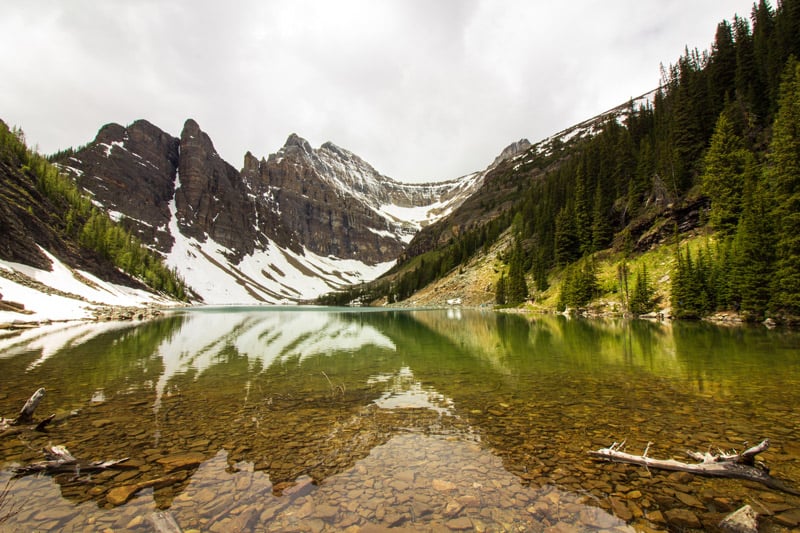 *This trail also offers a moderate option if you choose to take the Big Beehive trail to the right of Lake Agnes from the tea house.
Difficulty: Easy to Moderate
Hiking time: 2.5 to 3 hours round trip
Elevation gain: 385m
Distance: Lake Agnes: 7 km round trip; Little Beehive: an extra 2 km round trip; Big Beehive: an extra 10.5 km round trip.
Trailhead: The trailhead leaves right from Lake Louise Chateau. Head out to the right of the lake from the Chateau and follow the signs to Lake Agnes Trail. Keep an eye, as a wrong turn will send you halfway out to the Plain of Six Glaciers instead (ask us how we know).
What to Bring: A sturdy pair of runners will do fine for this hike, along with some layers to make sure you're cool enough, but also warm enough hanging out at the tea house. Bring water, lunch and snacks, but beware the chipmunks and birds waiting to steal your food (sigh… again, ask us how we know). Also, if you do plan to have some tea, make sure to bring cash as the tea house doesn't take credit cards. As you might guess, it's a little pricey since all goods and supplies are hiked in each morning by the tea house staff. Plan on bringing about $25 – $30 CAD per person, to be on the safe side.
Seasonality: The tea house is open June through October, but the trail is open year-round.
Johnston Canyon and Ink Pots
Featuring bridges, forests, waterfalls, and the famous Ink Pots – the only thing that matches the beauty of the Johnston Canyon hike are the crowds that flock to see it. The trail winds through Johnston Canyon to two different sets of falls: the lower and upper falls. But, for those who are a little more adventurous than the average tourist, the trail also proceeds to the Ink Pots, which are small, naturally occurring, light blue mineral springs.
Whether you choose to end your trek at the upper falls, or go beyond to the Ink Pots, the relaxed pace and accessibility make Johnston Canyon a great choice for an easy hike. (It also happens to be on our list of the best Alberta hikes.)
Difficulty: Easy to moderate
Hiking time: Upper Falls – 1.5 hours return. Ink Pots – 3 – 4 hours return
Distance: 12 km round trip (to the Ink Pots)
Elevation gain: 215 metres (700 feet)
Trailhead: The trail starts right behind Johnston Canyon Lodge.
What to Bring: A solid pair of running shoes, water and snacks. As with all hikes, weather-appropriate clothing is a must.
Seasonality: Open year-round, but best from May until October.
Two Jack Lake
Two Jack Lake is less a hike than a 'choose your own adventure' series of trails with plenty of options for hikers and those who simply want to stretch their legs in a gorgeous mountain setting. Take a quick half-hour stroll, or continue along the shores of Two Jack Lake until it meets Lake Minnewanka – the choice is yours.
Wherever you end up hiking, you'll enjoy the peace and tranquility of the area, along with views of a gorgeous lake. If you fancy a cool-off in the summertime, you could brave a quick jump into the ice-cold waters of Two Jack!
Moderate Hikes in Banff National Park
Ready for a bit of a challenge to spice up your visit? These hikes in Banff National Park will make you sweat, but not too much. Most of the below hikes will require much of your day, and we highly recommend packing a lunch, but every single one of them is worth the investment. If you like to hike, but don't want to spend the whole day sweating, or scrambling up rocks to the summit, these moderate hikes are perfect for you!
Larch Valley
If you've woken up at 5:00 am to see Moraine Lake, but crave a hike with a bit more challenge than the rockpile, Larch Valley is the way to go. The Larch Valley hike begins lakeside, just to the right of the lake as you approach, but quickly ascends. Though autumn, when the larches turn to golden torches, is the preferred season for this hike, it's beautiful in spring and summer as well.
* Due to bears, this hike may require a minimum number of hikers per group, but hikers are often waiting at the bottom to be grouped up.
Difficulty: Moderate
Distance: 8.5 km round trip
Elevation gain: 535 m (1,755 ft)
Hiking time: Up to 4 hrs
Trailhead: Begins at Moraine Lake Lodge. Follow the trail with the lake on your left, then take the trail marked Sentinel Pass.
What to Bring: Hiking boots, water, snacks, bear spray, and weather-appropriate clothing.
Seasonality: Peak season is mid-September (keep your eye on Instagram to see when the larches are turning) but it's open year-round.
Tunnel Mountain Hike
A quick hike that's easily accessible, the Tunnel Mountain trail leaves straight from the townsite, and is one of the most highly-trafficked hikes in Banff. The trail ascends Tunnel Mountain through evergreen forest before opening up to breathtaking views of Banff and the surrounding nature. If you're pressed for time, or just don't want to drive all over the Banff National Park to find a good hike, this is the hike for you!
12 Easy Hikes in Banff National Park
Banff National Park is world-famous for its majestic mountain landscape. The rocky mountain landscape has many difficult hikes, but thankfully there are also lots of easy hikes in Banff. In fact, many of the best hikes in Banff National Park are easy.
People of all ability levels can enjoy some easy hiking trails in Banff National Park. In fact, one of the best ways to enjoy the magnitude of Banff's mountain peaks is to enjoy them from down below.
Snow and glacial ice melt from Banff's mountains in the spring to create beautiful alpine lakes with an incredible blueish-green color. On a sunny day, you simply won't believe the colors you see. Many of the best Banff hikes are along the shores of its many beautiful lakes.
Melting ice also has a hand in creating the other locations for some of the best easy hikes in Banff. Hiking along the floor of canyons and valleys is a fun way to explore the mountains without needing to climb any of them. Taking an easy walk along the base of the mountains gives you a sense for the sheer size of Banff's mountains.
Hiking truly is one of the best free things to do in Banff!
We have lived in Canmore (near Banff) with our kids for over five years. We love hiking with our kids and we hike in Banff with kids frequently. The easy Banff hikes listed below are also some of the best family-friendly hikes in Banff and included in our list of best things to do in Banff with kids.
Easy Banff Hike
This post contains compensated links.
12 Easy Hikes in Banff
1. Johnston Canyon Hike to the Lower Falls
The Johnston Canyon Lower Falls trail is not only one of the best easy hikes in Banff, it's one of the best hikes in Banff National Park. Located on the Bow Valley Parkway scenic drive, this fun & unique hike follows Johnston Creek into depths of Banff's of Johnston Canyon. The Johnston Canyon trail alternates between smooth gravel in a lush evergreen forest and elevated walkways bolted to the rocky walls of the canyon.
The safe elevated walkways are the most fun part of this easy hike in Banff. They hover above the rushing water and provide walkers a unique vantage point to one of Banff's most beautiful locations.
This easy hike ends at a viewpoint for the Johnston Canyon Lower Falls. You can either stay dry and enjoy the Lower Falls' beauty from an elevated walkway or you can enter a small cave for an up-close experience.
The Johnston Canyon Lower Falls cave is one of the reasons why this is one of the most popular kid-friendly hikes in Banff. You really can feel the power of the waterfall from inside the cave. Beware – you will get wet!!
See more information about the Johnston Canyon Hike. If you have the energy and time, continue on past Johnston Canyon and hike to the Ink Pots!
Read all about cycling the Bow Valley Parkway to enjoy Johnston Canyon with a cycling experience.
2. Tunnel Mountain Hike
Want to tell your friends that you summited a mountain in Banff? The Tunnel Mountain trail is the easiest hike to a mountain summit in Banff National Park.
Tunnel Mountain is a cute little mountain just outside the Town of Banff. You can walk to the top of this easy Banff hike with about 15% of the elevation gain vs. some of the surrounding 3,000m peaks.
The Tunnel Mountain hike is a gradual uphill trail, so there is some moderate effort involved. You will be rewarded with excellent views of the Banff Townsite, the iconic Banff Springs Hotel and the surrounding mountain landscape of Banff National Park.
Tunnel Mountain is one of our favorite easy hikes in Banff with the kids.
See more information about the Tunnel Mountain Hike.
We have some great resources for hiking with kids on our Family Can Travel website. Check out our best tips for hiking with kids, the best hiking gear for kids and the 9 Best Hiking Songs for Your Family.
3. Sunshine Meadows Hike
The Sunshine Meadows hike is home to some of the most incredible mountain scenery within Banff National Park. I've lived near Banff my whole life and I was still blown away by the scenery at Sunshine Meadows on my last visit. The best part? This easy hike in Banff is almost all downhill!!
This spectacular easy hike is located within the Sunshine Village ski resort. To get there, you'll need to buy lift tickets for the enjoyable & scenic 4.3km gondola ride to the ski resort. Once at the top, you take the Standish Express Quad chairlift to the beginning of the super-easy downhill hike back to the upper gondola building.
There are several hiking trails to choose from within Sunshine Meadows. The easiest scenic route we recommend is most was Trail 2 (Standish Viewing Deck Loop) to Trail 3 (Rock Isle Junction) to Trail 1 (Rock Isle Road).
Get more information on the Sunshine Meadows hike.
4. Lake Louise Hike – Lakeshore Trail
No trip to Banff National Park is complete without a visit to Lake Louise. You will be in awe as you stand in front of the Chateau Lake Louise looking out at the turquoise-blue waters of Lake Louise surrounded by many jagged 2,500m peaks.
One of the best easy hikes in Lake Louise is a very enjoyable walk along the northern shore of the lake. The Lake Louise Lakeshore trail is as flat as you can get in the Canadian Rocky Mountains, with virtually no noticeable elevation gain to contend with. There are no trees to obscure the views of beautiful Lake Louise and its surrounding mountain peaks.
If you still have energy and wish to continue, the moderately difficult Plain of the Six Glaciers trail continues on from the end of the Lake Louise Lakeshore trail. We think the Plain of the Six Glaciers Trail is the best hike in Lake Louise.
Due to the popularity of Lake Louise in the summer, the paid parking lots at the Lake Louise Lakeshore fills quickly. Try these alternative free parking spots in Lake Louise instead.
Need Help Planning Your Trip?
Our Banff Travel Guide has everything you need to get the MOST out of your trip to Banff!
5. Moraine Lake Hike
It's hard to imagine a more beautiful place than Lake Louise, but Moraine Lake just might be the most scenic spot in Banff National Park. Just a short drive from Lake Louise, Moraine Lake is close enough that you can visit both in one day and decide for yourself.
The easy Moraine Lake hike begins to the left of the Moraine Lake Lodge and follows the tree-lined western shoreline of Moraine Lake. As you enjoy this easy Banff walk, views of the incredibly blue Moraine Lake and its surrounding massive mountains will appear through the trees. As if that's not enough, you'll pass many scenic waterfalls feeding into Moraine Lake, including a large one at the end of the Moraine Lake Trail.
You'll experience the sheer magnitude of Banff's Rocky Mountains on this hike as the mountains hugging Moraine Lake are even taller than those wrapped around Lake Louise. With such an intimate amphitheater, you'll feel humbled by their size.
The incredible beauty of Moraine Lake means it is also one of the most popular places to visit in Banff National Park. Due to limited parking lot capacity, it can often be near impossible to visit Moraine Lake without advance planning. If you'd like find out why we think it is one of the best hiking trails in Moraine Lake, discover your options on how to get to Moraine Lake.
Get more information on the shoreline Moraine Lake Hike.
Looking for more great walks in the Canadian Rockies? Try these scenic walking trails in Canmore, Alberta.
6. Sulphur Mountain Lookout
The Banff Gondola to the top of Sulphur Mountain is one of the most popular things to do in Banff. After an enjoyable 8-minute gondola ride to the top, you'll be treated to incredible views of the Banff townsite and the surrounding majesty of Banff National Park in all directions.
After enjoying the state-of-the-art summit building and interpretive centre at the top of the Banff Gondola, you can take a short walk along the Sulphur Mountain Boardwalk trail. This elevated wooden trail follows a ridgeline along the top of Sulphur Mountain, affording views in all directions. There are some stairs along the way, but there are plenty of benches to stop, rest and enjoys the view if required.
In addition to the spectacular views, you'll be rewarded with a visit to a National Historic Site of Canada at the end of the Sulphur Mountain Boardwalk Trail. The Sulphur Mountain Cosmic Ray Station was a station for scientists to study cosmic rays and space particles until 1978. To be honest, there's not much to see here, but it's still a fun end to one of the best easy hikes in Banff.
Get more information on the Sulphur Mountain Lookout.
7. Peyto Lake Panorama Viewpoint
Many of the lakes within Banff National Park have incredible turquoise colored water. The lake which has the most incredible water color in Banff is Peyto Lake.
Visitors to Peyto Lakes can enjoy a short, easy walk on a paved path to an elevated viewpoint. From here you'll get one of the most scenic vistas in all of Banff National Park and one of Banff's best viewpoints.
Peyto Lake is the furthest of our easy hikes in Banff away from the Town of Banff. It's a 35-minute drive past Lake Louise, but it is on the way to the Athabasca Glacier. If you are visiting the Athabasca Glacier, Peyto Lake is an excellent place to stop and stretch your legs on this easy hike.
8. Consolation Lakes Hike
We discovered the Consolation Lakes trail a few years ago and are kicking ourselves for not having done it earlier!
This easy Lake Louise hike departs from the Moraine Lake parking lot. It's a great alternative if you want to avoid the massive crowds swarming for pictures of Moraine Lake.
The beginning of this hike has a bit of an uphill climb through a rock pile at the base of majestic Tower of Babel. You may need to step over an uneven rock or two in this section, but most people shouldn't struggle with this. After this initial climb, the trail is reasonably level, with only minor hills to contend with.
The Consolation Lakes hike leads hikers through a dense mountain forest. With mushrooms and moss everywhere, kids will have fun looking for fairies!
This easy Banff walk ends along a very scenic spot along the shores of Babel Creek. Hikers who wish to reach the shoreline of the Consolation Lakes will need to do some minor scrambling for approx 100m over some medium-sized boulders. The boulders are a good spot to see a rare marmot – please keep them stay wild by not feeding them.
If you don't wish to navigate the rocks, don't worry – there are lots of spots to stop along the spot where Consolation Lake flows into Babel Creek. The views of the Consolation Lakes and its surrounding mountains are pretty special.
Safety note: Due to bear activity in the area, Parks Canada recommends hikers travel in groups of 4 or more.
Get more information on the Consolation Lakes Trail.
Did You Know? You can visit Consolation Lakes as part of a small-group guided tour with Discover Banff Tours.
9. Johnson Lake Hike
The Johnson Lake day use area is one of our family's favorite spots to go when we go hiking Banff National Park. It's not nearly as popular as Lake Louise or Moraine Lake, which is exactly why we visit so often.
The easy trail around Johnson Lake is a loop, but we prefer to hike along the northern shore to the end of the lake and back. From the northern shore, you'll enjoy amazing views of Johnson Lake with Mount Rundle in the background.
There is nothing wrong with the trail along the southern shore of Johnson Lake, but it's primarily through the forest and you won't get many mountain views.
Get more information on Johnson Lake Trail.
10. Bankhead Ghost Town
Did you know that there's a ghost town in Banff National Park? Visitors to the Bankhead ghost town in the Minnewanka Loop will enjoy an easy Banff hike through a fascinating piece of Alberta history. Dating back to the early 1900's, Bankhead, Alberta was a thriving coal mining town of nearly 1,000 citizens built next to the operations site of an anthracite coal mine.
Many of the residential buildings from Bankhead, Alberta were moved or demolished when the Bankhead Banff coal mine closed in 1922, many of the buildings were moved or dismantled. A surprising amount of the coal mining operations still remains in this unique Banff ghost town.
Today, visitors to the Bankhead ghost town can enjoy an easy Banff hike around the remains of the former Banff coal mining operation.
11. Vista Lake Trail
Tucked away in an often forgotten corner of Banff National Park, the walk to Vista Lake is a very enjoyable easy hike in Banff National Park. Despite being a bit remote, Vista Lake is actually 10 minutes closer to the Banff townsite than Lake Louise!
This easy Banff hike is all downhill from the trailhead all the way to the shores of Vista Lake. Along the way you'll be descending into a valley at the base of the majestic Storm Mountain. As the hiking trail descends along the valley wall, you'll always enjoy a great view looking down-slope.
The view on this easy Banff hiking trail varies from the expansive evergreen forest through the valley, to the rocky upper slopes of Storm Mountain, to Boom Mountain across the highway (home to the popular, moderately difficult Boom Lake hike).
Approximately halfway down the trail, Vista Lake comes into view and remains in view until you reach her beautiful shores. On a clear day, looking at the submerged rocks and tree trunks through the crystal-clear emerald green water of Vista Lake is breathtaking.
Of course, being all downhill on the way to Vista Lake, means you need to walk uphill back to the trailhead. The Vista Lake parking lot is approximately 130 m above this beautiful Banff lake. Spread over 1.5 km, this means you'll be climbing an average of 8.5 m per 100 m hiked. It may be a challenge for some beginner hikers, but the return trip on this easy Banff hike should be doable for most.
Vista Lake is the first lake day hikers encounter on their way to Arnica Lake and on to the Twin Lakes of Banff. For more information on the Vista Lake trail, please see our full post on the Arnica Lake trail.
12. Smith Lake Trail
If a short Banff hike is what you're looking for, then you can't go wrong with a hike to Smith Lake in Banff. At only 1.6 km each way, hikers can escape the crowds and enjoy a beautiful Banff Lake.
Smith Lake – Banff National Park
The Smith Lake trail also offers hikers to the opportunity to visit another Banff lake. Copper Lake is just a short 0.7 km from the parking lot. The total to both lakes will be 4.6 km with approximately 280 m elevation gain.
Trail to Copper Lake
The trail to Copper Lake is flat and well groomed. The downfall of this trail is that it's close enough to the highway to hear the traffic for the majority of the hike. We recommend doing this portion first.
Copper Lake in Banff National Park
After completely the hike to Copper Lake, return the same way and instead of turning back to the parking lot, continue straight to join the Smith Lake trail. The trails are both easy to follow and are well marked.
The Smith Lake trail has more incline and more roots, but both are easy to manage. After the uphill climb, you'll be on the ridge overlooking Smith Lake. It's a short but steep descent down to enjoy this peaceful lake in Banff.
Smith Lake Trail
Trail Maps for the Easy Hikes in Banff
It's pretty hard to get lost on any of these easy hikes in Banff, so you likely won't need to bring any Banff trail maps with you.
That said, I still like having a digital map of my Banff hikes with me. I use and recommend the AllTrails app as it has an extensive database of Banff hikes. I like having a history of my Banff hikes along with the stats for each (distance, elevation gain, etc.).
I rarely use a paper Banff trail map while hiking, but I love spreading out my hiking maps out on my kitchen table and finding Banff trails I've never tried before.
If you like doing this too, I highly recommend Gem Trek hiking maps. They are the gold standard for Banff hiking maps and we own the entire set. They are exceptional 3D topographic maps which I love looking at for hiking inspiration.
The best Gem Trek map for easy Banff hikes is the map entitled, "Banff & Mount Assiniboine Map".
National Geographic is also renowned for the quality of their maps. National Geographic publishes a Banff National Park map pack filled with the best Banff hiking trails.
What to Bring Hiking in Banff
You don't need a lot of hiking gear to enjoy hiking in Banff. Our list of hiking essentials contains the hiking gear and clothing you'll need for the variable Banff weather and trail conditions.
Want to improve your chances of seeing wildlife in Banff? Get wildlife spotting tips from a professional photographer.
The Best Banff Hikes
Best Larch Hikes in Alberta
Best Banff Hikes Without a Car
Easy to Moderate Banff Hikes
C Level Cirque Hike
Castle Lookout Hike
Taylor Lake Hike
Lake Agnes Tea House Hike
Where to Stay in Banff National Park
Best Family Friendly Hotels in Banff
Best Pet Friendly Hotels in Banff
Best Luxury Hotels in Banff
Banff Hotels with Private Hot Tubs
Best Hotels in Lake Louise
Best Cheap Hotels in Banff
Found this post useful? Save it or share it with your friends!
Source https://www.banfflakelouise.com/hiking
Source https://roadtripalberta.com/best-hikes-in-banff/
Source https://www.travelbanffcanada.com/9-easy-hikes-in-banff-national-park/