Arc'teryx vs The North Face: Which Brand is Better?
Brand comparisons are our thing for this year and we plan on carrying on exploring many other brands and learning more about their stories, their products and, best of all, comparing them to each other to see which one would be the better choice.
Today we will be going through two very popular brands, especially in North America, as they are a staple in the wardrobe of many who love spending a good deal of their time out in nature.
We are talking about Arc'teryx and The North Face.
They come with great reviews, great products and high prices, that's why we will be comparing them to each other to see how they measure up and which one you should go for.
Let's get right down to business!
Contents:
* Disclosure: As an Amazon Associate this site earns from qualifying purchases (meaning: we may earn commissions if you buy products recommended/reviewed here, by following the links shown here). The availability of products in this page might change at any time. Please check the materials, features, colors and sizes on the various shops (linked in this page) before buying, because sometimes our articles might contain errors. Product images you see here are for illustration purposes.
1. Arc'teryx
A short history of the brand
Established in 1991 in North Vancouver, British Columbia, Arc'teryx is one of the most suggested brands online when it comes to technical garments.
The brand was founded by Dave Lane and its distinct name is in referral to one of the earliest known birds, the Archaeopteryx.
What do these two have in common?
Well, the bird is proof of evolution and the brand's philosophy is based on evolution's constant change and adaptation. Arc'teryx exhibits those same qualities in their high quality products and innovative designs that are quite hard to rival, if we are being honest.
Originally the brand started out with gear for climbing, with two of its most popular products being the Vapor harness and the Bora backpack, which we have mentioned before. Both of these products were made using thermolamination technology.
When it comes to technical wear, Arc'teryx can attribute most of its success to its collaboration with the Gore-Tex fabric, which really helped the brand expand its product range and also increase in popularity.
This video will be loaded from YouTube.com, a third party. If you click "Play", you accept their terms of service, and their use of cookies.
Materials and Manufacture
Being a brand renowned for high quality garments means that the materials used are also of the same high standard.
The raw materials used by Arc'teryx are not just high quality, but also Bluesign® Certified, which is a standard that is made only by fabrics and materials free of harmful chemicals to the human body and environment.
Ethical sourcing and sustainability are two other important matters that this brand takes very seriously. Arc'teryx guarantees that the working conditions on all of its facilities are up to standard and its workers are treated fairly.
Its products are also traceable and humanely and sustainably sourced in order to minimize environmental impact.
Another consideration is the durability of their products, which are made to last for many years. This is not just a great selling point, but it also lowers the environmental damage of having to re-manufacture products.
In regards to technologies, Arc'teryx has developed its very own technology, the AC2 technology, which is mainly used in their backpacks, whereas for its garments, as mentioned previously, the Gore-Tex fabric is used.
This video will be loaded from YouTube.com, a third party. If you click "Play", you accept their terms of service, and their use of cookies.
Popular designs
As we usually do, we have picked two designs for today's selection.
Arc'teryx Men's Fission Sv Jacket
The first is the Fission Sv jacket for men. This is a Gore-Tex jacket, which is both windproof and waterproof, while also being highly breathable.
This design is suitable for a number of outdoor activities and it comes with a hood, drop-tail hem and adjustable sleeve cuffs.
Arc'teryx Women's Darrah Coat
For women, we picked the Darrah coat, an elegant design that is made for fall and early winter. It is a Nylon jacket, insulated with Polyester and its body is made of 87% polyester and 13% Cotton.
It has a drop-tail hem and full-length central zipper, as well as a hooded collar. This is an insulated jacket, which is also wind and water-resistant, suitable for unstable weather and breathable enough for a variety of activities.
Price
Arc'teryx comes with a varying price range, which features both buyer-friendly prices, as well as some that seem ridiculously high. The brand's average jacket costs around $200-$300, but certain designs can go as high as $750 and above.
Are their jackets worth the price?
In all honestly, they absolutely are. They are very well-made both in design and performance and the life cycle is commendable, which in our opinion more than justifies the prices.
If you would like to learn a bit more as to why the brand has such high prices, you can find further information in our recent piece on this topic.
2. The North Face
A short history of the brand
Probably one of the most frequently featured brands on our selections and reviews, The North Face was founded in 1966 in San Francisco, California, in the United States.
Similar to some other brands we have looked at in the past, including Arc'teryx, The North Face started out as a brand that manufactured climbing and backpacking gear.
From there it grew into the brand it is today, with its numerous products and its high quality and reputation for great garments.
While the brand still manufactures and sells some great technical pieces, they have also featured many fashionable designs, slightly focusing more on clothing that can be worn as apparel and for more casual wear rather than just focusing on high-performance garments.
This video will be loaded from YouTube.com, a third party. If you click "Play", you accept their terms of service, and their use of cookies.
Materials and Manufacture
Being a brand that takes environmental issues seriously, The North Face strives to make use of recycled materials for their products. Most of the polyester used is sourced through recycling and its other natural and raw materials are sourced sustainably and ethically, per the required standards.
Another great step in lessening the environmental impact is the use of PFC-free water repellent treatments in their garments. These products are less harsh on nature and do not cause the damage that PFC-based products do.
The use of Gore-Tex fabrics is common in many name brands that specialize in technical garments, and it can be found in some of the brand's designs.
However, The North Face is one of the brands with the highest number of technologies developed by themselves and these include several high-performing fabrics and insulations.
Bear mentioning DryVent, WindWall and FlashDry, which are some of the fabrics used in the brand's jackets and other products.
However, arguably their most popular development is the ThermoBall insulation, which is done in partnership with PrimaLoft®. This insulation mimics down not just in performance but also in its shape.
You can find out more about PrimaLoft and ThermoBall from our previous articles where we compared the two to Down insulation.
In regards to manufacturing, The North Face products are always commended online for being well-made and long lasting.
Lastly, another great feature of the brand that bears mentioning is its lifetime guarantee that covers most problems that could arise.
Popular designs
The North Face Men's Resolve 2 Jacket
The first design we have chosen by The North Face is the Resolve 2 jacket for men. This is a 100% Nylon jacket that is weatherproof and designed for challenging conditions and a number of outdoor activities.
Its attached hood stows under the collar and it also comes with elasticized sleeve cuffs.
The North Face Women's Inlux 2.0 Insulated Jacket
The design we chose for women is the Inlux 2.0 insulated jacket, which is made of DryVent fabric, thus it is waterproof and breathable.
It comes with an adjustable hood and Heatseeker insulation that makes it a great choice for early winter. This design also comes with pit vents for added breathability and a drop-tail hem for better coverage.
Price
The North Face is by no means a cheap brand and its average products cost around $200.
Are these jackets worth the price?
We won't beat around the bush here, they are worth the price. They are high quality and perform as advertised and as expected by such a brand.
If you are curious to understand some of the reasons as to why their jackets are so expensive, head on here.
3. Which Brand is Better?
While in our most recent brand comparisons we sided with Arc'teryx due to its overall quality of products and their performance, today it's a bit more complicated. Both brands are of high reputation and for good reason.
Which one is better? They both are. However, there are slight differences we should mention.
The North Face provides a wider product range that cover not just sportive wear but also clothes that are more casual and less sports-like in their appearance. This might be more appealing to those looking for a seasonal jacket that will help keep you reasonably protected against the elements.
Their technical pieces don't fall behind either, but in regards to jackets that are meant for performance, it's really difficult to outdo Arc'teryx.
Therefore, if you are looking for a technical jacket that will last long, perform effortlessly, fit well and keep up with you, Arc'teryx is the brand to go for, in our opinion.
8 Quality Brands like Arc'teryx: Our Top Picks
Arc'teryx is a Canadian company established in 1989 providing a variety of high-end outdoor clothes, backpacks, footwear, climbing gear, and accessories.
Whether you like mountain climbing, hiking, snowboarding, skiing or everyday outdoor sports, you'll always find something from them to treat yourself.
Waterproof, highly breathable Gore-Tex is their material of choice which also stands out in terms of durability.
Reducing their carbon footprint and supporting projects standing for positive social change are high on their priority list.
We have featured Arc'teryx in many of our reviews, selections and comparisons because it's one of our favorite brands. We have also discussed why it's so expensive.
Are you curious to know other companies similar to them?
Continue reading, as today we are going to take a look at 8 quality brands like Arc'teryx!
Contents:
1. Patagonia: The Durability Heroes
Founded in 1973 by Yvon Chouinard in California, Patagonia specializes in manufacturing clothes and equipment for snow activities, climbing, hiking, fly fishing, kitesurfing, mountain biking, surfing and trail running.
They have all kinds of outdoor clothing and gear, but some of their popular designs are the Nano Puff and Torrentshell jackets. Because they honor and cherish hard work, they started a special production line for workwear.
For their products they use Gore-Tex and H2No, a fabric technology developed by them.
To ensure that it delivers highly durable, waterproof products, Patagonia utilizes a process called 24 Killer Wash testing process and its products are finished with the remarkably water-repellent Deluge DWR coating.
They believe that we can no longer be only satisfied with limiting our carbon footprint on this planet, but we also need to start healing it.
As an application for that, their use of recycled materials in production amounts to 72%. They also plan to be carbon neutral by 2025.
This video will be loaded from YouTube.com, a third party. If you click "Play", you accept their terms of service, and their use of cookies.
2. Helly Hansen: The Water-Activity Gear Leader
Over 140 years ago, captain Helly Juell Hansen wanted to protect his sailors from the harsh Norwegian weather, so he started creating waterproof apparel for them.
The Helly Hansen brand offers jackets, mid-layers, base layers, accessories, footwear, gear for women, men and kids who enjoy sailing and skiing, in addition to everyday training.
They use the Helly Tech fabric technology that keeps the moisture out and allows sweat and vapor to pass through. For temperature regulation, the H2Flow™ system guarantees versatility and comfort during weather change. The ventilation zippers help cool the body down.
Because the company specializes in gear for use on water and snow around the world, they have a special focus on water conservation initiatives.
To lower their impact on the environment, they work with companies that repair used garments and give them to people in need. One of the organizations that they help is Dråpen i Havet.
This video will be loaded from YouTube.com, a third party. If you click "Play", you accept their terms of service, and their use of cookies.
3. Marmot: Giving Back to Planet Earth
What started as a climbing club, turned in 1974 into a world-renowned brand for jackets, tops, pants, footwear, backpacks, sleeping bags and tents for outdoor enthusiasts and extreme mountaineers.
Some of Marmot's best-sellers are the men's Gravity jacket, the kids' PreCip Eco pants, and the women's Ion jacket.
In many of their products they use the Gore-Tex technology and the Windstopper membrane.
In a 3-layer construction, Windstopper is bonded between a high-performance outer layer and a quick-drying polyester fleece. It protects the body's warmth from the chilling effects of the wind and prevents perspiration build-up by allowing moisture to escape.
One of the many initiatives they work on is the EnviroFree initiative that strives to minimize chemicals in their production.
This video will be loaded from YouTube.com, a third party. If you click "Play", you accept their terms of service, and their use of cookies.
4. Salomon: The Players, Playground, and Playmakers
Salomon came to the world in 1947 and its playground has always been the French Alps. Freeride and touring, running, snowboarding and alpine and Nordic sports are just a few of their activities of interest.
In addition to clothing, bags, shoes and protective gear, you can also buy some of their top-notch poles, skis, and bindings.
Their philosophy has three dimensions: mind the players, mind the playground and mind the playmakers. As part of "mind the player" focus, the Salomon Foundation helps reintegrate physically-disabled riders and mountain athletes affected by accidents or disease.
This video will be loaded from YouTube.com, a third party. If you click "Play", you accept their terms of service, and their use of cookies.
5. Mammut: The Name of the First Twisted Nylon Yarn Glacier Rope
Mammut is a Swiss brand founded in 1862 by Kaspar Tanner. They have clothing and gear for outdoor activities such as mountaineering, climbing, hiking, skiing, and even urbaneering.
Whether you are looking for clothing, equipment, footwear or bags and backpacks, they will help you get whatever you need for your next adventure. They care about safety, comfort, and functionality. Their products are durable and weather-resistant.
Their shirts are made of bioRe® organic cotton as part of their extensive We Care strategy to minimize carbon footprint. They also have the objective of phasing out the use of PFC in water-repellent products.
Responsible production is a further step that they take in the direction of their commitment to environmental causes.
Mammut joined the Sustainable Apparel Coalition (SAC), a step that will increase the measurability of its corporate responsibility initiatives.
This video will be loaded from YouTube.com, a third party. If you click "Play", you accept their terms of service, and their use of cookies.
6. The North Face: Comfortable and Lightweight
It's ironic that The North Face, a company producing all kinds of clothing and gear for mountain adventurers, started as a small shop on a San Francisco beach in 1966.
The little shop became a huge retailer for backpacking, climbing, training and hiking equipment.
One of the technologies they use is Futurelight, an ultra-thin nanomembrane that is breathable, soft and lightweight. The face and back layers are made of 90% recycled materials.
In addition to using recycled fabrics and organic cotton, they sponsor in partnership with The American Alpine Club, the Live Your Dream grant, that funds individuals of all ages and proficiency levels who want to improve their athletic skills.
This video will be loaded from YouTube.com, a third party. If you click "Play", you accept their terms of service, and their use of cookies.
7. 66° North: A Pledge for a Cleaner Planet
Hans Kristjánsson started 66° North in 1926 to manufacture protective clothing for Icelandic fishermen and workers.
Their products are designed for skiing, running, hiking and cycling activities.
In addition, 66°North has been making clothing for large organizations such as the rescue services, police, and fire department.
In an attempt to offset its total emissions for the year 2019, 66°North has pledged to plant more than 2700 trees.
This video will be loaded from YouTube.com, a third party. If you click "Play", you accept their terms of service, and their use of cookies.
8. Norrøna: The Gore-Tex Pioneer
Norrøna is a quite pricey Norwegian brand offering top-notch outdoor clothing and gear since 1929. They are famous for their ultimate detail control and gorgeous styles.
In addition to the activities that Arc'teryx covers, Norrøna has clothing and gear for surfing, mountain biking, and hunting. Norrøna was the first to use Gore-Tex in Europe, which shows their focus on product durability and comfort.
To protect the environment, they use organic cotton and recycled materials in their products. Norrøna donates 1% of the revenue to nature protection and conservation organizations.
With Hvitserk of Norway, the adventure travel experts, they created Norrøna Hvitserk Adventures and Expeditions to offer great tours, trips and outdoor adventures, so people can explore Norway's best places.
This video will be loaded from YouTube.com, a third party. If you click "Play", you accept their terms of service, and their use of cookies.
So, as you can see, although they may differ in their age or origin, these brands share with Arc'teryx the same philosophy, purposes and activities which they cater to.
They also have the same passion for creating the best quality outdoor products for your next adventure by focusing on innovation.
Do you know any other brand similar to these that you would like to suggest? Let us know in the comments below.
Leave a Reply Cancel reply
To learn how we use your data when you comment, read our Privacy Policy.
Latest
9 Mountaineering Shoes & Boots Brands for Outdoor Adventures
Gore-Tex vs Dermizax Fabric Technology: Which is Better?
Is Helly Hansen Good for Cold Weather? (What We Think)
9 Mountaineering Jacket & Clothing Brands: Our Favorites
8 Jacket & Clothing Brands like Mackage: Top Alternatives
Get Email Updates
Subscribe to our newsletter to receive our latest updates:
To learn how we use your data when you sign up to our newsletter, read our Privacy Policy.
– Product images, if not otherwise specified, come from Pinterest.com or are our own creations.
Arc'teryx vs. North Face (Tips for Choosing the Best Brand)
Arc'teryx or The North Face are great choices if you're looking for some study outdoor gear. They are both well-known and high-quality brands whose products prove the skills of their creators.
Read this article to find out more about both brands' history, their product choice, true to fit sizing, product quality, and most importantly, public opinion.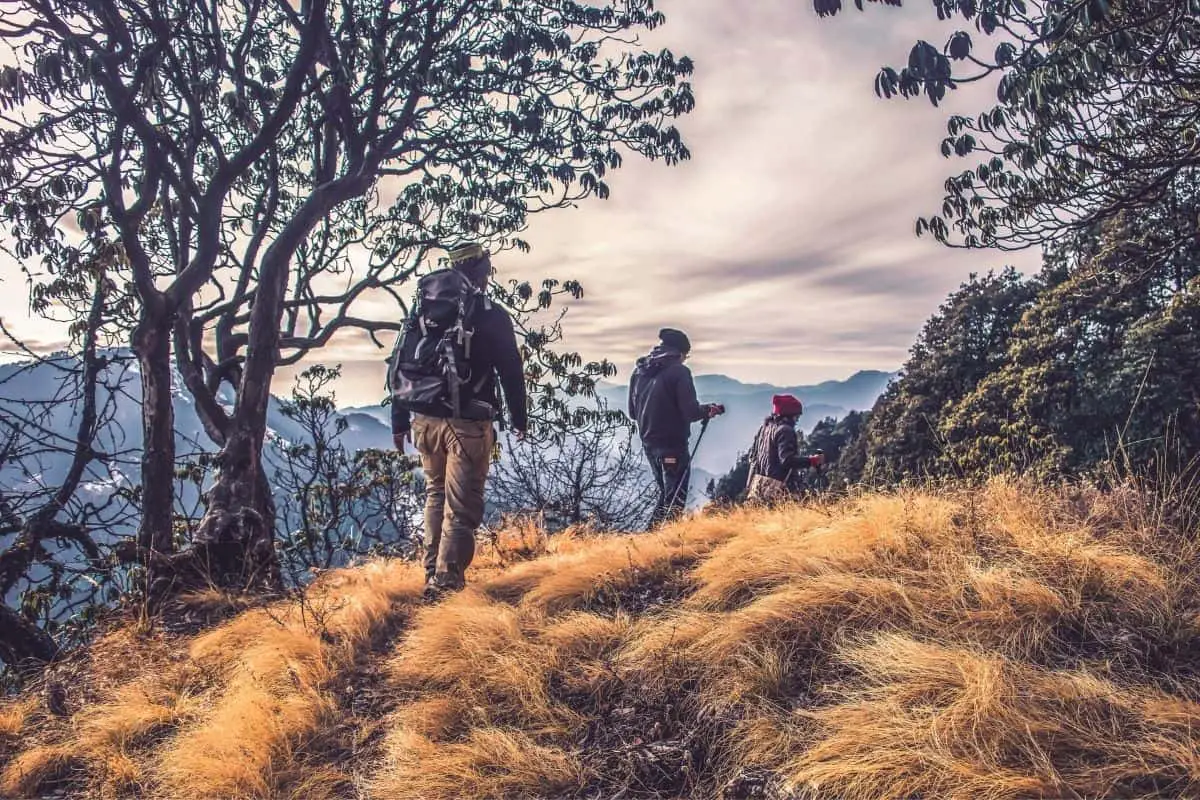 Brand History
When you think of outdoor clothing for climbing, hiking, or mountain biking, Arc'teryx might not be the first brand that pops into your head. The brand was founded in 1989 and in comparison to other successful clothing brands, they haven't been around that long. Their mission statement is 'Maximum simplicity at the point of extreme need'. To ensure this, Arc'teryx keeps product quality and design as their main focus.
The North face is a much more popular brand; founded in 1966, they have been around for 55 years. This is probably why when you think of outdoor gear, or even walk into the majority of outdoor clothing stores, The North Face is a name that you will see more than most. ' Provide the best gear for our athletes and the modern-day explorer' is the mission statement that they strictly stick to.
Product Choice
Currently, Arc'teryx offers clothing for adults but they have no children's range. However, there are currently 301 items in their men's range and 208 in their women's range. The majority of their products are focused on extreme insulation for hikers or skiers, so finding something for everyday use isn't easy. Arc'teryx has clothing and accessory ranges, but they do lack a good shoe range. Aside from that, within their normal clothing line, they have a line named LEAF (Law Enforcement and Armed Forces) created in only dark and neutral colors suitable for these enforcements.
The North Face has always had a wide range of clothing in all ranges. They offer a kid's line and, impressively, within that line there is a selection for boys, girls, toddlers and even infants, totaling up to nearly 500 products altogether! Their men's and women's ranges have over 400 products in each, giving you a huge variety. The North face not only has a great clothing choice but also a wide range of shoes and accessories too.
Sizing
Arc'teryx offers a wide range of sizes in most of their clothing. If we look at jackets, for example, they come in sizes XS to XXL which is nothing unusual or unique but still good to see. On the other hand, when it comes to bottoms, their sizing becomes dramatically inclusive. The sizes go from the normal XS to XXL but, in addition, have sizes tailored to shorter and taller people. For example, an MS would be medium short as one of their many options.
The sizing in The North Face is wider. In their jacket section, the sizes range from XXS to XXXL, accommodating many more people of all shapes and sizes. In contrast to Arc'teryx, they don't offer short or tall sizes in their bottoms range which is slightly disappointing for such a large brand.
Product Quality
Arc'teryx is unarguably more expensive than The North Face, but they vouch that their quality is the highest on the market, and that's what you pay for. They argue that their prices have to ensure the products' long term use, which requires only the best materials from around the world to be used in each and every product. They focus on low-carbon materials and are part of several associations that all combine to make the creation of products as harmless to our environment as they possibly can be.
The North face's current focus is also to make the creation of their clothing more sustainable by recycling old gear into new; reducing waste and helping to protect the environment.
They claim that by 2025, 100% of their materials will have been recycled, which is a strong statement to make.
Public Opinion
Arc'teryx seems to be the best option for people who want to invest in clothing that will last them a lifetime; skiers that need extreme warmth or maybe hikers that need advanced breathing material. Their clothing is expensive but is justified by the quality, it's rare to find a negative review of any Arc'teryx clothing.
The North Face used to be more quality-focused, however, in recent years they have changed to focus more on style, fashion, and popularity among the modern-day sports person. Professional sportsmen and women who used to purchase The North Face clothing have recently started to seek other brands that focus more on quality, such as Arc'teryx. The North Face does offer more stylish clothing and is better suited to people who want a bit of warmth and comfort at the same time as looking good.
Final Thoughts: Arc'teryx vs. North Face
Hopefully from the comparison above you'll be able to find the better brand for you and your situation! Even though their are slight differences between the brands, they both offer great products that are durable and long-lasting.
If you still aren't sure on which brand is better, I always find it helpful to talk to other communities and people to see which one is more popular and has higher praise.
Source https://casualgeographical.com/arcteryx-vs-the-north-face/
Source https://casualgeographical.com/brands-like-arcteryx/
Source https://hikingsoul.com/arcteryx-vs-north-face/